A trip to Wuhan, China
Jul 2, 20, 8:39 pm
Join Date: May 2013
Location: west coast best coast
Programs: TINDER GOLD, STARBUCKS GOLD, COSTCO EXECUTIVE!!
Posts: 3,862
A trip to Wuhan, China (Delta One)
---
It's incredible how much the world can change in just one year.
Unless you've been living under a rock, Wuhan is famous now for where COVID-19 originated. But before that, Wuhan had largely been an unknown Chinese city -- a city of 11 million people, more than NYC, of course -- and largely relegated as a "Tier 2" city not attracting the international attention of Chinese cities like Beijing, Shanghai, Guangzhou and Shenzhen. Imagine if American cities had to be grouped into Tiers, and the fistfights that would break out.
How did I find myself in Wuhan, China on the 4th of July, 2019? Let's have a look. This is my first trip report I've ever done for Flyertalk, so please be patient.
Delta One Suites, Seattle to Shanghai to Los Angeles to Shanghai on the new A330-900NEO the A350-900
Sometimes plans work out, sometimes they don't. Sometimes you have to meet halfway. Armed with expiring Global Upgrade Certificates and wide open confirmable upgrade space on Delta One Suites on their new A339's, my plan was solid.
I needed to be in Vietnam to catch my Cathay First Danang fare, and the cheapest way for these peak transpacific summer fares on Delta was doing an open jaw between China and Singapore. Delta was still flying Singapore to Narita and onward last year, and I would fly nonstop to Shanghai to try their new A339.
But wait!
I could save even more money with an extra flight to a city in China I don't really know? Consider me sold.
Everything was fine until the delays hit for the A339 deliveries, which also affected the inaugural. Surprisingly, having to convince Delta that an equipment change/downgrade to a 767 for a date change wasn't that difficult; trying to convince them to reroute me via LAX to maintain my Delta One Suites, maybe just a little harder. In any case, adding an extra connection to get to Wuhan for the Suite experience was worth it, as I have found the 767 seats quite uncomfortable.
Seattle to Los Angeles on DL128, B752
I'm always disappointed by breakfast meals on domestic flights. The hot breakfast sandwich was perfectly edible but I do wish the food quality was higher.
Coincidentally, DL128 is actually the continuation flight for Beijing to Los Angeles, via Seattle, which DL is using for onward travel but with a change in equipment. So one could actually read my itinerary as flying Beijing to Los Angeles to Shanghai on Delta, but I digress...
Landing into LAX is always a pleasure.
My DL flight to Shanghai is operating from TBIT! The transfer using the bus was pretty simple. For Business Class and Elites it means you have a choice of using the Delta Sky Club in T2/T3, or to use the Korean Air (also Priority Pass) lounge in TBIT. These lounges have been reviewed pretty extensively by others. I used the KE lounge, and it was perfectly acceptable for a contract/Priority Pass lounge, but not up to international Business Class standards. The liquor and booze was really low-shelf but the food has improved from the early days (there's usually a hot dish and some sushi).
Los Angeles to Shanghai on DL89, A359
The Delta Suites look nice. They are comfortable for sitting in. However, I do not find them comfortable sleeping in, mostly due to the leather seats. With the suite doors closed, it can also be a tight fit. I had issues with my door also opening/closing easily because of a broken lock mechanism.
The Delta One cabin was about half full going out.
Service on this flight was also a miss. I was scolded for requesting a drink while my suite door was closed because FA's are trained to never disturb passengers if the doors are closed.
I'll be honest -- this was one of the worst Delta Business meals I've ever had. The Chinese Meal was special ordered in case they ran out, and the starter course was absolutely inedible. The main course was also a really small portion and not filling. The midflight snack was a block of grease and the pre-arrival meal was mostly soggy noodles. I had to complain to Delta about this one.
Landing into a smoggy Shanghai, and where the fun begins.
---
Last edited by keitherson; Jul 2, 20 at

10:00 pm
Jul 2, 20, 8:39 pm
Join Date: May 2013
Location: west coast best coast
Programs: TINDER GOLD, STARBUCKS GOLD, COSTCO EXECUTIVE!!
Posts: 3,862
I cleared immigration in Shanghai PVG and did a pretty straightforward international-domestic transfer onto the domestic China Eastern-operated flight. MU2544 was not eventful and did not have any substantial service outside of water and a packaged snack; sorry for the lack of photos for this journey.
OK, so let me preface this portion by saying I am a pretty seasoned traveler, even for China. I have a 10-year visa, and I have transited the country many times and visited many of the cities. And this trip was a total struggle.
MU2544 arrived into Wuhan past midnight. Which means the metro isn't operating anymore. The problem with transport in many Chinese cities (including major ones like Shanghai) is that DiDi stops working because the rideshare market thins out. Drivers, instead of using the app, will hang around the airport looking to negotiate privately to avoid paying DiDi's commission cut.
My options were: negotiate a private taxi (I don't speak Chinese), use the "official" airport taxi service (These guys wanted an overpriced $50-75 USD ride), or use the public transportation with no guidance.
I hopped on the bus -- because I know I can at least catch the DiDi once I get near the city center, and I was right.
The problem was, when I got to Downtown Wuhan, my property did not exist.
Here's what I booked on Expedia:
And here, on Wyndham's own website, is where they say the property is:
https://www.wyndhamhotels.com/ramada...north/overview
To this day that I write this review, the address and map is still wrong. The location on this map is actually some new building with a spa/pool, not a hotel -- and when I got there at 2AM in the middle of the night, they were as confused as I was.
It's hot, humid, and in the middle of a summer night. Haven given up, I walk to the nearest hotel I could find, which was "Royal Suites & Tower, Wuhan". It's a nice, international-standard business hotel that was within walking distance to where I was with me and my carry-on roller.
I booked a room, Deluxe Suite, 1 King. But they refused to give my a Deluxe Suite, because they couldn't confirm this with Expedia. So I got something that was not their Deluxe Suite, but something else, but it still looked like a suite. In any case, at this point at 3AM, it didn't matter.
In retrospect, I had DiDi, VPNs, I had Baidu, and even access to Google Maps through my data roaming, but travel in China requires a special diligence nowhere else on the planet needs. I've had this same issue before finding a DoubleTree in Shanghai, and even small issues like withdrawing RMB can be a gigantic pain. Most businesses will not accept foreign credit cards.
In any case, I slept off my troubles -- my hotel was right next to the subway station so I could easily move around Wuhan.
---
Last edited by keitherson; Jul 2, 20 at

10:59 pm
Jul 2, 20, 9:34 pm
Join Date: May 2013
Location: west coast best coast
Programs: TINDER GOLD, STARBUCKS GOLD, COSTCO EXECUTIVE!!
Posts: 3,862
Breakfast is served.
The transport is virtually identical and standardized to all other Chinese cities -- you can get around pretty painlessly, and everything is clean and well signposted. The machines are also in English -- just make sure you have change for the machines.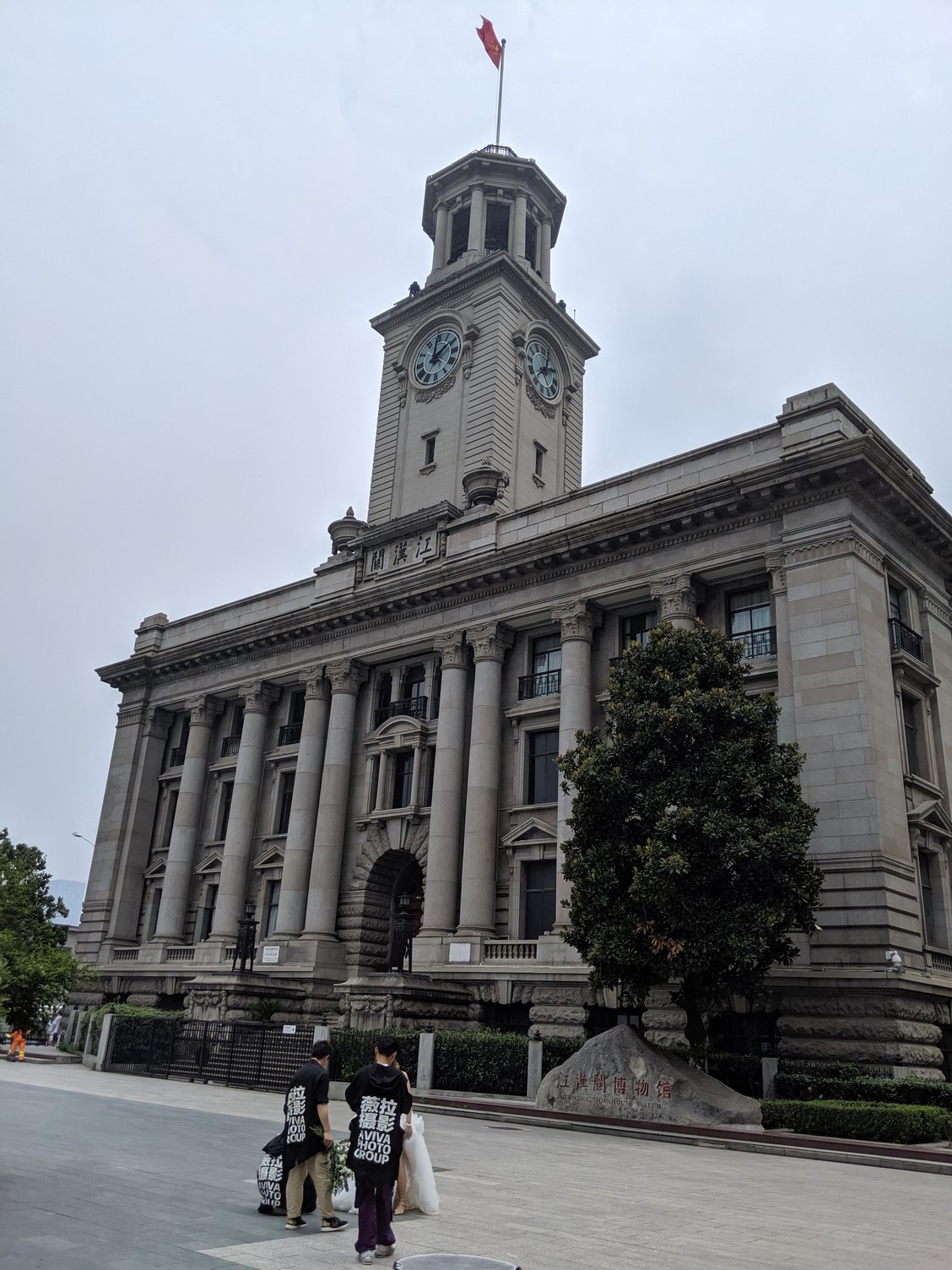 Wuhan has a lot of history. Though nowadays it's largely a Chinese city easily mistaken for others, it used to briefly be a capital city during the WW2 era.
Where I was staying was in
Hankou
, or
Hankow
, north of the Yangtze River. These are where most of the tourist sites are, and considered the "old" city.
This is the Hankow Customs House, the most famous of a row of colonial buildings in Wuhan. A newlywed were taking their photos outside here.
This is the 1954 Flood Memorial on the riverfront with Mao Zedong writings.
Even the Americans were around during the colonial times
In the background of this picture is Yellow Crane Tower, and this is now in
Wuchang
part of the city, south of the river. Unfortunately, the attraction closed by the time I got there, and you even have to pay to get in. As far as I'm aware, it's nothing special and the entire building is actually a replica.
There's quite a bit of contrast between Old China and New China in this city. But the overall vibe seems to be quite similar to other modern Chinese cities between the transport and the urban planning: many "pedestrian streets" designed for small street fronts. You will see wet markets if you wander anywhere off a main road, even if just a few feet away from a new construction.
For those few foreigners that call Wuhan home, the main gringo bar is Wuhan Prison. This place was a pain to find -- it's just off a main road, but the amount of construction and road closures made it nearly impossible to navigate from the subway station.
Most foreigner bars are in the new part of town, in the
Optics Valley area.

Tonight's show was some experimental music from a traveling band and they were uh... unique.
Having met some new friends, our journey to a craft beer bar took some twists and turns, including walking through this outdoor mall with scary Lederhosen. If anyone knows the name of this craft beer bar, I'd love some help as I've forgotten the name.
Also, the taxi ride back to my hotel was an adventure that night -- once again, because I was too far from the city center, there was nobody available on DiDi. I had to take a taxi, which then had to get me to an ATM so I could withdraw cash to pay him.
The next day, I had the worst Korean kimchi hot pot I've ever had in my life to help with the hangover.
Starry Sky wasn't bad.
TL;DR: I'm patient zero.
---
Last edited by keitherson; Jul 2, 20 at

10:56 pm
Jul 3, 20, 7:20 pm
FlyerTalk Evangelist
Join Date: Aug 2009
Location: ZOA, SFO, HKG
Programs: UA 1K 0.9MM, Marriott Gold, HHonors Gold, Hertz PC, SBux Gold, TSA Pre✓
Posts: 13,805
What is exactly the cranberry sauce of the cranberry sauce? Putting cranberry sauce on top of cranberry sauce? (Note - this is rhetorical. I know exactly what that is.)
This is no joke at all - The a-s-s meat is really the a-s-s meat. Per Wikipedia, an a-s-s is really a kind of mammals. But it has another name - donkey. FWIW - the translation is indeed correct. But please don't ask me whether the a-s-s meat really comes from certain portion...
Snow pear stewed officer's, per Google Translate, is "Chuanbei Stewed Bird's Nest with Sydney". A more appropriate translation is"Chuanbei stewed bird's nest with pear". The "officer" came from the literal translation of a top quality bird's nest, which was reserved for the nobles and the top officials in the past. Hence, the "officer".
Jul 6, 20, 1:58 pm
FlyerTalk Evangelist
Join Date: May 2008
Location: San Francisco
Programs: GM on VX, UA, AA, HA, AS, SY; Budget Fastbreak
Posts: 18,137
Agreed that donkey (...) is just as normal as cheval (horse), goat, chicken, cow, and other land animals. Alligator is popular in ďCajunĒ places in USA.

anyway what a horrible delta suites meal. I almost wonder if it makes better sense to eat Western food when flying TO China on a USA airline because you can get all the great Chinese food desired when in China.
no caviar on delta suites???

im blown away by beer and food prices because assuming rmb6/7 = us$1, even if itís rmb8, those prices feel high and like USA prices except I still think that China salary is us$1/hr if that much for most jobs.

I never heard of Wuhan - I used to just go to hangzhou / Yiwu and Shanghai and Jiangsu. Beijing for tourism. Donít miss any of it.
Jul 6, 20, 2:03 pm
FlyerTalk Evangelist
Join Date: Aug 2009
Location: ZOA, SFO, HKG
Programs: UA 1K 0.9MM, Marriott Gold, HHonors Gold, Hertz PC, SBux Gold, TSA Pre✓
Posts: 13,805
OP stated that it was a foreign bar. So the pricing sounds about right.
Beside, in comparison, the desserts are more unreasonable, as alcohol beverages are generally sold in a premium more than desserts.
Jul 6, 20, 7:42 pm
Join Date: Nov 2018
Location: MEL/YMML
Programs: QF Gold, CX Green, A3 Gold, Hilton Gold, Hyatt Discoverist, Amex Platinum
Posts: 280
Jul 8, 20, 8:30 am
FlyerTalk Evangelist
Join Date: Jun 2010
Location: TOA
Programs: HH Diamond, Marriott LTPP/Platinum Premier, Hyatt Lame-ist, UA !K
Posts: 13,510
Jul 9, 20, 11:02 am
Jul 10, 20, 1:09 am
Donkey is domesticated in China mainly for the hide, as there are traditional snacks made from e-jiao, which is donkey hide gelatin. It is also used in herbal medicine.

As for bird's nest it is harvested in South East Asia and popular amongst females in China as it is thought to be good for the complexion. It has been consumed for centuries in China and is quite expensive, so in some places it might not be real bird's nest.