Vietnam and Japan - January 2019
Apr 6, 20, 7:01 pm
Join Date: May 2016
Location: SFO, OAK, SJC
Posts: 238
Vietnam and Japan - January 2019
---
Another old trip report to kill the time during this period of self-isolation.
In January 2019, a friend and I traveled to Vietnam and used Hanoi as a base for a month. Once there, we eventually met up with 2 other friends from back home and just hung out in Hanoi, making trips in and out of the area either as a group or on our own. Halfway through the trip, I got a little bored and went to Tokyo for 10 days; I had planned to also visit Sendai for a few days but just got too busy exploring Tokyo to really do much else. Enjoy the photos.
The view from our apartment in Hanoi. The air quality when we first arrived wasn't too bad, but by the time we left a month later, it was pretty hazy. It reminded me the 2017 Northern California wildfires, where with each breath you took, you could feel the ash in the back of your throat. I had been to Hanoi in 2013 and the air quality was never this bad back then. The proliferation of inefficient 2-stroke motor scooters is probably to blame.
Bun cha, a staple of northern Vietnamese cuisine. We took a cooking class in Hanoi (not this photo) where the instructor told us that most of the Vietnamese food we eat in the US is from southern Vietnam brought over by those who fled abroad after the Vietnam War. I never knew that, but it makes complete sense. Also, while in Vietnam, I think I really upped my chili tolerance; my friend and I would buy bags of bird's eye chilies from the markets, mince them up, and add them to everything we ate. Just bought a banh mi? Two tablespoons of chili right into the sandwich.
Egg coffee
The following day, two friends decided to go up to Ha Giang to motorbike for a few days, another decided to go Singapore and Bali, and I decided to get sick. I spent the next 2-3 days in our apartment until I mustered enough energy to walk around the Old Quarter.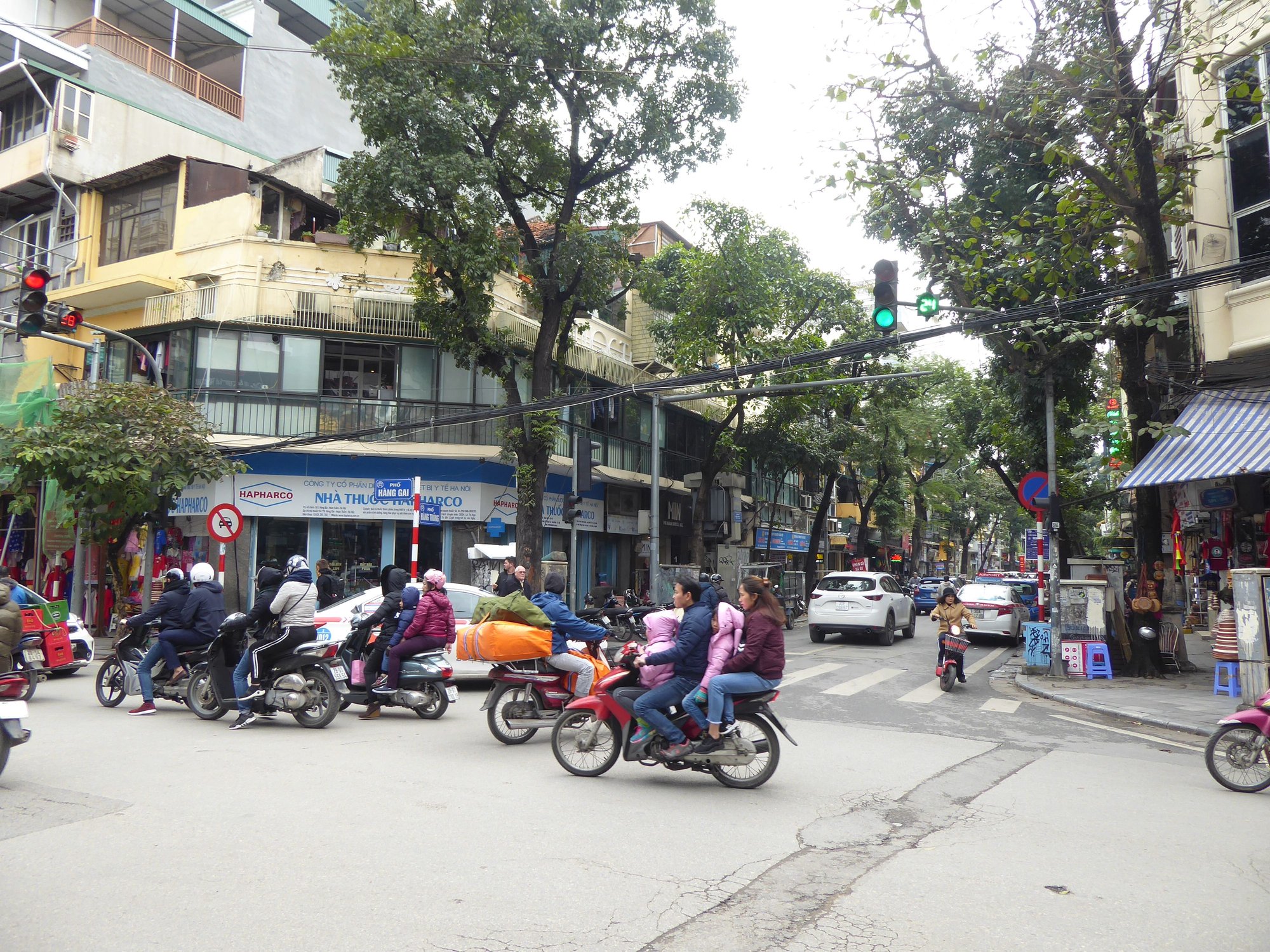 Long Bien Bridge
Hanoi Opera House
Train Street, which I've heard has since been closed to tourists.
St. Joseph's Cathedral
Pho Thin. They stir fry their beef, so the cuts are thicker and adds more flavor. If you're a fan of green onions, it's a must-go.
Once my friends got back from Ha Giang, we decided to take a day trip to Ninh Binh. The weather was fairly poor as it rained the whole time. However, with such light traffic, scootering around the area was a lot of fun.
We went on the boat cave tour in Trang An, which is where they filmed Kong: Skull Island. Some of the props are still left there.
Once we got back and lounged around Hanoi for a few more days, it was time for me to head off to Tokyo.
First stop once I dropped off my luggage at my hotel in the Asukusa area, Ichiran. I know it's a chain, but I love it.
Sensō-ji
Asahi Building and Tokyo Skytree
That night, I went to Maisen to have tonkatsu. Good, but not my favorite thing in Tokyo.
The next day, I headed out to some restaurants that were recommended to me.
Fuunji, known for their tsukemen (dipping noodles). The dip is heavily flavored with bonito, so if fish isn't your thing, you probably wouldn't like this.
And right around the corned is Udon Shin. Yes, I had back-to-back meals within the span of an hour (had to wait in line at both for about an hour).
Tsujiki Market the next morning. While the fish market has moved, the vendors and restaurants that surrounded it are still around.
Ginza
Shinjuku at night.
Caught a glimpse of Godzilla.
Sensō-ji at night.
Gyukatsu Motomura has a few locations; this one is located in Shinjuku. They give you a panko bread crumb coated black and blue steak and then you grill it to your liking, but honestly, it's best left alone and eaten as is.
Shibuya Crossing
The next morning, I went to Toyosu Market (re-located Tsujiki Market). It's lost a lot of the charm of the original.
The corridor where the public can gather. You can still get close to (but not onto) the trading floor, but that requires tickets way ahead of time.
The restaurants located just outside the main entrance of the fish market.
Abura, probably one of my favorite ramen places in Tokyo. They do a dry spicy ramen.
And the wonders of Family Mart, 7-11, and Lawson. It's really a shame that convenience stores in the US aren't stocked like the ones in Japan.
Akihabara
Some random sushi restaurant I stumbled upon on the underground level of a mall in Shibuya
Meiji Shrine
Takeshita Street in Harajuku
Imperial Palace
Tokyo Tower
Tokyo Skytree
Once I was back in Vietnam, I hit up Pho 10. Pho Thin is still my preferred pho restaurant in Hanoi.
And our last stop before heading home, a 3 day trip to Hoi An.
---
Last edited by calbear2005; Dec 6, 20 at

1:40 pm

Reason: typos
Apr 7, 20, 10:06 am
Join Date: Nov 2000
Location: Da Nang, Vietnam
Programs: BAEC Silver, Vietnam Airlines Lotusmiles Titanium.
Posts: 2,348
Living in Vietnam
---
This commentary is interesting to me, as I'm now living in Vietnam. Specifically, in Hoi An

I go to Hà Nói frequently, and I've done most of the exploring mentioned here. While Hà Nói is smoggy etc, I don't feel it's as bad as the OP suggests. Does that mean I'm not as sensitive? Or just accustomed?

The one thing I'd really like to point out is the friendliness of the locals. That's the best part about living here for me. Not to mention the directness!
Apr 7, 20, 11:42 am
Join Date: May 2016
Location: SFO, OAK, SJC
Posts: 238
Doing a fairly superficial search, Hanoi ranks among (along with Jakarta) the cities with the worst air quality in SE Asia, especially during the winter when I was there as air pressure tends to be higher, thus "enveloping" the pollution at ground level.
https://www.iqair.com/us/world-air-quality-ranking
While I can't vouch for the validity site, the feeling I got while in Hanoi was definitely comparable to the wildfires here in Northern Calfornia back in 2017 and my other friends with me agreed. Again, all anecdotal.
---
Last edited by calbear2005; Apr 8, 20 at

10:01 pm

Reason: clarification