Ground Services Extraordinaire (and Inflight Too!): AF P / EY P
Dec 12, 19, 2:35 pm
Join Date: Oct 2010
Location: GRU
Programs: AA EXP/CK; LH SEN
Posts: 87
Ground Services Extraordinaire (and Inflight Too!): AF First / EY Residence
---
Hello; I have followed this forum for years but this is my first crack at trip report, so please be gentle LOL. Also, English is not my first language, so pardon my typos, mistakes, etc!
Let's see how it goes; I will try to get it done within my spare time, so it might take some time. Hopefully I can finish it!
Introduction
I just finished a liveaboard diving trip a few weeks back, going from GRU to CNS. Given my limited amount of vacation time (there is something called work that gets in the way …), I was only in OZ for 8 days, so I wanted to get there with the most comfortable product possible (or at least that was what I convinced myself of).
My original plan was GRU-CDG-AUH-SYD-CNS and return. Yeah, the long way. The most direct route would be via Chile, but then the products wouldn't be nearly as nice. And the second most direct route with Emirates via DXB, but I didn't feel like "bling".
So, all was good, with two sectors in La Premičre and four sectors in The Residence, plus the domestic QF sectors in J. Tickets issued 10 months advance, yeah! That's until … Etihad happened. With the winter rotation, one SYD sector and both CDG sectors were downgauged from A380 to 77W. Infuriating!
(Very) Long story short, I was rerouted to LHR-SYD instead on the A380. But I didn't really feel like flying BA First, which is a material downgrade from AF La Premičre. I also moved to the evening SYD flight and got a day-stay at the Emirates palace in AUH, courtesy of Etihad.
In the end, I was left with GRU-CDG-LHR-AUH-SYD-CNS and return. Seriously, who does that?! I guess the silver lining is that on the AF ticket, I got US$1,000 back as the fare with a connection to LHR was cheaper than the flight to CDG only.
Anyway, enough with the intro; let's go diving (I mean, flying)
Index:
- GRU: Amex Lounge VIP Room
- GRU-CDG: AF La Premičre
- CDG: La Premičre Lounge
- CDG-LHR: AF Business
- LHR: No 1 Lounge VIP Room
- LHR-AUH: EY The Residence
- Abu Dhabi: Emirates Palace Suite
- AUH: EY The Residence Lounge
- AUH-SYD: EY The Residence
- SYD-CNS: QF Business
- Mike Ball Dive Expeditions
- CNS-SYD: QF Business
- SYD-AUH: EY The Residence
- AUH-LHR: EY The Residence
- LHR-CDG: AF Business
- CDG-GRU: AF La Premičre
---
Last edited by burg_rtw; Dec 15, 19 at

7:39 am
Dec 12, 19, 3:20 pm
Join Date: Oct 2010
Location: GRU
Programs: AA EXP/CK; LH SEN
Posts: 87
GRU: Amex Lounge VIP Room
---
AF offers the best F service from Brazil, hands down.
Check-in was a breeze; I asked where the P line was and they addressed me by name (despite being the first to check-in and occupancy was 2/4). I had flown AF P a few times before, so maybe they knew who to expect? At GRU, AF offers free luggage wrapping, so I took them on the offer and wrapped my dive gear bags as I wouldn't need to open them until getting to CNS.
A nuisance at GRU is that there is absolutely no fast-track. Other than Brazil's "priorities by law" (i.e. the elderly, special needs, mobility, etc), no shorter lines for anyone. But I had the pleasant company of the AF personal assistant and we chatted for the 10+ minutes to get through security.
Lounge: AF has the most exclusive lounge in GRU. Previously, they used the GRU airport First lounge (I think they were the only users, really). That is now gone as Amex took over and they are using a VIP room inside the Amex lounge. I understand only AF P and Centurion members have access.
I think the new space is actually an improvement. Nicely appointed, spacious and service was attentive. There are different seating options, including a few loungers, and a private shower room. I guess the only "downside", according to the AF PA is that they need to go inside the business lounge and into the VIP room (previously there was a separate entrance). I didn't really see any issues with that though.
As I wanted to save space for the flight, I didn't eat anything and only had a bottle of sparkling water. The waiter offered me a menu, which I perused but nothing really called my attention.
Flight was on time and my PA came to the lounge to escort me to the gate. We cut all the lines and she led me through the jet bridge door used only for P passengers.
---
Last edited by burg_rtw; Dec 13, 19 at

8:00 pm
Dec 13, 19, 5:50 am
Join Date: Oct 2010
Location: GRU
Programs: AA EXP/CK; LH SEN
Posts: 87
GRU-CDG: Air France La Premičre
---
Flight: AF454 (16:35 – 08:05+)
Seat: 1A
Load: 2/4
The La Premičre cabin really is the most elegant out there, in my view. Crew welcomed me onboard and was super nice. Bubbly on offer was Taittinger Comtes de Champagne Blanc de Blancs, which is lovely, served with a trio of appetizers (only two made the photo due to user
gluttony
error!). Amenities are high quality (Caritas) and PJ comfy, although I was not a big fan of the new green design with the satin stripe on the side …
Shortly after take-off, more drinks and meal time! I started with a celery-based soup, followed by the two appetizers of salmon tartare with sour cream and mangoes, as well as the crab terrine with passion fruit coulis. I paired those with a glass of Chablis and a glass of Riesling. Then I skipped the main course and had a cheese plate paired with the Pinot Noir.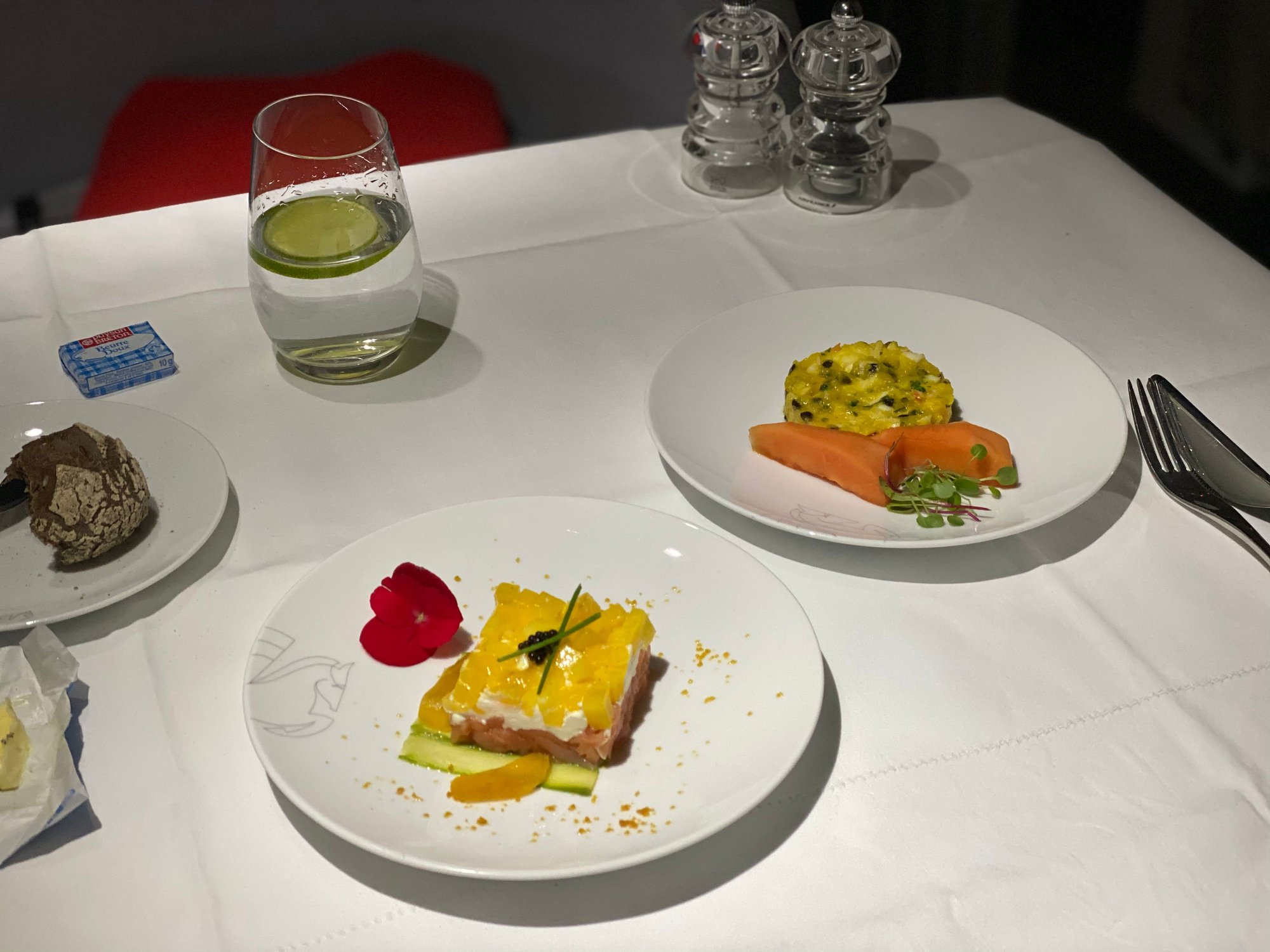 Off to bed, and I could sleep maybe for 4–5 hours only … flight leaves too early in the afternoon for proper sleep. Bedding was very comfortable though.
I watched a movie and then before landing just had a double espresso that hit the spot. I figured it would be best to have breakfast at the La Premičre Lounge.
Arriving at CDG, my PA was waiting at the door and drove me to the lounge. It was a chilly morning and I didn't really have any winter clothes (oops, forgot to plan for that!).
Dec 13, 19, 1:52 pm
Join Date: Oct 2010
Location: GRU
Programs: AA EXP/CK; LH SEN
Posts: 87
Salon La Premičre - CDG
---
I cleared security on the private entrance to the lounge and it took no more than a minute, despite carrying my underwater camera gear with a lot of metal and batteries.
Happy to be on the warm and comfy lounge, I had another double espresso, which was served on a nice transparent mug.
I enjoy the lounge as it is nice and elegantly appointed. It also is (mostly) quiet. There were, however, some loud guests and some annoying people talking on their cell unaware of their volume … I didn't take many pictures in order not to disturb other guests (three photos below are from my prior visit in April).
Anyway, after the coffee I made my way to the spa as I had scheduled a session. I selected a facial treatment, which involved all sorts of creams and masks, along with a very relaxing shoulder and head massage. Oh so good after a long-haul flight!
Feeling refreshed, I decided to have breakfast, and chose a classic French omelet, which was served with a bread basket. Everything was delicious and restaurant-quality. Along with the omelet I also had jasmine tea, which was served on what I am 100% certain to be the heaviest teapot on earth! I find the waiters are much nicer and engaging at present. Maybe they got more training, as in the past there were some grumpy faces and monosyllabic answers.
I do have a couple of constructive criticisms about the lounge:
1) There is absolutely no proper place to work. I had a few hours to kill and was actually working remote on that first day. I had to occupy a dining table and use the power socket on the ground. Otherwise, I find the couches too uncomfortable to get any work done with a laptop.
2) There isn't really a good place to take a nap. There are only two lie-flat loungers, but they are not comfortable and, believe or not, apparently there are only two blankets on the lounge, and they were being used by other guests. And the area around the loungers was quite cold.
After a few hours, I took a shower and a few minutes after I returned to the dining area another PA came to get me and drove me to my short hop to London, which was … stressful.
Dec 13, 19, 1:55 pm
Join Date: Oct 2010
Location: GRU
Programs: AA EXP/CK; LH SEN
Posts: 87
Same here; the combination of excellent ground services (especially in Paris) and solid hard/soft product is hard to beat.
Etihad Residence is better all around, but not really comparable though as it is in a league of its own.
---
Last edited by burg_rtw; Dec 13, 19 at

2:24 pm
Dec 13, 19, 2:23 pm
Join Date: Oct 2010
Location: GRU
Programs: AA EXP/CK; LH SEN
Posts: 87
CDG-LHR: Air France Business (Regional)
---
Flight: AF1780
Seat: 4D
Load: almost full
My PA escorted me up the stairs and we were the first to board. He passed me onto the purser, saying I was connecting from a long flight from GRU. I was offered water and told that the only empty seat was the one next to me, so I had the entire row to relax. I think that was just a coincidence rather than any special blocking from the P ticket.
A few minutes later, other passengers boarded and the doors closed on time. That's when things started to get stressful. Something was clearly wrong … engines wouldn't start and the flight attendants were all looking at the door.
After 10 minutes, the pilot introduced himself and explained what was going on … the jet bridge operator made a mistake and moved the bridge too close to the aircraft, instead of moving it back. That caused the equipment to be locked for safety. Pilot than said an expert would have to come in, but they are outside the airport, so it would take some 30 minutes. Despite my connection being 6 hours long, I start to get stressed because I am on a separate ticket with Etihad.
The 30 minutes go by and the pilot informs us that the expert was unable to move the jet bridge properly, and actually it went even further to the aircraft and could have damaged the door. Now an inspection is necessary, to assess whether the aircraft is fit to fly. Panic mode is official … I call my Air France contact in Brazil and ask to be protected in the next flight out of CDG to LHR. They accommodate my request.
But news turned out to be good. There was no damage and the jet bridge will be pulled manually. Hurray! We are 90 minutes delayed, but my connection is safe. But really, this mistake by the jet bridge operator was a first to me. Consensus amongst the crew is that the operator will likely be sacked ...
After take-off, the flight was uneventful. I just had water and declined the snack. Upon landing, there was a bit of a commotion (including crying and desperation), as it seems plenty of people were on tight connections to the US. As I still had plenty of time, I made room for some people to rush out, but most of the other people in J were not that accommodating …
At a distance, the beautiful A380 that would take me to AUH
Dec 13, 19, 6:40 pm
Join Date: Oct 2010
Location: GRU
Programs: AA EXP/CK; LH SEN
Posts: 87
Spoiler alert ... on the way back, it was -2C at CDG and I had to go down the stairs and into the car in a t-shirt and jeans
I seriously considered asking to take the red blanket from the plane and wrap myself in it LOL
That would have been
ridiculous
interesting. But I just battled the cold!
Dec 13, 19, 7:34 pm
Join Date: Oct 2010
Location: GRU
Programs: AA EXP/CK; LH SEN
Posts: 87
LHR: No.1 Lounge (The House VIP Private Room)
---
I deplaned from the short AF flight and the lovely Etihad PA was waiting just outside the jet bridge. As I was on a separate ticket, I had to collect my bags and re-check.
Walk to immigration took less than 5 minutes at LHR T4, which is a blessing. Also, I get to use the e-gates, so cleared immigration with zero wait.
Now ... AF does a fantastic job with P bags at CDG or in direct flights. But on this connecting flight, my bags were amongst the last to come down the belt, which is a bit annoying.
Luckily, the Etihad PA knew the luggage people and gave them the tags to confirm they were coming. She was just incredible, and has worked at LHR for decades (she even worked with the defunct Varig from Brazil, which I used to fly when I was a kid!).
With bags in hand, we walked up to the Etihad check-in, which was still closed. But a benefit of flying The Residence is that they go above and beyond, so my bags were tagged, photographed and kept at the office. My boarding passes were already issued and kept in a nice case.
Security had no wait at T4 and we walked to the No.1 lounge. I asked if we could stop at Boots for some essentials and that was of course no problem.
At the lounge, no check-in required and I was taken to the private VIP room (former Residence lounge) through a back door. I was asked if I wanted the doors to the rest of the lounge accessible (by movement sensor), which I declined. But the host just taught me how to program the door in case I wanted to visit the buffet area of the lounge.
I thought the VIP room was nicely appointed, with similar furniture to the AUH one. Some folks in the EY forum said the couch was hideous (those guys are difficult to please!) but I actually found it was ok, and it was very comfortable. There was also a private restroom with a shower.
At the dining table, there was a menu with a few ŕ la carte options. I was not hungry, but ordered an aubergine bao, which was quite tasty. And had sparkling water as well.
After the meal, I took a shower, and that was not good ... pressure was super low for a gigantic rain shower head. Like, drops of water. I used the small handle, and even that one did not have good pressure.
At that point, I was tired, given that I had not slept much on the first AF flight. So the couch looked at me ... I looked at the couch. And we got comfy with about 90 minutes of solid sleep (I set my alarm clock).
Waking up, I had some more water, and my Etihad friend came around to take me to the flight. I requested to board first, and she said my butler was already waiting by the gate.
---
Last edited by burg_rtw; Dec 13, 19 at

8:09 pm
Dec 14, 19, 2:16 pm
Join Date: Oct 2010
Location: GRU
Programs: AA EXP/CK; LH SEN
Posts: 87
LHR-AUH: Etihad The Residence
---
Flight: EY26
Seat: 1A
Load: 1/1
The gate was very near the lounge, and in no time we made our way. Boarding had not been called as it seems the aircraft was still finishing being prepared. We walked right in, and I was introduced to the butler by the gate.
My butler was originally from Jordan, more on the young side and was enthusiastic about service. During the flight, I mentioned I had visited Amman when I was a teenager and talked about how much things had probably changed, as my last visit there was 26 years ago. We also talked about the food scene in Jordan, and it seems he is as into food as me! Good match. But I digress ...
We walked through the front of the First cabin, where the doors to The Residence were then opened. I was asked if I needed a refresh on the cabin and facilities, but I declined as I still remembered the drill from my first trip with the product two years ago.
Etihad cut costs across the board, but I didn't feel any impact at all on this product. Quite the contrary. The attention to detail was uncanny. For instance, they had my preferences on file from two years ago, and also knew I am left-handed. The butler also confirmed all my preferences and let me know my special requests for food and beverage were properly loaded.
The cabin is just gorgeous and ultra comfortable. The seats in the leaving room do not decline much, but that's not a problem. They are super comfortable and have plenty of adjustments, including air firmness which really makes a difference. At the minibar, without my asking beforehand, my preferred water choice was loaded.
As other passengers started to board, I moved into the bedroom to get changed. I love the Etihad PJs. They are light and comfortable. The Residence uses the same as First, with the exception of an additional robe of sorts, which I actually didn't use.
One thing that I particularly enjoy about this product is that you have your private toilet with a shower. And despite being the only one using it, every time I washed my hands or used the facility, it was refreshed.
LHR-AUH is kind of a short flight, so my plan was to eat right after take-off, then get some sleep and wake-up for a shower just before landing.
I started with a glass of Laurent Perrier Alexandra Rosé, accompanied by my request of vegetable crisps (those were my catering requests!). I like the okra crisps, what can I say! And the Alexandra became a favorite since I tasted it on a JL flight a few years ago.
Caviar came next, and I stuck with the champagne. I am not a connoisseur, but it seemed different form the caviar served by other airlines. The roe was bigger and more golden in color vs. the traditional smaller and black roe. I liked it a lot and was offered a second serving, which I took.
Next came the Arabic mezze, which was nice. My favorite was actually the tabbouleh salad, seasoned very well and with loads of parsley, as I like.
A sorbet to cleanse the palate followed, and I just tasted it.
Main course was a delicious black cod on a bed of quinoa. It was the chef's recommendation and I am happy I took it. It was very well executed. I paired it with some Chablis, which was very good.
Off to bed, real bed. It does make a difference and nothing beats the bedroom with a proper mattress. I slept so profoundly that when the butler came to wake me up for the shower, I was startled and kind of "jumped".
I took the shower, to which I was given 10 minutes, twice the normal for the shared shower in the cabin. It was refreshing and the amenities are very good.
It was now daytime and the sunlight made its way through the cabin, meaning the flight was over. Following the goodbyes and a few photos with the butler, we landed.
I was escorted to the front door and my PA and porter took me straight to the limo for my day-stay at the Emirates Palace.
Dec 14, 19, 5:55 pm
Join Date: Oct 2010
Location: GRU
Programs: AA EXP/CK; LH SEN
Posts: 87
Emirates Palace Hotel: Palace Suite
---
The drive to the Emirates Palace hotel took less than 30 minutes and I chatted with the chauffeur for most of the way. For those who are curious about details, car was a Mercedes S Class, so super comfortable.
My luggage stayed at the airport for the connecting flight at night, while I brought only my carryon. Arriving at the hotel, there was the usual need of the larger carryon going through the security X-ray on the back door.
Check-in took a little longer then usual. The Residence guests normally get a Khaleej Suite, but I was informed I was upgraded to a Palace Suite. I don't know if this was on Etihad (maybe because of the inconvenience of all the schedule change) or on the hotel itself.
I enjoyed the upgrade, if anything because the Palace Suites are on the main building, while the other rooms and suites are on the wings, which are a trek from the main building.
The Palace Suites also come with butler service, which I think is unnecessary. The guy was super nice, but the intro to the room and all the functions was painfully long. I asked for some carrot juice, which was promptly delivered and freshly squeezed for sure. Yummy!
The room itself was huge, and probably had the highest ceiling of any other hotel I have ever stayed at. There was a living room, separate bedroom, huge closet area and enormous bathroom. And an ocean front balcony, where I could watch a show by the French airforce, which was pretty cool.
I took a nap and woke up to get breakfast/lunch at the buffet. It seems like the hotel has materially expanded the buffet restaurant footprint. The ocean front area was full, so I chose a side porch which was quiet. Food was ok but nothing remarkable, to be honest. There were lots of little birds, so cute. But they were making a mess and the waiters were not happy about that!
After breakfast, I went back to the room and worked again for a few hours, before taking yet another nap. I then had a proper shower (great water pressure!) and shortly after received a call from the concierge informing that my chauffeur was ready to take me to the airport for the Sydney flight. There was some seriously mood lighting going on in the car!
All in all, I have mixed feelings about the hotel. The grounds are beautiful and the service very attentive. But it is definitely not my decor style. I am not sure I would stay there if I had to pay for it. Probably I would go across the road to the Jumeirah, which is where I stay when I travel to AUH for work once a year.
---
Last edited by burg_rtw; Dec 15, 19 at

4:42 pm