4 Days & 3 Nights in Jeju Island
Dec 9, 19, 10:00 pm
Join Date: Dec 2017
Posts: 93
4 Days & 3 Nights in Jeju Island
---
On November 30, 2019, my family and I went to Jeju Island, South Korea as part of our annual family holiday. We were there for 4 days and 3 nights.
Jeju Island is an island in Jeju province which located in the Southern part of Korean peninsula. The island contains many natural wonders as its main attractions such as mountains, beaches, caves, waterfalls and forests. Sometimes called as "South Korea's Hawaii", it is a popular holiday destination for Korean travelers since few decades ago and today, Jeju has attracted many tourists from another countries as well including Malaysia.
Thanks to Air Asia, Malaysian travelers can fly directly to Jeju Island from Kuala Lumpur 4 times weekly. The flight is operated by the low cost carrier's long-haul unit, Air Asia X (D7) and it is the airlines' 3rd destination in South Korea after Seoul and Busan.
On the day of departure, my mum and I left our house at 2:30am with a Grab ride. The traffic from our house to KLIA2 was smooth and we reached at the airport around 3:30am. Inside the terminal, we met with our 5 other family members and other people who joined this group tour (there were . At 4am, we gathered at "Bibik Heritage Restaurant" where our tour leader gave us some briefing about the check-in procedure and our times in Jeju. After the briefing ended, we made our way to check-in counters in Row X for a group check-in and luggage drop. Once we received our boarding pass, we were free to go anywhere that we wanted inside the terminal, but we had to be at our boarding gate at least 1 hour before our flight time.
My family and I decided to enter the airside and had our breakfast in Mcdonald's before we entered our gate, Q4. It was quite a long walk to reach this gate, but good thing about KLIA2 is that there is no security screening at its gates, unlike KLIA1.
We waited here until the arrival of our aircraft.
The boarding process commenced around 7:30am and passengers in premium cabin (with premium flatbed seat) were called first and followed by the rest of passengers who were called based on their respective zone.
We were placed in Zone 3.
Air Asia X's main workhorse, the A330-300.
Airline: Air Asia X
Flight: D7 501
Aircraft: A330-300
Origin: Kuala Lumpur
Destination: Jeju Island
ETD: 08:00 AM
ETA: 15:00 PM
The flight seemed 85% full.
Settled in my seat. As you can see here, the legroom was not wide.
What were inside of the back seat pocket; safety information card, inflight magazine, Santan inflight meals menu, inflight sales catalogue and a barf bag.
We left the ground at 8:14am.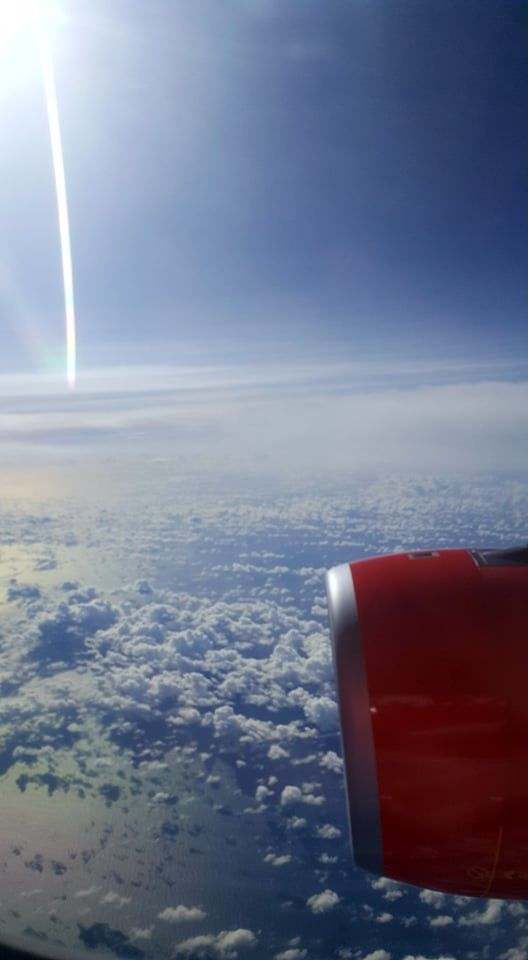 The inflight service started late than usual, about 1 hour after takeoff as we experienced some bad weather earlier. The cabin crew of mixed nationalities (Malaysian, Korean and Thai) came into the cabin to serve the meals (pre-booking and buy-on-board).
My pre-booking meals, Cheese Omelette and Chicken Sausage with a complimentary Mineral Water.
It came with Wedges, Mushrooms & Baked Beans.
I also made an additional purchase of Hot Coffee
A box of Pineapple Tarts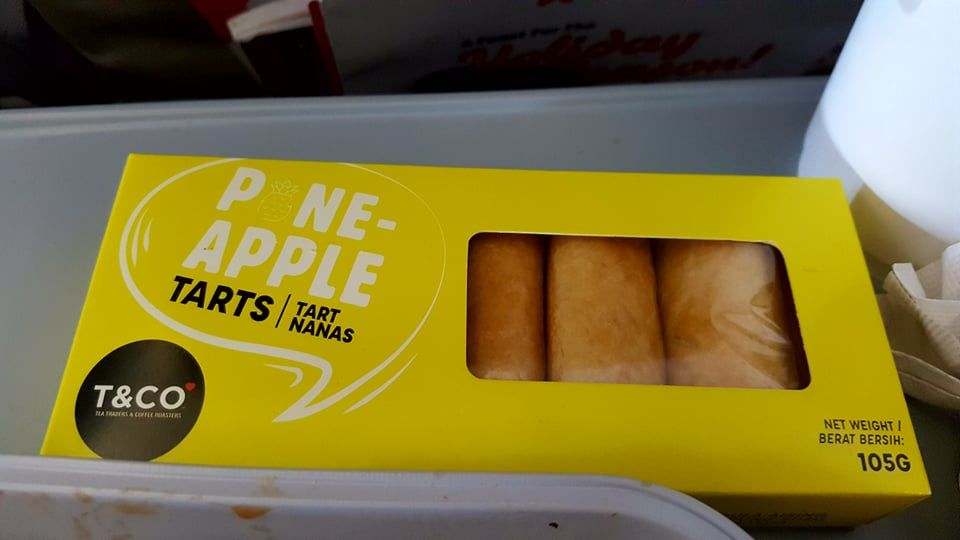 And a Caramelized Apple Burnt Cheesecake. This was so good and highly recommended for you to try. The stocks onboard each flight also quite limited, so you better buy it fast!
The end result.
Not many things that we can do onboard Air Asia flights due to the lack of IFE (you still can purchase the "Xcite Tab" to watch the entertainment at additional cost), most passengers decided to go to sleep or read something after the 1st meal service was over. Throughout the flight, cabin crew came few times to sell the buy-on-board meals, duty free items and Air Asia's exclusive merchandises.
We safely landed in Jeju International Airport few minutes ahead of ETA and all of the group tour participants (there were around 30 of us) required to meet with our local Korean guide once we reached the landside of the terminal.
We met with our Korean guide and left the airport terminal to ride our bus.
Looking back at Jeju International Airport while we were walking towards our bus at the parking lot.
---
Last edited by airways91; Dec 10, 19 at

6:15 pm
Dec 10, 19, 9:06 pm
Join Date: Dec 2017
Posts: 93
DAY 1
From the airport, the bus took us to our hotel for check-in into our respective room to keep our luggage and a toilet break. We were given only 30 minutes for all these before we required to board our bus again. Half of the tour participants stayed in a 4-star hotel while the other half (including my family) stayed in 3-star hotel. Both hotels located in Yeon-dong, Jeju City and next to each other.
Our room in Parkside Hotel. It features traditional Korean elements in its interior.
Bathroom.
We all boarded the bus again and off to visit our 1st attraction in Jeju, the "Yongyeon Pond".
Spotted the Hallabong Tree, a type of tangerine and 1 of the iconic products in Jeju Island.
Arrived at Yongyeon Pond.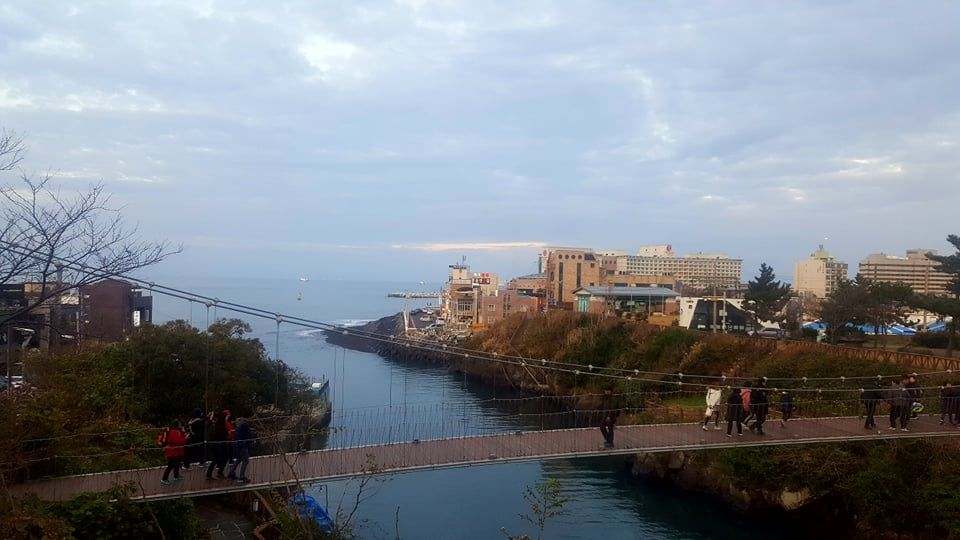 Had to cross this bridge to get to the other side.
We bought Roasted Chestnuts from this seller.
Views from the bridge.
It is a deep water pond which formed from the meeting of fresh water in the mountain valley and the salty water in the sea.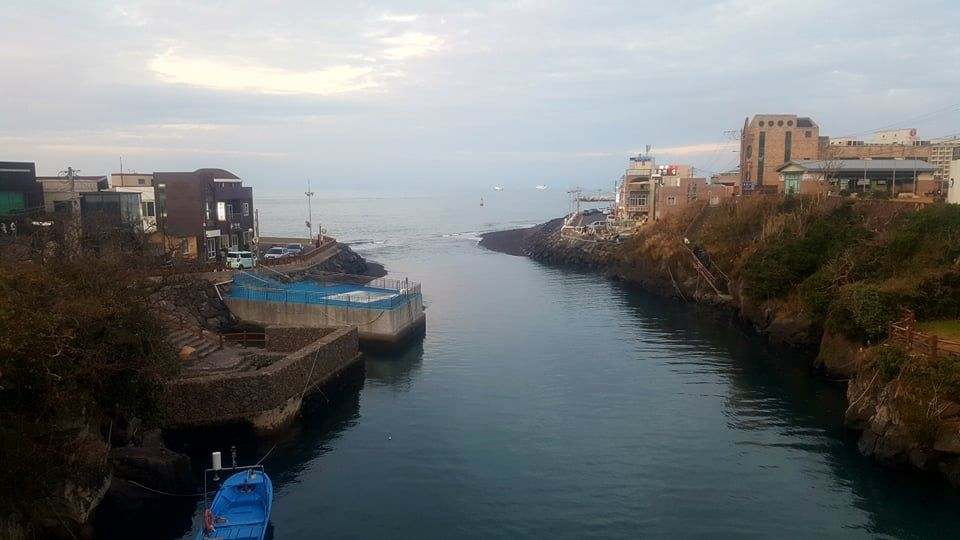 And it is also a good place to spot the aircraft that about to land in Jeju International Airport.
From the Yongyeon Pond and Bridge, we moved to our 2nd attraction, the "Yongduam Rock". It is located very close to Yongyeon, so we just had to walk to get here.
Also known as the "Dragon Head Rock", the Yongduam Rock was formed by strong winds and waves which occurred over thousand years ago. The huge rock really resembles the shape of a Dragon Head.
We only managed to visit 2 attraction on our 1st day as it was already late evening. We boarded the bus again and were sent to 1 local restaurant for dinner.
We had Grilled Mackerel Fish and Seaweed Soup for our main dishes.
Along with some side dishes such as Kimchi, Hallabong (Jeju Tangerine) and Sliced Fish Cakes.
Although the foods were dry and simple, but they were surprisingly very delicious!
After dinner, we were sent back to our hotel for rest. That night, my family and I decided to walk around the city and did some shopping. Our hotel is located 5 minutes away by walking from the city's popular shopping street. There were a lot of shops selling cosmetic products, clothing, souvenirs and some cafes that opened until late at night.
---
Last edited by airways91; Dec 11, 19 at

8:19 pm
Dec 10, 19, 11:41 pm
Join Date: May 2008
Location: San Francisco
Programs: GM on VX, UA, AA, HA, AS, SY; Budget Fastbreak
Posts: 5,395
Gorgeous. Looks fabulous. i love the pictures.
Food looks lovely and is a bit different from the korean cuisine that I get in San Francisco.
Ok dumb question but do you ever go to North Korea and how does their food compare?
Dec 11, 19, 1:24 am
Join Date: Dec 2017
Posts: 93
Thanks for your kind words.
Ya, those foods were also different than the Korean foods that I ever had in Malaysia. Finally, I able to taste the real and authentic Korean foods cooked and prepared by local Korean people in their native country!
No, I never been to North Korea. This was my very first time in South Korea. I never been to Seoul either.
Dec 11, 19, 10:10 pm
Join Date: Dec 2017
Posts: 93
DAY 2
Throughout our times in Jeju, we had our breakfast in the hotel's cafeteria (the breakfast was inclusive in our tour package). 99% of meals in the buffet breakfast were Koreans with the exception of Toast and Strawberry Jams.
At 8:20am, all tour participants had to board the bus. Our tour guide provided each of us a bottle of Mineral Water and 2 samples of traditional Korean Rice Cake known as "Omegi Ddeok". The Rice Cake was sticky, full of Red Beans yet not too sweet.
Arrived at our 1st attraction of the day, the "Jeolmul Recreational Forest".
The Jeolmul Recreational Forest is located Northeast of Hallasan Mountain and it is a perfect place to stroll and do other recreational activities. There is also a log cabin for visitors who choose to stay overnight here.
You can find many interesting sculptures made up of stones and woods like these at various spots of the forest.
And it equipped with a well-maintained walking trails.
From Jeolmul Recreational Forest, we were taken by bus to our 2nd attraction, the "Manjanggul Cave" also known as "Manjanggul Lava Tube".
Listed as UNESCO World Heritage Site, the Manjanggul Cave is the 12th longest lava tube in the world definitely 1 of the most beautiful. It is highly regarded as a must-visit attraction when in Jeju Island, but I dont think it would be suitable for disabled person, elderly and those with babies as there are many levels of stairs that you need to take to go in and out of the cave.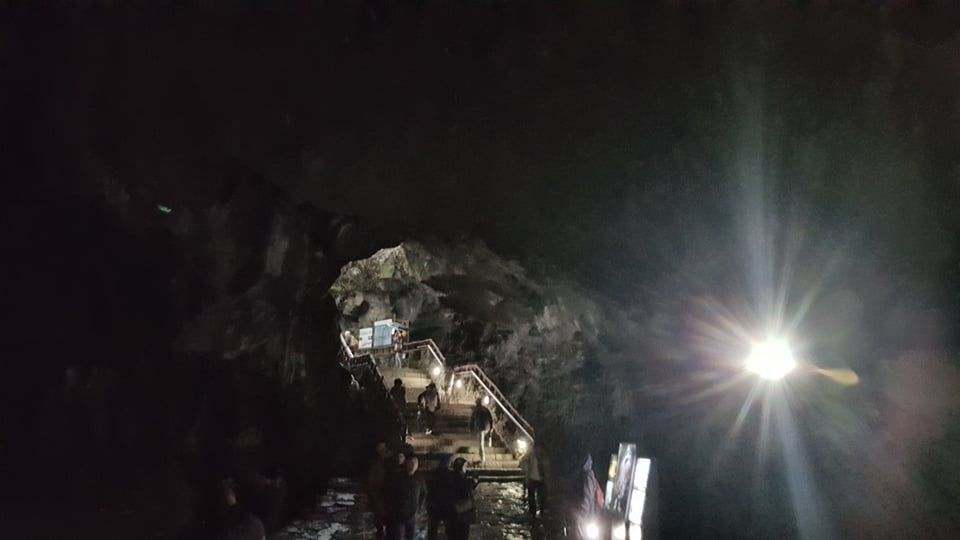 Due to its dim atmosphere, taking a good photo here is also very challenging!
The walls and roofs of the cave were full of beautifully formed Stalactites and Stalagmites.
Although the cave has a very long tunnel, only about 1km of the tunnel is opened to the public.
We walked through this illuminated bridge and managed to reach towards the end of the cave's area that opened for public.
You will see this rock formation that illuminated by Purple light at the very end part of the cave's area that accessible by the public.
From forest to a cave then we headed to the beach known as "Woljeongri".
Woljeongri is a stunning seaside area with a picturesque view of white sand beach, deep blue ocean water and the majestic windmills.
Its roadside is filled with many cafes, shops and restaurants.
We had our lunch in 1 of the restaurants there which is famous for its "Rock Fish" cuisine.
Our bus for the whole 4 days we were in Jeju.
Apparently this restaurant is quite famous in Jeju Island as there are some photos of local celebrities dining in the restaurant hanging on its wall.
Once we entered the restaurant, the staffs had served our meals in several tables. Some of us dined in the regular table while some, like my family had the experience to dine in a traditional way; seating on the floor.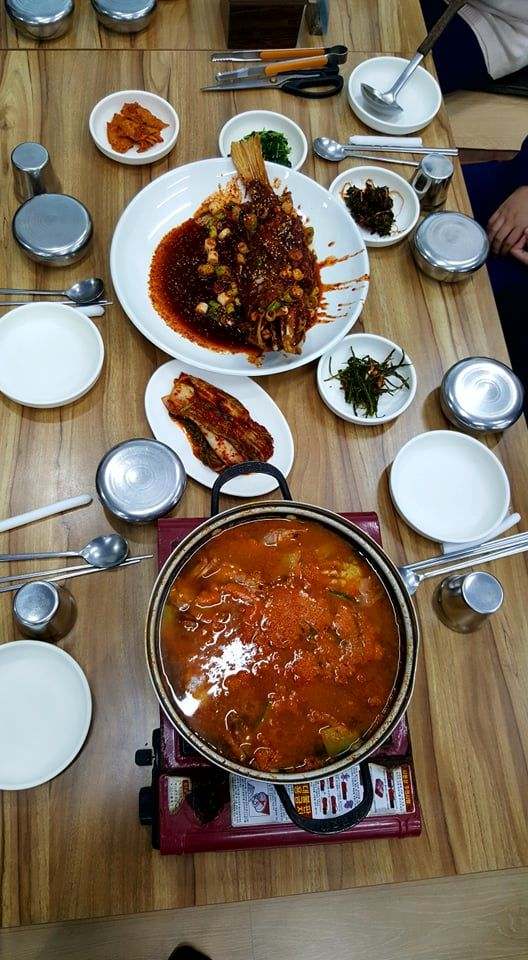 The main dishes of our lunch were the Rock Fish and the Korean Spicy Soft Tofu Stew (Sundubu Jjigae).
This was the Rock Fish. I thought Rock Fish was a marine creature with a hard shell such as crab and lobster, but boy I was so wrong! It looked very-alike to other regular fishes that I have usually eaten. Hands down, this was the best dish that we had in this tour. The Rock Fish was cooked in a Chilly gravy and tasted quite similar to Malaysian cuisine.
The Korean Spicy Soft Tofu Stew . Fully loaded with soft Tofu, vegetables and seafood. The spiciness level of this soup was considered as "mild" for most of us who used to extra spicy foods back in Malaysia.
After lunch, we were given few minutes to wonder and stroll along the beach area.
Some locals decided to do surfing on a cold and windy weather.
Then, it was time for us to leave Woljeongri and went to our next attraction.
---
Last edited by airways91; Dec 11, 19 at

10:16 pm
Dec 15, 19, 10:02 pm
Join Date: Dec 2017
Posts: 93
We visited 1 of the many Tangerine Farms available in the island.
Here, we got the chance to see 1 of the islands' famous icons, the Tangerine up close.
There is also a souvenir store in the farm where they sell many products such as sweets, chocolates and candies made from the Tangerines.
Initially, we were allowed to do self-plucking, but were told not to do so due to rain.
From Tangerine Farm, we went to "Seongsan Ilchulbong Peak". Also called as the "Sunrise Peak", the Seongsan Ilchulbong is a tuff cone crater that formed by under the sea volcanic eruptions about 5000 years ago. It is another UNESCO World Heritage site in Jeju Island where visitors can see amazing views at the top of its peak. Standing at 180m tall above sea level, it takes approximately 20 minutes to climb towards its top (depending on your energy level).
There are 2 types of trails available; the free trail (on the left side) and the trail with fee (on the right side). Only the trail with entrance fee that will bring you until the top of the peak while the free trail will ends at a beach/sea side area. The fee to hike this peak was included in our tour package, so we didnt need to pay anything extra, but tour members still had the choice which trail that they would like to take. Only less than half of our tour group members who were brave enough to climb towards the top while the rest decided to follow the free trail or strolled through the cafes and souvenir shops.
Beautiful colorful flowers that we encountered along the way.
2 of my sisters took the free trail and these were some photos that taken by them
While this was the typical view that we had while climbing towards the top of the peak.
After almost 20 minutes of hiking (with multiple stops), our group managed to reach at the top of Seongsan Ilchulbong. Amazing scenery of surrounding areas was clearly visible from here.
It was really worth our every effort and sweat to get here.
From the top, it took us another 15-20 minutes to get down. After around 1 hour spent in Seongsan Ilchulbong, we moved to our next attraction, the "Seopjikoji".
Seopjikoji which located in the end of the Eastern side of Jeju Island was the filming site for many local Korean tv dramas and films due to its beautiful nature and fantastic scenery. Our guide told us that this place will be more beautiful somewhere in April when Yellow Canola Flowers are in full bloom. Too bad, we were there during Winter, so we didnt see any sight of these pretty flowers.
To be honest, nothing much to see here and the views from the cliff were pretty similar with the views that we had in Seongsan Ilchulbong Peak. But the amazing things that found here were the roadside stalls that sell local street snacks such as this Grilled Cuttlefish.
A squid-shaped pancake.
And the Grilled Turbo Cornutus. We didnt like their taste though.
We left Seopjikoji and headed to our final attraction site of the day, the traditional Folk Village.
The main entrance to the Folk Village
The Folk Village was reconstructed to resemble traditional Korean Village so that visitors will able to see a glimpse of local people's lifestyle in the past. Besides traditional houses, the Folk Village also features botanical gardens, marketplace, old government building and animal barns as parts of its attractions. There are also a dedicated area for live cultural performances and shops selling local foods and handicrafts. Visitors can also try wearing the traditional Korean attire, "Hanbok".
Unfortunately, we arrived at Folk Village quite late and it was really dark when we reached this place. Not so much can be seen and all of the shops/activities were closed already. We boarded our bus again after the very brief stop in Folk Village and returned back to Jeju Town for our dinner.
That night, we had something different for dinner. Instead of traditional Korean cuisines, were were brought to a Northern Indian Restaurant, "Raj Mahal" to eat Tandoori Chickens.
The Chickens were served with Naan Breads, Plain Rice and 2 types of Curries; spicy & non-spicy.
The Indian Restaurant is located near to our hotel, so we returned back to our hotels by walking. After a quick shower, my family (except my mum) went out again to do some shopping and chilled in 1 local cafe.
Hot Caramel Latte.
We even ordered a Patbingsu (a type of Korean shaved ice dessert with assorted sweet toppings) during that cold night!
Strawberry Cheesecake Flavor.
---
Last edited by airways91; Dec 16, 19 at

12:34 am
Dec 17, 19, 7:57 pm
Join Date: Dec 2017
Posts: 93
DAY 3
The first place that we visited on our 3rd day in Jeju was the Mysterious Road. Known among the locals as "Dokkaebi Road", this road received its nickname because of the moving objects such as vehicles can moving up the hill by itself even with a neutral gear. In reality, the Mysterious Road is actually a downhill slope, but it looks like an uphill due to its higher surroundings that creating an optical illusion.
Our driver shuts down the bus engine and it starts to move "upward". Too bad it ends too quickly!
From Mysterious Road, we went to Jusangjeolli Cliff.
Dolphin sculptures in the park near Jusangjeolli Cliff.
It was a cold, sunny and windy day in Jusangjeolli. Light snow was falling and there even a rainbow!
The "Daepo Jusangjeolli Cliff" is another spectacular volcanic rock formation located at the Southern Coast of Jeju Island. It was created from the Hallasan Mountain's lava which erupted into the sea of Jungmun. In year 2005, it was designated as a National Monument.
At the base of this cliff is the Jisatgae Coast with its imposing stone pillars.
Impressive rock pillars.
Dec 18, 19, 12:39 am
Join Date: Dec 2017
Posts: 93
Our next attraction was the "Cheonjiyeon Waterfall".
Walking through beautiful garden to reach the waterfall.
Some beautiful flowers that still blooming during winter.
We saw this stunning traditional architecture.
We then crossed this beautiful looking bridge.
The river flowing under the bridge.
Arrived at the waterfall.
Literally translated as "sky connected with land", Cheonjiyeon Waterfall is 22m in high and 12m in wide.
From natural wonders, we moved to a man-made attraction. Here, tour members were given a choice to visit either 1 attraction between "Teddy Bear Museum" and "Ripley's Believe It or Not". My family chose to visit the former.
Welcome to Teddy Bear Museum, Jeju Island!
Officially opened in 2001, the Teddy Bear Museum is a fun and unique museum that display rare collections of Teddy Bears from all over the world and different decades.
The Teddy Bears were used in dioramas of certain significant world events.
The Teddy Bears here also were set up to portray iconic figures and celebrities such as Monalisa.
Elvis Presley.
And Audrey Hepburn.
Dubbed as the world's most expensive Teddy Bear.
Teddy Bears fashion show.
Cowboy Teddy Bear.
After we finished exploring the Teddy Bear Museum, we reunited with another tour members who visited the Ripley's Believe It or Not at this Yellow Cafe.
Some of us didnt miss the chance to try the cafe's signature product, Banana Milkshake.
After that, we boarded the bus again and headed to a local restaurant near a small port to have our lunch.
Our lunch for the day was truly a seafood galore! We had the "Samseonghyeol Haemultang" as the main course. Samseonghyeol Haemultang is a hot pot of spicy soup with abundance of seafoods which normally served while the seafoods are still alive!
The side dishes with the unmistakable Kimchi!
The hot boiling pot was fully loaded with Clams, Crabs, Mussels, Prawns, Octopus, Turbo Cornutus and Abalones.
So fresh!
---
Last edited by airways91; Dec 19, 19 at

7:54 pm
Dec 19, 19, 7:41 pm
Join Date: Dec 2017
Posts: 93
Our journey continued to the next attraction, the Osulloc Tea Museum.
The place is more like a shop that sells many Green Tea-related products than a museum actually. We bought some beverages and desserts from its cafe.
Green Tea Caramel Latte.
Green Tea Ice-Cream, 1 of its bestsellers.
From Green Tea Museum, we were taken to "Saebyeol Oreum". Also known as "Hyoseongak",the Saebyeol Oreum is a parasitic volcano that covered with beautiful Pampas Grass which making it as 1 of the most photogenic and insta worthy spots for visitors in Jeju Island.
Our Korean tour guide, Daye aka Diana.
Besides taking good photos, visitors who come to Saebyeol Oreum are always eager to climb this mountain with a hope to reach its top.
We spotted 2 deer!
But alas, the hiking of this mountain was proven more challenging and difficult than it seems (it was more difficult than hiking the Seongsan Ilchulbong Peak that we did on the 2nd day.)
Diana assisted some of the tour members going down.
Only 3 of us (from our tour group) made it to the top; me and these 2 guys.
The views from the top of the mountain.
Light from the Heaven.
After a wonderful time in Saebyeol Oreum, we were taken back to Jeju Town for our last dinner in Jeju Island.
We had "Beef Bulgogi" as the main course for our final dinner in Jeju Island.
Diana explained that the local way to eat this dish is by adding a hot water from the thermos into the bowl that we filled with our Beef Bulgogi and rice. But we didnt like its taste after the water was added, so we ate the Bulgogi and rice dried.
From the restaurant, we were sent back to our hotel. Most of the tour members took the opportunity to explore the night life and shopping in Jeju Town for the last time.
The famous Banana Milk.
Another iconic product of Jeju Island is this Jeju Tangerine Juice. There are 2 flavors available; Sour and Sweet.
---
Last edited by airways91; Dec 19, 19 at

7:47 pm
Dec 20, 19, 8:15 am
Join Date: Mar 2001
Location: Austin, TX -- AA PLT 2.8MM+ (life PLT); IHG PLT Ambassador; UA Gold
Posts: 5,448
Great photos of Jeju! I had a 24 hr stopover there many years ago and visited the Lava Tubes and Seongsan Ilchulbong as well. After the visit I wished I'd had more time there.