LAX to Morocco Via Zurich
Nov 18, 19, 11:46 pm
Join Date: Dec 2015
Location: SNA
Programs: MARRIOTT TITANIUM / HILTON GOLD / UA SILVER / AMEX PALT
Posts: 178
Marrakesh
---
Part I of VI: Swiss International LAX to ZHR
Part II: Zurich
Part III: Edelweiss ZHR to RAK
Part IV: Marrakesh, Sahara, Essaouira
Part V: British Airways RAK to LGW
Part VI: Virgin Atlantic LHW to LAX via SFO
October 11, 2019
I arrived in Marrakesh in the mid-afternoon and went through customs. While I did not have my drone with me (which are illegal and will result in their seizure until you depart), a female customs agent questioned me after screening my suitcases. Apparently, Pelican brand headcases peak their suspicion. After a brief questioning for about a minute or so, I was permitted to leave. Once cleared, I was greeted by the driver for the hotel, Les Villa des Orangers. After a short drive, I arrived and was taken to the seating area where I was provided refreshments and checked in.
Overall, the hotel is excellent but was geared more towards middle to older age couples instead of a single traveler in their early 30's. I booked through the Visa Signature Hotel Program but I did not receive any special recognition, as opposed to most AMEX FHR properties. Nevertheless, the room, food, staff, and accommodations were excellent. As seen below, the manager provided some light snacks and refreshments when I arrived to my room. A great benefit is that the hotel is only about a 1/4 mile from the
Jemaa el-Fna and is i a very safe area as it is directly opposite of one on many royal palaces. A plus about the terrace rooms is that they come with an outdoor shower, which I loved. One last thing is that while the hotel is near the hustle and bustle of the city, the location itself is quite private, relaxing, and intimate.
Regarding the photos, given that this is a Muslim culture where modesty and shyness to photography exists, I tried to only photograph city-spaces, objects, performers, and those that want to be photographed. My opinion is that we are all people on this planet and not some circus animals to serve as cheap amusement.
Additionally, I have to apologize for the slow nature updates. Between work, jet lag, and daylight savings time I am have been on a weird funk once I got home. Now that I am back to normal, I should get this report done before Thanksgiving.
Marrakesh Traffic
Les Villa Des Orangers Terrace Bedroom
Villa De Orangers Rooftop Terrace
Les Villa Des Orangers Bathroom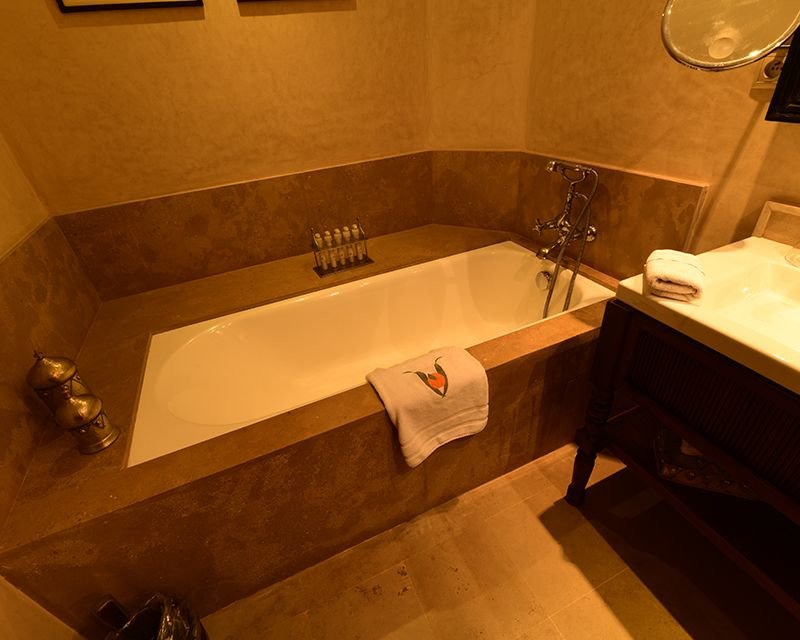 Les Villa des Orangers Courtyard
Les Villa des Orangers Courtyard
NEXT: Marrakesh City
Nov 22, 19, 2:37 am
Join Date: Apr 2018
Location: London, or thereabouts
Programs: Tesco Clubcard, Heathrow Rewards, M&S Sparks, Caffè Nero, HSBC rewards... BAEC defector
Posts: 123
Subscribed!
And I find that true of many "upmarket" destinations/hotels... which is a shame really, but understandable. So many places I've been avoiding, because I didn't want to stick out like a sore thumb.