TRIP REPORT: The big Europe (via Africa) trip 2019- TL, QF, JQ, BA, IB, VY, LM
Sep 29, 19, 2:26 am
Join Date: Oct 2015
Location: NT Australia
Programs: QF WP
Posts: 3,406
TRIP REPORT: The big Europe (via Africa) trip 2019- TL, QF, JQ, BA, IB, VY, LM
---
aka "dodging strikes, weather and IRROPS"
Background
Having not left Australia at all in 2018, and not having been to the UK since 2015 and Africa since 2014, and with the plan to take advantage of the BA Biltong
flash sale
, a plan was hatched for one of the most bizarre routings for a holiday anyone has ever imagined
Planning
Biltong fare
12th October 2018
Booked JNB-LHR-BCN-LHR-JNB F ZAR12611.68 for July 2019
December 2018
Took advantage of a less generous Qantas
flash sale
to obtain
DRW-SYD-JNB-SYD-CBR J AUD4519.95 July-August 2019
Shorthauls a random mish mash of cash bookings, will discuss any interesting points within the flights themselves
(Booking the Comair intra-African flights was a real nightmare, discussed in this thread
Comair Confusion
; the Helity helicopter flights to Ceuta were also "interesting" to book, I have
added some discussion to the relevant post on this report
)
Bucket list Europe items
My intention was to cross a few things off the bucket list. Making the focus the UK and Spain meant that this included
-Spanish North African territories- Melilla and Ceuta (not for any particularly good reason and not with a lot of expectation- primarily because they are often brought up in conjunction with "Gibraltar" and I fancied visiting to see what went on there. A previous Ceuta/Melilla trip in 2012 was cancelled due to being hospitalised with a spinal cord injury)
-Gibraltar (for aviation reasons and for similar reasons to Ceuta/Melilla, as above)
-Valencia and Bilbao (primarily for architecture)
-Barra- beach landing and take off
-Westray-Papa Westray "world's shortest flight"
Africa
Ended up being quite a last minute plan
My initial intention was to do a grand trip taking in all of South Africa. However it rapidly became apparent this was a stupid idea and there was insufficient time
Subsequently the plan changed to be an ex-JNB circuit through Eswatini into Mozambique and back to JNB- this was shot down by the inability to take a car across the Mozambique border, and was thus modified to a simpler JNB-Eswatini-JNB circuit
The latter half was initially intended as a Namibia trip, possibly a tour. Then pants decided he would come for 2 weeks of it, which meant any idea of a tour was out, and given he is not in any way adventurous I decided that the best was for those 2 weeks to essentially focus on the Western Cape only. This left me with a free week, with which I intended to visit the Zambia/Zimbabwe/Botswana triangle around Victoria falls
Intended routing:
MCV-DRW
DRW-MEL-CBR-BNE
(which became
DRW-MEL-BNE
)
BNE-DRW
DRW-SYD
,
SYD-JNB
2 nights in Eswatini (
1, Piggs Peak
,
2 Malalotja and Mlilwane reserves
,
3 Sibebe rock to JNB
)
JNB-LHR
LHR-BCN
BCN-MAD-MLN
MLN-AGP
AGP-JCU
JCU-AGP//AGP-BIO
BIO-LGW
LGW-GLA
-BRR (which became LGW-
GLA-BEB-Barra by ground transport
)
BRR-GLA-KOI-WRY (became
BRR-GLA // EDI-KOI
//
to Westray by ground transport
)
WRY-PPW-KOI (
CANCELLED! Boo!!)
KOI-ABZ-LHR
LHR-GIB
GIB-LHR-MAD-VLC
(
24 hours in Valencia
)
VLC-MAD-BCN (delayed by tech)
(I have messed up and reported the BCN-LHR flight in this post also)
BCN-
LHR-JNB
JNB-LVI
(
Chobe National Park
;
Livingstone Island to Zimbabwe
; a few days chilling in Victoria Falls)
VFA-JNB-CPT
(period of time spent razzing around the Western Cape 1)
3 days in Cape Town
, 2)
Greater Cape Town and winelands
, 3)
Winelands to Swellendam via Hermanus
, 4)
3 days on the Garden Route
, 5)
Garden route to Oudtschoorn via Prince Alfred's pass
, 6)
Swartberg circle route
, 7)
Oudtschoorn to Stellenbosch
, 8) Stellenbosch to Cederberg)
CPT-DUR
DUR-JNB-SYD-CBR
CBR-BNE-DRW-GOV-GTE
GTE-NUB
---
Last edited by nancypants; Jan 4, 20 at

10:46 pm
Sep 29, 19, 2:53 am
Join Date: Oct 2015
Location: NT Australia
Programs: QF WP
Posts: 3,406
27th June 2019
TL117 MCV-DRW
1900-2020
Air North E170
Seat 7B
This was my ticket out of Borroloola however having never taken the flight before I stuffed up and missed out on the executive lounge (namely, a freezer full of pies and sausage rolls youíre supposed to heat up and eat. Instead I went straight through security to departures and made the most of the fact that the mine has proper 4G
The flight itself is actually a mine charter but 5 seats are made available for sale to the general public- I believe this number includes seats available to the NT government for various purposes but apparently more seats are able to be opened up by the government if required
Thursday is the main shift change day so the flight is usually rammed and it was a minor miracle that I was able to get on at all. That said we ultimately left with empty seats
My driver was breatho-d driving into the mine. It is a dry site and blowing positive results in a ban
ďGive way to road trainsĒ
However the flight was very much not a dry flightÖ 100 odd FIFOs were intent on decompressing and having fun, The in flight catering was limited to a can of pringles (plain or sour cream) and soft drinks, but basically any booze you could desire was available for purchase (I think $6).
This was one of the most unpleasant flights Iíve ever been on.
The nature of QBT bookings means the pricing is a bit opaque but Iím told the sector costs $800 EACH WAY if booked by the public
Pros:
Air northís E170s are very modern, clean and comfortable
Itís a direct flight and takes an hour. The only alternative egress from Borroloola is a bus that takes about 12 hours
Cons:
Drunk FIFOs
McArthur River executive lounge not well signposted
Sep 29, 19, 2:56 am
Join Date: Jul 2013
Location: JNB
Programs: Flying Blue, Miles and Smiles, Hhonors, ICHotels
Posts: 1,241
Planning
Biltong fare
12th October 2018
Booked JNB-LHR-BCN-LHR-JNB F ZAR12611.68 for July 2019
That is an absolute steal at that price. Good on you for getting that.
Looking forward to the TR!!!
Sep 29, 19, 3:18 am
Join Date: Oct 2015
Location: NT Australia
Programs: QF WP
Posts: 3,406
28th June 2019
QF841 DRW-MEL
0035-0520
Qantas 737
Seat 1A
I stopped for a couple of hours at the Darwin Qantas Club
I was not in trip report mode at the time and as such took no photos
For a Qantas Club, DRW is pretty good. It is fairly massive and even when there are several QF/JQ flights going out there is always plenty of seating
My only complaint is that none of the seating has runway views
I had been successful in convincing work to go against their own travel policy and book me on the red eye, thus saving a night in Darwin
I was also successful in getting a points upgrade to J. And, the icing on the cake, the seat next to me remained empty. Result!
The crew was pretty excellent and went round the cabin offering up pre departure drinks (the classic Qantas "still or sparkling water"), and asking for intentions as regards bar service after take off, and being woken for breakfast. I asked to be woken. The seats are reasonable for a domestic J product, being able to scrounge a spare pillow from 1C helped, and I was able to get a fairly solid 2.5-3 hours before being woken by the cabin manager. I was massively confused when I first woke up. She seemed to understand this and brought me a cup of tea before asking again if I wanted to eat.
Breakfast was unstated but basically some kind of sausages with perfectly poached eggs, roasted cherry tomatoes and spinach (really good); there was a Frangipane type tart on the side which was also delicious
We ended up arriving a respectable 24 minutes early and I was disgorged into the delight that is Tullamarine airport
There was some confusion with lounge access and I'm not sure if the confusion was mine or the lounge "dragon"'s- I kind of thought connecting from a business class flight on the same day meant I was able to enter the business lounge rather than the pub. That said the domestic lounges at MEL seem to have been refurbished recently and I was far too tired to enter into a discussion about this, all I really was in need of was a caffeinated beverage
My original MEL-CBR flight (QF804) wound up being cancelled due to fog in Canberra (not an unusual occurrence this time of year). Since I was only due to have around 6 hours on the ground in Canberra before "connecting" on a separate ticket to Brisbane, I asked if I could take a flight straight to Brisbane instead. This was happily confirmed fairly rapidly. Initially I was told I would need to collect my bag and recheck, subsequently the baggage chaps were able to do it for me. The tag adjustment was…interesting. But my bag was waiting on the belt for me on arrival in Brisbane
Sep 29, 19, 3:19 am
Join Date: Oct 2015
Location: NT Australia
Programs: QF WP
Posts: 3,406
Sep 29, 19, 3:27 am
Join Date: Oct 2015
Location: NT Australia
Programs: QF WP
Posts: 3,406
29th June 2019
QF604 MEL-BNE
0710-0920
Qantas 737
Seat 14E
Brisbane side trip was only really for the purposes of spending a couple of days with pants, who had recurrent simulator training. The loss of Canberra stop over meant most of the time was spent getting supplies for the bigger trip, so I shan't bore you with details
The last minute nature of the flight change resulted in me missing out on my preferred window seat, but an exit row middle was a perfectly acceptable substitute
There was also further breakfast which it would have been rude not to partake of- a "bacon egg and relish muffin"
Qantas shortfall Y catering is far more hit than miss and this was no exception- pretty respectable offering
Flight was 1 minute (!!) late landing, however this still put me around 4 hours ahead of what should have been my arrival time
I noticed before take off from MEL that the 2nd booking had not been cancelled when the reroute occurred. Theoretically this meant I could have cancelled the flight for a credit (voucher for value less change fee, in this case $99). However I decided to be reasonable and uphold my part of the bargain.
The flight subsequently auto cancelled as a no-show
I was painlessly able to obtain original routing credit from QFF
Sep 29, 19, 3:45 am
Join Date: May 2010
Location: London
Programs: BA Gold, AF/KL Gold, Marriott Gold
Posts: 830
Sep 29, 19, 3:51 am
Join Date: Oct 2015
Location: NT Australia
Programs: QF WP
Posts: 3,406
30th June 2019
JQ674
BNE-DRW
2045-0025
Seat 1A
Because sleeping in a bed in so overrated and because I was intent on being in Darwin for Territory day (Iíve only missed the previous 4 years in a row, after all), my beloved Jetstar it was
Pants had passed his sim check and came to see me off
For those of you who donít know Jetstar, itís great
Row 1 is by far and away more comfortable than a standard QF 737 economy seat
I would argue for someone of my dimensions any other seat is as comfortable as QF
I donít appear to have saved the invoice for this but as is my way I took a Max bundle, giving me 40 status credits for QFF, a 30kg checked baggage allowance (never really required) and up front seats (1A <3). The menu has been changed and the much bites I used to love arenít offered anymore, however a Max bundle still gives you $15 worth of in flight catering of your choice. Since I had eaten before boarding and given it was late I only went for a bunch of cans of Pepsi Max to keep me awake
The crew were delightful as is the default position. We pushed back and arrived on time
Darwin was an absolute zoo with about a billion school age types wandering around- I assume there was some kind of school camp or adventure trips going on
Baggage was delayed being delivered as a result as the carousels were all clogged with unclaimed baggage
However I was still out of the airport and into a taxi within about 20 minutes of arrival
Those who donít know the territoryÖ
Territory Day aka cracker day celebrates the anniversary of self government for the Northern Territory, which was achieved in 1978
It is also the only day that itís legal to ?buy ?use (not sure) fireworks, hence Cracker day
After a nap I headed down to Mindil beach to take in the aerial displays, concert and fireworks
F/A18 from RAAF Tindal (Katherine NT)
Highly highly recommended for anyone that is passing- as good of a firework display as I have ever seen in Australia and less than 50% of the crowds of say Australia day fireworks in Perth. Also, itís the territory, itís just better
---
Last edited by nancypants; Sep 29, 19 at

4:46 am
Sep 29, 19, 4:11 am
Join Date: Oct 2015
Location: NT Australia
Programs: QF WP
Posts: 3,406
2nd July 2019
QF829 DRW-SYD
0145-0630
Qantas 737
Seat 1A
Territory day over (just!) and sleeping in a bed remaining overrated, it was time for another red eye, this time to Sydney
I remembered to change out of my "CU in the NT" shirt before entering the Qantas Club (technically the dress code doesn't apply in Darwin but one doesn't want to upset the apple cart after all)
The crew on this flight was not as good as that to Melbourne a few days prior. They were perfectly skilled but seemed more standoffish and less friendly
I was also unsuccessful in gaining an empty seat next to me this time. However I still had a reasonable sleep
The meal was essentially exactly the same as the previous red eye, but not quite as tasty- there was a polenta-y or possibly halloumi type thing in lieu of the sausages and some mushrooms had been added:
Overall I'd rate this sector as pretty forgettable
For reasons I can't for the life of me recall, and falling under the heading "things that seemed like a good idea at the time", I had asked for my bag to be short checked to Sydney only. This of course meant I wasn't able to take the airside transfer bus and was stuck with the landslide T bus. This runs at "regular intervals", I think about 15-20 minutes. However having spent most of my recent life in warmer climes, standing outside at 6.30am in New South Wales in July, I was bloody freezing. This would be one of the many things on this trip ultimately filed under "what on earth was I thinking?!'
Once arriving at the international terminal, finding the check in desks was the most painful part (can't remember the last time I originated at Sydney international). However once there, bag was checked in and on my way
7 weeks of baggage
The outbound express path remained stubbornly closed for refurbishment. My sleep deprivation did not enhance my enjoyment of the regular queues with lots of infrequent travellers. But actually the waiting time was not too bad and I was rapidly through and en route to the lounge
At this stage I was only a OWS so my lounge choice were "Qantas business lounge or qantas business lounge". Those of you have been there will recall it is not that great. However, what I cannot fault (ever) is the view, and today I was treated to some 747 towing action and a beautifully clear day showing off the Sydney skyline
---
Last edited by nancypants; Sep 29, 19 at

4:19 am
Sep 29, 19, 4:38 am
FlyerTalk Evangelist
Join Date: Mar 2010
Location: JER
Programs: BA Gold/OWE, several MUCCI, and assorted Pensions!
Posts: 30,375
Oh, cracking TR so far. I'm well impressed! This is going to be some trip: I shall NOT attempt to compete!
* 9.1 kg of luggage for 7 weeks? I thought you were a woman?
* Post 11 caption typo - your F17 is, of course, a F/A-18 (the single-seat A model, i believe).
Sep 29, 19, 4:45 am
Join Date: Oct 2015
Location: NT Australia
Programs: QF WP
Posts: 3,406
As always uncle T, you are my role model in these things- imitation being the sincerest form of flattery of course
9.1kg is rather a lot for me on the outbound. I usually end up returning with far more in the way of souvenirs and the like
I think I have stuffed up that Mindil beach caption, will adjust
Sep 29, 19, 5:02 am
Join Date: Oct 2015
Location: NT Australia
Programs: QF WP
Posts: 3,406
2nd July 2019
QF63 SYD-JNB
1055-1700
Qantas 747-400ER
Seat 5J
Some of you may or may not know that I had a brief dalliance with the cabin crew in the early 2000s; my primary aircraft was various iterations of 747 and as such it still holds a very special place for me
For this flight I had selected 5J, which is one of two seats on the main deck which do not have a seat next to them and thus highly recommended for a solo traveller
The state of the surroundings led me to believe QF is taking their cleaning cues from BA, however I was overall happy with my choice
This seat has the added benefit of a massive storage locker accessible while seated
Pyjamas, menus and amenity kits were distributed
My whinge at this stage is that the smallest PJ size is M/L which is quite large on what I would describe as average sized females. I am led to believe they used to stock S/M but these have been enhanced away
My policy is not to change until after take off but I was just about the only one not already in ďuniformĒ at push back
There were pre-departure bubbles; other than a disproportionate love of the 1992 vintage Dom Perignon I'm not much of a champagne snob; I'm not sure which one of the 4 listed on the menu they were but were perfectly drinkable
Astonishingly given this serviceís track record, we boarded and pushed back more or less on time
This flight is blocked at around 14 hours which makes the catering something of a challenge
Shortly after take off, there was a further drink service with snacks
The purser, who I think was called James, came around the cabin to greet the many business class passengers. He was an utterly delightful gentleman, very humble and charming. I asked if I could visit the flight deck on arrival (I explained my history so that he hopefully knew I wasn't a complete maniac)- he said he would ask "the boys". I asked galley FM for some hints on the 747 retirement plans- he advised a lot was still up in the air but that the SYD 747 cabin crews also operate a330 services
The cabin crew looking after my section (unfortunately sleep deprivation and time has affected my memory for names) was also charming and I felt very well looked after. The SYD-JNB and vv flight in general seems to get fairly poor reviews. She explained that she tries to bid off it if at all possible- I imagined this would be due to the flight length or possibly the passenger demographics but she said it was because the extreme southerly flight path meant they had far more cosmic ray exposure than on most of the 747 routes.
After these introductions lunch was served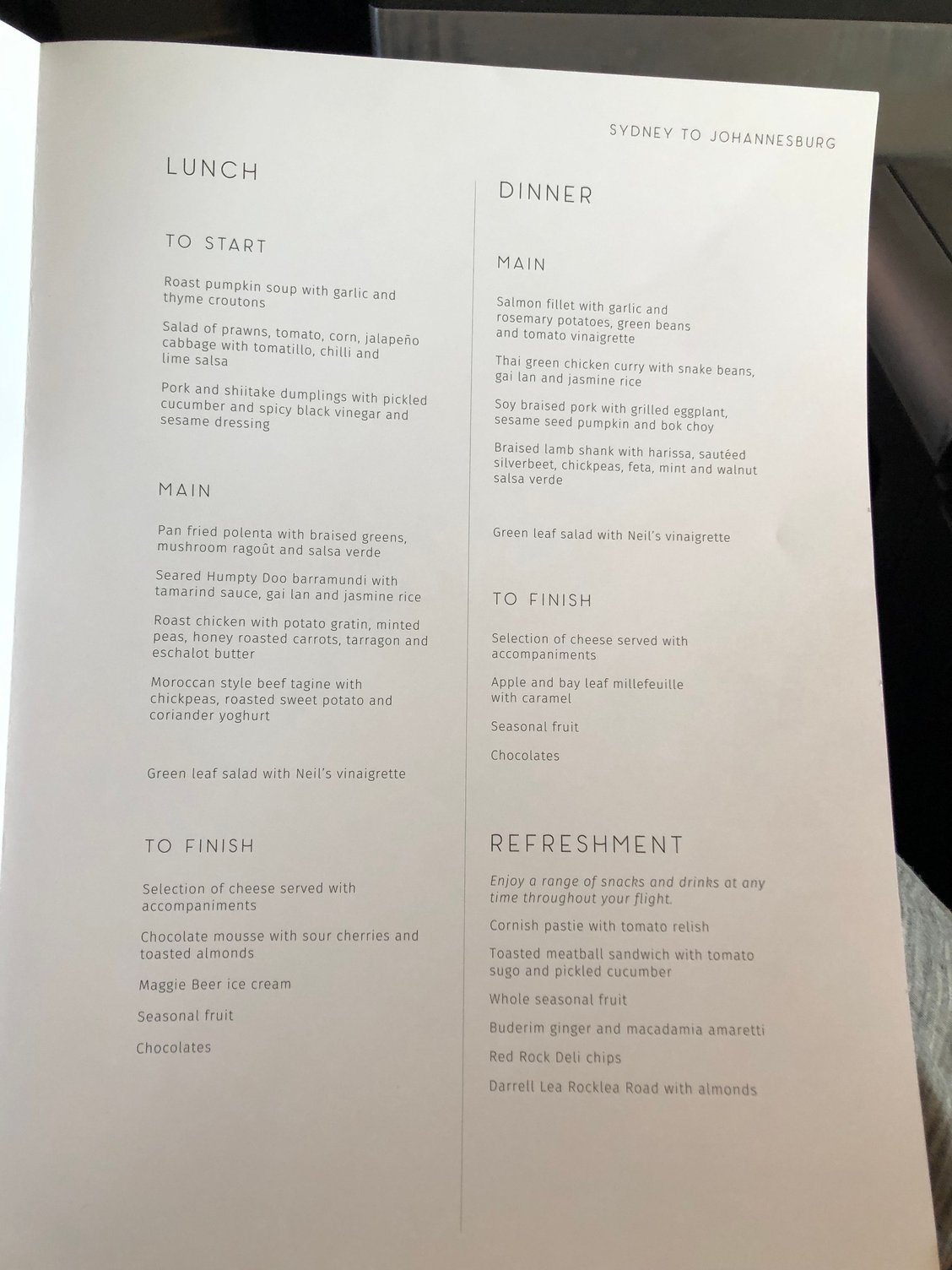 I have become conditioned to have a preference and also a second preference when ordering business class meals
Happily my first choice was available for all 3 courses
Tables were set and drinks served from a cart, with dishes themselves hand delivered subsequently
To start I opted for the
roast pumpkin soup with garlic and thyme croutons
It was tasty but not that memorable
Qantas makes a big deal of Neil's vinaigrette on everything. Again, seemed fairly ordinary to be but then I suppose it's not intended for idiot territorians
For main I went with the vegetarian option,
pan fried polenta with braised greens, mushroom ragout and salsa verde
The polenta was really good. The rest had good flavour but was a bit oily/liquidy
Most of the rest of the cabin seemed to choose the fish which we were reminded of for the next several hours
Deserts were brought on a cart meaning it was possible to look and then choose. I went for the
chocolate mousse with sour cherries and toasted almonds
This was not terrible but certainly was not that great, the chocolate flavour being extremely subtle. The cherry was the highlight
I'm not sure if the IFE was deliberately loaded with African themed content but I did think it was highly appropriate to watch
Invictus
during the lunch service; subsequently I enjoyed
The Last King of Scotland
during dinner