Singapore Airlines' Seattle Inaugural September 2019
Sep 15, 19, 7:45 pm
Join Date: Oct 1999
Location: New York
Posts: 6,572
Singapore Airlines' Seattle Inaugural September 2019
---
Singapore Airlines' Seattle Inaugural September 2019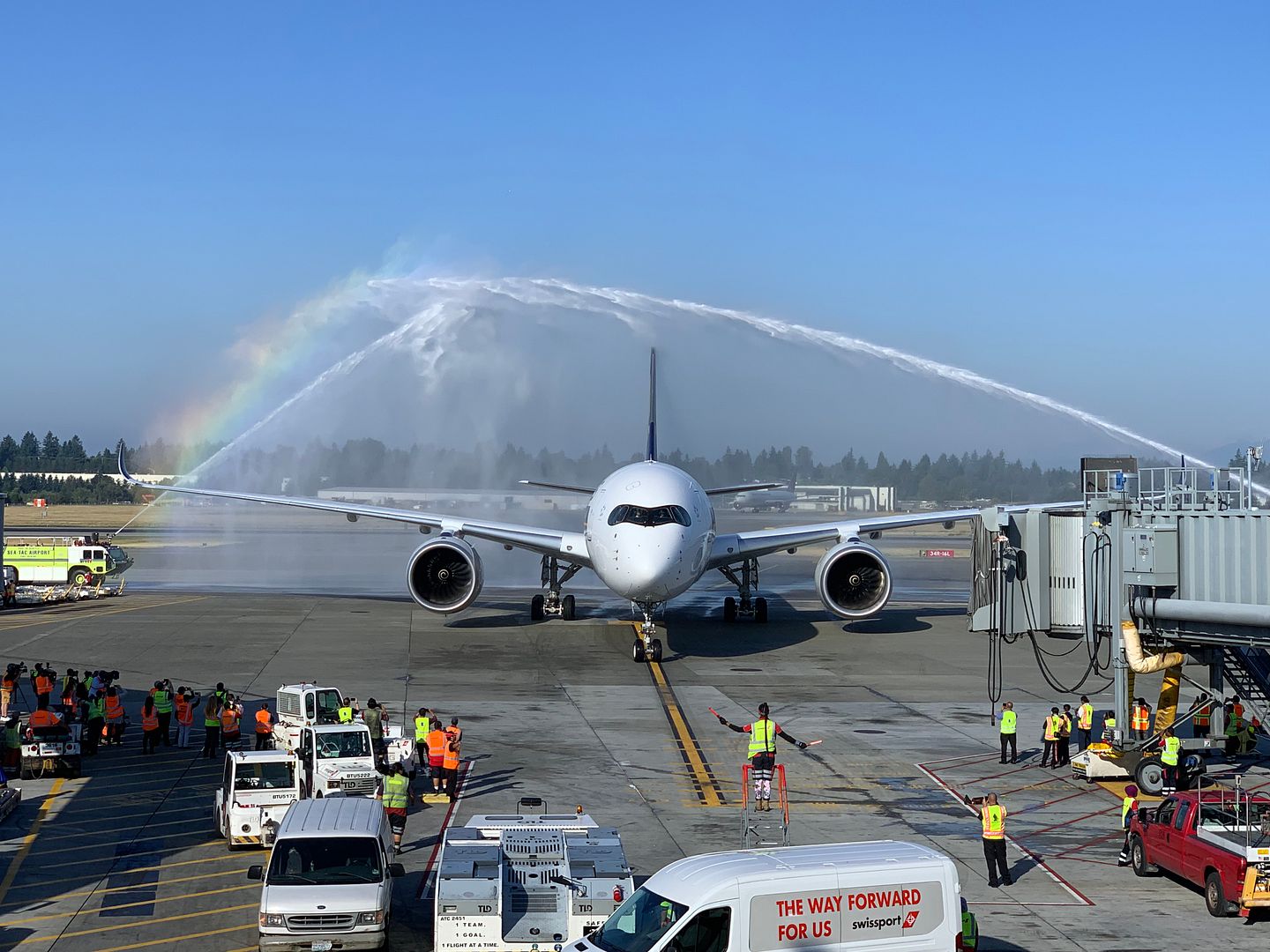 When Singapore Airlines announced their new North American destination, Seattle, in the summer of 2018, I immediately looked out for options to fly this inaugural flight. As typical with most SQ's inaugural flights, discounted business class seats were rarely available or at least available when bookings started. I decided to commence my journey in Colombo and flew the outbound from Singapore nonstop to LAX flying the new A350-900ULH, and then flew back from Seattle on the inaugural flight. I specifically choose to start my journey from Seattle because I have been to a few inaugural outbound from Singapore, so I want to fly the return inaugural back to Singapore. Despite being a higher fare category for the SEA-SIN segments, the fare is still very reasonable ex-Colombo. Everything went well until the attacks in Sri Lanka a few months ago. To give SQ credits, I honestly did not expect that they would allow me to scrap the Colombo segments, but after a few emails and also providing a copy that the State Department did not recommend anyone to go Sri Lanka, Singapore Airlines actually reissued the ticket without the CMB-SIN and SIN-CMB segments. After years of distrusting Singapore Airlines' customer relations, they did well this time. It is quite an achievement for an airline, which is known for its inflexibility.
Honestly, I am still not a fan of Singapore Airlines' ultra-long-haul service. The amenities are sparse and the onboard catering schedule made little sense. For a daytime flight, they offered a light lunch first, and then a heavy dinner two third into the flight. The mid-flight refreshment menus were almost useless because most items would be gone after mid-flight dinner. My 8am LAX flight was even more ridiculous, but at least for this Seattle to Singapore flight, the cabin was half full in business class, so the F/As were not as overwhelmed. Singapore Airlines got to figure out a better way to plan its meals. I know many of you don't believe amenity kits are necessary, but SQ needs to provide one, and perhaps pajamas for these ultra-long-haul flights. The Seattle flight uses the three-class A350-900 with business, premium economy, and economy cabin and there are plenty of reviews. I personally am also not a fan because of the small cubby space for the feet, and "flipping" the seats back and forth do not make sense.
Anyway, here is the full report, but if you just want to look at the pictures, here is the link to my photo album:
http://s1213.photobucket.com/user/Ca...le%20Inaugural
September 3, 2019
SQ 27 Seattle to Singapore Depart at 10:40am Arrive at 5:30pm Airbus A350-900 9V-SMV
Check-in:
I arrived SEA-TAC around 8:15am, and as expected, Singapore Airlines is using the common check-in area towards the end of terminal along with most international carriers, and Swissport is the handling agent. There are plenty of SQ uniformed staffs today, as most staffs are still learning about the system. It was slower than normal, but for a first day, it was acceptable. The agent was friendly and I was also handed an invitation to a ceremony in the gate. The agent also reminded every passenger that we have to take the train to the South Satellite.
Invitation
Lounge:
Special cupcakes for inaugural flights
Singapore Airlines uses Club at SEA in the South Satellite for its premium and top elite members, which is pretty much the only option for a non-Delta airline at the South Satellite. I notice that the lounge is building some expansion, but I overhead from staffs that the new lounge will not ready for a while. At least the lounge is fairly quiet in the early morning hours, as Singapore Airlines will be one of the earliest non-Delta international departures. They have a continental breakfast spread including this peanut butter, jelly, cornflake banana rolls, which are delicious. You can also find the typical noodle cups, and they set up a small hot food station featuring Cheese Omelets and hot porridge.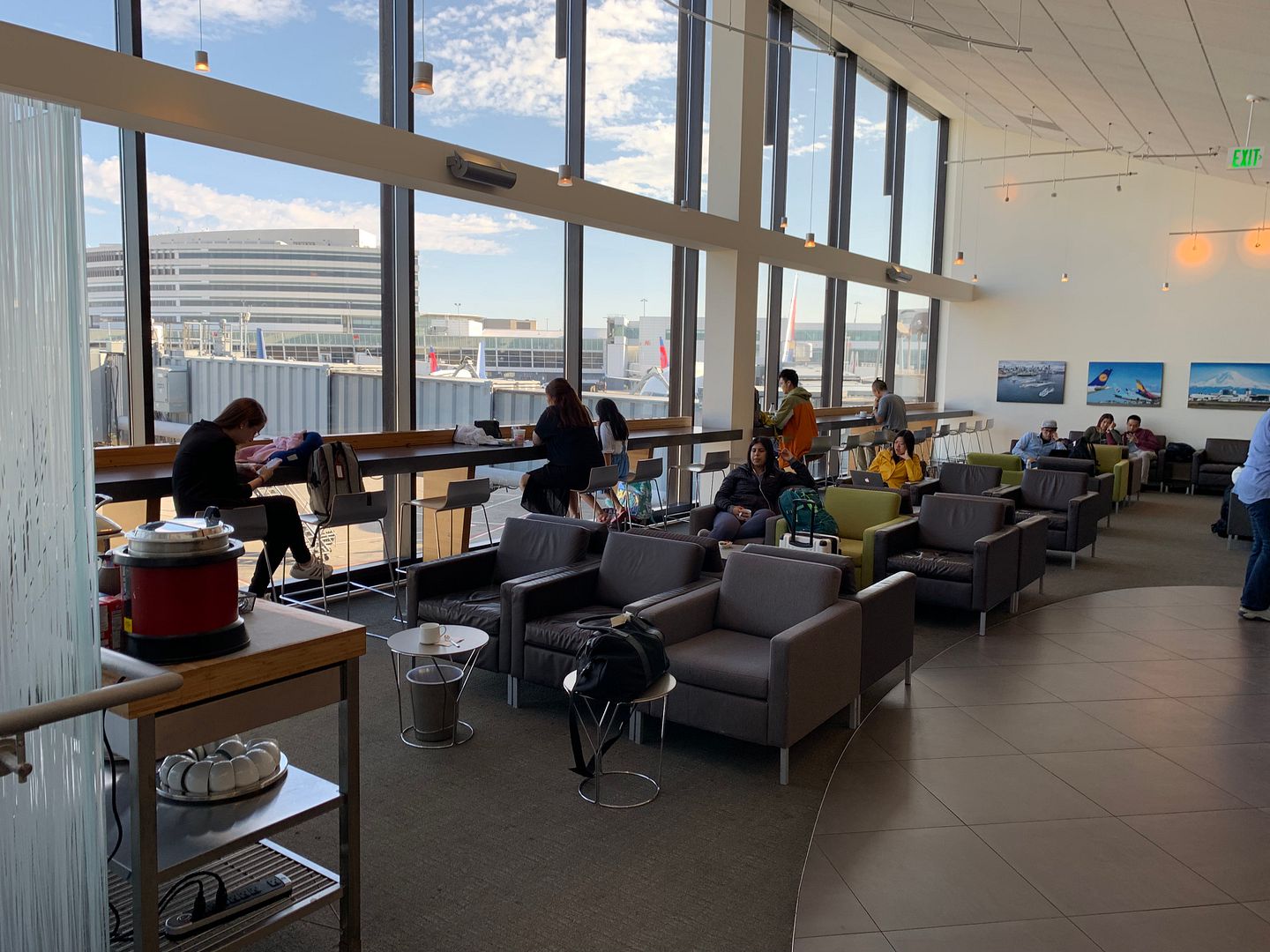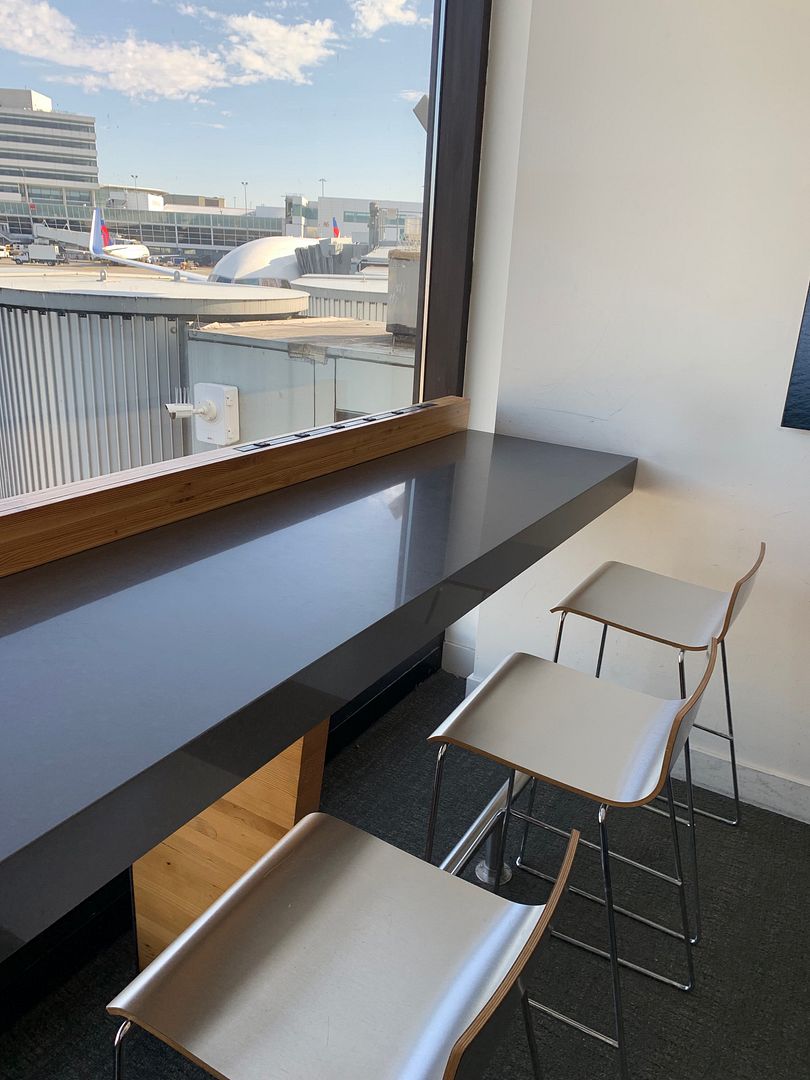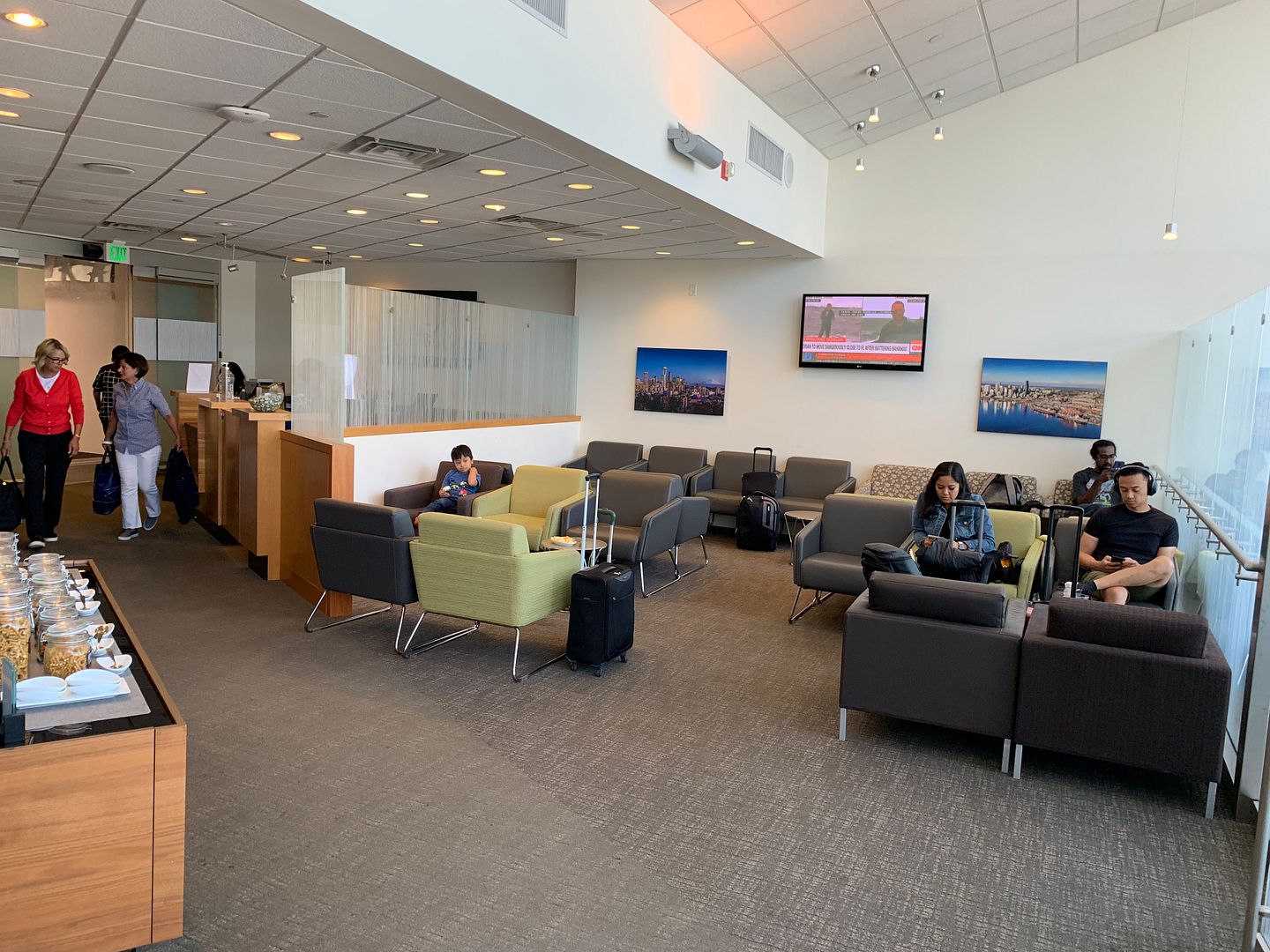 Bar – not self-service though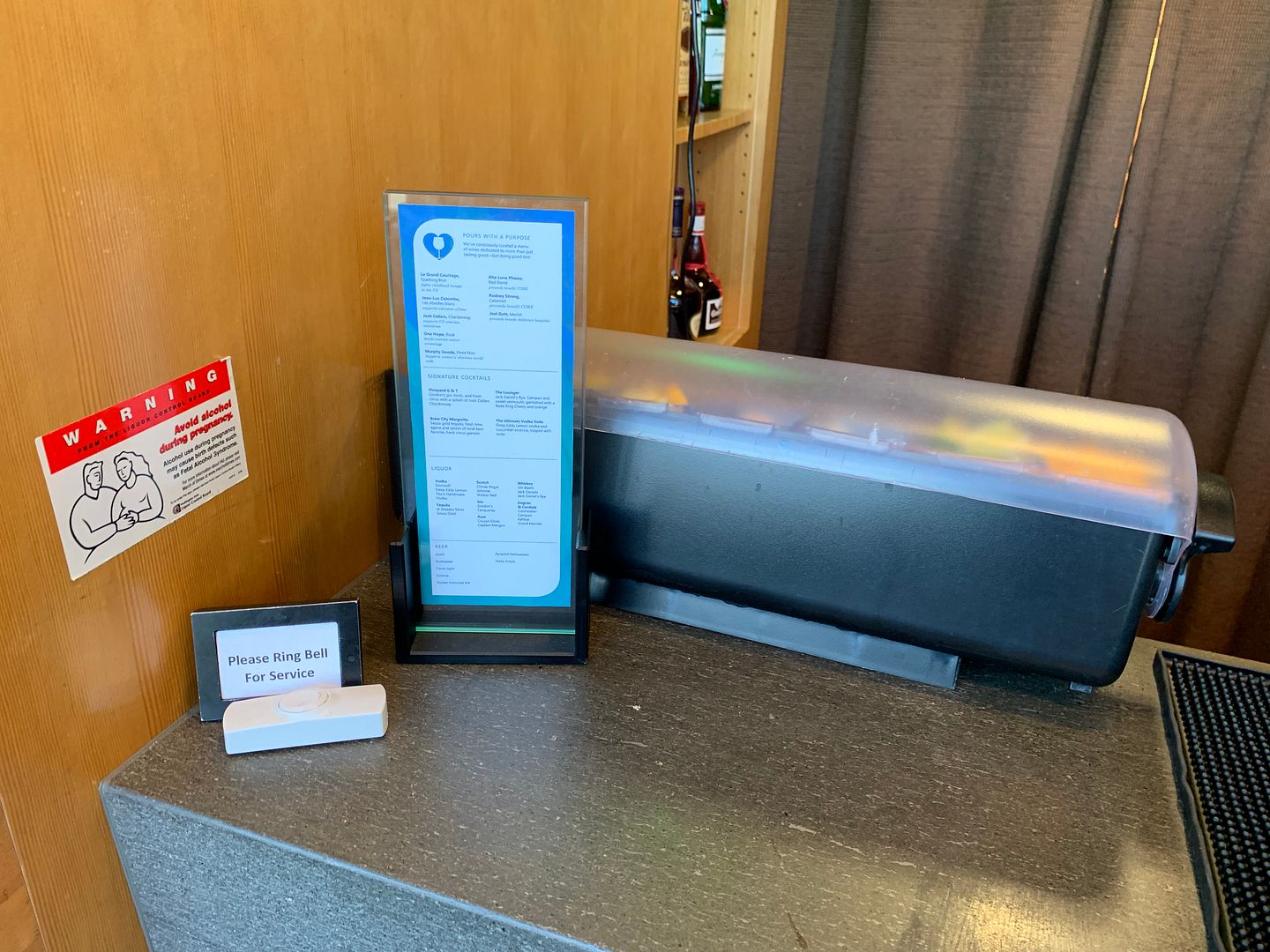 Hot food station
Plane arrival and water canon salute:
Singapore Airlines of course sent its newest 3-class A350, 9V-SMV, to this special occasion.
Just an interesting side-note, I flew 9V-SMV before, but when it was the registration to one of Singapore Airlines' Mega-Top, Boeing 747-400s.
Gate S12 was definitely not the best place for photo but I found a spot next door near gate S13 and the make-shift Peets' coffee bar.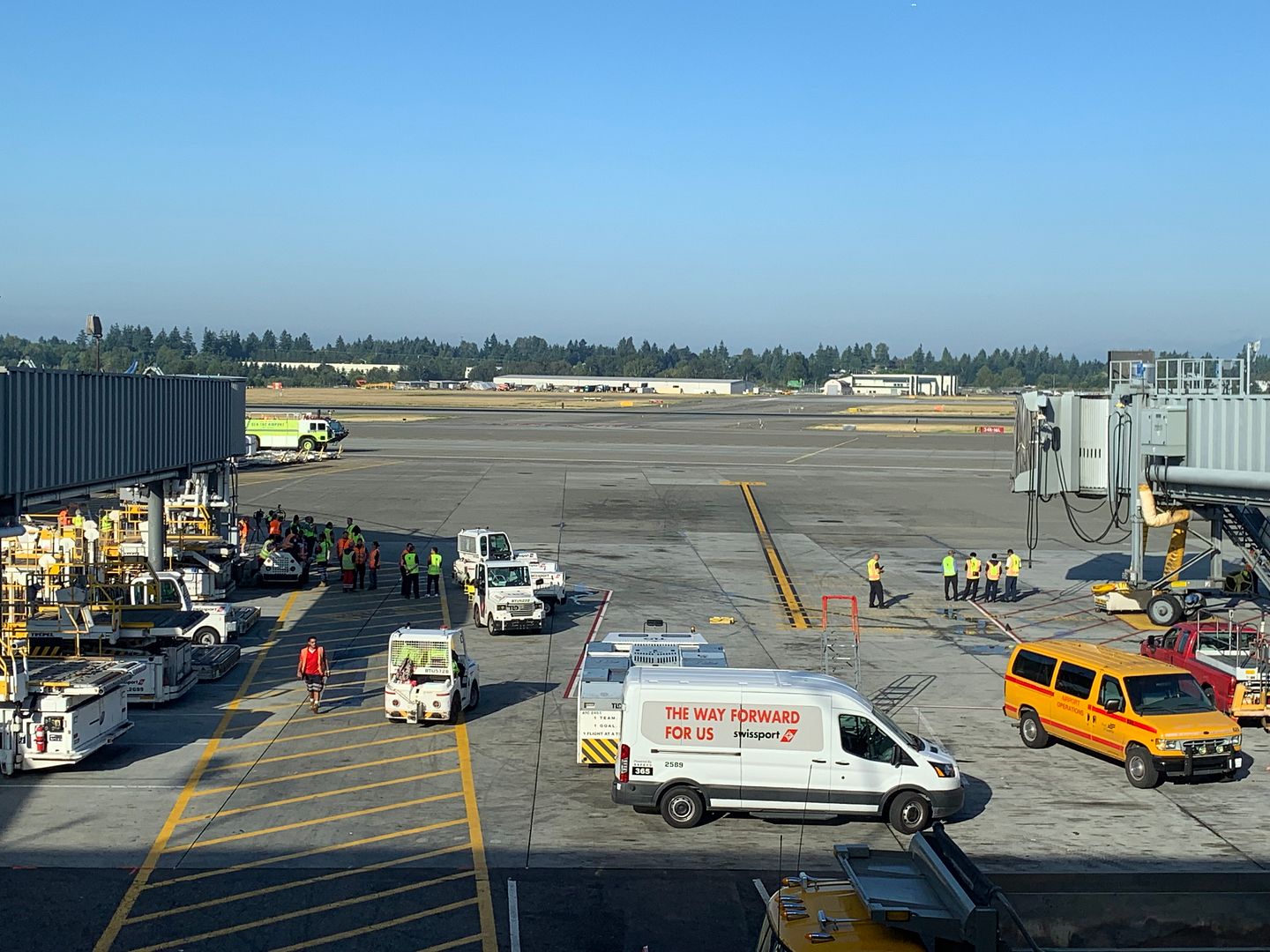 SQ 28 landed early at R/W16L at 8:57am and parked at gate S12 at 9am.
A very short taxi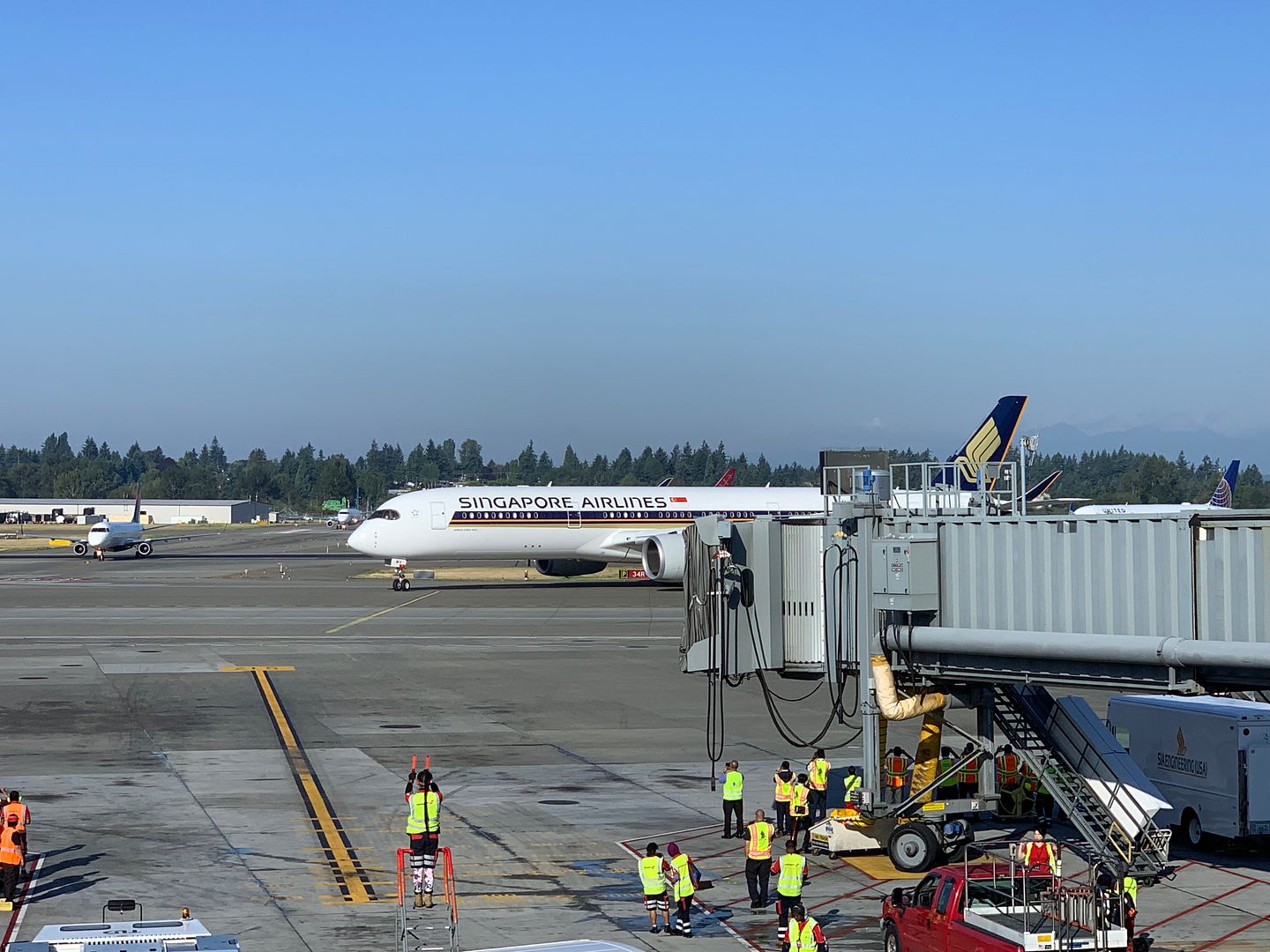 9V-SMV looked sharp on this sunny day here at Sea-Tac.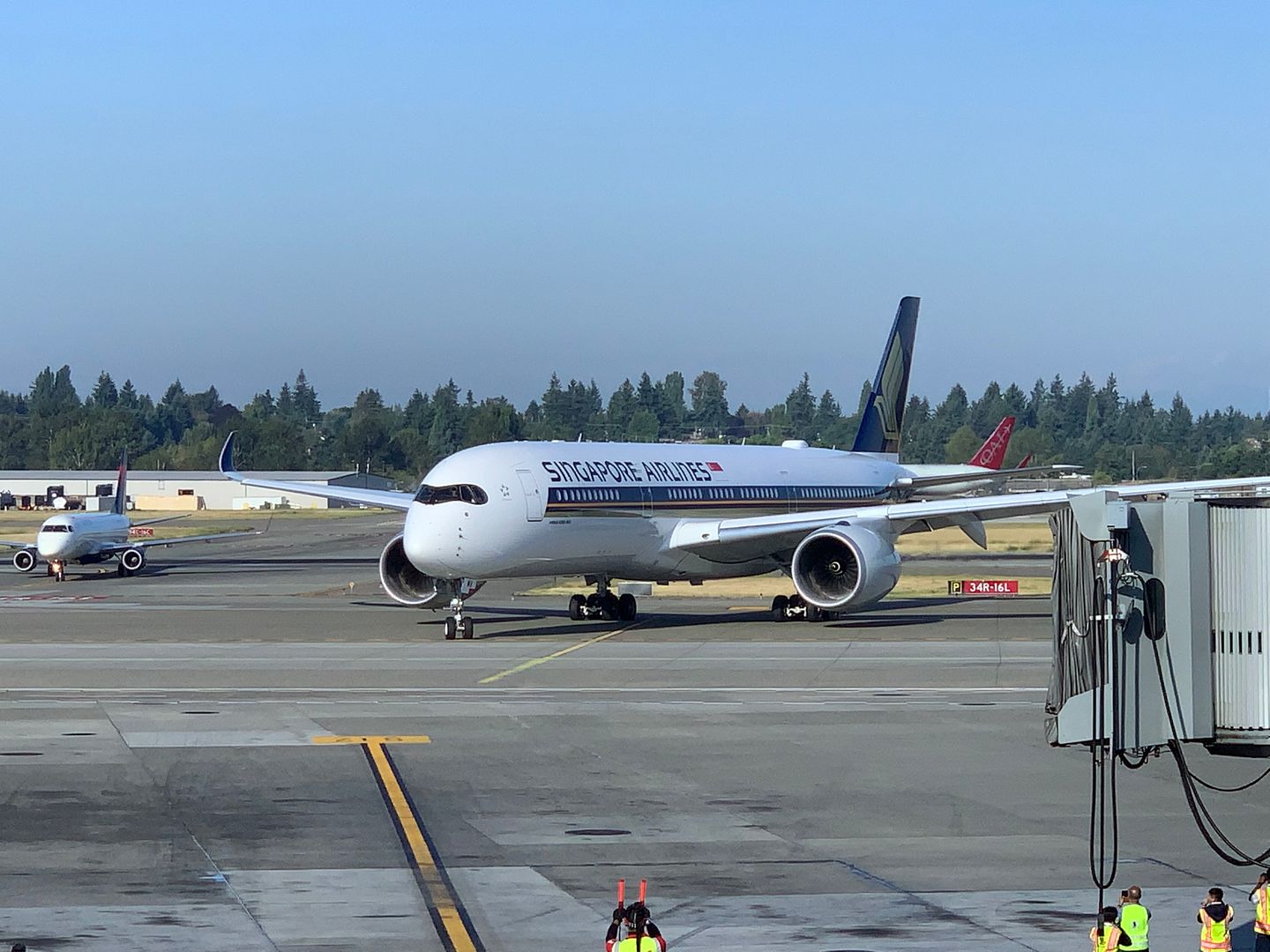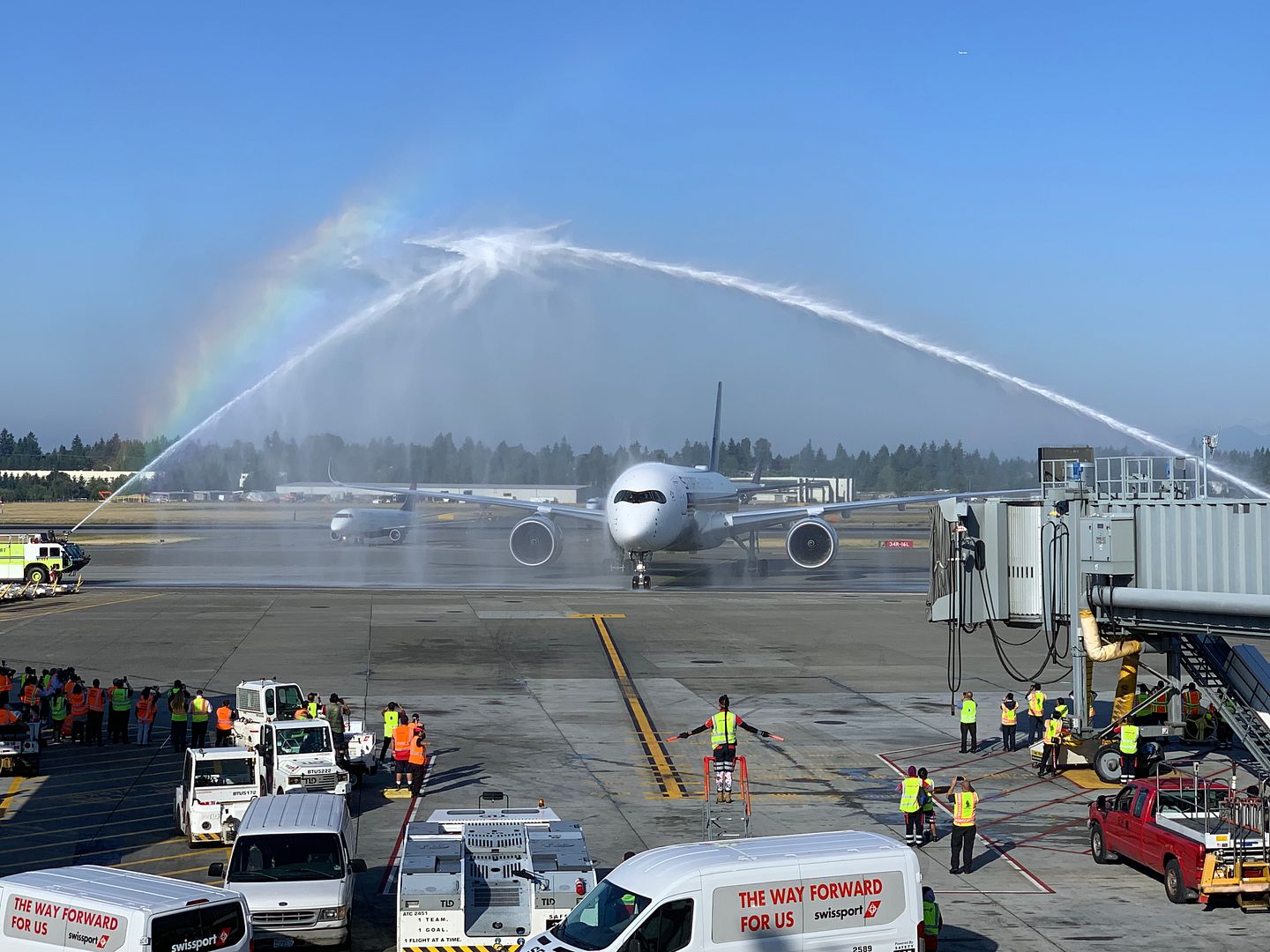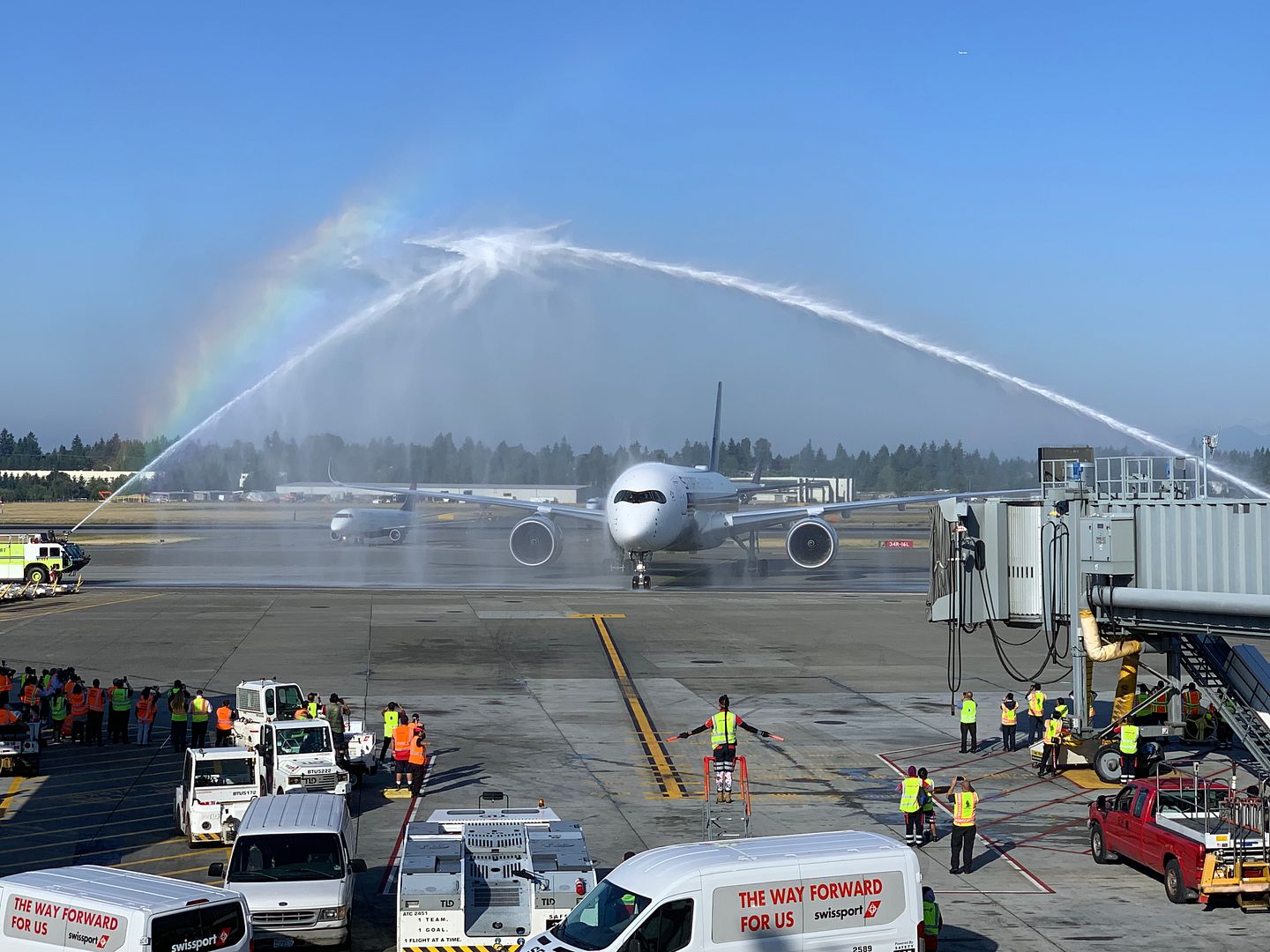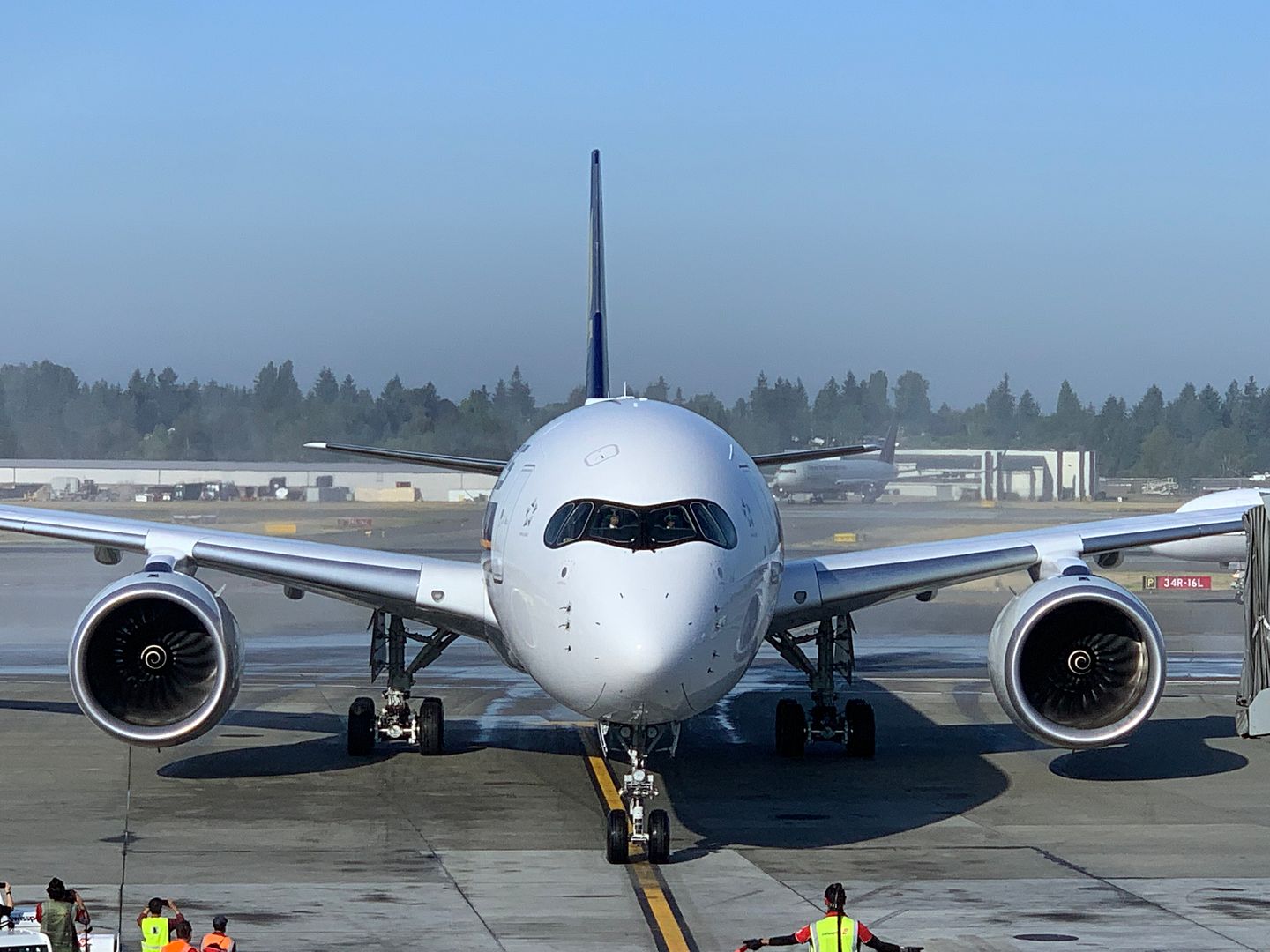 Ceremony
Given the limited spaces and constant constructions going on at the South Satellite, Port of Seattle and Singapore Airlines did a fairly good job in having a ceremony, a continental breakfast buffet, and a lion dance performance.
Podium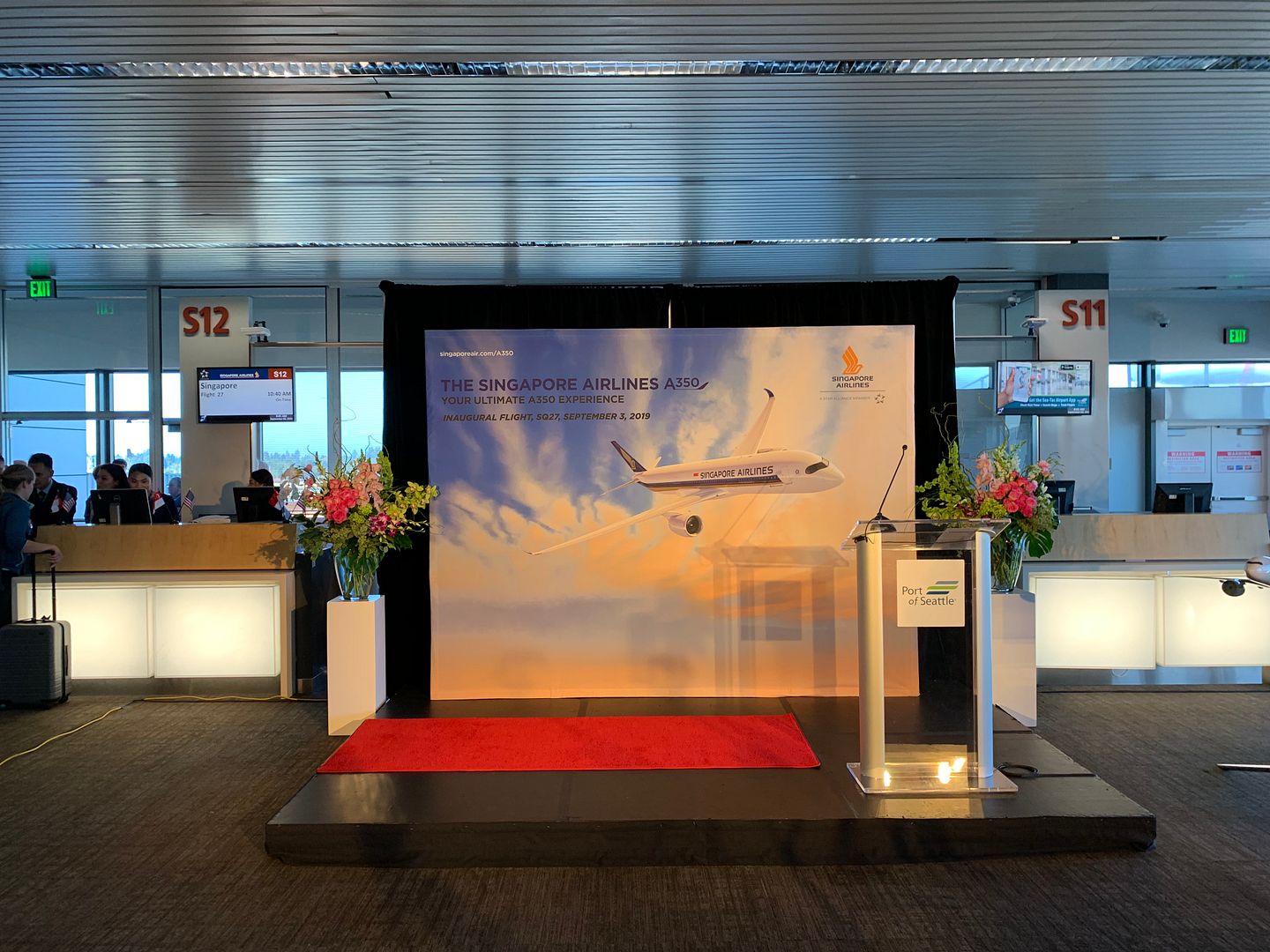 Singapore Airlines A350 model next to some advertisement for the new flight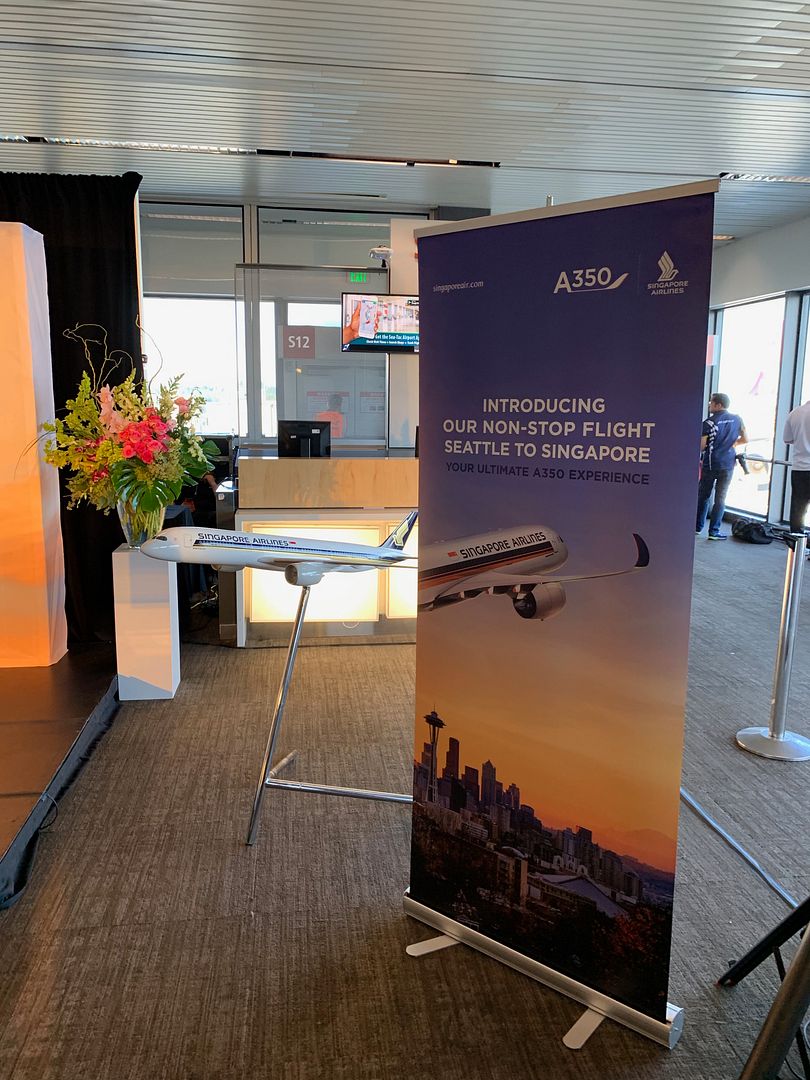 Busy Gate Area
The breakfast buffet was a bit simple, compared to SQ's usual buffet extravagant, but the South Satellite really has no place for caterers to provide hot food.
Cake of course…
To my pleasant surprise, Singapore Airlines finally has equal gender representation of the flight attendants. They usually have two women flight attendants, also known as the iconic "Singapore Girls," to take pictures of passengers and basically mingle with them. For this inaugural, there is finally a "Singapore Boy," which is great for selfish reason.
The ceremony was rather simple because there were so much going on around us. Hawaiian Airlines was boarding a 10am flight to Maui at gate S11, and the lion dance, which was the highlight of the day, did not take place till HA was almost done with their boarding. As some of you knew, Lion Dance involved drums and instruments that was loud. The local group did a good job and definitely a sign of good luck to the flights. The passengers and airport employees were happy.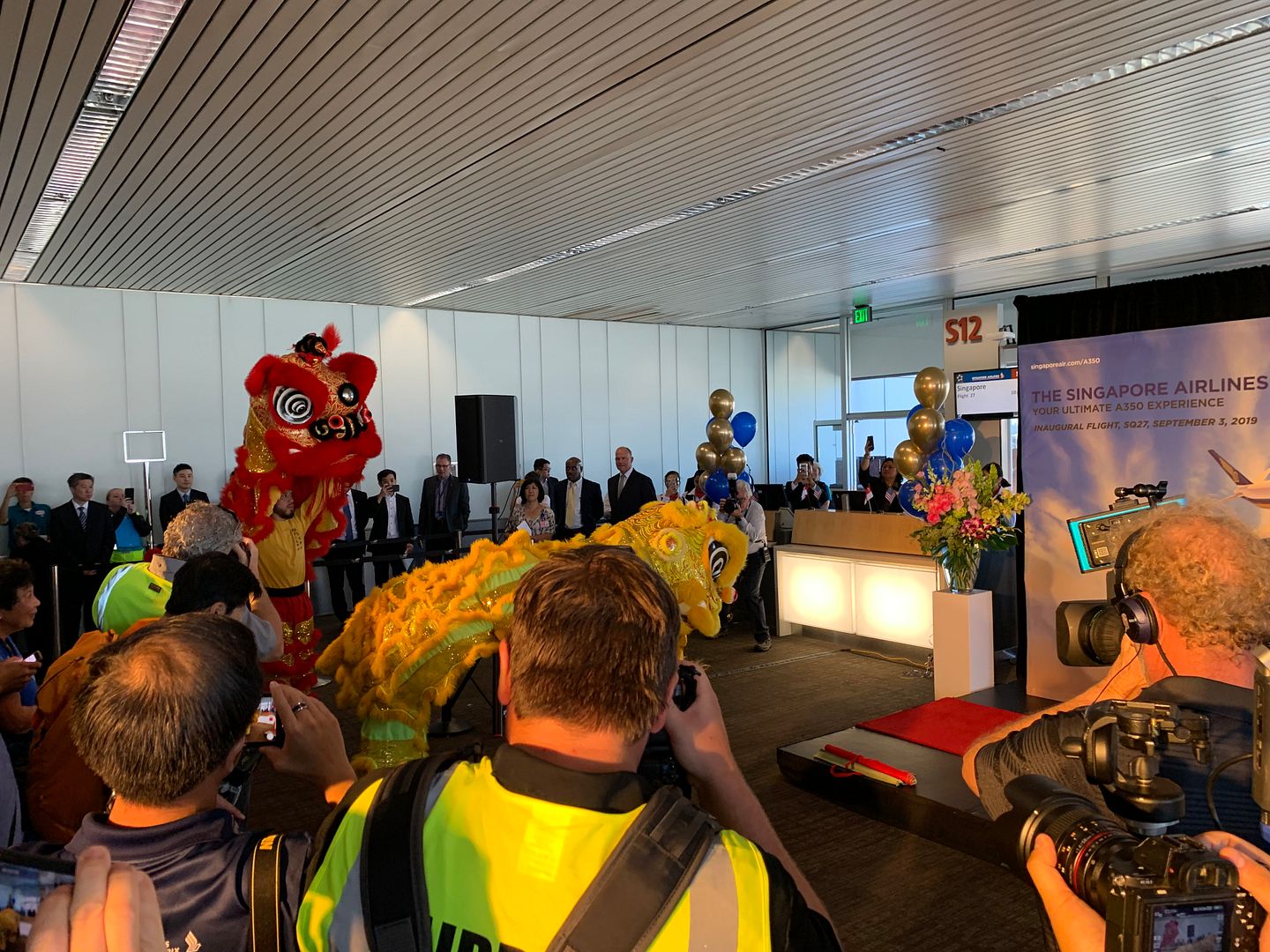 After the Lion Dance, there were two brief speeches given by Campbell Wilson, the senior vice president of sales and marketing for Singapore Airlines and Lance Lyttle, Sea-Tac airport's managing director.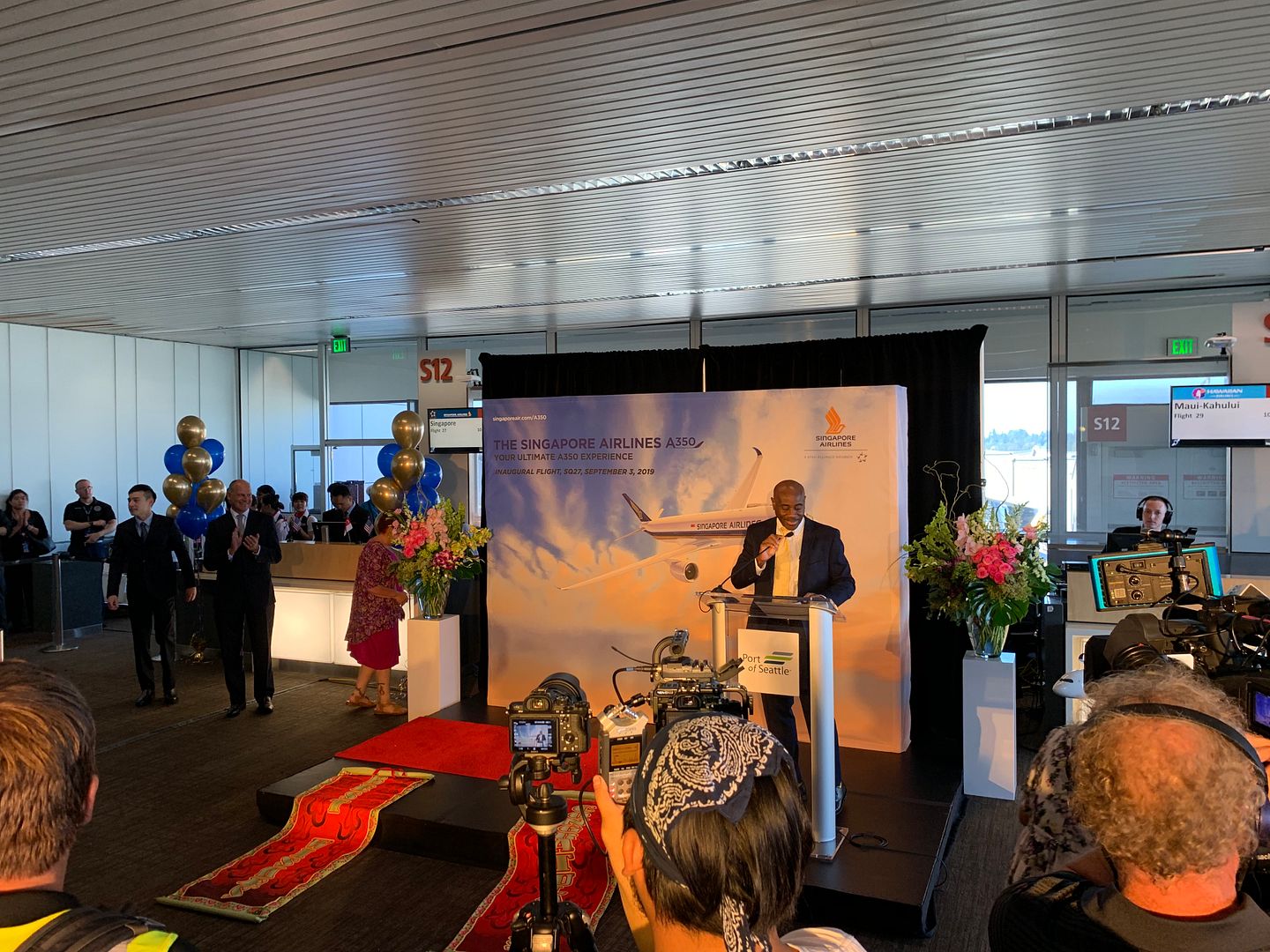 Lyttle gave Wilson a glassware, which was famous here in Washington State.
Then of course Wilson gave Lyttle a nice SQ A350-900 model.
Ribbon Cutting then followed and Sek Eng Lee, Regional Vice President for the Americas of Singapore Airlines, joined the ribbon cutting ceremony.
Boarding:
Singapore Airlines really schedules a rather tight turn, an hour and thirty-five minutes, in Seattle, which is definitely challenging especially for the first day of operations. Despite being arrived slightly early, boarding was further delayed because of TSA inspection. Some of the "bloggers" were rather unhappy with the delay, but as a seasoned inaugural traveler, it is sort of expected. Thankfully the airlines usually pad their schedule. Some of the Port of Seattle staffs I talked with were surprised with the tight turnaround but I am sure SQ will manage after they ran the flights for a while, or they will adjust the schedule accordingly. The schedule definitely aims for convenient connections to the evening bank of flights to Southeast and South Asia.
Boarding finally began at 10:50am, ten minutes after our scheduled departure time. The Singapore Boy and Girl were handing out gift bags.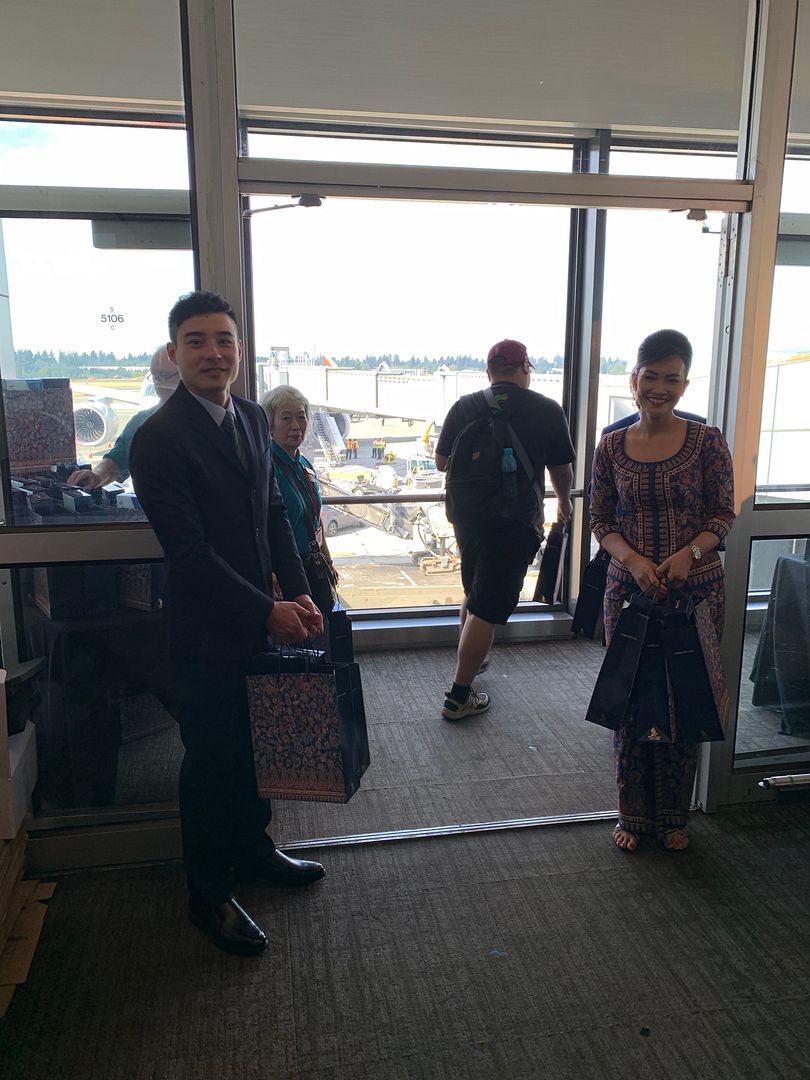 Contents of gift bags:
Singapore Airlines' A350-900 Model & Baggage Tag by Port of Seattle
Certificate – they cut back on the blue folder that they usually put the certificates
A SQ branded wireless charger stand
A few cabin shots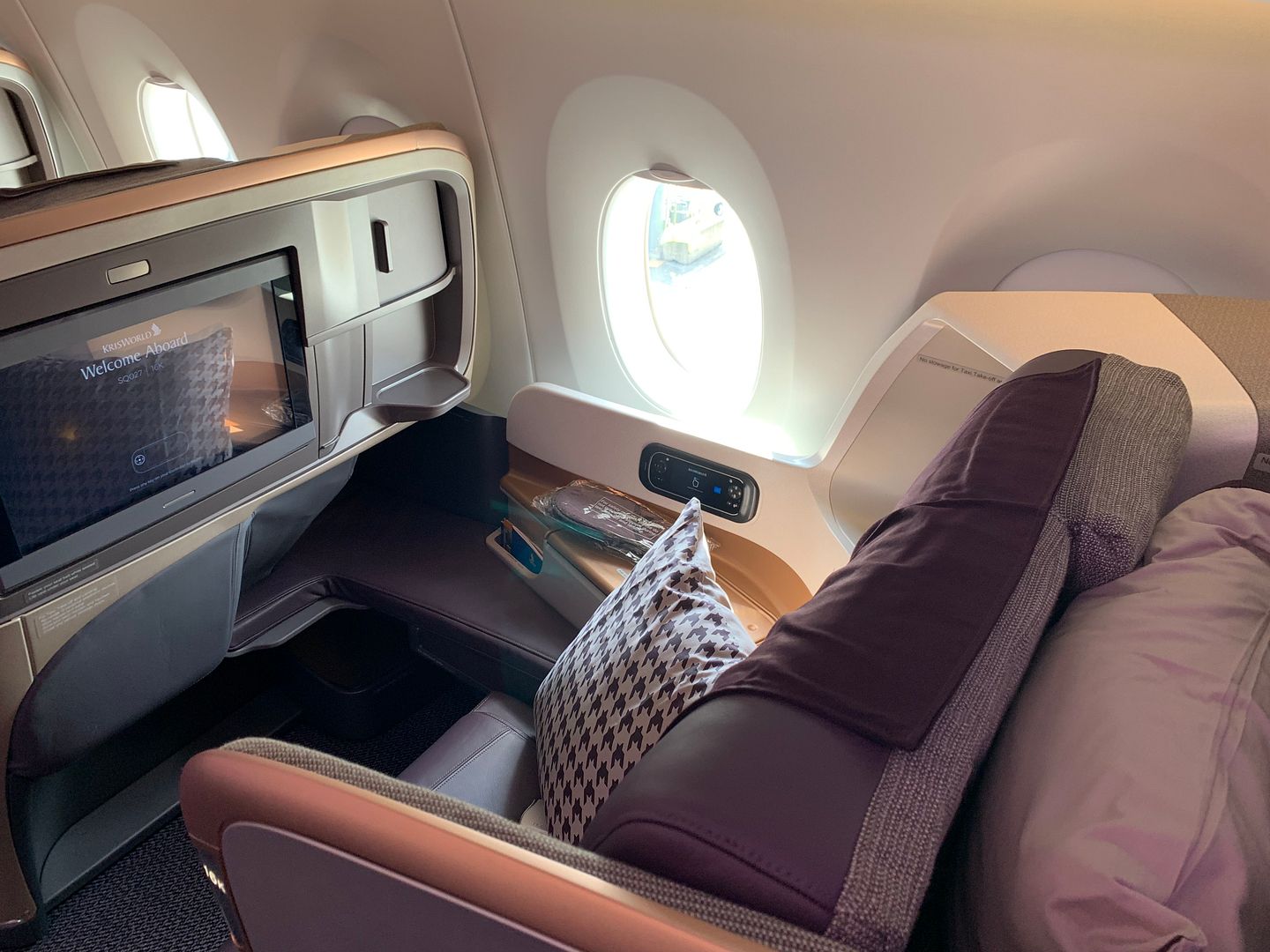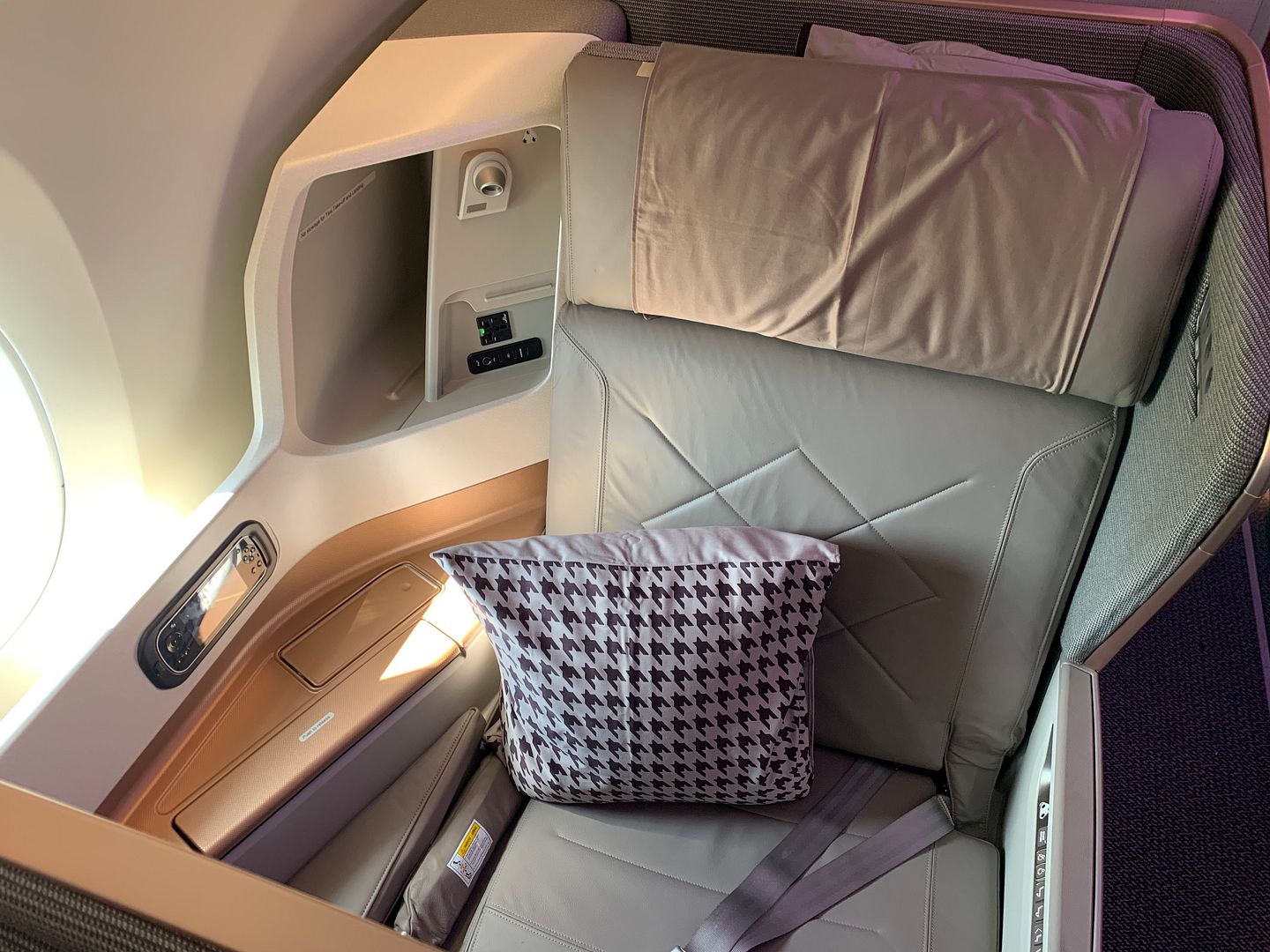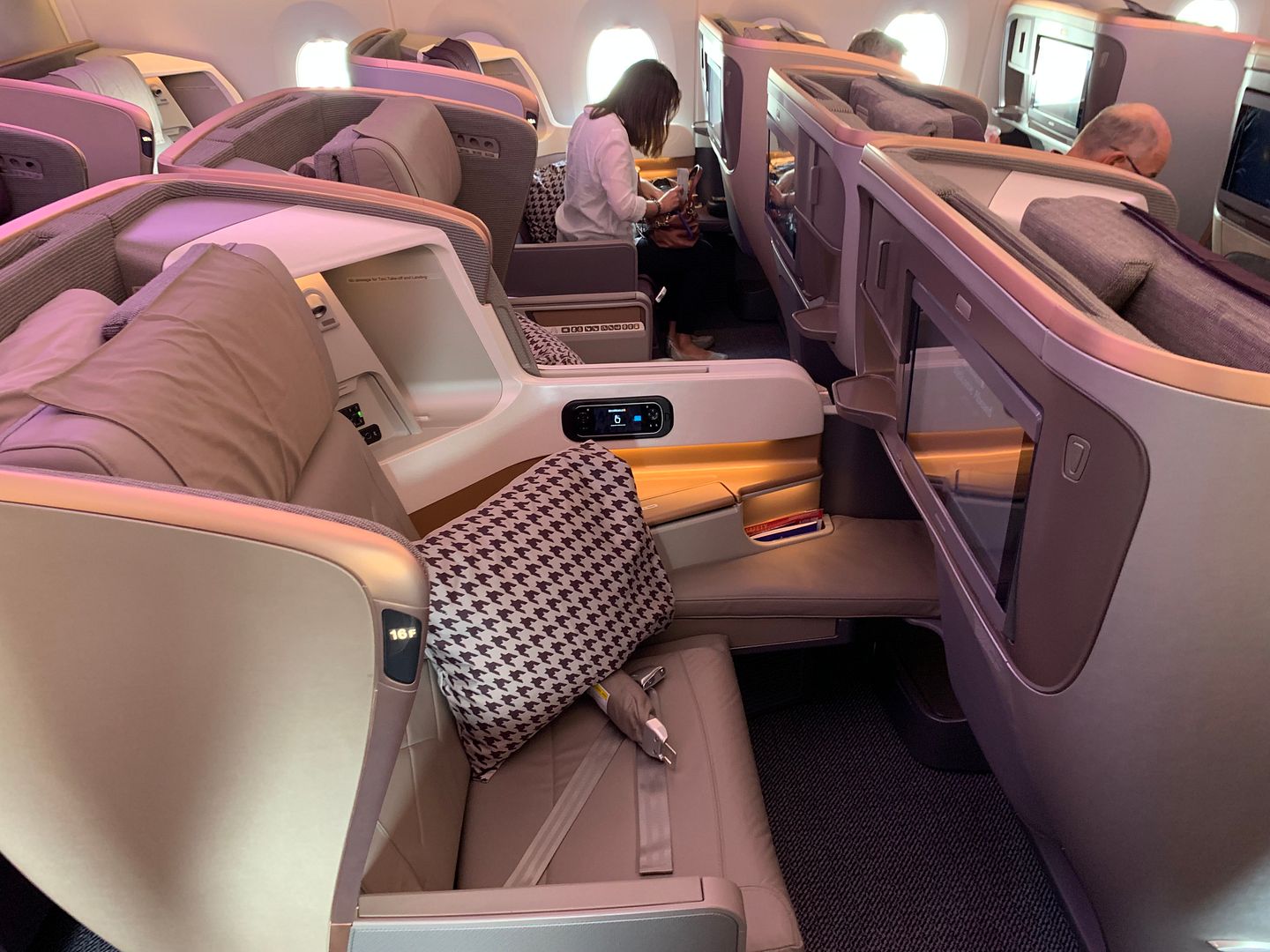 My seat 16K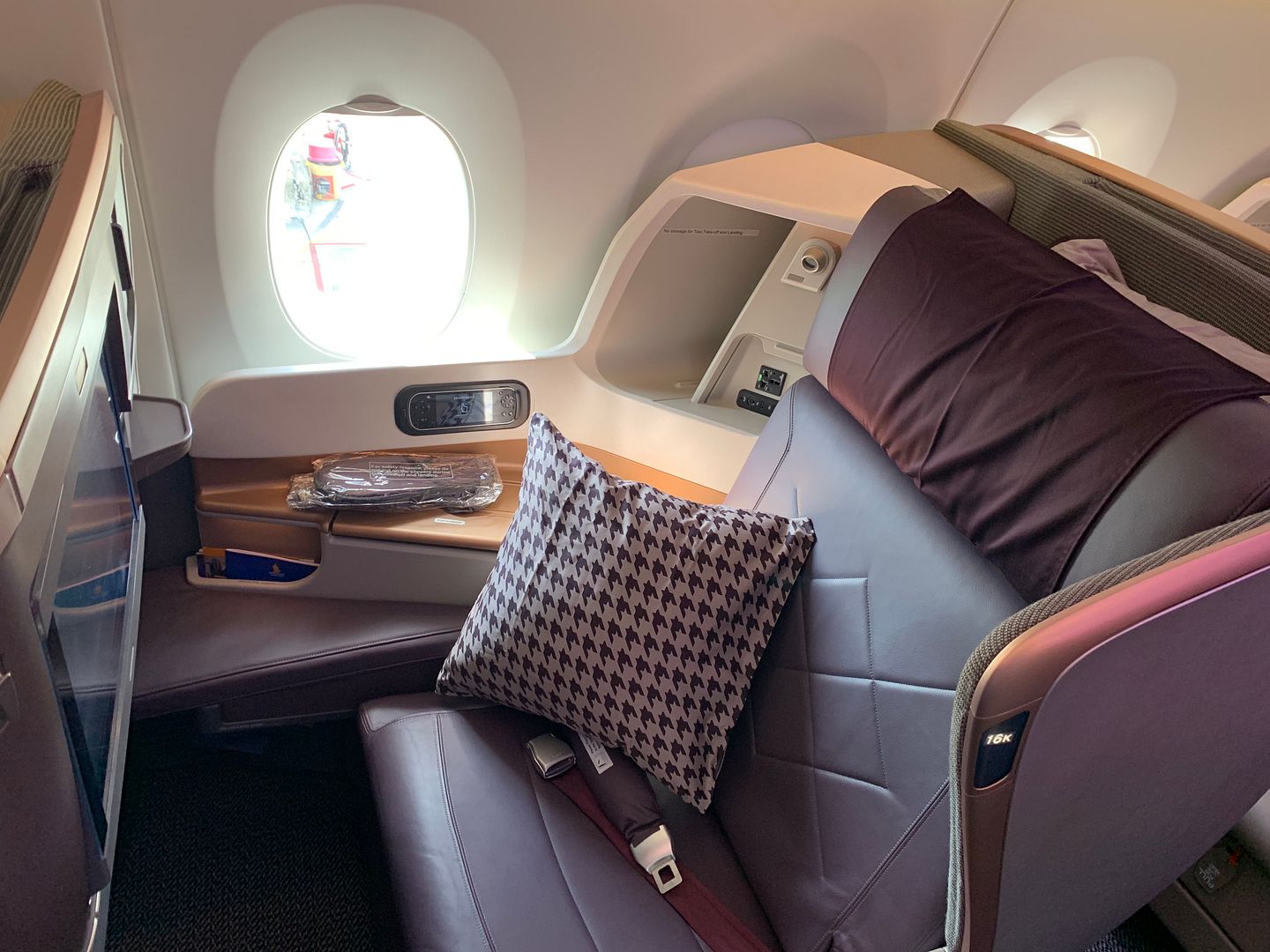 Pre-takeoff mocktail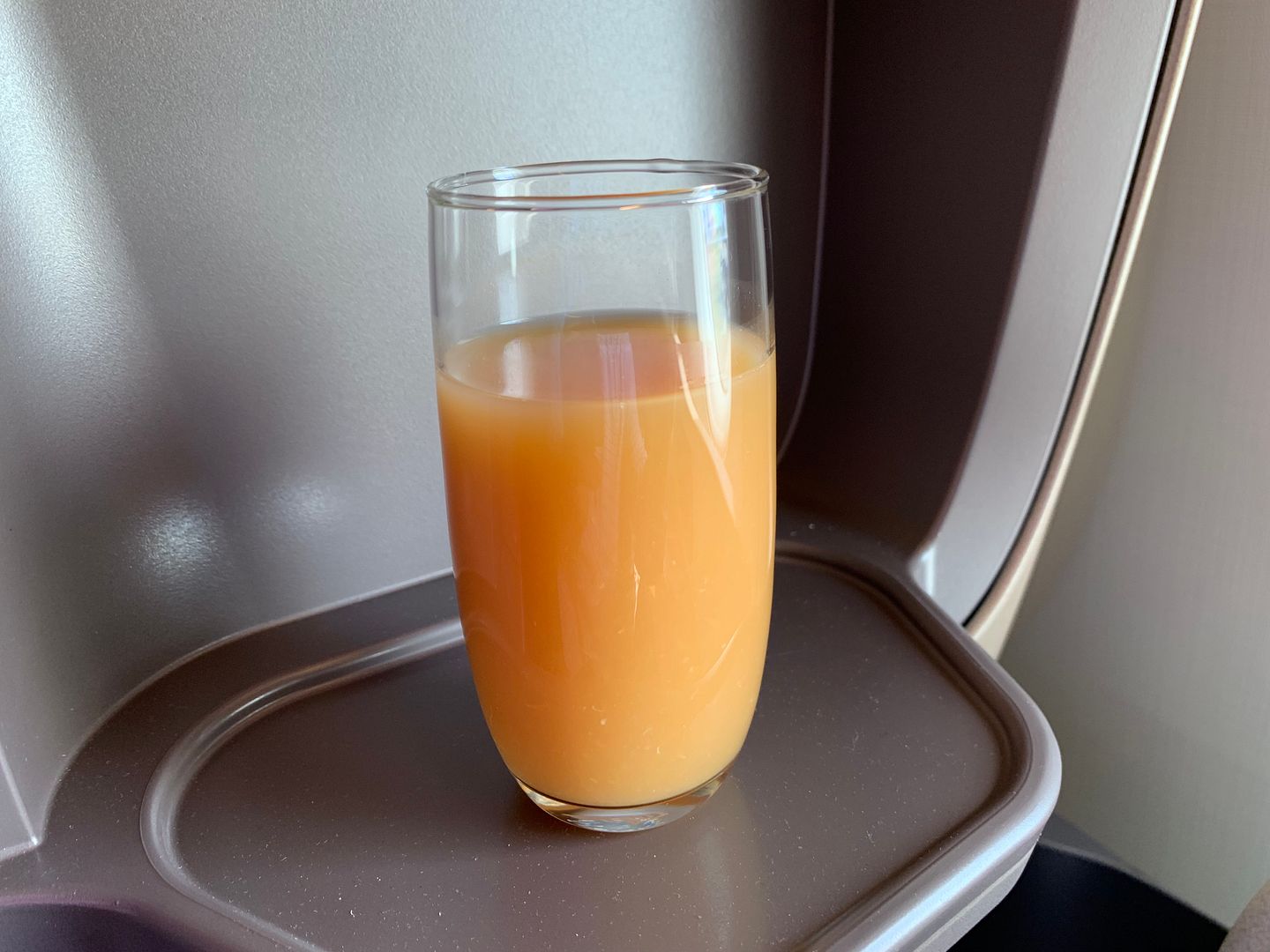 Typical amenities trio on Singapore Airlines – slippers, eyeshades and socks – I prefer a traditional amenity kit! I still think these ultra-long-haul flights deserve some extra amenities like pajamas.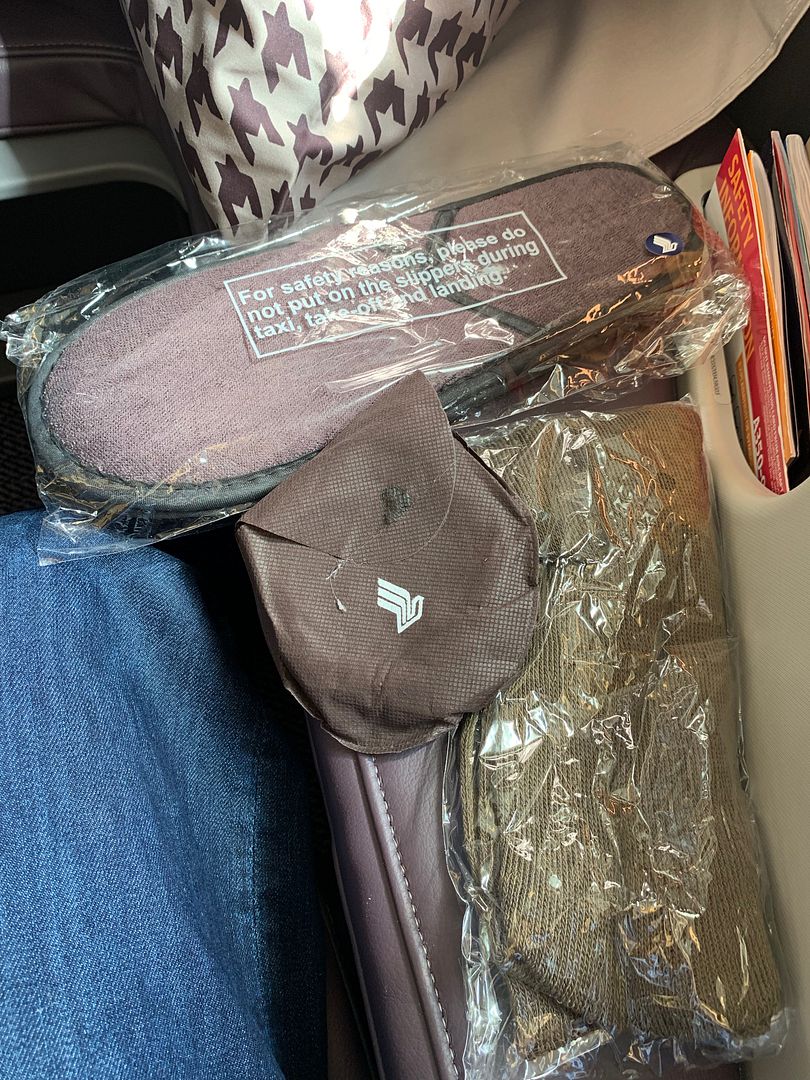 Cover of September's 2019 Silver Kris Magazine – Seattle
Business class was not full with no one sitting at the middle seats next to me, as well as the window seat behind me. There were two to three empty seats towards the front. I did not check out the aft business class cabin though.
Sep 15, 19, 7:49 pm
Join Date: Oct 1999
Location: New York
Posts: 6,572
Departure:
Door was closed at 11:14am and we pushed back two minutes later.
Delta flight 167 – a daily A350 flight o Narita next door pushed back at the same time with us – N508DN
The Duo Japanese Airlines arrived too – ANA's JA822A and JAL's JA838J – both 787-8s
Korean Air's Boeing 777-300ER HL8006
British Airways' Boeing 777-200ER G-VIIF arrived early too
Goodbye to the hardworking staffs at S12
Just a beautiful day here at Sea-Tac and I took a few shots of the tarmac/terminal, as we taxied towards R/W16L.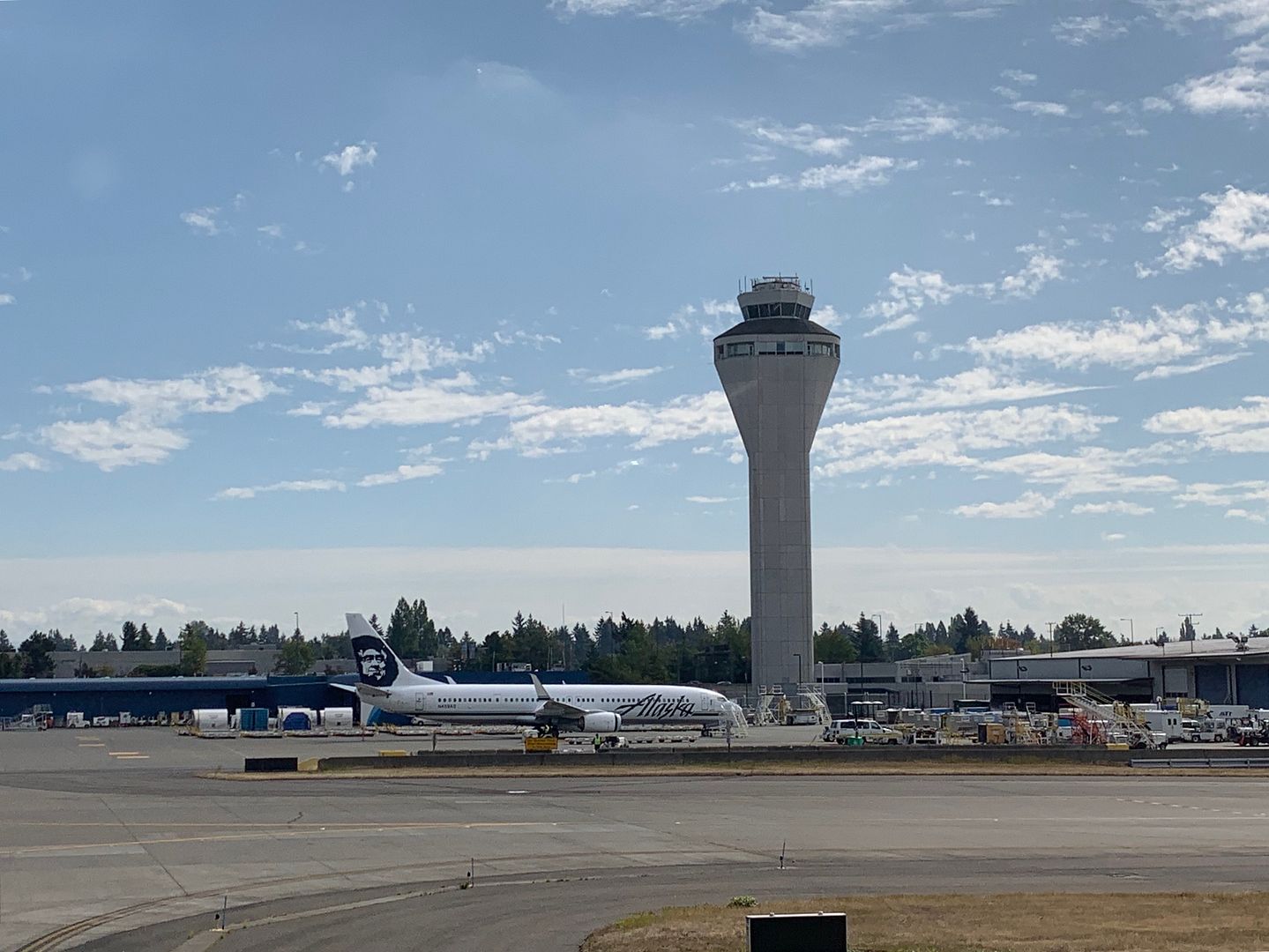 At 11:31am, we took off for our scheduled fifteen hours and ten minutes flight to Singapore.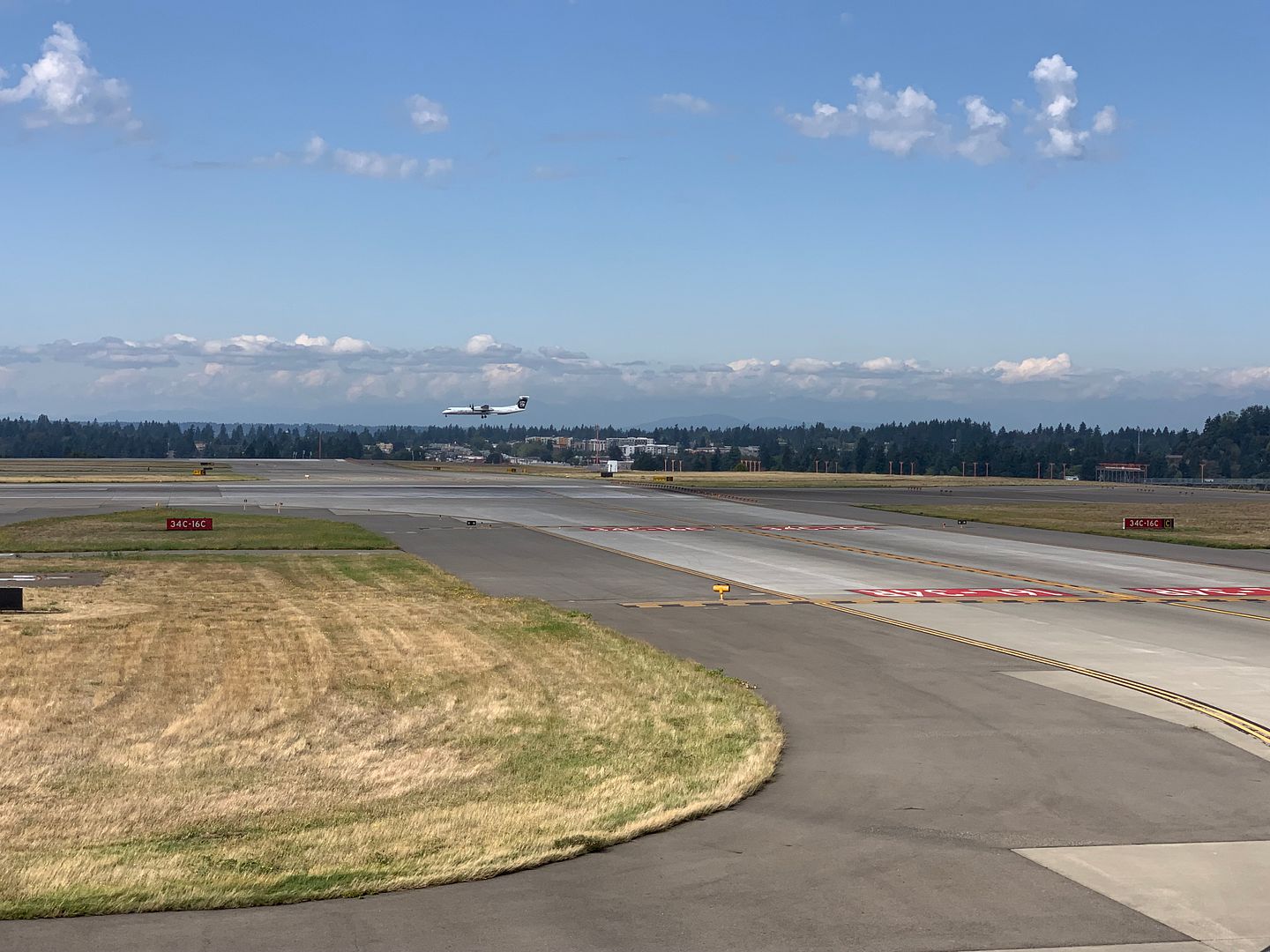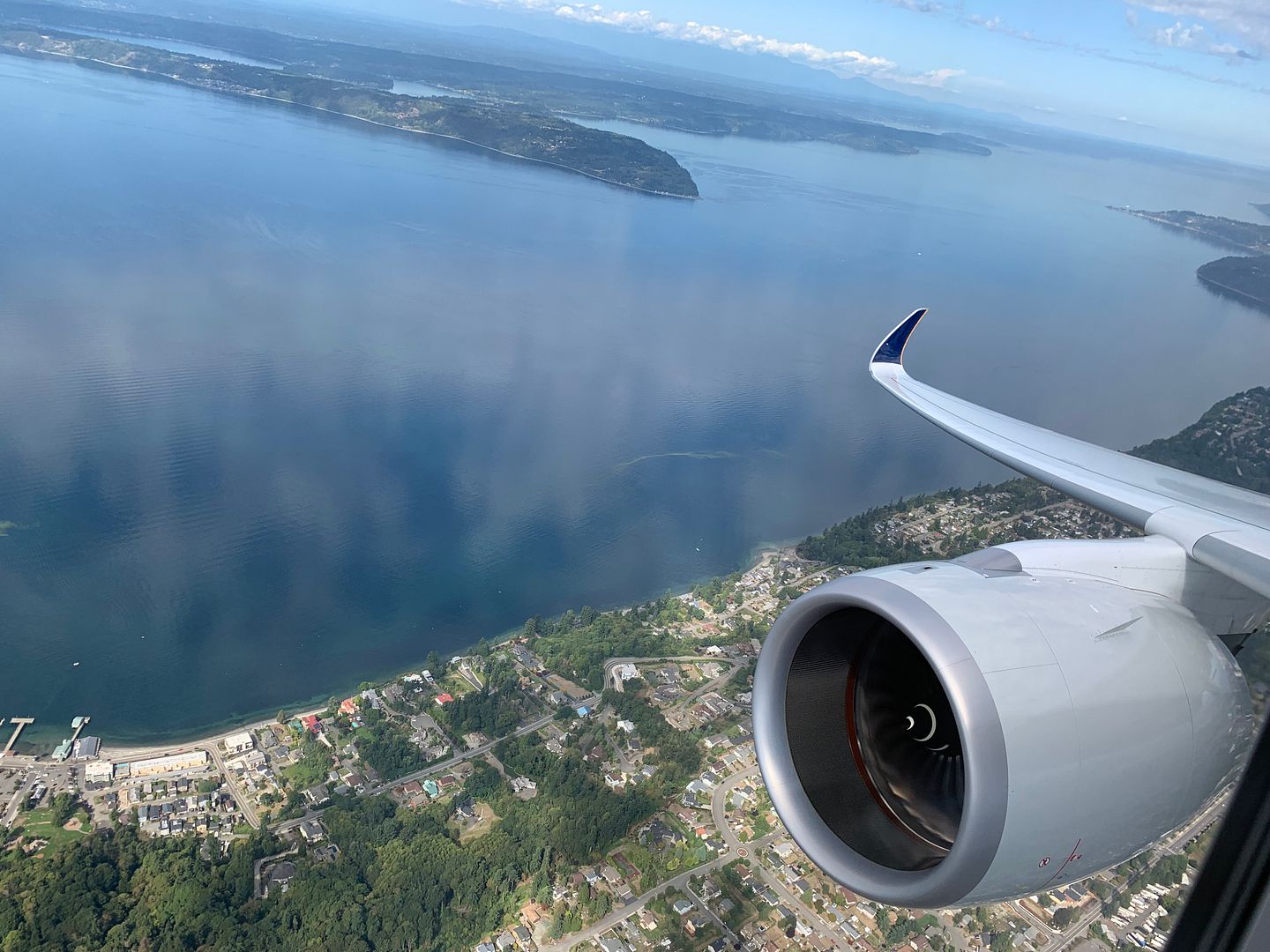 The routing is basically a Seattle-Tokyo-Singapore without stopping over in Tokyo.
After departing Sea-Tac, we took a right turn after passing Federal Way, and then headed towards Purdy, Crosby, Pysht, and Pachema Beach, as we reached 36,000ft. We slowly climbed to 37,000ft, and then 38,000ft before passing Sutwik Island of Alaska, and then we climbed to 39,000ft crossing the Bering Sea, and then 40,000ft before we reached the Japanese coast. We passed Mikurajima and then eventually climbed to 43,000ft, which was our final cruising altitude. We passed the Filipino cities of Lucena, Calapan, and Busanga, and then we headed directly towards the Bintan Island and headed towards Changi Airport.
I really loved sitting in a window seat on these beautiful days. The scenery was beautiful, as we headed Northwest towards the Canadian coast and Alaska.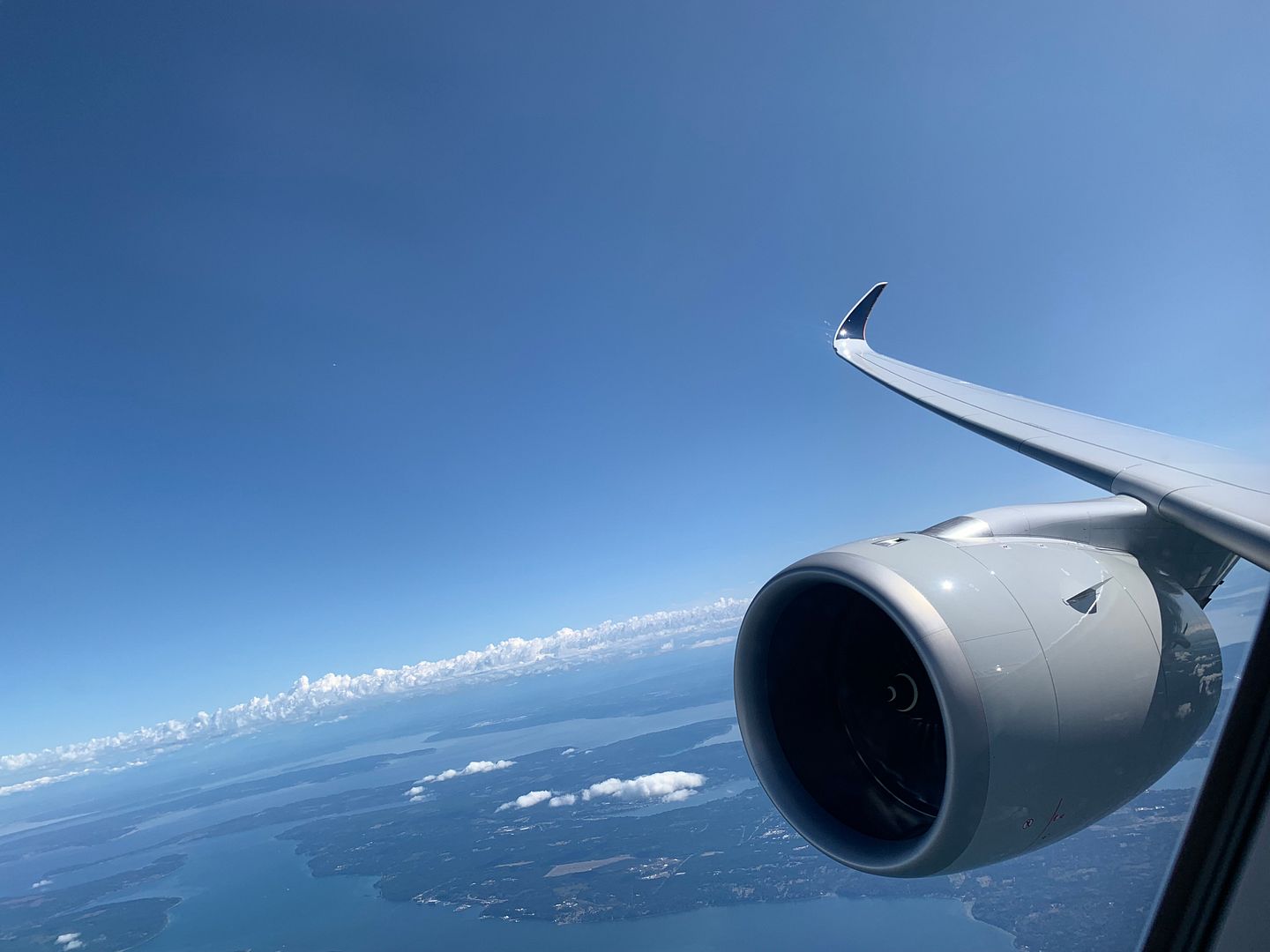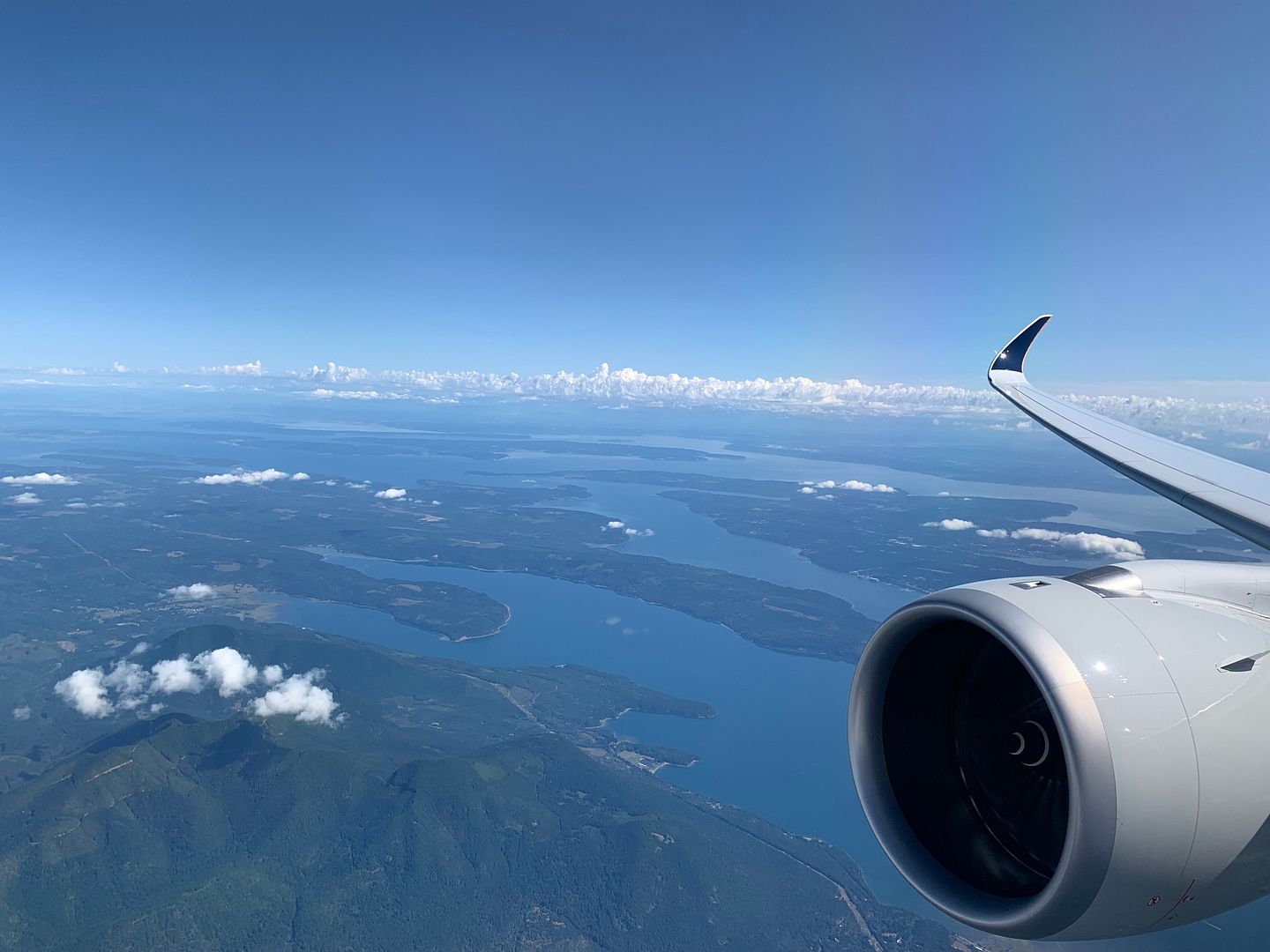 Menu:
Special menu cover for the inaugural flights – the menu on my seat was not in good shapes but there are plenty of brand-new ones around me.
Shortly after takeoff, there is a beverage service with mixed nuts – almonds and cashews!
I chose to have the Signature Singapore Sling.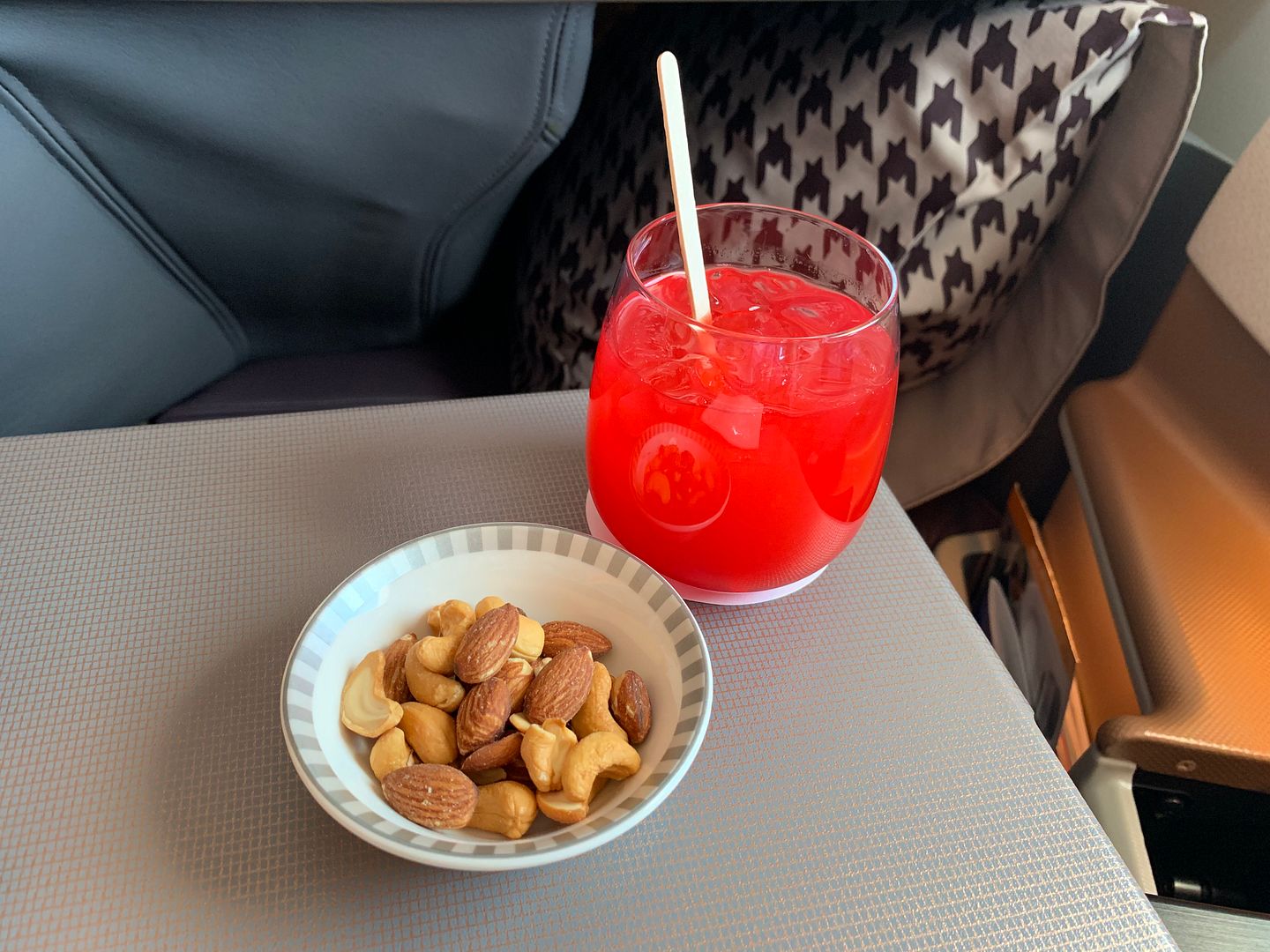 Here is the wine list:
Champagne
Charles Heidsieck Brut Reserve, Champagne, France
White
2018 Giant Steps Chardonnay, Yarra Valley, France
2017 Weingut Huls Riesling, Mosel, Germany
Red
2016 Jim Barry Lodge Hill Shiraz, Clare Valley, Australia
2015 Chateau Du Taillan, Haut-Medoc, Bordeaux, France
2016 Lyeth Estate Meritage, Sonoma Valley, USA
2016 Albert Bichot Corton Grand Cru, Burgundy, France
Port
Dow's 10-Year-Old Tawny Port, Douro, Portugal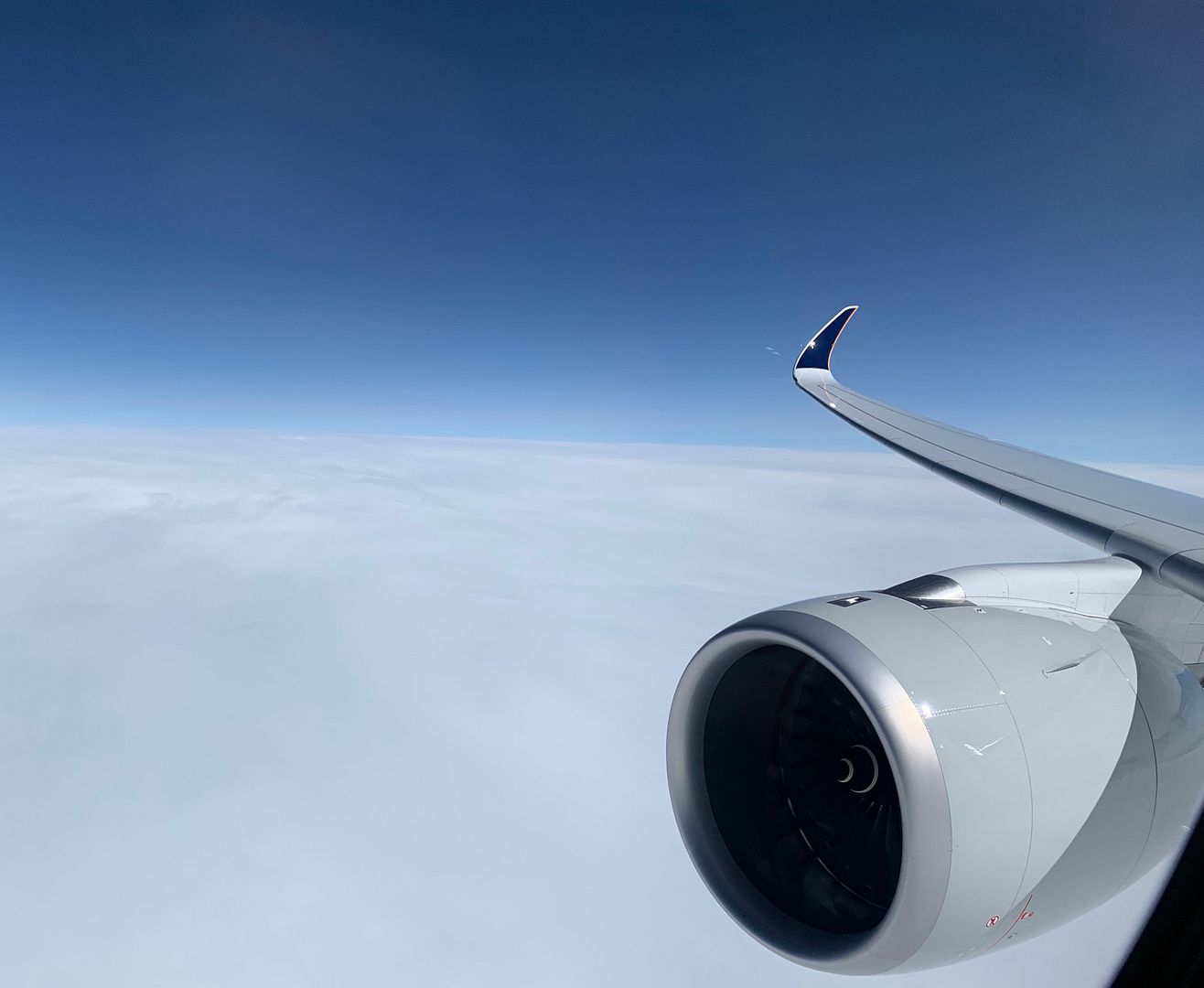 Lunch service began around an hour and fifteen minutes after takeoff.
Here is the lunch menu for today!
Appetizer
Salad of Smoked Salmon
With grilled vegetables and herb vinaigrette
Main Course
Lamb Tagine with Dried Apricots
Grilled Vegetables and saffron couscous
Prawn Dumplings in Superior Soup
With leafy greens and mushrooms
*Angus Beef Burger
Grilled Angus beef patty on toasted sesame seeds bun, American cheddar cheese, pan fried egg, sautéed onion, tomato and parmesan potato wedges with ranch dressing
Murgh Tikka Makhani, Palak Makai, Gajar Methi Ki Sabzi, Pulao
Indian butter chicken, spinach corn stew, stir fried carrots with fenugreek leaves and basmati rice
Dessert
Haagen-Dazs Sea Salt Caramel Truffle Ice Cream
Black Berry Flan
With berry compote
Fruit
From the Basket
A variety of fresh fruits
From the Bakery
Assorted Bread Rolls and Gourmet Breads
Served with selection of butter or flavoured olive oil
Pralines
Fine Pralines
Hot Beverage
Coffee and Tea
A wide selection of flavours is available in the beverage section
*A popular local fare dish
The choices were really not great and the portions were small. Given how poor the lounges at North America were, I question Singapore Airlines' decision to serve a light lunch after takeoff, given most passengers will be hungry. Thankfully I had a cup noodle at the lounge knowing SQ always serves the light lunch after takeoff. My first choice was the burger, since I did not eat lamb and Indian food. I was surprised that they had already ran out of it by the time it got to me at 16K. I had to select the dumpling soup. I love dumpling, but five dumplings are not particular filling without noodles.
No tray was used and everything was set up individually.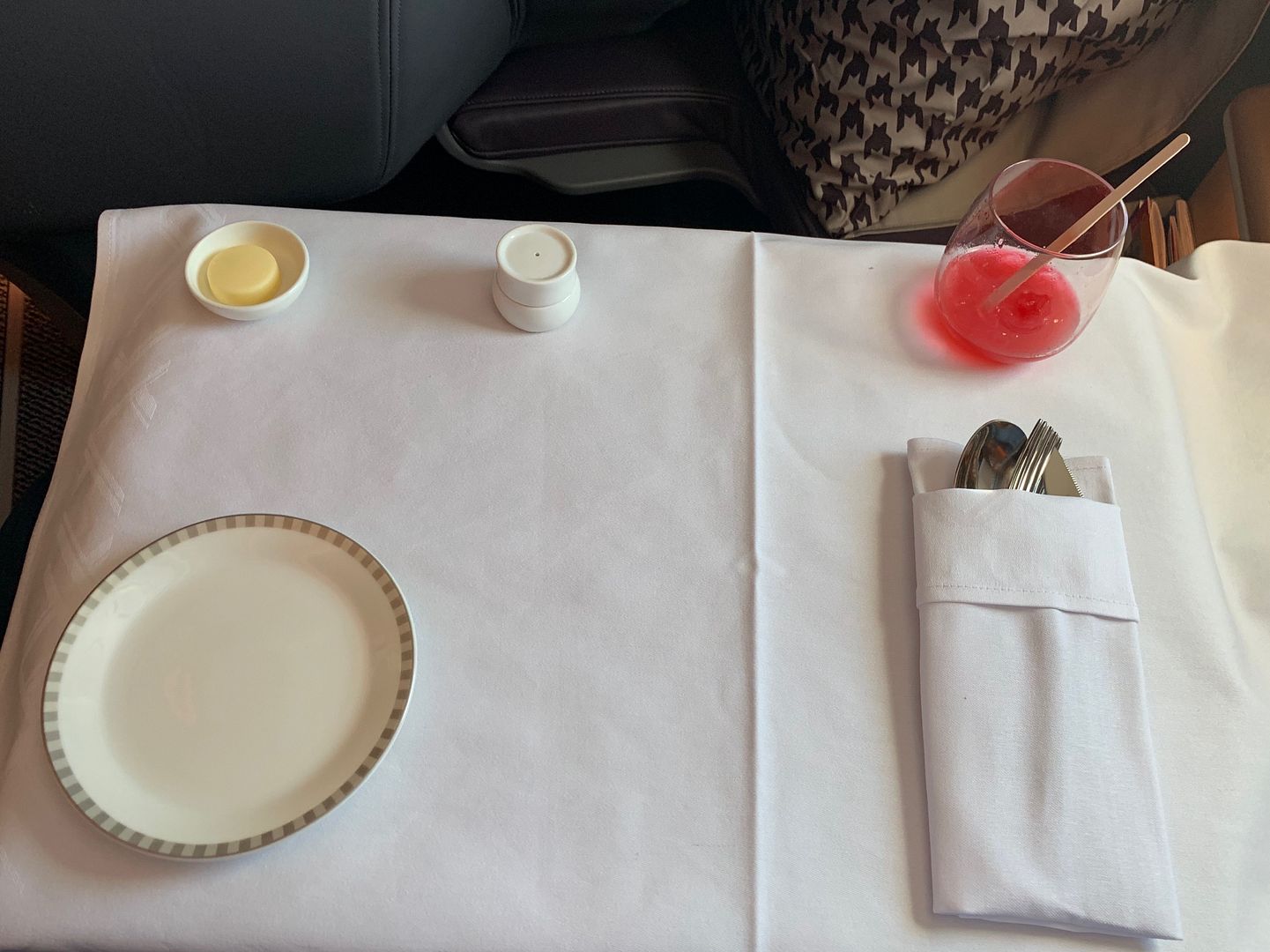 The smoked salmon starter was delicious and the accompanying green and yellow pepper and zucchini were fresh and sweet.
I had a multigrain baguette as my bread choice. Garlic breads were offered on both meals for those who are curious.
I switched to the Australian Chardonnay for lunch.
The dumplings were delicious but I got easily used a second helping.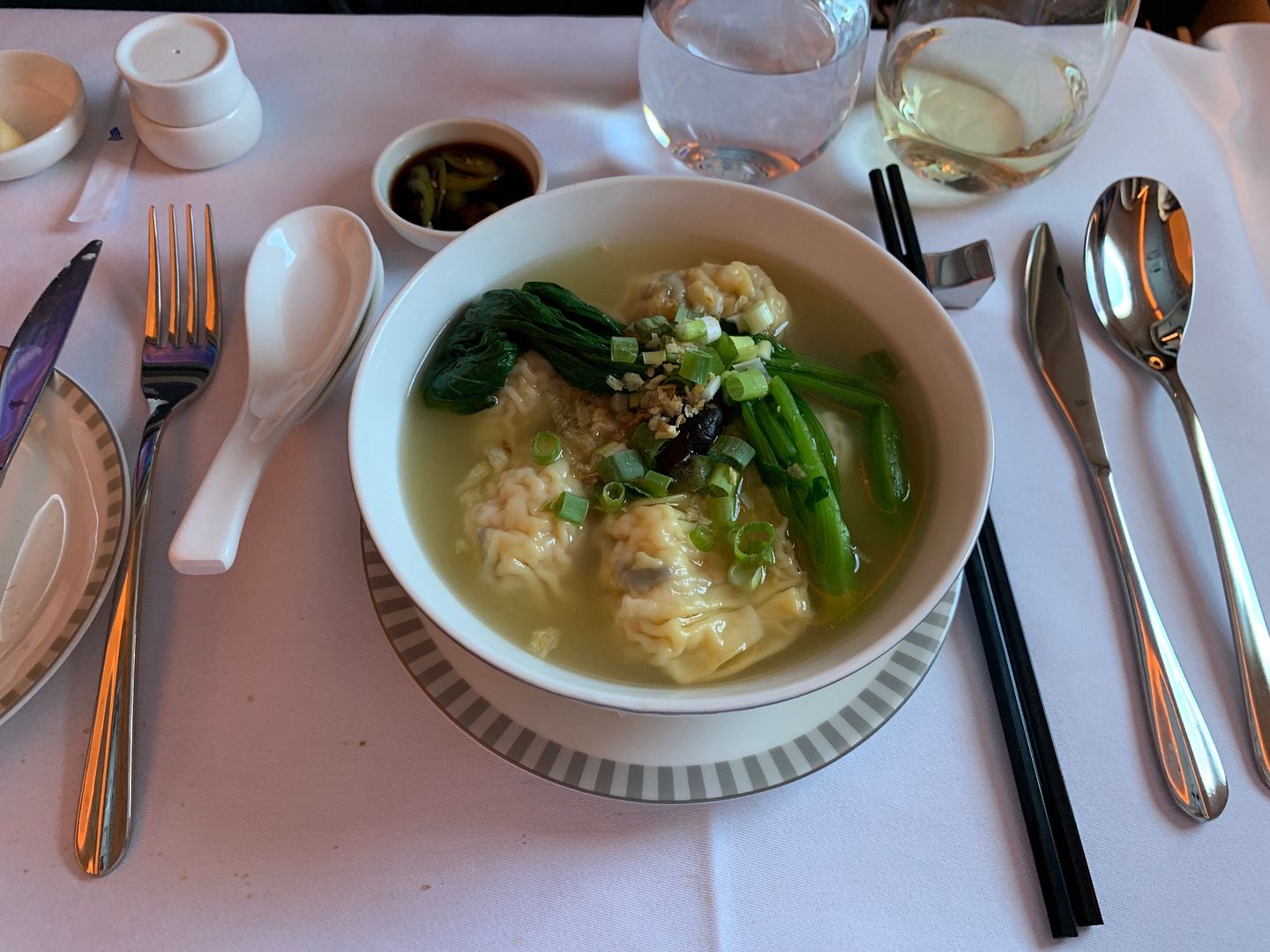 Dessert and fruit trolley were rolled out together, and I had some fruits and the ice cream.
Chamomile tea to end the meal but no pralines were in sight.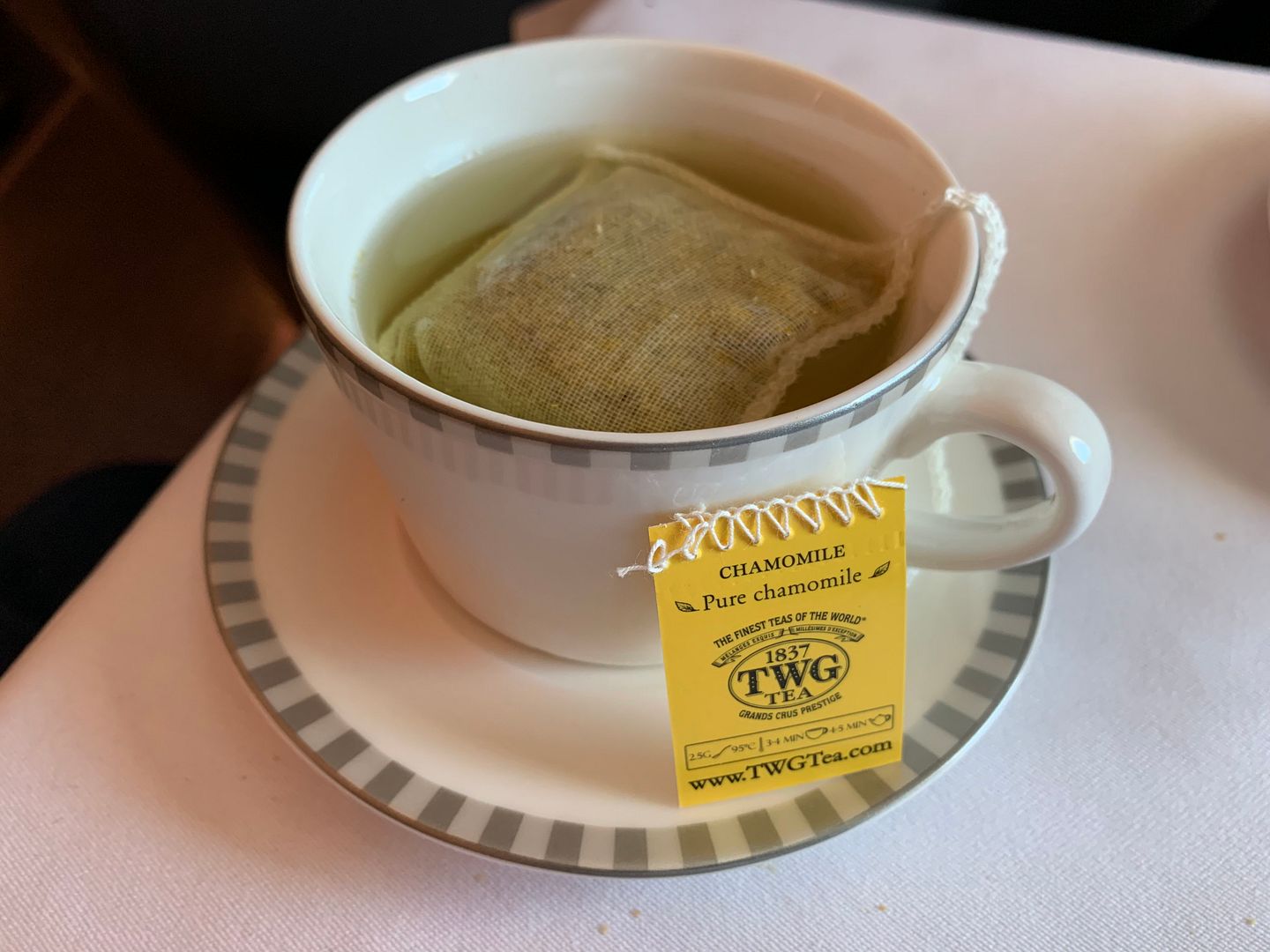 Bottled waters were handed out next.
After lunch, I flipped my bed to catch a nap before the second meal. On these day time flights, I usually take a nap after the first meal service, wake up a few hours later, and stay awake till landing.
Bed was okay but foot room was limited. You have to sleep in an angle.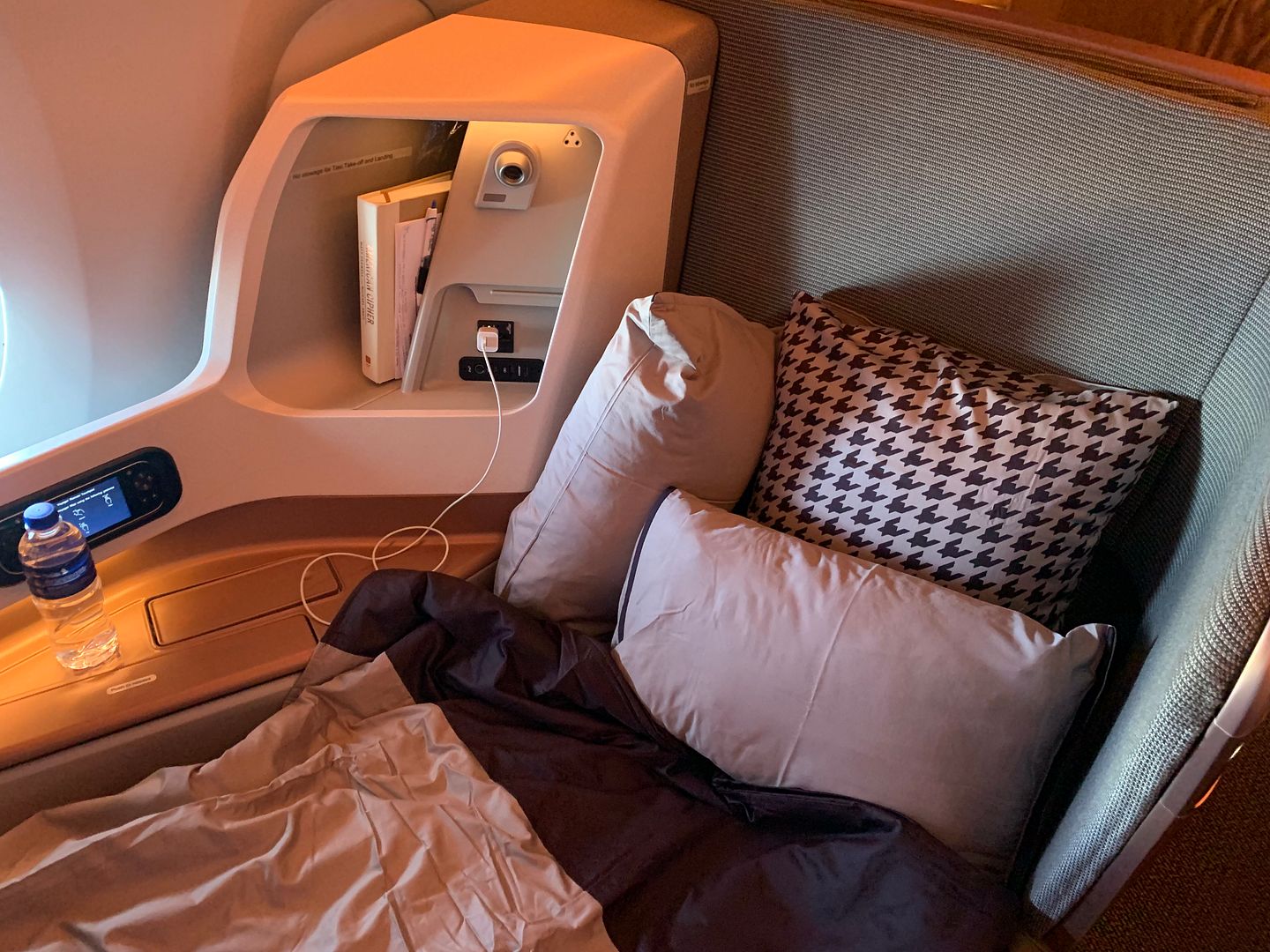 I woke up when we still had ten hours left on the flight.
The F/As were doing a good job in patrolling the cabin but yet not being intrusive.
They passed around some old-fashioned donuts and snacks around 6pm Seattle time.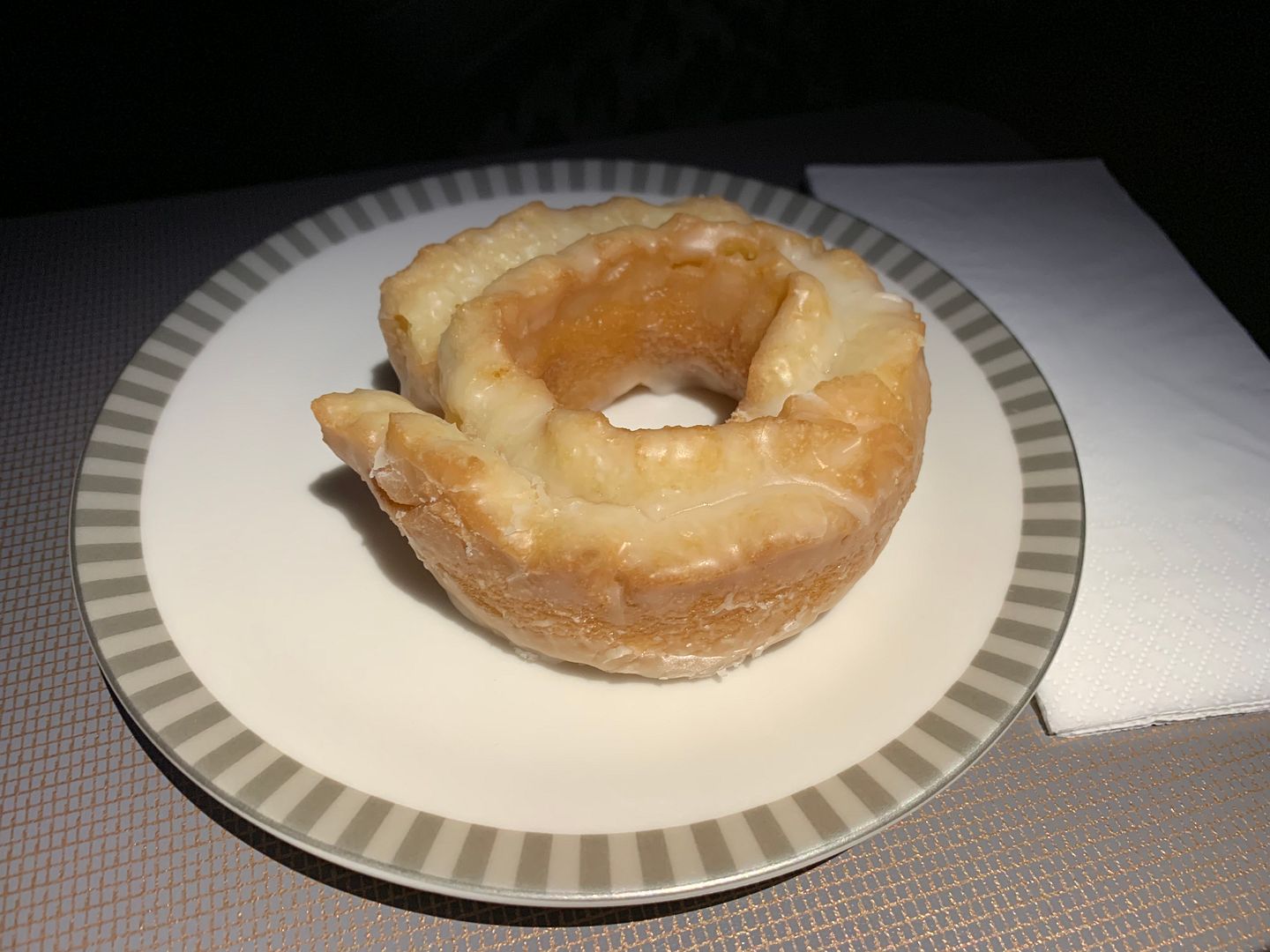 The snack basket includes assorted nuts, original Sun Chips, Milano cookies, and Hershey's Cookies and Cream bars. I chose the Sun Chips.
Entertainment and WIFI
Everyone got a free 30MB WIFI for the inaugural flight, and it was near impossible to login shortly after takeoff. Of course, not providing the right WIFI address on your instruction was a problem. In the end, I did not bother to login till after I woke up from my nap. It was much better, but after five minutes at flightradar24, my 30MB was used up. I decide not to pay for more WIFI since they are really not great values.
KrisWorld of course never disappoints and no one will get bored on a SQ flight.
Midflight or Awkward Timed Dinner
I hate this concept and most passengers hate it. Waking up the cabin when it was 9pm in Seattle makes zero sense. It was not exactly mid-flight but rather after two third of the flight went by. They also reserve the heaviest offering for this so-called mid-flight or late-in-flight offering too. At 8:45pm with six hours left in flight, the F/A went around taking order and at 9pm, lights were turned on. The only explanation is that it is noon at Singapore. I honestly don't grasp the concept and the awkward timing.
Here is the full menu including Suzanne Goin's set and Crayon Ranch's set.
Midflight Onwards
Suzanne Goin's Selection
One of Los Angeles' most beloved chefs and winner of the James Beard award, Suzanne Goin is highly lauded for her artful culinary masterpieces infusing Mediterranean flavours with Californian creativity
Appetizer
Roasted Baby Leek and Soft Egg Salad
With mustard breadcrumbs, Dijon mustard vinaigrette
Main Course
Oven Roasted Lamb Loin
With kale bread pudding, tapenade and roasted cherry tomatoes
Dessert
Yogurt Panna Cotta with Hemp Seed Granola and Pomegranate Blueberry Compote
Canyon Ranch Selection
Canyon Ranch has been a trailblazer and an industry leading proponent of the wellness lifestyle living for nearly 40 years. The Canyon Ranch food philosophy is simple and consistent: when you eat better, you feel better. Featuring meticulously sourced seasonal ingredients, these dishes honor such philosophy and share the love of food that is delicious, simple and above all, joyful.
Appetizer
Prawn Ceviche with Lavosh
Marinated prawns in citrus juice, garnished with orange, cucumber, grapefruit and bell peppers
207.22.15.8.300
Main Course
Seared Chicken with Lemon Vinaigrette
Zucchini pappardelle, tomatoes and Parmesan cheese
335.15.22.20.847
Dessert
Lemon Angel Food Cake
Blueberry compote
140.32.3.1.82
Key: Calories.Carb(g).Protein(g).Fat(g).Sodium(mg) (tr-trace)
A second meal service will commence midway through the flight. Make your selection from this menu up two hours before landing.
Appetizer
#Roasted Baby Leek and Soft Egg Salad
With mustard breadcrumbs, Dijon mustard vinaigrette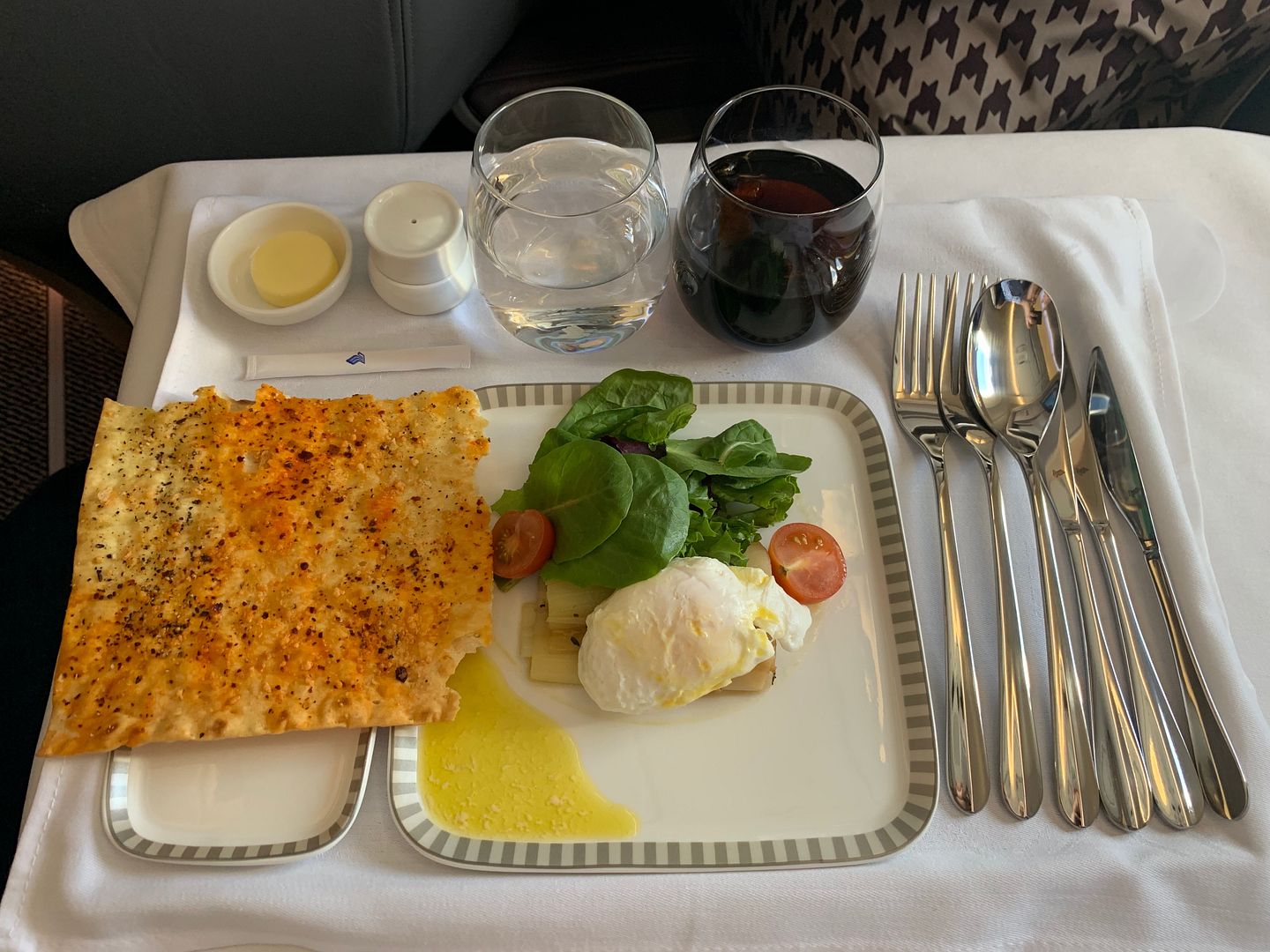 Main Course
#Oven Roasted Lamb Loin
With kale bread pudding, tapenade and roasted cherry tomatoes
@
sea
red Chicken with Lemon Vinaigrette
Zucchini pappardelle, tomatoes and Parmesan cheese
Served with Canyon Ranch appetizer and dessert
*Asado Style Grilled Beef Fillet
With vegetable, mashed potato and chimchurri sauce
Fish Congee
Rice porridge with sliced grouper fillet
Deep Fried Pork in Sweet Vinegar Sauce
With Chinese Vegetables and egg fried rice
Kaddu Ki Sabzi, Gajar Matar Masala, Dal Hariyali, Jeera Pulao
Stir fried pumpkin, spiced carrot green peas, lentil and vegetable stew, cumin rice
Dessert
#Yogurt Panna Cotta with Hemp Seed Granola and Pomegranate Blueberry Compote
Petit Patisserie
Assortment of mini desserts and petite fours
Pralines
Fine Pralines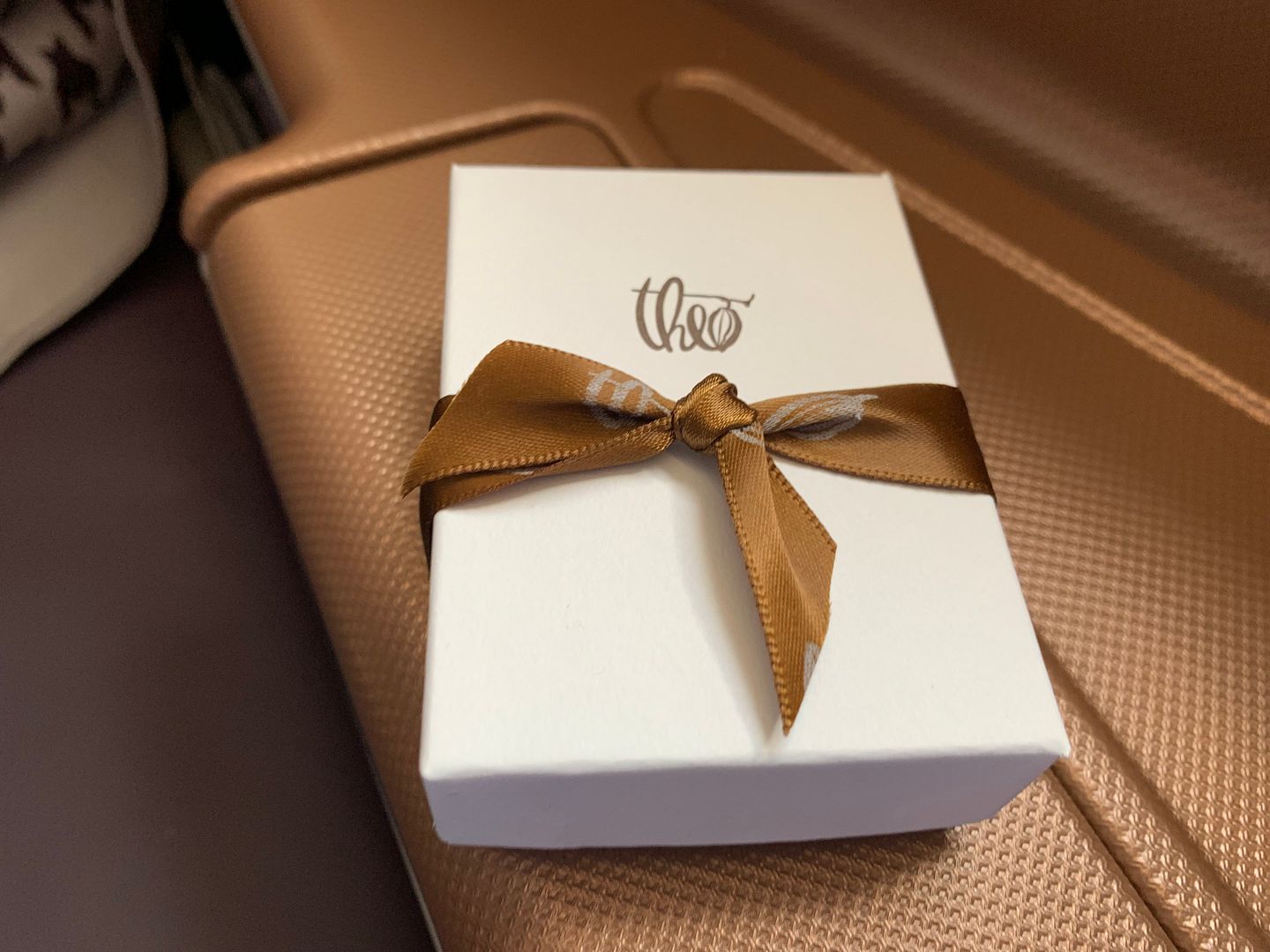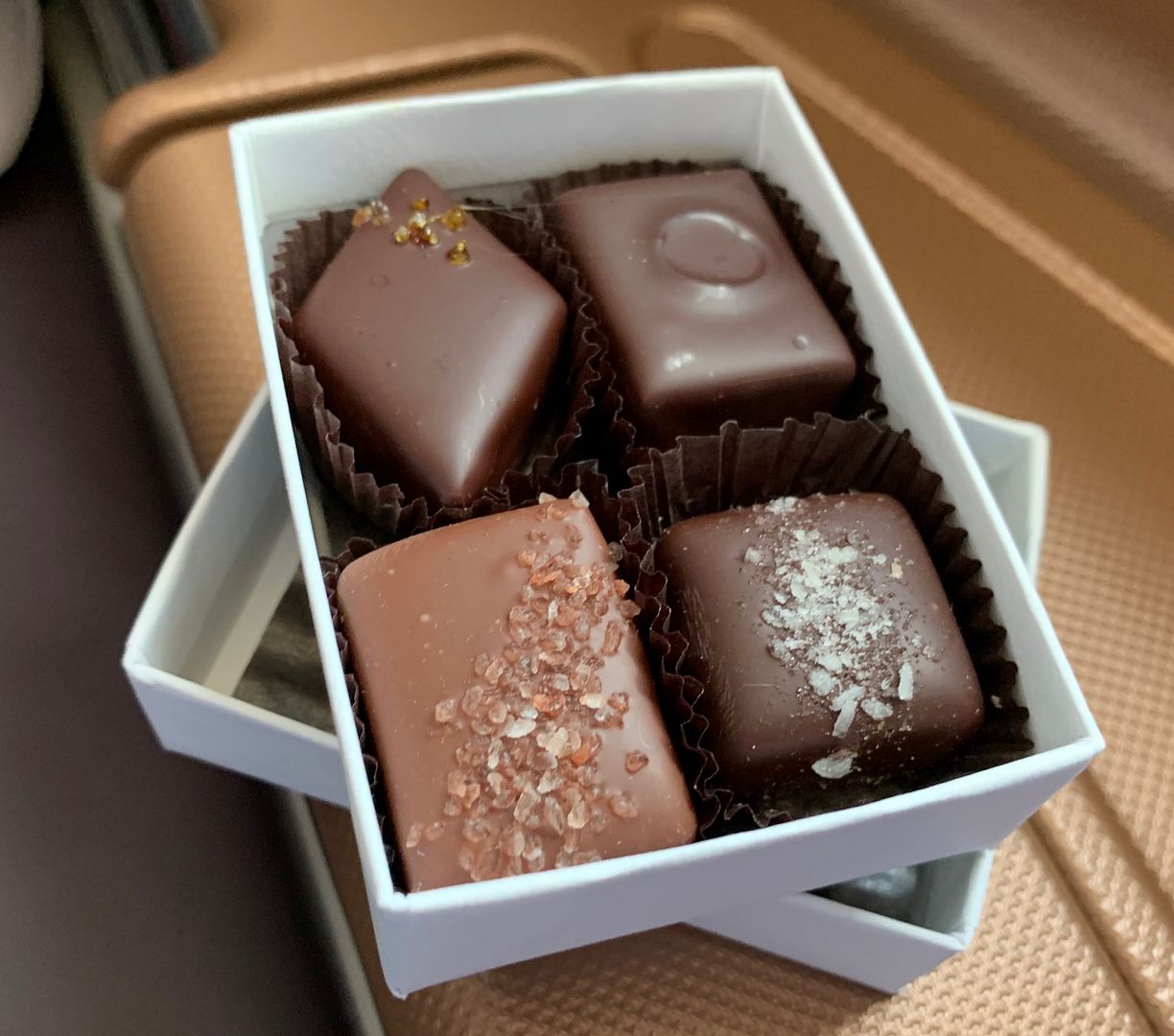 Cheese
Selection of Cheeses
Goat Humbolt Fog, Yellow Cheddar, Kerrygold Reserve, Martin Scholoss cheese served with garnishes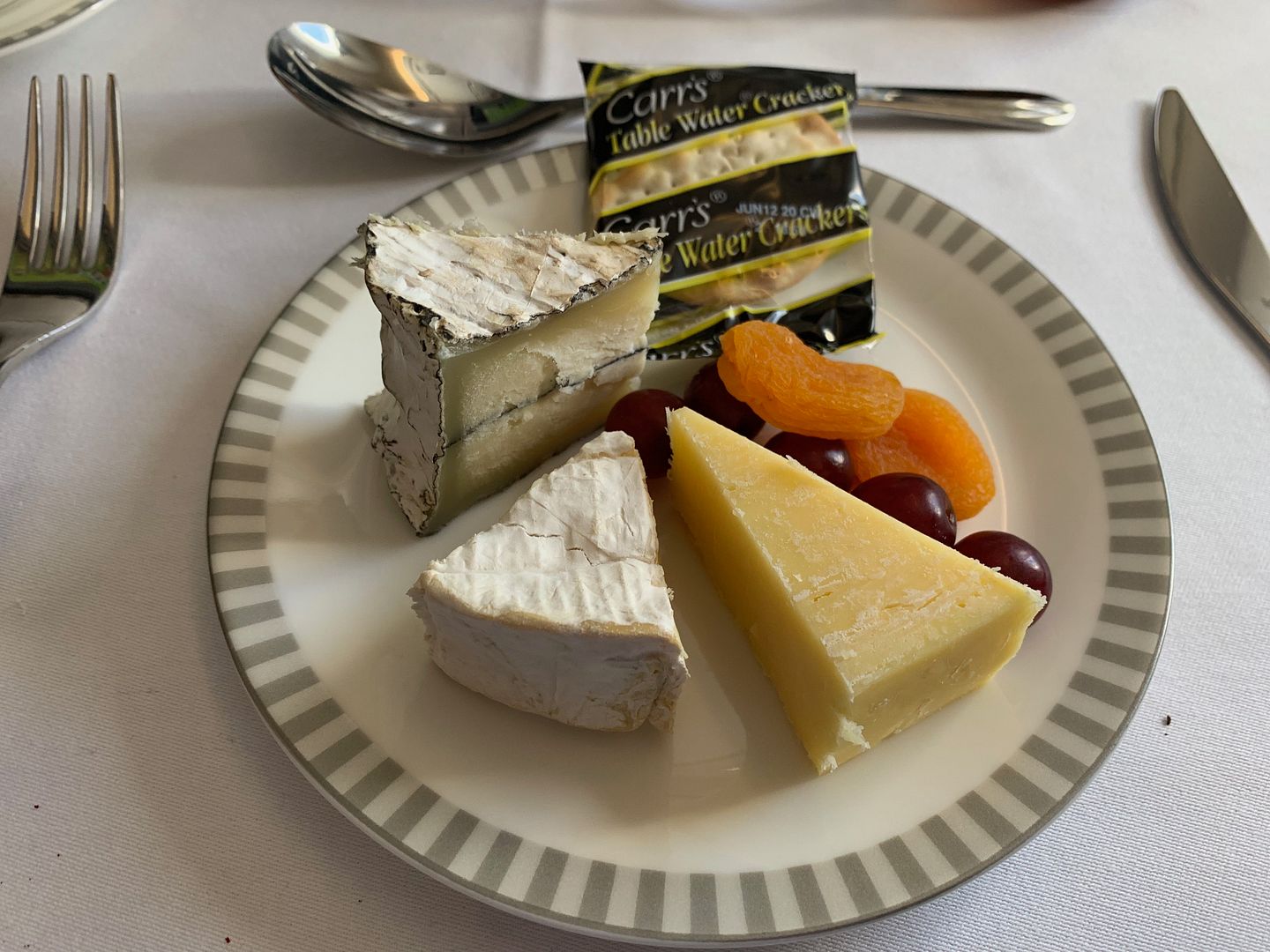 Fruit
From the Basket
A variety of fresh fruits
From the Bakery
Assorted Bread Rolls and Gourmet Breads
Served with selection of butter or flavoured olive oil
Hot Beverage
Coffee and Tea
A wide selection of flavours is available in the beverage section
#Exclusively created by Suzanne Goin of Lucques, A.O.C. and Tavern, Los Angeles
@A simple and joyful wellness selection created by Canyon Ranch, an industry-leading proponent of the wellness lifestyle living for nearly 40 years.
*A popular local fare dish
For this dinner service, I was choosing between the Fish Congee or the Asado Beef Fillet. In the end, I chose the beef because I was hungry.
Unfortunately, dinner was a bit weak, in compared to the earlier lunch service. The starter by Suzanne Goin was so under-seasoned, despite the soft egg retains its running yolk. The leeks were a bit tough to bite through.
The Asado Beef Fillet was lovely presented but the dish was so dried out. The chimichurri sauce never made its appearance and the meat was fully cooked.
For dessert, they rolled everything in the same cart and I chose cheese and the Goin's dessert, which was also weak. Everything just lacks seasoning and taste.
As dinner wrapped up at 10:16pm, lights were turned off again.
For the rest of the flight, there was no formal meal service but you can order anything from the above dinner and the refreshment menu listed below. Singapore Airlines does not provide a deadline for order any of these refreshments, and no F/As came around and asked passengers if they wanted anything prior to arrival.
Refreshment
A selection of la mian or flat rice noodles with choice of:
Poached sliced chicken and Chinese Greens, or
Leafy greens and mushrooms
Prawn Dumplings in Superior Soup
With leafy greens and mushrooms
Tomato Soup
Mushroom Soup
Multigrain Bread
With jerk chicken, tomato, honey mustard mayonnaise and lettuce
Vegetarian Tortilla Wrap
With roasted eggplant and sundried tomato hummus spread
@
greek
Yogurt and Granola Parfait
Garnished with homemade granola, fresh berries and coconut flakes
273.27.16.12.74
[Calories.Carb(g).Protein(g).Fat(g).Sodium(mg) (tr-trace)]
Selection of Sliced Fresh Fruits
Selection of Cheeses
Goat Humbolt Fog, Yellow Cheddar, Kerrygold Reserve, Martin Scholoss cheese served with garnishes
The crews came by with fresh fruit and yogurt parfait around midnight.
The rest of the flight went by with me watching a few television shows.
Finally, an hour prior to arrival, I ventured into the galley, grabbed a sandwich, which was nasty, but I finished it because I was hungry, and here was the picture of it. I really regret not ordering a noodle a bit earlier. The sandwich was not the one listed in the menu, and I guess it was a cheddar, pastrami and pickled vegetables Ciabatta sandwich. I also got a piece of chocolate.
I know this is a first world problem, but Singapore Airlines has cut out the after meal hot towel service. There was no hot towel offered after both main meals on these Seattle flights, as well as my Singapore to Seoul flight a day later.
Service:
Compared to my SIN-LAX flight, the service on this inaugural flight was much better. Of course, a not full business class cabin and an inaugural flight made it easier for everyone. The crews addressed me by my last names throughout the flight. One of the male F/As [I think his last name is Lim] were especially excellent, as he constantly asked if passengers needed anything more. When I grabbed a sandwich in the galley, he was the one, who asked if I wanted something to drink. I noticed him serving the passenger in front of me a snack mid-flight and kept on bringing him more food and drinks. I think he sort of reminds me of the old-time traditional Singapore Airlines' service, which is unfortunately on the minority, rather than the norm these days. His other colleagues are fine but it is not the "go beyond" altitude that Lim and the legendary Singapore Airline F/As live up to.
Descent soon began at 5:14pm Singapore local time [2:14am Seattle time], and the F/As seemed in a rush to get the cabin prepared. I think they could wait till the seat belt sign turning on before making passengers get their seats up.
Lim came by with mints and pralines and thanked everyone for the flight.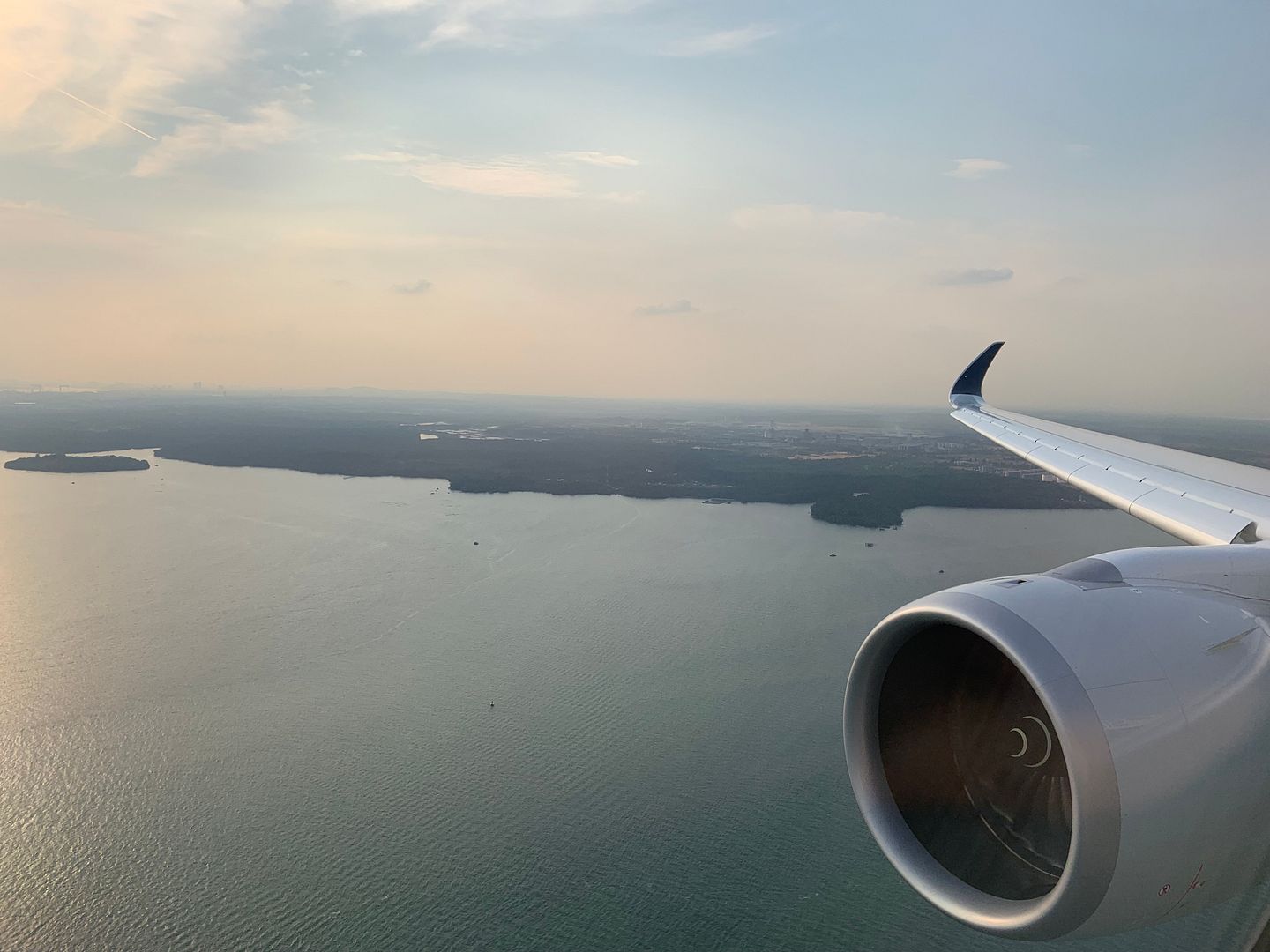 Fortunately, we were not placed on hold today and landed on R/W20R at 5:46pm. Flying time was only five minutes longer than expected, and after fifteen hours and fifteen minutes, we made it to a very hot Singapore.
It was a short taxi. We parked at gate A15 three minutes later, but passengers had to take the Skytrain to the arrival hall.
Immigration was quick, as there were no other flights arriving at the same time.
Bags came out at 6:09pm, twenty minutes after we parked at gate.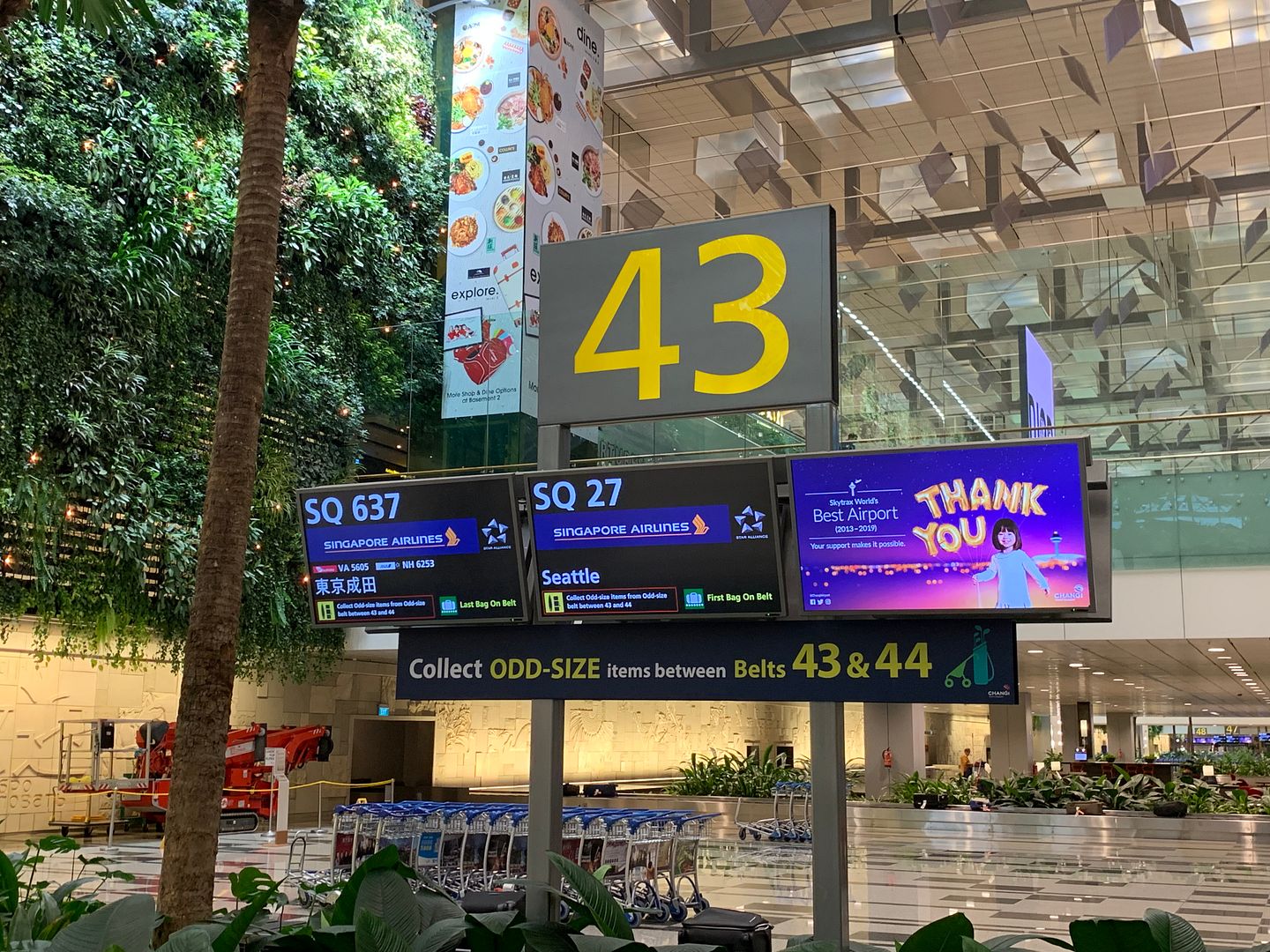 In conclusion, it is a nice inaugural flight and the Port of Seattle does a decent job in welcoming Singapore Airlines amidst of constructions and SQ flying out from an older terminal. The Lion dance was definitely the highlights for the whole ceremony. However, Singapore Airlines needs to address the turnaround time but I am sure it is just a short-term issue. My main issue remains the crazy meal service schedule and I found myself hungry and needed to get food on these Singapore Airlines' ultra-long-haul flights frequently. The meals were too small especially the portion of the main course. Given the weird timing of the meals, it was just hard to know when to ask for snacks. I prefer the traditional LAX-NRT-SIN/SFO-HKG-SIN to these nonstop flights. The amenities were weak and they no longer provide a large size pair of slippers. Thankfully I got a less busy business class cabin and an excellent F/A, Mr. Lim, serving the cabin. I have a feeling that Singapore Airlines will do well on this new Seattle flight, given the heavy load on the inaugural flight. There are many passengers connecting to South Asia and Southeast Asia, as I notice lots of signs calling for passengers heading to Kuala Lumpur and Bali/Denpasar on our arrival.
Congrats on Seattle gaining their first nonstop flight to Southeast Asia from the Pacific Northwest!
Carfield
---
Last edited by Carfield; Sep 16, 19 at

11:25 pm
Sep 16, 19, 11:57 am
A FlyerTalk Posting Legend
Join Date: Sep 2009
Location: Minneapolis: DL DM charter 2.3MM
Programs: A3*Gold, SPG Plat, HyattDiamond, MarriottPP, LHW exAccess, ICI, Raffles Amb, NW PE MM, TWA Gold MM
Posts: 84,906
I hadn't realized that SQ now uses a separate wine list for the main meal.

BTW, when did France annex the Yarra Valley (the Chardonnay)?
Sep 18, 19, 12:37 am
Join Date: Feb 2003
Posts: 4,647
Singapore Airlines always holds a luxurious place in my mind mainly based upon their advertising I'd guess. Every time I fly them in First or Business class I can't get over how ridiculous the flipping of the seat into a bed process is. If their top notch competitors can all figure out how to have a great lie flat product without flipping the seat I don't know why they can't.

Anyhow, those were very nice pictures.
Sep 18, 19, 12:53 am
FlyerTalk Evangelist
Join Date: Nov 2005
Location: Phoenix, AZ
Programs: American Airlines AAdvantage, Rapids Reward
Posts: 33,992
Wow! What a fabulous trip reports! I'm so glad you had a chance to fly SEA-SIN nonstop.

I have been on the inaugural flight from PHX-FRA by last year. The flight was so successful! When I heard the news about Condor in a few years ago.

I will be on my next flight from PHX-LHR-BSL on AA/BA in February 2020. I am flying in premium economy class. I am sure my flight will be so successful.