Doing the needful: 'Straya, South Africa, and Switzerland...but no Kitty :(
Aug 30, 19, 3:06 pm
Join Date: Mar 2003
Location: BRU, DCA, ZRH, JNB, FRA
Programs: UA Global Services 2MM, DL 360, AmEx Cent, Bonvoy Titanium Lifetime, Moms love me
Posts: 5,052
Doing the needful: 'Straya, South Africa, and Switzerland...but no Kitty :(
---
So, yeah, I've been sort of missing in action for a couple of months. Rest assured, I haven't fallen off a cliff, been eaten by a pack of wild weasels, or left to become a Hare Krishna. No, like usual, it's the simplest explanation that's to blame for my complete absence: travel.
...and not just a little travel either. In just under 10 weeks I've:
Gone to Australia on vacation. But of course, I can't do that the easy way....I went via London / Paris / Tunis / Dubai / Singapore. Because...why not...and half the fun is the voyage! The way back got messed up by the strike at EVA Air (womp, womp, no Kitty
), so I ended up having to take United home...not exactly the most exciting way to end an AvGeek trip....but I'm going to get started on posting this trip asap!
I was only back from vacation for three days, and had to head off to Switzerland for what is possibly the longest work trip I've ever done: 24 days. At least I was mostly able to take the weekends off and see a bit of Switzerland, so I'll write that one up next!
Back from Switzerland for...all of three days again, and then it was off to South Africa for work. I probably just should have gone straight from Switzerland, but a combo of cost and time made me want to come home...even if it was for just three days!
Then, back from South Africa (because the change fee was exorbitant and I had a wedding to attend) for all of 24 hours, before flying off to India for work. Yeah, insane...and I was completely trashed by the end of it. But now I'm home - in theory for over three weeks - and I plan to do some catching up! Of course, then I have Ghana, more Switzerland, Prague, and Brazil in the span of eight weeks, but I'll take the small miracles. Anyways, to put it in perspective:
Just under 78,000 miles in 10 weeks. The mileage itself isn't crazy by many standards, but all the back and forth definitely did a number on me! So, here's what you can expect in the coming days and weeks:
1. DC to NYC with Amtrak Acela First Class
2. JFK to LGW with Norwegian Premier, op by Evelop!
3. London to Paris on Eurostar Business Premier
4. Paris to Tunis with TunisAir A330 op by GetJet
5. Tunis to Dubai in Emirates First Class
6. Dubai to Singapore in Emirates A380 First Class
7. Singapore to Sydney in Qantas First Class
8. Sydney to Perth in Qantas Business Class
9. Perth to Melbourne in Qantas Business Class
10. Melbourne to Sydney in Qantas Business Class
11. Three nights in Sydney
12. Sydney to Bangkok in Thai First Class
13. Bangkok to Singapore with Cathay Pacific on the A350-1000
14. Singapore to Hong Kong on the Singapore A380
15. Hong Kong to DCA via Newark with United
16. DCA to Zurich with Air Canada
17. Three Weeks in Switzerland - Part One of Three
18. Three Weeks in Switzerland - Part Two of Three
19. Three Weeks in Switzerland - Part Three of Three
20. Zurich to IAD on United
21. IAD to Johannesburg with United/SWISS...including a surprise!
22. Four Nights in South Africa
23. Johannesburg to IAD with Lufthansa...including some first class love
24. IAD to Delhi with United/Lufthansa...and the Munich First Lounge
25. Four nights in India
26. Delhi to IAD via Frankfurt with Lufthansa
Wow...apparently I've got a bit of work on my hands! As long as I crank out one entry a day I should be able to get this done before my next trip. With that....I'll wrap this one up...and start writing!! Good news is, the first five parts are already written, so they'll be up super quickly! In the meantime, check out some of my older reports:
I. London to Iran and Afghanistan in a mix of C, F, and LCCs
II. Above the Arctic Circle with UA/CO/LH and SK in whY, C, and F
III. Around the World in 40 Days for 40 Years
IV. 8 Places People Who Are Right in the Head Do Not Spend New Years
V. 12 Countries, 10 Airlines, 4 Islands, 27,080 miles, 11 Days
VI. 6 Countries in 6 Days - Caribbean Island Hopping and first AA Experience
VII. Guyana, Suriname, and French Guyana with an unexpected sidetrip to Caracas!
VIII. To Haïti - for vacation and a milage run!
IX. Around Senegal and West Africa
X. 4th Annual New Years in Dangerous Places - Libya Edition
XI. Kosovo and FYR Macedonia - Milage Run in United Business + TK/LH
XII. Washington to Peru and Machu Picchu on COPA and TACA
XIII. To Johannesburg...for 36 hours!
XIV. Here a Stan, there a Stan, everwhere a Stan Stan....
XV. Air Burkina, Air Cote d'Ivoire and 7 countries in West Africa
XVI. Turkey for Thanksgiving....with a side of Tajikistan, Serbia, Montenegro, and Moscow
XVII. Into the Heart of Darkness... Congo, Angola, Gabon, OH MY!
XVIII. HI! Four Islands, Lots of Planes, Beaches, and Convertibles
XIX. Plenty of Salt, Not Enough Oxygen...a Trip to Boliva, Colombia, and Ecuador
XX. Learning to Relax - Long Weekend in St Christopher and Nevis
XXI. You're spending New Years WHERE? IRAQ? (2009-2010)
XXII. Pineapples, croissants, and neon OH MY! A trip to Hawaii, Paris, Andorra, and Vegas
XXIII. South Pacific, Israel, Lebanon - 6 weeks - 71,500 miles - 24 countries
XXIV. Sundae bloody Sundaes...a 2014 United Year in Review
XXV. Lakes, Lemurs, and Lithuania: Horton Hears a Houthi!
XXVI. First Americans tour to North Korea 2005 - Arirang Mass Games
XXVII. Doing the Needful - Lufthansa Business US to Chennai
XXVII. C-ing things: Canada, Curry, Cameroon, CAR, Chad, Camels, Chengis Khan and China!
XXVIII. Learning my ABCs: Algeria, Bahama, Cuba and the Cubana IL-96
XXIX. Exploring ZMapp of West Africa...or how I got detained by the CDC
XXX. Transatlantic to Bangkok with United, Austrian, Air Canada, and Thai
XXXI. Being Lazy in Belize
XXXII. Quick Trip to Cape Town with United, SWISS, South African, and Lufthansa
XXXII. FUNny thing happened going to and from Tuvalu...Cathay F, Etihad Apts, Fiji Biz
XXXIII. Achievement Unlocked: AFRICA! Visiting Mali, Mauritania, and Senegal
XXXIV. FIN. (and thanks for all the fish)
XXXV. What do you do after visiting every country? RTW in First with NH, TG, SQ, QR, EK, LH
XXXVI. Rock in the Abkhazia - Progress on the Unrecognized Countries List
XXXVII. Collecting Continents: Circle of the World, but not RTW
XXXVIII. Cocoa Puffs? Nah, I'm coup coup for Zimbabwe!
XXXIX. My Struggle is real: 10 days in Germany with roundtrip Lufthansa First Class
XXXX. I hate tacos...said no juan ever! Off to Mexico City for work!
XXXXI. Sanding my Love to Uncle Bob - Back to Southern Africa
XXXXII. Pisco on Pascua? Por Favor! Looking for Aliens on Easter Island
XXXXIII. Bern, Berlin, and Bbbbrrrrr! Crossing the northernmost border in the world
XXXXIV. Je suis sehr cansado. Wo sou je? Why did I just walk into the wall?
---
Last edited by ironmanjt; Oct 18, 19 at

5:30 pm
Sep 1, 19, 9:47 am
Join Date: Mar 2003
Location: BRU, DCA, ZRH, JNB, FRA
Programs: UA Global Services 2MM, DL 360, AmEx Cent, Bonvoy Titanium Lifetime, Moms love me
Posts: 5,052
1. DC to NYC with Amtrak Acela First Class
---
I'm not really sure how the planning for this trip got started. One day, I was looking for some fun flights I could redeem miles for, and the next day I was planning a trip around the world.
The problem was: I had a lot of "empty" segments in the middle, where I had to connect two "cool" awards by something that worked. I figured if I was going to go full-on Av-Geeking this trip, I should add in some stuff I would never do otherwise.
No, I didn't book economy class or something silly like that, but I did book some stuff that I've never done before. Lots of stuff I've never done before. But, I won't ruin the surprise now. First, let's get the trip on the road, and then you can see just how unusual for me some of this stuff was.
They say every great journey begins with a first step. Well, mine began with Metrorail - which wasn't on fire that day - so I consider that a small victory in the grand scheme of things!
Where was I going? Dulles Airport where I get to experience the "Silver Line Express" bus to get there? National Airport which is actually the easiest of all with just a short change of trains? Nope, somewhere I never go - and hadn't been in years and years - Union Station! I think it's been since the construction was going on, and I was impressed how the foyer looked all shiny and bright:
I had asked friends who travel on Amtrak with some frequency, and they told me I had to find the Amtrak Lounge, and find something called a "red cap" who would give me the magic of having the perfect experience.
Found the lounge, and the two older couples checking in in front of me both asked if they needed a "red cap" to take them and their mounds of luggage to their train, but I wasn't asked. Perhaps it was because I was 20+ years younger than everyone else in the senior citizens' home...I mean lounge....but I did ask for one, and was told he would come to pick me up.
Meanwhile, I enjoyed the finest snax Amtrak had to offer:
"My" red cap came to get me and one of the couples about 15 minutes before the train, and past everyone else who was waiting so we could board before all the other first class passengers. A small tip was a small price to pay, and if I could get escorted from airline lounge to boarding the same way I would pay it every time. Are you listening airlines???
Not as sexy as a lot of trains, but our Acela was still....cool?
Once we had boarded, and the car was filling up nicely, I took a gander out the window at the next platform and saw this. Who says America's infrastructure is crumbling? Ugh...it's quite shameful for the self-proclaimed "capital of the free world":
Whoah, a menu for a short train ride?!
Ok, so it was a generic all-day menu, but still...it was a menu!
Plus a proper beverage list
The attendant (can't really call them flight attendants, right?) came around offering pre-departure beverages, and for some reason I decided to forego by usual beer or wine, and asked for a Woodford with a "little" ice. Well, I got more than a little ice, and I got more than a little Woodford too: a full glass plus two mini bottles!
During boarding, an elderly couple I would put in their 80s were very, very unhappy with their seats. They had been assigned two seats side by side, and kept kvetching at the attendant that they could not sit there because "we don't like people looking at us!" The attendant tried to explain that every other seat was taken, and next time they should tell their travel agent (apparently those are still a thing?) to book the type of seat they like the next time. They made such a scene that the police had to be called....
Eventually some folks gave up their preferred seats just to shut the complaining old couple up, and with that sorted, we were on our way. Lunch came soon after, and I went with the cheese plate...which was...adequate. The cookie, however, was delicious!
Choo Choo....off we go up the Northeast Corridor!
No time for tax-free shopping!
The city of brotherly love!
Some tv, looking out the window, and it was time for a beer as we kept chugging along. I had to admit, this was a perfectly civilized way to travel, and I was definitely enjoying it much more than flying with Ubers on each end! Plus...savory snack mix!
Picked my hotel in NYC because it was (a) walkable from Penn Station (b) a Marriott Bonvoy property and (c) because I was told I'm the "target demographic" for this brand. I guess it's true, because every time I've stayed at an AC hotel I've rather enjoyed it. That same IKEA practicality combined with European design...sign me up. Plus, the AC was ice cold, so for Manhattan it was a great hotel!
Off to spend the afternoon with fellow country-collecting friend, and managed to drag her to
Tipsy Scoop
near her office, which several friends recommended I try. I give rave reviews to the dark chocolate salted caramel whiskey flavor. Yum! The spiked mint chocolate chip was also delicious.
It was a rare gorgeous summer day in New York, so we basically just sat around Madison Square Park and did what country collecting geeks do: chat about the best things to do in Angola, the quirks of the Cameroonian visa, and how to "sneak" into places like Yemen and Syria without getting yourself in trouble. You know, everyday conversations....
Empire State Building...because it was close, and I had to do at least one touristy thing with my night in New York City!
Off to Hell's Kitty next to meet some friends for dinner, which was absolutely delicious, and it was great to catch up. Considering I got into New York mid-afternoon it was great to get to see multiple friends, a little bit of the city, and get the trip off to a really unusual (for me) start. Yes, I know I live less than 200 miles from New York, and maybe that's why I don't make more of an effort, but it was really cool nonetheless.
Off to bed at a quasi-reasonable hour - I had to be up early to head out to JFK to catch my flight onwards to London, and I decided I would be brave and try public transit!
---
Last edited by ironmanjt; Sep 1, 19 at

10:12 am
Sep 1, 19, 10:06 am
Join Date: Feb 2014
Location: OTP, CHQ, EIN and beyond
Programs: AF/KL platinum, Turkish gold, QR gold
Posts: 1,299
A red coat? The British invaded again? I hope this time they didn't burn the place down like they did in the days of yore
Looking forward to the rest! Seems like it will be another epic trip!
Sep 1, 19, 10:13 am
Join Date: Mar 2003
Location: BRU, DCA, ZRH, JNB, FRA
Programs: UA Global Services 2MM, DL 360, AmEx Cent, Bonvoy Titanium Lifetime, Moms love me
Posts: 5,052
Sep 1, 19, 1:44 pm
Join Date: Mar 2003
Location: BRU, DCA, ZRH, JNB, FRA
Programs: UA Global Services 2MM, DL 360, AmEx Cent, Bonvoy Titanium Lifetime, Moms love me
Posts: 5,052
2. JFK to LGW with Norwegian Premier, op by Evelop!
---
Up relatively early the following morning to head out to JFK. For once, I really wasn't complaining about being up early, because the alternative to Europe is always to take a redeye flight, so if I can get up a bit early and take a daytime flight, I definitely always come out ahead with more hours of quality sleep!
Bit of coffee, and then because it was only estimated to take 15-30 minutes more than an Uber (and because this trip was kind of all about being a transit geek) I opted to take the subway to JFK. Figuring out how the cards worked was easy, no trouble buying with credit card, and then it was on the A train out towards JFK!
Unfortunately, not only was there some drama with the E train with it not running out towards JFK, but when I got 5o Howard Beach the signs alerted me that there was a full shutdown of the AirTrain to JFK and I would have to wait for a shuttle bus. Ahhhhh, at least I'm getting the full New York transit experience!
On the positive side, the bus was timely, and being packed with New Yorkers cranky about this unexpected detour I got the full experience. So, hey, could have been much, much worse.
Made my way to the terminal and Norwegian Check-in, where drama awaited me. There was no way there were going to let me carry my rollerboard and laptop bag on, claiming they were BOTH above the carryon weight limit for premier...not to mention that combined they were double the weight limit. Seriously? Plus, the flight was sold out, so I did not have the option to even pay to check the rollerboard.
Full-world-traveler mode enabled, after seeing the check-in person was going nowhere, I asked for the manager, and when they were unyielding, I asked for the airport operations manager for Norwegian.
The person eventually showed up, I explained the situation, pointed out the lack of clarity on their website, pointed out the absurdity that 20kg of bags couldn't be brought on by someone in premier...and may have embellished a bit with some experienced learnt from dealing with international bureaucrats...and eventually with a nod and wink I was sent on my way. Experience pays!
Yes, it was a bit of a DYKWIA moment, but seriously, if as an experienced traveler I had this much drama.... I can't believe how the "normal" traveler deals with these airlines!
I was expecting this to be followed by drama with TSA
given my last experience with TSA at Terminal 1
, but this time had a perfectly lovely and efficient experience. It really is about the individual at the end of the day!
Plus...once through security I was in Pride Country!
Thanks to being on Norwegian I had no lounge access, but thanks to Priority Pass I had the option of the Korean Air Lounge (miserable) or trying the Air France Lounge. Air France lounges are usually pleasant and have respectable beverages, so off I went.
Nice little deli plate and a madeleine for breakfast
After chilling and catching up on a bit of work, it was off to the gate to see what surprises Norwegian would hold for me. Boarding was a complete mess, with gate agents who acted like they'd never seen an airplane before, but eventually we were all allowed to board and spared from further misery from the airport known as JFK.
Norwegian flight 7014, Operated by Evelop!
New York, JFK (JFK) to London, Gatwick (LGW)
Depart 12:45, Arrive: 00:45 next day, flight time: 7:00
Airbus A330-300, Registration EC-NBP, Manufactured 2013, Seat 15D
Miles Flown Year-to-Date: 47,809
Lifetime Miles Flown: 2,740,937
First impressions on boarding were positive. Based on the few online reviews I could find, I expected the Evelop! crew operating this flight for Norwegian to speak very little English and be cold, but this crew was quite chatty and friendly, and spoke excellent English. They were very welcoming, and the seats on this old Singapore Air bird were still quite nice...not to mention that the one empty seat on the entire plane was next to me! Clearly living a charmed life!
Lots of legroom
Even with a seatmate this seat is respectable - especially for a budget airline!
Open and airy cabin
Maintenance, however, had seen better days with compartments that wouldn't close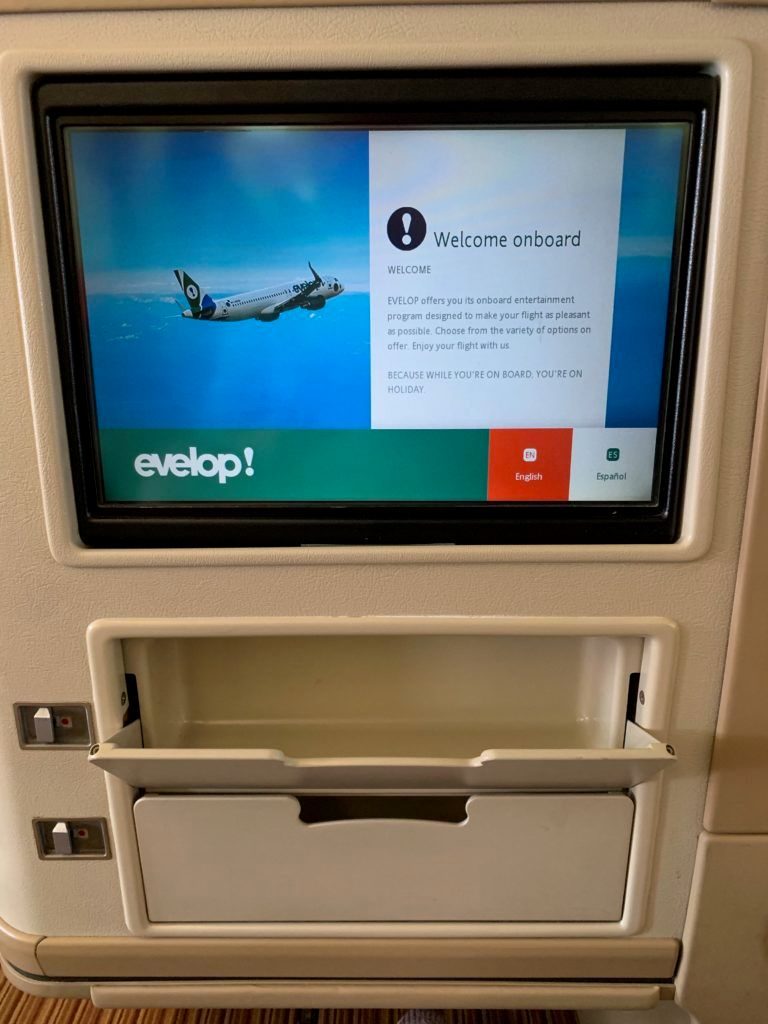 The safety demo was odd to say the least, with strange animated characters whose expressions were just plain weird. Idk if this is a "here, let me angrily look at your lap" from the child or a creepy guy being "ooh!" Just...awkward and uncomfortable!
Shortly after takeoff we were offered "headphones" (term used loosely, they were like 99 cent bargain bin special - the case was probably worth more) and beverages. I went with the red wine, which was totally undrinkable. I asked to see the bottle, and the flight attendant awkwardly said she "could not" show me. Uh, ok?
Meal was served, option of vegetarian or meat, but it was reasonably tasty! Presentation was budget airline for sure.
Serving was odd, but it was a much better meal than I expected
...except for the weird slogan on the bottom
Close-up - overall a pretty good meal!
After eating it was nap time, and other than not being perfectly lay-flat, the seat was nice and comfortable for a snooze. Hey, it definitely beats the 2-3-2 configuration Norwegian has on their own 787s! In this case, the plane swap was a definite win!
About 90 minutes before landing at Gatwick, we were offered a second boxed meal. Again, nothing super fancy, but the charcuterie plate with fruit was more than enough on such a short flight, and overall, I had a really positive impression from Norwegian. No, it's not a luxury experience, but it's perfectly comfortable and for the price paid I was very happy with my decision!
Immigration at Gatwick was a breeze thanks to the e-Gates for US passports, and I was outside and waiting on my Uber in no time. At this hour, I'd already factored the price of transit into London into the cost of the ticket, so wasn't too shocked when I saw it was going to be $100+ to get to my hotel. It's all about managing expectations!
More on the hotel in the next post, as well as overnight in London before heading to Paris via EuroStar!
Sep 2, 19, 12:29 pm
Join Date: Mar 2003
Location: BRU, DCA, ZRH, JNB, FRA
Programs: UA Global Services 2MM, DL 360, AmEx Cent, Bonvoy Titanium Lifetime, Moms love me
Posts: 5,052
3. London to Paris on Eurostar Business Premier
---
After getting to my hotel around 2am, it took a little bit of time to fall asleep, but I still managed around 5-6 hours before waking up in time to get some coffee and meet up with friends. London would be my second very brief stop in a row on this trip where I maximized the time meeting up with friends, and that was something a little sleep wouldn't stop!
But first, off to get coffee. I was staying at the
Great Northern Hotel
right by St. Pancras station for two reasons: first because I really enjoy the property, but secondly it would be a short walk to catch my train to Paris. Looking at the posters in the hallway, it's as if they were expecting me!
Coffee consumed; I took a quick walk through St. Pancras to re-familiarize myself with the lay of the land so I could maximize my time before darting to my train later. I love the architecture of this place.
At 11:00 (per the super cool reservation bottle below) I met up with Michael and the lovely Ellen at the
Champagne Bar at St. Pancras
for some celebratory bubbles. I'm not sure if this was the brunch excuse or the vacation excuse to begin consuming champagne before noon.... but hey, does one really need an excuse for champagne?
Beverages and amazing conversation are two things that never seem to last as long as you'd like them to, and all too soon I had to head back across the street to grab my bags (cases if you will since we're in London) and cross back across the street to catch my train.
I hadn't taken a train out of St. Pancras in almost ten years but was glad to see absolutely nothing had changed in that time, except for the waiting lounge after immigration. Oh yes, security and immigration. If you have a European passport, nice and slick, but if you have a non-European passport and are in the premier queue, they don't seem to plan for this, and there's lots of ducking under ropes and such to bypass the queue. Honestly, wasn't bad, ten minutes tops, and I was in the lounge to wait for the train.
Lounge was nice but way too warm (around 24C), and the crystal glasses for water and wine were way too obnoxiously heavy and elaborate for my tastes. I'm just a simple redneck...it's not like we're having tea with the queen!
Soon enough it was time for boarding, and it was a mad rush with the rest of the proletariat to get on the train. Business Premier was at the very far end of the platform (I guess this is so that when you arrive, you're first off?) but honestly it all worked out well. Slightly sexier and curvier figure than Amtrak if you ask me....
Legroom wasn't amazing but was much better than I remembered from previous trips where even business class felt rather like a sardine can. The other good news is that Business Premier on this train was maybe 25% full, so there was plenty of room to spread out!
This is probably a good place to mention how the trains work on Eurostar. There's economy which is, well, exactly what you'd expect. Business, which is some sort of middle ground, I guess? ...then there's Business Premier, which is the most comfortable way to travel. Complete with real Champagne and printed menus:
...and off we go, at 226 kph!
Not only was a meal served, but it was served in proper courses with an appetizer first and then the main event. The most disappointing part? Despite only being 25% full, by the time the attendant got to me the fish was the only thing left. Good thing the French are about the only ones I'd trust to get plane and train fish right, and it was delicious! Definitely the best meal I've ever eaten on a train!
Goats cheese and basil mousse with red pepper, onion, and olive and a vanilla mille-feuille for dessert
Haddock with cheddar and tomato, turnip gratin, pea and majoram puree - fancy french eats!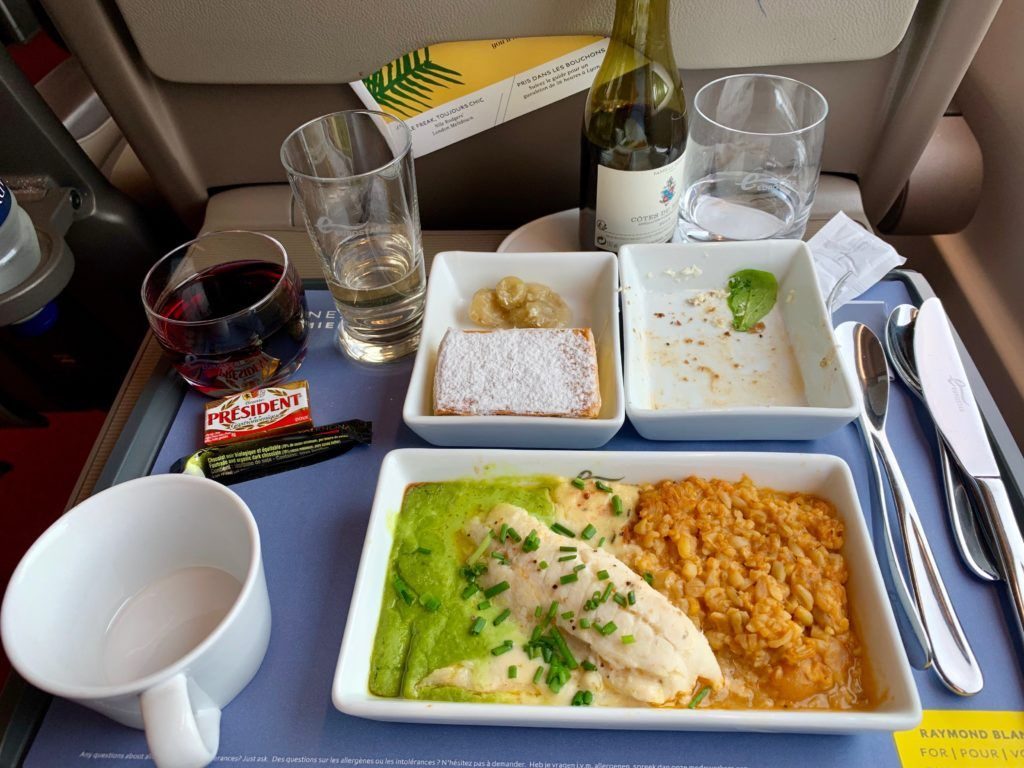 Upon arrival, Paris was a bit on the toasty side at 35C on the front end of the canicule - or heatwave. The metro was barely tolerable as I headed off to République to my hotel, the
Renaissance Paris République
. For the one night stay they had upgraded me to a gorgeous suite on the top floor with wonderful views of Paris.
Love the simple decor in the room:
Rooftop views of Paris
Simple but elegant design. I hate old and stuffy, and this room struck the perfect balance for me.
It was late afternoon at this point with the time change, so I decided to do my favourite Paris activity: head out for a walk. I didn't really have much of a plan this time but found myself wandering by Notre Dame where I ran into the gilets jaunes just hanging about, and fortunately not making too much of a protest.
She doesn't look terrible from the front, despite the terrible damage from the first just a couple of weeks prior
I walked for nearly four hours around Paris (15+ km) until the sun began to set, and I found myself somewhere down on the Left Bank.
At this point I was about 3km from République, so I decided I could walk the rest of the way back, and grab a very late dinner around 10pm before heading to bed. With only one night in Paris, there was no stopping me from having a croque madame and some wine while people watching from a bistro and despite it being four-five weeks after I'd been there previously, the waiter at the bistro remembered me and was super chatty. Who says French waiters are rude!
Off to bed at a semi reasonable hour - I had to get up in the morning and make my way to a new airport I'd never been to before in order to fly to Tunis!
Sep 2, 19, 5:01 pm
Join Date: Mar 2003
Location: BRU, DCA, ZRH, JNB, FRA
Programs: UA Global Services 2MM, DL 360, AmEx Cent, Bonvoy Titanium Lifetime, Moms love me
Posts: 5,052
4. Paris to Tunis with TunisAir A330 op by GetJet
---
Thanks to the jetlag which was worse than usual I woke up pretty early and managed to go for a short few mile run around Paris before heading back to the hotel for breakfast.
I have to admit I was really looking forward to breakfast. I'm not generally a big breakfast person, especially big hotel breakfasts, but when I was in Paris for work a month or two prior, I hadn't found a Starbucks nearby to grab my mandatory morning caffeine, so went with the hotel option.
Since the Renaissance doesn't have a club lounge, breakfast is served in the regular restaurant, and I was super impressed the four nights I was there that not only wasn't it buffet, but the staff insisted on taking your order and serving you anything you wanted.
It seemed in a few weeks that had changed, and they were happy to take hot orders for eggs, but everything else was now self-service from a buffet table. Quality was still the same, but the relaxing element just wasn't there anymore. It was still excellent quality as far as included free hotel breakfasts go, but the "magic" was gone a bit. That said, come on, hard to argue with amazing espresso, a great omelet, and unlimited delicious pastries!
Left a bit earlier than I normally would for the airport, mainly because I'd never actually been to Orly Airport before and didn't know how easy the metro to RER to
OrlyVal
connection would be. Easier than expected it turned out, and I have to admit OrlyVal was cute. It's basically a light rail with just a couple of stations that runs from the metro to the airport. I know there's a long history, probably dealing with union issues, but hey, it was more efficient than I expected!
Plus, when I got inside the terminal at Orly, nirvana awaited me in the form of proper high-voltage coffee:
While drinking my coffee, I started to feel really "off." A bit of alternating hot flashes, chills, dizziness, and just not feeling right. I actually debated if going to Tunisia feeling off like this was a great idea, but since this had happened a few times in the prior few months decided I might as well go for it. YOLO and all that.
Off to the TunisAir check-in, red carpet and all:
Walking to the lounge, through duty free, I found the most French duty-free display of all time, avec baguette:
The lounge was a major disappointment, I scarfed down a couple bottles of water on the off chance that the previous diagnosis when I went in feeling "off" like this of dehydration was the problem and headed to the gate to try my luck.
TunisAir flight 717 operated by GetJet
Paris, Orly (ORY) to Tunis, Tunisia (TUN)
Depart 12:00, Arrive: 13:25, flight time: 2:25
Airbus A330-300, Registration LY-LEO, Manufactured 2006, Seat 03K
Miles Flown Year-to-Date: 48,719
Lifetime Miles Flown: 2,741,307
So, if you read carefully, you'll notice this flight was operated by
GetJet
, which I admit I've never heard of. There was no indication of this at all, except when checking
FlightRadar24
you could see for the past two weeks the flight had been operated by a GetJet plane, so I figured chances were high.
Boarded, and I wasn't disappointed....if you can call GetJet that. So, what's GetJet? Turns out it's a Lithuanian airline with one A330, who's trying to get permission to fly from Vilnius to New York. Until they get it, they're leasing out their A330 and crew to the highest bidder. I'd never been on a wet lease flight before this trip, and now two in a row! What are the odds!
Seat pitch was pretty cool, and the retro old school leather seats were...interesting?
PDB of water, water, or water...
The screens were still in Chinese - a good indication of where GetJet had found this A330
Really good legroom for a short flight:
Orly tends to be where a lot of low-yield and leisure flights from Paris operate out of, so I was extra alert on the plane spotting. Plus, business was only booked about 25% full, so there was no problem moving to a window seat and having the seat next to me empty as well.
La Compagnie to Newark:
Corsair 747:
Air Caraïbes heading somewhere nice and tropical:
I was really curious to see what TunisAir operated by GetJet would serve for food, and it turns out to have been the typical TunisAir offering, which for a two-hour flight was super impressive. Several things not to my taste including the prawns/cockroaches of the sea, the extra tough beef, and veg that had seen fresher days, but at the end of the day I wasn't feeling well so wasn't that hungry and it was still impressive the quantity on such a short flight.
Yes, I still had to try the Tunisian wine despite not feeling well. I had water too...don't judge me!
Besides, if I started feeling REALLY badly, there was a barf bag, which you were instructed to "PLIEZ FOLD" when done:
No troubles at all at immigration (I think the dude honestly gave up trying to understand my accent) and soon I was fighting with the taxi mafia to get to my hotel. I actually enjoy this game in French-speaking countries, and it's a chance to really practice negotiating tactics. Reasonably fair price and off we went.
Check in at the
Sheraton Tunis
was a nightmare, and I waited nearly 30 minutes to check in due to front desk staff who seemed way more interested in chatting with their friends. Not impressive, especially when I had fond memories of my last time at this hotel when the staff took great care of me when I got a fierce cold.
At least I was upgraded to a spacious junior suite?
The paintings in the common areas, however, were traumatizing, and I'm still having nightmares about them weeks later.
Strange donkey rowing a canoe:
A couple of donkeys canoeing through the bayou...
Then there was this. I'm guessing it was some sort of Wizard of Oz thing, but I seriously have no idea what this was supposed to be!
Headed down to the bellman, and asked for help getting a taxi, and was looked at like I was from another planet. "You need to order taxis at least two hours in advance." Uh, I've been all over the world, and even in the most developing countries it's easier than that to get a taxi.
So, I headed down to the street and tried to flag one down on my own. 30 minutes later, after being ignored by 100+ taxis, I finally gave up. I don't know what the game here is, but fair warning.... Tunisia has a unique taxi game apparently.
Since it was late afternoon anyways, and I wouldn't have much time to see anything, I retired to my room and rested before heading up to the club lounge which I had such fond memories of due to the way they had looked out for me.
What. The. Hell. Happened. to this place in the intervening 6-7 years or so. The lounge felt only marginally above a high school cafeteria, with pretty terrible reheated frozen snacks are really terrible wine by the 1.5L bottle. I get cost-cutting, but when did this lounge go from memorable to terrible?! For comparison,
this was my stay in 2013
. The cake and cheese look the same, just a bit worse for wear.
Back to the room to rest a bit more before finding dinner, and they'd left some nice Tunisian sweets, water, and fruit. While the facilities had clearly taken a hit, I have to say service was pretty good.
View from the balcony of my room...not bad at all!
Being exhausted and wanting to get to bed early, I decided to head down to the hotel bar/restaurant for some dinner. Had some mini "sliders" which were surprisingly tasty and a couple of local beers and was out cold pretty early. I would have another chance to get to the Bardo Museum in the morning, so a day of rest was just what I needed after starting off feeling so poorly.
Up to my room to retire, and there was a security goon in a chair watching tv on his phone (working really hard). I decided to ask what he was up to, and he was "protecting a VIP" in the room across the hall. I never did find out who it was, but hey, just another day in Tunisia!
Bedtime, I had a big day the next day and wanted to be well-rested!!
Sep 3, 19, 4:24 am
Join Date: Nov 2018
Location: MEL/YMML
Programs: QF Gold, CX Green, A3 Gold, Hilton Gold, Hyatt Discoverist, Amex Platinum
Posts: 255
Well, GetJet bought an old A330 from China Airlines (CI) in Taiwan. Up until last year they still operate this ancient A330 on SYD/MEL-TPE route.
Sep 3, 19, 5:53 am
Join Date: Dec 2012
Posts: 1,644
Originally Posted by
ironmanjt
Up to my room to retire, and there was a security goon in a chair watching tv on his phone (working really hard). I decided to ask what he was up to, and he was "protecting a VIP" in the room across the hall. I never did find out who it was, but hey, just another day in Tunisia!
For all you (or he) knows, you could have been the VIP!!!!
Sep 3, 19, 8:30 am
Join Date: Mar 2003
Location: BRU, DCA, ZRH, JNB, FRA
Programs: UA Global Services 2MM, DL 360, AmEx Cent, Bonvoy Titanium Lifetime, Moms love me
Posts: 5,052