British Airways - New Club Suite - A350 - London to Madrid Review
Aug 24, 19, 7:48 am
Join Date: Apr 2019
Location: UK
Programs: BA Gold
Posts: 20
British Airways - New Club Suite - A350 - London to Madrid Review
---
My flight on British Airways' new Club Suite started with a lot of sweat. Why on earth "London" Underground does not have air con or internet is beyond me. Anyway, I go through the First Wing at Heathrow airport and as usual it seems there are tons of fun things to see in the Galleries First Lounge.
Here are my comments on the seat itself. I underestimated it.
The foot coffin even in row 2 was bigger than other herringbones seats I have flown: Qatar (not q-suites) and Srilankan. And the foot coffin in row 1 and 15 is apparently even larger. At over 6 foot 2 I was impressed that my feet had good space! The seat also felt a bit wider and longer than those other herringbone products.
Next, the seat was so private that you couldn't see any other seated passengers without basically getting up. So I initially thought the door was pointless. No No No I was wrong. As the food service began, I noticed that the door had a remarkably unobvious behavioural use. By virtue of me opening and closing the door, crew knew to not disturb me or "to please enter and serve me". For those who hate unwanted disruption (and the constant movie rewinding that is Business/First class travel!) this is literally a god send. This solved a problem that I didn't recognise as a problem that was even solvable - it bawled me over.
(Above - Rear Club Suite Cabin)
(Above - View so private in the Suite)
The negative of the A350 Club suite is that the aisles are TIGHT. Like, pregnancy inducingly tight. Two cannot pass. Also the forward galley/toilet was a total no go zone during meals. As there was no space to enter with crew being there. (This may just have been on the Madrid test flights that might have had more test crew in the business galley)
Now, the rear Club Suite cabin was quiet and had plenty of stretching room around the toilets. The club kitchen/bar area is found here too. I would pick the rear cabin/row 15 for future travel. One could preorder on the ground to solve the issue of getting last meal choice, but this depends on you getting a good crew (and possibly having Gold+ status). So a potential downside to the rear cabin.
(Above - The storage is a bit shallow literally)
(Above - Gate to Gate entertainment)
The toilets are also noticeably bigger than the First/Business toilets on the BA 777, 787, 747. They felt strangely comfy, which is not something I am used to. But this may be an Airbus thing. I seem to remember huge A330 Business Class toilets on Srilankan.
All in all a very quirky seat, I am impressed, thoroughly. However I am an AV geek and I still find 747 Upper Deck seat 64K a slight preference. The privacy of 64K is really another level. And I love getting first meal choice. When the 747s are gone, row 15 of the A350 will be a decent replacement. But I will definitely be asking for meal choice on the ground!
(Above - Spacious foot coffin in Row 2 - Size 10.5 UK Feet)
(Above - Touch screen seat control)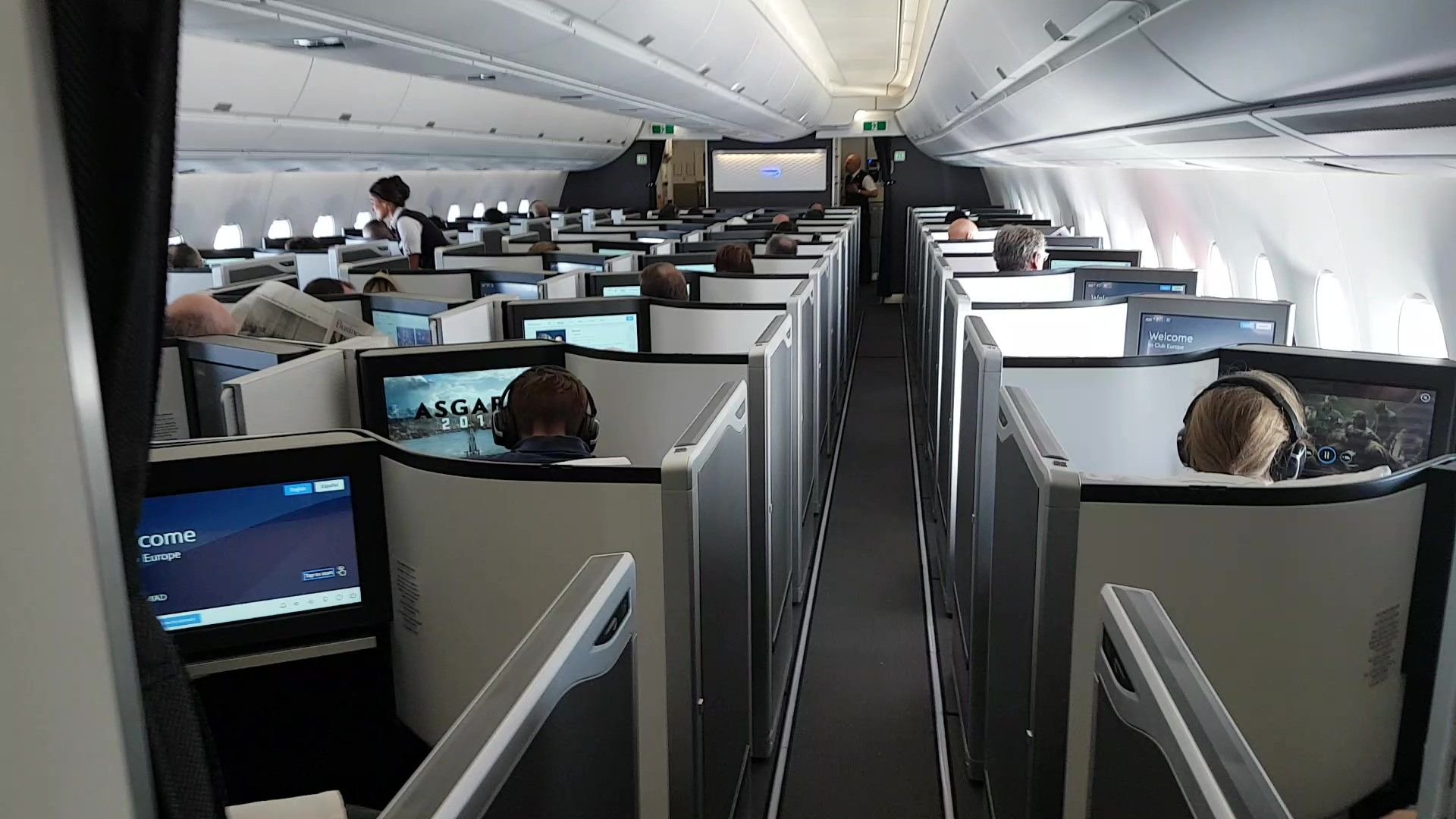 Sep 1, 19, 3:45 am
Join Date: Mar 2015
Location: Tokyo
Programs: BA Gold, Marriott Platinum
Posts: 189
Sep 1, 19, 5:05 am
Moderator: British Airways Executive Club, Iberia Airlines, Airport Lounges and Carbon Conscious Travel
Join Date: Jan 2003
Location: London, UK
Posts: 20,547
Sep 1, 19, 5:58 am
Join Date: Dec 2012
Posts: 1,660
Sep 2, 19, 7:40 am
Join Date: Mar 2010
Location: UK
Programs: Virgin Flying Club Red, Emirates Skywards Blue, BA Executive Club Blue, Amex BA
Posts: 1,941
---
Last edited by GodAtum; Sep 2, 19 at

8:12 am
Sep 2, 19, 8:18 am
Join Date: Dec 2012
Posts: 1,660