North for the Fourth-Greenland, Iceland, & Canada including cockpit jumpseat SFJ-GOH
Aug 14, 19, 4:01 pm
Join Date: Nov 2018
Posts: 14
North for the Fourth-Greenland, Iceland, & Canada including cockpit jumpseat SFJ-GOH
---
At least once a year I try to take a solo trip somewhere new and interesting. I've always been fascinated with the giant white island in the north Atlantic - somehow relatively close by and yet very difficult to visit. So Greenland it was for the week of July 4, 2019. I knew that Iceland and Denmark were the only gateways and started looking at tickets. I've been to Iceland before but it was a short stopover in the way to Europe and there was much more I wanted to see there. Playing around with Google flights I found a ticket on Air Canada from my home airport BNA that connected in Toronto and then Montreal and allowed for an overnight layover in the latter which is somewhere I'd never been.
I had a longish layover in Toronto but not long enough to go into town. Well worth it to pay for lounge access for dinner and drinks.
Notre-Dame Basilica in Montreal
Had to have some poutine at La Banquise before heading back to the airport!
My route to KEF was supposed to be on a mainline 737 MAX 8. Needless to say I was worried about it getting cancelled so even though Rouge was a downgrade I happily accepted. The legroom was awful, on par with Spirit or Ryanair.
On arrival at KEF I rented a car and headed to Reykjavik, spending the afternoon and evening wandering around the city. After much needed rest I drove the south coast ...
Skógafoss waterfall.
More Skógafoss - this time from the top.
Sea stacks and black sand beach at Vik.
Seljalandsfoss waterfall.
Icelandic horses.
After returning the car it was time to head back to the airport at Keflavik for a rather unusual flight into the midnight sun.
Not a bad view for 2 a.m. This is the Jakobshavn Glacier at the end of the Ilulissat Icefjord.
Touching down on the short Ilulissat runway.
JAV airport.
I like a nice hotel as much as anyone but when I'm by myself and on my own dime anything will do. The Ilulissat Hostel was clean and centrally located. Five star accommodation it most certainly was not.
First order of business was sea kayaking. We had to don full dry suits but it was easy and fun. You can't get too close to the icebergs because they might roll over (and kill you).
Zion's Church - one of the northernmost churches in the world. Built in 1782 from funds raised locally by collection of over 200 barrels of whale oil.
A few "real" kayaks by the harbor.
The Ilulissat Icefjord is a UNESCO World Heritage Site and has three marked trails - yellow, blue, and red. I started with the yellow trail along Disko Bay at the entrance to the fjord and then walked part of the blue trail. On the yellow trail (markeed by yellow paint on rocks) the hiking is moderately difficult but the views are incredible.
The first part of the blue trail is easier, with a boardwalk all the way down to the fjord.
I don't always follow warning signs but when I do whey warn of skull-crushing iceberg tsunamis. Don't get too close!
Ilulissat has more canine residents than people. These are working dogs in the winter but in the summer most of them seemed to pretty much sleep all day. Only purebred Greenlandic Dogs are permitted above the Arctic Circle.
Next day it was time for a whale watching cruise. We saw a grand total of one fin whale but the scenery was spectacular.
Later that afternoon it was time to fly to Kangerlussuaq (
Søndre Strømfjord) -
a former U.S. airbase which has the only long commercial runway in Greenland. This is where Air Greenland's lone A330, named Norsaq (my understanding is it means "whale" or some part of a whale), flies to and from Copenhagen daily. SFJ is also home to Denmark's Joint Arctic Command.
Norsaq
My accommodations in Kangerlussuaq were significantly less dodgy - the nice and cozy Old Camp - a former barracks for NATO soldiers.
The main draw of Kangerlussuaq is that it is the location of Greenland's longest (and essentially only) road, which was constructed about 30 km to the ice sheet by Volkswagen in the 1990s for cold weather car testing. Along the way is wreckage from a U.S. Lockheed T-33 that crashed during a whiteout in 1968. The pilot ejected safely and was recovered.
The ice sheet itself starts out grey as it mixes with the moraine. As you hike further in (crampons definitely required) it turns white. We hiked all day and it was really (and literally) cool. Warm enough that there was quite a bit of melt water though, which tasted as good as it looks.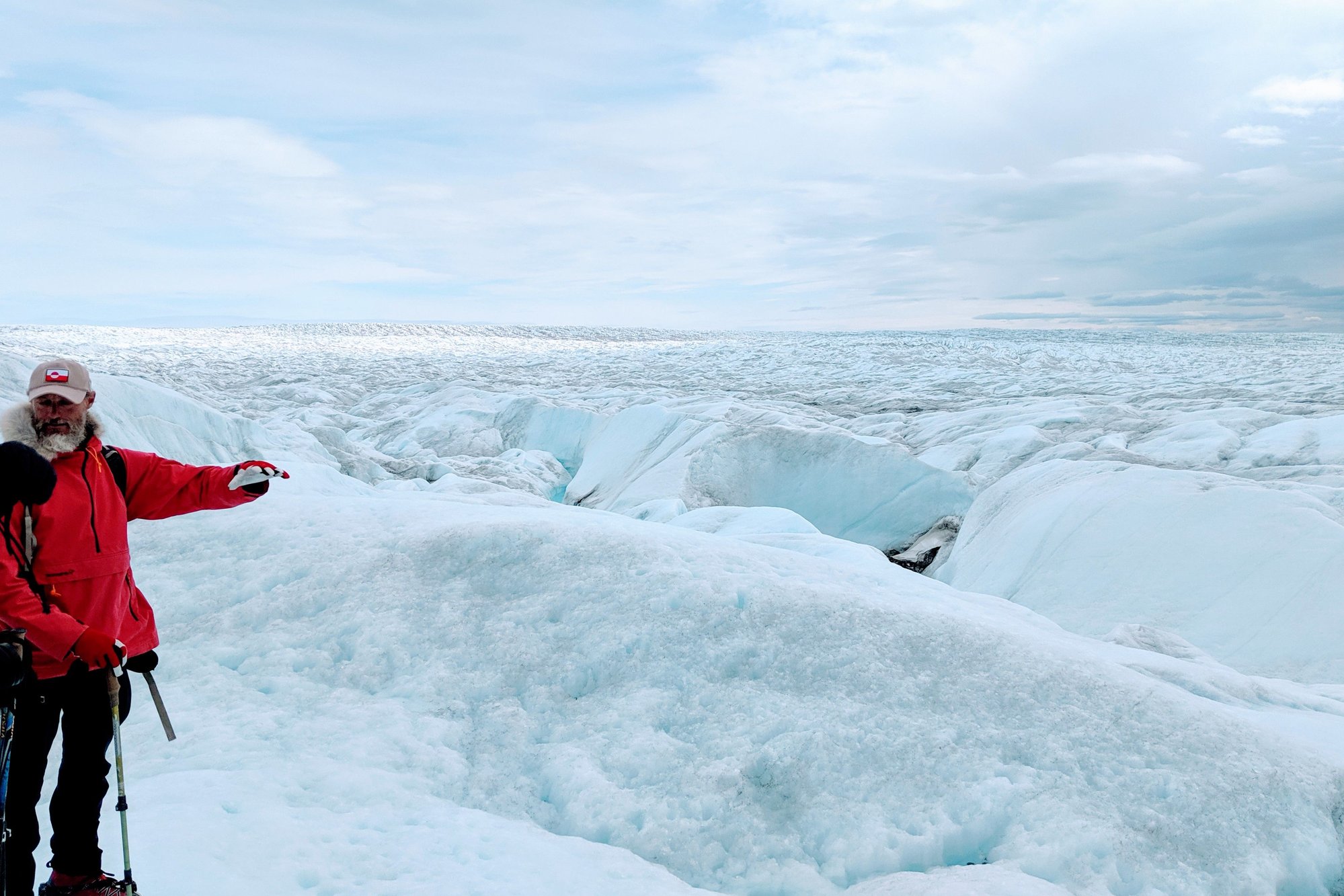 After hiking all day, I treated myself to the excellent Restaurant Roklubben which was really amazing considering how remote it is. They serve a series of small plates, and even though I felt bad eating it since we had seen them on the road to the ice sheet, the musk ox was quite delicious.
The next morning I bummed a ride to SFJ airport for my flight to Nuuk. There is no security for intra-Greenlandic flights so the airport experience is pretty streamlined to say the least. As I was boarding, I kind of got the feeling I was the only passenger on the plane. Sure enough, it was just me and the flight attendant on an otherwise empty Dash 8. She asked me if I wanted a personal safety demonstration and I assured her that it was unnecessary.
A lot of times when traveling it is the unexpected and unplanned that turns out to be the most fun. That was certainly true when just after take off the flight attendant told me that the pilot had invited me to jump seat in the cockpit for the rest of the flight. Both the pilot and the co-pilot were super friendly and explained a lot about how they were flying the aircraft and what all the various buttons and dials were for. I was in av geek heaven.
Landing checklist.
Then the crowning moment - landing in Nuuk. I mean landing int he cockpit of a commercial airliner is cool enough but combine that with the scenery and I was on cloud nine.
https://www.dropbox.com/s/6zeh1xt616...94004.mp4?dl=0
Link to cockpit landing video - is there a better way to upload it?
Nuuk is the capital and only city in Greenland. I just had a few hours there but it seemed an interesting place.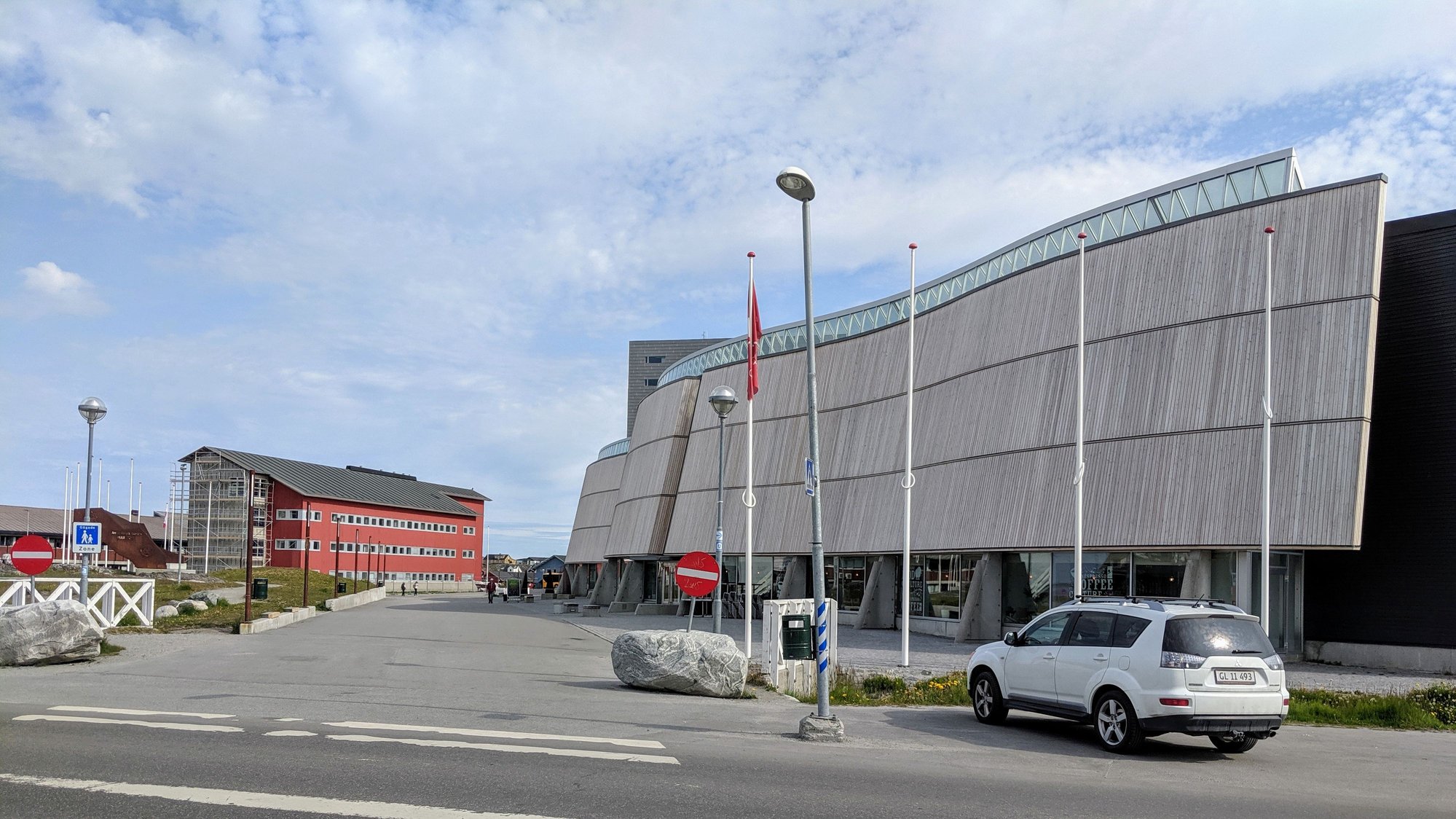 Time to head home - which took a while (GOH-KEF-YYZ-BNA) but I'd do it again in a heartbeat.
---
Last edited by Ian Michael Berry; Aug 14, 19 at

4:15 pm
Aug 15, 19, 12:59 pm
Join Date: Apr 2017
Location: San Francisco
Programs: UA Plat, AS 75k, SPG/Marriott Plat, Hertz somthingorother
Posts: 315
Fantastic pictures! Literally 2 days ago I just booked Air Greenland flights for next May. Flight schedules are more limited then since it's not quite the summer season yet, so I'll be flying in and out of CPH, and no sea kayaking yet
I'll be interested to see how the arctic spring compares to what you got to see!
Aug 16, 19, 5:01 am
Join Date: Jul 2013
Location: JNB
Programs: Flying Blue, Miles and Smiles, Hhonors, ICHotels
Posts: 1,100
This is where Air Greenland's lone A330, named Norsaq (my understanding is it means "whale" or some part of a whale), flies to and from Copenhagen daily. SFJ is also home to Denmark's Joint Arctic Command.
And I am sure that they have the most booze duty free sales per passenger on any airline.
On my flight over, I was amazed at how much was bought - obviously, the local Taxes mean that the sales on board where well worth it.
Aug 17, 19, 7:17 am
Join Date: Feb 2014
Location: OTP, CHQ, EIN and beyond
Programs: AF/KL platinum, Turkish gold, Aegean silver
Posts: 1,060
Wow this is simply fantastic. Both the amazing scenery, the sheer remoteness, as well as that cockpit view. Sounds like it was one hell of an amazing trip! Thanks for posting.