Turkish Airlines to Tartary: Kazakhstan, Kyrgyzstan - and a Bit of Belarus
Sep 5, 19, 7:58 pm
Join Date: May 2015
Location: ATL/MCO
Programs: Free agent
Posts: 4,076
Thanks for sharing! The region has always intrigued me and you managed to provide an insight.
'
I also like your program listing of TAAG Angola Umbi Umbi which is certainly one you don't see every day here on FT.

Take care and safe travels!
Sep 18, 19, 11:56 am
Join Date: Feb 2014
Location: OTP, CHQ, EIN and beyond
Programs: AF/KL platinum, Turkish gold, QR gold
Posts: 1,307
Thanks you
miamiflyer8
!
The listing of TAAG's Umbi Umbi programme is actually a joke from a hilarious (old) Flyertalk topic about some bizarre details from the FF and how useless it is. It has since been deleted as it completely derailed/went off topic - and I forgot I had it still listed in my profile. I will actually delete it as I am not an Umbi Umbi member and never have flown TAAG/went to Angola (would love to one day though, the nature seems impressive - but not the easiest country to travel in to put it mildly).
dragos76
- had some delays due to travels/work but will hopefully kickstart the rest of the TR tomorrow when killing some time at the OTP lounge.
Sep 24, 19, 2:23 pm
Join Date: Feb 2008
Location: Stockholm
Programs: Various
Posts: 2,731
I travelled in the area without speaking Russian. The official languages aren't necessary in any way for a traveller because Russian is spoken everywhere. English was uncommon then but it's possible it's become easier.
It did work fairly well for me but I'm sure I missed some opportunities to speak with locals or see some things.
Oct 2, 19, 7:06 pm
Join Date: Feb 2014
Location: OTP, CHQ, EIN and beyond
Programs: AF/KL platinum, Turkish gold, QR gold
Posts: 1,307
Originally Posted by
Fredrik74
I travelled in the area without speaking Russian. The official languages aren't necessary in any way for a traveller because Russian is spoken everywhere. English was uncommon then but it's possible it's become easier.

It did work fairly well for me but I'm sure I missed some opportunities to speak with locals or see some things.
Thanks for your comments,
Nomad98
.
I do second
Fredrik74
's impression. I don't speak any of the Central Asian languages. The same goes for my Russian. My knowledge is limited to just a few Russian words and a few Turkish ones (which sometimes are similar to their Central Asian Turkic language cousins).
Although knowing a few words is helpful (ie in cases of asking directions to the 'vokzal' - train station - or in a small-time local restaurant where no English is spoken) it is not a necessity. Those in the tourism industry will speak English, so any questions you might have about a place can always be answered in your hotel or guest house. Also, thanks to Google Maps everyone can nowadays easily navigate places. There are locals who speak English (more likely to find them in touristic places/capital cities) and people are generally very hospitable and happy to share some thoughts about their culture. On this trip, I had some particularly interesting conversations with my Uighur driver and the lovely restaurant staff at the aforementioned Dastorkan restaurant.
What I would suggest to any traveller thinking to visit is to learn the Cyrillic alphabet. This really is extremely easy to grasp as it's just a few letters to memorise, but it will help you reading street signs or translate bits of restaurant menus. Even if transliterating RU->EN you still might not get all menu options of course, you will be able to easily identify stuff which has the same name in Russian as in English, eg.
шашлык - shashlik.
That said, even without Cyrillic knowledge I still think it is easy enough to get around for everyone who is a fairly seasoned traveller.
Oct 2, 19, 7:56 pm
Join Date: Feb 2014
Location: OTP, CHQ, EIN and beyond
Programs: AF/KL platinum, Turkish gold, QR gold
Posts: 1,307
Part 19: Cholpon-Ata, Kyrgyzstan
Accommodation: Hotel Best, 18 USD/night
My apologies for the long hiatus in this trip report. Those who followed my previous TR's know that a long silence is most often due to busy days working and/or travelling, and this time was no exception with repeat trips to Germany and to Ukraine.
Back to the trip to Kyrgyzstan! Unfortunately I could not do the entire programme I planned in Karakol as I had to skip a day of hiking due to inclement weather. I was thinking for a while to maybe cancel my upcoming day in Cholpon-Ata in order to stay a bit longer in Karakol to still do the hiking there, but in the end I opted to cut my losses and to just stick to schedule. In the early morning I therefore took a taxi to the local bus station, where I got one of the last seats in a cramped marshrutka to Cholpon-Ata, about an hour or two away.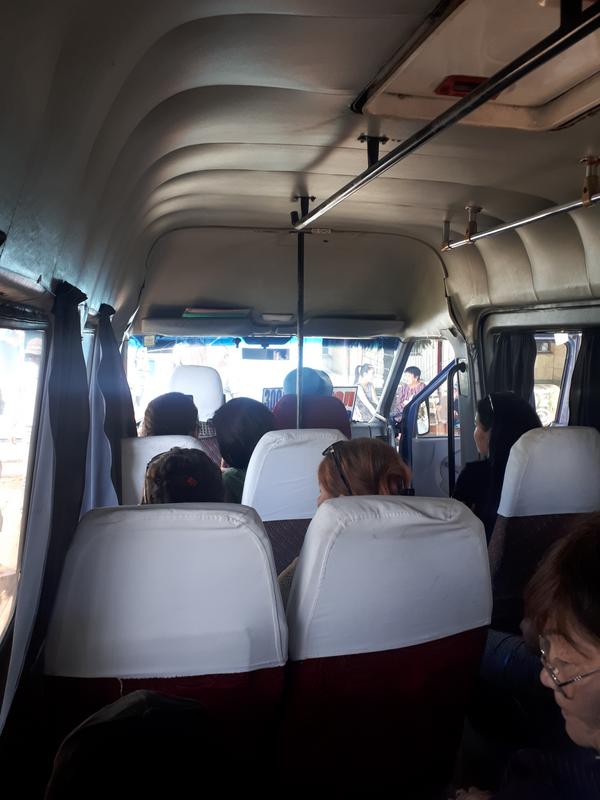 The road straddled the northern shore of lake Issyk-Kul, a large, deep endorheic lake which is the second largest saline lake after the Caspian Sea and second largest Alpine lake after Lake Titicaca on the Peruvian-Bolivian border in South America. Issyk-Kul means 'warm lake' in Kyrgyz – and the lake's thermal waters have remarkable effect on the surrounding area. Despite being located at an altitude of 1,600 metres above sea level, the lake never freezes, making the area around the lake lush and fertile.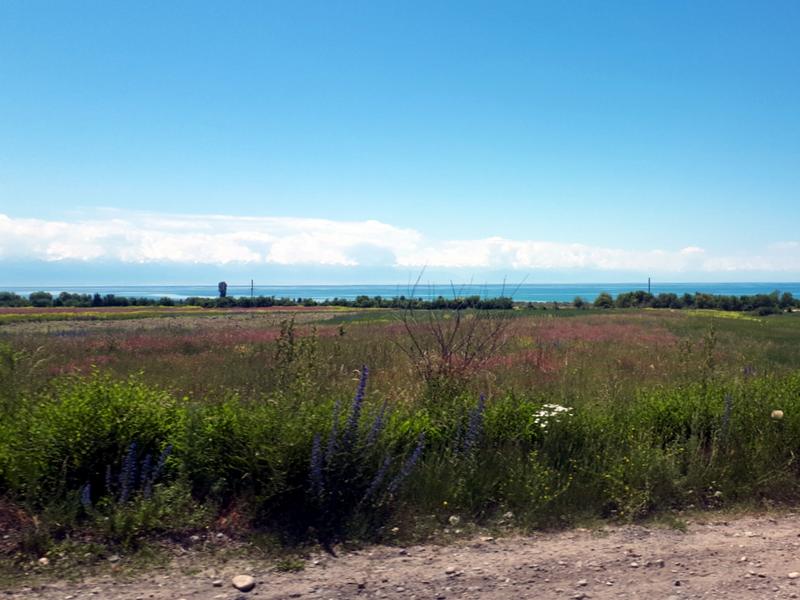 The lake is therefore a beloved resort for holidaymakers since the times of the Soviet Union. Even though some of the resorts have fallen into decline since the collapse of the USSR, some places are still beloved by travelling Kyrgyz, neighbouring Kazakh and some Russians from the Siberian borderlands with Kazakhstan. In Cholpon-Ata I even saw a direct bus to Omsk – well over 2,000 kilometres away! I opted to stay in Cholpon-Ata because it is the largest and best known of all the Issyk-Kul lake resorts. Although some reviews on the internet ("full of boozing Kazakhs") were not so positive, it actually sounded quite interesting to me, and the pictures of the place looked lovely. For those seeking solitude, the southern coast has a couple of small villages where stays in homes or yurts can easily be arranged by any tour agency such as the local CBT ('community based tourism') found in all main Kyrgyz towns.
Cholpon-Ata is full of small hotels and homestays, which can be easily booked in advance at most hotel booking websites or just on the spot on arrival. I opted for hotel 'Best' – which was centrally located, clean and did the job, even though the room interior design won't win any awards soon unless one might travel back in time to the 1970s Soviet Union.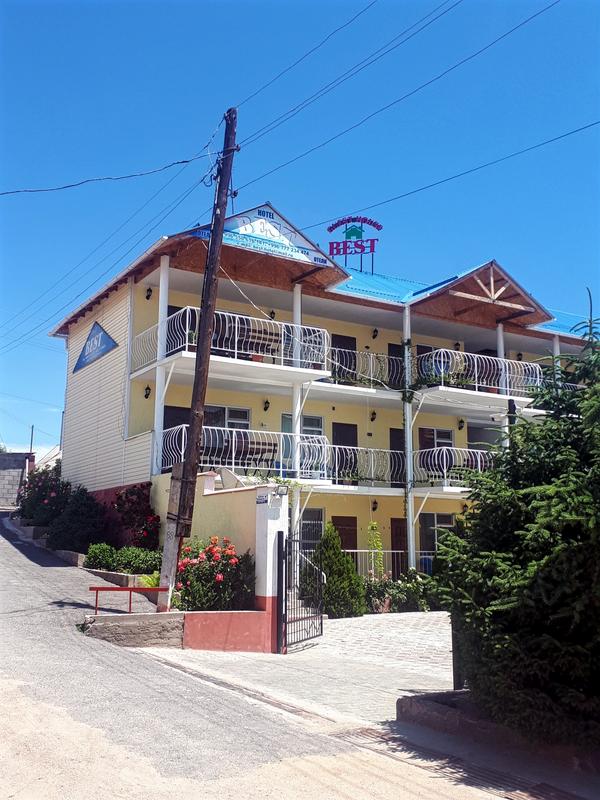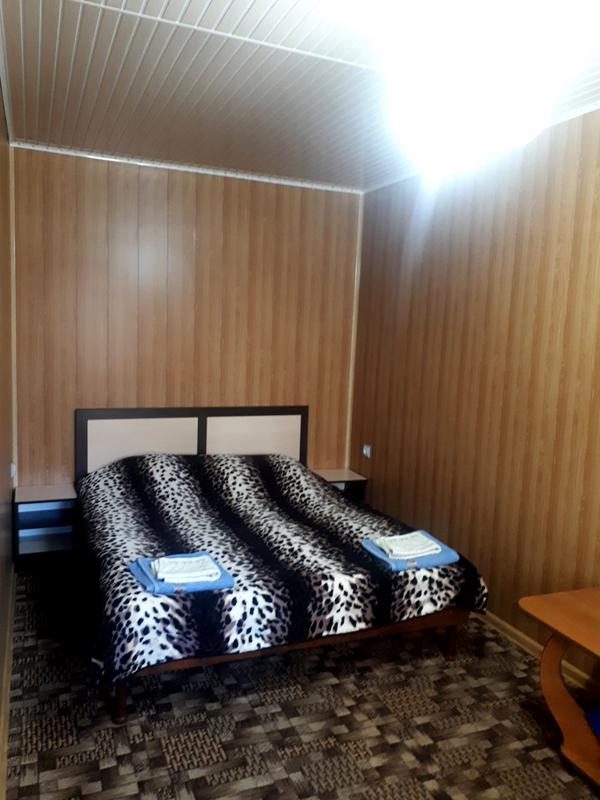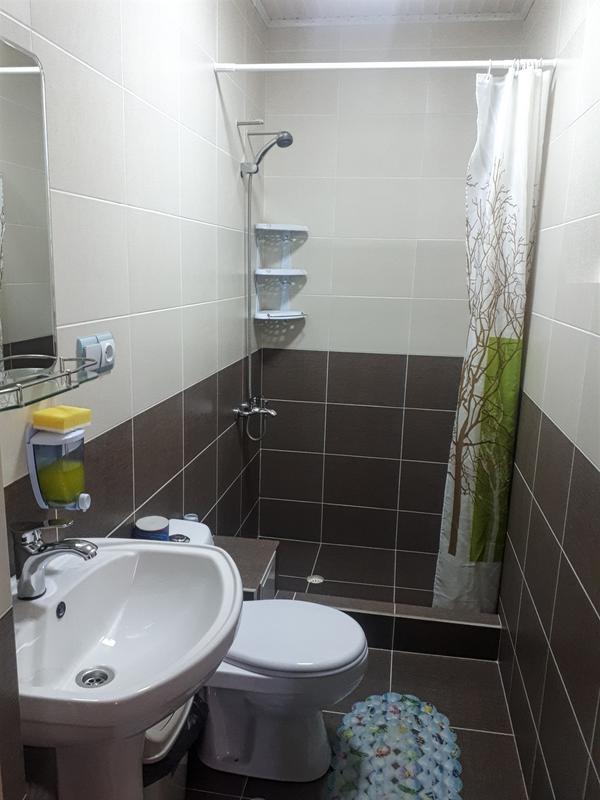 After my arrival the weather was improving rapidly and I packed my beach towel and put on my swimming short for a walk around town and a dip in the lake. And odd feeling, being surrounded by high mountains and being as far away from an ocean as you can possibly get on earth.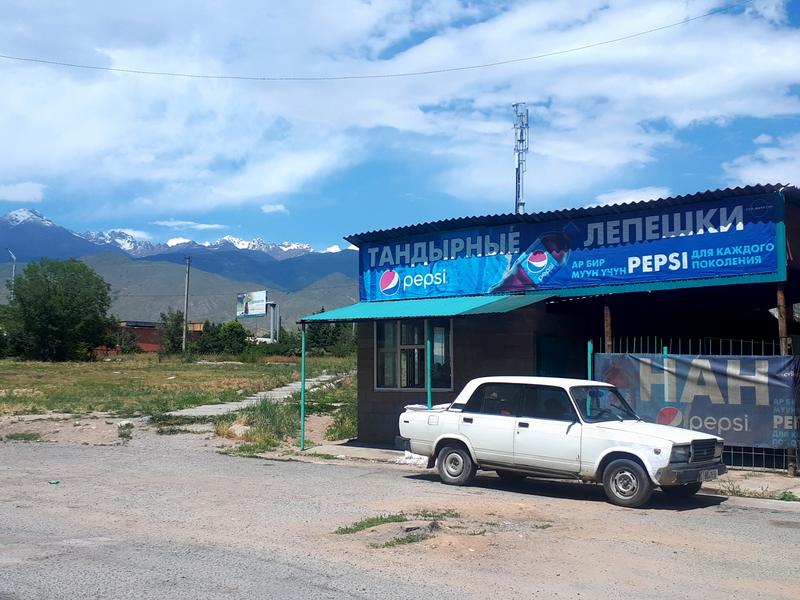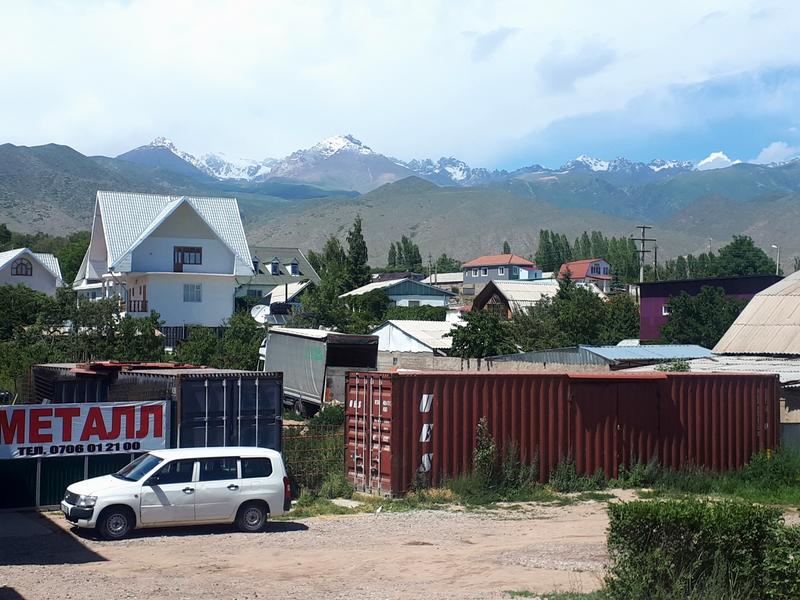 The town of Cholpon-Ata basically consists out of a main drag (the main road which heads straight through town) and a couple of streets up towards the mountains and down towards the lakefront. Shops, banks, as well as most restaurants and such, are located on the main road. There is not too much to see in the town itself except for a small war monument. There are some interesting petroglyphs in the area, although I did not have the time to see them myself as I was too lazy to walk and couldn't find a taxi.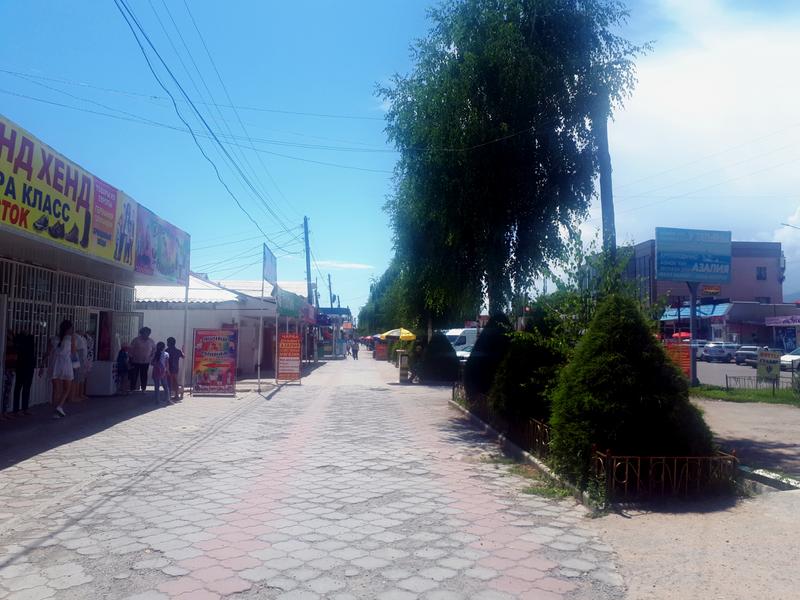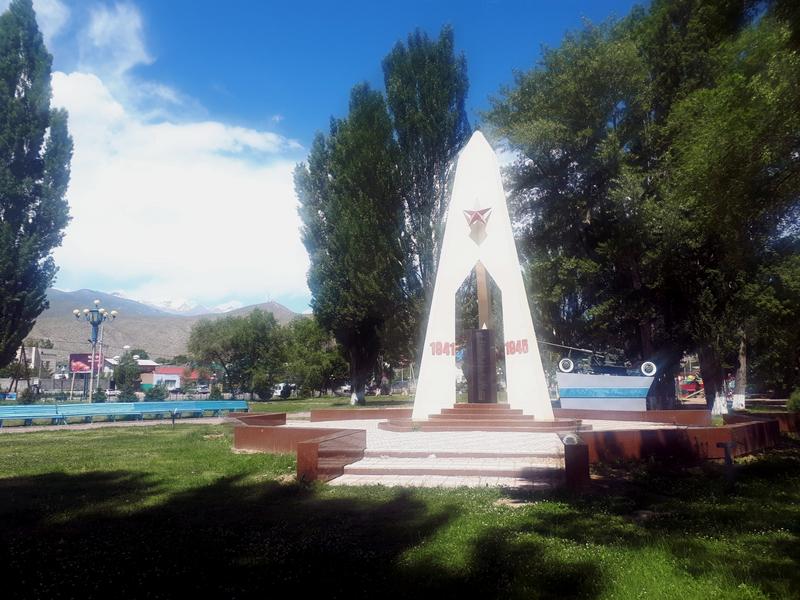 Cholpon-Ata has a lovely sandy beach – most of which is public, although a few sections are privately owned and require an entrance fee of around a dollar.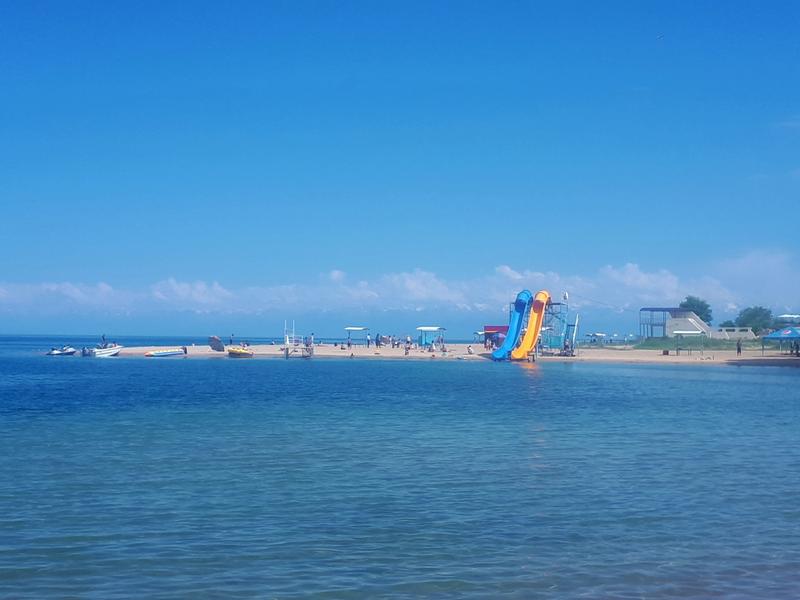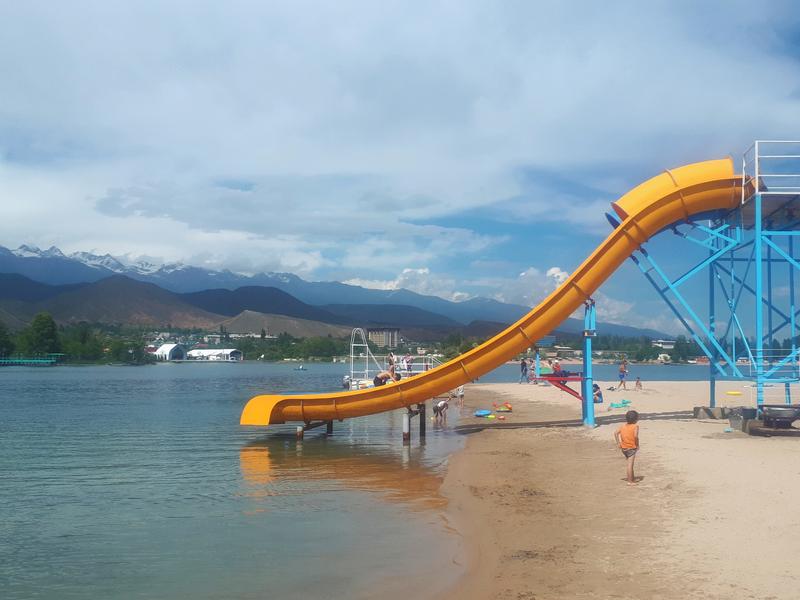 I found a small shack selling beer and renting out beach chairs – which sounded like the perfect thing to do. Surprisingly, despite being a mountain lake at 1,600 metres above sea level and it being still early in the season (June), the waters were actually warm enough to swim in! Weirdly it really felt like being at the sea.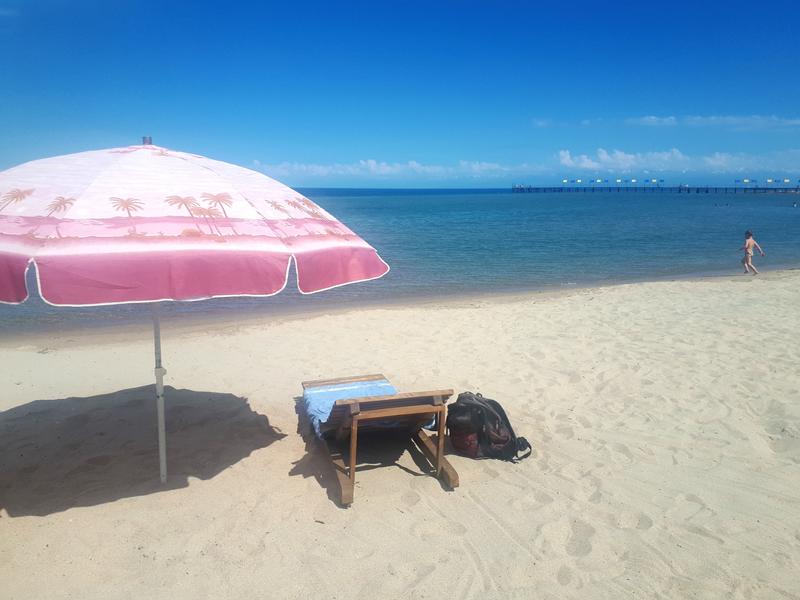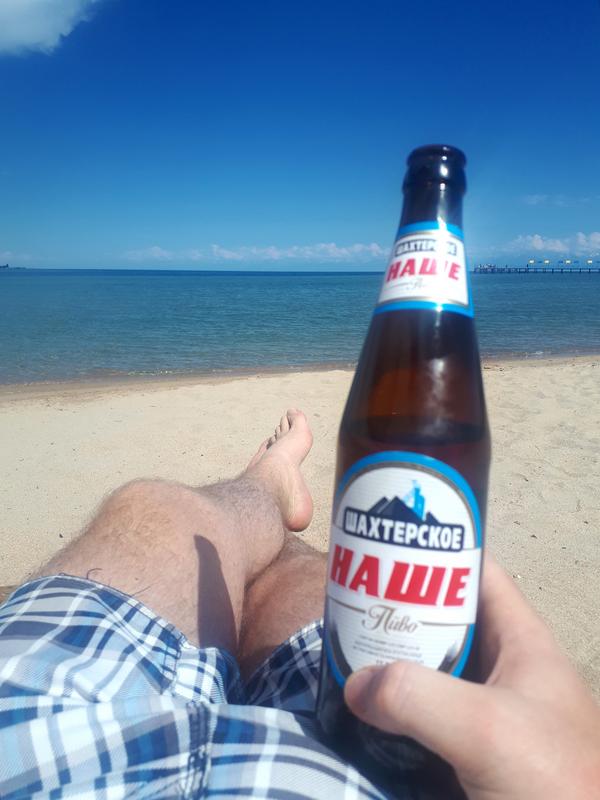 After a beer or two I walked a bit more over the beach to admire the gorgeous scenery. Maybe it was the effect of the beers, but I really started to love this place. I mean, the town itself is not so much of a special place to visit, but just look at these gorgeous views! It felt so relaxing just to walk over the beach and kick back a few more cold ones.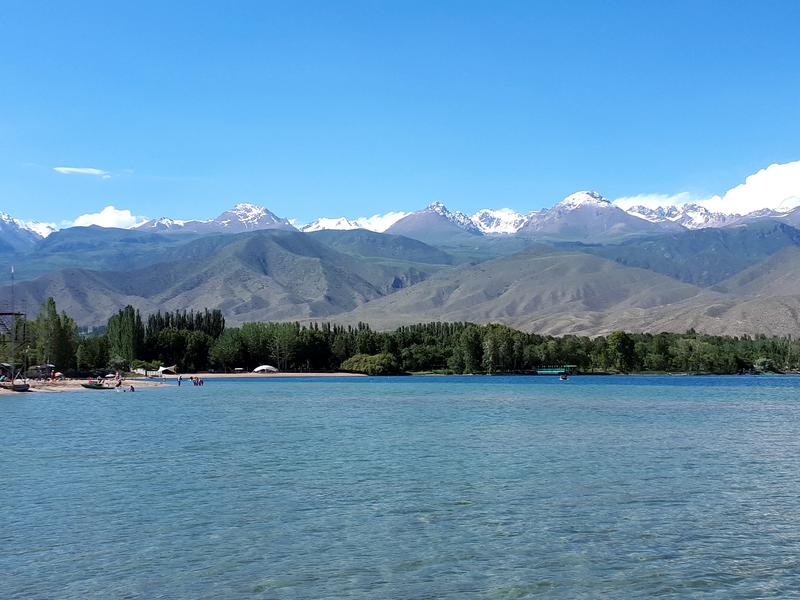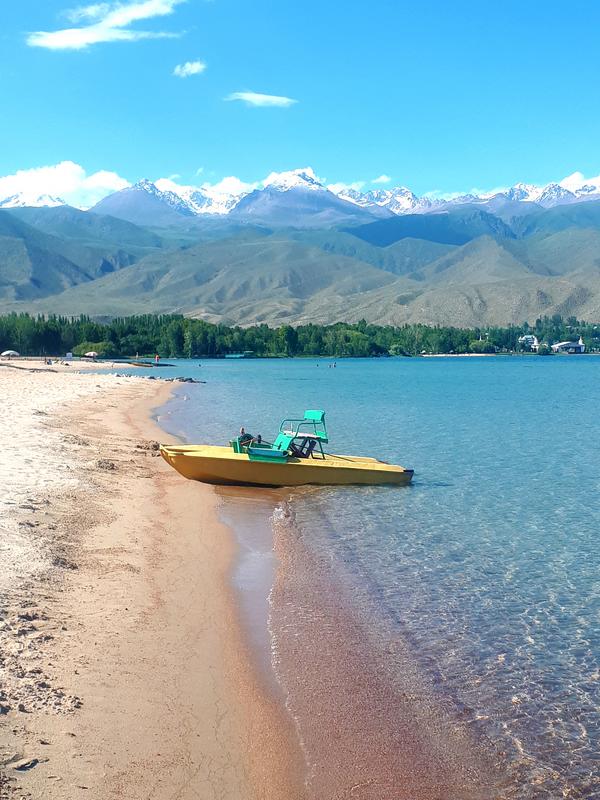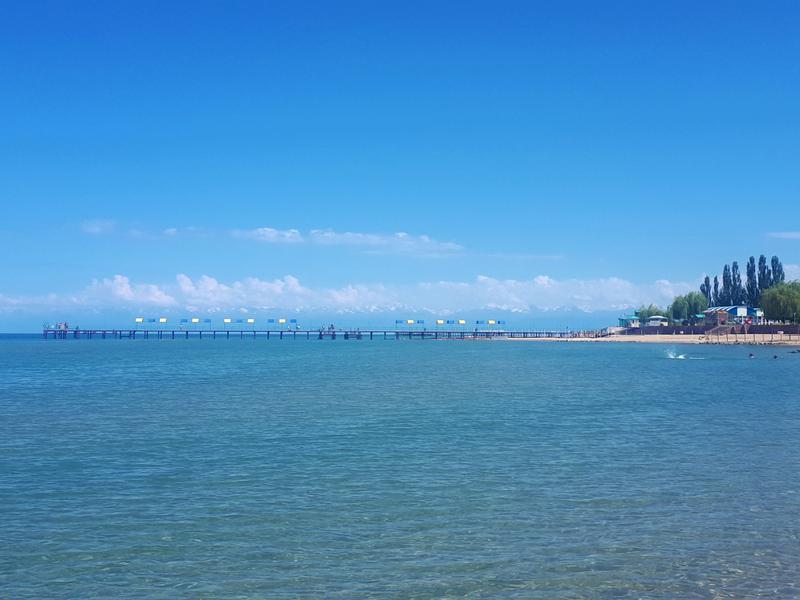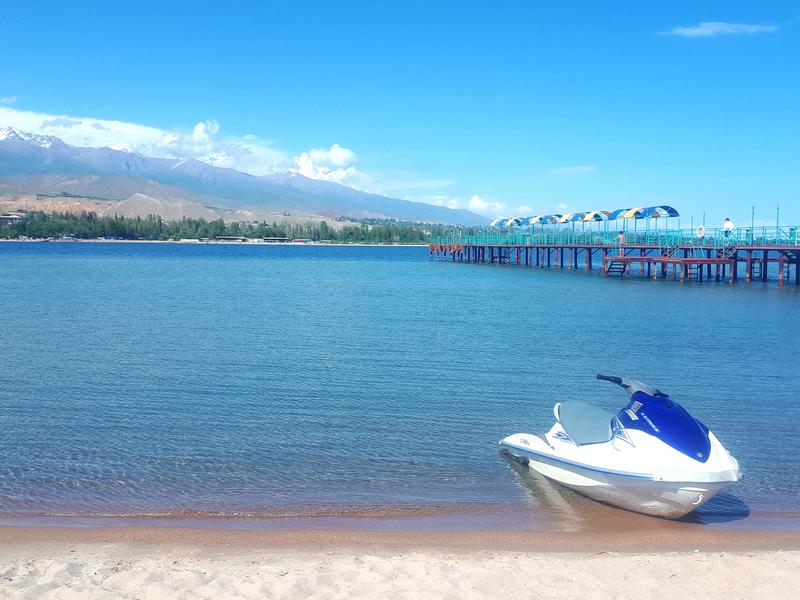 I found another nice place for beer and just lazed the day away.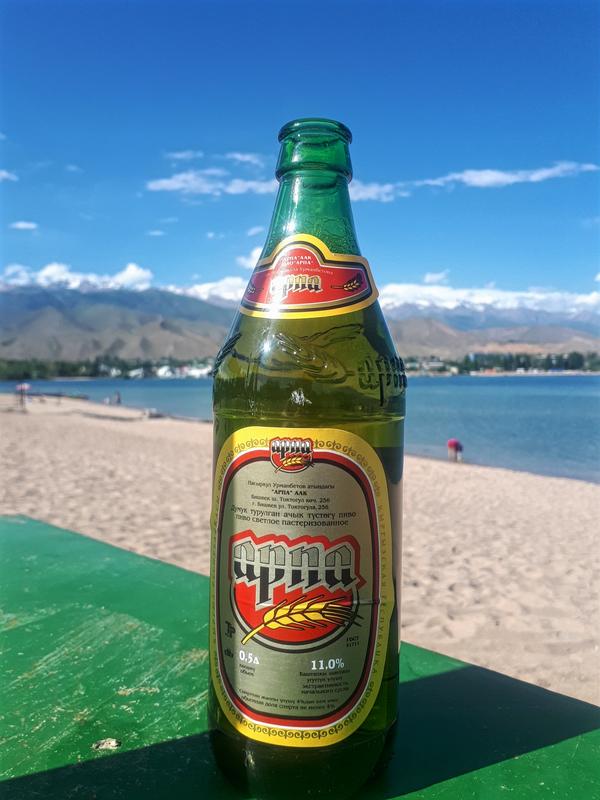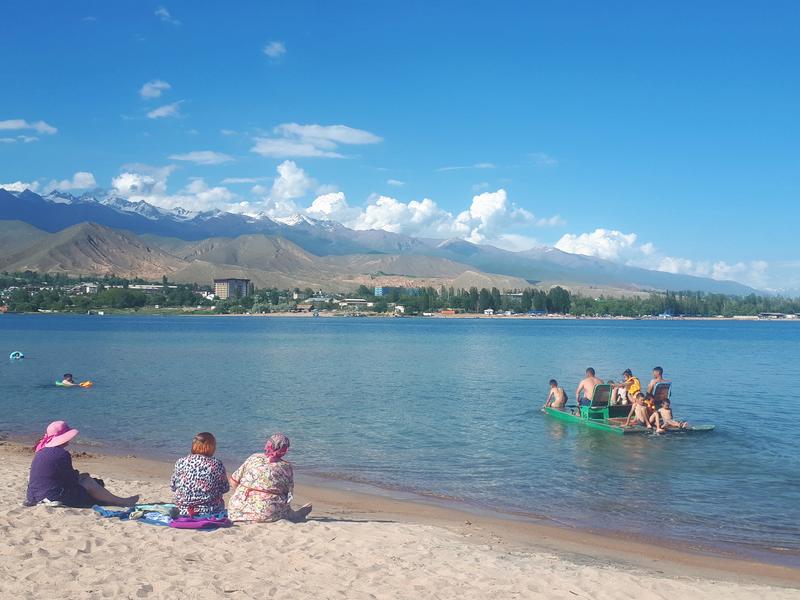 After a while it was time to head back into town to grab some dinner.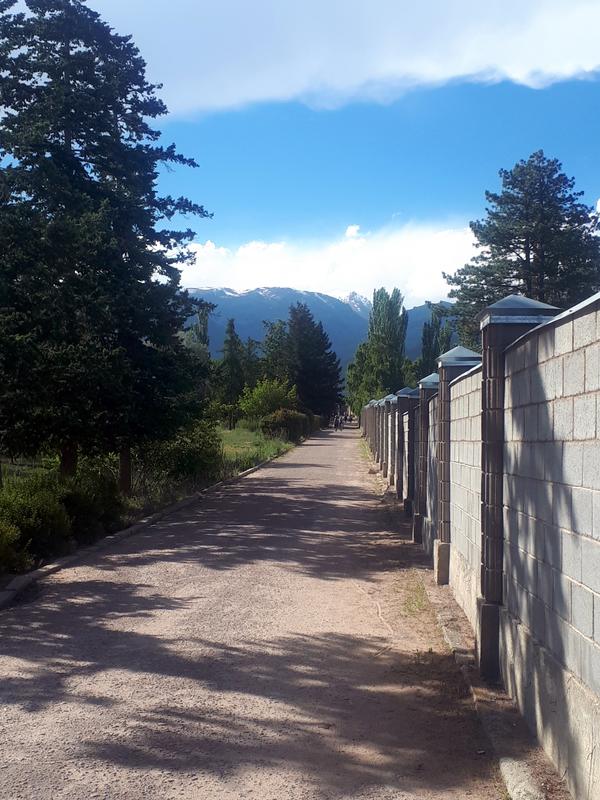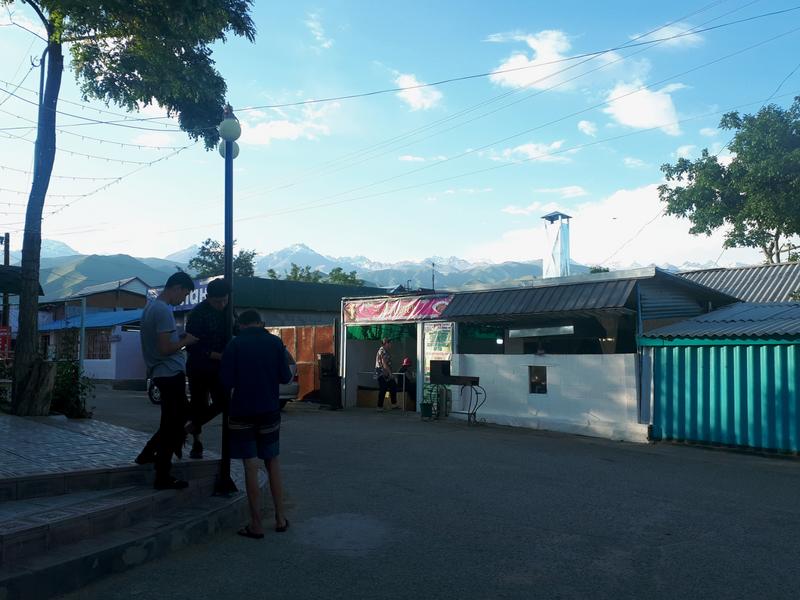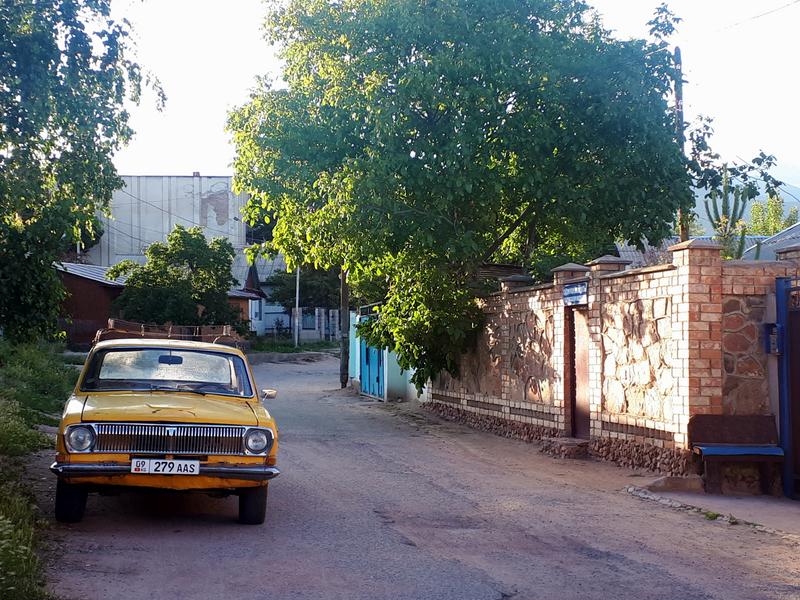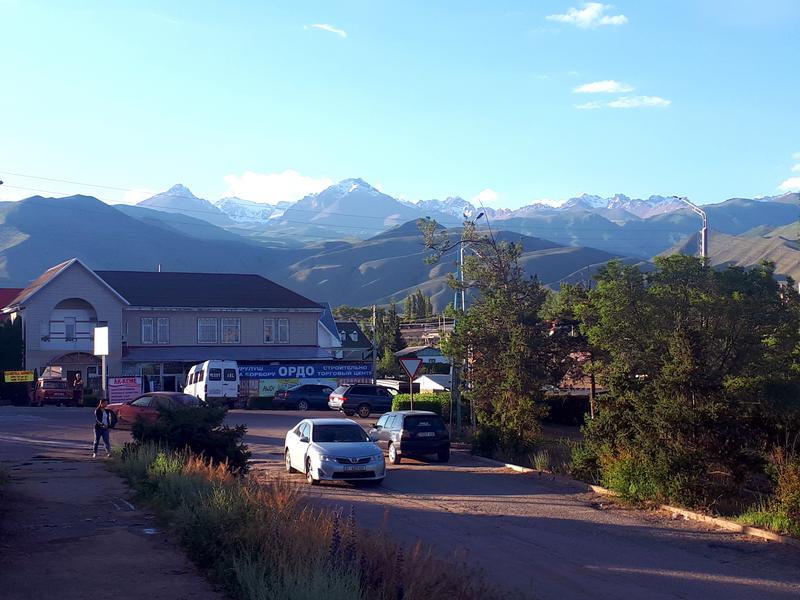 Unfortunately, the place I selected ended up being the only bad meal of the trip. The borscht (Russian beet soup) was good, although the plov and the manti were rather average and a bit tasteless. Worse was that the waiter said that they were out of beer but could get it for me if I had five minutes patience. I saw him returning with a 2,5L plastic bottle of what turned out to be absolutely disgusting lukewarm beer. Why get such s**t if you can also buy a cold bottle of beer? Still, it being Kyrgyzstan means that all together the bill didn't exceed the 5 USD mark.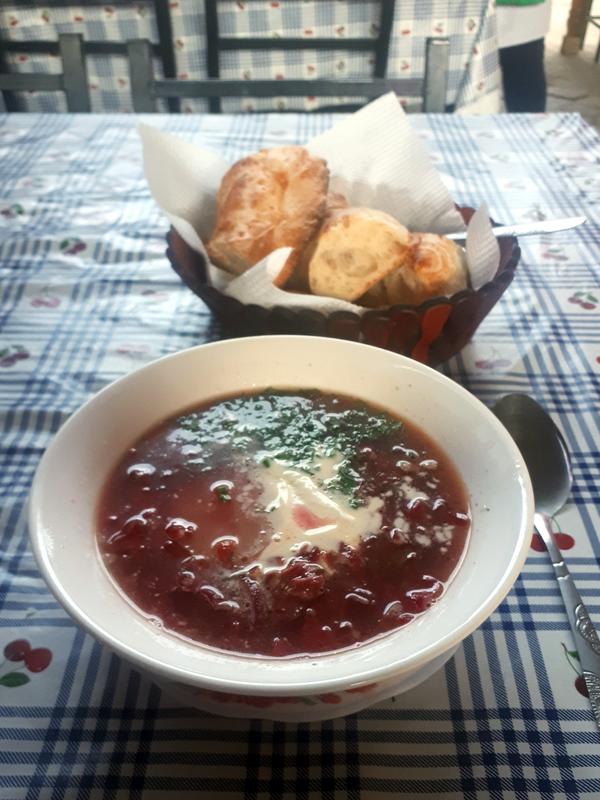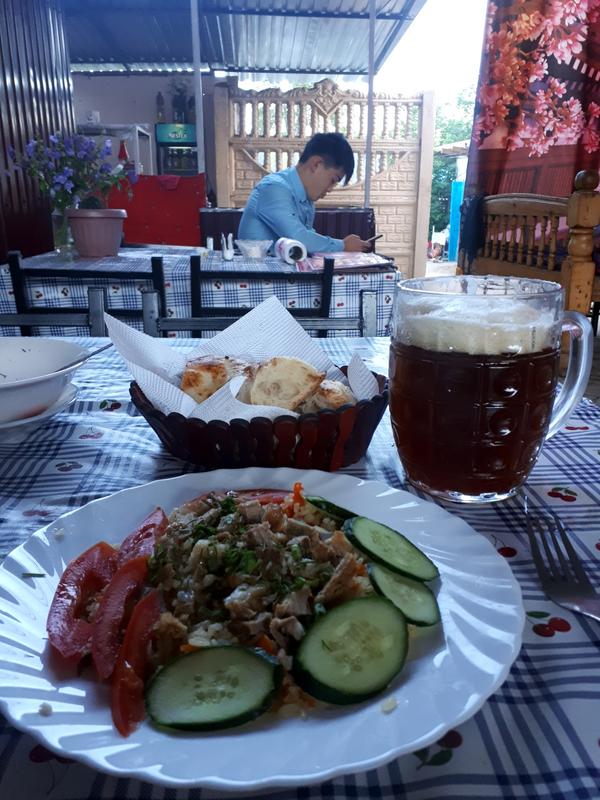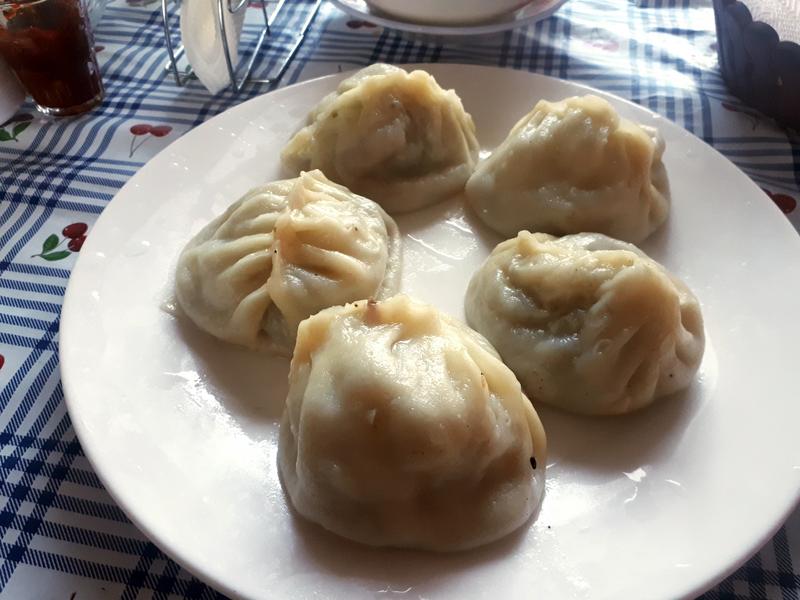 The rest of the evening I spent more time lazing on the beach and relaxing a bit in my hotel room. If you head in with low expectations, I'm sure Cholpon-Ata will please most people as a quirky little beach destination. I for one loved it.
Oct 11, 19, 2:10 pm
Join Date: Aug 2012
Posts: 36
Originally Posted by
Romanianflyer
Part 5: The Turkish Airlines Miles & Smiles Lounge at Istanbul's New Airport


Some other observations:
- I miss the old pool table at Ataturk and playing a game with random lounge guests while socialising a bit! Bring it back!
- There is a special kids playing area in the lounge
- The miniature racing cars have been brought over from the old lounge
- There are plenty of plugs if you know where to look (some are behind covers in the ground)
- On most of my visits, the staff did a great job cleaning plates and glasses and keeping the lounge tidy
Hi Romanianflyer — thanks for a brilliant and fascinating report. Coming to this a bit late — but would really appreciate some pointers as to where to look for the plug points!
Oct 11, 19, 2:31 pm
Join Date: Feb 2012
Posts: 2,570
Look for any irregular features on the floor, especially under tables and near armchairs. These are likely the covers for the plug wells. As might be expected, plug wells below the floor level are excellent collectors of dirt. So this design feature is pretty disgusting, and should've been flagged prior to implementation.
Oct 12, 19, 8:30 am
Join Date: Feb 2014
Location: OTP, CHQ, EIN and beyond
Programs: AF/KL platinum, Turkish gold, QR gold
Posts: 1,307
offerendum
. Soviet-style interior design from a few decades back is not exactly my cup of tea either when it comes to style and taste!
smiles in the aisles
- and that was out of sheer politeness and respect not to offend anyone at the restaurant as they seemingly did went through some effort to get it for me. It's like nomadic horsemen offering you some kumis (fermented horse milk). It's absolutely disgusting and vile - but it's better to be polite and accept
Cspnvdl
- your answer is already answered by
MaxVO
. I also have to add that supporting pillars in the lounge often have plug points.
By no means is the new TK lounge perfect when it comes to plugs - but given how dire the situation was in their old lounge regarding this aspect it for sure is a big improvement!
Oct 12, 19, 11:04 am
Join Date: Feb 2014
Location: OTP, CHQ, EIN and beyond
Programs: AF/KL platinum, Turkish gold, QR gold
Posts: 1,307
Part 20: Bishkek, Kyrgyzstan
Hotel: Plaza Hotel, 80 EUR/night
After a fun one-night stay in Cholpon-Ata it was time to head to my last destination on this trip: the Kyrgyz capital of Bishkek. Of course, as expected the only form of transport available was the dreaded marshrutka. Fortunately, this time I managed to snag the best seat in the bus – one of the single seats on the right side of the aisle with tons of legroom.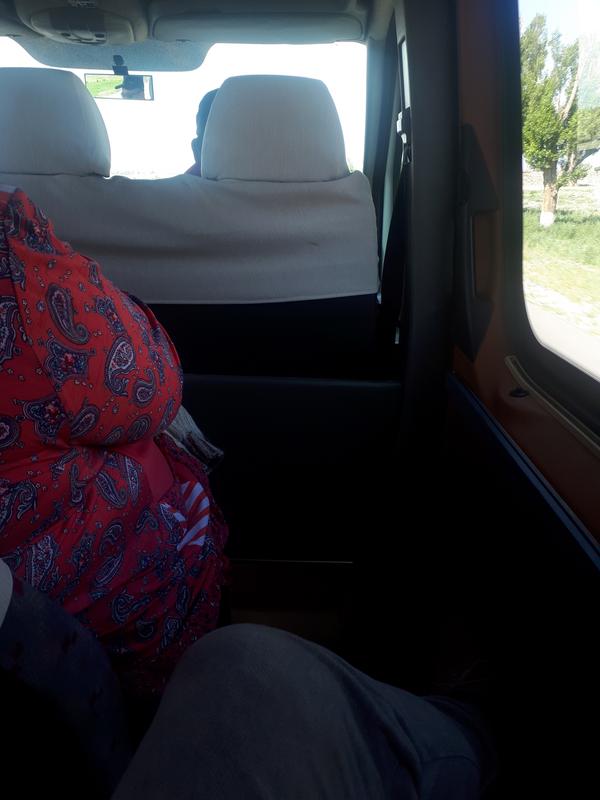 It is approximately four hours of driving from Cholpon-Ata to Bishkek. At first the bus drives along the northern edge of Lake Issyk-Kul to its western end, from where it heads into the Chuy Canyon towards a plain on the other side of the mountain range on which Bishkek is located. We made a rest stop about halfway at a restaurant in the Chuy Canyon. The Canyon itself is known to be extremely windy and prone to bad weather – and this time was no exception with storm clouds gathering above.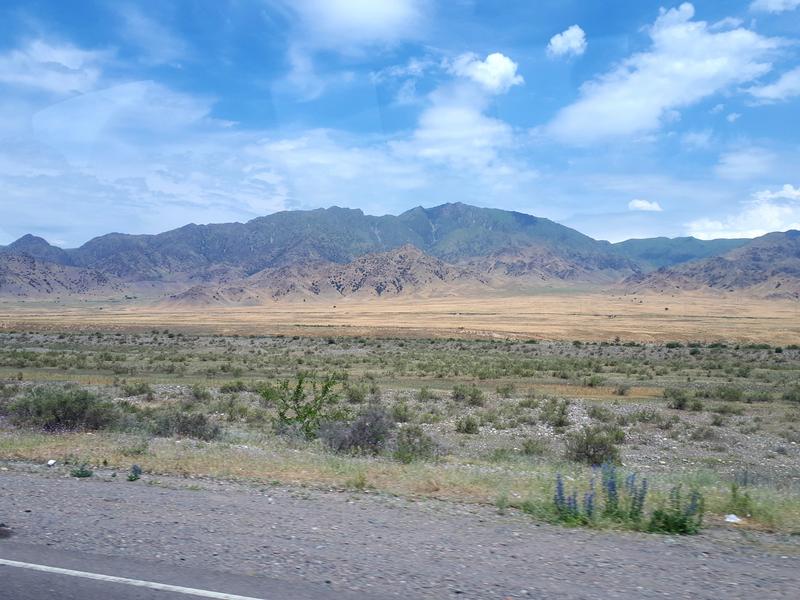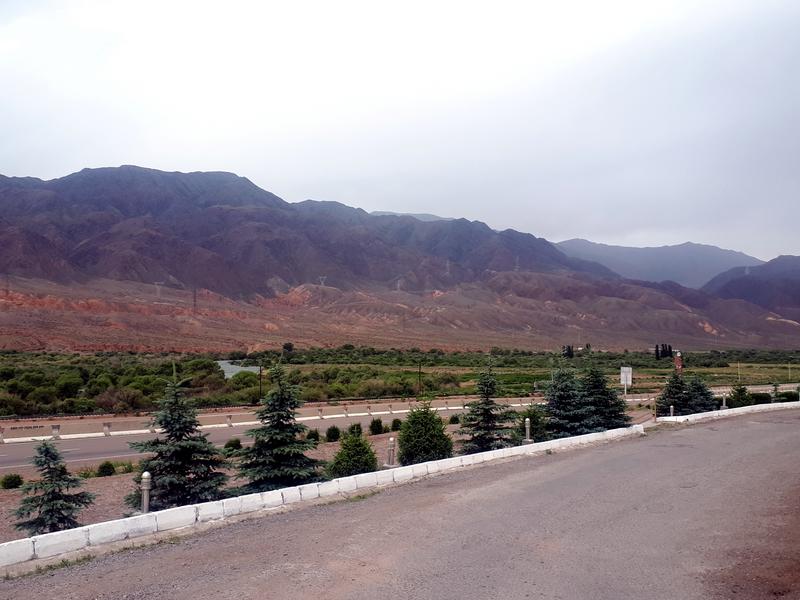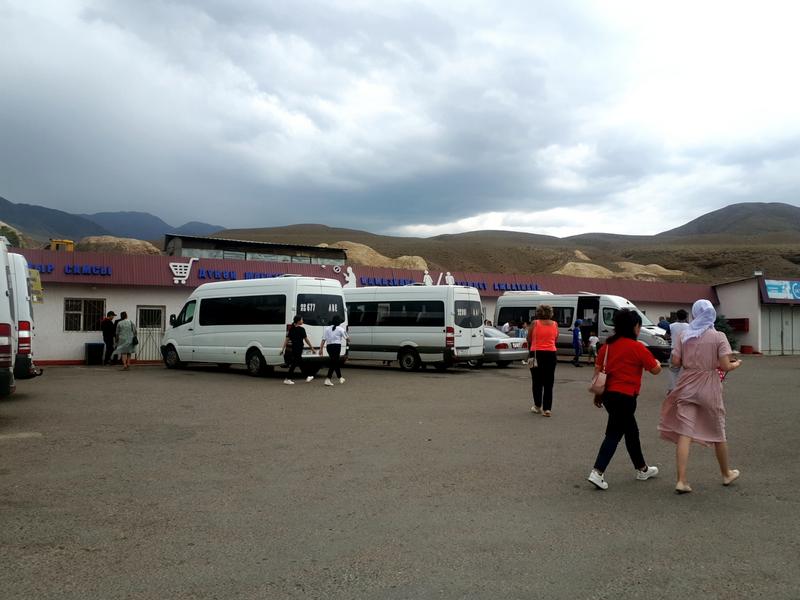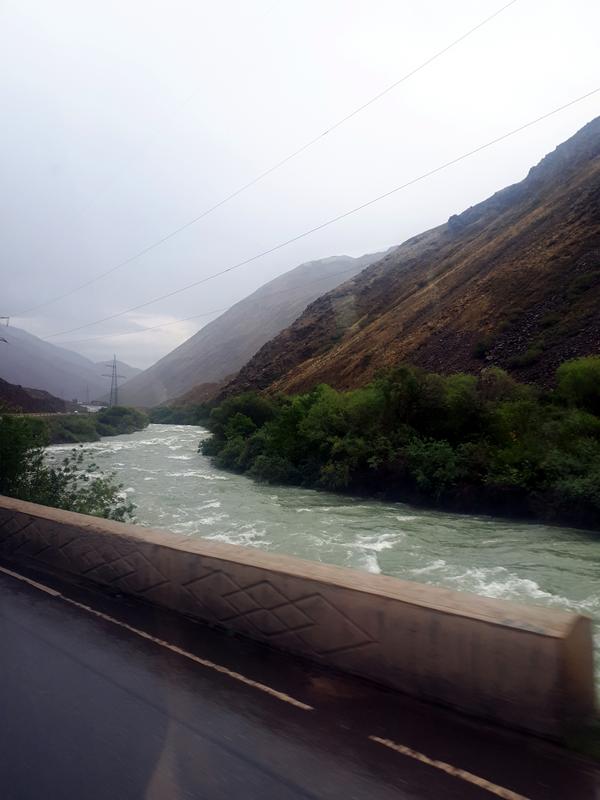 Following the route of the minibus with GPS on Google Maps, I asked the driver to stop to let me out when I saw I was close enough to my hotel in down town Bishkek. After a fun ten minutes walk along the UFO-like building of the Kyrgyz State Circus and a park I arrived at my hotel for the next two nights.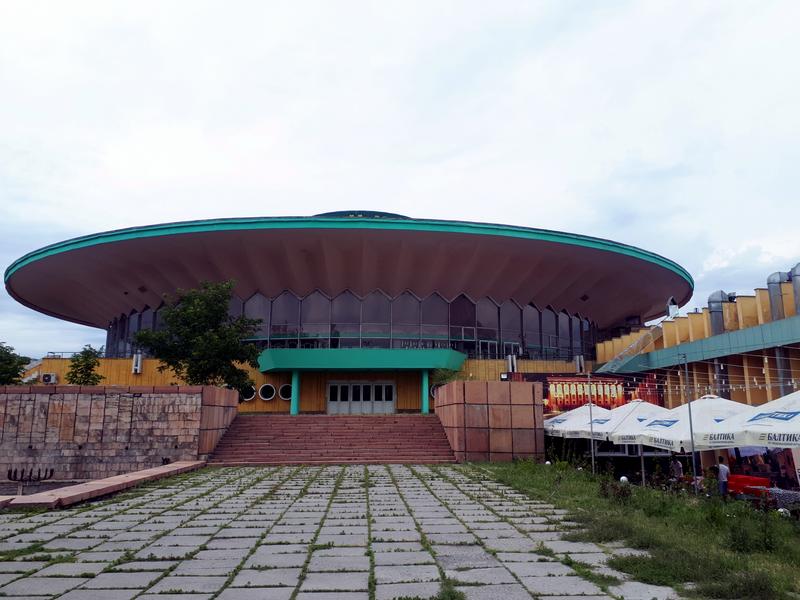 As it would be my last destination on this trip I opted for a slightly more luxurious hotel compared to where I was staying the previous nights. At 80 USD per night, the Plaza Hotel was a good choice as it offered some luxury for a fraction of the price of the few chain hotels in the city (which all had prices of above 300 USD/night – a huge amount considering the local price levels!). The location of the Plaza Hotel is superb, my room was big and well-appointed, internet was fast and the reception staff extremely helpful with every inquiry I made. The swimming pool and sauna in the basement was another plus. The only downside was the breakfast buffet, which I found sub-par both in quantity and quality.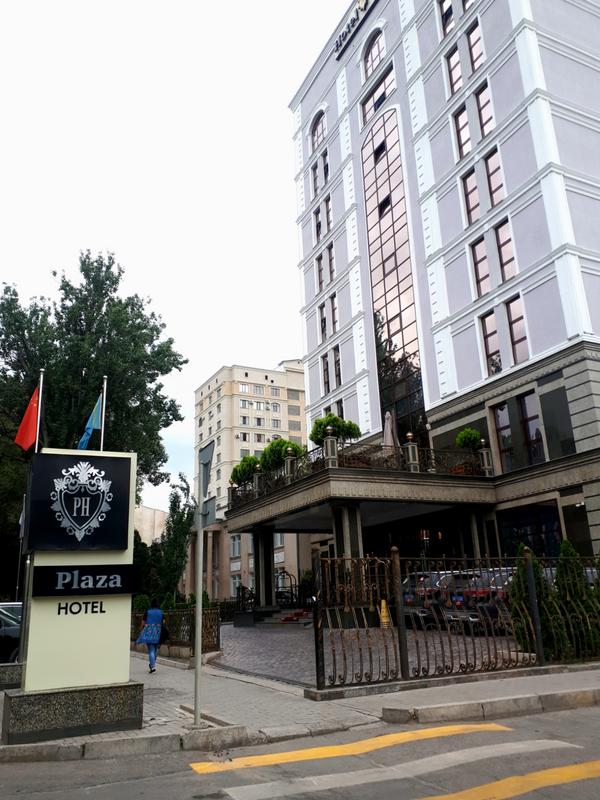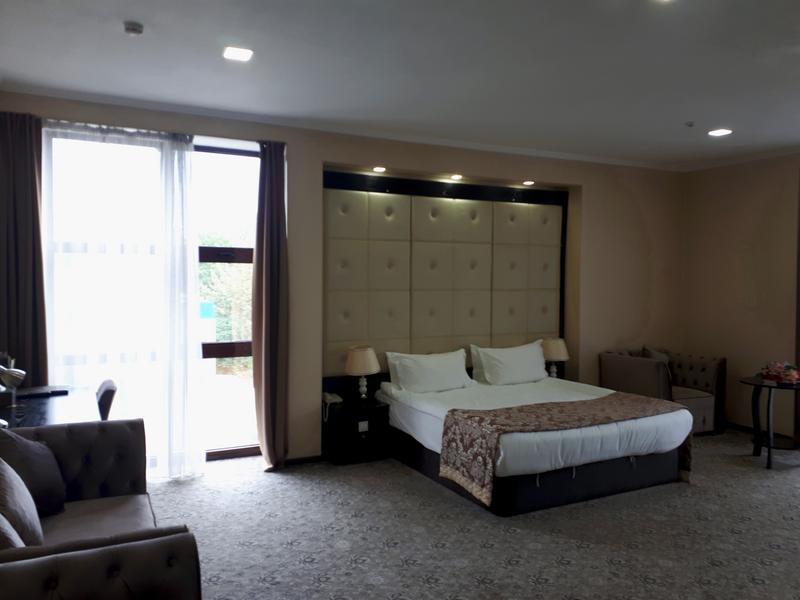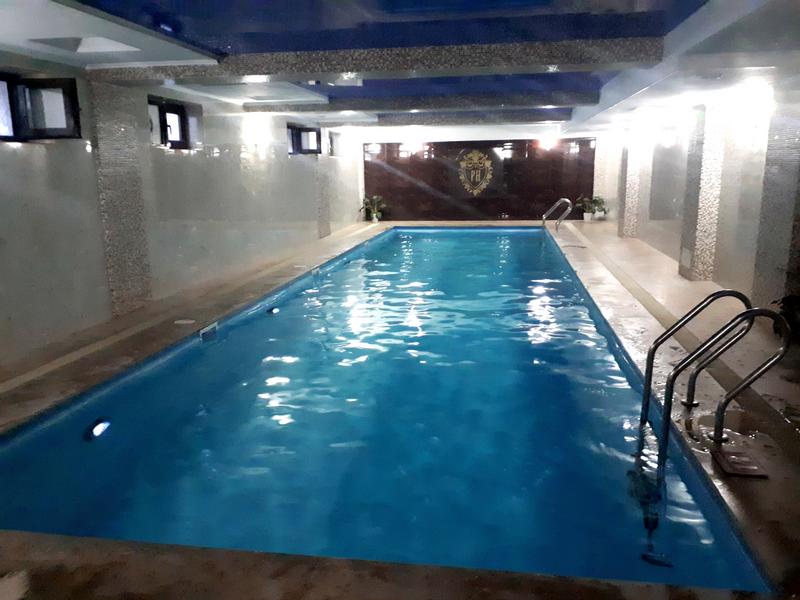 After a quick shower it was time to explore the city. I headed straight for Panfilov park, which was just a stone throw away from my hotel. Usually, parks in ex-USSR countries are always nice places for a stroll and to soak up the vibe. This park was no exception as on this sunny weekend day it was full of parents taking their children for a stroll or to one of the many amusement park rides.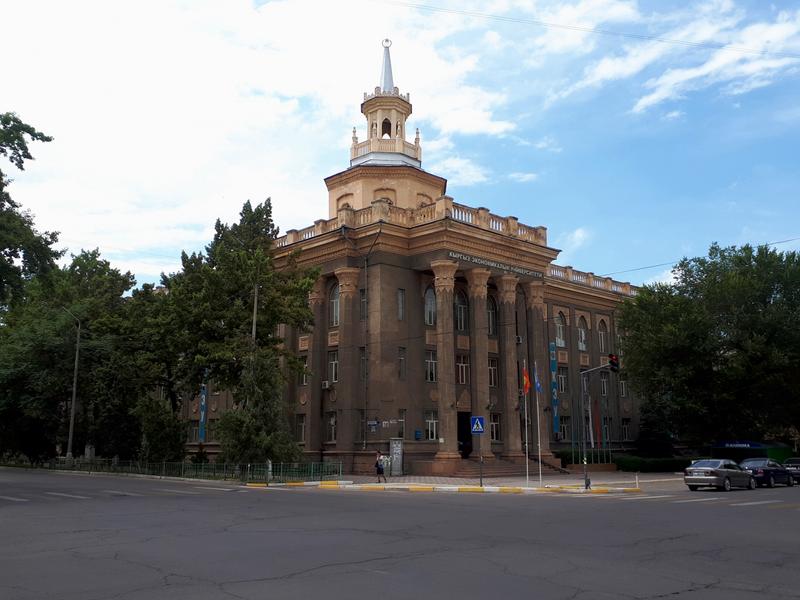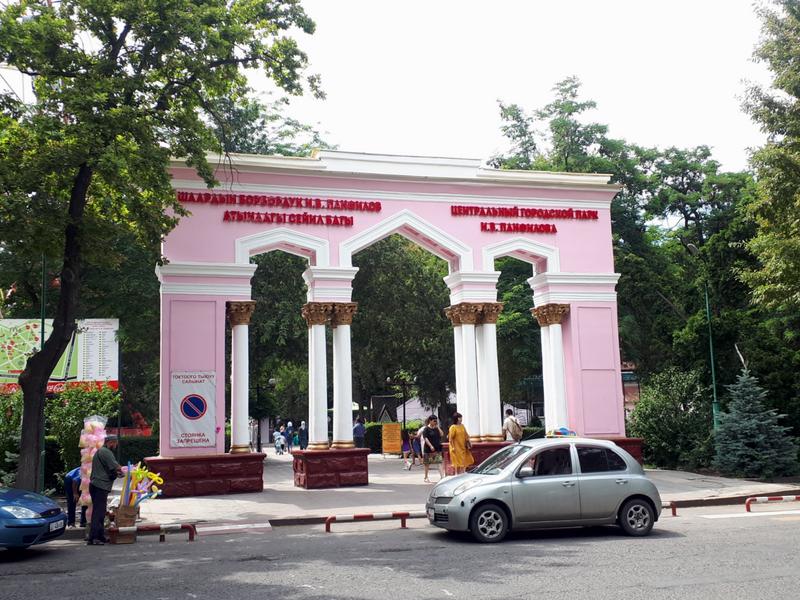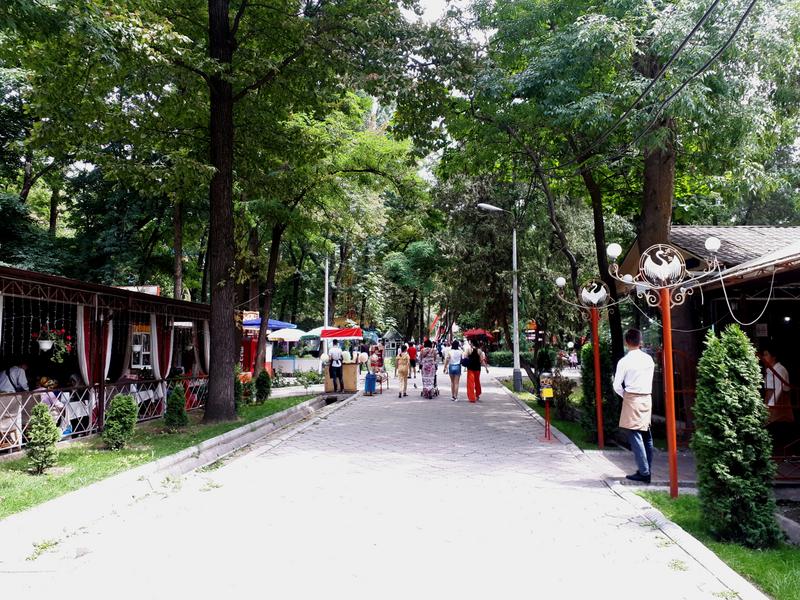 I decided that the Ferris Wheel would make a fine ride for me as well and bought a token at the cashier. The views from the top of the Ferris Wheel over Bishkek were indeed great.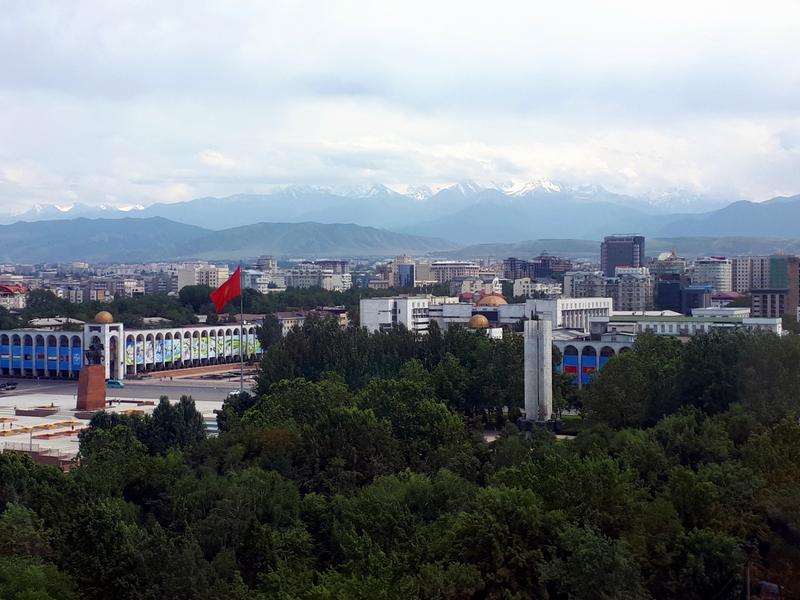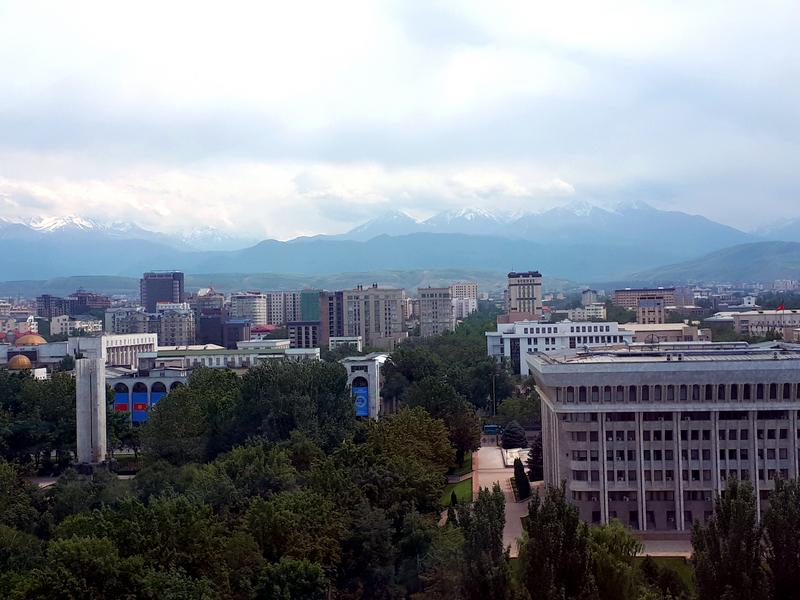 After the funfair ride it was time to explore the few sights of Bishkek I saw from the air up close. Conveniently, all are basically located along the same boulevard, which makes for easy exploring. First up was the national parliament building.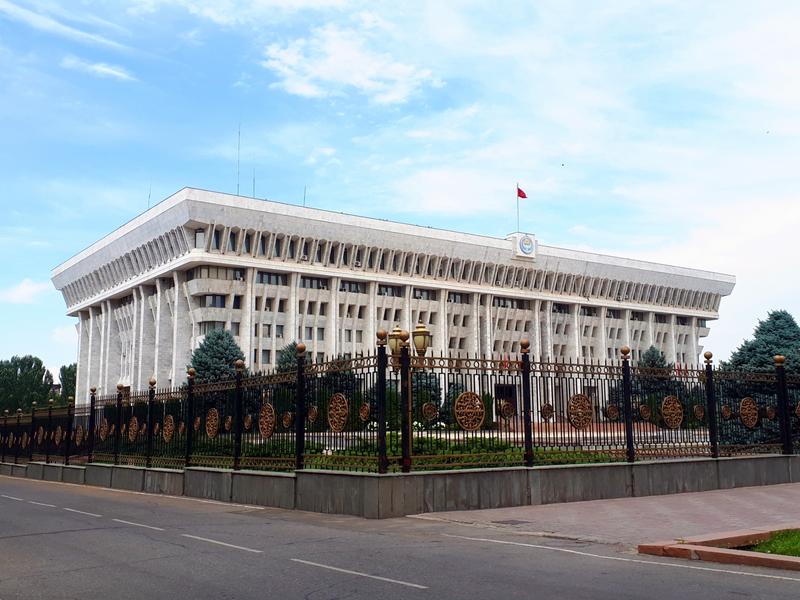 The giant red Kyrgyz flag stands next to a statue of Manas – the national hero of the country whose exploits are told in a century-old epic poem which is central to Kyrgyz culture. The large cube-sized building in the back is the Kyrgyz history museum.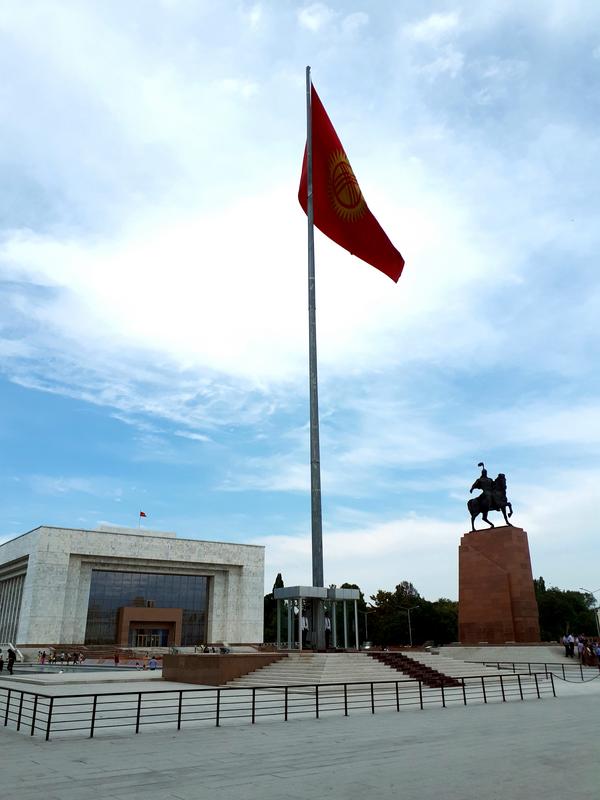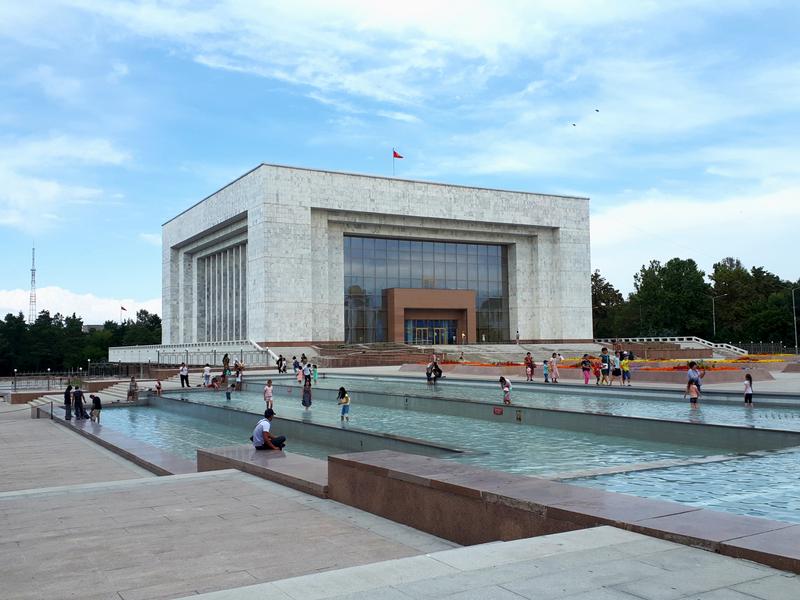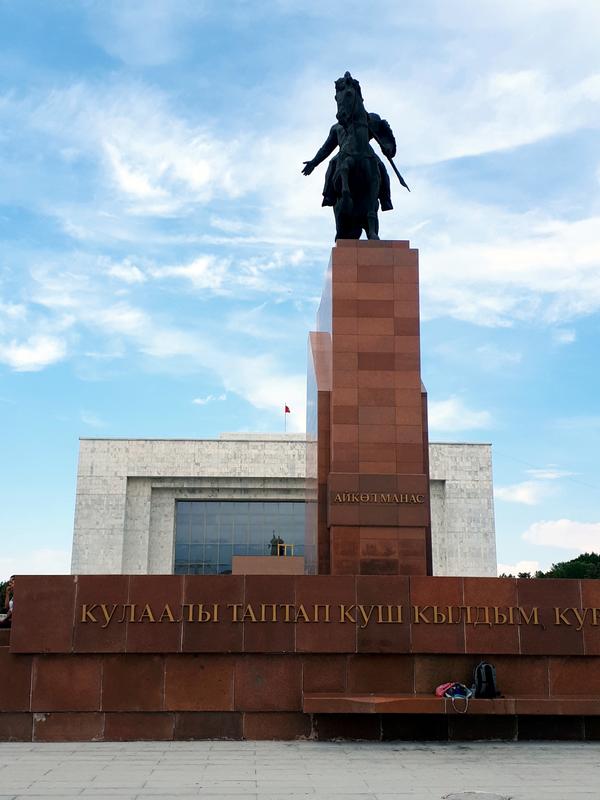 Ala Too square is basically as down town as you can get in Bishkek. The square is a weird collection of flower beds, fountains, arched passageways and Soviet ugliness.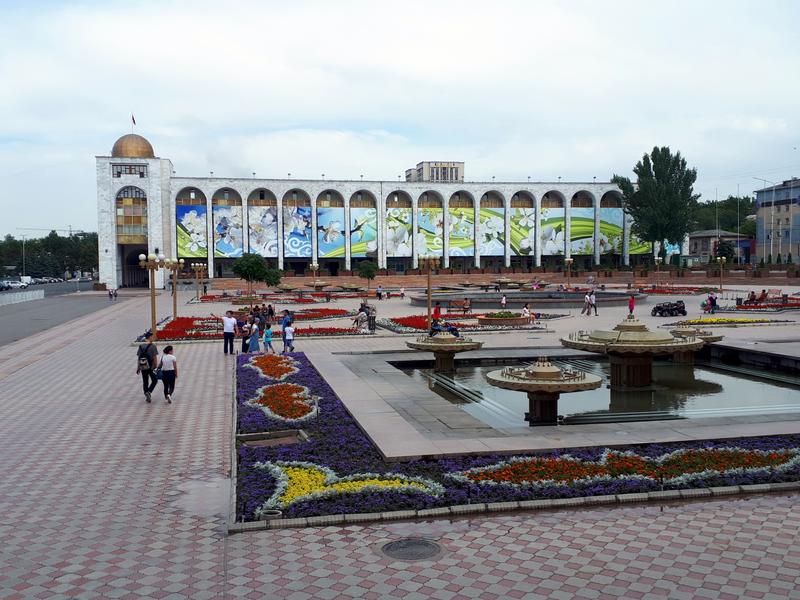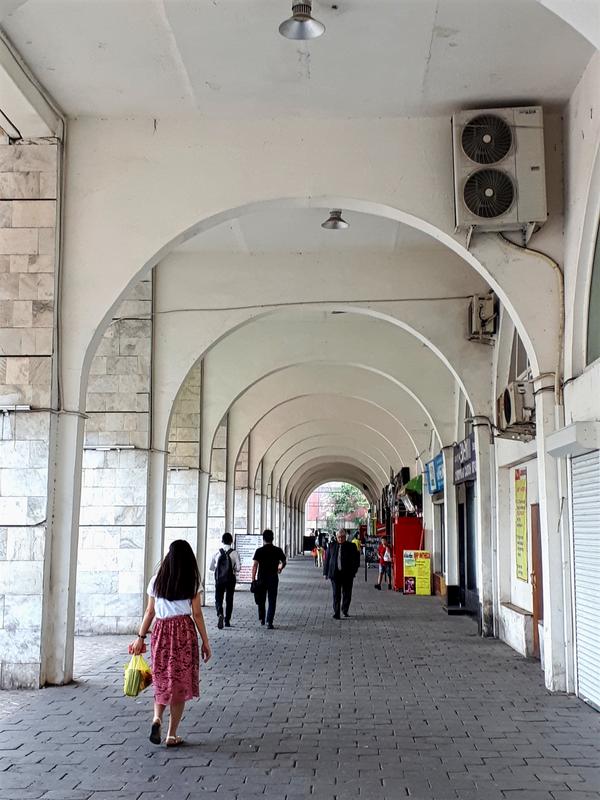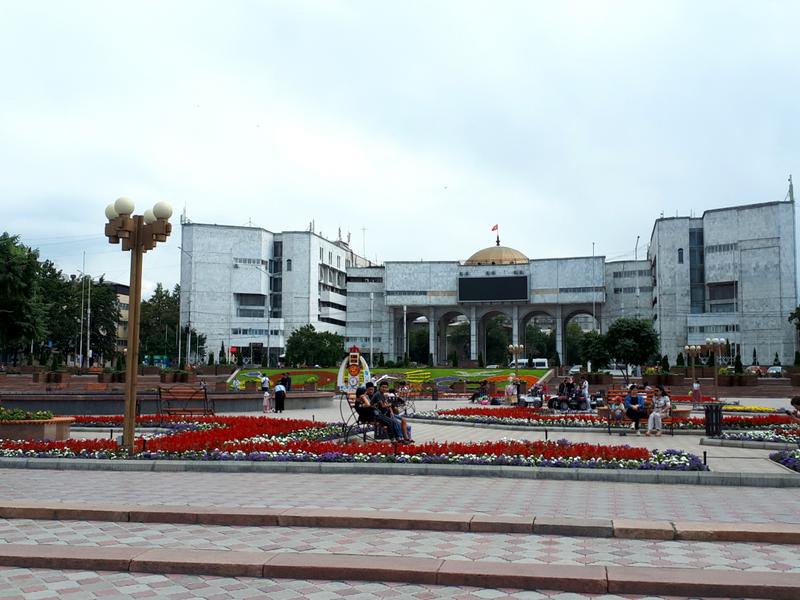 The rest of the city centre is pretty low-key, with some old ornate buildings from the Tsarist-era and lots of parks, small monuments, cafes and market stall. It all makes for a very relaxed walk around.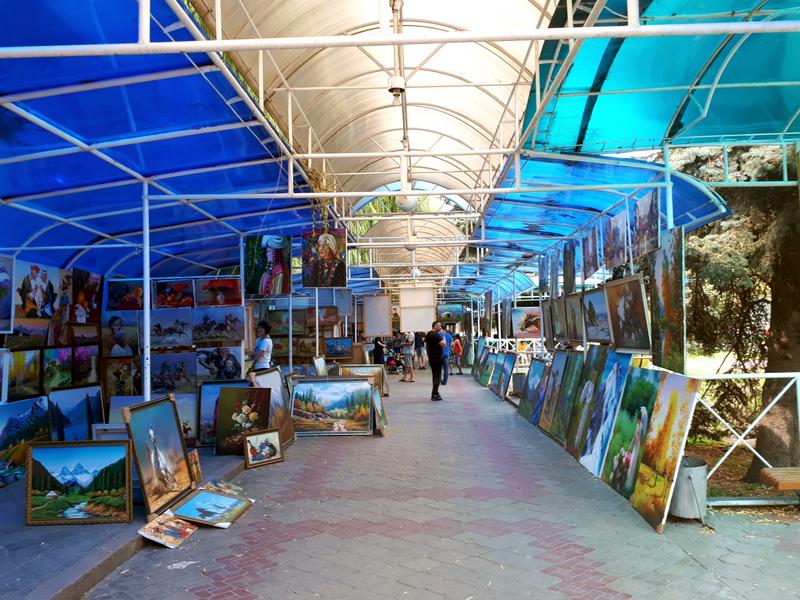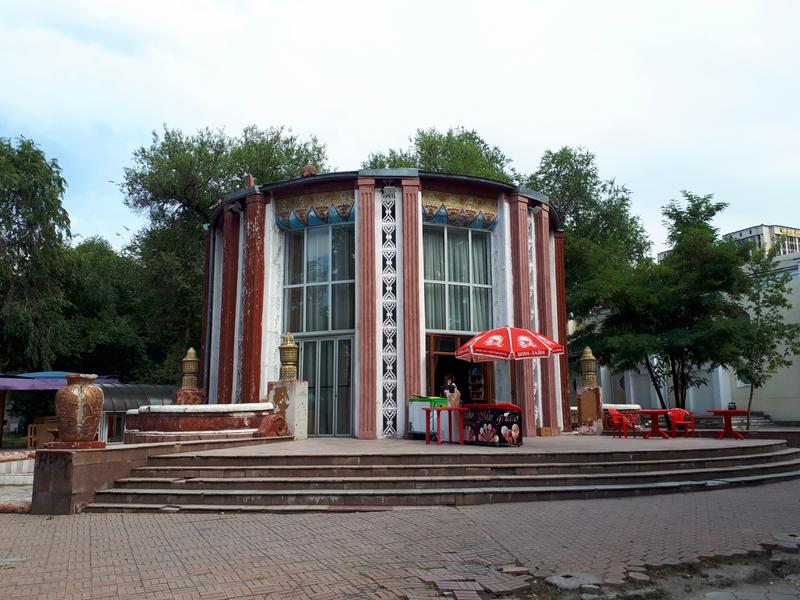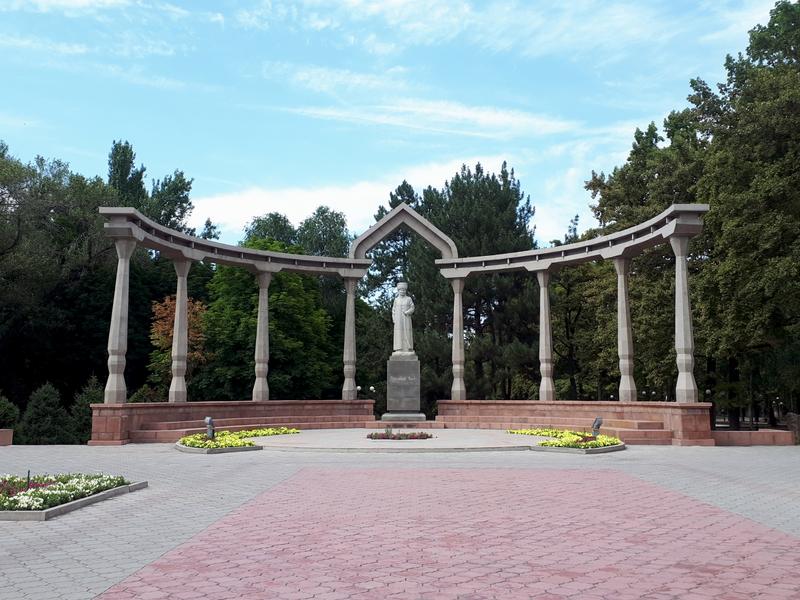 Of course, there was a lot of concrete ugliness too, although some buildings such as the cinema on the first picture below did look kinda cool in a quirky Soviet way with its mosaics.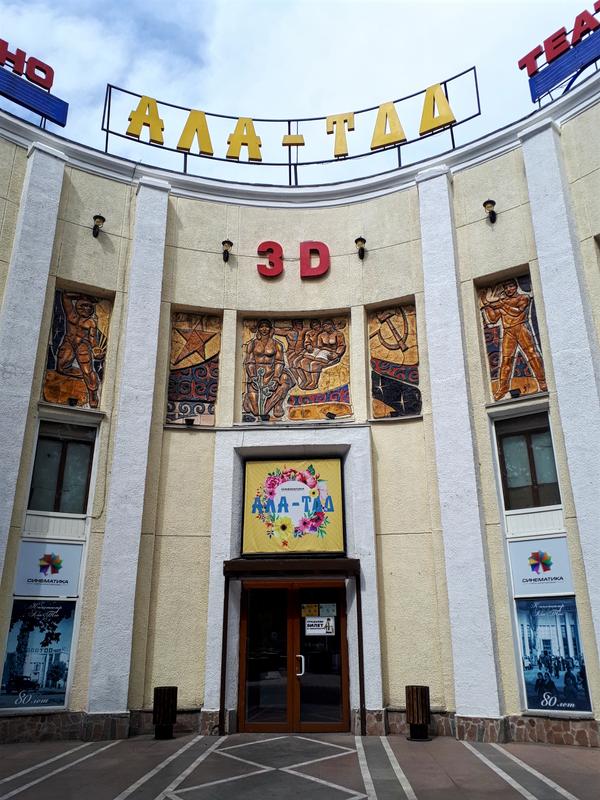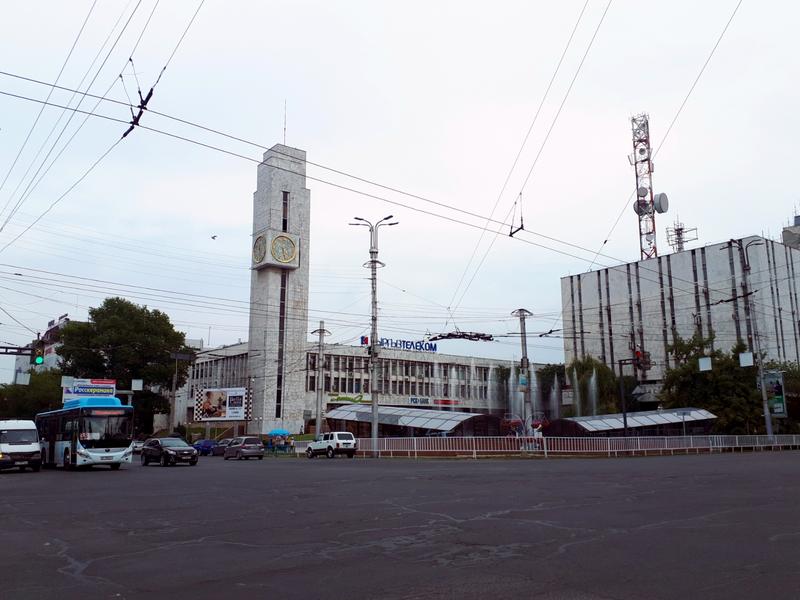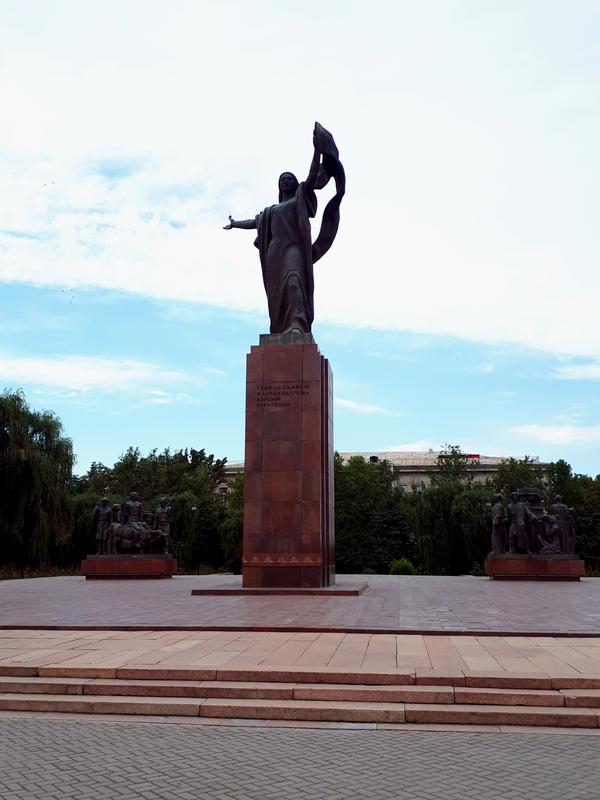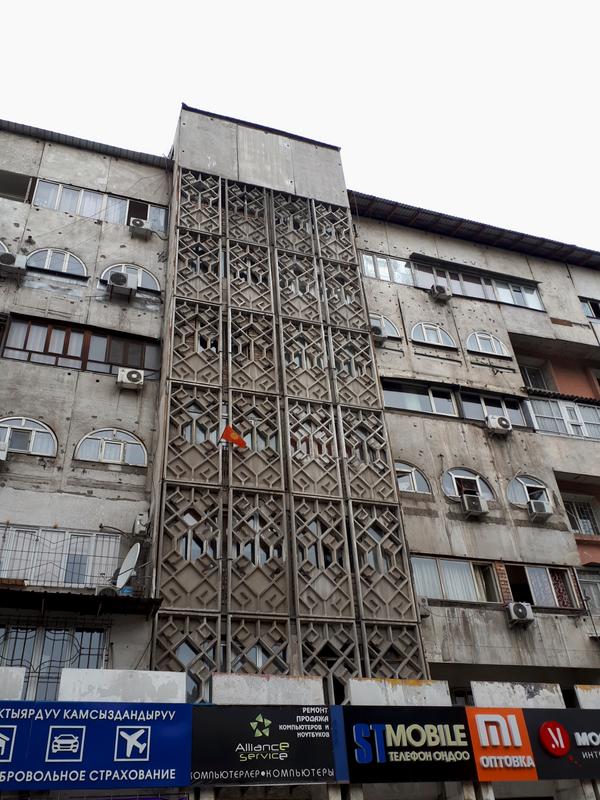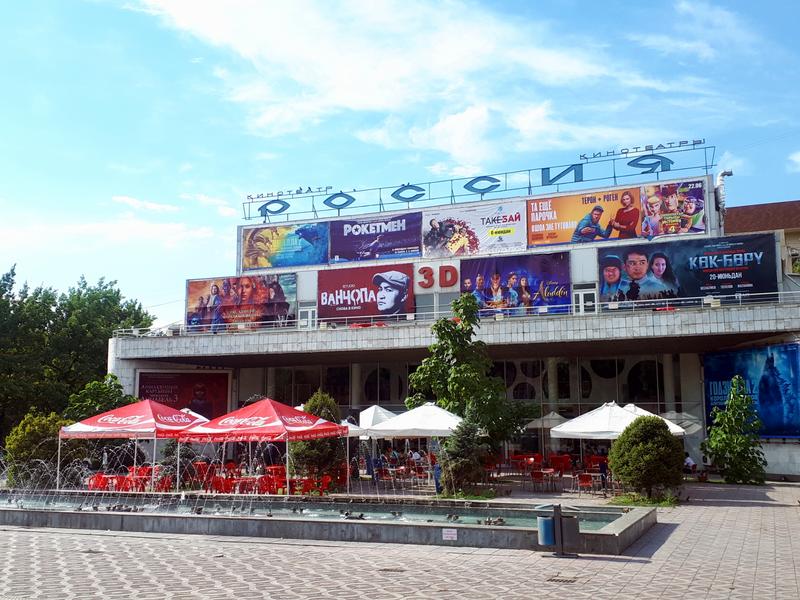 Last on the list was Victory Square, which has a WW II monument and an eternal flame.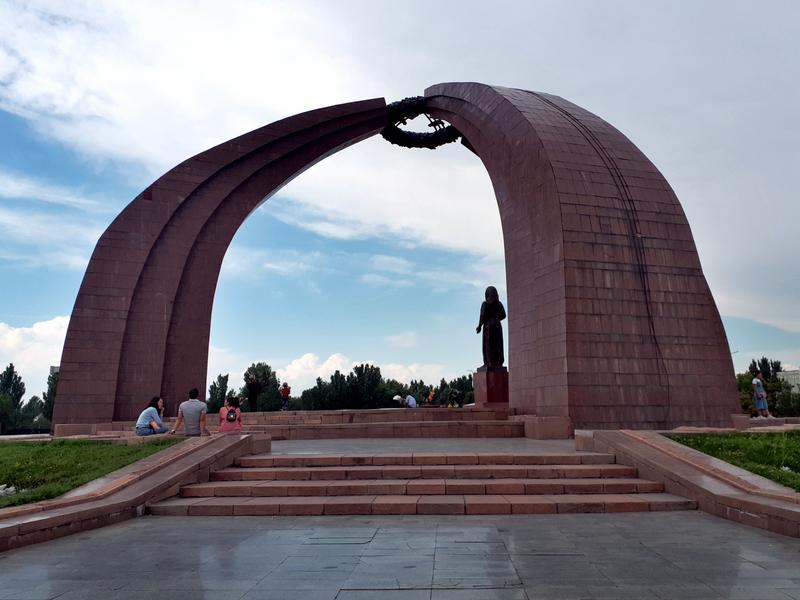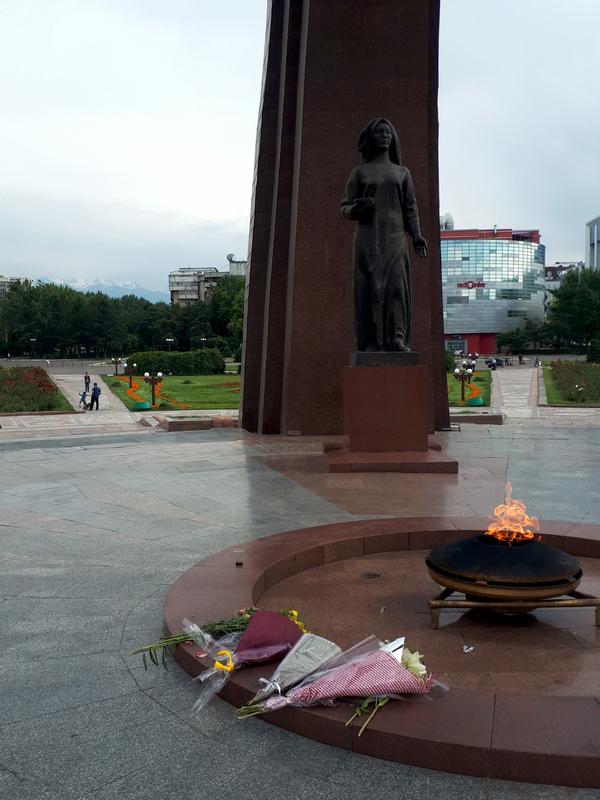 Having finished the self-constructed city tour it was time to head back to one of the appealing-looking drinking holes (Greenwich Pub) to have a beer in the sun. The local weizen beer was surprisingly good!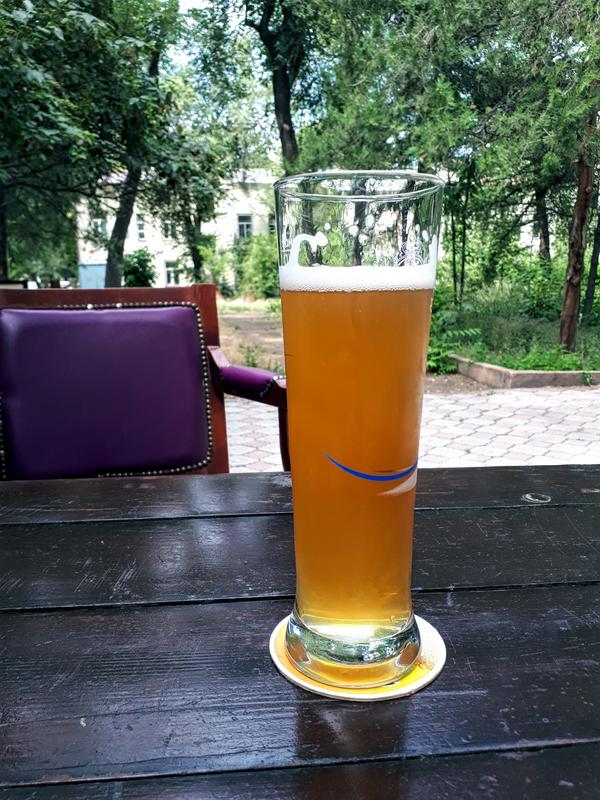 After a beer or two I walked around for a while until I started to get hungry. The shashlyks at Chaikhana Jalalabad – a teahouse in traditional Central Asian style – hit the spot.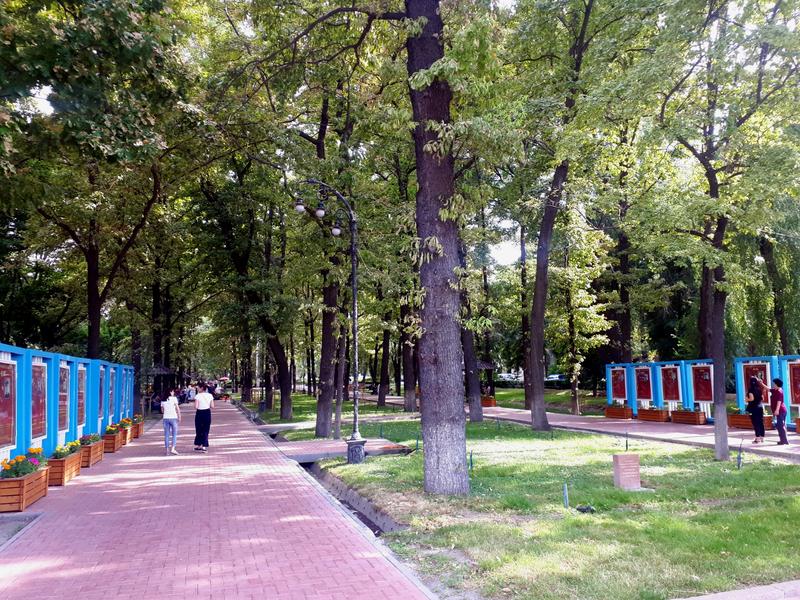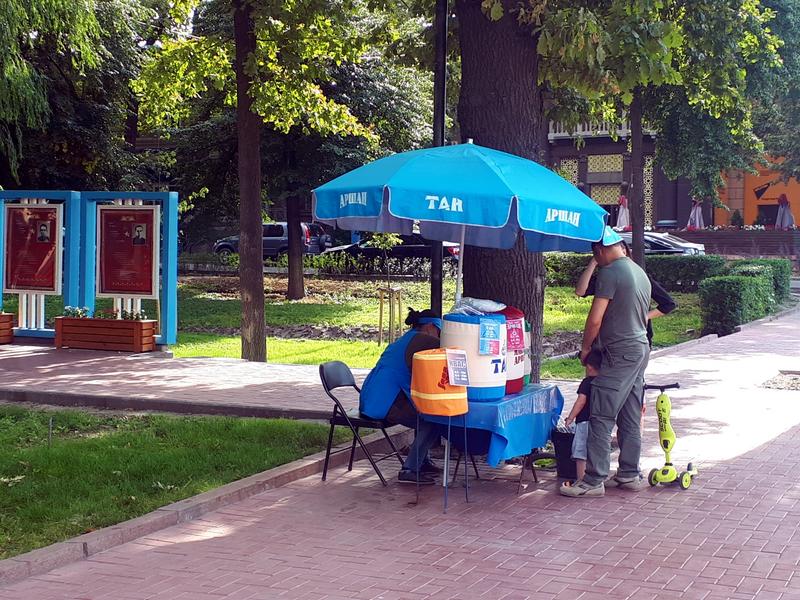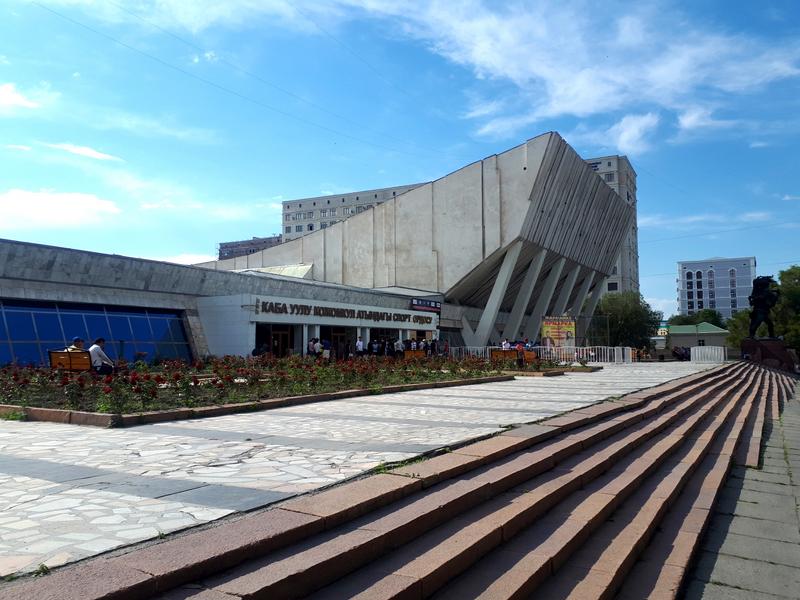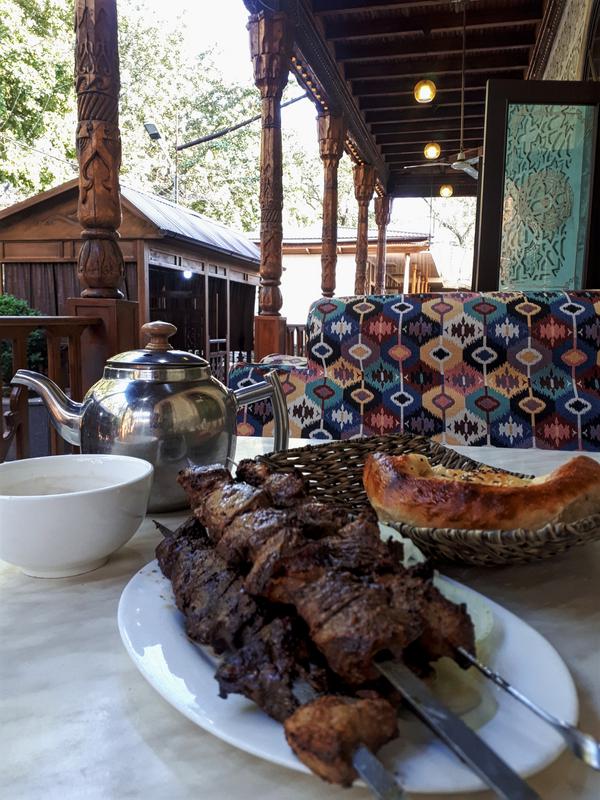 Sunset colours were gorgeous on my way home to my hotel. Do note however to take care when walking in the dark in Bishkek. Not that I felt unsafe walking on the main arteries of town as there were plenty of other people around even in the late evening hours. The danger here are potholes! Bishkek has millions of them on roads and on the pavement. And because the city is really dark at night due to the lack of street lights, it is easy to fall down.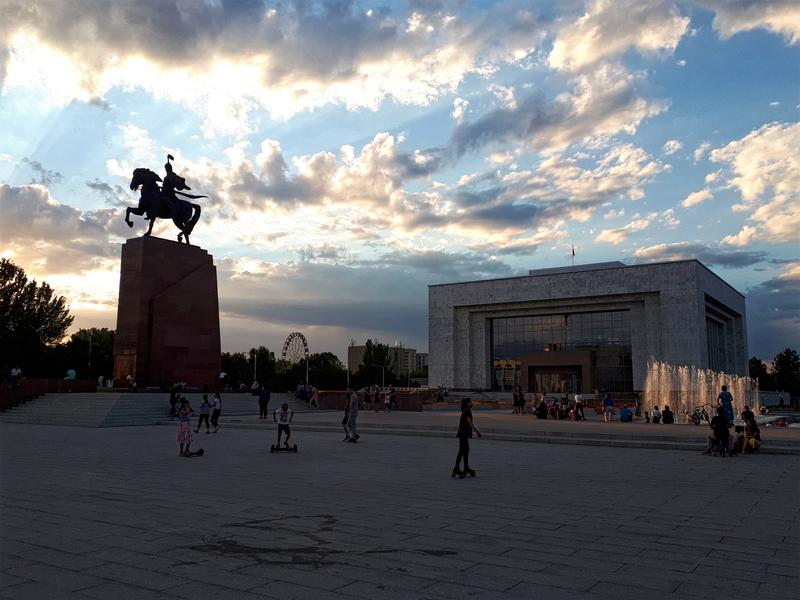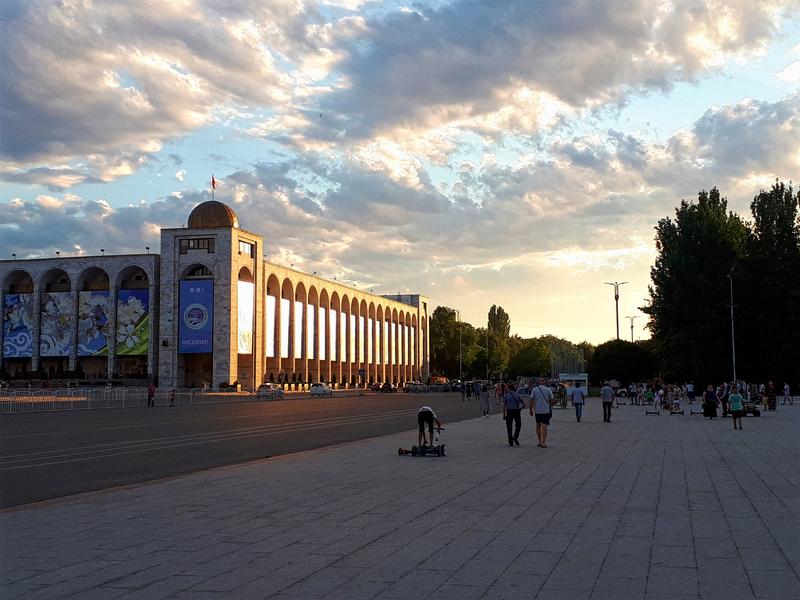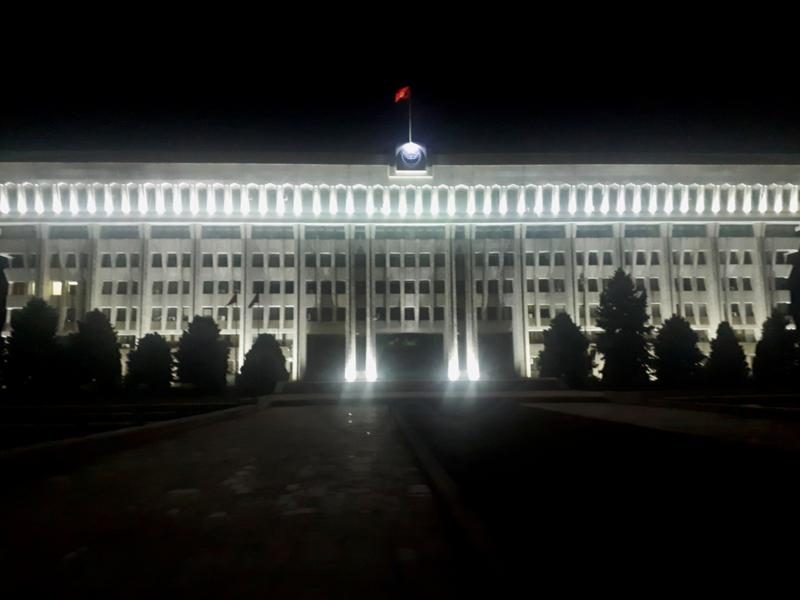 In short:
I quite enjoyed Bishkek. It's a easy navigable city which makes for a pleasant walk exploring the sights. Sure, Almaty is nicer and more cosmopolitan and Tashkent might have more to see, That said, I found Bishkek to be much more fun and enjoyable than Tashkent in neighbouring Uzbekistan, even though the latter is a much bigger city and has more to see.
Next up:
A day hiking in Ala Archa national park.
Oct 16, 19, 7:17 am
Join Date: Nov 2018
Location: MEL/YMML
Programs: QF Gold, CX Green, A3 Gold, Hilton Gold, Hyatt Discoverist, Amex Platinum
Posts: 257
Great trip reports on Central Asia. Indeed that's a very undervisited place.
When I browse through your photos in Bishkek, I saw a shop called "Alliance Service". The logo bears striking resemblance to *A (Star Alliance) one. Probably *A can sue that shop for breaching copyright?