Turkish Airlines to Tartary: Kazakhstan, Kyrgyzstan - and a Bit of Belarus
Aug 13, 19, 11:04 pm
Join Date: Feb 2014
Location: OTP, CHQ, EIN and beyond
Programs: AF/KL platinum, Turkish gold, Aegean silver
Posts: 1,061
Aug 14, 19, 4:35 am
Join Date: Feb 2014
Location: OTP, CHQ, EIN and beyond
Programs: AF/KL platinum, Turkish gold, Aegean silver
Posts: 1,061
Part 7: First day in Minsk, Belarus
Hotel: Hotel Minsk, 60 USD per night
In Minsk I opted for the Hotel Minsk – one of the larger (and cheaper) hotels in the city. It's an old communist-style hotel and it still shows in the lobby, rooms and stuffy corridors, even though it has undergone some renovation since the collapse of the Soviet Union. For the price, it's a good option as rooms are quite decent and the location is unbeatable, with a metro stop next door and both the railway station and the city centre just a short walking distance away. If I would however have stayed two nights, I would probably have opted for an apartment instead as these seemed to offer far better value for money.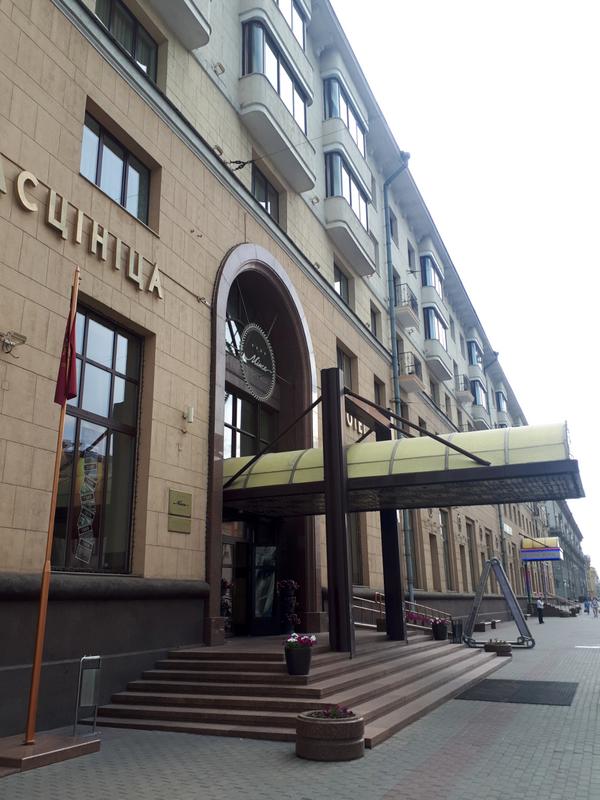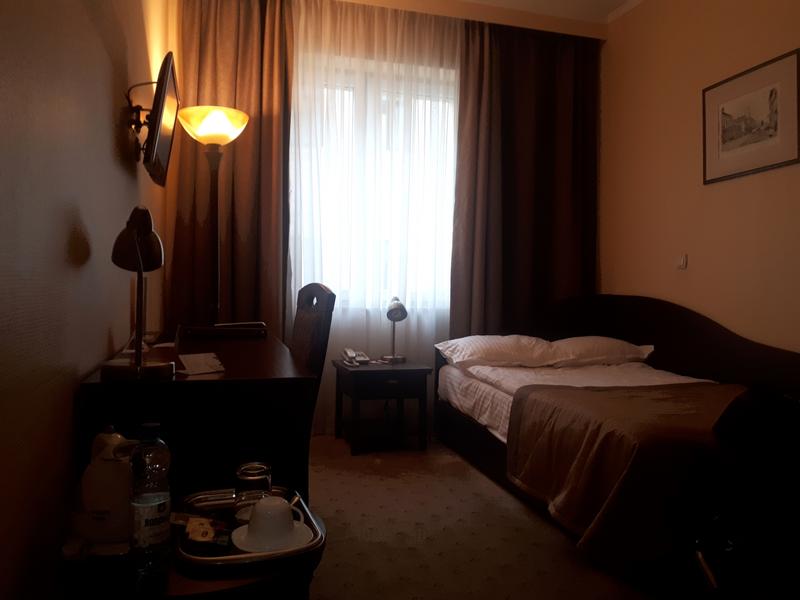 As it was still mid-afternoon and I had plenty of daylight left to explore the city. I started back on Lenin Square, which besides lots of communist buildings such as government offices and an university, also has the red-brick Saint Simon and Saint Helena Church dating back to 1910 – one of the few old buildings of Minsk which survived the carnage of World War II.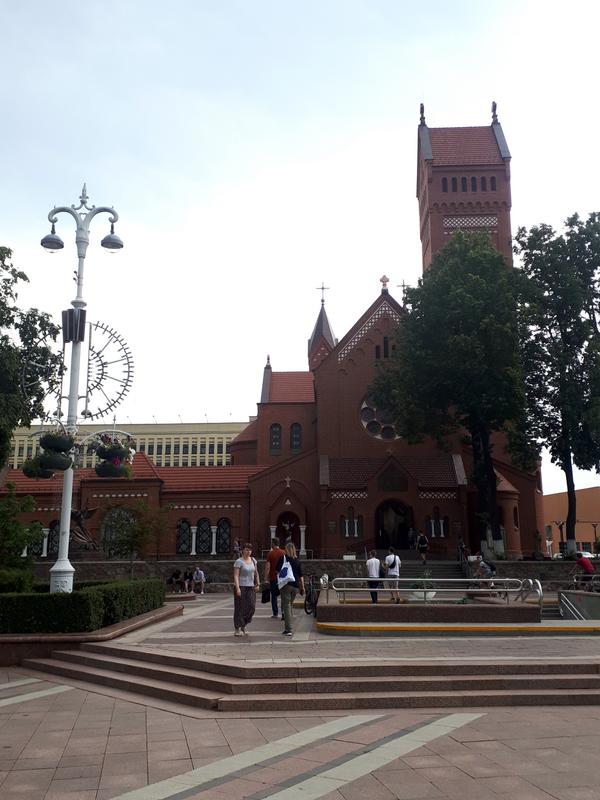 For most, the city of Minsk was rebuilt with grand Soviet architecture – which is especially visible when walking up on the Prospekt Nezavisimosti boulevard – which is basically the central axis of the city.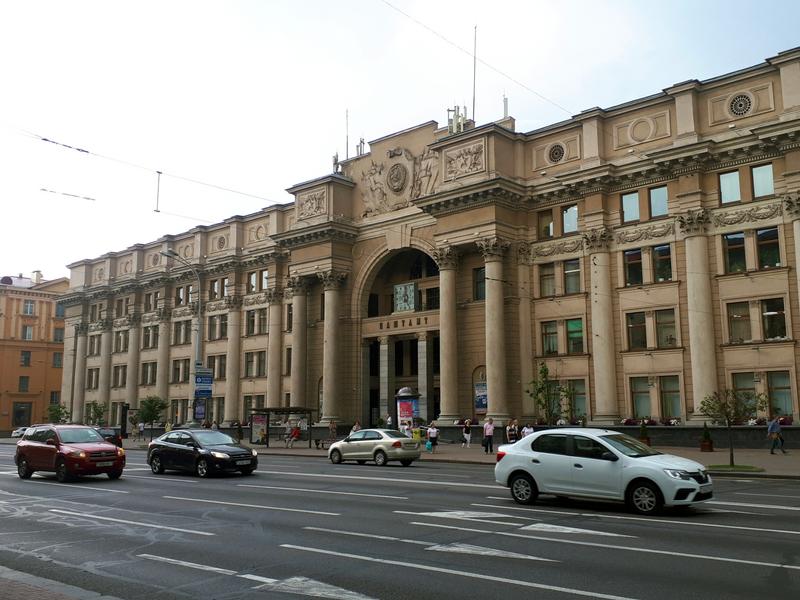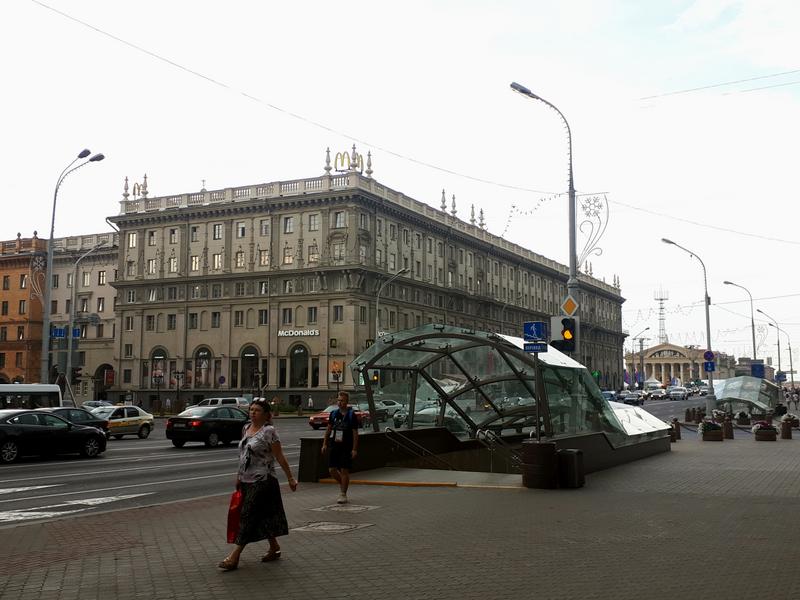 It was my third time in Minsk and one aspect of the city which I always loved was how alive the communist history and legacy is. While many cities – including some in Russia – are removing communist traces, Minsk seems to embrace its past. Opposite the impressive building of the State Security Committee of the Republic of Belarus (basically the modern-day KGB) you can still see a statue of Felix Dzerzhinsky, the infamous Bolshevik who led the Cheka, the predecessor of the KGB under Lenin.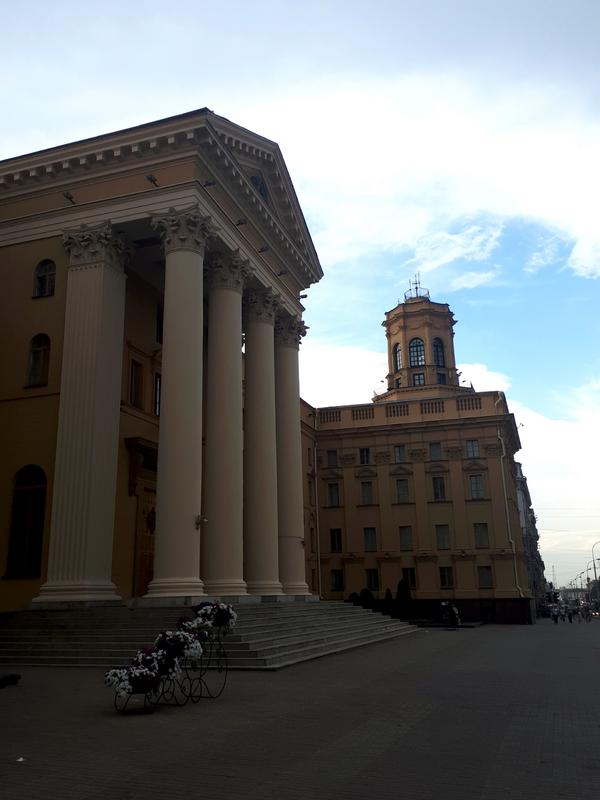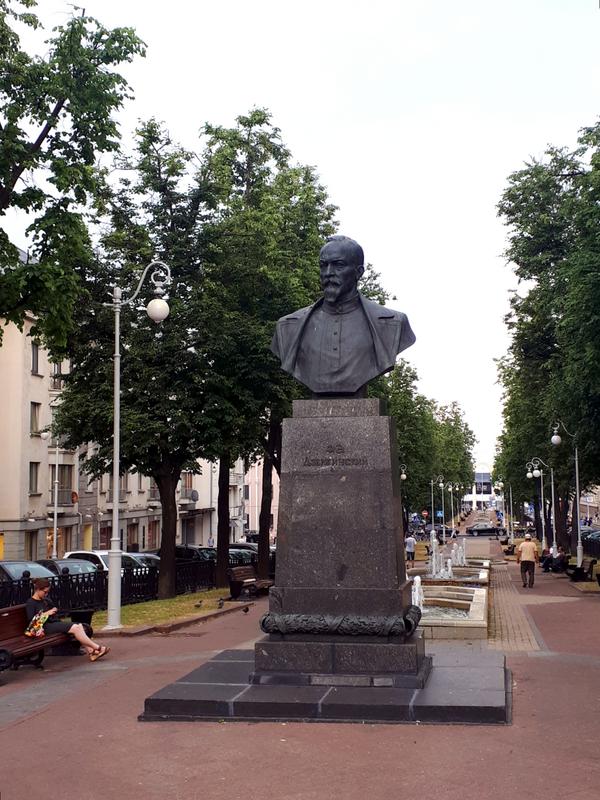 As for how free Belarus nowadays is, opinions differ. Even on my first visit to Minsk more than a decade ago I was puzzled about the contradictions in this fascinating country. At one hand you have a capitalist consumer society pretty much like everywhere else in Europe – with people going for a coffee or beer, going on holiday in Europe, chatting happily on the streets. But make no mistake, the country is still a basic dictatorship with no real democratic elections and freedom of press. And although people can basically do all they want and there is lots of personal freedom (as long as they do not complain too much and call for change) the country is still tightly controlled. On my first visit in Belarus, a Lithuanian-Belorussian girl I met even told me that all hotel rooms are still bugged with the state security office actively listening in. Citizens' movements are still being watched and recorded. That said – I heard from friends that the country has since my first visit been slowly improving bit by bit. And based on what I would see later on in the day, that seems to ring quite true for sure. While I found that during my first the mentality of the people and the street scene were still quite communistic with a healthy distrust of strangers, it all seemed much more consumer-orientated and open now. Heck, even the metro had signs in English – I can still vividly remember getting completely lost in Minsk in my early 20s due to not being able to read Cyrillic at the time (and not having Google Maps!) - with nobody speaking English to help out. At not a single restaurant or pub this time I encountered someone who did not speak at least a bit of English.
Before I move on with the rest of the Minsk trip report I cannot resist to show this (English subtitled) video of the Belarusian strongman Alexander Lukashenko visiting a local farm. It's dictatorial micro-management at its best – an absolute hilarious watch!
Back to the trip report! More communist glory can be found around Kastrychnitskaya square, such as this fabulous communist mosaic at one of the entrances of Kupalawskaya metro station.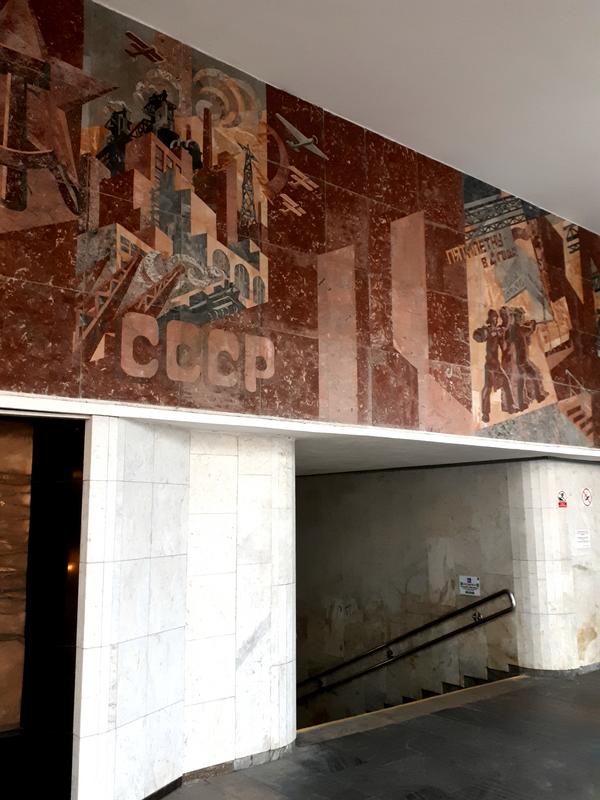 Or what about this fantastic Palace of the Republic.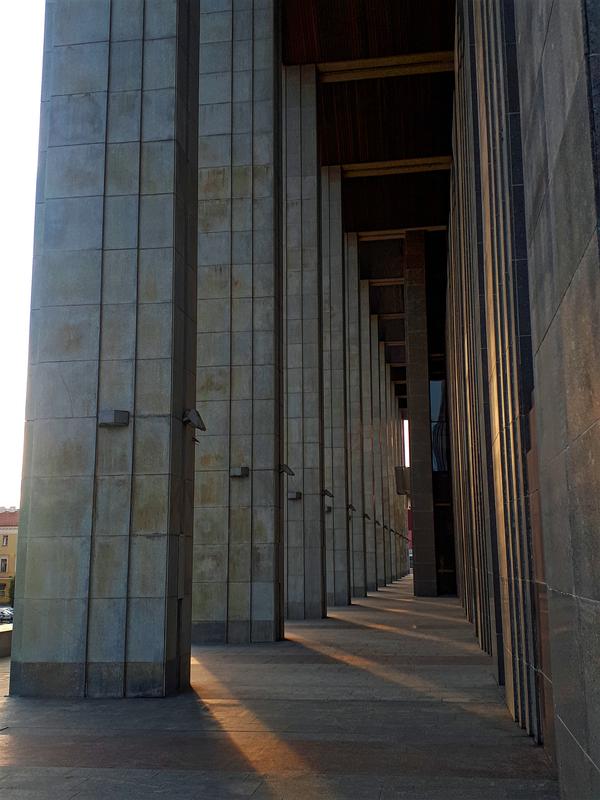 From Kastrychnitskaya square I walked towards the old town centre of Minsk.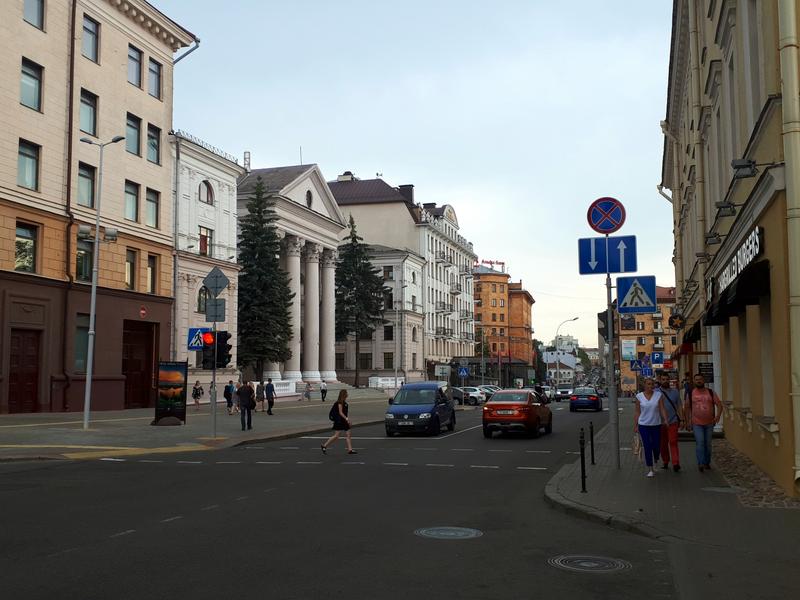 There are a couple of nice churches here and some old houses resembling the style you find in cities in Poland. Many of them are now restaurants and cafes. It is a very lively district to walk through.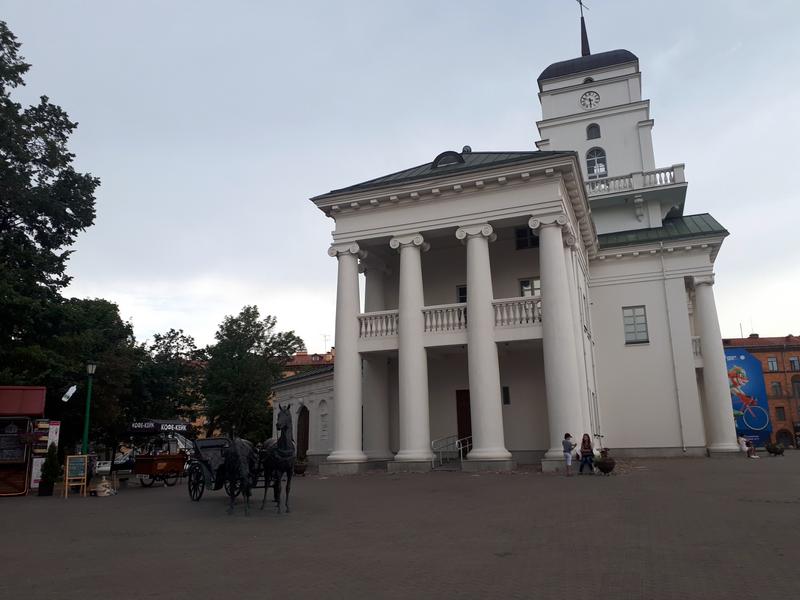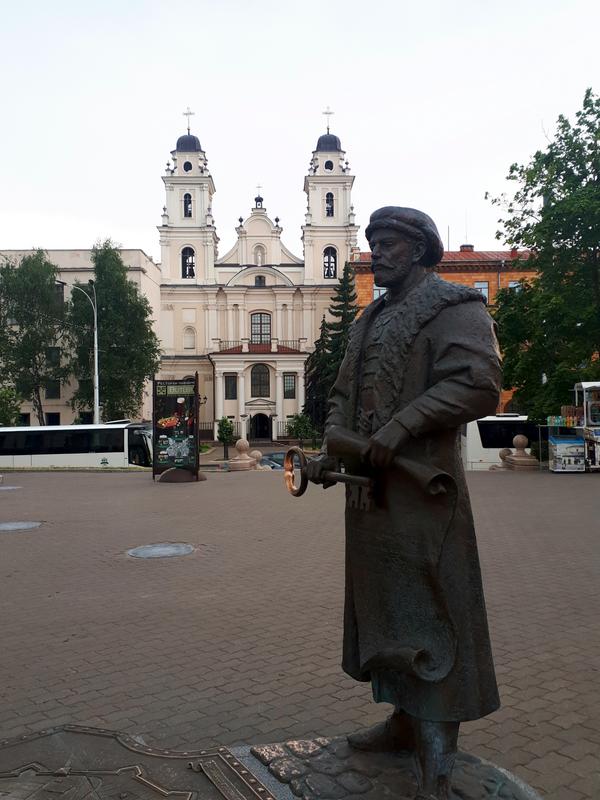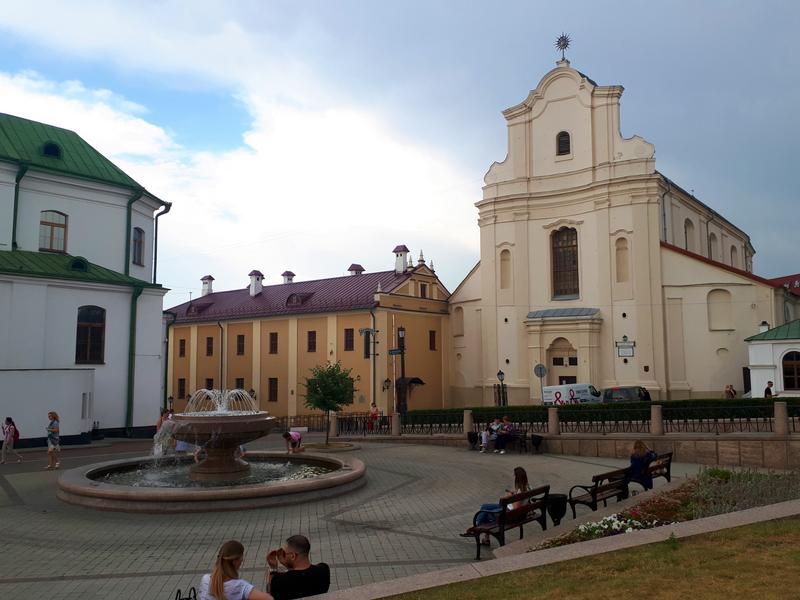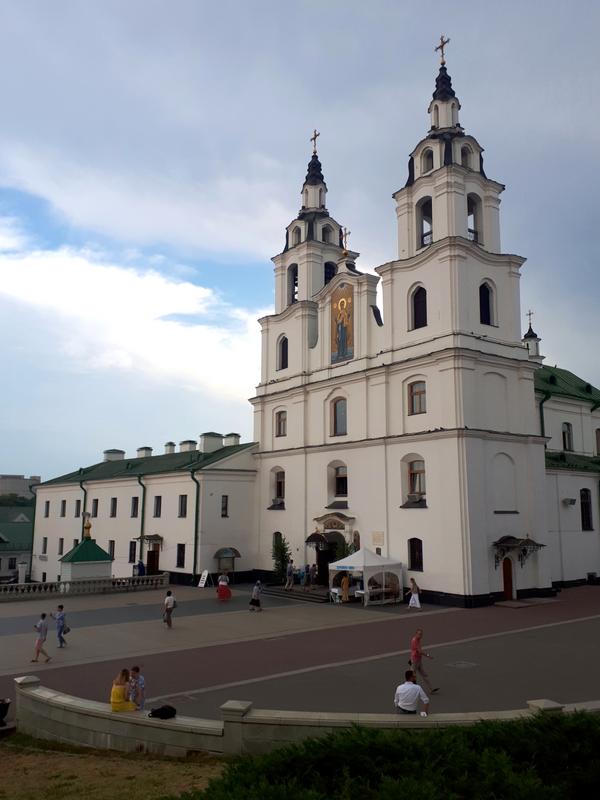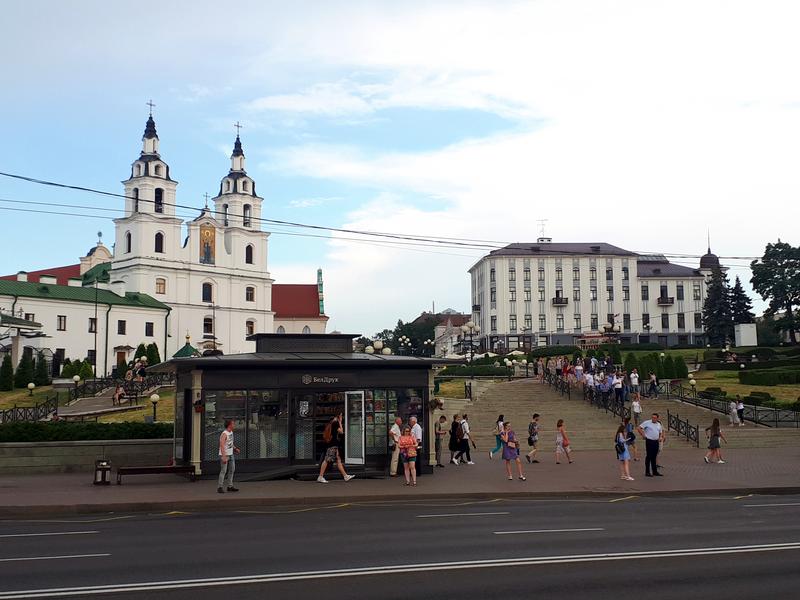 Yet Soviet ugliness is never far away. And sometimes it can be so much more fun to watch. Take this gorgeous communist relief – Colonel Saunders turned into Comrade Saunders! I just love this shot.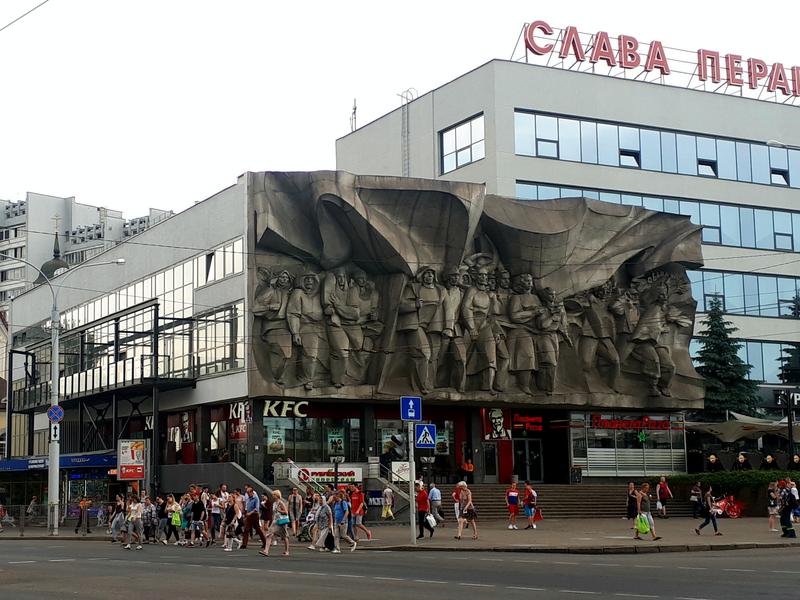 Also in the old centre is a green area around a wide bend of the Svislach River – with at one side the old Trinity Hill neighbourhood (the oldest surviving area of Minsk) and on the other side some modern office blocks.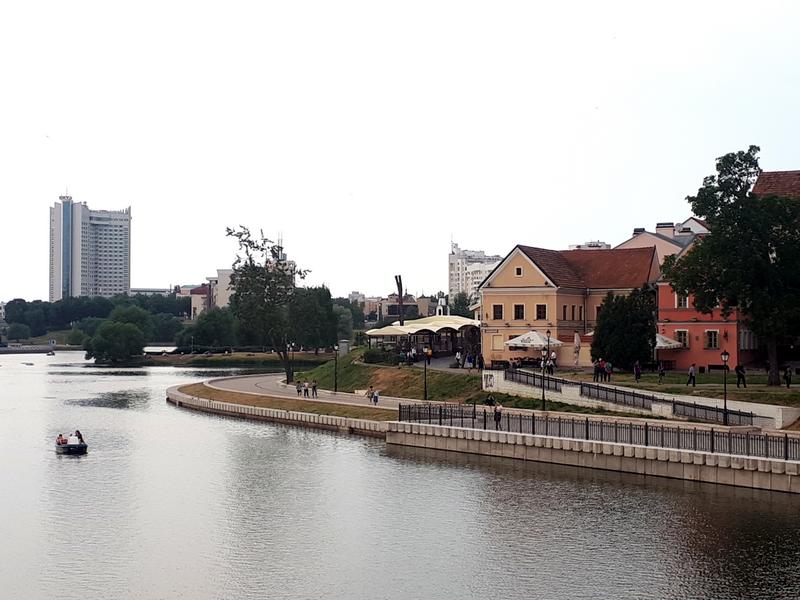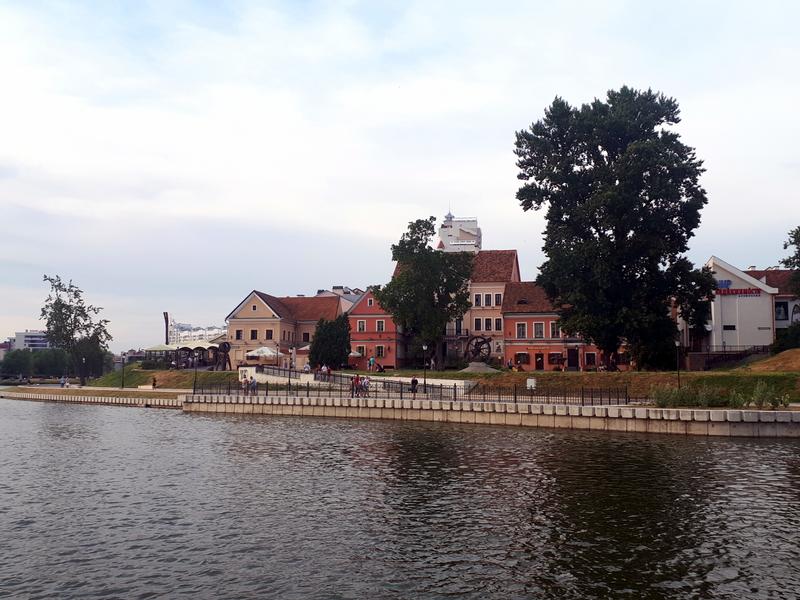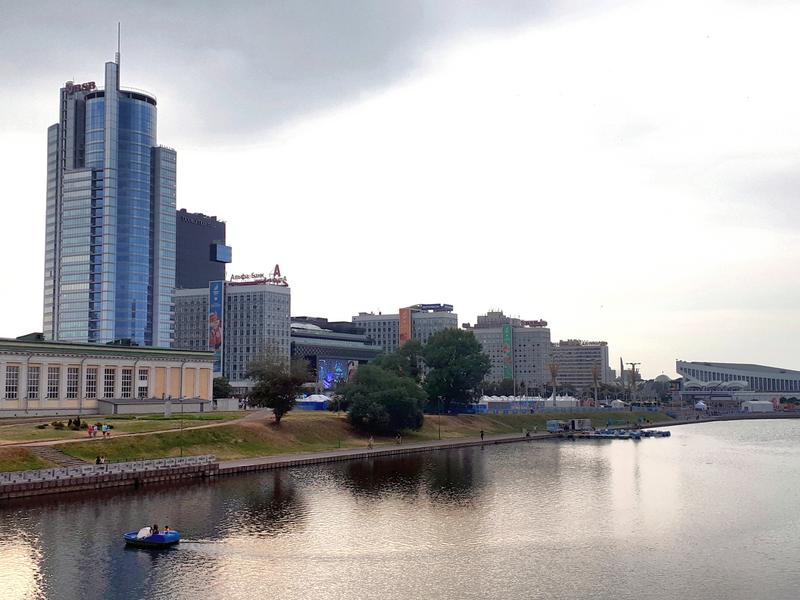 There is a small island here called the 'Island of Tears' which has a monument to commemorate the Belarusian soldiers who fell in the Soviet-Afghan war.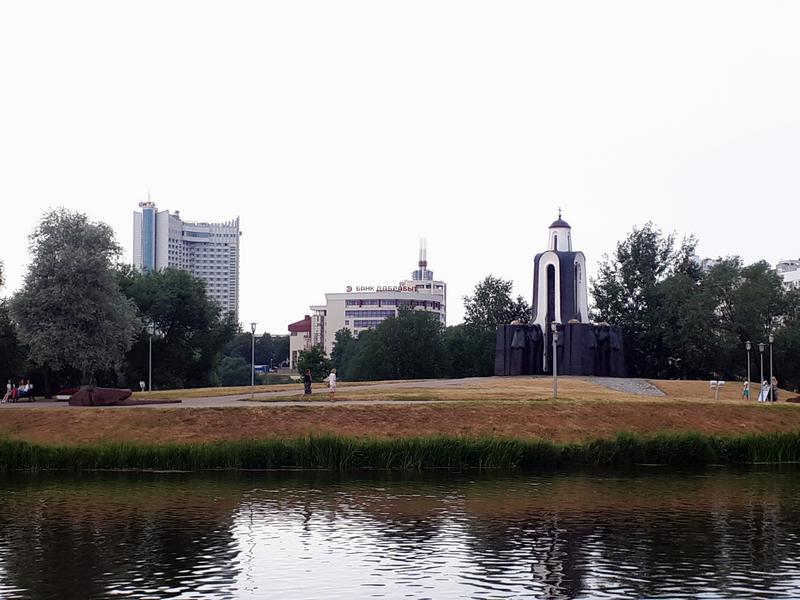 I headed back into the Trinity Hill district to stop for dinner at a restaurant with an appealing looking outdoor terrace. The local beer(s) and the potato pancakes with meat (draniki) were filling and tasted good. Apologies for only taking the picture after already having a few bites – I was getting quite hungry at this point!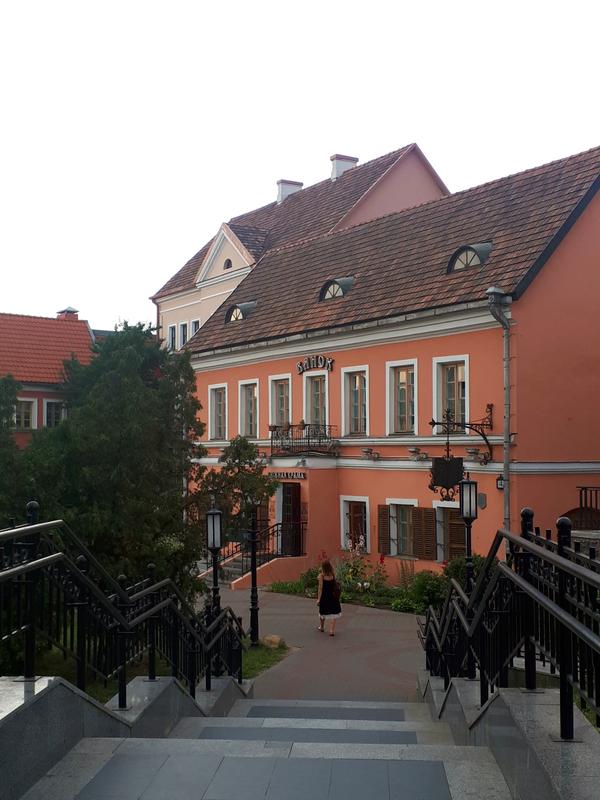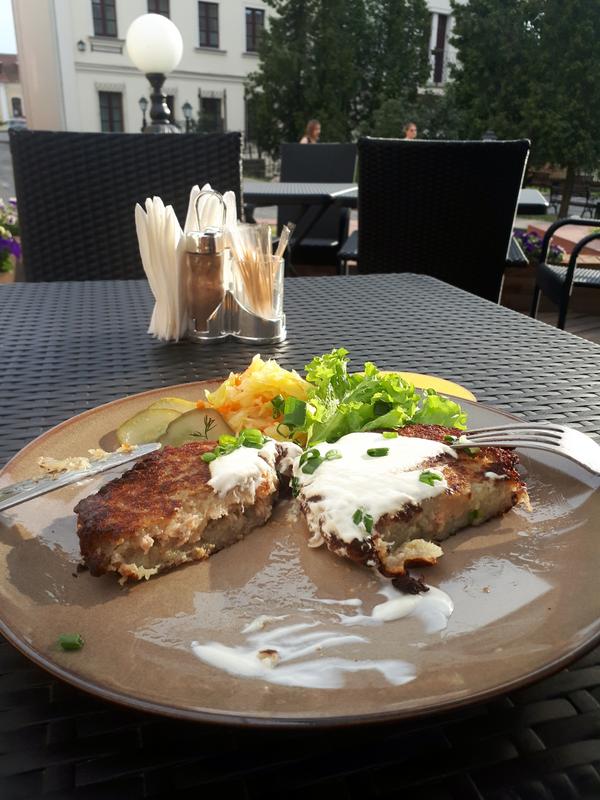 Back across the Svislach is the liveliest quarter of the Minsk city centre, which I explored a bit more.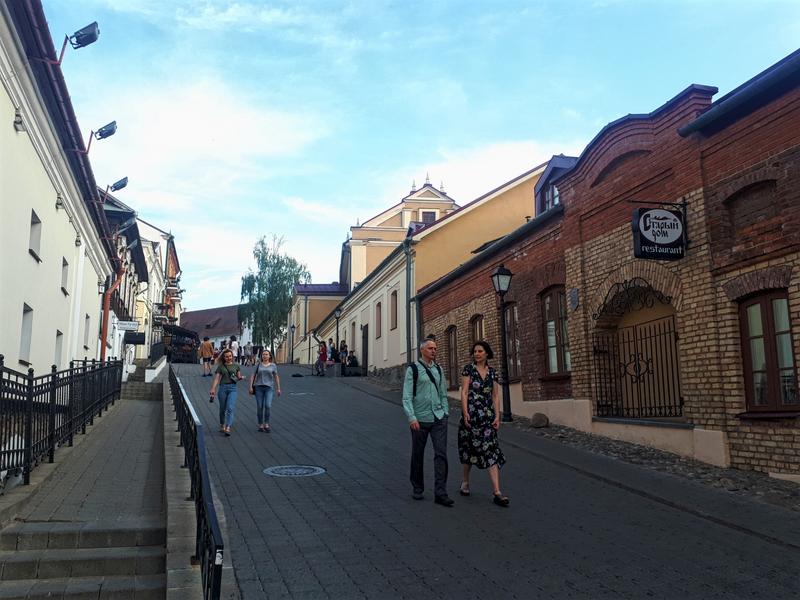 I found a great craft beer place with a couple of local and international craft beers from draught. I sampled two of the local IPAs – both were excellent.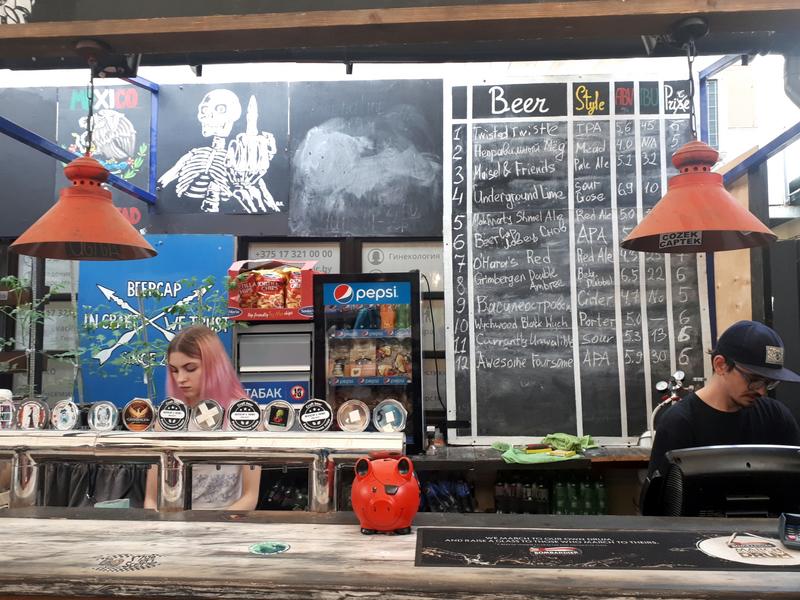 As the sun was setting, I walked back along Prospekt Nezavisimosti towards my hotel. The low sun made for some beautiful sunset colours on the classical-style buildings of this grand boulevard.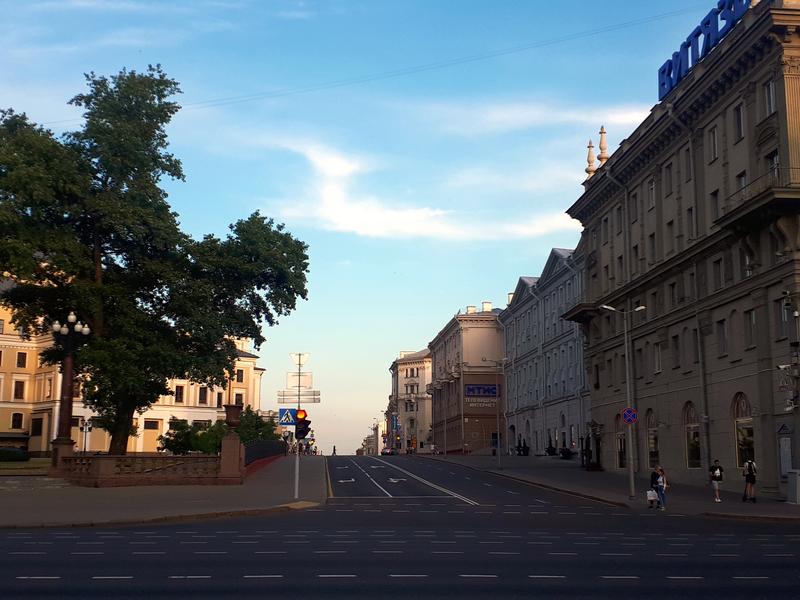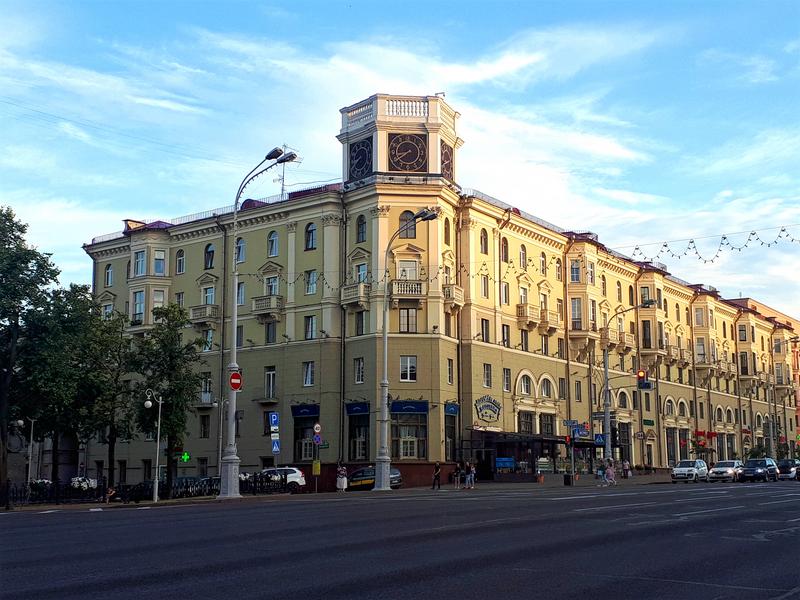 I went into the local GUM (abbreviation for State Department Store), which in communist times was the main department store in many cities of the former Soviet Union. Nowadays it is not disimilar from a normal shopping centre or department store. The Minsk one has a big, modern supermarket – which came in handy to stock up on some water and beers as nightcap for in the hotel. It's a pretty cool place to have a look inside even if you do not need to buy something as the high ceilings and chandeliers make it look much more classy than it actually is.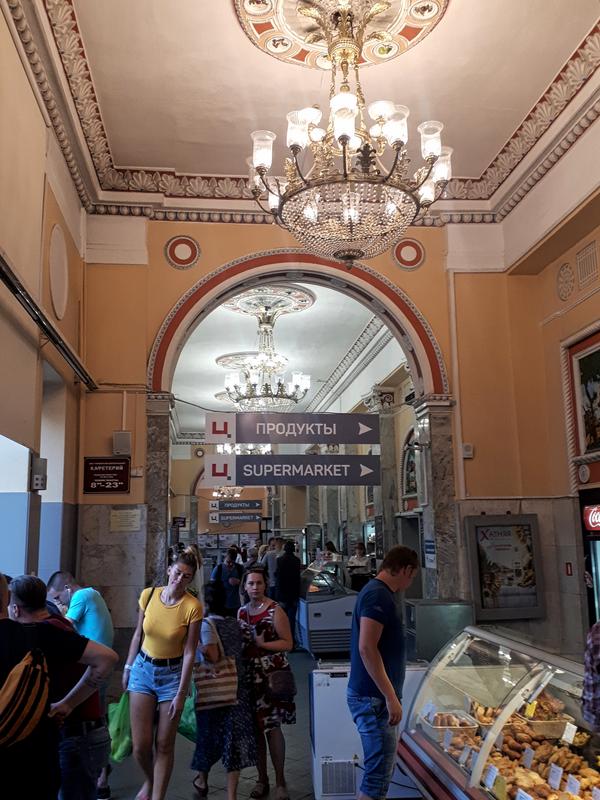 After two or so beer at my hotel room I called it a night as there was some more exploring planned for the next morning!
Next up:
A second day in Minsk, the bizarre Minsk Airport business lounge, and flying in Turkish Airlines business class to Almaty
Aug 19, 19, 4:04 am
Join Date: Apr 2018
Programs: Miles and More
Posts: 9
After the lunch I took a walk towards the east of the city centre. Of course, you cannot call yourself a town in Romania if you don't have a Romulus and Remus statue. Cluj has one too, of course. Romanians are proud of their Latin heritage – and it is indeed a very intriguing aspect of the country.
One note to add here: some of these status (including this instance) are copies made in the early 1920s by the Italian state and donated to Romania, to be exhibited in its main cities. Then some other cities in Romania made "copy of the copy' too
Aug 20, 19, 11:45 am
Join Date: Feb 2014
Location: OTP, CHQ, EIN and beyond
Programs: AF/KL platinum, Turkish gold, Aegean silver
Posts: 1,061
mad_atta
, they indeed have an err.. interesting leader!
hugolover
! I did not see that before, it is indeed funny. Apart from the little spelling mistake, it was a nice little bar with some good brews!
Dragos76
, I did not know that actually! I was already wondering why some of the statues throughout the country looked like exact copies
camsean
- I'm curious how you will find the stans!
I was travelling a bit around in the last few weeks and had some things to catch up on at home, so haven't yet had the time to finish the rest. Fortunately the next few days seem a lot more quiet so I will hope to have new chapters - including those of the two stans on this trip - up soon.
Aug 20, 19, 12:35 pm
Join Date: Feb 2014
Location: OTP, CHQ, EIN and beyond
Programs: AF/KL platinum, Turkish gold, Aegean silver
Posts: 1,061
Part 8: Second day in Minsk, Belarus
The morning in Minsk started with a quick metro ride to Ploshchad Pobedy (Victory Square) for a continuation of my city tour. The square is dominated by a huge 40m tall obelisk, which is a memorial to those who fell during World War II. The letters on the rooftops around the square read: "Heroic deed of the people is immortal".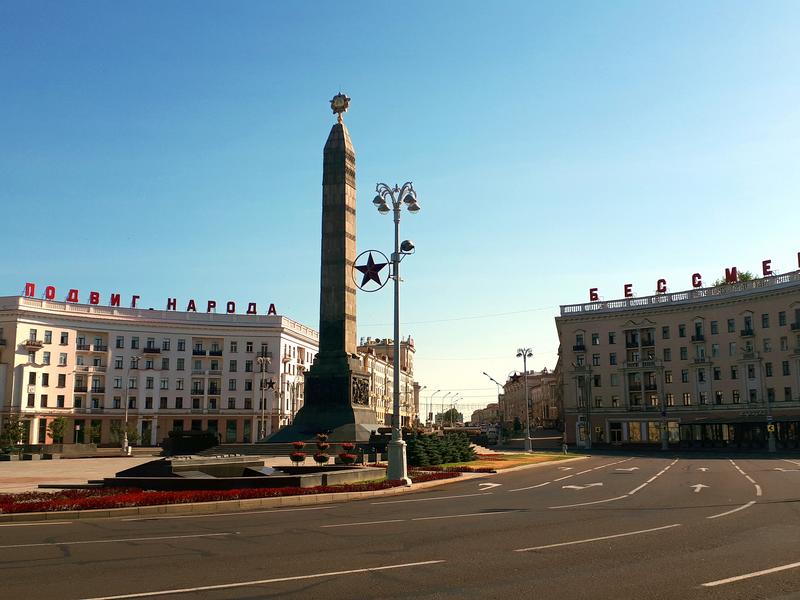 After crossing the river towards the city centre I found a nice place for breakfast (Union Coffee), located just across from the State Circus. The pancakes with blueberry sauce, cappuccino and my favourite Borjomi mineral water from Georgia hit the spot.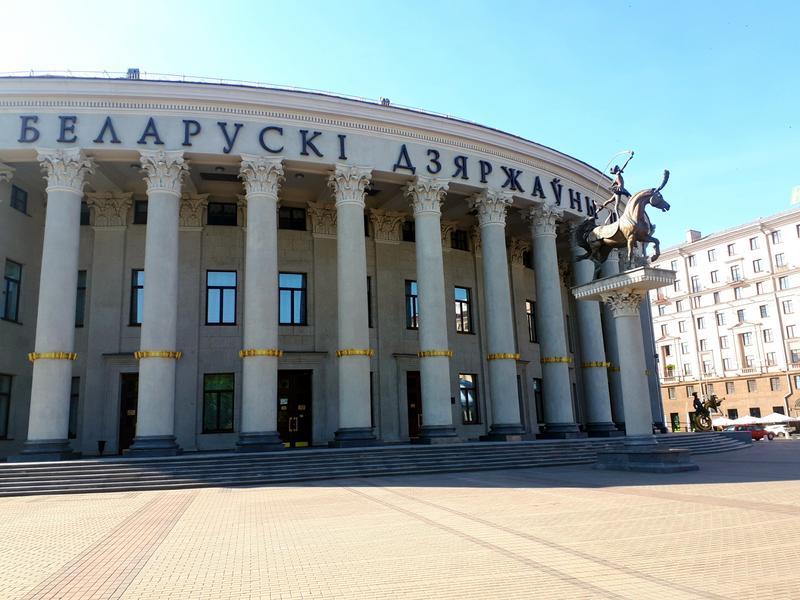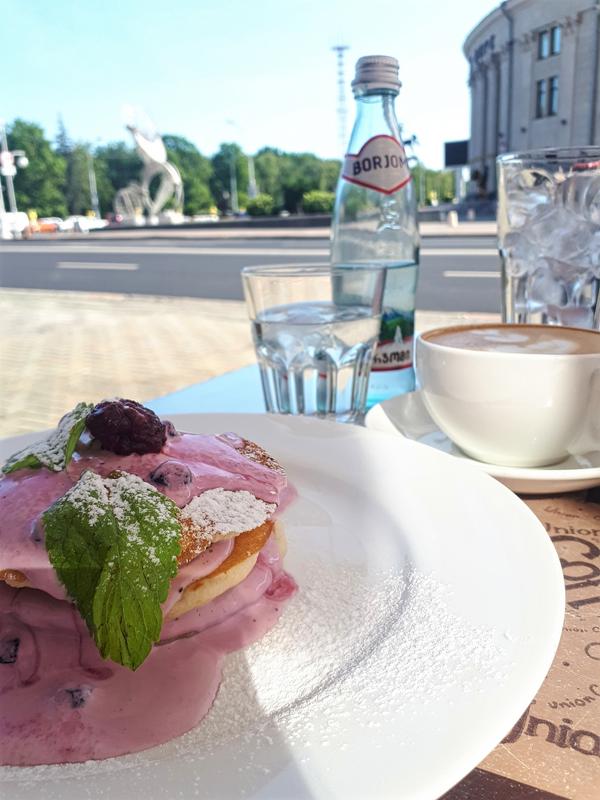 A bit uphill from the river – close to Aliaksandrauski Garden Square – is a tank monument.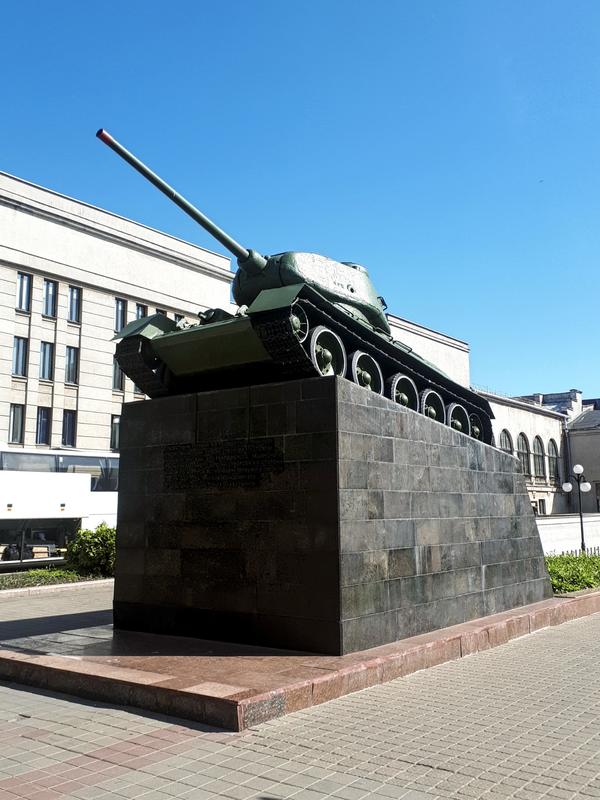 At one end of the park is the Presidential Residence, where together with a friend I almost got arrested on a previous visit a decade back when spotted making a picture of the building (in the end we were let go after deleting the picture). This time I did manage to snap a picture! So much easier with a smartphone than in the old days with a normal camera.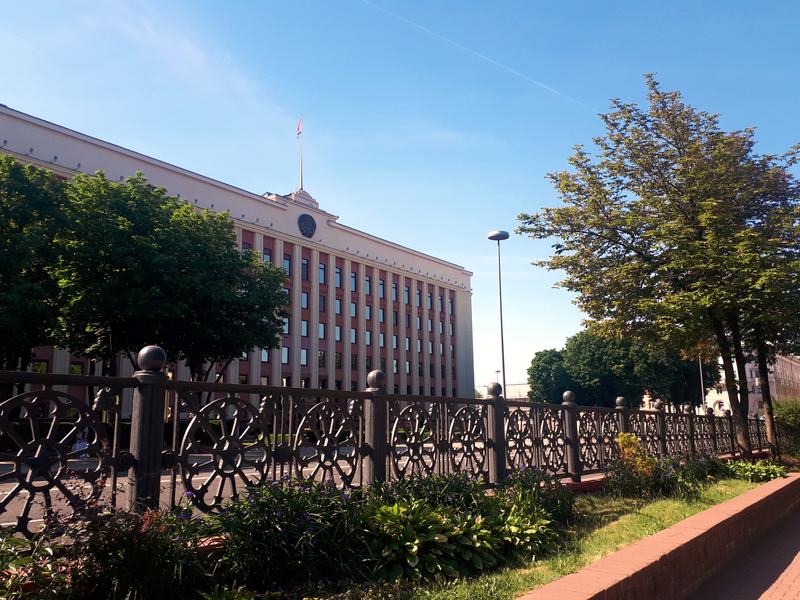 Having completed the last loop of the city centre, I headed towards the main Kastrychnitskaya square and adjacent metro station to take a train to my next stop in the city.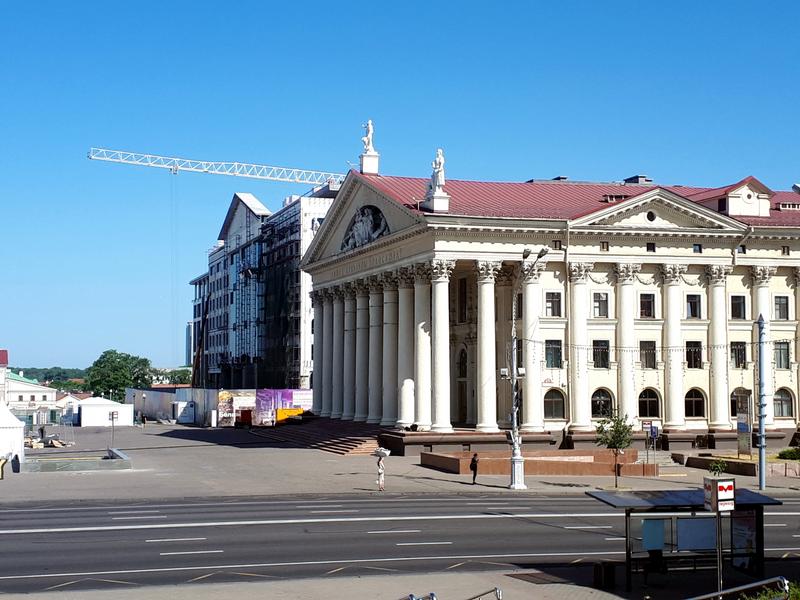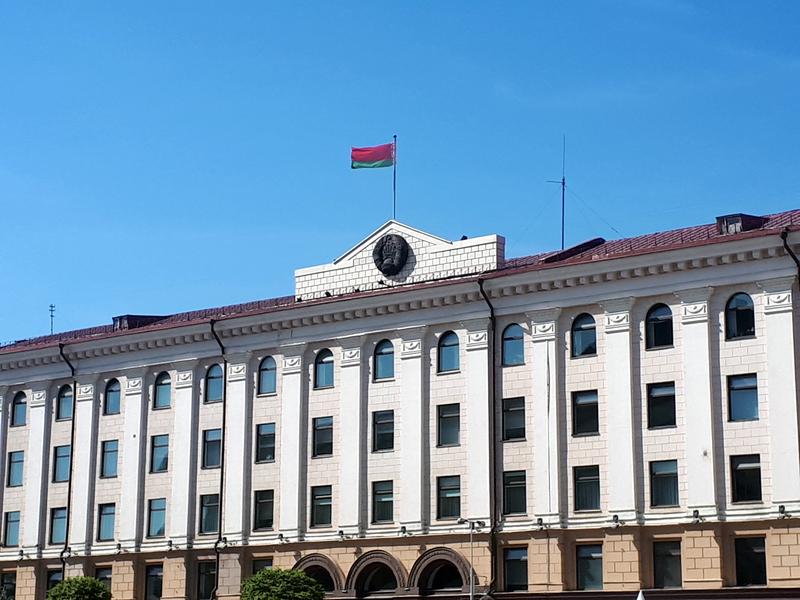 On advice of a Flyertalker
MaxVO
who was kind enough to share some advice in a reply on my
previous trip report on Uzbekistan
, I visited the MZOR (МЗОР) district of Minsk. The old state-owned factories and warehouses of this former communist industrial district have been converted into a big arts quarter full of cool murals, cafes and cultural venues. It makes for a fun place for a walk and a drink if you want to see something more quirky than the usual sights in the city centre of Minsk.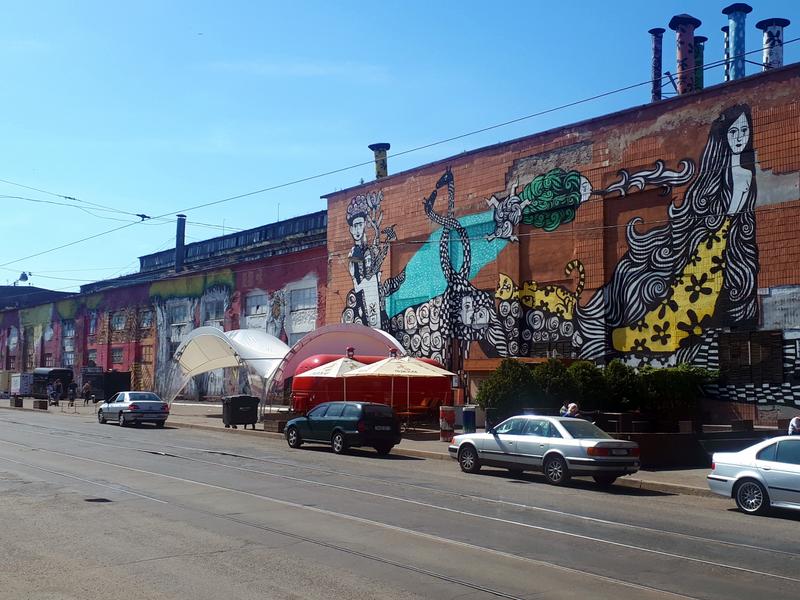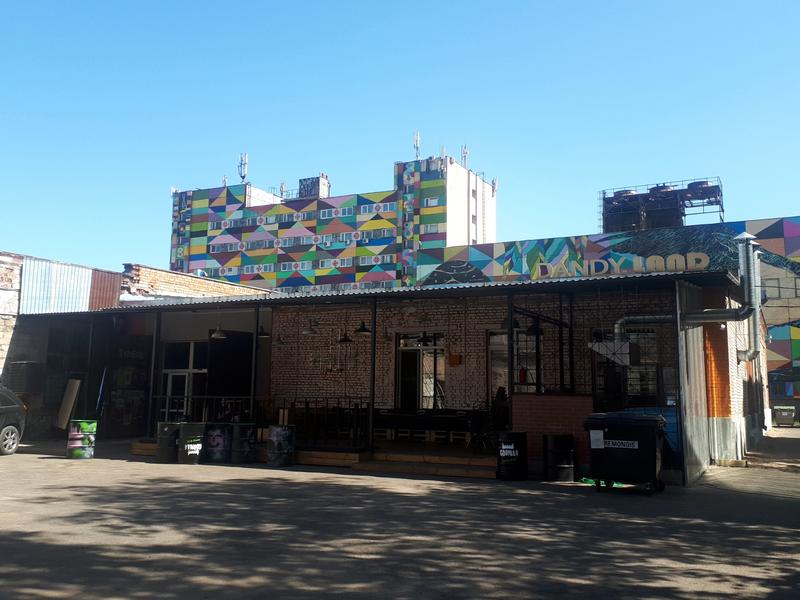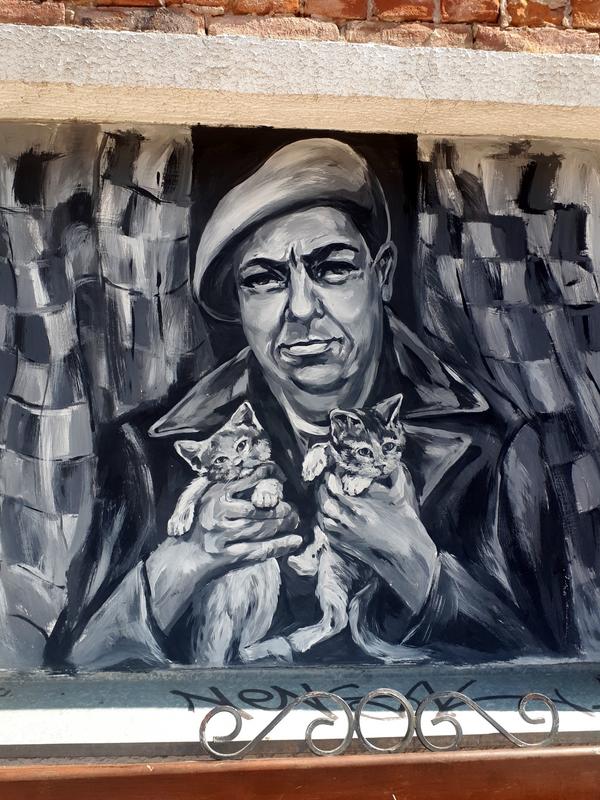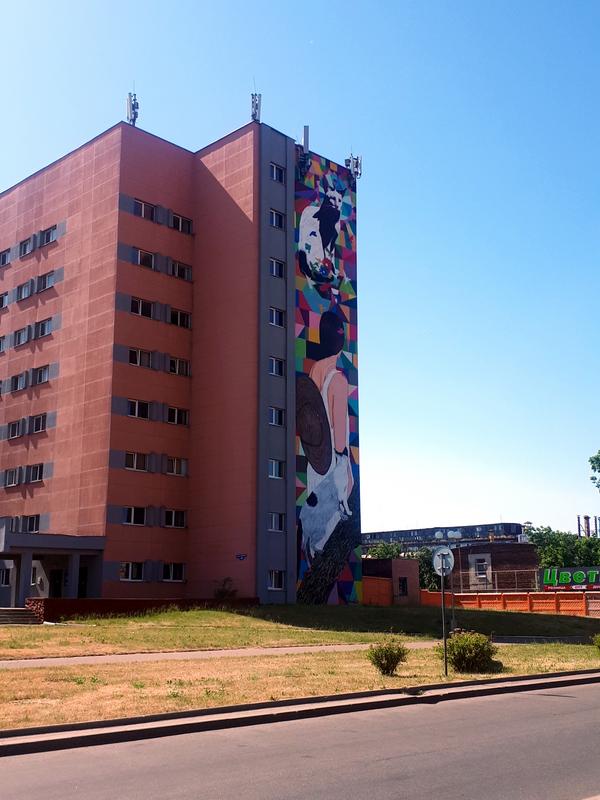 The district has undergone such a renovation that even good old Lenin looks out of the place between the artworks!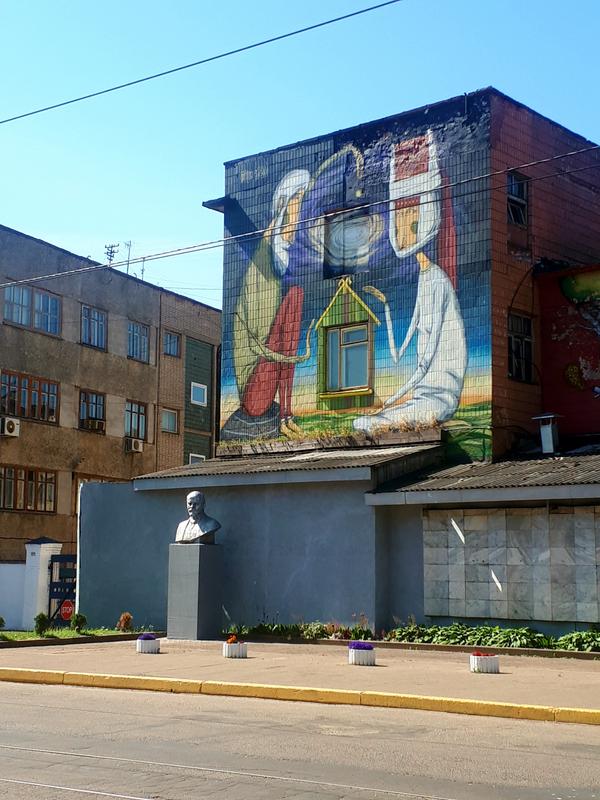 After a drink it was time to head back into the metro to make my way to the central bus station (located next to the train station) to make my way to the airport.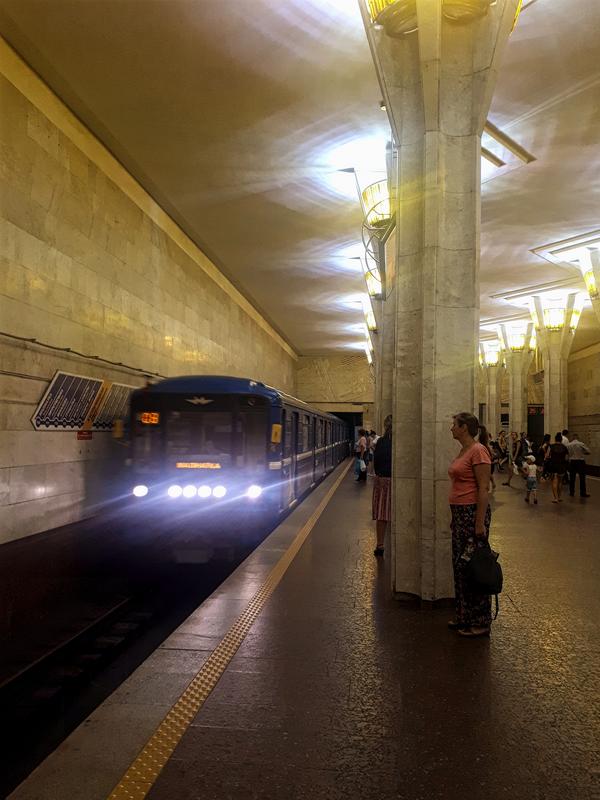 In front of the train station is one last sight of Minsk. Called the Gates of Minsk, these twin buildings were made in Stalinist style to impress new arrivals into the city.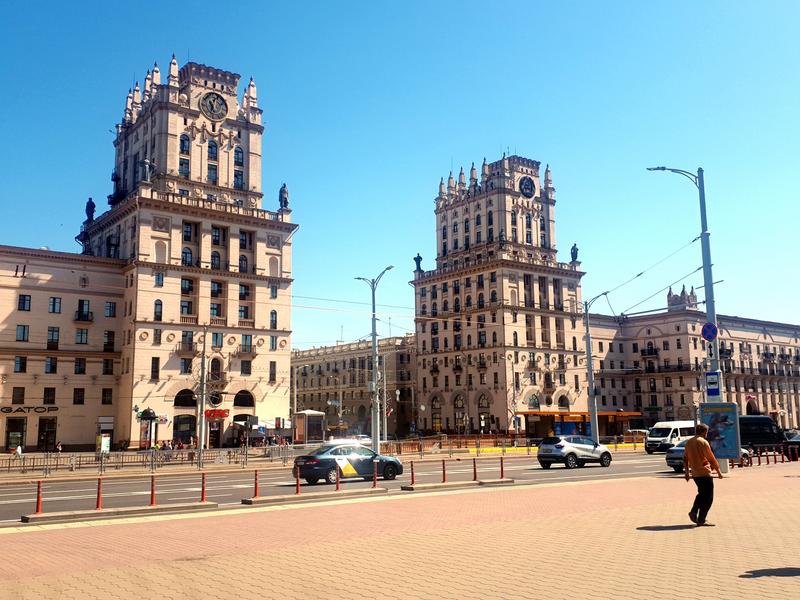 In short:
For those looking for a quirky city break, I can thoroughly recommend Minsk. The entry process if arriving by air is easy and straightforward, and there are plenty of sights to keep you occupied if staying for a day or two (a third day would even allow for side trips). Minsk still feels a bit communist in style and Belarus is called "Europe's last dictatorship" for a reason, but don't let that fool you. The city has much more to offer than the (admittedly cool-to-see) Stalinist past. It's an easy city to get around and there is some good food and nightlife available. Give it a chance, it won't disappoint.
Next up:
The bizarre Minsk Airport business lounge, and flying in Turkish Airlines business class to Almaty
Aug 21, 19, 10:59 am
Join Date: Feb 2014
Location: OTP, CHQ, EIN and beyond
Programs: AF/KL platinum, Turkish gold, Aegean silver
Posts: 1,061
Part 9: Minsk Airport and the international business lounge
I arrived at T-3.5 at the airport, and had still some time to kill before check-in would open three hours before departure. At a normal airport in this region that would mean quite a lot of time to kill given how basic most airports (and lounges) are, but Minsk is slightly different.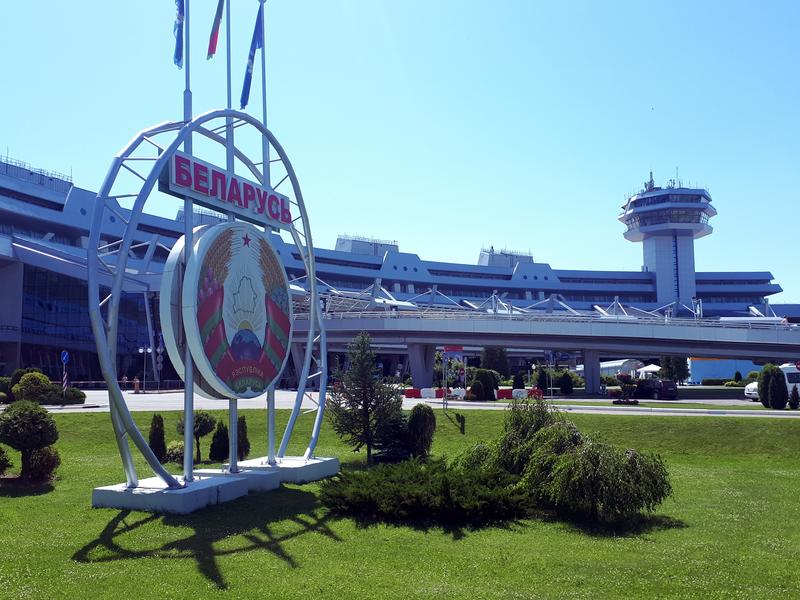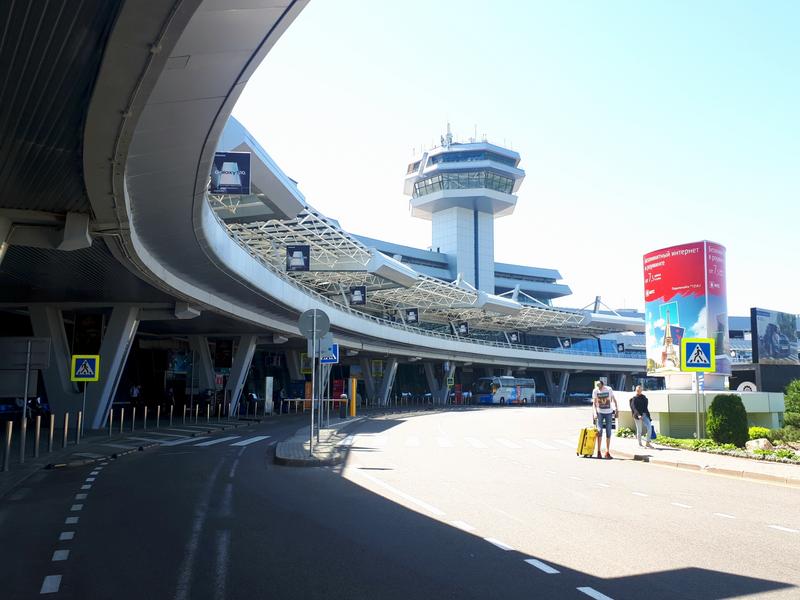 Aviation lovers will like the collection of old aeroplanes in a field next to the airport access road. There is a pavement leading there from arrivals, and it is an easy five minute walk. Among the planes visible is a Tupolev Tu-154 in Belavia livery...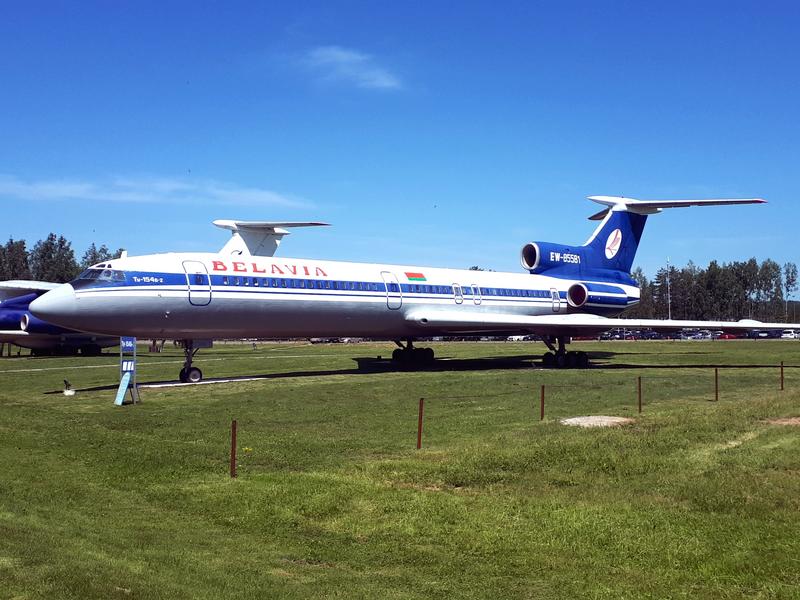 An Ilyushin Il-76 freighter of Transavia Export (no relation to the Dutch-French low-cost airline)...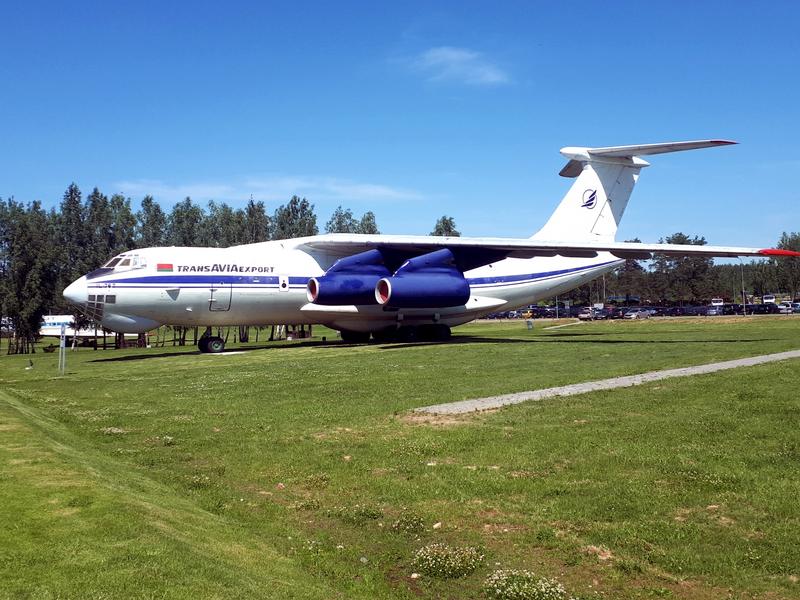 An awesome Aeroflot Tupolev Tu-134...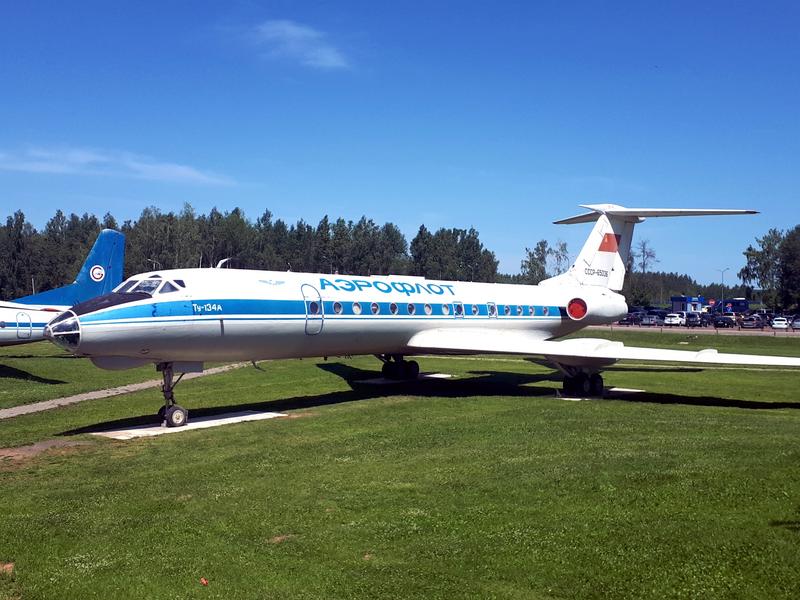 And quite a few more old Soviet aeroplanes to admire!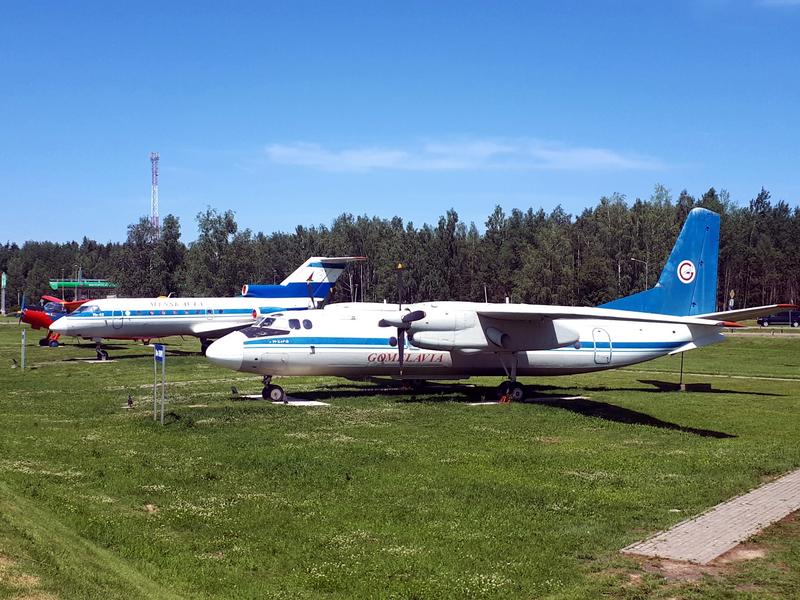 After a while I walked back to the airport where the check-in desks for Turkish Airlines were just opened, including a dedicated check-in line for business class and *G passengers. As I already had checked in online, I just needed a real boarding pass for my collection, making the process extremely quick. The agent also provided a lounge invitation.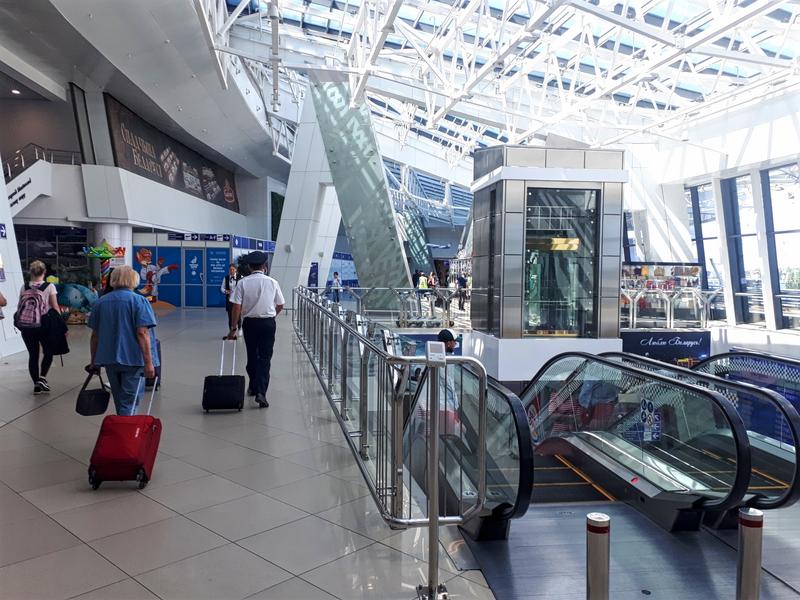 There were no queues at all at security and passport control and I got through fast. Minsk's airport is a wonderfully old-fashioned maze of small corridors, oddly designed gate areas and weirdly located shops. It took quite a while to find the entrance to the business lounge, which is located by going up the stairs located in the middle of one of the tax-free shops. This is the only business class lounge in the international part of the airport. The other lounge is located in the 'domestic' part of the airport (Russia is considered as a domestic destination as both countries are in a passport union with no checks carried out).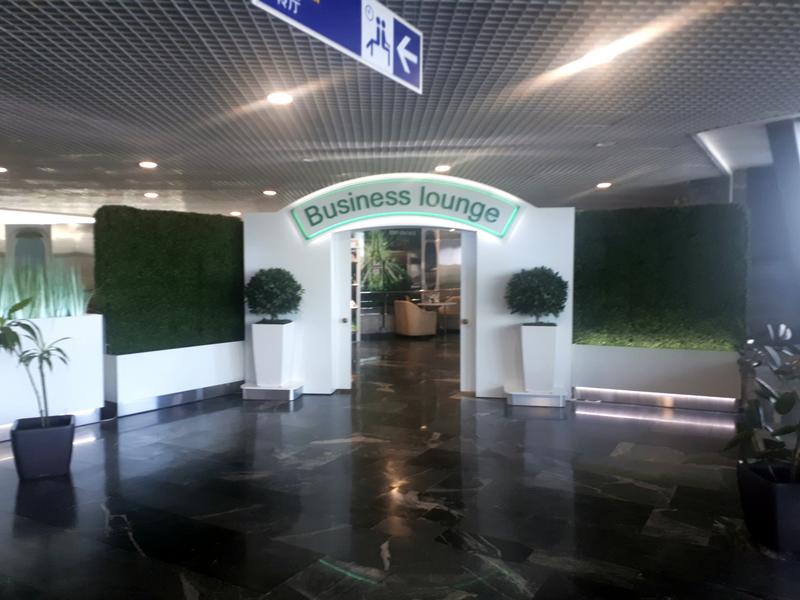 I've been to quite a few lounges across almost all continents in my life, but I never have seen such a bizarre-looking lounge as the one in Minsk. The L-shaped lounge is not a room as such, but merely a part of the upper terminal floor that has been boarded of by iron plates about seven feet high, still leaving a big gap with the actual ceiling. Some plates were just left in their metallic colour, while others featured a picture of an aeroplane window with different sights of Belarus pictured in them. The main part of the lounge featured some lounge chairs, a few tables and seats, and oddly enough: two green double beds – all placed on a faux grass carpet.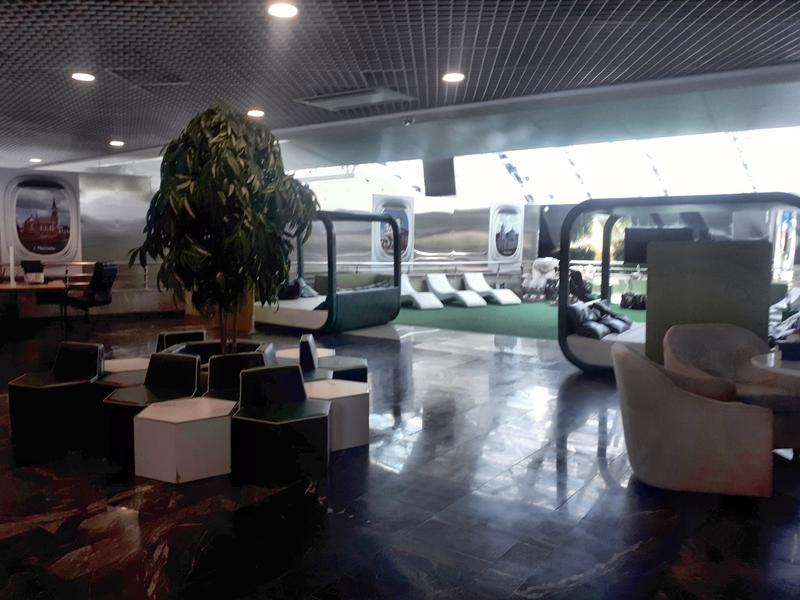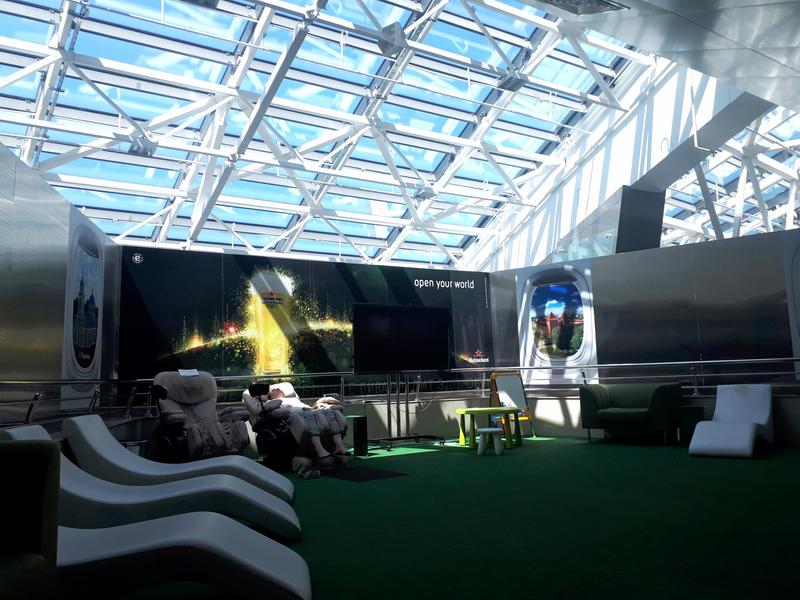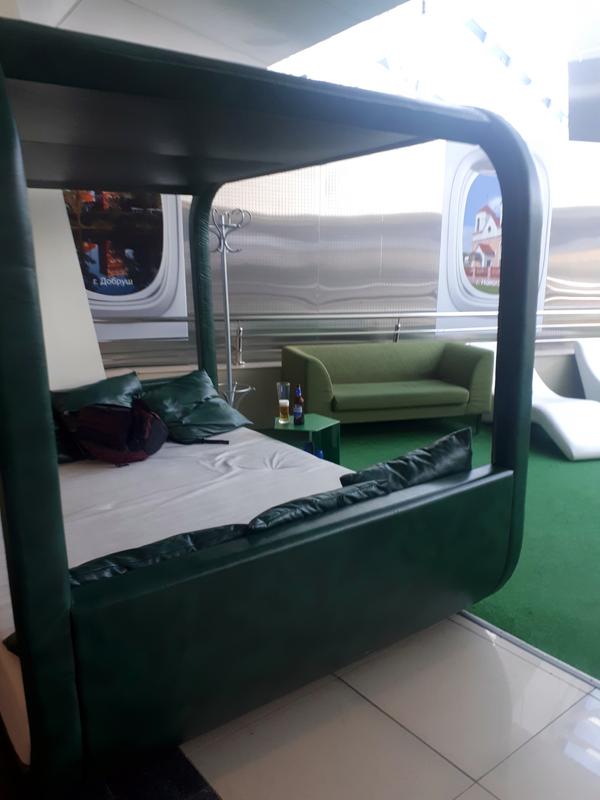 The other side had mostly normal tables and seats as well as the buffet area.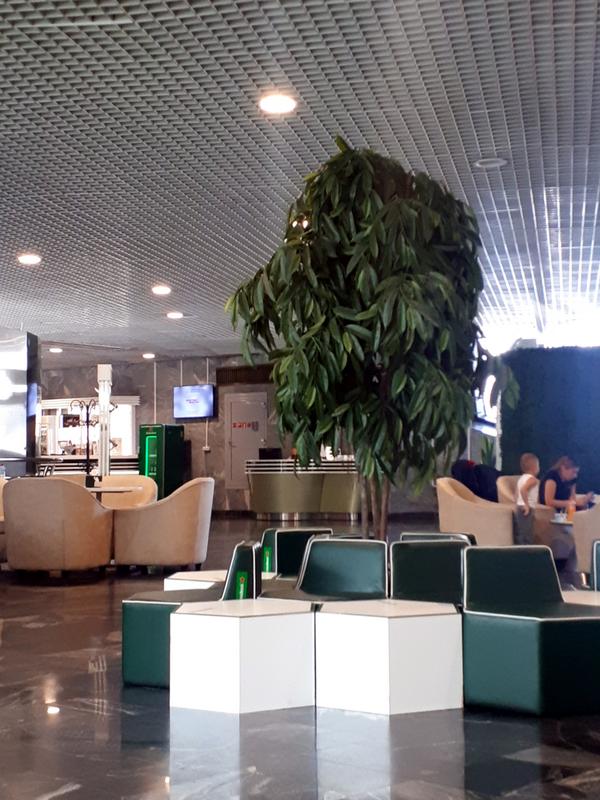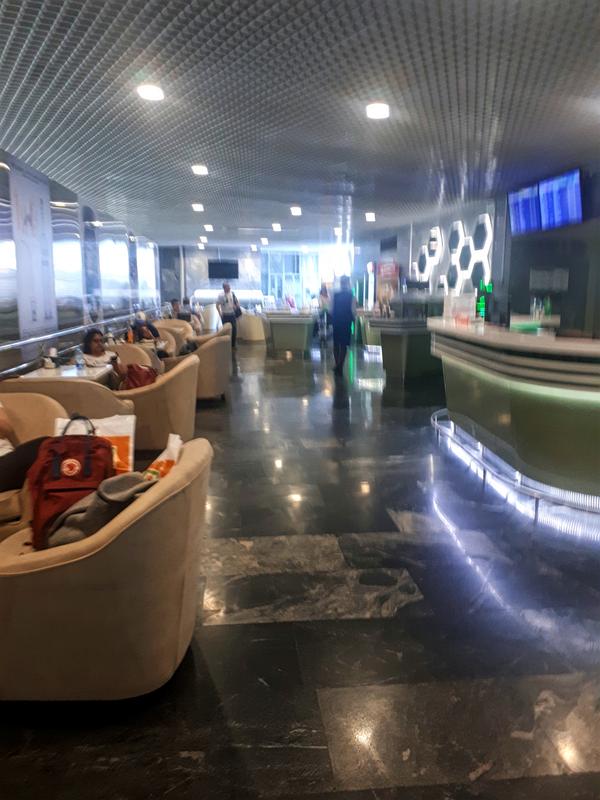 There buffet had a few (cold) snacks only, as well as some fridges with sodas and beers and the like. There was also a bar where you could order the 'premium' drinks for an extra payment. The food looked dreary but nonetheless I decided to taste a bit for reviewing purposes. At the very least, in the former Soviet Union food is normally cooked to death as canteens and such old-fashioned lounge facilities, which means a relatively low risk of food poisoning. That said, I can't tell how long the food has been out there, so it isn't entire risk-free either! The little bites tasted better than they looked like and were edible enough - and I did not get sick.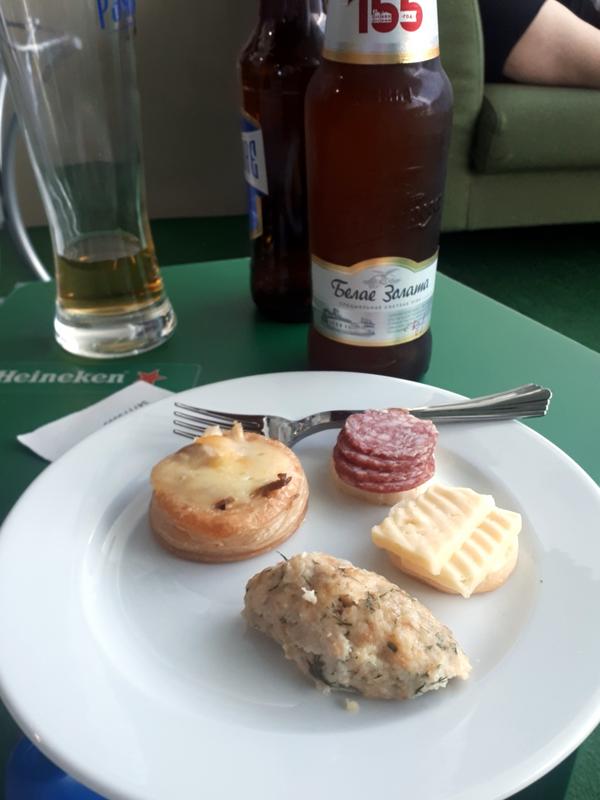 The wifi speeds were low and at times I couldn't grab the lounge signal and had to wait for five or so minutes before it would reconnect. I thus decided to spend my time by lazing in one of the double beds and drinking a beer or two 'admiring' the bizarre lounge design.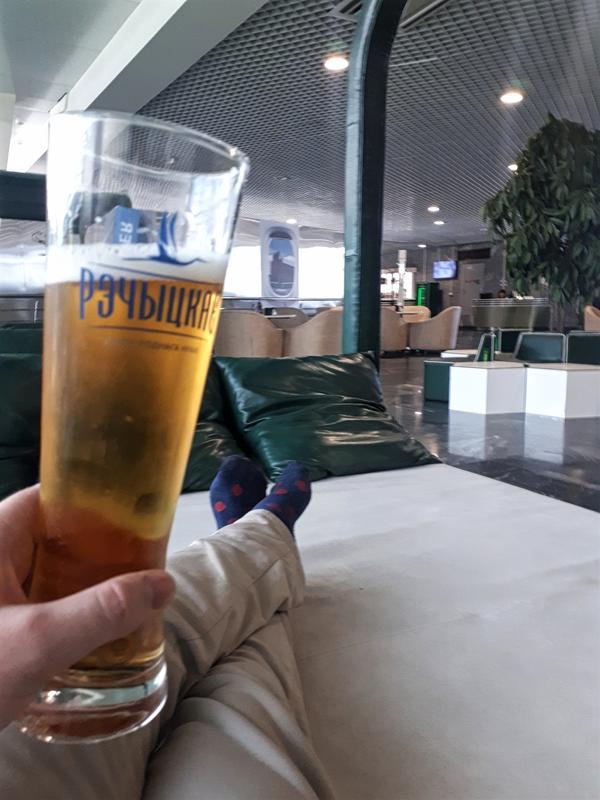 After a while I had enough of the lounge and decided to walk a bit around the airport. Despite the fact that you can't actually get close to a window due to the weird design there are plants and walkways in between the waiting areas and the windows) there is some good plane spotting possible here. What to think of this exotic Turkmenistan Airlines plane?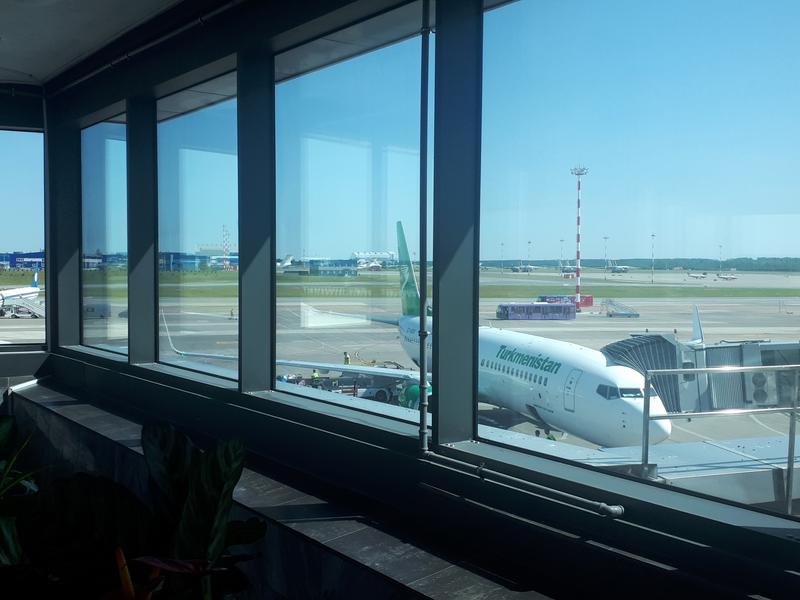 The architecture of the airport itself is equally bizarre as the lounge. I actually do like the weirdness of the Soviet-futuristic looks of each gate area – most of them which feature a small bar. It somehow feels a bit like walking in a communist spaceship. That said – the airport is really not designed well when it comes to passenger comfort and basic logic to make the best use of available space.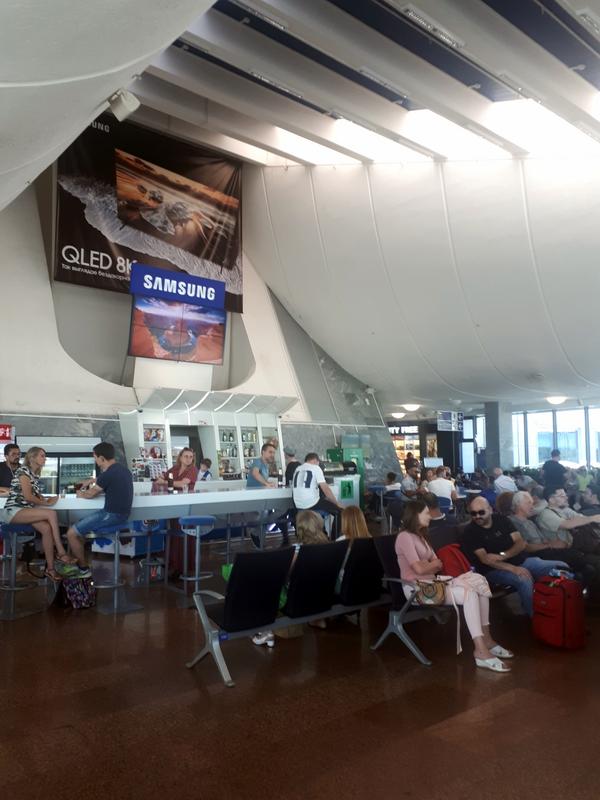 Unfortunately, my incoming Turkish Airlines flight posted a delay coming from Istanbul and arrived a good 40 minutes late in Minsk – creating a potential problem for my connection to Almaty...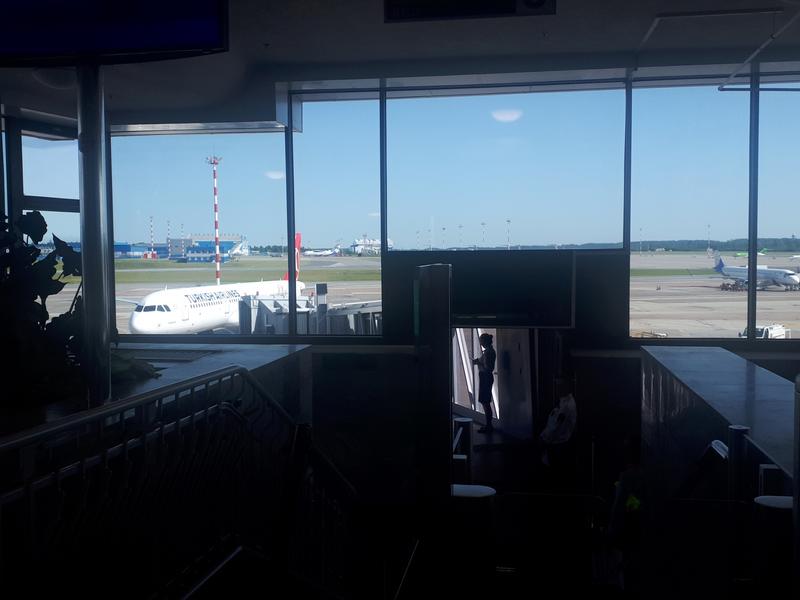 Next up:
Flying Turkish Airlines in business class to Istanbul.. and some hectic moments at Istanbul Airport
Aug 22, 19, 10:17 am
Join Date: Feb 2014
Location: OTP, CHQ, EIN and beyond
Programs: AF/KL platinum, Turkish gold, Aegean silver
Posts: 1,061
Thanks
smiles in the aisles
! MSQ is for sure a quirky airport with a quirky lounge - a really colourful place to wait for your flight! I wish I could have snapped some more (and better) pictures but the lounge dragons were quite strict in true Soviet style, so couldn't openly snap pictures of the buffet etc. as it was located right next to the lounge reception desk.
Aug 22, 19, 10:19 am
Join Date: Feb 2014
Location: OTP, CHQ, EIN and beyond
Programs: AF/KL platinum, Turkish gold, Aegean silver
Posts: 1,061
Part 10: Minsk (MSQ) to Istanbul (IST) on Turkish Airlines in business class
Flight TK284 – Airbus A321 – Seat 3A – 440 EUR for MSQ-IST-ALA
STD 4.25pm - STA 6.55pm (flight time 2h30m)
I was one of the first to board the aircraft and was welcomed by a friendly crew. Today's flight would – just like the outbound flight – be operated by an Airbus A321. Unlike the outbound, this flight back to Istanbul I was seated in the front of the cabin instead of in economy. I made my way to my seat 3A, a proper leather recliner seat which is perfectly comfortable for intra-European hops.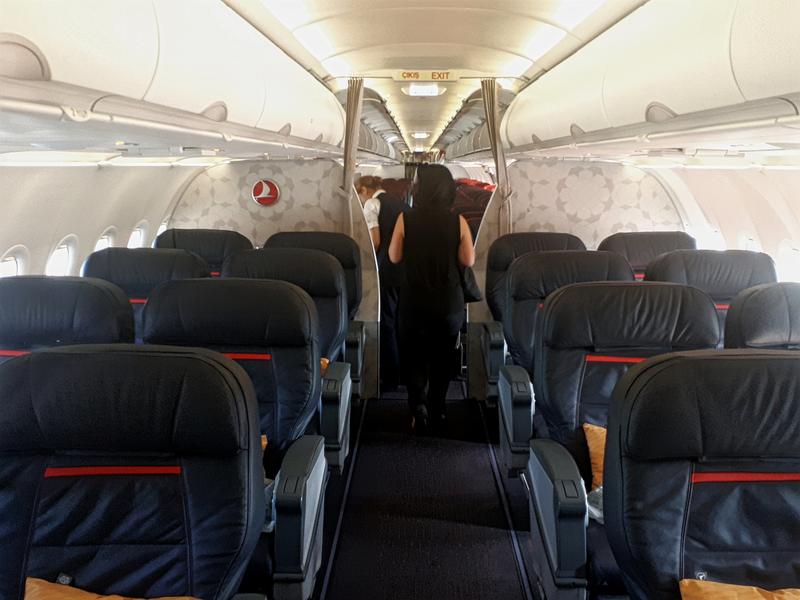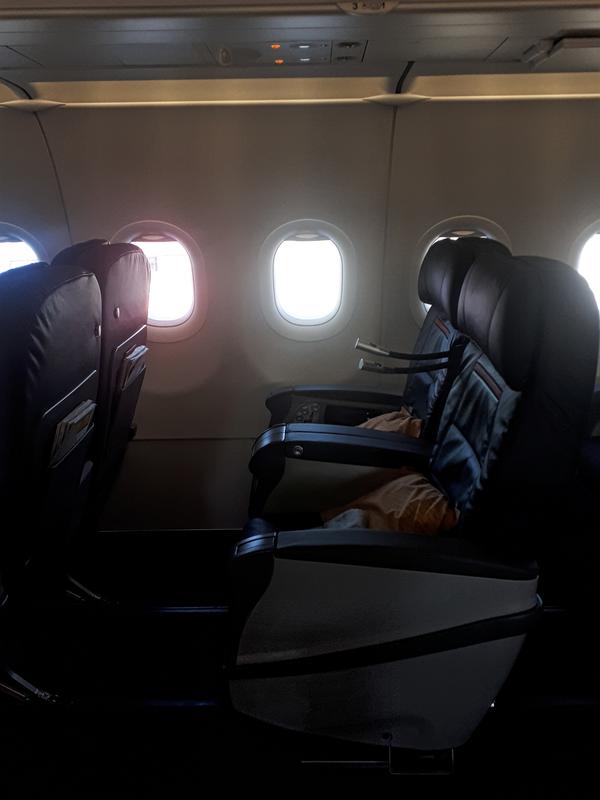 Halfway through the boarding process, the crew distributed PDBs and menus for today's flight. Turkish offers the choice between lemonade, a cherry or orange juice or just water as PDB on all flights. I opted for the lemonade – which is my usual choice when flying TK.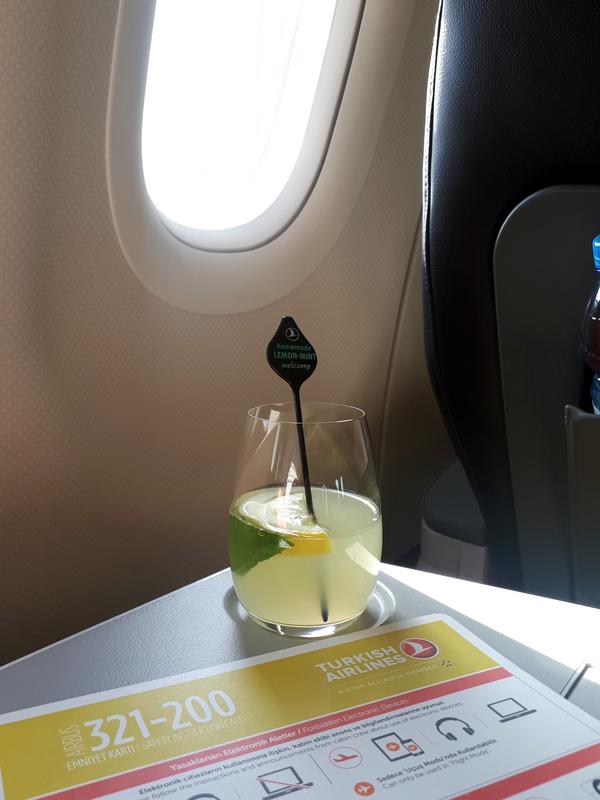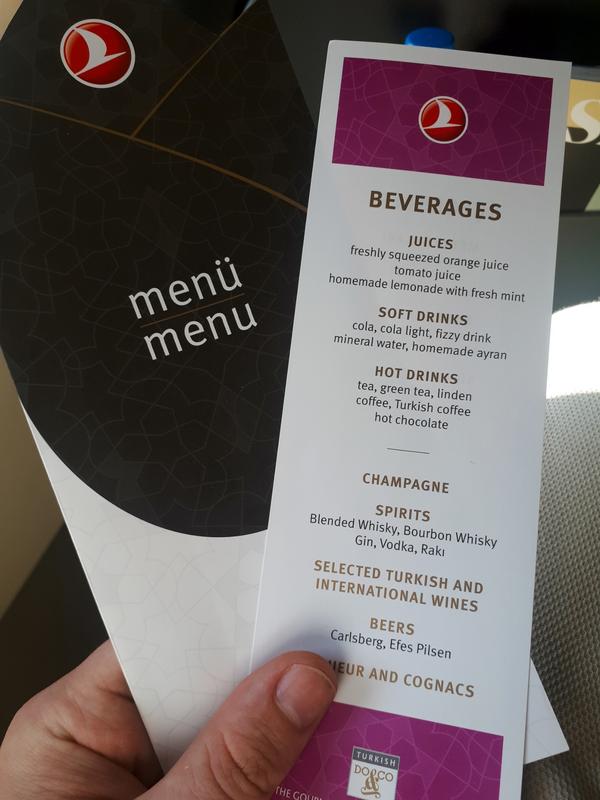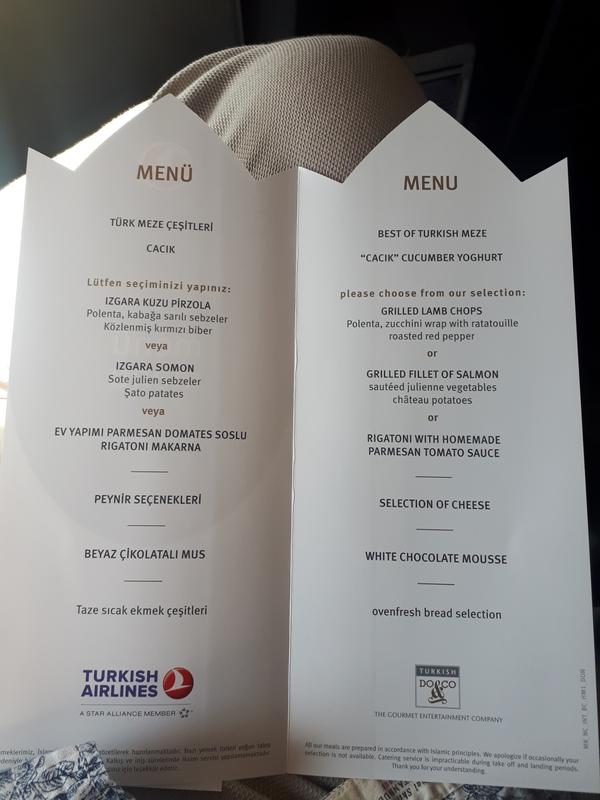 There were just four other passengers in business class, and I guess economy class was about 80 to 90 percent full by the looks of it. With almost 50 minutes delay, we finally pushed back from the gate. Again, MSQ provided for some great plane spotting. There were lots of Belavia aeroplanes – both in new and old livery – to be seen at the airport.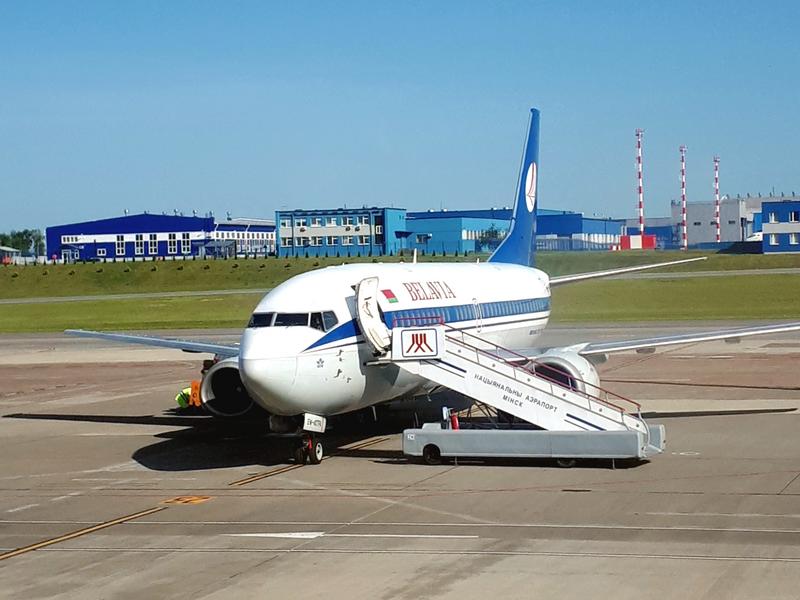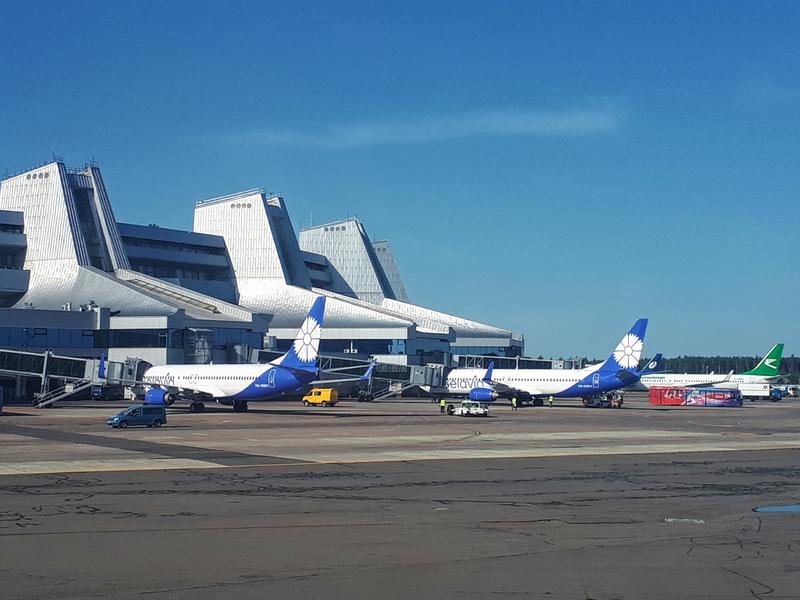 Of course, there were also some discarded Soviet relics to be seen!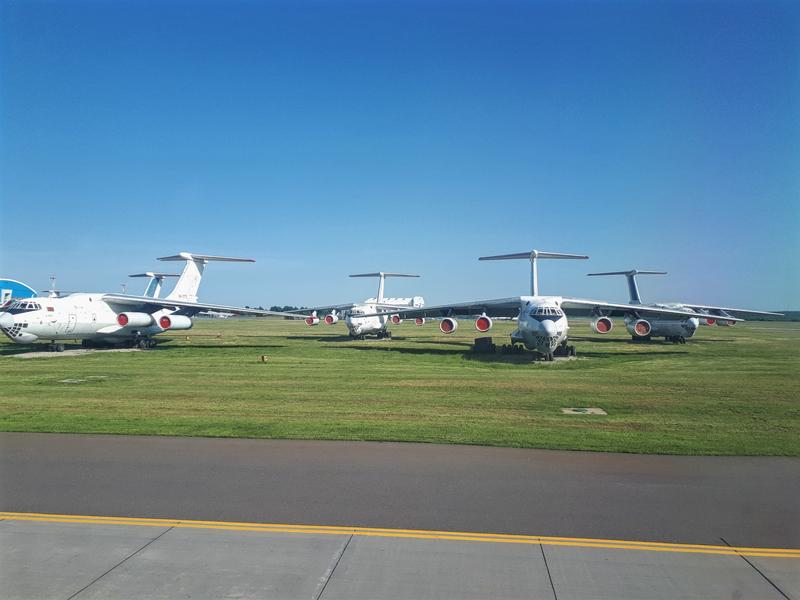 Any expert here who got an idea what aeroplane type is this on the picture below to the right? (the one with the Soviet star on the tail)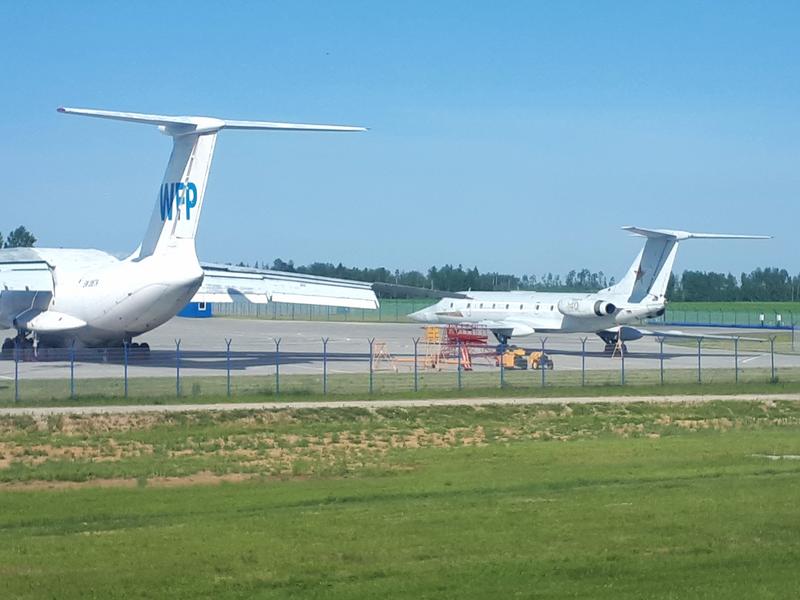 Take-off was smooth on what would be another lovely day for flying with mostly clear blue skies.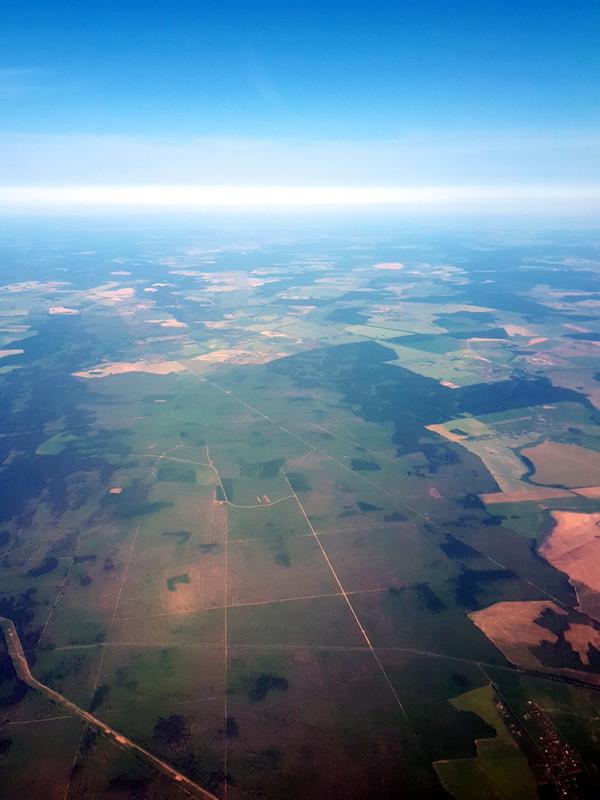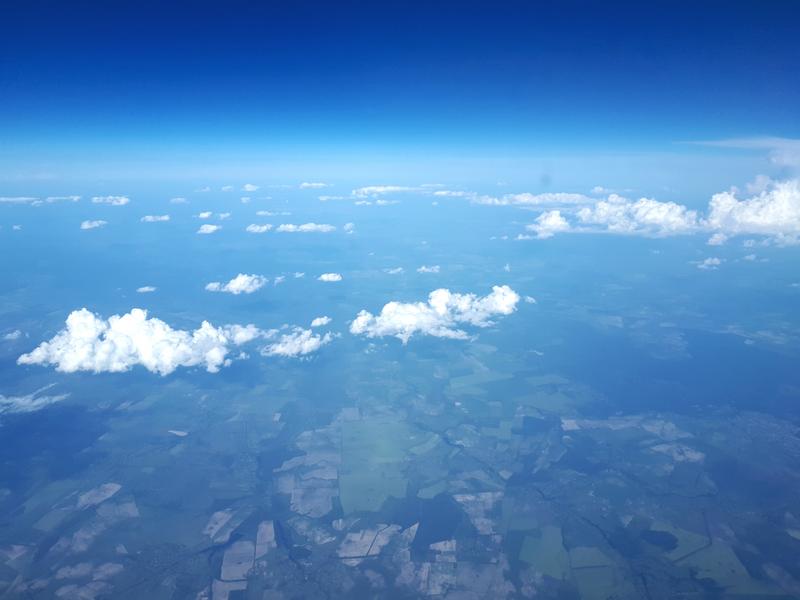 Dining on board of Turkish Airlines is (most often) always a pleasure. On this two-and-a-half hour flight, first table clothes were distributed along with a drink of choice (I went for some champagne). Immediately after, the appetiser plate (Turkish meze plus a bowl of yoghurt) was served, together with the cheese and dessert (white chocolate mousse). The appetisers were tasty.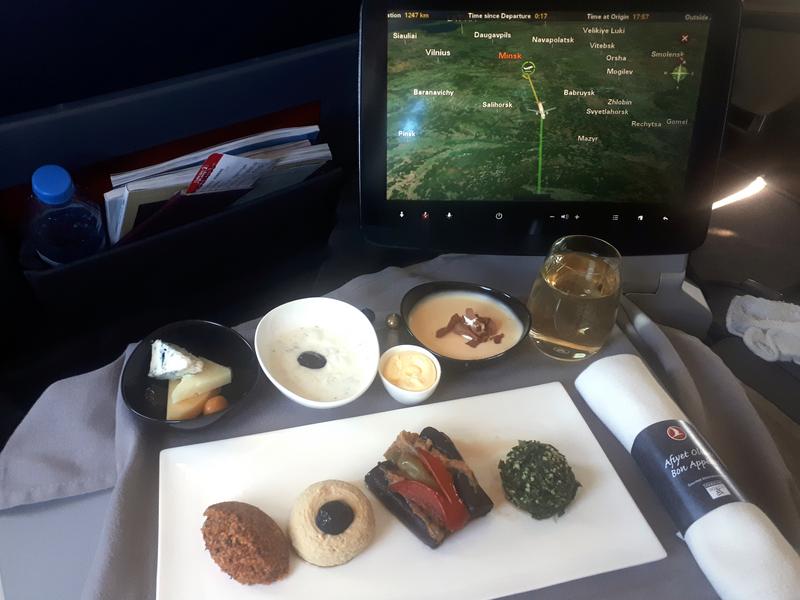 Later on, my main was brought out. I opted for the grilled salmon with sautéed julienne vegetables and ch teau potatoes. Again an excellent dish. At this point I switched to an acceptable Turkish white wine to wash it all away.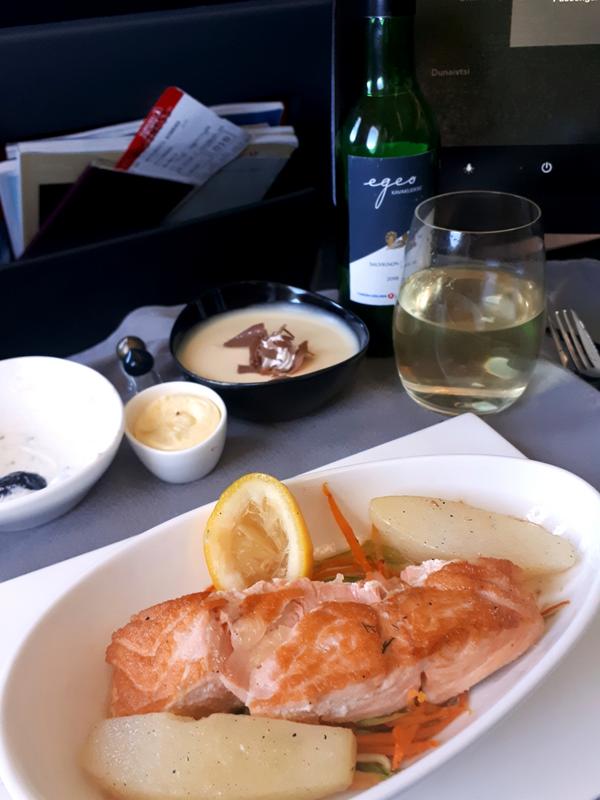 I also tried a Turkish red to go with the cheese and dessert. All cheeses, as well as the dessert, were of excellent quality.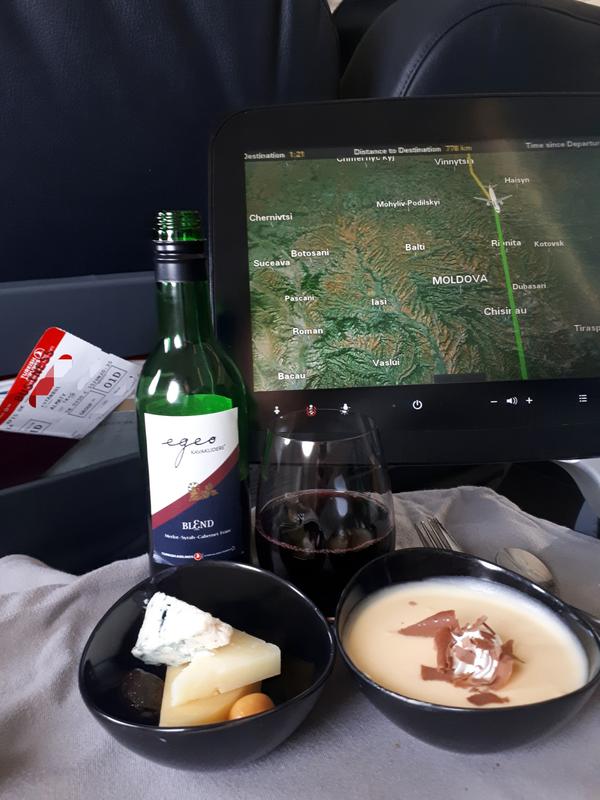 To finish off the meal, I opted for a Turkish coffee, declining on the offer to have a glass of cognac or anything similar.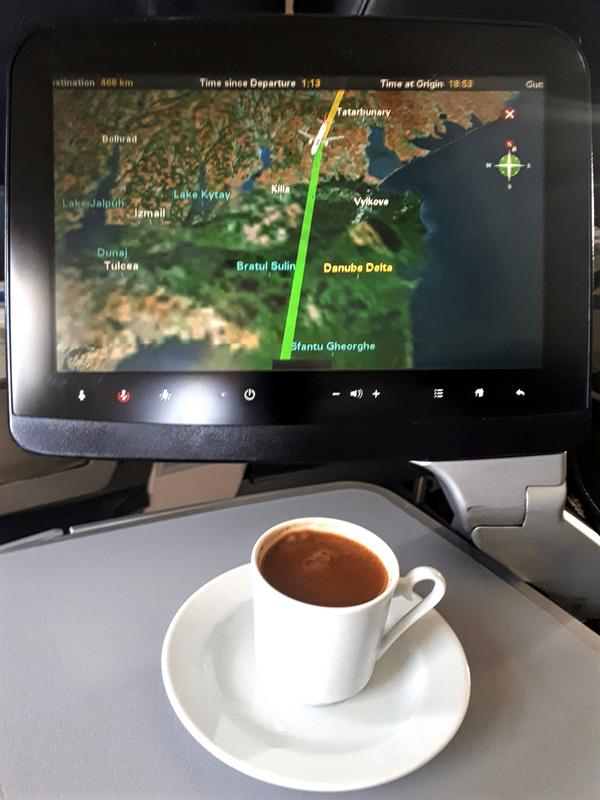 As you can see on the map, we were flying over the Danube delta on the Ukrainian-Romanian border at this point. The entire meal service was done in just one hour and 20 minutes – and I was even (by far!) the slowest person to eat and to finish my meal. Speed of meal service is something which I find Turkish Airlines consistently doing great, especially on intra-European and mid-haul flights.
There were some absolutely spectacular views on arrival into a partly cloudy Istanbul. I was far from the only one glued to the window making some pictures, as the person in 2A in front of me did exactly the same. It was simply amazing to get glimpses of the Bosphorus and the bridges across through the cloud cover.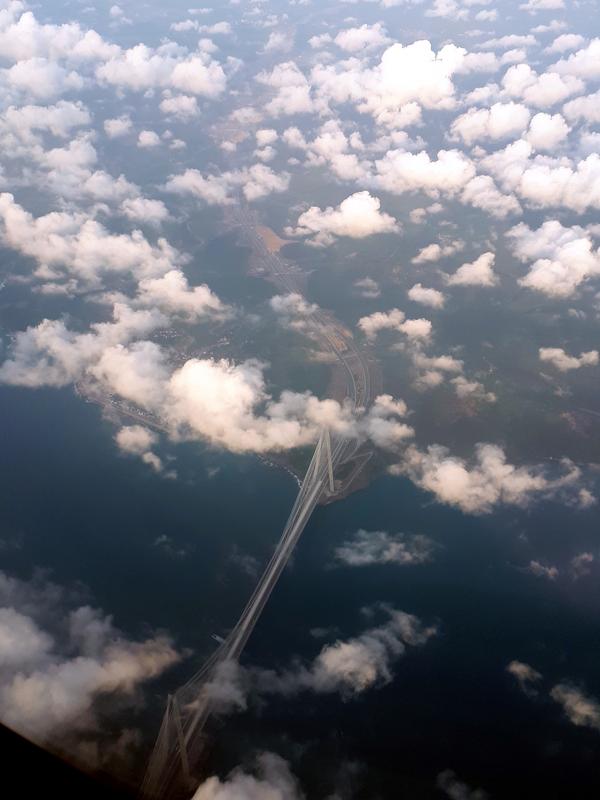 That was however not all, as there were some decent views of the dozens of high-rise buildings massive sprawl which is the city of Istanbul...
Old Ataturk airport...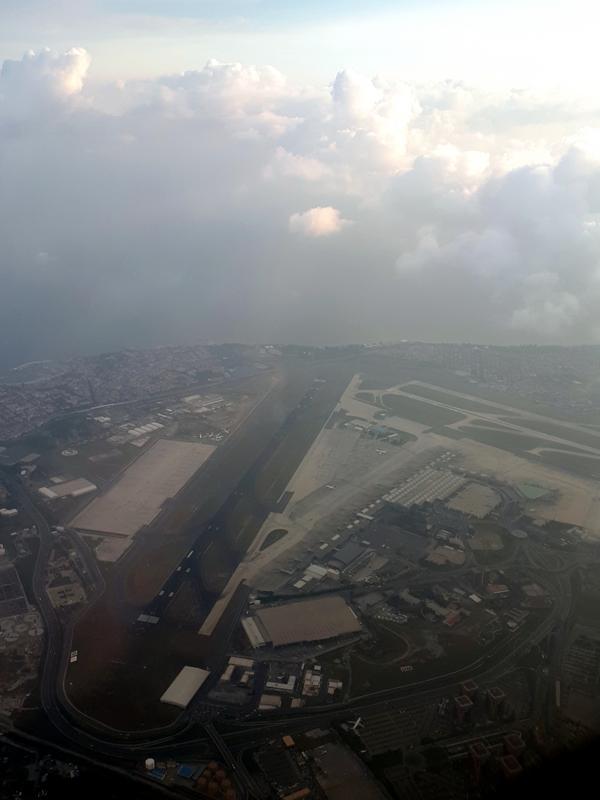 And some of the towns and reservoirs just south of Istanbul airport.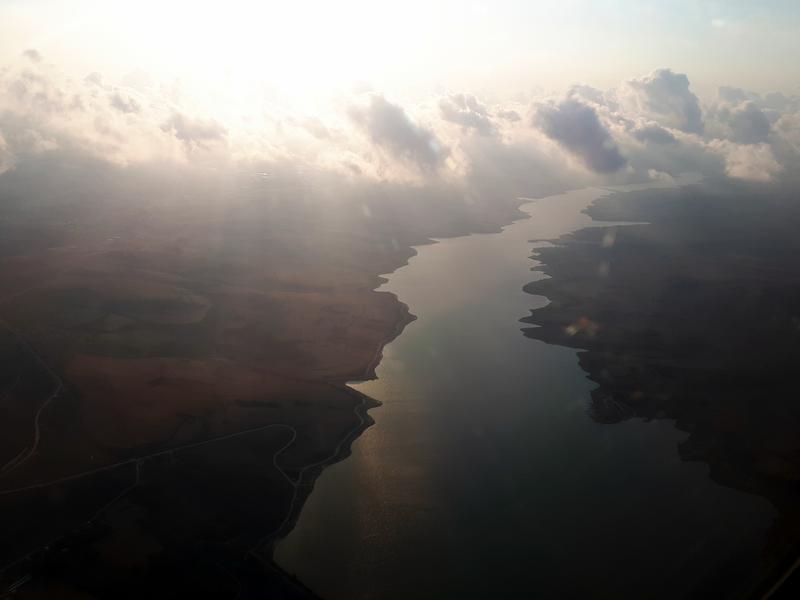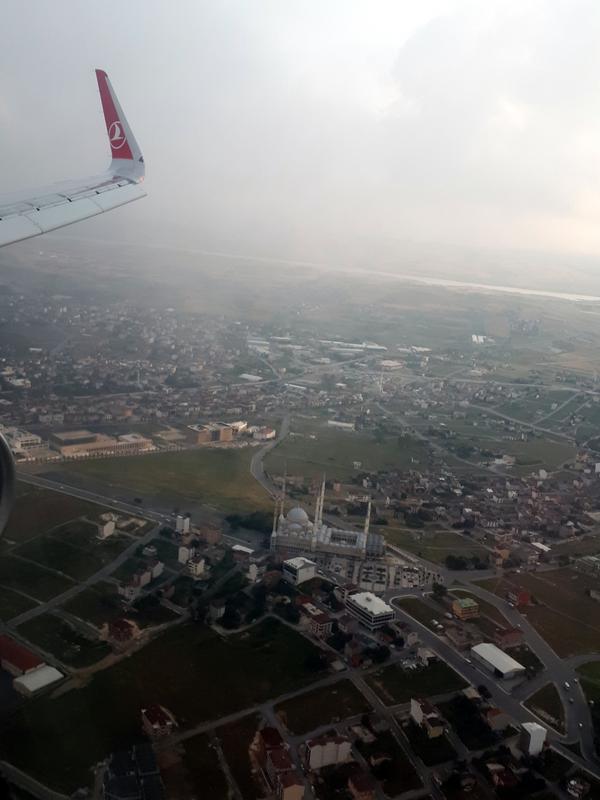 At one point even the sun came out shining through the clouds, creating some spectacular images.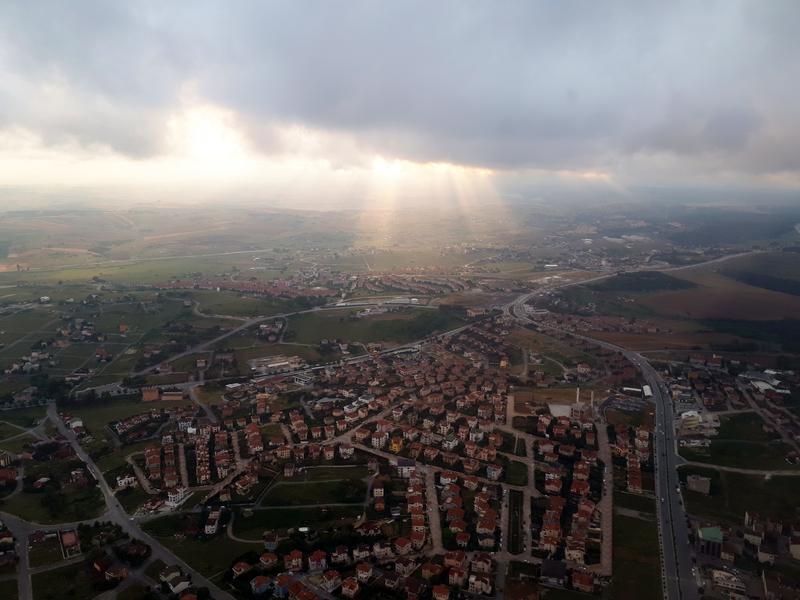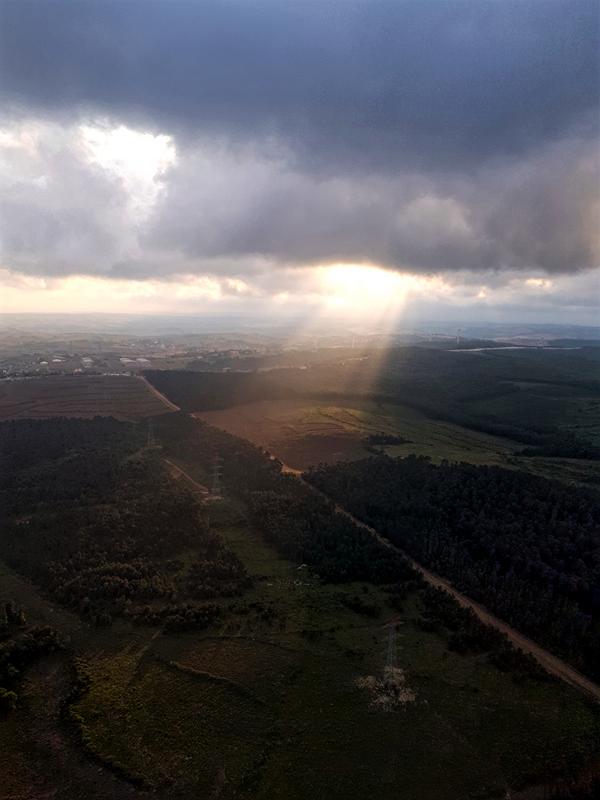 Each time I land at the new IST airport I just have to think what a marvellous piece of engineering it is and how gigantic the entire project was.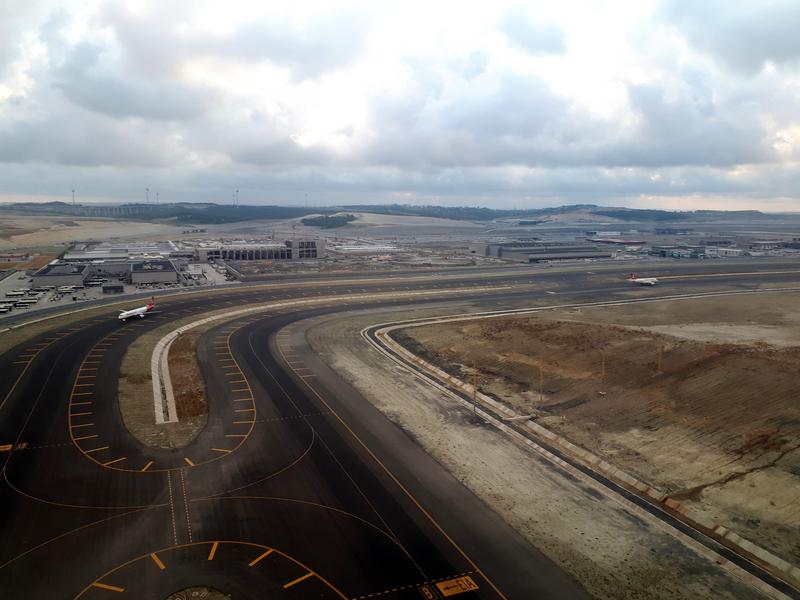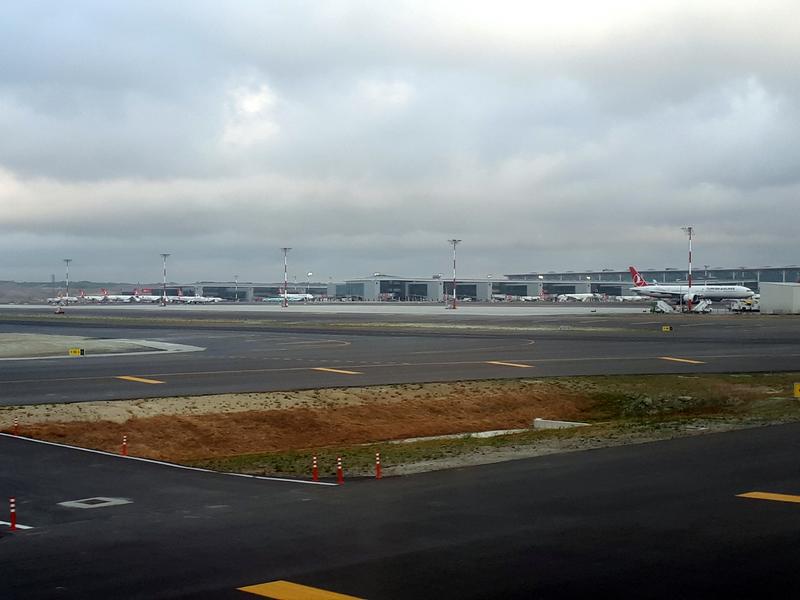 By the time we reached our gate, the delay was still a bit over 50 minutes. This meant that of my 1h40m connection, there were under 50 minutes left to make my connecting flight to Almaty. And that includes having to re-clear security and going to the complete opposite side of the airport...
Next up:
A mad dash across IST – and flying to Almaty, on a different plane than planned!
Aug 23, 19, 12:22 pm
Join Date: Feb 2014
Location: OTP, CHQ, EIN and beyond
Programs: AF/KL platinum, Turkish gold, Aegean silver
Posts: 1,061
Part 11: Istanbul (IST) to Almaty (ALA) on Turkish Airlines in business class
Flight TK284 – Airbus A330-300 – Seat 1D – 440 EUR for MSQ-IST-ALA
STD 8.35pm - STA 4.45am +1 (flight time 5h10m)
Unfortunately, Minsk flights are not on the list of "safe" arrivals at Istanbul airport, which means you are not fed directly into the gate area but first have to re-clear security. Fortunately, the new Istanbul airport has vastly improved on this front compared to the old Ataturk airport. Sure, walking distances can be long, but at least queues are almost non-existent – especially if you can use the priority line. As according to the schedule it would be more or less the final call for boarding for my Almaty flight, I however still had to run to make sure I would be able to catch the flight. As it departed from a faraway gate I was all sweaty by the time I arrived at the gate, only to realise that boarding had not even started yet..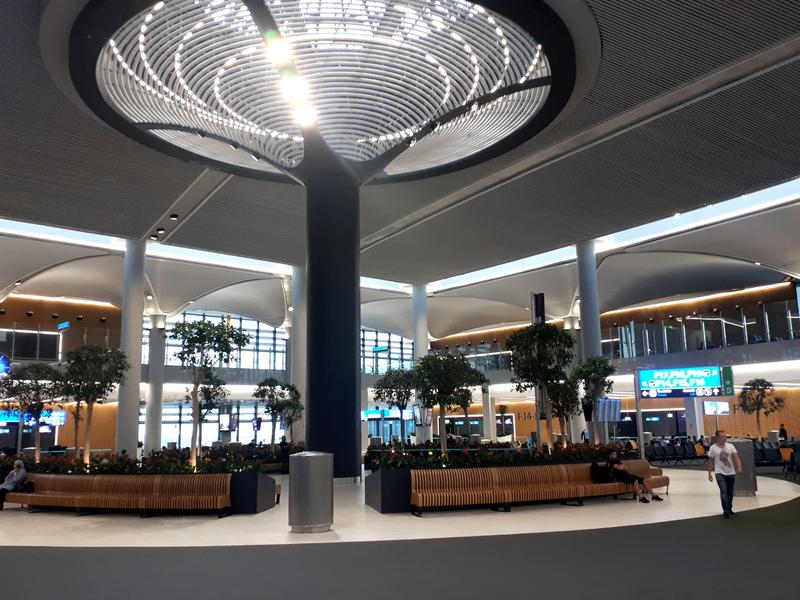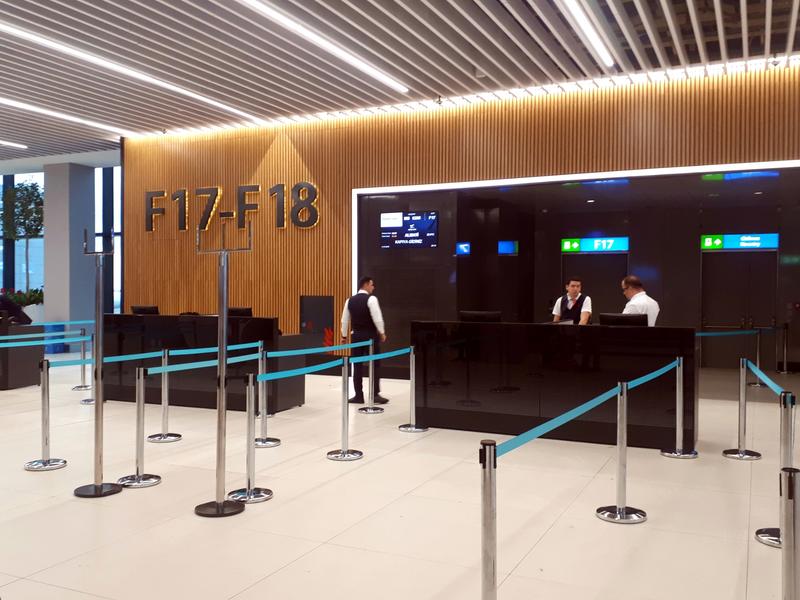 It turned out that our plane has gone tech and that another A330 was being arranged to take us to Almaty. Unlucky for the other passengers waiting, but great news for me! As the gate agent said there would be about ten more minutes before boarding would commence, I even had time for a quick bathroom visit to change my sweaty t-shirt and freshen up a bit.
When boarding finally commenced, we were not led from the gate to the tarmac where buses were awaiting in front of the broken-down A330 to bring us to our new aeroplane.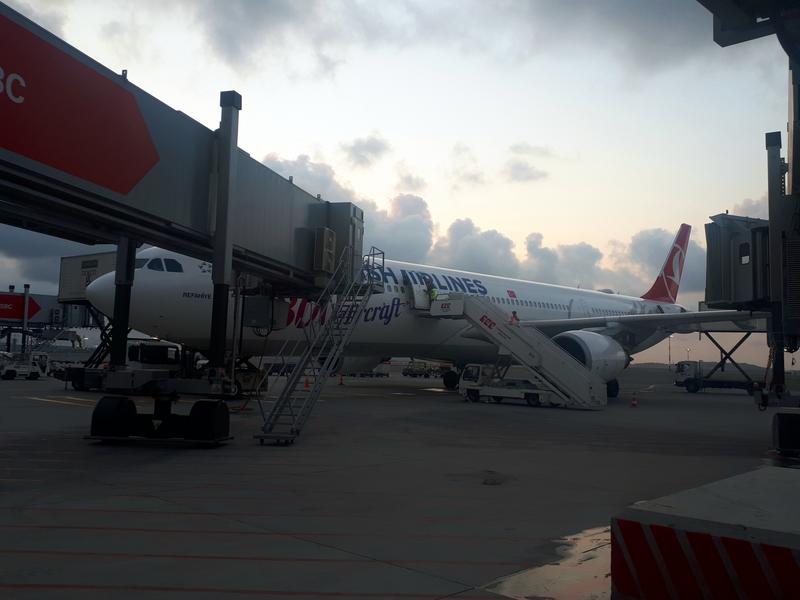 Waiting on the tarmac for buses to arrive in front of our broken-down plane
We were driven a long, long way to the other side of Istanbul airport where our new Airbus A330 was waiting for us. I always love it to board a wide-body aeroplane by stairs.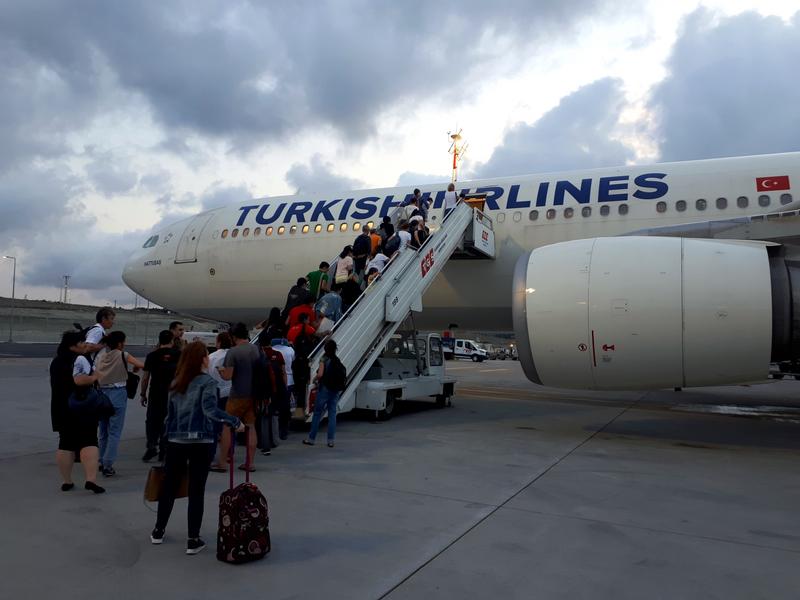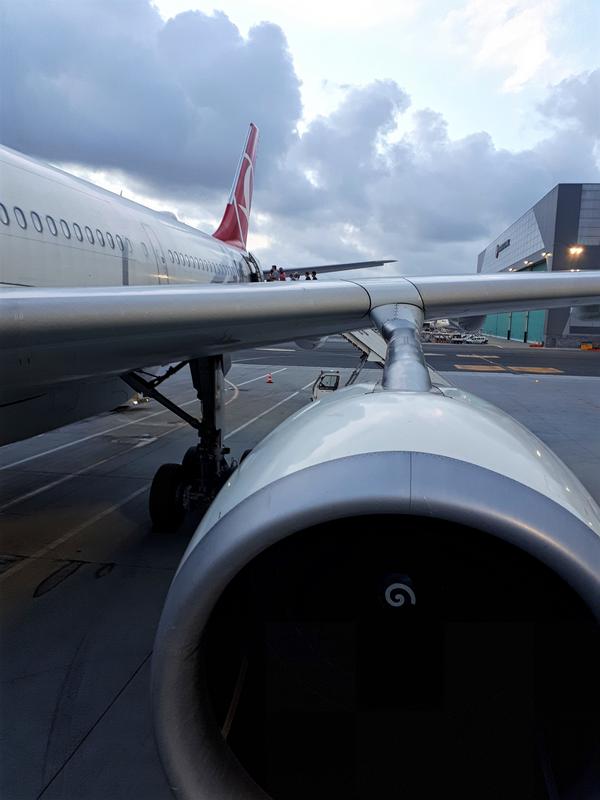 Of the first busload to arrive, I was the only passenger in business class, which was a good opportunity to snap some pictures of the cabin. I had assigned myself seat 1D due to the middle seats being the only ones with direct aisle access in the 2-2-2 configuration where nobody else has to climb over you. Normally I might have still opted for a window seat, but I assumed that given the late departure time and early arrival views would anyway be non-existent.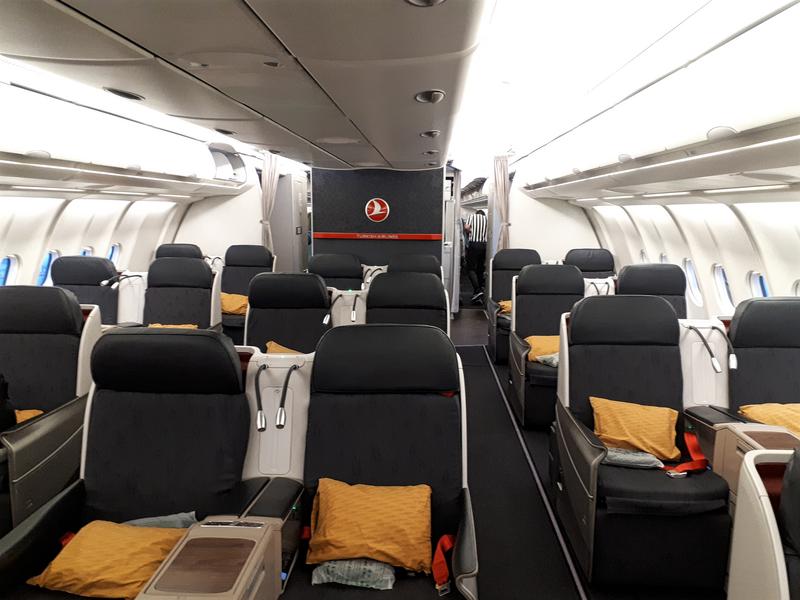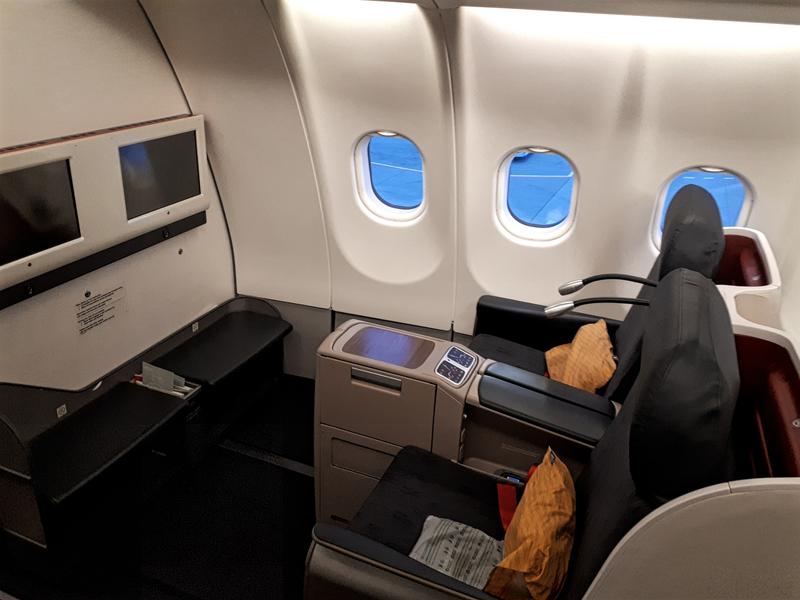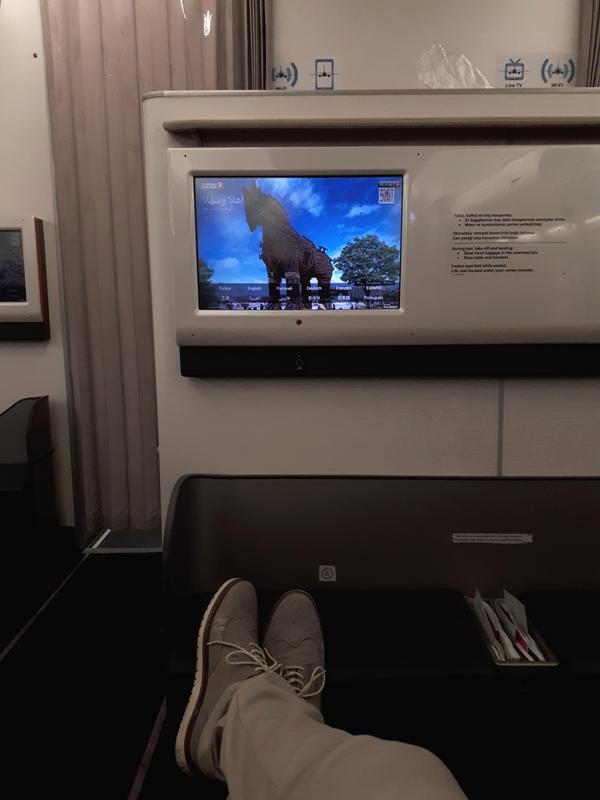 The crew on this flight which would serve business class introduced themselves one-by-one to me in a genuinely friendly and welcoming manner. Turkish Airlines crews can at times be a mixed bunch – but this crew would again turn out to be excellent. As always, TK offers a choice of lemonade, cherry juice, orange juice and water as PDB. As I was dehydrated from the run across the airport, I opted for both a lemonade and a glass of water to quench my thirst.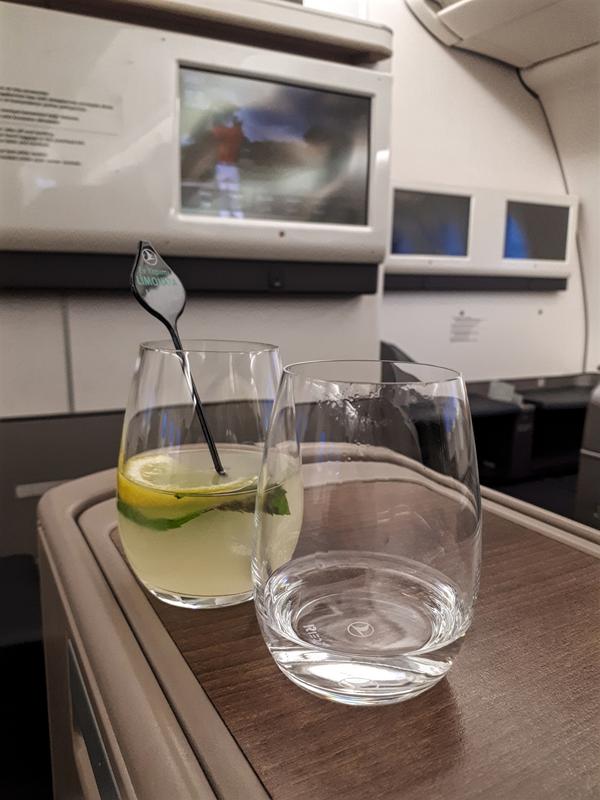 At this time, other business class passengers slowly started to arrive with the following buses. In the end, business class was about two thirds full. And while I still opted for the airport toilets to change my shirt, these two gentlemen thought it would be a better idea to do it in full view in front of the entire cabin. Ugh.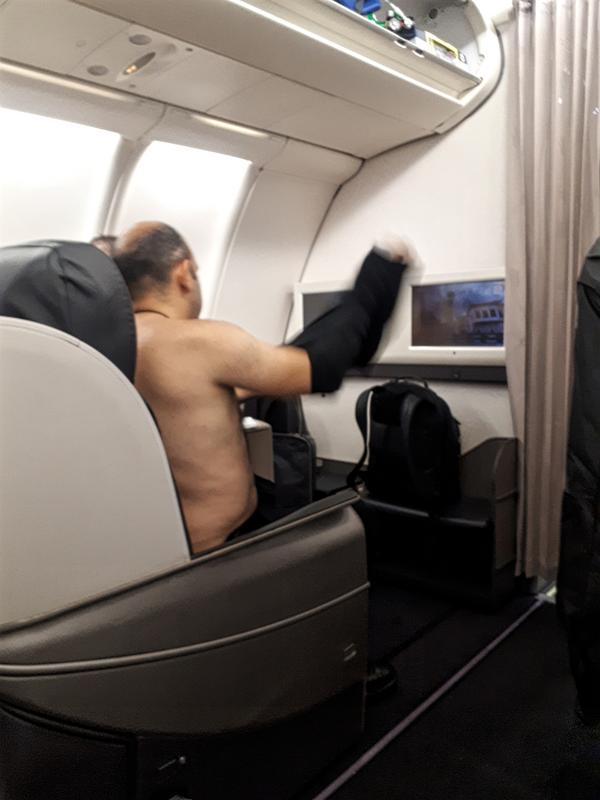 When the crew distributed PDBs to other passengers, one of the flight attendants inquired if I might want something else as well – telling me that anything is possible. That's not a question I let myself asked twice. Champagne it is!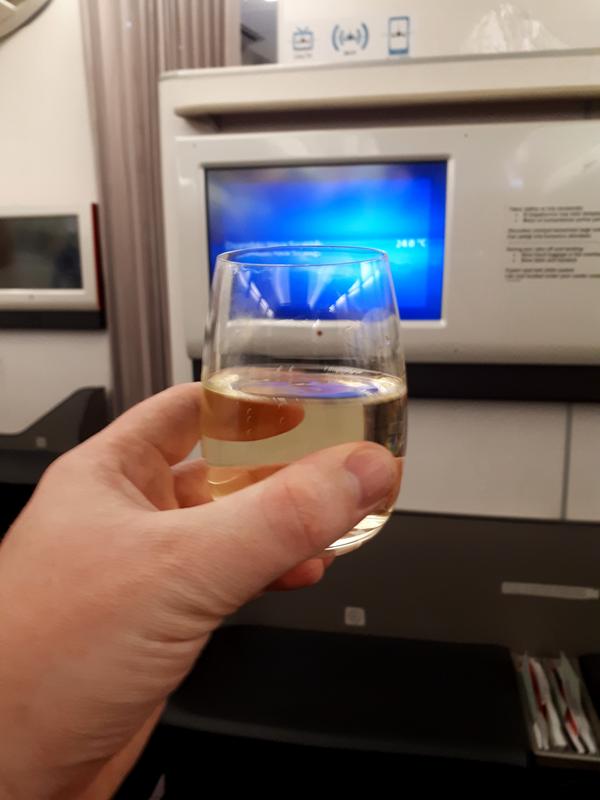 A while later the menus were distributed as well by the crew.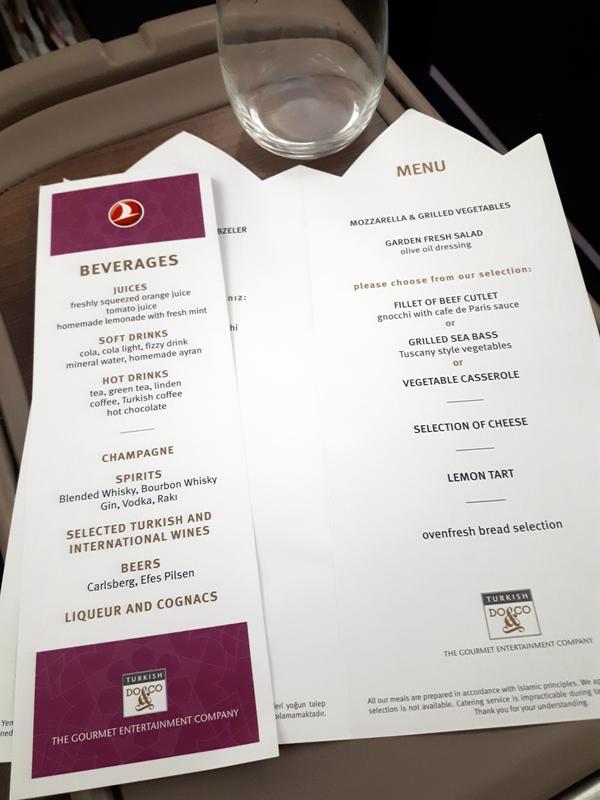 With a delay of about one-and-a-half hours, the doors were finally closed. Luckily, we were parked close to the runway and were airborne fast. The flight time to Almaty would take just over five hours.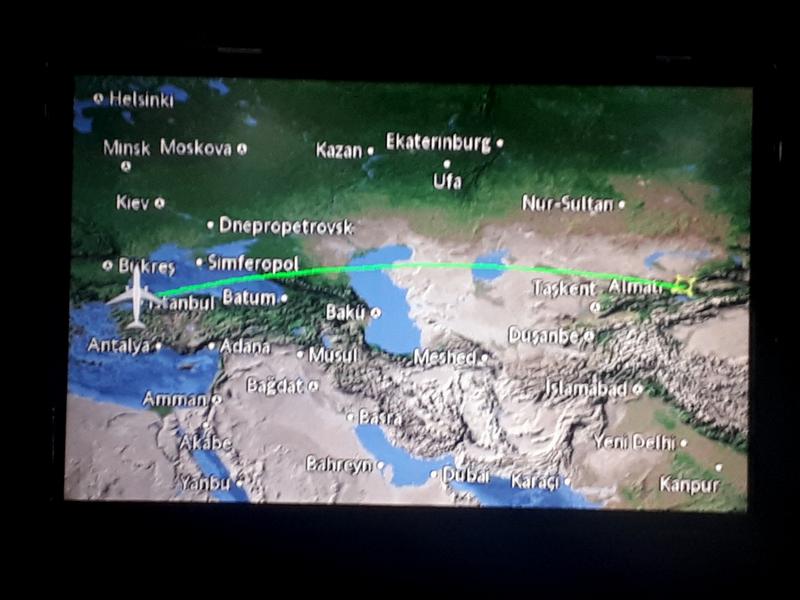 Once we reached cruising altitude, the crew inquired for meal choices and did a drink run. I went for a G&T while watching a film about a bald, overweight man directing a movie.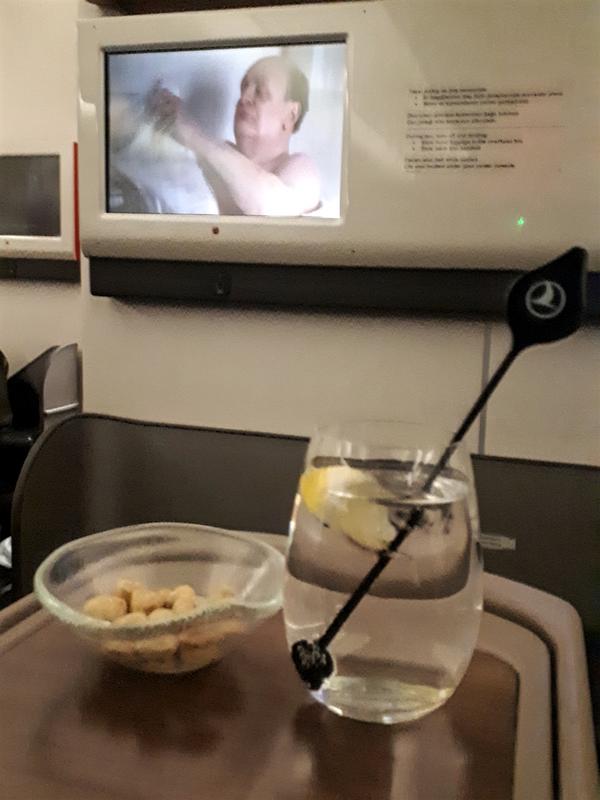 Weirdly, the amount of food was less than on my previous intra-European flight. Unlike that MSQ-IST flight, this meal did not have a separate appetiser plate (or any appetiser as to speak of), but had everything placed on one tray with the addition of a small salad. Given its a short red-eye flight it is however understandable as it allows passengers to maximise sleep.
As I already had fish on my previous flight, I opted this time for the beef, which was a slight mistake as it was a bit tasteless and rock-hard being completely cooked to death. It was my first disappointing meal ever on TK in any class, which was a bit disappointing – especially as it is on a flight out of their hub and not something catered externally at an outpost. At least the lemon tart was very tasty.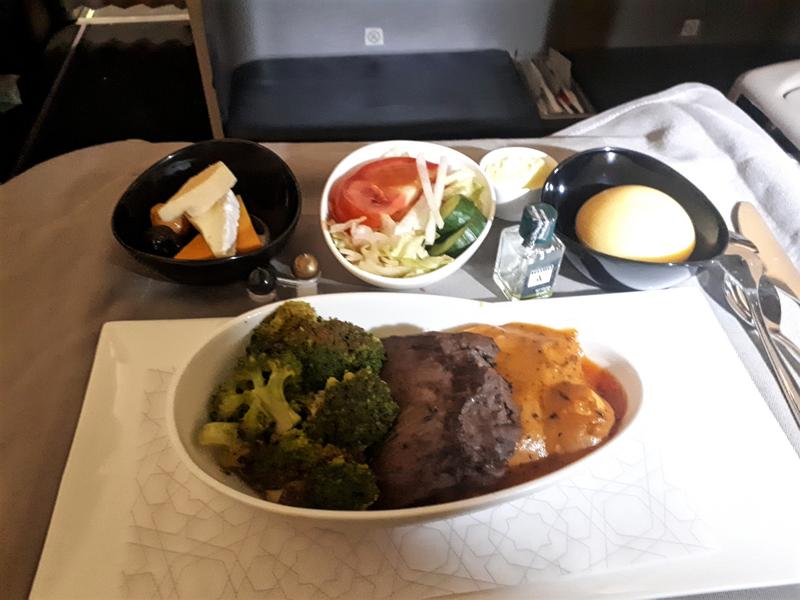 As I wasn't really tired yet, I opted for another Turkish coffee and a cognac while watching the remainder of the film Hitchock.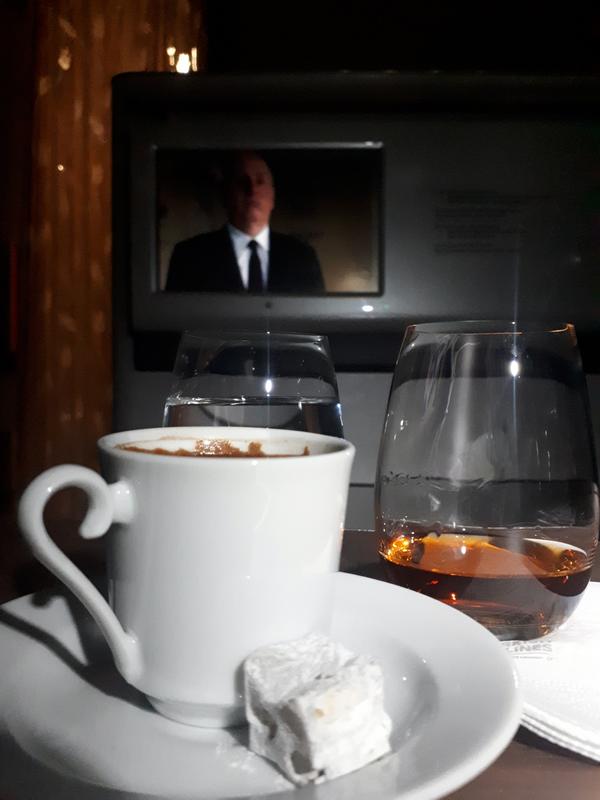 I had no neighbour in the seat next to me so I opted to make up the bed already in seat 1E, using my own seat 1D for the remainder of the film.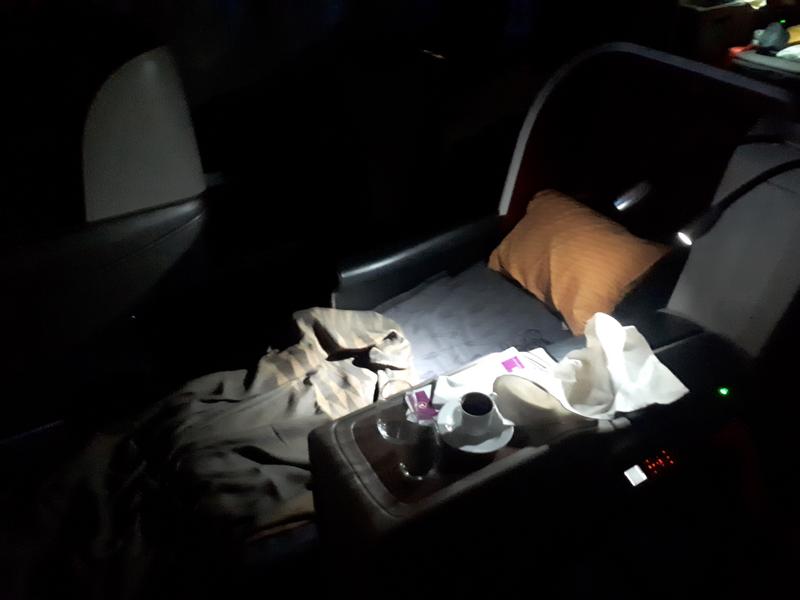 I might even had another drink before finally being tired enough to sleep.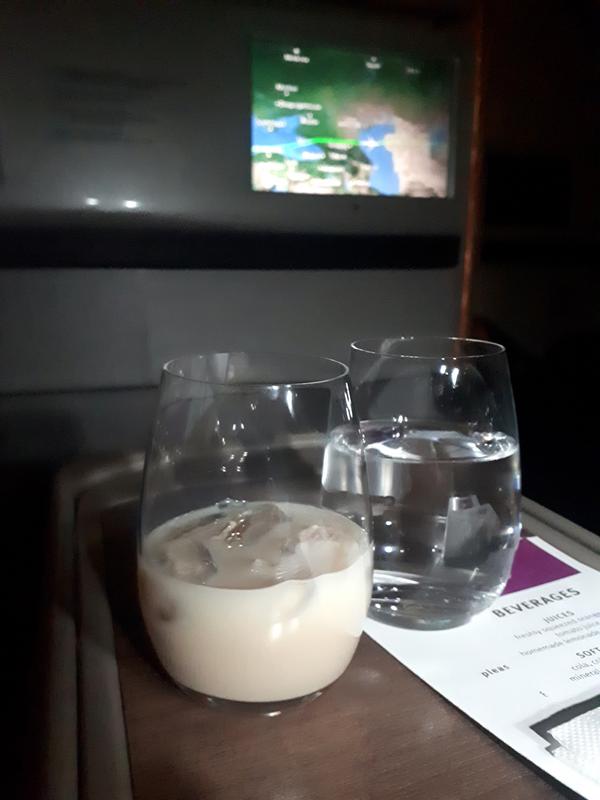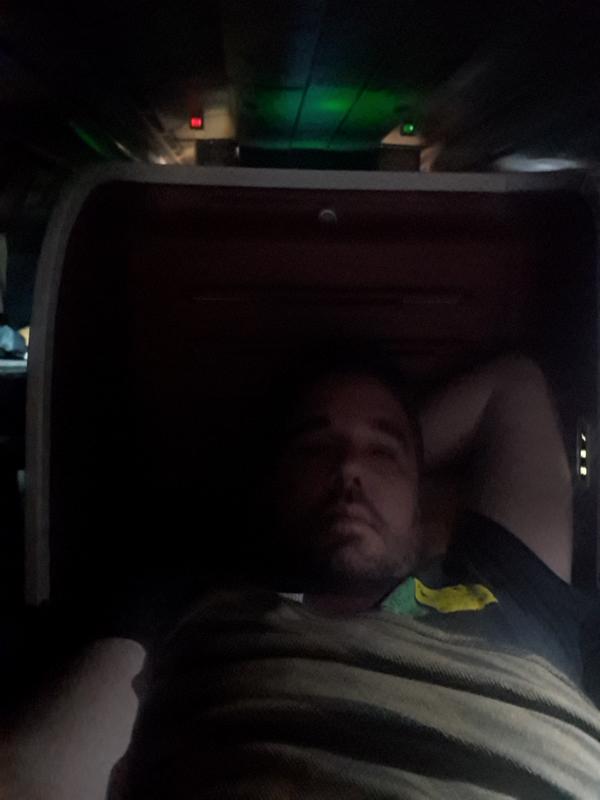 Despite the short flight time and wee bit of drinking after the meal I still managed to get almost two hours of sleep before we were woken up for the impending arrival into Almaty. Due to the delay, dawn was already breaking in Almaty when we landed to what looked like some spectacular mountain views. Even though my heart was kicking myself for not opting for a window seat, my mind knew that I made the right seat assignment and that there would be plenty of real mountain views to admire in the next few days anyway.
The arrival process was extremely smooth and within ten minutes after disembarking the plane through a jetbridge I was stamped into Kazakhstan for the second time in less than a year. After a bit of haggling with the armada of approaching taxi drivers I got a decent enough rate for the relatively short drive to my hotel to begin the Central Asian adventure for real.
Next up:
Exploring the leafy Kazakh city of Almaty
Aug 24, 19, 11:10 am
Join Date: Feb 2014
Location: OTP, CHQ, EIN and beyond
Programs: AF/KL platinum, Turkish gold, Aegean silver
Posts: 1,061
Part 12: Almaty, Kazakhstan
Hotel: Kazakhstan Hotel, 52 EUR/night incl. breakfast
For my two nights in Almaty I was staying at the Kazakhstan Hotel. The tower is an old Soviet landmark, although the hotel has undergone renovation and now boasts modern rooms and amenities. The lobby does however still look a bit dated, but does has a good coffee shops for a good brew to take away.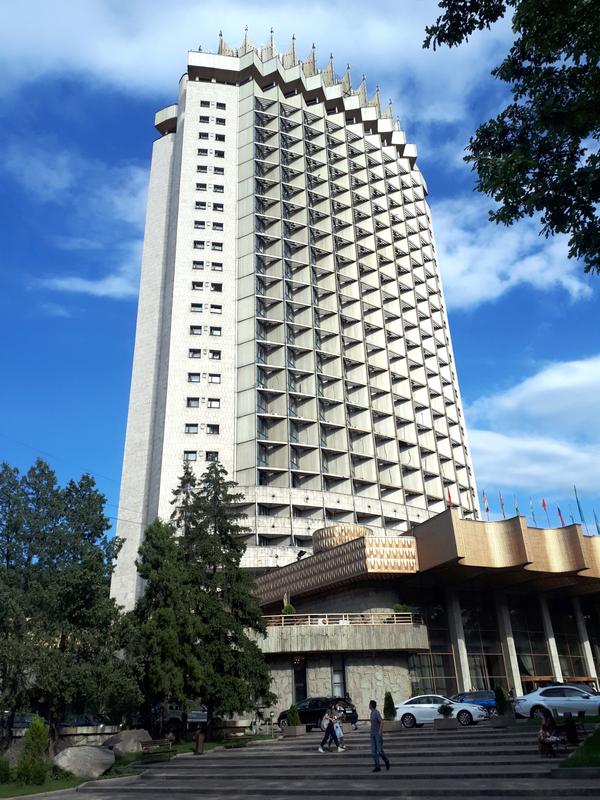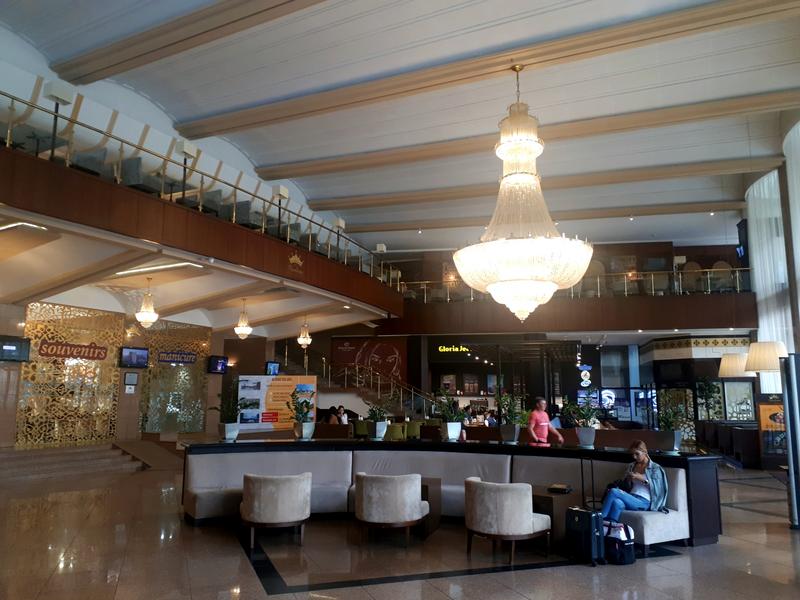 As it was still very early in the morning, I was told that I would need to cough up 50 percent of the room rate of my superior double room to get an early check-in, something which is fairly common at hotels throughout the former Soviet Union. As the amount of money involved wasn't too much to begin with, and otherwise it would have meant a wait until 2pm, I gladly went for it as I could do for a little nap after the short red-eye. My room was located somewhere halfway up the tower and boasted great views over the Zailiyskiy Alatau mountain range which forms an impressive backdrop at the southern side of Almaty.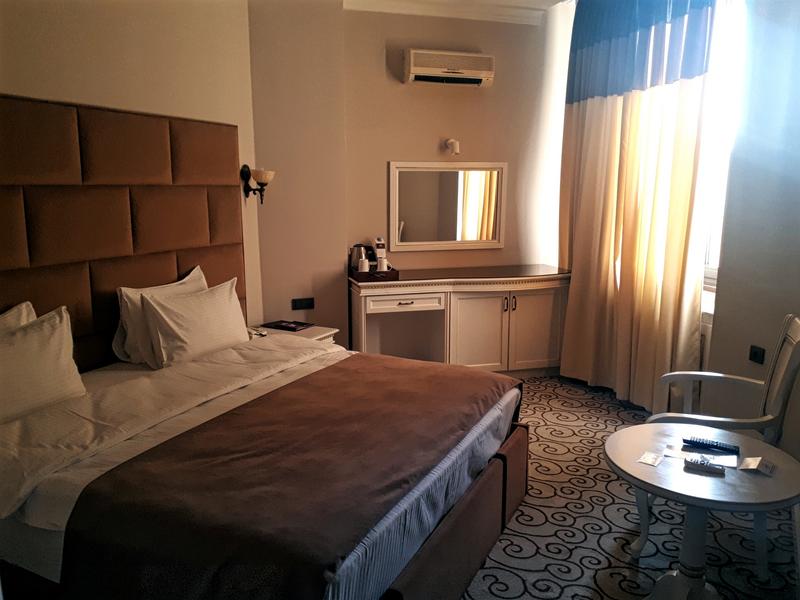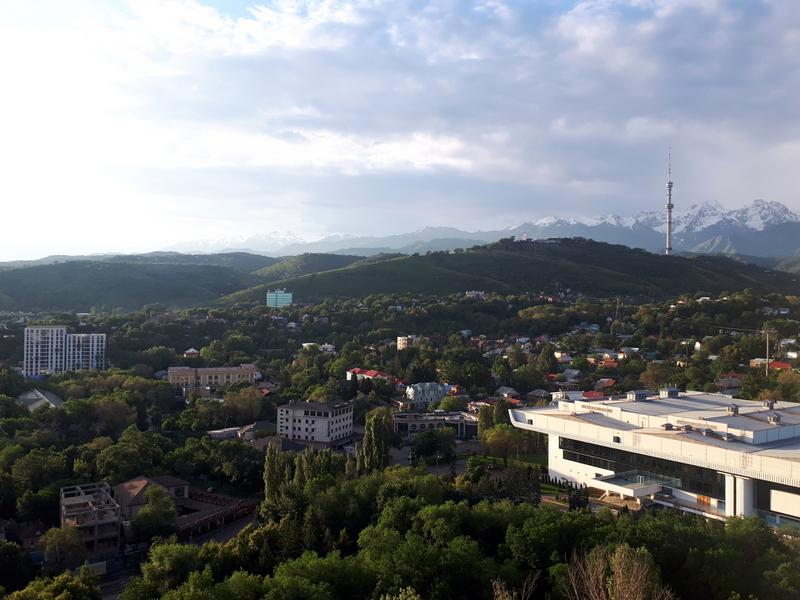 After a great little nap and shower I went out to explore the city. Right next to the hotel you can find a square with a statue of poet Abay Kunanbayev in front of a concert hall. You can also find a cable car here which brings you to a small amusement park in the foothills of the mountains – which I would do the following day.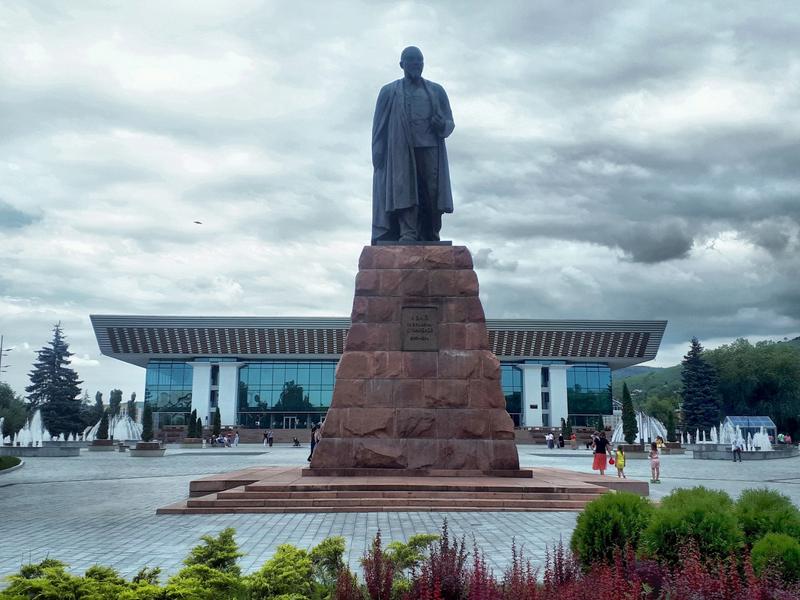 Almaty – the commercial hub of Kazakhstan and perhaps of entire Central Asia – is not the capital of Kazakhstan. That honour goes to the planned city of Nur-Sultan in the middle of nowhere, which was previously known under the names of Akmola, Tselina – from where its airport code of TSE is derived from, and Astana – which was the name the city had until it was renamed after the long-ruling Kazakh strongman Nursultan Nazarbayev.
Even though the city has been inhabited for many centuries, the modern city of Almaty is a Tsarist Russian construct – and you can easily see this back. The city is leafy and low-key, with broad boulevards and some nice parks. Compared to other Central Asian cities it feels very cosmopolitan and modern too, with many trendy cafes and restaurants to be found for those who are seeking some urban delights. Especially in the southern part of the city centre (on higher grounds closer to the mountains) you can find some great cafes, pubs and restaurants on the tree-lined streets.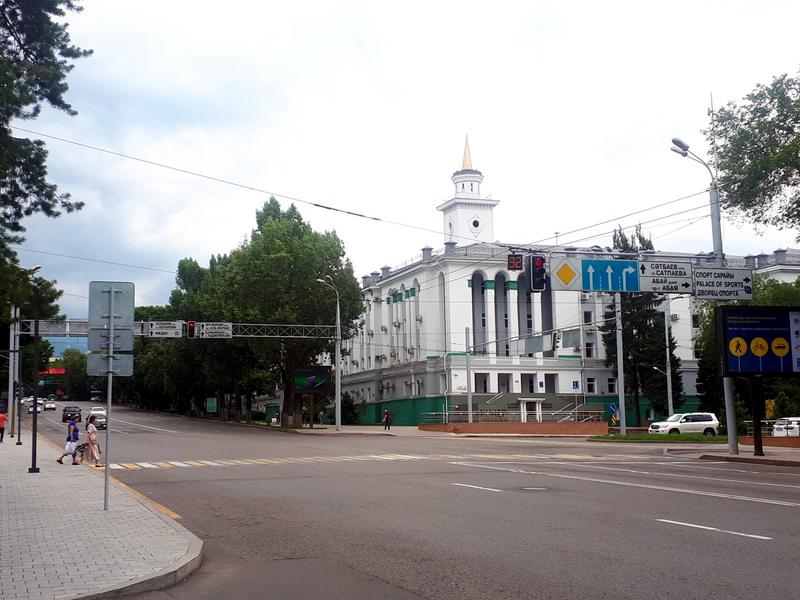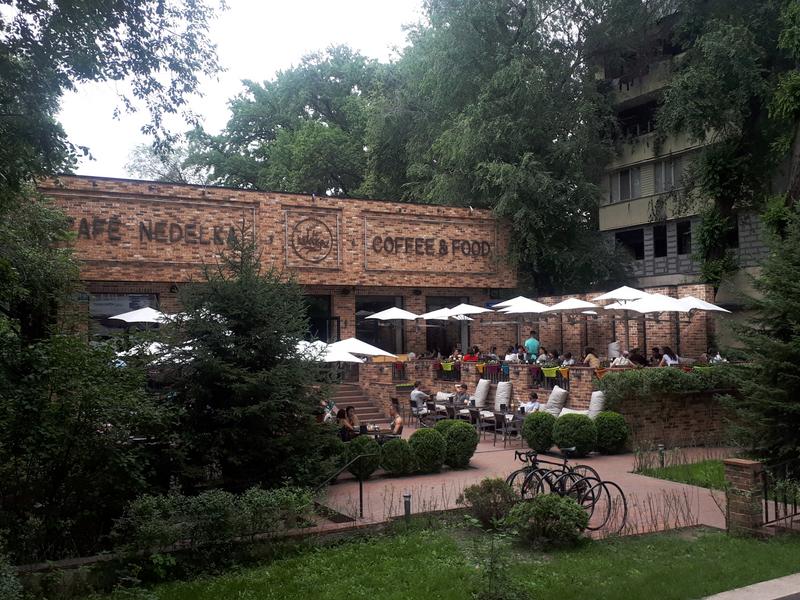 Instead of immediately exploring around I decided first to take the metro to the city's main sight – the large Zelenyy Bazaar (Green Bazaar) – as it would be closed the next day and I wanted to be sure to catch the vibe before all shoppers and salesmen would leave for home. Almaty's metro system has been only been operating since 2011 – making it the second metro system in Central Asia after that of Tashkent. Even though it is a modern construct and not as lavish as those systems built under communist rule, it still is a great little system with some beautiful stations deep under the ground.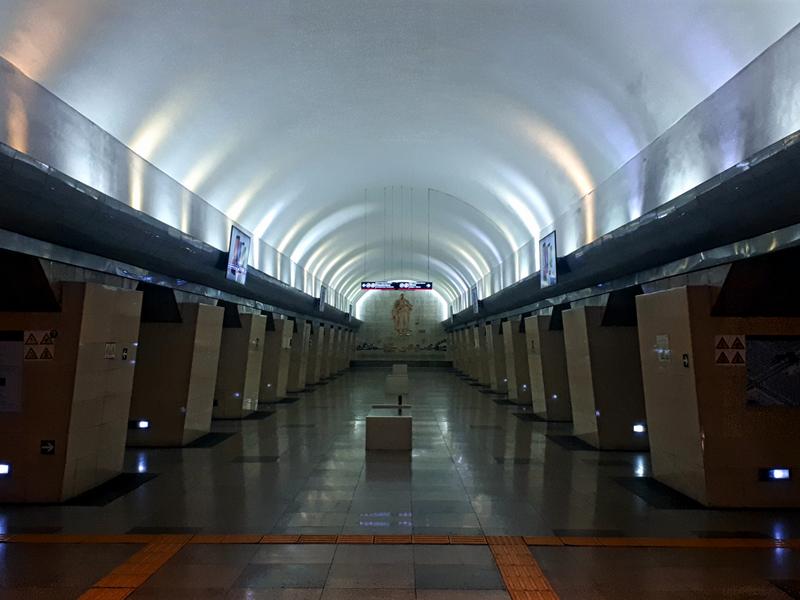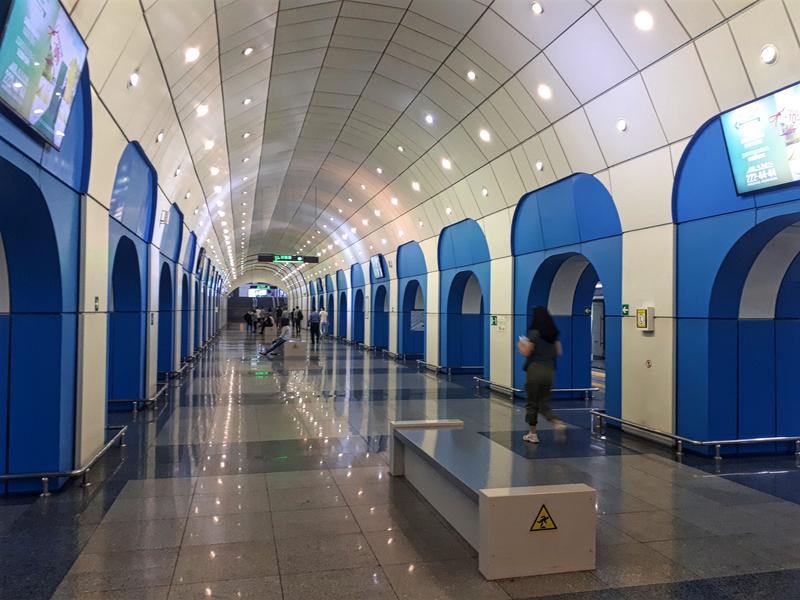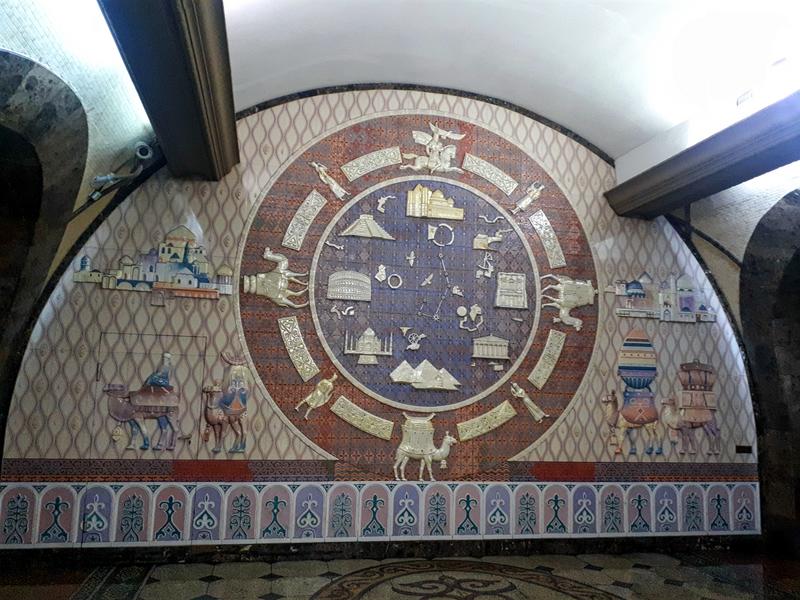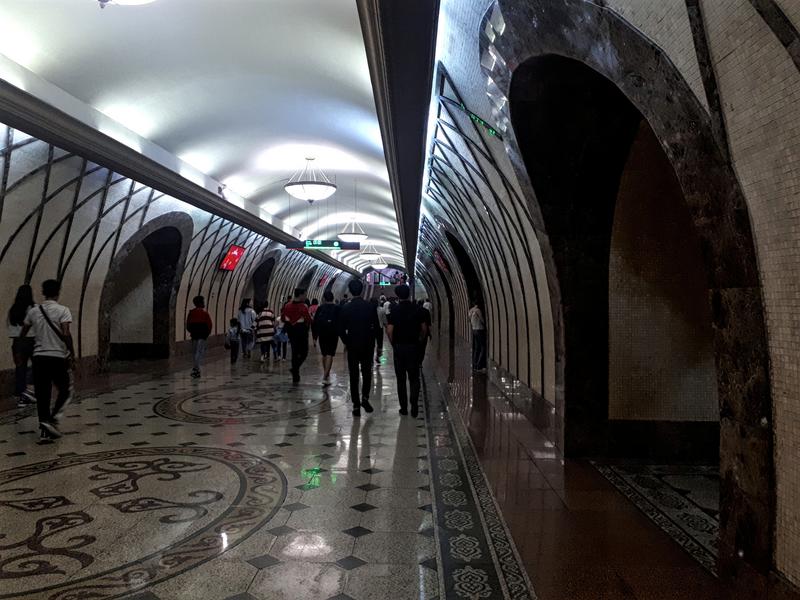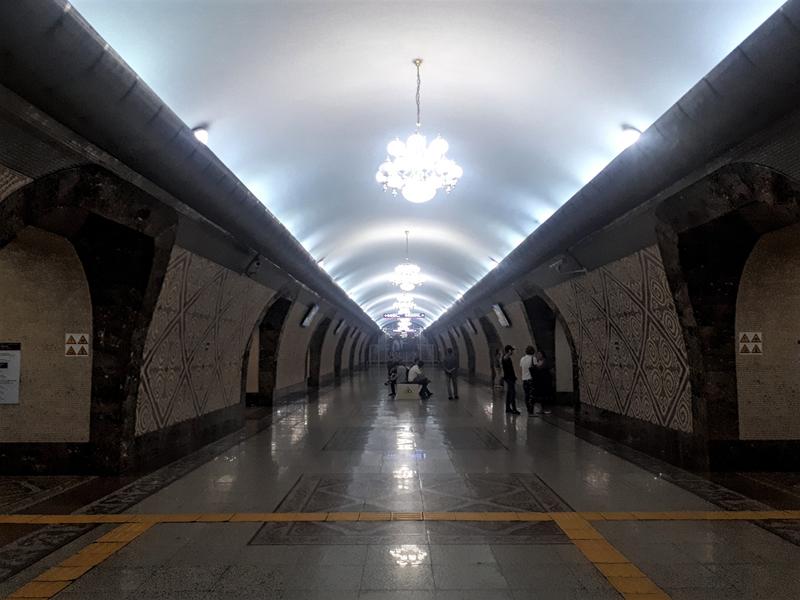 Trains were mostly empty however despite the dirt-cheap costs of just a few cents for a ride.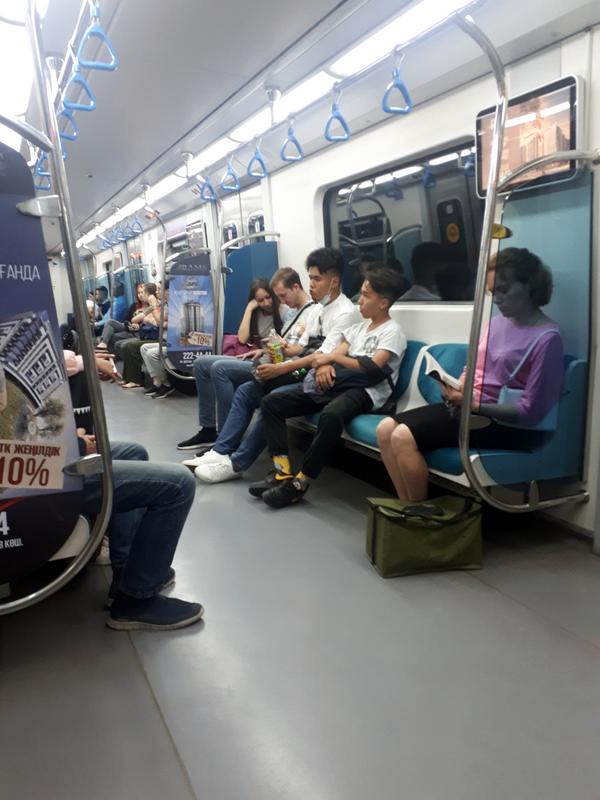 I couldn't help but laugh at the name of this particular stop. Why not simply name it 'Mukhtar Auezov Theatre' and be done with it? Plus points however for spelling 'theatre' correctly in proper English.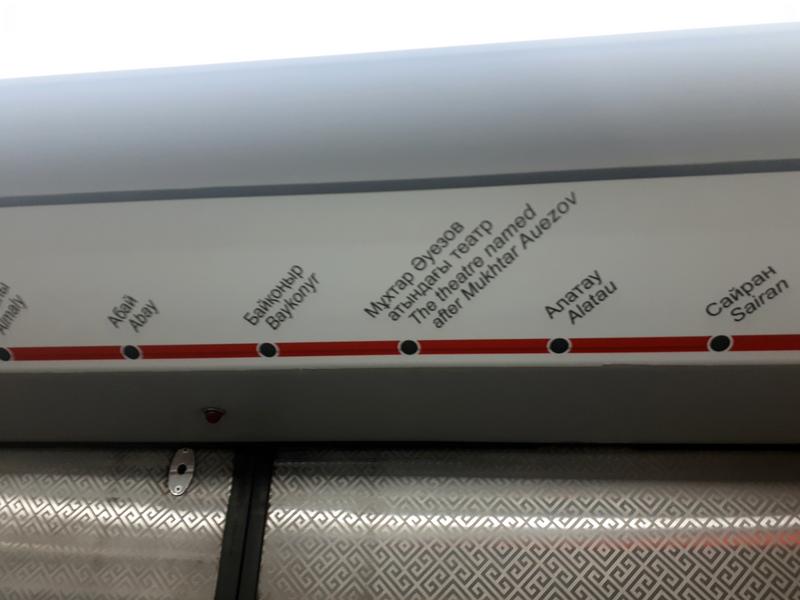 Once out at the metro stop closest to Zelenyy Bazaar it started to rain cats and dogs so I walked quickly towards the bazaar entrance. The bazaar itself is actually quite large and consists of a big building containing the food market and alleys around it mostly selling clothes and almost anything else you can think of, from gardening tools to kitchen utensils.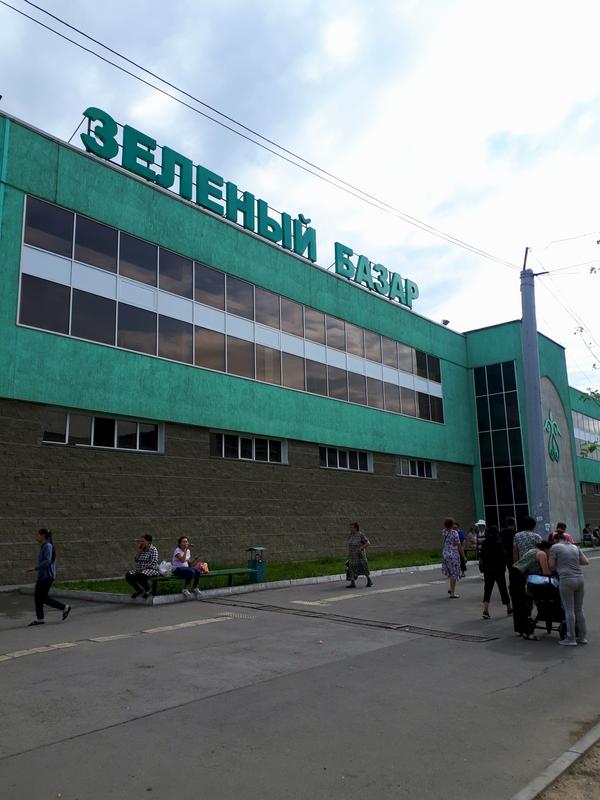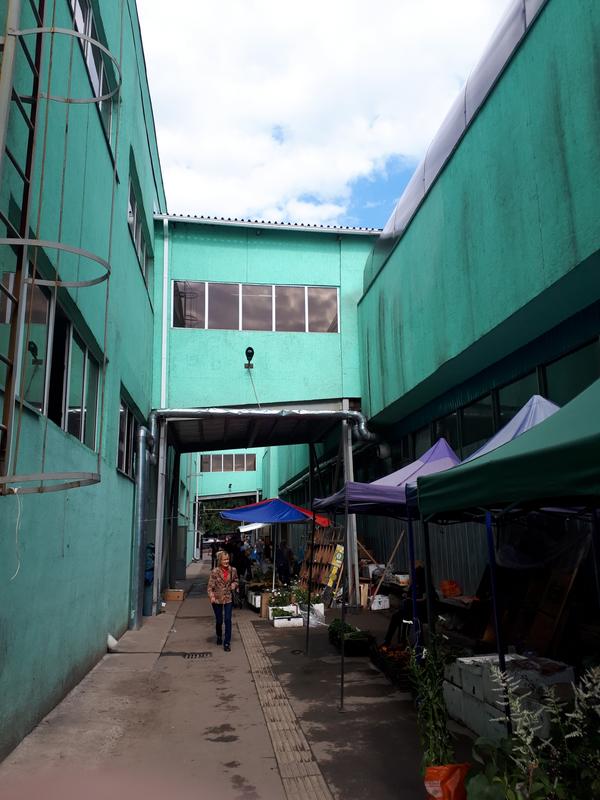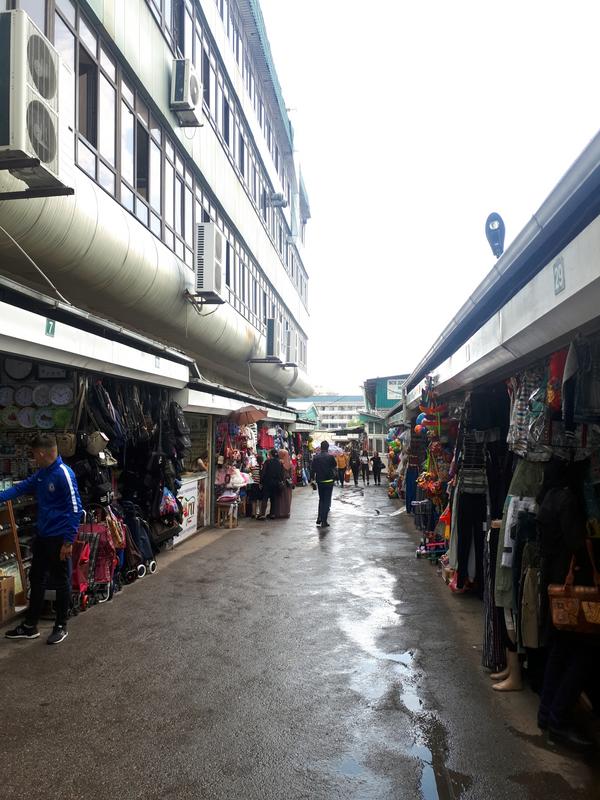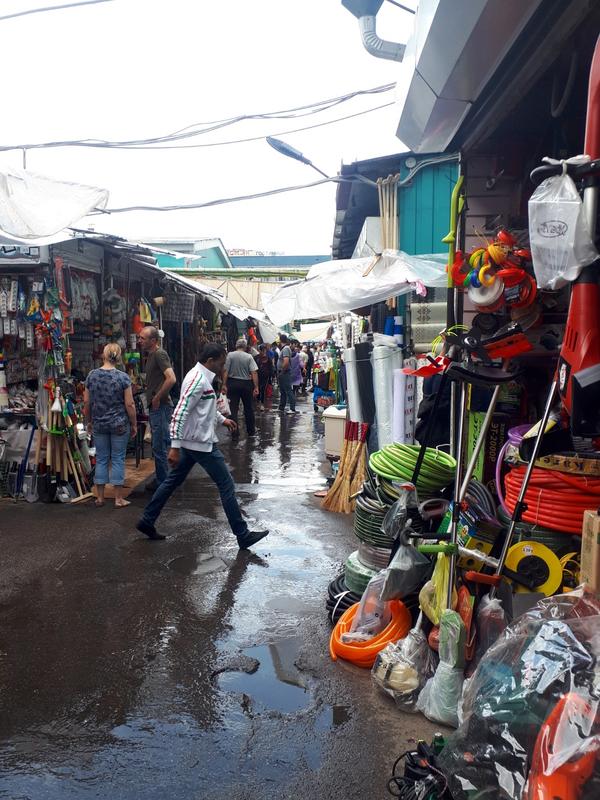 The most interesting part of the bazaar is of course the building with the food stalls, which has a lot of local colour and life. The basement mostly has stalls selling fruits and vegetables.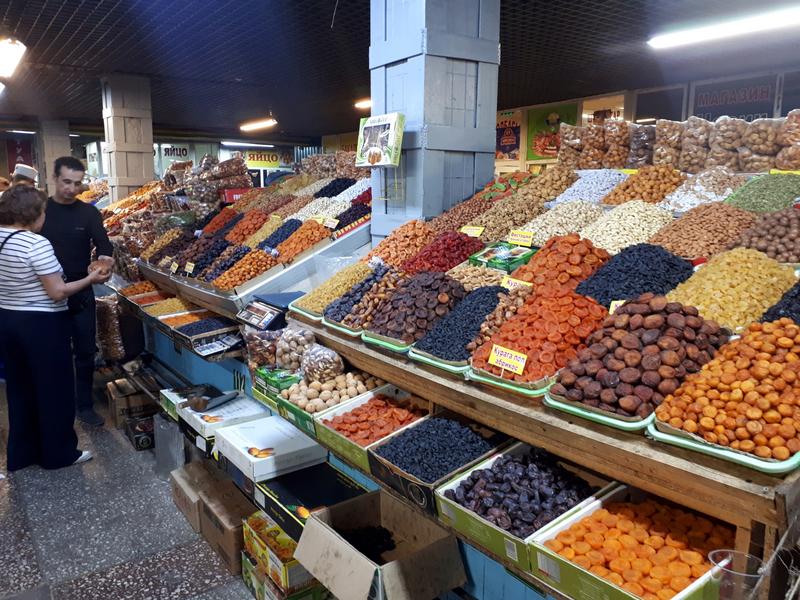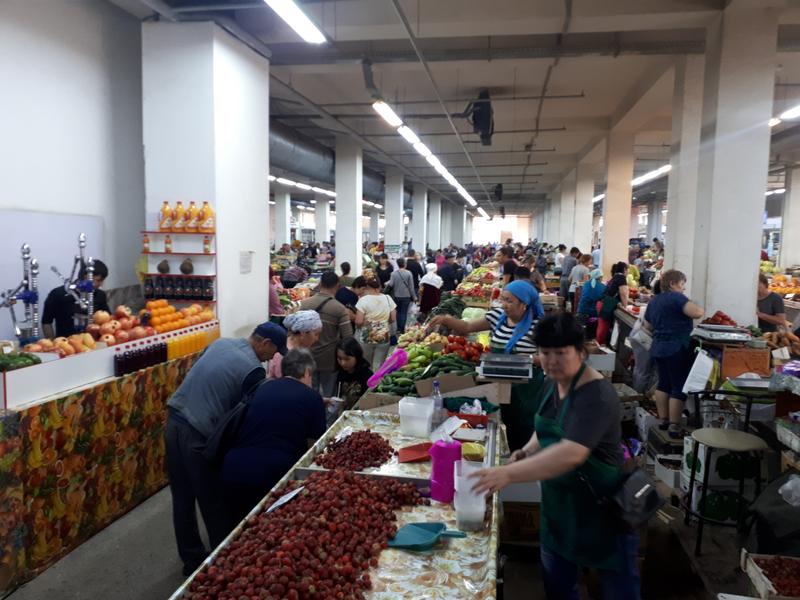 The main floor has mostly meats, cheeses and spices and such.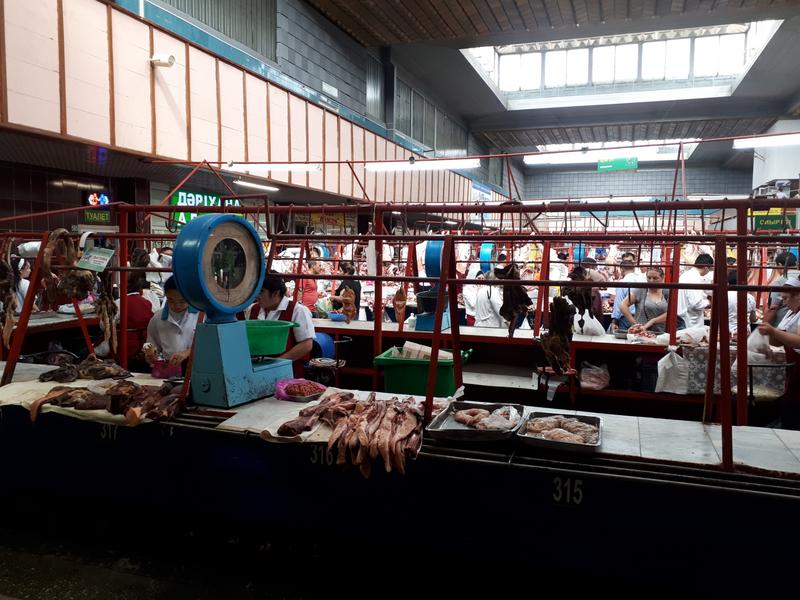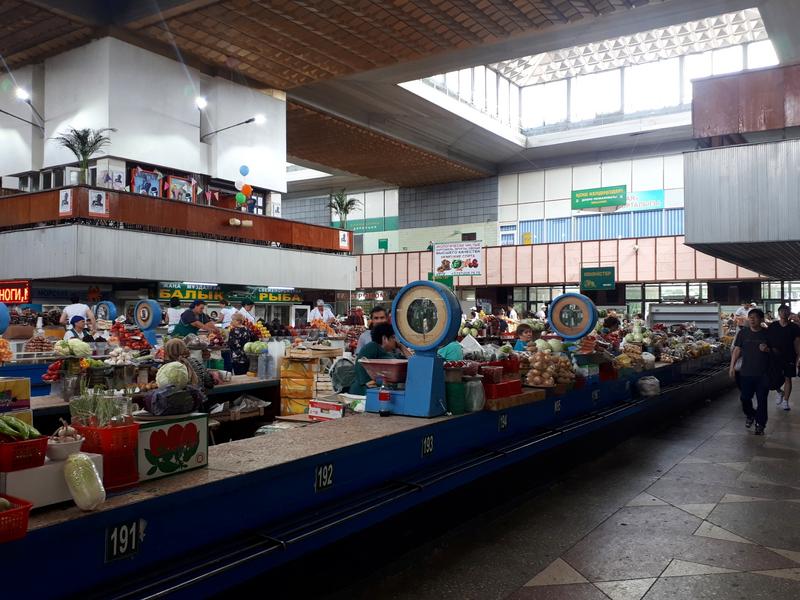 Make sure you walk a floor up – as you can get some excellent shots here from the market stalls from above.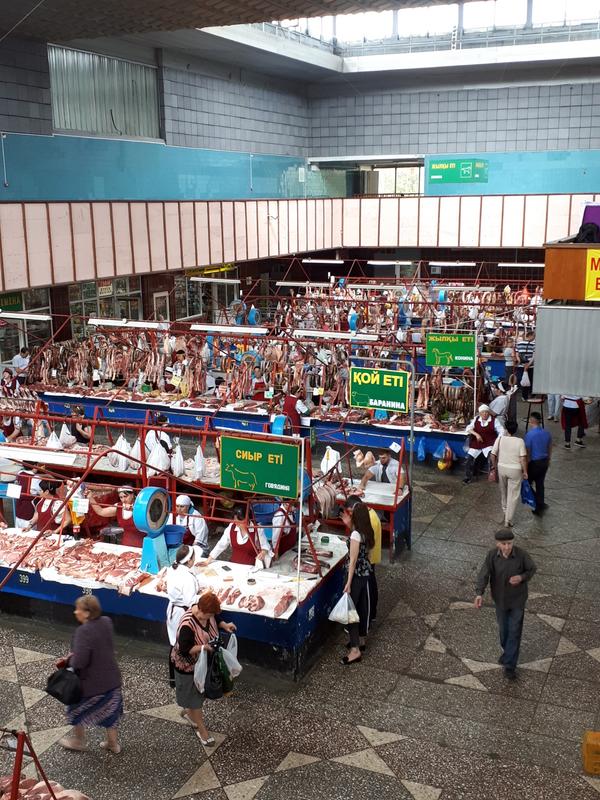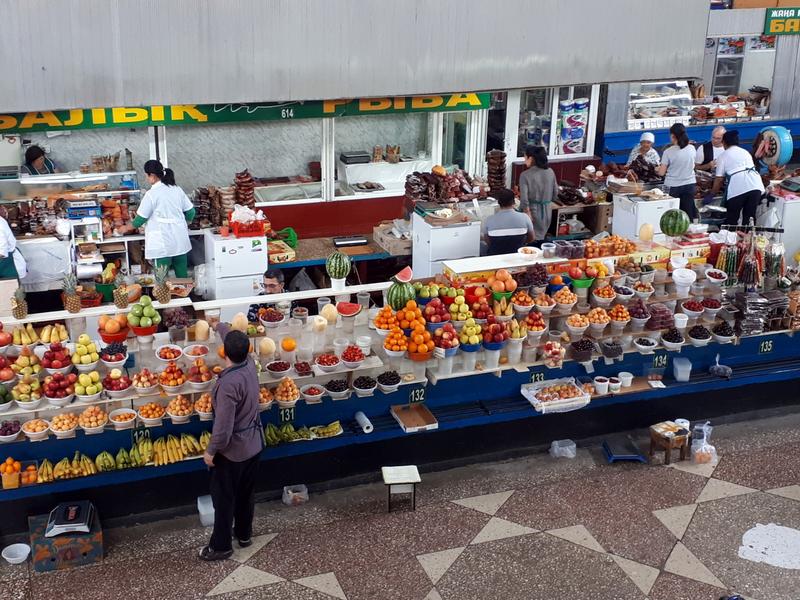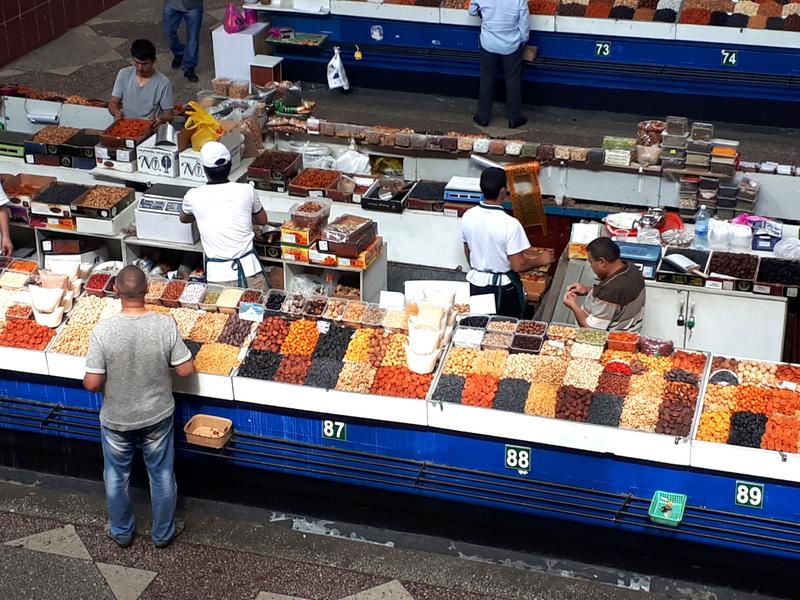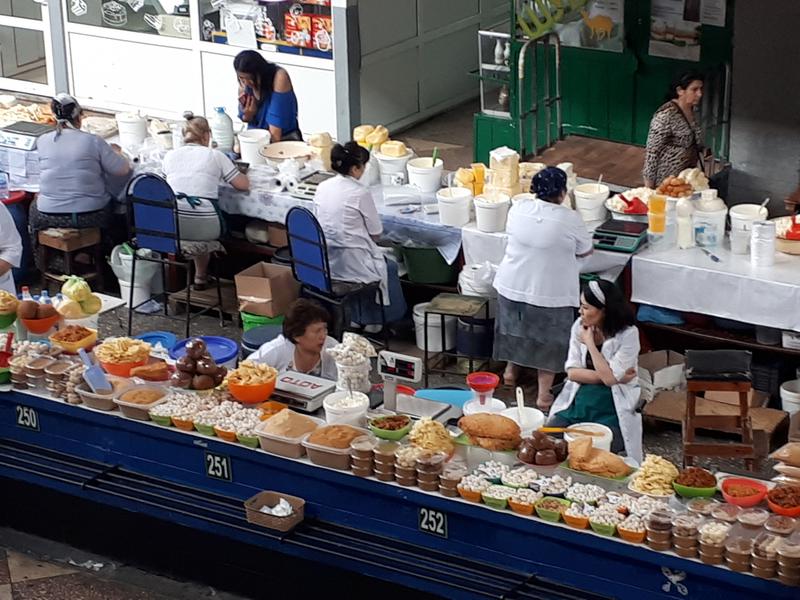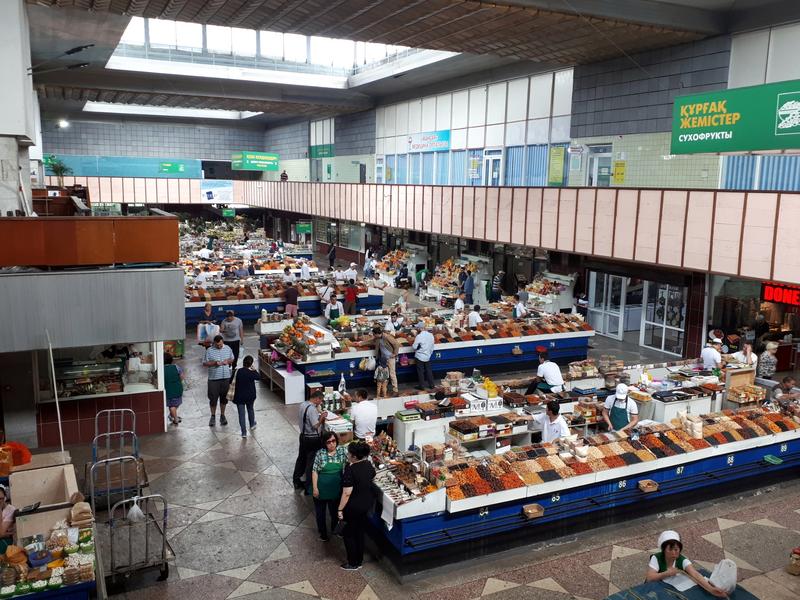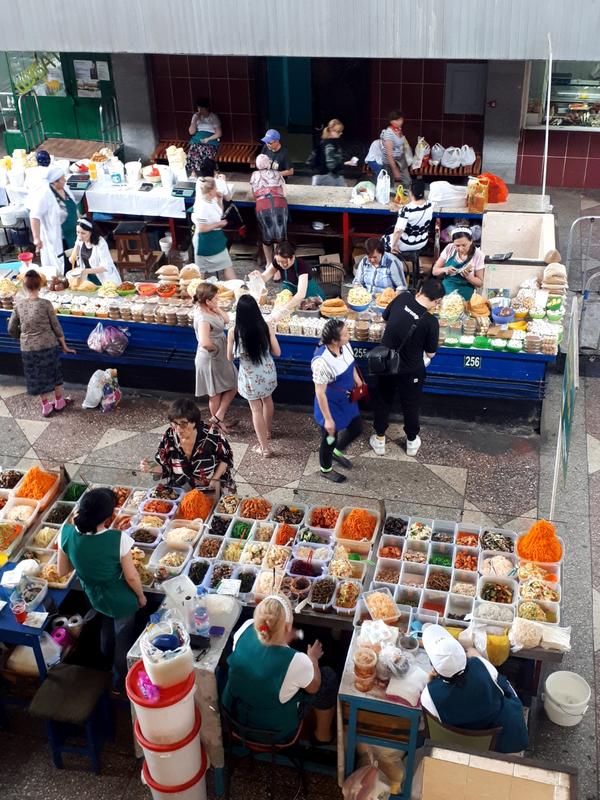 There are no market stalls on the upper balconies as these parts are mostly empty – but you can find some small restaurants and cafes here. Unfortunately, most of them were already closing it being 2pm, but I did find one which was still open. I ordered a laghman – a Central Asian noodle dish – which was tasty. A great first meal in Central Asia, especially with a view over the market stalls down.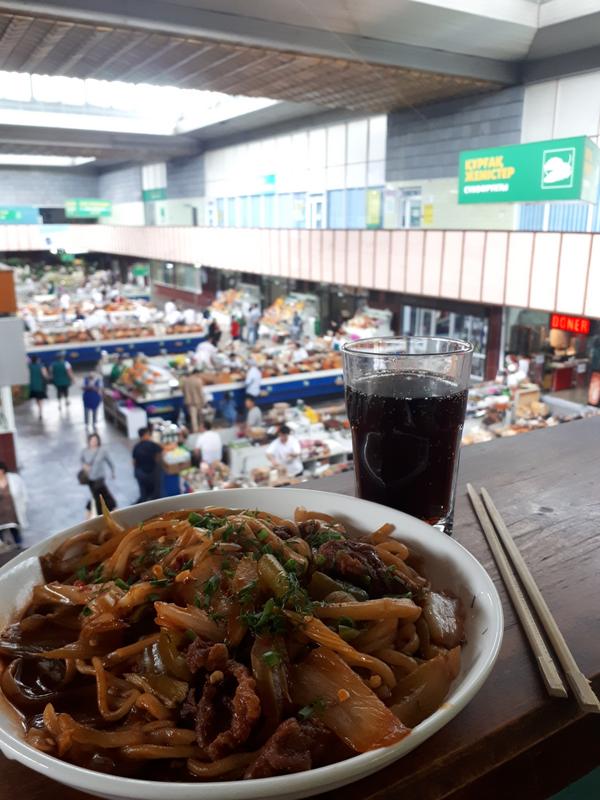 Even though there are better bazaars in Central Asia (Chorsu Bazaar in Tashkent, Uzbekistan, is for sure more colourful and much larger), Zelenyy Bazaar is still an excellent place to get a taste of the old silk road and local life.
Next up:
Exploring more of Almaty
---
Last edited by Romanianflyer; Aug 24, 19 at

11:29 am
Aug 24, 19, 12:16 pm
Join Date: Feb 2014
Location: OTP, CHQ, EIN and beyond
Programs: AF/KL platinum, Turkish gold, Aegean silver
Posts: 1,061
Part 13: More Almaty sightseeing
After finishing my lunch I ventured back outside, being happy to see that the rain showers had given way to some partly blue skies and a wee bit of sunshine, making it possible to continue my city tour. Next up to visit was Almaty's beautiful Panfilov park, named after 28 soldiers of an Almaty infantry unit who died fighting the Nazis outside of Moscow during World War II. According to Soviet history, the guards were killed after destroying 18 Nazi tanks. Later investigations however found out that the story was a fabrication, as there is no evidence of destroyed Nazi tanks and not even all soldiers died.
The centrepiece of the park is the colourful Zenkov's Cathedral. There were dozens of families around the cathedral enjoying the park.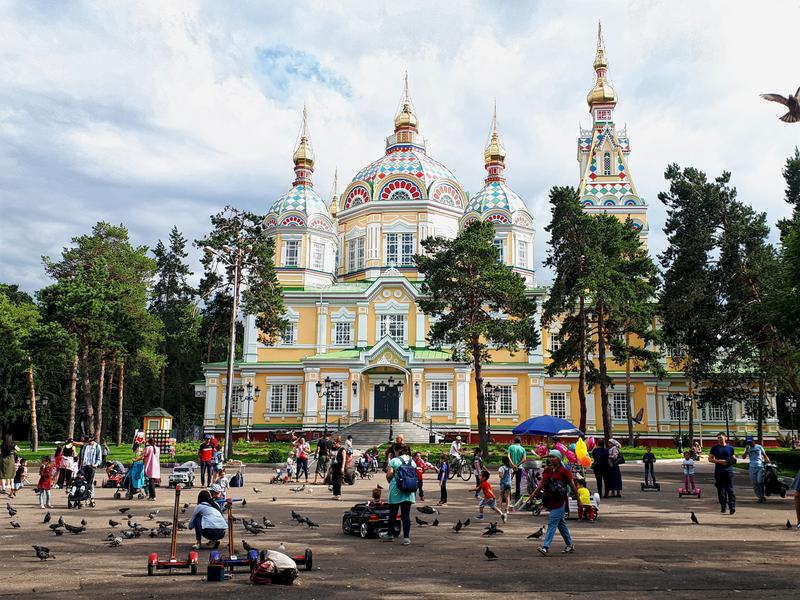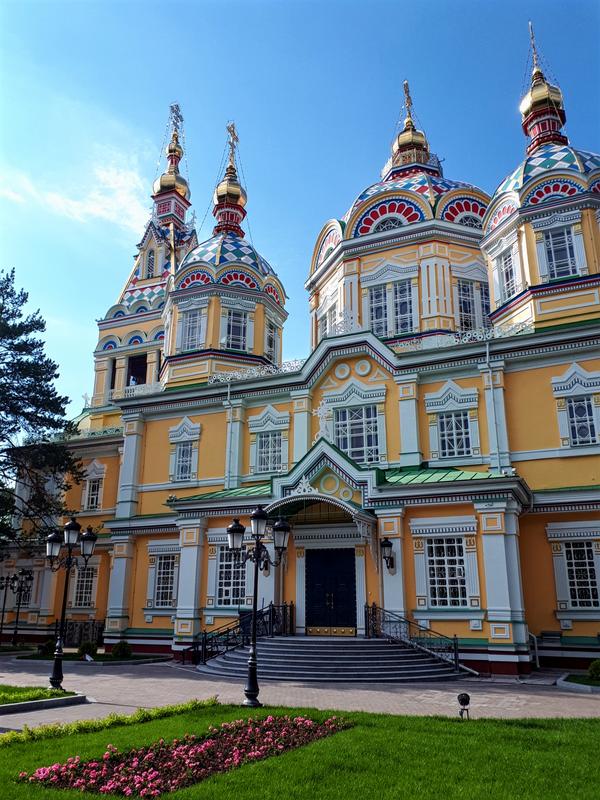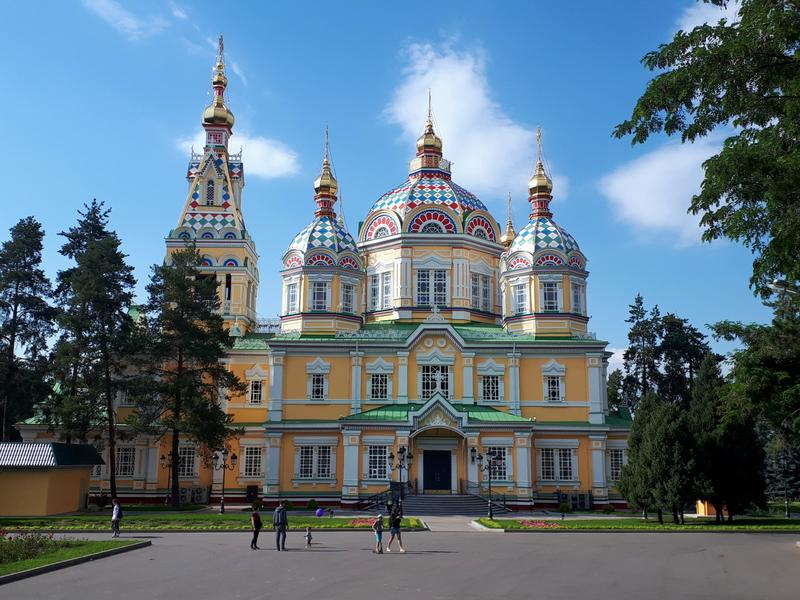 There are a couple of cool Soviet monuments in the park as well, such as an eternal flame and a brutalist WW II monument.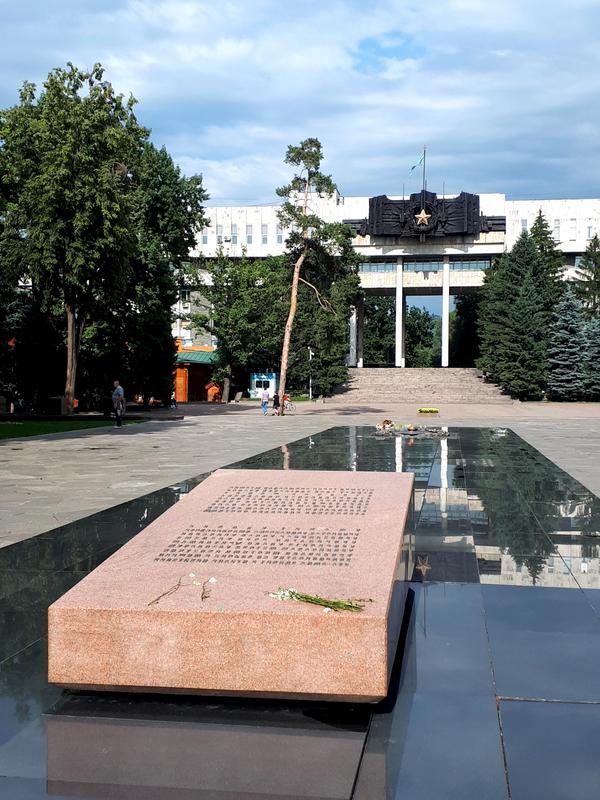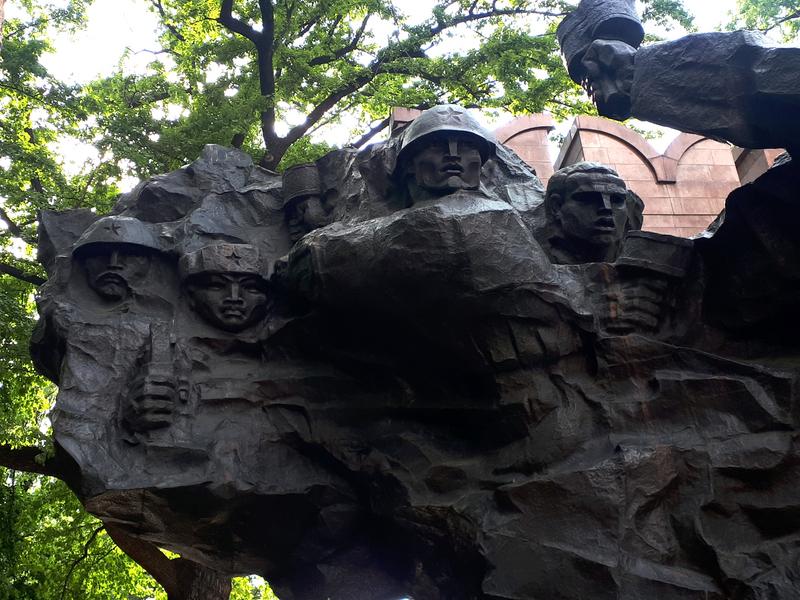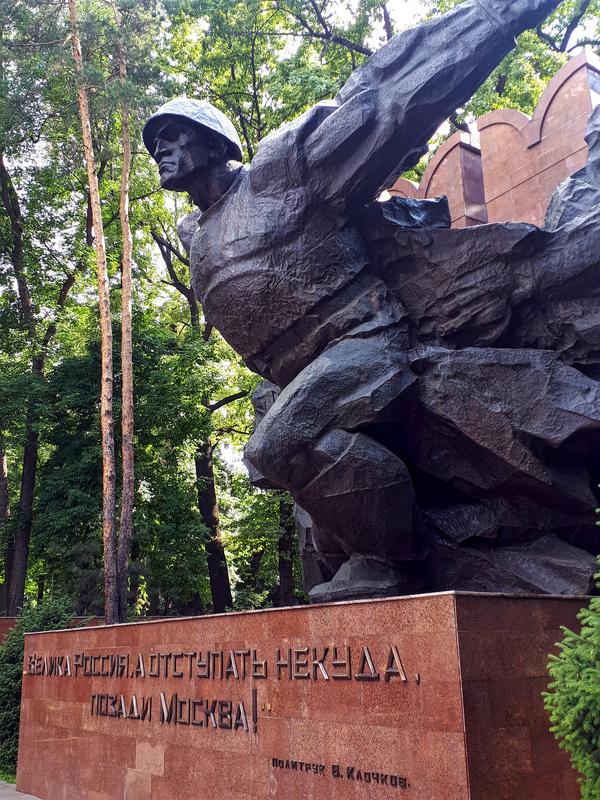 I also walked up to the city's large (and modern) central mosque – which isn't too interesting for those who have seen the wonderful madrassas and mosques of Uzbekistan's silk road cities of Samarkand and Bukhara.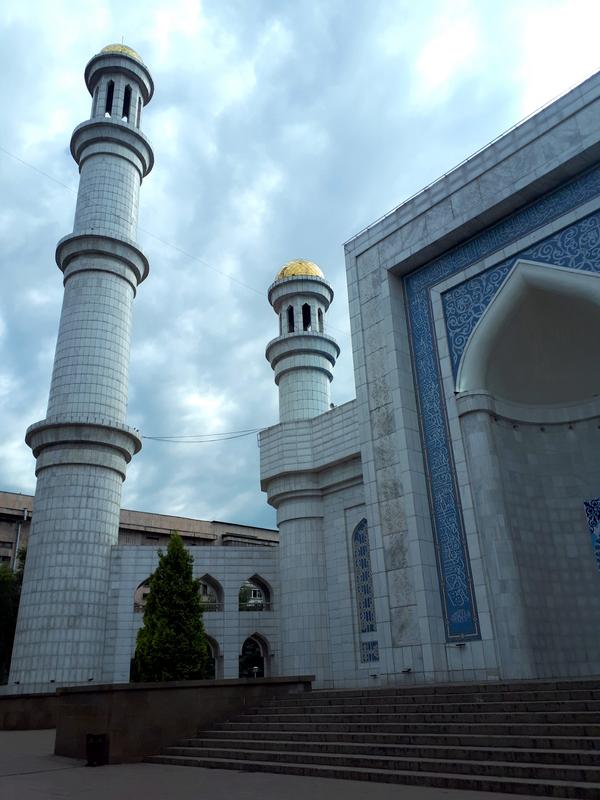 After doing some grocery shopping in a local supermarket I headed back to my hotel, walking past some of the ubiquitous communist-style block of flats, some in a better shape than others.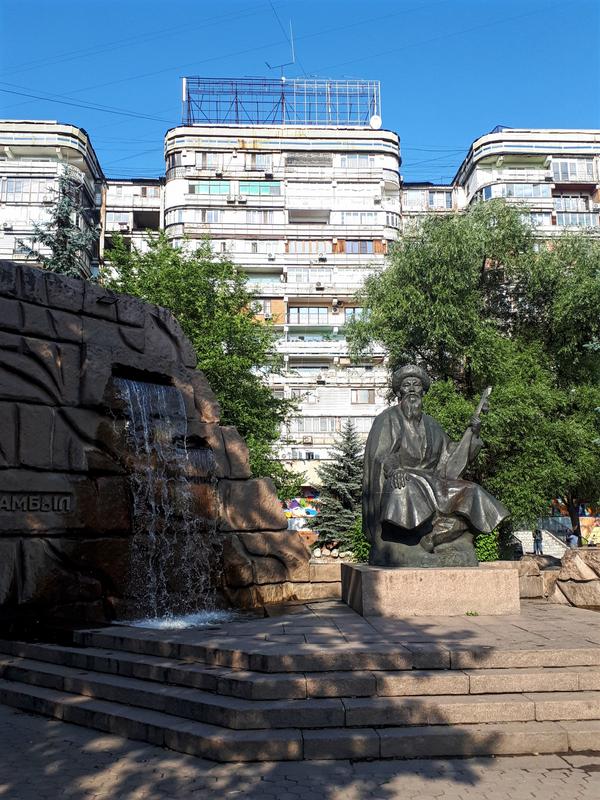 I dropped off the groceries (some bottles of water and a beer or two) in my hotel fridge and went looking for a place to eat. There are tons of modern cafes and restaurants on the leafy streets and boulevards of the south side of the city centre. I opted for a pizza place, which did an OK pizza but truly excellent virgin mojito. Unfortunately no alcohol was served at the place for the real deal – but as it was getting so warm and the mocktail was so refreshing I didn't mind.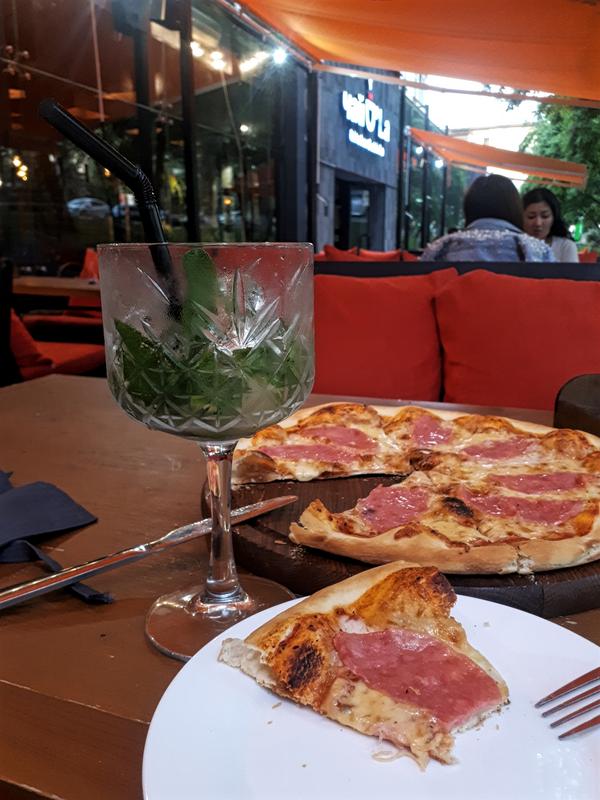 I even lingered around for a while longer drinking another mocktail and smoking some nargilah after my meal.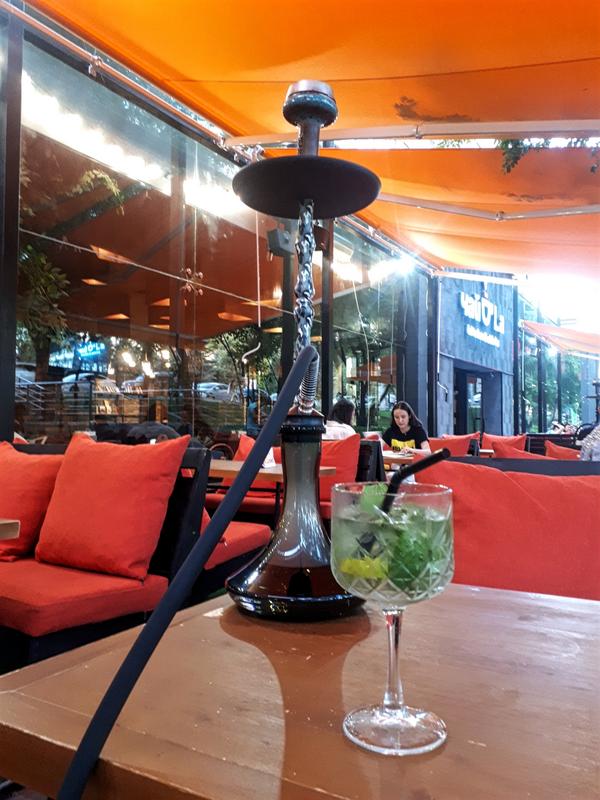 Being still tired from the journey I called it an early night and went to sleep after drinking a beer in my hotel room. It was a nice first day in Almaty – and I was curious what the second day would bring.
Next up:
Some more fun in and around Almaty