Turkish Airlines to Tartary: Kazakhstan, Kyrgyzstan - and a Bit of Belarus
Aug 5, 19, 9:29 am
Join Date: Feb 2014
Location: OTP, CHQ, EIN and beyond
Programs: AF/KL platinum, Turkish gold, Aegean silver
Posts: 1,041
Thanks
HLT1904
. Eastern Europe is really a highly recommended travel destination. There are so many hidden gems in countries like Romania, Bulgaria, Serbia etc. which are all relatively undiscovered but full of amazing sights, great food - and all of it is extremely affordable.
Thanks
Dover2Golf
- I agree about TK, together with Air France, Aeroflot and Aegean it is among my favourite airlines to fly within Europe. I'm not 100 percent sure about this but I believe that TK serves hot meals on every flight over 2 hours in length, so many of the intra-European destinations even see much better meals than the one I just posted in the installment before. That said, it is not always great quality-wise. The meal on my FRU-IST flight was really subpar on not tasty at all.
Also business class meals are by the way great for most, even on short intra-European flights. The picture below is the breakfast on a recent one-hour-long IST-OTP flight (Turkish coffee and orange juice which I had as well not on picture).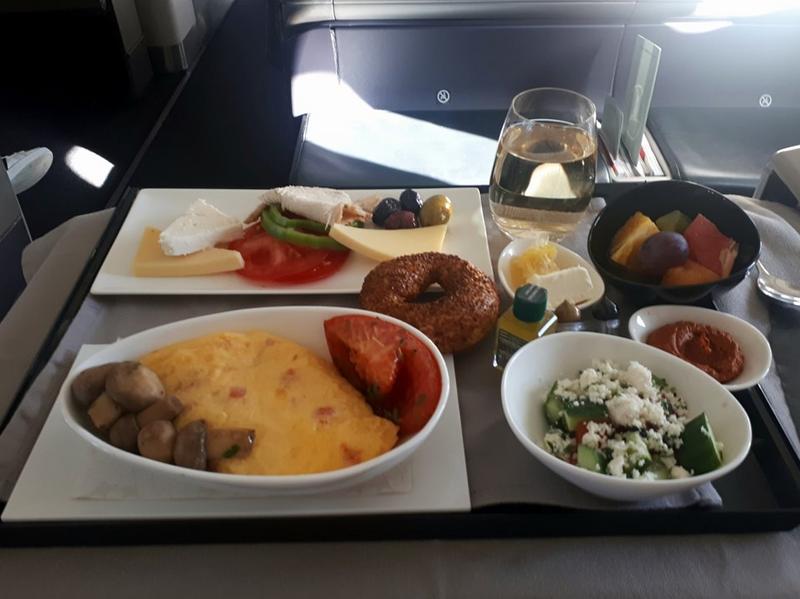 Aug 6, 19, 4:52 pm
Join Date: Feb 2014
Location: OTP, CHQ, EIN and beyond
Programs: AF/KL platinum, Turkish gold, Aegean silver
Posts: 1,041
Part 4: The Turkish Airlines free transit hotel experience
One of the nicer perks of flying Turkish Airlines is that under certain conditions the airline provides a complimentary hotel if you have a long layover on your ticket with no shorter options available. To quote the Turkish Airlines website:
Economy Class passengers having a connection time of 12 hours or longer and Business Class passengers having a connection time of 9 hours or longer can benefit from hotel service free of charge in case a transit flight with a shorter connection time is not provided for the related travel. (Note: For transit flights with a connection time shorter than the designated above, you will not be able to benefit from this service even if the transit flight with a shorter connection time is full.) For example, if passengers are provided with 2 different options for London - Dubai travel, as a flight with 6-hour connection time and a flight with 12-hour connection time, the passenger who has selected the flight with 12-hour connection time will not benefit from this service even if the 6-hour option is full.
As Cluj-Istanbul and Istanbul-Minsk are served by a single daily flight each with just over 14 hours in between the connecting flights, I was eligible for a free hotel. Normally my flights (arriving late in the evening, departing early afternoon) would be far from ideal but as I knew about this benefit it instantly became an attractive option. Especially considering this is just a cheap intra-European flight it is quite generous!
You do not know in advance in which hotel you are booked. You have to report to the hotel desk of Turkish in the arrivals hall, where the staff will make the reservations. In general economy class passengers get a four star hotel, while those in business get a five star hotel. I easily managed to find the hotel desk at IST (to the far right when you enter the arrivals hall after baggage reclaim) and handed over my boarding passes to the hotel desk employee, who escorted me to some seats in the gleaming new hall where already some other people were waiting. After some five to ten minutes the employee came back and announced one by one the names of everyone giving each person his or her boarding passes back and assigning them to a minibus driver for the drive to the hotel.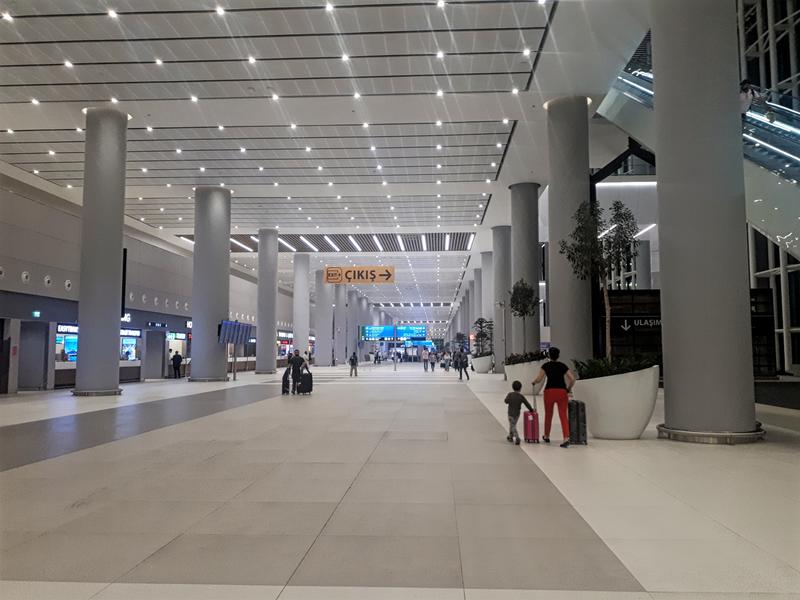 Waiting in the arrivals hall of IST
With some 10 other passengers, I was assigned to the Marriott Courtyard a short distance away from the old Ataturk airport. Due to the sheer lack of hotels at the faraway new IST airport, most transit hotels are actually located here – so do take into account a drive of about one hour each way to get here. The Turkish Airlines minibus driver dropped us off in front of the hotel and we were told by the reception staff to take a seat in the lobby as they would call us by name one by one to the reception desk. Mercifully, I was the second person to be called – and within one minute I had myself a room assigned. No credit card or other paperwork was required besides handing over my passport for them to make a copy. The entire process from arrival at the hotel desk to the moment I entered my room took quite a while all combined (around one-and-a-half hours) but was still quicker than I thought it would be. It also couldn't have been more straightforward. My room was pretty good and I managed to get some four hours of good sleep before my alarm clock went for a quick shower and an early morning conference call I had to attend.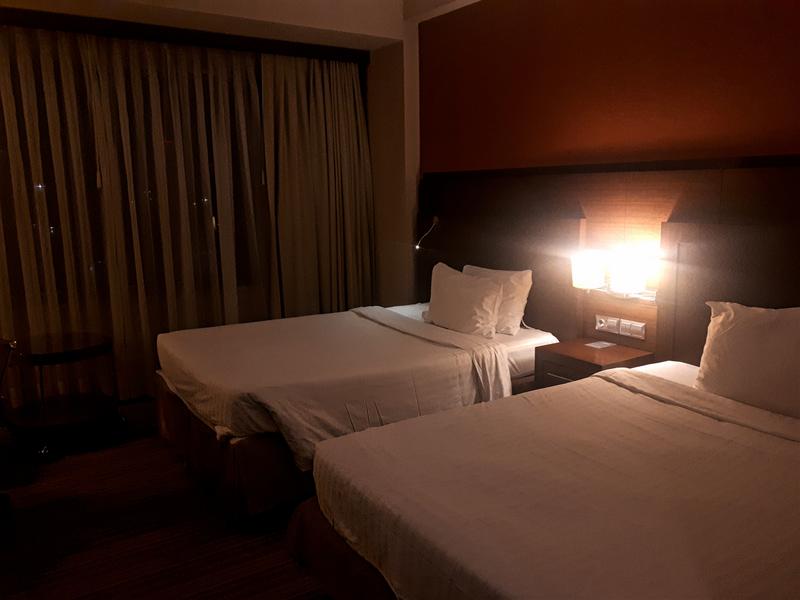 The only weird thing is that I found this in my bed sheets when I went to sleep, seemingly some kind of hotel dining voucher given to a previous passenger.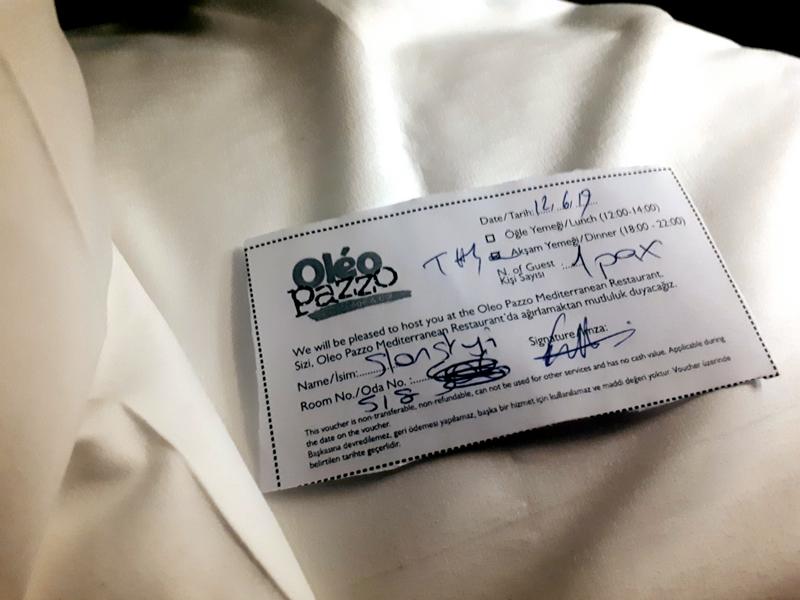 Not a good sign, although upon closer inspection the sheets were freshly washed and spotlessly clean, as was the rests of the room. Somehow this must have slipped accidentally into the sheets when housekeeping was making the bed...
Breakfast was included as well the next morning and was rather average in quantity as well as quality, although the egg station was a plus. At check-in, the hotel staff had already told me at which hour I was expected back in the lobby for my ride back to the airport. And indeed, right on time a minibus driver arrived to take me and just two other passengers back to the airport. After a quick ride, we arrived at IST, having about three hours to go until the departure of my flight.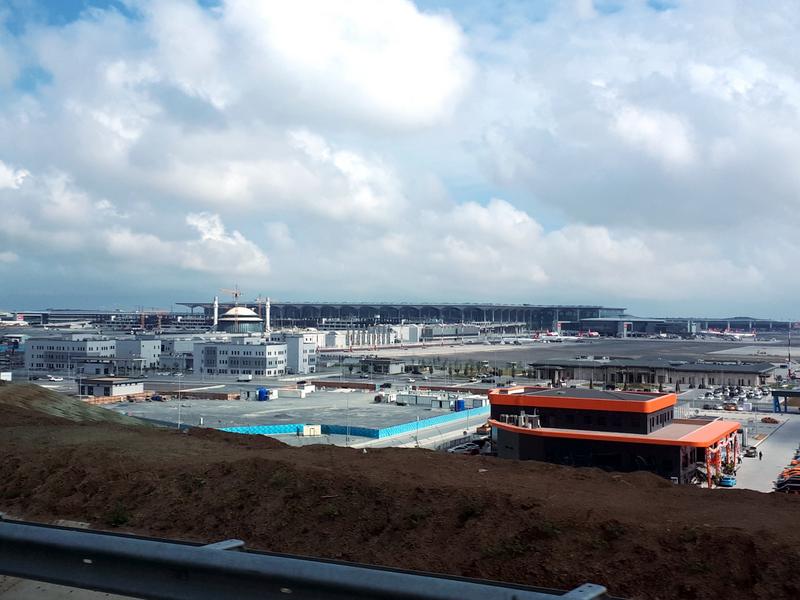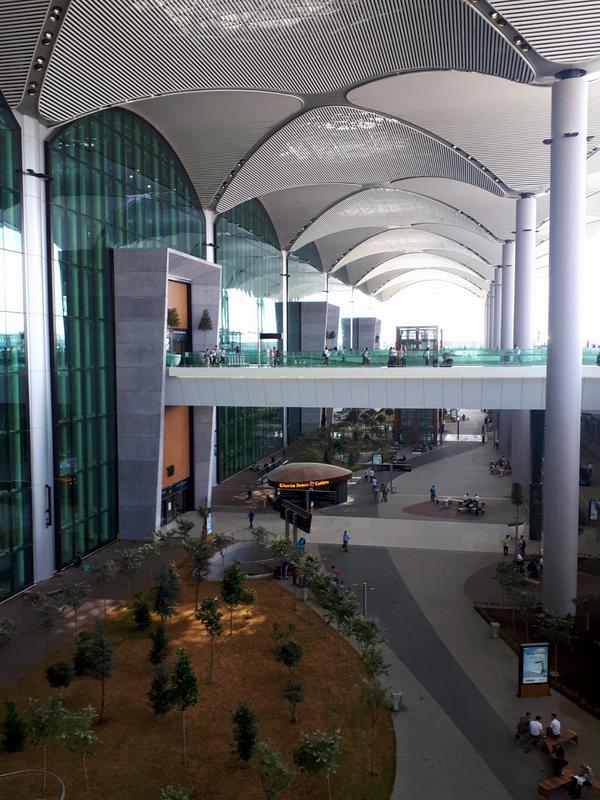 As I already had my boarding pass printed, I made my way to the priority line for security check and passport control.
In short:
The free transit hotel was much appreciated and is a great feature. The entire process could not have been easier and I managed to get some good sleep despite it being a short night. Do however take into account that the drive to the hotel will take between one and one-and-a-half hours – and that you might also have to wait for about half an hour at the Turkish hotel desk. Also do note that not many flight routings would qualify for such a complimentary hotel. For example, if I would have opted for a flight out of Bucharest to Minsk instead of Cluj, I would have never qualified due to the many daily flights between OTP and IST. You really need to look for destination pairs served by one daily flight only with their arrival and departure time being many, many hours apart.
Next up:
New Istanbul airport and the Turkish Airlines lounge
Aug 7, 19, 11:45 am
Join Date: Feb 2014
Location: OTP, CHQ, EIN and beyond
Programs: AF/KL platinum, Turkish gold, Aegean silver
Posts: 1,041
Aug 7, 19, 1:44 pm
Join Date: Feb 2014
Location: OTP, CHQ, EIN and beyond
Programs: AF/KL platinum, Turkish gold, Aegean silver
Posts: 1,041
Part 5: The Turkish Airlines Miles & Smiles Lounge at Istanbul's New Airport
Istanbul's New Airport is simply put
huge
. Distances can be enormous. Just walking from one side to the furthest away gate at the other far side can easily take 20 minutes (if being fit and walking at a normal to fast pace without too much luggage to drag along). It really is not the airport for quick connections – especially not if you have to pass through security coming from certain countries. As a rule of thumb, flights from the EU/US are fed directly airside into one of the terminals, but coming from many other countries you will on arrival at your gate be directed one floor up, where you have to walk to the central security point to re-clear security.
That said, lines are usually short at IST – especially if you are *G or fly business class on Turkish (or in business with most other airlines) as you can use the priority lines. I never waited longer than five minutes – and I have transited the new airport about a dozen times since it has opened. The same counts when originating your journey at IST – there is a separate check-in area designated for business class and *G, with their own priority security lines directly behind.
The airport itself feels mostly like a gleaming new shopping centre – it is a nice place to walk through and do some window shopping. It feels airy, there are plenty of food outlets, moving walkways, seating areas. There are even designated sleeping chairs which you can grab as an economy passenger! Sure, you won't have any privacy at all – but these reclining chairs are much better than the usual airport benches. There is internet access, although you need to connect through your mobile phone to receive a text message with your login code – so make sure you have cell phone coverage in Turkey so you can receive this!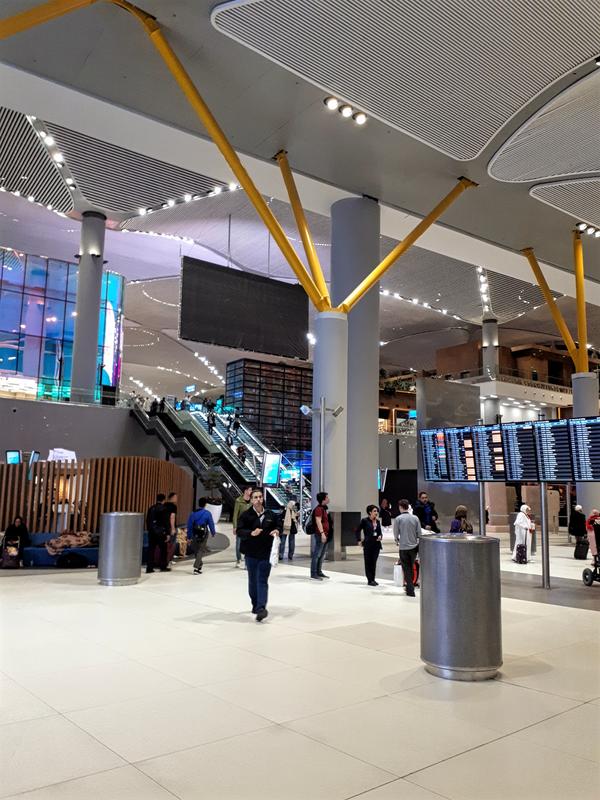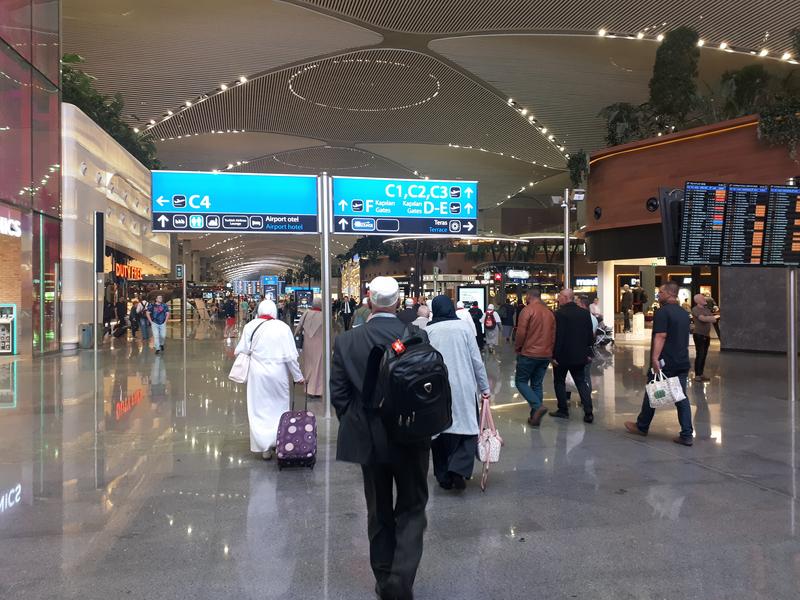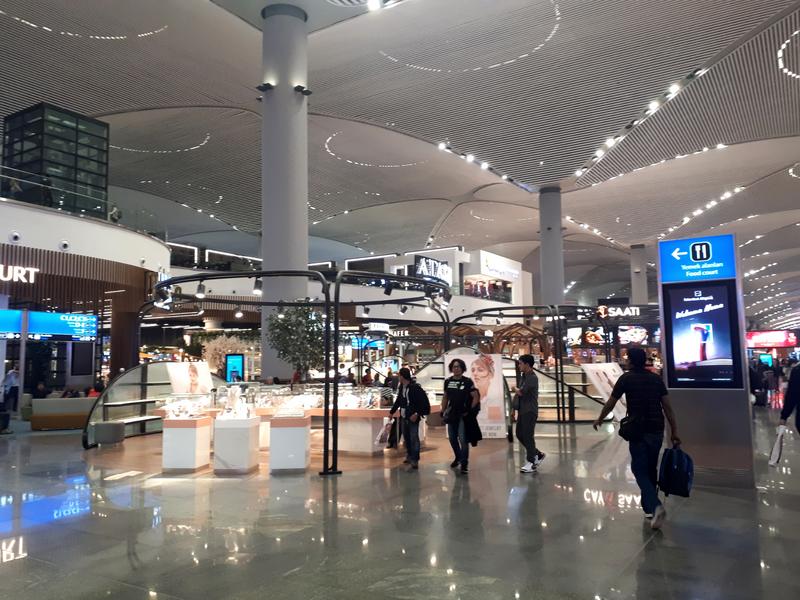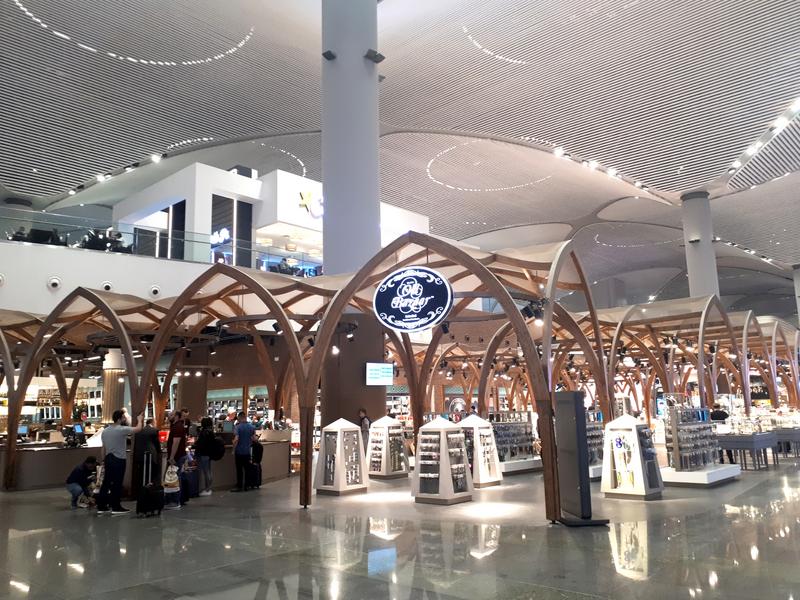 The old Turkish Airlines lounge at Ataturk airport had the reputation of being one of the best in the entire Star Alliance network. Sure, at times it was way overcrowded, but the food spread was always amazing and there were plenty of ways to entertain yourself. How did Turkish do with the new lounge at the new Istanbul Airport? Let's take a look.
As of now, there are two Turkish Airlines lounges – located opposite each other in the central airport building. One is branded as the Miles & Smiles lounge while the other one is branded as the business class lounge. The difference between them can mostly be found in access requirements. The Miles & Smiles lounge is open to all Star Alliance gold card owners flying on Turkish or any other *A airline, while the business class lounge is for those flying in business class on Turkish or any other *A airline. Turkish also has a lounge in the domestic terminal, and will soon have an arrivals lounge and an improved 'exclusive lounge' as well. The latter will reportedly only be accessible for Miles & Smiles elite members who travel in business class. *G of other airline programme's and those flying economy will not be accepted there.
This instalment shows the Miles & Smiles (or *G lounge) of Turkish Airlines – which is actually identical to the business class lounge opposite the hall. The idea behind it is simple: to spread passengers over two lounges and to prevent overcrowding. Spoiler: while at times the lounge can still be very crowded (especially mornings and early evening) Turkish has for sure succeeded in this as in every aspect the lounge feels less like a chaotic zoo or theme park than the old lounge at Ataturk.
The enter the lounge, you have to go to the backside of the central atrium of the main terminal where the escalator up is located. Guests with mobility problems can also use the elevator up (which is easier to find as it faces the main concourse!) but a Turkish Airlines employee manning the booth in front of it will usually send you away to the escalator if you seem fit enough to walk. At the entrance of the lounge there is a large reception desk usually staffed by at least four persons. If you are guesting a person, you need to check in for the lounge here, although in all other cases you can just directly walk to the entrance gates and scan your boarding pass. If you might have issues with your flight, the reception desk can also help you out (paper boarding passes are printed in just a few seconds, for example).
At the entrance of the lounge is a huge screen and grand piano – the part behind this is the main part of the lounge where you will find all food and beverage options as well as almost all seating.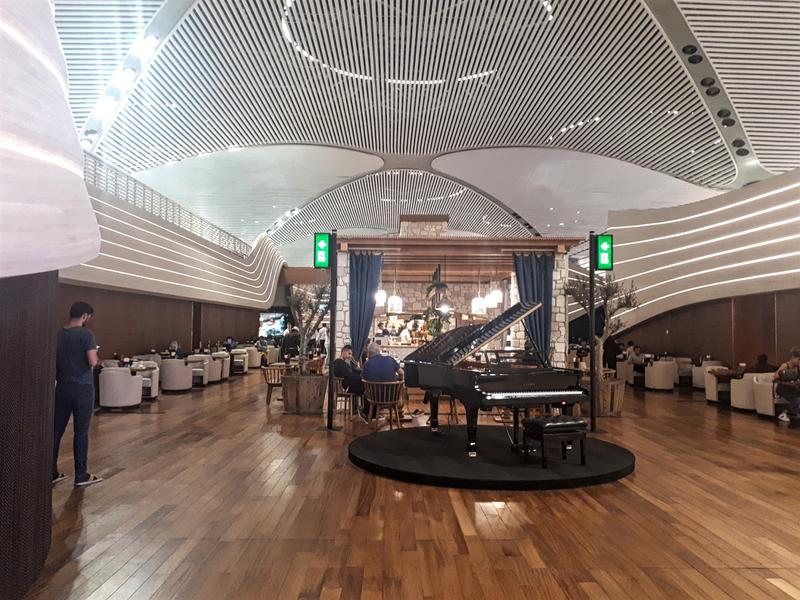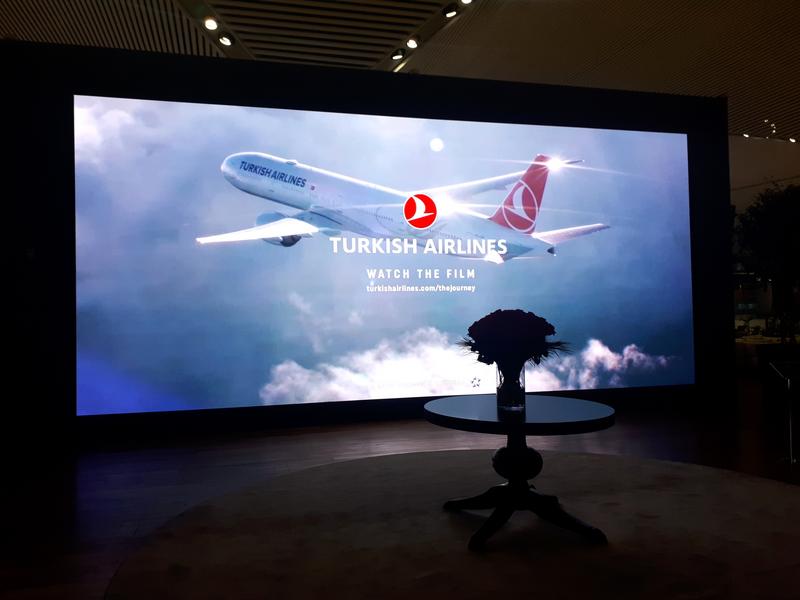 To the other side, you will find a few more seats, a big number of lockers and a small business centres with a few computers and printer. Here is also the reception desk if you want to check in for one of the lounge sleeping rooms (requirements are very strict though and depend on both your itinerary and M&S status!) as well as shower rooms. I have found shower availability excellent so far. On five occasions (all in afternoon or evening) there was no wait at all. The showers are well appointed and large and also have a toilet.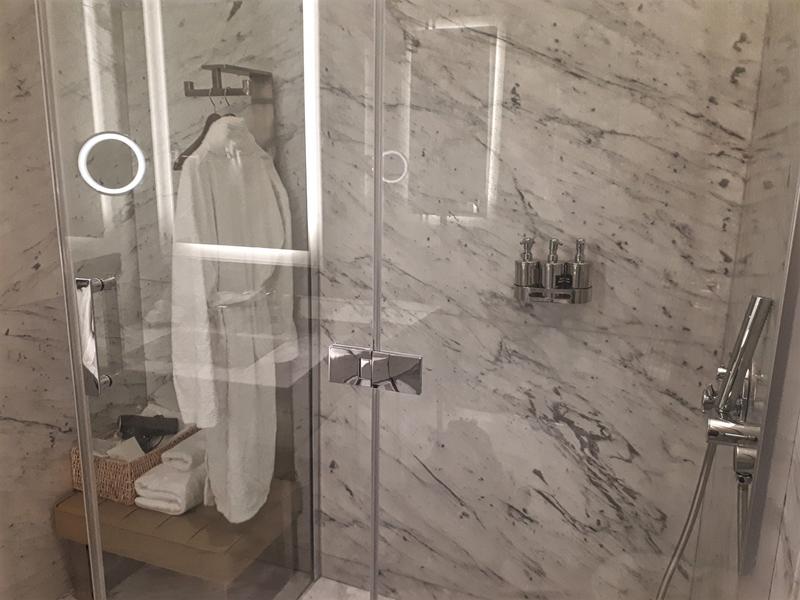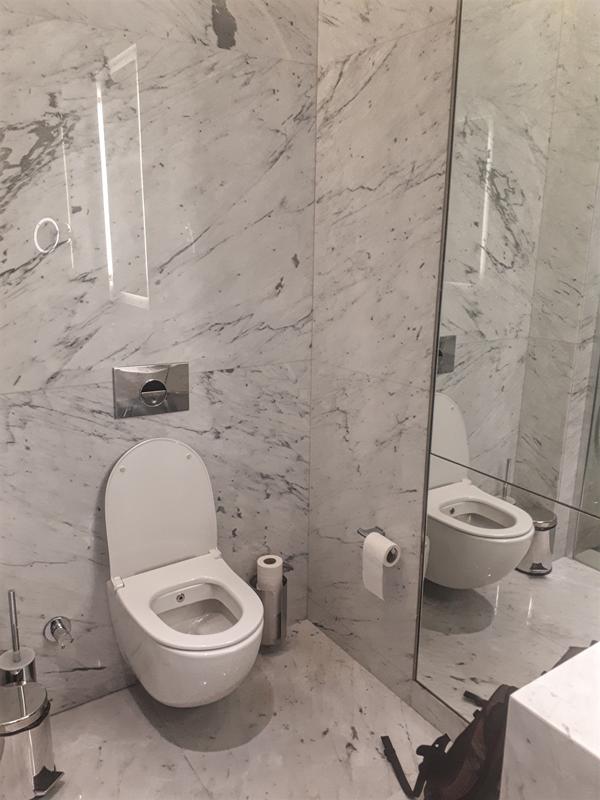 Back to the main part of the lounge! The first part of the lounge consists of some live cooking stations and taverna-style seating.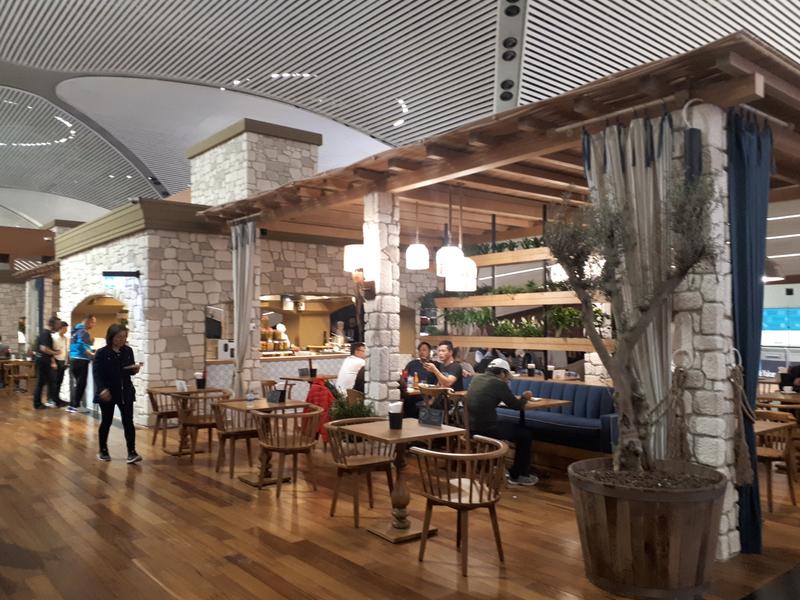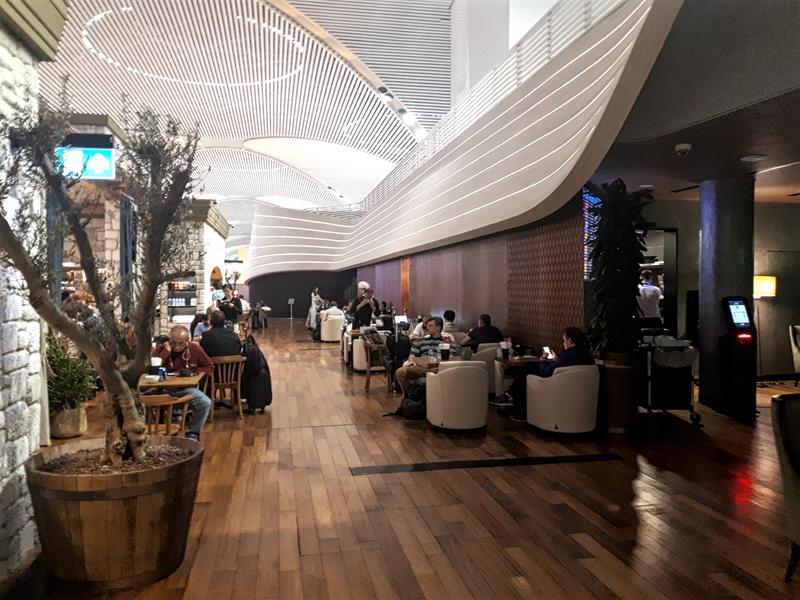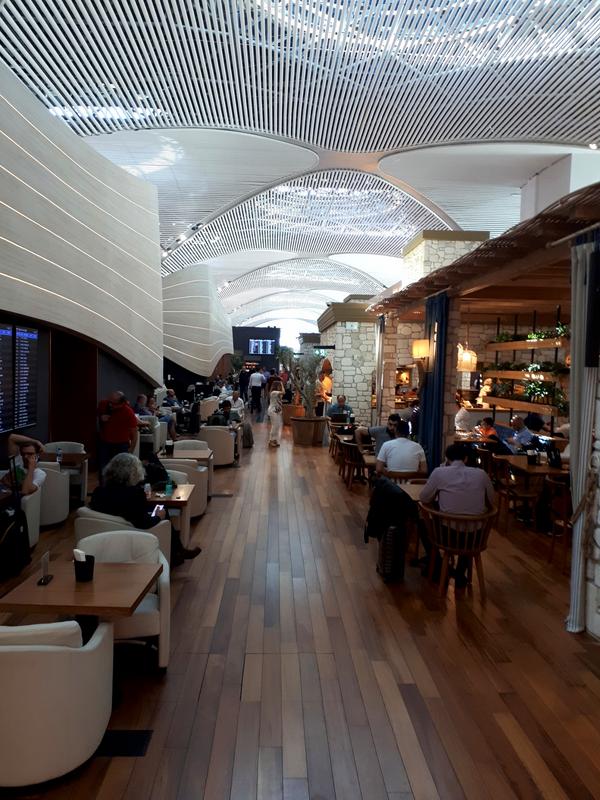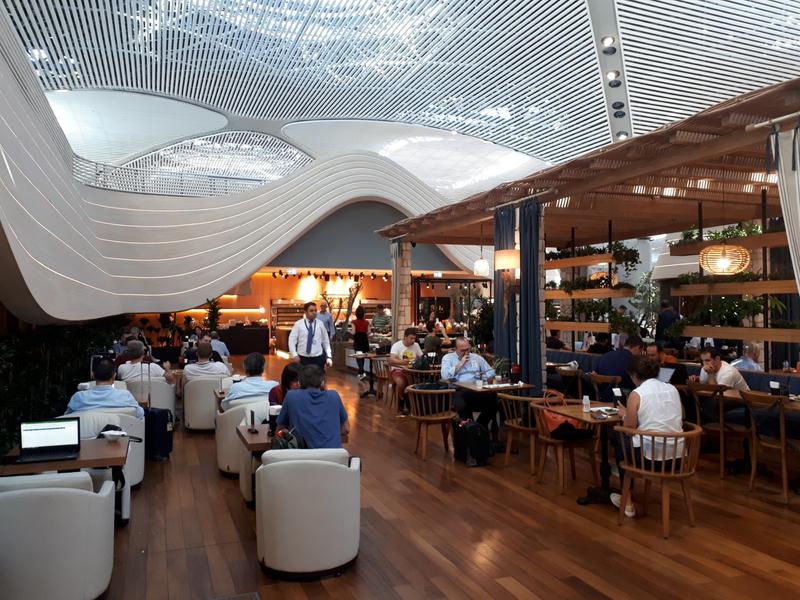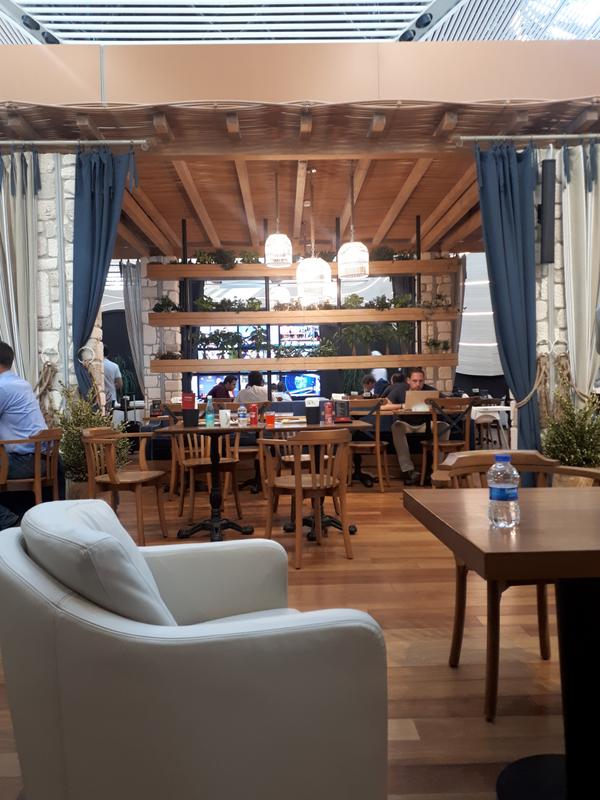 Among the food options you can find here are manti (Turkic/Central Asian style dumplings)..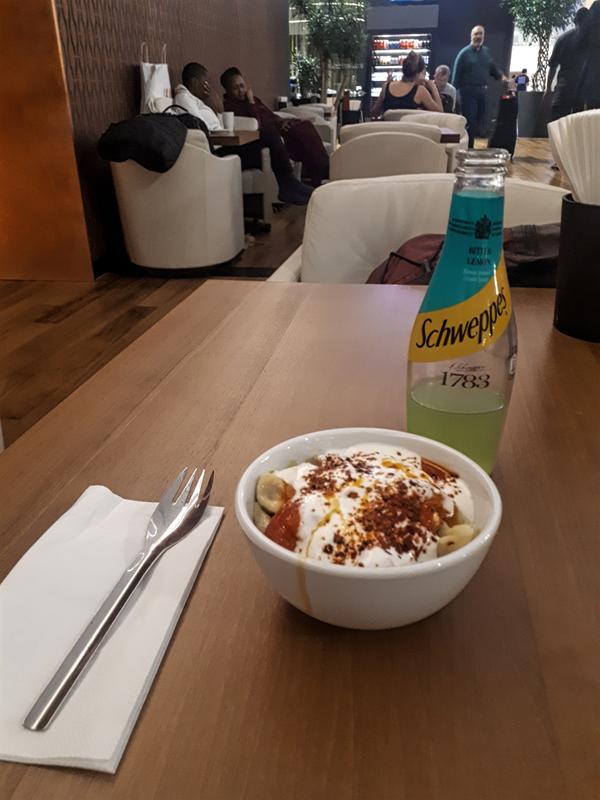 There is a grill where a chef prepares chicken, beef and veggies..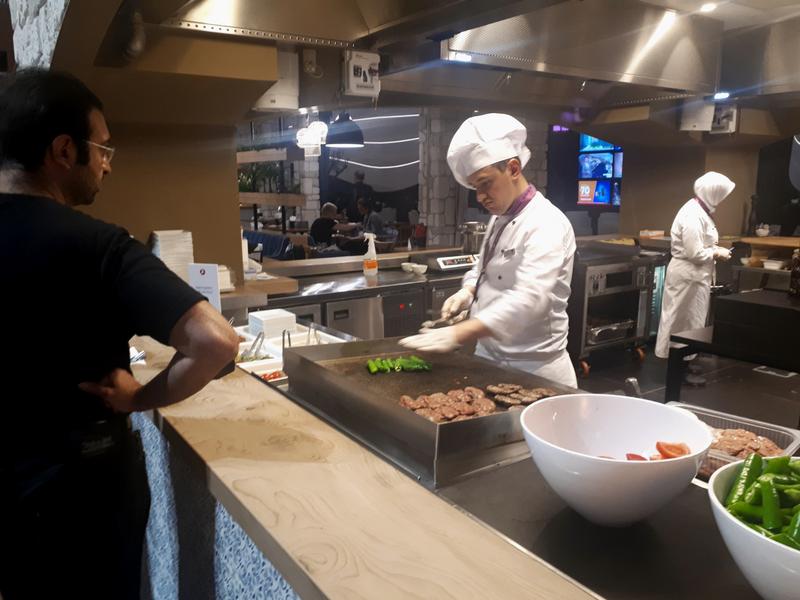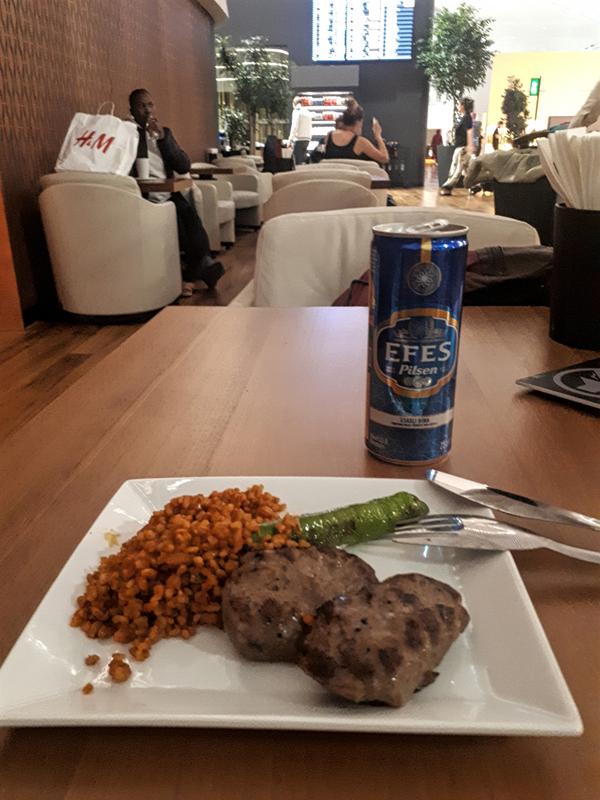 There is a station where they prepare gözleme (Turkish flat bread filled with spinach)..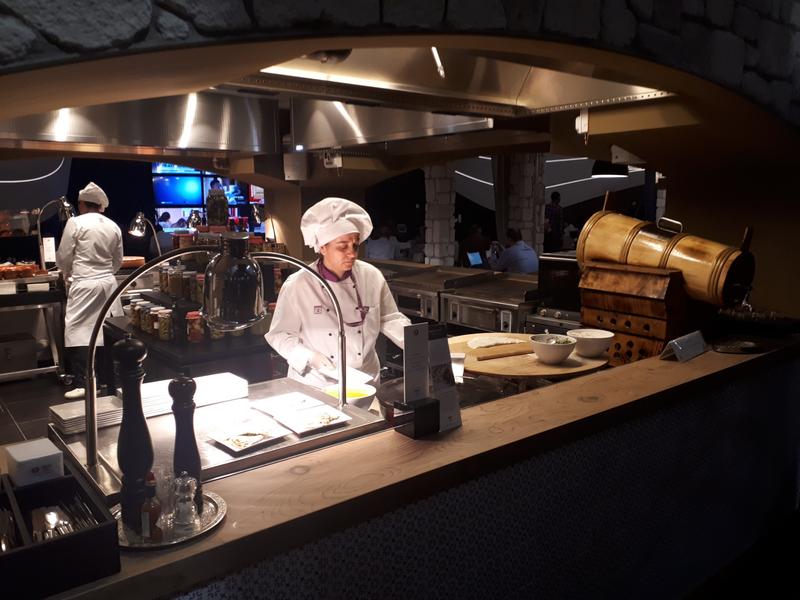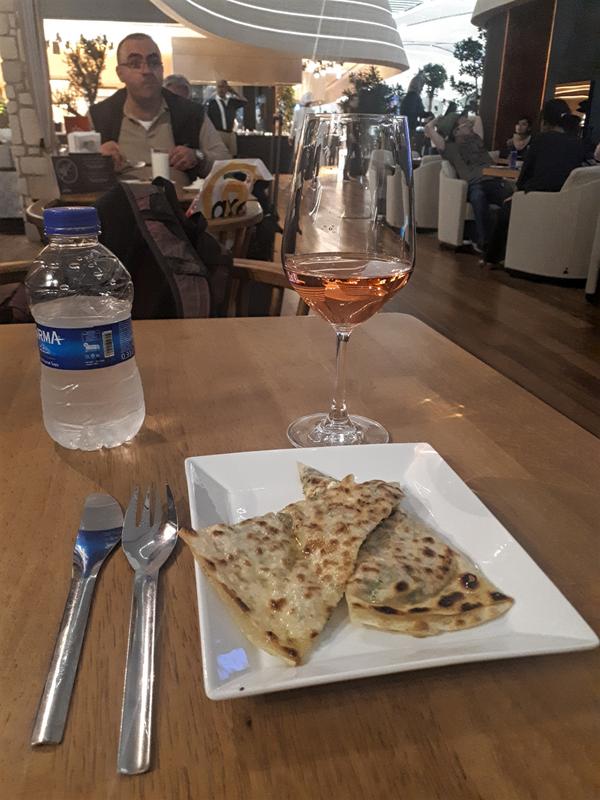 And one with freshly made "Aegean moussaka" (of course, Turks would not admit it being an original Greek recipe
)..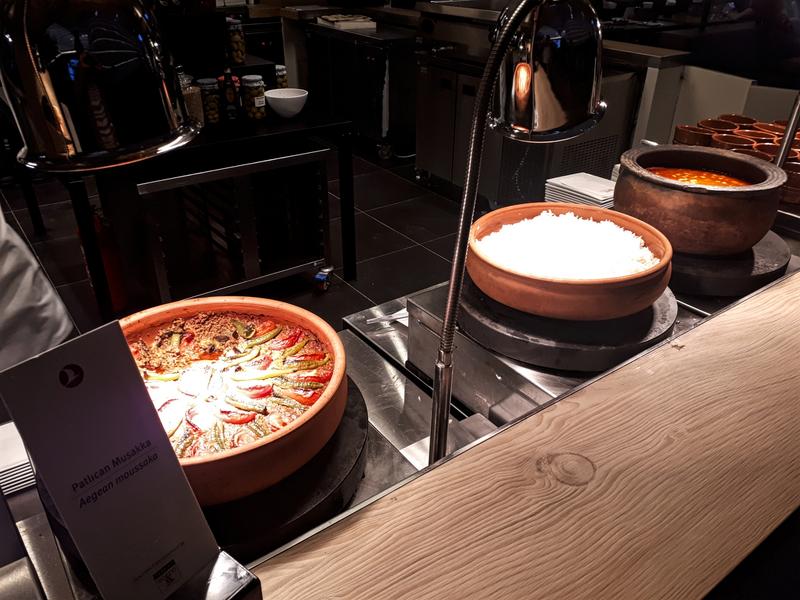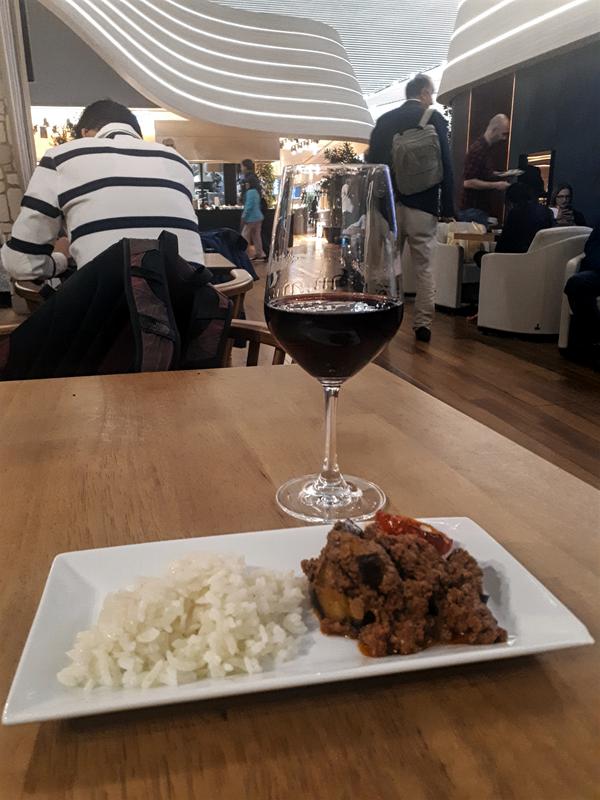 There is also a station which serves a pasta dish. Behind this part, there is a huge salad bar which is beautifully set up..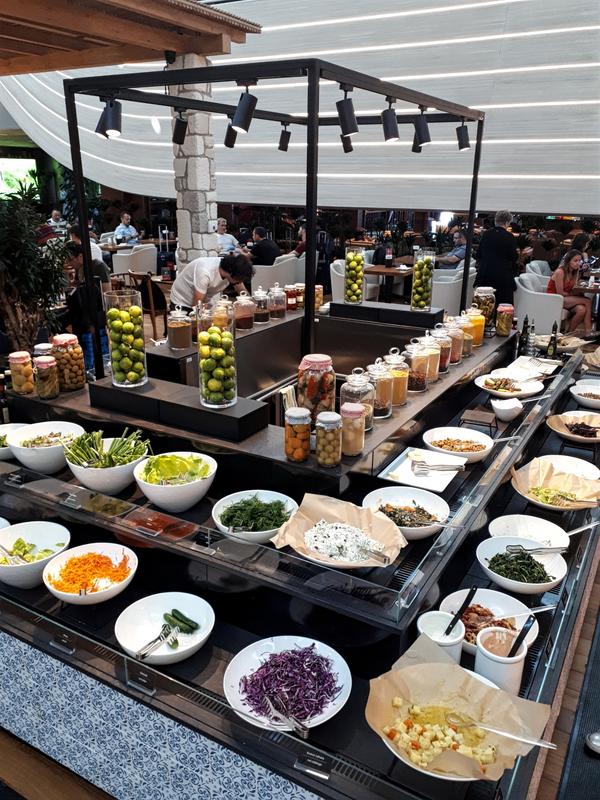 Of course, there is a pide station (Turkish style pizza, basically) as well as this was always the firm favourite in the old lounge..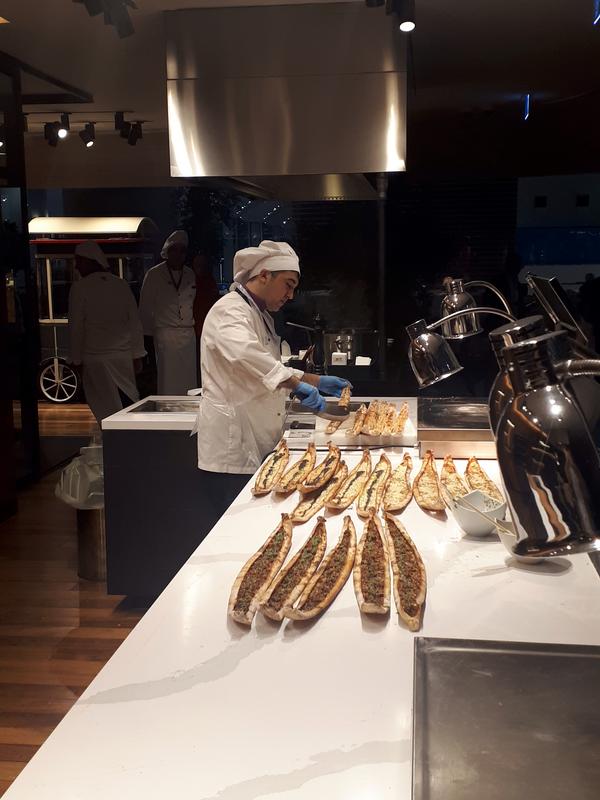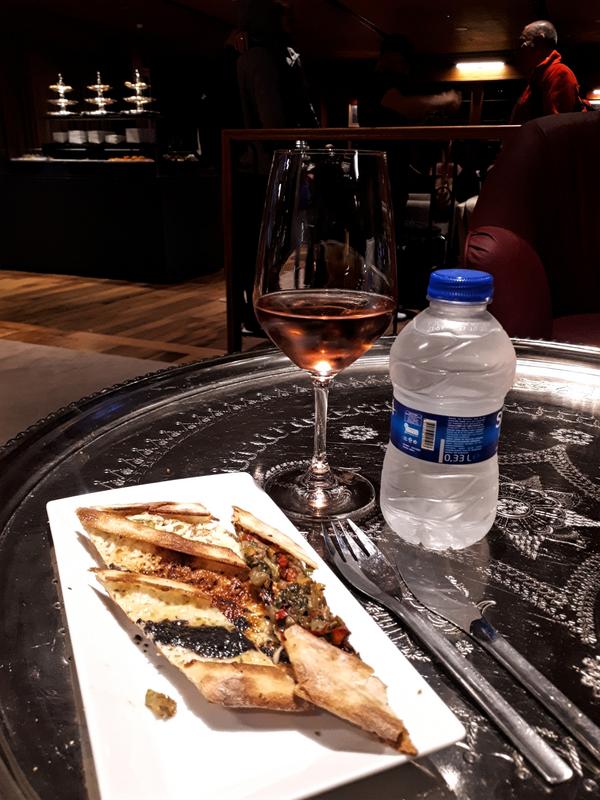 Do note however that all these food stations are only open from late morning til late in the night. In the morning, Turkish puts out its breakfast spread. I haven't yet tried it as my only morning visit was a short 10 minute pit stop with little time to try things and to make pictures, put what I read from reports you need to think about grilled cheese toast and omelet stations and the like. At the end of the lounge, in the 'open' part which overlooks the rest of the terminal, there is a station where there are sweets and cakes. As in the old lounge, the quality of these sweets and cakes is excellent.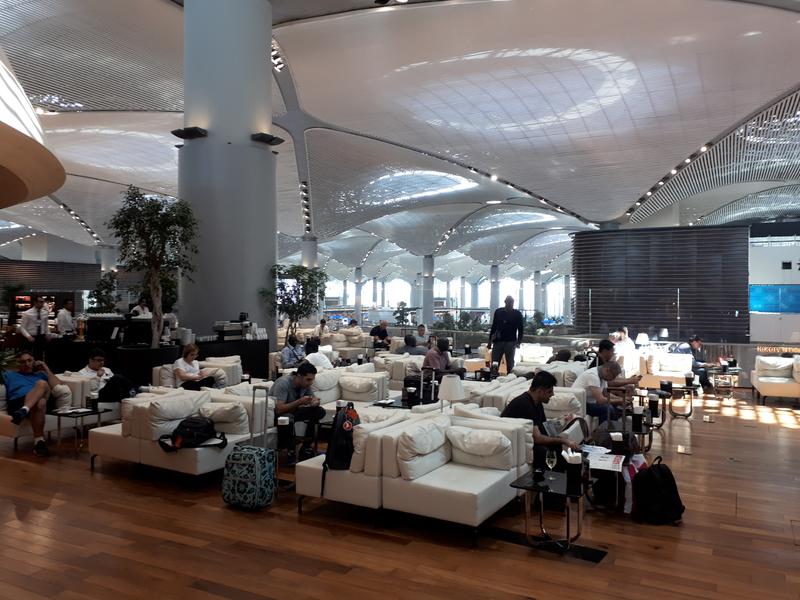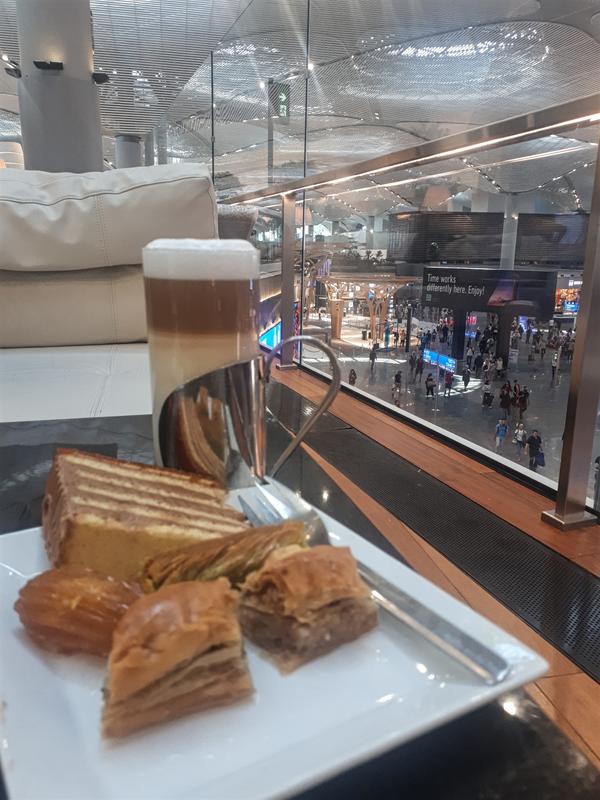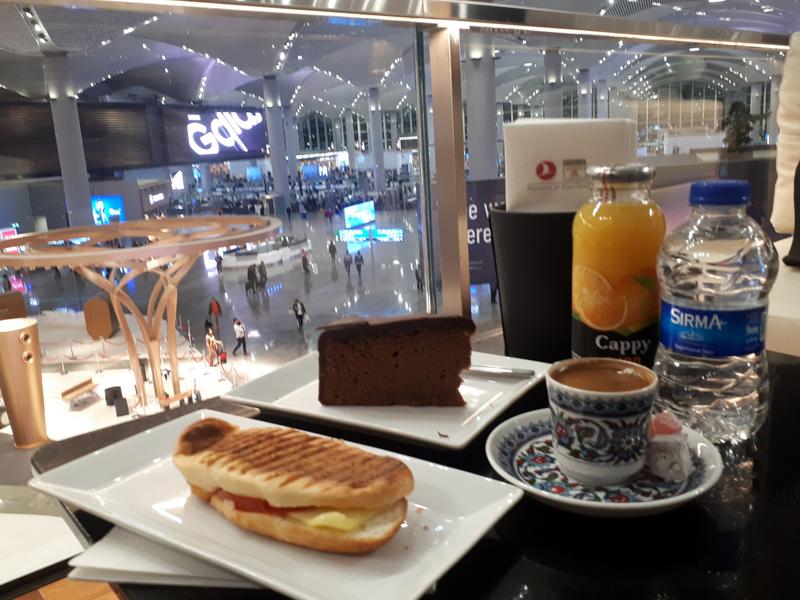 In this part of the lounge, as well as just when you enter the lounge, there is a manned coffee station where you can request espressos, cappuccinos, lattes and of course Turkish coffee.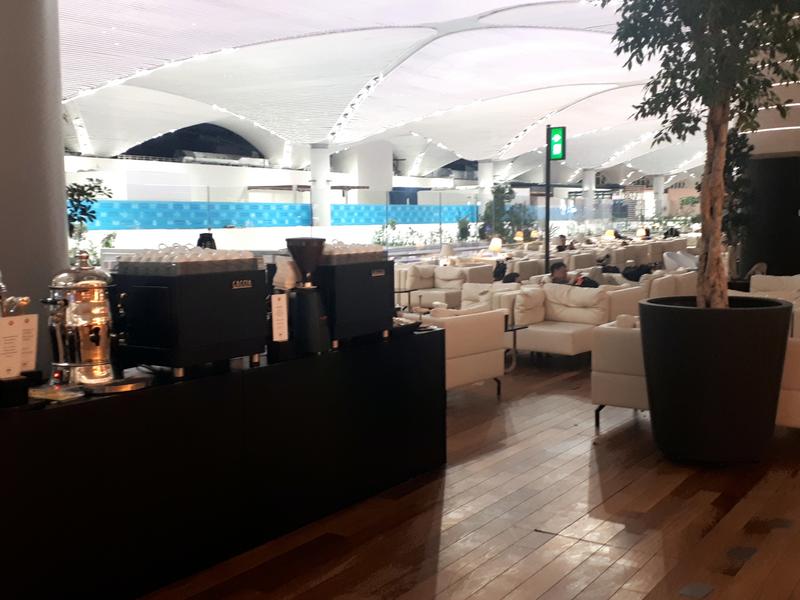 Throughout the lounge you can find fridges with sodas, water and beer. Just like in the old lounge, there are carts throughout the lounge on which you can find either wine or strong alcohol. There are only Turkish wines in the lounge (typically 4-5 whites, 2 roses, and again 4-5 reds) which range from good to excellent quality.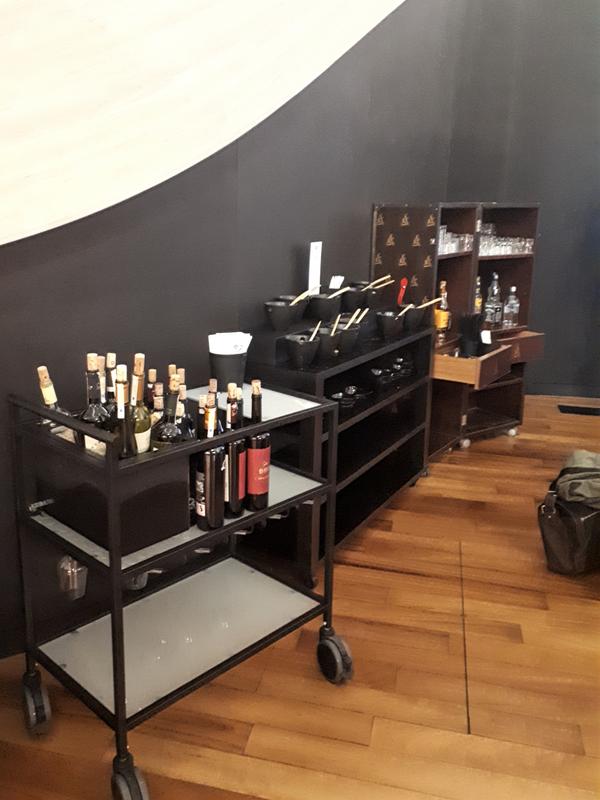 Wine cart in front, strong alcohol cart in the back. Note also the cart in the middle – which has multiple kinds of nuts for you to make your own selection for in a ramekin
For drinks, there are huge canisters of fruit juice (towards the back of the lounge where the sweets and cakes are – you find here as well Turkish' trademark lemonade which is also served as a PDB), as well as plenty of canisters with Turkey's famous teas.
Besides these main areas there are also a few other areas in the lounge which are worth a mention. There are as so to speak two TV rooms. One in the main area of the lounge with regular TV programmes on without sound..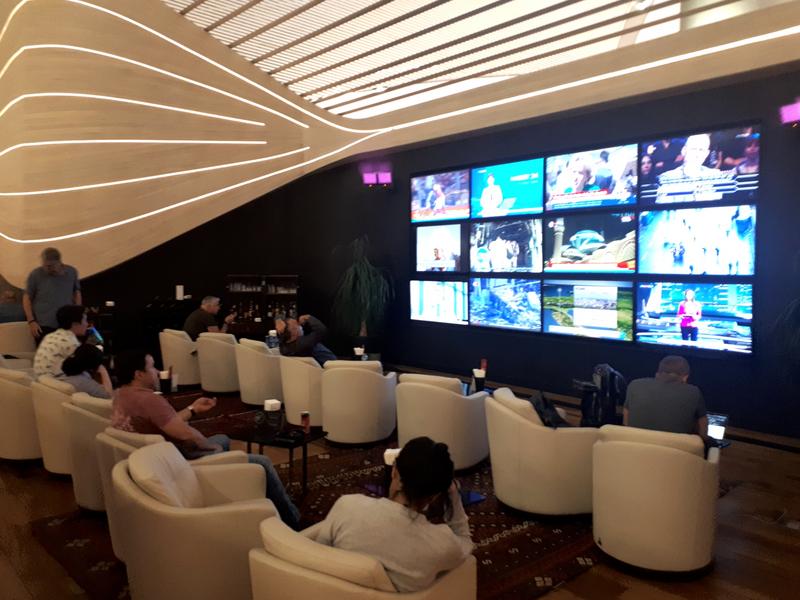 As well as a dark cinema room with sound on, where mostly something soothing is being played. Last time I entered it was classical music, which made for an excellent little nap in the recliner chairs in this room! In fact, most of the people sitting here seemed to use it as a de-facto sleeping room! In this area you will also find a popcorn machine. At the edge of the 'long' sides of the lounge (if you look at the lounge as a rectangular shape) you by the way also have special napping chairs, although these are not private in any way.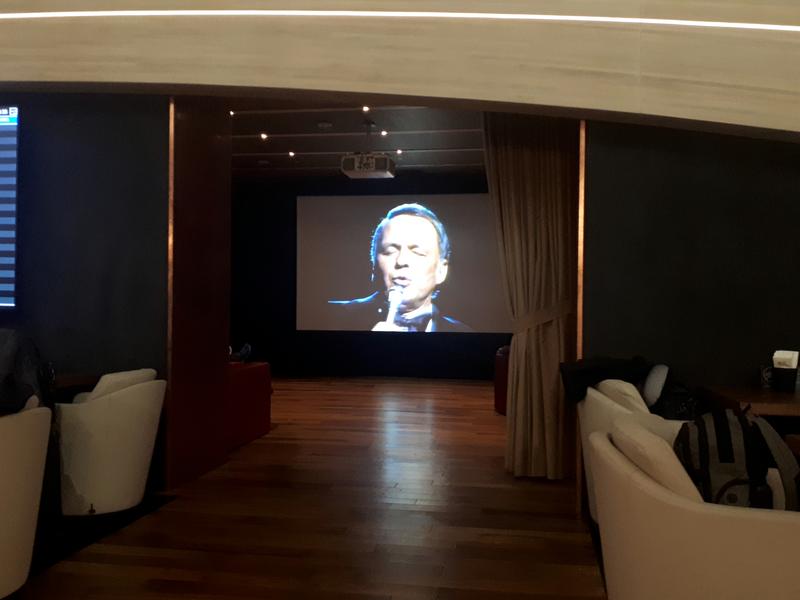 There are two more rooms in the Turkish lounge. One is the library, which has a few book cabinets and a small station with some Turkish delight and one with some fruits.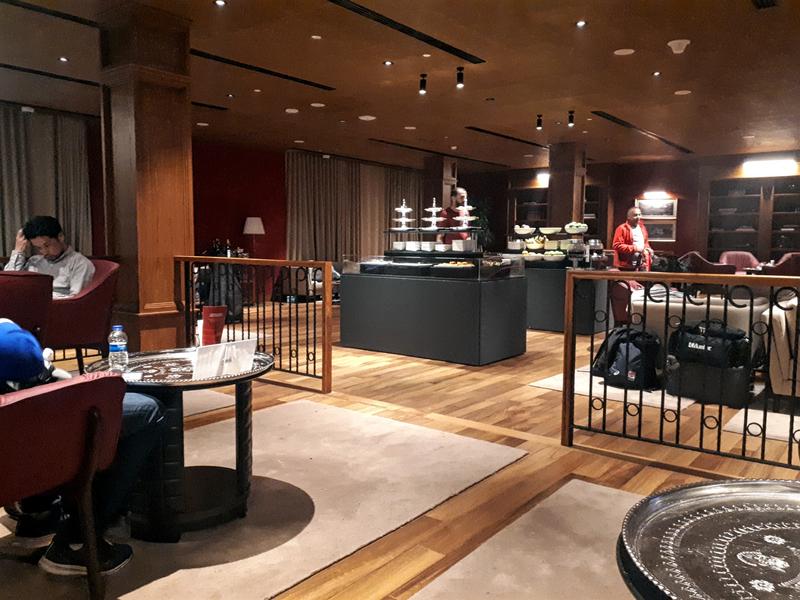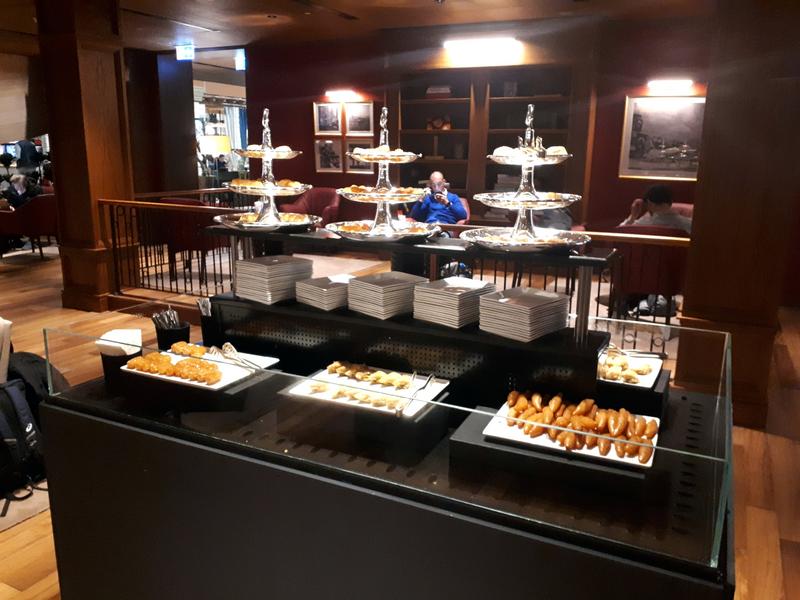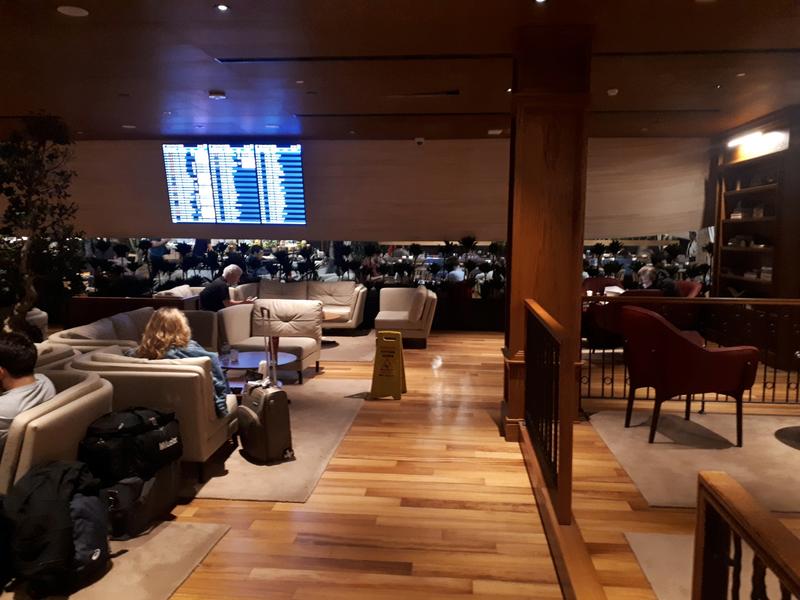 Next to it is a room called the tea room, which has.. yeap you guessed it right, tea!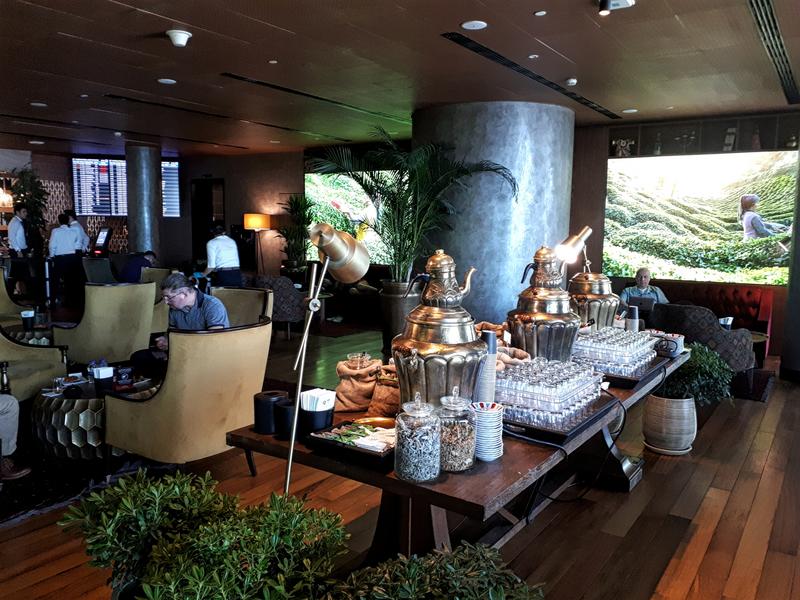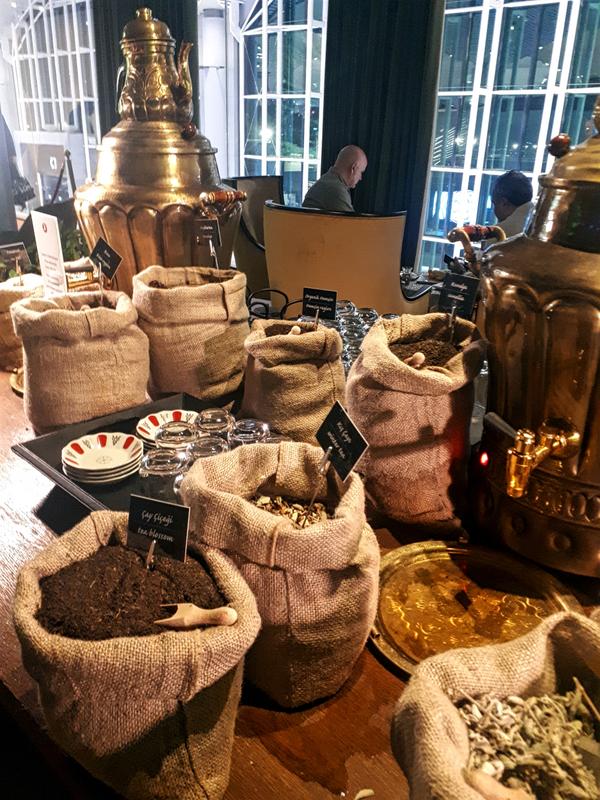 There are two toilets – one near the entrance and one all the way in the back next to the pide station. Just like in the old lounge, the toilets feel more like a high-end hotel and are each taken care off by a toilet attendant. They even try to take a quick look after each passenger to check if the toilet is still clean!
Internet is a mixed bag. Just like in the old lounge, you need to scan your boarding pass at one of the few scanning computers in the lounge to receive a paper slip with your user name and password. Unlike some reports on the internet saying the internet is almost unworkable I never had any real problems on my more than 10 visits and it always worked. That said, on about two out of 12 occasions I found the internet coverage in the lounge a bit spotty, which required me to move to another, more central part of the lounge where it functioned much better. All in all the internet works decently and you can definitely get work done in the lounge. Compared to the old Ataturk lounge, it is for sure miles better.
Some other observations:
- I miss the old pool table at Ataturk and playing a game with random lounge guests while socialising a bit! Bring it back!
- There is a special kids playing area in the lounge
- The miniature racing cars have been brought over from the old lounge
- There are plenty of plugs if you know where to look (some are behind covers in the ground)
- On most of my visits, the staff did a great job cleaning plates and glasses and keeping the lounge tidy
In short:
Just like the old lounge, also this lounge is a superb business class lounge. Turkish really did a good job in improving the downsides of the old Ataturk lounge. Sure, the lounge can still be crowded, but it does not feel overcrowded like the old lounge where you really had to search long for a seat, let alone finding one with a plug nearby! Also, while not as awe-inspiring as the old Ataturk lounge with its big staircases, I find the lounge aesthetically very pleasing. It really looks good and is well thought out. As the food buffet stations are all spread out, the people also automatically disperse around the lounge. Lounge dragons and staffers are also great, all doing their work with a smile and working hard to keep the lounge clean and functioning.
My only complaints are really the at times a bit spotty internet coverage (although it never really is that bad that it becomes unworkable) and the lack of proper work stations to escape the noise. Remember that most of the lounge is 'open' as in that it is built directly above the main terminal concourse. There are lots of sounds from the people below as well as in the lounge. Some working booths with doors you can close would have been a nice extra touch (the IGA – as of so far the only other lounge at the airport – does have this feature!). Even though I still think the old Ataturk lounge is one that as a first impression impresses more, this lounge is for sure a big improvement over the old one if you look at the broad picture of things. Well done Turkish!
Next up: a bonus chapter about the IGA lounge at IST
Aug 8, 19, 1:32 am
Join Date: Jan 2017
Location: Norway
Programs: KLM. Elite Plus, SK Silver
Posts: 57
Air Conditioning is a killer, it's usally the only thing that gives me a cold....

Yes, I do plan to visit Turkmenistan, would love to see the gas crater/door to hell. The plan is to try and get a transit visa in Teheran, but I need a backup plan if that fails.... This could be to go up from Iran to Baku and take a flight with SCAT or the ferry over to Aktau, KZ. Or, fly from IKA to either TAS/DYU or ALA....

Appreciate any relevant info here, thanks for making these reports. :-)
Aug 8, 19, 1:36 am
Join Date: Jan 2017
Location: Norway
Programs: KLM. Elite Plus, SK Silver
Posts: 57
Originally Posted by
Romanianflyer
Thanks SkyTeam Flyer - the rest will follow real soon as I'm only now slowly recovering from a nasty cold after a mileage run on Saudia in which the planes were kept on near-Arctic temperatures.

Your planned trip sounds amazing - I assume it also will include Turkmenistan? I hope the chapters on Almaty and Kyrgyzstan which will soon be there will come in handy for you!
Air Conditioning is a killer, it's usally the only thing that gives me a cold....
Yes, I do plan to visit Turkmenistan, would love to see the gas crater/door to hell. The plan is to try and get a transit visa in Teheran, but I need a backup plan if that fails.... This could be to go up from Iran to Baku and take a flight with SCAT or the ferry over to Aktau, KZ. Or, fly from IKA to either TAS/DYU or ALA....
Appreciate any relevant info here, thanks for making these reports. :-)
Aug 8, 19, 8:56 am
Join Date: Jun 2013
Location: Roswell, GA
Programs: AA EXP 2.8m,Lifetime PLT, Hilton Diamond, IHG PlLT, SPG Gold
Posts: 1,808
Very nice, my wife and I were at the same airport and lounge only a few months ago, unfortunately we only had about 45 minutes, and being there early morning. did not get a chance to enjoy ..
but had to my a can of Efes... I was quite impressed with the beer..
Aug 10, 19, 2:10 am
Join Date: Mar 2001
Location: SYD
Programs: OZ*G, VA gold, NZ*G, QF bronze, Former 'bottom-feeder' AC*G
Posts: 5,018
Great photos of Cluj! It looks like a lovely place. And nice to see photos of the new TK lounge at the new IST. It does seem to lack some of the character of the old one, but by the end the shine had rather gone off that lounge so the extra capacity must be welcome. I always enjoy flying TK so I hope to be passing through it before too long.
Aug 11, 19, 7:15 am
Join Date: Feb 2014
Location: OTP, CHQ, EIN and beyond
Programs: AF/KL platinum, Turkish gold, Aegean silver
Posts: 1,041
SkyTeam Flyer! Good luck with all your planning and travels, those ferries on the Caspian have always intrigued me so that would be an interesting backup plan for sure!

fotographer! Yes, you do indeed need more time to fully enjoy the lounge as the great assets are all the food and drinks, although I did appreciate a good, quick coffee during the times I had a short morning transit only.

On the beer - I agree that Efes is a fine beer, although in Turkey I actually prefer Bomonti in taste. In this particular case, the IGA lounge at IST beats the Turkish lounge as not only do they have bottles of Bomonti, but also Efes on draught with proper glassware.

roadwarrier - it is indeed quite an airport to experience!

mad_atta - Cluj is a wonderful place for photography, so it's rather easy to take some decent snaps there.

I agree on the TK lounge - overall I like it and its a really pleasant lounge, but it just indeed misses something of the old character. I'm working at the moment on the installment about the IGA lounge at IST - which weirdly enough in some aspects reminded me much more of the grand character of the old TK lounge.
Aug 11, 19, 8:26 am
Join Date: Feb 2014
Location: OTP, CHQ, EIN and beyond
Programs: AF/KL platinum, Turkish gold, Aegean silver
Posts: 1,041
Bonus chapter: The IGA lounge at the new IST airport
Apart from the Turkish Airlines lounges, there is currently only one other lounge at IST: the IGA lounge. Business class passengers of all other airlines (and those with status on those respective airlines) do use this lounge – although all SkyTeam airlines will eventually have their own lounge just like they had at old Ataturk airport. You can pay a hefty entrance fee of 59 EUR at this lounge if you do not hold status, which is your only option to enter as priority passes and the like are not accepted at both the IGA and the TK lounge.
So how does the IGA lounge compare to the Turkish lounge? As I recently had a trip on Saudia out of IST, I thought it would make for a nice comparison between both lounges and to add this as a bonus chapter to the Kazakhstan-Kyrgyzstan trip report. The IGA lounge is relatively easy to find, with multiple signs over the airport showing the way to this lounge. Just like the Turkish lounge, it is one floor up from the main terminal area. The lounge has automated entrance gates, although scanning my boarding pass did not work so I had to head over to the desk for one of the agents to manually open the barrier.
Upon entering the lounge you immediately notice how airy it feels with the high ceilings and lots of empty space to walk. To the entire left side, there are large windows with views over the airport and apron. It surely is more impressive at first sight than the Turkish Airlines lounge is!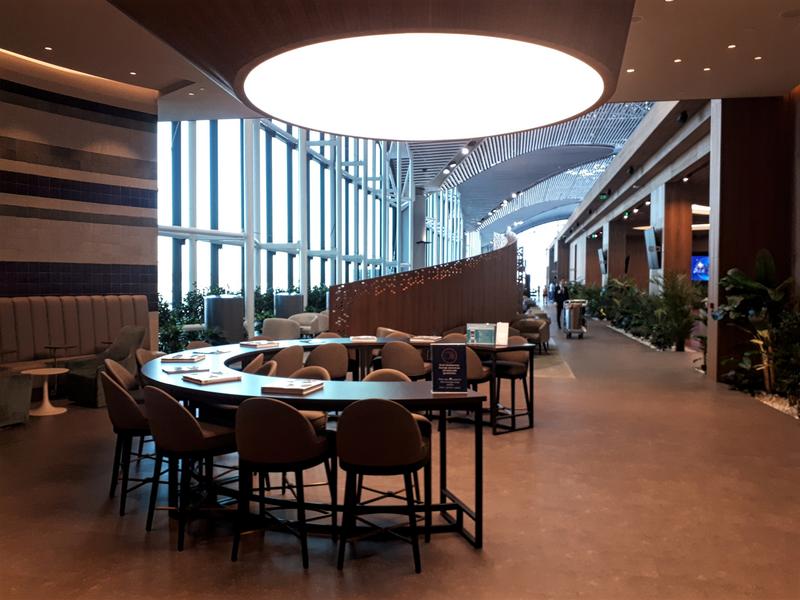 If you walk straight on in this part of the lounge, you will find a pool table and a manned bar. If you want a coffee, you can either get it here or at one of the coffee machines in the lounge. For alcohol, this is however the only spot in the lounge where you can get it. The wine selection is rather disappointing and limited. That said, all main booze brands are there – and the bar has Efes beer from draught (and bottled Miller and Bomonti).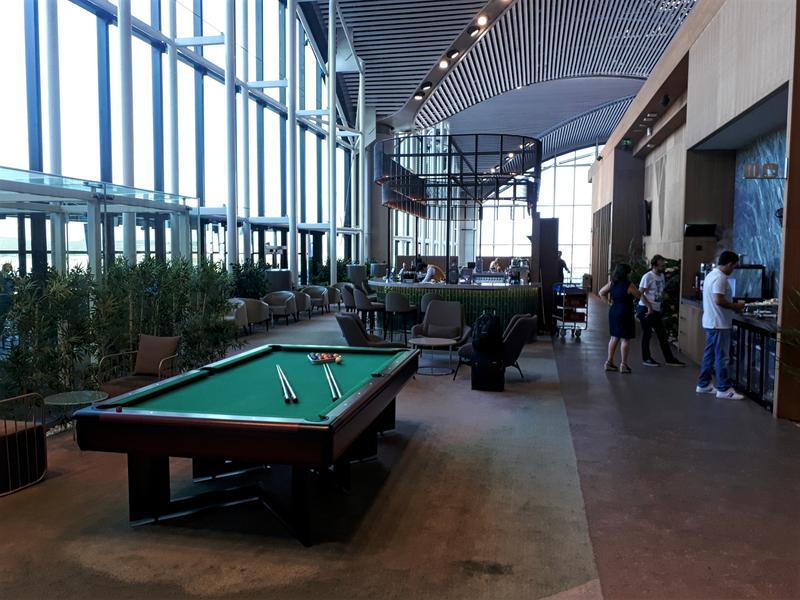 This area of the lounge has in my opinion the nicest seating options as you can look out over the tarmac through the large windows.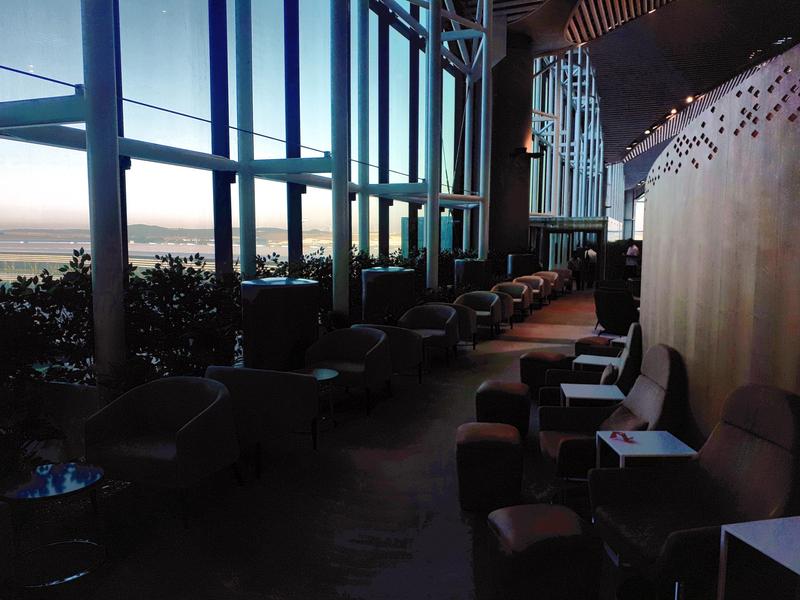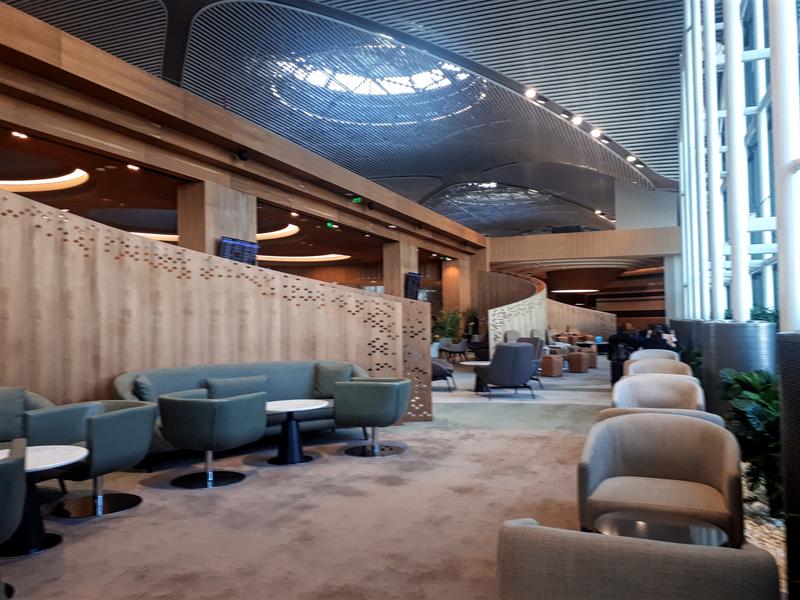 The lounge even has a semi-outdoor smoking terrace. Unless I might have missed it – this is something which the Turkish lounge does not have, as I don't believe it even has any kind of smoking area at all.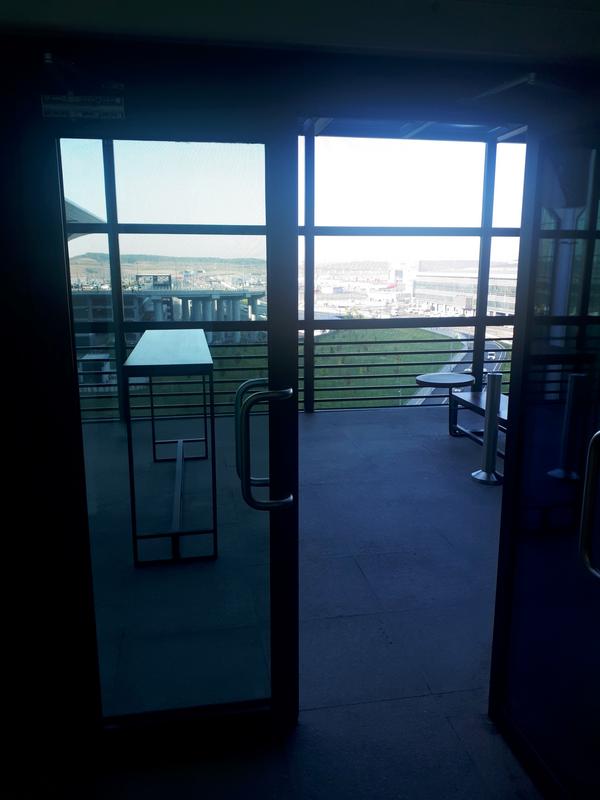 Still in the same part of the lounge, you will find a massage chair where you can get a complimentary massage. Turkish has a similar option in their lounge – although they do not have a special chair assigned, but rather one or two masseuses who at intervals are walking through the lounge asking if people might want a massage. Even though the massage chair is located in the middle of the lounge offering little privacy (the Clarins spa & massage area at AF lounges it clearly is not!) it is a nice extra touch to offer in a lounge. The male masseur was brilliant as well and the massage was excellent.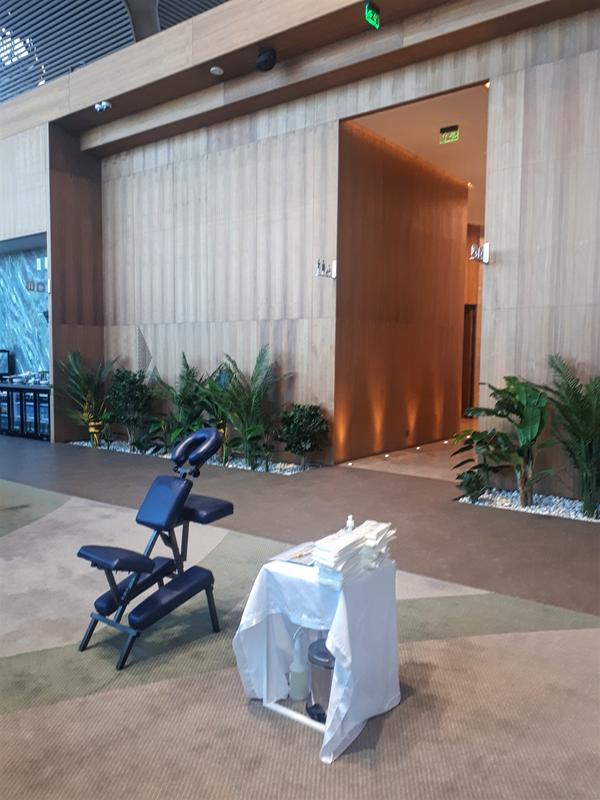 At the far end of this part of the lounge is the business centre, with some computers and a printer. I could not get the printer to work but the reception staff was extremely helpful to help out, using their own printer instead for the job in their back office, asking me to email the file I needed to print. The entire process took just a minute or two. In general I found lounge employees – just like the Turkish lounge – excellent, being quick to clean up plates and to assist where necessary.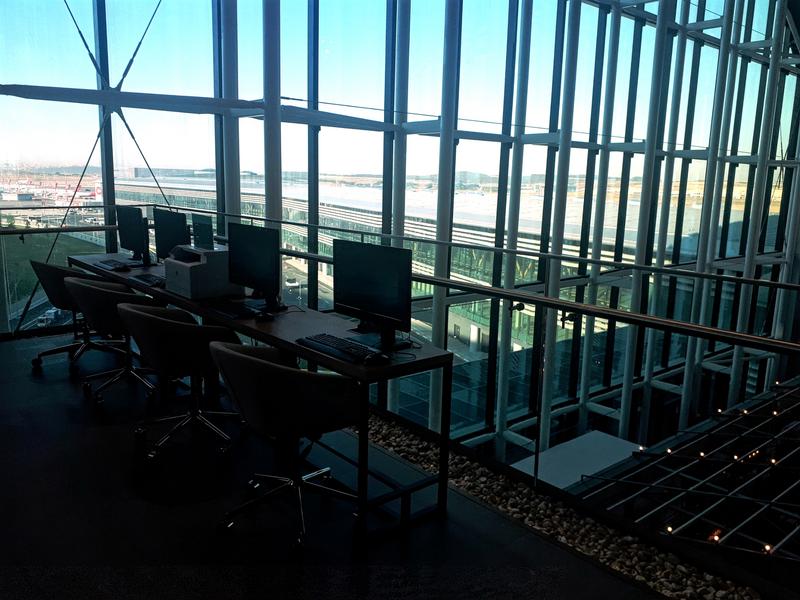 One major, major advantage of the IGA lounge over the Turkish lounge is how great of a place it is to get work done. First of all, it is the sheer emptiness of the lounge. I was at the lounge from around 11am until 4.30pm and at not a single point did it get crowded. At most, perhaps 10 to 15 percent of seats were taken. Apart from that, the IGA lounge does have one-person private working booths (with closable doors) and even a proper meeting room which is freely available. The Turkish Airlines lounge has none of these. Even though I can easily work from more crowded places (even at home I often work an afternoon from a pub or from a park cafe) and managed to work from the TK lounge, the difference between the IGA lounge is huge. I was so much more productive, internet speeds were higher (obviously do the amount of people) and overall it was such a better place to get work done.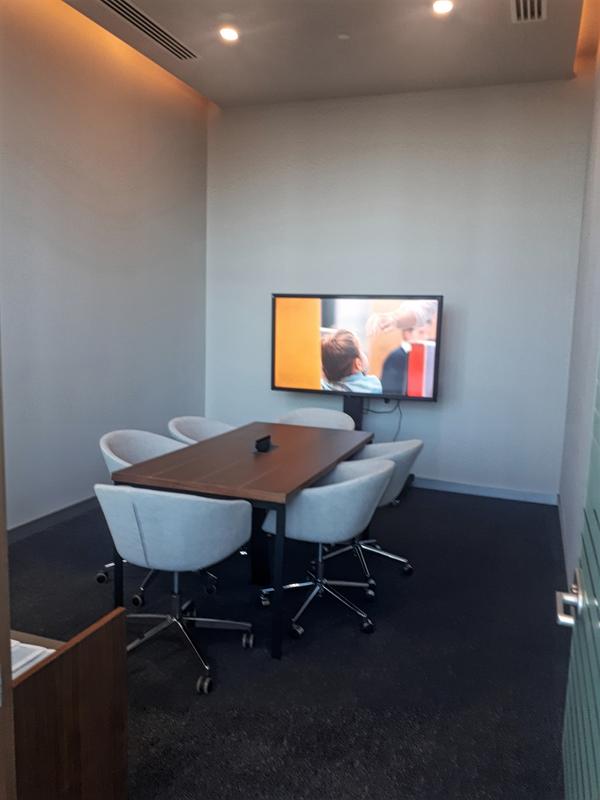 The bulk of the seating in the lounge is found at the other side, which is a kind of open balcony overlooking the main terminal in a similar fashion as the Turkish Airlines lounge.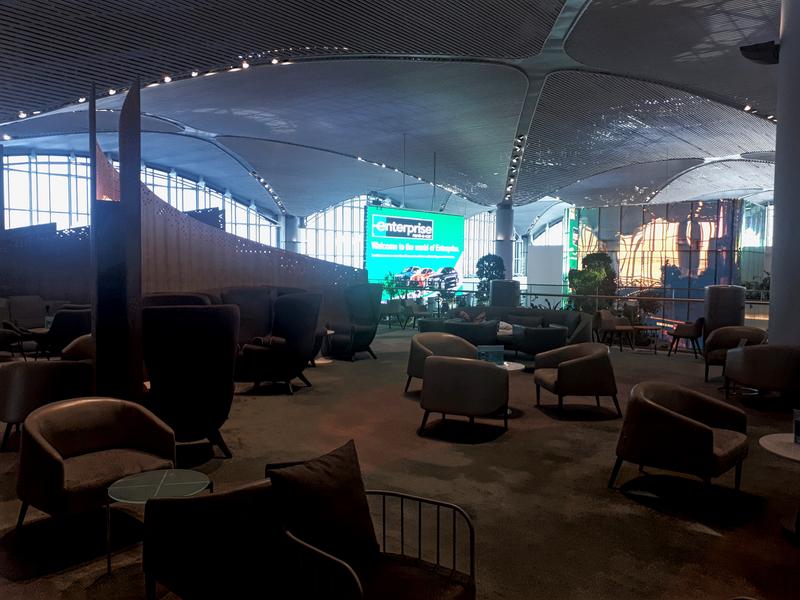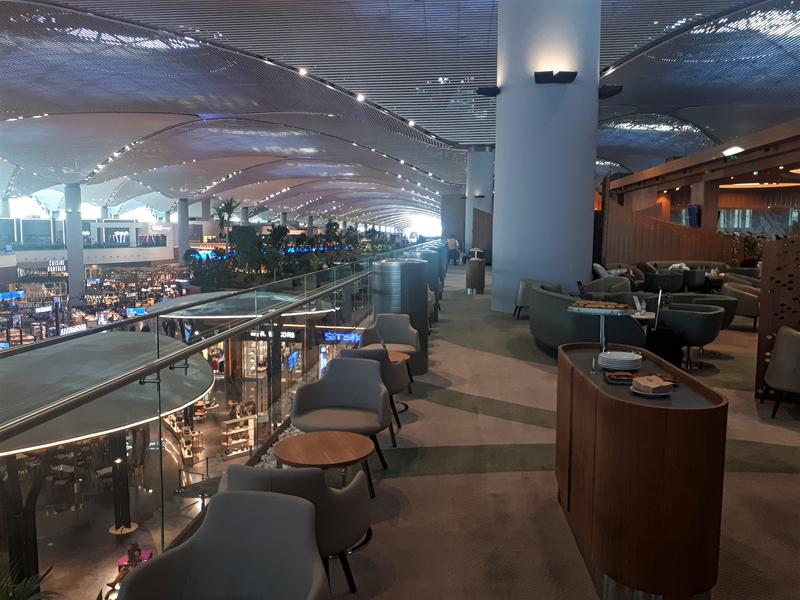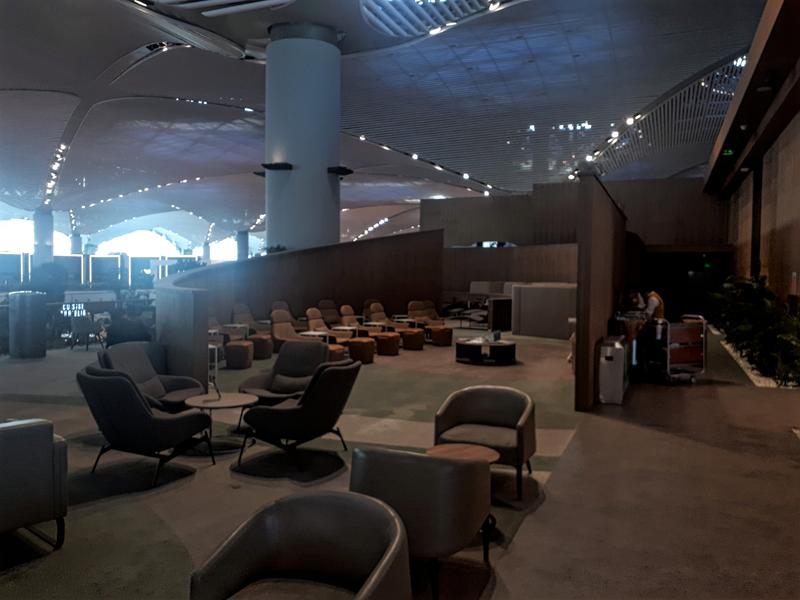 There is a wall with TV screens with comfortable seats in this part.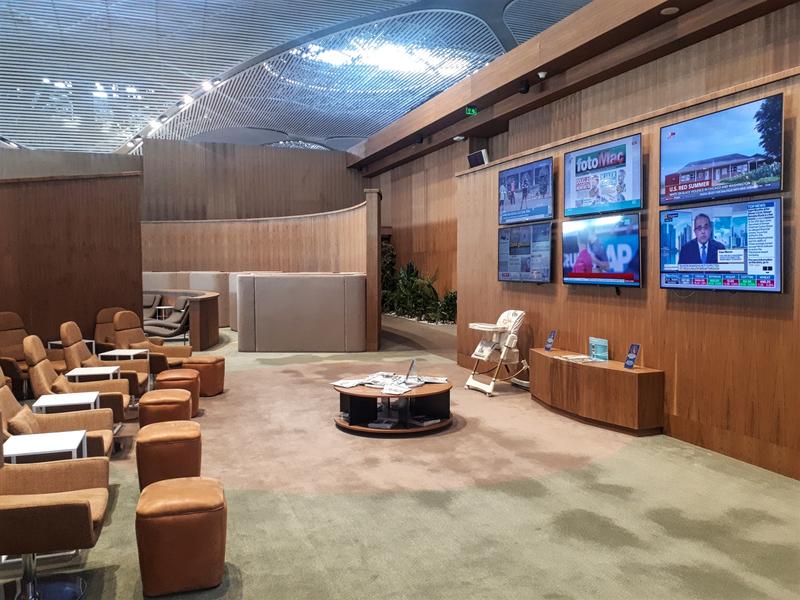 And not far away is a special children's playing area.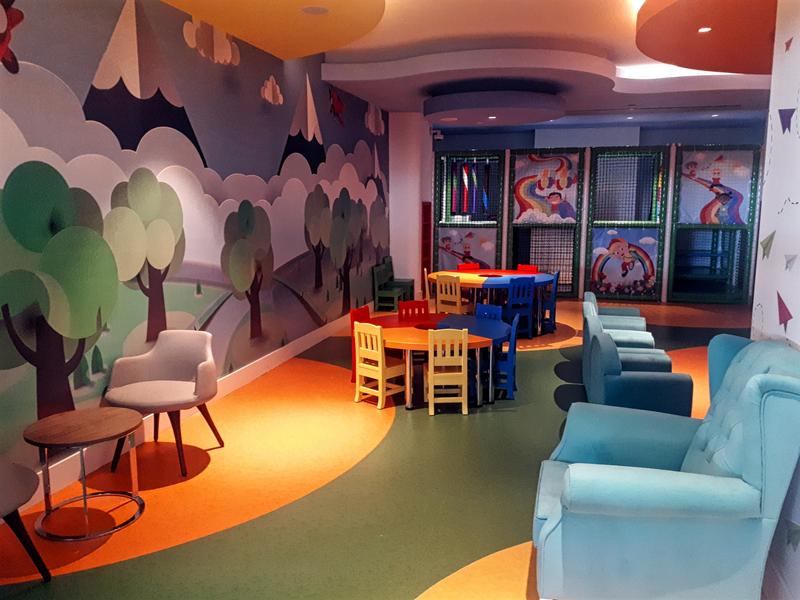 This part of the lounge also features some semi-enclosed booths with napping chairs. At one point after I finished the work I needed to do I tried one out as I was quite tired from a short night of sleep. Even though these chairs look good – they are absolutely horrible to sleep in. I could not get in any comfortable position whatever I tried. If I would ever take over dictatorial duties from a certain moustached figure I would hold the lounge designer at gunpoint, ask him to try to sleep in the chair, and if he fails send him to a gulag. I can't imagine that any of the lounge designers actually tested these chairs. A pity, as I think it is a big missed opportunity.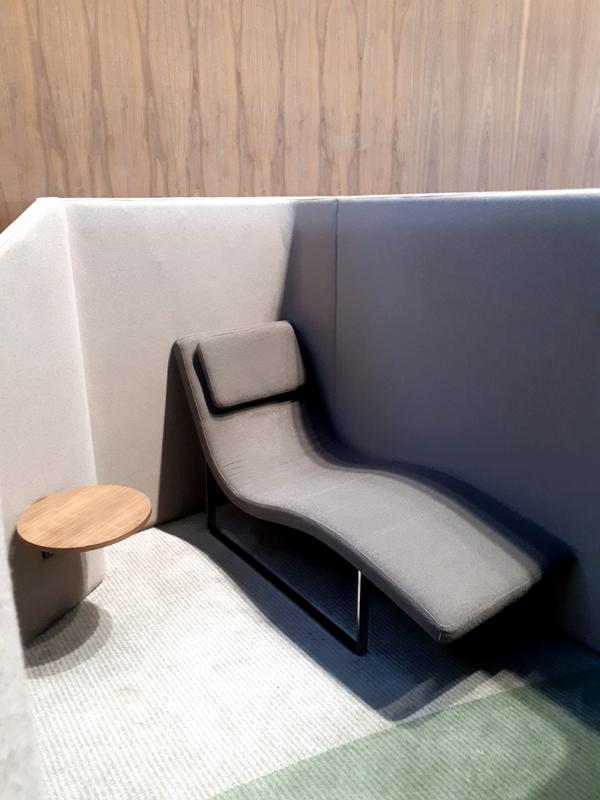 That said, the lounge was so unbelievably quiet that many people just took one of the sofas for a quick nap – which is what I did as well. I even managed to get a solid hour of sleep this way.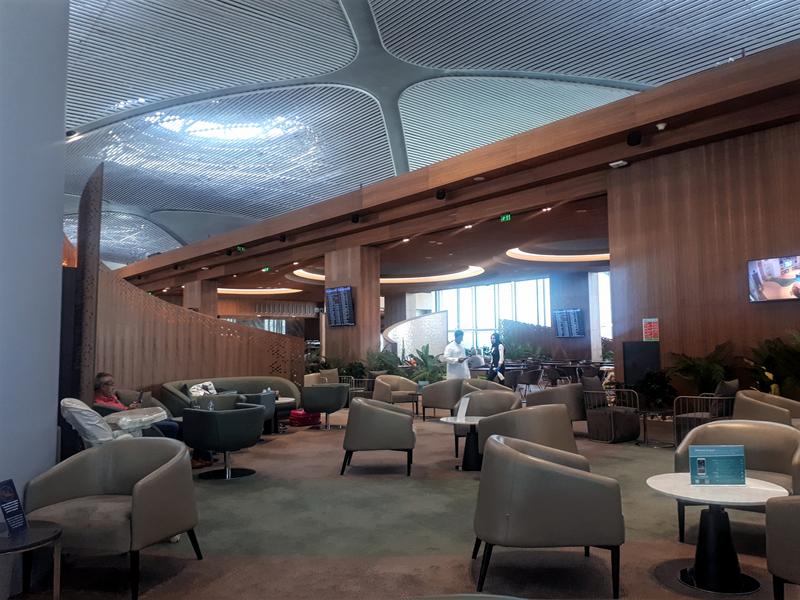 After waking up, it was time to take a shower to get fully refreshed for my onward flight. There are two shower booths available in the men's bathroom – and I guess an equal amount as well in the bathroom for women of the opposite sex. There was no queue for the showers, and the bathroom attendant just told me to use it as it had already been cleaned with fresh towels and amenities put out. Unfortunately, this is an area where the Turkish lounge is miles better. The IGA shower did not really reach any warmer temperature than lukewarm, but there was already a significant amount of wear and tear. Also, the Turkish Airlines showers are fully private in the way that each shower room is fully enclosed with a locked door, and even has a toilet in it. It just felt a lot more luxurious and private than the IGA showers. That said, the shower was clean and the toilets in general were really well taken care off.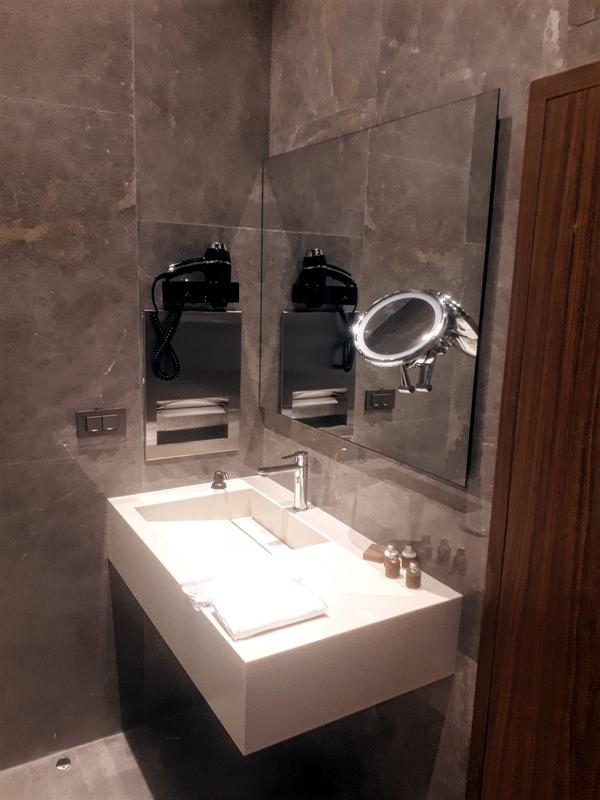 On to the last part of the review: food! The IGA lounge has just one buffet area. Needless to say, the tables and seats nearest to this were the most crowded. I arrived in the lounge at the time breakfast was slowly changed to the lunch selection – and sampled from both. Although the quality and quantity of food was good in general (for sure way better than the average European lounge) it is definitely sub par if you compare it with the food mecca which is the Turkish Airlines lounge. There is one soup, about three to four hot options, and quite some bits of finger food. Desserts and sweets on the other hand had a bit of a wider selection and were pretty good.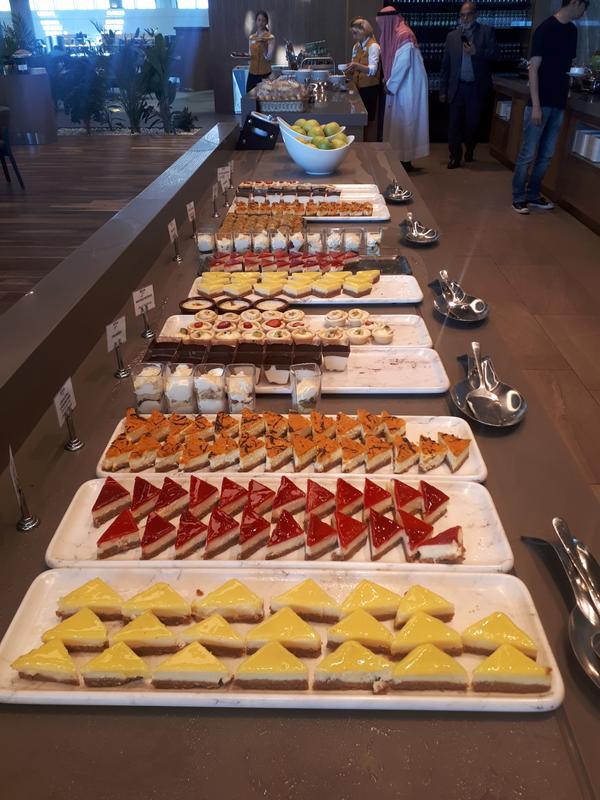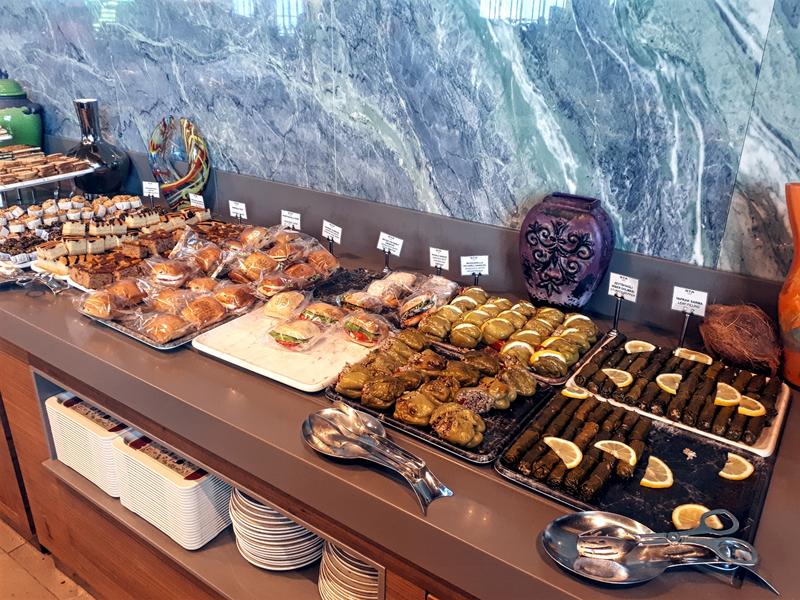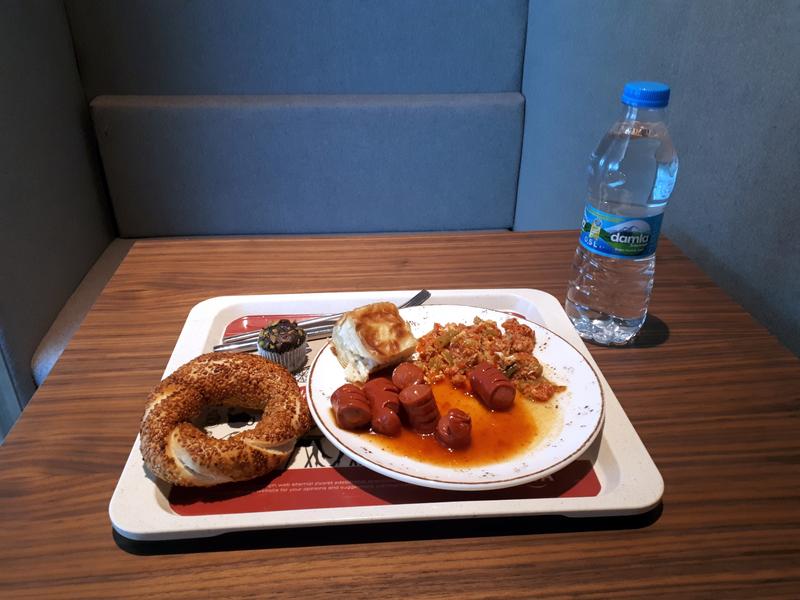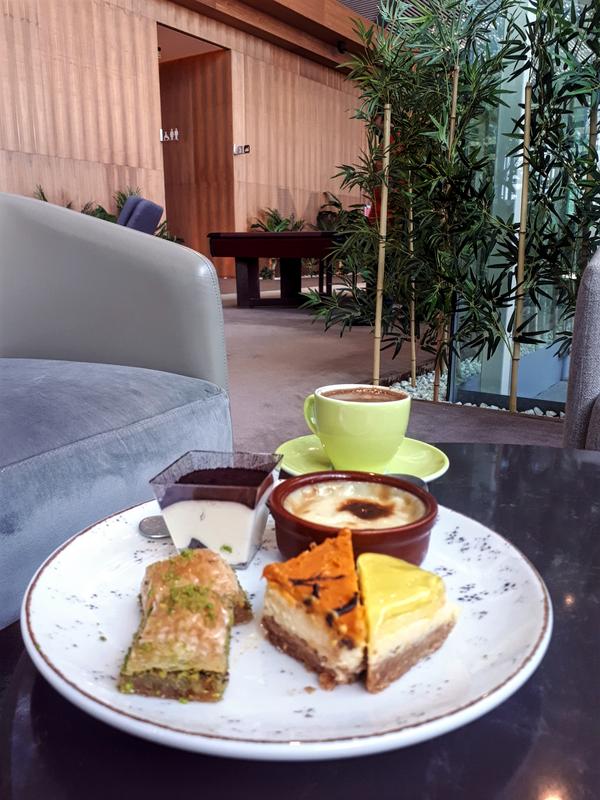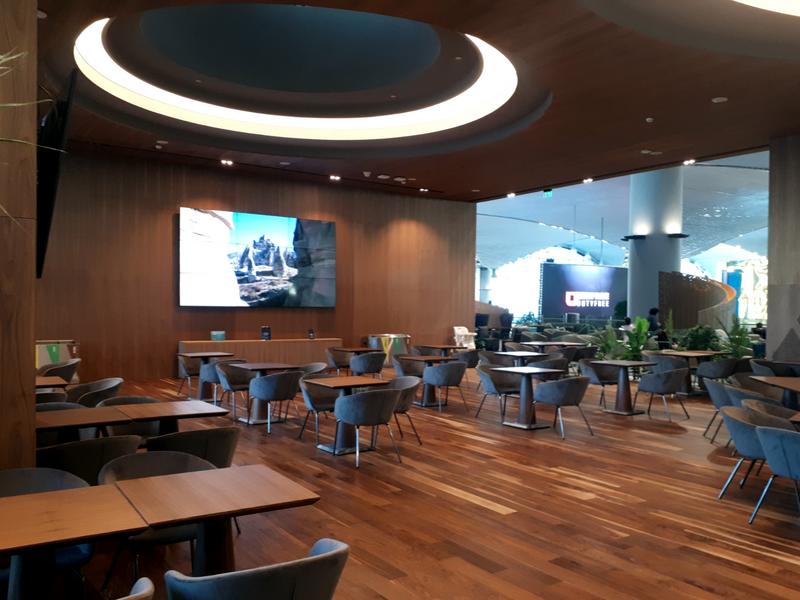 I concluded my lounge visit with a couple of beers and a few rounds of pool against some other lounge guests. I always loved this at the old Turkish Airlines lounge at Ataturk – so it is great that at least the IGA lounge still has this cool feature as it's a fun way to break the ice and to socialise with others.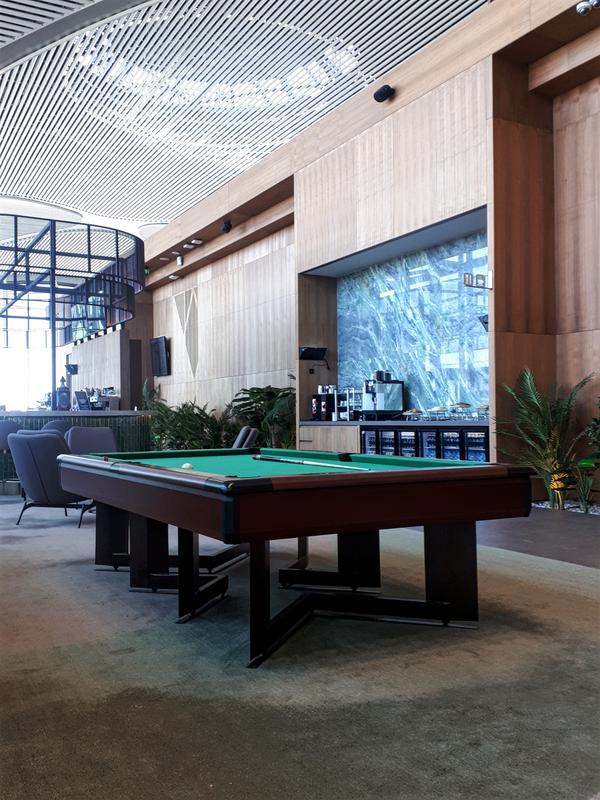 In short
: I'm a bit puzzled what to think! In many ways, I would almost say I prefer the IGA lounge above the Turkish Airlines lounge. It was so quiet at all times, it is a great place to work with its working booths and fast internet, and it is possible here to really unwind. All these things are either impossible or only possible to some extent at the Turkish Airlines lounge. Also when looking at the lounge as a whole, I somehow find this lounge more aesthetically pleasing, having much more grandeur than the Turkish lounge. That said, the Turkish Airlines Lounge is miles, miles better when it comes to food and beverage options – even though the IGA lounge is not bad at all in this aspect. Showers at the TK lounge are also vastly superior.
In the end it is not really a one-on-one comparison as you can only access the TK lounge when flying *A, and this when flying other airlines or paying up, but still I found the comparison interesting. Basically, this lounge has everything which the Turkish Airlines lounge lacks, while not coming close to the strong points of the TK lounge. Would I pay the hefty 59 EUR fee for access if not holding status or flying business class? Perhaps – if the layover is long and you can use a shower and need to get work done. In the end I really was quite impressed with the IGA lounge – which I really did not expect!
Next up:
Moving on with the original trip report: on Turkish Airlines to Minsk, Belarus – and exploring the country described as the last true dictatorship of Europe.
Aug 11, 19, 12:33 pm
Join Date: Feb 2014
Location: OTP, CHQ, EIN and beyond
Programs: AF/KL platinum, Turkish gold, Aegean silver
Posts: 1,041
Part 6: Istanbul (IST) to Minsk (MSQ) on Turkish Airlines in economy class
Flight TK283 – Airbus A321 - Seat 5A – 120 EUR for CLJ-IST-MSQ
STD 1.00pm - STA 3.30pm (flight time 2h30m)
After spending some time in the lounge I headed to my boarding gate, which was closer by than I initially thought. Boarding had not yet began, so I queued up in an empty priority line. Turkish does priority boarding well, as at the new airport all gates have clearly signposted lines for priority boarding, the first half of seats on the plane, and the back of the plane (based on seat number). Within minutes another person queued up behind in the priority line, which whom I ended up in a funny chat. The man, a short but muscled fire brigade colonel from Kuwait, told me that he went on his annual hunting trip in the forests of Belarus. As boarding time was postponed by 15 minutes, we both ended up in an animated chat with the gate agents.
The Kuwaiti passenger started to poke some fun at the gate agents, two younger-looking Turkish men probably around 20 years old and one older-looking man probably in his early 40s, for being all extremely thin, joking they could use some more training and some more chicken. Coupled with the inability of some of the gate agents to communicate in complete fluent English (they did speak basic English for most) it ended up being quite an hilarious talk in which the extra 15 to 20 minutes wait flew by. We also poked a bit of fun at one woman among the Minsk passengers who had both her kids tied to her wrist on a leash like they were some dogs – a concept that neither of us could really fathom at all...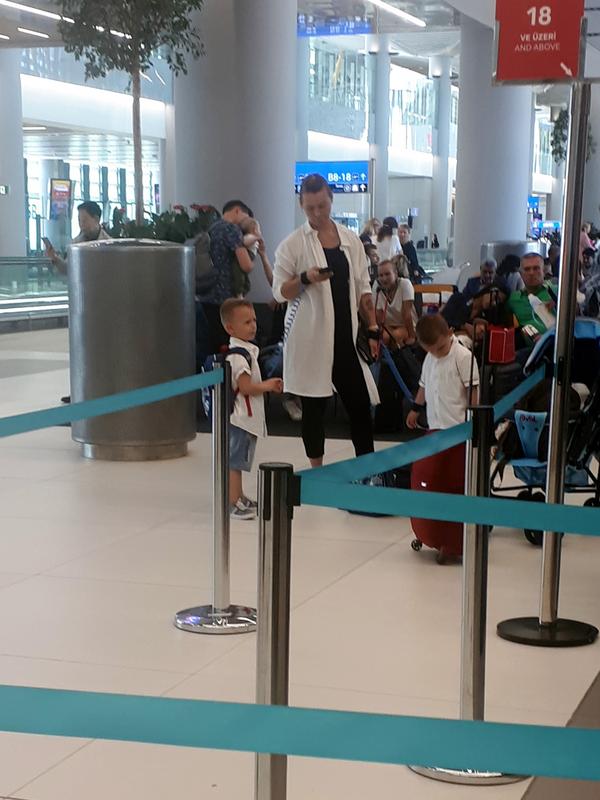 When boarding started, we both gave the gate agents a good handshake and waved them goodbye as we both walked to our seats in economy class. I was seated in the first row of economy class. For pictures and being in a chatty mood struck up a conversation with one of the friendly flight attendants, who told me that on that day they were rostered to fly IST-ESB-IST-MSQ-IST... talk about a long day, ouch! The FAs were all however in good spirits and delivered a great service during the entire flight. Even though economy seemed pretty full today (90 percent) boarding was completed relatively quickly. Mercifully, a short taxi time meant we were soon airborne and on our way to Minsk.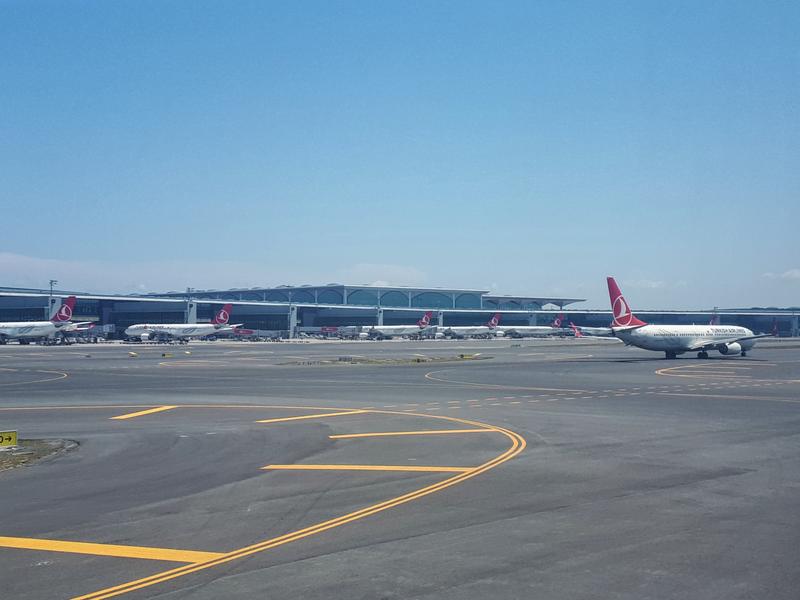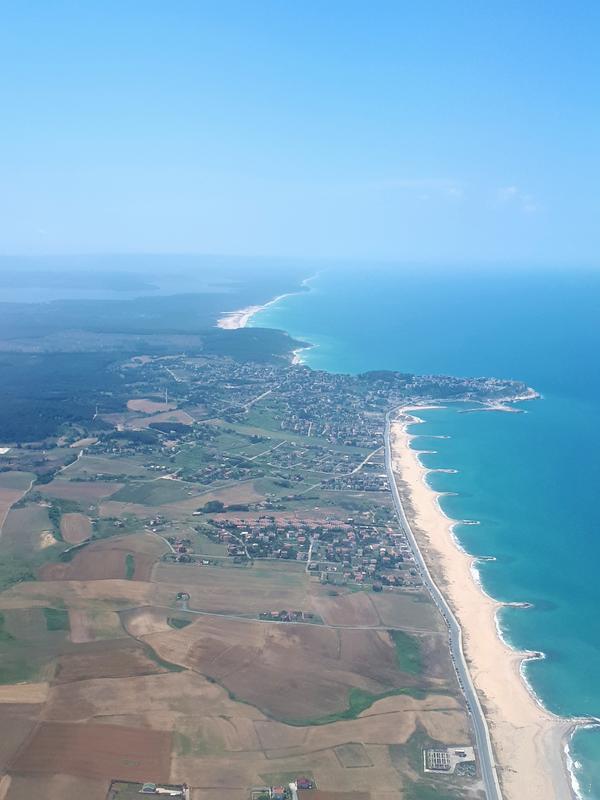 Turkish is one of the few European carriers to serve hot meals on flights of this length. This meal was for sure one of the better economy meals I had in quite a while, both in terms of quantity and quality. The main consisted out of beef köfte – two good pieces of it – grilled veggies and rice. It tasted excellent. The dessert, a sort of hazelnut mousse, tasted equally great.
For the rest of the flight, I just used the in-flight entertainment, which came in the form of a window from where you can look at things, such as cool cloud formations..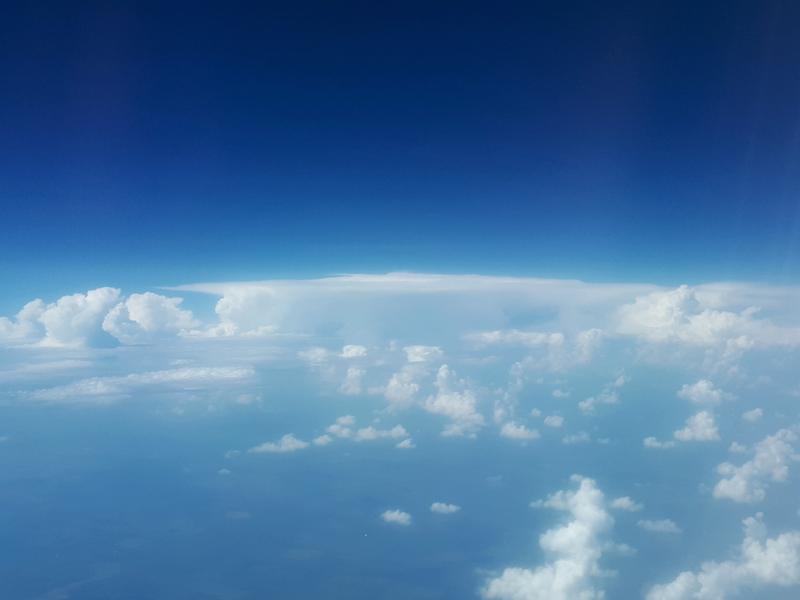 ..and cities and airports down on the ground. This is Bila Tserkva Airport in Ukraine, located just to the south-west of Kiev.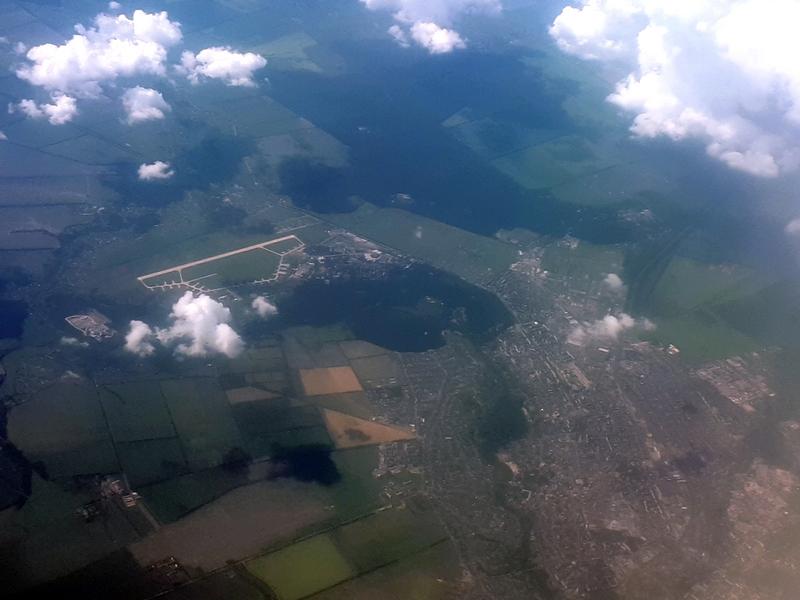 Time flew by and before I knew it, we were on final approach to Minsk. Belarus is as flat as a pancake with little geographical elements in the country, which was visible upon landing as it was mostly fields as far as the eye can see. No wonder that the country was easily invaded quite a few times (Napoleon, Hitler) as the terrain is basically like this all the way to Moscow.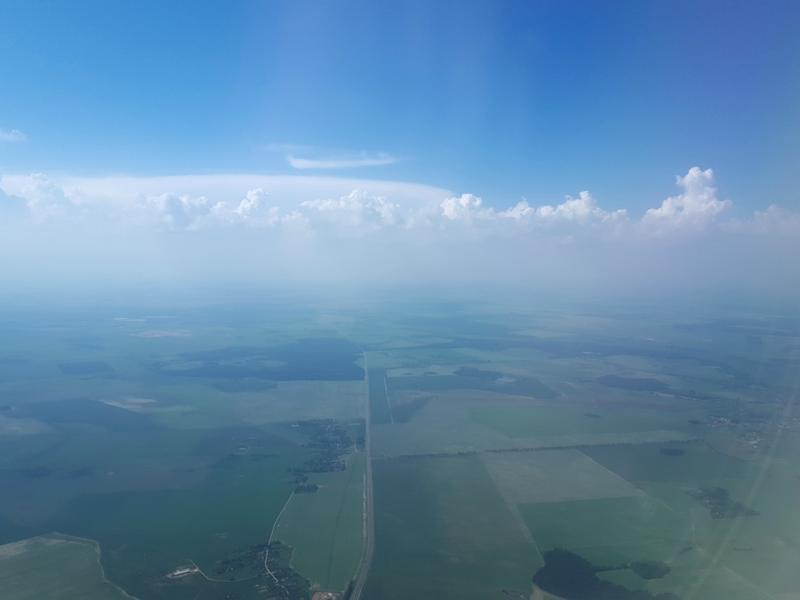 Minsk has a pretty cool-looking airport. Even though I have visited Belarus twice before, I never arrived by plane into the country, so this marked a first time for me.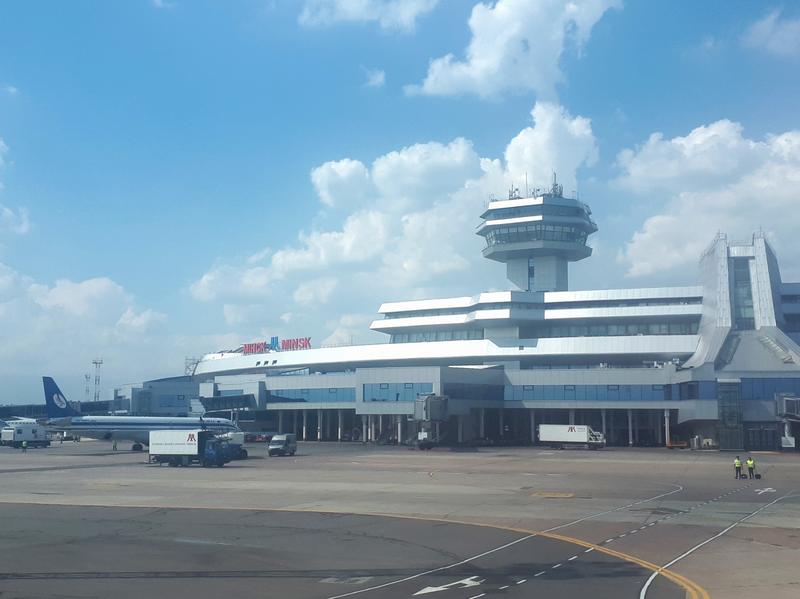 Since a short while, visitors from many countries are exempt from a visa if they arrive at the airport in Minsk (you do need to get a visa in advance if you enter by train, car or bus). The process to enter is fairly straightforward. At passport control you will be asked a few questions, after which the agent will admit you into the country if all your papers are in order. Basically all you need is proof that you will depart the country again, a hotel reservation or other proof of accommodation, as well as proof of holding enough funds and health insurance as these will be questions you will face at passport control.
Even though I had zero cash on me, the agent was happy enough when I showed some plastic bank cards when she asked about funds. For health insurance, I showed my EU insurance card, which was sufficient proof as well (as a backup I had a letter in Russian stating that my health insurance is indeed valid in Belarus, or indeed wherever in the world – but this was not necessary in the end). Those who do not have this do not need to fear, as there is a special health insurance booth at the airport where within minutes you can get the necessary coverage for Belarus for just a few euros per day that you plan to stay. The border agent was however a bit puzzled when she found out that I would already leave a day later when I explained at second instance (after just briefly saying 'tourism' as reason) that my primary reason to visit Belarus was optimising mileage on Turkish with a great business class deal out of MSQ. She even called a supervisor, who couldn't be bothered and waved me through immediately. All in all it was a super easy process which took about three minutes.
After getting some Belarusian roubles from an ATM in the arrivals hall, I ventured outside the terminal to catch one of the frequent airport buses into the city, which is about an hour away.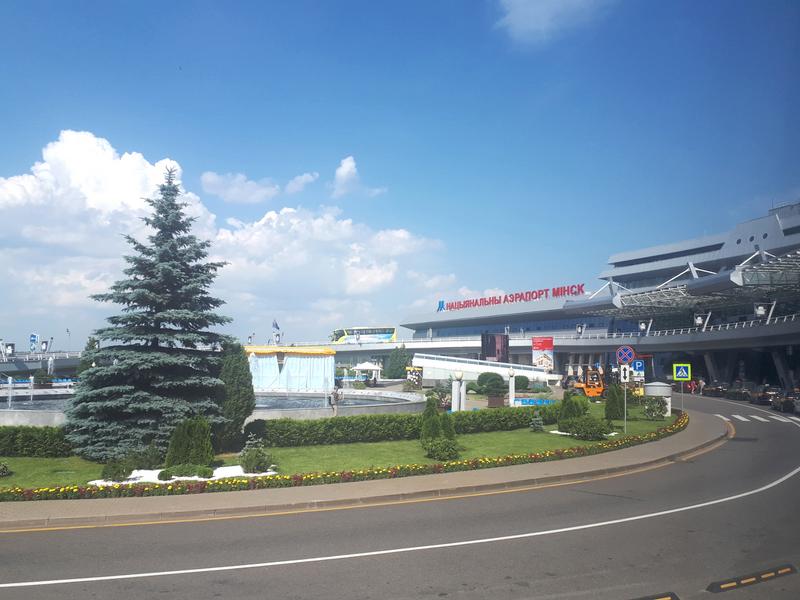 Located at a motorway interchange just outside the airport was the first of many Soviet monuments that I would see during my stay in Minsk. The Hill of Glory is a memorial hill topped with four rising bayonets, built in honour of the victory in World War II (called the Great Patriotic War in Russian speaking countries). Watch for it from the window of your bus or taxi!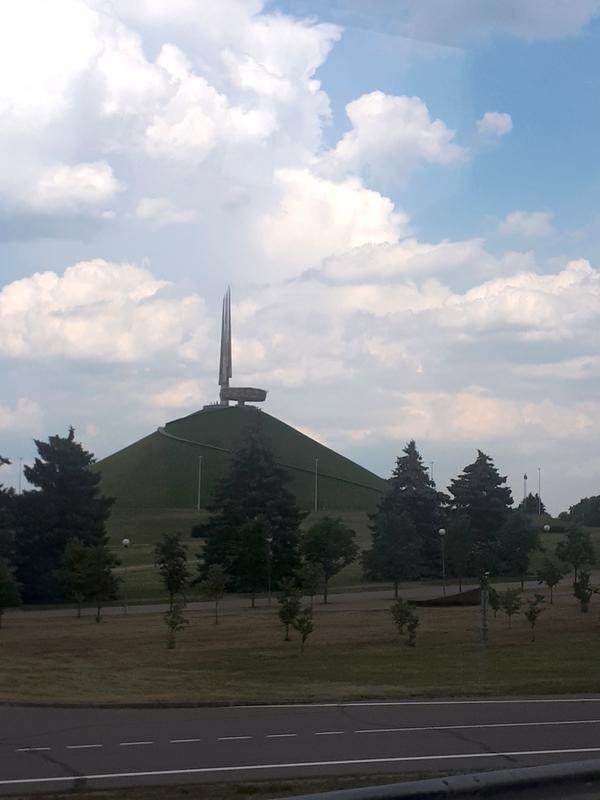 The airport bus goes all the way to a bus terminal located right next to the main train station of Minsk. It however does also stop at one of the outlying metro station in the north-east of the city of the blue line (I believe it was the Uruchcha metro station). On some days it is much quicker to get off here and travel onward by metro as the bus can get stuck in city traffic. For me it was much more convenient anyway as I could head straight by metro towards the stop closest to my hotel (Ploschad Lenina – Lenin Square).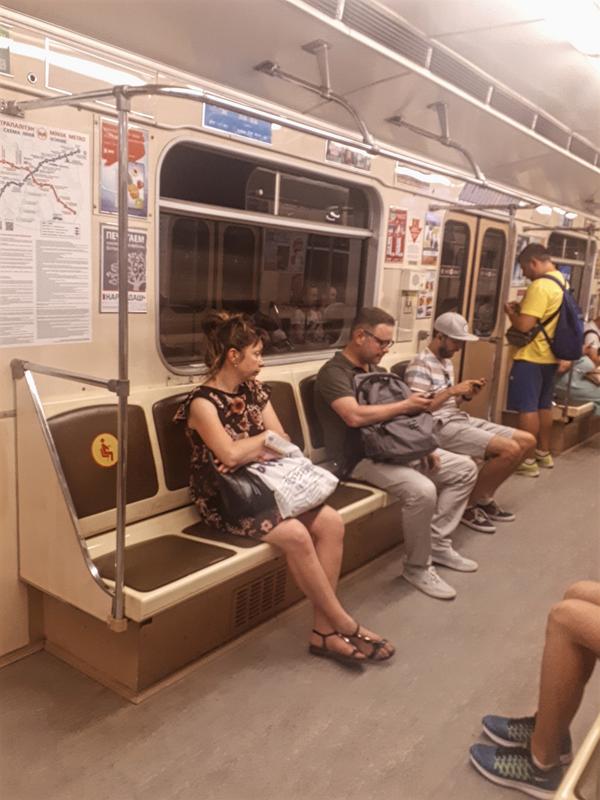 Upon disembarking the metro station, it already felt decidedly Soviet at Lenin Square. The dark clouds which were approaching did for sure also play a role creating a gloomy, communist surrounding.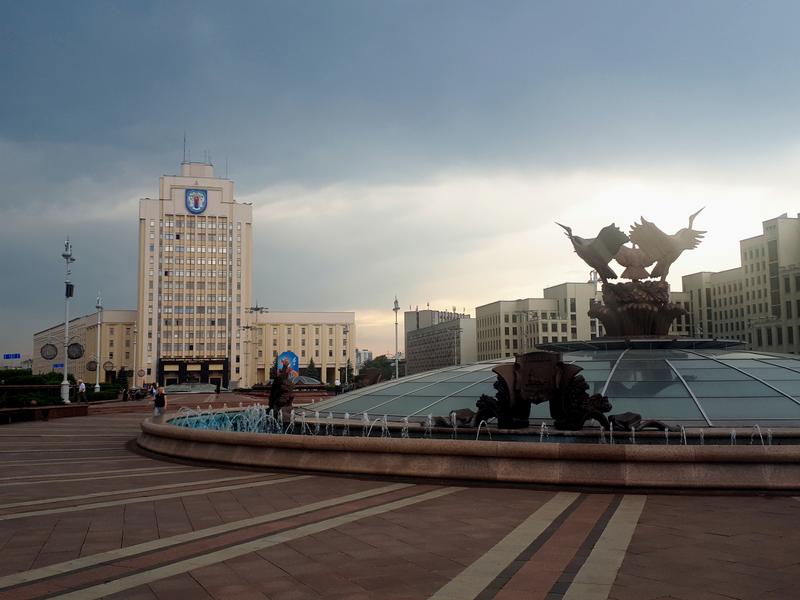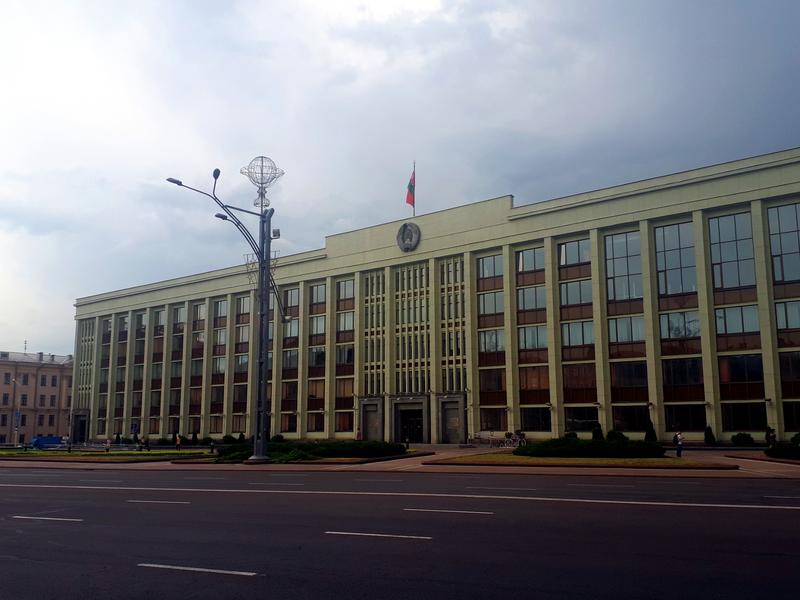 Next up: two days in Minsk, Belarus