ANA A380 First Class Trip Report July 2019
Jul 14, 19, 6:44 pm
Join Date: Oct 1999
Location: New York
Posts: 6,561
ANA A380 First Class Trip Report July 2019
---
ANA A380 First Class Trip Report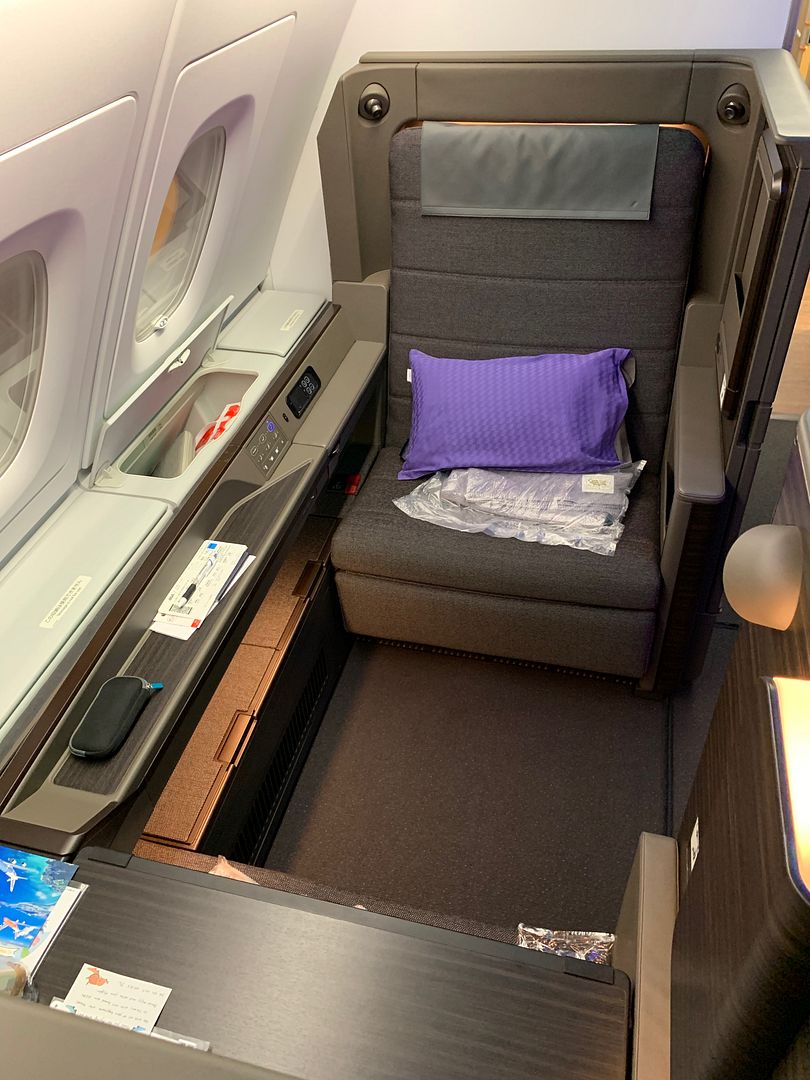 I am very excited to fly the new ANA's A380. Although it would be nice to fly the inaugural flight, it was near impossible to buy a ticket. The website, as expected, was basically overwhelmed, so in the end, I just decided to wait a bit and see if I could fly both JA381A "Lani" and JA382A "Kai" in July (well I failed, as I got Lani for both flights). I took advantage of the $3500 discounted first-class fare. Despite flying ANA first class decade ago, I rarely have the chance to redeem an ANA first class ticket, so I am fairly excited to revisit ANA first class using a good fare, and see how it compares to JAL, which I flew more frequently. I have to say that I still prefer JAL first class, in terms of catering, lounge, and on-board service to ANA Hawaiian first class. The only thing that ANA scores better is the exclusive check-in "lounge" at Area Z, and an exclusive security checkpoint. The gate situation at Narita is less than ideal and they are still unsure about how to board an A380 especially with 520 passengers. The line for business class/elite/Star Alliance Gold was basically unbelievably long and I had a picture to show you later. The on-board service was also bit strange, and for a short seven hours overnight flight, they spent two and a half hours in the first service, and instead of a continental breakfast service that could be served an hour prior to landing, they decided to wake everyone up two hours prior to arrival for a more detailed on demand service with not really breakfast items, especially they did not serve a full meal on any cabin classes on its midnight flight between Haneda and Los Angeles, which has a much longer flying time. They also wanted everyone to change back to their street clothes an hour prior to landing. The same service made more sense for the daytime return segment, but for the short overnight segment, they need to change. The suites are very nice but the seat padding was on the hard side for non-Japanese passengers. The service was attentive and the senior F/As were well-trained. The branding, Flying Honu, is excellent, and I notice that there are many passengers, who choose this flight because of the A380s. While I feel that the A380s should use on longer segments, I understand what ANA is trying to accomplish with a small A380 fleet. From what I observe, it is a branding success, but will this "flying honu" scheme turn into fuller flights with passengers willing to pay more? EVA Air's Hello Kitty flights are a major success and ANA hopes that their "Flying Honu" will also mean the same. Before moving on to the details, the below is the full photo album for those who want to look at all the details, but be warned that there are 500 plus photos in the album.
Photo Album:
http://s1213.photobucket.com/user/Ca...20A380%20First
July 2, 2019
NH 182 NRT-HNL Lv2130 Arr1005 Airbus A380-800 JA381A "Lani"
Check-in:
As I said earlier, ANA has an exclusive check-in area called "ANA Suite Check-in" for first class customers and their own top elite members – Diamond members at Area Z. I believe Swiss and United first-class customers can also use this suite check in and security checkpoint.
Nothing is complete without a hot towel.
The friendly agent issued my boarding pass and checked my bag to HNL. It was a very efficient process. When I told her that I needed to do some shopping before going through security, she kindly reminded me to come back here for the exclusive security check point.
I spent a bit of times at the observation deck and bought a few things, before going through the security checkpoint, which had zero wait. Immigration was not overly busy, so I was able to go through the formalities within fifteen minutes.
Lounge:
ANA has two lounge complexes – one at each of the satellites in Terminal One that ANA operates from. For the A380s, they use gate 45 and 46, so the agent has already given me a map to the ANA Suite lounge near gate 47 and at the 4th floor. Please note most of the pictures were taken on my return flight from NRT to SIN two days later because the lounge was quieter and I was able to take more pictures.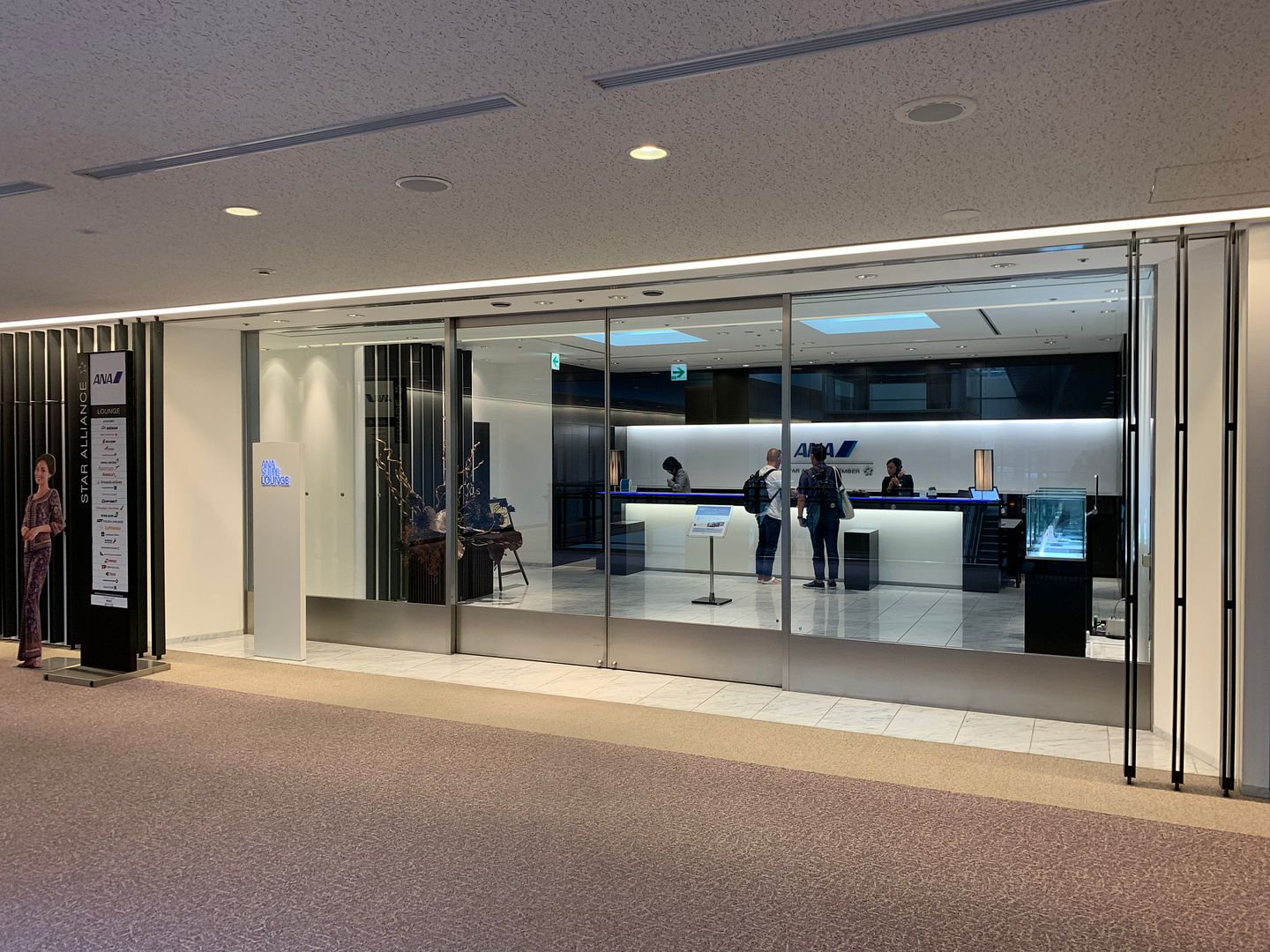 Once I entered the lounge, an attendant asked me to pick a seat, which was of course by the window for me, and she then served me a beverage of my choice, accompanied by a hot towel.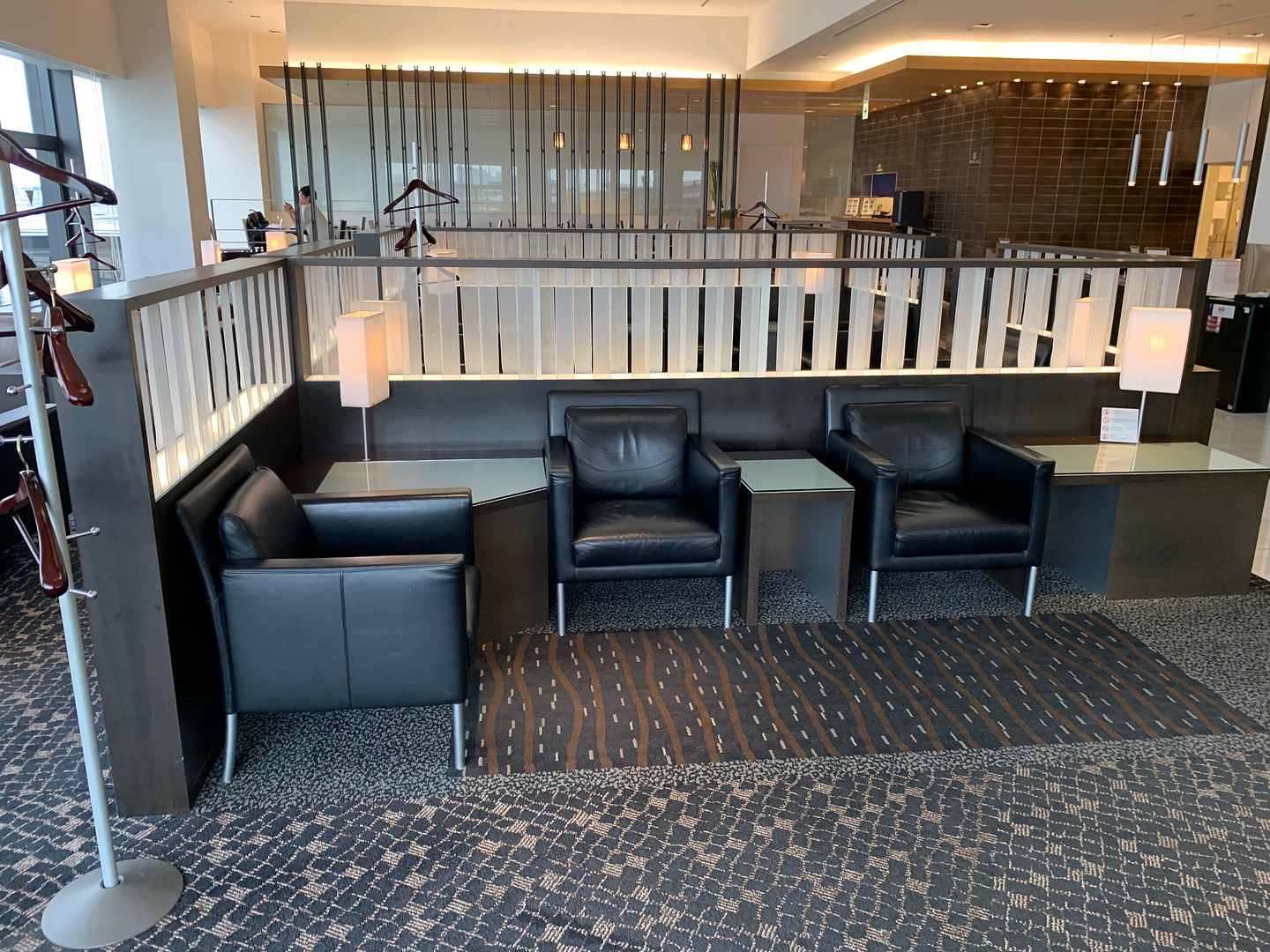 Compared to the new JAL First class lounge, the ANA Suite Lounge is really lackluster, except the giant windows with excellent apron view. The catering was really uninspiring with a random cold buffet with various small dishes, tapas, salads, and small desserts, along with some basic rice balls and sushi. Then after 4pm, there was an additional hot food buffet, which featurd two kinds of soups, along with some Western hot dishes. Similar to business class, they had a slightly expanded menu of noodles and rice dishes. The buffet was really bland, so I tried a few made-to-order dishes, like the seafood rice (basically a cheap version of sashimi over rice), and a "healthy" spinach-made Udon topped with chicken, lotus root, and seaweed. I really like the healthy Udon, and had it again on my return too.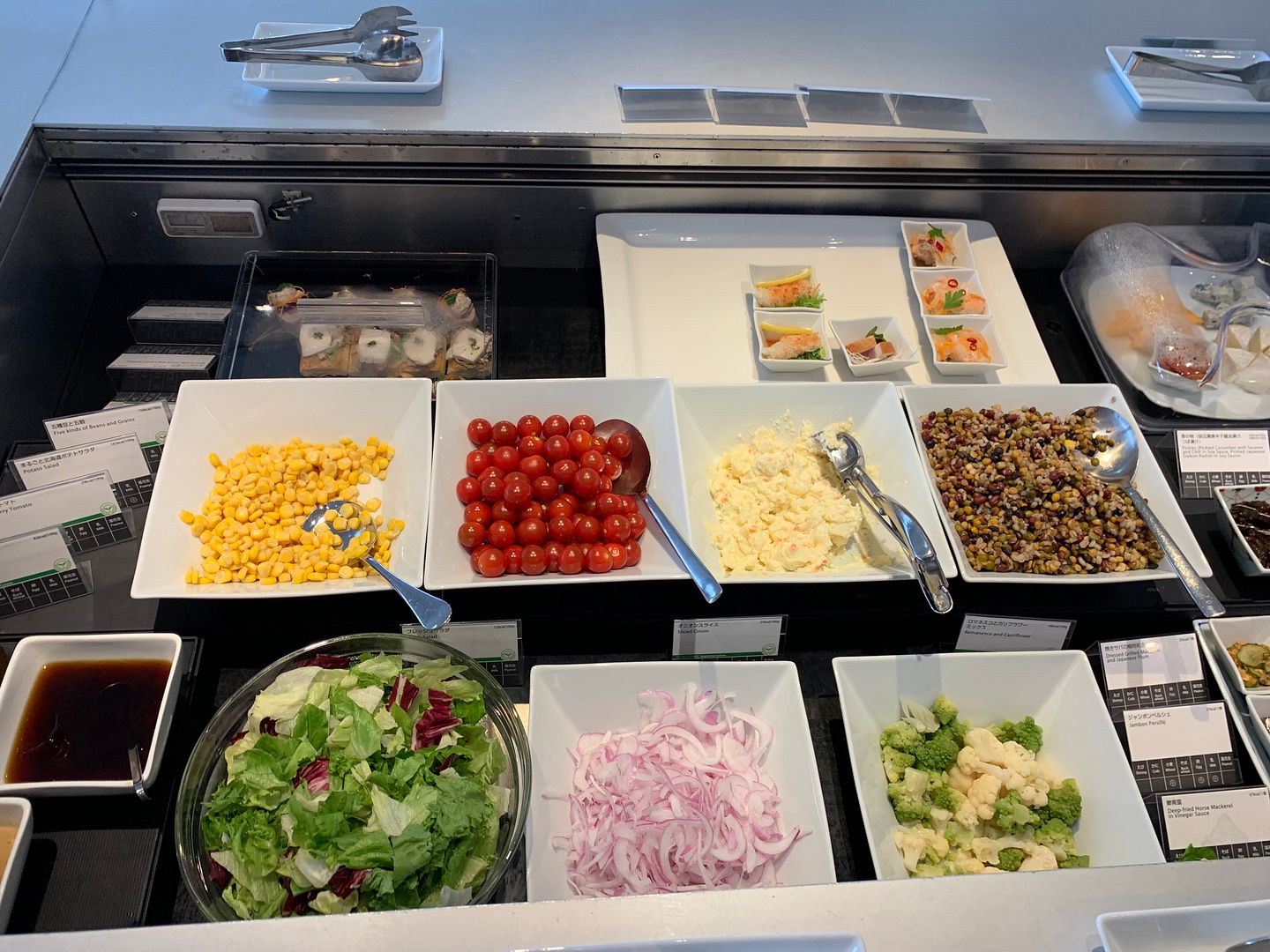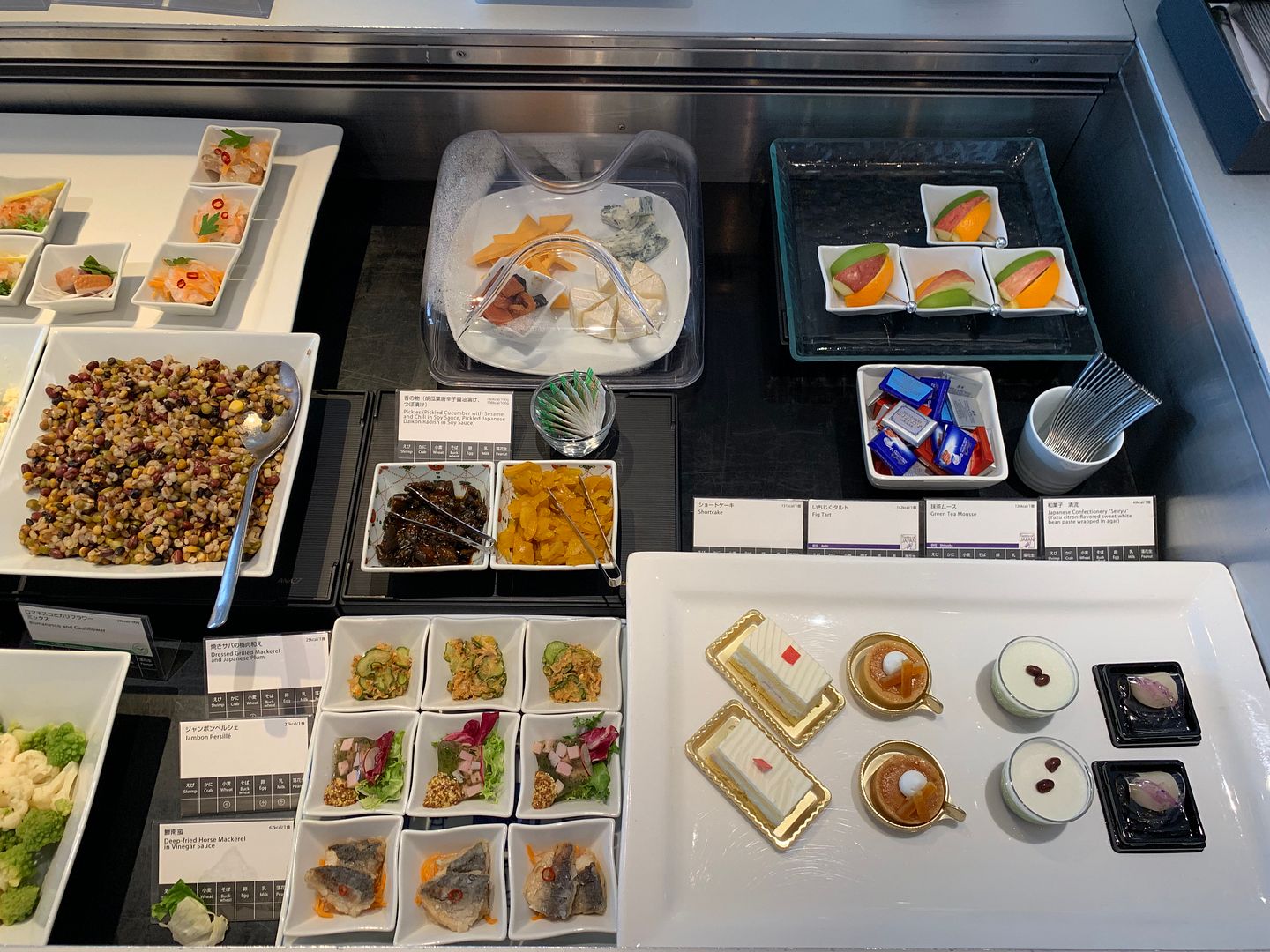 Menu: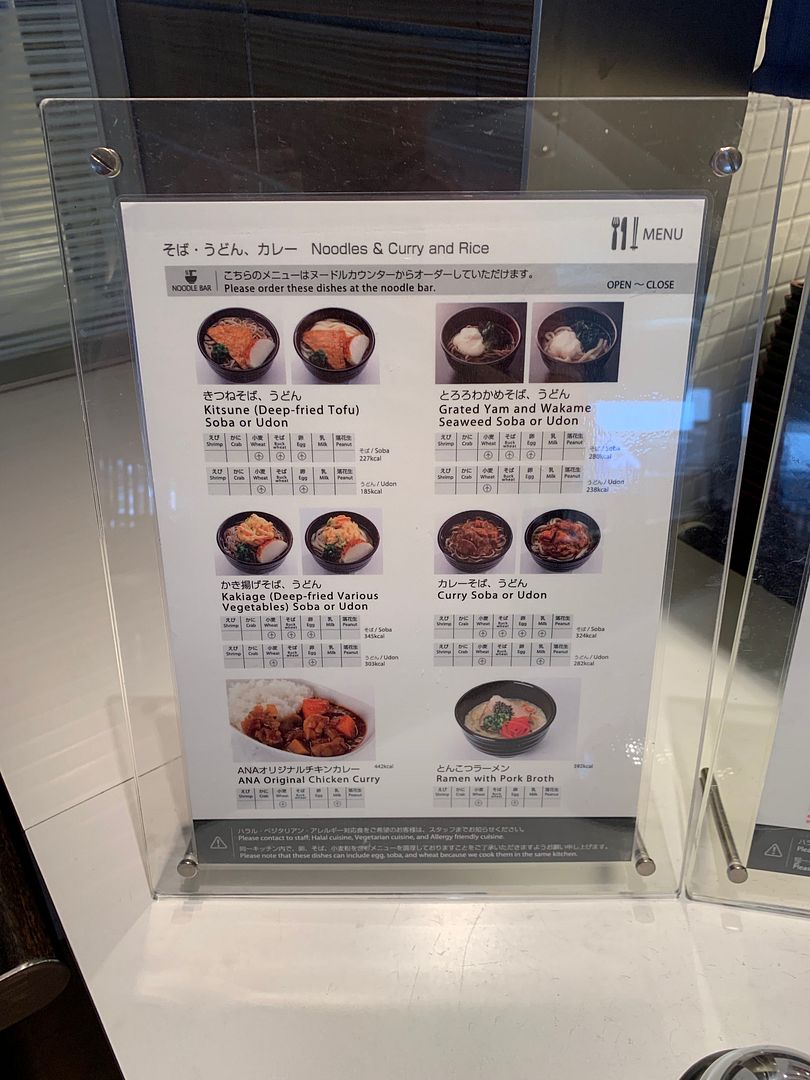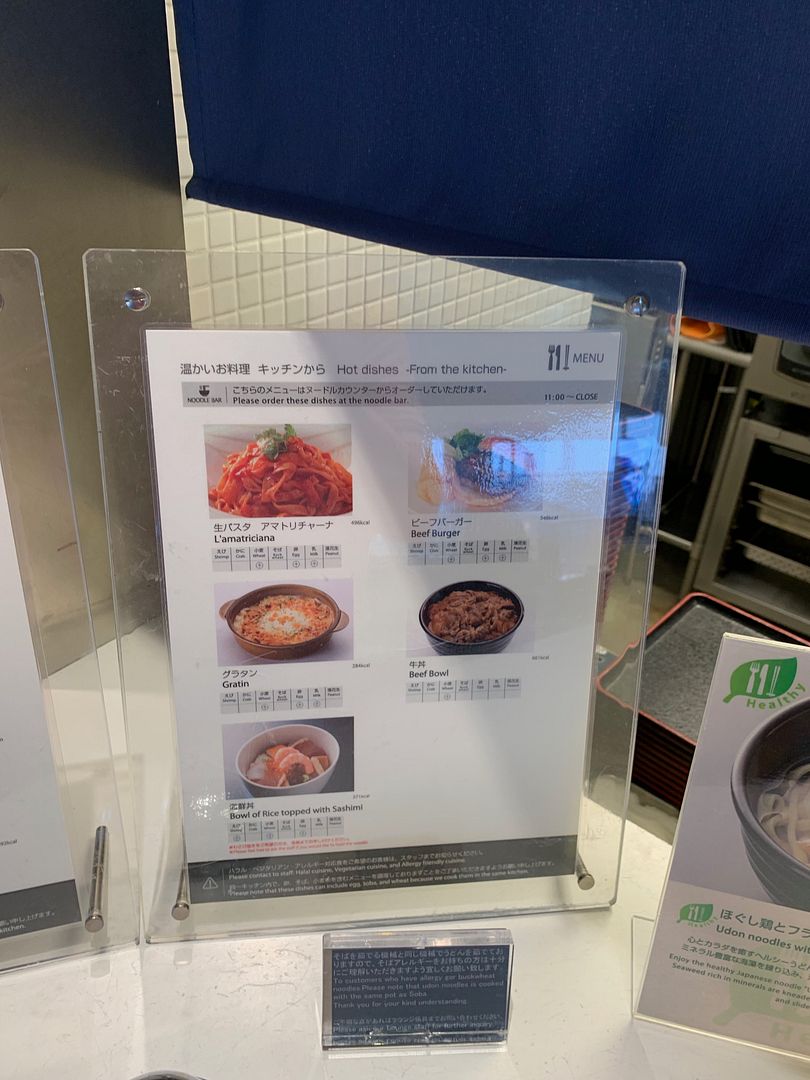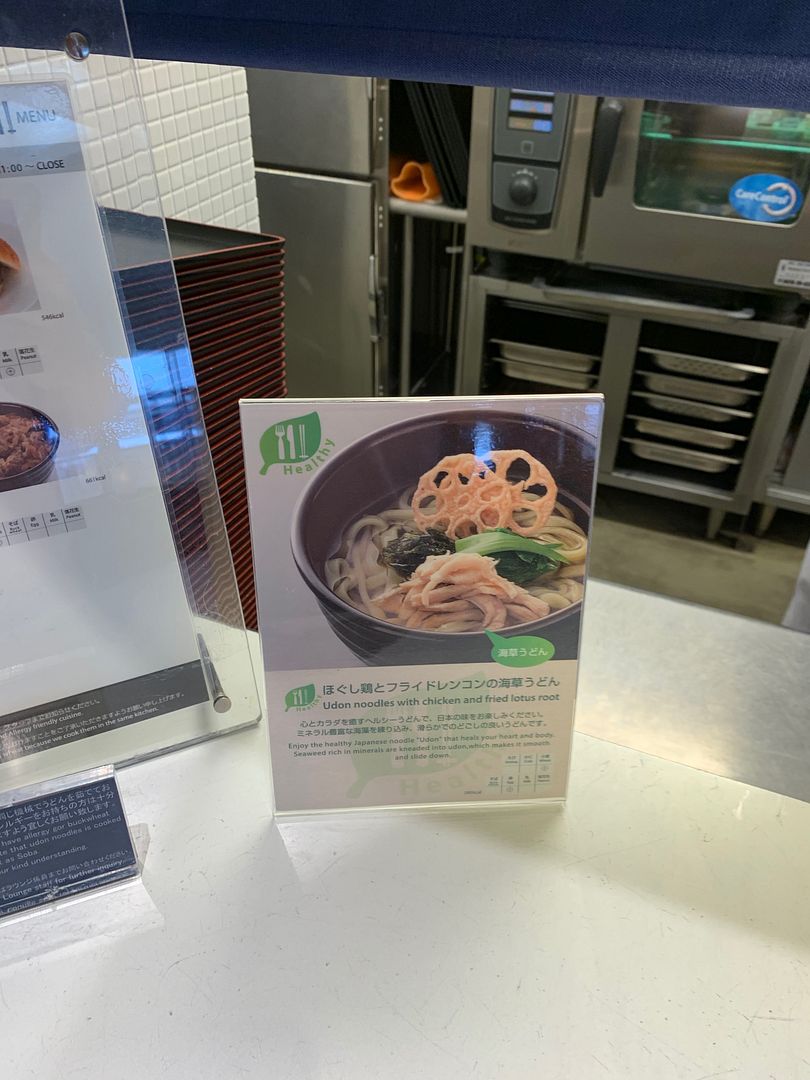 Seafood rice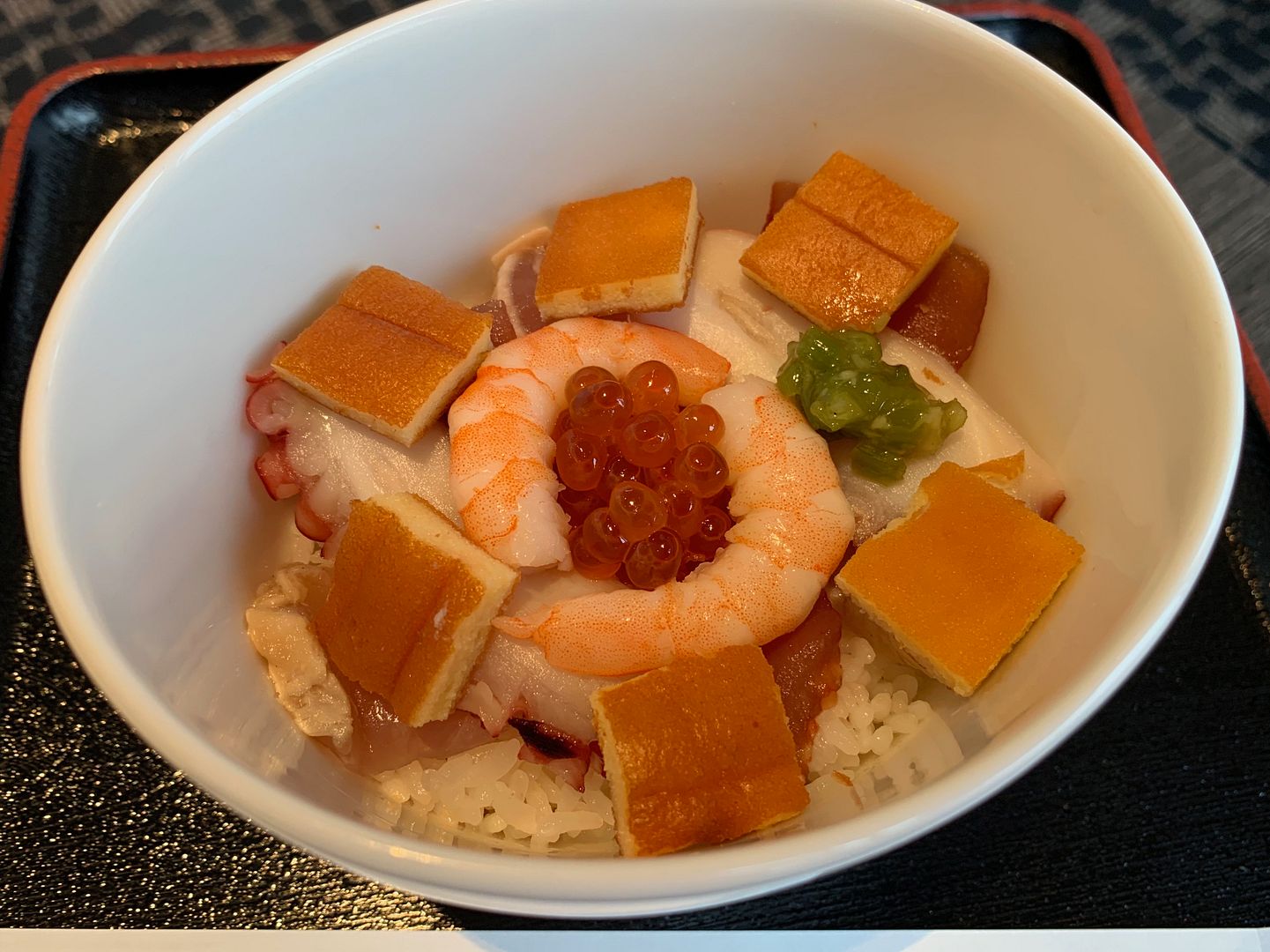 Healthy Chicken Udon
My favorite part of the lounge – business area and individual stations with an apron view.
Of course, the view was spectacular and there was a small uproar when Lani was towed into gate 46. Many customers rushed to take the picture of the plane.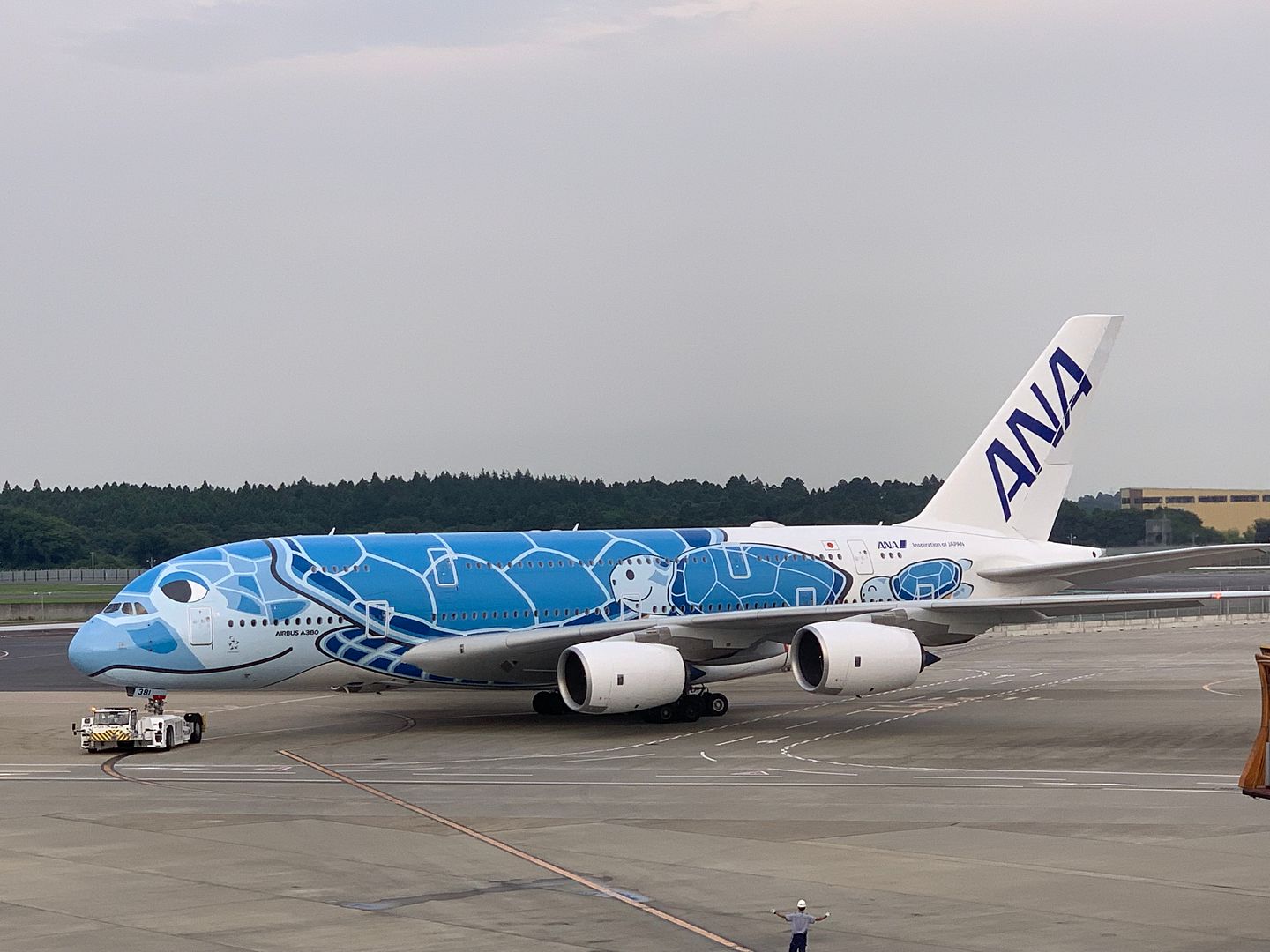 Boarding:
Gate 46 was already like a zoo, when I arrived. There were literally lines and people everywhere.
Yes, this was the business/Star Alliance Gold boarding line, which went all the way to the duty-free shop. I think they need to separate real business class from elite passengers.
Today was also the first day when there were two A380 flights operating in the same evening, so there was a celebratory slogan at the gate.
Family boarding began at 8:53pm, and it took ten minutes before first class/diamond members began to board.
ANA places all the premium cabins – first class, business class and premium economy class in the upper deck. Here is the entrance to the upper deck. You could feel the excitement was already building when I and many other passengers saw the door to the upper deck. There were plenty of F/As greeting passengers.
For this segment, I got 2K, which was pretty much the last window seat left when I booked the flight. I apologized for the lack of cabin shot because first class cabin was full. But the seat was fabulous with all the gadgets that are expected in first class these days, and I will point out the features in the return segment, when there was daylight.
A few things were already placed in my seat – a personal note, a "Lani" baggage tag, a postcard featuring all three A380s, and also a special sticker to celebrate the new increase to ten flights a week on A380 to Honolulu, as well as the Globetrotter's amenity kit, slippers, pajamas, and cardigan, which was the same for both first and business class.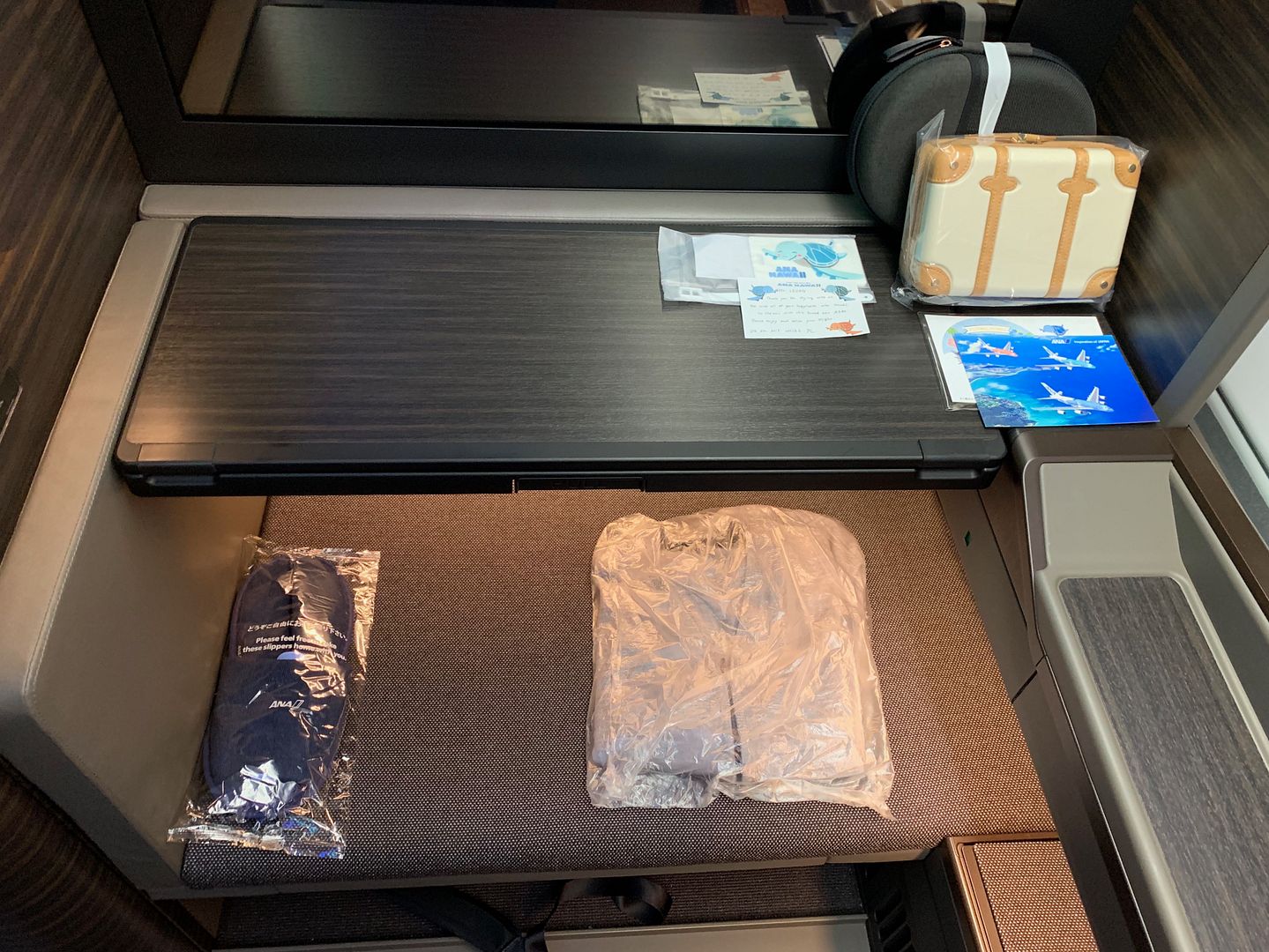 Special "inaugural" sticker
Then the first-class F/A serving our aisle introduced herself and welcomed me to the flight.
Here is what the pajama looks like, and I need XL (LL in Japanese) size. The pajama is very comfortable and is way better than British Airways, Emirates, or Singapore Airlines, although CX still has the best PJ.
I opened the amenity kit later when I was in the hotel, and here were the contents. The highlight was the cosmetic set by "the Ginza," a high end Japanese cosmetic brand.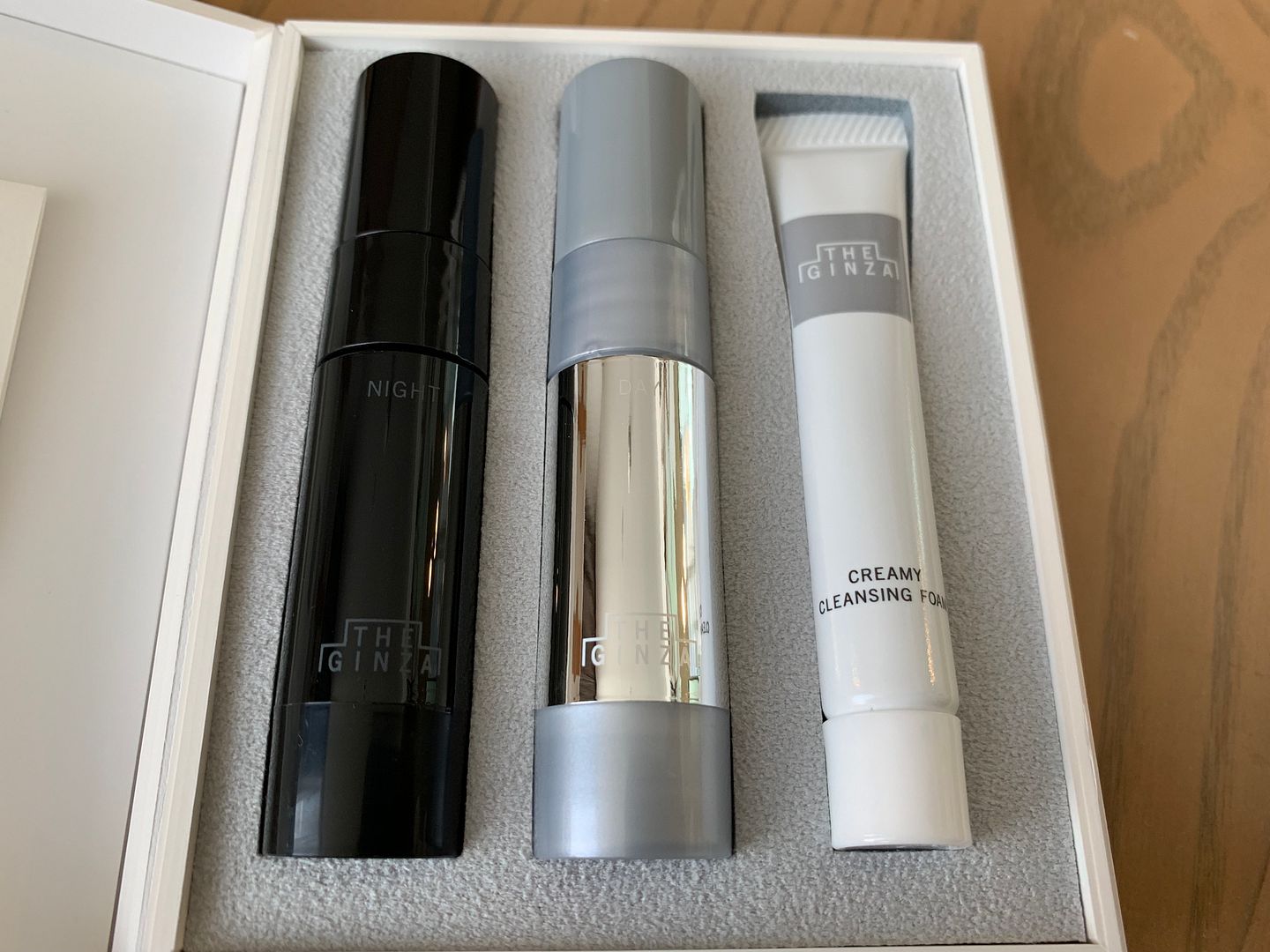 ANA safety card – I have a feeling that each A380 will get their own safety card, but can't confirm because I flew the same A380 on our way back.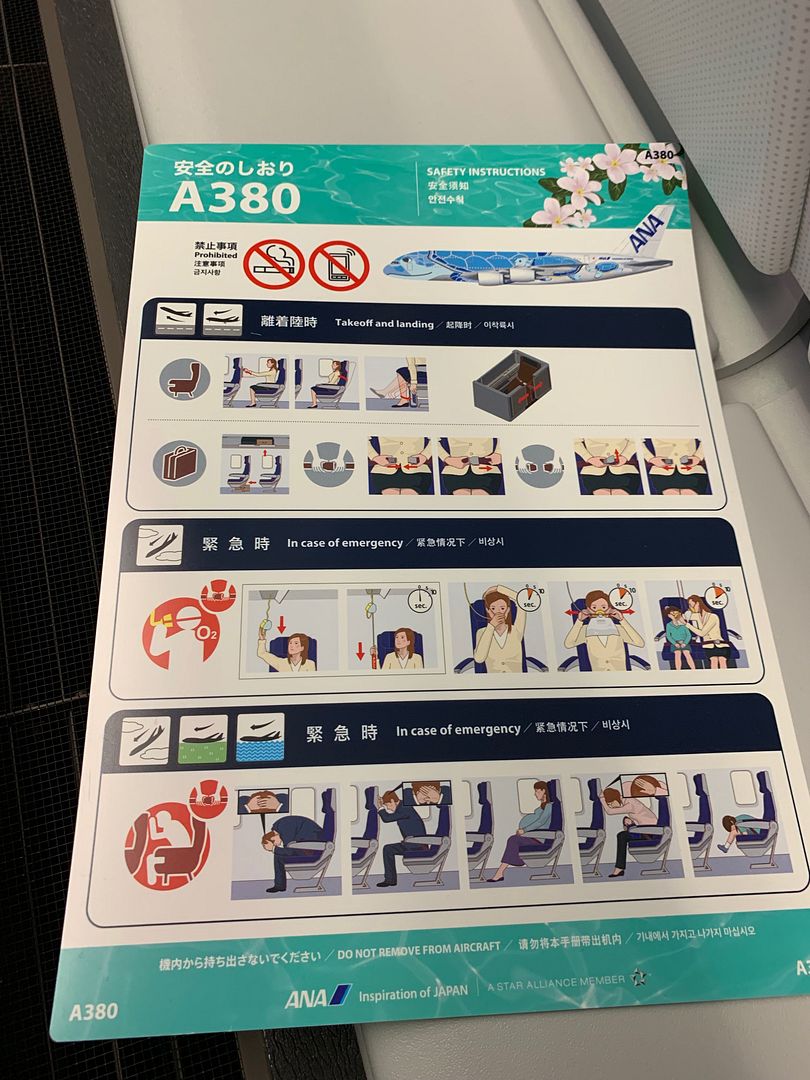 Seat Guide for the first-class suites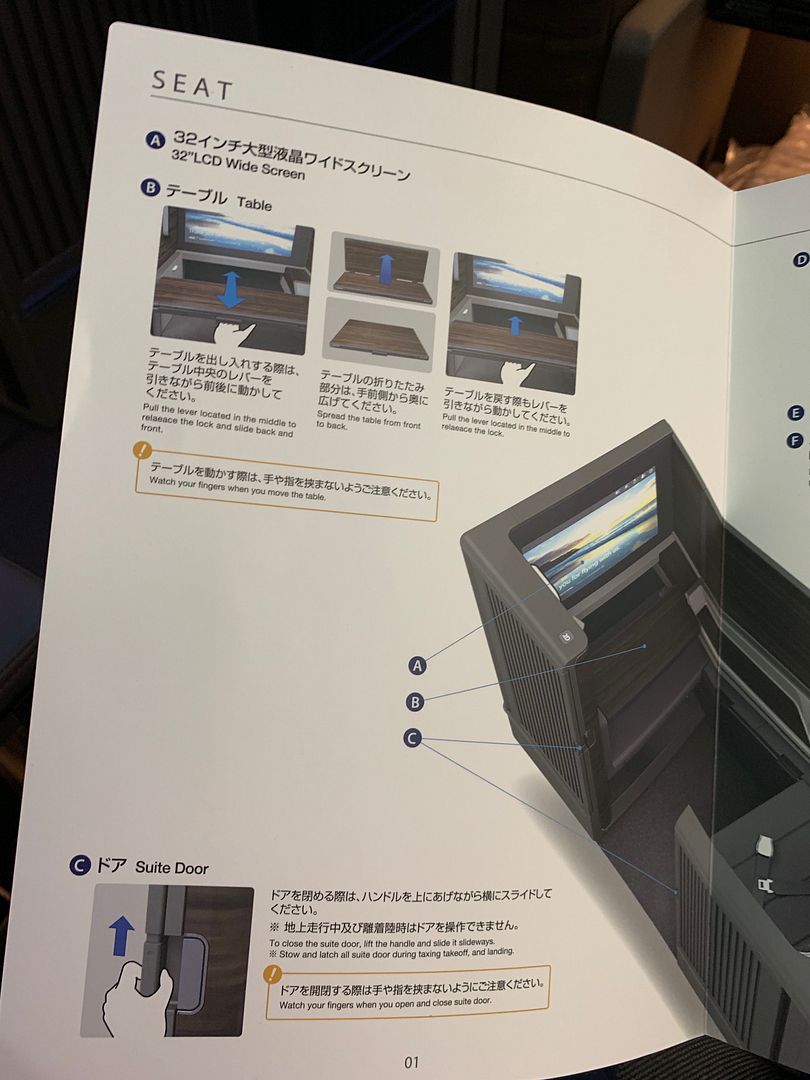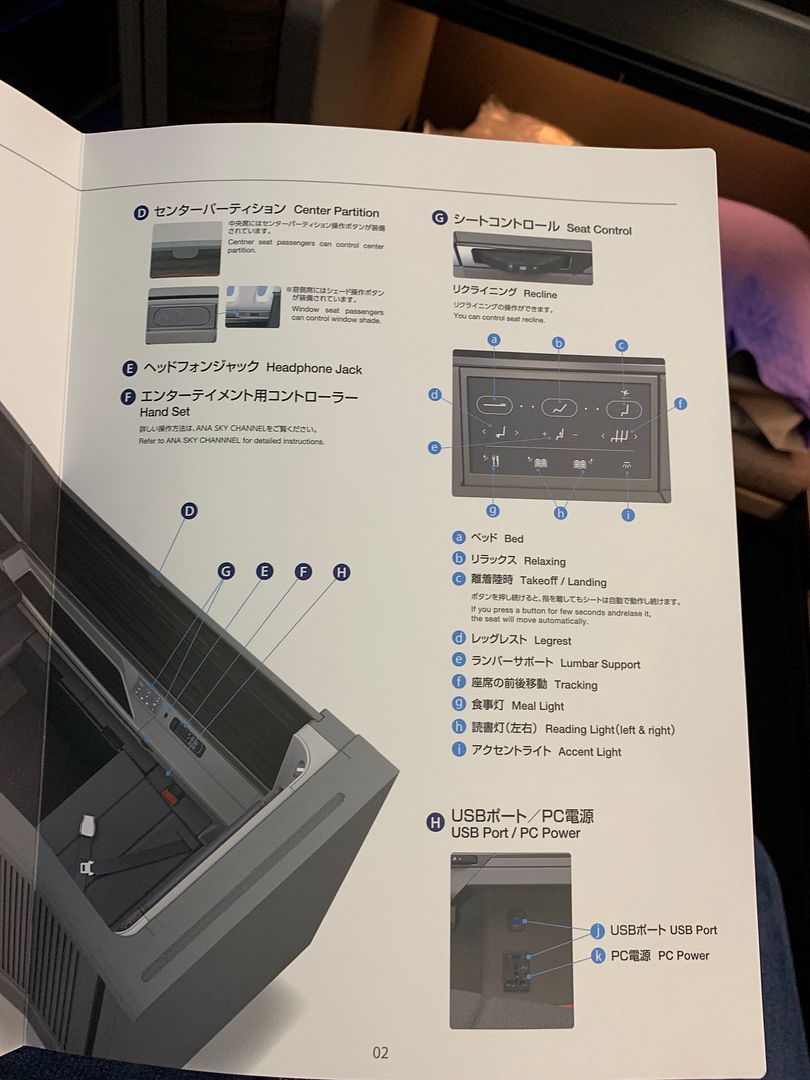 Giant PTV
Yes, tail camera and "bird eye" view… I personally think that it is a mistake that BA and SQ never installed that tail camera through their PTV system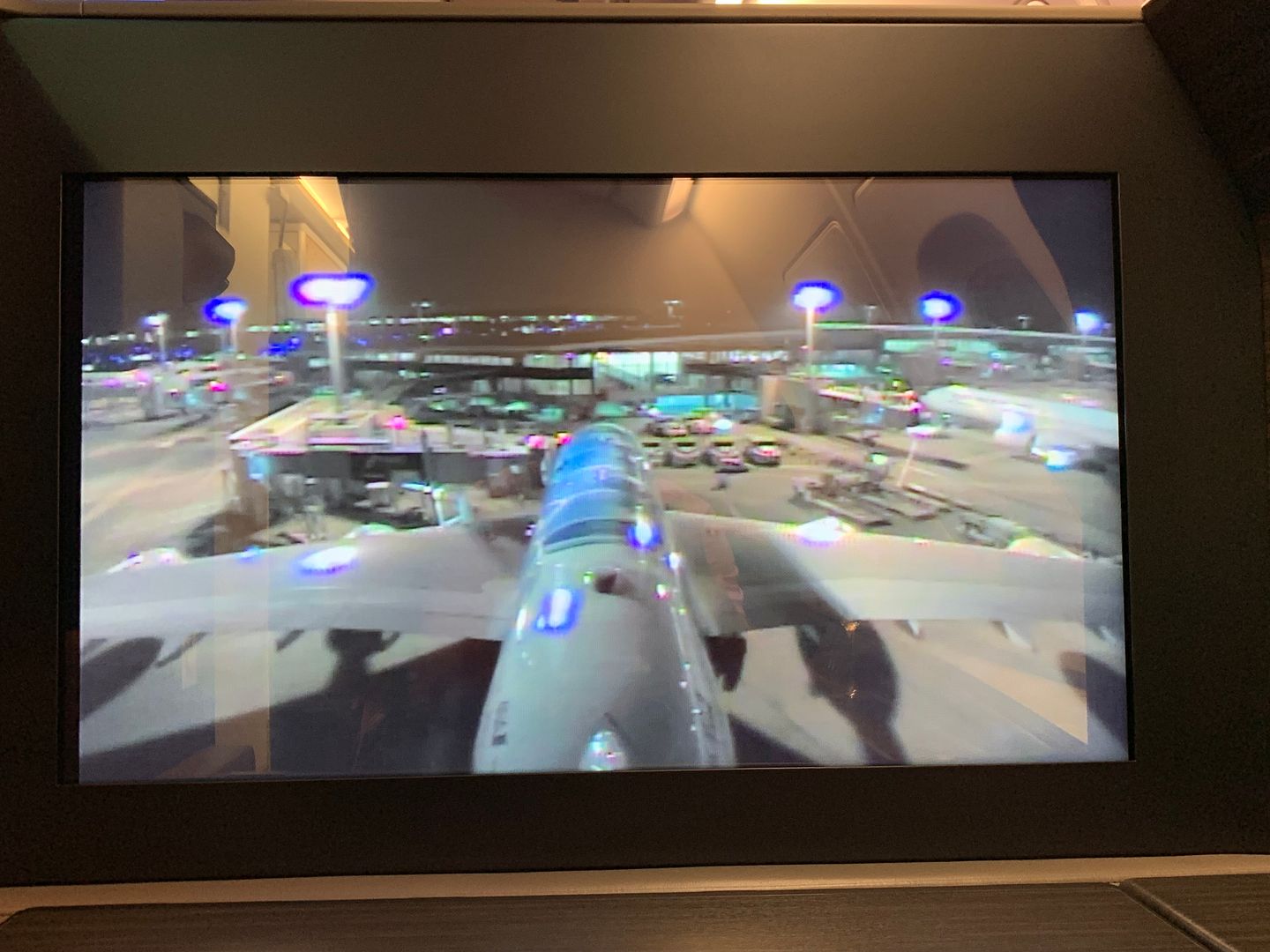 Mood lighting
Pre-takeoff beverage was offered now – there was a choice of orange juice or champagne, but it was definitely not Krug for this round. I recommend you sticking with juice and save your champagne for the Krug after takeoff.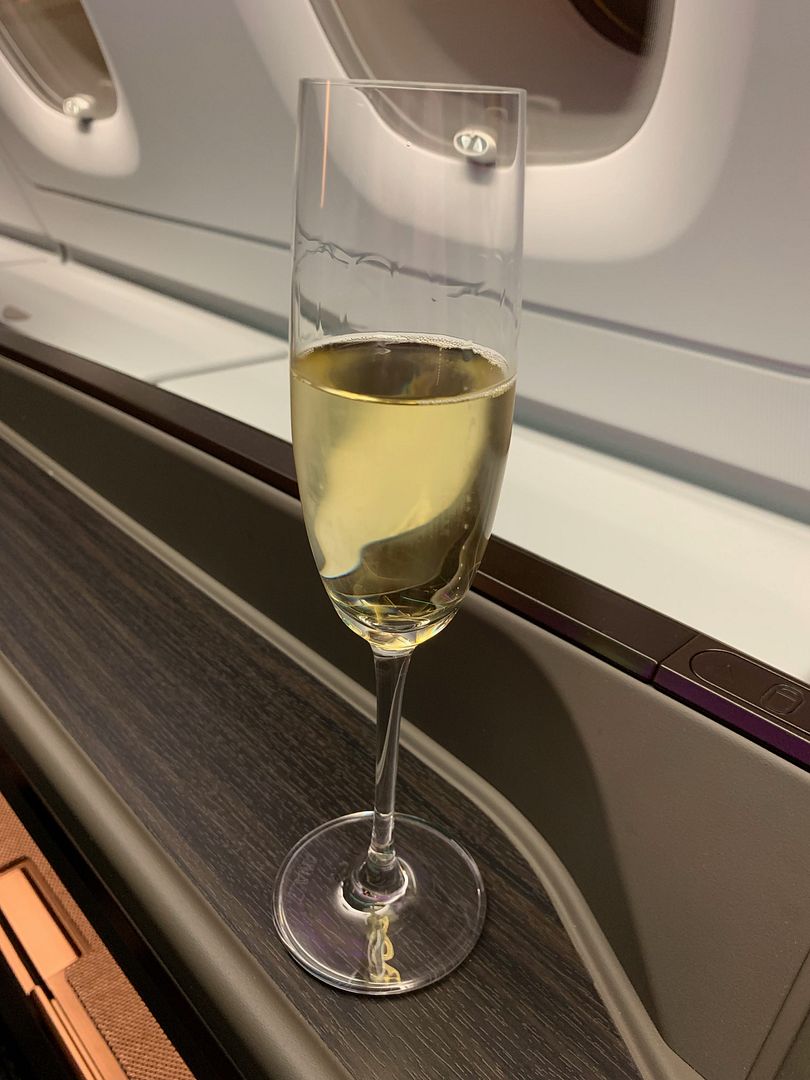 The purser then did her greeting and also passed out the WIFI cards. First class passengers got a free WIFI "Full Flight" Plan. I have also taken a screenshot of the price plans for WIFI too. While I did not run a speed test, the WIFI worked mostly great during the flight. I got track my own flight at flight radar, checked email, and did a few things. However, the speed was a bit slower on the return because there were possibly more passengers using it. Compared to the Singapore Airlines' ridiculously slow WIFI on Boeing 777-300ER, ANA's WIFI is light year ahead, which I am willing to pay money for.
WIFI Plan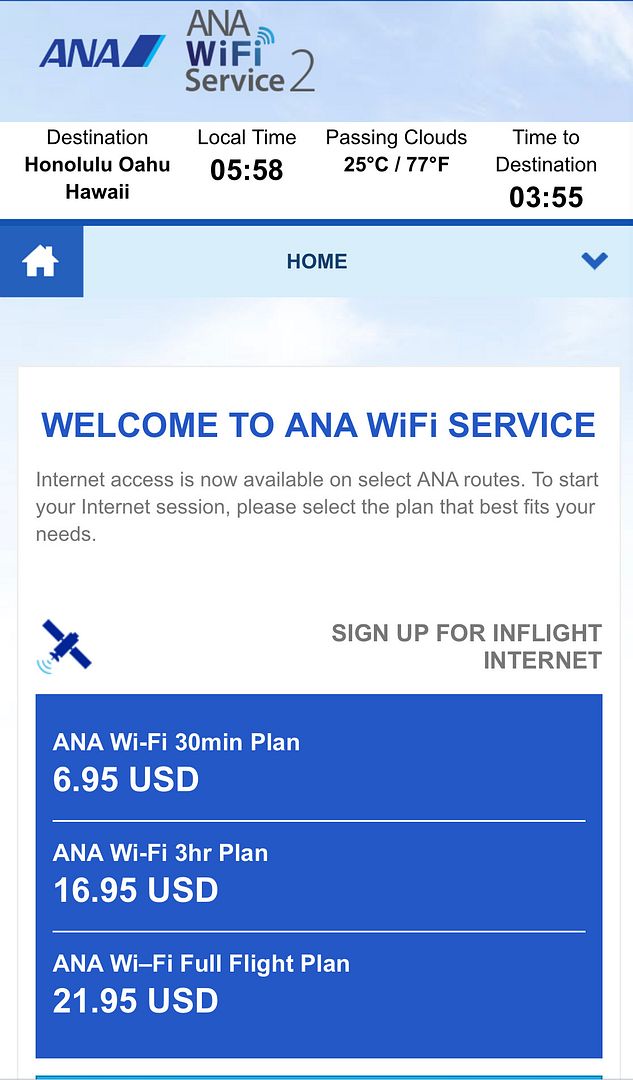 Despite a late start, ANA closed the door early at 9:26pm. We pushed back at 9:34pm and began our slow taxi towards R/W34L. For these late evening hours, most flights are either heading to Hawaii, Middle East, or cargo flights. Following a Japan Airlines' Boeing 767-300ER JA606J to Honolulu and an ANA Boeing 777 Freighter JA771F to Okinawa/Naha, we took off at 10:01pm for our short seven hours flight to Honolulu. The routing was pretty straight forward cross towards Honolulu. We first climbed to 39,000 feet, and then further up to 41,000 feet.
In-Flight:
Due to some turbulence, which was fairly typical for this route all year long, flight attendants were asked to stay seated for the first twenty minutes of the flight. However, things weren't too bad and we were basically getting away from the rains affecting Japan. At 10:22pm, seat belt sign was turned off.
Hot towel was first offered.
Then the F/As passed out the menu and wine list. The menu featured meals on both outbound and inbound flights. However, you were able to keep them if you wanted to. They loaded ten copies (because I saw the counts on the galley in one of the drawers).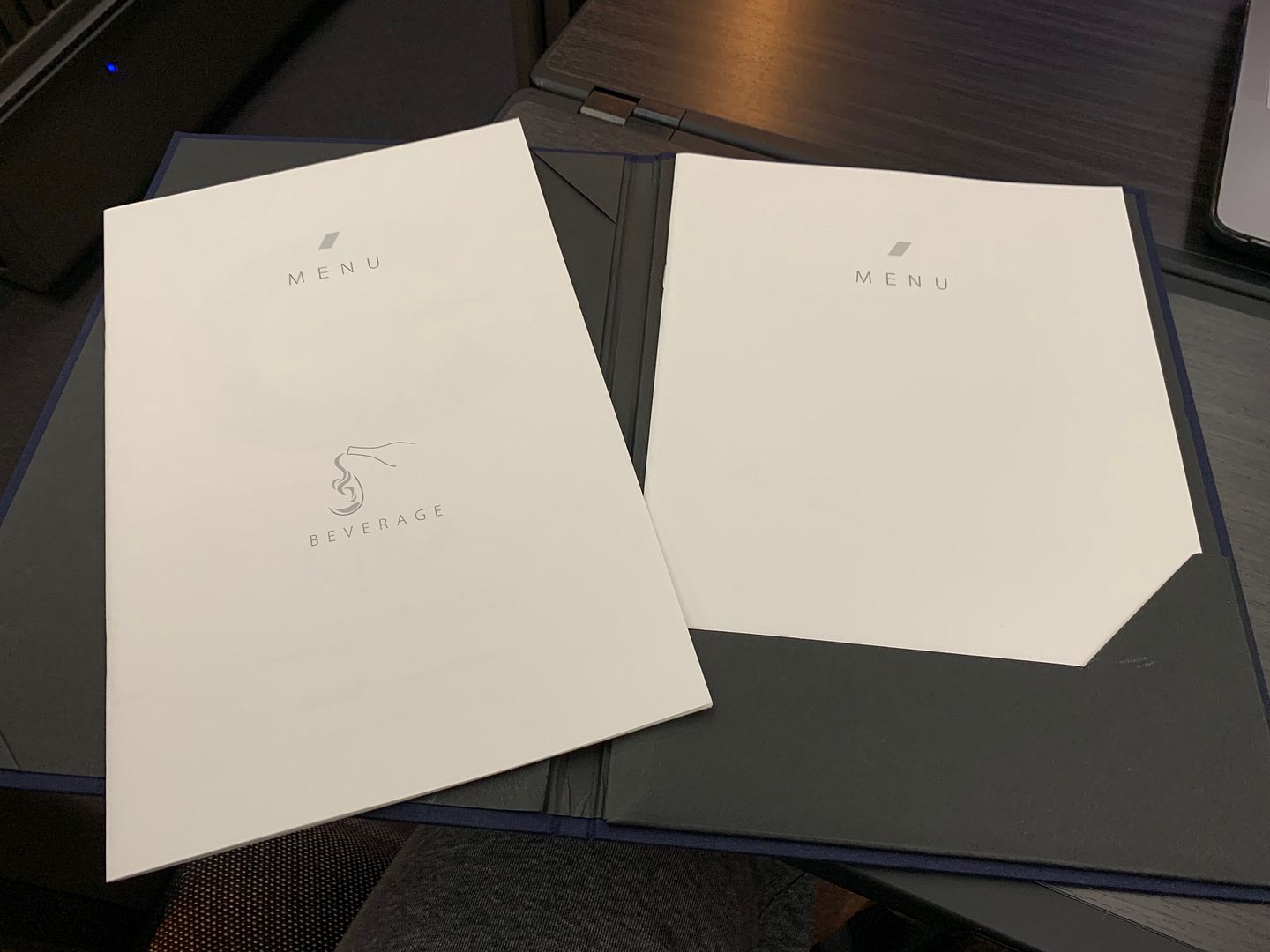 Shortly after, beverage and menu orders were taken.
Here is the full beverage list:
Sake
Noguchi Naohiko Sake Institute "Junmai Daiginjo Murokagenshu," Noguchi Naohiko Sake Institute Inc. (Ishikawa)
Ichinokura Junmai Daiginjo Shoko, Ichinokura (Miyagi)
Denshu Junmai Daiginjo, Nishida Shuzoten (Aomori) <May to June Only>
Nabeshima Junmai Daiginjo Yamada Nishiki 35%, Fukuchiyo Brewery (Saga) <July to August Only>
Shochu & Plum Wine
Murao/Sweet Potato Shochu, Murao Shuzo (Kagoshima)
Satoh Mugi/Barley Shochu, Satosh Shuzo (Kagoshima)
Hinoryu Asahi/Brown Sugar Shochu, Asahi Shuzo (Kagoshima)
Kakutama Plum Wine, Satasouji Shouten (Kagoshima)
Champagne
Champagne Krug Grande Cuvée, Champagne, France
Champagne Taittinger Prélude Grands Crus, Champagne, France
White Wine
Nielson by Byron Santa Barbara County Chardonnay 2015, Santa Barbara, California, USA
Chablis 1er Cru Chantrerie Domaine Laroche 2014, Chablis, Burgundy, France
Palliser Estate Sauvignon Blanc 2016, Martinborough, New Zealand
White Wine Limited-time offer <June to July 2019>
Amigne de Vétroz 2016, Valais, Switzerland
White Wine Limited-time offer <August 2019>
Puklus Pincészet Tokaji Aszú 5 Puttonyos 2008, Tokaj, Hungary
Red Wine
Canvasback Cabernet Sauvignon Red Mountain, Red Mountain, Washington USA
Chassagne-Montrachet 1er cru "Morgeot" Maison Louis Latour 2015, Cote de Beaune, Burgundy, France
Pétalos del Bierzo 2016, Bierzo, Castilla y León, Spain
Groot Constantia Shiraz, Constantia, Western Cape, South Africa
Port Wine
Graham's 30 Years Old Tawny Port, Douro, Portugal
Aperitifs & Cocktails
Dry Sherry
Kir Royal
Dry Vermouth
Mimosa
Campari Soda
Martini
Campari Orange
Bloody Mary
Spumoni
Kir
Exclusively served on our Honolulu route – Blue Hawaii
Spirits
Bombay Sapphire
Vodka
Brandy & Liqueur
Hennessey XO
Bailey's Original Irish Cream
Whiskies
Suntory Whiskies Hibiki 21 Years Old (New York, Frankfurt and London Routes)
Suntory Whiskies Hibiki 17 Years Old (Routes excluding the above)
John Walker & Sons King George V
Talisker 18 Years Old
Beers
Asahi Super Dry
Kirin Ichiban Shibori
Sapporo Kuro Label
Suntory – The Premium Malt's
Soft Drinks
ANA's Original Drink Aromatic Kabosu (Citrus) *Includes Honey
Exclusively Served on our Honolulu route – Pineapple Juice
Orange Juice
Apple Juice
Grapefruit Juice
Tomato Juice
Cola
Cola Zero
Sprite or 7Up
Ginger Ale
Iced Green Tea
Still Mineral Water
Perrier
Sparkling Mineral Water
Milk
Limited-time offer
Mapple Juice Chardonnay
A luxurious Chardonnay juice made only from grapes grown from winemaking in Takayama, Nagano Prefecture. Lively aromas of lychee and green apple with a white floral bouquet. Refreshing, clear acidity and honey-like sweetness give a refined and noble impression. The combination of sweetness, sourness, bitterness, body, and aroma pairs well with many dishes, adding culinary depth and elegance.
Japanese Tea
Sencha, Matcha, Hojicha <Low in Caffeine>
Tea Selection
Darjeeling, Flavored Tea, Earl Grey
Herbal Teas <Theine-free>
ANA's Original Blend, mitoco (Rose, Jasmine Flower, Peppermint)
Chamomile
ANA's Specialty Coffee Selection
Espresso
Caffe Macchiato
Hot Coffee
Iced Coffee
Cappuccino
Iced Cappuccino
Caffe Latte
Decaffeinated coffee is also available
At 10:55pm, beverage was served along with a really nice plate of canapés.
I had a glass of Krug to start the flight.
Here is the description of the amuse:
Nut chili pie stick
Marinated seabass and miso flavored egg yolk with kabosu citrus flavor
Marinated oyster and Cajun taste tuna brochette
Duck rillettes port wine flavor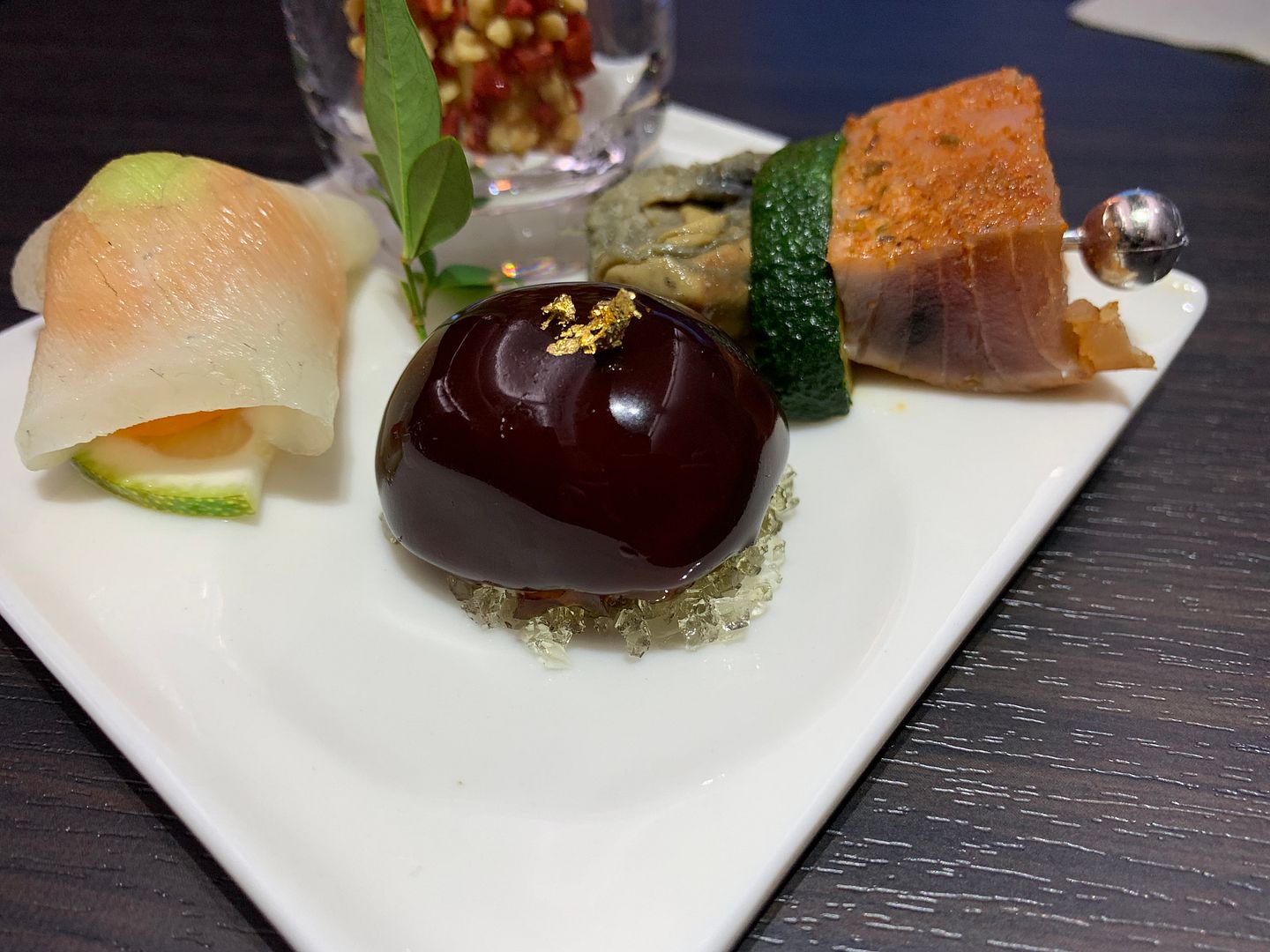 They were delicious and I really liked the chili nut bread sticks.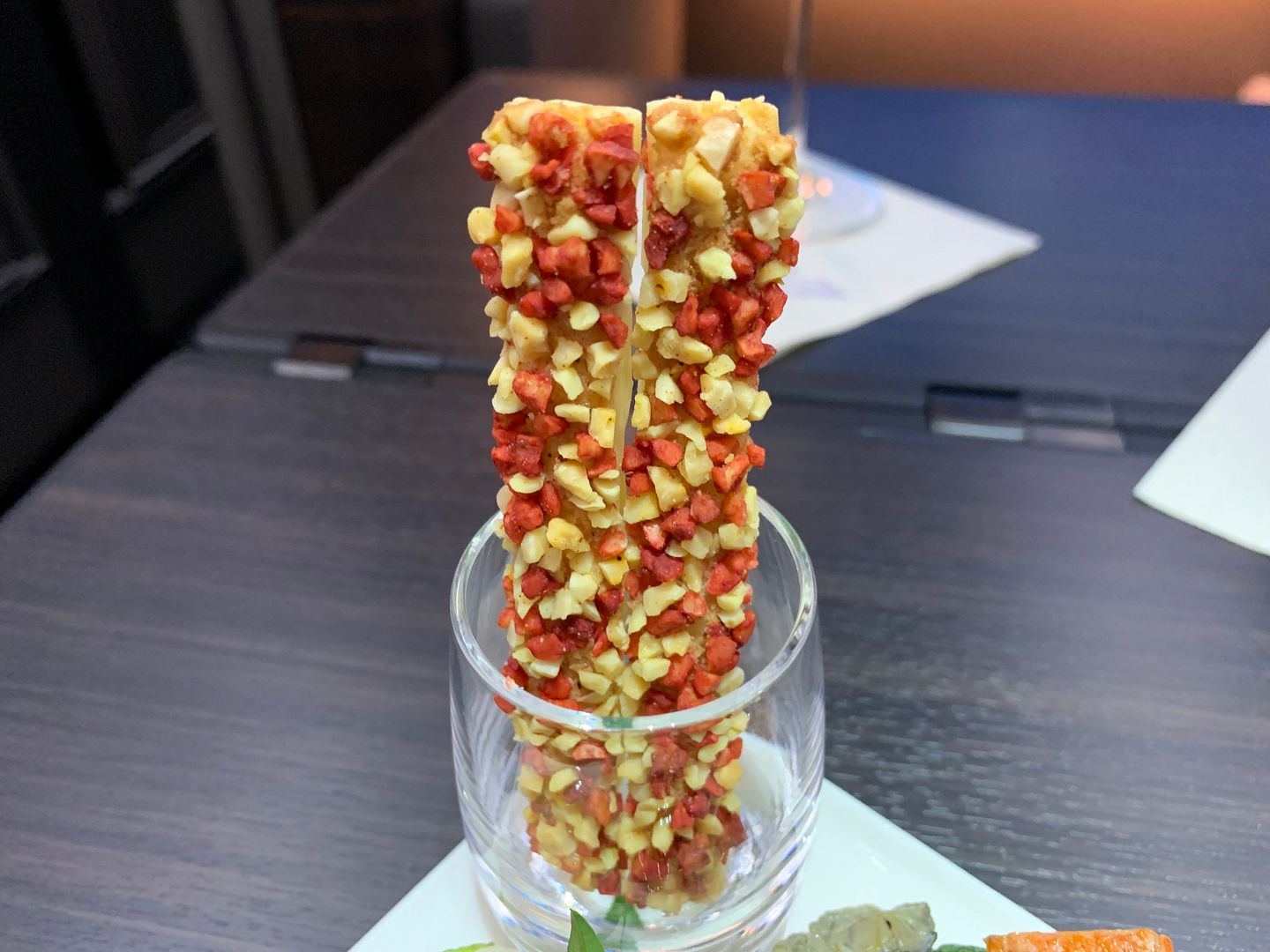 Twenty minutes later, linen was placed at each table and F/A individually set up your table with no tray used for this simplified supper service.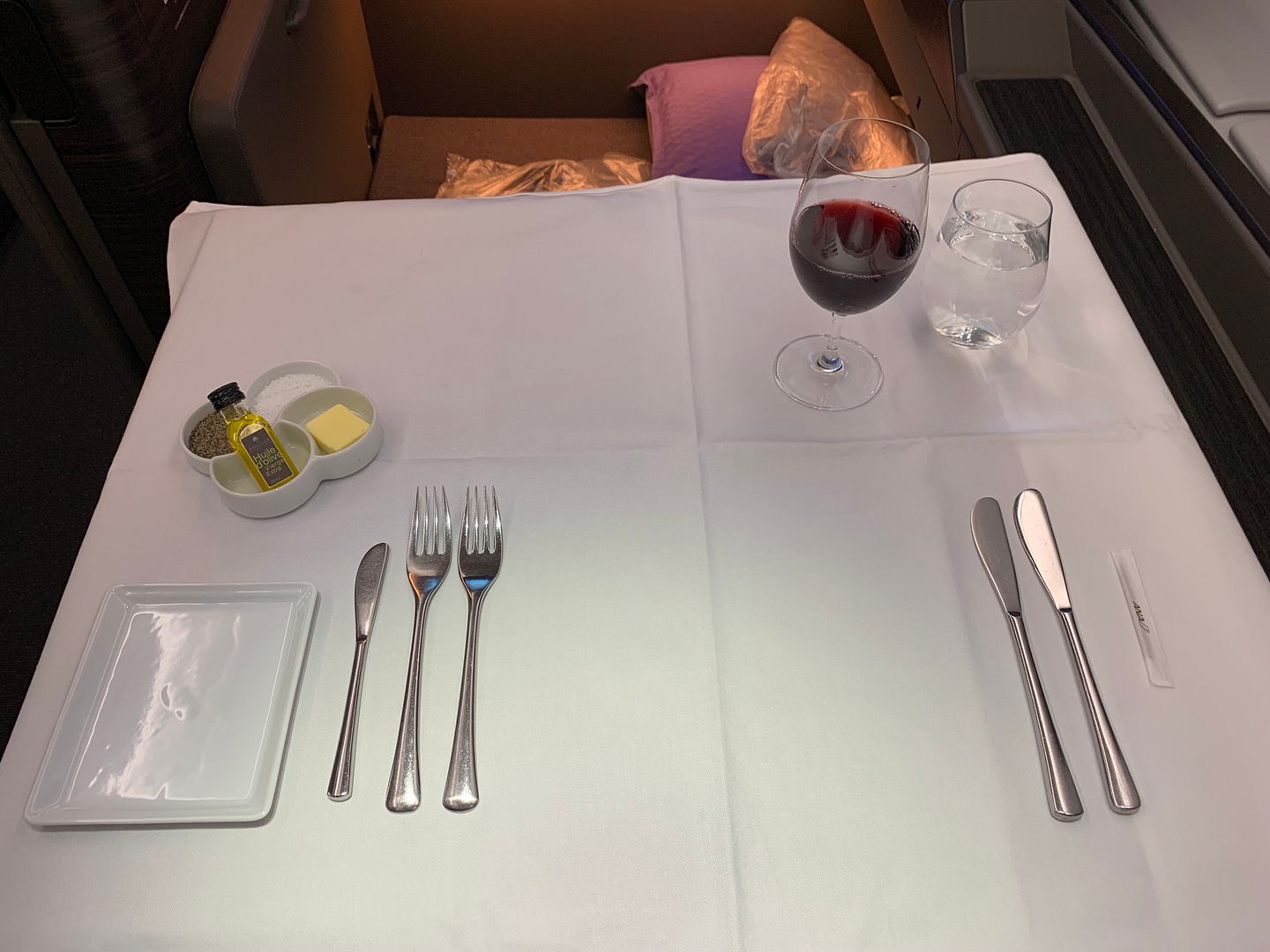 Here is the full menu with the corresponding pictures. I chose the International menu.
Japanese Cuisine ~Washoku~
Sakizuke Starter: a taste of what's to come
Uncured swordfish ham and vegetables with egg yolk sauce
Zensai A selection of morsels
Foie-Gras with orange puree in ground cherry
Grilled saikyo miso-marinated wagyu beef
Dressed dried white gourd melon with salt-fermented sweetfish
Marinated tiger prawn in soy-based sauce
Grilled tofu pulp rolled with sillago
Simmered burdock root stuffed with cream cheese
Edamame (salt-boiled green soybeans)
Takiawase Simmered treats
Simmered duck and wheat gluten in soy-based sauce
Koabchi Tasty tidbits
Steamed horned turban and water shield with jelly noodles
Shusai Main Course
Grilled cuttlefish with potato dough [153 kcal]
Steamed Rice
Steamed rice, miso soup and Japanese pickles
Kanmi Confections
Agar and brown syrup with matcha ice cream
International Cuisine
Appetizer Plate
Steamed abalone, scallop and zucchini mousse with caviar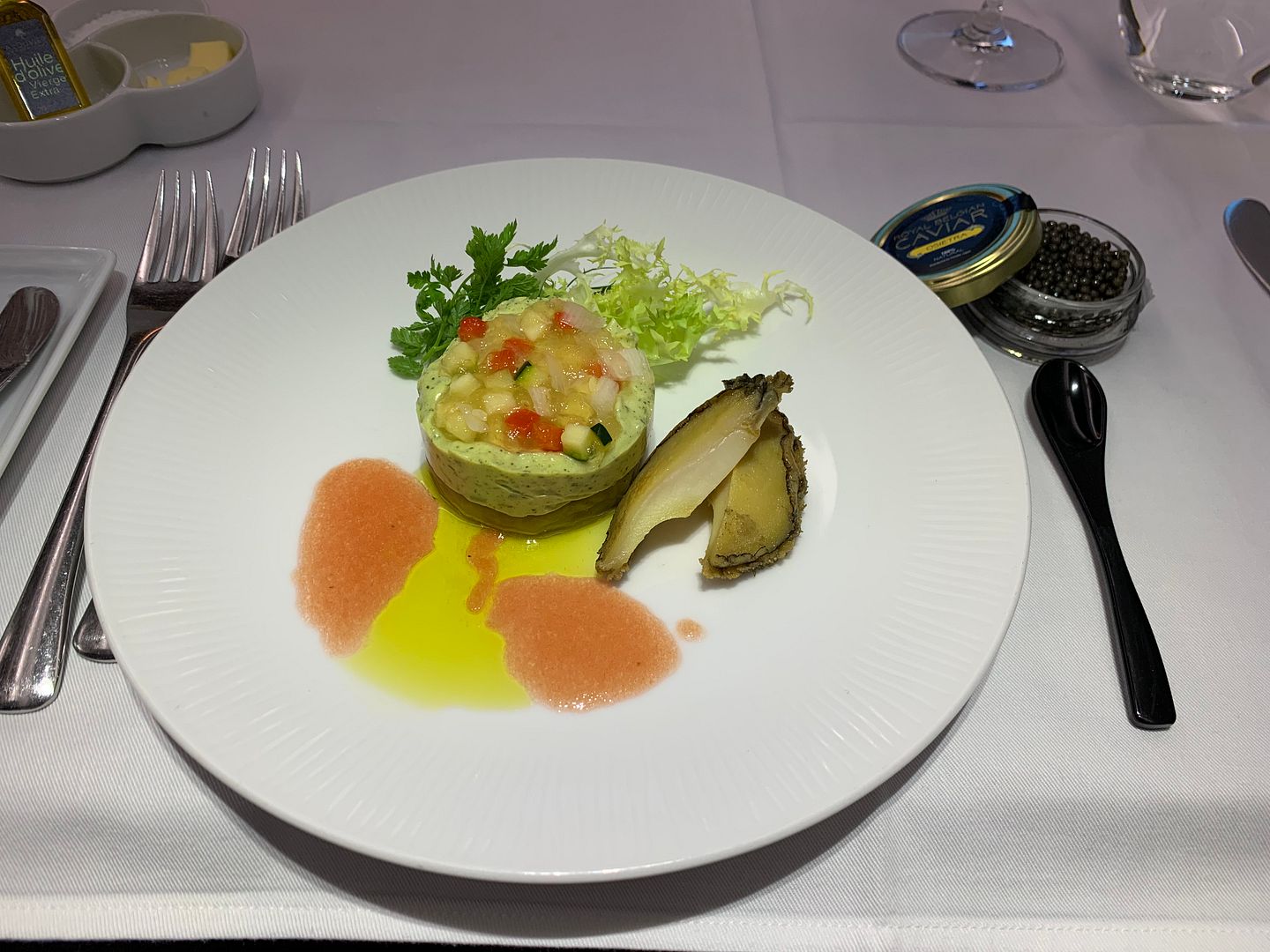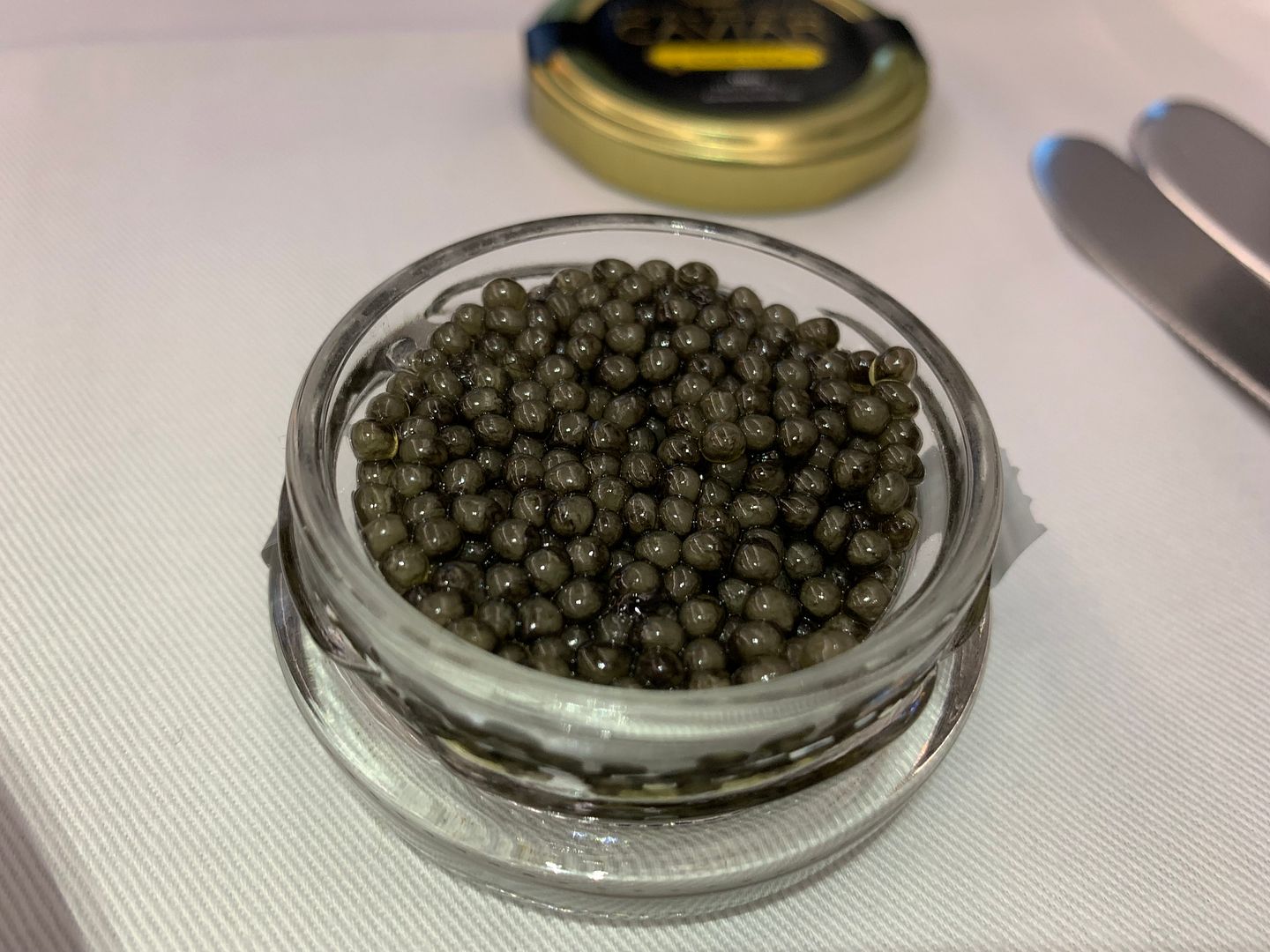 Main Plate
Grilled fillet of Kuroge Wagyu beef with light raifort sauce [485 kcal]
Roasted European homard blue with Nagano Shiojiri Merlot Wine Sauce [262 kcal]
Selection of Breads
Baguette
Semolina tomato
Oil extracted from raw seeds of "EGOMA" focaccia
Roggenbrot
Desserts
Japanese sake castella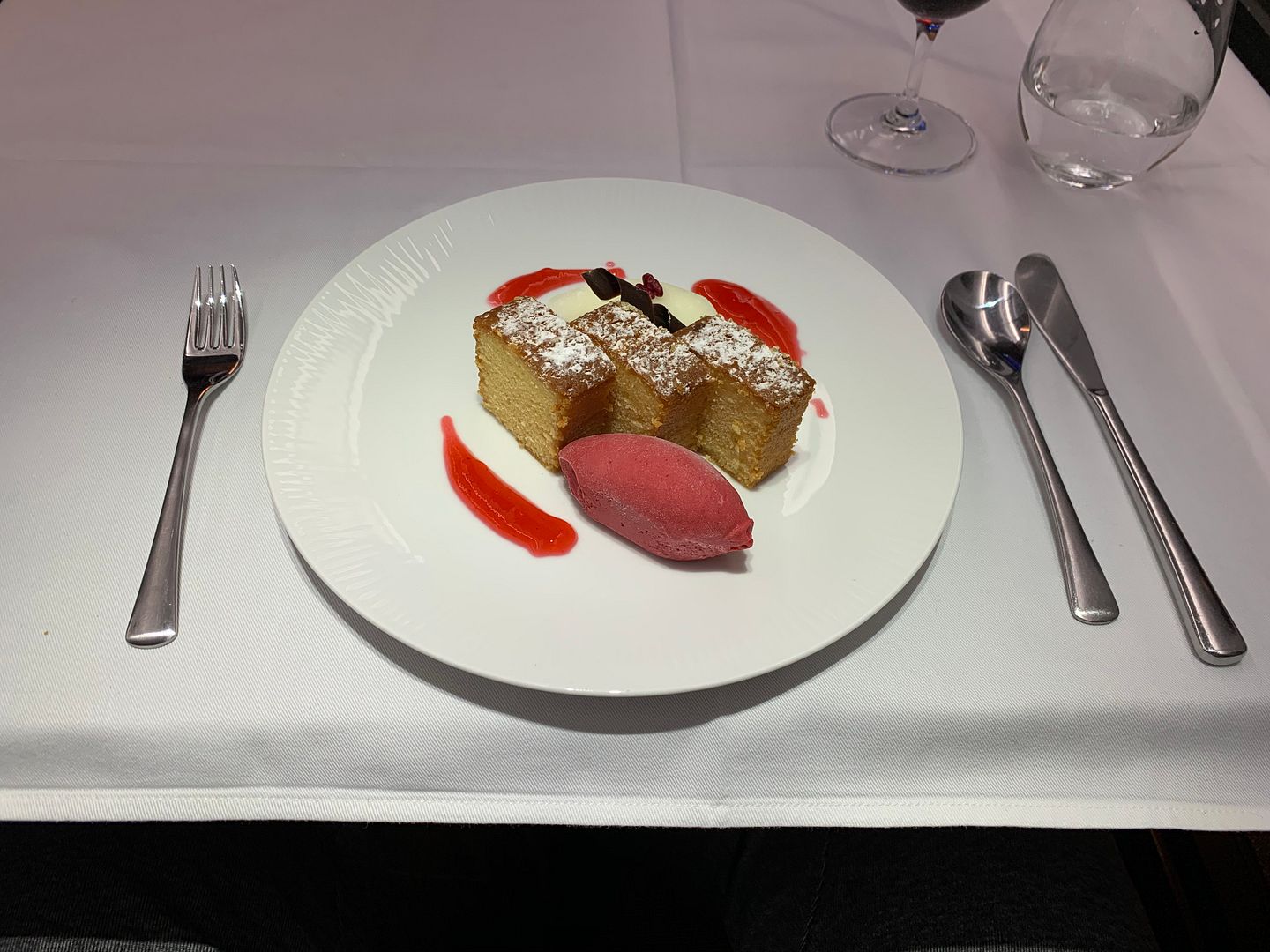 Petits Fours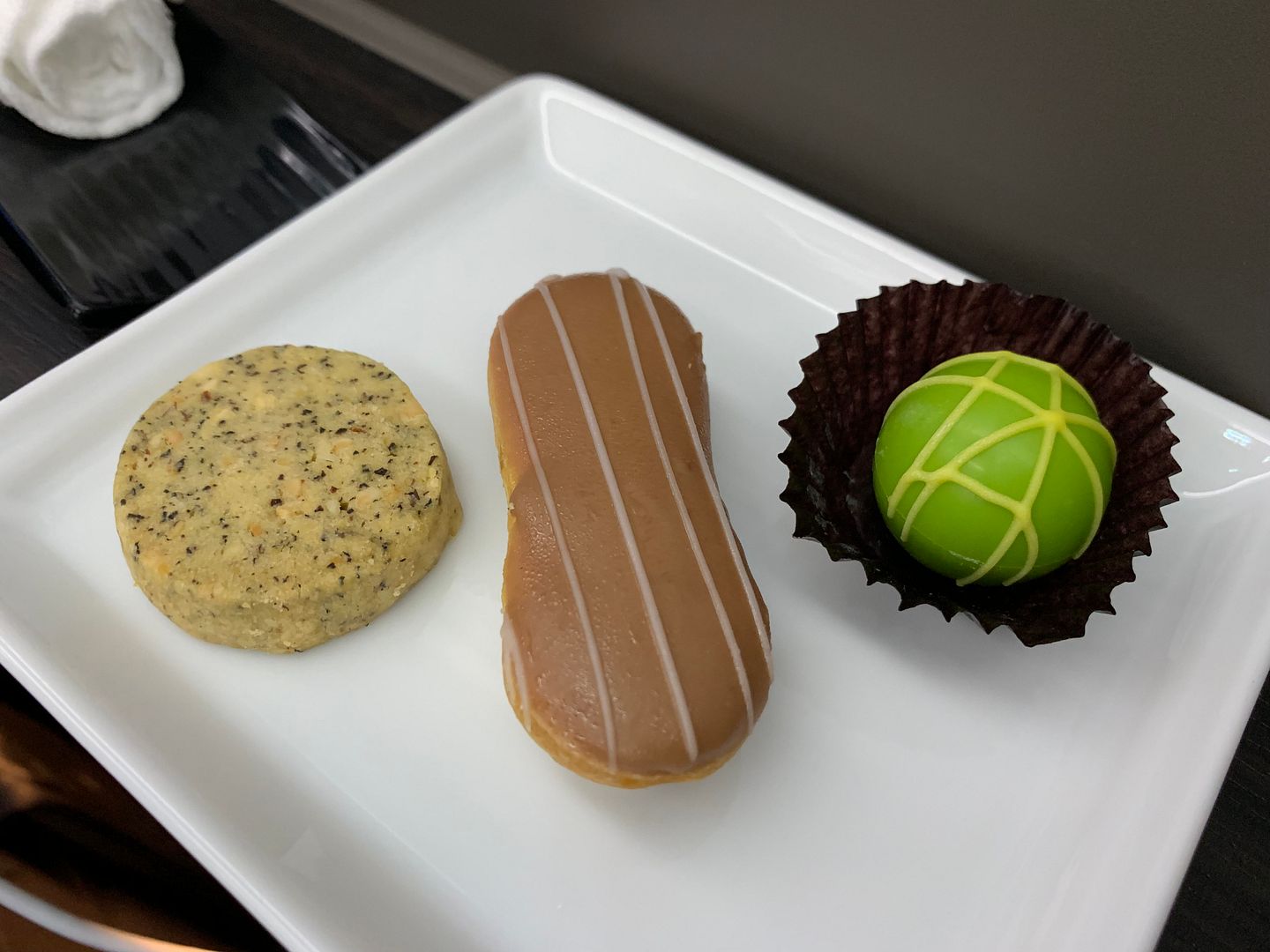 If You Prefer
The following selections are also available.
[For the Japanese course, those two courses will be included if you want the full Japanese meal. For the International cuisine, there are just additional choices and I was not sure why had to separate them, but these options are available for the pre=arrival service too.]
Japanese Cuisine ~Washoku~
Owan A clear soup with produce
Winter melon wrapped with shrimp fishcake
Otskuri A selection of sashimi
Seared Pacific bluefin tuna
Seared striped jack
International Cuisine
Appetizer Plate
Mikawayamabuki quail and foie-gras terrine with beet and orange sauce
Vegetable mille-feuille herb sauce with king crab meat
Main Plate
Rack of lamb persillade with Gifu endive and Gorgonzola Piccante salad [477 kcal]
Tofu Steak with Daishi basil sauce and vegetable salad [307 kcal]
Desserts
Rice flour and passion fruit parfait
Cherry clafoutis
While the food was nice, I just felt a bit underwhelmed after reading all the rave reviews about ANA first class food. The best course was the starter plate and the caviar service were very generous. The Wagyu fillet main course was only average and I was expecting a better cut. However, they did not overcook the meat, which I always appreciated.
I of course never turned down a plate of petit fours, especially from a Japanese airline.
Dinner service was completed at 12:25am with another hot towel and more bottled waters. The F/As came around asking if we wanted to be woken up for the pre-arrival "breakfast" service. If you want something to eat, you have to order at the two hours prior to arrival mark. Of course, it was quickly followed by setting up beds for passengers.
Bathrooms:
While they are not huge toilets used by Emirates and LH, ANA has a relatively large bathrooms with plenty of room for changing.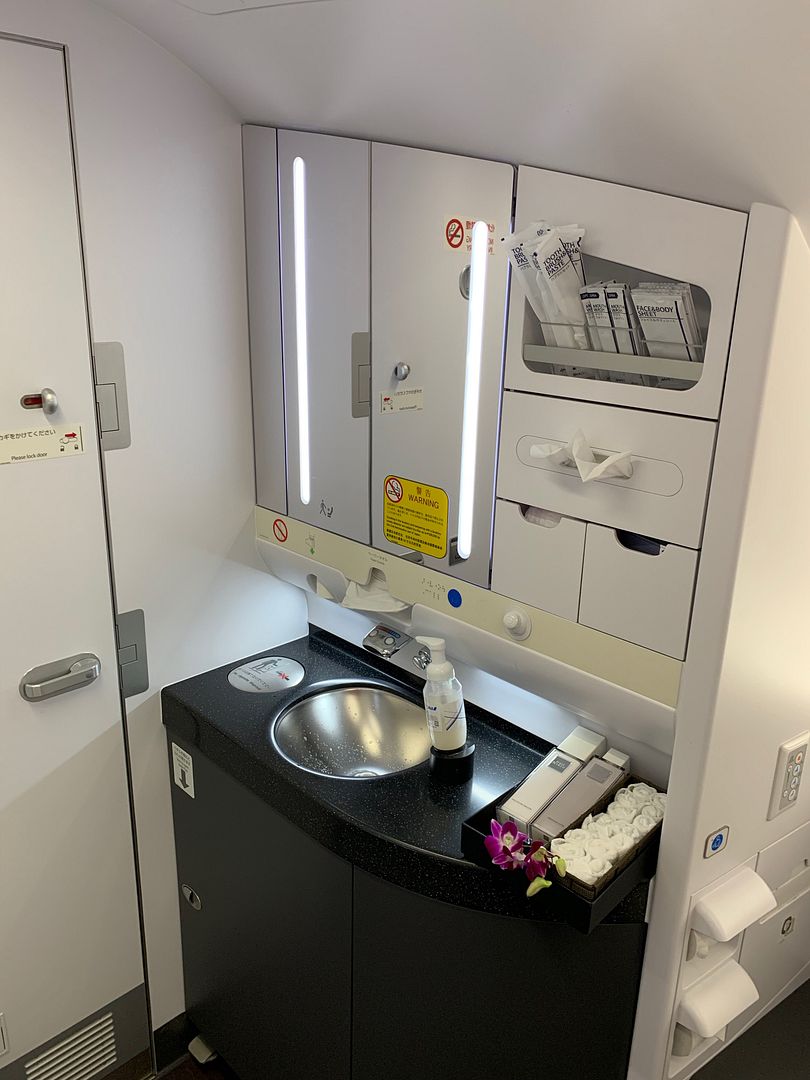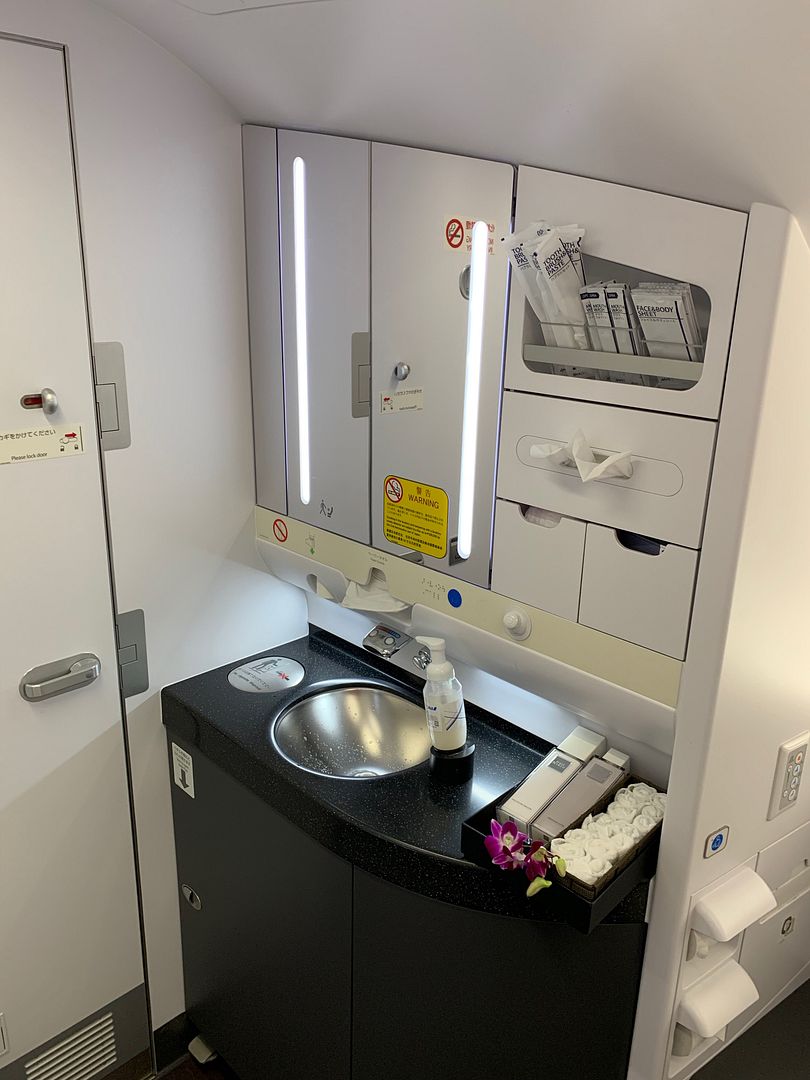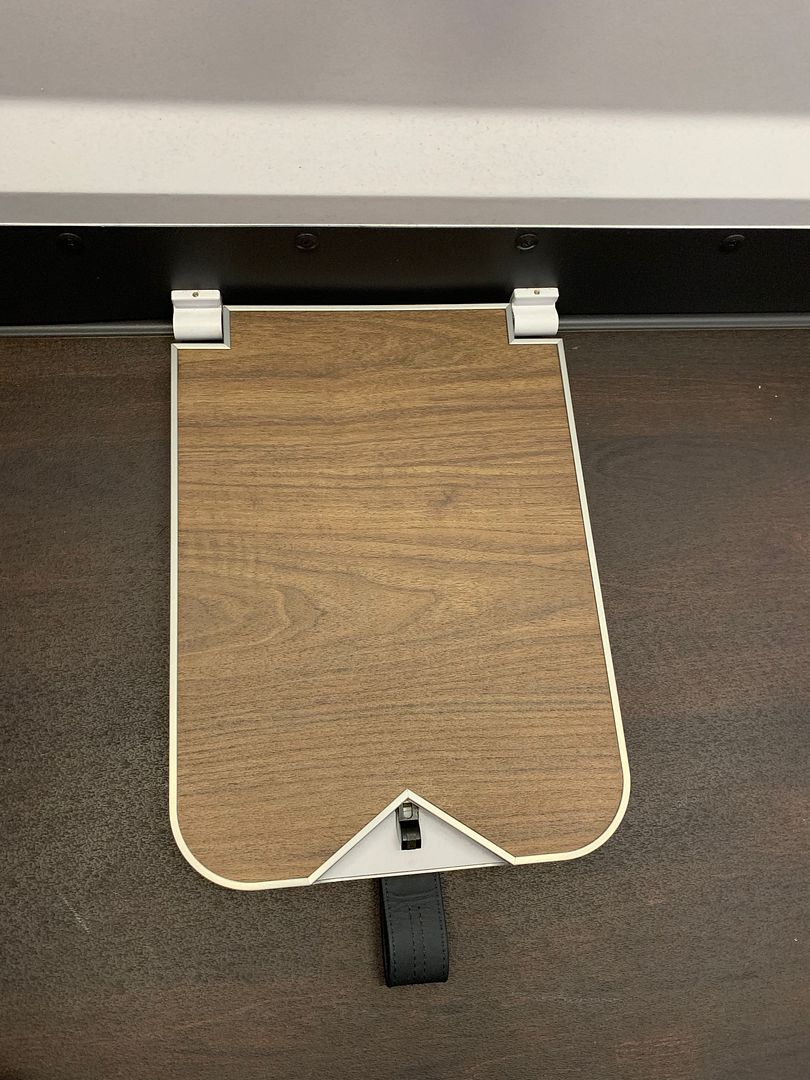 Japanese style of course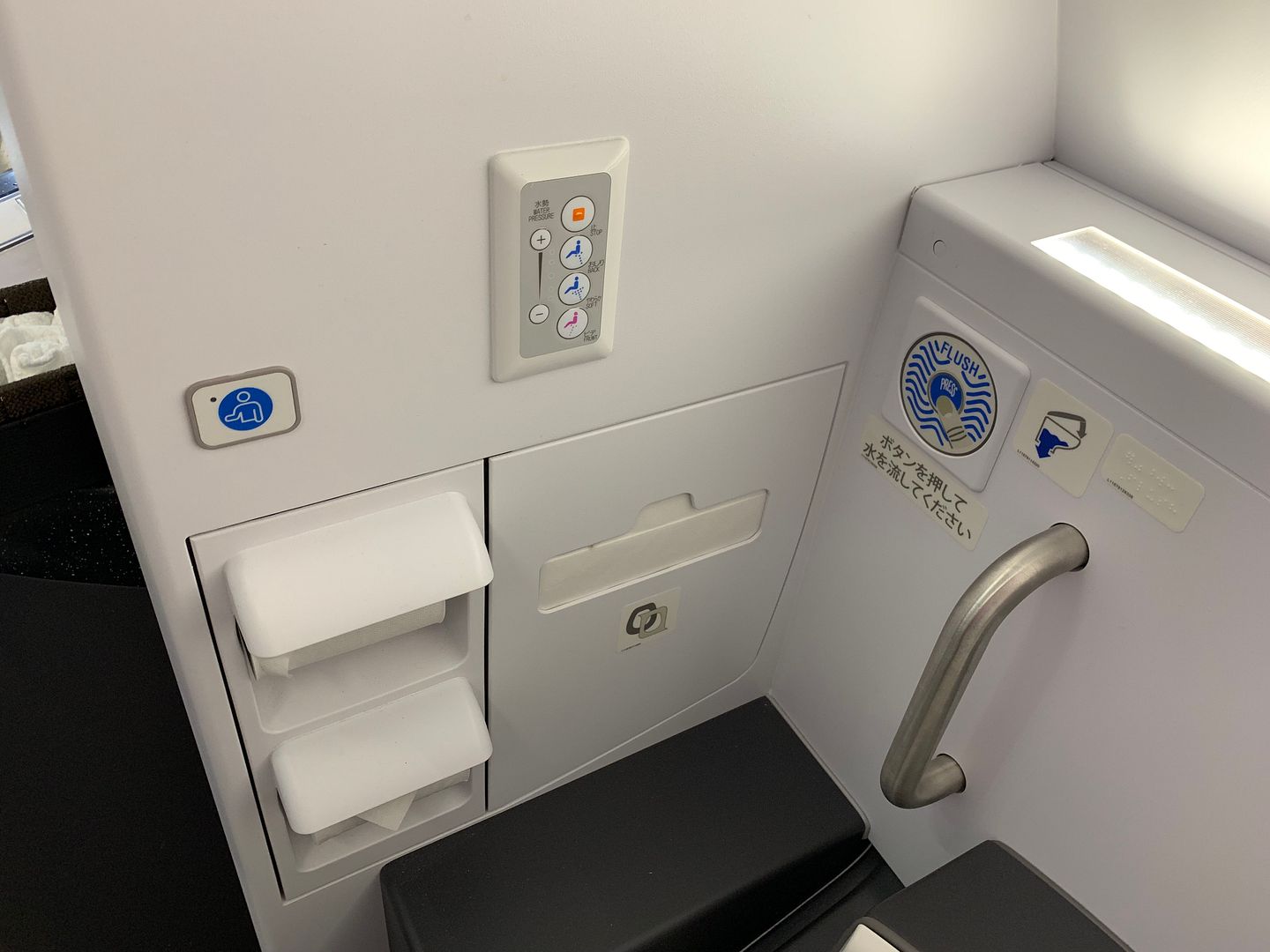 Seats:
Pre-set recline position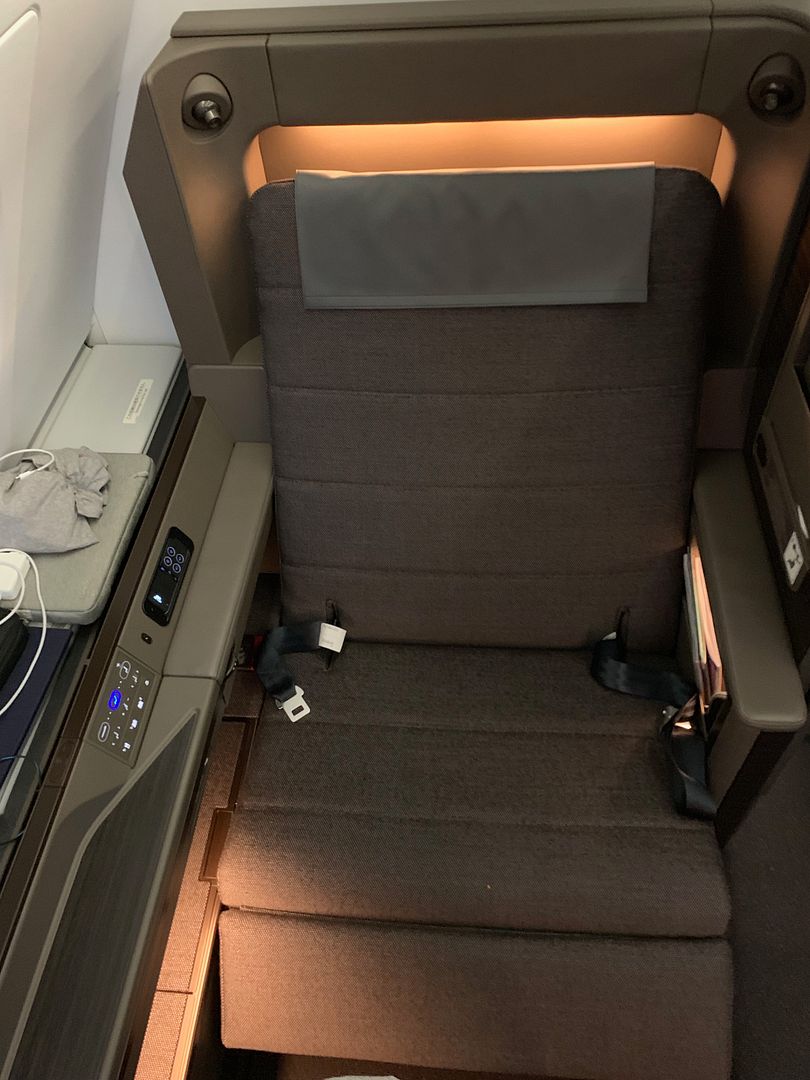 Full flat position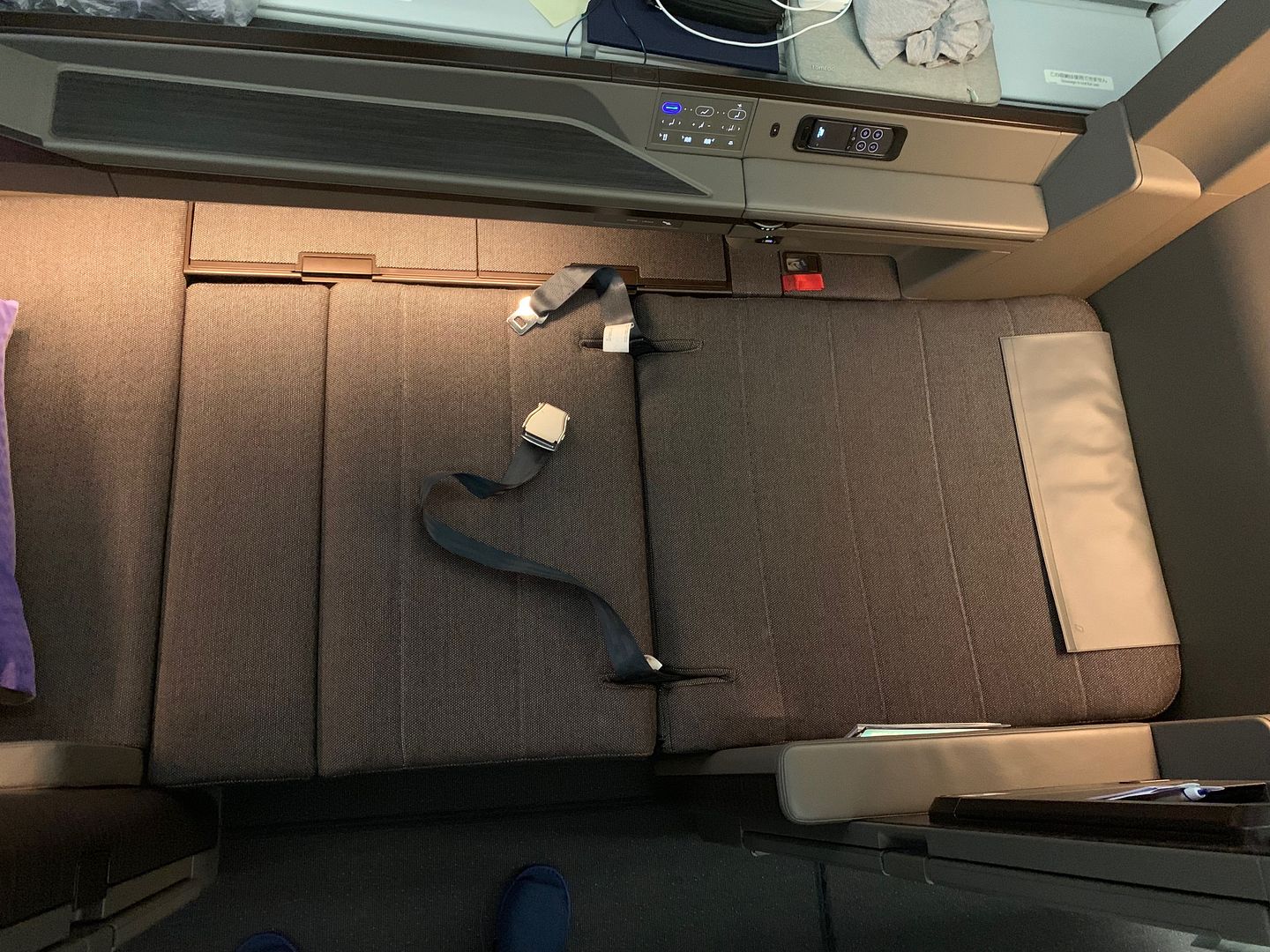 Plenty of room by the feet
Bed set up – bed sheet and light mattress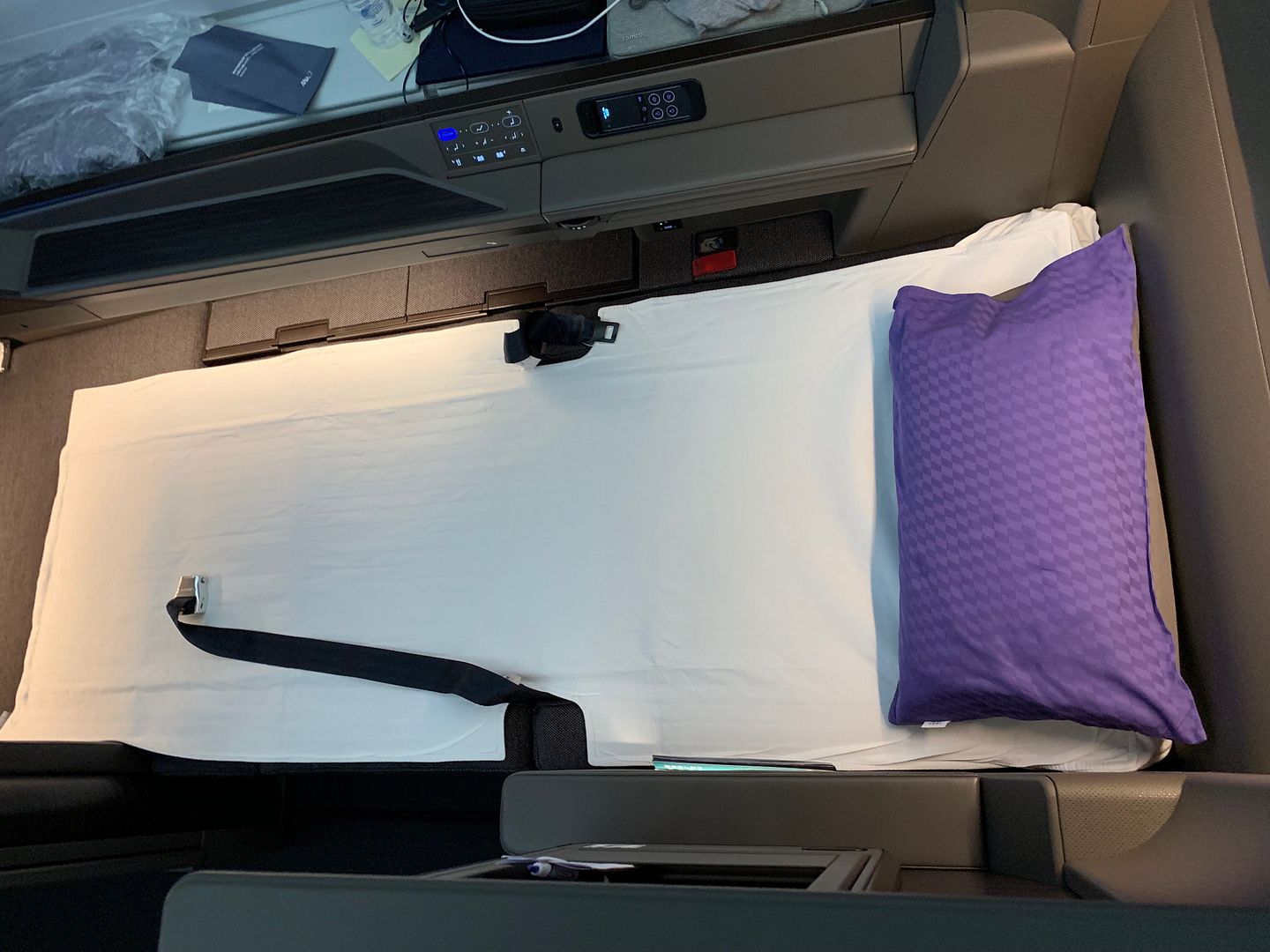 Fully set up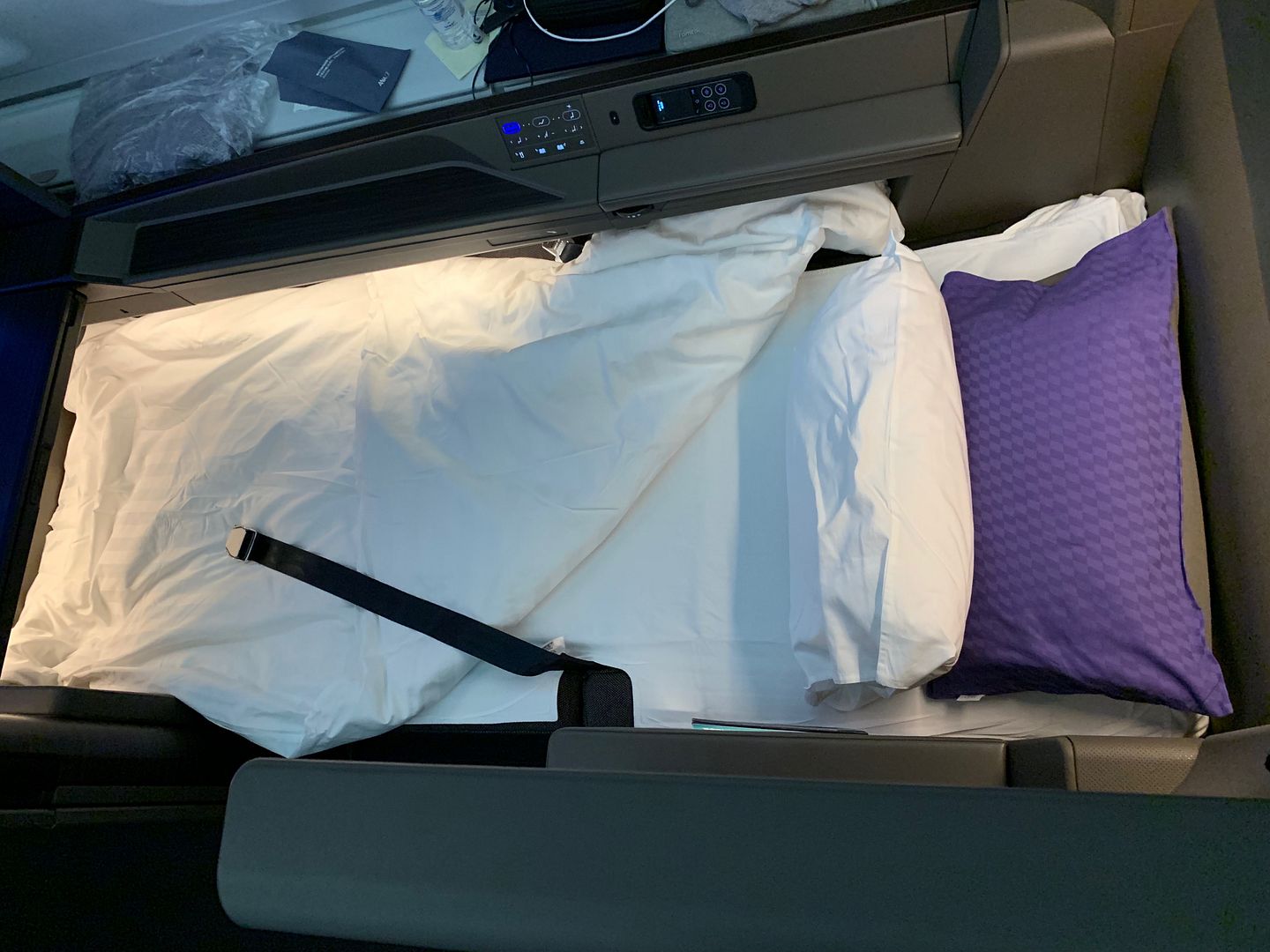 Suites with the door closed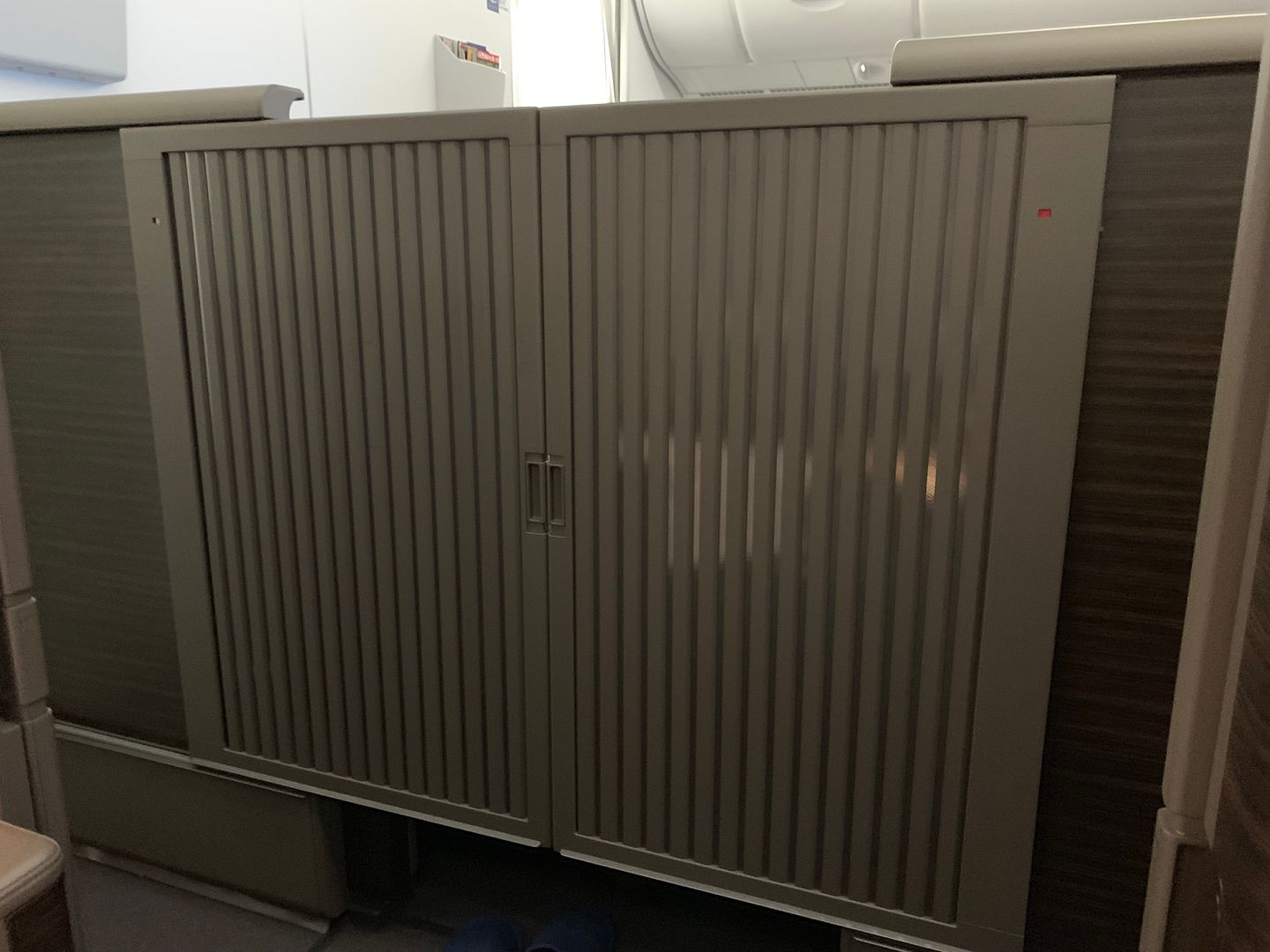 The mattress was on the hard side for most non-Japanese passengers, and I really missed JAL having the options for soft or hard mattress. Nonetheless, the blanket was very nice. I got a nice two hours nap.
---
Last edited by Carfield; Jul 16, 19 at

11:57 am
Jul 14, 19, 6:51 pm
Join Date: Oct 1999
Location: New York
Posts: 6,561
Pre-arrival meal
At 3:15am/8:15am, the F/As turned on the flights. So, if you chose to sleep through "breakfast," please remember to wear your eye-mask.
Morning over the Pacific Ocean
Hot towel and orange juice to start the morning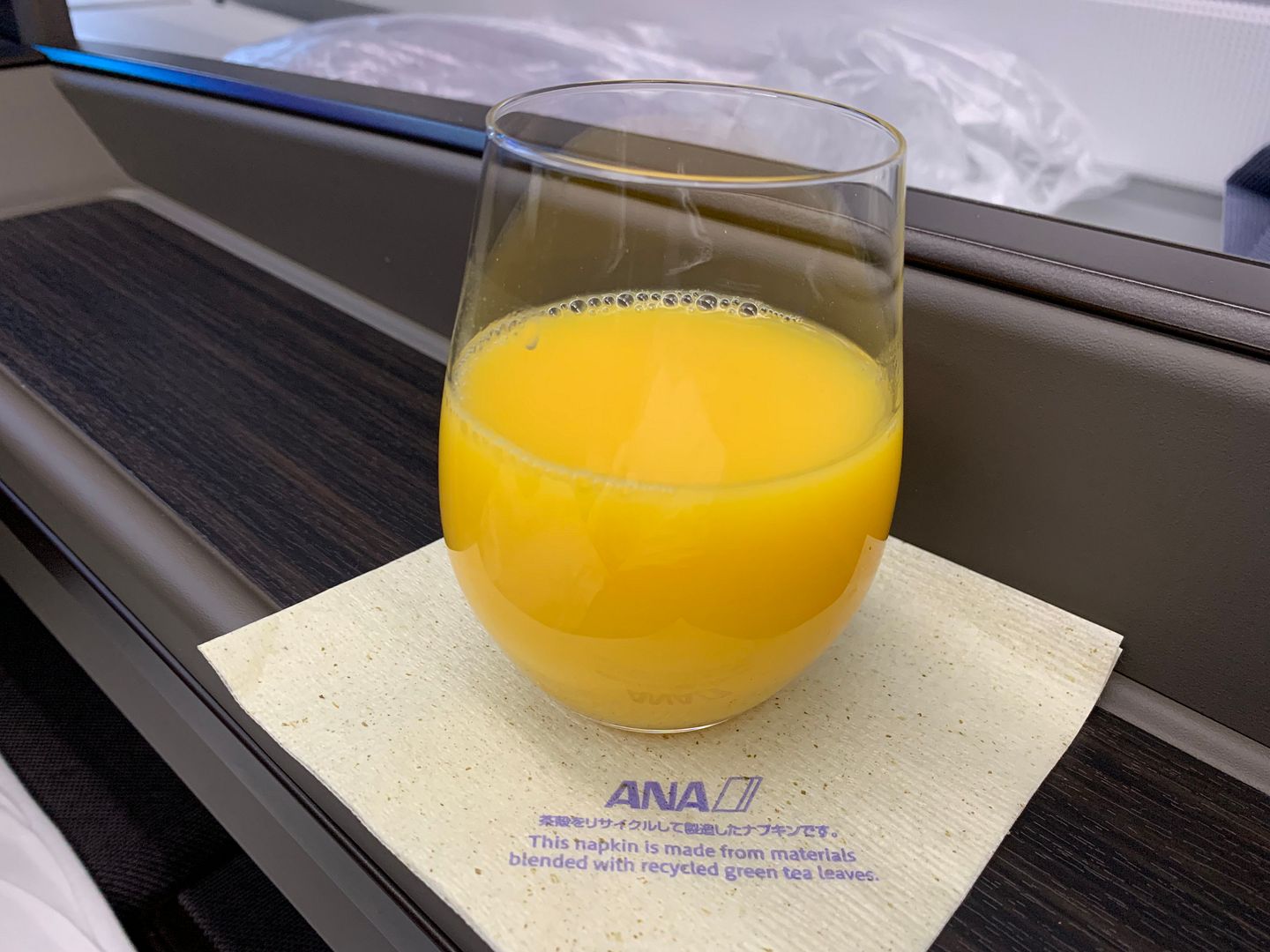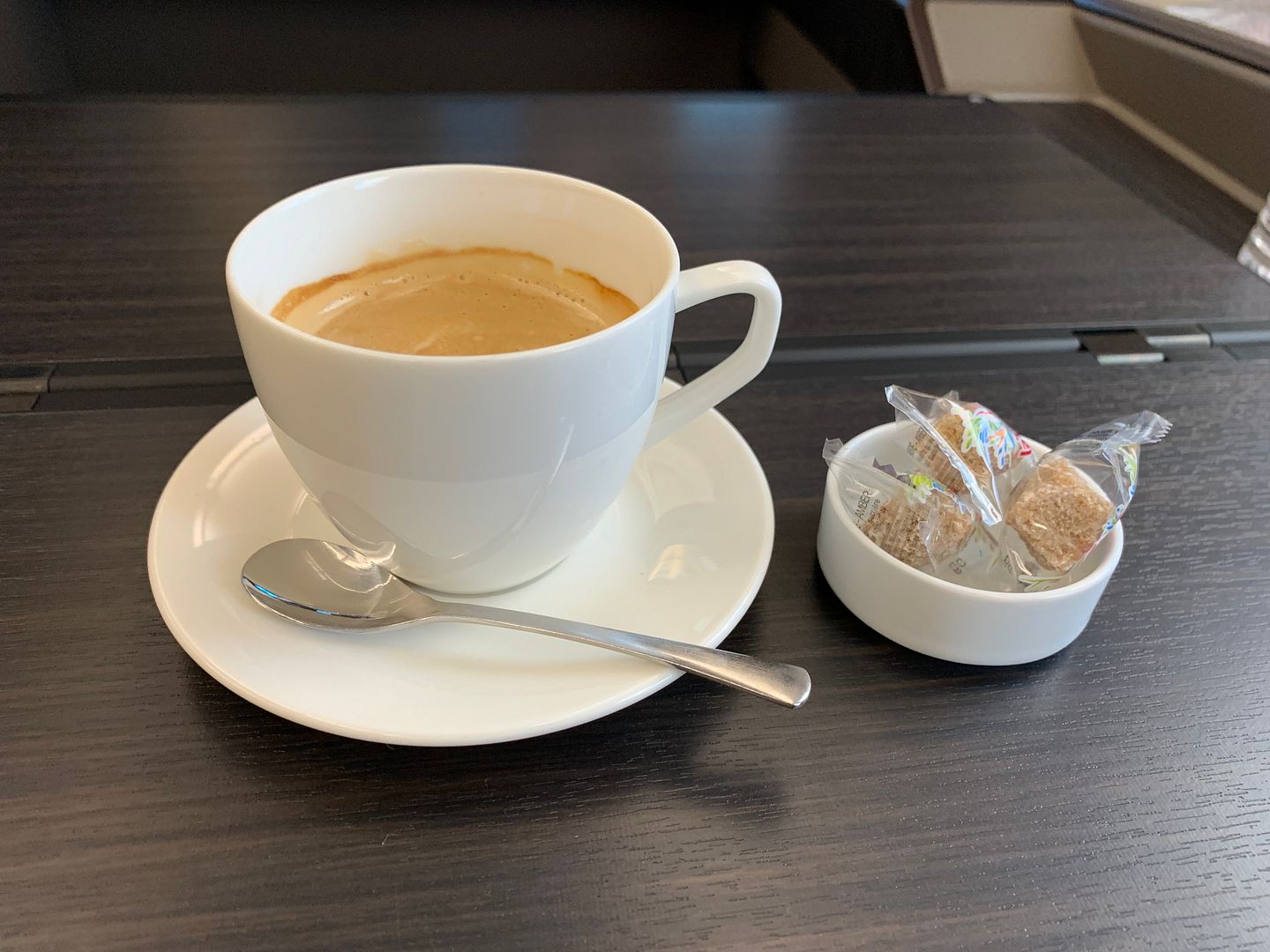 Here is the menu:
Light Dishes Anytime
We invite you to enjoy light dishes whenever you wish.
You'll find these dishes are a delicious follow-up to alcoholic beverages.
Sake accompaniments
Seared kombu kelp-cured common octopus with sake jelly
Three kinds of Kagoshima deep-fried fishcake
Deep fried Niigata Koshinotori chicken
Soup
Corn Soup
Noodles
Ippudo "SORATON" (pork broth) ramen
Japanese Udon noodles garnished with mixed vegetables and shrimp tempura
Light Dishes
Tofu Steak with Daishi basil sauce and vegetable salad
Compression of confit vegetables, smoked red tuna, goat cheese, Gribiche sauce and toasted brioche
[From Esquisse, Tokyo]
Awaodori chicken and mushroom curry with steamed rice
Simmered Wagyu beef and eggs over steamed rice
Simmered pike conger in soy-based ginger sauce over steamed rice in soup stock and Japanese green tea
Refreshments
Garden salad
Served with a choice of dressings: Carrot and iyokan dressing Or Non-Oil tomato dressing
Cheese Plate
Picta Fleur, Verdalpe Piccante, Tome D'Auvergne, Lou Bren
Fruits
Plain yogurt with plentiful summer tangerine jam
Petits fours
Cereal with Milk
Honestly, it is a very extensive menu, but is it necessary? The downside of offering a full menu is that the F/As need to wake up passengers earlier because it takes them time to prepare all these dishes, and everyone might order differentt things. For the return daytime flight, it makes sense because passengers eat more during daytime and most passengers stayed awake or just took a short nap. It seems to make sense to offer a light one-tray breakfast. For Western choice, they can easily do a fruit plate with yogurt parfait and warmed bread basket. For Japanese choice, they can do a basic cold breakfast with choice of steamed rice or congee/porridge. They can easily wait till 75 minutes prior to arrival before serving breakfast.
Anyway, I chose to have a bowl of shrimp tempura Udon, as well as the fried chicken. The Udon was wonderful, but the chicken, while smelled good, tasted soggy. It was not a good idea to serve fried food at 37,000ft, and I should know better.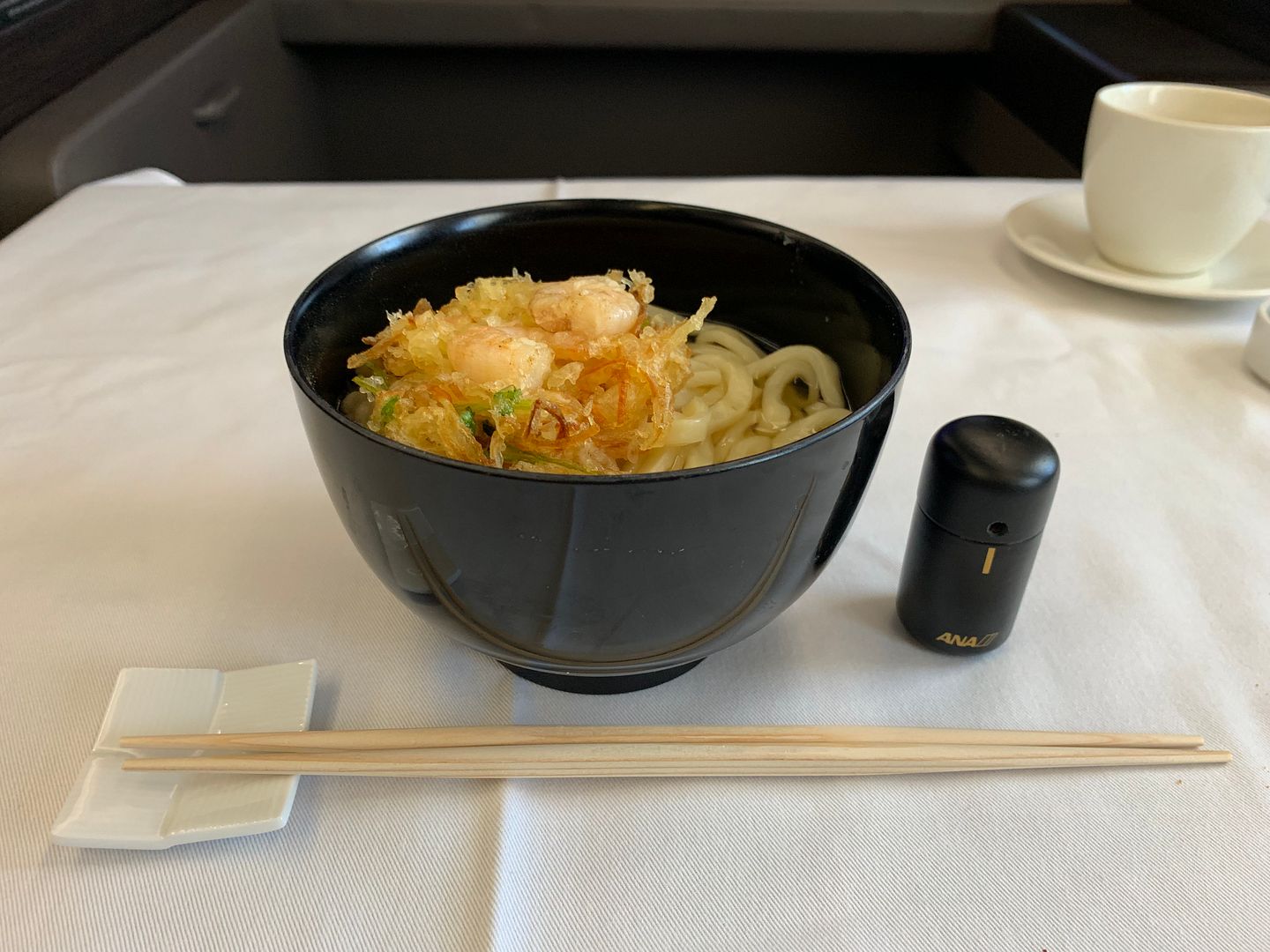 Really cute chili pepper shaker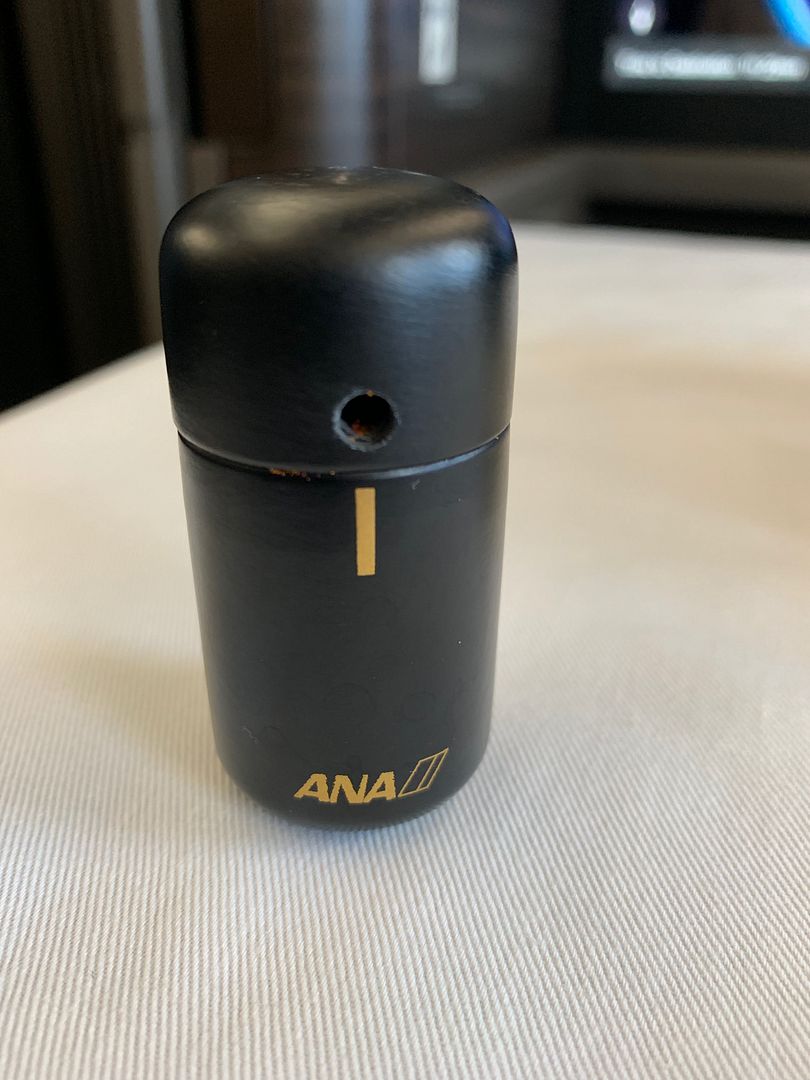 Then I got a fruit plate, which was interesting with an exotic selection of fruits. The Japanese airlines are very good in making their fruit plates interesting.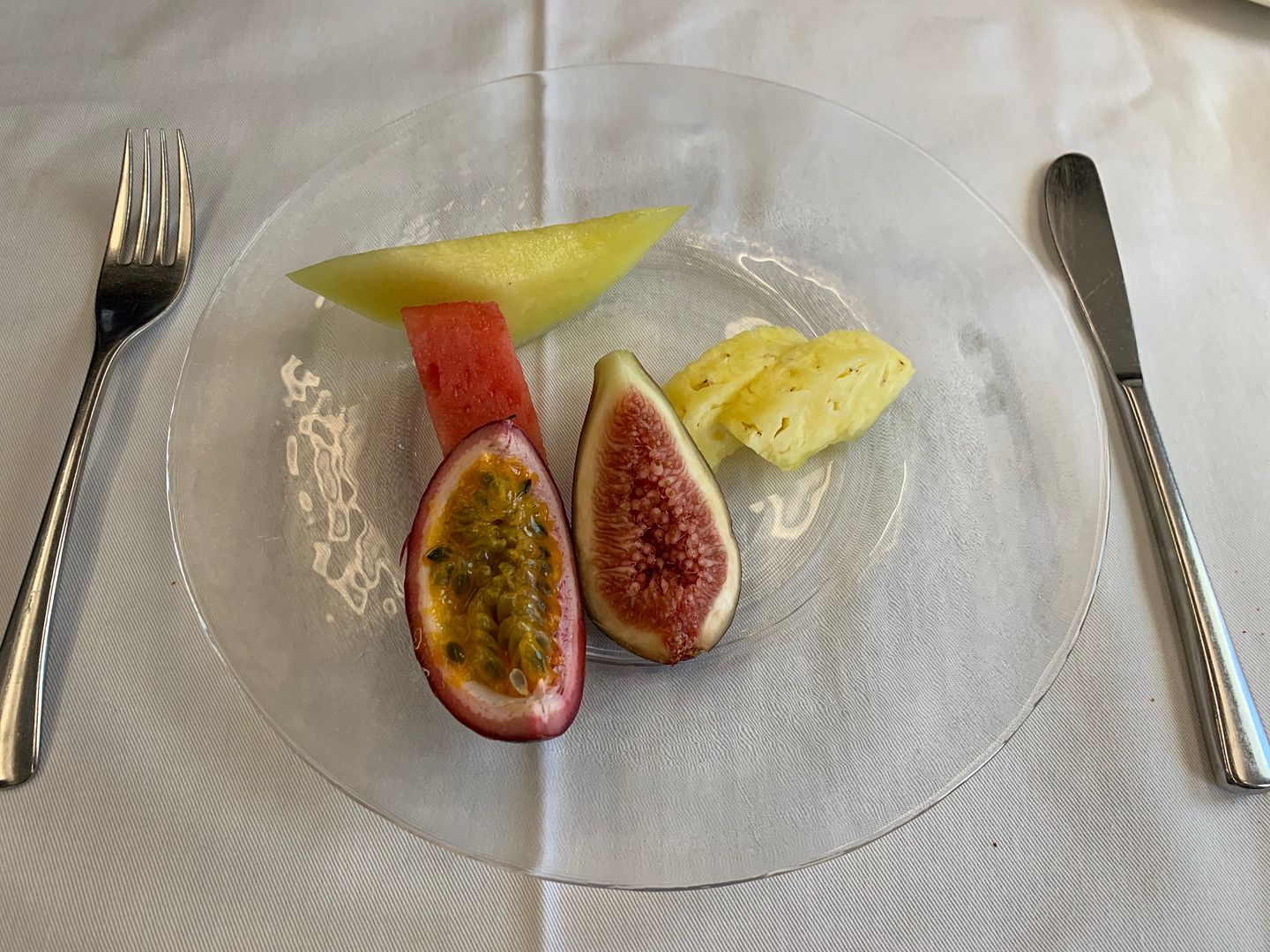 About an hour prior to arrival, the F/A began inviting passengers to change back to their street clothes.
At 9:30am, we began our descent towards Honolulu!
Passing Kauai
We landed on R/W4R at 10:00am, and basically used up the whole runway.
A few interesting sights, as we taxied to C9, which was the second A380 gate here in Honolulu, and all the way towards the end of terminal.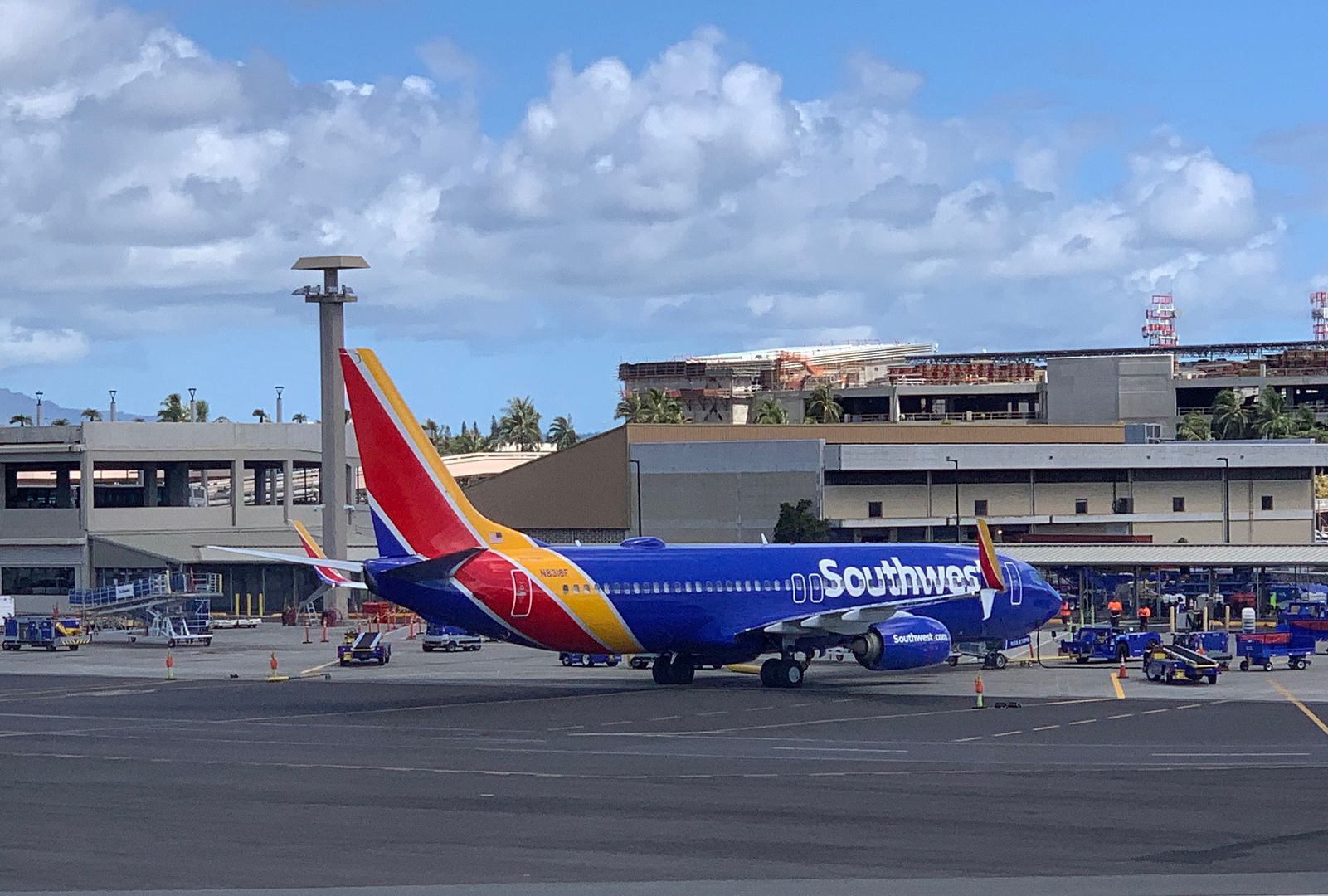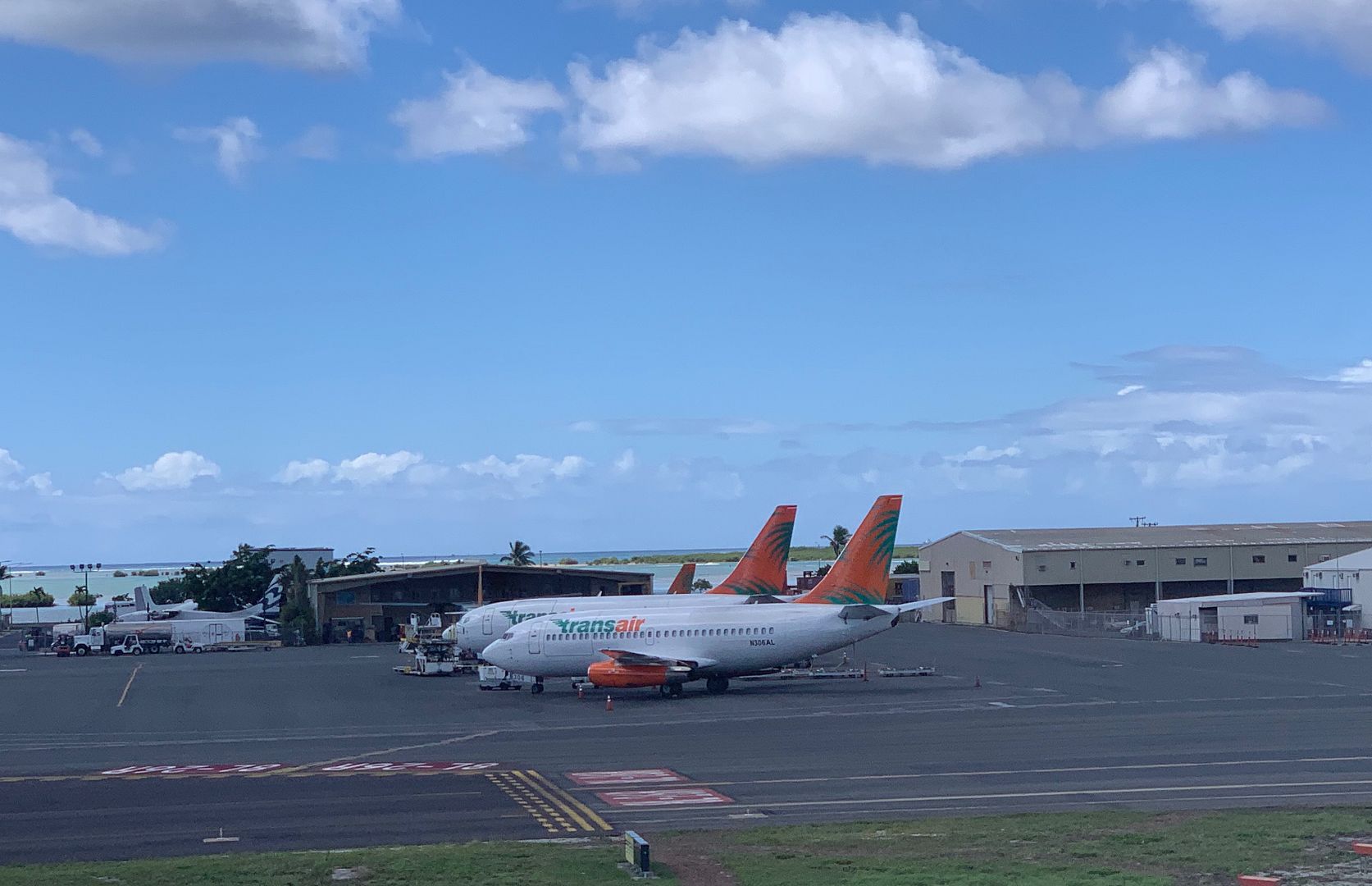 Kai at C4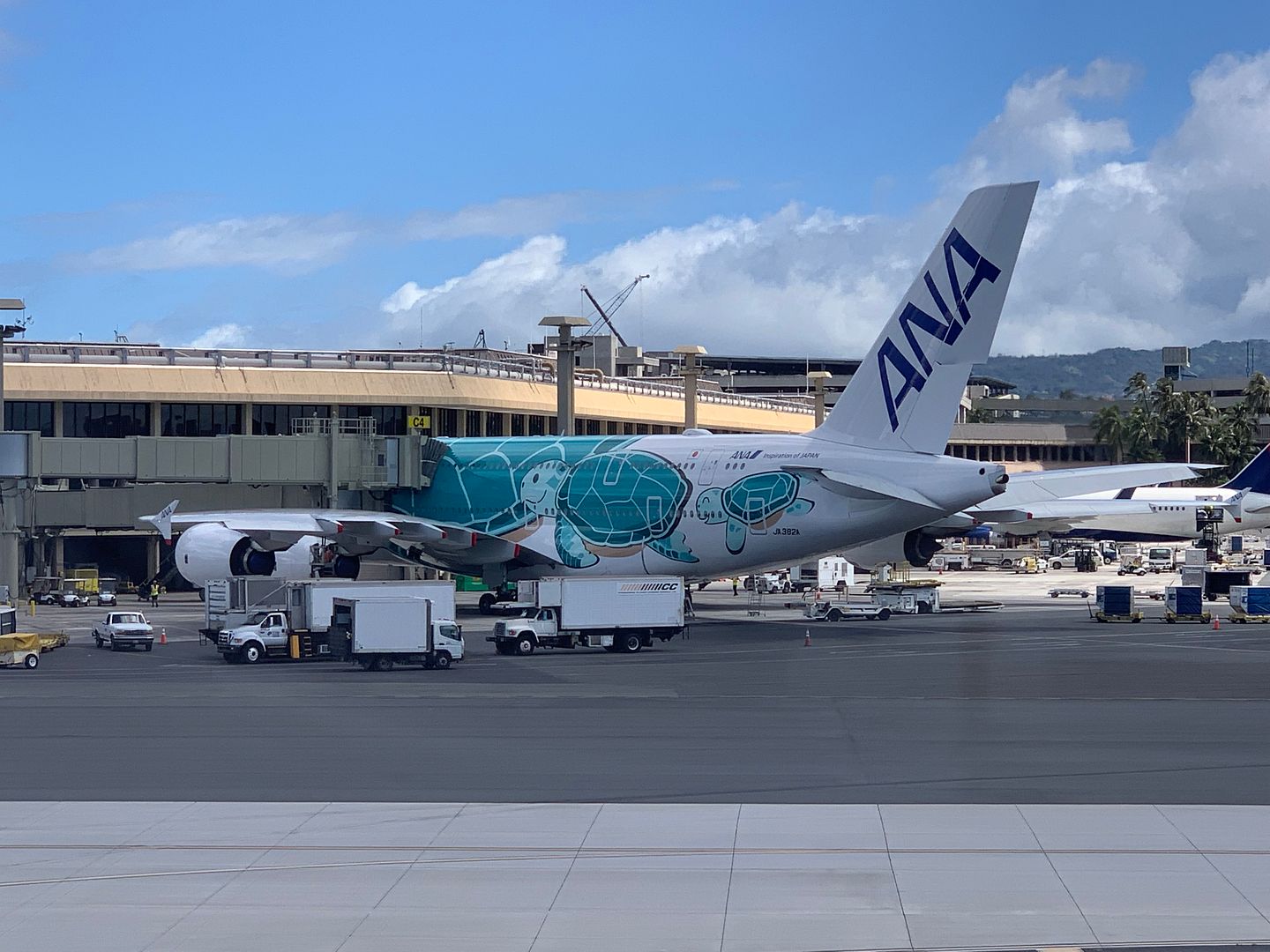 If you are flying NH 182, C9 will be your gate because 184 is still occupying C4 when you arrive.
C9
Arrival:
It was really the weakest experience during the whole trip. C9 was the furthest gate from the immigration area. While you no longer needed to take a shuttle to the immigration area, the new secured corridor was long. More passengers were joining the queue, as we passed by more gates. It seems like every airline seems to schedule their Hawaii flights to arrive at this 10 to 11am slot. There were all Japanese passengers. The air-conditioning was barely working and thankfully they had some industrial fans around.
The immigration hall was busy, but with Global Entry, it was easy.
ANA staffs were already retrieving bags from the baggage claim. I like how orderly they were. My first class tagged bag was already waiting for me. Unfortunately, I was stopped by the custom staff for a full secondary check before reaching the Global Entry exit. Despite she went through all the bags, it was a quick process because I only had one backpack and one small carry-on suitcase.
At 11am, I was waiting for Uber to bring me to the Hilton Garden Inn at the Waikiki Beach.
July 4, 2019
NH 183 HNL-NRT Lv1130 Arr1445+1 Airbus A380-800 JA381A "Lani"/Hawaiian Sky – ANA Blue
Fast forward to two days later, I flew back to Tokyo. Despite hoping for flying Kani, JA382A, Lani was being used for the only A380 flight this morning. I chose to arrive early so I could take some pictures of the ANA Suite Lounge. Since it was Independent Day, traffic to the airport was light. I arrived three hours prior to departure. I spotted the same AV geek Japanese lady flying back to Tokyo too, as I spotted her on my flight over to HNL two days ago. ANA has three check in counters for First class and diamond members, which is very impressive for an eight-people first class cabin.
ANA & United shared Lobby 8 for check-in.
There was a little bit of wait, as all three counters were occupied.
The agent spoke limited English and needed help from the supervisor for my connecting flight. I was connecting to SQ 11, and since it was on separate tickets, I have already printed my online boarding pass knowing the Japanese staffs would insist to see my onward ticket. I did not have a check in bag, so I did not ask them to do anything. Nonetheless, they decided to print out an onward boarding pass, which I truly appreciated. It certainly made the transit much easier, and I did not need to get an endorsement stamp from SQ's transit desk.
With TSA Pre, security was easy for me, and following the instruction given to me by the agent, I found the ANA Shuttle to the C gates at the upper level immediately after passing security check.
It is just a white van with an ANA paper sign.
The driver was very friendly, and as long as you are an ANA passenger, they will take you to the C gates. But be warned that there are not many shopping and food at the C concourse. All the food and shopping are at the main area.
Gate C4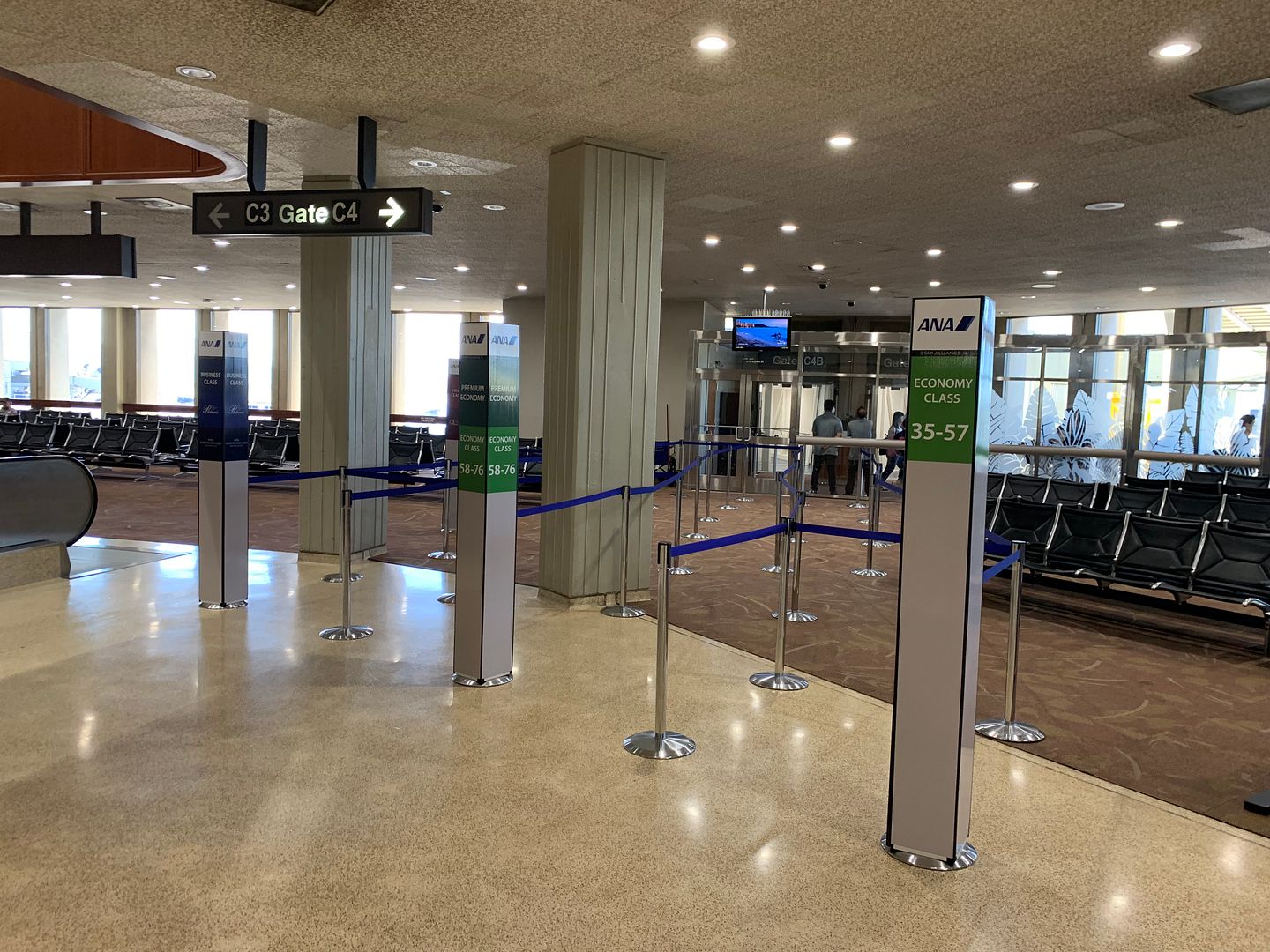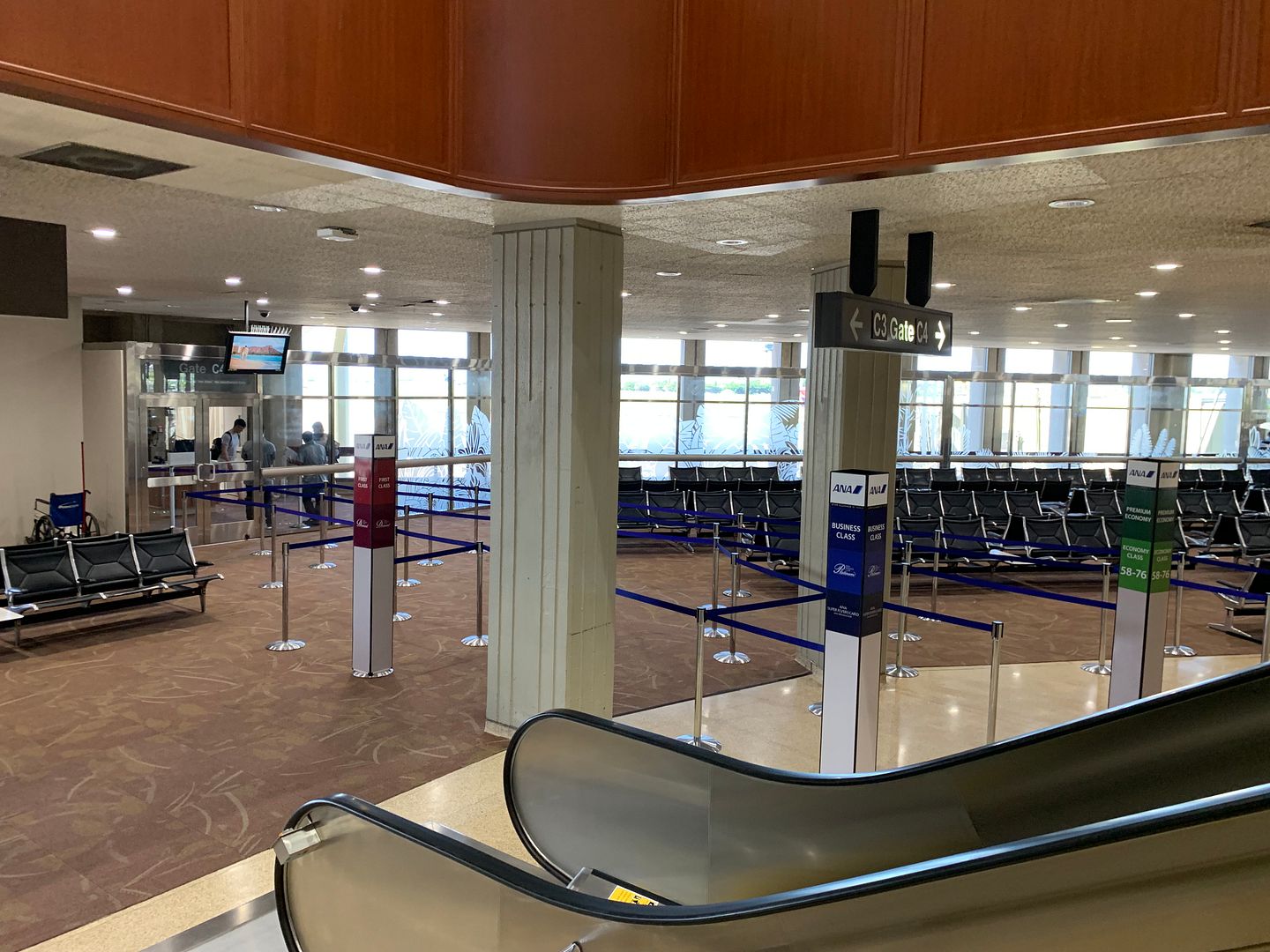 I took a few pictures of the new A380 gate before going to the lounge. It was really early so the gate area was pretty quiet. Lani looked good.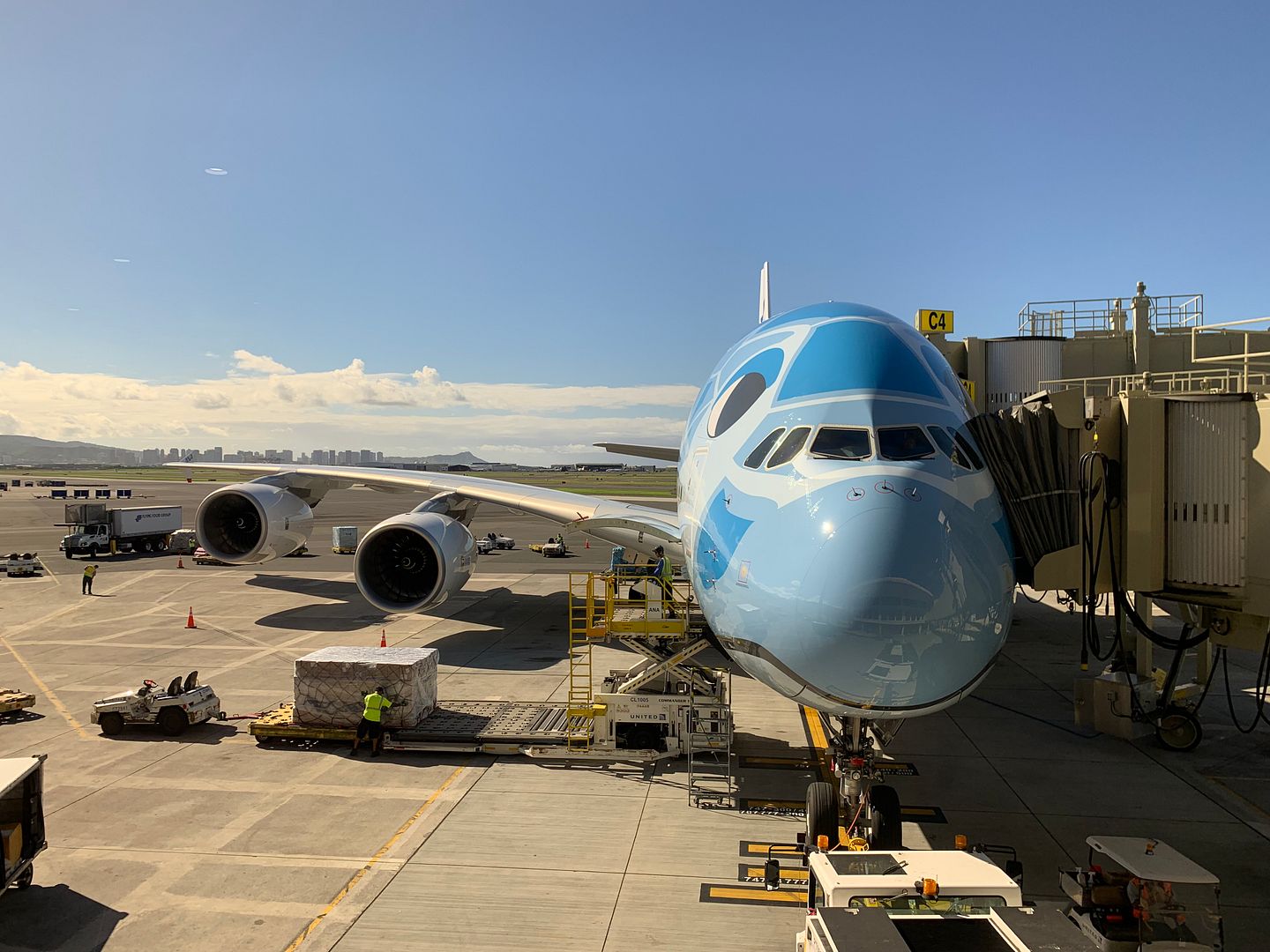 Lounge – The Best Airline Lounge in Honolulu
What ANA does best for this A380 project is the new ANA Lounge in Honolulu, which is divided into a large section for J and PE passengers, along with Star Alliance gold members, and a small Suite lounge for first class and diamond members. Honolulu really has no good lounge so I am glad that ANA builds one for multiple A380 and B787 flights. Allowing direct boarding from lounge to gate is another brilliant idea. What I like the most is the ANA "business class" lounge with an excellent apron/runway view. There are plenty of seats, as well as a tended bar with special drinks. There is a buffet of cold and hot food, and the staffs are immaculately dressed and trained. Everyone is so friendly.
The Suite Lounge is obviously smaller and it is shameful that there is no outside view. However, the service is more attentive with options for made-to-order noodle and "Ochazuke – Rice with green tea" dishes. The buffet itself was pretty similar between both sections. When I arrived, I was the first passenger, so I had a room full of staffs. I got my hot towel and was served my choice of beverage. Then I got a few bites from the buffet, and later, I ordered a bowl of Udon noodles.
Photos of the Suite Lounge: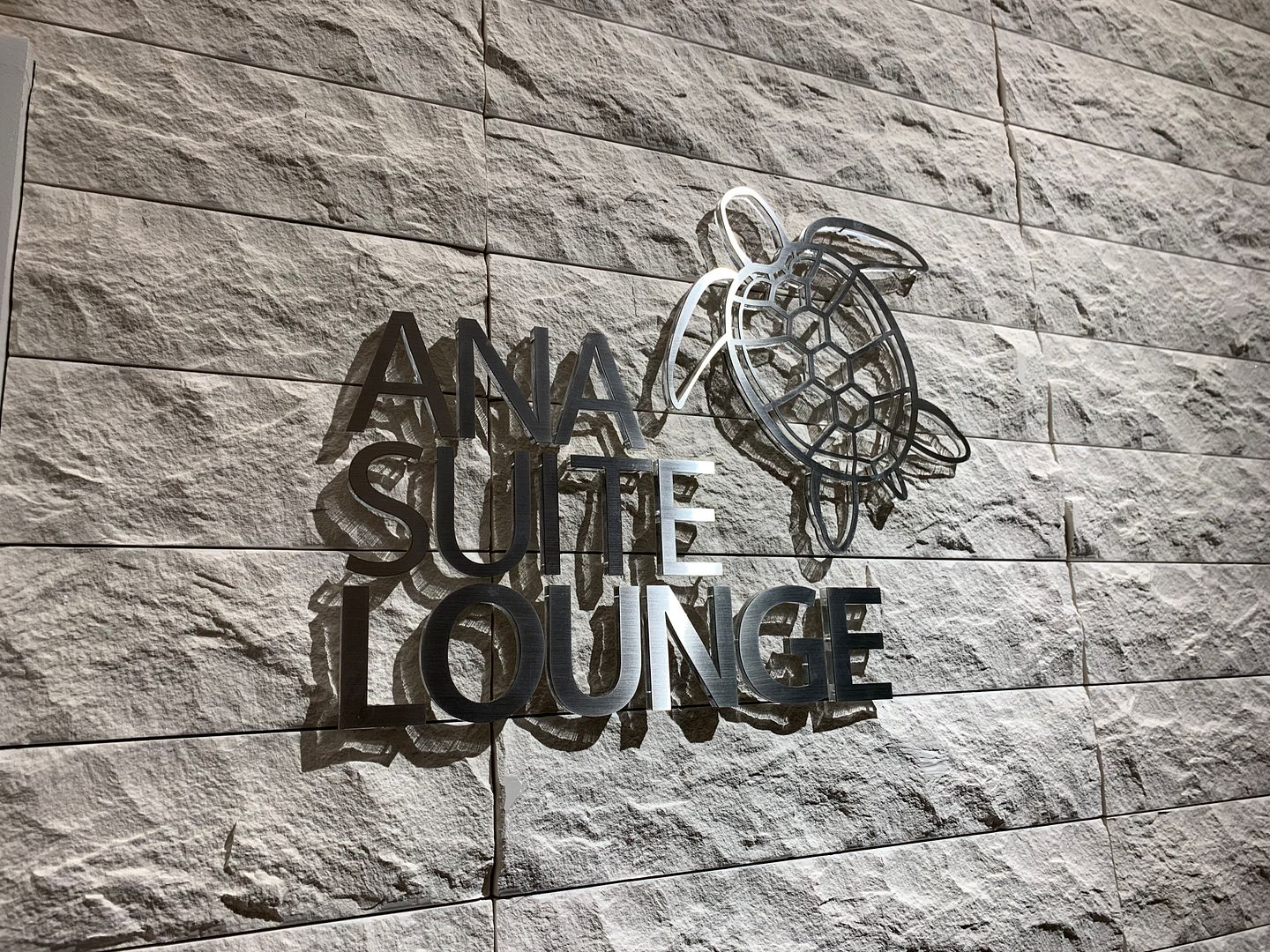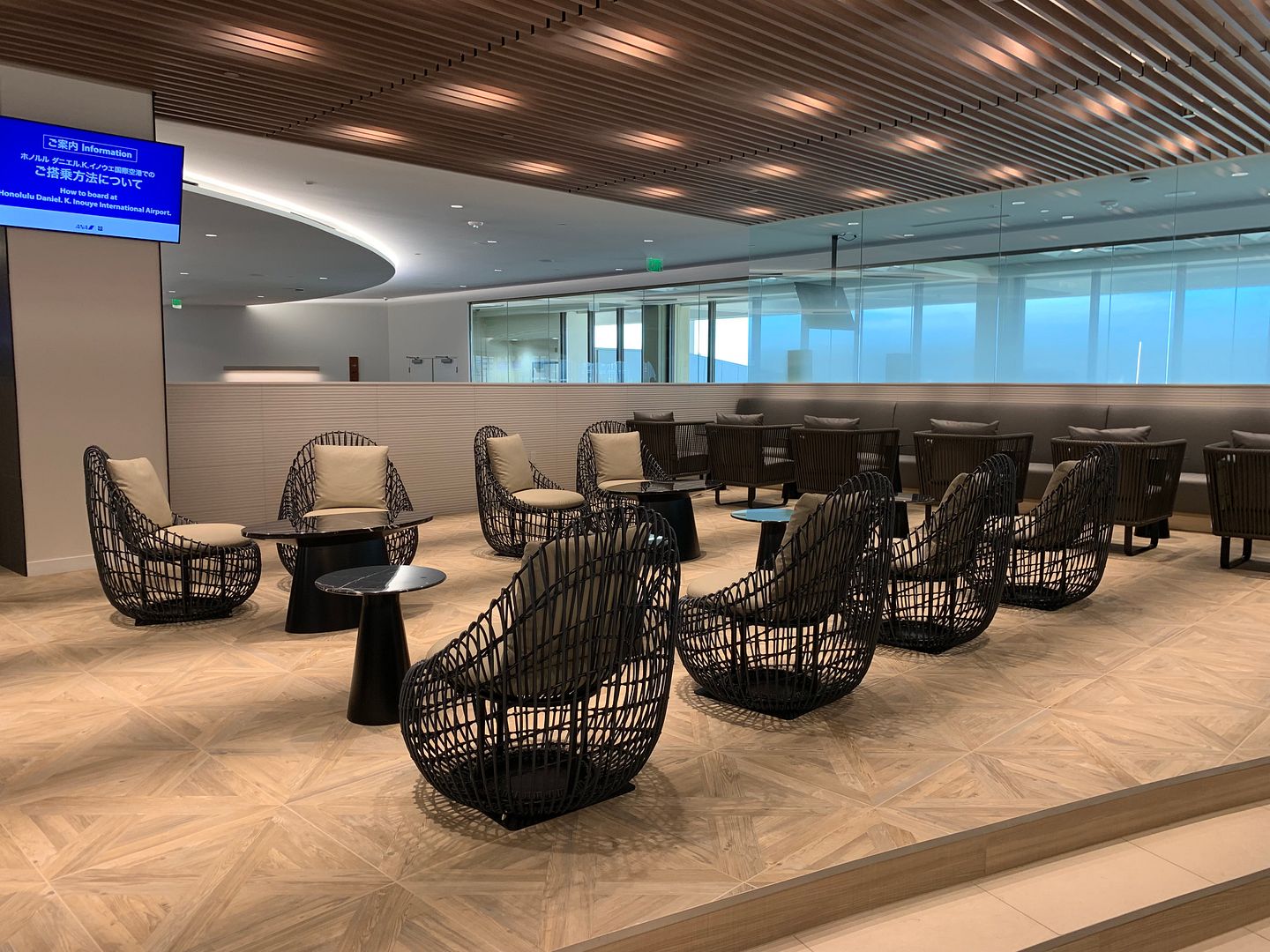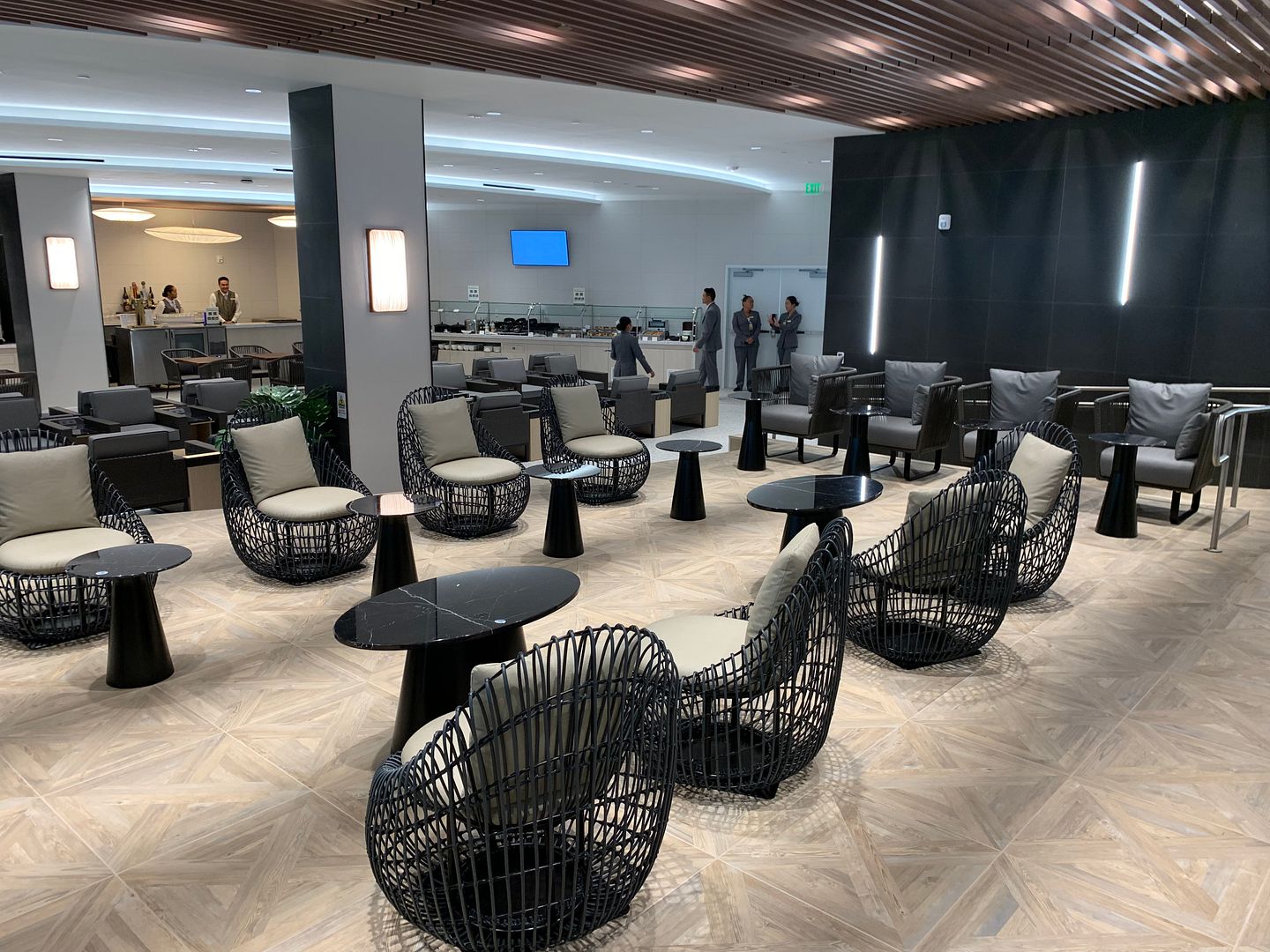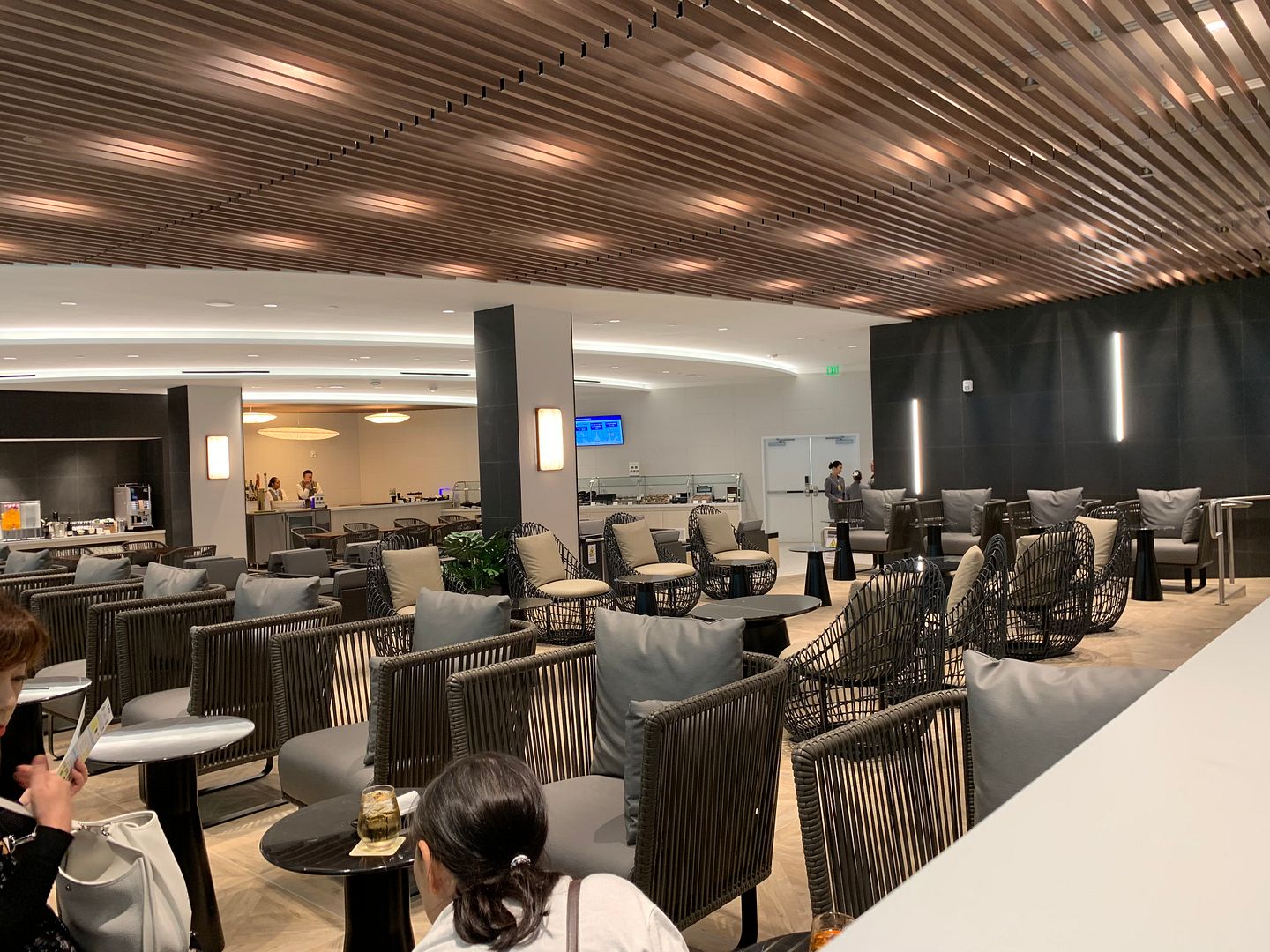 Buffet of Suite Lounge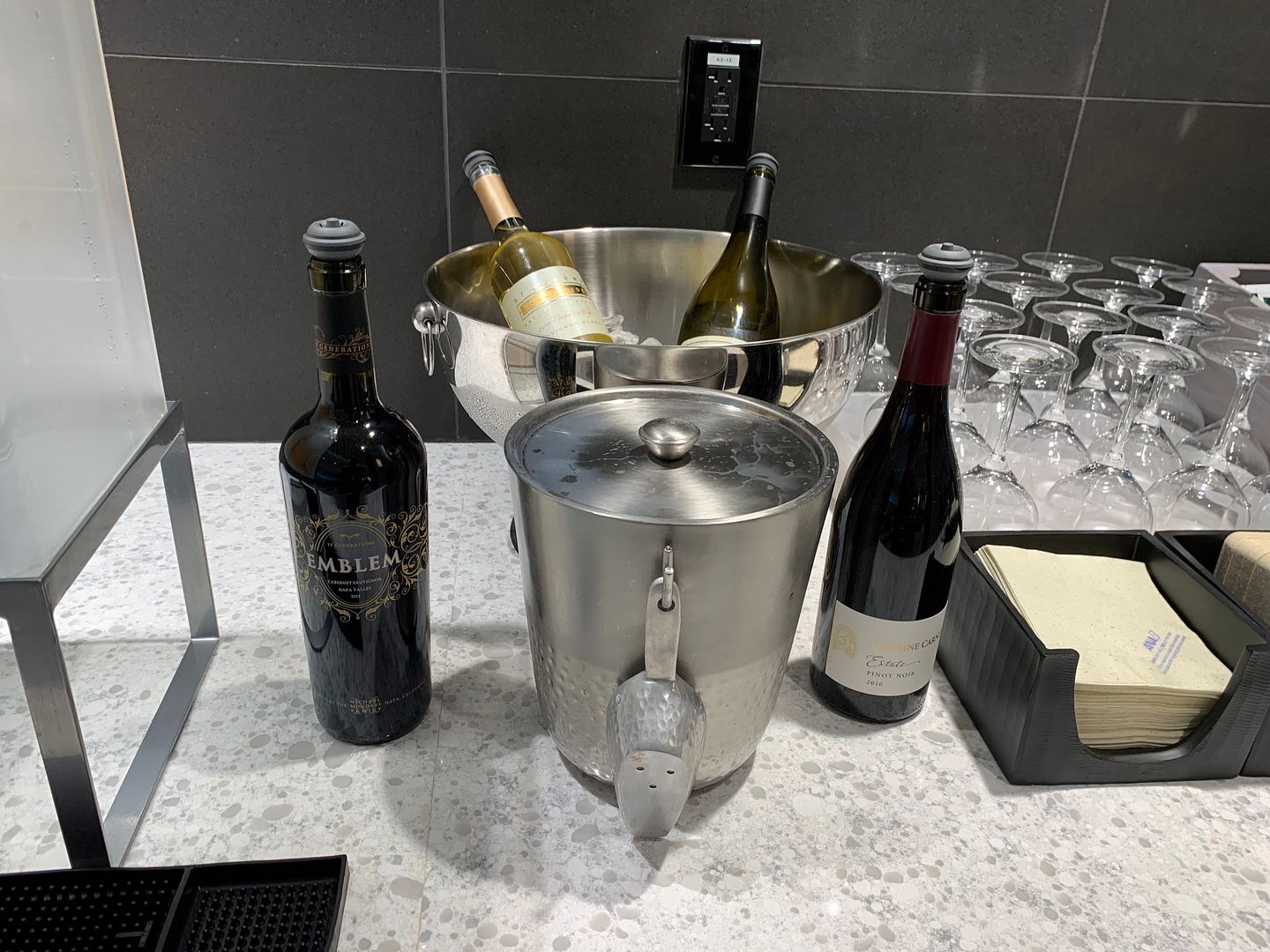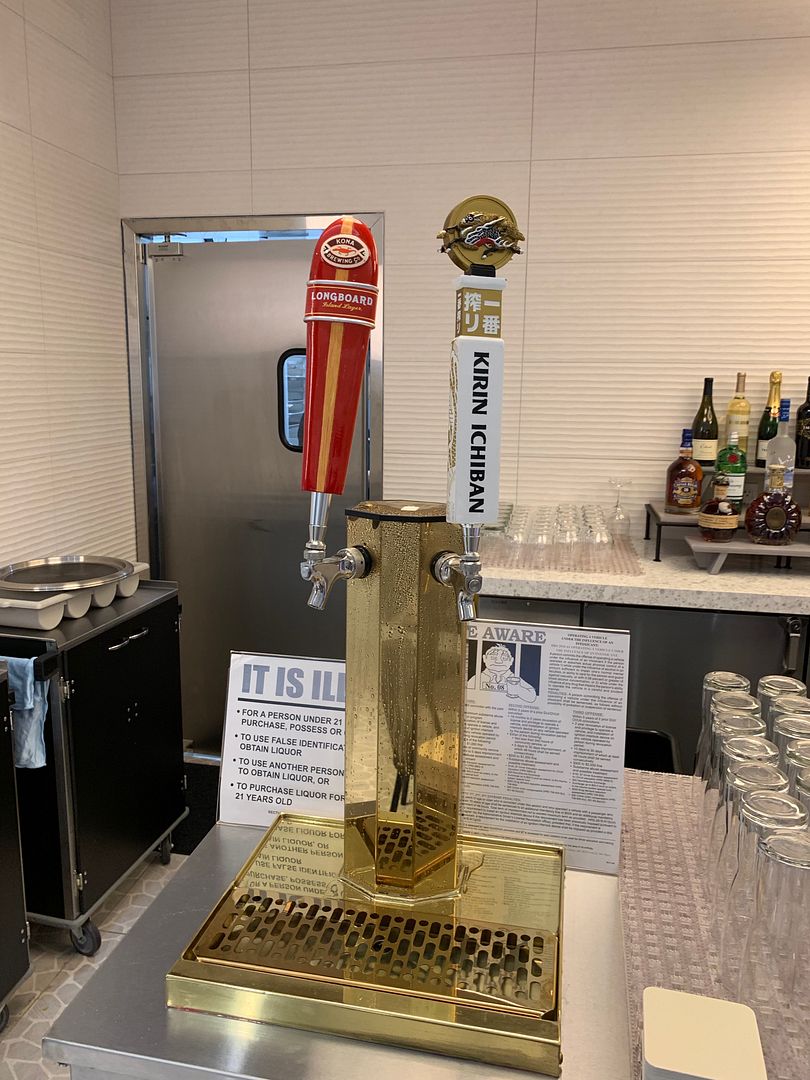 Menu for Suite Lounge only: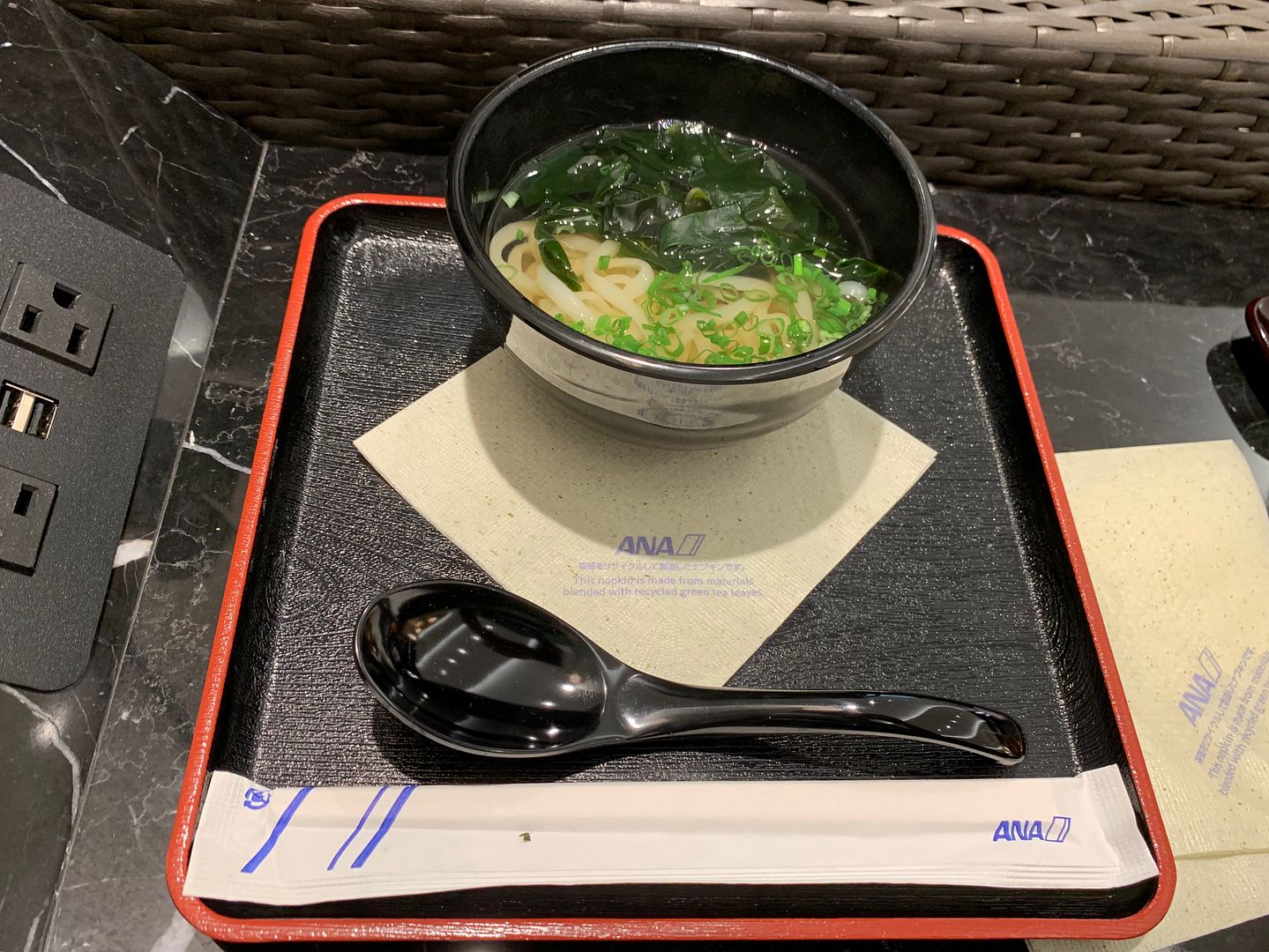 Photos of the ANA Lounge: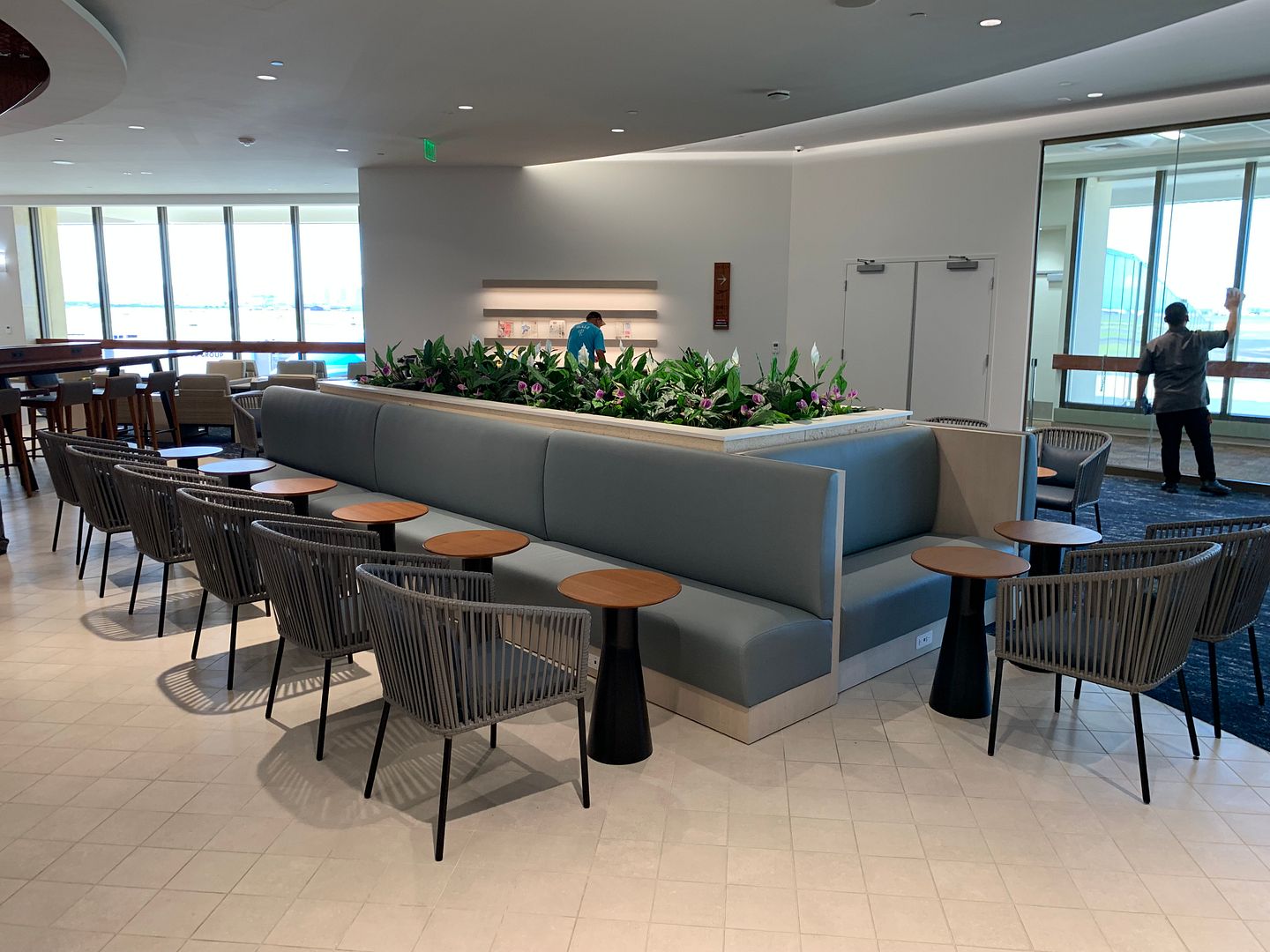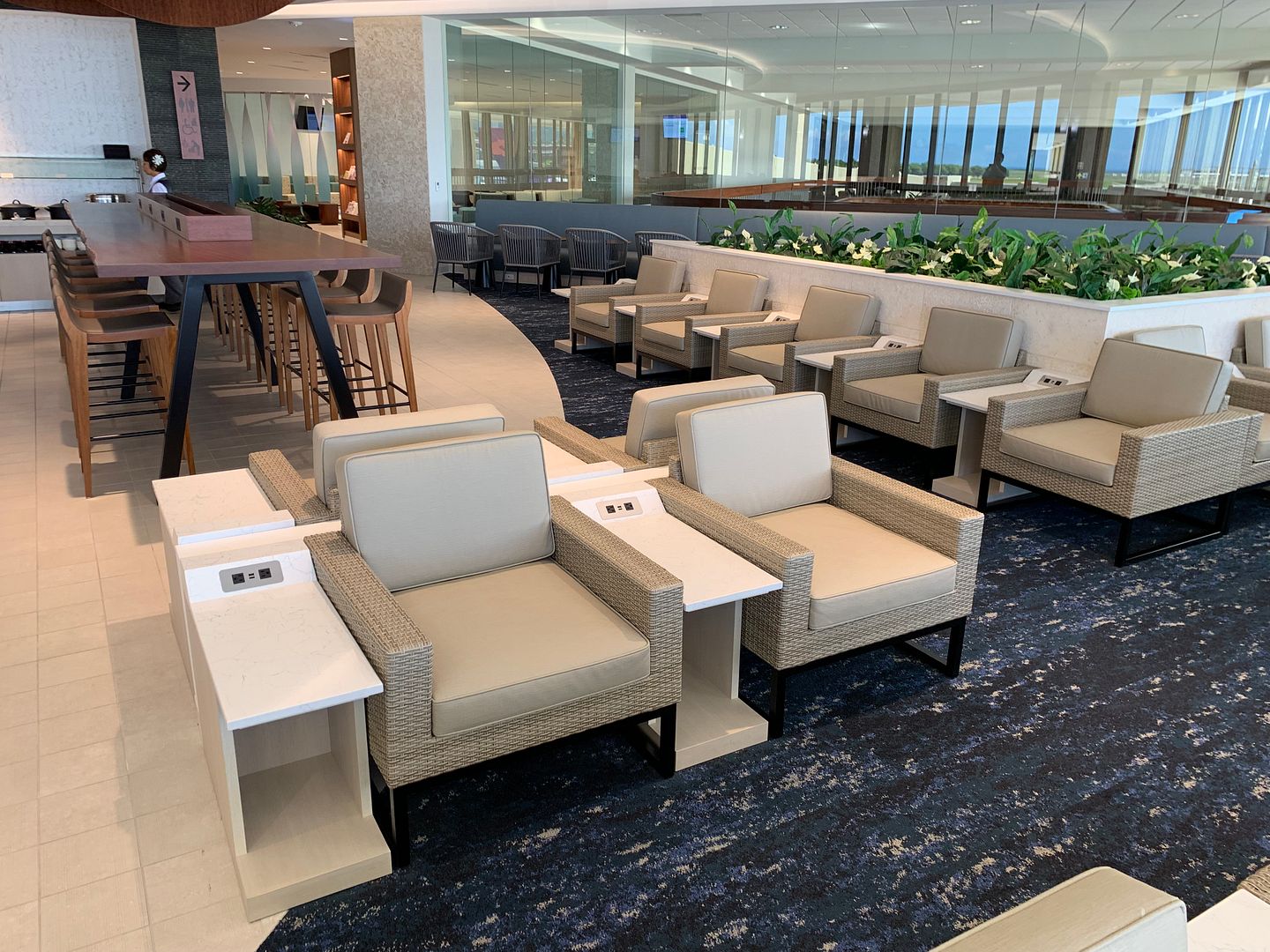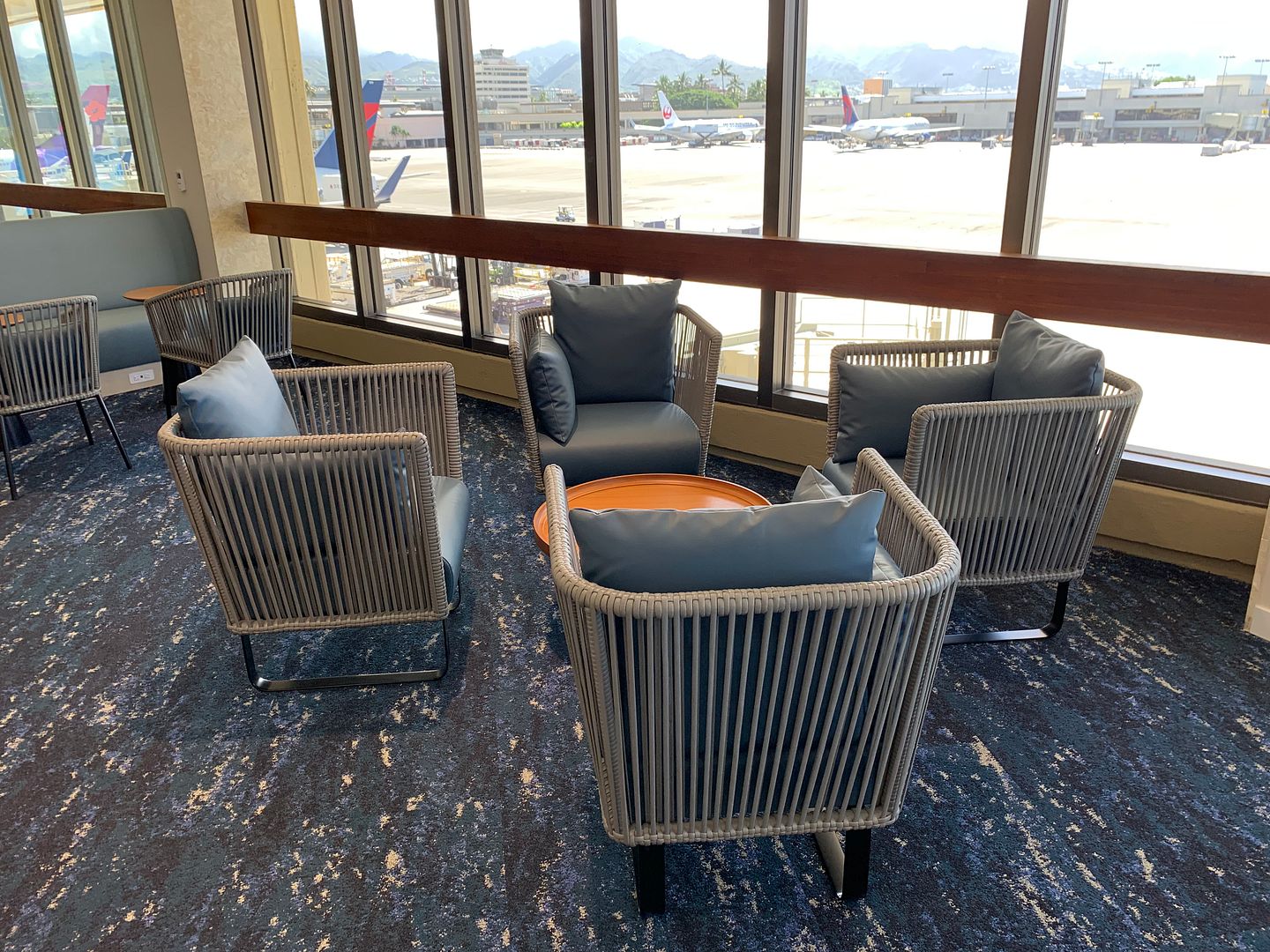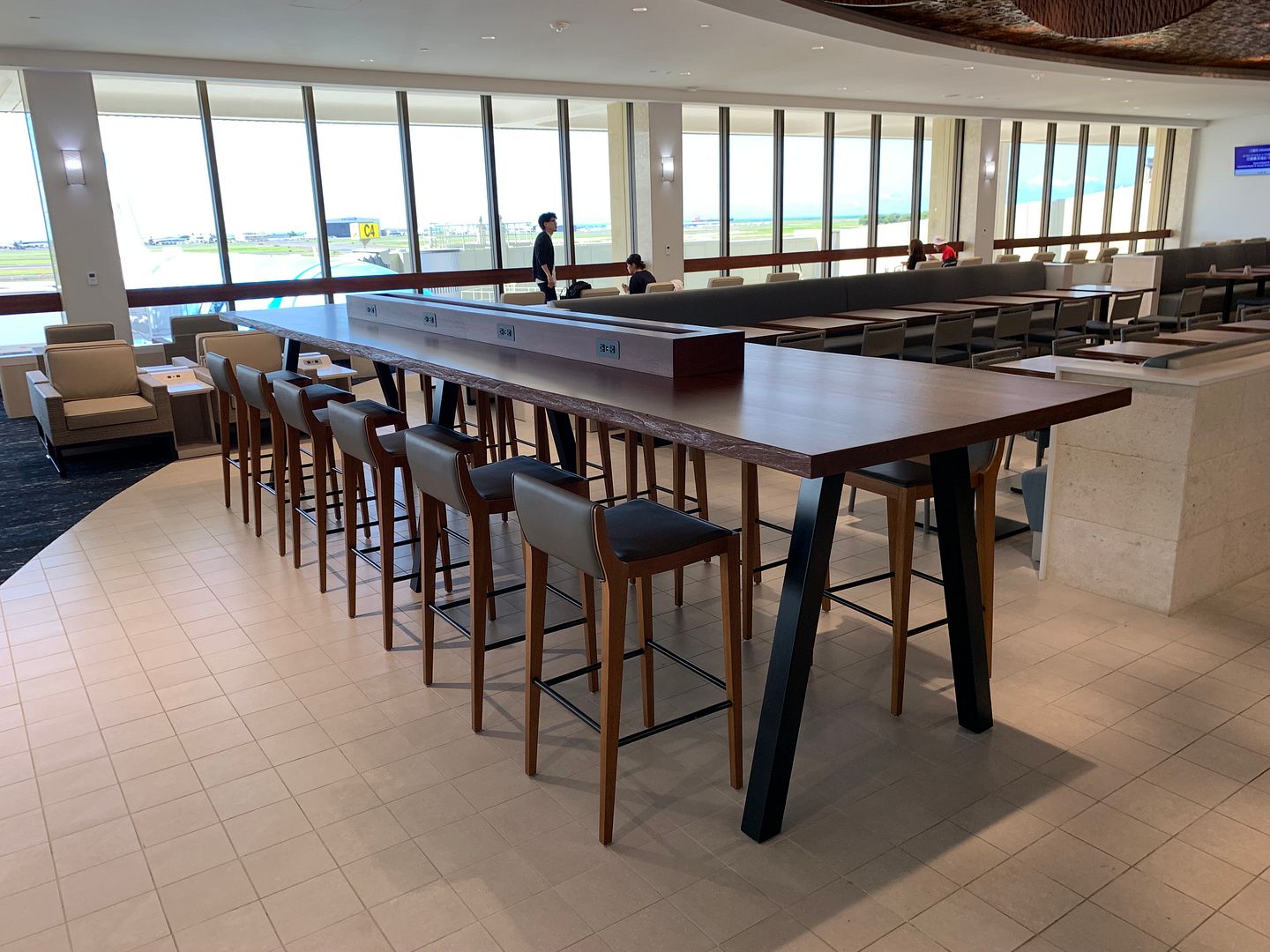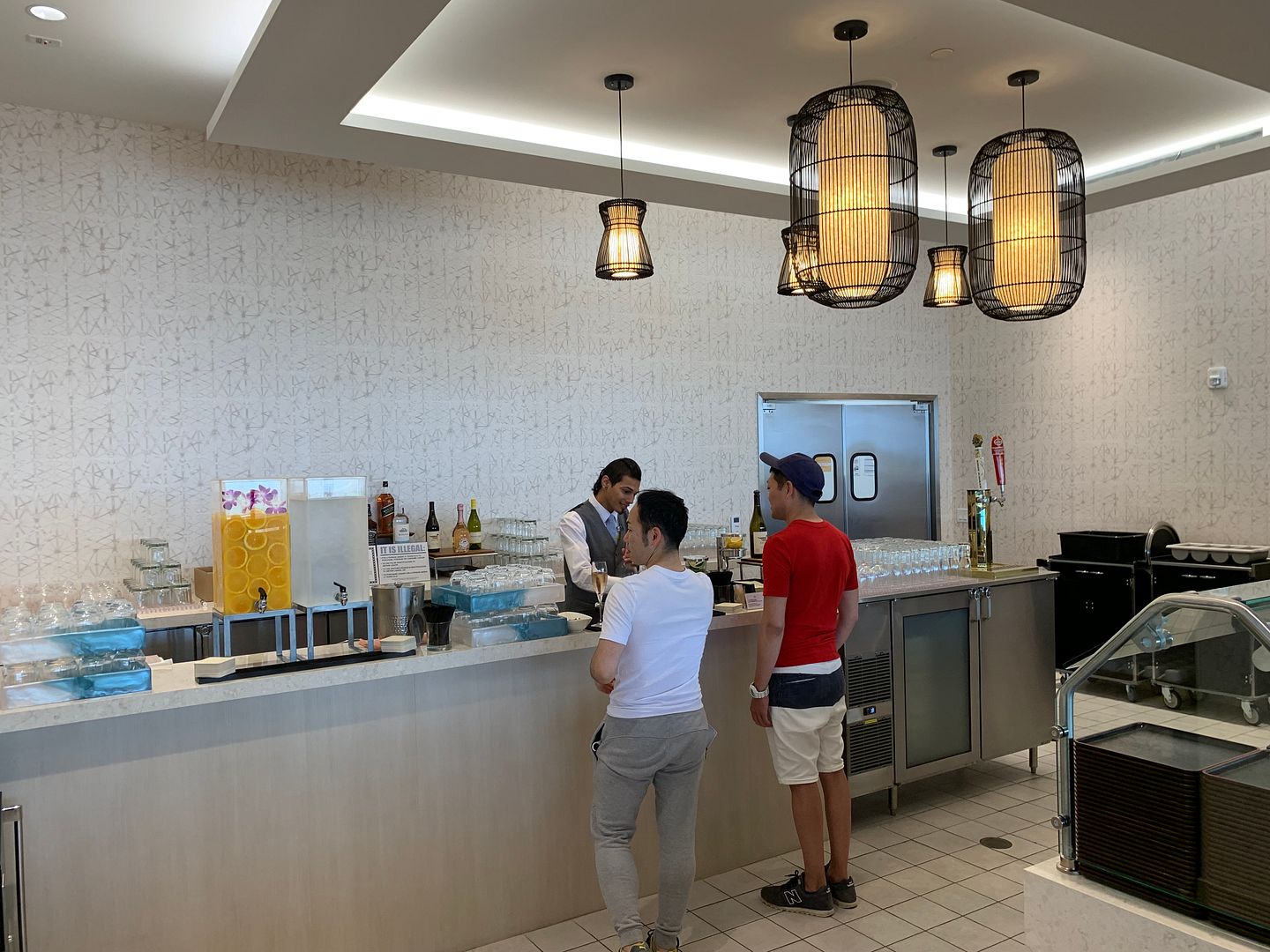 Photos of the Children Play Room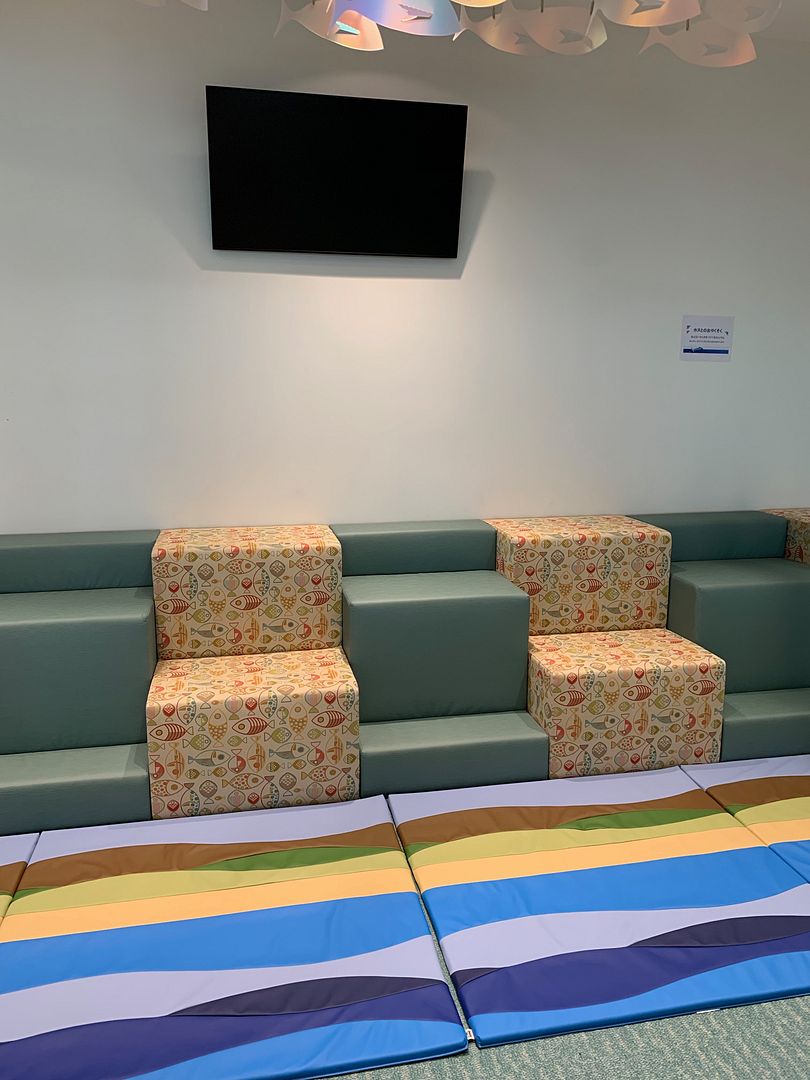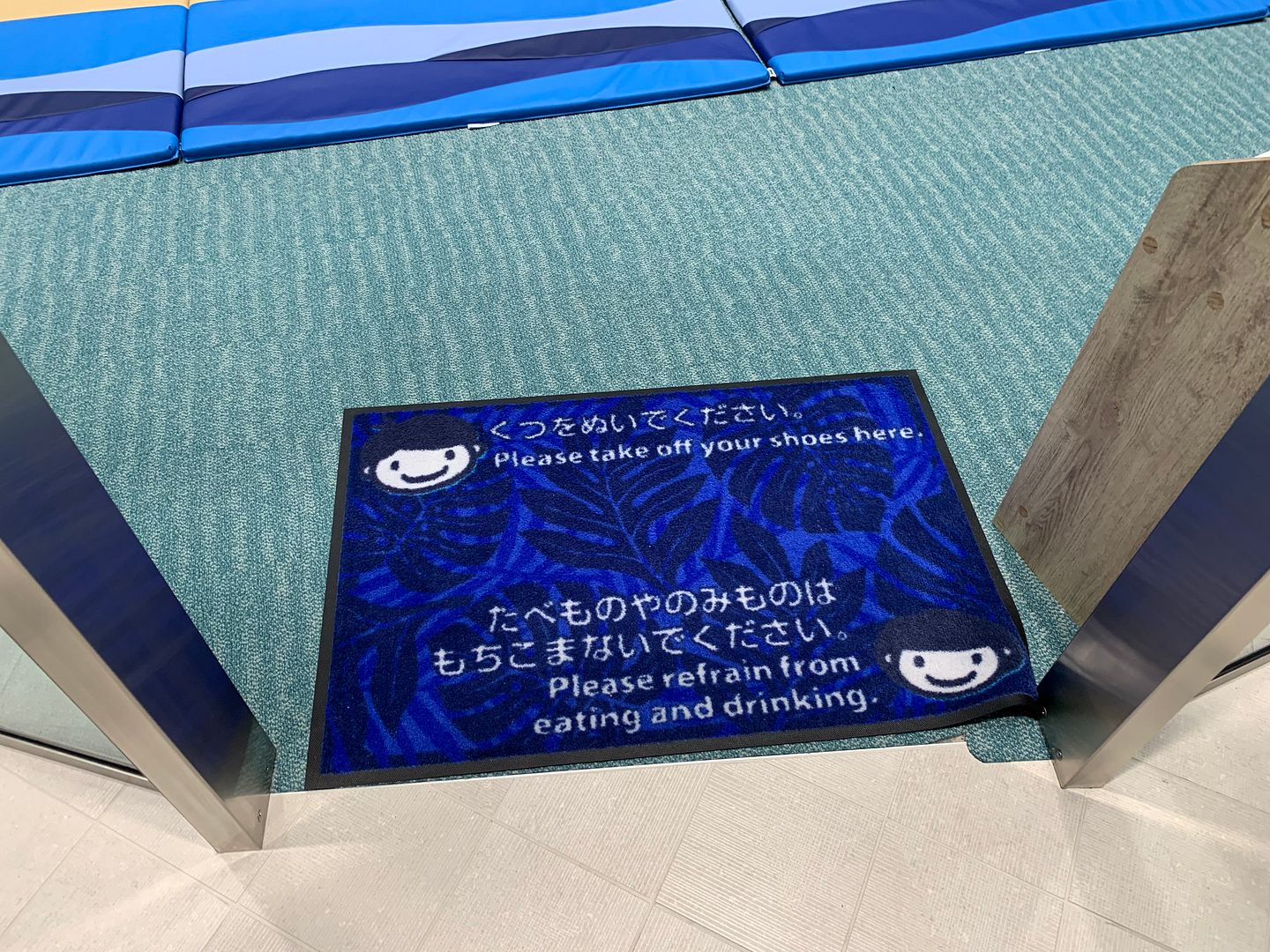 Lani at gate – view from ANA Lounge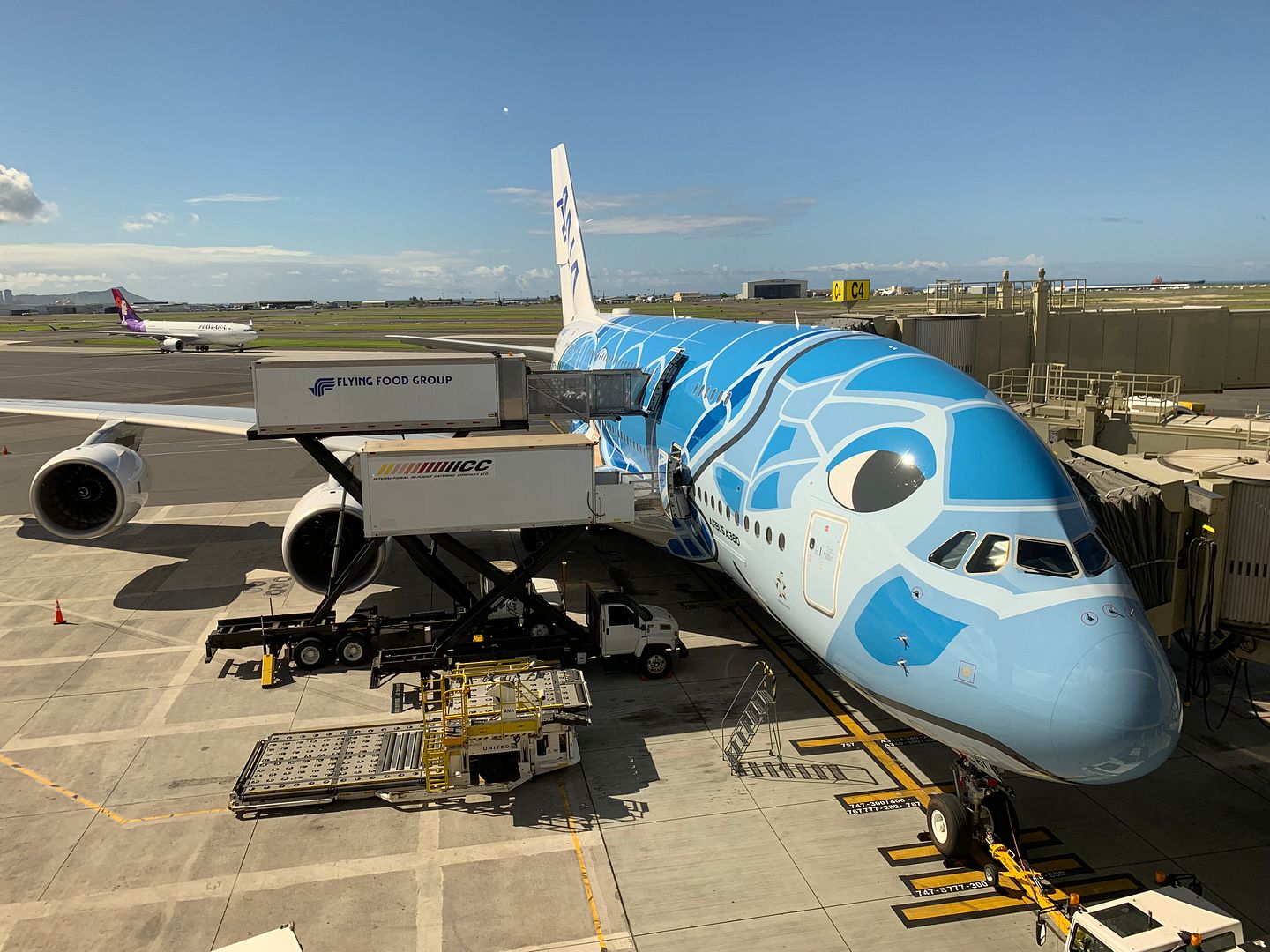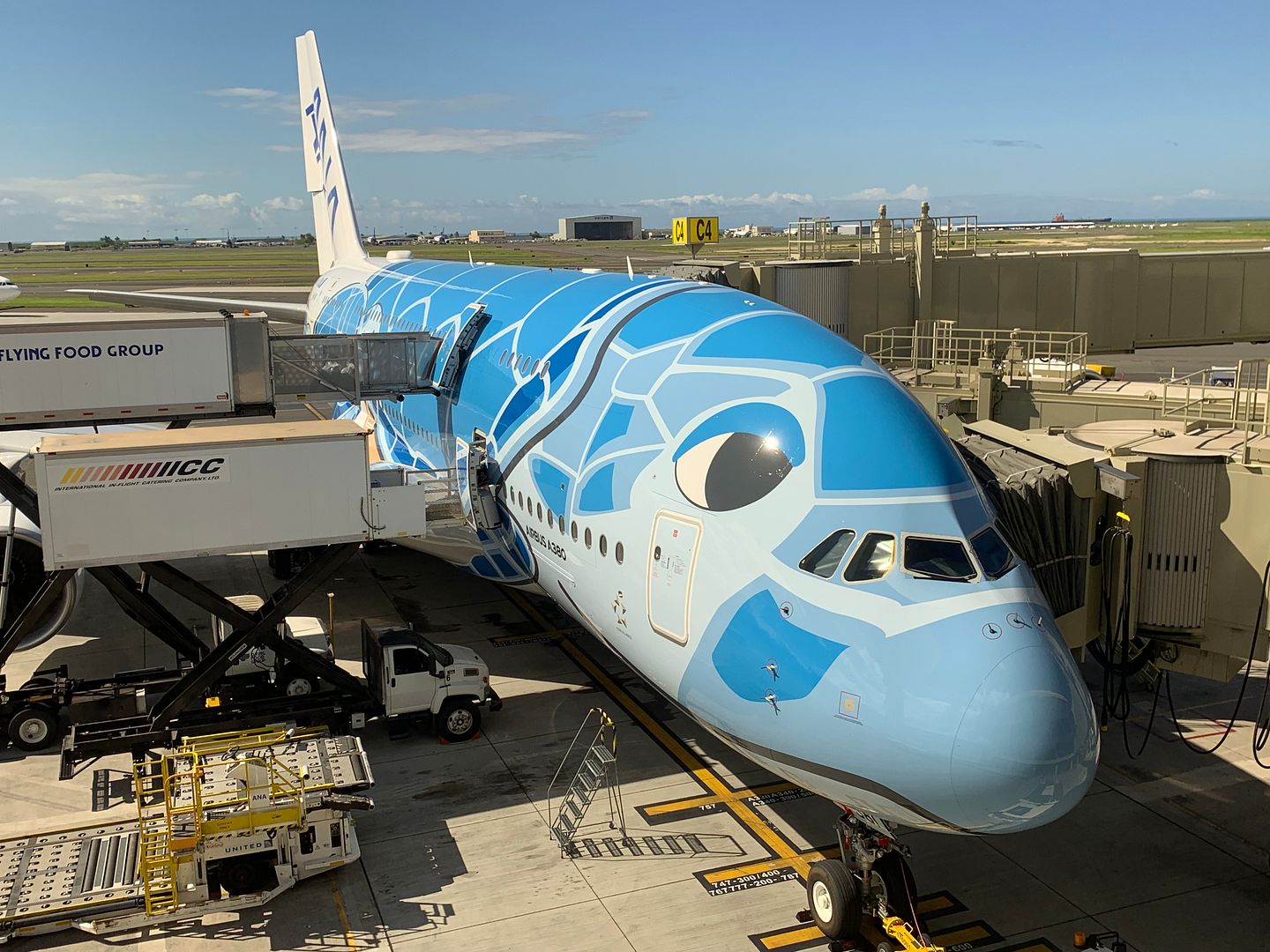 Boarding:
I read from some of the earlier reviews that there are some issues with boarding from the lounge. They used to have only one entrance from the suite lounge, but they have already fixed it. They now have separate boarding lanes from both Suite and ANA lounge.
Boarding lane from ANA Lounge [Business/Premium Economy only]… If you fly economy, you have to go back to the gate downstairs.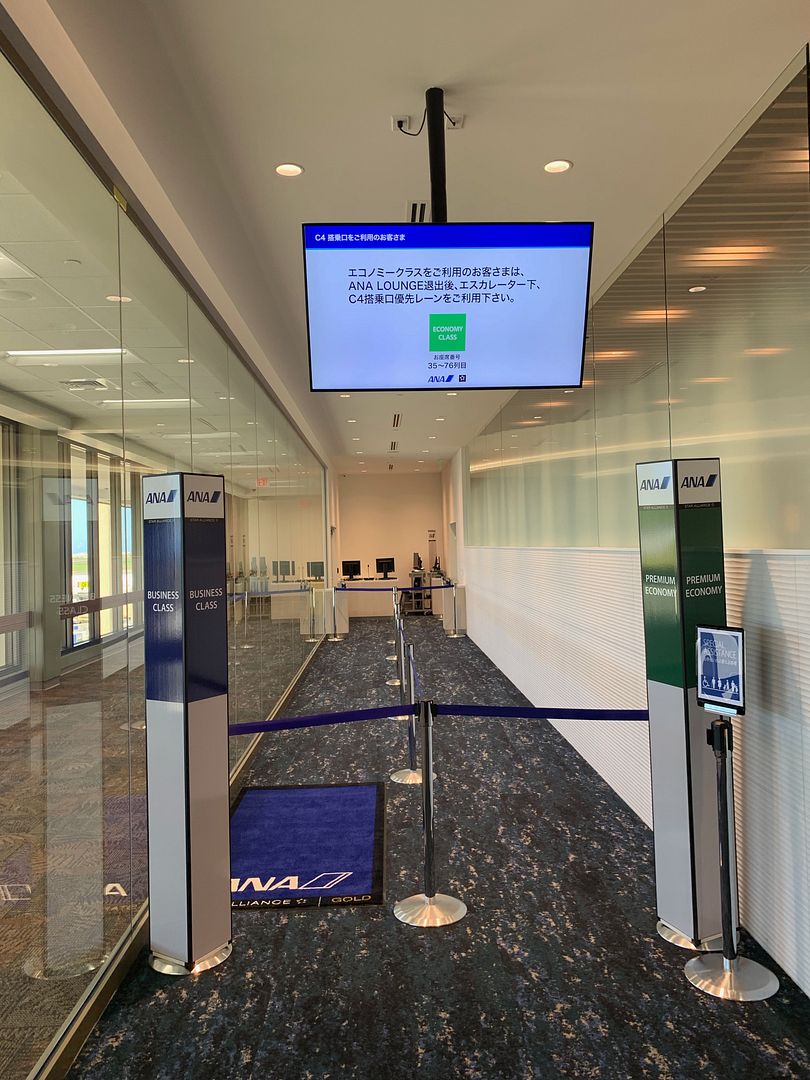 For First Class
Boarding began at 10:58am and I was at seat 2A this time. First Class cabin was full again.
There was no personal note and special souvenir, but all the goodies were still here.
The F/As came by with a tray of amenities and WIFI cards.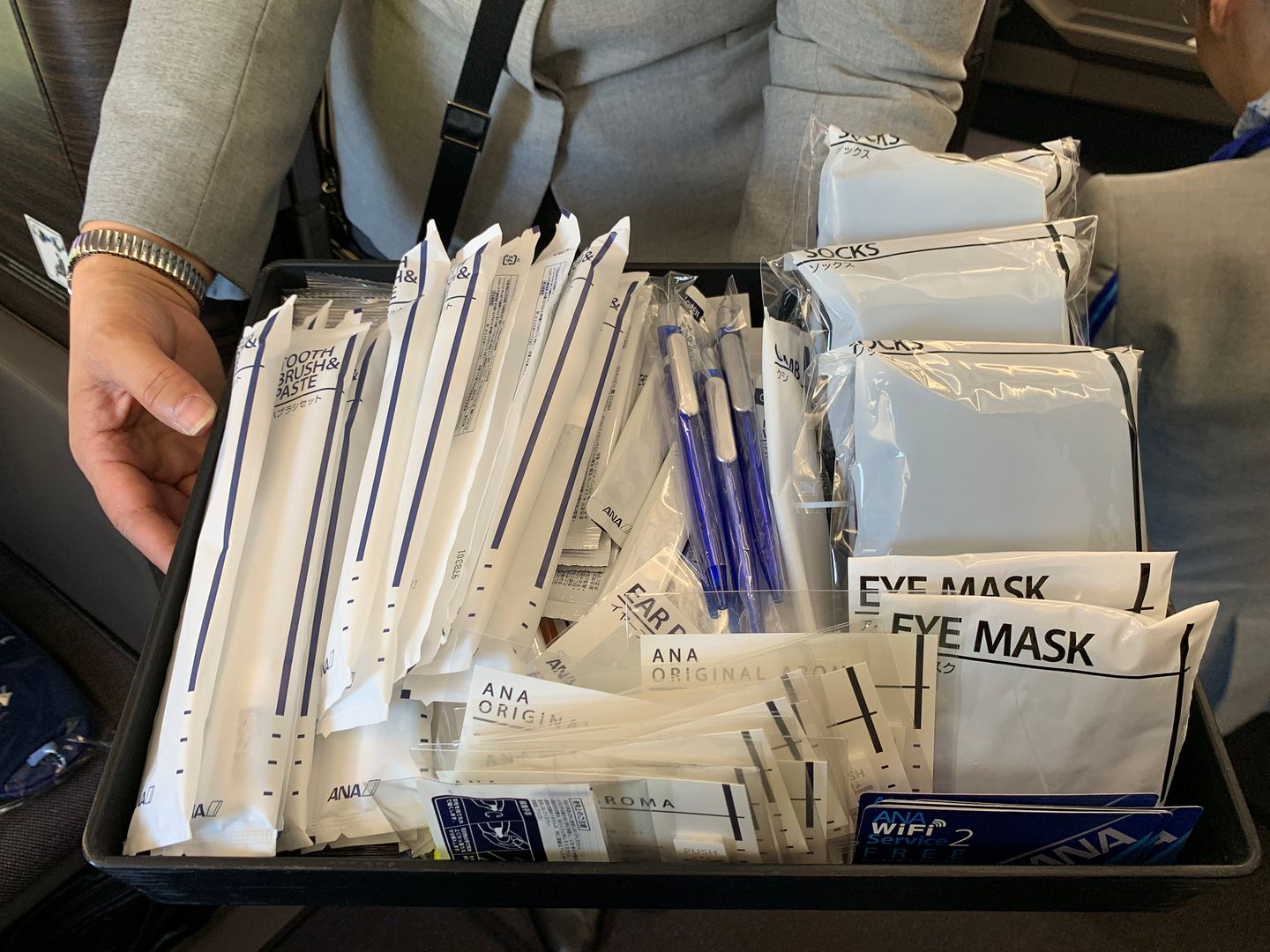 Jul 14, 19, 6:53 pm
Join Date: Oct 1999
Location: New York
Posts: 6,561
Here are all the features of the suites:
Dual storage bins by the side [The new 77W first class suites also have this feature]
Literature Pocket
Universal Power Port and USB port
Seat Control – I have not tried it though… but you can push your seat forward and backward by rolling that control
Detail Seat Control panel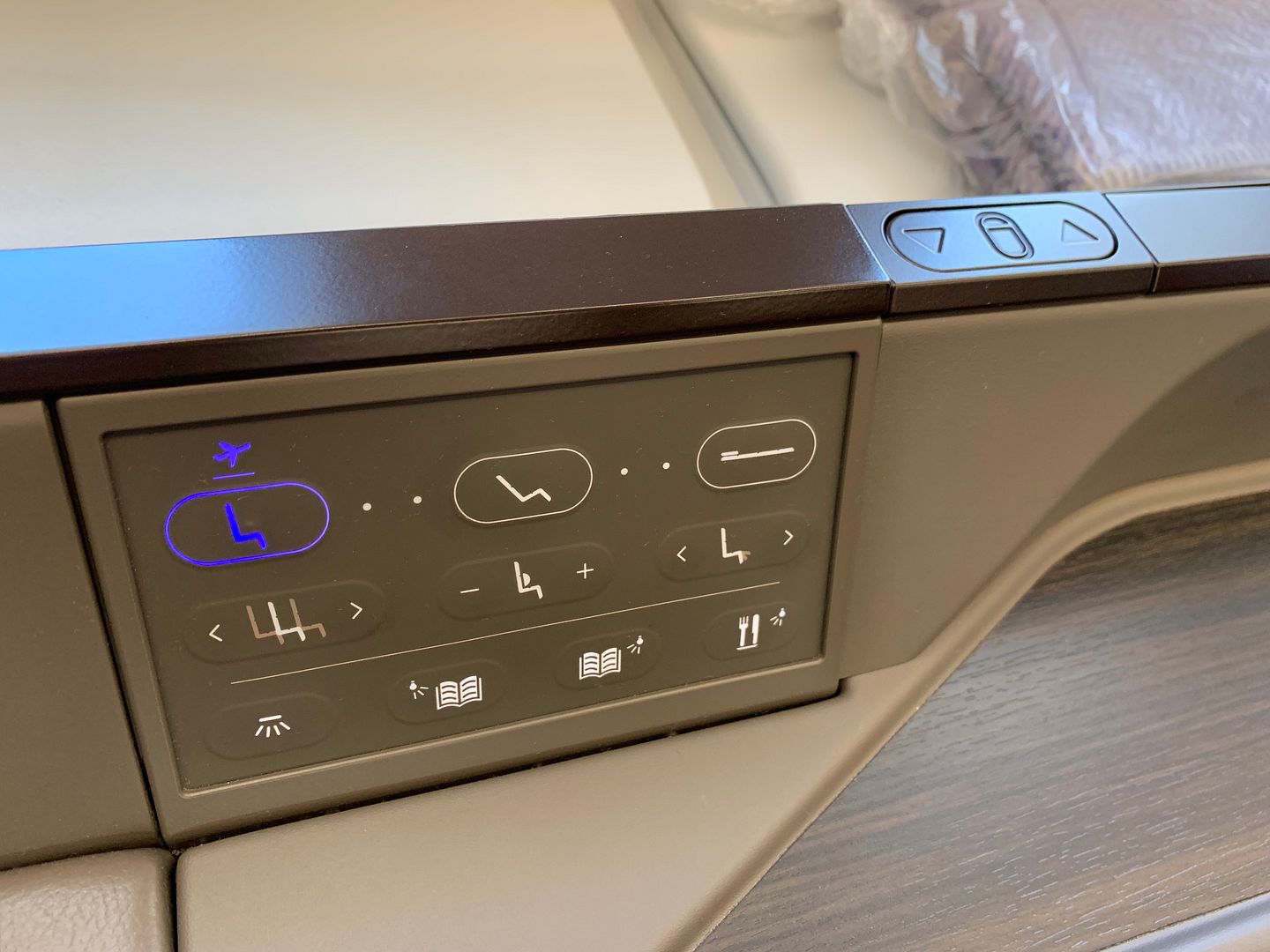 There is a window open/close button on top of the side panel
Windows are the new fancy types and the crews can open and close them at any time. But you can override them.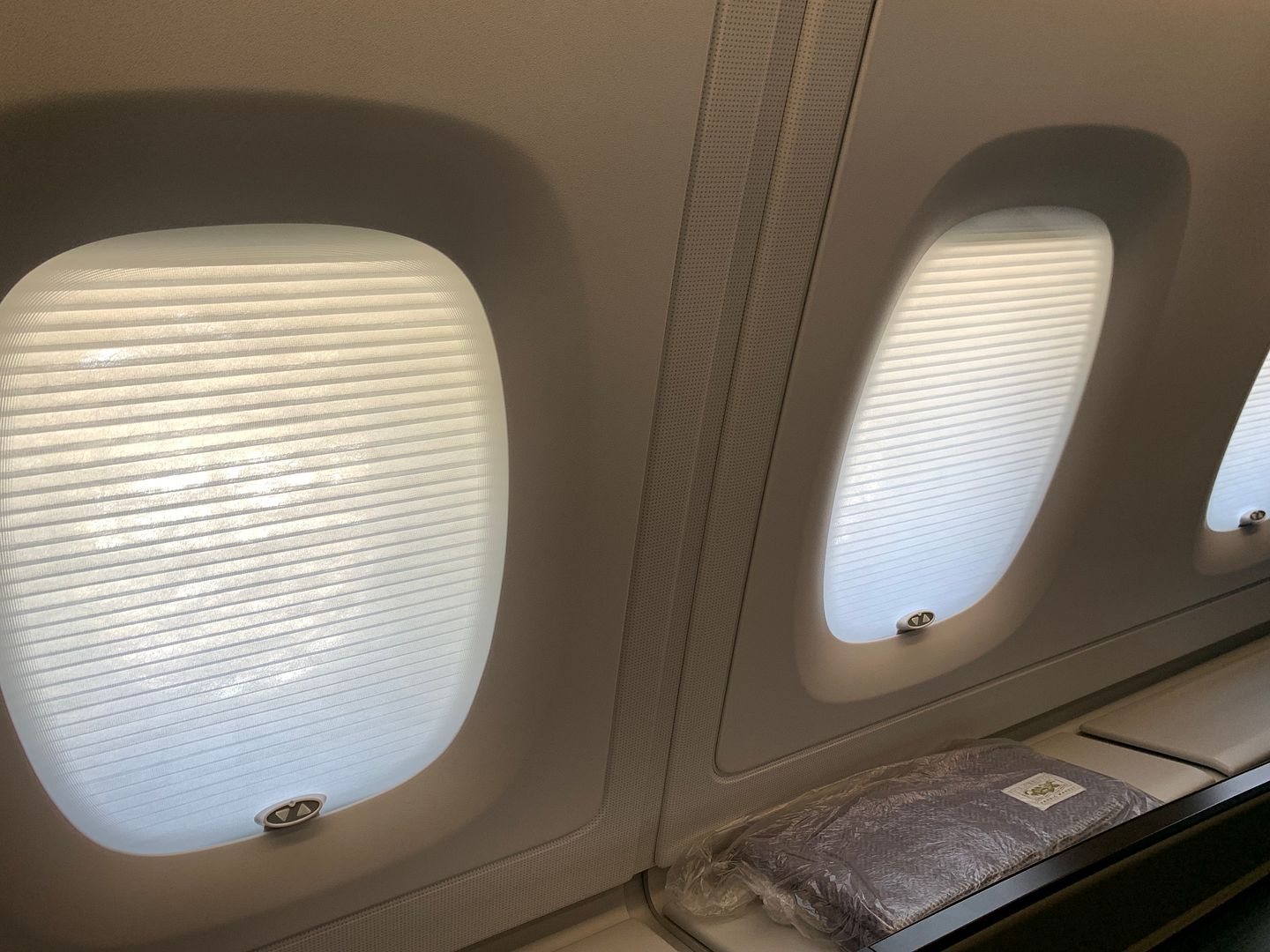 Entertainment control handset – PTV is touchscreen too but for the suites, it is easier to use the console.
Side coat closet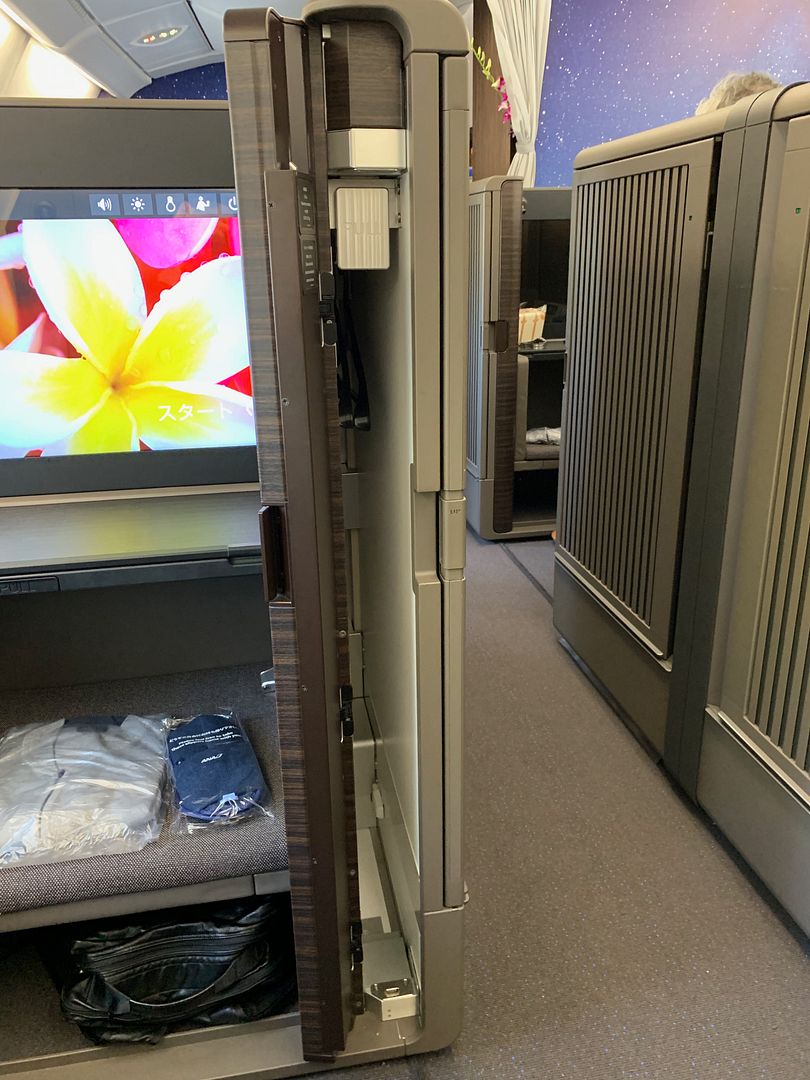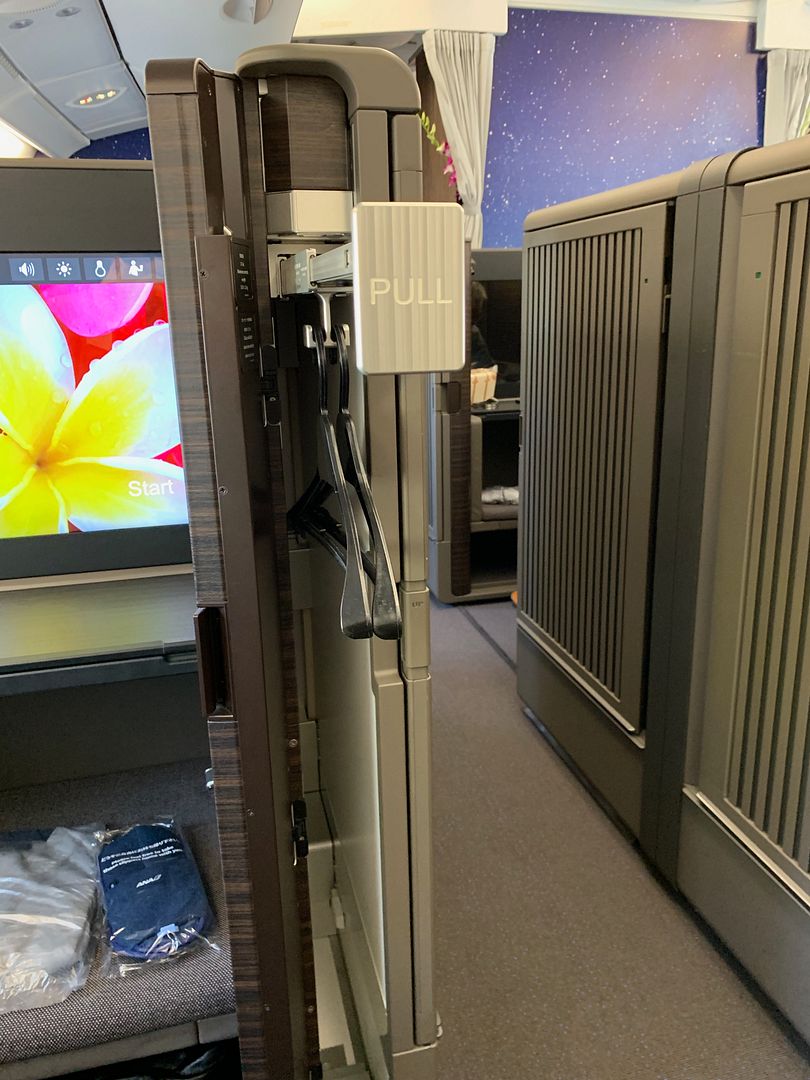 Tray Table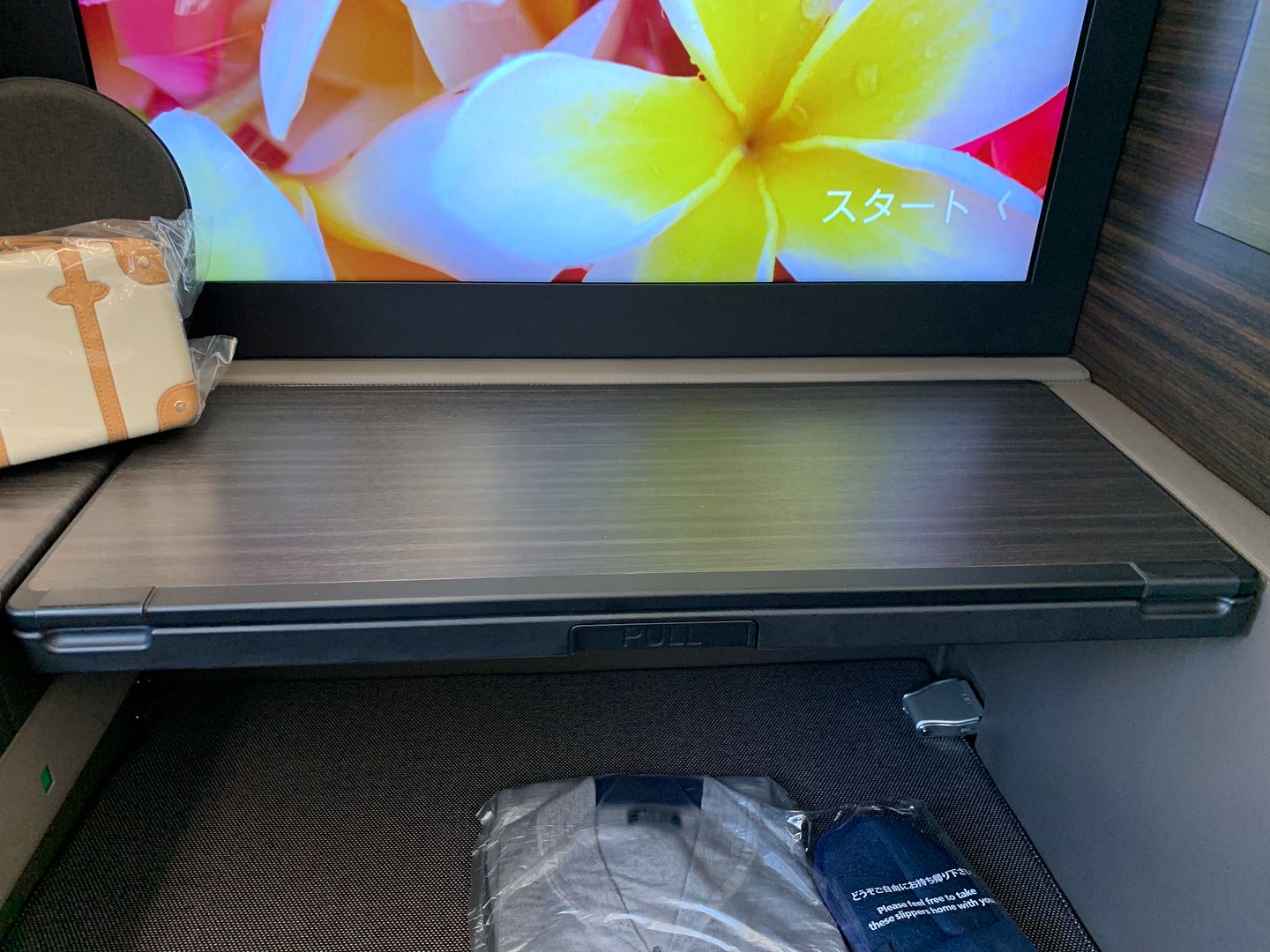 There are three personal lights – two by each side of the seat and one by the TV, on top of the two overhead lights.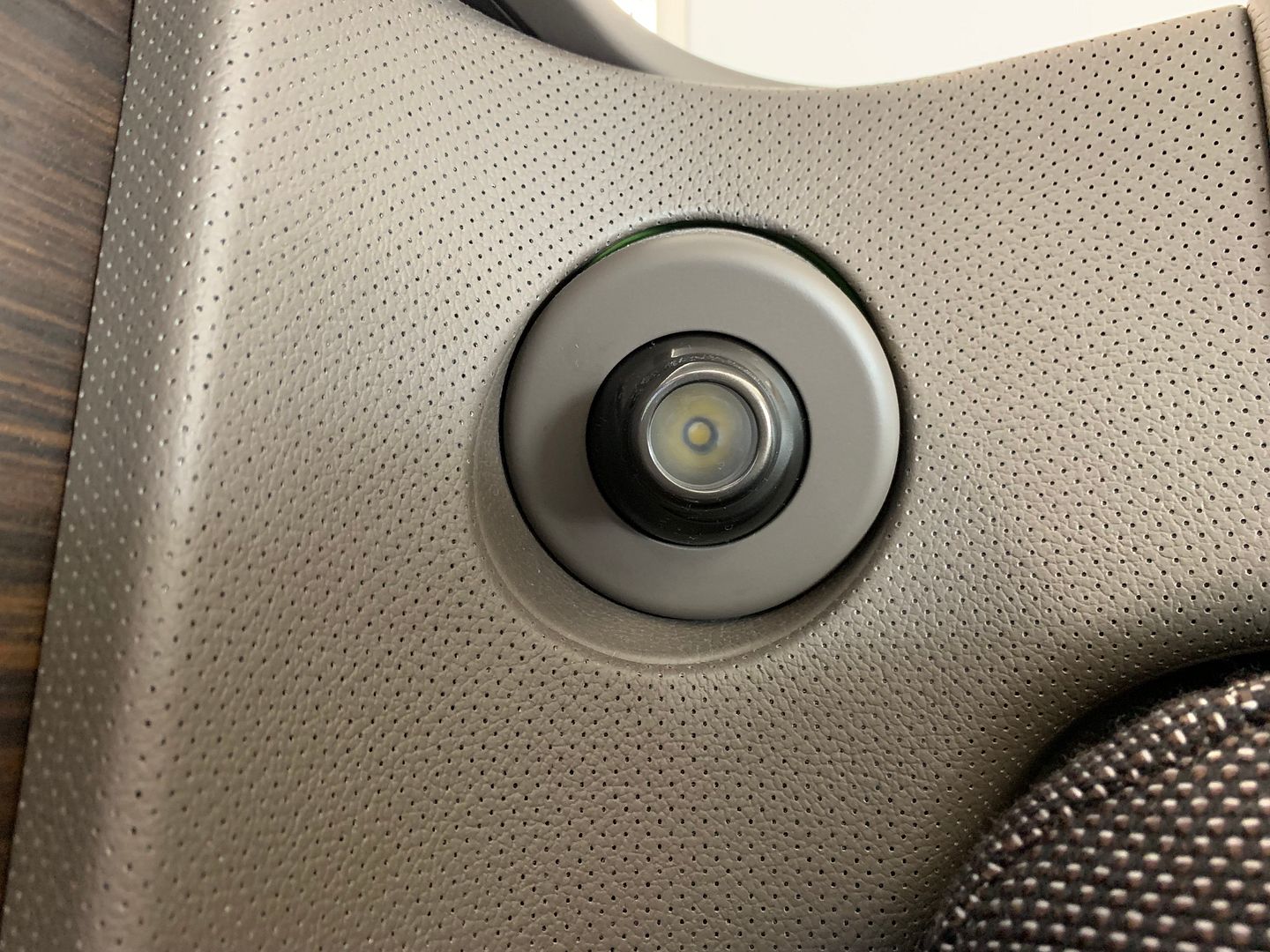 A cool light on the table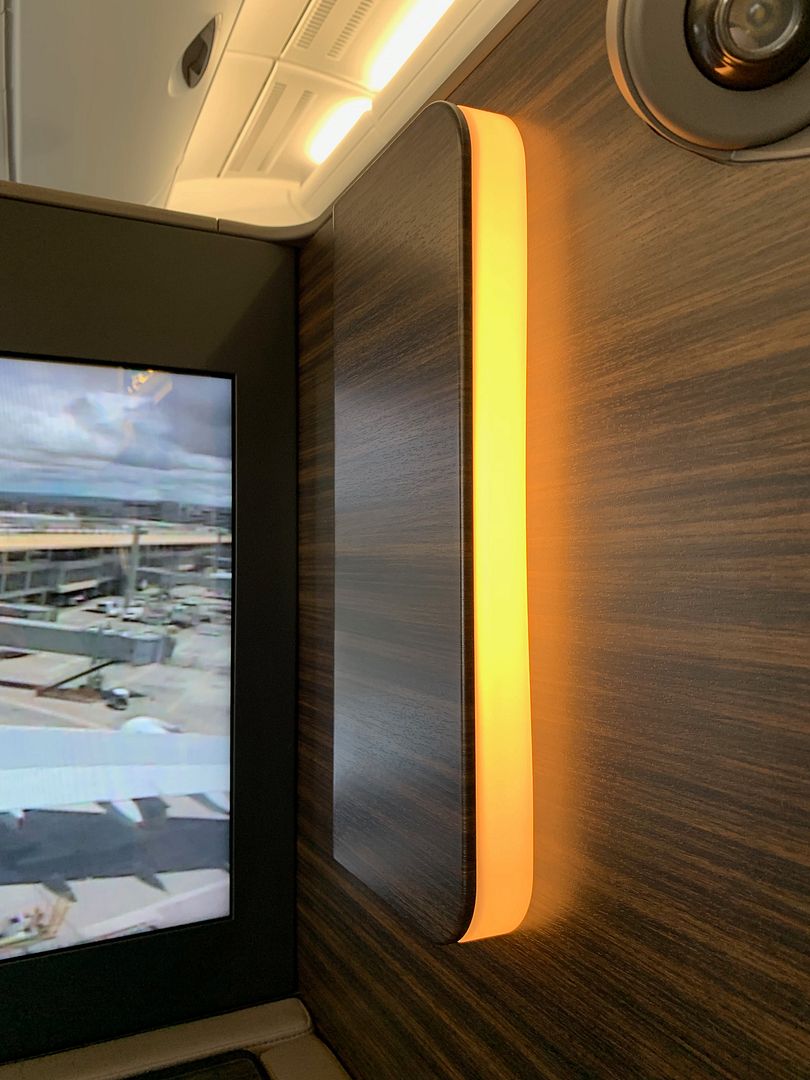 Here is a feature that many of you will appreciate: here is a tablet holder (I used it for my note and iPhone), which could open into a vanity mirror. It was pretty cool.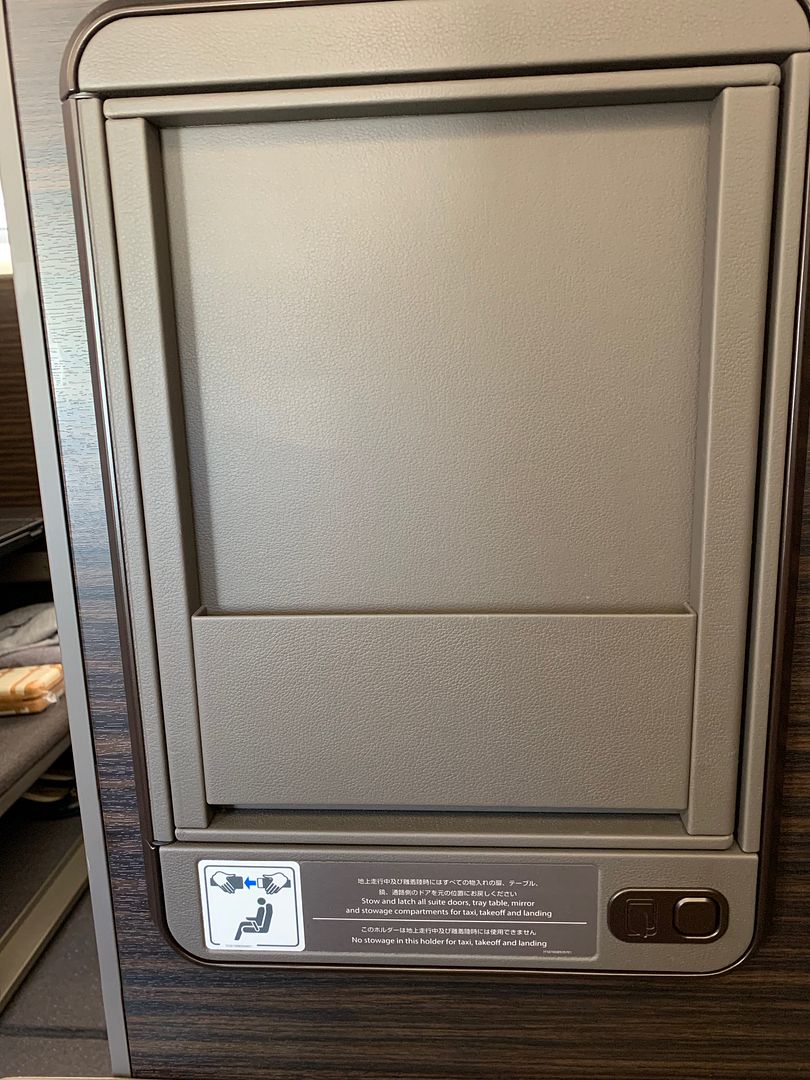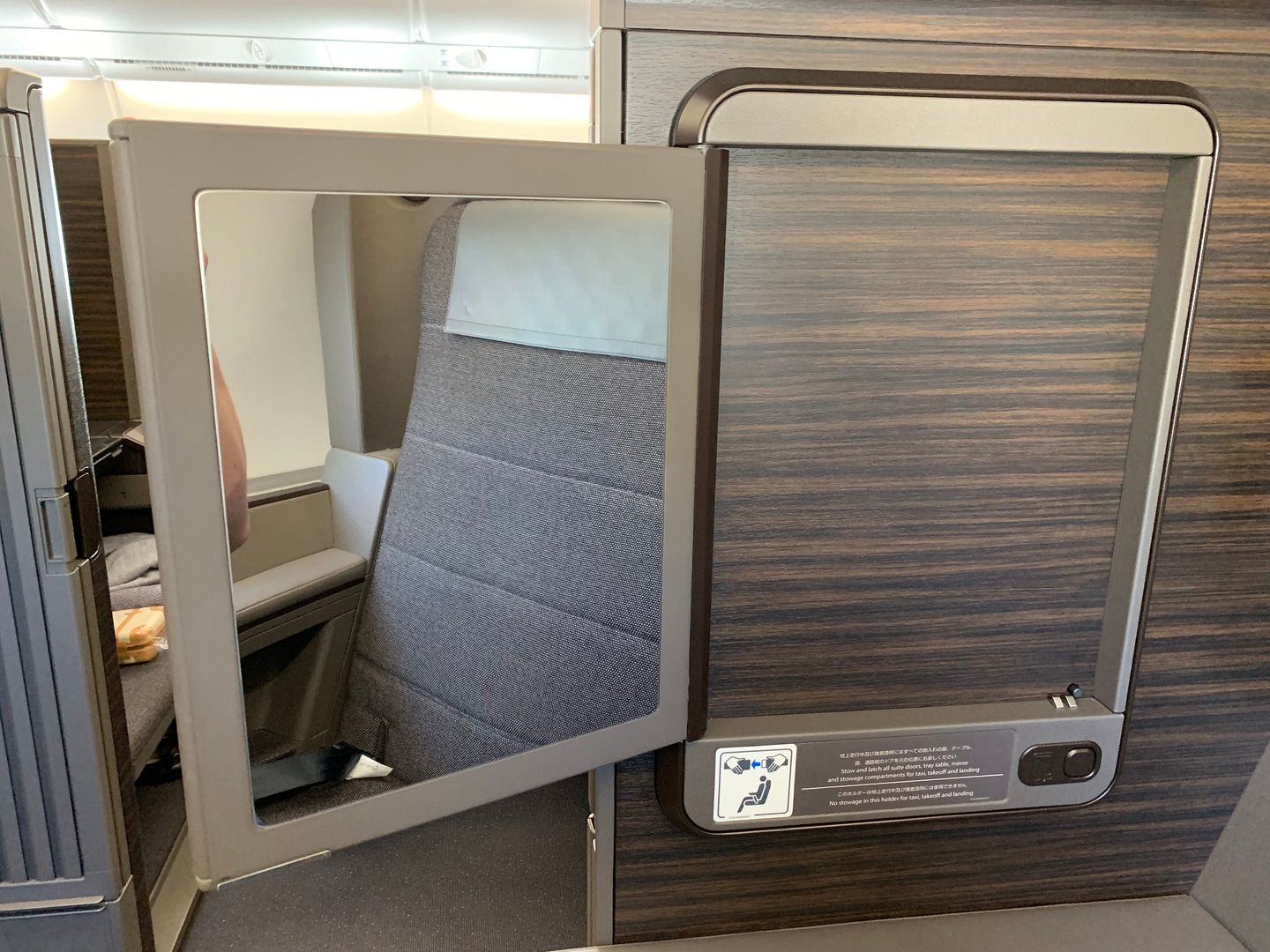 Pillow and blanket – I guess airlines call them "day" pillow and blanket, which is not part of the bed turndown service
Cabin shot – there is mood lighting but please note that there is no overhead bin for the middle four passengers. The under-seat storage space is actually quite small and I have to remove my laptop case to make it fit.
Thankfully I have those side storage bins in the upper deck. For some reasons, they keep some of them locked.
Door was closed at 11:27am and we pushed back at 11:33am.
A couple plane shots, as we taxied towards the Reef runway.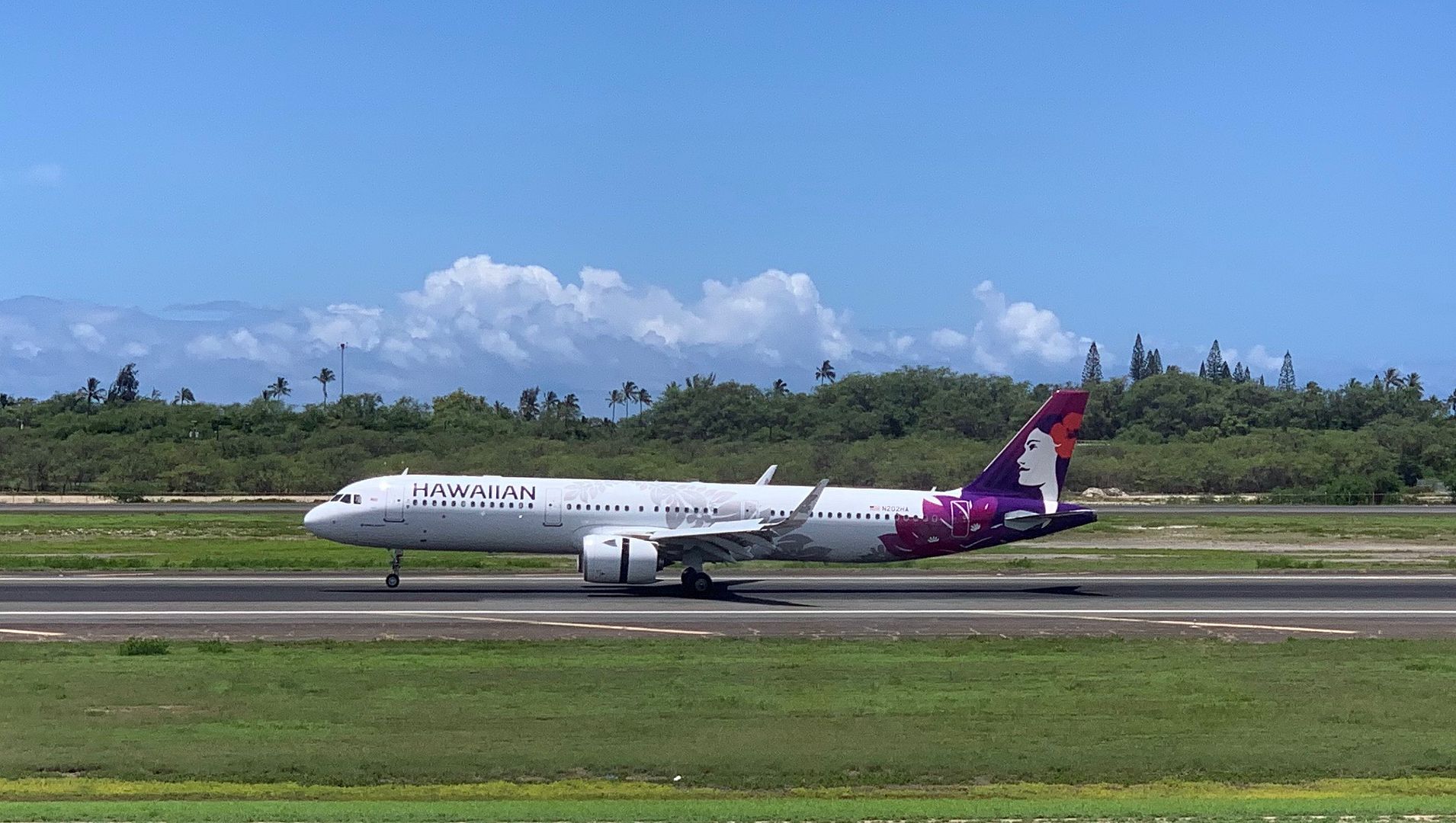 We took off from R/W8R at 11:51am. Our flying time was seven hours and twenty-five minutes. After crossing Waimea at Kauai, it was once again a pure over-water flight, until we reached Narita. We cruised at 38,000 feet for the whole flight.
With smooth weather, the service began twenty minutes after takeoff with the customary hot towel, and passing of menus.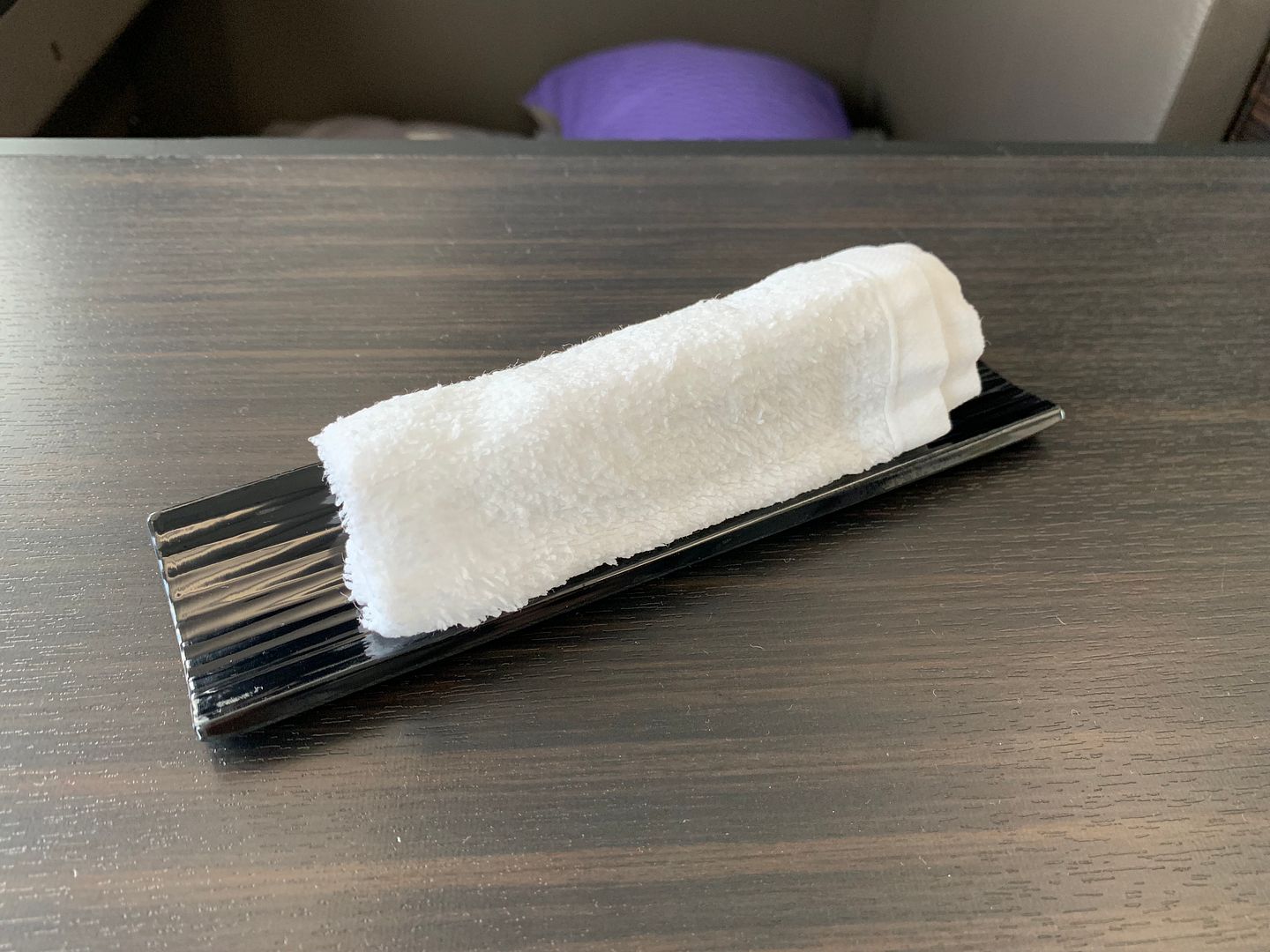 Sadly, the menu was in pretty bad shape. They should have used a cleaner one, especially they have eighteen copies on board.
I decided to stick with the Burgundy red wine for this flight.
"Chassagne-Montrachet 1er cru "Morgeot" Maison Louis Latour 2015, Cote de Beaune, Burgundy, France"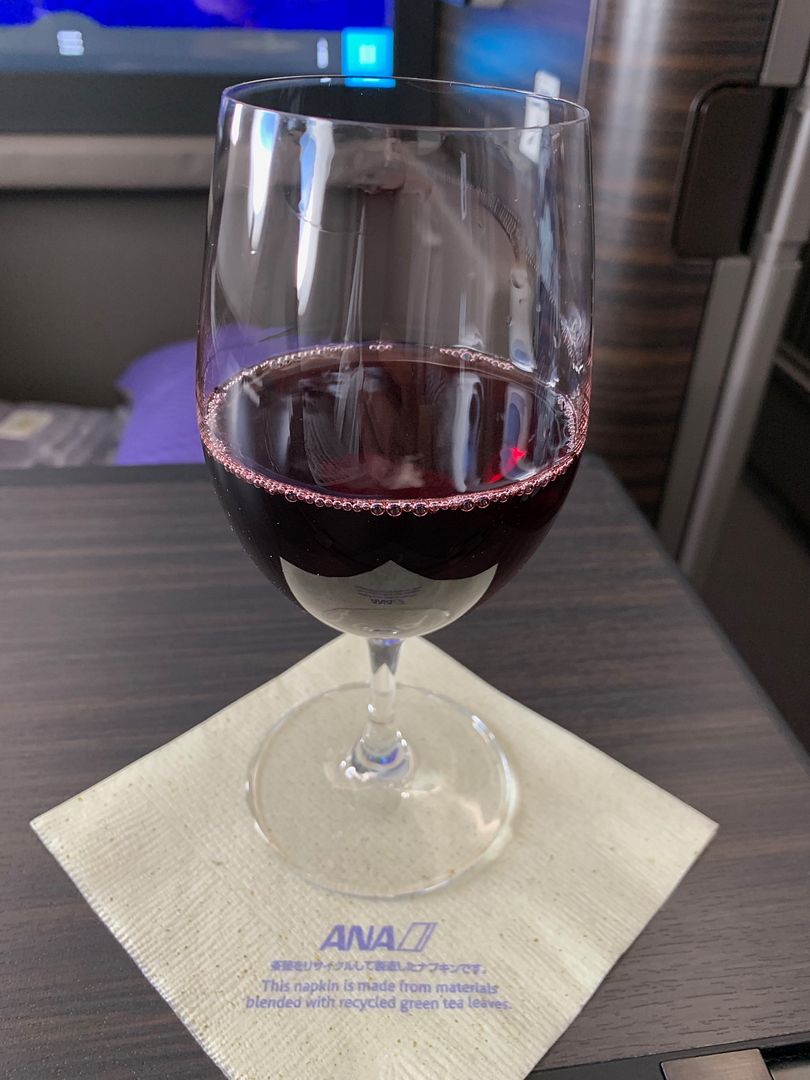 The canapés for this flight: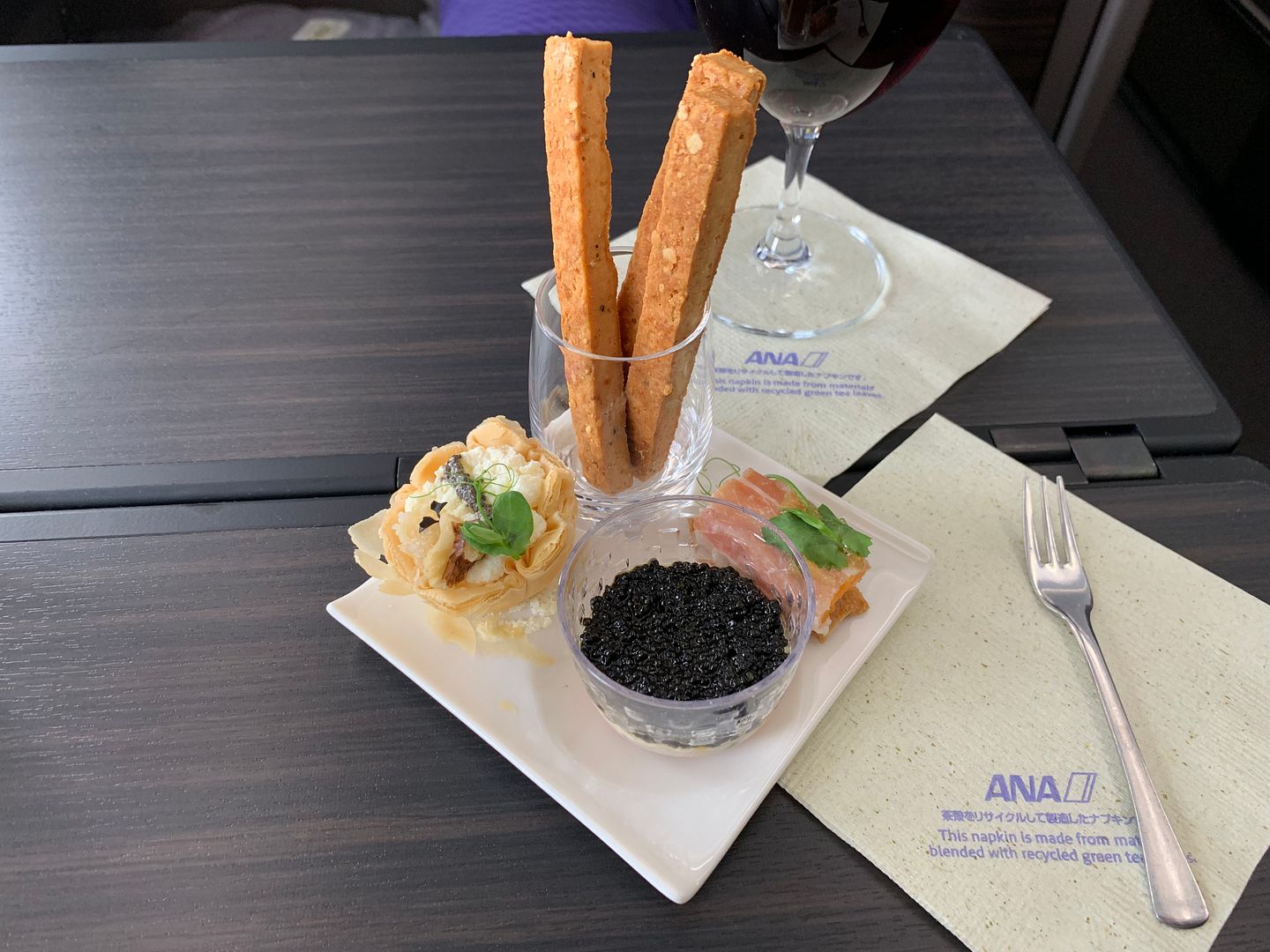 Ricotta, honey comb, truffle paste, walnut tart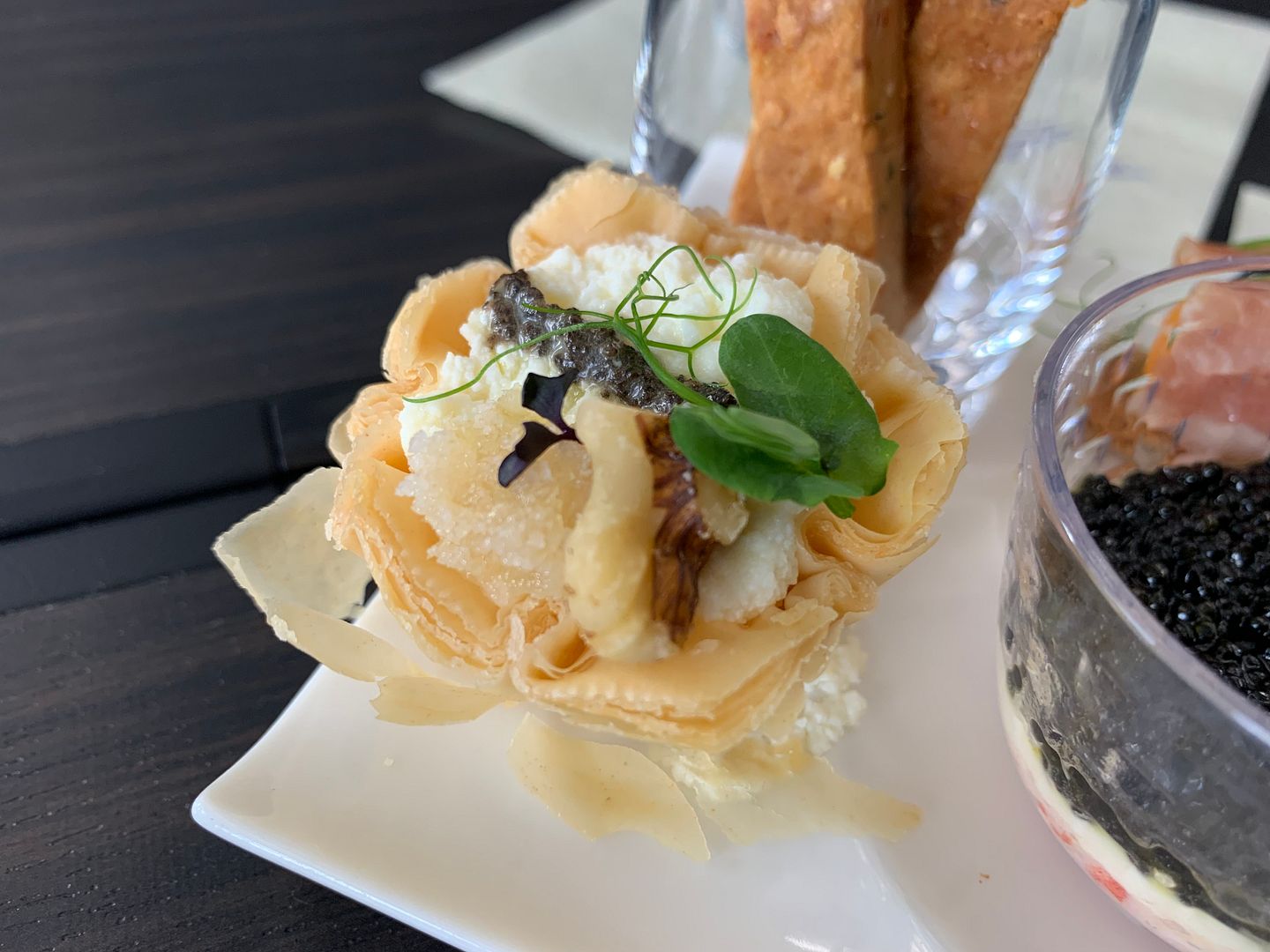 Prosciutto and papaya, goat cheese, calamari purée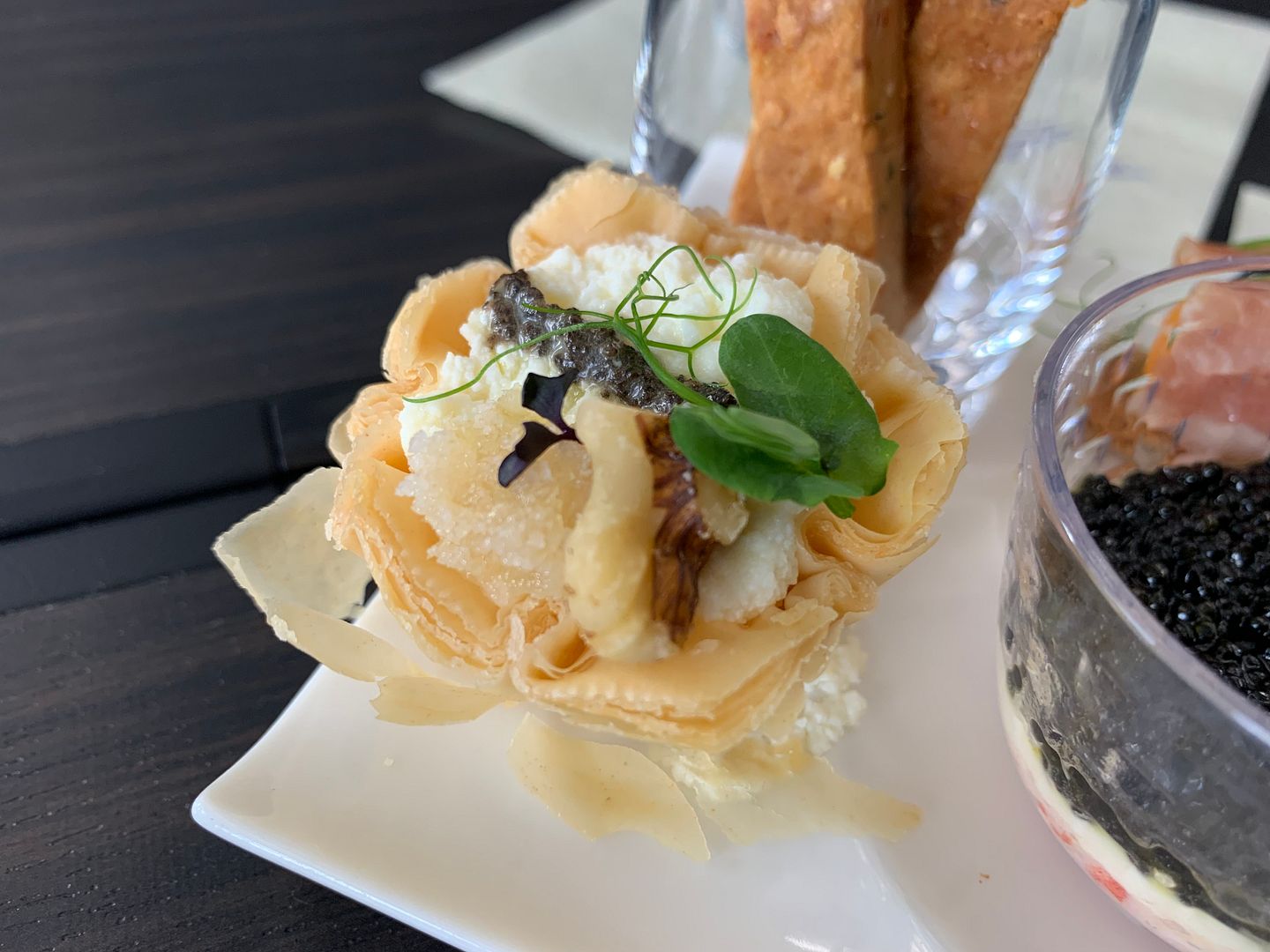 King crab, caviar, crème fraiche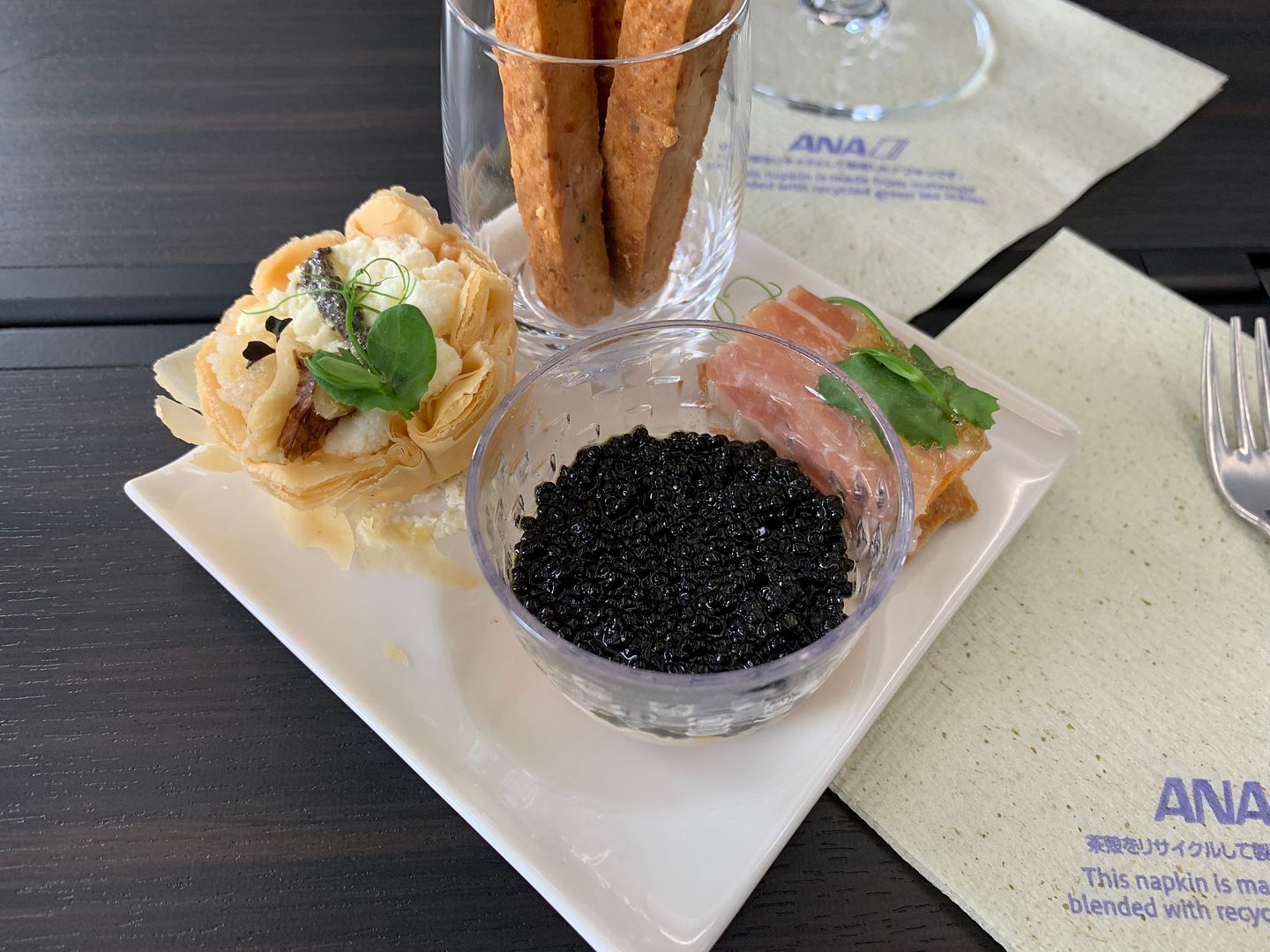 Cheese pepper bar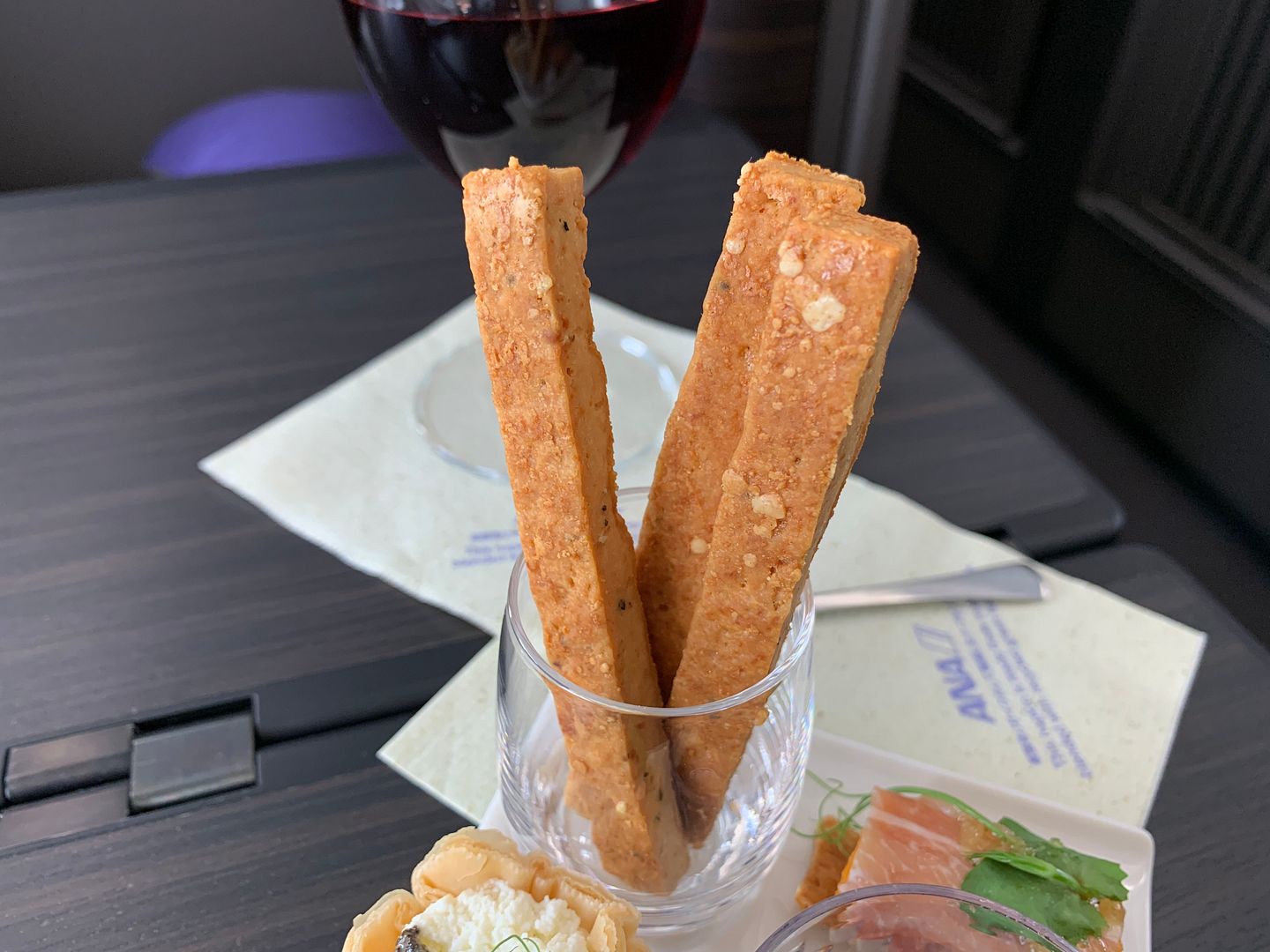 They are prepared by the Four Seasons Resort.
The service was definitely more fitted for a daytime flight and the meal was a full five course meal.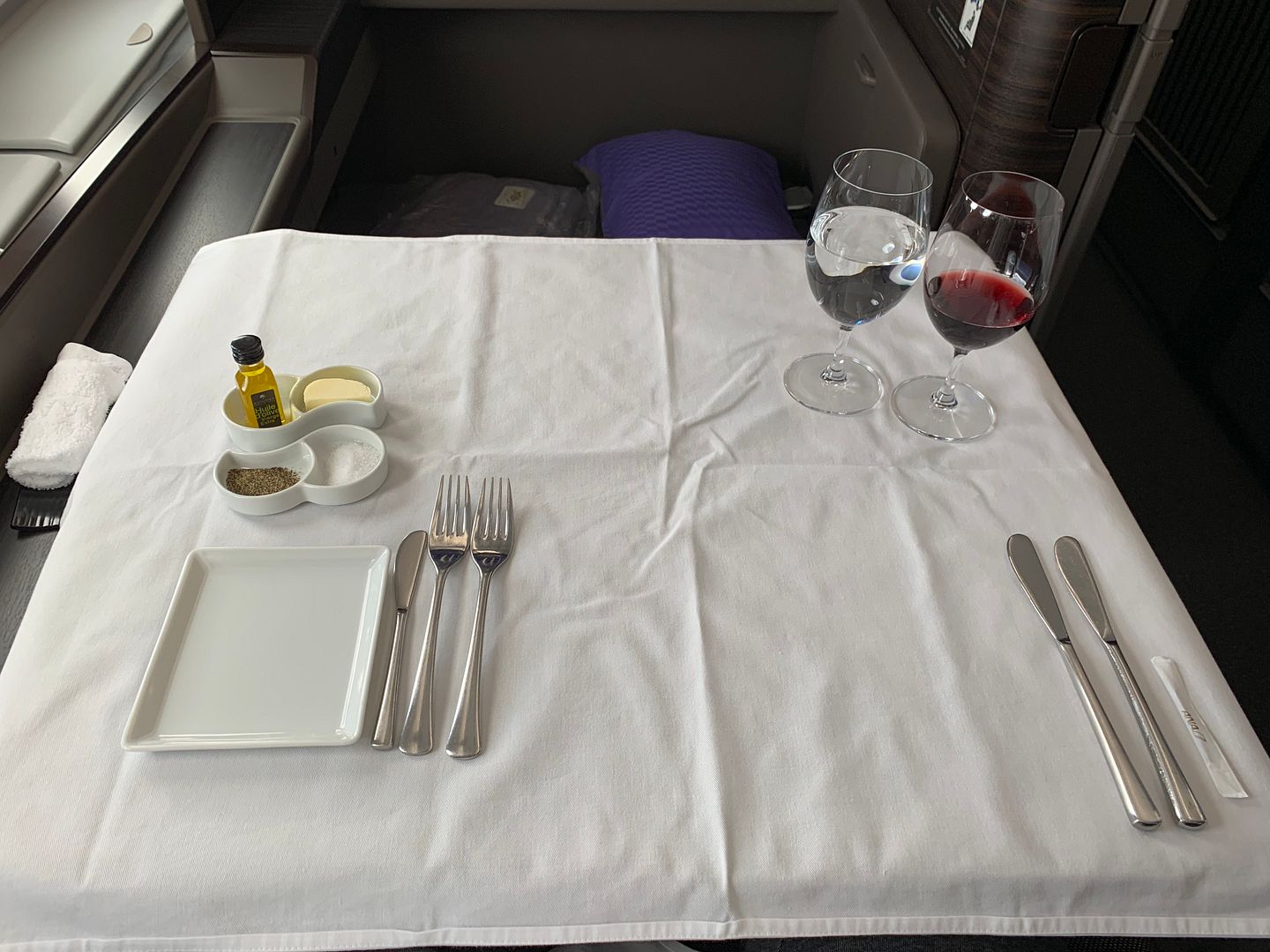 I chose the international cuisine again.
Here is the full menu:
Japanese Cuisine ~Washoku~
Sakizuke Starter: a taste of what's to come
Grilled eggplant and Kona abalone, snow crab meat with soy-based vinegar jelly
Zensai A selection of morsels
Eel aspic
Grilled burdock root rolled with duck
Cream cheese wrapped in smoked salmon
Fishcake with corn
Green soybeans tofu
Owan A clear soup with produce
Poached pike conger
Otsukuri A selection of sashimi
Seared Hawaiian tuna
Seared Hawaiian greater amberjack
Poached big fin reef squid
Nimono Simmered dish
Simmered winter melon and beef in soy-based sauce
Koabchi Tasty tidbits
Marinated grilled geoduck in soy-based sauce
Shusai Main Course
Seaweed salt-grilled salmon with black pepper [277 kcal]
Steamed Rice
Steamed rice, miso soup and Japanese pickles
Kanmi Confections
"Wagashiya no Anmitsu (Komatsu)"
Japaense gelatin jelly, cut fruits and adzuki bean paste with brown sugar syrup
International Cuisine
Enjoy this ANA collaboration with chef Ryo Takatsuka of Noe, an Italian restaurant at Four Season Resort
Appetizer Plate
Scallop and sea urchin gateau, cauliflower puree, truffle dressing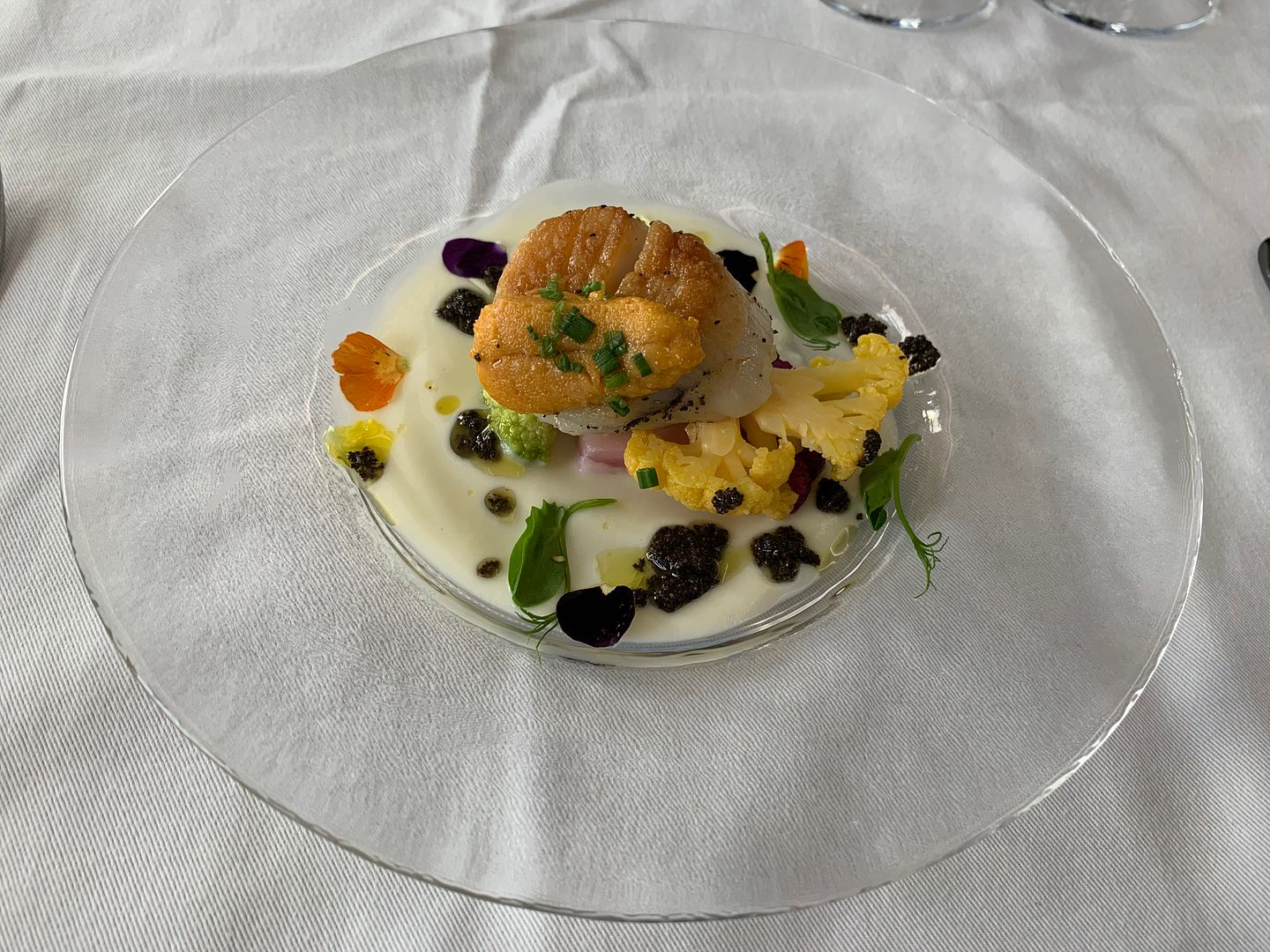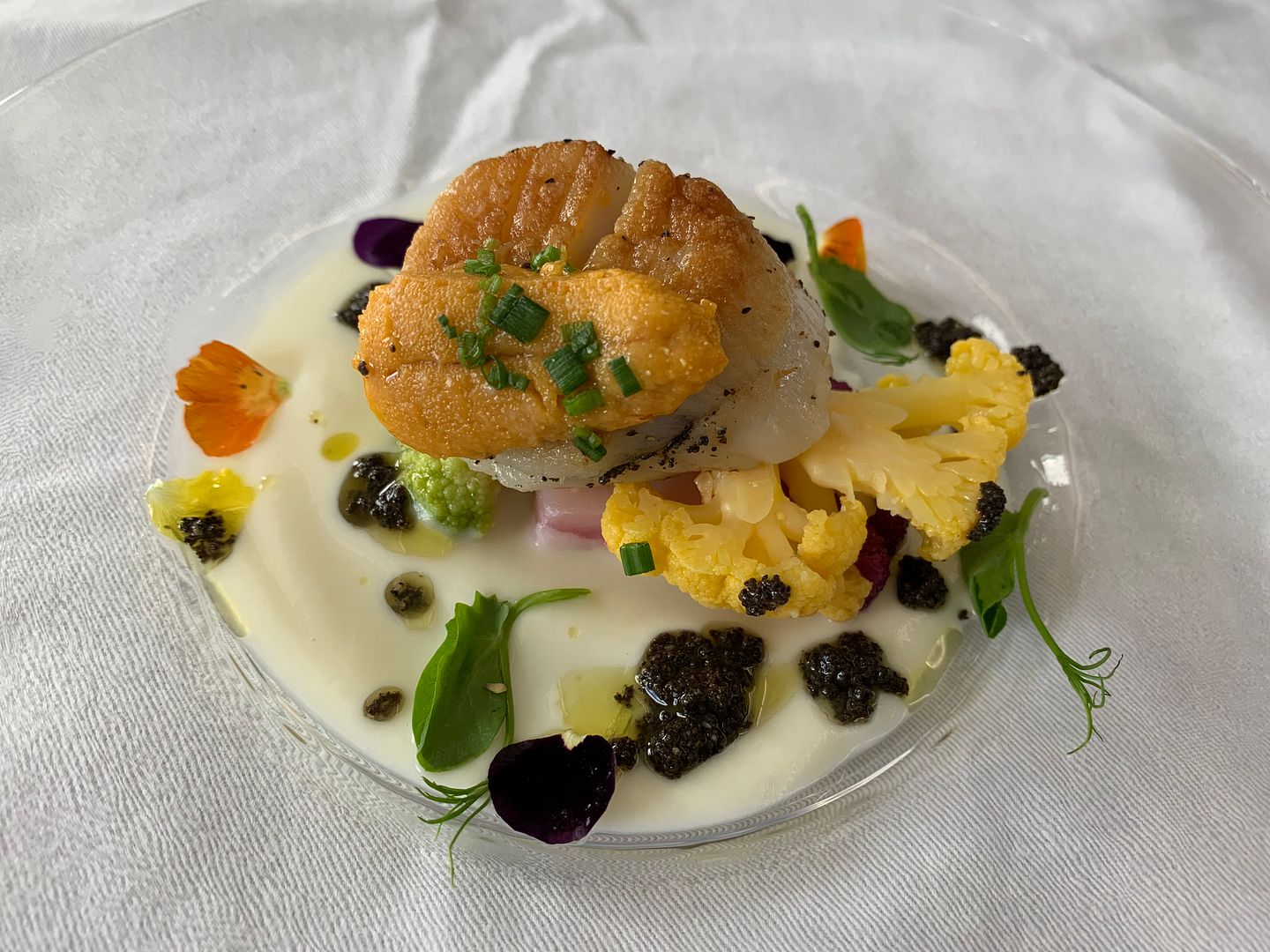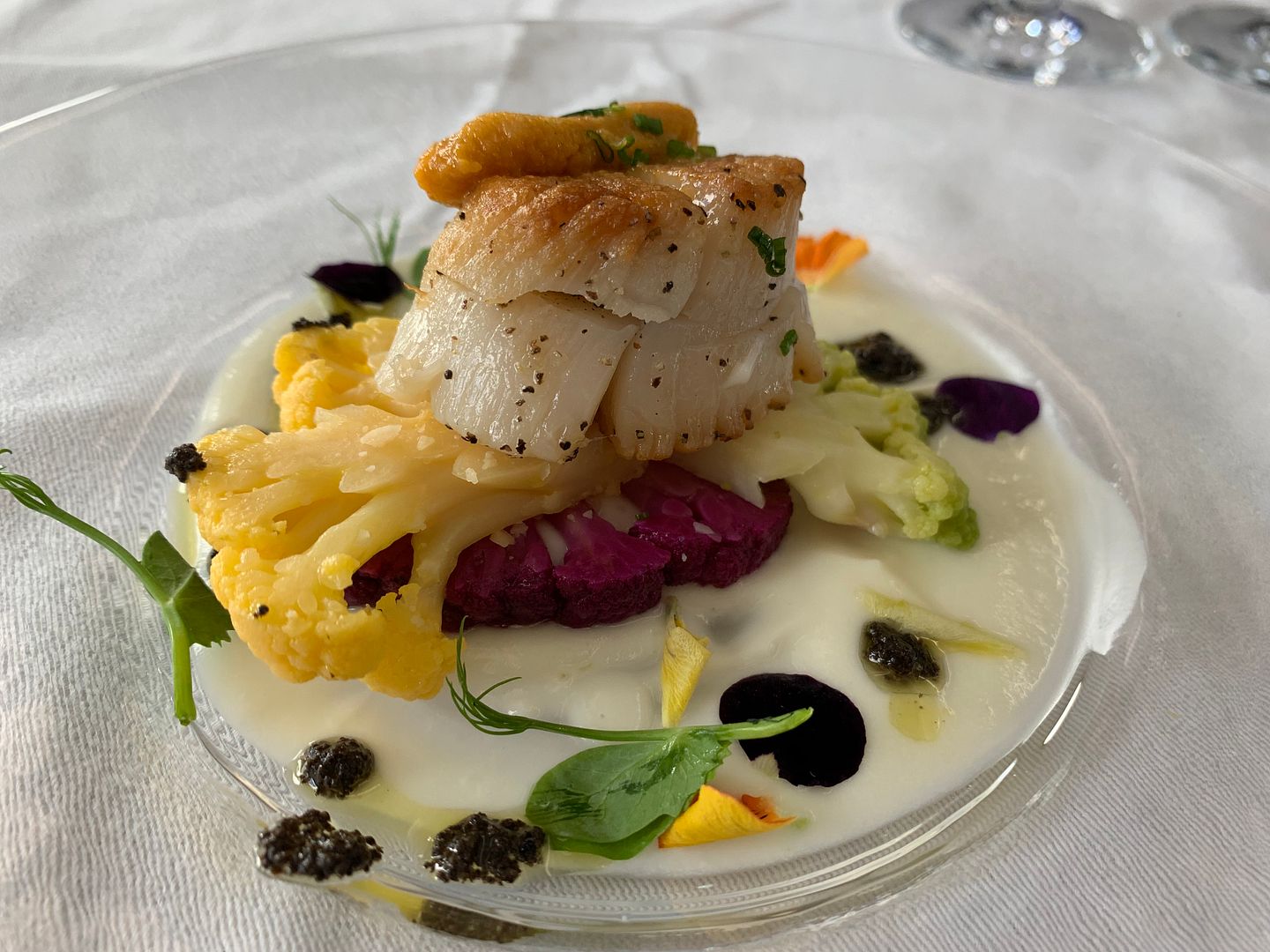 Ahi tuna tataki, bread and black olive, onion salad style
Buffalo mozzarella ravioli, arugula paste, cherry tomato, lemon confit, yuzu oil
Garden Salad
Served with a choice of dressings
Japanese plum vinegar and daikon radish dressing
Niigata edamame dressing "Japanese green soybeans"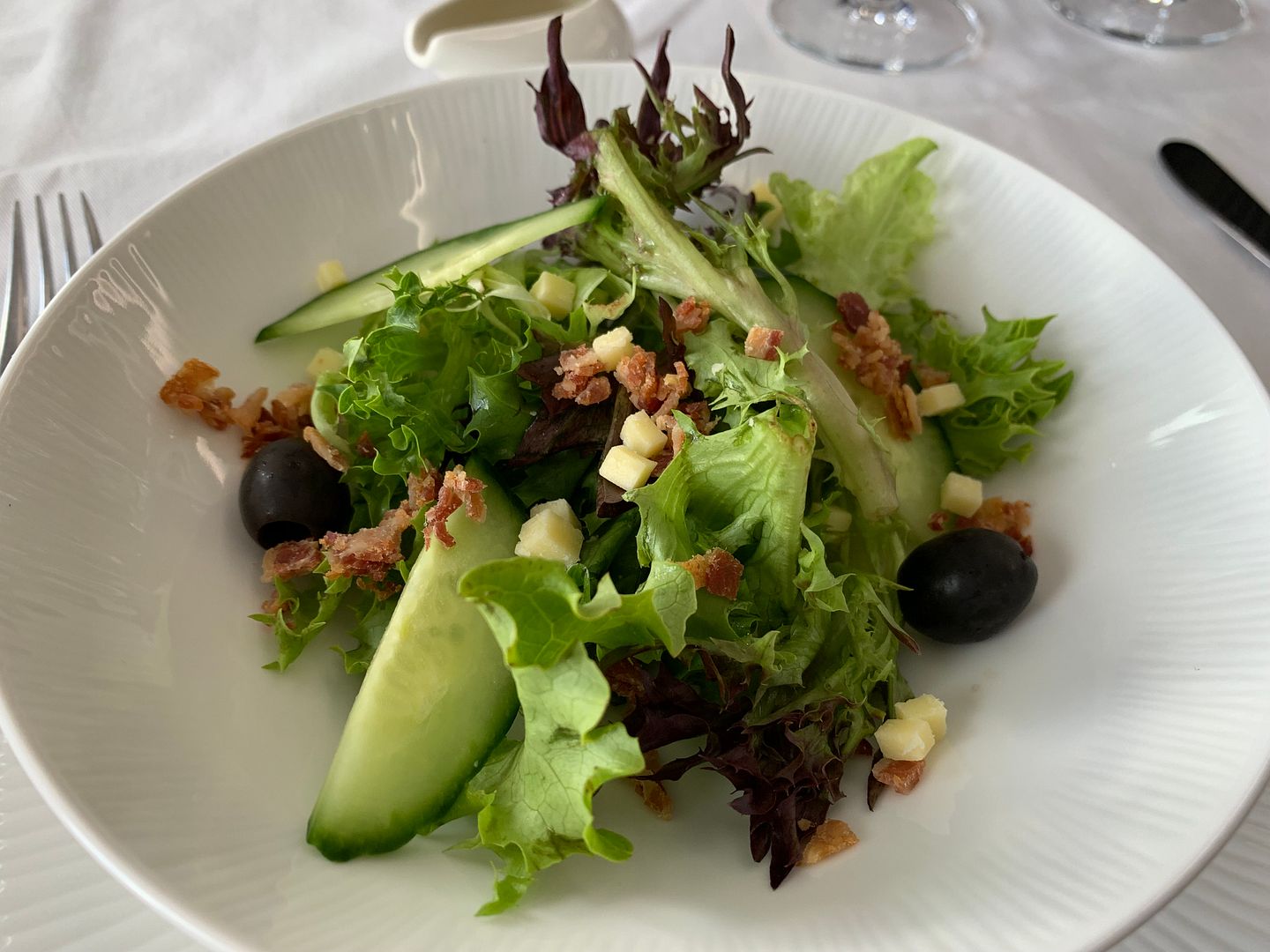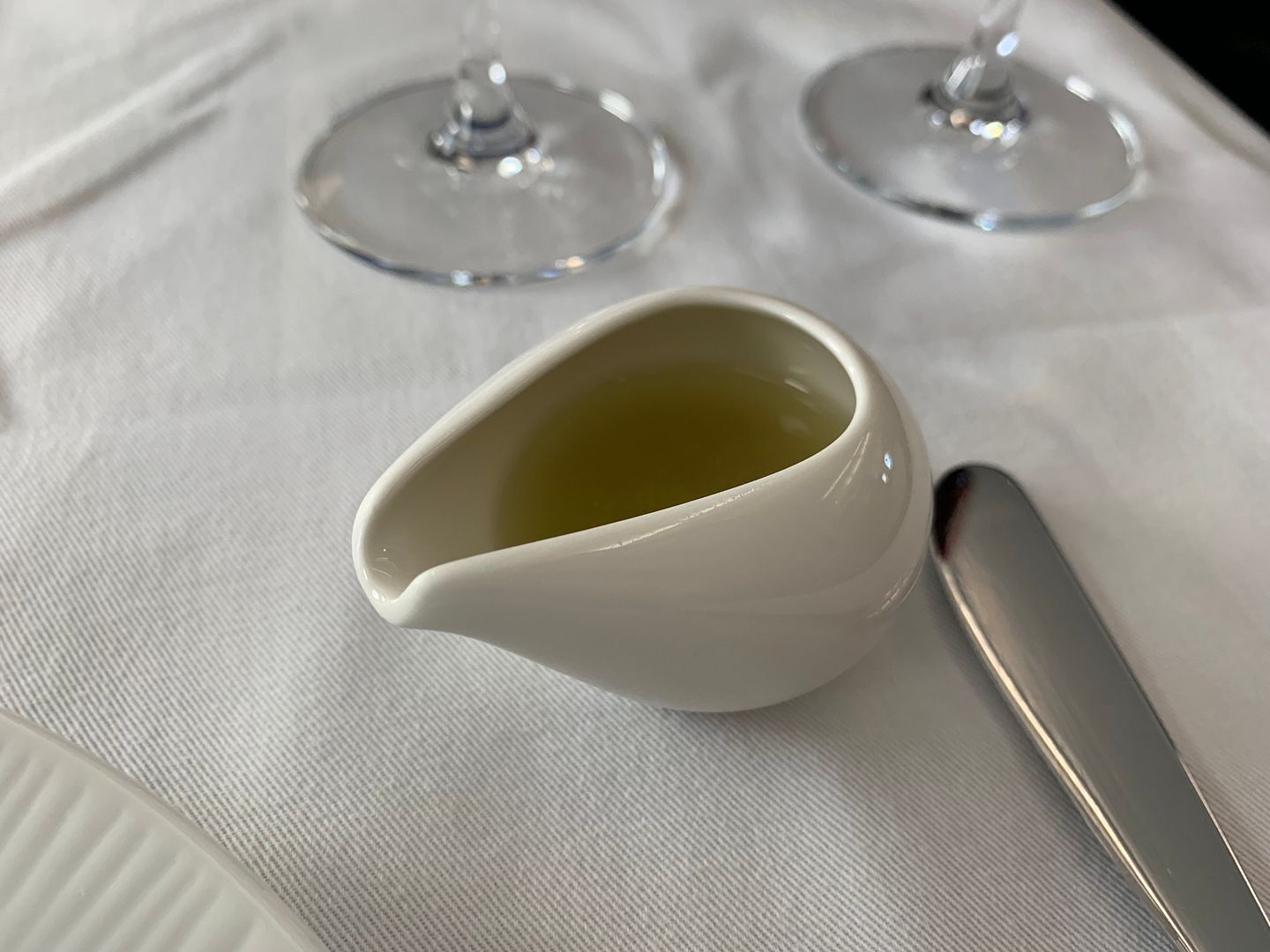 Corn Soup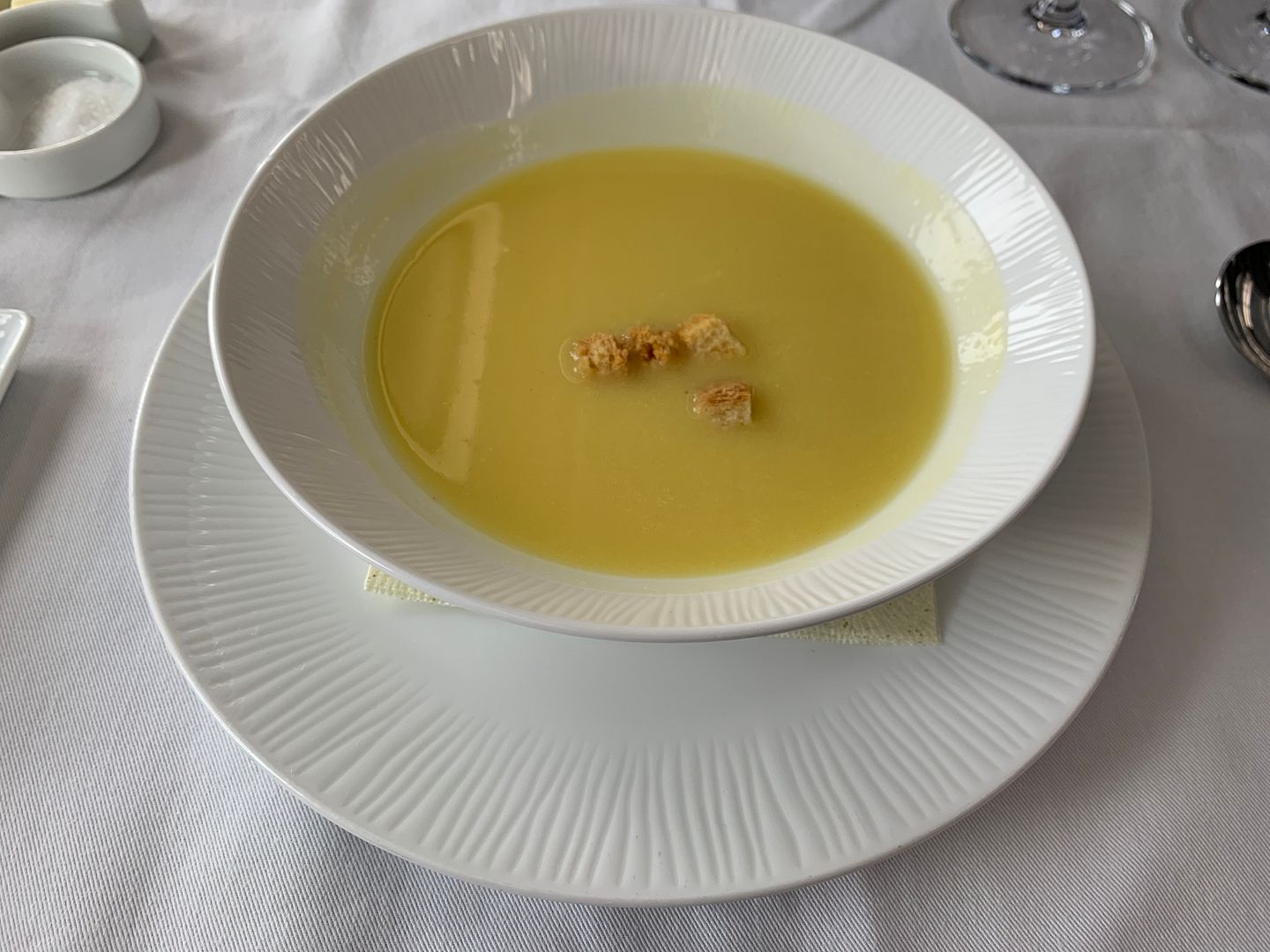 Main Plate
Angus Beef fillet steak, radicchio and mushroom, black pepper balsamic sauce [259 kcal]
Grilled Nairagi and lobster tail, Ewa onion purée, fennel, caper and dried tomato dressing [205 kcal]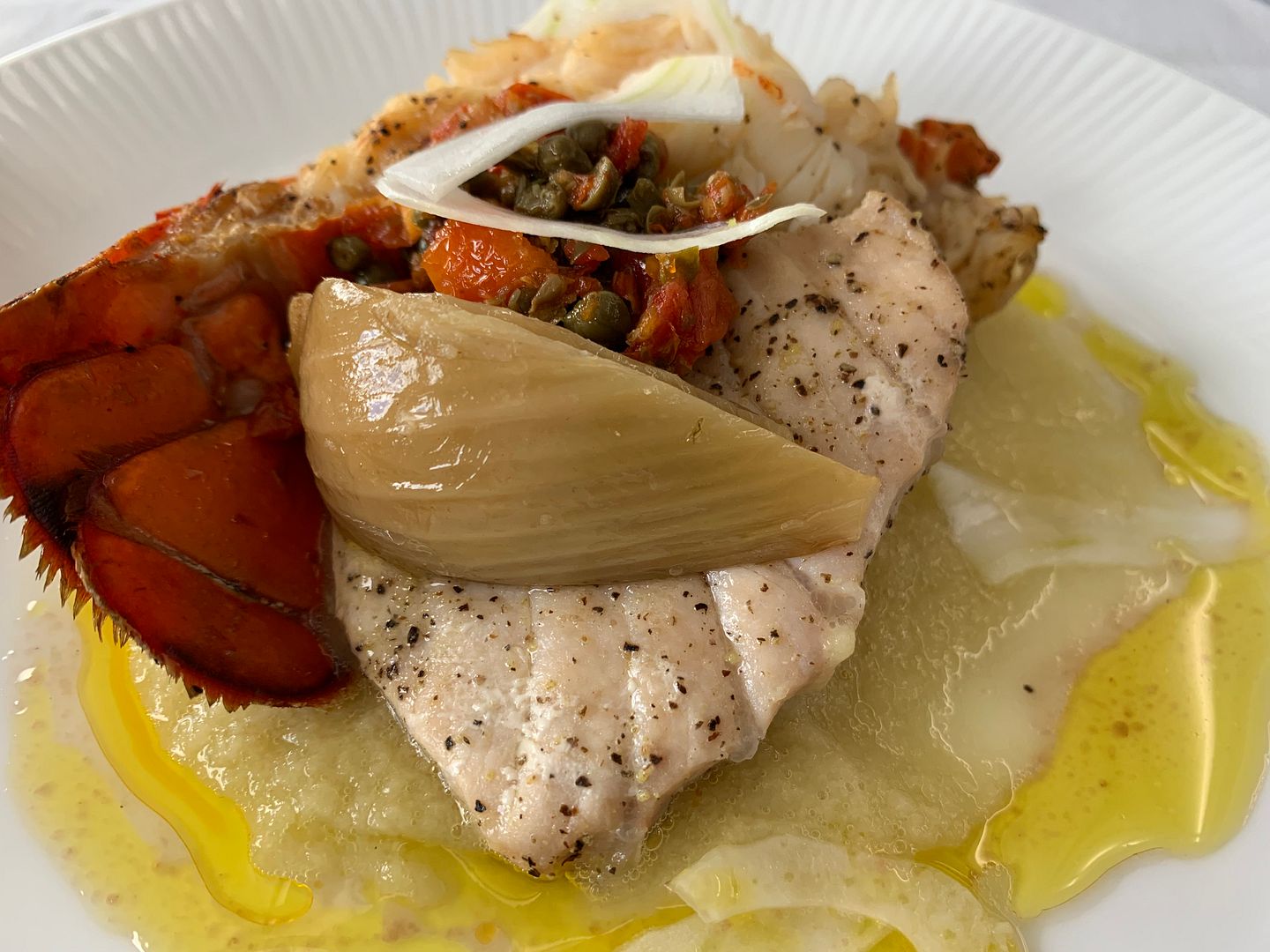 Braised veal cheek, foie-gras, Yukon potato puree [315 kcal]
Selection of Breads
Served with butter or extra-virgin olive oil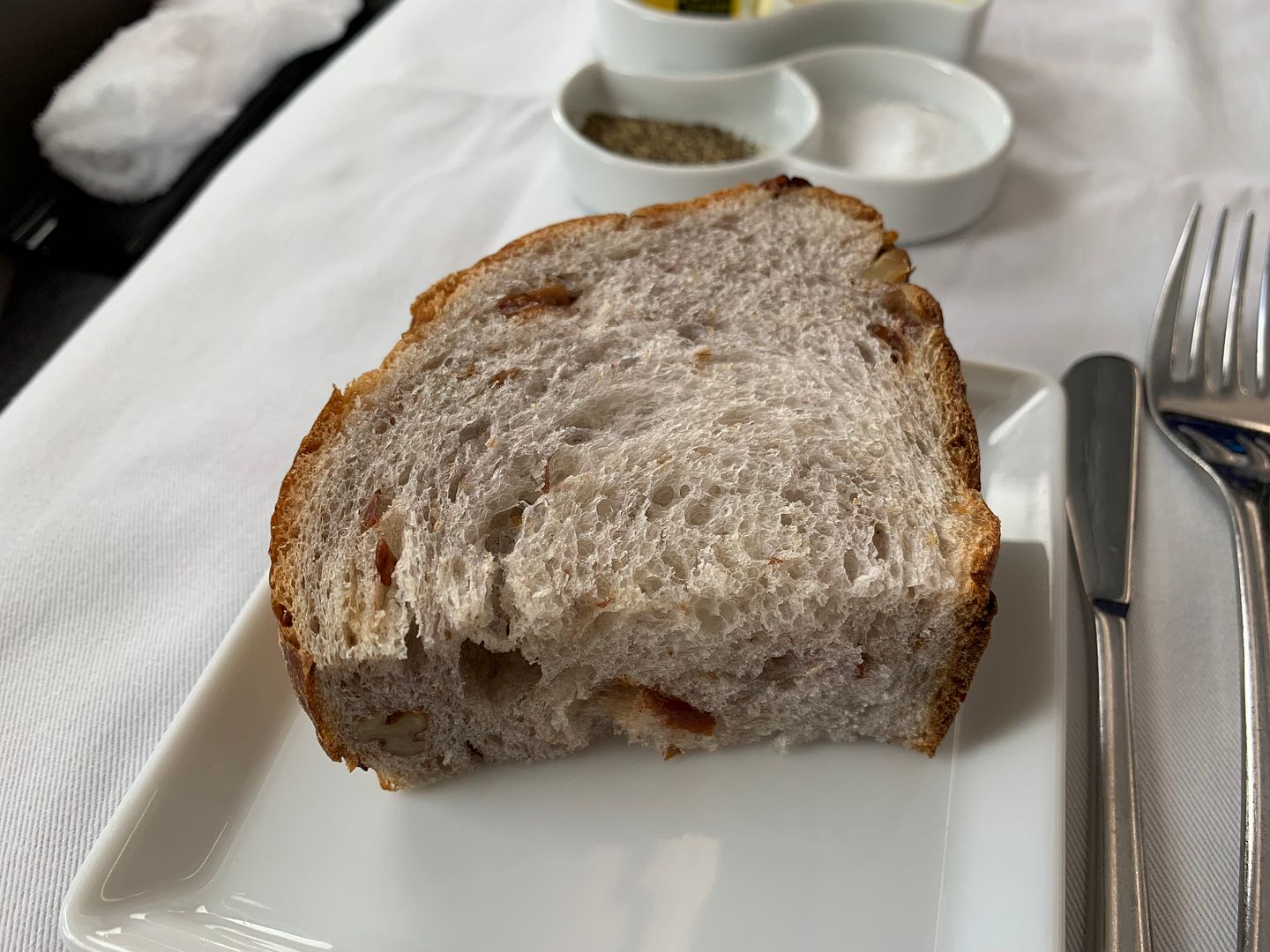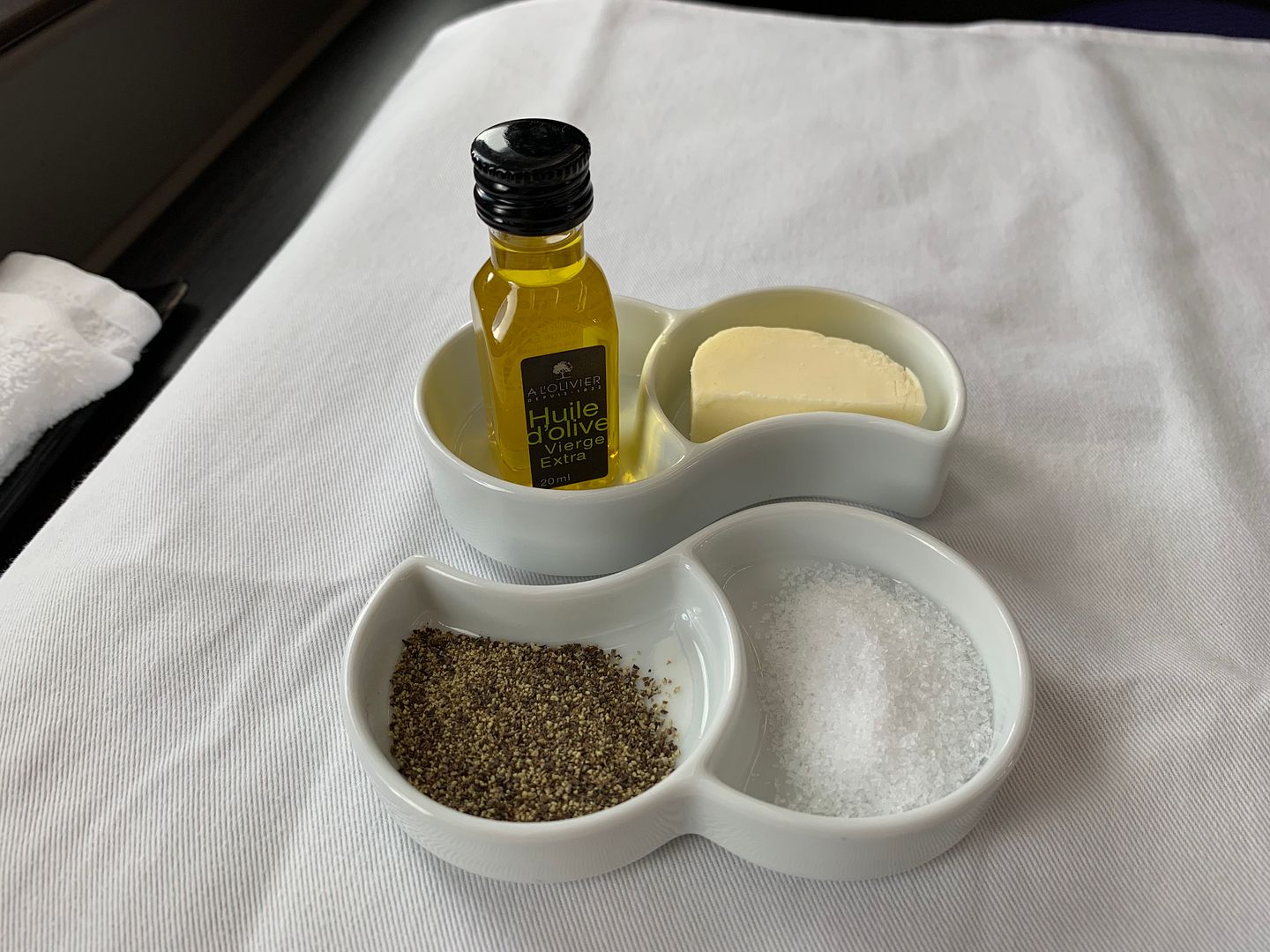 Desserts
Winter melon soup, gin lime jelly, mint
Mango mousse
Warm chocolate brownie with vanilla ice cream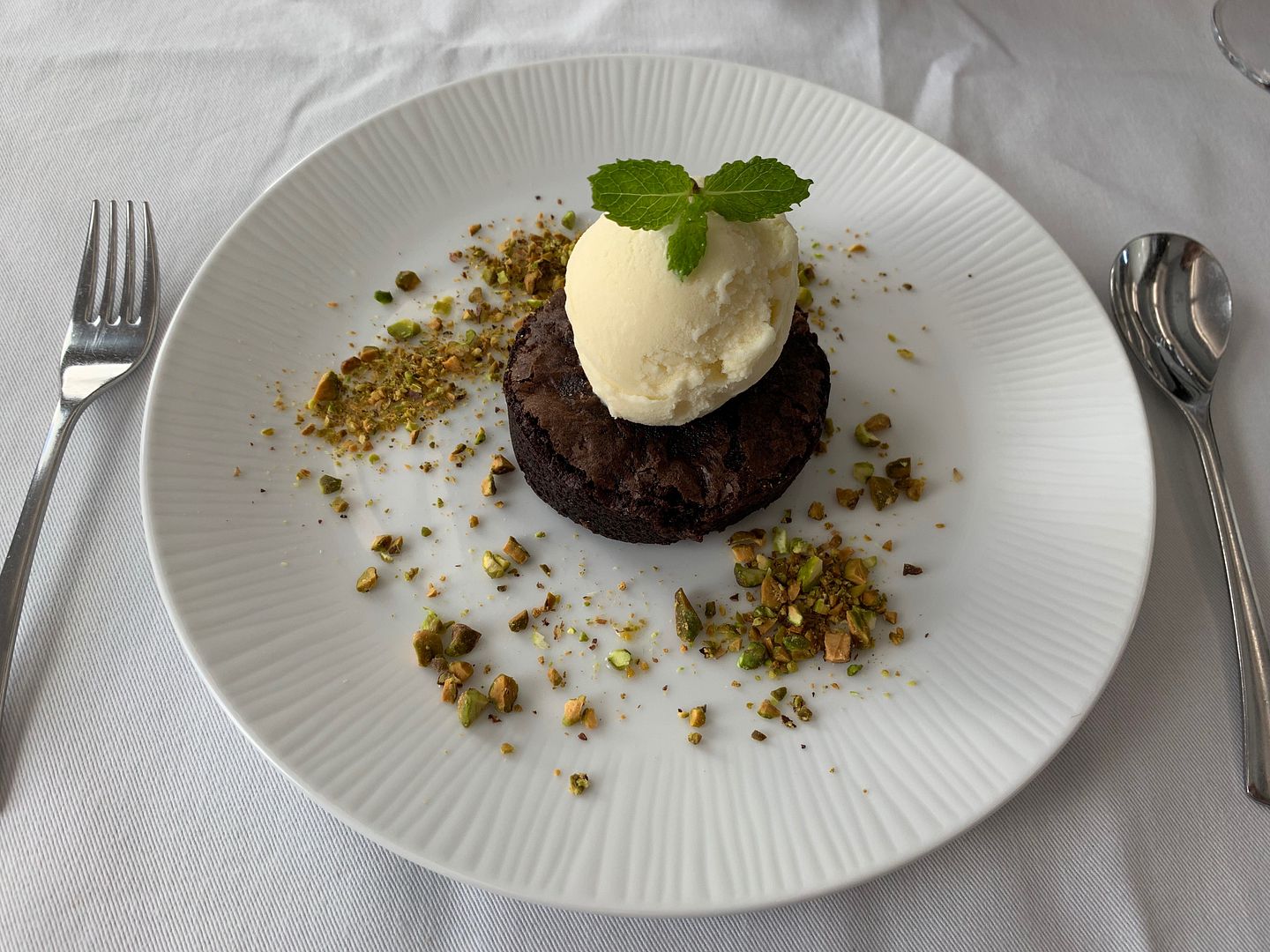 Petits fours
A confectionery accompanied by a hot beverage
For starter, I chose the scallop and sea urchin plate, which was delicious. It was my favorite course.
The salad and the soup were fairly standard.
For main course, I chose the grilled Nairagi, which was stripped Marlin, and lobster. While the taste was great, the portion was a bit on the small side.
For dessert, I had the warmed Chocolate brownie, followed by a pot of their original blend of rose, Jasmine flower, and mint tea.
Entertainment:
Basically, it sucks, so I did not even bother to watch anything. Here is a menu for the programs offered.
I chose to sleep and work on laptop for this flight.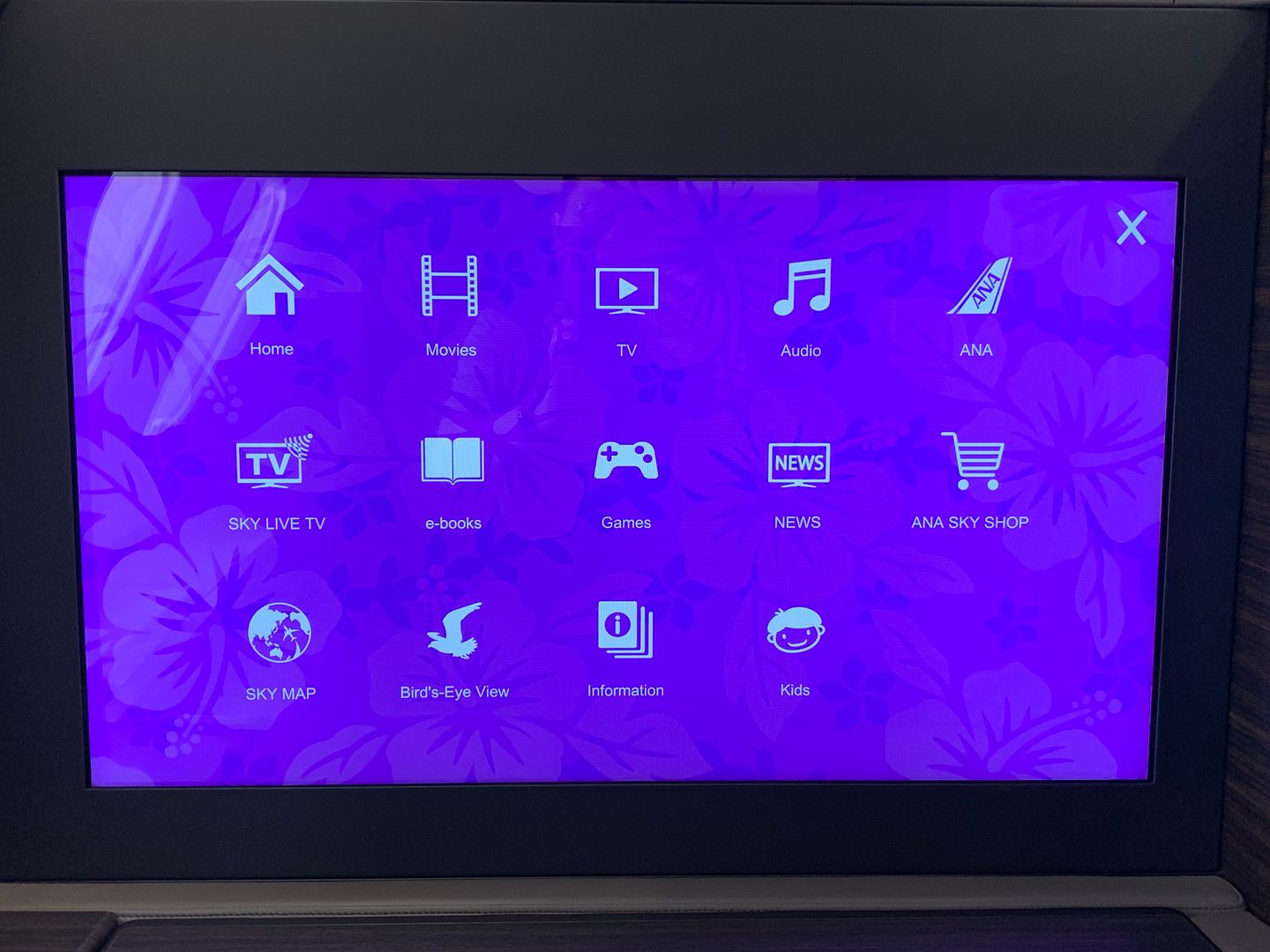 Yes, there is a bar but that space is really not used for anything. On this return flight, they put out a few bottles of wines, but I feel that it is a waste of this space. While I don't think they need to set up a bar like AA on its long-haul flights, it will be nice to have some light snacks like nuts, cookies and chocolates out. You can also put out some juices and soft drinks and additional bottled waters. There are some unique ANA Hawaii snack items that can use some showcases too. What a sad use of this space.
Bed turndown:
The F/A was a bit more creative.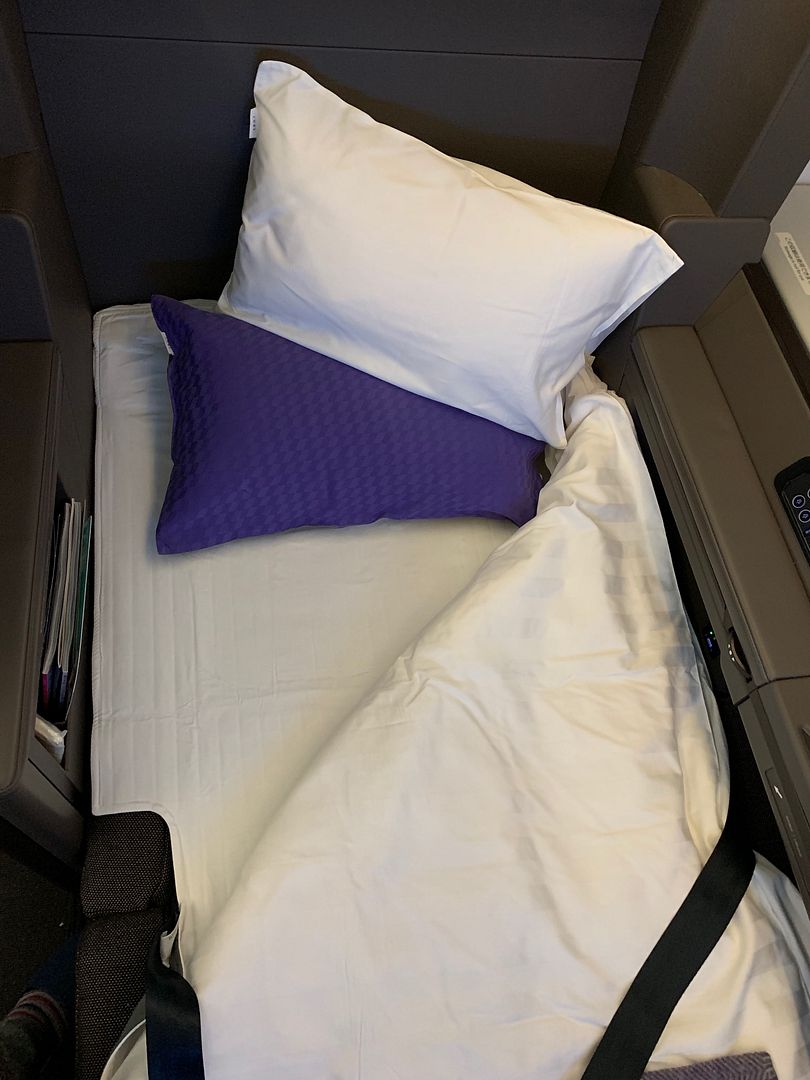 At 5:08pm Hawaii local time/12:08pm Tokyo time, lights were turned back on for the final meal service.
The on-demand menu made more sense this time. This second meal is always tricky for the Hawaii to Japan service. JAL serves this tiny meal in business class with literally half a sandwich and some small sweet. I always have to ask for cup noodles. I like the option of having a heartier or light snack.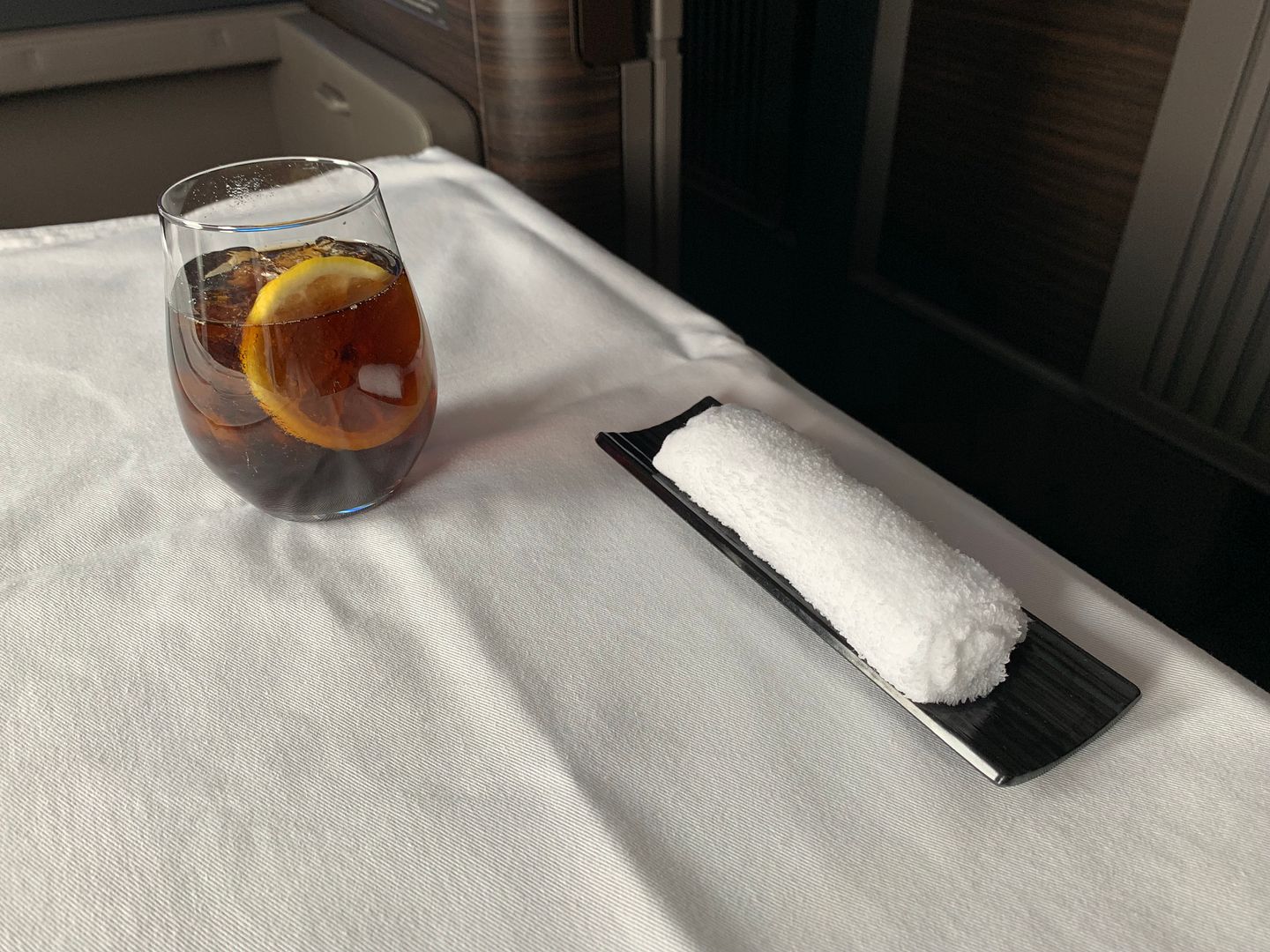 Sake accompaniments
Seared pike conger and yuba bean curd in soy-based ginger sauce
Three kinds of Kagoshima deep-fried fishcake
Soup
Corn Soup
Refreshments
Garden Salad
Served with a choice of dressings
Japanese plum vinegar and daikon radish dressing
Niigata edamame dressing "Japanese green soybeans"
Cheese Plate
Taleggio, Aged Blue, Manchego, Fromager d'Affinois
Fruits
Plain yogurt with plentiful summer tangerine jam
Petits fours
Cereal with Milk
Noodles
Ippudo rich-tasting miso "DAICHI" ramen
Japanese Udon noodles garnished with deep-fried tofu
Light Dishes
Vegetable cannelloni with dried tomato polenta
Angus beef cheese hamburger
ANA original curry and steamed rice
Seafood over steamed rice
Tea-and-rice with seared flounder and sesame sauce
This time, I decided to try the deep-fried Kagoshima fish cake, which was okay. For the main course, I tried the Ippudo's DAICHI Miso Ramen. It was so cute that the F/A even gave me butter to add to the noodles, which was the traditional way of eating Miso Ramen. For dessert, I got the fruit plate, which was wonderful as usual.
After the meal service was completed, the F/A passed around a tray of souvenirs and I got one each: postcard, Lani's baggage tag, and a box of pineapple-flavored breadsticks.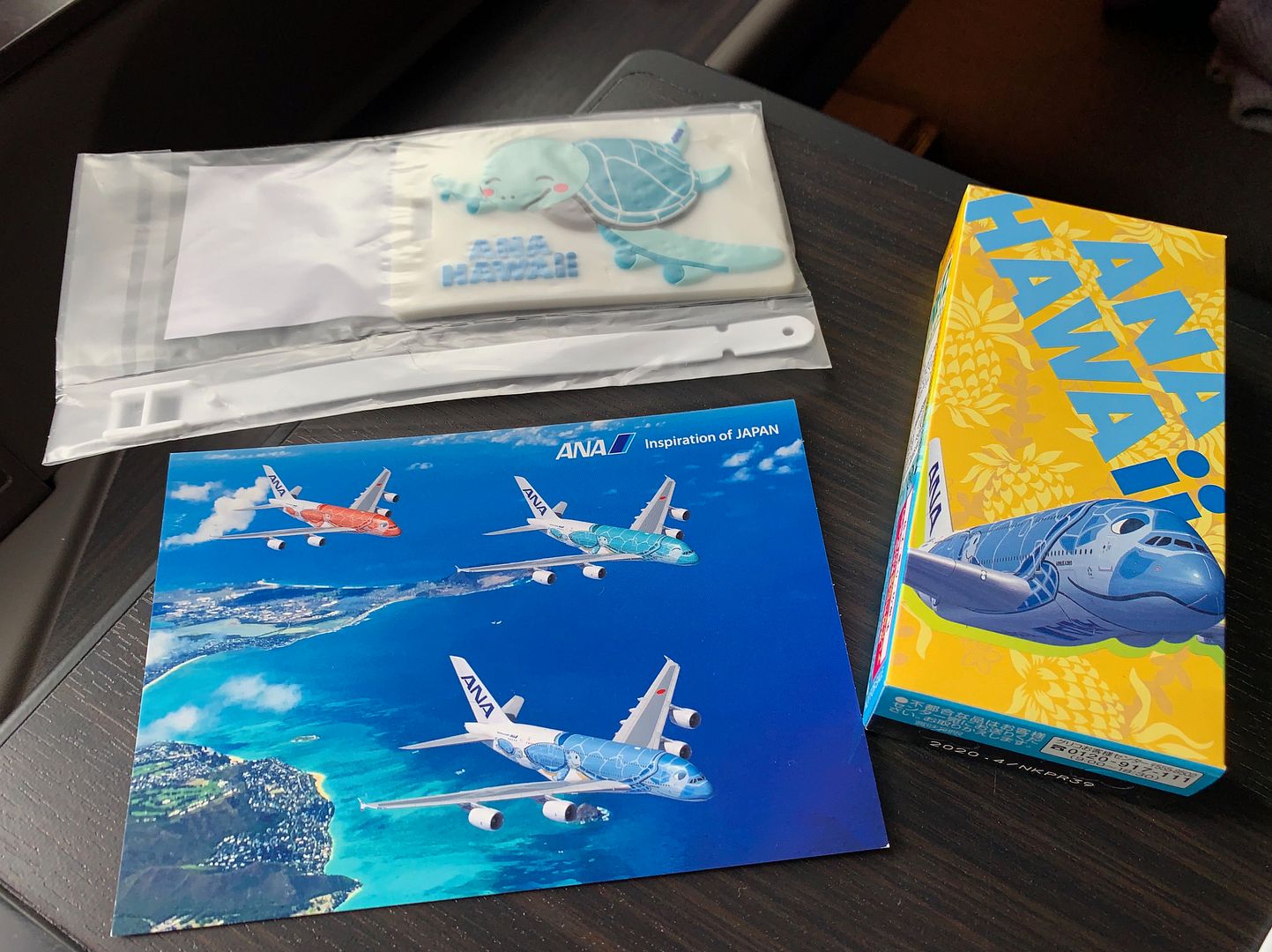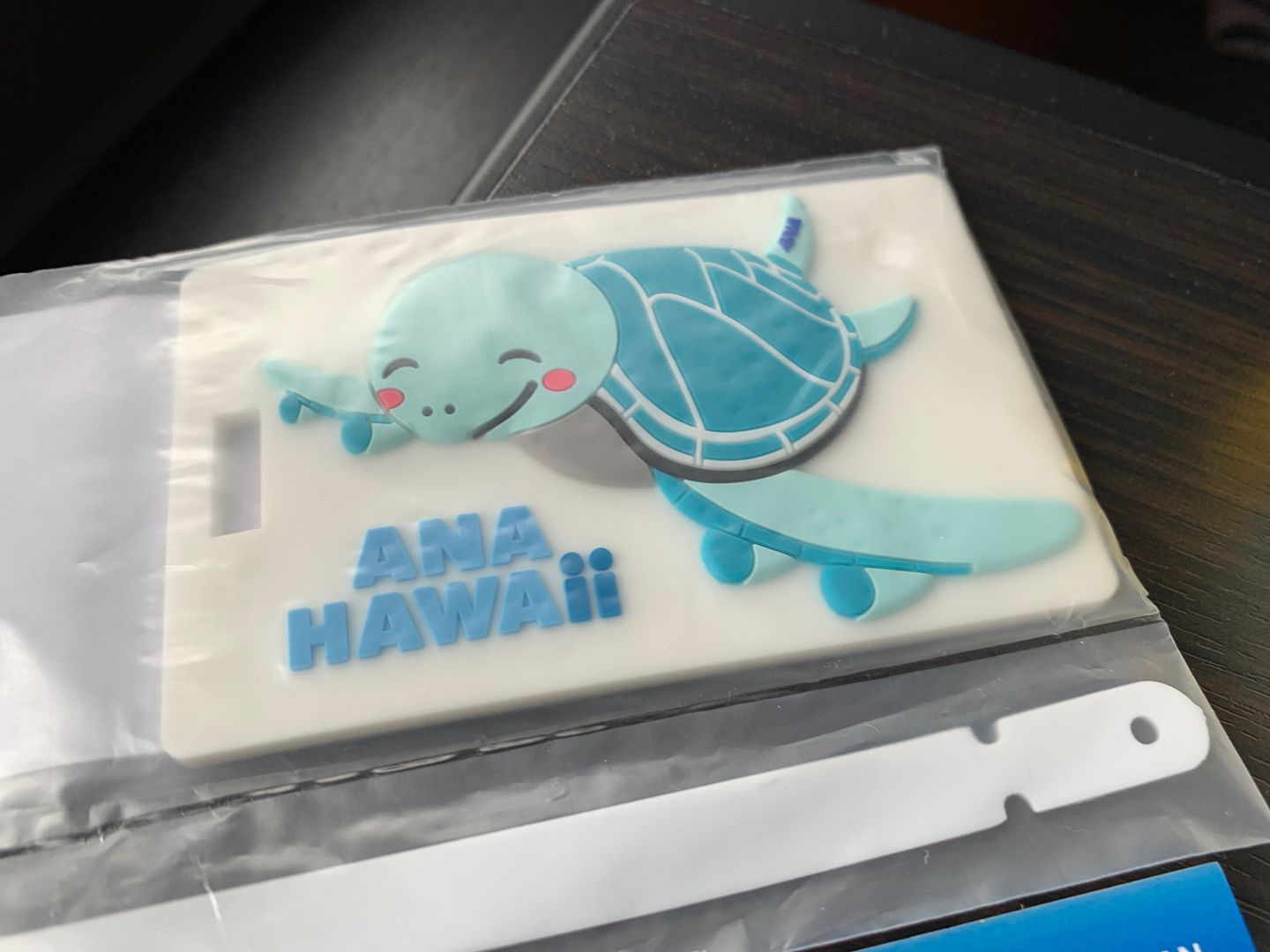 Descent soon began at 1:45pm Tokyo local time.
Finally land again…
We landed at R/W34L at 2:16pm and parked at gate 45 seven minutes later.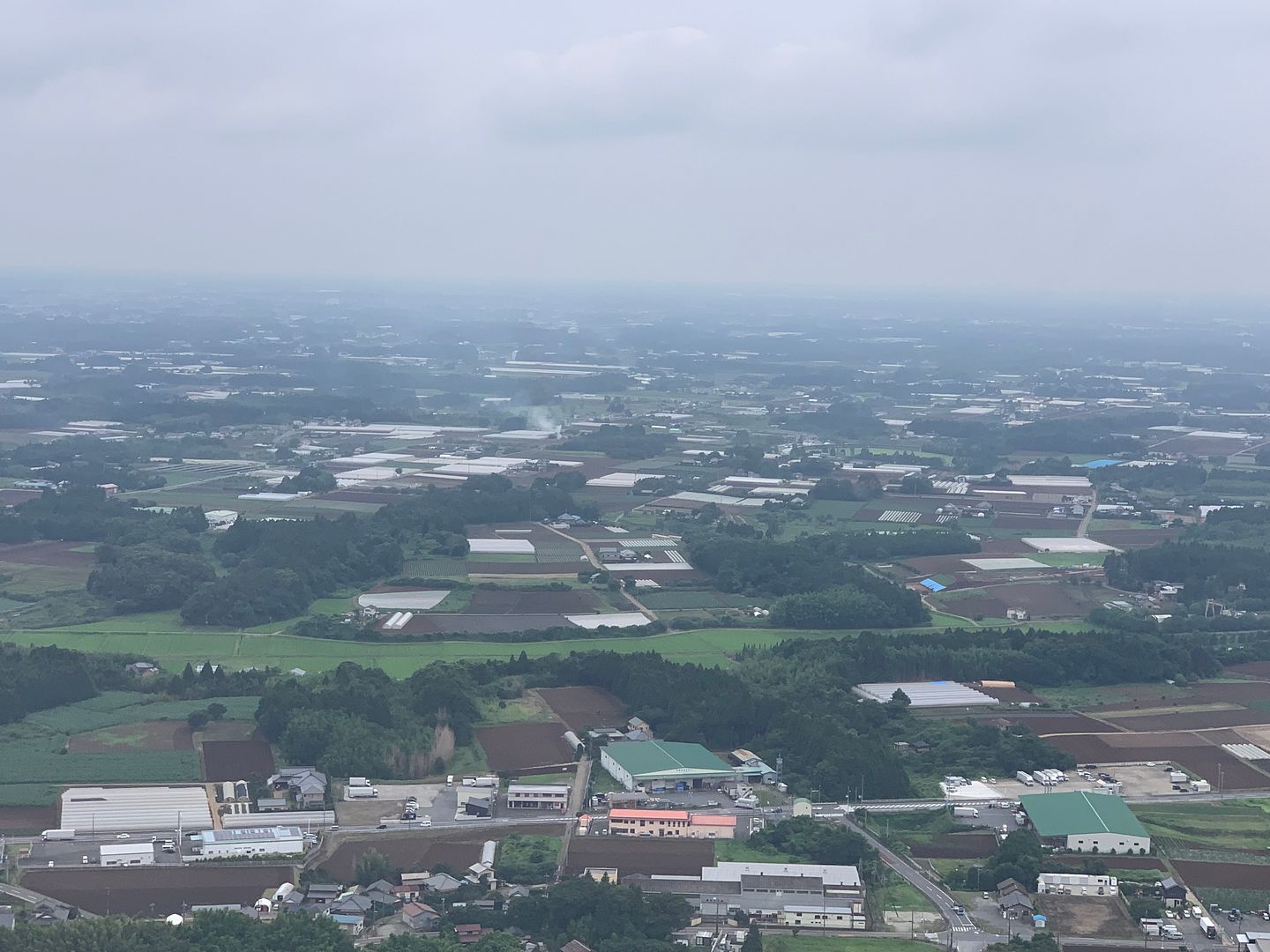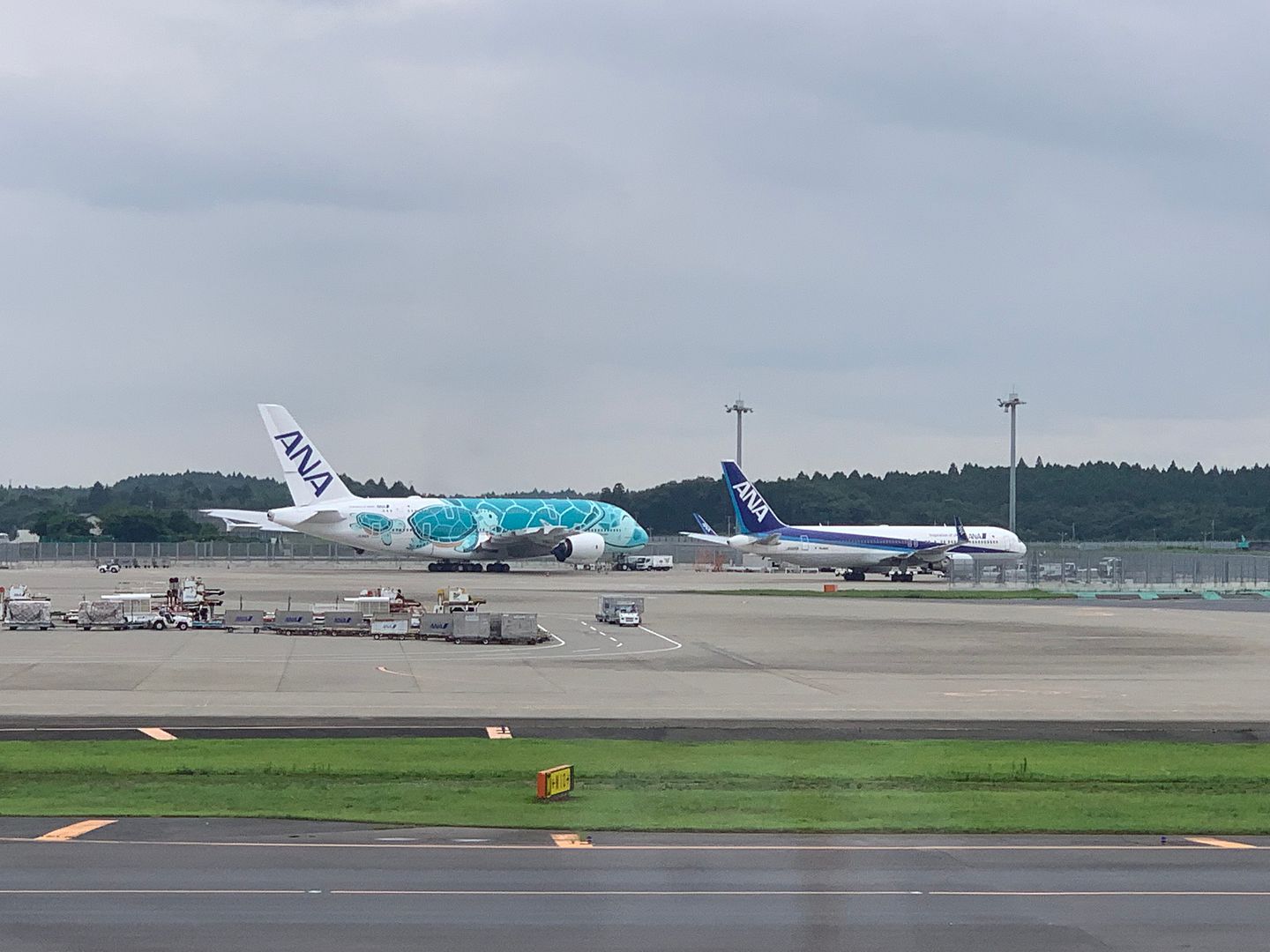 Some cabin shots after arrival
Galley pictures – really interesting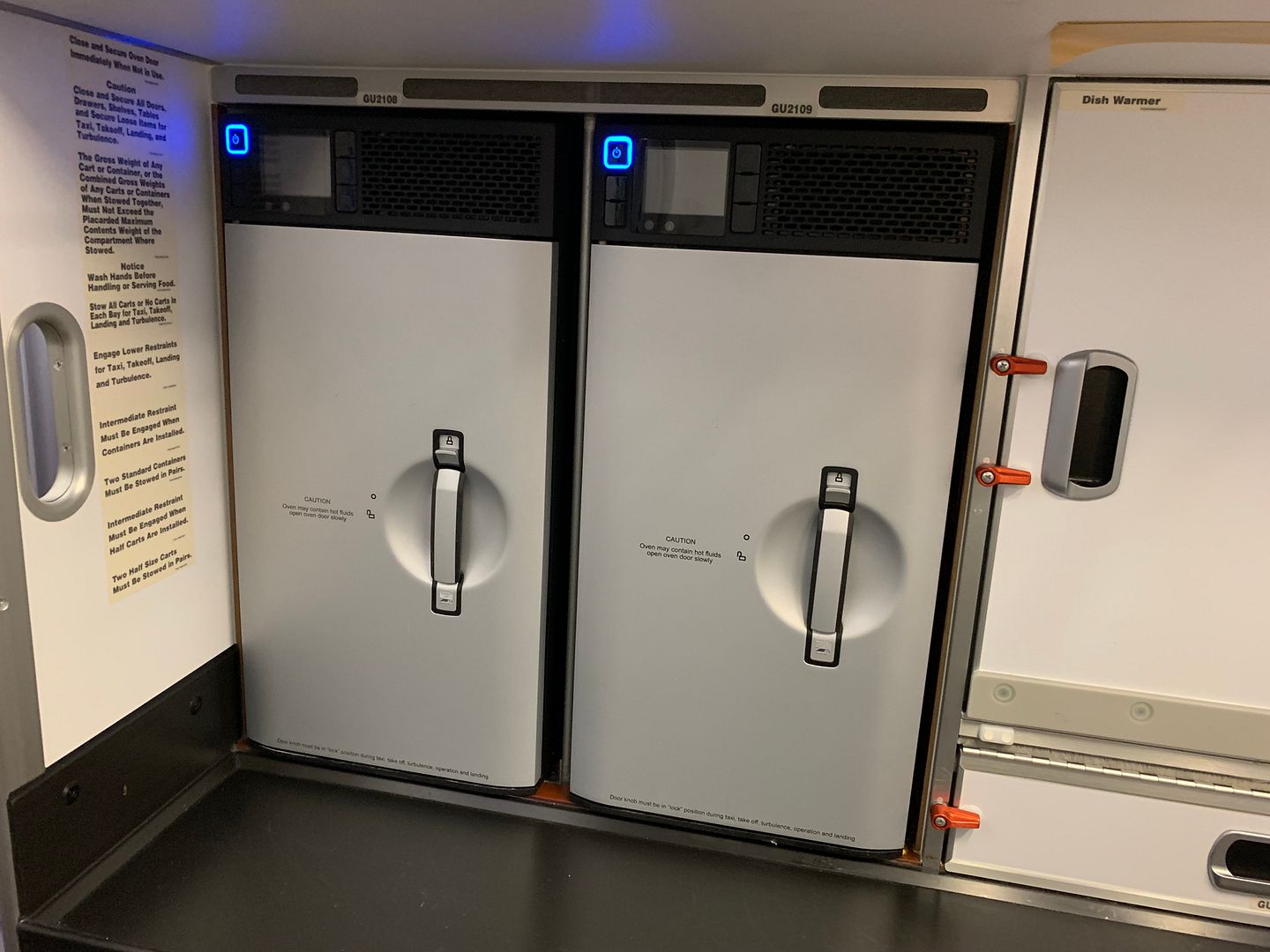 Goodbye Lani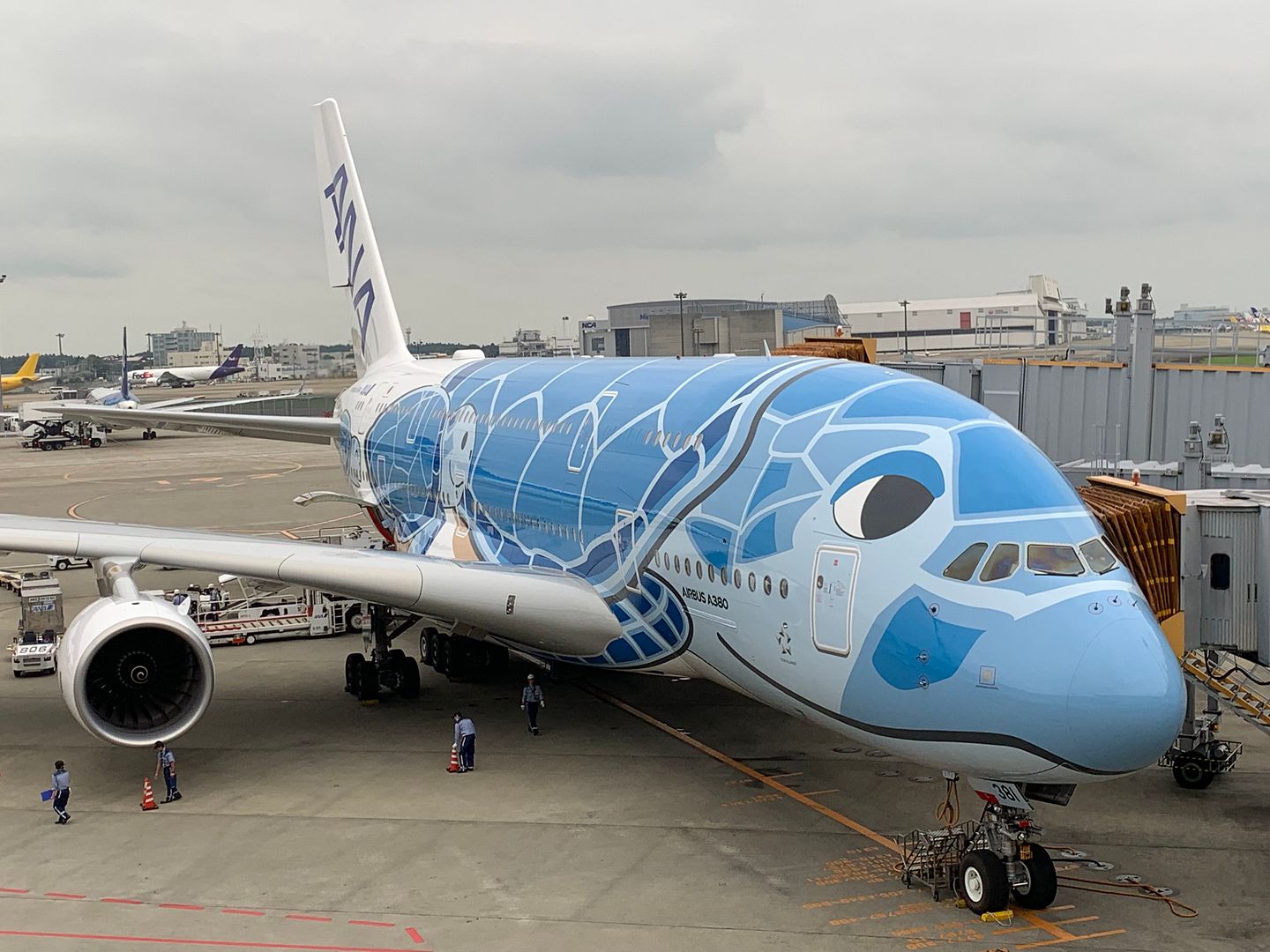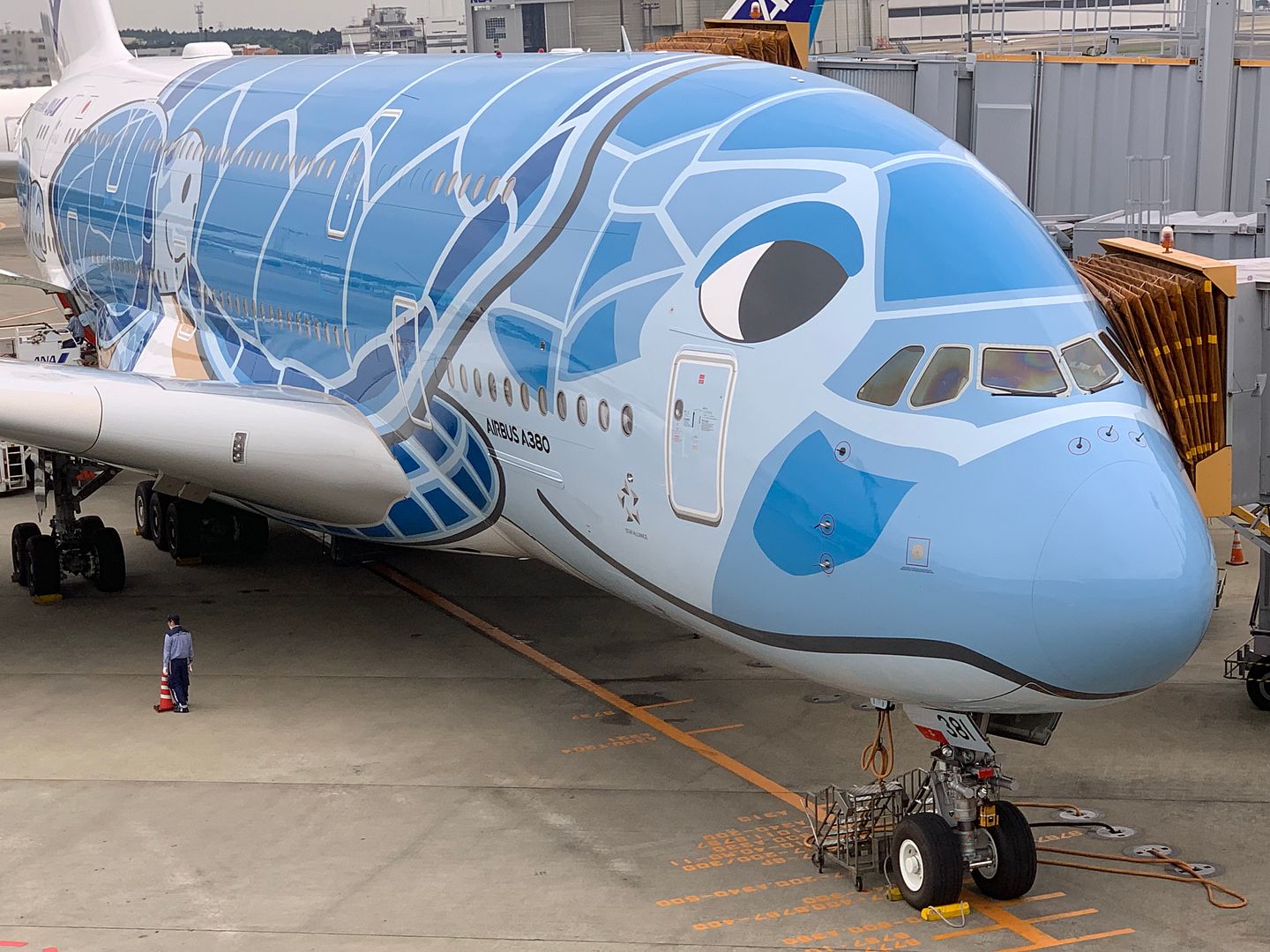 In conclusion, ANA Flying Honu is a fun experience and the $3500 first class ticket is quite a bargain. I think I can try my luck on flying JA382A and JA383A next year, if those fares are still around. There are some issues, such as boarding at Narita, and the catering from Tokyo to Hawaii really needs some twitching. ANA can think about the concept of "breakfast card" and perhaps serving real breakfast food will make sense. These eastbound overnight Hawaii flights were really short and they need to consider serving something easier and taking less time. Perhaps it is time to think about proper dining in the lounge, and just reduced the need to serve a meal onboard. Turbulence is frequent on this route especially for the first part of the flight. With the fun branding, I have a hunch that ANA will do well. I hope you enjoy this trip report. Feel free to ask any questions.
PS. ANA has just announced a new four-class product for its Boeing 777-300ERs. The new first class on the 777-300ERs look pretty much the same as the A380 first class suite, so it will hopefully make this trip report more helpful.
Jul 15, 19, 2:26 am
Join Date: Jan 2013
Location: HNL
Programs: Pt: UA; Au: AA, Marriott, Hilton; Ex-HA Pt (now not), GE
Posts: 5,285
Many thanks for the detailed report! I'm really looking forward to our upcoming trip in NH F.

Three questions: In Narita or HNL, is there a long boarding line for F passenger? Also, where is the airplane,s bar located? Finally, is there a preferred row for F passengers?

Mahalo!

Jul 15, 19, 1:29 pm
Join Date: Oct 1999
Location: New York
Posts: 6,561
Originally Posted by
747FC
Many thanks for the detailed report! I'm really looking forward to our upcoming trip in NH F.

Three questions: In Narita or HNL, is there a long boarding line for F passenger? Also, where is the airplane,s bar located? Finally, is there a preferred row for F passengers?

Mahalo!

The line for first class was never too long.
The long line photed was the business class line in NRT.
Since they board directly from the lounge at HNL, it should be okay.
I think Row 1 is perhaps better because you are further away from the galley.
The bar is in front of first class cabin, but they don't use it, so it does not matter.
Carfield
Jul 15, 19, 1:41 pm
Join Date: Jan 2013
Location: HNL
Programs: Pt: UA; Au: AA, Marriott, Hilton; Ex-HA Pt (now not), GE
Posts: 5,285
Originally Posted by
Carfield
The line for first class was never too long.

The long line photed was the business class line in NRT.
Since they board directly from the lounge at HNL, it should be okay.

I think Row 1 is perhaps better because you are further away from the galley.
The bar is in front of first class cabin, but they don't use it, so it does not matter.

Carfield
Thanks. One more Q: Is there ample overhead storage that accommodates everyone's rollaboards and personal items? I would prefer to relax in the lounge and board F late if I don't have storage concerns.
Jul 15, 19, 9:43 pm
Join Date: Oct 1999
Location: New York
Posts: 6,561
They have no overhead bins in the center, but they have overhead bins by the windows. For A380, there are also additional storage bins on the side too.
I think there are plenty of spots for carry on bags!

Carfield