Singapore, Bangkok, and a First Class Round the World for the ages
Jul 5, 19, 1:32 pm
FlyerTalk Evangelist
Join Date: Nov 2007
Location: LAX-SNA
Programs: BA Gold, AF/KL Gold, UA 1K, AA 2mm LT PLT
Posts: 19,219
Singapore, Bangkok, and a First Class Round the World for the ages
---
It's been more than a year since
batmandds
and I enjoyed our last RTW. This year, we've decided to try some new First Class products including Singapore's new A380 First Suites. And with our better halves surprisingly agreeing to 4 day hall passes, we are off on a decadent culinary and flight odyssey that includes Singapore First, Thai A380 First and Air France 77W La Premiere. The culinary highlights of the trip is our day in both Singapore and Bangkok where we'll enjoy an early brunch at the Maxwell Food Centre and later that day, a 25 course tasting menu at iconic Gaggan in Bangkok. Now in its fifth year as Asia's
#1
restaurant, Gaggan just moved up to
#4
in the world. From theworlds50best.com...
ANA First Class LAX to Haneda
We decided to rendez-vous in Shanghai to experience Singapore's new A380 First Suites to Singapore. While
batmandds
is flying LAX-PVG in the new Delta One A359 Suites, I found an ANA First Class award seat on their 1am LAX-Haneda 77W, and a Business Class SkySuite award seat on JAL's NRT-PVG 787. Not much traffic on the 405 at 10pm tonight but the LAX access roads were jam packed. I gave up on trying for the T4 garage and parked in the T3/TBIT garage.
Since I had checked in online and had my boarding passes, I bypassed the counter and headed directly for PreCheck or so I thought. Missed the PreCheck closing by 15 minutes and then wasted another 20 minutes at the other end of security with the masses since there was NO PRIORITY LANE for Business or First Class.
Up to Level 6 and the Star Alliance Lounges. My first stop was the Star Alliance First Class Lounge which is First Class in name only.
Pleasant staff but there is nothing special about this lounge as it has no view, weak serve yourself food options and/or a limited cook to order from a ratty old menu. The annoyingly loud father/daughter face-timing completed the ambience tonight. LOL. I did a round of pics...
... and then headed for the much more pleasant Business Class Lounge.
The large main part of the lounge.
One of the really cool features of the Business Class Lounge is the outdoor terrace.
Another great feature is the concourse terrace...
At T-45, I headed out for Gate 154.
---
Last edited by SFO777; Jul 7, 19 at

12:05 am
Jul 5, 19, 1:32 pm
FlyerTalk Evangelist
Join Date: Nov 2007
Location: LAX-SNA
Programs: BA Gold, AF/KL Gold, UA 1K, AA 2mm LT PLT
Posts: 19,219
ANA All Nippon NH 105
Los Angeles LAX to Toyko Haneda HND
777-300ER
1:20am-4:50am +1 (sked)
1:40am-4:39am +1 (actual)
July 1, 2019
First Class
Departed 3/8
Suite 2A
As if a 1:20am departure isn't bad enough, boarding was delayed 20 minutes until 1:10am or so.
First Class was invited to board just after a couple dozen "passengers with children under two and those needing a little extra time". We all boarded thru 2L and as soon as the greeting flight attendant saw my boarding pass, she escorted me to my 2A. Nice cabin although the ANA square is not my favorite seat. Excellent privacy but who needs a wall of storage in front of the window?
As I settled in, our two wonderful First Class flight attendants and the Purser stopped by to welcome me. And so began nearly 11 hours of exceptional service.
IFE was just OK, although the selection of western movies and music pretty weak. I wound up watching the best of a bad lot... The Devil Wears Prada and The Accountant both for what has to be close the 20th time each.
With the late push and taxi, we here wheels up at 2am. Despite the late hour, I decided to sample the menu and then sleep.
Not sure where the champagne glasses were, but this glass holds more anyway. LOL.
Tonight's menu with a variety of light dishes, which seemed appropriate given the time of day.
And respectable wine and beverage menu...
The amuse bouche starters were excellent.
My first dish was the IPPUDO rich-tasting miso "DAICHI" ramen. Wow, this was spectacular and way more filling than I had assumed. And more Krug.
Like I really needed another dish but took one for the team with the ANA curry and steamed rice. With more Krug. Delicious!
One of the First Class flight attendants persuaded me to try some sake before bed.
Since there were only two other passnegers in First, we each had our own separate beds across from our seats. My 2D...
I got five hours of airplane sleep, maybe 3 hours of solid sleep and then 2 hours of meh sleep. I worked for a few hours and watched The Accountant. At around T-90, breakfast. The Cheese scrambled egg crepe roll with supreme sauce was really good.
Despite the late departure from LAX, we arrived at the gate a few minutes early. All in all, an excellent flight. Great service, food and drink. And one of the flight attendant even lowered the cabin temp to +20/68when I asked.
And really close to customs...
... where at 5am there wasn't much of a line.
My Blacklane driver was waiting for me as I exited customs and we were on the road to Narita by 5:25am.
---
Last edited by SFO777; Jul 7, 19 at

12:11 am
Jul 5, 19, 4:25 pm
Join Date: May 2008
Location: San Francisco
Programs: GM on VX, UA, AA, HA, AS, SY; Budget Fastbreak
Posts: 4,705
Fabulous!
excited to read this full report. Gorgeous pictures!
I really detest when airlines lack a priority lane for F while in 2012, Air France's very generous Sky Priority meant very short lines for immigration and check-in while only sitting in Premium Y.
Jul 5, 19, 7:12 pm
Join Date: Jul 2011
Location: In between IAD and DCA
Programs: UA Plat 1.1MM , Marriott Gold Elite, Hyatt Discoverist
Posts: 2,088
"Air France 77W La Premerie to SFO"
"American Eagle First Class to LAX"

Ouch! Talk about a rough drop off! That's like going from managing director at BlackRock to a bank teller at Wells Fargo.

Great report as always. I am looking forward to the rest. I knew this would be a good one. Thanks for sharing, as always.
Jul 6, 19, 11:18 am
Join Date: Jun 2009
Location: Geneva, Dubai, Paris
Programs: Disillusioned Cent
Posts: 1,842
I was at the Maxwell Food Center in April and at Gaggan just three weeks ago for the 25-course emoji tasting menu at the Chef's Table and I can safely say that you're in for a treat...
Looking forward to reading your impressions on all of it!
Jul 6, 19, 4:15 pm
Join Date: Oct 2015
Location: St. Paul, MN
Programs: Delta GM, IHG Gold, HH Silver
Posts: 332
SFO777 - As always, an amazing report so far and I have been looking forward to seeing this new one since you posted about it on your website! Looks like you had a great flight with ANA - I have read a few reports about them and they look like they offer a great product. Thank you for sharing!
Jul 6, 19, 6:14 pm
FlyerTalk Evangelist
Join Date: Nov 2007
Location: LAX-SNA
Programs: BA Gold, AF/KL Gold, UA 1K, AA 2mm LT PLT
Posts: 19,219
RoxyMountain.


Thanks so much gaobest. I appreciate it. There is no excuse for this at LAX. It's not a one off since I had the same problem last time a few months ago since Qantas is too cheap to sign up for PreCheck.

UAL250. What a difference. Truth be told, the Eagle flight was pleasant for a 50 minute flight. And I got to see an amazing display of 4th of July fireworks (some legal, many not), thousands of them on approach to LAX.



JohnRain. OMG, Gaggan was an absolute treat. We were fortunate to be at the Chef's Table as well. Would it be going too far to use the words mind-blowing, life changing? LOL. What fun.

757. ANA is solid despite the weird square suite. Just don't understand the logic on that one.
---
Last edited by SFO777; Jul 6, 19 at

6:30 pm
Jul 6, 19, 6:17 pm
FlyerTalk Evangelist
Join Date: Nov 2007
Location: LAX-SNA
Programs: BA Gold, AF/KL Gold, UA 1K, AA 2mm LT PLT
Posts: 19,219
Japan Airlines New First Class Lounge at Narita
With very little early morning traffic, we arrived at Narita Terminal 2 at 6:20am, about 90 minutes after landing at Haneda. The place was eerily quiet.
And then I found out why. The JAL counters don't open until 7am. LOL. After confirming that I was One World Emerald, she invited me to sit inside until the counters opened.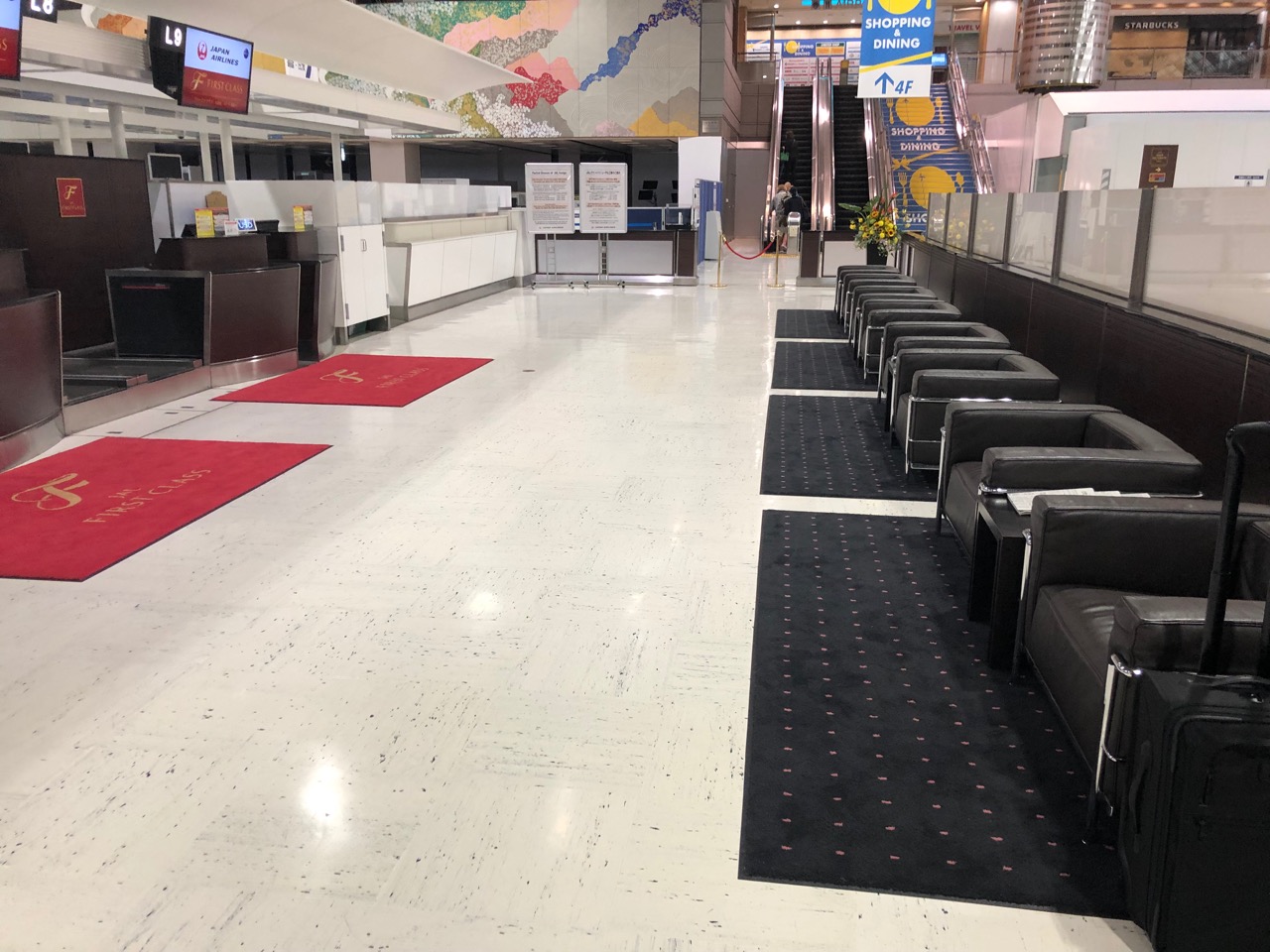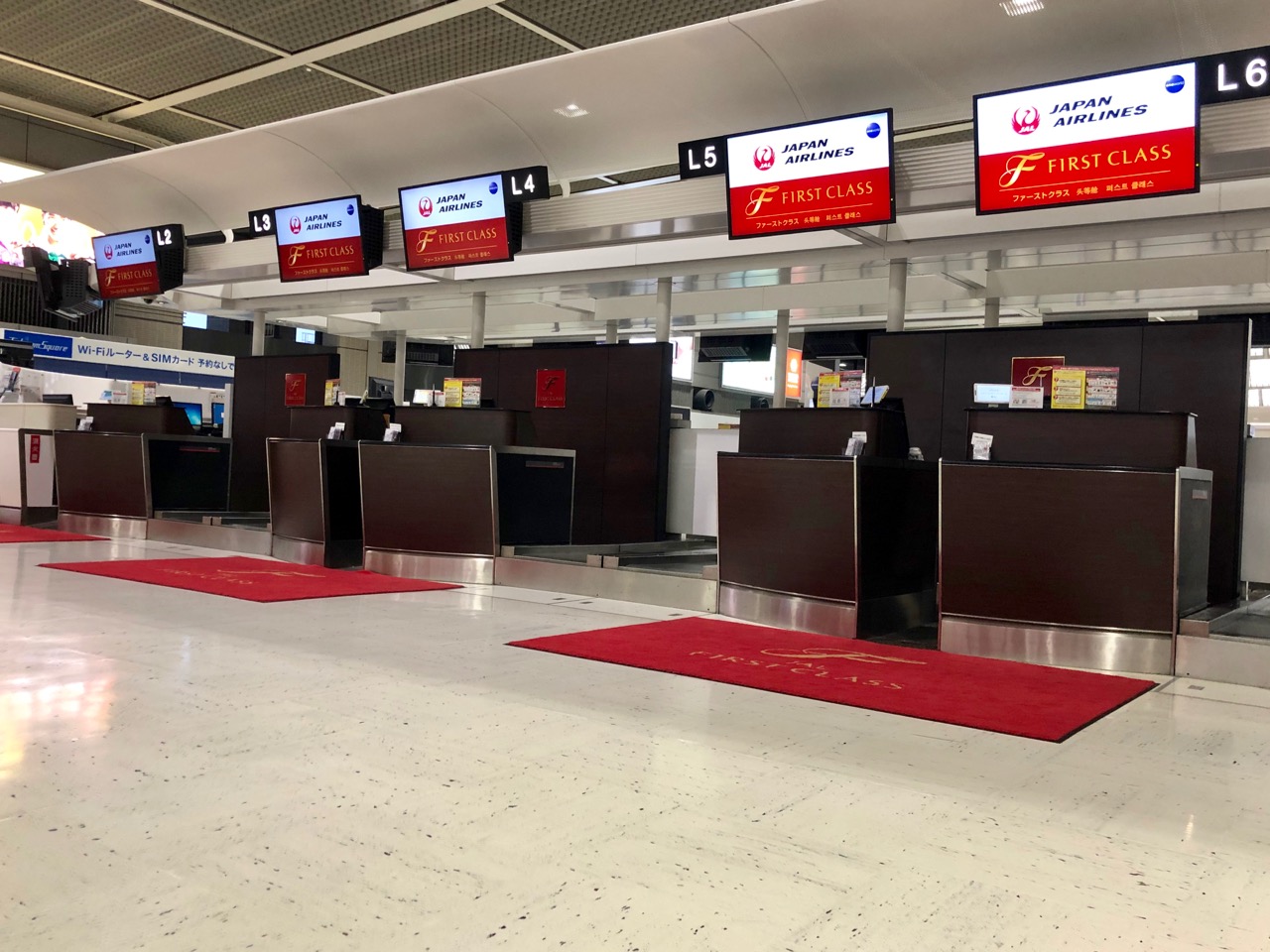 Although the JAL counters open at 7am, security or at least security at this end of T2 doesn't open until 7:30a. When Priority security did open, there was no one in line and I was thru in no time.
Directly after security is the newly renovated JAL First Class and Sakura Lounge. The old First Class Lounge was pretty depressing and in need of a make-over.
The new First Class Lounge is upstairs on Level 4.
Much of the lounge seemed to be food and dining related and seemed to be an improvement over the old lounge. But gone were the nice tarmac views of the old lounge.
I headed for a quiet seating area while I waited for my turn in the showers.
Some nibbles while I waited for the pager to signal that a shower was available.
Once my pager went off, it was a rather circuitous route to get to the shower which was actually located in the Sakura Business Lounge two floors below.
By the time I had finished my shower, it was close enough to boarding that I decided to go to the gate.
---
Last edited by SFO777; Jul 7, 19 at

12:14 am
Jul 6, 19, 6:18 pm
FlyerTalk Evangelist
Join Date: Nov 2007
Location: LAX-SNA
Programs: BA Gold, AF/KL Gold, UA 1K, AA 2mm LT PLT
Posts: 19,219
Although Gate 65 looks close numerically, it's at the far end of the concourse and nice healthy trek.
Tokyo NRT to Shanghai PVG
Japan Airlines JL 873
787-9
9:40a-12:00p
July 2, 2019
Business Class
Seat 3K
Boarding began promptly and efficiently 20 minutes before departure, at 9:20am.
Massive Business Class cabin on the 789 that actually extends into two cabins. I chose 3K in what turned out to be a sparsely booked front cabin.
Color me spoiled by First Class cabins, but this seat seemed to be tiny.
And the seat not that comfortable. I can't imagine 12 hours in the one.
IFE technical quality was excellent. Unfortunately, more dismal movie selections.
After take-off, our wonderful cabin crew jumped into action. Today's menu.
Wow, the Japanese menu looks outstanding.
The Western Menu, not so much.
My usual G&T to start.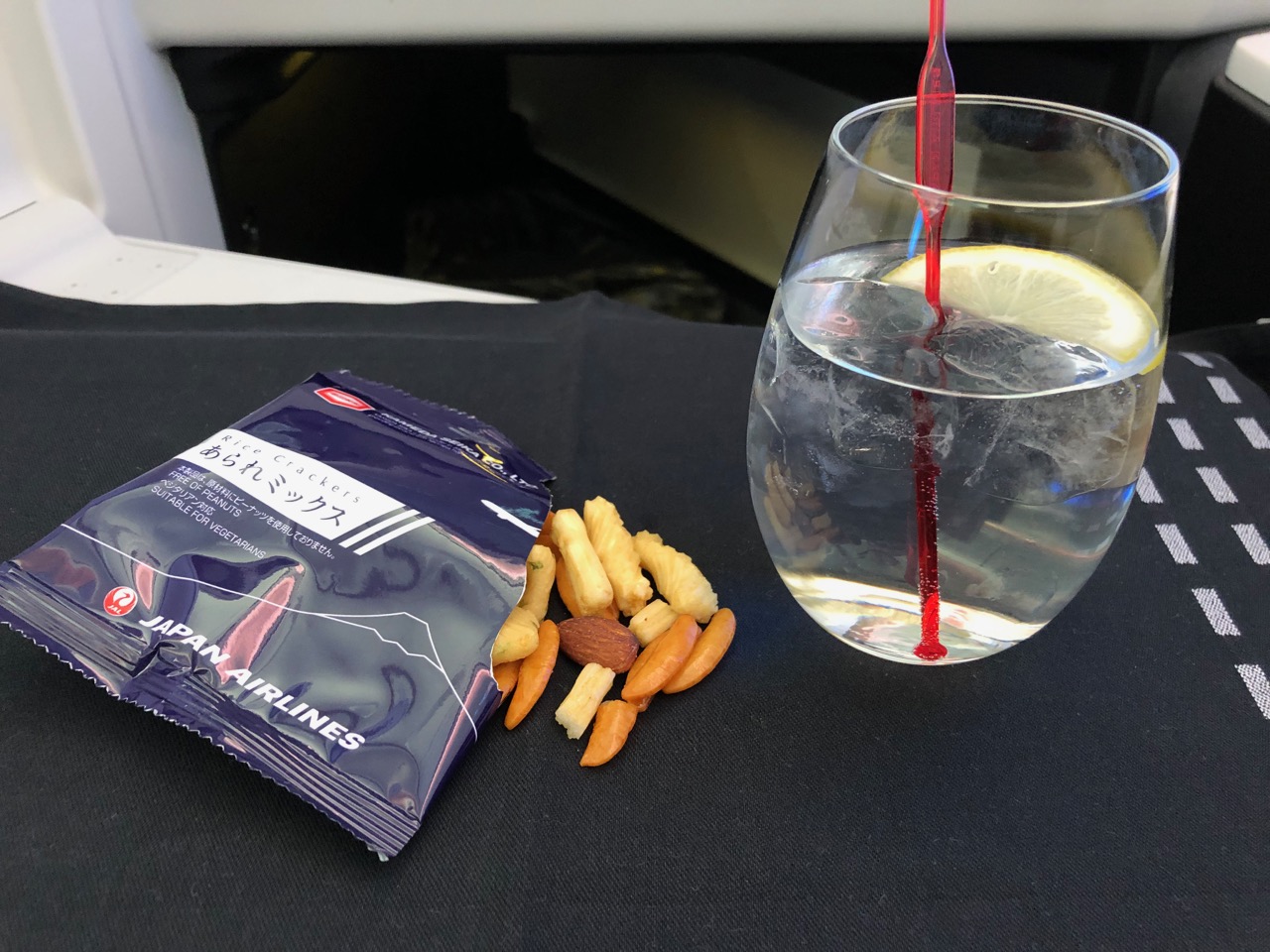 And my Japanese meal. Gorgeous presentation.
Wow. This meal was sensational. Certainly one of the best Business Class meals I can recall... and on a short 2.5 hour regional flight.
We landed at PVG on time.
And pulled into our gate at Terminal 1 right on time.
All in all, a very impressive flight with great service and food. And a bargain at only 15,000 Avios.
---
Last edited by SFO777; Jul 8, 19 at

8:29 pm
Jul 6, 19, 10:25 pm
Join Date: Apr 2017
Location: DCA
Programs: Marriott GLD; Hilton GLD; Free Agent (former AA PLT/US GLD)
Posts: 1,168
Thanks for posting! We've got a trip on the books involving NH F, TG F, Gaggan, and the same JL J (the Skysuite III) product that you shared, it's great to get a recent review of everything.
Jul 7, 19, 6:09 am
Join Date: Jul 2013
Location: JNB
Programs: Flying Blue, Miles and Smiles, Hhonors, ICHotels
Posts: 1,100