WestJet's Boeing 787-9 Transatlantic [LGW-YYC] Business Class Experience
Jun 24, 19, 7:52 pm
Join Date: Oct 1999
Location: New York
Posts: 6,568
WestJet's Boeing 787-9 Transatlantic [LGW-YYC] Business Class Experience
---
WestJet's Boeing 787-9 Transatlantic Business Class Experience
WestJet has recently introduced a real business class on its transatlantic network, and its ambitions in becoming a major Canadian carrier is fully in display with its new three-class international service with real business class product, as well as an enhanced premium economy and economy class product. Free meals are offered in all cabin classes now on all the 787's transatlantic flights. From what I read online, it has been a learning curve for WestJet on this ambitious launch. My own experience last week was actually fine and the main meal was served within two hours after takeoff, but the flight had 11 F/As, including three F/As dedicated to business class. The service was exemplary and the F/As could not be any friendlier and personal, but I felt that it is still a work in progress. Despite using the same seats as Virgin Australia, I feel that the customized version used by WestJet is tighter and I have issues in the lie flat positions because there was no space for my feet. The ground experience in Gatwick was just un-premium and premium passengers should not be forced to use the kiosk, tag and drop off their bags. A business class ticket requires some of kind of personal interaction and that first impression is important. The lounge at Gatwick is basically a joke. I am still not sure why WestJet starts boarding so early – an hour and two minutes prior to departure. However, I really see lots of potential with WestJet's product after a few minor tweaks.
Full album link:
http://s1213.photobucket.com/user/Ca...usiness%202019
June 20, 2019
WS 2 London Gatwick to Calgary Lv1340 Arr1552 Boeing 787-9 C-GURP
It was a beautiful day here at Gatwick.
I spotted the inbound flight arriving from Calgary early at 11:20am. It was not a good picture, but at least I saw it from my hotel room at Sofitel at Gatwick.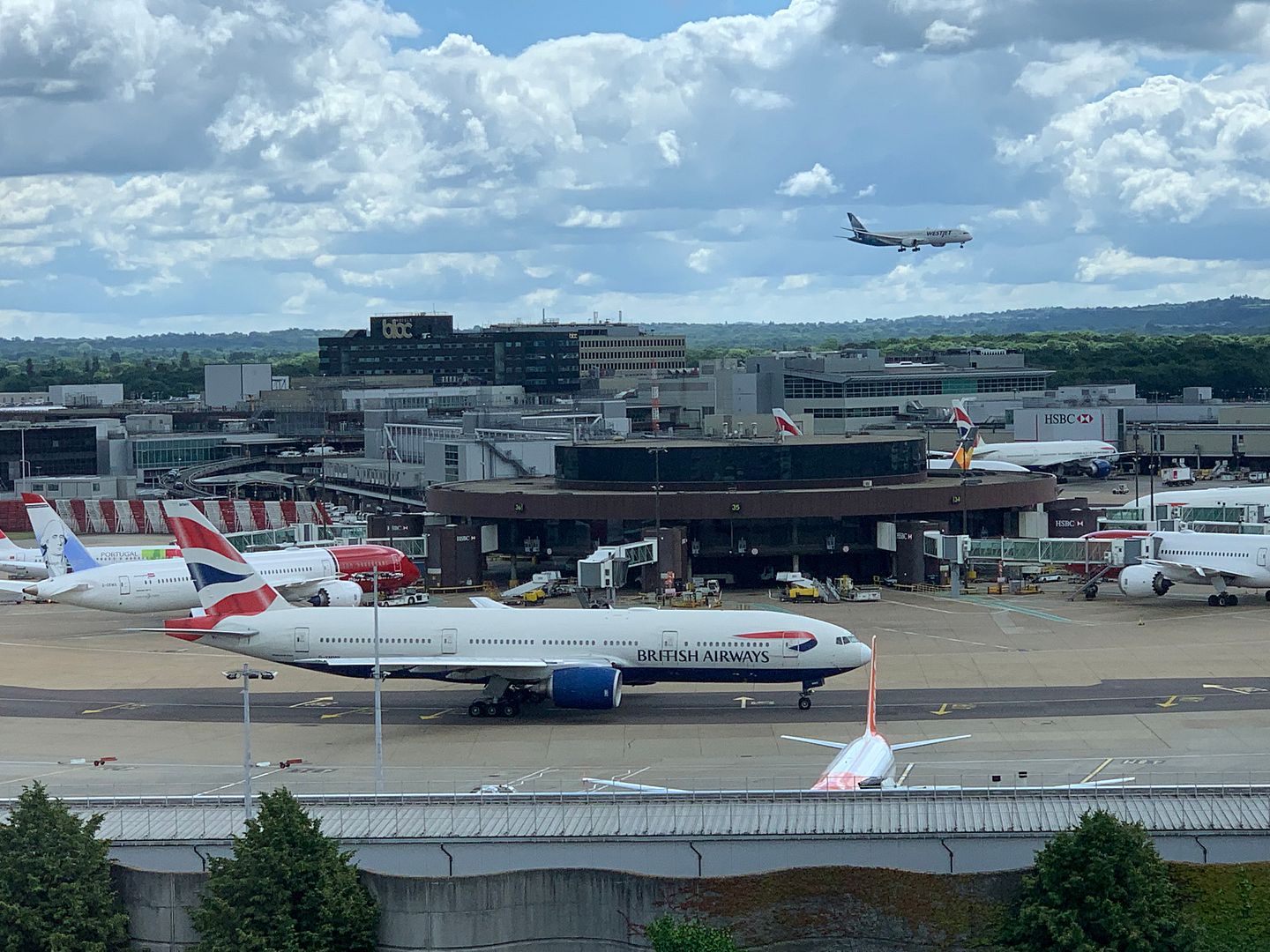 Check-in: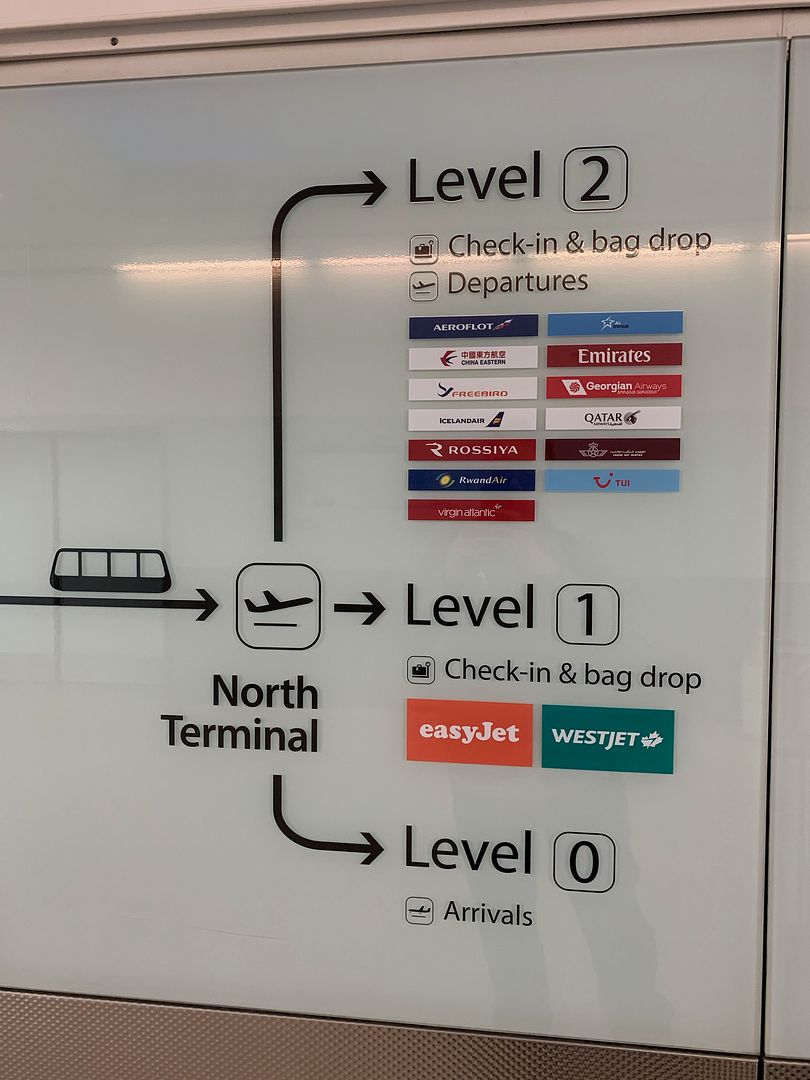 WestJet uses North Terminal at Gatwick, and tis check-in counters are located in level one next to EasyJet.
For WestJet's operation here at Gatwick, everything was automated. Despite there is a separate area for premium passengers, including business & premium [economy] passengers, and top tier WestJet elite members, you are expected to use the kiosk, print your own boarding pass, tag your own bags, and drop them off. Since one of the kiosks was out of service this afternoon, the staff checked me in personally. Despite my connection flight to San Francisco was the next day, the agent checked my bag all the way to San Francisco and gave me both boarding passes. She told me that I did not need to pick up the bags at Calgary. I was a bit doubtful but later when I got to Calgary, I made a stop at the baggage desk, the friendly agent told me that the Gatwick agent was correct and I did not need to worry about it being in the connection area overnight. She also offered me that she could ask the baggage staffs to send it to the baggage claim now if I wanted to. She even told me if I wanted the bag later, I could go to the domestic area and request them to send the baggage down. And I indeed got my bag at SFO the next afternoon.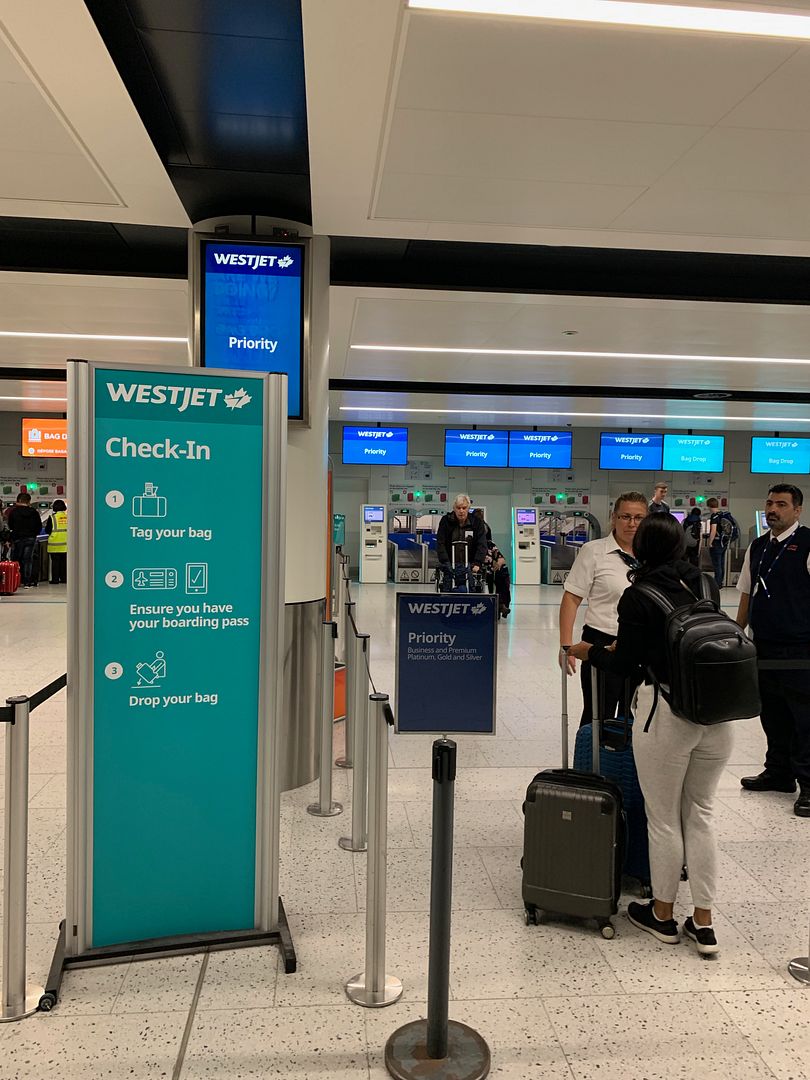 Bag drop station – these are not check in kiosks and they did not print out bag tags. You had to do it at the kiosks first.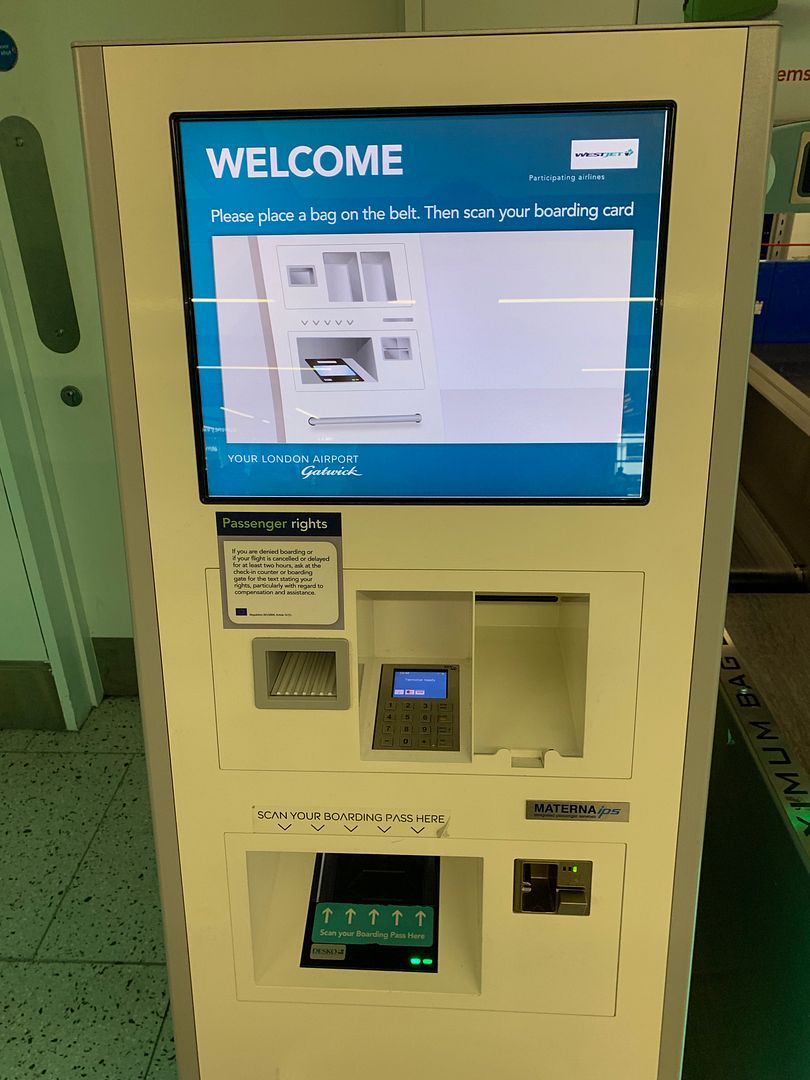 The staffs were friendly but for a truly premium experience, self-check-in achieves quite the opposite. It is a very impersonal experience and if WestJet wants to have a truly full-service premium experience, you need to change the premium check-in into a traditional one. They need a separate business class check-in area and for only 16 guests, they can just set up a small counter on the side. If WestJet is serious about a real business class product, things start from check-in.
Security:
WestJet's business class passengers did not get fast track (well if they provided it, it was not labeled in the boarding pass, or no staffs told me about it), but the usual line was not too bad, even though it was fairly busy.
Lounge:
WestJet uses No. 1 Lounge, which is anything but number one of anything. Many airlines, as well as priority pass passengers, use this lounge. Even though the lounge is fairly large, including a zone called "Library" that does not allow small children, the place is still like a zoo. I was thankful for a nice quiet spot at the library. Food selection includes hot soup, which was a carrot and split pea soup this afternoon, a salad bar, Macaroni and cheese, sweet potato curry with spinach basmati rice, and some kind of chicken stews, along with cookies and cakes. The food was fairly good but they ran out of forks. Eating the meals with a spoon is not really premium. After a quick meal (just in case of not getting my meal till three hours after takeoff), I decided to head to the gate.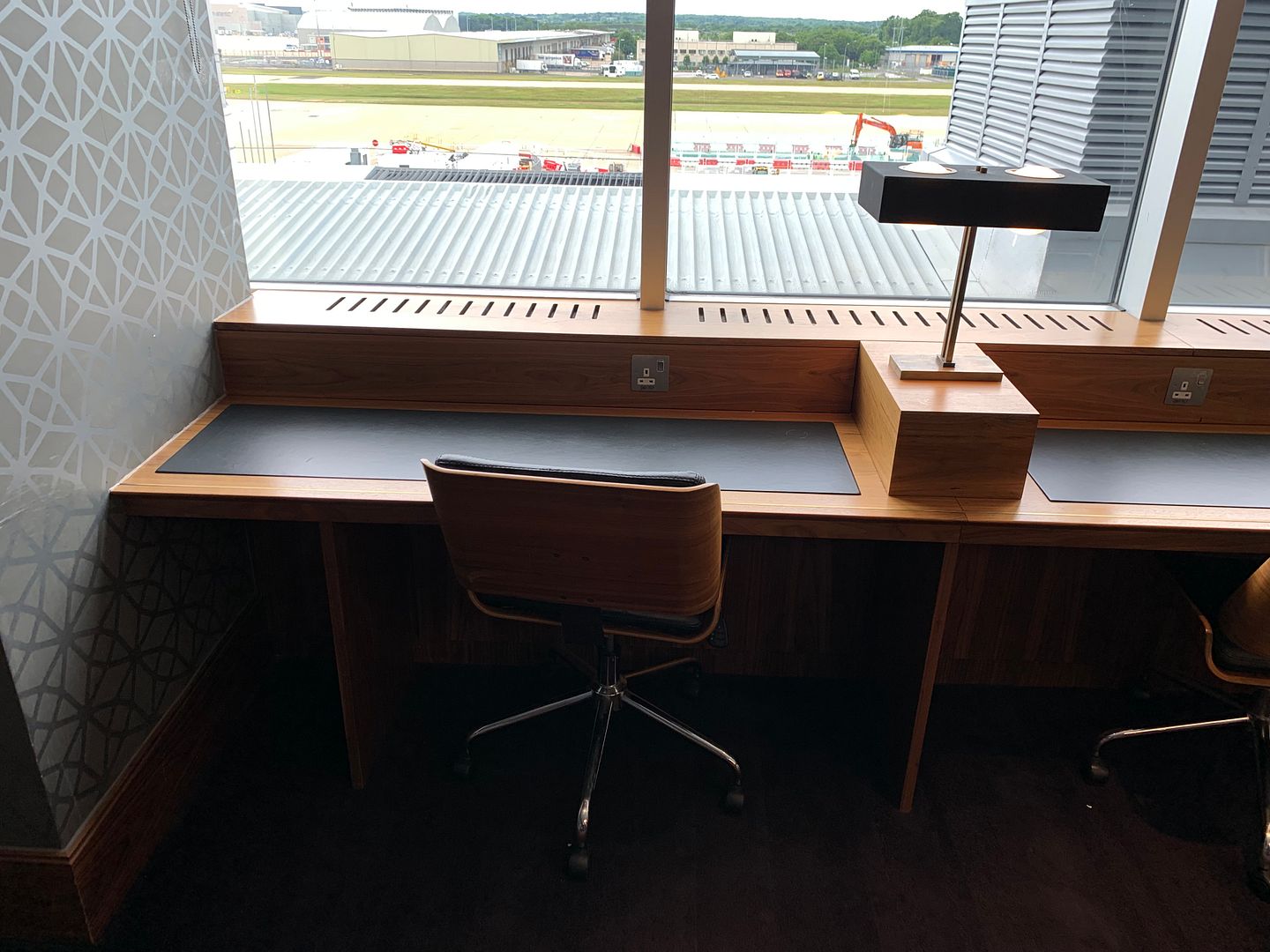 Boarding:
Boarding began really early and they were already calling special needs passengers an hour and ten minutes prior to departure. For business class, they called us at 12:28pm and I was the first one joining the line.
Gate 52 was our gate this afternoon. It really did not allow too many great pictures.
Some quick cabin shots:
Economy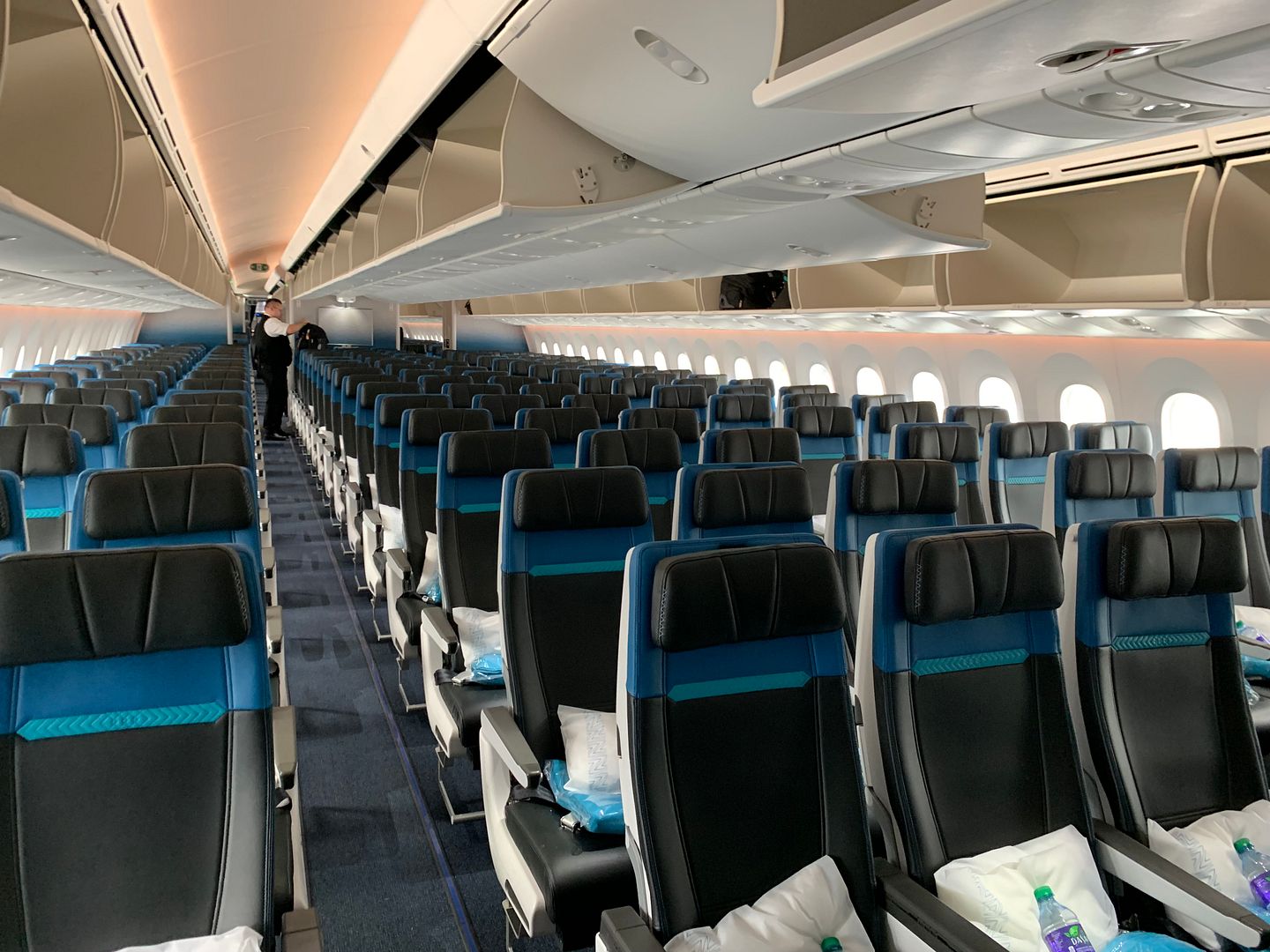 Premium Economy – right behind business class
Bulkhead seats have the most legroom but there were no windows.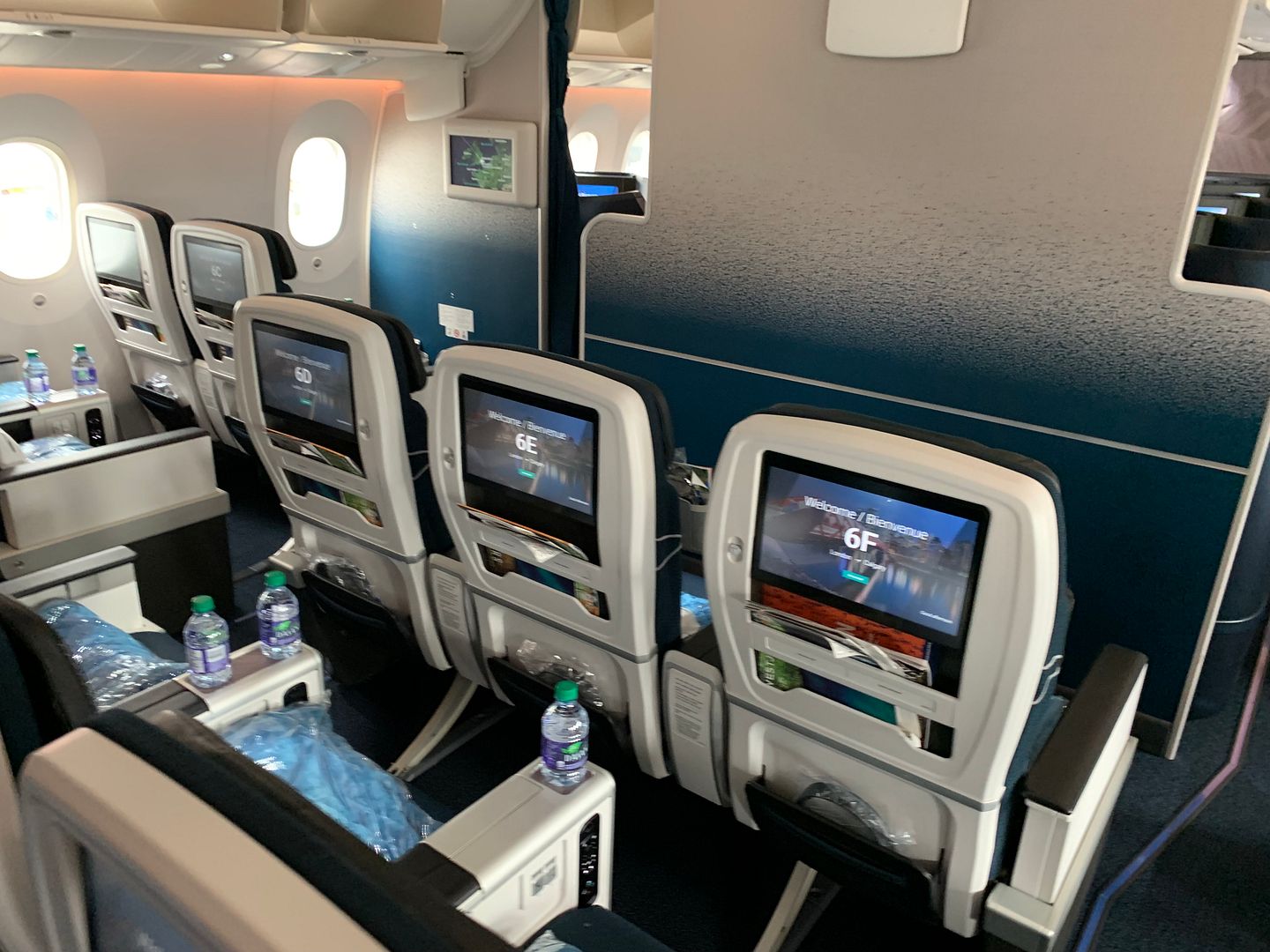 Business Class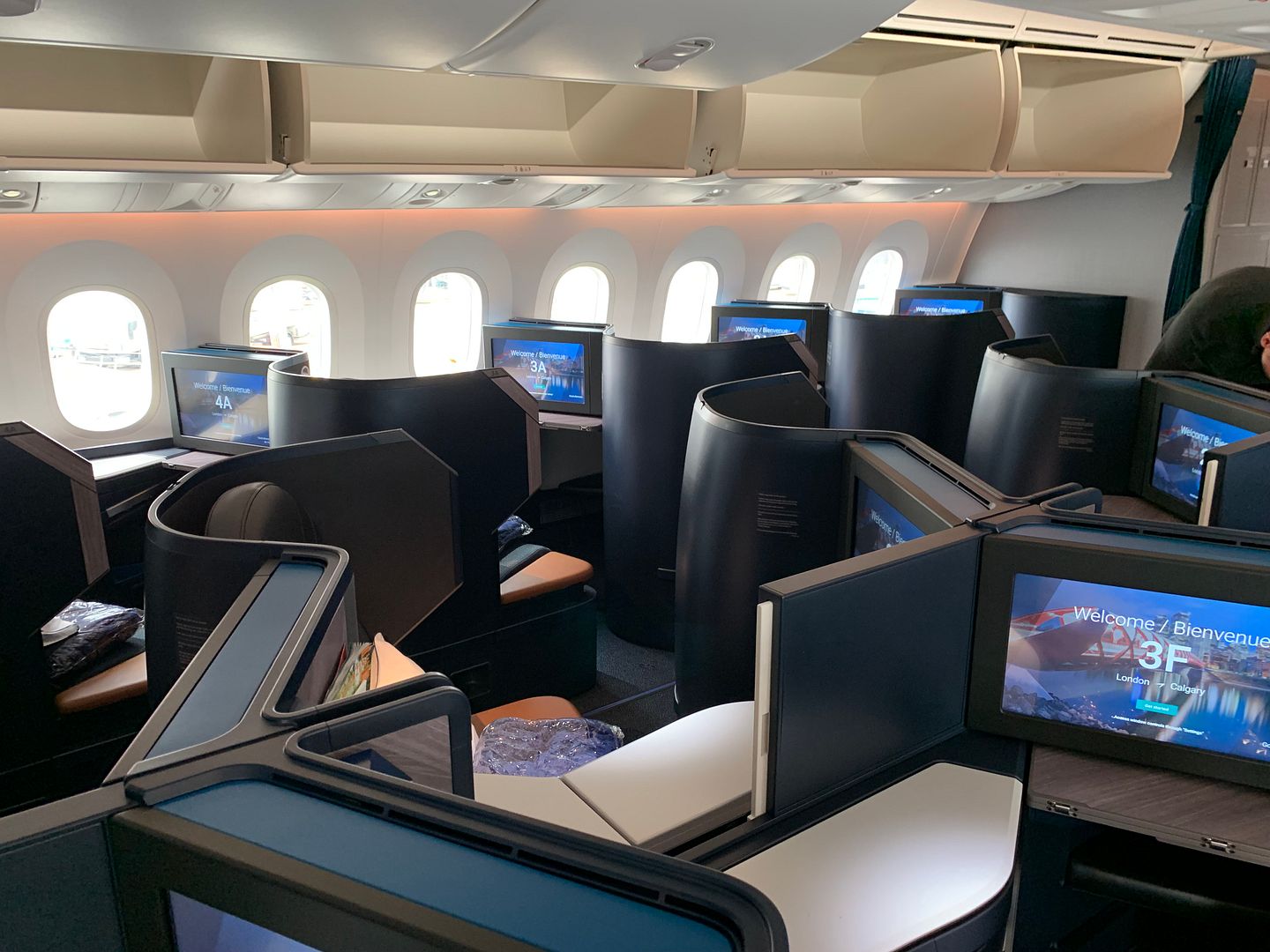 My seat 1K
Pillow and a fluffy blanket (still too short) were already at the seat.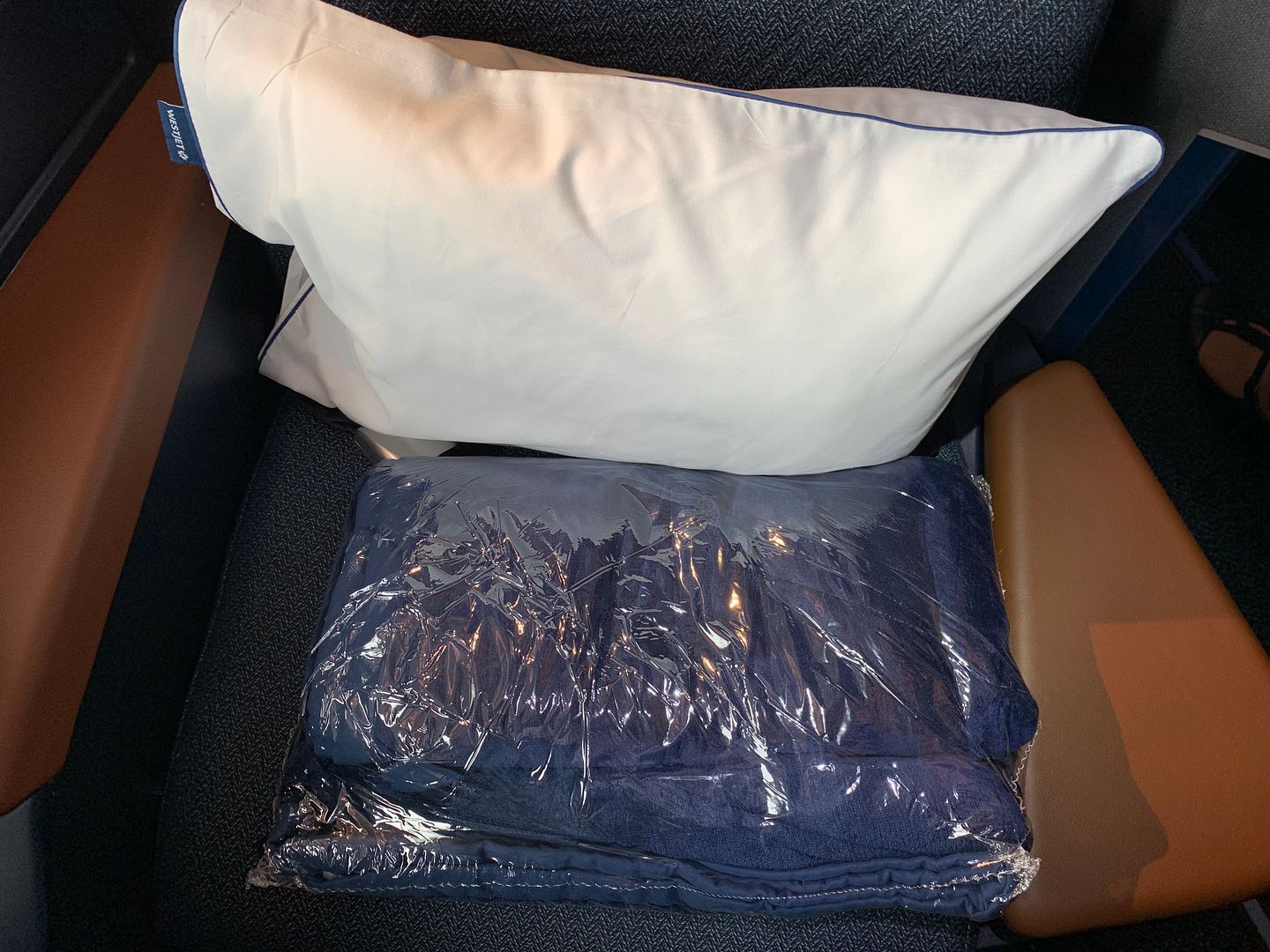 The friendly F/A immediately welcomed me onboard, handed me a menu and amenity kit. She gave me a detailed introduction to the seats, and showed me where everything was. She also asked for my beverage preference this afternoon – orange juice or champagne.
Orange juice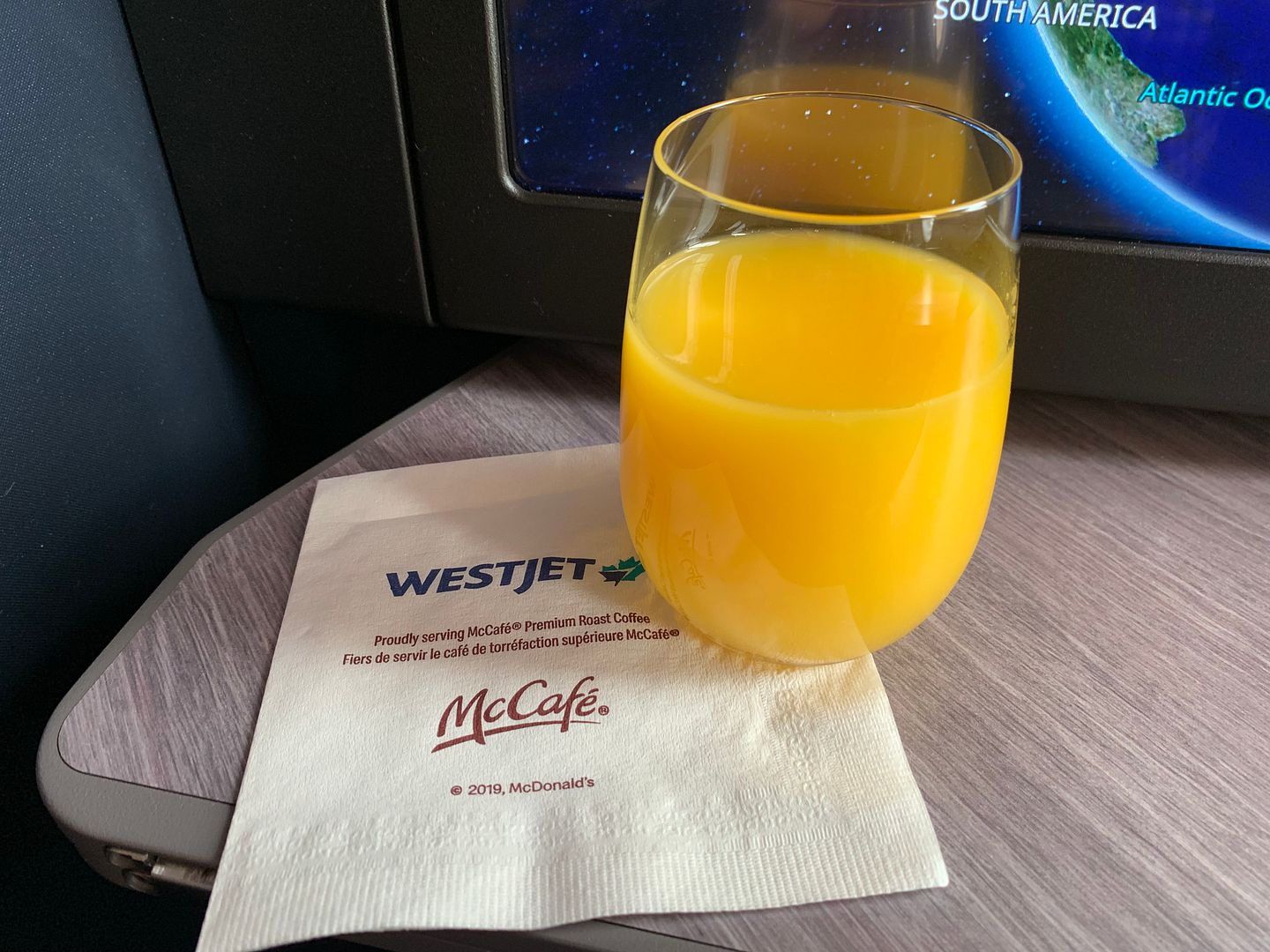 The Personal TV already knows my name. Menu and amenity kits are pictured here too.
As many of you know, the seats are similar to the one used by Virgin Australia.
Storage bin on one side with power outlets and plus
Another smaller storage bin with headsets and bottled water on the other side
Unfortunately, the Gatwick cleaning staff did not do a good job. I found leftover popcorns from previous flights.
It was a pretty long boarding process and the F/A took advantage of the time to take our beverage & meal orders. She made it clear that I could have whatever what I want at whatever time I want. I presume that I could have the same small and large plates for my pre-arrival meal too. I chose to have lunch immediately after takeoff. I was thankful for that choice, especially we faced more ground delays due to ATC congestions here at Gatwick. Hot towels were also passed out after door was closed.
Some plane-spotting at Gatwick:
EasyJet A321 NEO just arrived from Corfu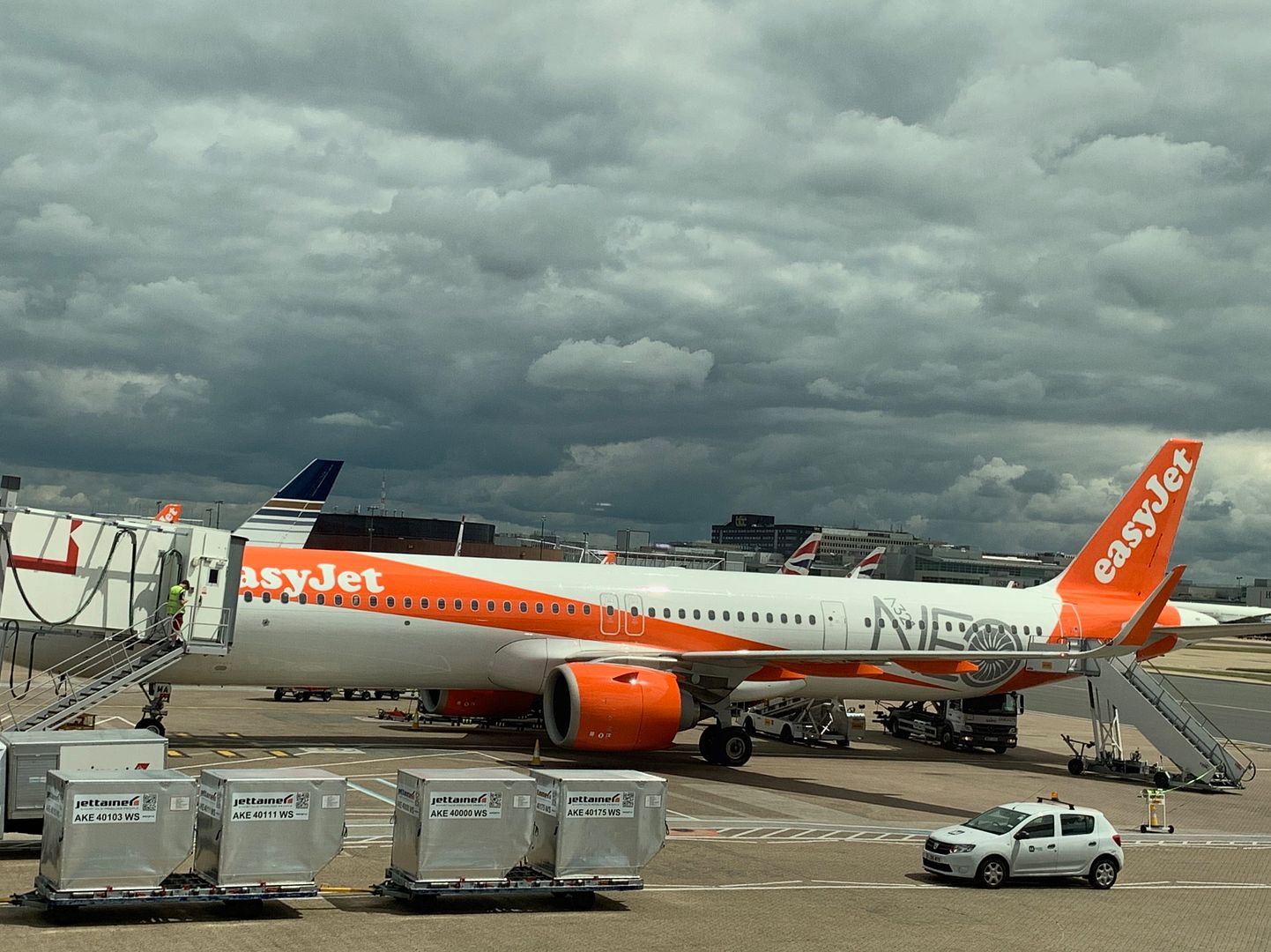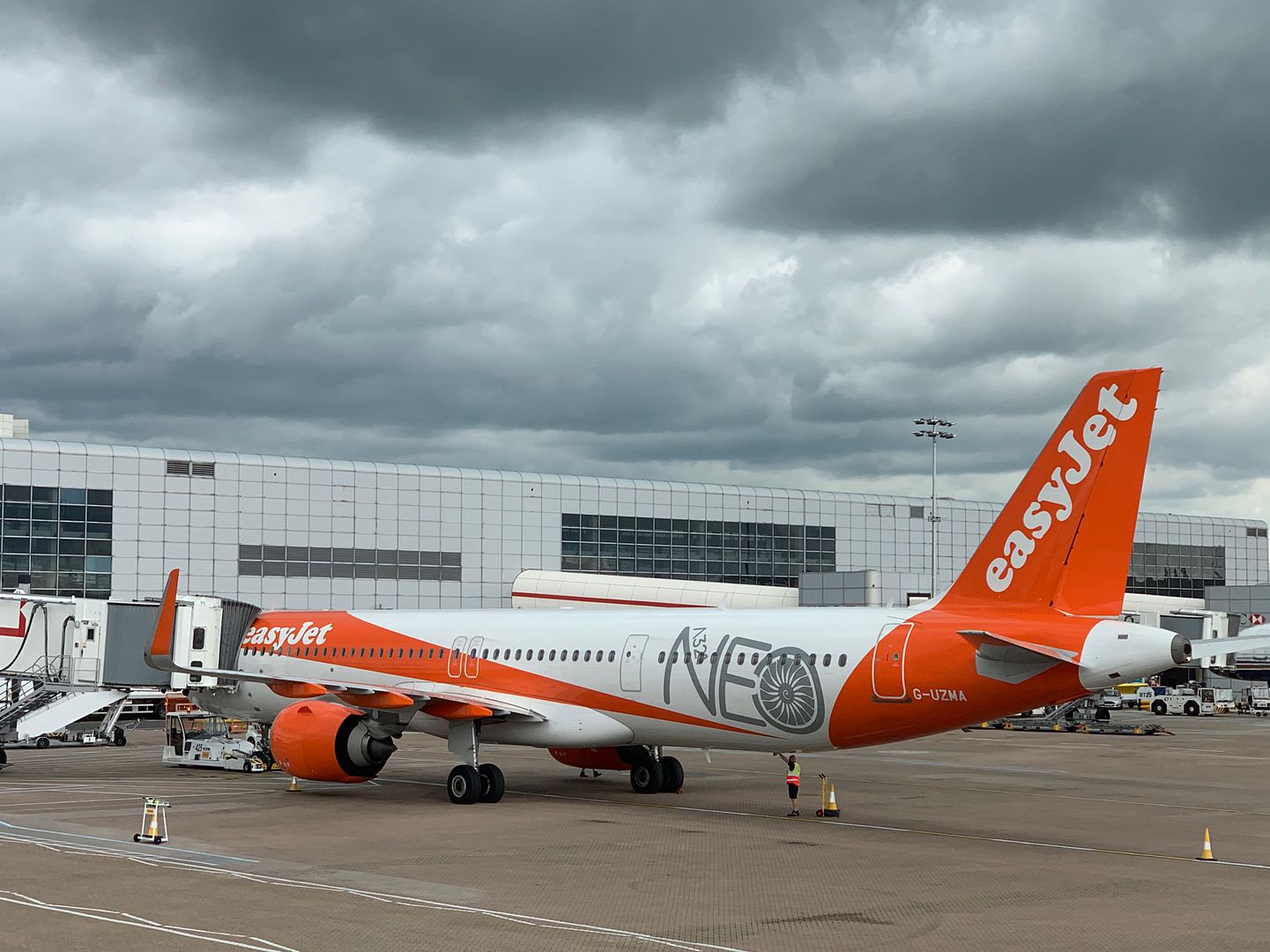 Privilege Style's 757 leased to Iceland Air – a very delayed flight to Keflavik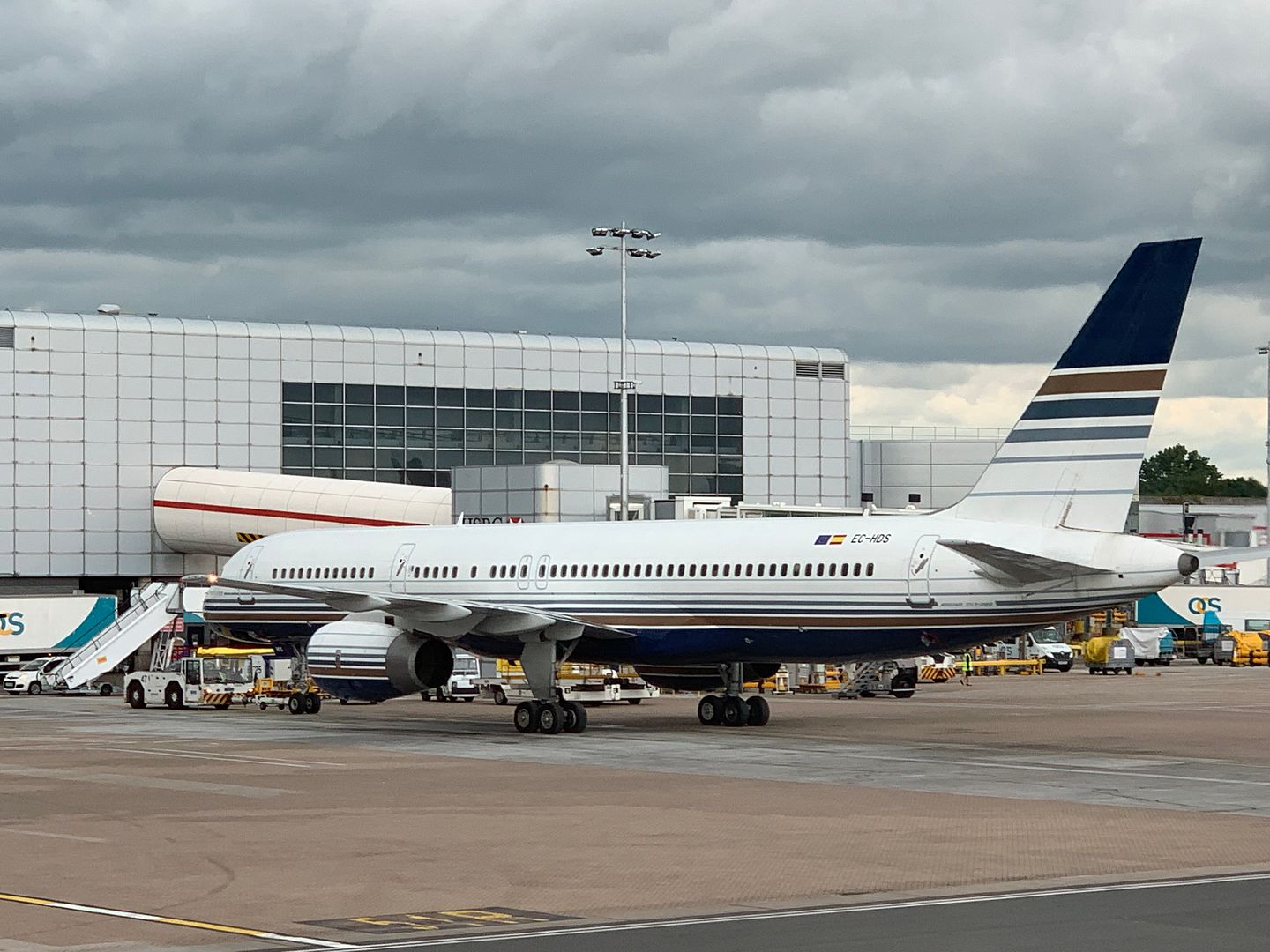 Flight:
Door was closed early at 1:33pm, but we did not push back till thirty minutes later because of ATC congestion. After pushing back at 2:03pm, there was more wait and we did not take our turn for takeoff till 2:18pm.
And finally, at 2:32pm, we took off from R/W26L.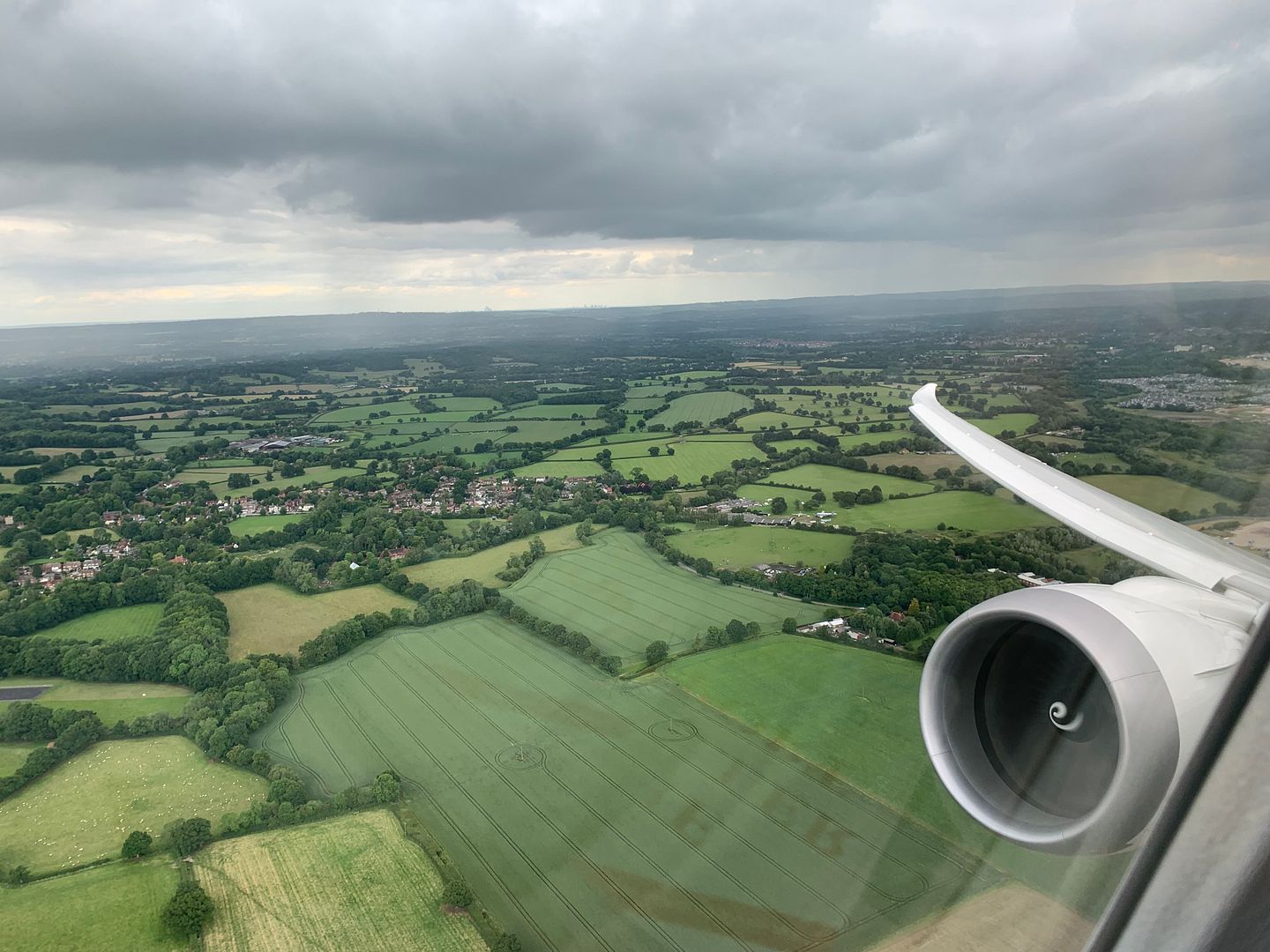 Our flying time was eight hours and fourteen minutes this afternoon. Our routing took us over Central London, Bedford, Kettering, and Nottingham before reaching 36,000ft. Then we continued northward towards Huddersfield, Penrith, Lockerbie, Glasgow Airport, Pasiley, and North Uist, an island in the Outer Herbrides of Scotland. Then we crossed the Northern Atlantic Ocean, Greenland, and then climbed to 38,000ft before crossing Povirnituq. Then we passed the Hudson Bay before reaching 40,000ft, and then we flew over Paint Lake, Paddockwood, Shellbrook, Monitor, Delia, and then then towards Calgary and YYC.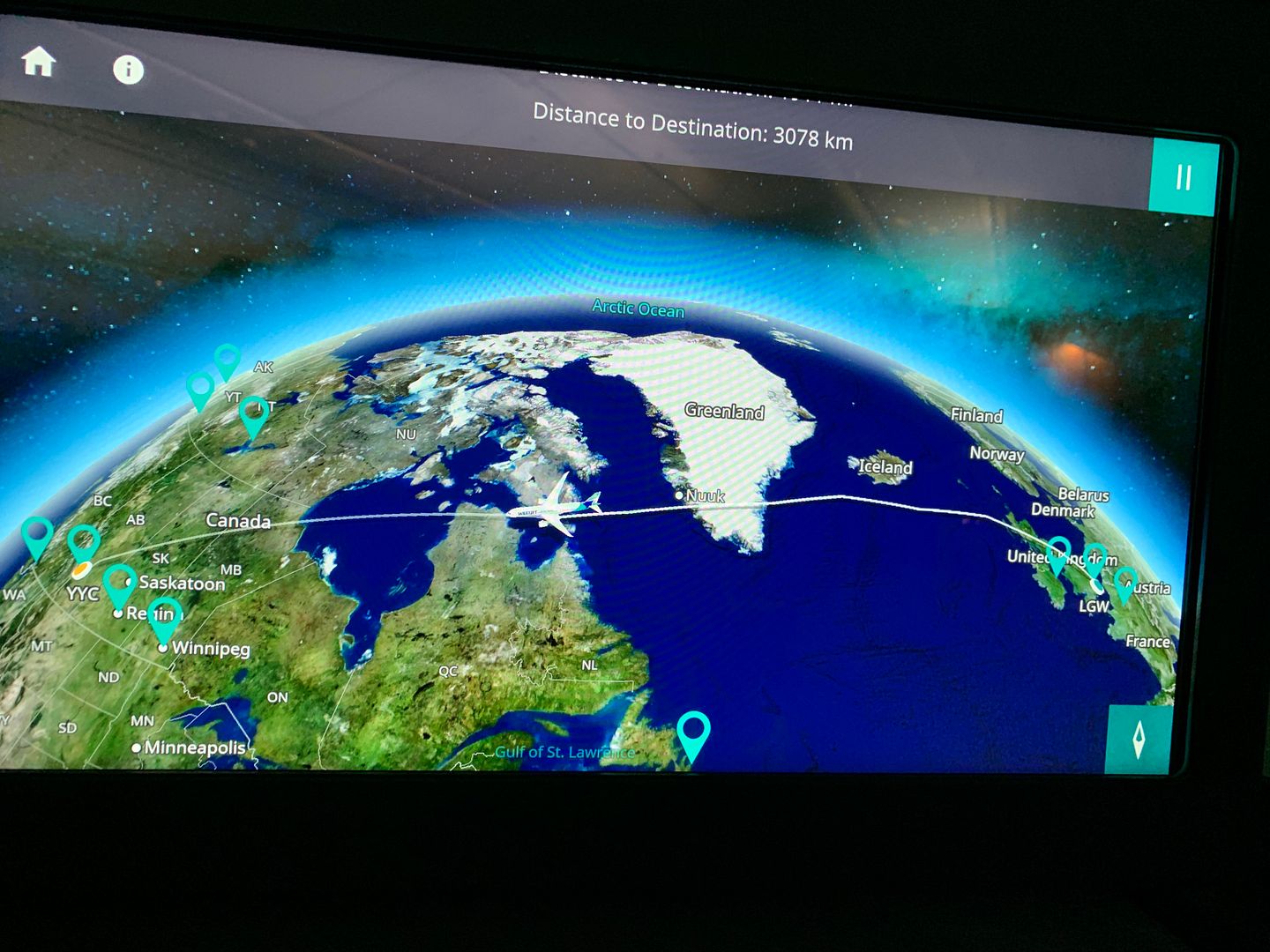 Beverage was served at 3:06pm with a bowl of truffle popcorn.
Here is the full wine list:
Cocktails
Westjet Signature drink
Deliciously crafted with Gold Peak slightly sweet Green Tea, Cranberry juice and fragrantly finished with a fresh lemon wedge
At you request, Vodka may be added
Mimosa
Champagne and Orange Juice
Classic Caesar
Vodka and clamato with Worcestershire and Tabasco sauce
Beer
Dreamcraft All-Canadian Ale 787 Limited Edition
Molson Canadian
Coors Light
Dry Apple Cider
Spirits & Liqueurs
Grey Goose Vodka
Bombay Sapphire London Dry Gin
Bacardi Superior White Rum
Captain Morgan Spiced Rum
Crown Royal Blended Canadian Whiskey
Johnnie Walker Black Label
The Glenlivet Single Malt Scotch Whiskey
Courvoisier VSOP Cognac
Grand Marnier
Non-Alcoholic
Coca-Cola
Diet Coke
Sprite
Canada Dry Ginger Ale
Canada Dry Club Soda
Canada Dry Tonic Water
Simply Orange Juice
Minute Maid Apple Juice
Minute Maid Cranberry Cocktail
Campbell's Tomato cocktail
Mott's Clamato Juice
Badoit Sparkling Water
Dasani Water
Hot Beverages
Premium Fratello Coffee
Emilio Espresso
Café Latte
Cappuccino
Decaf Coffee
Teapigs English Breakfast Tea
Teapigs Mao Feng Green Tea
Teapigs Peppermint Leaves
Teapigs Chamomile Flowers
Teapigs Rooibos Crčme Caramel
Teapigs Lemon and Ginger
Hot Chocolate
Champagne
Champagne Lanson Black Label Brut NV
White Wine
Pascal Jolivet Le Chene Marchand Sancerre, France 2017
Cave Springs Chardonnay Ontario 2016
Laurent Miquel Albarino, LaGrasse, France 2017
Red Wine
Famille Lancon Chateauneuf Du Pape, France 2016
Alexandre Gauvin, Gevrey-Chambertin, Burgundy 2017
San Roman Bodegas Y Vinedos 'Prima' Spain 2016
Ice Wine
Peller Estates Signature Vidal Ice Wine Ontario 2017
Port
Quinta Do Noval LBV Port, Portugal 2011
My choice is the WestJet's signature cocktail, and Yes, I requested vodka. It was very refreshing and I like it much.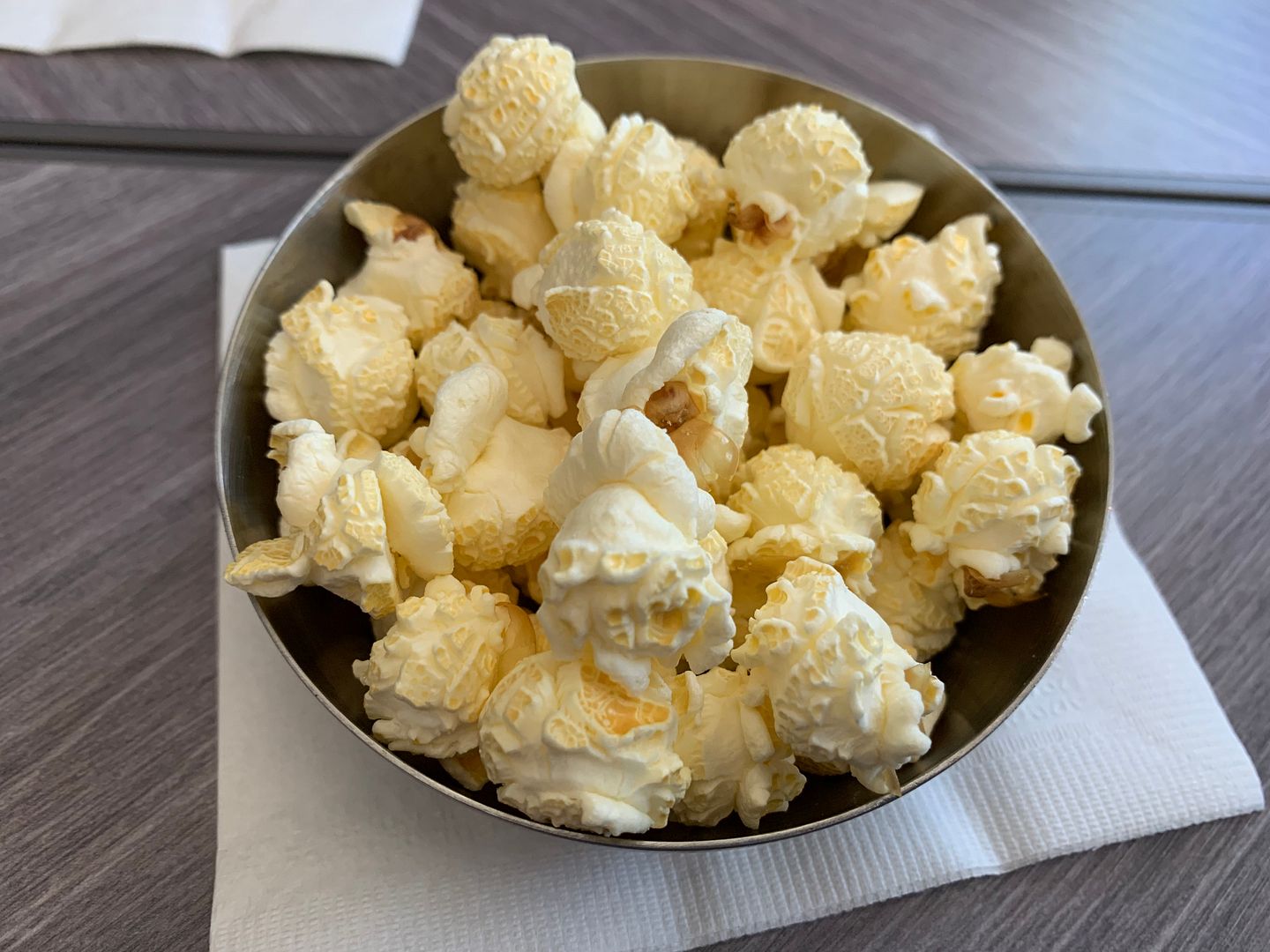 As noted by other reviewers, WestJet does not use trolley for any meal services in business class. Everything was hand delivered from the galley, and table was setup individually with linen. Each course was plated in the galley. That perhaps explains why they need three F/As even the business cabin only has 16 passengers.
Here is the full menu for the main meal, and if I understand correctly, you can request these dishes for your pre-arrival meals too.
Small Plates
Selection of warm bread
Butter & balsamic vinaigrette
Nice rosemary loaf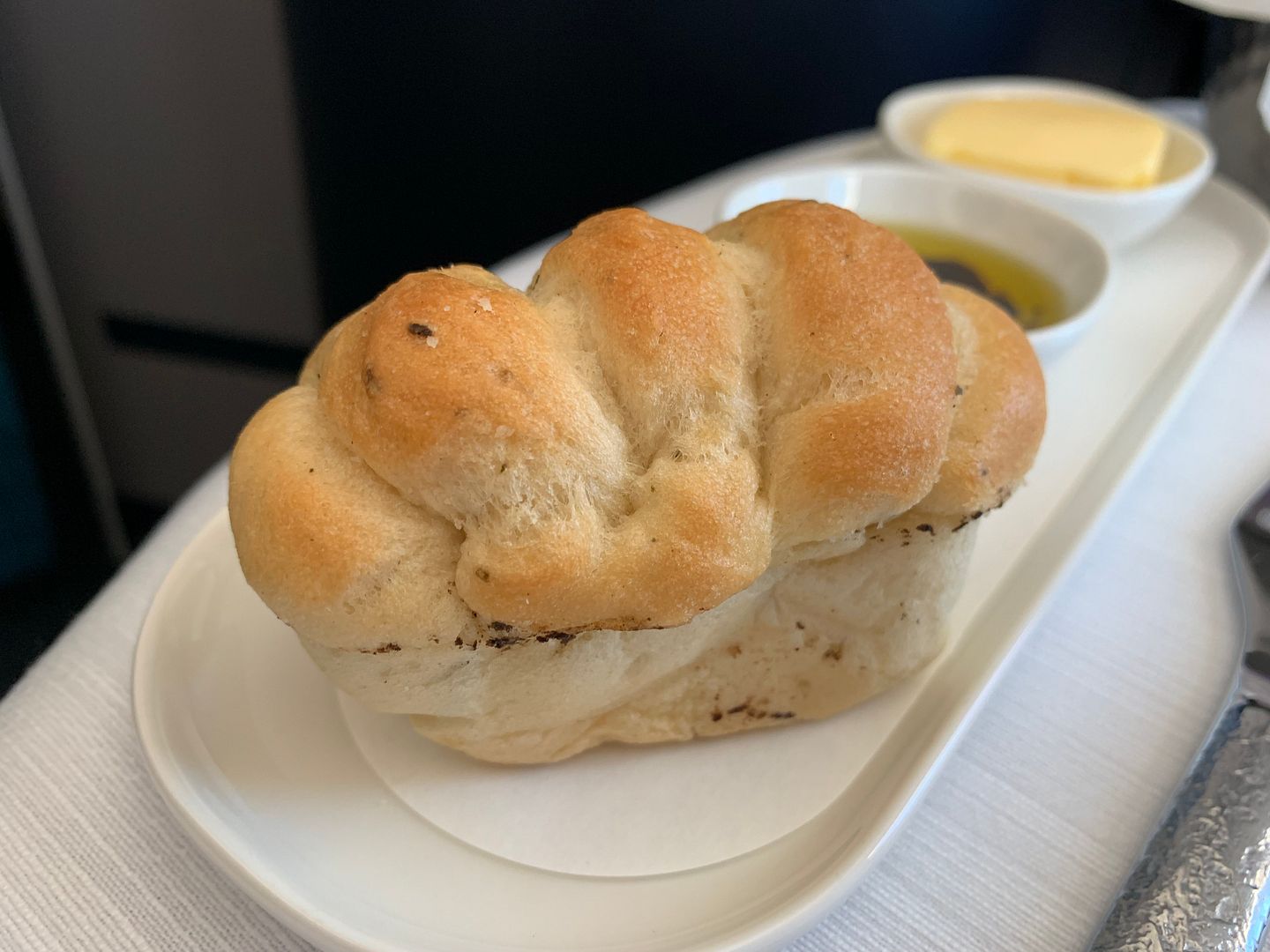 Salt & Pepper Shakers
Chicken terrine, lightly curried with caramelized onion relish and asparagus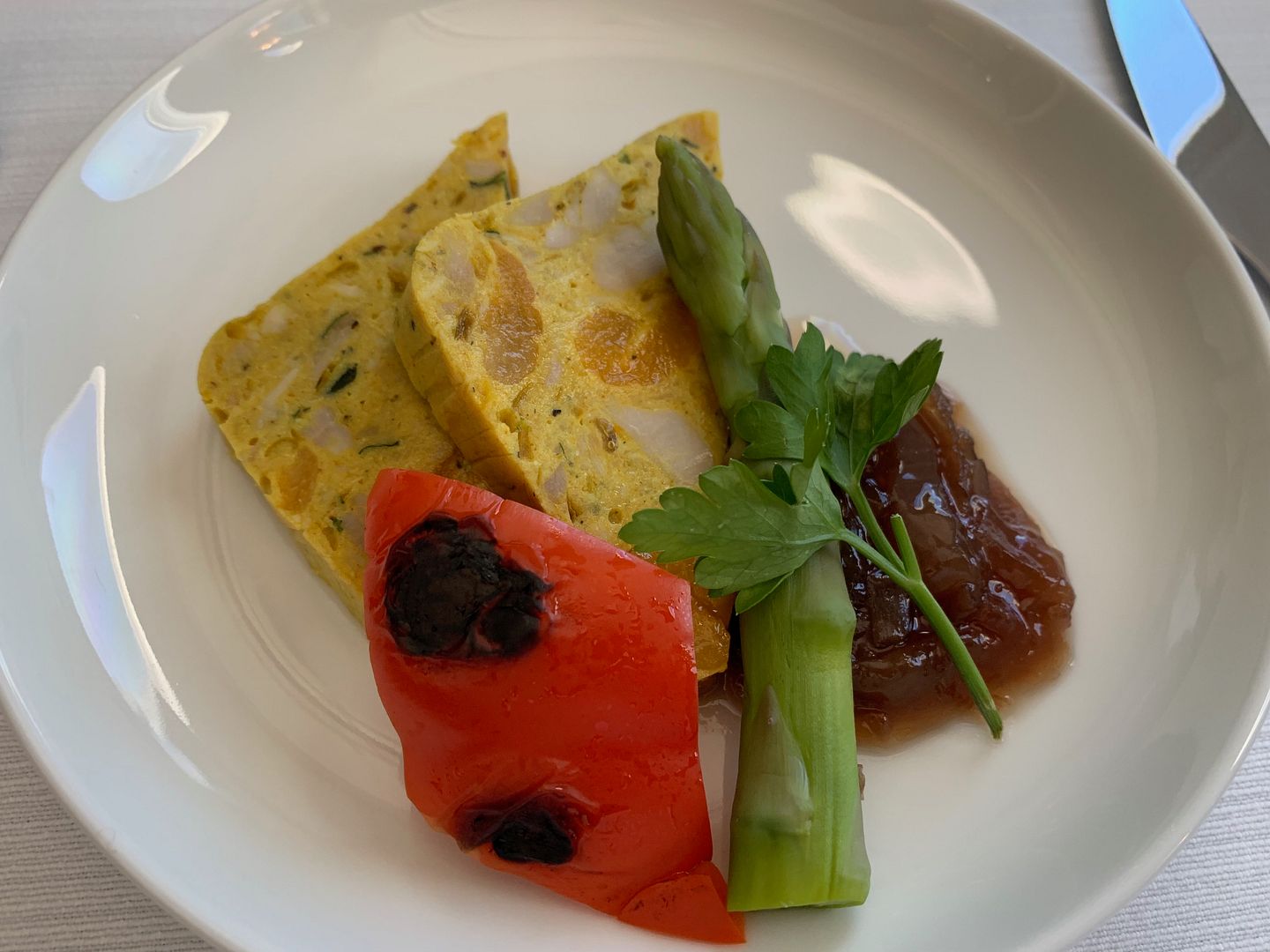 Avocado and goat's cheese salad with spicy chili-lime dressing and pea shoot garnish
Curry pumpkin soup, roasted pumpkin garnish
Mixed green salad with lemon and sour cream dressing
Large Plates
Red wine braised beef-cheek
New potatoes, shallots, carrots and green beans
Chinese-style Chu Hou chicken
Mixed vegetable with soy, garlic and ginger sauce and Udon noodles
[As a Chinese, there is no such thing called Chu Hou chicken and we traditionally prepare beef brisket from Chu Hou sauce, but the sauce featured here is nothing closed to it. It might be better to call it just Chinese style chicken!]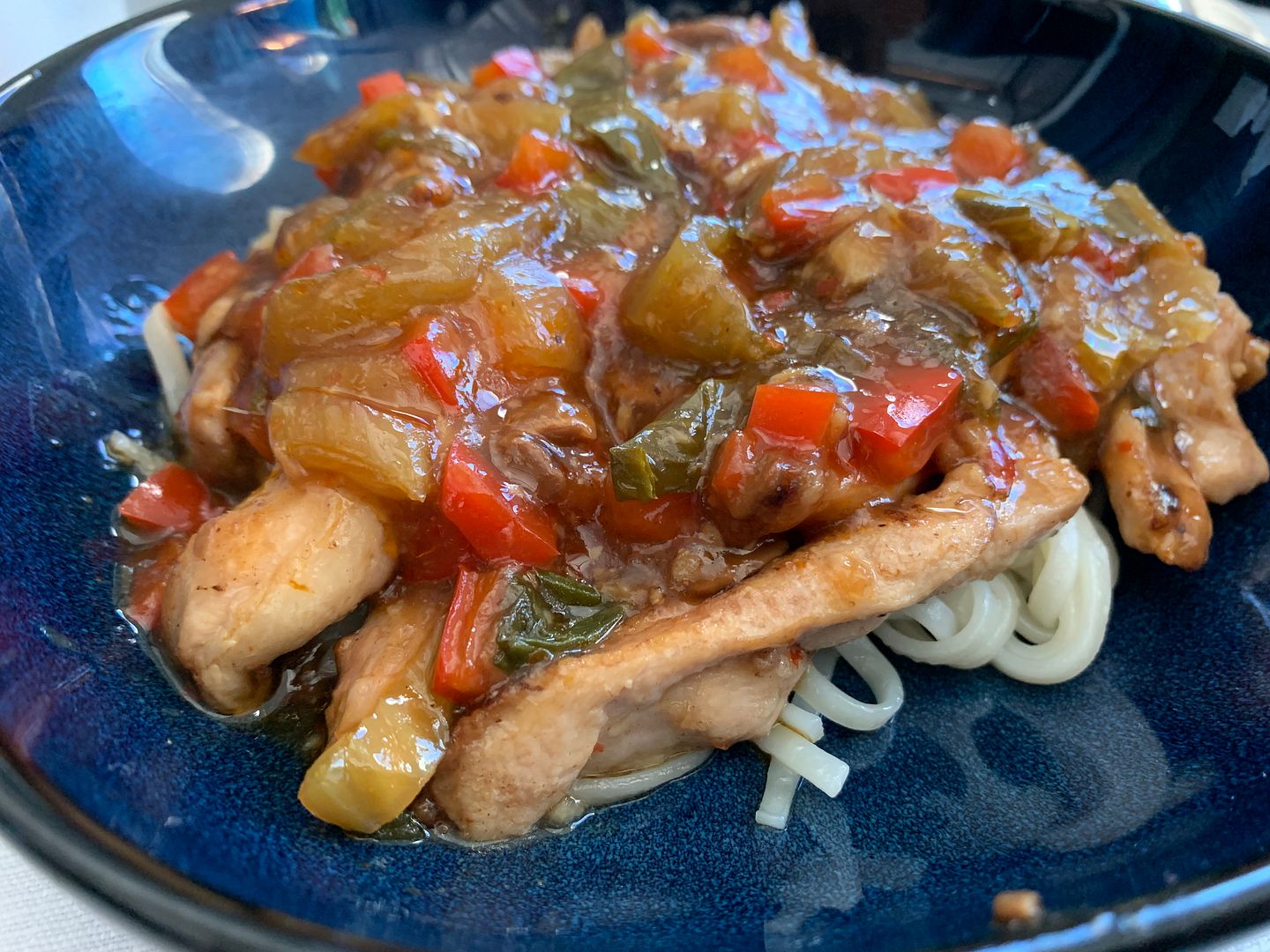 Wild mushroom ragout with rice
Broccolini and sautéed red onion, Shimeji mushroom garnish
Dessert
Seasonal Fresh Fruit
Warm milk chocolate sauce available upon request
Warm bread and butter pudding
Wild berry compote and warm crčme Anglaise
I had a glass of ice wine to go with my bread and butter pudding.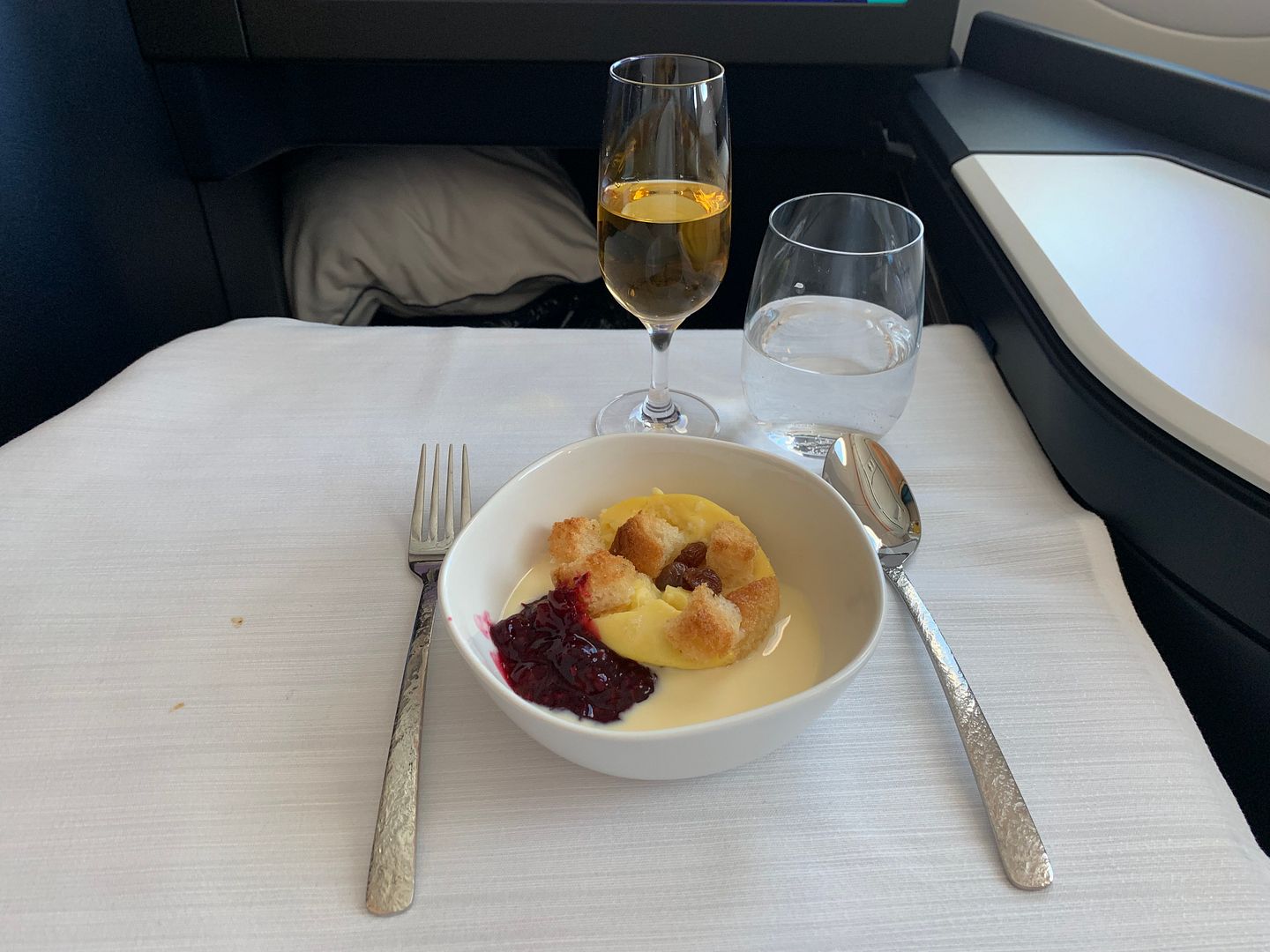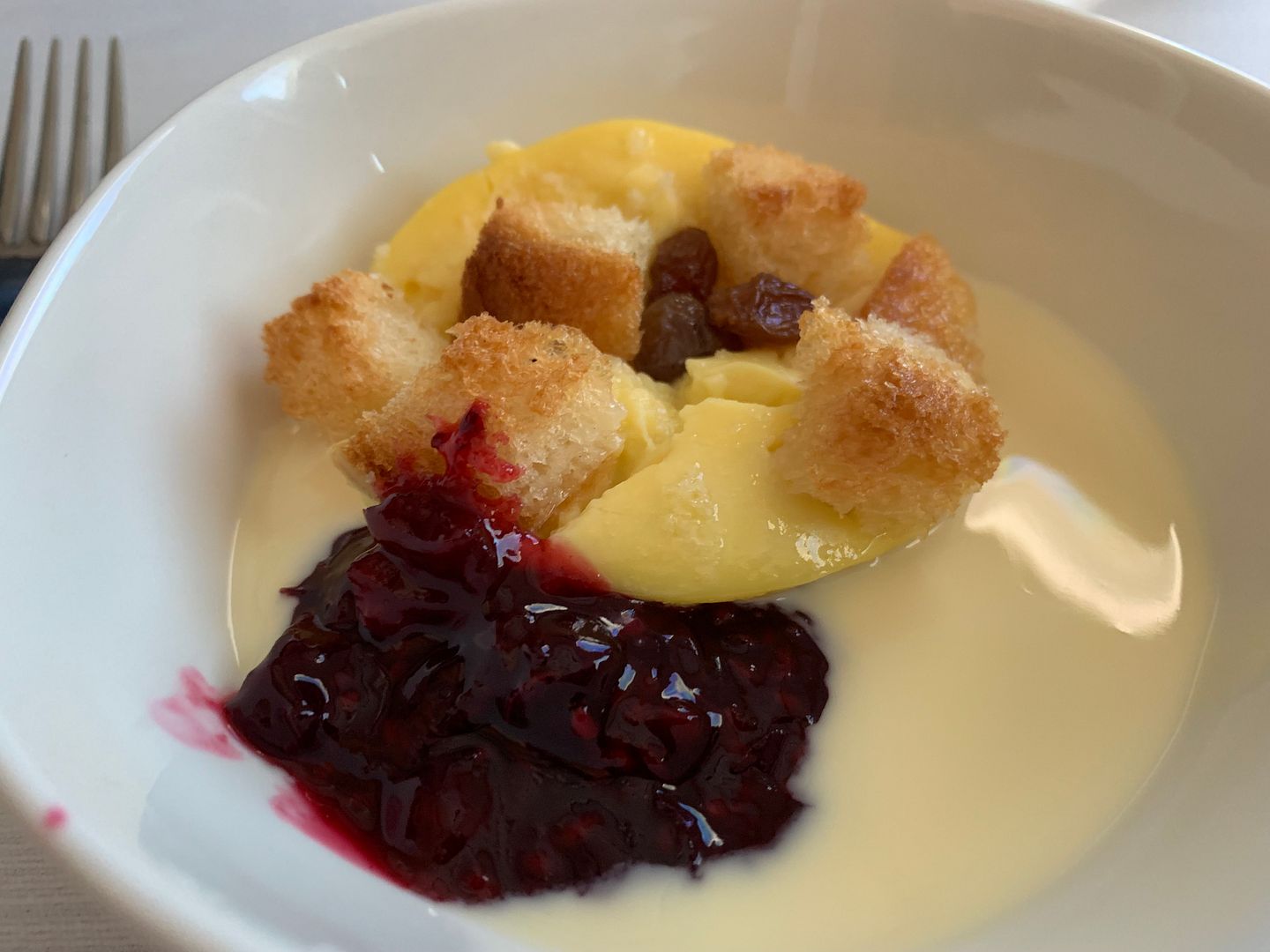 Selection of British and Continental cheese
Cooleeney Camembert, Blacksticks Blue, Butler's Secret Cheddar with fig chutney
All the utensils are WestJet branded.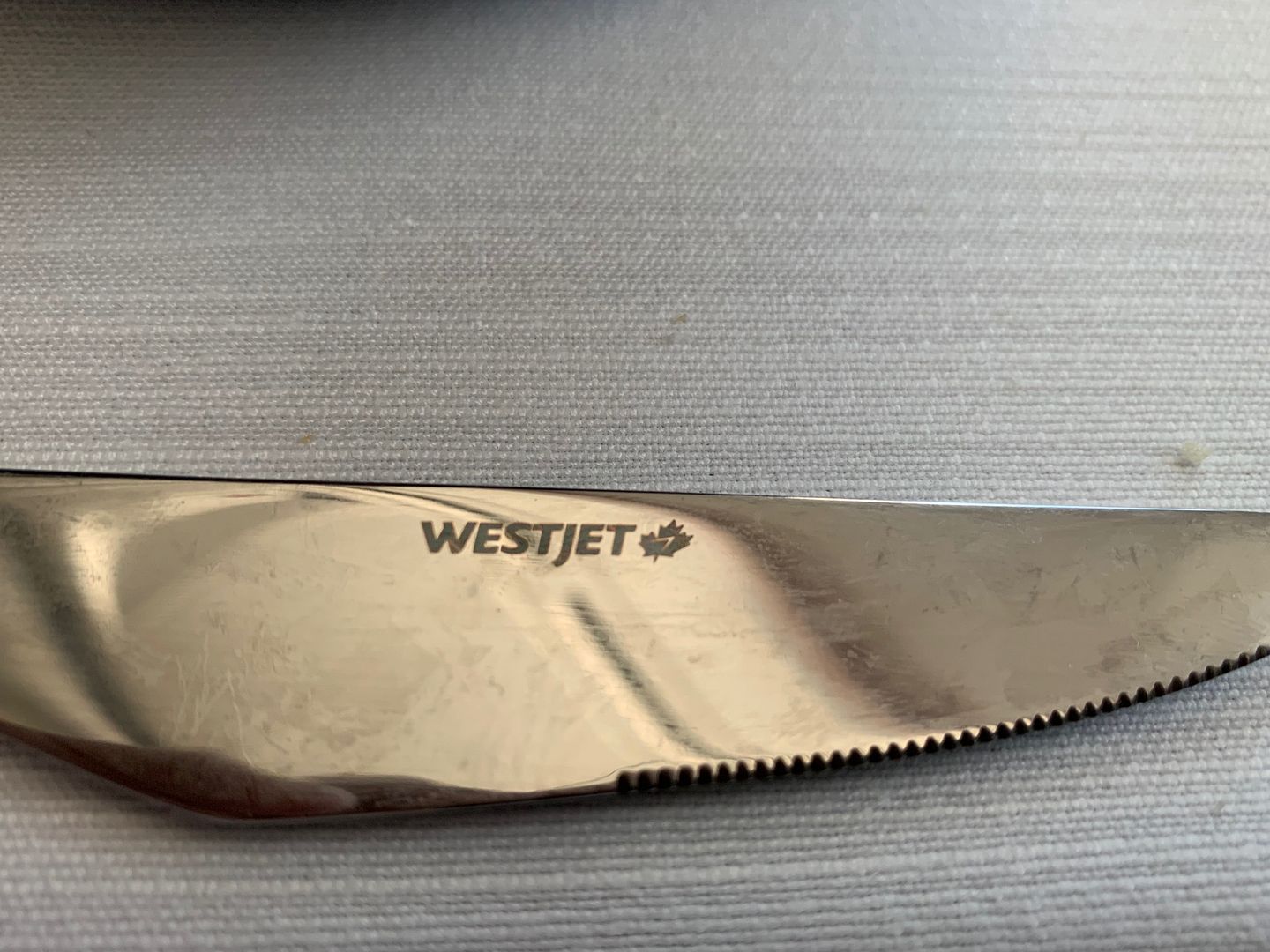 The meal was okay, and I like the presentation. However, the quality and the budget allocated to catering was obviously low. Chinatown style Chinese food was not exactly business class, and instead of chicken terrine, they can use duck and other high-quality meat.
Let check out the bathroom now! There was only one bathroom for 16 business class passengers. If you are in G and K seats, you will have to cross the galley to get to the bathroom.
Baby changing table – sometimes I wonder if actual parents are involved in the design process… it was too small for any baby except newborn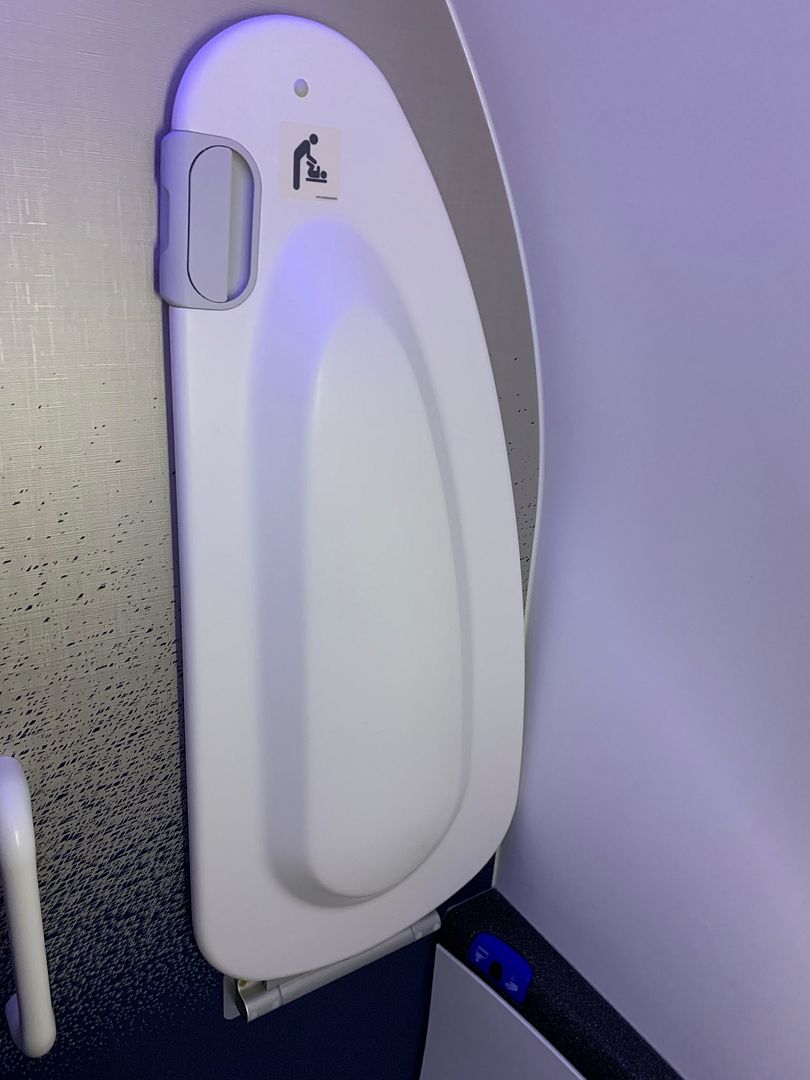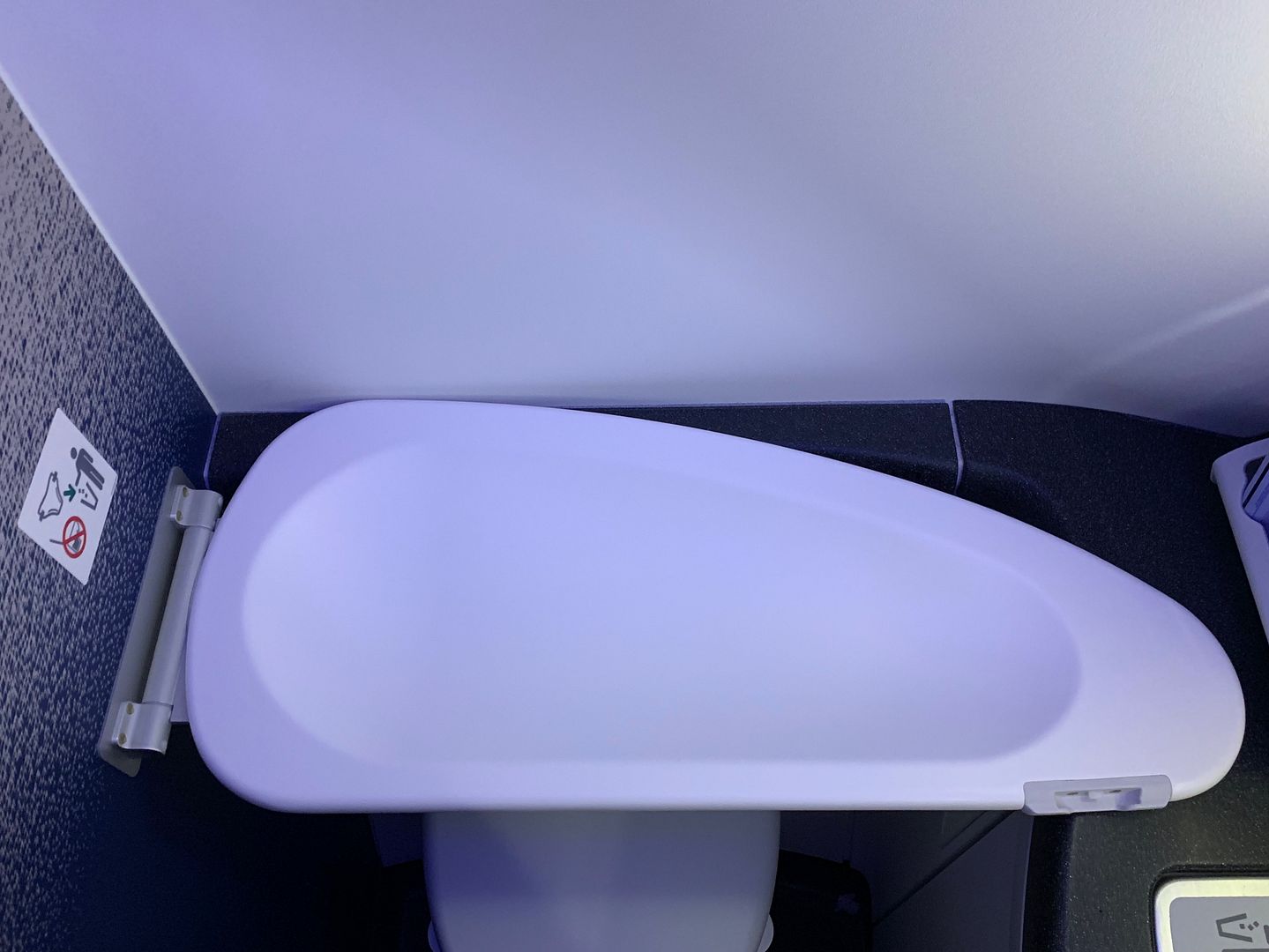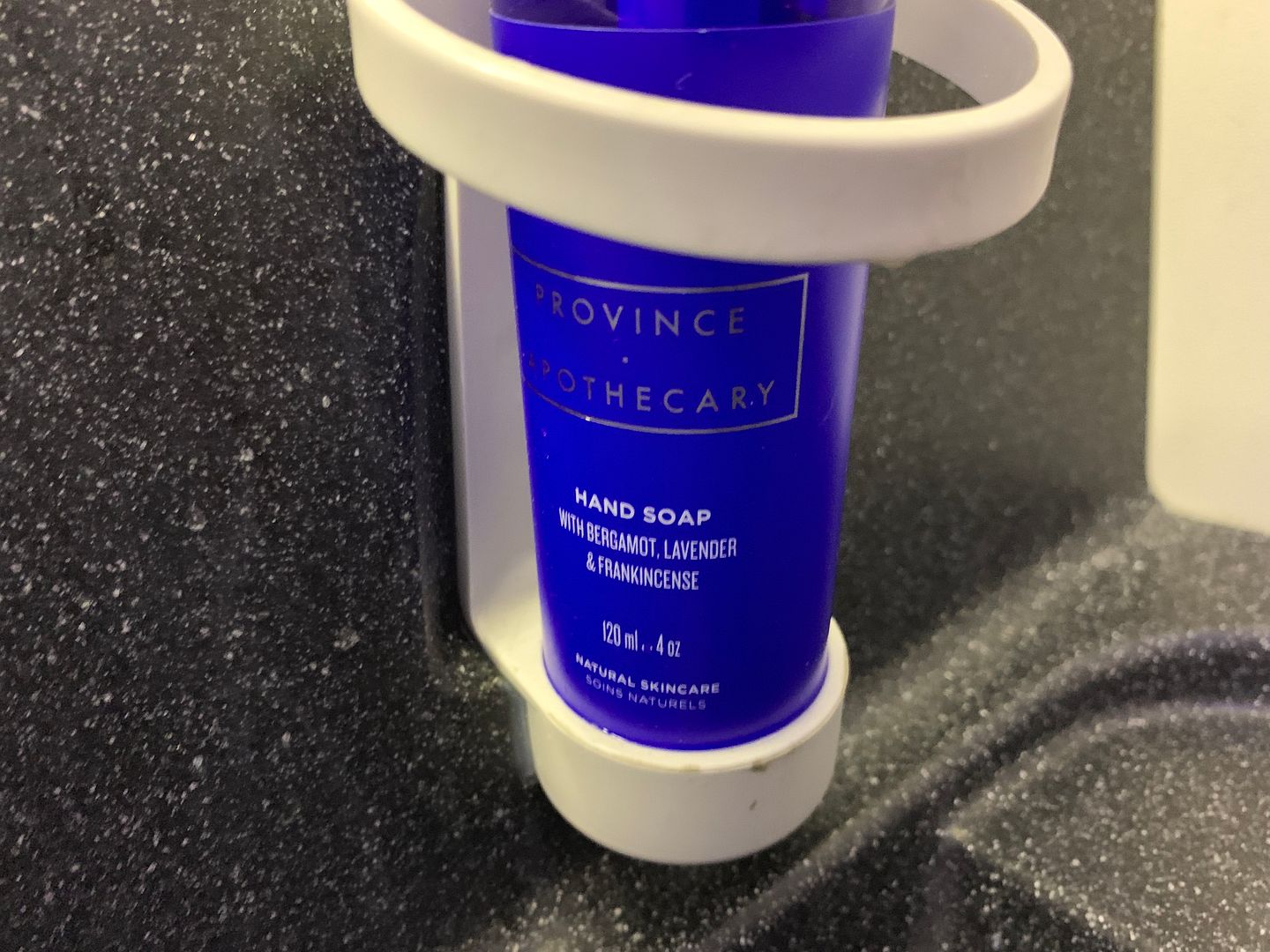 Small mirror
Seats in preset recline position
Seats in lie flat position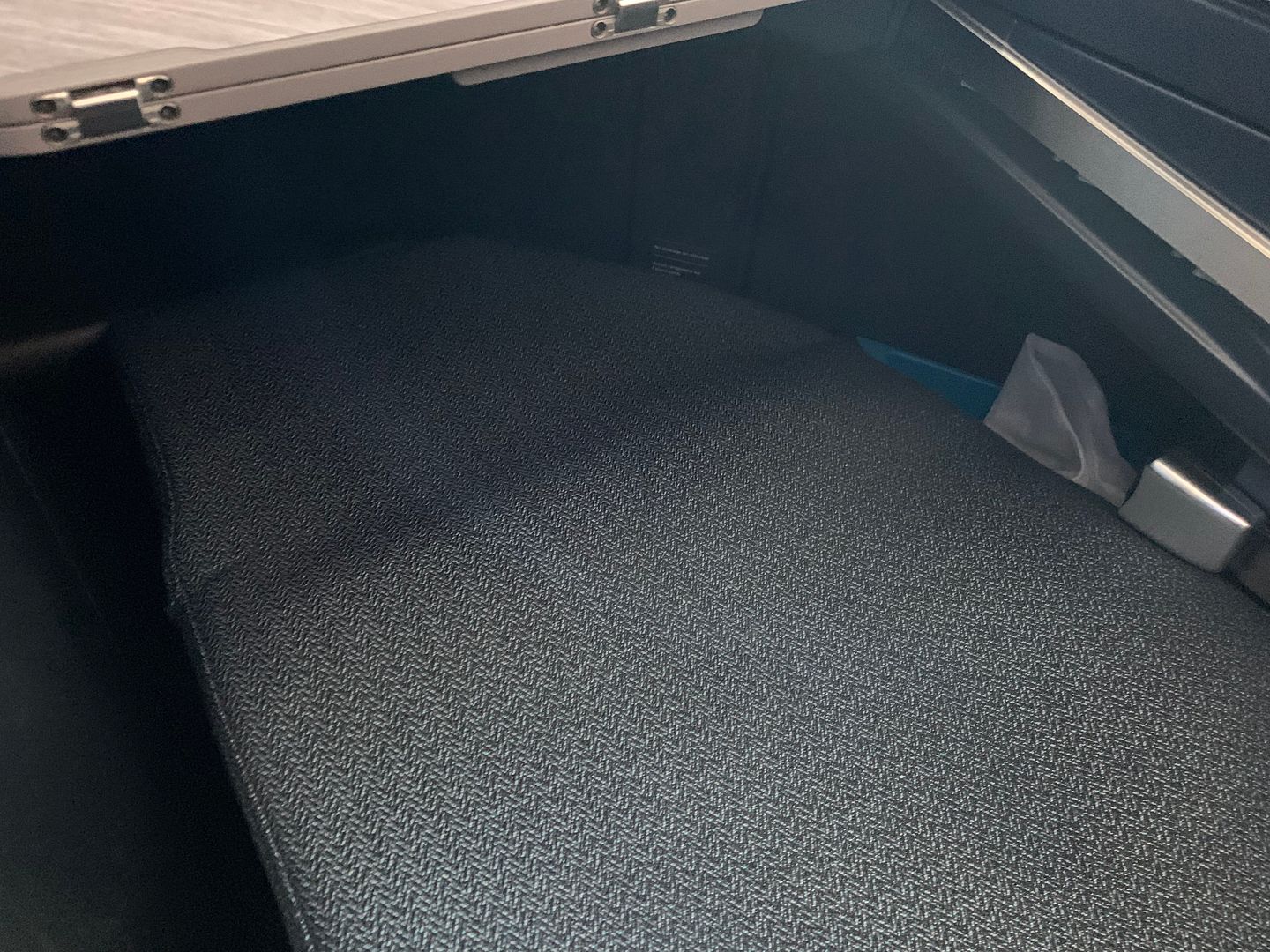 Seats in lie flat position with bedding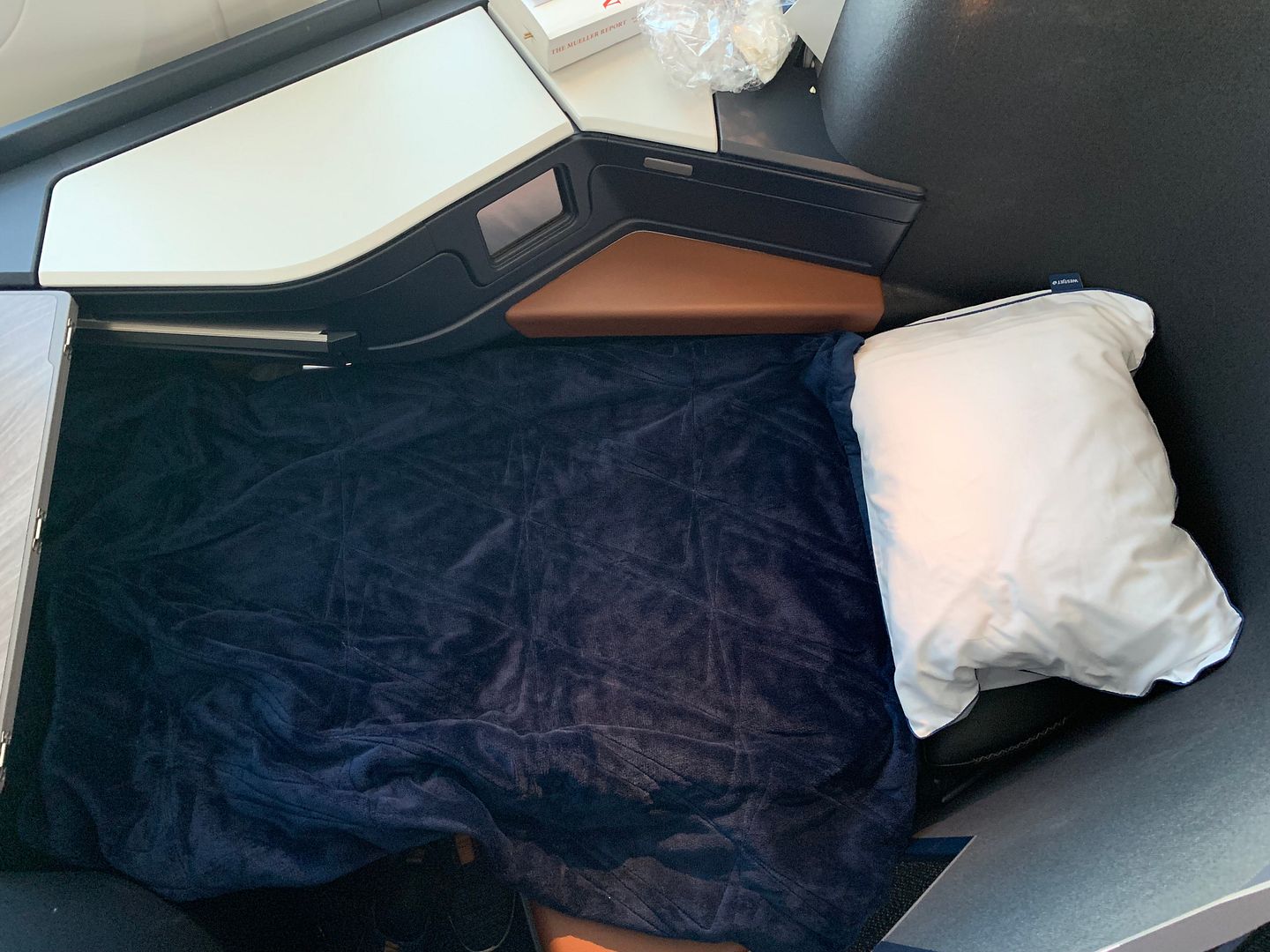 WestJet's social area for business and premium economy passengers
Apples – the F/As made a point telling me that they were fully washed with clean water
Inflight entertainment
I did not really look at the movie and television selections in detail, but they have these Calgary dining and tourist guides in the PTV. The flight connection page also works, and all the connecting flights were listed with the corresponding gates. It was interesting to note the range of connections that the flight goes to. There were plenty of passengers continuing to other American destinations.
WIFI is also available, but I did not use it for this flight.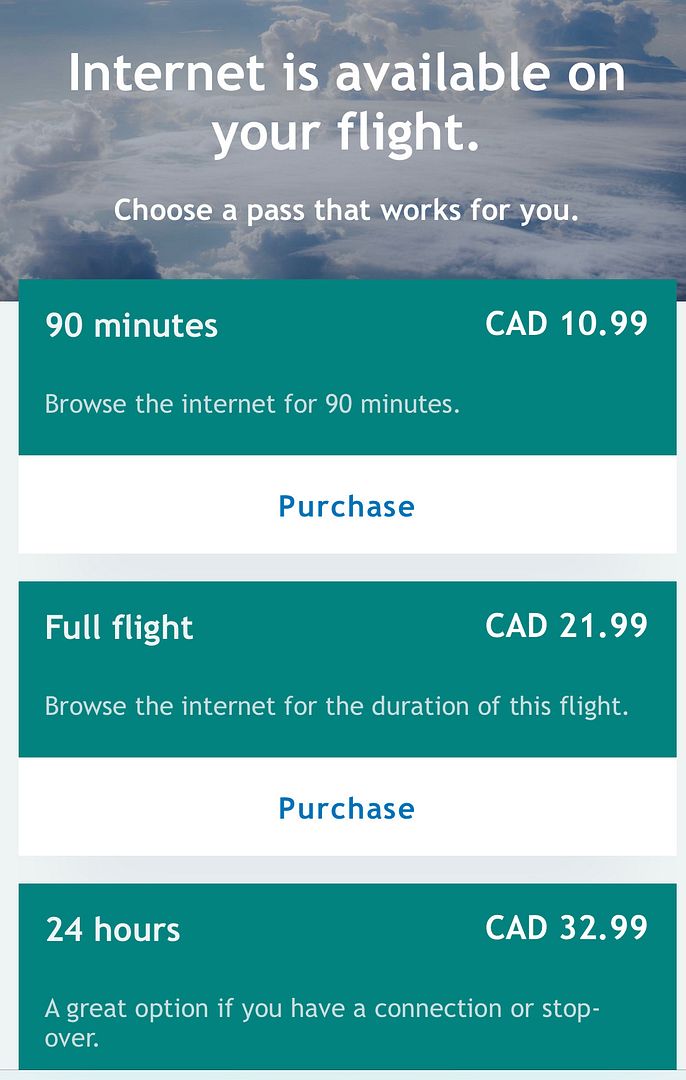 Jun 24, 19, 7:55 pm
Join Date: Oct 1999
Location: New York
Posts: 6,568
Pre-arrival meal
The leading business class F/A checked in with me about two and half hours prior to arrival. She told me that if I wanted any of the major large plates, I would have to request it soon. But if I want only cold items, I could wait a bit. In the end, I just decided to have some traditional afternoon tea sandwiches, pastries, and scone two hours prior to arrival. The scone was listed separately but I could have literally as many items as I want.
I would appreciate them listing the contents for the sandwiches, but I could tell you that they were all vegetarian – no meat or seafood. The sandwiches feature egg salad, cheese, and hummus nut spread. The pastries include a passion fruit cheesecake, chocolate crunchy mousse cake, and raspberry macaroon.
Light Fare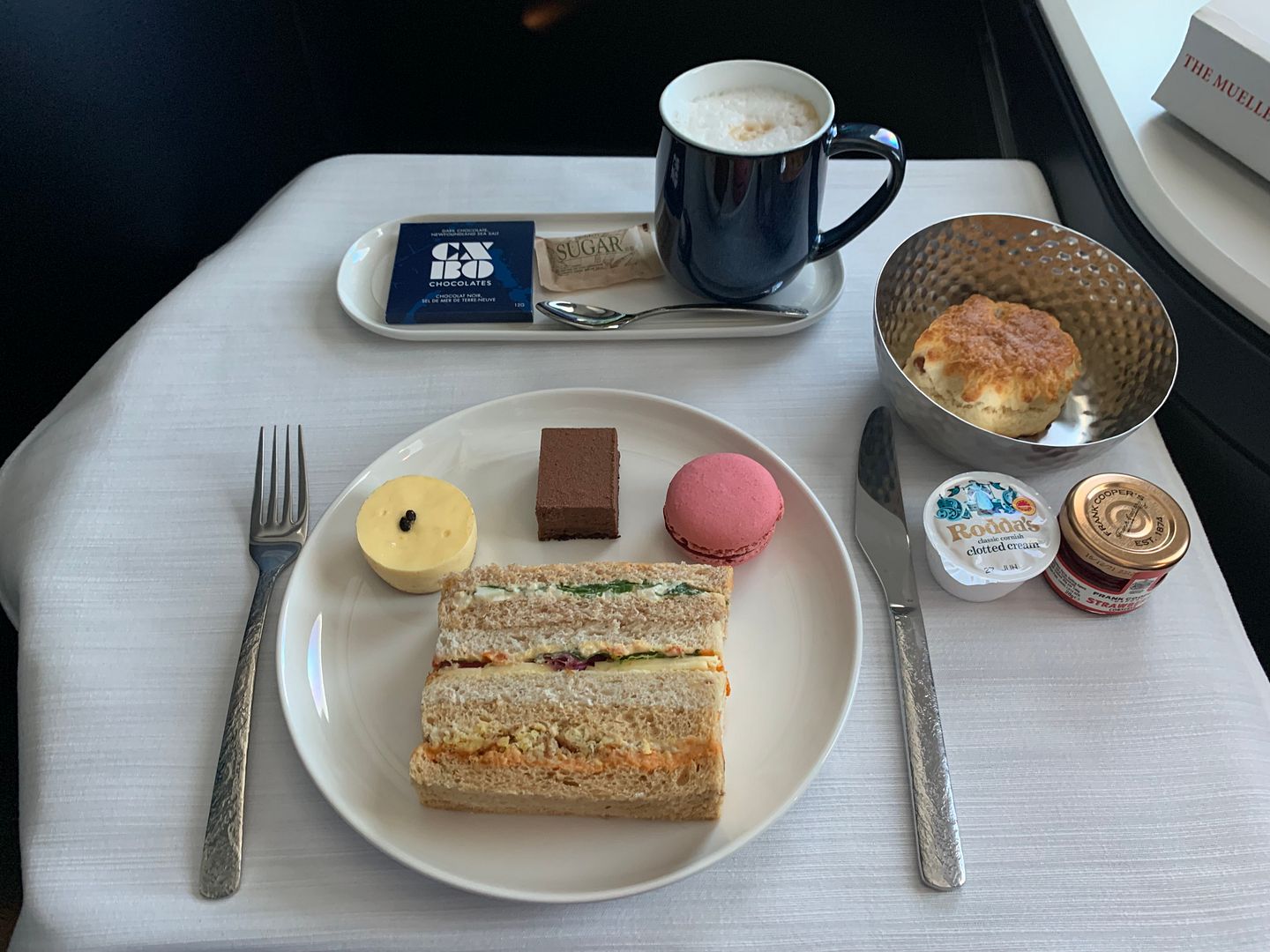 Sliders
Sesame brioche pulled hoisin duck and roasted vegetable cheese sliders
Crisps available upon request
Canadian Poutine
Fried potatoes with cheese curds and beef gravy with a tomato soup shooter
Afternoon tea selection
Plate of sandwiches with mini cakes and pastries
Warm traditional fruit scone
With clotted cream and jam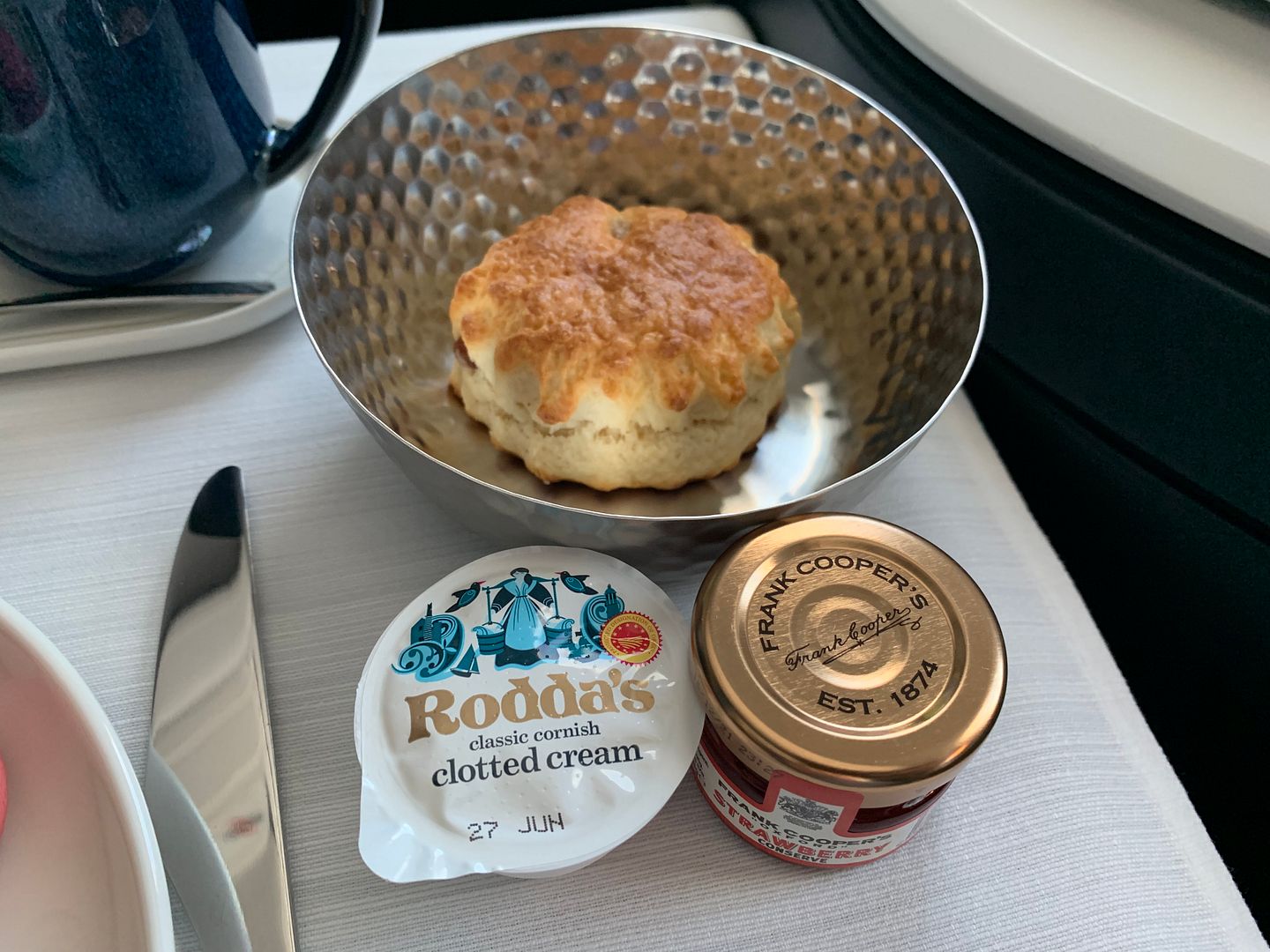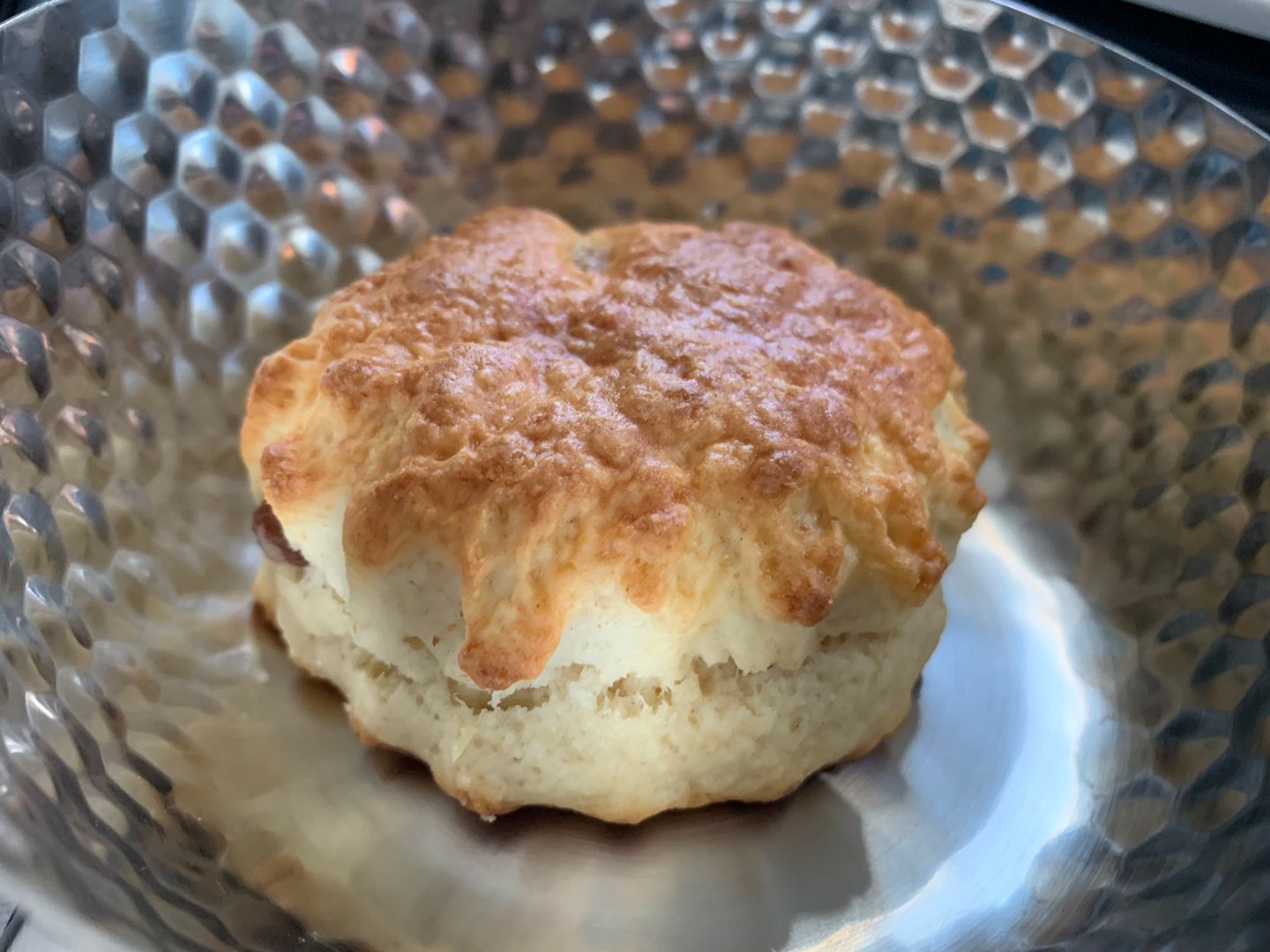 I have a cup of latte to go with afternoon tea.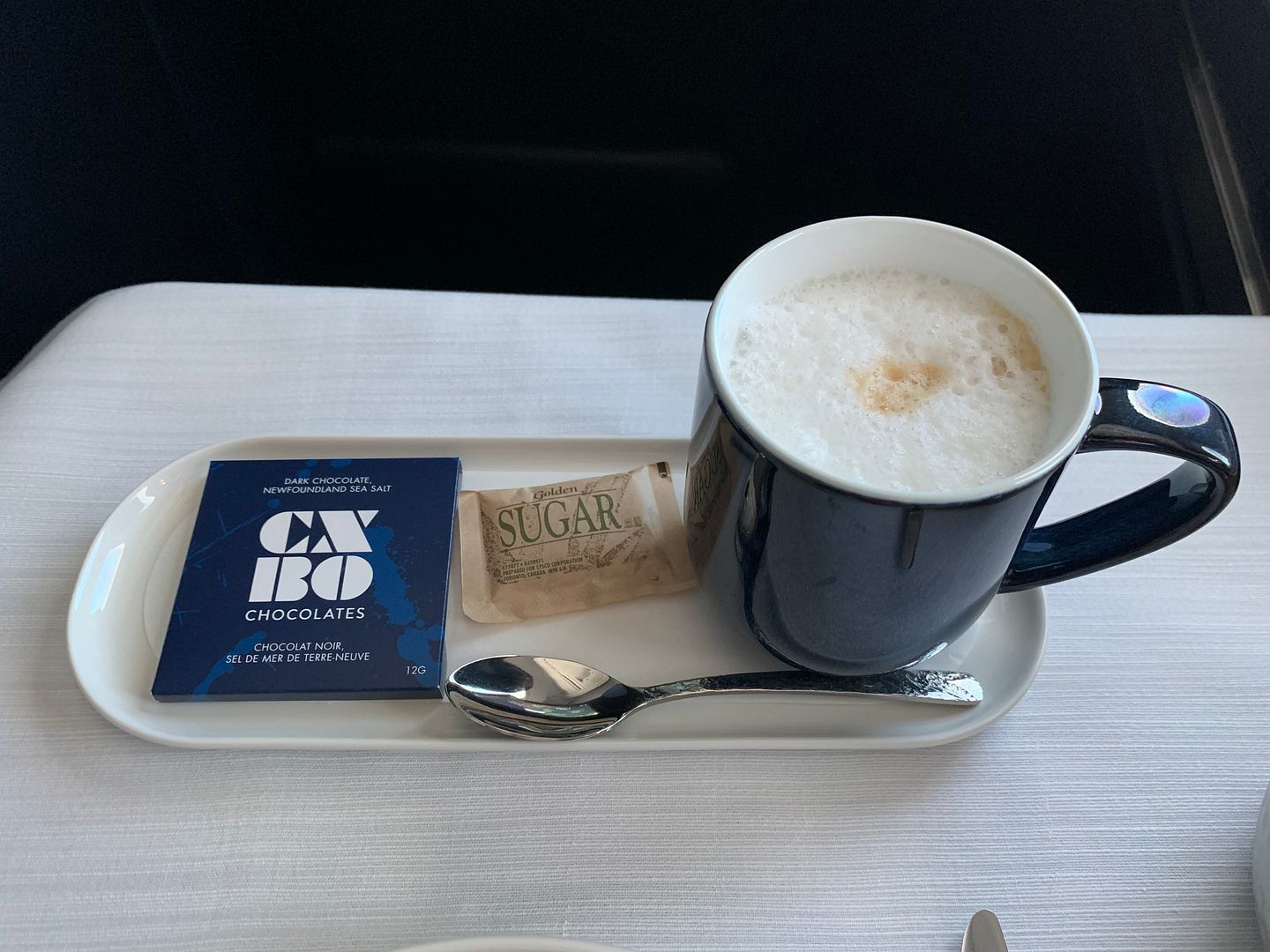 Lovely chocolate from Newfoundland to accompany hot drinks
They definitely learn from JetBlue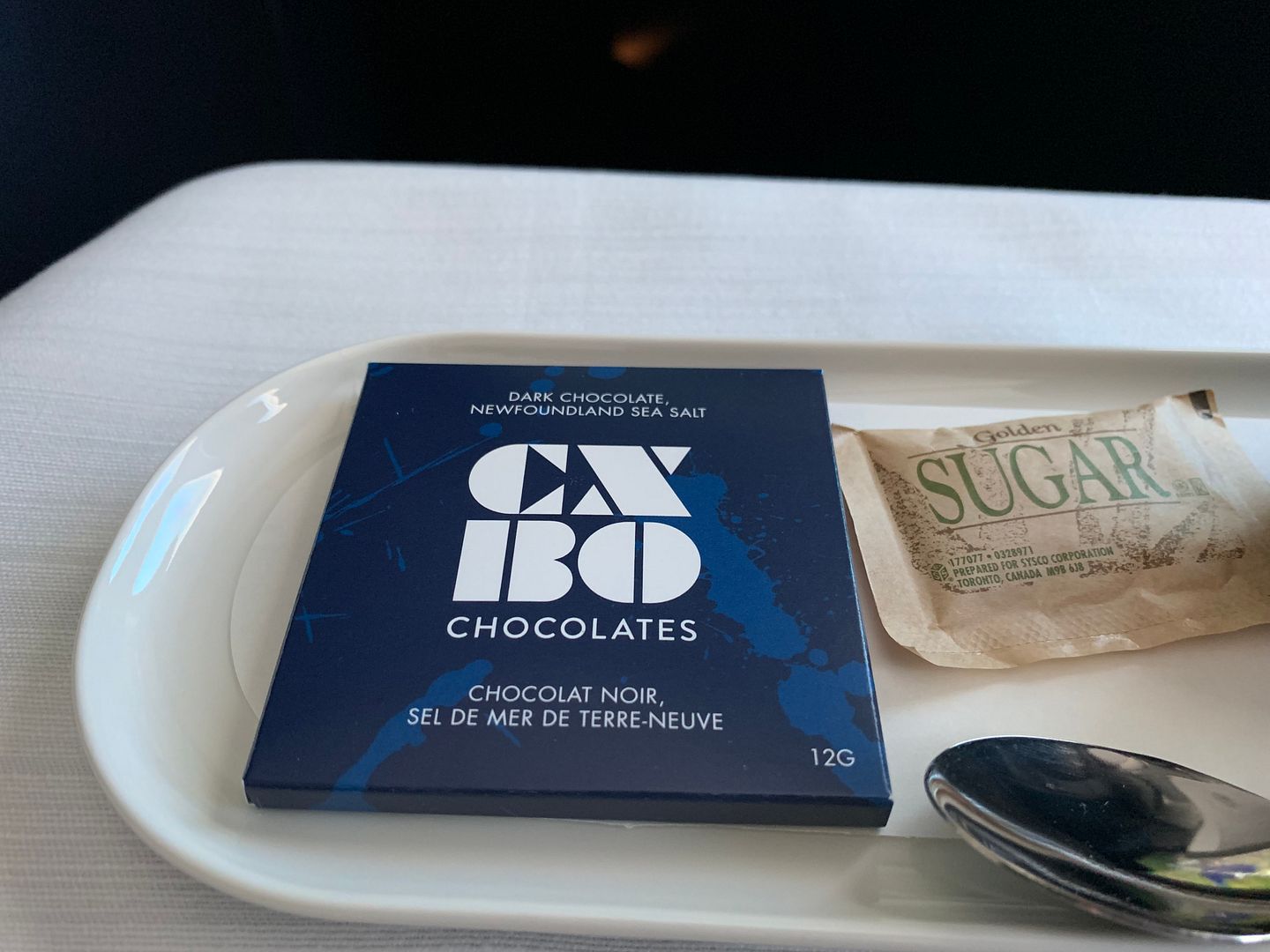 Peppermint tea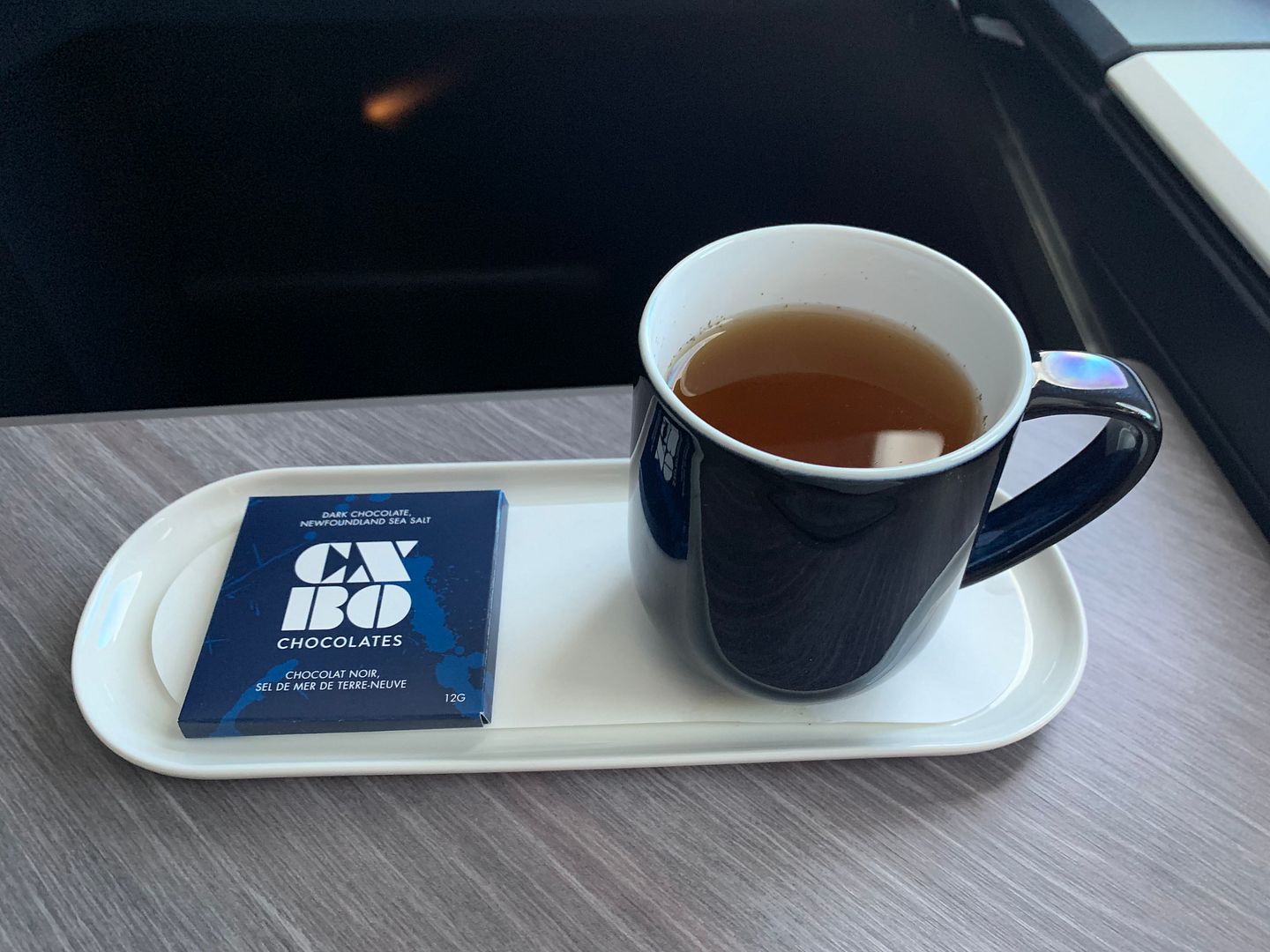 Descent soon began at 3:18pm and the F/As made another round of hot towels, followed by boiled Maple sweets.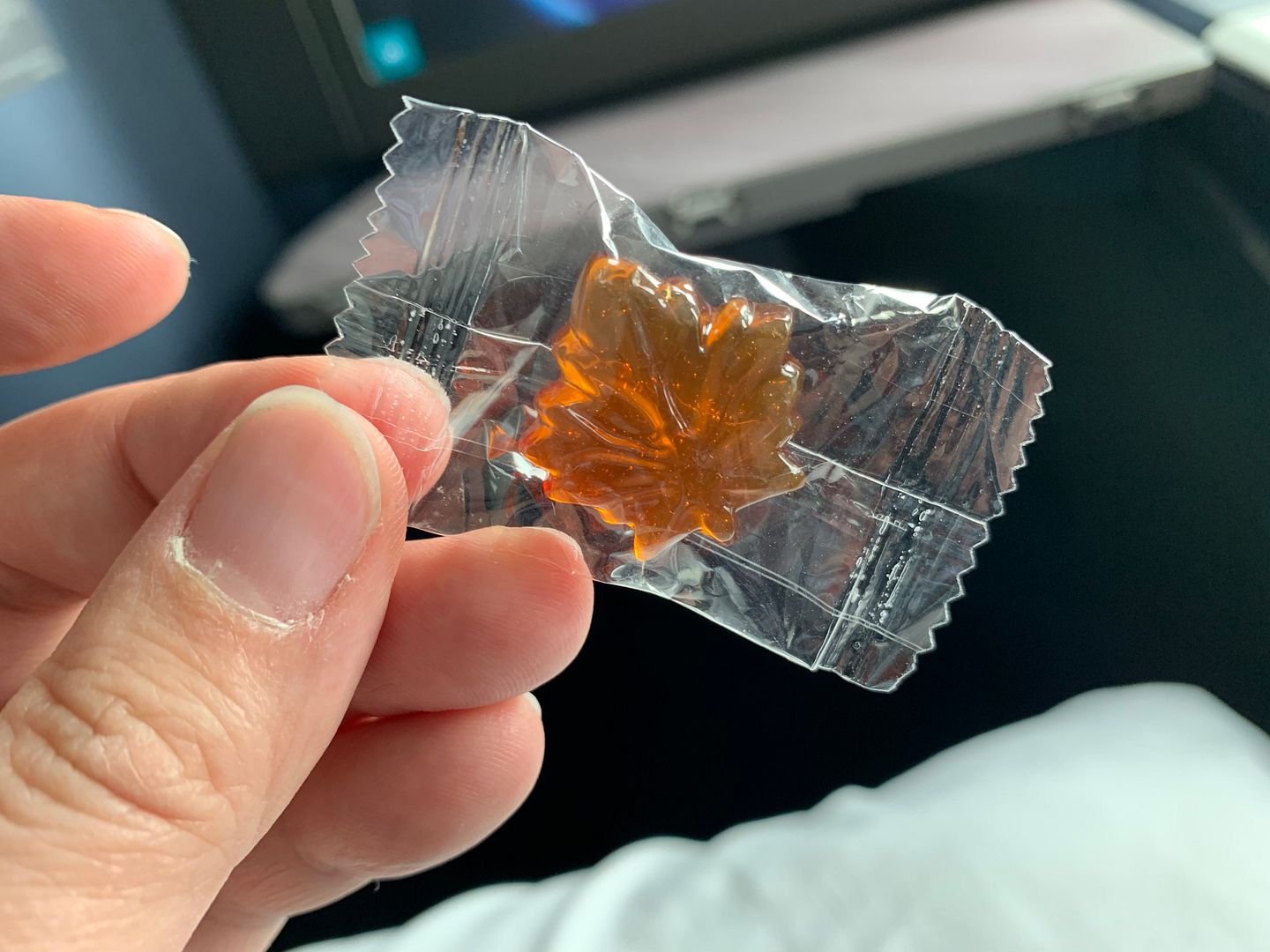 At 3:32pm, they signaled final preparation for landing.
We landed on R/W35R at 3:46pm, and parked at gate D87 at 3:52pm.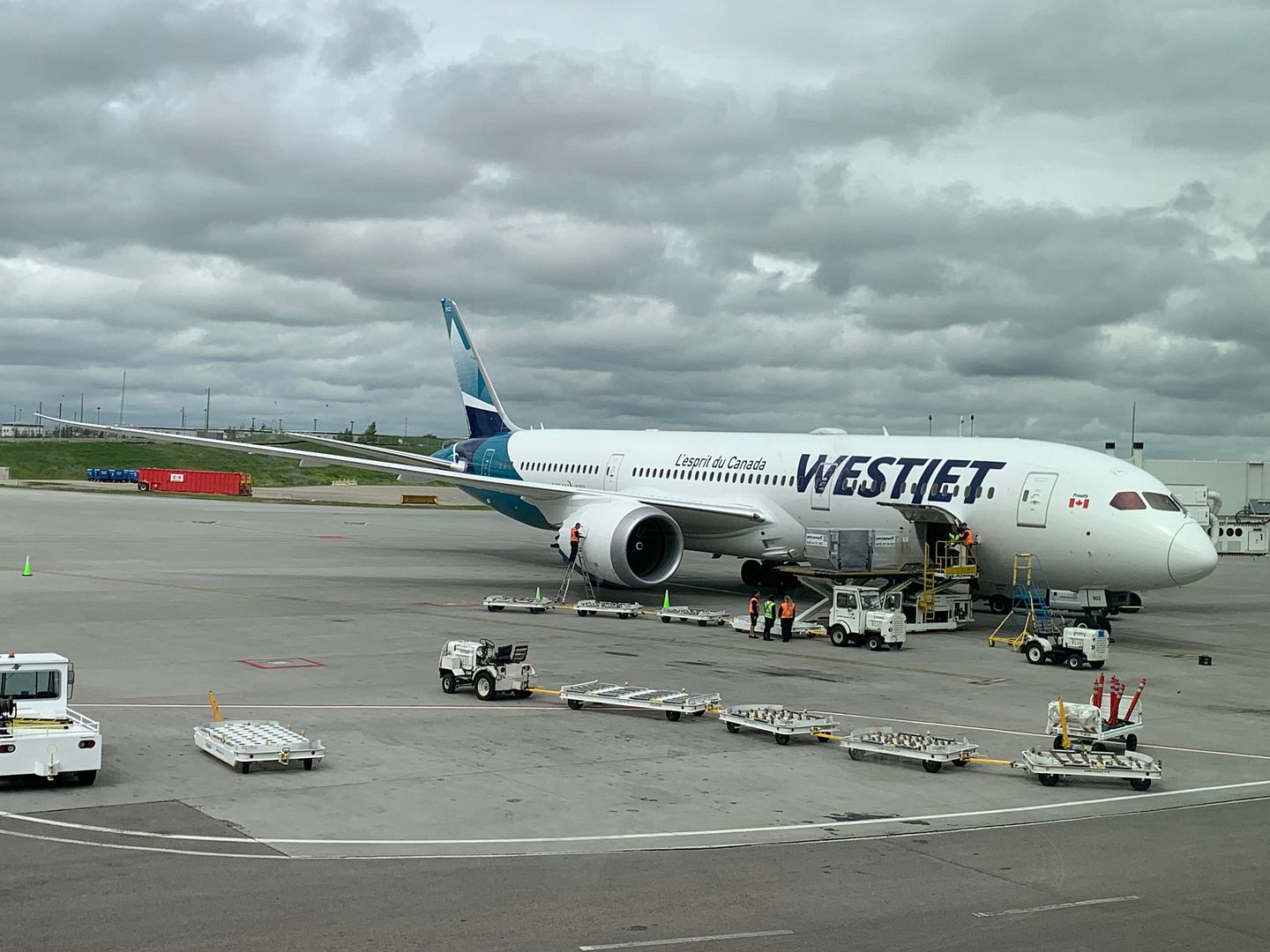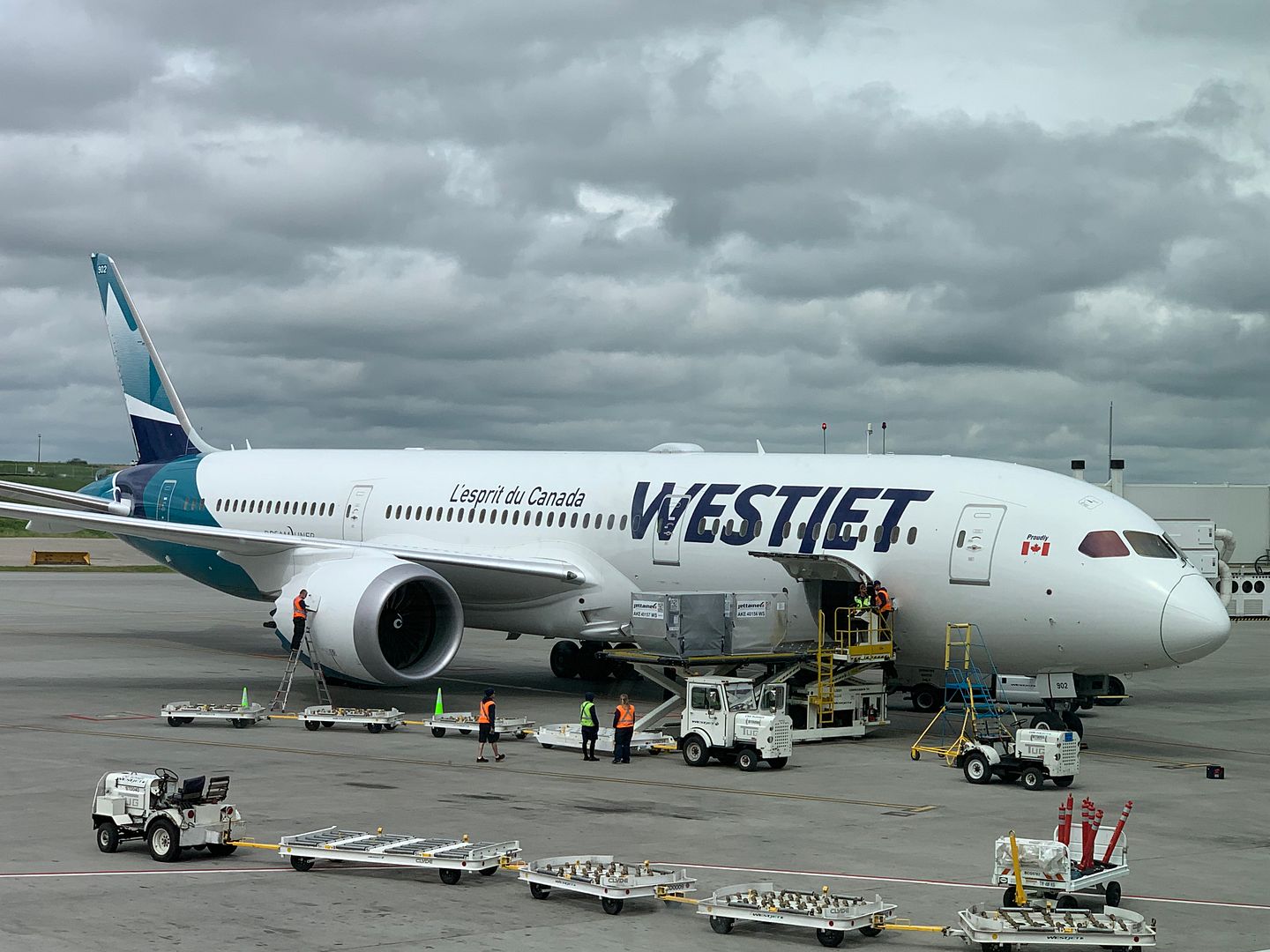 One good thing about gate D87 was a short walk towards immigration hall and it was not too busy here at Calgary. With my Nexus, I went through immigration and custom easily.
I am not going to write much about the connection flight from Calgary to San Francisco the next day, but since I experienced the new improved "Premium" service, I will share the photos.
June 21, 2019
WS 1508 Calgary to San Francisco Lv1030 Arr1224 Boeing 737-800 Scimitar Winglet C-GWRG
A clean cabin shot of this Boeing 737-800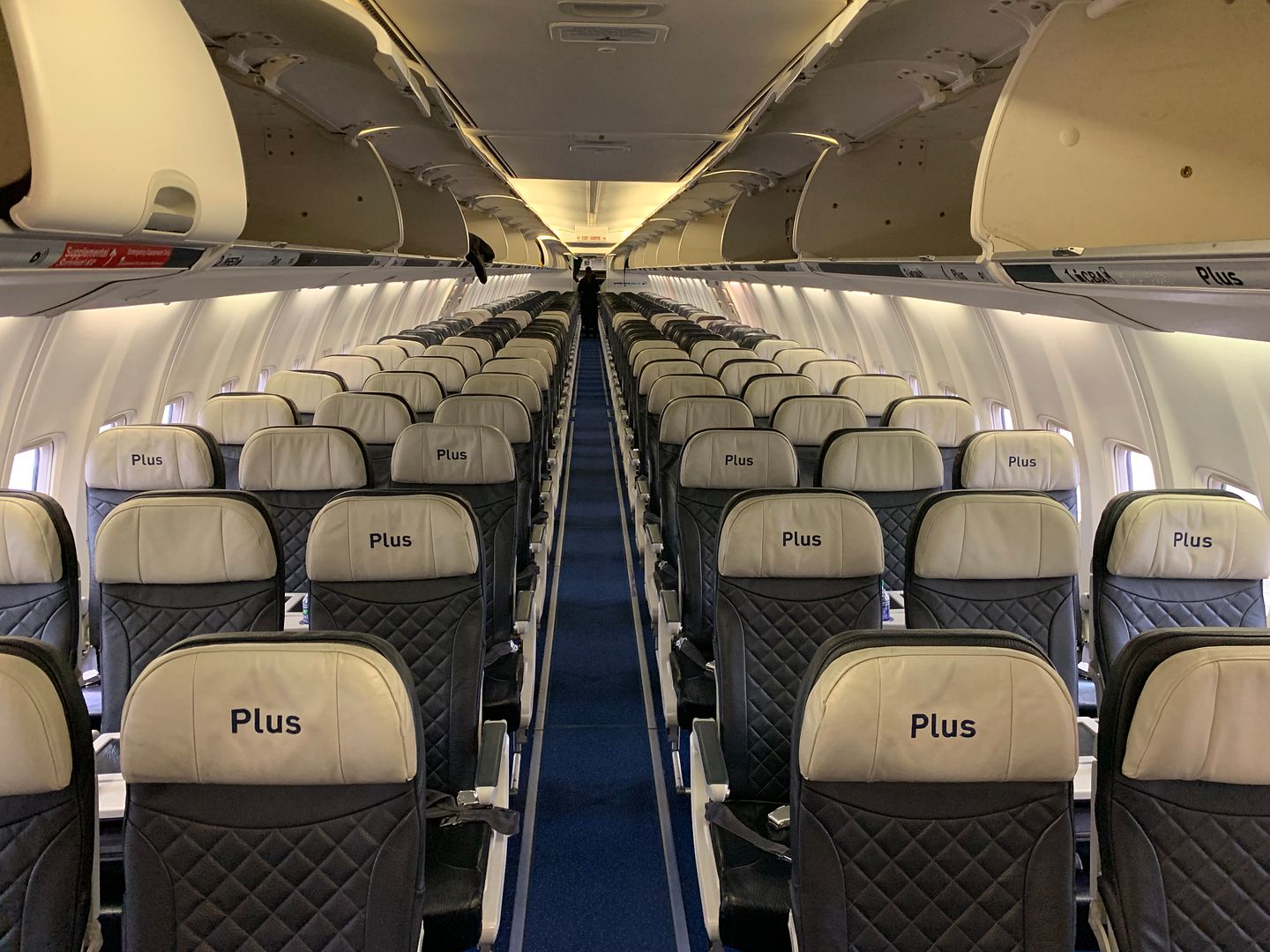 PLUS: Row 1
New Premium Menu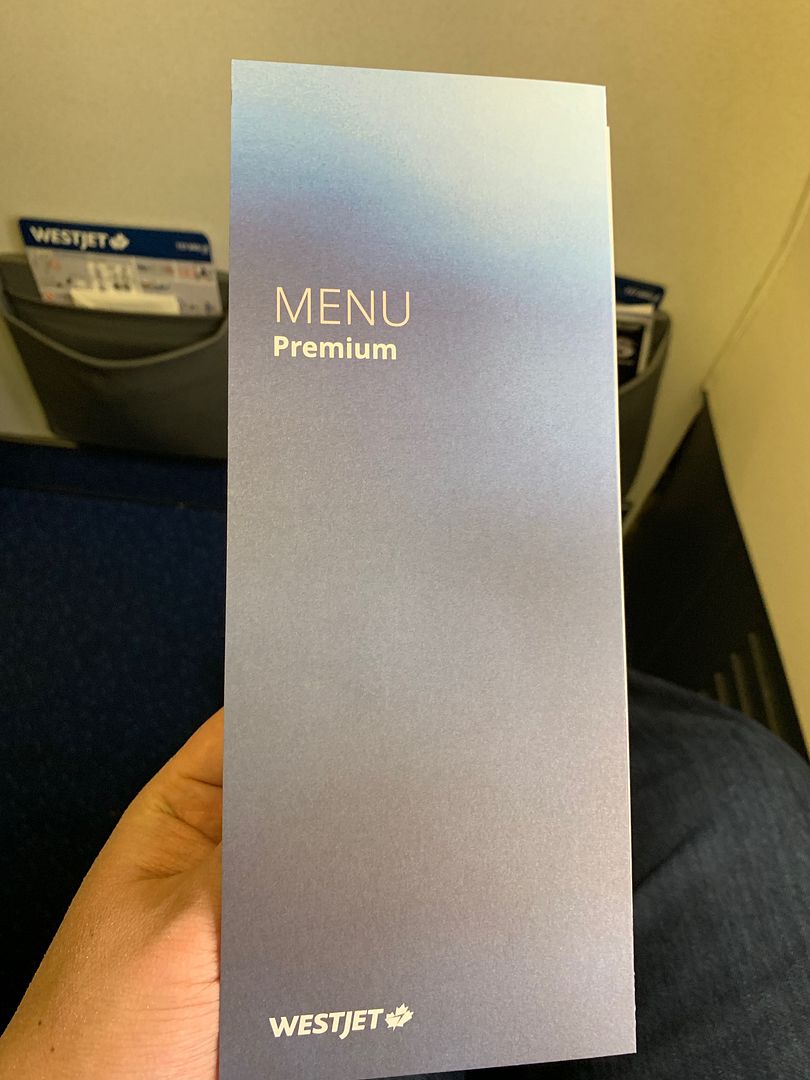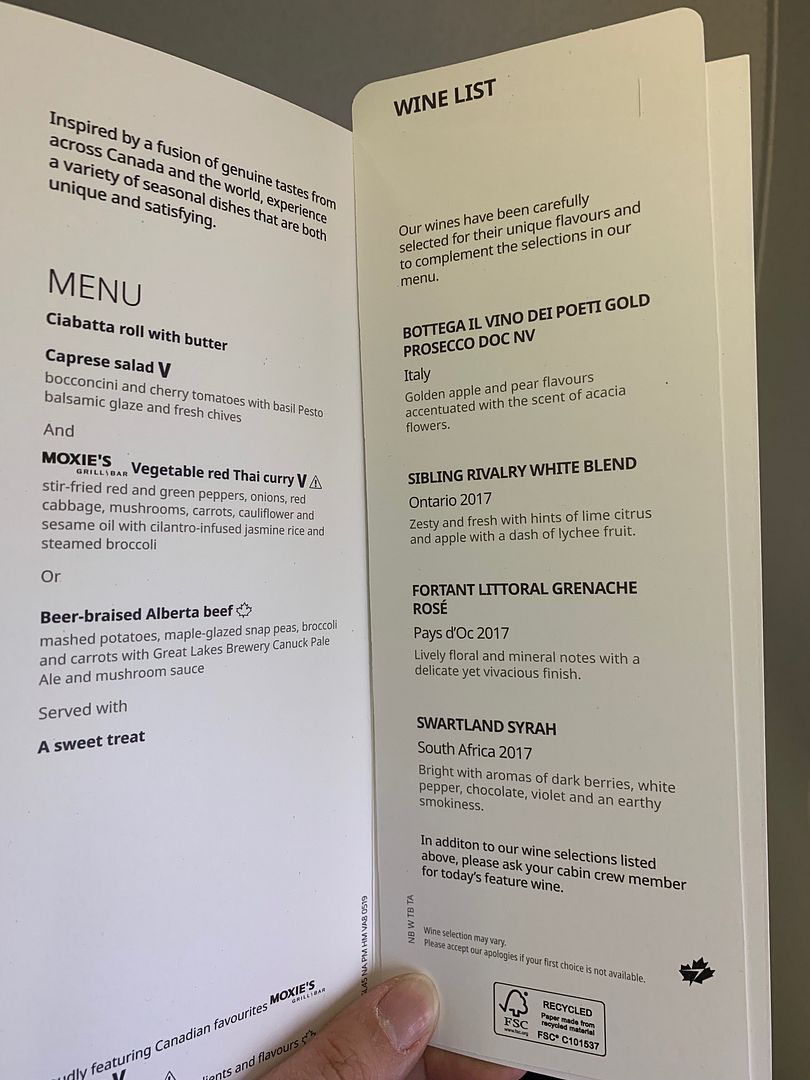 New paper mat to cover the table
Beverage with choice of pretzels or biscoff cookies – new WestJet branded glasses
For some reasons, utensils were loaded separately and the F/As passed me this roll of utensils during beverage.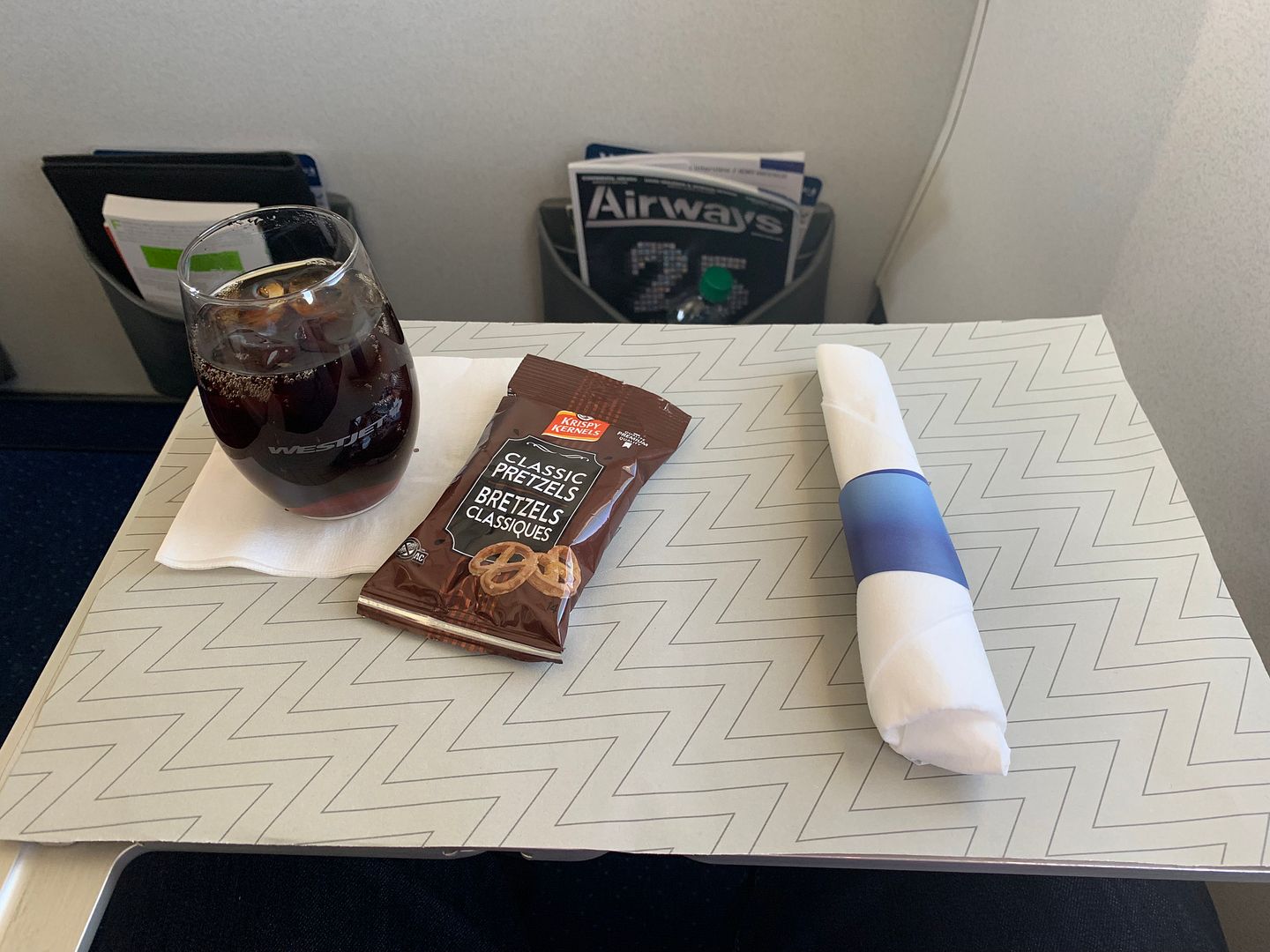 Nice caprese salad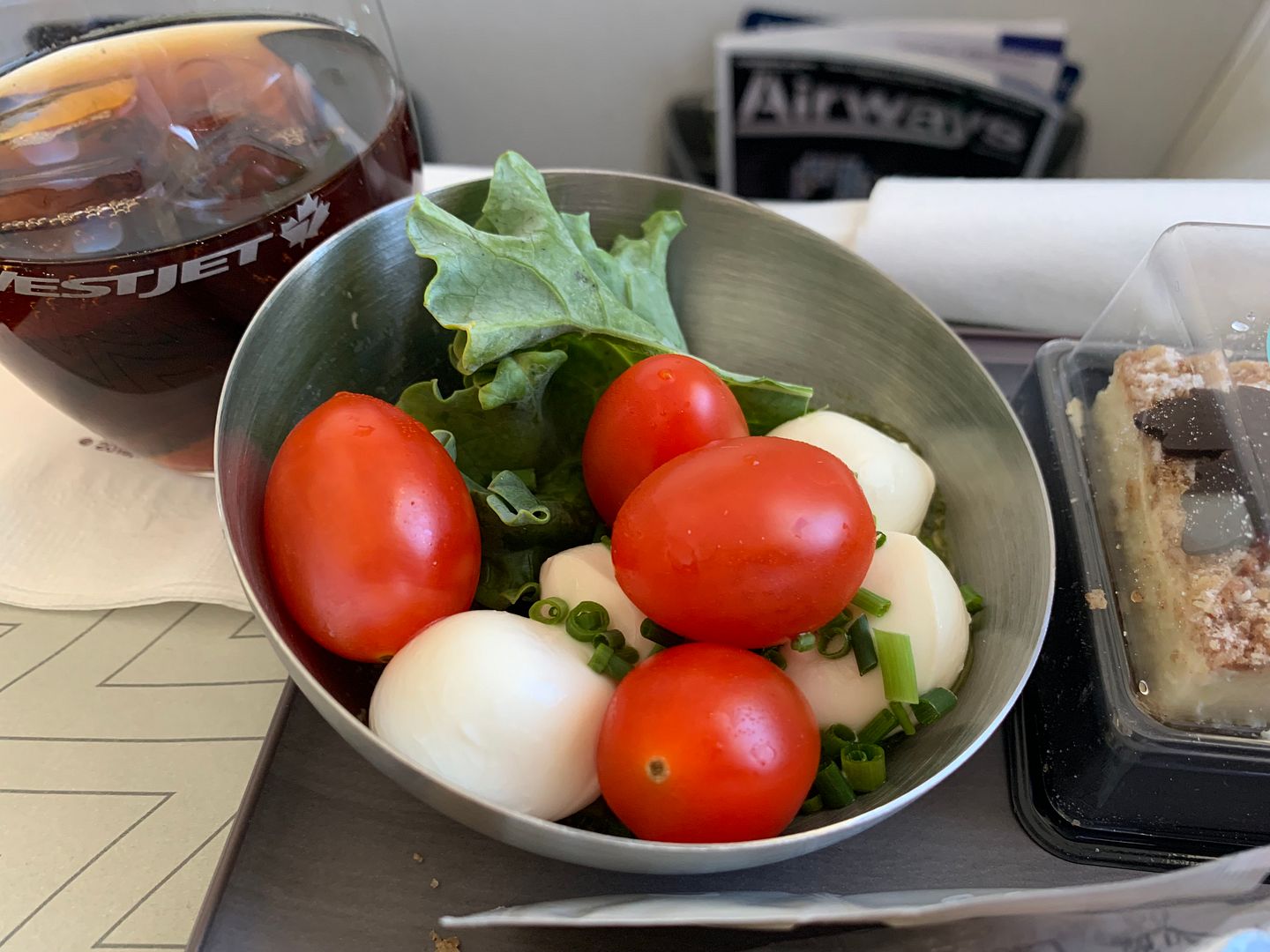 Roll – but not sure if it is good to be served pre-packaged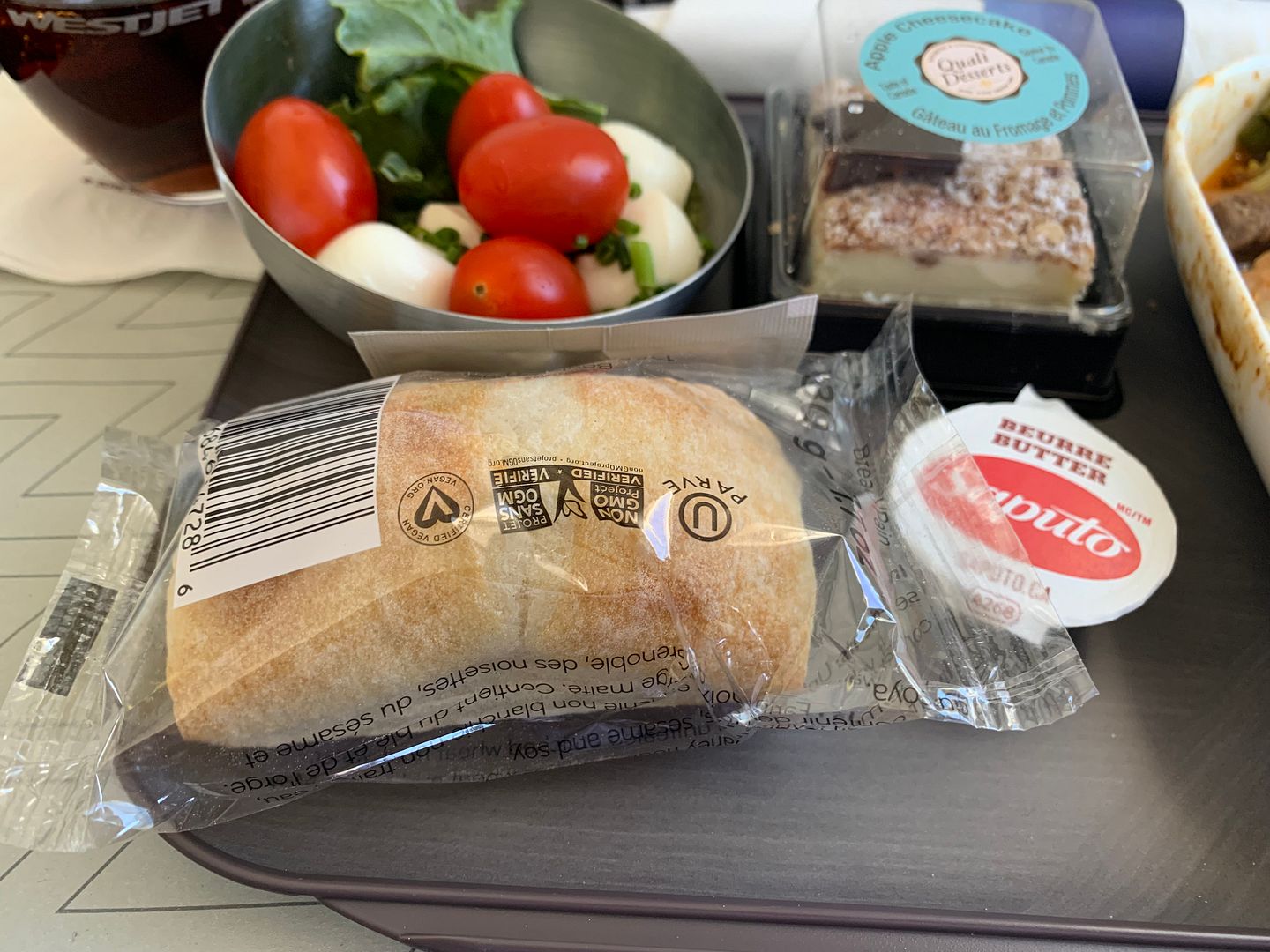 Alberta Beef stew – under-seasoned
Sweet treat – Apple cheesecake
Honestly, the meal was really nothing special, but it was an improvement from the previous sandwich deal though. WestJet still has some works to do with its meal service. This meal will be insufficient, if it is a longer flight. I hope they have the snack basket service on longer flights.
In conclusion, WestJet's business class is a work in progress, and shows tremendous potentials. The airline should be very proud of its dedicated business class F/As, who made the product that special. In terms of seats, I am not sure if they can do anything with the foot spaces but hopefully if they can pay attention on the next generation. I am sure if they are flying to Asia, they have to make some changes to the configuration, so hopefully they will add an inch or so legroom to the current business class suites. Catering can use some improvement but I appreciate the on-demand menu and the possibility for having a second heartier meal too. To me, the biggest and easiest fix is the ground experience in London Gatwick. They can easily modify the check in counters, or just have the agent assisting the check in, when they spot a business class passenger. I believe the personal experience began at check-in, and if I am wiling to pay for a business class ticket, I expect a bit more service, not only the seats and the food. About the lounge, I really don't know what WestJet can do. Maybe they should give paying business class passengers access to the more personal Clubroom at the No 1 Lounge. The current No 1 Lounge simply does not work, especially at the over-crowded situation.
Thanks for reading!
Carfield
Jun 25, 19, 1:52 am
Join Date: Apr 2014
Location: Aberdeen, Scotland
Programs: BA Bronze, Emirates Silver, Virgin Silver, Marriott Titanium
Posts: 967
Thanks for the TR. I saw that they flew seasonly from Glasgow to Toronto and given there isn't much choice for us connecting from Aberdeen, it might open up an option to using them now what I've seen you get onboard.
Jun 25, 19, 8:24 am
Moderator, Trip Reports
Join Date: Nov 2009
Location: 6km East of EPAYE
Programs: UA Silver, AA Platinum, AS & DL GM Marriott TE, Hilton Gold
Posts: 9,370
Nice trip report, thank's for sharing
I don't remember the last time I saw West Jet posted here - that's a good looking J product.
Jun 26, 19, 9:13 am
Join Date: Apr 2011
Location: Treasure Coast, FL
Programs: DL Diamond, Marriott LT Plat, HH Diamond, Avis Preferred Plus, National Executive
Posts: 4,315
Curious how the price was compared to competition for J seats? If it was more affordable I would not hesitate to use them as it looked pretty good to me.

Nice to see an airline not often reviewd.