My best trip to Europe ever!
Jun 17, 19, 3:36 pm
Join Date: Aug 2001
Location: SNA
Programs: N/A
Posts: 3,289
My best trip to Europe ever!
---
Planning:
I was determined to make this three-week vacation in Europe memorable and wanted to see as much as possible.
The map of Europe with all the cities I visited
I verified the opening hours of attractions and figured out the best times to drive to avoid traffic and crowds. It was meticulous and the trip went by without a hitch. I only missed the Eiffel Tower because of a flat tire, but I had been there so it wasn't a big deal.
Of course, that took a lot of planning
Budgeting:
The Savvy Backpacker
suggests a budget of €50-€70 ($60-$85) a day to travel in western Europe as a backpacker, including sharing rooms with strangers in hostels and losing valuable time while navigating through public transportation systems. My expenses totaled $150 a day as a solo traveler driving GPS-equipped luxury cars and staying in comfortable hotels. The total cost of my three-week vacation was $3,145. Here is the breakdown:
– $60 for two one-way flights;
– $50 for Jaguar XF in Ireland;
– $180 for Jeep Renegade in UK;
– $590 for Audi A6 in Germany;
– $180 for tolls and parking;
– $410 for gasoline for all cars;
– $215 for attractions;
– $210 for food and drinks;
– $150 for miscellaneous; and
– $1,100 for lodging.
Lodging:
Skyscanner
suggests $25-$70 in budget hotels or $75-$150 in mid-range hotels.
Rick Steves
says an average two-star in Paris is $150 a night. In Paris, it was either $150 a night or $30 a night in a muggy hostel with rowdy backpackers when it was 93°F outside, but a 30-minute drive out of Paris was a brand-new modern air conditioned three-star for $62 a night. Many older European hotels, even three-stars, don't have air conditioning.
All hotels I stayed at had good reviews: four days at two stars, ten days in three stars, and six days in four stars. In the lengthy post of my trip to Europe below, I added what I paid for the hotels. Some were reserved six months in advance while some were last-minute deals. I checked frequently as time got nearer and made changes to get the best deals. Most of the hotels were outside cities, with many being on the way to the next destination. For lodging, I paid an average of $55 a night.
Transportation:
The average three-hour daily drive was made bearable by renting luxury cars. Being able to drive out of cities where hotels were cheaper and more modern helped reduce my total lodging costs by about $1,400. Air conditioning was greatly appreciated when it exceeded 85°F several times.
I could have gotten it down to $100 a day if I rented economy cars and didn't drive that much, but I wanted to see as much as possible. I went in the peak of the summer when there were 15 hours of sunshine every day. I used all kinds of tricks to reduce my parking expenditures, such as staying in a hotel in Rome with free parking or driving around in London on a Sunday when parking was free.
Packing:
I used one small carry-on for the whole trip and didn't even bring a laptop. I only packed seven pairs of shorts, seven shirts, and seven underclothes. No socks, I had a pair of trusty flip flops for the entire trip. Laundromats took two hours every week. I even found a way to travel without my laptop.
I found a way to replace my bulky laptop
Food:
For food, it was mostly supermarket stuff, about $8 to $12. Packaged salad, orange juice, bottled water, salami slices, mustard, sliced cheese, cashews, crackers, warm rolls fresh out of the oven, macaroni salads, and more. A lot of supermarkets offered lunch packages: sandwich, chips, and Coke for $3. Instead of wasting time in restaurants, I'd be eating on the way to the next destination. Europe has so much to offer and I didn't want to waste it.
I watched the video of my trip to Europe from two years ago and took snapshots of the video, that's why the pictures are a little lousy. Places in
bold
are ones I visited. Here it is:
Day 1 - Tuesday:
I started the trip in Air Canada's Maple Leaf Lounge as a Business Class passenger flying from
Los Angeles to Toronto
. Arriving in Toronto, I visited the AirFrance lounge since I was also in business class on Aer Lingus from
Toronto to Dublin
. It was comfortable enough for me to sleep, fortunately.
Day 2 - Wednesday:
Jaguar for the day in Dublin, Ireland
Glasnevin Cemetery
with a watch tower completed in 1842 to prevent bodies being snatched for anatomical use in medical schools.
Kilmainham Gaol
, we used to spell "jail" as "gaol" and it was pronounced similarly. Opened in 1796, closed in 1923, it jailed (or gaoled?) mostly Irish rebels and many were either executed or shipped off to Australia. The youngest was a 7-year-old convicted of theft.
Potato Famine Memorial
to commemorate the event between 1845 and 1852 when a virus ruined potato crops and devastated Ireland.
Glasnevin Cemetery in Dublin, Ireland
Kilmainham Gaol in Dublin, Ireland(Jail)
Potato Famine Memorial in Dublin, Ireland
I parked the car and walked to a few places within walking distance of each other. The first stop was the
Christ Church Cathedral
founded in 1028. I also stopped at the nearby
Dublin Castle
and
St. Patrick's Cathedral
, founded in 1191, which is the largest and second oldest cathedral. There were colorful statues in St. Patrick's Cathedral and it's a place to visit if you're in Dublin for the first time.
Christ Church Cathedral in Dublin, Ireland
I stayed at the spacious and comfortable four-star Court Yard Hotel ($58 per night with free parking) in Leixlip, about 10 miles outside of Dublin. It was hard to find a nice four-star in Dublin for less than $180 per night with free parking so the car saved me almost $100 and I saw more of Dublin.
Day 3 - Thursday:
RyanAir flight from
Dublin to Glasgow
. The fare was €19.99 ($25.74). I arrived in Glasgow and Europcar didn't have the diesel compact I reserved so they upgraded me to a Jeep Renegade.
Jeep Renegade for five days in UK
I drove for three hours to
Loch Ness Centre and Exhibition
. It struck me as gimmicky so I didn't bother, but saw the Loch Ness Lake. Another two hours of driving, I arrived at
Balmoral Castle
. For its size, I was disappointed to see it had relatively few exhibitions. The castle is a holiday home for the Royal family. Then a 2-hour drive to
Dundee
to spend the night. A total of 7 hours was spent driving, but Scotland is very spread out with a lot of winding roads. I found it more fun with the manual transmission on the Jeep Renegade.
I stayed at the comfortable and three-star Best Western Queens Hotel ($58 per night with free parking). It had a plague boasting of Sir. Winston S. Churchill's stay "on many occasions" between 1908 and 1922. It was located in the central part of Dundee.
Day 4 - Friday:
In the bright morning, I was mildly annoyed to see all the places closed then discovered it was only 5:30 a.m. The sun had me fooled. Fortunately, the
Super Snack
across the street from the hotel was open so I waltzed over and ordered a warm breakfast sandwich (bacon, ham, and cheese). It was actually good but this place really needed a better name than the cheesy
Super Snack
.
Great breakfast from Super Snack in Dundee, Scotland
A short 20-minute drive was
Glamis Castle
, reputedly the most haunted. At the castle grounds, I saw a pet cemetery that had a tombstone for a pet guinea pig named Happy. Although Glamis was smaller than Balmoral, it had more exhibitions. Then a 1-hour drive to
Stirling
where I parked near the
Church of the Holy Rude,
built in 1129. I think Rude is based on the Scottish "
Rood
" which means Cross. I continued to
Stirling Castle
which was bigger with a lot more exhibitions than the other castles. It used to house the Royal Mint, hence the "
Sterling
."
Pet cemetery at Glamis Castle grounds in Glamis, Scotland
It was still daytime when I arrived at three-star Caledonia Hotel ($42 per night with free parking and breakfast) in
Rosyth
. At that price, I wasn't expecting the Ritz. The bathtub was cracked but not leaking. However, the lively bar downstairs and the free hearty breakfast (cooked to order - eggs, sausage, and bacon) made the place worth it.
Day 5 - Saturday:
I took off for
Edinburgh
to visit the
Edinburgh Castle
, by far the largest castle compared to all the others I visited. There were several structures within the castle grounds with the oldest being
St. Margaret's Chapel
built in the 1100's. I also visited the area where the British kept 1,000 American Prisoners of War from our War of Independence. I walked through an exhibit displaying the deplorable living conditions our patriots suffered. After five hours of walking was the dreaded 6-hour drive to London, but the stop at the UK's second largest shopping center,
Metrocentre
, made the trip bearable, aided by a Reese's Peanut Butter donut from
Krispy Kreme
.
Getting in Edinburgh Castle in Edinburgh, Scotland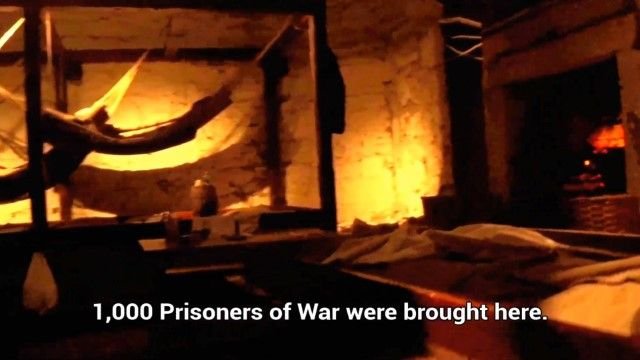 American POW area during U.S. Independence, Edinburgh Castle
Reese's peanut butter donuts from Krispy Kreme at Microcentre
Before London was a small four-star hotel named Savoro Restaurant with Rooms ($54 per night with free parking) in
Barnet
, 13 miles north. The restaurant was nice, but I reserved a budget single room which had skimpy furniture. The shared bathroom was sparking clean and the big tub was nice. There was a supermarket across the street so I got yogurt and milk and slept earlier than usual.
Day 6 - Sunday:
Finally, I arrived in my favorite city,
London
, at 6:00 a.m. when people were sleeping so I started by visiting outdoor attractions without the crowds. The first was
Buckingham Palace
and I liked having the whole front to myself. Parking was free on a Sunday so I parked near St. James Park and walked all over, visiting
Prime Minister's Residence
,
Trafalgar Square
,
Piccadilly Circus
,
Swiss Centre
,
Chinatown
,
Covent Garden
, browsed around
Jubilee Market
, rode on the
London Eye
,
Big Ben
,
Westminster Abbey
, then got back to the car and drove past the imposing and notoriously haunted
London Tower
and through the
London Bridge
across the River Thames. A few hours in
Harrods
, the largest department store in Europe, so large it even has its own zip code!
Buckingham Palace without the crowds in London, England
Big Ben from the top of London Eye
Westminster Abbey in London, England
I drove for an hour to Southend where my flight to Köln was. Adjacent to the airport was a new four-star Holiday Inn Southend ($83 per night), very modern with spectacular air conditioning. Of all the hotels I stayed, this one was the most expensive but well worth it being within short walking distance to the airport that accommodated budget carriers.
Day 7 - Monday:
My £19.99 ($32.04) flight from
London to Köln
was on the now-defunct Flybe. Travelers were angered by the carry-on size inspection at the gate. If it didn't fit, it cost £40 ($49). The passengers were warned by the many signs before the gates to verify the size, so they didn't garner any sympathy when caught. The train station in
Köln
was mostly in German so I used Google Translate by pointing my phone at words to translate. I recommend it! The
Köln to Düsseldorf
train made an unexpected stop in the middle for an hour and got me running late.
Using Google Translate on my phone to read German signs
Audi A6 waiting for me in Düsseldorf, Germany
I barely made my 2:45 p.m. reservation at
Anne Frank House
in
Amsterdam
. Now, it is suggested to reserve tickets online. Pictures or videos weren't allowed. I walked past a lot of the places since I had already been there:
Sex Museum
,
The Bulldog
(first marijuana shop in city), and
Oude Kirk
(old church from 1200's).
The first marijuana shop in Amsterdam, Netherlands
The three-star Hotel Campanile Rotterdam Oost ($42 per night with free parking) was an hour away from Amsterdam and on the way to my next destination, Paris. I didn't want to stay in Amsterdam, it isn't exactly safe and it would be hard to get out in the morning with all the bicycles and pedestrians, not to mention hotels were expensive.
Day 8 - Tuesday:
I visited
Baarle-Hertog
, a weird Belgian city with 24 parcels of land scattered inside the Netherlands. Then continued to
Brussels
and took a picture of the
Atomium
. Until recently, people got sued for copyright infringement by taking pictures and putting it on the internet. I walked around the
Grand Market
and nearby
Manneken Piss
, a baby statue that pees nonstop. I left for
Paris
and barely made it to
Napoleon's Tomb
at
Les Invalides
before it closed at 6:00 p.m. The tomb was tiny!
Map of Baarle-Hartog, see how weird it is?
International border, many of that in Baarle-Hartog, Belgium
Atomium in Brussels, Belgium
Manneken Piss in Brussels, Belgium
Napoleon Tomb in Paris, France
I walked to the top of
Arc de Triomphe
to view the crazy traffic circle, then up the stairs to
Sacré-Cœur
. Both closed after 10:00 p.m. so I held off the two until later in the day.
I liked the three-star ACE Hôtel Roissy ($62 per night with free parking). It was 25 minutes north of Paris. It hit 93°F so the air conditioner was niceand I was so glad the air conditioner was on full blast. A lot of three-star hotels in Paris don't have air conditioning.
That night, I had a flat tire so I filled it up and drove to
Charles-de-Gaulle Airport
and it got flat again. Sixt was amazing! They only had one vehicle, a Citroën van, but told me to return the next day. Sixt was really helpful!
Citroën van while the Audi A6 had a flat tire
Day 9 - Wednesday:
Notre Dame Cathedral
, the exterior was covered in meticulously detailed concrete artwork. That was before the devastating fire. Then it was the world's largest museum,
The Louvre
. I only went there to take a picture of
Mona Lisa
then get out, bypassing all the other exhibits since I wasn't into art. The
Catacombs of Paris
had skeletons of six million people underground in a city of two million. Before the entrance, there was a warning, "Stop, this is the empire of the dead!" chiseled in old concrete. Pretty creepy. There was no time to visit the Eiffel Tower (not
bold
because I didn't visit it) because I had to return to the airport and trade in the rental van for the luxury car I had reserved. They gave me a bigger Audi A7, I was thrilled! That car was so comfortable, I loved it!
The entrance to Notre Dame Cathedral in Paris, France
Mona Lisa in Museum Louvre in Paris, France
Warning sign at Paris Catacombs in Paris, France
Six million skeletons in Paris, a city of 2 million
The Audi A6 needed to go so Sixt gave me an Audi A7!
It rained a bit during my 377-mile drive through the south of France on the way to Italy. I arrived in Les Houches and stayed at the three-star Hôtel Restaurant Chris-tal ($44 per night with parking). My room was a "single budget room" - just to sleep in and be out the first thing in the morning.
Day 10 - Thursday:
I drove through a long 7-mile
Mont-Blanc Tunnel
that had a €43.50 ($52) toll and in the middle was the French and Italy border. The two-day, 575-mile trip to Genoa was wearing me out. In
Genoa
, I saw the
Batman Cruise Ship
near the
Lighthouse of Genoa
which was built in 1543, making it the third oldest in the world. I walked through the winding alleys of Genoa and could not believe how close the buildings were to each other. I shuddered at the thought of an earthquake. I visited the
Basilica di Santa Maria delle Vigne
, if you like ornate and gold artwork, this is the place! Within a short driving distance was
Pisa
where I visited the
Leaning Tower of Pisa
. Then it was another short driving trip to
Florence
and discovered there was a pizzeria next to my hotel.
Batship docked in Genoa, Italy
Lighthouse built in 1543 in Genoa, Italy
Leaning Tower of Pisa
I enjoyed the three-star Hotel La Rosa di Firenze ($41 per night) of Florence. The owner was very friendly and showed me where I could use the refrigerator and guided me to the huge air-conditioned room. Great place but so hard to find!
Day 11 - Friday:
Still in Florence, I took the liberty of visiting Michelangelo's famous
Statue of David
in
Galleria dell'Accademia
. I walked over to
Santa Maria del Fiore Cathedral
but it was 90°F and line was too long so I headed off to Rome but took a detour when I spotted an ancient walled village perched on top of a hill.
Orte
was the name but it didn't seem touristy. There were no museums and I only saw three locals chatting over espresso so I left. Arriving in
Rome
, a 2,770-year-old city, I expected crazy drivers but it was quite the opposite. A local explained to me the city put up speed cameras. The first year, it was common for Italians to find their driving licenses suspended over too many tickets.
Michelangelo's Statue of David
I began my three-day stay at the two-star Casa per Ferie Margherita Diomira ($51 per night with free parking and breakfast). I had a single room. The reviews were good for this centrally located hotel even though the nuns ran the hotel. Parking was in a gated area since Rome was and still is notorious for theft.
Day 12 - Saturday:
Thirty minutes away in
Tivoli
was the ruins of
Hadrian's Villa
. Hadrian was a Roman emperor who built a wall near the England and Scotland border. Then it was back to
Rome
,
Palatine Hill
,
Roman Forum
, and the
Colosseum
, all within walking distance from the hotel. I also learned Italians have their siesta where a lot of shops close between 1:00 p.m. to 3:00 p.m.
Roman Forum in Rome, Italy
Colosseum in Rome, Italy
Back at the religious hotel, it was 88°F outside and air conditioner broke. The room got warm so I used Google Translate to communicate with the Italian nuns. One said it'd be fixed tomorrow and they didn't have another room available. I didn't want to check out, I liked the hotel.
That night, the warm and stuffy air led to the worst sleep!
Day 13 - Sunday:
Like London, parking was free in Rome on a Sunday. To be sure, I used Google Translate to ask an Italian in a white van if parking was free and he replied with a big toothless grin, "Si!"
I parked near
Vatican City
and visited
St. Peter's Basilica
. The heat and humidity had me sweating like a pig while I walked up the 320 steps to the top of the dome, but the breeze from the top and the panoramic view of
St. Peter's Square
was worth it. I learned the
Swiss Guards
have been protecting Vatican City since 1506 but nobody explained to me why they were dressed like clowns. The world-famous
Sistine Chapel
was in
Museum of Vatican City
but taking pictures or even videos weren't allowed. I took off for nearby
Hadrian's Mausoleum
or
Castel Sant'Angelo
then drove to to
Piazza Navona
where I had a ham and cheese calzone. The
Pantheon
with a lot of statues and artwork inside is a great one too. The butt-white
Trevi Fountain
was completed in 1762 and, like the others, had intricate artwork and statues. I also stopped by my friend's hotel near the
Spanish Steps
. Back in my hotel, I learned they fixed the air conditioner and it was so nice!
St. Peter's Square in Vatican City
View from the top of St. Peter's Basilica in Vatican City
One of the colorful Swiss Guards protecting Vatican City since 1506
Hadrian's Mausoleum in Rome, Italy
Walking inside Pantheon in Rome, italy
Trevi Fountain in Rome, Italy
That night, the fixed air conditioner was on full blast and I had the best sleep!
Day 14 - Monday:
I checked out of the hotel and headed to the
Ruins of Pompeii
, two hours south. Mt. Vesuvius in A.D. 79 erupted, blanketing it in 18 foot of hot ash, killing all 11,000. It was lost for 1,500 years. Excavation is still ongoing and they're still finding bodies frozen in time, preserved by the hot ash. There was an ancient Latin writing on a house, Cn Helvium Sabinum Aed. I got home and looked it up, turned out he was a Roman politician running for office. I don't think they had cardboards back then so they wrote on houses. If they did that to mine, I'd be pissed! The 2,000-year-old grooves in the cobblestone road fascinated me. After the long six-hour walk exploring the ruins in sweltering heat, I was happy to get out and drive in the air-conditioned car for five hours to
Bologna
.
The name of a Roman politician running for office in Pompei, Italy
The grooves in the cobblestone road in Pompei, Italy
Ruins of Pompei, Italy
I didn't do much in Bologna (pronounced
Baloney
), it was just to spend a night at the two-star Hotel Tuscolano ($39 per night with free parking and breakfast) before heading off to Venice. The breakfast was surprisingly good. The only negative was the towel, it was thin as a bed sheet with no absorption.
Day 15 - Tuesday:
After two hours of driving from Bologna, I was in
Venice
. I parked at Tronchetto which was cheaper than the others at €20 ($25) a day and I got on the "
People Mover
" tram for a small fee of €3 ($4) roundtrip, it was five times cheaper and five times quicker than the water taxi. Venice was like a maze, but I had the GPS on my phone so getting lost wasn't an option. I visited the
Rialto Bridge
,
Basilica di San Marco
,
Palazzo Ducale
, and the
Grand Canal
. I got out of Venice before it got warmer at around 2 p.m. Next was Austria. Before, I could drive to the first toll booth and get a vignette (toll sticker), but the rules changed, and I was levied an on-the-spot fine of €120 fine at a random inspection before the first toll booth. Austria is where Hitler was born and where Josef Fritzl kept his daughter imprisoned for 24 years in a basement and had babies with her. I only visited it because there was a town named
....ing
. Look it up.
Rialto Bridge in Venice, Italy
St. Mark's Basilica in Venice, Italy
One of the many ornate buildings in Venice, Italy
A quaint little town in Austria with a dirty name
Exhausted from the six-hour drive, I arrived at the three-star Gasthof Zur Post ($49 per night with free parking and breakfast) in Schwabhausen, Germany. The reception was closed when I arrived at 10:00 p.m., but a key was left hanging on the hook next to the door with my room number. The breakfast next day had made to order eggs.
Day 16 - Wednesday:
Dachau Concentration Camp Memorial Site
was a short 10-minute drive from the hotel. I saw the infamous
Arbeit Macht Frei
(Work Brings Freedom) on the iron doors but I don't think the doors were original. The camp showed the inhumane conditions, it was so bad many prisoners prefered to commit suicide by holding onto the electric fence. Typhus was common and the smaller crematorium couldn't handle the deaths so a larger one was built. A total of 32,000 deaths were documented. The
Deutsches Museum
in
Munich
(an hour away from Dachau) is the largest museum of science and features so many exhibits one would need a couple days. Old computers, how paper is made, airplane simulation, making glass, a machine to how many watts a human could produce by pedaling (I got it up to 1,000), and in the basement was a large exhibit about mining. I went to the
Glockenspiel
and climbed up the
Tower of Neues Rathaus
Dachau Concentration Camp in Dachau, Germany
"Work Brings Freedom" in German
One of the many exhibits in Deutsches Museum in Munich, Germany
Glockenspiel in Munich, Germany
Done with Munich, I drove to three-star Hotel Vladar ($52 per night with free parking) in the southern part of Prague that was a little outside the city. That morning, the hotel said breakfast was included so I had it then he said it wasn't included so I paid €10. The breakfast was fantastic though!
Day 17 - Thursday:
In
Prague
, I visited a shop at
Vaclav Square
and had apple strudel. It started raining a lot so I bought an umbrella for the first time in my life. It doesn't rain much in southern California. I walked across
Charles Bridge
then up the steep stairways to
Prague Castle
. I came across
Gingerbread Museum
on the way and I couldn't say no to a few gingerbread cookies. Next to the Prague Castle was
St. Vitus Cathedral
where I climbed 287 steps to the top (I checked Google for that tidbit) and it started pouring. The powerful wind at the top tried to tear my umbrella apart, but it held together. Not wanting to get soaked, I went back down and strolled around the
Old Town Square
where the oldest functioning
Astronomical Clock
was. It was built in 1410 and about two stories high.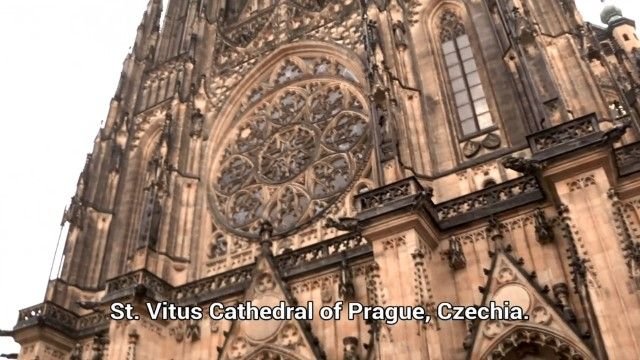 St. Vitus Cathedral in Prague, Czechia
The view from the top of the St. Vitus Cathedral in Prague, Czechia
Medieval Asronomical Clock built in 1410 in Prague, Czechia
After a short 2-hour drive was
Dresden
where I visited the
Die Welt der DDR
(
World of East Germany
). It showed what life was like in East Germany. I urge Bernie supporters to visit this place and understand what Socialism does. Hint: this East German "Socialist paradise" didn't fare well.
The World of East Germany museum in Dresden, Germany
An exhibit showing how East Germans lived at The World of East Germany
It was almost dark I arrived in Berlin at the four-star Hotel California ($62 per night) for three nights, no breakfast, and no parking but Berlin is generally easier to park in compared to others.
Day 18 - Friday:
Berlin
! The
Flak Tower
set by Hitler's Germany to defend Berlin from air raids.
Berlin Wall Memorial
,
Reichstag
(Nazi government building),
Brandenburg Gate
, and, one of my favorite museums,
Checkpoint Charlie Museum
, which featured stories of escapes from East Berlin to West Berlin. If you're interested in how East Germans lived, the
DDR Museum
is the place, although smaller than the World of East Germany in Dresden.
German Spy Museum
showed a lot of James Bond stuff used by the KGB and the CIA. I learned the CIA implanted a cat with microphone, antenna, and battery. The $15 million project was abandoned when the cat got run over by a taxi on its first day. The
East Side Gallery
featured paintings from different artists on the section of the Berlin Wall that is still standing.
Berlin Wall Memorial in Berlin, Germany
Brandenburg Gate in Berlin, Germany
The
Soviet War Memorial
in
Treptower Park
had a statue of a Soviet soldier holding a German child, standing over a broken swastika. In reality, the Soviet soldiers
raped
German women and children after Berlin fell in 1945. Not only that, the Soviet Union started by siding with the Germans in the ruthless invasion of Poland. Germany betrayed the Soviet Union by launching an invasion and the Soviet Union had to switch sides in 1941.
Statue of Soviet Soldier at Soviet War Memorial in Berlin, Germany
Day 19 - Saturday:
I got kicked out of
Hohenschönhausen
, a former East German prison, when the staff noticed I wasn't with a group. I walked in early and nobody was around. I went everywhere: the warden's office, the area where prisoners made fake passports, interrogation rooms, and the prisoner quarters. Some political prisoners were sickened with radiation and eventually died of cancer. Berlin's oldest restaurant from 1624,
Zur Letzten Instanz
, didn't have burgers and many plates had pork knuckles so I didn't eat there.
Olympic Stadium
where Jesse Owens won in 1936. Rumor was that Hitler refused to shake his hand, but Owens said it wasn't true. Owens added there weren't segregation laws in Germany, unlike the United States.
Wannsee Konferenz Haus
where Nazi leaders authorized the Holocaust, including Henrich Himmler, the S.S leader and the architect of the Holocaust. His great-niece, Katrin Himmler, wrote, "
When I was 15, one of my classmates asked me whether I was in fact related to that Himmler. I said yes with a lump in my throat. It went so quiet in the classroom you could hear a pin drop.
"
Warden's Office at Hohenschönhausen Prison in Berlin, Germany
Hallway Inside Hohenschönhausen Prison in Berlin, Germany
Oldest restaurant since 1624, Zur Letzten Instanz, in Berlin, Germany
1936 Berlin Olympic Stadium where Jesse Owens beat the blond and blue-eyed Aryans
Wannsee Konferenz Haus where Germany entered a very dark period, in Berlin, Germany
Gleinicke Bridge
or the
Bridge of Spies
was the place where captured spies were exchanged between the U.S. and Soviet Union. As nighttime fell, I was up the
Berliner Fernsehturm
(
Television Tower
) which is the tallest structure in Germany. I ate my dinner at the rotating top floor, completing a full circle in 30 minutes.
Gleinicke Bridge where the Americans and Soviets exchanged captured spies
Fernsehturm with a rotating restaurant on top in Berlin, Germany
Day 20 - Sunday:
Out of Berlin and taking a lengthy detour on the way to Wolfsburg was the
Grenzmuseum Schifflersgrund
(
Schiffersgrund Border Museum
), a museum about the East German border. At the site was an intact East German border about half a mile long in its original form with original fortifications with a tall mesh fence. At the site were military vehicles and helicopters used to guard the border and prevent people from escaping East Germany. There was a backhoe that was used by an East German to roll over the barbed wires in his bid to escape, but he was gunned down to death close to the border by two East German soldiers. His lifeless body was dragged away by the East German army as the helpless West Germans watched. There was a strict rule not to interfere across the border. I had a teacher who escaped East Berlin in 1962 as a 19-year-old and he recalled the West German police encouraging him to get to the border while threatening the East German army, "Do not fire across the border!" The East Germans army stopped shooting, allowing him to safely approach the border and he became one of the 5% who successfully escaped from East Berlin.
Driving on German autobahn with signs removing the speed limit
That is what my speedometer looks like when I see those signs
Schiffersgrund Border Museum, highly recommend if you're into Cold War
The West German and East German border left intact from 1991 at Schiffersgrund
I continued towards
Wolfsburg
, the home of Volkswagen, and stayed at a comfortable three-star Centro Hotel Alter Wolf ($62 per night). I got lucky with that one because it was hard to find a hotel for less than $120 around Wolfsburg. I checked Hotwire a few weeks before the trip and saw a "three-star for $62 a night" without specifying the name so I went for it. Great deal!
Day 21 - Monday:
If you're a car buff and happen to be in Wolfsburg, you must visit the
Autostadt
(
Auto City
) next to the Volkswagen factory. It's all about cars, of course, but mostly Volkswagens and its subsidiaries: Audi, Bentley, Skoda, and Seat. I laid my eyes on a very mint 1938 Volkswagen Bug painted in glossy black paint. Next to it was the last Bug from Mexico, manufactured in June 2003. At the museum were all kinds of classic cars ranging from 1900 to 1970, including a 1959 Cadillac with huge fins in the back. On the way to Frankfurt was the
Helmstedt-Marienborn Border Museum
, a former East German checkpoint for those driving from West Germany to West Berlin which was in the middle of East Germany. It had the tools used by East German officers to check for people hiding in cars. It also showed items confiscated by East German customs, one was a Lego set.
1938 Volkswagen Bug, one of the first
2003 Volkswagen Bug, one of the last
On my last night in Germany, I spent the night at the three-star Hotel Niederräder Hof ($51 per night). It was a last-minute reservation made in the same day since I thought I would have enough energy to stay up all night before going to the airport, but I arrived a little too early and was too tired.
Day 22 - Tuesday:
At 5:30 in the morning, I was the first person standing outside the
Lufthansa First Class Terminal
. I was tired of riding on 747 to Los Angeles and discovered the A380 also went there so I changed my reservation. One of the perks a lot of First Class passengers don't realize is that they could drop off their rental cars right at the front of the terminal. That saved me hours.
Dropping off the rental car in front of the First Class Terminal at Frankfurt Airport
Inside the luxurious First Class Terminal are at least 70 different brands of whiskey. I was more interested in the sumptuous breakfast buffet and had lots of bacon and pastries. I discovered the lounge no longer offered complimentary cigars in the cigar room, but I didn't like the brands back then. The bathtub didn't have rubber ducks either. Not that I was interested in rubber ducks, but thought it was a little odd.
Cigar lounge in the First Class Terminal (cigars are no longer complimentary)
There was a small Mercedes-Benz van waiting downstairs to take me straight from the terminal to the plane. In the past, it was either a Benz S-Class or a Porsche Cayenne SUV. During the ride, I was instructed not to roll down the windows. Safety issue, they said, and if I rolled down the window, they'd have to drive me back to customs and check me again.. so I was on my best behavior this time.
The ride straight from the First Class Terminal to the A380
Dropped off right next to the A380, on the way home
Macadamia nuts in First Class
First Class bathroom on the A380 had a door for me to pee in
---
Last edited by Wiggums; Jun 17, 19 at

9:20 pm
Jun 18, 19, 1:01 am
Join Date: Apr 2014
Location: Aberdeen, Scotland
Programs: BA Bronze, Emirates Silver, Virgin Silver, Marriott Titanium
Posts: 1,105
Wow, you didn't have squeeze a lot of stuff into a short time!

During the summer, where I am in Scotland, its daylight by 4am (earlier further north) and its still light when I head to my bed around 10.30pm. It more than makes up for the dark shorter days we get in winter!
Jun 18, 19, 3:09 pm
Join Date: Dec 2011
Location: BRS
Posts: 404
Thanks for bringing Baarle-Hertog to my attention - that's exactly my kind of strange thing to check out! I've never visited an exclave, so it'd be fun to go to this even crazier nested arrangement. Last winter I made it to the
drielandenpunt
where Belgium, the Netherlands and Germany meet - once upon a time this was a quadruple point but sadly Neutral Moresnet is no more...
Jun 19, 19, 5:23 am
Join Date: May 2008
Location: San Francisco
Programs: GM on VX, UA, AA, HA, AS, SY; Budget Fastbreak
Posts: 7,715
Great TR - so this was from summer 2017?
very amazing with the driving. I'm impressed
i also got hit by a speed camera in Italy in 2013, but fortunately only 1 ticket!
Jun 25, 19, 7:07 pm
Suspended
Join Date: Oct 2001
Location: Germany
Posts: 2,138
Wow - what a trip! Lots of so different places, lots of different countries, nice cars, Loch Ness, the autobahn, Michelangelo,
Fucking
, and a flight home in LH F! Pity you were stuck with three weeks worth of supermarket food on this otherwise remarkable trip, but sacrifices have to be made sometimes!
I am surprised you had the cojones to drive an Audi A7 to Pompeii - car theft down there seems even more rampant than in Rome (in the neighboring Naples, I never saw any Mercedes/BMW/Audi cars on the street, and lots of car rental companies prohibit travel to Italy with German-made cars, although Sixt doesn't). But it seems you did fine and returned the same number of cars as you rented. Well done, and thanks for writing it down and posting pictures for us to see
Jun 26, 19, 3:44 am
Join Date: Apr 2011
Location: London
Programs: BA Silver
Posts: 292
Wow. Quite something. Not how I would choose to travel- but each to their own!

I've got to call you out on something though. What on earth were you doing taking a photo with whilst driving at 260kph, on a quite clearly not empty autobahn?? Ludicrously dangerous.
---
Last edited by mentor of monty; Jun 26, 19 at

4:20 am
Jun 26, 19, 5:53 am
Join Date: Apr 2012
Location: New York City
Programs: DL: Diamond, UA: Silver, Hyatt: Discoverist and Marriott: Ambassador
Posts: 980
What a trip!! It seems you crammed what I managed to do in 2 years during my time in Grad School in London into 3 weeks!! Hopefully it wasn't too stressful~
Jun 28, 19, 12:21 pm
Join Date: Aug 2001
Location: SNA
Programs: N/A
Posts: 3,289
Originally Posted by
cockpitvisit
Wow - what a trip! Lots of so different places, lots of different countries, nice cars, Loch Ness, the autobahn, Michelangelo, ....ing, and a flight home in LH F! Pity you were stuck with three weeks worth of supermarket food on this otherwise remarkable trip, but sacrifices have to be made sometimes!
I am surprised you had the cojones to drive an Audi A7 to Pompeii - car theft down there seems even more rampant than in Rome (in the neighboring Naples, I never saw any Mercedes/BMW/Audi cars on the street, and lots of car rental companies prohibit travel to Italy with German-made cars, although Sixt doesn't). But it seems you did fine and returned the same number of cars as you rented. Well done, and thanks for writing it down and posting pictures for us to see
I wasn't even aware of rampant car thefts in Pompei, now that I know, I probably would have reconsidered! In Rome, the hotel had its own parking and it was gated. If you can tolerate nuns and their tendency to scold, you'd like this hotel. Sixt was awesome, allowed the A7 in Prague too, I don't know which one is worse, Prague or Rome. I know it was bad in Prague back then.
Supermarket food isn't that bad. Just think Whole Foods, but not that nice though. Some even had salad bars. I liked the Curry Pringles. Sometimes I'd buy hummus and gyro bread. Sometimes a mac salad. I'm not a food gourmet, but supermarket has quite a bit of variety which I enjoyed.
It was mostly empty and the car on the right lane was doing 190 km/h, probably 200 km/h. And it wasn't a photo, it was a clip from a very small video camera that was attached to my sunglasses. Not dangerous.
Jun 29, 19, 7:26 am
FlyerTalk Evangelist
Join Date: Oct 2011
Location: ATL
Programs: DL Scattered Smothered Covered Medallion, Some hotel & car stuff, Kroger Plus Card
Posts: 10,261
Wow - quite a trip! And here I am struggling to cram just 5 places into 20 days.
Re: Mona Lisa - I actually found it more fascinating to stand next to the wall it is mounted on and take photos of the horde huddled at the railing.