Je suis sehr cansado. Wo sou je? Why did I just walk into the wall?
Jun 10, 19, 6:41 pm
Join Date: Mar 2003
Location: DCA, HNL, SYD
Programs: UA 1K 2MM, AA EXP, DL Diamond, AS MVP75, AmEx Cent, Misc Hotel Bling, Moms love me
Posts: 4,888
Je suis sehr cansado. Wo sou je? Why did I just walk into the wall?
---
So, you've probably noticed I haven't posted anything in a good long time. The main reason for that is...I spent nearly two straight months at home without a single trip....and it was amazing!
I just paid for it however, with three back-to-back work trips and a mini vacation all in the span of 18 days. Then it will be a month at home, before a two week vacation to Australia, 20 days in Switzerland for work, then back to back South Africa and India trips in three weeks, followed in short order by trips to Prague and Accra. I just keep reminding myself when I'm exhausted: the 12yo me would look at this and say "this is everything I dreamed of!"
...47yo me just woke up in the middle of the night and walked into a wall he was so confused where he was.
I can't lie though: it's pretty awesome. Unfortunately, the body is just old and tired enough that it says "you need to start acting your age and get some rest!" Whatever, maybe in 2020...
Ok, so, back to the story. 18 days. 4 trips, 26,000 miles. Breakdown was roughly:
Roundtrip to Paris, home for one night for a family event
Roundtrip to Saarland, Germany, home for one night
Down to Key West for the first time, where I'd planned to run a 100 mile race....the travel and lack of training, however, nixed that...so went to support a friend
Down to Brazil for work
...all in 18 days. It was going to be exhausting. It would be a whirlwind. It would be:
...I mean, when you put it on a square map, it doesn't look quite so bad, right?
Unfortunately, since most of this was work, I'm going to post a bit out of character for me and most of this will be AvGeek inflight stuff....which I know a lot of you love! So sit back, relax, and enjoy. Because it you DON'T enjoy, there will be plenty of destination talk in my next post in a week or two:
Teaser, that trip will be:
DC to NY in Acela First (new product for me)
JFK-LGW on Norwegian in "Premium" on an ex-SQ A330 operated by Evelop! (new airline and product for me)
London to Paris with Eurostar Business Premier (new product for me)
ORY-TUN with TunisAir on an A330 in business (new product for me)
TUN-DXB-SIN with Emirates in First on a 777 and A380
SIN-SYD with Qantas in First on an A380 (new product for me)
SYD-PER-MEL-SYD with Qantas in Business on A330/A330/737
SYD-BKK with Thai in First on the 747
BKK-SIN with Cathay Pacific on the A350-1000 in business (new aircraft for me)
SIN-TPE-ORD with EVA on the 777 with Hello Kitty service in business (new airline and product for me...HELLO!)
ORD-DCA with the biggest disappointment ever.....
Right, back to this trip....my bad...I'll split it up as:
1. Quick work trip to Paris with United on the Polaris 777-200
2. Quick work trip to Saarland, Germany with Delta, Lufthansa, and United in business
3. First trip to the Florida Keys
4. Short work trip to Sao Paulo, Brazil with AZUL and United in business
Right, but before we get on to business (and flying business) should you want to check out my previous TRs:
I. London to Iran and Afghanistan in a mix of C, F, and LCCs
II. Above the Arctic Circle with UA/CO/LH and SK in whY, C, and F
III. Around the World in 40 Days for 40 Years
IV. 8 Places People Who Are Right in the Head Do Not Spend New Years
V. 12 Countries, 10 Airlines, 4 Islands, 27,080 miles, 11 Days
VI. 6 Countries in 6 Days - Caribbean Island Hopping and first AA Experience
VII. Guyana, Suriname, and French Guyana with an unexpected sidetrip to Caracas!
VIII. To Haïti - for vacation and a milage run!
IX. Around Senegal and West Africa
X. 4th Annual New Years in Dangerous Places - Libya Edition
XI. Kosovo and FYR Macedonia - Milage Run in United Business + TK/LH
XII. Washington to Peru and Machu Picchu on COPA and TACA
XIII. To Johannesburg...for 36 hours!
XIV. Here a Stan, there a Stan, everwhere a Stan Stan....
XV. Air Burkina, Air Cote d'Ivoire and 7 countries in West Africa
XVI. Turkey for Thanksgiving....with a side of Tajikistan, Serbia, Montenegro, and Moscow
XVII. Into the Heart of Darkness... Congo, Angola, Gabon, OH MY!
XVIII. HI! Four Islands, Lots of Planes, Beaches, and Convertibles
XIX. Plenty of Salt, Not Enough Oxygen...a Trip to Boliva, Colombia, and Ecuador
XX. Learning to Relax - Long Weekend in St Christopher and Nevis
XXI. You're spending New Years WHERE? IRAQ? (2009-2010)
XXII. Pineapples, croissants, and neon OH MY! A trip to Hawaii, Paris, Andorra, and Vegas
XXIII. South Pacific, Israel, Lebanon - 6 weeks - 71,500 miles - 24 countries
XXIV. Sundae bloody Sundaes...a 2014 United Year in Review
XXV. Lakes, Lemurs, and Lithuania: Horton Hears a Houthi!
XXVI. First Americans tour to North Korea 2005 - Arirang Mass Games
XXVII. Doing the Needful - Lufthansa Business US to Chennai
XXVII. C-ing things: Canada, Curry, Cameroon, CAR, Chad, Camels, Chengis Khan and China!
XXVIII. Learning my ABCs: Algeria, Bahama, Cuba and the Cubana IL-96
XXIX. Exploring ZMapp of West Africa...or how I got detained by the CDC
XXX. Transatlantic to Bangkok with United, Austrian, Air Canada, and Thai
XXXI. Being Lazy in Belize
XXXII. Quick Trip to Cape Town with United, SWISS, South African, and Lufthansa
XXXII. FUNny thing happened going to and from Tuvalu...Cathay F, Etihad Apts, Fiji Biz
XXXIII. Achievement Unlocked: AFRICA! Visiting Mali, Mauritania, and Senegal
XXXIV. FIN. (and thanks for all the fish)
XXXV. What do you do after visiting every country? RTW in First with NH, TG, SQ, QR, EK, LH
XXXVI. Rock in the Abkhazia - Progress on the Unrecognized Countries List
XXXVII. Collecting Continents: Circle of the World, but not RTW
XXXVIII. Cocoa Puffs? Nah, I'm coup coup for Zimbabwe!
XXXIX. My Struggle is real: 10 days in Germany with roundtrip Lufthansa First Class
XXXX. I hate tacos...said no juan ever! Off to Mexico City for work!
XXXXI. Sanding my Love to Uncle Bob - Back to Southern Africa
XXXXII. Pisco on Pascua? Por Favor! Looking for Aliens on Easter Island
XXXXIII. Bern, Berlin, and Bbbbrrrrr! Crossing the northernmost border in the world
Ok so without further ado, fasten your seatbelts, make sure your seatbacks are in the full upright and locked position, and away we go....
---
Last edited by ironmanjt; Jun 11, 19 at

7:28 pm
Jun 10, 19, 7:02 pm
Join Date: Mar 2003
Location: DCA, HNL, SYD
Programs: UA 1K 2MM, AA EXP, DL Diamond, AS MVP75, AmEx Cent, Misc Hotel Bling, Moms love me
Posts: 4,888
1. Quick work trip to Paris with United on the Polaris 777-200
---
In an unusual twist for me, the flights to Paris would be nonstop in both directions. Normally, I would route through either Toronto or Newark to guarantee a 1-2-1 product, but due to the way fares and timing worked, I had to go nonstop...which worked out in the end because apparently United has been working on reconfiguring their 777-200s with Global First faster than I thought...and I got a Polaris 777-200 both ways! So, on to the flights:
United flight 915
Washington, DC, Dulles (IAD) to Paris, Charles de Gaulle, France (CDG
Depart 17:20, Arrive: 06:55, flight time: 7:35
Boeing 777-200, Registration N216UA, Manufactured 2000, Seat 1L
Miles Flown Year-to-Date: 22,325
Lifetime Miles Flown: 2,714,913
Yes, you saw that correctly. Only 22,325 miles to date in early May. As I noted above, the year has been off to a super slow start, which has been just fine with me! That's about to drastically change, however.
Also, this flight confirmed for me that I love the Polaris seat - especially when I can get one of the odd-numbered single seats on the window. Thank God for the super strong air pumping from the vents, because this plane was a furnace. See the little cube circled below? It's a temperature monitoring device I picked up on Amazon and love! Most of this flight was 77-78F with humidity in the 8-9% zone. Eek! I bought it so I could monitor planes and hotel rooms to see if I was (a) really crazy or (b) legitimate in being warm.
So, on the meal.....the PDBs came in real glassware with a generous pour, the sommelier featured wine goes for $8.75 a bottle per google, but I got the super tasty spicy chicken, so overall it was a pretty good meal!
mmmm warm nuts...what's with all the hazelnuts though?!
"Featured" wine...bwahahah! I'm not sure just where it was featured....WalMart perhaps?
Spicy chicken for the win. Paul approves!
Cheese was meh and the sundae had precisely one cherry! ...and the grapes had some suspect film on them...
I chose not to sleep on this flight given it was landing at 12:55am Washington flight, and I didn't have to go straight to work. So I was treated to daybreak over Paris:
Got to my hotel, crashed for a delightful five hour nap, and then headed to the office for my only meeting of the day from 3-6pm. The next two days were jam-packed with meetings as well, but I did manage to get some fun in. Couple of great craft beer places to recommend that I was surprised to find in Paris:
La Fine Mousse
,
Hoppy Corner
, et
La Robe et La Mousse
- two of which were owned by the same people.
Of course, there was also plenty of time for a delicious hotel breakfast the way only France can do with fresh squeezed orange juice, pain au chocolates, fresh crunchy bread with nutella, amazing coffee, and a freshly made omelette. Oh, and I may have spent more than one night having wine and croque madames while people watching from a cafe...as one does in Paris!
Delicious IPA at La Fine Mousse
Lovely late night Croque Madame et Bordeaux
What's not to love about a breakfast with delicious espresso with perfect crema, fresh-squeezed OJ, and an entire basked of vienoiseries?
...a delicious Stout at La Robe et la Mousse to end it all!
United flight 914
Paris, Charles de Gaulle, France (CDG) to Washington, DC, Dulles (IAD)
Depart 12:25, Arrive: 14:50, flight time: 8:25
Boeing 777-200, Registration N223UA, Manufactured 2001, Seat 15L
Miles Flown Year-to-Date: 26,186<br>Lifetime Miles Flown: 2,718,774
All too soon, it was time to head back to DC. I had one night in the states because I had a family event I couldn't miss before turning straight around and flying to Germany. Not the most efficient thing ever, but some things take priority.
At least it was a gorgeous day to fly, and I got the 1-2-1 Polaris seating on the 777 again...which was a good thing because had it been the 2-4-2 dormitory class plane I might have completely lost it.... I decided to try row 15 this time, because it was one of the good odd-row window seats, and I heard it can be quiet in the back of the cabin as long as there are no infants in the bulkhead of premium economy behind you. There weren't, and it was a great seat! That said, foreshadowing...
Meal was the usual from United, though I have to say the catering was a notch up from what I've come to expect from the downgraded Polaris catering lately. It was actually much tastier than usual, and I quite enjoyed it. Chicken on the way over, now fish on the way back....yes, this is my attempt at being BP-healthy after years of unhealthy plane and restaurant food. Thank God I'm super active or I'd probably have keeled over by now!
Warm nuts and wine to start...nothing too exciting here...and Prue approves.
Chilled pork and apricot terrine: daring by United's standards and delicious. I almost felt like I was on Air France!
Roasted halibut...nice and moist for airline fish, and maybe I'm a convert from the beef after all!
One cherry once again: we're really in austerity mode aren't we United? Cheese plate was delicious as only the French could do....wish all United cheese plates were this good!
Not too much time to catch up on tv on the iPad this trip, because I had to write up the meetings before turning right around to do another set. I hate working on planes because it's my relaxation time and tv time (since I don't have a tv at home) but couldn't be avoided this trip. Oh well, you can't win them all.
Pre-arrival...."hamburger wellington" are you kidding me? I had to order it just because it was weird...and actually was quite tasty. The tomato and mozzarella salad was also pretty good. Sometimes it's good to try something different... Prue, however, is definitely not sure about it.
About 2.5 hours before landing, over Newfoundland, there was a call for a doctor on board. A passenger had fainted and was having trouble breathing. I could just see us diverting after I'd made this ridiculous detour home for one event, but fortunately the passenger was alright and made it to Dulles where the paramedics were waiting for us.
That concludes the super quick trip to Paris. Stay tuned: tomorrow we turn right back around and head to Germany!
Jun 10, 19, 7:44 pm
Moderator, Trip Reports
Join Date: Nov 2009
Location: 6km East of EPAYE
Programs: UA Silver, AA Platinum, AS & DL GM Marriott TE, Hilton Gold
Posts: 9,343
Jun 10, 19, 7:49 pm
Join Date: Mar 2003
Location: DCA, HNL, SYD
Programs: UA 1K 2MM, AA EXP, DL Diamond, AS MVP75, AmEx Cent, Misc Hotel Bling, Moms love me
Posts: 4,888
2. Quick work trip to Saarland, Germany with Delta, Lufthansa, and United in business
---
So, you'll have seen that I had a work trip to Paris, home for one day for an important event, then had to turn right back around to go to Germany. In an ideal world I would have either stayed in Europe, or stayed home longer, but sometimes these matters are just out of your control.
The other downside: when I booked the Germany trip it looked like Paris was going to be a full month earlier, so I'd have lots of time at home, so I agreed to a one-stop routing to save a bunch of money. Unfortunately, this meant leaving home at 11am instead of 5pm like the nonstop to Frankfurt would, so this was going to be a much less than ideal trip. I could really have used those extra six hours at home.
See, at the time, United/Lufthansa had a killer fare from NYC-Frankfurt that was like 1/3 the fare out of DC. So, even with adding a one-way ticket to JFK and a one-way ticket back from EWR, the overall fare would still be less than half. Had I known I'd have so little time between trips, I would have splurged on the nonstop. By the time the Paris trip moved, however, the price difference was more than 300%, so I was stuck with it. Oh well, make the best of it!
Delta flight 5957 operated by Republic Airlines
Washington, DC, National (DCA) to New York, Kennedy (JFK)
Depart 11:00, Arrive: 12:18, flight time: 1:18
Embraer ERJ-175, Registration N206JQ, Manufactured 2008, Seat 1A
Miles Flown Year-to-Date: 26,399Lifetime Miles Flown: 2,718,987
...and make the most of my time I did, so much that I arrived DCA at 10:20. was through CLEAR/PreCheck in less than two minutes and still at the gate 5-10 minutes before boarding. I don't usually like cutting it close and like to relax in the lounge a bit, but hey, I've been in the DCA SkyClub somewhere around 1,000,000 times, so the precious extra minutes at home were well worth it.
Not much to say about this one, standard short hop up to New York. The most surprising part was no wait for a landing slot at JFK (thank you Saturday morning traffic) and would actually be arriving over 25 minutes early today. Also, the shortest flight time I can ever remember at 32 minutes.
PDB Diet Coke...
Pentagon shortly after takeoff from DCA
Prosecco and Oreos...the breakfast of champions!
With nearly five hours to kill at JFK (the only flight that left "enough" time between my separate tickets without anxiety, I decided to make up for my lounge negligence at DCA and visit every lounge I was entitled to at JFK, starting with the SkyClub right after landing.
Food was uninspiring today, but they had real honest-to-God Champagne. Cheese cubes and hummus were as normal, but the chicken strips were awful pressed/processed with fatty and dark streaks running through them. Revolting. I'll spare you the close-up shot, but rest-assured I didn't have a bite.
After these adventures in dining, it was time to make my way outside security in Terminal 2 and attempt to find the AirTrain to Terminal 1. Down the escalator, across the street, through a parking lot, up another elevator, and finally the train platform. Seriously, between JFK and LGA I'm not sure which is a bigger embarrassment. That said, I made it just fine on the first try and it gave me practice for my next upcoming JFK flight in a few weeks.
Security in Terminal 1 was the biggest shitshow I've ever encountered in the US, with no CLEAR line and no clear PreCheck line either. I asked the agent at the front about PreCheck and "I just yell to the other agent that you got it" - I asked about laptops out, shoes off, etc and was met with a nasty response. When I went through, my laptops caused problems, and the next agent snapped at me that I "should know better." It was the last straw, and I asked for a supervisor.
"You can talk to me." No apology, no "I'm sorry that happened" but after calmly explaining the severe attitude from the agents he just said "The one that looks like Dora the Explorer? I need you to identify her so she can be punished." Seriously, this is what is "keeping us safe" these days? Now, I find TSA agents 99.99% of the time to be great and professional, but this entire crew at JFK was a nightmare. Is this the norm at Terminal 1? I ask because I'll be back in a few weeks...
Up to the Lufthansa lounge, where I spotted the steed that I will take in a few weeks....the ex-Singapore A330 recently acquired by Evelop! which is operating for Norwegian on the JFK-London daytime flight. I might be crazy for trying this, but I'm kind of looking forward to it. Great views from the lounge, and a tasty array of nibbles...
The lounge was so nice I didn't want to leave, and had amazing people-watching on top of it (including the Chinese guy with a sequinned sweatshirt that said ..... PLEASE! in huge letters) but I vowed to try all the lounges I could...so traipsed off to the Korean Air lounge which I could access via PriorityPass.
I should have fled when I saw the elevator was out of service. Lugged my Rimowa up the stairs and was met by a surly agent who was clearly over it. Seriously, I know New York attitude, but the airport staff (non-Lufthansa and Delta: they were lovely) were just miserable.
Also, this was the best snacks on offer. I should have once again passed...but drank the water, few sips of the wine and a fig newton, and I was off to the gate.
When I got to the gate, thanks to my need to check out the Korean Air lounge, boarding was already underway and I was concerned I might have trouble finding room for my bag due to the huge number of people queued up in front of me. I forgot, however, that the A380 is simply massive even in business class, and there would be plenty of room.
Lufthansa flight 401
New York, Kennedy (JFK) to Frankfurt, Germany (FRA)
Depart 16:10 Arrive: 06:05, flight time: 7:55
Airbus A380-800, Registration D-AIMJ, Manufactured 2012, Seat 22D
Miles Flown Year-to-Date: 30,255
Lifetime Miles Flown: 2,722,843
Remember when I foreshadowed yesterday about how nice the last row of business class was in the Polaris 777 as long as there was nobody with an infant in the bulkhead? Well, karma paid me a major visit today...and I had a second passenger in the seat next to me today who seemed incredibly interested in my pre-departure beverage:
Now, in fairness, with the exception of takeoff and landing he did sleep 80% of the flight and was pretty much an angel the rest of the time, so it didn't work out too badly, except mom was constantly working to keep him busy. Fortunately, with a 4pm departure I had no interest in sleep anyways, so it all worked out just fine.
Meal service was actually one of the better ones I've had on Lufthansa lately. Their business class meals can be a little on the unusual side, but they're usually tasty. This one was more-or-less pretty mainstream, and the crew was absolutely fantastic. Once they found out I spoke some German, even though English was obviously easier, they made a huge effort to speak slowly and clearly in German to let me practice. Major points for that. Plus, the food was really good too:
Mixed nuts and wine to start - nothing unusual here
Trying to take artsy shots of the wine cart
So much potential. The pretzel roll and burrata were wonderful, the tomatoes were unfortunately under-ripe
Lamb and Steak Mixed Grill...with a side of Chicken
delicious cheese plate and double chocolate cake
Other than that, the flight was excellent. I skipped the breakfast since I wanted to head straight to bed upon landing. We arrived nearly 40 minutes early around 05:30 and I was in bed and asleep in the Sheraton Frankfurt Airport by 06:00 for a solid six hours of sleep. So much nicer this way than trying to sleep on the plane, and since it's still on East Coast time it was very easy to fall asleep.
Woke up at noon, did a little work, and then off to catch my train to Saarbrücken for work. Unfortunately, there were no direct trains this late in the day so I would have to change in Mannheim. Unfortunately, the train to Mannheim was nearly 20 minutes late, meaning I missed my connection and had to wait another hour - making me late to dinner. D-Bahn is no Swiss train system these days - that's for sure.
I treated myself to some Apfelwein and Pringles to enjoy the delay a little more...
Not too much to say about Saarbrücken since it was three very intense days of working with clients, but fortunately very productive. Stayed at the Mercure hotel this time, which was more than adequate, and very well-located in the middle of the city. Close to Starbucks, and walkable to lots of places to eat and drink.
I had been completely unsuccessful on previous trips finding any craft beer at all, but this time found="https://www.facebook.com/stube8/"> Stube 8 which at least had a couple. Not a great selection, but hey it's a start!
Enjoyed a nice dinner with clients at
Zum Stiefel
as well, and got to have some traditional heavy Saarlandische food. I had to try the Saarländische Versuchung (the Saarland Temptation) and got a little bit each of three things: a "gefillder" which is basically a potato dumpling with liver sausage filling and sauerkraut, a green "hoorische" (a green dumpling) and a large meatball which I'm still not sure of...heavy, but delicious!
After successful meetings we ended just in time that I could catch a direct ICE back to Frankfurt. Unfortunately, a person was on the tracks between Mannheim and Frankfurt, and we ended up delayed on the train by nearly an hour. Worst service I've ever had in ICE first class, however, and never once did I see the train attendant - would have been nice to have a beer!
Arrived in Frankfurt early evening, however, with just enough time to head out to my favourite little craft beer joint for dinner.
Naïv
is a great little place, and this time they had several fantastic drafts and cans. Either my German was getting better or the staff's English worse, because I managed to keep the whole thing in German this time without them switching to English. Dinner was two tasty sausages and a delicious brownie with ice cream. Oh, there may also have been a few beers....
Up somewhat early for breakfast at the airport (I sometimes feel like I live in Flughafen Frankfurt, and it's amazing!) - my usual Iced American and Bretzelsnack...mmmm...so good! Stopped by the Senator Lounge only briefly and then strait to boarding. I needed to max out sleep this morning so little time for the lounge today.
I was pretty excited for this flight - my first time ever on the 787-10 - which was even more awesome because it had "real" Polaris 1-2-1 seating installed and I had managed to get my favourite seat - 1L - way in advance.
United flight 961
Frankfurt, Germany (FRA) to Newark, New Jersey (EWR)
Depart 11:20, Arrive: 13:50, flight time: 8:30
Boeing 787-10, Registration N12006, Manufactured 2019, Seat 1L
Miles Flown Year-to-Date: 34,125
Lifetime Miles Flown: 2,726,713
Pre-departure sparkling wine delivered, and temperature sensor reporting a reasonable 71F today...at least we wouldn't be roasted during boarding.
Mixed nuts and wine to start, while Paul judges from afar....
Meal was pretty standard Polaris fare, and nearly the identical menu I had from Paris the week before. I was glad to see the delicious pork and apricot terrine was back, and I went with the fish again as well. This is starting to be a habit! The cheese wasn't quite as good as from Paris, but much better than from the US, and they actually had butterscotch today! YUM!
Chicken, pork, and apricot terrine and a tasty salad with mango
Roasted halibut with lobster sauce. Slightly dry, but good.
Sundae and cheese! I'd tell you what it was, but all I know is "international assortment" - aka whatever we have in the kitchen
Mid-flight snack...I'm addicted to the little cakes and overly chewy macarons. Meanwhile, the Great British Bakeoff was providing some very suspicious looking bakes....and Paul was quick to glare!
Pre-arrival was the same meal options as from Paris, and since I won once with the mozzarella salad and "Hamburger Wellington" I decided to give it another go. The cheese was weirdly peppered with all the pepper on one cheese ball, but other than that it was quite tasty again.
On approach to Newark...not sure which airport this is. Approach into Newark was super, super bumpy today, with our 787 being tossed about pretty seriously.
Immigration was a breeze, though I find it annoying that more and more arrivals into Newark arrive at Terminal B these days necessitating a transfer over to terminal A or C for connection. Fortunately, my connection was from Terminal C today, and I was curious if I could get into the Polaris Lounge since my arrival was on a different ticket. Yup, no problem since they were both United, and they even let me bring my Starbucks in. The Newark crew had never heard of the Mescal Paper Airplane, so I got to share that with them...though they were still suspicious of it.
Off to the gate to fly to DCA, and one more short segment to go.
United flight 3434, operated by Republic Airlines
Newark, New Jersey (EWR) to Washington, DC, National (DCA)
Depart 15:45, Arrive: 17:03, flight time: 1:18
Embraer ERJ-170, Registration N864RW, Manufactured 2006, Seat 1A
Miles Flown Year-to-Date: 34,324
Lifetime Miles Flown: 2,726,912
How much can you say about a 40-minute flight from Newark to DCA. We were delayed about 30 minutes by a flat tire (seriously) but other than that we still arrived exactly on time. Very good luck today considering how the weather was. Super, super bumpy on the takeoff just as the approach had been.
The lady across the aisle had Delta 360, AA Concierge Key, and UA Global Services bag tags...and FABULOUS Louboutin boots
PDB gin and tonic...which I almost never drink, but hey why not
The cause of the nasty turbulence
Just enough time for a quick snack today: wine and M&Ms... classy!
...and with that two of my four back to back trips were done. Unfortunately, didn't get home until 6pm which meant a very short night to do laundry and repack since my flight the next morning was 8:30am. UGH. Fortunately managed a same-day-change to an 11:00am via Newark, so at least I would salvage a LITTLE more sleep....
Jun 10, 19, 8:24 pm
Join Date: Mar 2003
Location: DCA, HNL, SYD
Programs: UA 1K 2MM, AA EXP, DL Diamond, AS MVP75, AmEx Cent, Misc Hotel Bling, Moms love me
Posts: 4,888
3. First trip to the Florida Keys
---
Yes, to answer that question I know you must be thinking, I did make it to every country in the world before I made it to the Florida Keys. I also haven't been to New Orleans, Austin, or New Mexico yet. These are things I definitely need to fix in the short run.
So my friend
Jen
who's also an ultrarunner turned me onto the
Keys 100 race
, and I was determined to have my first go at 100 miles. Unfortunately, as it has done so often lately, work conspired against me, and there was no way I would be able to make the cutoff time despite pretty decent training. Fortunately, there was a 50 mile option that just ran from Marathon Key to Key West which had a super generous cutoff and I was planning to do.
Unfortunately, I got sick shortly before the race, and had to drop out, which turned out to be the right call given the heat and humidity I clearly wasn't prepared for. That just means I can go back next year now prepared to run the full 100! Right, so you really want to hear about the trip...
Thanks to the 24 hour change policy I was able to bump my departure from 09:30 to around 13:00, which gave me just enough extra sleep that I felt human after two transatlantics in 10 days, and it was off to Florida.
I won't bore you with the details of domestic flights on United, but they were predictably meh. More or less on time, however, and exactly what I expected, so overall, I can't complain.
Met my friend John who came down to support me for the race, and after waiting an unreasonable amount of time to pick up my car as an Avis President's Club member, finally got this one which clearly had barely gone through the carwash. Gross.
Also took another 20 minutes to get out of the lot, but that was more a customer problem than an Avis problem. With that, we were off!
Our car was badly in need of a wash when we picked it up!
Driving 50+ miles when tired probably wasn't a stellar call, but made it to Key Largo in one piece completely ready to crash. This was my first time in the Keys, and I was determined to make the most of it...and that combined with being jetlagged and time zone confused kept me up a bit later than I should have. So, as one does, we walked around outside a bit, got lost, and ended up with a few drinks at
Skarkey's Pub
. Delicious craft beer selection...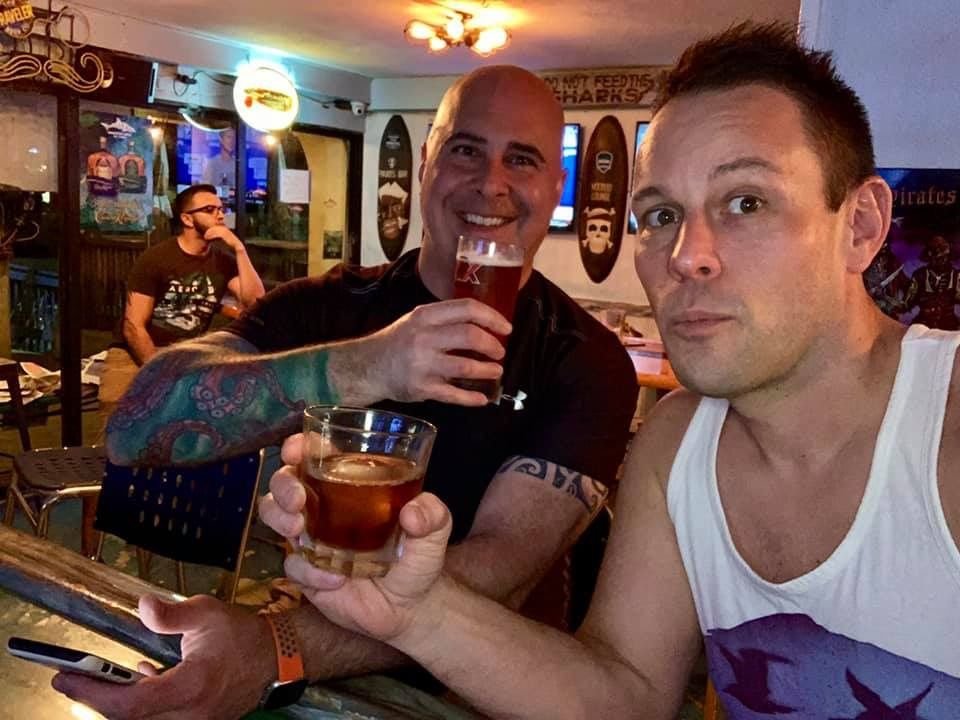 Next morning the sun was shining, and the view from our room wasn't bad at all...and there was a Starbucks less than 10 minutes walk away. Life was absolutely grand!
Few plans the day before the race, so we drove back up to Homestead to go to the
Robert is Here Fruit Stand
which John mentioned was definitely worth seeing. I had a delicious Jackfruit and coconut milkshake which was to die for, and the wildlife in the "petting zoo" was pretty cool too.
They even had an airplane for me!
Goats on a...hot stone roof?
Do not feed the tourists!
Mmmm jackfruit and coconut milkshake
Getting artsy with a bird who was jealous of my milkshake
Next it was down to Marathon for lunch at
M.E.A.T. Eatery and Taproom
which had an absolutely delicious burger! Total dive (and was even on Diners, Dives, and Drive Ins) but absolutely delicious!
On the way back up to Key Largo, we couldn't resist stopping at the
Florida Keys Brewing Company
for a set of tasters which was pretty delicious!
Back to the hotel in Key Largo the night before the race, nice sunset over the marina...
After dropping from the race I still figured I could support my friend Jen, but first decided we had to lunch in Marathon at the
Island Fish Company and Tiki Bar
...delicious conch fritters and deadly tropical frozen drinks.
Spent the rest of the afternoon following Jen...nearly 50 miles into the race and she was still looking amazing!
We got to Key West just before sunset, and in time to get a sunset pic at the southernmost point in the continental U.S.A....
We found an amazing little bar filled with kitch called Glitchcraft which was absolutely amazing. Great craft beer selection, and even better staff. John actually came back the next night where they were hosting a huge watch party for the final episode of Game of Thrones. Super cool place!
I've never met a cutout where I could take a corny pic that I didn't like...
Brunch the next day at Blue Heaven... lethal bellinis and delicious lobster Benedict. Well worth the wait...plus they had a pony I could ride!
Plus, they had a cat who literally couldn't be bothered. This is the life...
http://www.jasonaroundtheworld.com/w...50.TRIM_-2.mov
We decided to play tourist for a little bit and stopped by the
Little White House
which was President Truman's getaway from Washington, but was also used by several other presidents.
Of course, no trip to Key West would be complete without margaritas...
...and the iconic picture at Mile 0 of Route 1...which runs right up through home in Arlington Virginia as well, and I used to live on!
The question still needs to be answered: why
did
the chicken cross the road?
Last morning in paradise...picture on the beach at our hotel...the
Casa Marina by Waldorf Astoria
. Nice enough property, but I have to admit the rooms were badly in need of renovation, especially given the prices. I can't say I would choose it again all things considered. That said, the location was fantastic.
I wanted to buy this painting...unfortunately it was a little out of my price range at $12,000...even though they did offer to ship it for free....
Neat sign...had the store been open that morning I probably would have picked it up...
Driving up to Fort Lauderdale, we passed the first Starbucks from Key West...80 miles in. This sign is terrifying!
One final lunch in the keys at the
Key Largo Conch House
where I had some delicious conch tacos. A fitting end to an amazing rest between three hectic work trips. Anything else would have been too much, but it was just enough relaxation with a great friend that made it work.
So yeah, I'll be back next year to run the full 100 Miles, wiser at what it will take to succeed. With that, we were at the Fort Lauderdale Airport, and it was time to catch my flight down to Brazil to get back to work!
Jun 11, 19, 11:13 am
Join Date: Jul 2010
Programs: AA
Posts: 9,900
Originally Posted by
ironmanjt
Brunch the next day at Blue Heaven... lethal bellinis and delicious lobster Benedict. Well worth the wait...plus they had a pony I could ride!
Plus, they had a cat who literally couldn't be bothered. This is the life...
http://www.jasonaroundtheworld.com/w...50.TRIM_-2.mov
Blue Heaven is definitely worth the wait!
Jun 11, 19, 7:28 pm
Join Date: Mar 2003
Location: DCA, HNL, SYD
Programs: UA 1K 2MM, AA EXP, DL Diamond, AS MVP75, AmEx Cent, Misc Hotel Bling, Moms love me
Posts: 4,888
4. Short work trip to Sao Paulo, Brazil with AZUL and United in business
---
Well after I had already committed to going to Florida for the ultramarathon in the Keys, I had a work commitment come up which would require me to be in Brazil the next day. Problem was: the drive from Key West to Miami is 3-4 hours on a good day, and I would need to be in Sao Paulo by 9am for meetings.
The problem is: most flights from the states arrive after 9am, making it near impossible to get a full day in upon arrival. I almost couldn't believe my eyes when I found out there was a flight nonstop from Fort Lauderdale to Campinas (about 100km northwest of Sao Paulo) on Azul which arrived at 05:00. Even with the long 1.5-hour taxi to Sao Paulo, it would work out.
To top things off, it appears that Azul is partners with United, so I could even earn some miles. Oh, and did I mention it was like 1/3 the price of United, American, and Delta and had nice seats? This was looking like a win all around!
Unfortunately, this report will be mostly about Azul…and in comparison, the nonstop flight home on United. We worked most days until 8 or 9pm, leaving me only time to check out a couple of local craft beer places and see how the scene was shaping up in Brazil…but then again you knew I'd make an hour in the evening for that…right?
So, right. I was able to check-in on Azul's app (Portuguese only - the English version doesn't allow check-in) but when I got to TSA (no pre-Check with Azul) the boarding pass wouldn't scan from Apple Wallet, so I had to go back to the counter and get a paper one. Not the end of the world.
End of the world, however, is the disaster known as Terminal 3 in Fort Lauderdale. No lounges at all, and Azul doesn't give food and beverage credits either. Fortunately, one of the restaurants does give a credit with Priority Pass, but it was a 15-minute walk from the gate. Was good for a couple glasses of wine, and I got to the gate where it was just getting time to board. Better hurry, or I'll get stuck on Spirit!
First impressions of the seat and cabin ambiance on Azul were really positive:
pillow and blanket waiting at the seat
lots of foot space - only downside was the gap between the footrest and cabin wall
loved the Azul logo on the front bulkhead - for an older A330 the cabin had a really nice ambiance
right, so on with the flight!
Azul flight 8705
Fort Lauderdale, Florida (FLL) to Campinas/Sao Paulo, Brazil (VCP)
Depart 19:30, Arrive: 05:00, flight time: 8:30
Airbus A330-200, Registration PR-AIT, Manufactured 2003, Seat 2K
Miles Flown Year-to-Date: 39,622
Lifetime Miles Flown: 2,732,210
Couple of early observations: no clue why Azul uses such odd flight numbers. Most airlines use lower numbers for premium/international routes, but Azul seems to use very high flight numbers. No clue why. Also, there are only four really "good" seats in each cabin, as they're the ones offset from the aisle by the armrest. The other seats aren't bad, but four of them are extra good!
Pre departure champagne in a proper glass with a folded napkin even...unfortunately it was a tiny bit warm:
I was very curious what kind of menu Azul would offer, and I definitely wasn't disappointed. Full multi-course meal with lots of options:
The cabin was, unfortunately, extremely warm on the ground, but the air vents delivered just enough breeze that it wasn't miserable. Fortunately, Azul's website is quite helpful when you have a problem! It did cool down to about 75F in flight, which was still warm, but not awful.
Don't worry tho, if it's too warm Azul makes it easy to complain!
Right before takeoff, and after the pre-departure champagne, individual chocolates were offered:
First couple of hours in flight we were treated to an absolutely stunning sunset:
Amenity kit was at the seat, and while it contained the basics it was nothing worth keeping:
Soon after takeoff beverages were offered, along with a dried fruit and nut mix. Definitely something different.
I know lots of frequent fliers complain when the appetizer and main course get served together, but I thought it worked out fine. With the super early arrival lots of people wanted to get to sleep as soon as possible, so it worked out well. I thought the plating was pretty nice too...and I loved the little salt and pepper shakers:
Both cheese and an ice cream sundae were offered. Above average.
We must have had good winds, because we arrived in Campinas nearly 45 minutes early. The airport was an absolutely ghost town, and other than passengers coming off our flight it seemed there wasn't a soul in the airport. I know it's a relatively new and empty airport but seems like they have lots of growth in mind!
Through immigration and to the transportation area in under 10 minutes, and my Uber showed up less than five minutes later. He complained about the length of the drive to Sao Paulo (seems Sao Paulo and Campinas are different Uber bases) but eventually agreed to take the trip when I told him I was happy to wait for another driver. Then he asked for an extra 100 Reais for gas.... ok maybe 50....and when I again said I was happy to just wait...he decided he'd rather take me.
Wasn't a great Uber experience, and I felt like he was on the verge of falling asleep several times, so I made the best of it with my terrible Portuguese trying to keep him awake and chatting. Best part was, I made it to my hotel by 06:30, giving me time for a solid 90-minute nap before heading to meetings. Winning all around!
Busy few days of meetings but did manage to find a couple of craft beer places for an hour in the evening. First find was
TapTap
which was a little hole in the wall place on a street corner, but they did have several really good local taps, and the special treat of getting eaten alive by mosquitos while you enjoyed your beer. I'm still itching a week later!
Second find, which was much more North American or European style was
Bar Ambar
which was a bit further away and located near a BrewDog of all things! Had I had another night I definitely would have checked that out as well.
Of course, I made it to Starbucks as well, and of course my name was butchered as usual:
This Uber driver really has his hustle going on:
Fun and unique sculpture/art in the lobby of the hotel where my event was being held:
Just like that three days flew by, and it was time to head to the airport to fly home. Unfortunately, there was a major accident and it took over 2.5 hours to get to the airport...enough I actually worried I would miss my flight. I did arrive 90 minutes before departure, and thanks to short lines for security and immigration even made it to the lounge for 15 minutes before heading to the gate.
United flight 860
Sao Paulo, Brazil (GRU) to Washington DC, Dulles (IAD)
Depart 21:20, Arrive: 06:10, flight time: 9:50
Boeing 767-300, Registration N663UA, Manufactured 1993, Seat 2D
Miles Flown Year-to-Date: 44,339
Lifetime Miles Flown: 2,736,927
I think I have the absolute worst luck with United's 767s this year. This is maybe ten flights in a row where I've gotten the old configuration instead of getting a new Polaris aircraft. It wouldn't be so remarkable except over half the fleet is reconfigured now, so you'd think I'd have better luck. Oh well, at least it's not bad if I get the solo "D" seat in the middle:
The usual PDB - sparkling plonk and water:
What's for dinner tonight:
The usual warm nuts and a glass of wine to start:
Dinner was decent, but unremarkable.
Chicken starter was way better than the usual "cockroaches of the sea" that United offers as an appetizer:
Chicken main was tasty as well and not dry at all...surprisingly no bread refills were available.
cheese and ice cream - the usual
The best part of the flight was that I slept nearly seven straight hours, only waking up slightly before landing. I don't know what it is, but every time I fly north from South America, I end up sleeping like a baby. Must be some combo of time zones and being exhausted from a good vacation or work.
...and with that, four back to back trips were over and I was looking forward to almost four weeks at home before heading out on vacation. I'm going to make sure to enjoy the next three weeks remaining, because after that it's a crazy-looking schedule:
Late June/Early June: two weeks round-the-world with short stops in London, Paris, Tunis, six nights in Australia, and two each in Bangkok and Singapore. Looking forward to a few things from this trip such as Emirates and Qantas first class, first time on the Acela train, first time business premier on the Eurostar, TunisAir A330 business class, Thai first class, and two long flights with EVA Airways and Hello Kitty service!
Then I have three weeks in Switzerland for work in July/August, followed by back to back work trips to South Africa and India. Hoping to tack a few days onto the South Africa trip to visit some favourite old haunts as well, and maybe even get up to Zim for a few days.
...but for now. Rest...and I'll try and write some more random travel musings before heading out in a few weeks as well!
Jun 11, 19, 7:49 pm
Join Date: Nov 2018
Location: MEL/YMML
Programs: QF Platinum, CX Silver, A3 Gold, Hyatt Explorist, Hilton Gold, Amex Platinum (VA lounge access)
Posts: 205
Great report on Azul longhaul. Their business class sure looked great.
Probably Campinas is one of the most illogically designed (and named) Airport in the world. 110km+ from Sao Paulo CBD and still calls it as a Sao Paulo airport.
Jun 12, 19, 9:58 am
Join Date: Mar 2003
Location: DCA, HNL, SYD
Programs: UA 1K 2MM, AA EXP, DL Diamond, AS MVP75, AmEx Cent, Misc Hotel Bling, Moms love me
Posts: 4,888
Jun 12, 19, 2:19 pm
Join Date: Jul 2011
Location: In between IAD and DCA
Programs: UA Plat 1.1MM , Marriott Gold Elite, Hyatt Discoverist
Posts: 2,086
Great TR! Enjoyed this one a lot. Love the Brazil flag on the winglet of your Azul flight.

If you don't mind me asking, what do you do for work? You certainly travel a ton, with some long stays.
Jun 14, 19, 7:31 am
Join Date: Aug 2012
Location: SJO - MAN - LAX
Programs: MileagePlus Gold, Avis PP, National EE, Lifemiles Silver, ConnectMiles Gold
Posts: 528
Great TR.

That is definitely Teterboro. You can tell just by the amount of jets and private aircraft parked. (and the layout of course)