Whisky Trails Trip - Scotland
Jun 6, 19, 9:02 am
Join Date: Dec 2009
Location: wirral
Programs: IC RA
Posts: 231
Whisky Trails Trip - Scotland
---
Background
I was invited as a guest to the 'Whisky Trails' with Harrods & Diageo, it promised to be the trip of a lifetime with access to areas of distilleries normally out of bounds and tasting some of the most rare and precious liquids available, the trip was from Monday 27th May - Friday 31st May.
As I'm not really used to this I will complete it as a diary form and try to include as much detail as possible. but will try to let the pictures do the talking.
Monday 27th May
I took the Virgin train from Crewe to London and was picked up from Euston station by my chauffeur in a black Mercedes E type who took me to the hotel for the evening, the newly renovated Belmond Cadogan Hotel in Sloane street, I was given a Junior Suite upon checkin.
Junior Suite, Belmond Cadogan Hotel
Junior Suite, Belmond Cadogan Hotel
Junior Suite, Belmond Cadogan Hotel
For the first evening dinner was arranged in the Harrods Whisky Room to meet my fellow guests and representatives from Harrods and Diageo who arranged the experience. We were also given a talk by Master Whisky Blender for Johnnie Walker, Jim Beveridge who gave a tasting of 4 Mortlach Whiskies finishing with a superb Mortlach 29 year old single cask from Diageo's 'Cask of Distinction' programme, this is is programme that allows individuals to purchase a single cask from one of the Diageo distilleries, they can cost anywhere from £120,000 to £3,500,000 depending on distillery and rarity of the cask.
Menu and wine for the evening including an excellent 2007 Chateau Lafite-Rothschild, Pauillac en Imperial.
Dinner Menu, Harrods London
Dinner, Harrods London
Dinner, Harrods London
Dinner, Harrods London
Dinner, Harrods London
Back to the hotel around 10.30pm with below itinerary for the evening and following day.
Day 2 Tuesday 28th May
After a run around Hyde park, breakfast and checkout of the Belmond Cadogan there was a chauffeur waiting in a Mercedes E class waiting to take me to Luton Airport to take a private jet from Harrods Aviation to inverness for the start of the 'Whisky Trails'
Harrods Aviation facility
Private Jet flying 8 guests to Inverness
Inside the jet
After touching down in little over an hour a fleet of Rolls Royces were waiting to chauffeur us around in pairs for the rest of the week
Rolls Royce
My fellow guest and I were in a Rolls Royce Ghost and our first stop was the Clynelish distillery and the most exciting, the new Brora distillery adjacent to Clynelish. Brora distillery was closed in 1983 but has since gone on to be a really sought after whisky from the remaining stocks and now has a real cult status (and very expensive), in 2017 Diageo announced plans to re open the distillery in 2020, as far as I believe very few people have to to visit this new site, it was hard hats and was a work in progress but great to see it coming together and we actually had lunch in one of the old storage warehouses - obviously no photographs were allowed of the new distillery building and the old part they are renovating. The pictures below are from Clynelish and the storage facility.
We tried some excellent expressions including Clynelish 200th Anniversary, a Brora 40 year old not even released and the highlight a 1977 Brora direct from the cask, I even got to remove the bung - wow thinking about it now a 42 year old Brora is an unbelievable drinking experience and this is something as a whisky enthusiast is a once in a lifetime thing.
Clynelish
Clynelish
Clynelish
Brora 1977
Brora 40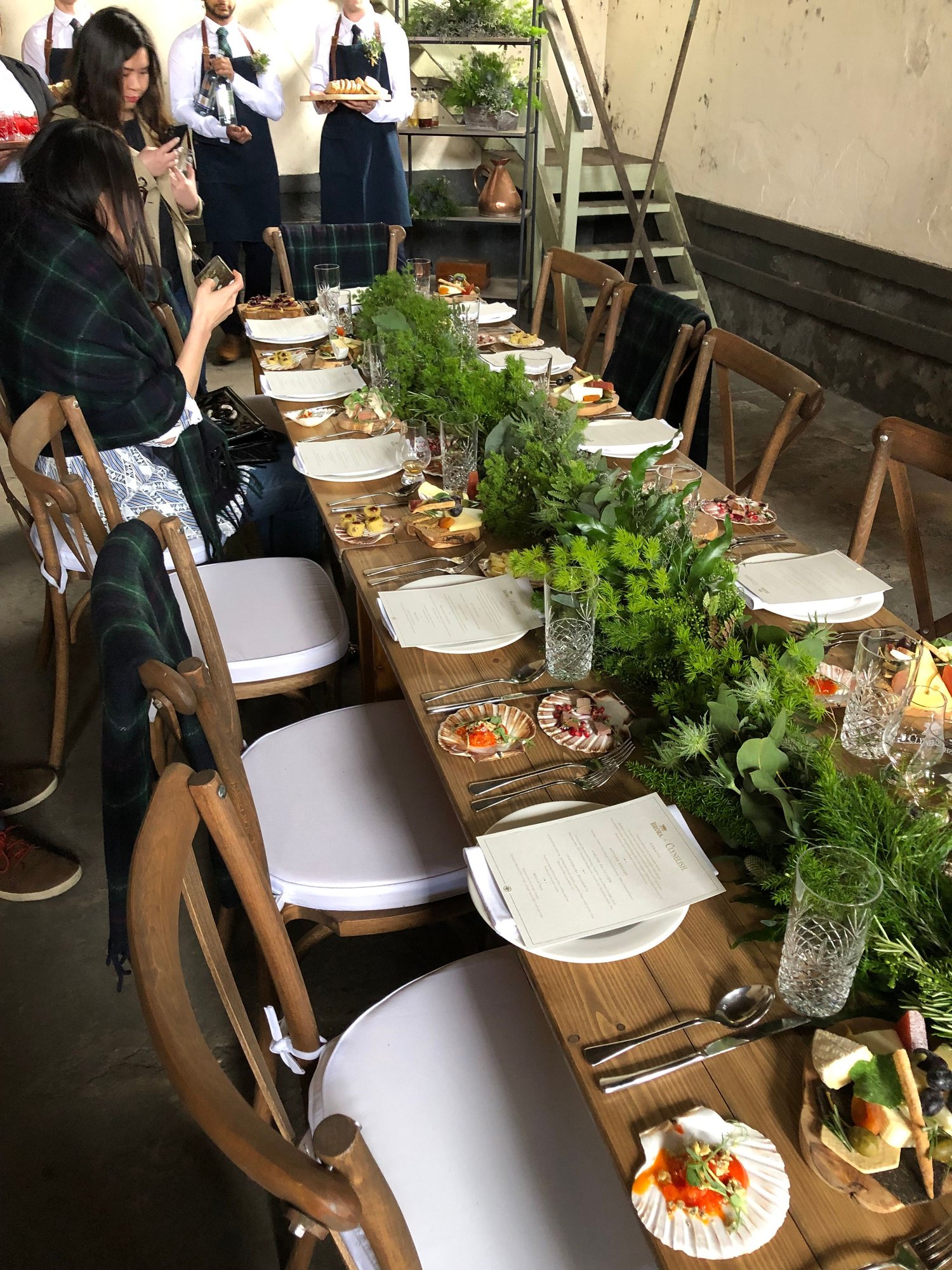 Lunch in an old storage facility
Rolls Royce outside Clynelish/Brora facility
The journey back from Clynelish was to our first hotel in Scotland 'The Torridon' near Achnasheen, I had a private tasting of a number of bottles from the Diageo Cask of Distinction programme as mentioned above, the highlight being a 40 year old Port Ellen, I was then presented with a bespoke wooden case with a selection a rare 50cl miniatures including a cask of distinction 42 year old Brora and 39 year old Cask of Distinction Talisker.
The hotel itself was stunning in a old world style, see below pictures
My room at The Torridon
bathroom at The Torridon
View from room
The Torridon
Whiskies received
Dining room
After a lovely dinner we got to try the new 39 year old Port Ellen and then to bed
Day 3 Wednesday 29th May
Up early for a 6KM run and a couple of pictures of the stunning scenery.
After a bit of relaxation the helicopter then arrived to take us to our next distillery Talisker on the Isle of Skye.
We arrived at Talisker at around 11.45 for a tour of the distillery and a tasting, highlight of the tasting was The Talisker Bodega 1, 40 year old and the new not even released Talisker Bodega 2 41 year old along with Talisker 18 & 25 years old.
We then had a fantastic seafood lunch on a tall ship but I do not know why I did not take any pictures (too much whisky perhaps), after lunch it was back to the helicopter for the journey to our next hotel or as it was a private house called Corrour Lodge,we had the entire house for our party and the house stands in 57,000 acres and is 17 miles from the nearest public road, you really do feel as though you are in the middle of nowhere, I went out for a run early evening and the quietness really hits you, it's an amazing feeling.
Before dinner we got to try a 35 year old 2014 Brora a 37 year old Linkwood from 1978 and a Johnnie Walker King George V, see below dinner menu including 2 fantastic Opus One Wine expressions from 2005 & 2010.
Corrour main house
Day 4 Thursday 30th May
Once again up early for a long run and that breathtaking scenery before a breakfast of locally caught trout and scrambled eggs on sourdough toast and then it was off clay pigeon shooting with London gunmakers Holland & Holland, I have never been before and what an amazing experience it was using guns made by Holland & Holland and their expert tutor's, we finished the morning off with a dram of the 35 year old Brora before heading to our final distillery Dalwhinnie.
After the shooting we headed off to Dalwhinnie distillery for lunch and a tasting of Dalwhinnie special edition 25 year old, The Cally 40 year old grain whisky and my favourite Caol Ila special edition 35 year old.
Unfortunately for me that is were I had to leave as I was heading for New York .......
The rest of the guests headed off to Kinross house in Perth & Kinross-Shire were cooking for them was michelin star chef Tom Kitchin.
I would like to thank everybody involved in the planning and organisation as nothing was left to chance and can only imagine the hours and hours of work that went into planning it, I hope you enjoy my experiences and any questions don't hesitate to ask.
Neil
Jun 6, 19, 11:42 am
Join Date: Dec 2009
Location: wirral
Programs: IC RA
Posts: 231
Thanks for reply mentor of monty, The Torridon was indeed very special and they have a whisky bar with 365 whiskies available, I'm more of a whisky person than wine but even to my untrained palate they were amazing, each evening a representative from Harrods would give you a talk about the wines we had each evening and a representative from Diageo would give a talk about the tasting of the whiskies.
Jun 6, 19, 2:49 pm
Join Date: Jul 2014
Location: UK - South Coast
Programs: Mucci de Guardian des Celliers des Grands Crus 1e Classť, plus BAEC.
Posts: 1,566
This sounds like an exceptional experience, you clearly had an outstanding time.

Can I ask how / why you were invited? Forgive me if Iím being gauche, that level of travel isnít normal for me.
Jun 6, 19, 8:34 pm
Suspended
Join Date: Oct 2006
Location: New York, NY
Posts: 557
I was talking to a man 10 or 15 years ago at a dinner and he was telling me about some extravagant trip he was invited on. When I asked how one gets invited on this type of trip, he told me, "Make sure your wife spends a million dollars a year at Neiman Marcus" and he just laughed. I think he was serious.
They definitely didn't spare any expense - That looked like a Global Express which is a lot of plane for eight people on a domestic flight.
Jun 7, 19, 12:14 am
Join Date: Dec 2009
Location: wirral
Programs: IC RA
Posts: 231
Hi krispy84, I think a lot of the guests may have been high spenders in Harrods and I do spend a fair amount but purely on whisky and I'm sure the amount I have spent does not come close to the cost of the trip ( I have heard some eye watering amount it cost), the invite was from a member of the wines & spirits department I usually deal with, it was totally out of the blue and is not normal travel for me either.
Thanks
Jun 7, 19, 12:31 am
Join Date: Dec 2009
Location: wirral
Programs: IC RA
Posts: 231
As a whisky drinker I knew what I was having in advance so when the host says we are going to taste a 1977 Brora straight from the cask I don't know if my judgement is clouded as it was exceptional, or was it so good because I knew what it was and also the surroundings?
My favourite whisky was not the Brora or the mythical Port Ellen but a 39 year old Talisker from the Casks of Distinction programme that Diageo run, that is the casks of exceptional quality they invite individuals to purchase, they then hold the cask until you decide you want to bottle it, it was superb and was so well rounded a slight wisp of smoke and the finish just went on and on and, for its age was not over oaked that can happen on older whiskies. But I think the cask that holds 167 bottles at the moment (remember the 'angels share' that reduces the amount all the time until bottled) will cost over £1,000,000 plus usual VAT and duties.
Jun 7, 19, 2:07 am
Join Date: Dec 2009
Location: wirral
Programs: IC RA
Posts: 231
Jun 7, 19, 2:57 am
Join Date: Sep 2004
Location: SYD
Programs: AS MVPG, Marriott Platinum, Hilton Gold & Hyatt Explorist
Posts: 1,420
Thank you for sharing that incredible experience, torcross!


Jun 7, 19, 3:26 am
Join Date: Jun 2017
Posts: 91
As a Scot working abroad just now, it's nice to see the weather was dry. The trip you undertook looked amazing.

i'm afraid I'll just have to stick to buying on my budget whiskies around the £200-£300 range everytime I pass through Schiphol airport on my way home to Inverness.

Diagio's Blair Atholl distillery in Pitlochry does some delightful tasting whisky as well.

Haste Ye Back Again
---
Last edited by Giantlonglegs; Jun 7, 19 at

3:28 am

Reason: Typo