ON THE ROAD AGAIN: Selling Postcards at Airline Collectible Conventions
Jun 5, 19, 12:08 pm
Join Date: Apr 2001
Location: East Ester, Alaska
Programs: Alaska Airlines Million Miler, United Airlines Million Miler, Wyndham Rewards Diamond Level
Posts: 8,721
ON THE ROAD AGAIN: Selling Postcards at Airline Collectible Conventions
---
I collect airline postcards. That's right – postcards that feature commercial airliners as their subject. I've been doing so since I was 11 years old and now, many years later my collection is one of the largest in the world. As hobbies go, collecting airline postcards is pretty eclectic – so much so that this might be the very first time many of you have ever heard of such a thing.
I grew up in an era when not just travel but specifically air travel was super exciting. New jets were being introduced every couple of years and the inflight service here in America was the best in the world. Airlines invested a lot of time and money promoting their new jets with colorful ads and brochures highlighting innovative inflight services. Onboard the aircraft, postcards, stationary, playing cards, pilot wings and even cigarettes were all free. Many airports also had postcards, most featuring a picture of one of the new jets parked on the tarmac. For a young air travel fan like myself, there was a lot to enjoy and collect.
As a schoolboy back in the early 1970s, I spent many an hour writing letters to airline sales offices requesting postcards of their new widebodied jetliners and brochures describing the innovative and exciting inflight services inspired by all that extra space onboard. I'd look over those pictures of nicely dressed passengers mingling over cocktails and hors d'oeuvres in spacious and stylish onboard lounges or enjoying seven course meals served seat side from the trolley, and of course it was ever so easy to imagine myself as one of those passengers, climbing the spiral staircase up to the upstairs lounge or watching with anticipation as pretty stewardesses served up plates of delicious foods from the trolley.
Air New Zealand's DC-8 First Class
Passengers enjoy lobster and salmon aboard BOAC's VC10
Anticipating SAS' First Class Smorgasbord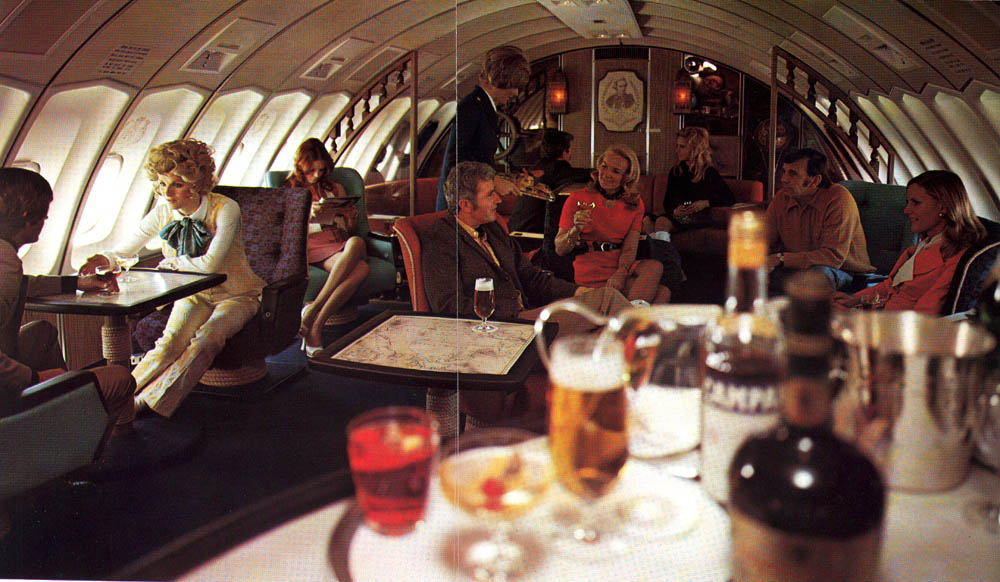 Cocktail Hour in the Captain Cook Lounge aboard Qantas' 747
Table for 4 aboard American's 747 Luxuryliner
As for postcards, once my fledgling collection had grown to about twenty cards, something clicked and the collection took on a new life for me. I took my postcards out of the box I'd stored them in and installed them in a proper binder. Meanwhile, the letters to airline sales offices continued. By the time I graduated high school, my postcard collection numbered over 400 cards.
In 1980 I purchased another collector's collection, one much larger and more impressive than mine. It was then that I discovered the world of independent postcard publishers, i.e. companies other than the airlines that also created airline postcards. From then on my collection then began to grow in leaps and bounds. Today it numbers over 30000 cards housed in 83 binders complete with sheet protectors. I reckon I've got about $2000.00 invested just in the books and pages to house all those cards.
* * * _  _ * * *
Most FlyerTalkers are into things like upgrades and free travel. Indeed, of the 700000+ people that currently populate FlyerTalk's membership rolls, I should imagine only a handful have more than a passing interest in airline memorabilia and collectibles such as postcards, menus, models, service brochures, timetables and playing cards. Amongst those of you who actually read my trip reports, the number is probably even less - maybe only two or three. Perhaps four. Maybe.
If there are more of you with an interest in airline memorabilia out there, let me know. Maybe we could plan a FlyerTalk get-together around
a show
someday.
The focus of this report will not be on airline collectibles shows. Rather, it's about
my trip
to the Amsterdam Aviation Collectors Fair – the largest airline collectibles show in Europe. This trip, which started out ostensibly as a simple weekend excursion to Amsterdam, eventually morphed into a 20,520 mile extravaganza that included eleven flights on four airlines to points as far flung as Tel Aviv, Israel and Charlotte, North Carolina.
Allow me a moment to describe how this all came to be.
* * * _  _ * * *
It's been a long time since I've sold cards at an airline collectibles convention. Back in the 1980s and 90s I was a well-known seller on the show circuit and I still have a few friends and acquaintances who sell everything from t-shirts to wings to airline china to inflight menus. The last time I actually rented a table and sold cards at a show was in 2002.
These days you'll generally do much better selling rare or valuable airline postcards on eBay. Back in 2004, I made over $3000.00 selling a small batch of cards on eBay. Bidding was hot and heavy from all over the world, and I was mailing off stacks of small manila envelopes every week to such diverse locales as Germany, Singapore, Brazil and Portugal as well as addresses all over the U.S. The highest winning bid for one of my cards was $68.00 USD for an airline issue Cathay Pacific Lockheed Electra. In general, most of the older airline issued cards sold for anywhere from $5-15.00 each whereas were I to sell them at a show I'd get perhaps a third as much.
These days, most of the serious collectors have already found what they want on eBay (airline issued cards mostly) and good, competitive bidding of the type I experienced fifteen years ago is but a distant memory, especially on non-airline issued cards. Meanwhile, I've got about 4000 spares lying around – most of them garden variety commercial publisher issues that I can sell at shows for about $.75 USD each. I could list them on eBay and get maybe a buck or two for some of them but it's just not worth the time and effort to do so.
So to that end, I'm looking forward to setting up shop at a convention one more time and hopefully selling a few hundred cards.
* * * _  _ * * *
I'd been aware of the
Amsterdam Aviation Collectors Fair
for some time and, since it takes place during the winter months, it would be a great opportunity for a brief break from the cold temperatures and short days that are a hallmark of Alaska winters. Not that I really need a break, mind you. I love Alaska in the winter - short days, cold temperatures and all. That said, I also love traveling any time of year, regardless of the season. I especially like short trips to far off destinations. As such, a quick trip to the Amsterdam Aviation Collectors Fair is right up my alley.
A check of the schedules back in December revealed space available in Business Class aboard an American 767-300 between Philadelphia and Amsterdam. That's a rare find because Premium Class redemption on American via Alaska's Mileage Plan is not easy to come by. Still, I held off booking for a couple of reasons.
First, I am innately leery when it comes to Premium Class travel aboard U.S. airlines. Where once U.S. carriers like Pan American and TWA were the standard bearers for quality inflight service, these days the U.S. carriers are uniformly mediocre. The international air transport rating organization SkyTrax currently rates American, Delta and United no higher than 3-Stars out of five. Even Alitalia rates higher.
Back in 2015 I had flown First Class domestically aboard an American 767-300 configured in a 2-class international layout offering Business and Economy. I was not impressed with the hard, narrow seating in the forward cabin – even on the short three hour flight between San Francisco and Dallas. Based upon that experience, I would likely have not flown to Amsterdam at all if American's 767 as configured in 2015 was the only option.
The second reason I held off booking was that I was hoping to try out the Business Class service on Aer Lingus or Finnair, both of which had recently joined Alaska's frequent flyer program (Mileage Plan). Unfortunately, the seats never became available on Finnair while Aer Lingus, whose addition to Mileage Plan was first announced back in March of 2018, has yet to expand its membership to allow mileage redemption. We're told it's going to happen soon, but when is anybody's guess.
Fast forward to a month later. It's early January and another check of the award mileage availability between the U.S. and Amsterdam shows that nothing had changed. Business Class award space was still available on that 767 out of Philly, as well as space on long time Alaska partner British Airways. That BA space came at a steep price however, given all of the extra taxes and security fees intrinsic to bookings aboard any British airline. Icelandair had Business Class seats available, but given its budget rate Saga Class service and seating that's no better than what you'd find on domestic First Class here in the U.S., I determined that I would only fly with it on westbound, daytime flights when sleep was not at a premium.
I also looked at availability into nearby cities in Germany or Belgium from where I could catch a train or purchase a discounted flight to Amsterdam. In fact, I looked at most all of the major European cities and found nothing noteworthy save for a bizarre Condor routing that offered Business Class seating to Frankfurt connecting to Economy Class flights to Dusseldorf in the middle of the night via Ankara, Turkey
No thank you.
Still, I really wanted to make this trip. So what the heck… let's have another look at American. I pulled up some reviews on AA's latest Business Class product and that's where I discovered via The Points Guy's excellent website that American had
refurbished its 767s
since I'd last flown on one. Ben Schlappig's excellent site One Mile At A Time also provided
a review
of a flight on AA's refurbished 767.
As you can see from these two reviews, American's 767s still leave a lot to be desired when it comes to a well-rounded international standard Business Class product. This is especially true in light of American's surprising decision to not install a proper personal inflight entertainment (IFE) system onboard its 767s. In its place was a tablet better suited to domestic flights here in the U.S.
That said, the flight to Amsterdam was scheduled to depart Philadelphia at 9:15pm. I reckon all I'd want out of that flight would be a nice dinner and a comfortable bed for the night. Even if AA were to provide an Emirates ICE quality IFE, I doubt I'd even use it. Since AA's new Business Class suites looked to be a considerable improvement over the stiff grey seats I'd endured four years earlier, I decided to pull the trigger and book myself a seat.
Alright then, so this trip is halfway booked.
Or so I thought. Though I didn't know it at the time, I was only just getting started.
* * * _  _ * * *
The original plan had been to fly to Amsterdam, sell a few cards, and then head back home. I've been to Amsterdam before. It's a wonderful place but I wasn't really looking for the big city experience on this trip. Instead, I'd envisioned returning home on a Business Class award with Alaska Mileage Plan partner Icelandair and taking advantage of the free stopover provision for a brief visit to the comparatively rural splendors of Iceland.
Icelandair's Saga Business Class is a less expensive and fairly basic product compared to the more refined Business Classes offered by its European competitors. This is particularly evident in its Business Class cabin where the seats and their 40" pitch rate no better than most U.S. domestic First Class recliners. For eastbound overnight flights to Europe, the lack of a proper lie-flat seat simply would not fly for me.
On westbound flights from Europe back to North America however, the midday departures from European capital cities and beyond to North America mean I wouldn't need to sleep, thus mitigating somewhat those cheap recliners up front. I also liked the idea of the inbound flights from Europe arriving Keflavik at a decent hour in the mid-afternoon with plenty of time to check into a hotel. Additionally, the late afternoon departures out of Reykjavik to North America allowed for plenty of time to visit Icelandair's good looking Saga Lounge in advance of the flight.
Business Class space from Amsterdam to Reykjavik and beyond to various North American gateways was available all the way through – including a four day layover in Iceland. I was sorely tempted to book it but still, Alaska's Mileage Plan has a lot of partner airlines that offer a wide variety of options from Europe back to America. A big part of the fun in putting a trip like this together is checking out the veritable buffet of possibilities. I loaded up a big tumbler full of ice and filled it to the rim with Woodford Reserve. Now properly fortified for the task at hand, I forged on to consider the Alaska website's myriad schedule displays.
Where great trips are planned
Hmm… what's this? British Airways First Class is available from Copenhagen back to North America for 70000 miles and just $266.00 in taxes and fees. That's only $64.00 and 15000 miles more than I'd be paying for the Icelandair award ticket. It was also less than half of what I'd pay in taxes and fees for award travel to Europe on BA originating in the United States. Well gee, if I could ride in true International Standard First Class for just $64.00 and 15000 miles more, I was definitely interested. A quick check of fares on Skyscanner showed that I could get to Copenhagen from Amsterdam for about $100.00 USD. Hmm…
Further investigation revealed that from Amsterdam Dutch low fare carrier Transavia offered some great low fares to a wide variety of European capital cities, as did a few other airlines such as Czech Airlines, Air Serbia or WizzAir. One of the things I was hoping for was a chance to add a new airline or two to the 201 airlines that I've already flown. I decided to explore BA's options a bit further.
It's worth noting that the taxes and fees vary from one country to next when booking BA awards back to North America. The taxes and fees for travel from most Central European countries such as Germany, Belgium and France was generally more expensive – approaching $400.00 in some cases. The lowest taxes and fees were out of Prague – only about $240.00 USD. To that end, I almost pulled the trigger on a $78.00 Czech Airlines flight from Amsterdam to Prague where I could have spent a couple of days enjoying Prague along with a few fine Czech pilsners before heading home. I also gave serious consideration to routing through Stockholm so that I could spend a night in the famous
JumboStay Hotel
, located in a converted 747 parked on the grounds of Stockholm's airport at Arlanda.
One point of concern about BA's First Class awards originating out of continental Europe is that I'd have to fly Business Class to London. Business Class within Europe is one of the biggest rip-offs in commercial aviation. Why Europeans continue to pay the big bucks and accept Economy Class standard seating with so-so meals is beyond me. Oh, I forgot! The European airlines do at least block the middle seat in Business Class. Dang! What a bonus!
The single aisle Airbus equipment that BA operates on its European flights offers a tight 29" pitch in Economy Class. In Business Class, the seats are the same as Economy and the pitch increases by just 1 inch to 30". By comparison, on my hometown Alaska Airlines the Economy Class pitch is 32", while Premium Economy checks in at 35" and the much larger 2-2 seating in First Class is 41".
Wanting to get the most value for my hard earned mileage expenditure, I decided I'd do a search to see if BA were operating any internationally configured 3 or 4 class aircraft on any of its European flights. I found nothing out of continental Europe. How about Turkey? Nada. Moscow? Nyet. How about Tel Aviv? Oy vey! BA was offering two First Class equipped 777s between Tel Aviv and London each day!
Well alright then, but how much will it cost to fly from Amsterdam all the way over to Tel Aviv – a distance of 2020 miles? A quick check of the possibilities on skyscanner.com revealed that Transavia had a one-way fare of just $100.00 USD!
Yeah, but the flight was scheduled to depart at 6:00am. I'd have to be up at 3. No thanks. Turkish carriers Pegasus and Atlas Global offered one stop connecting flights in the $140.00 range, but in one instance I'd have to collect and recheck my bag for each leg. Plus, neither of the flights arrived into Tel Aviv until after midnight. I'll pass.
Hmm… what's this? A mid-afternoon nonstop aboard Israeli airline Arkia was available for just $163.00 all-in. There were no extra baggage fees and – unlike the Turkish carriers - its flight arrived at Tel Aviv's Ben Gurion International Airport at the civilized hour of 8:00pm.
Now then, how about those BA flights? Could I arrange four or five days in Israel and then fly home? Unfortunately, no. There was First Class space available on a 4:40pm departure to London the next afternoon but after that, there was nothing for nine days – even in Economy. Well dang! But still, this is exactly what I'd been looking for. I'd found a nicely timed flight out of Amsterdam aboard a new airline for me and then I found availability aboard a pair of international standard First Class flights on BA back to the U.S.
Book it, Danno!
* * * _  _ * * *
Alright then, so now I'd booked First Class seats aboard British Airways from Tel Aviv to London followed by a late-afternoon departure the next day to Newark aboard the new 787-9. I'd heard good things about the First Class suites on BA's largest 787 and I was looking forward to trying it out. Additionally, I'd read a couple of reports here on FlyerTalk that suggested BA's First Class meal service had improved somewhat. To be honest, I never thought it was all that bad beforehand, but if it truly has improved - well hey, so much the better. As an added bonus, the late afternoon departure out of Heathrow would allow me plenty of time to enjoy a couple hours of lounging and perhaps even a preflight meal in BA's well regarded T-5 Concorde Room.
It would have been nice to stop over in London for a couple of days - I've got an old friend who lives about an hour out of London - but doing so would have added considerably more in taxes and fees. Then I remembered that the San Francisco Airline Memorabilia Show was taking place on March 2nd. Well gee, I'd be arriving in the U.S. on February 27th and continuing on across the continent on the 28th. Perhaps I could route through San Francisco for a brief stopover…
Indeed I could. Better yet, with a couple free days to spare, I could rent a car and drive down to Fresno where cold beer and a hot meal would await at Fresno's Sequoia Brewing Co. I'd spend that night at one of my favorite California hostelries - the Day's Inn out on Olive Ave. and Hwy. 99 – and then drive back up to San Francisco for the show on Saturday.
Right. Make it happen. I booked a hotel for my overnight in Newark and then was able to confirm a First Class seat departing the next morning aboard an Alaska 737-800 across the continent to San Francisco. I found a good price on a midsize SUV for two days out of SFO and an even better price on a room for the night at the Fresno Days Inn.
With the heavy lifting now completed, it was a simple matter to book flights home from San Francisco to Fairbanks. All that was left was sit back and enjoy the anticipation that precedes all of my trips.
And for you, dear readers, if this sounds like the kind of trip you'd be interested in reading about, well, you know the drill by now. Find yourself a comfy chair, a plate of something tasty to nibble on and of course an appropriate libation to accompany you on the journey.
Ready? Let's go!
---
Last edited by Seat 2A; Jun 6, 19 at

11:09 am
Jun 5, 19, 3:18 pm
Join Date: Mar 2009
Location: JAX
Programs: Former BA/AA/CP/LY employee, BA Executive Club Blue, IHG Platinum, Samsung Platinum
Posts: 2,854
I went to a couple of shows near LHR with my Dad in the mid-90s. They were always fun, and was able to add to my small collection of BA items. I'd be interested in going to an occasional show.

Have you ever visited the BA Museum at LHR?
Jun 5, 19, 11:26 pm
Join Date: Apr 2001
Location: East Ester, Alaska
Programs: Alaska Airlines Million Miler, United Airlines Million Miler, Wyndham Rewards Diamond Level
Posts: 8,721
Originally Posted by
JAXBA
I went to a couple of shows near LHR with my Dad in the mid-90s. They were always fun, and was able to add to my small collection of BA items. I'd be interested in going to an occasional show.

Have you ever visited the BA Museum at LHR?
I would love to visit this museum. It and the one at Duxford are at the top of my list.
Jun 5, 19, 11:28 pm
Join Date: Apr 2001
Location: East Ester, Alaska
Programs: Alaska Airlines Million Miler, United Airlines Million Miler, Wyndham Rewards Diamond Level
Posts: 8,721
February 19, 2019
Alaska Airlines First Class ~ 737-900 ~ Fairbanks, AK to Seattle, WA ~ 1050a – 325p ~ Lunch
Alaska Airlines First Class ~ 737-900 ~ Seattle, WA to Denver, CO ~ 725p – 1105p ~ Dinner
For many years, the only nonstop flight departing Fairbanks for Seattle at a civilized hour was Alaska 124, the 5:30pm departure. The other Seattle nonstops were redeyes, departing Fairbanks at either 5:30am or after midnight. The late night departures arrived in Seattle at the crack of dawn, well timed to connect to the bank of early morning departures from Seattle to Alaska's Midwestern and eastern destinations. I know a 5:30am departure does not technically qualify as a redeye, but when I have to get up at 3:30am, my eyes are no less red than they are on flights that arrive Seattle at 5:30am.
I never liked those late night redeyes. Flights from Fairbanks to Seattle typically time out at about 3 hours – not nearly enough time to get a decent rest enroute – especially while sat upright in an airplane seat. Upon arrival in Seattle, I'd stumble off the airplane in a zombie-like state, often faced with a 2 hour layover before my connecting flight. On the other hand, if Seattle were my destination my day would be off to a lousy start with so little quality sleep.
My response to this has always been to take the 5:30pm nonstop, which arrives in Seattle at about 10:15pm. This way I can get a good night's rest in one of Seattle's many affordable airport area hotels before continuing on to my destination the next morning. Fares are typically priced the same as the redeyes to take the overnight option in Seattle, and the $65-75.00 I'd spend on the hotel was money well spent considering how much better I felt throughout the next day.
In September of 2018, Alaska inaugurated a mid-morning nonstop to Seattle, well timed for same day connections to Midwestern and west coast destinations. I utilized it often this past autumn, and am thankful that it seems to be well received here in Fairbanks with passenger loads exceeding 80% most days.
Today's load was closer to 95%. I hung back and savored hot coffee and a copy of the morning's Fairbanks News Miner until most of my fellow passengers had boarded. It was nice for once to travel without my usual 22" roll-a-bord. Because I was hauling along four boxes of postcards in addition to my usual clothing and other travel accoutrements, I had to borrow my neighbor's considerably larger suitcase. It weighed 49 pounds when I checked it in.
The captain came on over the PA to inform us that the flight up to Fairbanks from Seattle had taken 4 hours. He projected a return flight time of just over three hours. Only once have I ever had a four hour flight inbound to Fairbanks, but I have made the return to Seattle in under three hours on a couple of occasions. Given the strength of the winds today, I was surprised that this morning's flight wasn't projected to be faster.
The flight attendant working the forward cabin this morning was a 30+ year veteran of Alaska Airlines. She was pleasant enough but overly wordy on the PA. This was particularly grating given that the volume appeared to have been set at its highest level. The result was that that what might otherwise have been presented as helpful information about today's flight instead came across as a seemingly endless monologue that was considerably more obnoxious and irritating than informative.
We were about thirty minutes into the flight when drink and meal orders were taken. Alaska revamped its inflight product last year and now rotates its meals quarterly based upon the season. This winter's mid-con choices are Chicken with Clementines or the Korean Rice and Veggie bowl. I believe this is the third time this year I've been offered this meal combination. No menu cards have been seen on this route since last spring, so our flight attendant read the choices off a sheet of paper, describing the Korean dish as "Thai Rice".
Pffft! Thai rice. Yeah, right. Her gaffe was especially egregious on a flight originating out of Fairbanks where we have about a dozen Thai restaurants – more if you include those housed in mobile food trucks.
In any event, I've had the Korean Bibimbap before. It's served with a fried egg and a small ramekin of spicy sauce. There is no meat included. It's an okay dish but I do like the chicken better, so that's what I ordered. As an added bonus, seatmate was kind enough to explain what clementines are. I had thought they might be some kind of spice but no! They're like miniature tangerines. Here's the presentation:
Chicken Breast with Clementines
With the benefit of the tailwind, we did manage an early arrival in Seattle. There was a flight to Denver departing 35 minutes after we'd chocked at the gate. I was unable to book it as part of my original reservation because per the scheduled arrival time of my inbound flight from Fairbanks there wasn't enough connecting time. Had I been able to travel with my smaller 22" roll-a-bord, I could have headed right over to the departure gate and stood by. My 75K status would have put me at or near the top of the list. Unfortunately, with a checked bag, that couldn't happen and so I was faced with a four hour layover. On a positive note, I got to visit with all three of my favorite Alaska Lounge receptionists (Deb, Leslie and Dawn) and put in some quality time on this report.
My Denver flight departed from the C gates. Once upon a time this would have been preferable as I could have easily hopped on the inter-concourse train and been delivered within 100 feet from my gate. Unfortunately the subterranean train stop serving the C Concourse is closed for an entire year while improvements are made to the narrow two-tiered escalator that delivers passengers up to the concourse. During this time the only way to access the far C gates as well as the C Concourse Alaska Lounge is to walk there. Where once I could hang out in the North Satellite lounge and be a two minute train wide away, I now have to ride to the main terminal stop which puts you out on the D Concourse by gate D3 – quite a fair distance from the far C gates.
Meanwhile, why does it have to take almost an entire year to install a new and improved escalator? I mean, back in the forties during WWII, we built a 1500 mile road through Canada up to Alaska in just 8 months. When the main building of the Princess Lodge serving Denali National Park burnt to the ground in March of 1996, they had a new one up and open for business just two months later. This better be one heck of an escalator! I assume there will also be some improvements to the tiny area that's served as the train "station" for the C Concourse.
In the meantime, I reckon I'd better get walking… (For a little music to accompany the walk, just click right
and enjoy!) Readers of past reports will recognize the melody. It's a good one to walk through airports with...
Boarding was well underway by the time I finally arrived at C-20. In fact, they were paging my name as I made my way up the incline past Waji's restaurant and into the rotunda at the end of the C concourse. Alright, alright! I'm coming!
Once onboard, I settled into 2D and savored a mini-bottle of purified water. Alaska stopped offering pre-departure drinks a few years ago, though some of the ex-Virgin crews will still break out the booze on the ground now and then. For the time being you've got to fly aboard ex-Virgin aircraft (A319, 320 or 321) to enjoy that benefit. This flight's 737-900 was all-Alaska.
Flight time to Denver was projected at two hours and nine minutes. Tonight's meal choices were a Turkey Burger with Avocado or The Dreaded Protein Plate. Actually, Alaska just bills it as a Protein Plate, so it's me who appends "The Dreaded". Its combination of a turkey meat slice, boiled egg, hummus, small carrot, nuts, grapes and an apple wedge is to my way of thinking better suited to something gym rats might order from the café in their local health club. I think it's a poor choice for an airline meal in First Class. But that's me. Apparently it's a popular addition with those who like to watch what they eat.
Within reason, I do try to eat well but if I'm flying – and especially if I'm in First Class - let's celebrate! I'll start with a double Woodford Reserve on the rocks and the Turkey Burger please.
I really miss the beef burger that Alaska used to sell in Economy Class a few years ago. This turkey burger is smaller and less flavorful and the first time I had it – last month between Portland and Los Angeles – it was served without chips. This time it came with chips. I provided the Grey Poupon and switched to Club Soda and Lime to wash it all down.
Turkey Burger with Chips
Arrival in Denver was right on time. It was a cold night – about 12°F – and I had a 60 mile drive up to Greeley ahead of me. There was a long line of people over at Advantage Rent-A-Car, and only two agents to process us all. By the time I'd selected my Nissan Rogue and turned onto Peña Blvd. to exit the airport, it was 1:15am.
February 21, 2019
American Airlines First Class ~ A321-200 ~ Denver, CO to Charlotte, NC ~ 413p – 920p ~ Dinner
I've been a Priority Pass holder for many years now. Aside from having access to over 1,200 lounges in airports all over the world, Priority Pass also has a relatively new program that allows cardholders access to a select few airport restaurants where you can order up to $28.00 in food and alcohol. Anything above that as well as the tip is the responsibility of the cardholder.
At Denver International Airport, the only Priority Pass sponsored lounge is at Timberline Steaks & Grill, located off the central commons in the C Concourse. I've been hoping to visit this facility for some time now. Unfortunately, in my dozen or so trips through Denver over the past year I just haven't found it feasible to make a visit. Given the late afternoon departure of today's flight to Charlotte combined with an easy early morning schedule of appointments in Greeley and Fort Collins, I had plenty of time to arrive at DIA early enough to fully explore and enjoy the Timberline's expansive menu.
By the time I cleared security and exited the inter-terminal train at the C Concourse, it was approaching 1:30pm. Heading upstairs to the commons, I found quite a crowd gathered at the Timberline. Almost everybody in line ahead of me made mention of their Priority Pass to pay for their meal. Apparently the Timberline is benefitting nicely from its relationship with Priority Pass, especially since it is the only Priority Pass affiliated facility at DIA. There was about a ten minute wait for a table to become available, during which time I headed next door to the news agency for a copy of that day's Denver Post.
I should note that in order to take advantage of Priority Pass' restaurants, you must be holding a boarding pass for a flight departing that day. People who have just arrived are not eligible to eat.
Not having eaten since earlier that morning, I came hungry. At the same time, I was booked in First Class on a dinner hour departure to Charlotte. As such, I opted for the Pulled Pork sandwich. Hold the fries – just the coleslaw, thanks. Oh, and let's go with a pint of that Pale Ale from Odell's.
The meal was delicious and although the restaurant was packed, the service was friendly and efficient. By the time I gathered my gear and headed back down to the inter-terminal train, it was approaching 3:00pm. I had just enough time for a quick visit to American's Admirals Club, located on the mezzanine level of Concourse A.
Despite not flying American through Denver very often, I am quite familiar with this lounge. For many years it was the Continental Presidents Club – a much nicer facility as run by Continental than American's Admirals Club. When United and Continental merged, this facility was deemed redundant and transferred to American while the much larger United Clubs located over on the B Concourse were deemed sufficient to meet United's needs. My lifetime membership in the Presidents Club was transferred to the United Club and so it is that I generally have access to three lounges at DIA – the two United Clubs on concourse B and the Admirals Club over on A which I have access to by virtue of my membership in the Alaska Club.
Even so, I still miss the "Good 'Ol Days" at Denver's Stapleton where I not only had membership with United and Continental but also in Braniff's Council Club as well as Western's Horizon Club.
Continuing on to the departure gate at A48, I found a large crowd gathered. Boarding was proceeding at a sluggish pace. Indeed, it wasn't proceeding at all. No way were we going to depart on time. Something appeared to have caused a hold up on board the aircraft – probably multiple handicapped passengers getting situated - so by the time I arrived at my seat it was already 4:15pm. Departure was scheduled for 4:13.
This was the first time I'd flown First Class aboard an American A321. I was not impressed. It should be noted however that this was an ex-US Airways bird and the seat pitch was reflective of the poor quality for which that carrier was so well known. We're talking maybe 38" pitch. There were no electrical outlets, nor any IFE screens as found in the A321s purpose built for American.
The cabin was anything but bright and cheerful. The sidewalls were off-white, the bulkheads were two-tone grey and all of the seats were upholstered in dark grey leather. To be fair, this bleak look is pretty standard for all the major U.S. airlines these days. It all adds up to a rather dreary ambiance, sadly reflective of the sorry state of American's once fine domestic premium class product.
It wasn't always so. Some of you may be old enough to remember when airline cabins were bright and cheerful, especially here in the U.S.
American's DC-10 Luxury Liner
Eastern's L-1011 Economy Class cabin
Continental's DC-10
No pre-departure drinks were offered, perhaps due to the laggardly procession of humanity through the cabin. By the time the doors were closed and we'd begun our pushback, it was nearly 4:40. The captain was upbeat and cheerful - complete with a pleasant southern accent – advising us that our late departure notwithstanding, we could expect to arrive into Charlotte fairly close to on time. Well alrighty then. Let's take to the air!
* * * _  _ * * *
American allows you to book your meal in advance via its website. This is great for those of us who don't have smart phones that enable us to download the appropriate aps. It's also great for those of us who don't have status in the airline's frequent flyer program should the flight attendants take meal requests by order of status.
The choices for tonight's meal were Beef Tenderloin with mashed potatoes and broccoli or Southwest Lasagna with black beans. I decided to try out the Southwest Lasagna based up pictures I had seen of it here on Flyertalk.
Alas, when the meals were served, I was presented with a vegetarian meal consisting of curried chickpeas, turmeric something or other and a pile of white rice. Also included were a side salad (but no dressing), a fruit plate, a dinner roll (thus depriving me of the variety offered via the basket) and a pre-wrapped Baklava Bites dessert.
Fortunately, the gentleman in front of me had declined to eat resulting in a leftover beef entrée. The FA was happy to offer it to me in addition to my vegetarian plate.
AA DEN-CLT Vegetarian Meal
AA DEN-CLT Vegetarian Meal with Beef
Those of you who've read my past trip reports may recall that when it comes to airline food, I'm a pretty forgiving guy. Still, the beef entrée I was presented wasn't particularly inspired in either appearance or taste. I thought that next to the vegetarian entree it looked positively bedraggled. The meat was an unappealing 3oz morsel similar in size and appearance to a scrap that you might toss to the family dog. The potatoes looked as if they had been poured on the side and topped with flaccid broccolini. If I had paid full fare or even used a few of AA's infamous 500 mile upgrade certs I would have been supremely disappointed.
Dessert was a couple of large scoops of Peppermint Chocolate Chip ice cream accompanied by a Pirouline cream wafer. It was simple but tasty – far and away the best part of this meal. I saved the Baklava Bites pastry to enjoy at a later date with coffee.
AA DEN-CLT Ice Cream Sunday
Flight time to Charlotte was an expeditious 2:38. Even so, although we landed pretty close to our scheduled 9:30pm arrival time, we took an extended taxi tour of the airport grounds and then waited an additional ten minutes for the gate agent to figure out how to get the jet bridge properly attached to the aircraft. Some crass guy from somewhere back in Economy actually hollered "What the F—k is going on up there?" People were definitely getting anxious. And annoyed. By the time they managed to get the door open and let us off it was almost 10:00pm.
My stay in Charlotte was short – essentially a long overnight connection until my flights to Philadelphia and Amsterdam tomorrow afternoon. I spent the night with a fellow Denali driver and his wife who live just 30 minutes from the airport. He had recently retired from 29 years of teaching high school physics and, like me, was an aficionado of fine bourbon. We drank to excess that night, including a glass of my favorite – Bookers – and didn't get to bed until after 4:00am.
---
Last edited by Seat 2A; Jun 5, 19 at

11:36 pm
Jun 6, 19, 12:03 am
Join Date: Apr 2001
Location: East Ester, Alaska
Programs: Alaska Airlines Million Miler, United Airlines Million Miler, Wyndham Rewards Diamond Level
Posts: 8,721
February 22, 2019
American Airlines Economy Class ~ A330-200 ~ Charlotte, NC to Philadelphia, PA ~ 429p – 616p
American Airlines Business Class ~ 767-300 ~ Philadelphia, PA to Amsterdam, ND ~ 915p – 1055p ~ Dinner
The first time I visited Charlotte's airport was back in 1977. I remember stepping down the mobile stairs that had been wheeled up to our blue and white Eastern Airlines 727 Whisperjet and walking across the tarmac to enter a long, low red brick concourse. Charlotte's airport has come a long way since then, having grown into a major airline hub, first with Piedmont and subsequently with US Air(ways) and now American.
That said, I've made very few visits to Charlotte's Douglas International Airport over the past 30 years – perhaps less so than any other major airline hub in America. I do remember logging my 2000th flight out of here back in 1991 aboard a United 737-300 between Charlotte and Chicago. The last time I visited an airline lounge here was the US Airways Club back in 2005.
Today I had just enough time for a quick visit to American's impressive Admirals Club where I enjoyed a bowl of hot Chicken Pueblo soup while looking out through rain streaked windows at my waiting A330. It was an ex-US Airways bird that I thought looked much nicer in its original US Airways livery. It's not that AA's latest livery doesn't look nice but – to my mind at least – it wears better on some planes than others.
Business Class award notwithstanding, I was sat back in the Premium Economy section of this airplane. Located in a small cabin immediately behind the Business Class cabin (There is no First Class on AA's A330s) it offered larger more spacious seats arranged in a 2-3-2 configuration with approximately 40" of legroom. For the one hour and twenty minute flight up to Philadelphia, this seat was just fine. For a seven or more hour long trans-Atlantic flight, well, it depends upon your point of view.
A good friend of mine's parents once flew over to the U.S. in Premium Economy on Virgin Atlantic. They'd never flown anything other than Economy Class and to hear them describe their flight, you'd think they came over in the Royal Suite aboard the QE2.
I vaguely recall those halcyon days when even an Economy Class seat on a 14 hour trans-Pacific flight to Australia was cause for considerable excitement. Upgrades didn't exist back then – at least not as we know them now. The only way to improve your lot was to actually purchase a higher fare or pray that the Air Travel Gods might send some good fortune your way via an op-upgrade. Regardless, I was happy with the cheap seats back then, all the more so given that the seat quality and inflight service were considerably better than that which we experience today.
These days, after having logged over 5.4 million miles aloft of which over two million have been in premium Business or First Class cabins – it takes a bit more than a Premium Economy seat to light my fire. That's not to say I didn't appreciate the extra space though – even on the short flight up to Philly. The flight itself was uneventful; most of it spent cruising through high clouds. It wasn't until we'd commenced our descent in Philly that we finally broke into some pretty blue skies. I paused to take a picture of the big Rolls Royce Trent 700 engine churning just outside my window.
American's A330 on the wing
Following a notably smooth landing (the airplane's wheels practically caressed the runway) we spent the next 22 minutes taxiing around the airport and then waiting for a gate to become available. I only know the exact amount of time because I log and time my flights from takeoff to touchdown and happened to note our arrival time as I clicked off my stopwatch.
I don't know what gate we parked at, but as is so often the case for me we were parked way down at the end of a long concourse. Upon checking a nearby airport diagram I could see that my connecting gate at A13 was a good half mile away on the other side of American's sprawling complex at PHL. Sigh… story of my life. Better get walkin'. Imagine then my surprise and delight when an electric cart pulled up and offered me assistance. Yes, sir! Thank you!
American has four Admiral's Clubs spread around Philly. Thankfully one of them – undoubtedly the smallest of the lot – was located just across the concourse from A13. Though small, it ticked all the boxes for the many attributes that make a visit to an Admirals Club such a pleasant experience. I helped myself to a bowl of soup with some hummus and crackers and then settled into one of the Business Center cubicles to put in a bit of work on this report.
American's PHL Admirals Club at A13
Boarding was announced about 40 minutes out. I hung back in the lounge for another fifteen minutes before heading across the concourse to my waiting plane. The gate agents were also waiting. Just for me, it appeared. For my part, I'm like – what's the rush? Unless I'm in international First Class aboard an airline of the highest caliber – where the preflight cavalcade of services justify boarding early – I reckon I'm more comfortable in the lounge. Besides, so long as you present yourself at the gate at least 20 minutes before boarding, everything's cool, right? Or is it 30 minutes? Either way the gate agents didn't seem too stressed over it and so off I strolled down the long and winding jetway onto the plane.
This was my first flight since April of 2015 aboard an American 767-300. As I've reported earlier, I was not overly impressed with the Business Class layout on that earlier airplane. Now, four years later, I liked what I saw as I entered the cabin.
American's 767 Business Class Cabin
Photo courtesy of American Airlines
The 28 seats in this cabin were set up in a 1-2-1 staggered configuration, allowing each passenger direct aisle access. Although I'm not a fan of American's rather drab cabin décor, the charcoal gray cloth upholstered seats on this plane were offset by yellowish white molded sidewalls and faux wood seat side tables. The seats were nicely padded and reasonably comfortable to sit in.
At each seat was a packaged pillow and blanket set along with the usual trappings of any premium class flight – to wit, a set of Bose noise cancelling headphones, an amenities kit, a pair of slippers, a bottle of water and a menu.
American's 767 Business Class Suite
The only real downside to these seats is that the foot space is extremely limited when the seat is in its fully extended position, with the result being that your feet and calves are forced into a little box of very limited dimensions. Additionally, these are not true 180° lie-flat seats but rather they're about 160° and, in their fully extended position are quite low to the floor compared to other seats I have stretched out in.
Oh, there is one other thing – quite surprisingly, the only inflight entertainment option was via a tablet mounted in the seatback in front of you. This wouldn't surprise me if I were flying some third world airline from a small country south of the equator but for one of the world's major airlines to be operating an aircraft outfitted such as this on busy trans-Atlantic routes between the U.S. and Europe was a bit surprising.
Inflight Entertainment System on American's 767 Business Class Suite
Although the Business Class cabin was completely full, there were plenty of open seats in Economy allowing many of the folks back there a chance to spread out over two and – for a lucky few – even three empty seats.
Flight time was announced at an expeditious six hours and fifty minutes, good news for everybody I suppose except for me. If I've got access to a sleeper seat and a nicer inflight product, I like to have time to enjoy both. On a flight of our length, by the time you get done with the meal service, digest a bit, use the lavs and finally get to sleep, you
might
have four hours to sleep before being roused in time to enjoy the breakfast service. If I had my druthers, a flight like this would last about 11 hours. I reckon I was born about thirty years too late - then I could have made this crossing aboard a Pan Am or KLM DC-7, though I would have had to depart out of New York as back in the 1950s the only nonstop service between the U.S. and Amsterdam was out of New York International Airport.
The two flight attendants working the Business Class cabin were fairly senior in rank and/or age. Both appeared to be over 60 years old and both were carrying a fair bit of extra weight. These ladies weren't just a little bit chubby but rather were built like fire hydrants. To get a belt around either of them would've required a minimum of 50" or more. I wear a 38" and that wouldn't have come close on these two.
While I don't have any concerns about the ability of considerably overweight people to provide a quality inflight service, I can't help but wonder about their fitness levels should an emergency situation arise. Then again, I suppose they could always supervise and allow a more fit passenger to do the heavy lifting such as maneuvering a heavy raft from the ceiling compartment to the doorway.
All that aside, I thought they both did a nice job throughout the flight. They were friendly, attentive and went about the service protocol in a timely manner.
So then, how about that service? Let's check out the Wine List and the dinner menu…
WINE LIST

Champagne
Charles de Cazanove Tradition Brut, Champagne, France
White Wine
Scarpetta Pinot Grigio, Friuli, Italy
Bouchard Père & Fils, M con-Lugny, France
Red Wine
Benziger Family Winery Cabernet Sauvignon, Sonoma County, California
Portal Colheita Red, Douro, Portugal
Dessert Wine
Quinta do Noval LBV Port, Portugal
* * * _  _ * * *
DINNER
Philadelphia to Amsterdam
SMALL PLATE

Poached Shrimp Rémoulade
Presented atop arugula with a lemon wedge and New Orleans Rémoulade Sauce
Baby Spinach and Arugula Salad
Accented with strawberries and heart of palm

Assorted gourmet breads will be served with your meal
MAIN PLATES

Korean Braised Short Ribs
Presented with brown basmati rice, kimchi pickled red cabbage and Bulgogi sauce
Red Snapper Tagine
Celery and carrot couscous, sautéed vegetables
Buffalo Skillet Chicken
Jalapeño cheddar corn cakes, Gorgonzola, golden beet and carrot slaw
Bulgur and Feta Stuffed Portobello Mushroom
Roasted golden beets and crumbled fontina with Arrabbiata sauce
DESSERT

Häagen Dazs Caramel Cone Ice cream

Key Lime Tart

Gourmet Cheese Plate
Smoked Gouda, jalapeño Jack, sharp cheddar
Thankfully American has made it very simple to check out the menu for your flight at the time of booking and then order in advance if you like. There are no annoying apps to have to download. You can handle it all right from the website. So, back in January I took a few minutes to peruse the possibilities and then placed an order for the Buffalo Chicken. I had done a bit of research on American's Business Class meals and the Buffalo Chicken not only looked good in pictures but it also got good reviews.
First however, let's start the festivities with some liquid refreshment. I'll have a glass of the
Scarpetta Pinot Grigio
, please. Oh yes, mixed nuts would be great, thanks!
Still life with Scarpetta Pinot Grigio and Menu
The meal was served all at once, all on one tray. This was not quite the standard I was hoping for, but there it was. Perhaps it was due to the late hour in an attempt to expedite the meal service. Then again it could have been due to laziness on behalf of the flight attendants. Perhaps I've been flying too many four and five star airlines of late (American rates only three stars) and so had unrealistic expectations of how a premium class meal should be served.
Buffalo Skillet Chicken
Jalapeño cheddar corn cakes, Gorgonzola, golden beet and carrot slaw
Key Lime Tart for dessert
On a positive note, this was a good airline meal. The shrimp appetizer was quite tasty and the Buffalo Chicken entrée was both sizeable and delicious. As an added bonus, it was not overcooked and the jalapeño cheddar corn cakes and coleslaw were every bit as tasty as they were appealing. Only the salad fell short – a bit disheveled in its presentation and lackluster in its content. Otherwise, this was – by my standards - an excellent Business Class dinner. Well done, AA!
By the time the last of the plates were cleared, there were just five and a half hours left in the flight. Were that I could just fall fast asleep on the spot. Alas, that would not be possible without the intravenous administration of some knockout drug. So, after a quick visit to the loo to practice a bit of dental hygiene, I reclined my seat to its full extent, read for a bit, popped a 10mg melatonin and bit off a quarter piece of Ambien, then read for a bit more before lapsing off into a fairly blissful slumber – cramped feet and all.
I did not ask to be woken for the breakfast service. A good sleep is more important to me than a Business Class breakfast, so I figured I'd roll the dice. If I slept through breakfast - great. If I didn't, then that was cool, too. Well, as things turned out I was awakened by the bustle of sounds, smells and activity around me while the breakfast service got underway. By the time I padded off to the lav, cleaned up my suite and was sat upright, there was just barely enough time to take advantage of the full breakfast service. Here's the menu:
BREAKFAST
Offered prior to arrival
Traditional American Breakfast
Scrambled eggs, Canadian Bacon, roasted potatoes, herbed tomato
Fresh Fruit Bowl
Served with granola and Greek yogurt

Warm breakfast breads will be served with your meal
Of course I opted for the full breakfast. It wasn't fancy but it was reasonably filling.
Breakfast over England
We landed on a beautiful spring day in Amsterdam. I know, I know – it's still February but in every other respect it was spring. Warm, sunny, lots of green around the airport and at my hotel – a great start to my short stay in Amsterdam.
I normally fly First Class on longer segments, so this Business Class crossing was a bit of an aberration for me. Even so, American provided a pretty good service by modern day standards. Given the miles redeemed, I thought it was a decent value.
---
Last edited by Seat 2A; Jun 7, 19 at

10:01 am
Jun 6, 19, 12:15 am
Join Date: Apr 2001
Location: East Ester, Alaska
Programs: Alaska Airlines Million Miler, United Airlines Million Miler, Wyndham Rewards Diamond Level
Posts: 8,721
February 24, 2019
Amsterdam Aviation Collectors Fair
Most FlyerTalkers are into upgrades and mileage accrual (I'd estimate about 99.95% of you) so I won't waste your time describing all the various items for sale at the fair. Instead, I'll go the quick and easy photo report route and then we'll get back to the trip at hand.
Amsterdam Aviation Collectors Fair
Amsterdam Aviation Collectors Fair
Amsterdam Aviation Collectors Fair
Amsterdam Aviation Collectors Fair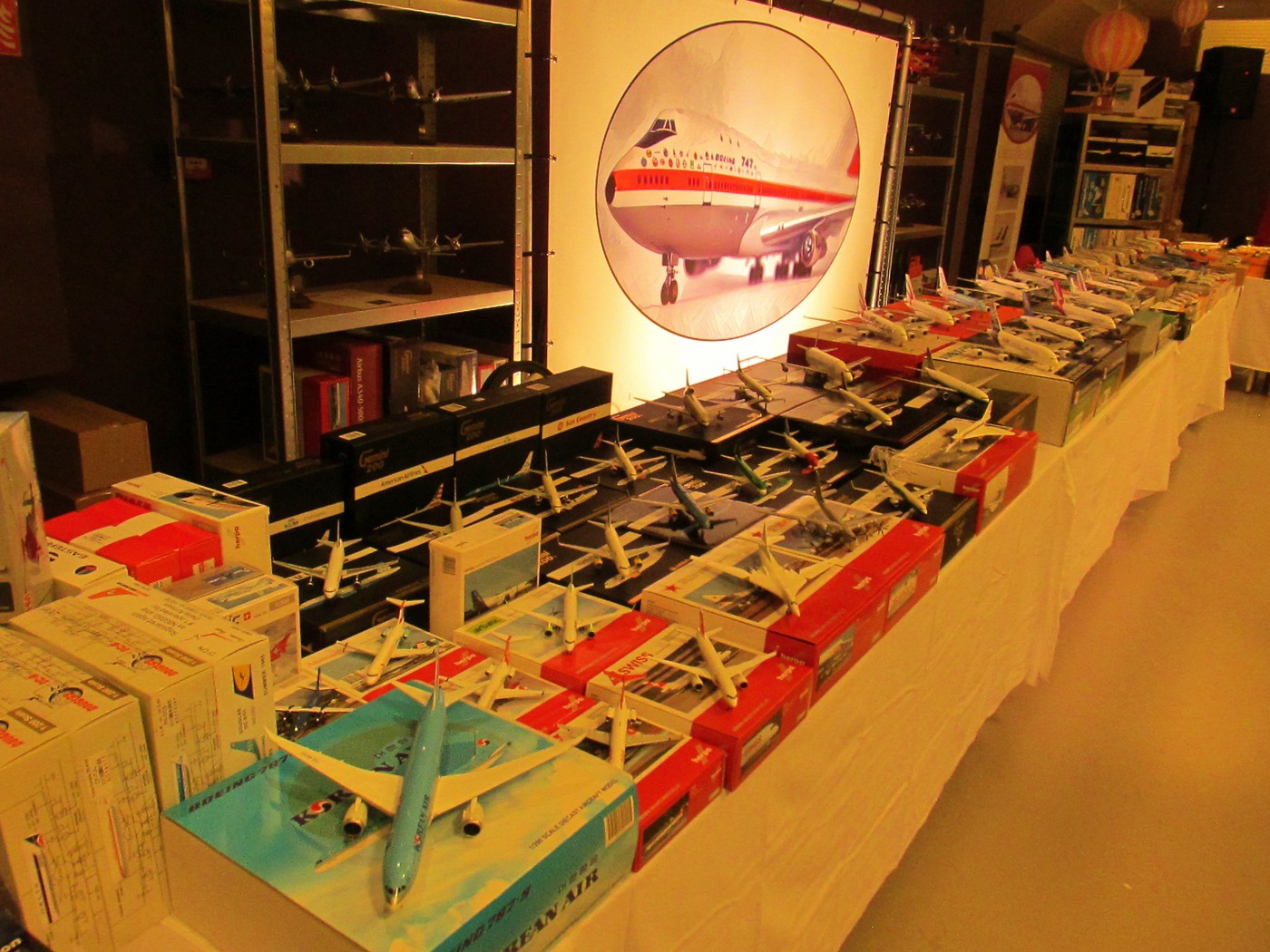 Amsterdam Aviation Collectors Fair
Amsterdam Aviation Collectors Fair
February 25, 2019
Arkia Airlines Economy Class ~ A321LR Neo ~ Amsterdam, NL to Tel Aviv, IL ~ 230p – 800p ~ Lunch
Arkia is one of those obscure airlines you hear about now and then but never expect to fly upon. El Al grabs all the headlines as Israel's national airline, but over the years Arkia has steadily grown into Israel's second largest airline with a strong regional presence throughout Europe and the Eastern Mediterranean.
As you may recall, the reason I am flying home via Tel Aviv is because I wanted to make the most of my First Class award on British Airways. Flights to London from European cities and most regional Middle Eastern cities offer no better than Business Class which in most cases is an Economy Class seat with a light meal offered. BA's two daily 777 departures between Tel Aviv and London offered a full international First Class service complete with suites, menus and seven course meals.
Check-in at Schiphol was interesting. Arkia's check-in area is located way down at the far end of the airport terminal and of course the hotel shuttle dropped me off at the opposite end of the terminal. Upon arrival, I joined a line of about a dozen people. Before approaching the counter, we were first interviewed by security personnel. Understandably they thought it a bit odd that anyone would fly back to the U.S. via Israel, and so I was invited to join a couple of them at a nearby private room for further questioning.
Now, now – it's not as bad as it sounds. Their questions were reasonable and straightforward, as were my answers. You may recall I had wanted to stay in Israel for 3-5 days but unfortunately there was no award space available on BA until nine days out. In the meantime I had receipts and confirmations printed out for all of my airlines, hotels and rental cars for this trip and so, after few minutes it was determined that while my travel plans might qualify me as a bit eccentric, I did not appear to represent any viable threat to the State of Israel.
With a couple hours to burn before departure time, I decided to check out my lounge options. Surprisingly – given the size of Schiphol and all of my various lounge memberships – those options were limited to a pair of independent Aspire Lounges. Arkia is not affiliated with any airline alliances such as Star Alliance, so my United Club card did me no good. Priority Pass got me into the Aspire Lounge, however. Unfortunately, the lounge was located on the other side of the airport from where my Arkia flight would be departing, but what the heck – I've got time, so… better get walkin'…
It took me a while to find it, but once I'd made my way up the correct escalator and made a sharp U-turn, the lounge entrance loomed ahead. After all I went through to get here, I wish I could tell you that the Aspire Lounge was a wonderful oasis of comfort, style and quality foodstuffs in the heart of Schiphol. Alas, the Aspire Lounge 41 was – to me at least - adequate at best. Certainly it was a far cry from the quality you'd expect from a similar independent type lounge found in Asia or Australia. The wooden floors and stiff cushioned couches lent a utilitarian air to this lounge.
Picture Here
. The food offerings were very basic (A soup that was mostly broth, shredded cabbage salad, rolls, cheese slices and turkey slices) while the beer was standard Heineken served off the tap. I didn't check out the other drink options and eventually settled for a turkey & cheese roll with a glass of water.
One good thing this lounge did have was an excellent view of the central airport tarmac. As expected the ramp was dominated by lots of pretty blue and white KLM planes offset today by a red tailed Turkish 737 and a Delta widget liveried A330.
Amsterdam Tarmac View
Amsterdam Tarmac View
Finally I commenced the long walk over to the G Concourse, located on the far side of the airport – the very last concourse down. It took me about 15 minutes but the sight of my shiny new A321NEO-LR parked at the gate was worth the shoe leather.
Arkia's A321NEO awaits boarding
Arkia is the launch customer for the 321LR and to commemorate the occasion they've come up with an attractive new livery incorporating a multitude of colors slashing from the rear of the fuselage forward. The effect is quite striking really, and as an added bonus the colors vary from one plane to the next. The airplane assigned to my flight today was 4X-AGH – the very first 321LR delivered to Arkia. Here's a nice view of it courtesy of Arkia's public relations department…
Arkia's First A321NEO 4X-AGH
Photo courtesy of Arkia
Boarding – Schmoarding – I'm no longer going to waste any time writing about the boarding process unless something noteworthy happens, such as the jet bridge collapsing. So what if it went smoothly. It's just a bunch of people trying to get on an airplane and so they do and that's that. Henceforth let's not waste any more time writing of it.
So one of the things I look forward to when stepping aboard an airliner that I've not flown before is the visual impact of its interior. Is it bright and inviting? Is it spacious? Without anybody saying anything, does the interior in and of itself welcome you aboard the airplane?
Now here in America most all of the airlines are pretty boring, generally presenting us with a cabin full of dark blue or grey leather upholstered seats with plain white cabin walls and bulkheads. Thankfully, Arkia was more up to the task with beige and brown seats accented with colorful headrest covers. The seats were well padded, too – not the chintzy slim-line seats favored by so many carriers these days – and they were comfortable to sit in.
My seatmates were also well-padded – a couple of middle aged ladies assumedly returning to Israel from a European holiday. They spoke very little English, so apart from an initially awkward greeting we ignored each other while they carried on and giggled like a couple of parakeets on nitrous throughout the flight.
I should note here that Arkia does not offer a First or Business Class cabin. I'd say about ninety percent of my flights have come aboard mixed configuration aircraft, so to board an aircraft the size of an A321 and look out over that long cabin of six-across economy class seating is initially a bit disconcerting.
My worst ever experience in this regard was aboard a World Airways DC-10. When the DC-10 was introduced back in 1971, most airlines configured their economy cabins in a spacious 2-4-2 arrangement. Later, with deregulation pushing fares so low that airlines needed more seats per airplane to realize a profit (or even break even!) the configuration changed to 2-5-2. World, which was initially a supplemental or charter carrier, outfitted its DC-10s in a butt numbing 3-4-3 arrangement right from the get-go. Greyhound busses are more comfortable! Thankfully my flight on that aircraft was a short one – a one hour hop from Los Angeles up to Oakland. The only thing comparable today – from my experience at least – would be aboard European or American ULCCs (Ultra Low Cost Carriers) such as Ryanair, Vueling or Spirit.
This was my second flight aboard a 321NEO, the first having come aboard an Alaska jet back in November. The engines are not only more powerful but they're also noticeably quieter. I was sat back in row 18 and the cabin noise and ambience was pleasant throughout the flight.
Flight time on this 2020 mile long flight to Tel Aviv was just a bit over four hours. I wasn't sure what to expect with regards to service but found out soon enough when the drink cart made its appearance followed shortly thereafter by a flight attendant passing out complimentary pre-packaged tuna salad sandwiches on a roll. They were decently sized sandwiches but a bag of chips would certainly have been appreciated.
The aircraft had no Wi-Fi or in-seat power sources. Nor did it have any inflight entertainment. In this day and age that's pretty surprising. Regardless, the seat was comfortable and I always have plenty of distractions in the form of a book, a magazine or two and a manila envelope full of crossword puzzles that I've torn out of the back of my "The Week" magazines. The flight passed quickly and soon we are soaring over the threshold and touching down nicely at Tel Aviv's Ben Gurion International Airport.
TLV is a medium sized airport that impressed me with its modern terminal building and spacious well-lit concourses. The signage was excellent and – surprisingly – customs and immigration was little more than a formality through which I passed with ease and alacrity.
I'd managed to find an affordable place to stay through Hotel.com. It was not a proper hotel per se but rather a small apartment located just upstairs from my host's apartment. My host, Avi, met me outside Arrivals in a well-traveled little coupe – something like a Toyota Corolla. There was a bunch of stuff already in the trunk and the back seat but we managed to find room for my oversized suitcase (remember, I was lugging four boxes totaling nearly 30 pounds of postcards with me) and made our way over highways and side streets to Avi's Place. Along the way we stopped at a bakery and I purchased a couple of items to have with coffee in the morning.
My balcony and table at Avi's Place
The view of Tel Aviv from my balcony
The next morning, Avi delivered a full hot breakfast to me, carrying the tray of local delights up the narrow circular metal staircase. We chatted a bit over coffee. Like many Israelis I've met, Avi was well traveled including having worked for a few years in both New York and Miami. It was a shame that I couldn't have stayed longer because Avi would have been a big help in helping arrange for things to see and do around Tel Aviv and Jerusalem. The next time I go back to Israel, it will be as a destination rather than an overnight stopover. I could easily see spending at least a week in the area and am already looking forward to making that happen someday – hopefully sooner than later.
---
Last edited by Seat 2A; Jun 7, 19 at

11:10 am
Jun 6, 19, 12:45 am
Join Date: Apr 2001
Location: East Ester, Alaska
Programs: Alaska Airlines Million Miler, United Airlines Million Miler, Wyndham Rewards Diamond Level
Posts: 8,721
February 26, 2019
British Airways First Class ~ 777-200 ~ Tel Aviv, IS to London, UK ~ 440p – 800p ~ Dinner
It was about 1:45 when Avi dropped me off in front of the main terminal building. It was a beautiful sunny day with clear skies and pleasant temperatures in the low 80s. Israel was not going to make it easy for me to leave! As it is I won't see temperatures like this back home until June.
Inside the air-conditioned terminal building I had no problem finding my way to the British Airways check-in counter. Check in was a breeze and I checked my heavy 50 pound suitcase all the way through to Newark – a good move because the only way to get to my hotel in London was via public transit (or an expensive cab ride) so I didn't want to be lugging that bag behind me on the three block walk from the tube to my hotel.
Lounge access at Ben Gurion is surprisingly limited for an international airport of its size and import. I assume El Al has its own lounge while most other airlines use a contract facility called The Dan Lounge. There are two of these lounges in the airport and, given the number of airlines that use them, they can get very crowded. That was certainly the case when I visited. The lounge was long, narrow and cramped. Food and beverage offerings were basic at best. Clearly I've been spoiled by the quality of Asia's independent lounges, but so be it. I would rate the Dan Lounge a 3 on a scale of 1-5.
There was however one redeeming quality – ice cold Carlsberg Beer on tap. I availed myself of at least three glasses during my hour and a half visit.
Making my way down to the gate, I arrived just as boarding was beginning. Due to the length and angle of the jet bridge I couldn't see my 777 from the gate lounge. Too bad. For me at least, part of the enjoyable anticipation of International First Class air travel is looking out on your waiting airplane at the gate, secure in the knowledge that your seat will be up there amidst the first four or five windows or so. Oh well - no sense hanging around TLV any longer then – let's head on board!
A pair of good looking flight attendants greeted me at the door, inspected my boarding pass and arranged for a colleague to escort me up to the comfy confines of the First Class cabin. It had been eleven years since I last flew in First Class aboard a British Airways 777, that trip going from Sydney to Singapore. The First Class cabin on that aircraft was still BA's first generation suites. Intended to emulate the interior of a Rolls Royce, the seats were upholstered in gray Connolly leather and chenille fabric offset by burr walnut wraparound barriers, beige side panels and dark blue carpet. The atmosphere was quiet and refined, radiating subdued elegance.
The designers of BA's new First Class cabin apparently wanted to emphasize modern and stylish – perhaps to the detriment of refined and elegant per my tastes. When it comes to comfort and travel, I'm definitely old school. Assuming I could afford them, you wouldn't find me staying at some hip and with it hotel like Aloft or W in New York City when I'd feel much more at home in the Waldorf Astoria or The Plaza. Same goes for airplanes. Singapore Airlines and Cathay Pacific are more my tastes.
When it comes to airplane cabins, I tend to prefer warm, soft colors and fabrics. BA's new cabin looks nice enough in a kind of cool, modernistic way but to me at least it also feels colder with the dark seats and blue mood lighting.
That said, I liked the suite arrangement of this 777-200 a bit more than I did the new suites I experienced a couple of years ago aboard BA's 747-400 between San Diego and London. These 777 suites appear marginally more spacious than those on the 747. Especially notable was more foot space when the suite is fully extended into sleeping mode.
Unfortunately, the seat on this 777 is essentially the same as the one I had on the 747. It's about 22" wide and reasonably well padded but the required seat position for takeoff and landing leaves the seat quite low slung and uncomfortably reclined. It's like sitting in a sports car or the Gemini Space Capsule - very awkward to sit down in and worse, to stand up from. Seat side storage was decent and included an easily accessible closet for jacket and shoes. The recline function was via a dial rather than a button – not my favorite style but workable. Here's a couple pictures…
BA's 777 First Class Suite
BA's 777 First Class Suite looking forward
The sidewalls have this futuristic look to them with tinted glass panels covering individual pairs of blue backlit windows. Or maybe it's the blinds that are backlit. They are themselves unique in that they're electrically powered, operated by a single up/down button housed in the seat control panel. Cool as that may be, unfortunately you practically have to unbuckle your seatbelt and scoot forward to be able to see out of the windows. But hey – it's 2019. Hardly anyone looks out their windows anymore. These days most people close out the natural world and the daylight outside in favor of the artificial light and entertainment emanating from the IFE or their notepads.
While I got myself and my gear squared away in Suite 2A, the usual cavalcade of First Class amenities were offered and/or delivered. Professional bunch that they are, BA's cabin staff did an excellent job of providing everything that I could possibly need or want without hovering around my seat in search of purpose. The Cabin Service Director stopped by to introduce herself, followed shortly thereafter by the Purser who took my drink order. That drink, a glass of Laurent Perrier Grand Siecle Champagne, was delivered along with a copy of the menu for this evening's flight.
Still Life with Champagne and Menu
Ah… Is there a nicer way to start a long international flight in First Class than with a glass of nicely chilled Champagne? Certainly there is none more traditional. Tonight's glass of Laurent-Perrier Grand Siècle, while considered by many here to be a lesser quaff than Krug or Salon, was perfectly acceptable and quite tasty indeed.
While I savored its exquisite effervescence, the parade of pre-flight swag continued with the delivery of an amenity kit and a pair of slippers, both of which found a home on the built in ottoman facing my seat. Soon, another crewmember arrived with a hot towel followed shortly thereafter by a selection of newspapers.
The amenity kit was housed in a faux leather Liberty of London-branded pouch. It contained a variety of Refinery Skin Care products from Aromatherapy Associates, London. These included deodorant, lip balm, shaving gel, moisturizer, a razor, a hairbrush/comb combo, a stylish BA First pen, eye mask and a pair of socks. I've seen more stylishly presented kits, but none more comprehensive. Nicely done, BA!
I don't recall if pajamas were offered but given the time of day and length of flight, I would not have accepted them anyway. I've got a couple boxes full of pajamas and amenity kits from 20 years ago sitting in storage out on my porch. I wonder what they'd be worth on eBay? Regardless, I don't have room to be lugging around any more stuff than I've already got on this trip, so thanks, but no thanks.
The Captain offered a congenial welcome aboard and informed us that the flight time up for our 2,230 mile flight to London would be a short four hours and fifty-two minutes. Shortly thereafter the doors were closed, the jetway retracted and the tractor beneath us revved into life as it slowly pushed our 540,000-pound aircraft back from the gate.
Following the safety demonstration, my flight attendant stopped by to inquire as to my drink choice once we got airborne. Hmmm… let's have another look at that wine list:
WINE LIST

Champagne
Laurent-Perrier Grand Siècle, Champagne, France (V)
Gusbourne Limited Release Twenty Fifteen, Kent, England
Lanson Rosé NV, Champagne, France (V)
White Wines
Saint-Romain Vieilles Vignes 2013, Domaine Vincent Girardin, Burgundy, France
Sancerre "Les Caillottes" 2017, Pascal Jolivet, Loire, France (V)
A to Z Wineworks Pinot Gris 2016, Oregon, USA
Red Wines
Ch teau de Pressac 2007, Saint-Émilion Grand Cru, Bordeaux, France (V)
Ritual Pinot Noir 2015, Casablanca Valley, Chile
Esk Valley Merlot/Cabernet/Malbec 2016, Hawkes Bay, New Zealand
Dessert Wines
Brown Brothers Orange Muscat & Flora 2016, Victoria, Australia
Warre's 2000 Colheita Tawny Port (V)
THE BAR

Apéritifs and Spirits
Ciroc Vodka
Johnnie Walker Blue Label Scotch Whisky
Woodford Reserve Kentucky Bourbon
Tanqueray No. Ten Gin
Bacardi Carta Blanca
Liqueurs and Digestifs
Glenlivet Small Batch Malt Whisky
Bailey's Irish Cream
Otard XO Cognac
Cointreau
Beer
St. Austell Tribute Pale Ale
A selection of lagers including Heineken, Tiger or Amstel Light
Johnnie Walker Blue Label retails for over $200.00 a bottle back home. Here in Suite 2A aboard BA's 777-200 it is a complimentary pour. I'd be a fool not to take advantage of this delicious First Class perk – especially since I quite enjoy JWB. I'll have a glass of that, please – on the rocks.
Tel Aviv's Ben Gurion International Airport is not a particularly large, spread out facility. During our short taxi out to the runway I admired the variety of attractive blue, white and silver liveried El Al aircraft including a 787-9 wearing the retro 1960s livery. The current one looks much nicer. As we reached the head of the runway and turned to line up for takeoff, I managed a quick photo looking down the length of the runway.
The evening sky awaits as we ready for takeoff from Tel Aviv
As we climbed away from terra firma, powering swiftly through wispy cloud strata enroute to our cruising altitude somewhere up in the soft blue yonder, I readjusted my seat into a more comfortable position and considered how much nicer this was than had I taken a Business Class flight from Amsterdam across to London. Nicer aircraft, better seat, better booze, better food… Ah… it is so good to be back in International First Class. It's like a drug and the high is just coming on…
We were less than fifteen minutes into the flight when my drink was delivered, followed shortly thereafter by a small bowl of mixed nuts. High clouds were the order of the day as we powered ever higher into the troposphere. Given our late afternoon departure, I was really looking forward to a nice sunset shot as we sped west over the deep blue Mediterranean. Unfortunately, neither could be see and so, with four and a half hours to go before our arrival in London, I set the IFE to the moving flight map and turned my attention to tonight's dinner menu. Let's have a look, shall we?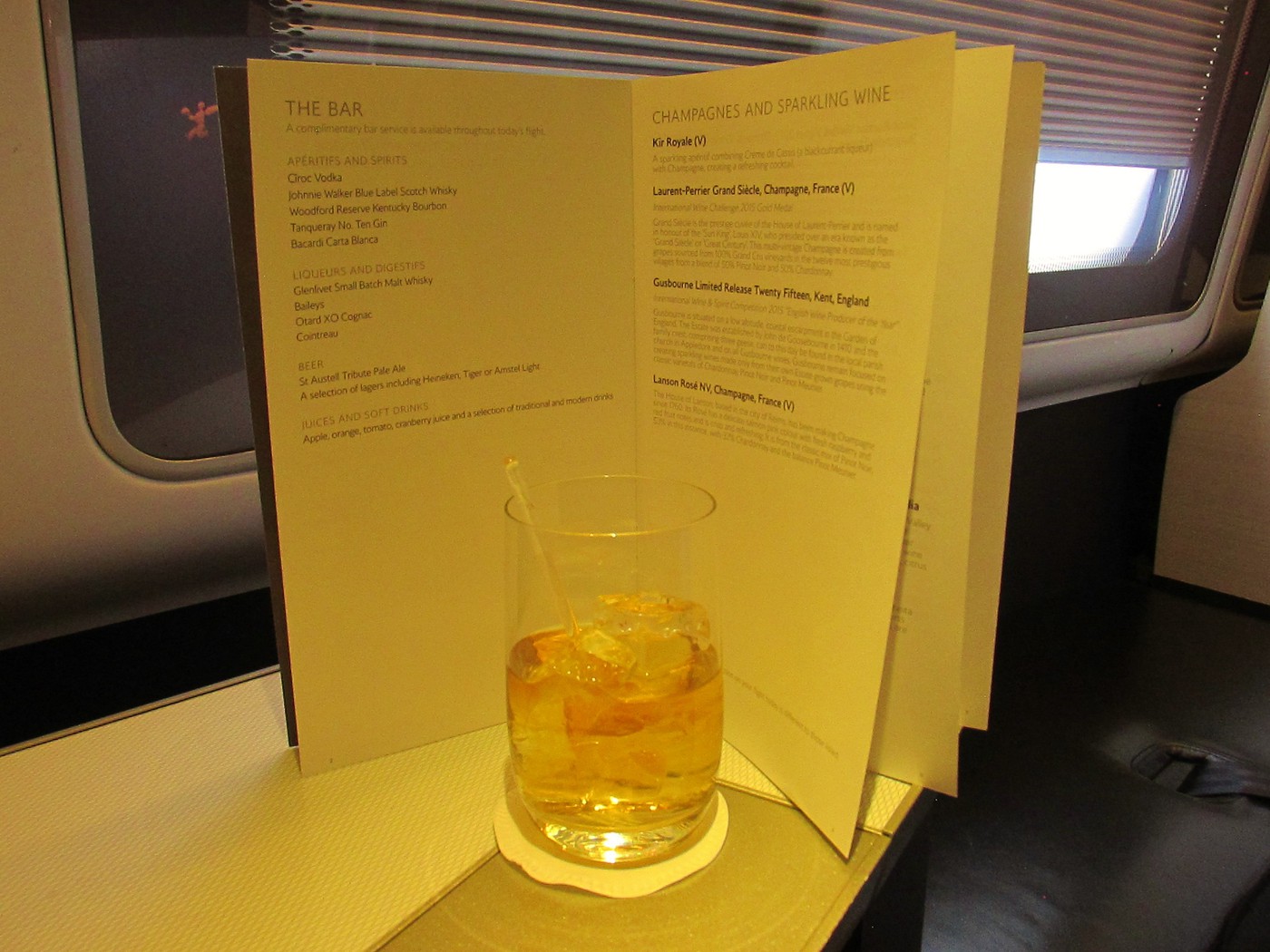 Still Life with Johnnie Walker Blue and Menu
DINNER
Tel Aviv to London
PRE-APPETISER
Antipasti plate featuring grilled artichoke, Kalamata olives, Parmesan Cheese and sun-dried tomatoes
STARTERS
Smoked salmon carpaccio with beet purée, capers and quail egg

Shallot tarte Tatin with cherry tomatoes and goat's cheese

Cream of Krupnik chicken soup with barley and mushrooms

Fresh seasonal salad with your choice of vinaigrette or buttermilk and black pepper dressing
MAIN COURSES

Rack of Lamb with Olive Crust and Pepperonata
Roasted garlic mashed potatoes and lamb jus
Pan Fried Drum Fish with Green Pea White Wine Sauce
Turned vegetables and potatoes
Braised Veal Cheeks in Red Wine and Rosemary Sauce
With pumpkin purée and asparagus
Jerusalem Artichoke Ravioli
Accented with a roasted red pepper sauce
Herb Grilled Chicken
With bulger salad, dried cranberries, harissa, hummus, mint parsley and cherry tomatoes
DESSERTS
White chocolate cheesecake with sea salt caramel

Cherry clafoutis with vanilla sauce and Amarena cherries
CHEESE PLATE
Fourme D'Ambert
Brie with black onion seeds
Manchego

Fresh fruit

A selection of biscuits
One thing I really miss is the canapés that BA used to serve with the opening round of cocktails. I have always been a huge fan of finger foods and although mixed nuts have long been a traditional accompaniment to the initial drink service, I think a small plate of canapés is just that much classier. And tastier.
The first item on the menu, an antipasti plate featuring grilled artichoke, Kalamata olives, Parmesan cheese and sun-dried tomatoes, would have made a nice accompaniment to my scotch. Unfortunately, it was only offered as the opening course of the meal.
So then, how about the rest of the menu? Jillian – my lovely flight attendant – waited patiently as I considered the possibilities…
Hmm… alright then, let's start with the Antipasti Plate followed by the smoked salmon carpaccio, the soup and the salad - vinaigrette dressing, please. As for the main course… (Oooo – five main courses to choose from!), let's go with the Rack of Lamb. As for drinks, I'll stick with the JWB for now, thanks.
Linens were laid about twenty minutes later followed by silverware, bread and butter plates, an attractive salt and pepper set and a blood red water glass. A variety of breads and rolls were offered and I selected a good looking cheese roll. Three small butter balls completed the ensemble.
I should note here that the table, housed in the sidewall next to the seat, was quite large and spacious, more than large enough for two people to eat from. To that end, your dinner companion could easily sit on the spacious built in ottoman opposite your seat.
Surprisingly, the salad and antipasti plate were served together. The salad dressing was plated separately in a small butter dish. I would have preferred to start the meal on this five hour flight with the antipasti plate and mixed nuts over cocktails, but as deviations from the norm go, this one was fairly minor and not worth getting disappointed over.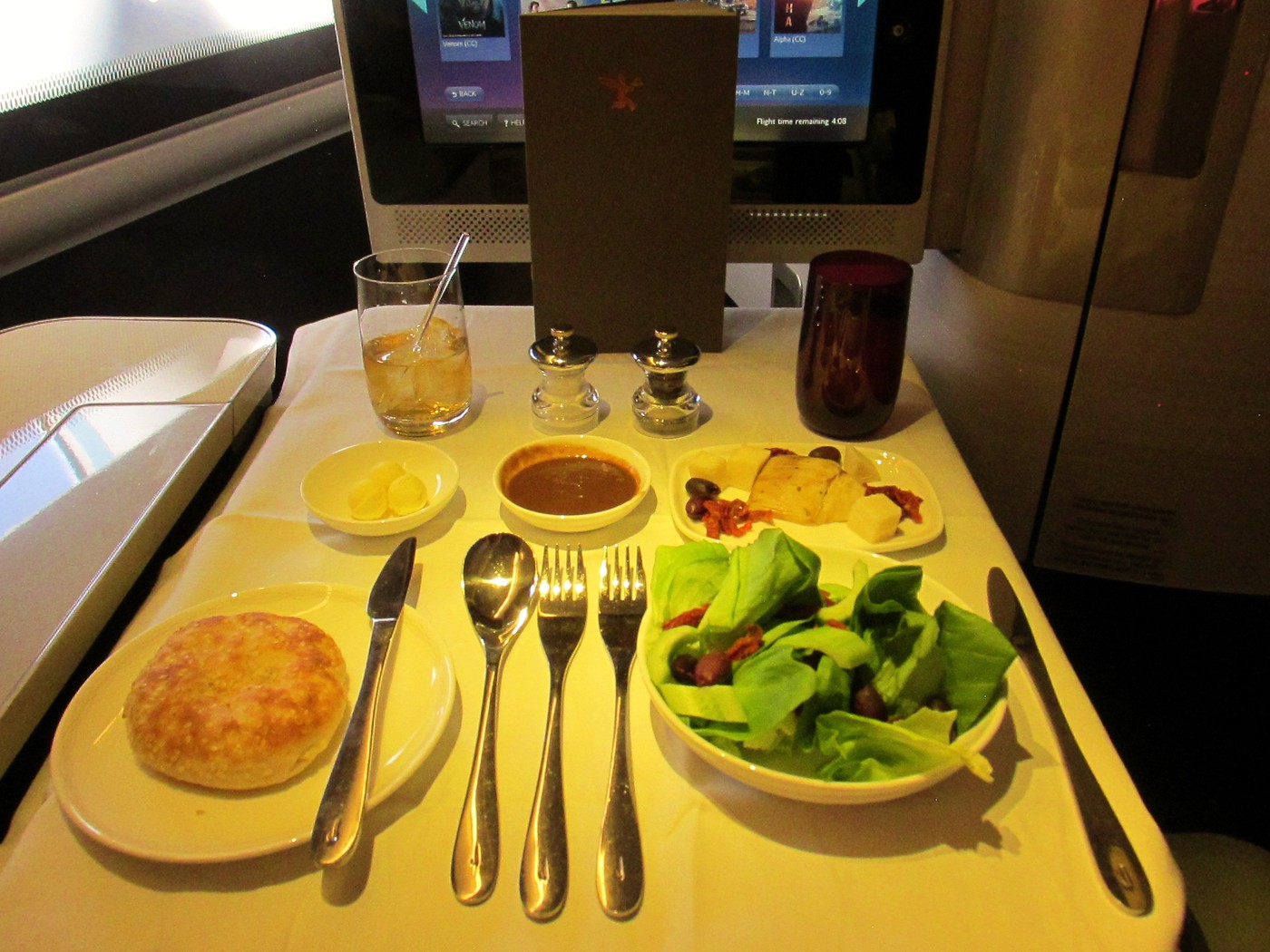 Salad and Antipasti Plate
I have always liked BA's zesty vinaigrettes and the one accompanying today's salad was as good as ever. As things turned out, the flavor of the zesty vinaigrette infused salad was complimented nicely by the cheese and sun dried tomatoes from the antipasti plate. I don't do olives, so these were carefully removed from both dishes and placed to the side.
Next up was the Smoked Salmon Carpaccio. It was attractively plated with beet purée, capers and quail egg halves. The plate also included three more olives which I dutifully removed. I couldn't help but think back to forty some-odd years ago when American Airlines famously removed the single olive from all of its salads, supposedly saving $40,000 in the process. I wonder what the value is of all the olives I've removed from my inflight meals over the years?
Smoked Salmon Carpaccio with beet purée, capers and quail egg halves
On over 45 flights covering 216000+ miles, I've been served some pretty fine seafood and/or salmon appetizers on British Airways. Honestly, I could probably write a trip report just about the fine appetizer plates I've enjoyed on BA. Today's plate was addition to that collection and accompanied admirably by a glass of the
A to Z Wineworks Pinot Gris 2016
.
Moving right along, my table was efficiently cleared and the next course delivered. This would be the delicious
Cream of Krupnik chicken soup with barley and mushrooms
. None of the flight attendants knew what "Krupnik Chicken" was, so later on I looked it up. It's a Polish barley soup. I remembered that the epicurean highlight of my visit to LOT's Business Class Lounge in Warsaw was the soup on offer. Today's version a la BA was very tasty, and thankfully there were no olives to remove.
Cream of Krupnik chicken soup with barley and mushrooms
Alright then – bring on the main course! And while we're at it, I'd like to switch out my Pinot Gris for a glass of the Chilean Pinot Noir please.
As delivered, my plate certainly looked attractive with mouthwatering olive crusted lamb chops surrounded by colorful portions of mashed potatoes and flavorful pepperonata. My only complaint with this meal is one I often have with Rack of Lamb mains – that being with regard to portion size. Two of those tiny little lamb chops amounted to about three bites of meat. That's an appetizer – not a meal.
Much like the comic character Charlie Brown in his many failed attempts to kick a football held and invariably snatched away at the last second by his friend Lucy Van Pelt, I continue to order lamb chop entrees in the hopes that I'll get a decent portion someday. The only time I remember ever getting decent portions of lamb were at my grandparent's dinner table and some of the counter meals served up in various pubs throughout Australia and New Zealand.
I suppose I could always ask the flight attendants for more. Like Oliver Twist. Just show up at the galley with plate in hand and hope for the best. In any event, what today's main lacked in portion size it made up for in flavor. I particularly enjoyed the pepperonata – a flavorful assemblage of green, red and yellow peppers – as well as the spicy Chilean red wine.
Rack of Lamb with Olive Crust and Pepperonata
Roasted garlic mashed potatoes and lamb jus
Dessert was a
Cherry clafoutis with vanilla sauce and Amarena cherries
. Clafoutis is evidently a fancy word for what is essentially a baked tart served with fruit and topped with a thick flan-like batter. As presented by BA's flight kitchen out of Tel Aviv, it was a simple but tasty dish that I washed down with a cup of so-so coffee.
Cherry Clafoutis with vanilla sauce and Amarena cherries
Following a brief respite, I closed out this meal with an enviable collection of Fourme D'Ambert, Brie with black onion seeds and Manchego cheeses. My favorite cheese of all is a good, musty British Stilton. That it was not included on today's menu was a source of minor disappointment. However, the three cheeses offered were very good indeed, served with a nice collection of crackers and breads but surprisingly none of the traditional fruits. Little matter. It was all quite delicious, especially as accompanied by a glass of the
Warre's 2000 Colheita Tawny Port
.
Cheese course with Port
After dinner, I took my traditional lap around the airplane. I never cease to be amazed at how easy it is to settle into your First Class suite and totally forget that not far behind you are a couple hundred fellow passengers sat in decidedly less spacious environs. Conversely, quite the opposite is true when you're sat back behind the second or third curtain where you're surrounded by a sea of seats and humanity and – if you've ever enjoyed a First or Business Class experience before – constantly reminded of your unfortunate lot in life every time you rub elbows with your seatmate or the person in front of you decides to fully recline their seat.
There are only two ways I know of to avoid this type of envy. First, if you've never flown in First or Business Class, then you're blissfully unaware of the differences and probably not at all unhappy with your lot. People such as this like to note that everybody on the plane arrives at the same time, which may help assuage the discomfort they feel from those next generation 10-across Slim Line seats that they're squeezed into.
The only other way I know of I know of to avoid this type of envy is to simply avoid doing so. Adopt a philosophy of
never
traveling in Economy Class on longer flights. Whether you buy your premium class ticket outright or utilize mileage awards and/or status based upgrades to secure your suite in the rarified air of the forward cabin, you do whatever you have to do to plant your butt in the pointy end of the airplane.
It's always amazing to descend into the Dickensian depths of the last four or five rows of Economy and see how truly awful it is back there. After walking past 40 some odd rows of humanity, if anything the seats seem even closer together as you reach the nether regions of the airplane. Add to that the noisy roar of the jet blast as heard behind the wings and it's all I can do to control my emotions and avoid a look of wide eyed horror as I make my back to the rear bulkhead. I mean, if you must book passage back in steerage, at least try to get a seat towards the front of the cabin. There, the visual reminder via the sea of humanity spread out ahead of you is considerably diminished. On some of the better airplanes, it might even be replaced by a colorfully carpeted bulkhead.
The walk back up to the First Class cabin is like rising through the depths of deep dark water toward the sunlight streaming atop the surface of the water above. I can only imagine that asthmatics might experience similar relief as breathing is restored after the use of a medical inhaler.
Parting the heavy taupe curtains and re-emerging into the softly lit and spacious world of the First Class cabin is like returning home after a long and difficult trip abroad. "Honey, I'm home!" Soon you are settled back into your plush suite as your lovely flight attendant stops by to see if you'd care for a refill of your favorite libation. For me, that'd be another Johnnie Walker Blue, please. Ahh…
British Airways has an excellent inflight entertainment system though it is not in the same rarified strata as those of airlines like Emirates and Singapore. To me it's not that big of a deal whether I have 70 or 370 movies to choose from, especially on a flight of this length. I'm more concerned with screen quality and functionality, both of which were more than suitable on this Thales system. The screen size looked to be about 15" – not as big as the largest screens out there but more than adequate for my needs.
By the time I'd finished dinner and taken a lap around the aircraft, there were only about two and a half hours left in the flight. I'd hoped to put in some work on this trip report, so I wasn't interested in watching a full length movie. Instead I played a few rounds of Who Wants To Be a Millionaire. It should be noted however that this is the British version of the game and unless you're decently versed on British culture and especially pop culture, your chances of climbing above 50000 are considerably diminished. I'm pretty good at trivia and once made it all the way to the 500000 level on the Americanized version of this game. Alas, today I could do no better than 50000 and that was only once and due to a couple of lucky guesses.
Afterwards, I fired up my trusty laptop and set to work on this trip report. First however, I entered all of the relevant information for this flight into my flight log. A couple of interesting statistics for this flight:
• This is my 44th flight with British Airways
• Of those 44 flights, 37 have been in First Class
• As of this flight, I have flown 213,250 miles with British Airways
• As of this flight, I have spent 402 hours inflight aboard British Airways
• This is my 38th flight aboard a 777-200
• As of this flight I have logged 106,350 miles aboard 777-200s
Inflight Entertainment for Seat 2A
As the saying goes, time flies when you're having fun – especially when you're on an airplane. All too soon the crew began to initiate their pre-arrival proceedures, preparing the cabin and the passengers for landing. Out my window the lights of London glittered as we made a big turn and lined up for our final approach.
Is it me or are most airplane landings just smoother these days? To be sure there are better technologies involved than were available back in the 1970s – be it airplane landing gears or in-cockpit computerized programs that may compliment the pilots' abilities. Of course it also helps being way up in the nose of the airplane. The point of impact is about 70-80 feet behind you on a big airplane like the 777. Whatever the case, we touched down light as a feather, braked smoothly and made our way to the stand on the T-5B satellite.
This was my first flight with BA First since March of 2017 and on the whole I was pleased. Many here describe BA's First Class as being a glorified Business Class by Asian/Middle Eastern airline standards. To be sure, BA's First does not have as many bells and whistles as the 5 Star carriers, but when I look back on the flight itself I feel the overall service was pretty good. True, I'm not a fan of the low slung angle of BA's First Class seats in their takeoff/landing position but given the long standing issues with my back, this could well be more of a personal issue than a larger scale complaint. The meal was nicely presented, attractively plated and tasted good. Overall service from the cabin crew was polite and attentive. So yes – there are more elaborate First Class services and products out there – but overall I had a good flight. Thanks, BA!
* * * _  _ * * *
My hotel for the night was the Ramada Inn Hounslow East. When booking this property I had assumed that I could just catch Heathrow's convenient Hotel Hoppa bus. Imagine then my surprise and dismay to discover that the Ramada I was at was not served by the Hoppa bus. It was a big relief to later discover that the hotel was only a two block walk from the Hounslow Central Station on the Heathrow branch of the Piccadilly line. Thankfully I'd checked my 50lb suitcase (the one full of postcards, remember?) through from Tel Aviv to Newark – a good move because access to and from the Hounslow Central Station involved a large staircase. There were no elevators or escalators on site.
By 10:30pm I was comfortably ensconced in a nice corner room at my hotel. The bar was still open downstairs and since my flight the next day wouldn't depart until late afternoon, I decided to head down to the bar where cold Stellas and a bowl of dry roasted peanuts accompanied enjoyable conversation with an Irishman by the seemingly ubiquitous name of Sean Murphy. I wonder how many other people in Ireland share his name…?
---
Last edited by Seat 2A; Jun 6, 19 at

2:10 am
Jun 6, 19, 1:48 am
Join Date: Aug 2017
Programs: Hilton, Marriott, United, AF/KLM
Posts: 95
This is an amazing report, thanks. It was a joy to read (and am waiting for the next parts of the trip)!

3 things:
1. I totally agree with your view of the Aspire lounge. The only thing it has going for it, is the view of the tarmac. Besides that, it's a lacklustre (at best) lounge, where about one third of the lounge is reserved for Singapore Airlines flyers only.
2. On your TLV-LHR flight, was it a joke from the captain when he announced that the flight to Singapore would be 4,5hours, or was it a typo from your side, where you stated Singapore where it should've been London?
3. What's your favorite Bourbon?

Anyway, whenever you're in the Netherlands again, let me know!
Jun 6, 19, 2:19 am
Join Date: Apr 2001
Location: East Ester, Alaska
Programs: Alaska Airlines Million Miler, United Airlines Million Miler, Wyndham Rewards Diamond Level
Posts: 8,721
Originally Posted by
Thysk
This is an amazing report, thanks. It was a joy to read (and am waiting for the next parts of the trip)! On your TLV-LHR flight, was it a joke from the captain when he announced that the flight to Singapore would be 4,5 hours, or was it a typo from your side, where you stated Singapore where it should've been London?
It was a typo on my side. Singapore! What was I thinking?! I must've been drinking... as I often do when writing these trip reports.
What's your favorite Bourbon?
For overall taste -
Bookers
(A member of the Jim Beam Small Batch family) but for every day availability... probably
Russell's Reserve
- distilled by the same folks who distill Wild Turkey. Good stuff, Russell's - per my tastes even better than Woodford's which usually retails for about $5-10.00 more.
Next time I'm in Amsterdam, I will definitely give you a heads up. I'd love to join you for a bit of bourbon and air travel memories / talk.
Jun 6, 19, 2:53 am
Join Date: Apr 2001
Location: East Ester, Alaska
Programs: Alaska Airlines Million Miler, United Airlines Million Miler, Wyndham Rewards Diamond Level
Posts: 8,721
February 27, 2019
British Airways First Class ~ 787-9 ~ London, UK to Newark, NJ ~ 335p – 710p ~ Dinner/Snack
The plan for this morning was to sleep in, enjoy a leisurely breakfast in the hotel restaurant and then head out to Heathrow at about noon for my late afternoon flight. I wanted to have a good two or three hours in which to enjoy the Concorde Room before boarding my 787-9 for the seven hour flight across the Atlantic to Newark.
Everything was going according to plan until I headed down to the hotel restaurant and saw the prices it was asking for a decent breakfast. Mind you, my idea of a decent breakfast would be on par with what's known around these parts as the "Classic English Breakfast", an example of which would include eggs, bacon and/or sausage, potatoes and/or beans, a broiled tomato, perhaps some sautéed mushrooms, a couple slices of toast and lots of good hot coffee. Back home in Alaska I could have a breakfast of this size and quality for about $13.00 USD. Here at the Ramada Inn's restaurant, the conversion rate on the Pound versus our Dollar brought that total to well over $20.00 USD.
I'm one of those guys who could win $1000.00 and still wouldn't pay for something which per my standards was grossly overpriced. But then these are my standards. Yours may vary. Returning to my room, I took advantage of the complimentary in-room coffee which I accompanied with a delicious Chocolate Mint CLIF Bar which somehow had sat in the bottom of my daypack undiscovered until just a couple of days ago. Yyyyyyum!
Returning to the original plan, I checked out a little before noon and headed down the street to the Hounslow Central Station. Despite this being late February, the day was absolutely gorgeous - sunny and warm – more like what I would have expected in April or May. I hobbled my way up the long stairway to the platform and awaited the train. Conveniently, the Heathrow Branch of the Piccadilly Line extends all the way to Terminal 5 – the very last stop.
* * * _  _ * * *
The last time I flew out of Heathrow's Terminal 5 (hereafter referred to as T5) was back in April of 2008. The 8.5 Billion dollar facility had only just opened a few days earlier and unfortunately operations had gotten off to a very rough start. Terms like "meltdown", "disaster" and "catastrophe" were being used early and often to describe the first days of its operation. The main problem was caused by baggage that didn't transfer fast enough or at all from other terminals. Additionally, the staff seemed inadequately trained and/or prepared to deal with the new procedures and systems ironically designed to expedite check-in and departures. The end result was many cancelled flights, lots of furious passengers and a 32 million dollar loss for BA through the first four days of operation.
I was flying in from Australia and connecting to a Miami bound flight. Despite having an eight hour layover, I decided that since the main problem lay with baggage transferring from Heathrow's other terminals, the prudent thing to do would be to check my baggage (a backpack back in those days) from Sydney only as far as Heathrow. There I would collect it and personally transfer it over to Terminal 5. A simple solution if ever there was one.
Everything went exactly as planned, too. Upon clearing immigration and customs in Terminal 4, I and my backpack headed over to the nearly deserted Arrivals Lounge for a shower, a cup of coffee and the morning paper. Then I gathered my gear and made the surprisingly easy transit from Terminal 4 to Terminal 5. An elevator takes you from the T5 train station up to departures, though interestingly it deposits you just outside the terminal on a covered landing. From here you get your first perspective on just how large and impressive the terminal building is.
T5 is the largest free standing building in the UK, covering the same amount of area as Hyde Park. Interestingly, the site on which the terminal sits was previously occupied by the Perry Oaks Sludge Works, a sewage processing plant. The archeological recovery project on the terminal site is the largest ever in the UK. Over 80000 artifacts were found, including pottery, flint blades and a hand axe from about 3000BC.
Switching back to the present, as I entered the terminal I was immediately impressed by how bright and spacious the interior was. Glass and steel have been used liberally to maximize natural light and the result is quite striking. Through all the glass you are presented with superb views of the airport and runways. This is a huge improvement on the claustrophobic clutter of Terminals 1 and 3, and probably 2 although I've never been there.
Since the folks in Tel Aviv yesterday had checked me in all the way through to Newark, I already had my boarding pass and had only to head for the Fast Track Security line. Unfortunately, there's no differentiating between premium passengers – First Class and Business are all lumped together — thankfully the crowd was not too big this afternoon and I managed to complete the security process in under ten minutes.
I later found out that BA has an official First Class check-in area called the First Wing. It apparently has two of its own security lanes as well as a direct walkway into the Galleries First Lounge and Concorde Room. Oh well. Next time. And there very likely will be a next time because BA offers the best chance of logging another flight in First Class aboard the Queen of the Skies – the Boeing 747 – and my next flight – provided it's an intercontinental distance – will bring my total mileage flown aboard 747s of all variants to over 500,000 miles.
On a separate and totally unrelated side note – one or two of you may be pleased to note that just three days ago I logged my 2 millionth mile aboard a 737. Given that my first 737 flight came aboard a United bird back in 1972, it took me just 47 years to accomplish this redoubtable feat. Hoist a beer (or two) to me and my accomplishment next time you've nothing better to do and no one better to hoist it to.
Right. Where whuz I… Oh yeah - As a premium class passenger, it is so nice to have a pleasant and well-appointed lounge to spend your idle time in before departure. For everyone else there are shops or, in today's more sterile terminology, retail outlets. After all, one could hardly call a Harrods, Tiffany or Prada a mere "shop". The last figure I saw indicated that there are 144 retail outlets at T5 and judging from the three outlets I briefly visited, you'll find few if any bargains. Prices are high.
There are also plenty of restaurants available including that old T4 favorite, the Caviar House. One thing you won't find in T5 is fast food chains. There's not a McDonalds or Burger King in sight. So, while you're likely to eat better here, you'll also pay quite a bit more for that privilege.
Once I'd cleared security, I followed the signs toward the Galleries Lounge Pavilion. I once read that BA had spent the equivalent of 120 million US dollars developing the six lounges in Terminal 5. That's an amazing figure in its own right and one that I'm confident will never be matched by any US airline, even by one third. BA calls these "Gallery" lounges because a sizeable portion of the money spent on them has gone towards the purchase of commissioned art installations, from paintings to illuminated sculptures and moving wallpaper.
As things turned out, the lounges were not all grouped together. The Concorde Room was located way down at the far end of the terminal from where I'd entered. Sigh… story of my life, I reckon. Better get walkin'! You know the tune by now…
The entrance to the Concorde Room is fairly nondescript compared to the home base First Class lounges of other well-regarded international carriers. It's a bland double door set amidst pale blueish grey panels with "The Concorde Room" etched in smoked glass on one waist high panel. By appearances you could just as easily be entering the Heathrow Dry Cleaners. A small podium was located just outside these doors, behind which a smartly uniformed lounge receptionist was stationed.
It should be noted here that access to the Concorde Room is strictly limited
only
to those fortunate few who are actually flying First Class on British Airways. You may also be granted entrance if you have flown enough to be one of BA's Super Duper Diamond Encrusted Kryptonite Level flyers. No OneWorld riff raff as identified by virtue of a colorful green gem are allowed in! No way, Jose. First Class only, Mon. This is good old fashioned class exclusionism and I love it – especially since I'm quite likely the only person in this lounge who lives in a cabin in Alaska with outdoor plumbing
and has done so continuously since 1994.
I've read that these Concorde Room receptionists can occasionally be a bit curt – especially with those who mistakenly think their status will gain them entry. I like the exclusivity of this policy. Mind you I've nothing against the various riff-raff identifying as upper tier status in One World or other programs because most days – that's me as well. I do feel however that by limiting entry only to bona fide First Class passengers, it makes the experience of visiting the Concorde Room feel that much more special.
Right. Let's head on in, shall we?
Now with all this exclusivity, you'd almost expect that upon entering the sanctity of this hallowed place, the clouds would part, the sun would come out and a harp glissando would sound accompanied by a chorus from the heavens. In truth, the entryway is quite subdued featuring a sparsely furnished hallway with wooden floors and some rather plain chandeliers hanging overhead.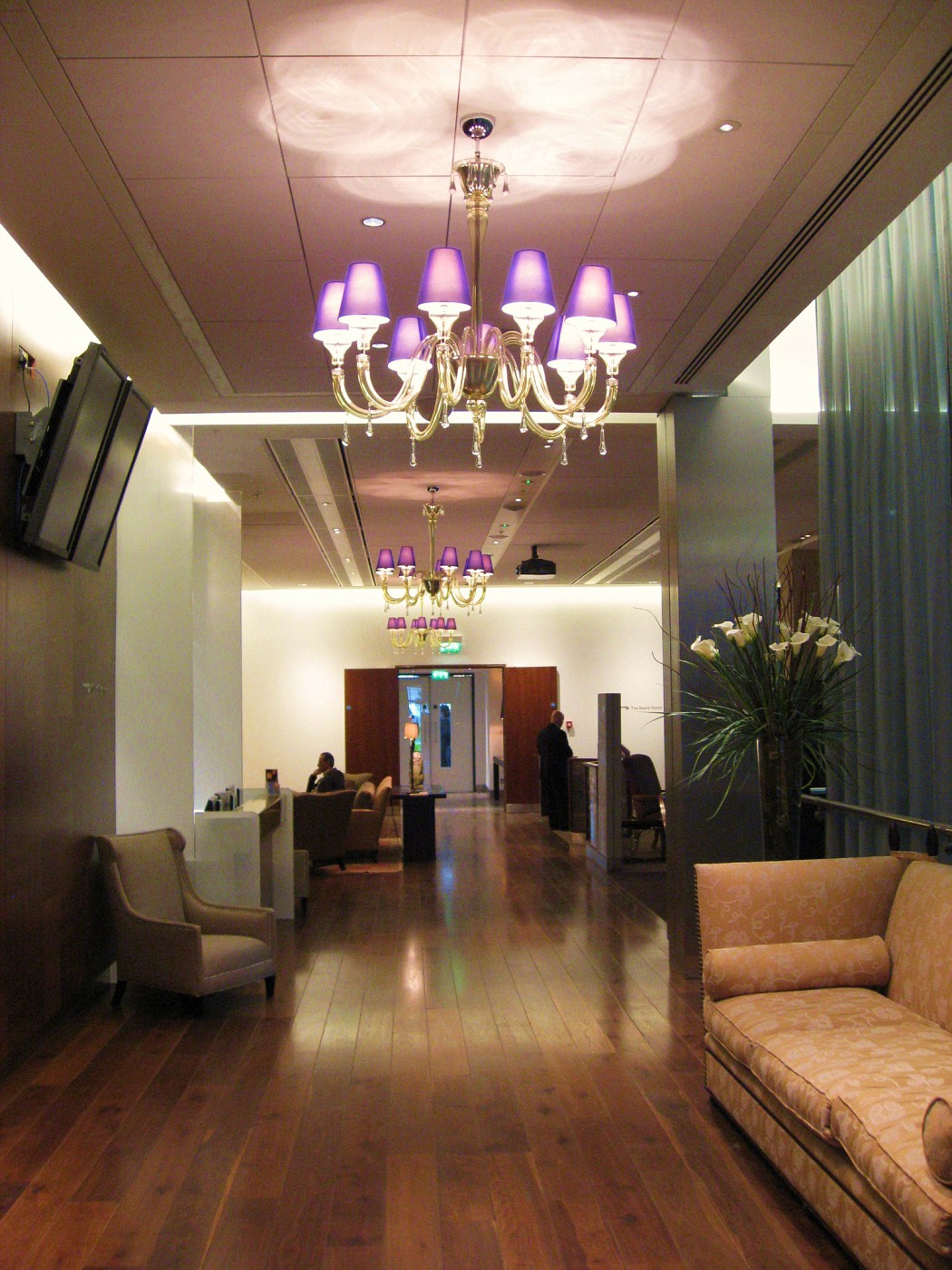 Welcome to the Concorde Room
The lounge itself is very nice however. It's not magnificent, it's not awe inspiring, it's not extravagant, it's just very nice. I mean that in the most positive way. There's an understated elegance and comfort to the place that I find quite appealing. It's got an old world charm to it rather than the hip and trendy or overtly opulent look favored by some other carriers. It reminded me of the entrance to my grandparents' apartment in New York City.
Seating areas are divided into small, intimate settings. The couches and chairs looked very comfortable indeed. I would imagine that in busier times when there might be fifty or sixty people milling about this lounge, one could still enjoy a fair sense of privacy in any of these seating areas.
Comfortable Seating in the Concorde Room
Comfortable Seating in the Concorde Room
Where's Hoagy Carmichael when you really need him?
Comfortable Seating in the Concorde Room
Outside of the main lounge area is a big airy terrace. There's a real sense of having stepped outside when you visit this terrace but of course you're merely on a large platform inside the massive confines of the T5 terminal building. Plenty of seating is available, once again in small cozy groups.
The Concorde Room Patio
The Concorde Room Patio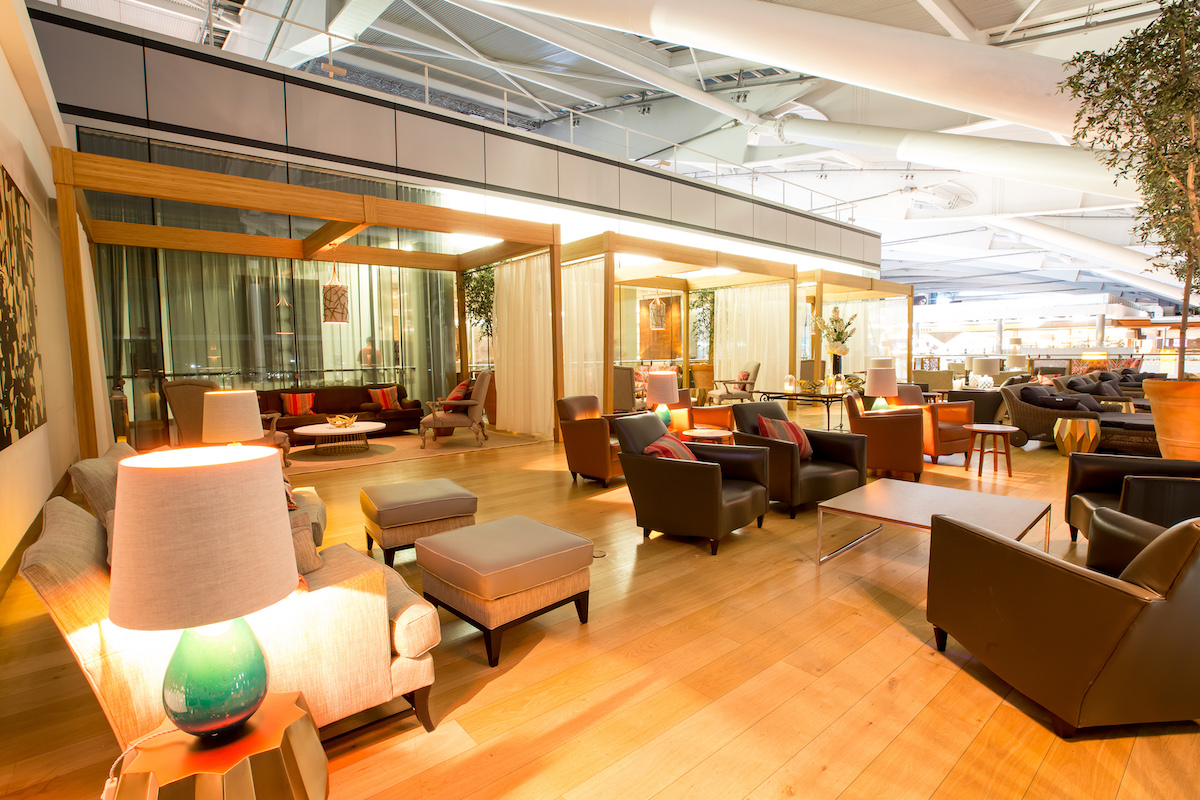 The Concorde Room Patio
View of T5 from the Concorde Room patio
I found it more entertaining to take a position along the railing and look out on all the activity below me on the main departures level. The view was impressive, to say the least.
View of T5 from the Concorde Room patio
The Concorde Bar looks like a nice place to enjoy a glass of Champagne or a top shelf cocktail. The gold countertop combines with a collection of glittering modern chandeliers hanging above the bar to lend a bright cheer to the overall ambience.
On my first visit to the Concorde Room back in 2008, there were over one hundred bottles of Champagne neatly stacked on the bar back. Today, that excess of Champagne has been replaced by a more practical collection of top shelf spirits and liquors. A nice collection of wines was arrayed to one side of the bar for viewing. Only one patron was seated at the far end of the bar, savoring a drink while chatting with the two bartenders. As for me – it was still a bit early in the day. I usually don't like to drink until later in the day – alone, in the dark, while writing trip reports.
Truth be told, I'd love to be here at the Concorde Room bar during the evening hours – say, about 8:00pm. I saw a few bottles of Woodford Reserve and I recall reading somewhere recently that Johnnie Walker Blue Label is also available. I'll bet some great stories are shared here. I'm already looking forward to my next visit – hopefully in advance of an evening departure to some exotic African or Asian destination. I think Cape Town may once again be in my future and a flight there in First Class aboard BA would sure look good on my international flight map…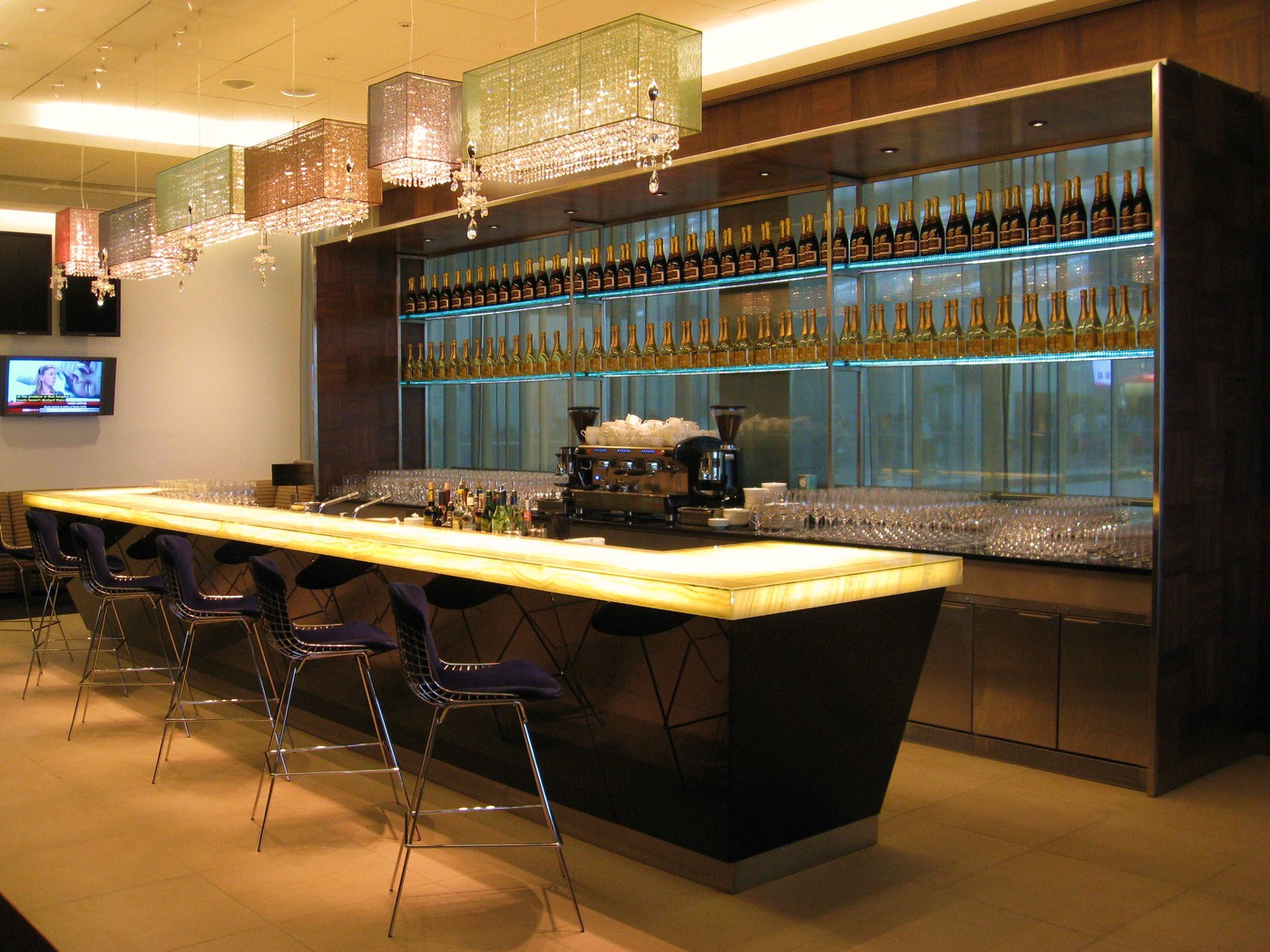 The Concorde Room Champagne Bar in 2008
The Concorde Room Champagne Bar today
The Concorde Restaurant offers cozy lamp lit booths and tableside waiter service. Since the high cost of breakfast had limited my morning nutrition to coffee and a breakfast bar, I had arrived this afternoon in full anticipation of enjoying a nice lunch.
A waiter greeted me at the entrance to the restaurant and showed me to a table. Another waiter appeared shortly thereafter with a stylish menu and a glass of water. Despite the lunch time hour, there were only two other tables occupied that I could see. Service was gracious and attentive.
I should add here that I've seen a few other reviews that do not give high marks to the staff in this restaurant. Perhaps it was the time of day with only a few people present, but I thought the service was gracious and efficient. At the same time, I'm pretty easy going on such things. It's not all that important to me if the waiters aren't particularly friendly or outgoing. All I ask is reasonably attentive service. The worst thing for me is to sit down at a table and then not be acknowledged with a greeting and a menu within 3-4 minutes. If it's much longer than that, I walk out of most restaurants. And I never return.
On my last visit to this restaurant in 2008 – during the initial overall difficulties encountered in getting T5 up and running – disaster struck shortly after I'd placed my order for a plate of Eggs Benedict. Apparently some sewage pipes had backed up, rendering first the bathrooms and then the kitchen unusable. Since the material backing up was actual sewage, the lounge staff decided it would be best if the entire lounge pavilion were simply evacuated and shut down. I never smelled a thing but nonetheless dutifully gathered my gear, accepted the apologies of the lounge staff before heading out into the main terminal.
My experience today was much nicer. Let's start with the table setting…
Ready for lunch in the Concorde Room Restaurant
After briefly perusing
The Menu
, I selected a Goat Cheese and Fig Tart followed by Beef Bourguignon with buttered mashed potato and creamed savory cabbage. This I accompanied with a small side salad. For dessert I enjoyed a bowl of Yarde Farm Ice Cream with a side of fruit salad.
Goat Cheese and Fig Tart
Beef Bourguignon with Side Salad
Ice Cream and Fruit Salad
Now thoroughly sated, I headed back into the lounge in search of a shower. I'd already showered this morning but given the unseasonably warm temperatures outside I felt it was a bit muggy by my standards. I'd brought an extra shirt along for just such an eventuality. Muggy or not I would have changed into it just prior to the flight anyway. It's always good to have a fresh shirt, especially if you're in First Class. O track suits or t-shirts for me.
Showers were located back in the spa area. Interestingly, in all of my visits to the Concorde Room since 2002, I've never yet once taken advantage of any of the spa treatments. Why? you ask. This is going to sound strange to most people, but the main reason I've avoided them is because I have no idea how much to tip. Oh sure, they say all of the services are complimentary but in my experience that's simply not true. The treatment may be "free" but there is almost always some kind of a gratuity expected. I don't have a problem with the concept of tipping. Mainly I don't want to insult someone by not tipping enough. If you were to purchase a massage or skin treatment such as the ones offered here at a spa in the city, I should imagine they would be pretty pricey. I have no idea. I would probably tip about $20.00 USD regardless. But maybe that would be insulting, especially since the service is offered gratis. For sure you'd never ask anyone how much would be a proper amount to tip. So I just keep it simple. I avoid the spa and its "complimentary" treatments. Some may consider that and by extension me to be silly to which I respond "Like I care." My life is pretty good anyway without benefit of all those spa treatments. Gimme a glass of Jack Daniels and some good conversation and I'll be just as happy.
As for the shower, the lounge wasn't all that busy so there were plenty available. Honestly, I don't know how many shower suites there were in the spa, but it was no problem for the attendant to quickly show me to one. The shower suites were small but functional and thankfully well ventilated. I remember once showering in the Emirates Lounge in Brisbane, Australia and afterwards I couldn't get dry because the ventilation was so poor and the ambient humidity so high. It was a horrible feeling.
It should be noted that the showers in BA's Concorde Room spas are no ordinary showers. No. They are the "Pharo-Hansrohe Body Jet Hydrotherapy Showers". I remember them well from my first visit to the T4 Concorde Room way back in February of 2002 – lo seventeen long years ago! A quick check of my notes from that trip reveals that the shower was described as follows: "
Awaken the senses with the Pharo-Hansrohe Hydrotherapy Shower. Wash off the day and give your muscles and mind the benefits of an intense cleansing and toning aqua-massage. Adjustable body jets pummel you from all angles and combine with the aromatic lather of Molton Brown Travel Reviving Shampoo & Shower Gel to leave you fully revitalized and with a sense of total wellbeing
."
I remember being initially impressed; though I was curious as to just how the aqua-massage might accomplish any discernible toning on me.
A rare and recent self portrait of Seat 2A
Can you imagine any shower based toning would help this guy?
BTW ~ Go Broncos!!
In any event, the showers are very nice, right up there with the sunflower head showers that deliver a monsoon like deluge in Cathay Pacific's Hong Kong lounges. Afterwards, I headed out to the patio where a Bloody Mary and a bowl of mixed nuts accompanied me for another 45 minutes or so of work on this trip report.
Funny – or not as the case may be – in years past I would have had a trip report covering a trip of this length ready within a week of my return. Not so these days. I don't know what happened except to say that I do feel like I'm having a lot of fun along the way and it's easy to put off writing these trip reports for a little bit. Sometimes it's a long bit. Heck, I'm still only halfway through my First Class trip to and around Australia that I took back in September of 2017. That was a lot of fun with round trip First Class to Oz aboard the Qantas A380 and then travel in Business Class aboard a variety of 717s, 737s and A330s around the continent. Although most Australian FTers have little use for me these days (seems I've offended one or more of their more prominent members, though true to my curmudgeonly ways I remain unabashedly unrepentant) I do like Australians and I like Australia a lot. Heck – I've made fifteen trips there! On this trip I spent almost four weeks there visiting Alice Springs, Tasmania, Brisbane and Fremantle before returning stateside. Hopefully I'll have that trip report out in the next couple of years. I have a lot of great pictures from some great flights.
One Concorde Room innovation that I did not check out was the cabañas ~ small, private rooms for rest between flights which can be booked by appointment. I wasn't tired, though if I had been I'm sure I would have appreciated the privacy that these rooms provide. Then again, the chances of a lowly Alaska Airlines Award Traveler like myself ever securing one of those rooms in advance are so minimal as to be unworthy of further consideration. I'll just set up camp under a tree out on the patio, thanks.
One thing I didn't notice in the Concorde Room was a traditional Business Center, specifically a quiet area with separate desks or alcoves where one could plug in a laptop and type away with some measure of privacy. I asked about this at the reception desk and was directed to the Boardroom. This room looks to be exactly what its name implies: A place for the board of directors to meet. A large table with seating for six to eight people was equipped with sunken computer monitors that open up with the touch of a button. On the downside, this room offered no real privacy and the temperature inside was set way too high. Pffft! Right. Off to the patio!
* * * _  _ * * *
Just once, I'd like to have my T5 flight depart from the main terminal building. But no – today's flight to Newark was scheduled to depart from the B satellite terminal, down at gate B39 – located at the very end of the building and of course the very farthest possible distance one could walk from the Concorde Room not including the train ride.
Sigh… Better get walkin'… That's right – Click
for the melody and set to it, Jack!
Boarding was well under way by the time I arrived at the gate. Indeed, there were no more than 20-30 people milling about the gate lounge – most all of them relegated to a seat back in Steerage. No wonder they were in no hurry to board!
For any number of reasons I always like to pause at the gate and get a look at the aircraft that'll soon be jetting me in plutocratic ecstasy from one continent to another. Today alas, the angle of the jetway combined with the distance of the aircraft to preclude all but the tail and the rear half of the airplane. Pity. I think the 787 has one of the most attractive noses in the industry but regardless of the aircraft type, it's always exciting to gaze out upon your aircraft secure in the knowledge that soon you'll be comfortably ensconced somewhere amidst the first four or five windows up at the front of the airplane, soon to be wined and dined like royalty. It's a great feeling, indeed one of the highlights of international First Class travel – just the knowledge that you've got no worries. This is gonna be a great flight!
First Class had its own dedicated jetway and so, after flashing my boarding pass, I strolled down the narrow confines of the jetway unimpeded. Upon reaching the wide doorway, I was greeted by two smiling hostesses who were already well aware that I would be traveling with them in the best possible means BA had to offer. Their smiles were genuine and warm as they quickly examined my boarding pass and then arranged to have me escorted to suite 1K.
This was my eleventh flight aboard a 787, five of those having come aboard the larger -9 version. More to the point, this was my first flight aboard a 787 outfitted with a proper First Class cabin. All of the other examples I had flown on (Air China, Air New Zealand, American, Avianca, Ethiopian, Japan Airlines, Scoot and United) offered no better than a Business Class cabin.
That said, I thought BA did an excellent job of showing that an airline can indeed offer First Class aboard a 787 and do so with considerable aplomb. The small forward cabin offers just 8 First Class suites, configured in a 1-2-1 herringbone style. The colors were similar to those you'd find in BA's 777 and A380 First Class cabins – dark grey pleated fabric covered seats housed in beige walled suites with oyster side walls along the windows. Thankfully absent were the weird blue paneling over each suite's windows. From the moment I entered through door 1L I felt the cabin radiated elegance and class. The small lamps in each suite offered a nice touch to the overall cabin ambience.
BA's 787-9 First Class Cabin
Photo courtesy of British Airways
BA's 787-9 First Class Suite
Photo courtesy of British Airways
Upon sitting down, I was disappointed to find that these seats are set in the same low slung manner for takeoff and landing as the seats aboard BA's 747 and 777 aircraft. Note to BA: Readjust these damned seats!!! For me at least it is not at all comfortable, and the fact is that after boarding it could be anywhere from a half hour to forty-five minutes or more before you are finally airborne and can then readjust your seat to a more comfortable position. I like sitting up in a seat – not lying slumped back.
Another thing I didn't care for was the 'jog-dial' that on other aircraft controlled just the seat recline. On the 787-9 it also controls the four in-seat light settings and the lumbar adjustment. This means one has to first select the individual light button then use the jog-dial to adjust the setting of that light. It took me quite a while of inadvertently turning on lights while I was trying to adjust my seat and figuring out how to adjust the lumbar support to my desired levels.
Finally, I wish the seats were a bit larger. Mind you, in terms of width I was comfortable enough but I am an old school guy from back in the day when all First Class seats were similar in width to what Cathay Pacific currently offers aboard its 777s. It's a question of personal in-suite ambience as much as anything and BA's current crop of First Class seats are not much wider than those found on DC-9s of yesteryear. Indeed, some Business Class seats may even be wider.
Other than that, the overall suite was very passenger friendly with a myriad of easily accessible storage areas ranging from a small closet for hanging a jacket to numerous small caches for anything from cameras and books to smaller items such as glasses. The 23" IFE screen was a major improvement over anything I've previously seen on BA. I think I'll really enjoy spending the next seven and a half hours in this suite – except during final approach and any ground time due to the lousy seat position.
We had a fairly senior crew working the flight this afternoon. Carole was working my side of the cabin and she very much reminded me of the actress Helen Mirren – but taller! Her service approach ranging from conviviality to punctuality was every bit as superb as she was lovely. She came as close as anyone ever has to being the Perfect First Class Flight Attendant. Good on ya, Carole! Thanks!
The load in First Class was light this afternoon – only five of the eight suites were occupied. As the last of the passengers boarded through 2L, the usual variety of pre-flight swag was doled out along with a refreshing pre-departure libation. As I was hemming and hawing over whether I really wanted a glass of Champagne, Carole suggested a Buck's Fizz – though recognizing me as an American offered it as a Mimosa.
Mmmm! What a perfect way to salute this afternoon's First Class voyage across the Atlantic. Indeed! I so enjoyed the cool and crisp effervescence of the drink that I forgot to take the classic Champagne in the window photo. That's alright though – there're plenty of other photos to accompany this report. Hopefully you'll forgive the exclusion of the Champagne shot.
As I sipped my Mimosa and awaited pushback, I took a moment to peruse the Wine List for this afternoon's flight…
WINE LIST

Champagne
Laurent-Perrier Grand Siècle, Champagne, France (V)
Gusbourne Limited Release Twenty Fifteen, Kent, England
Lanson Rosé NV, Champagne, France (V)
White Wines
Santenay 1er Cru de Tavannes 2014, Domaine Vincent Girardin, Burgundy, France
Craggy Range "Te Muna" Vineyard Sauvignon Blanc 2018, Martinborough, New Zealand (V)
Ried Am Zaum Pinot Blanc 2016, Weingut Malat, Wachau, Austria
Red Wines
Château Haut-Bergey, Grand Cru Classé, Pessac-Léognan, Bordeaux, France (V)
Ritual Pinot Noir 2015, Casablanca Valley, Chile
Rolland & Galarreta 2015, D.O. Ribera del Duero, Spain
Dessert Wines
Muscat de Beaumes de Venise 2016, Vin Doux Naturel, Domaine de la Pigeade, France (V)
Warre's 2000 Colheita Tawny Port (V)
THE BAR

Apéritifs and Spirits
Ciroc Vodka
Johnnie Walker Blue Label Scotch Whisky
Woodford Reserve Kentucky Bourbon
Tanqueray No. Ten Gin
Bacardi Carta Blanca
Liqueurs and Digestifs
Glenlivet Small Batch Malt Whisky
Bailey's Irish Cream
Otard XO Cognac
Cointreau
Beer
St. Austell Tribute Pale Ale
A selection of lagers including Heineken, Tiger or Amstel Light
Hmm… I've thought often about starting a flight with a cold beer. I mean, I like beer and any beer with a name like "St. Austell Tribute Pale Ale" sounds like something I'd at least like to try. The problem is that from past experience, I've only very rarely ever had a properly chilled (at least per my standards) beer on board an airplane. Many of the flight crew I've encountered regardless of airline don't seem to know much about beer or perhaps even enjoy it themselves. Most of them seem to prefer wine and cocktails. Of course, back home in Alaska I know plenty of women who like beer and definitely appreciate one served at its proper temperature. Alas, most of those gals do things like drive busses or bulldozers or run dog teams in the Arctic (You go, girls!!!) and they will not be found working for airlines.
So – once again I'm leaning towards my old standby – a glass of Johnnie Walker Blue.
Hey – what's that I feel? A gentle jolt and a glance out my window indicated that push back had commenced – and right on time at that! The sound of the massive Rolls Royce engines spooling up was music to my ears as we awaited the signal from the ramp agent to commence out taxi out to the runway.
There was quite a long line for takeoff. We were like - number 9 or 10 – way back there. I even took a picture as we made the turn onto another taxiway and could see all the airplanes in front of us but ultimately I deleted it. I mean, c'mon now – you all know what a bunch of airplanes lined up for takeoff look like. Take my written word for it and I won't waste your time with an unnecessary photo.
I should note that I'm a writer first and a photographer second. As such, I'm a bit of a minimalist when it comes to photos. Indeed, I've railed a bit in past reports about photos that annoy me such as pictures of hot towels or crowded check-in lines. At the same time I've come to realize that if you're presenting a photo report, pictures of banalities such as these contribute to a sense of what the trip was like. Not only that but most people here apparently appreciate them far more than I will ever know. I on the other hand tend to rely on words and even then am nowhere near as detailed as the best reporters. My emphasis is more on what I'm feeling and experiencing at the time against a backdrop of memories and observations garnered from a life of having flown almost 5.5 million miles aboard 201 airlines.
Bottom line – all trip reports regardless of format have value. The nice thing about FlyerTalk's Trip Report forum is that it is perhaps the most robust trip report forum anywhere on the internet – certainly with regard to reports that highlight inflight service. If you don't care for one style of reporting, there are no shortage of other options. For my part, I remain ever thankful to the 124 of you that usually find my reports worthy of your time. That also includes the 124 of you who no longer do. It's been a great ride over the years. This is my 79th trip report since my first in 2001.
Eventually we made it to the front of the line. Our 207 foot long jetliner turned off the taxiway and positioned itself at the head of the runway. There was a brief pause and then…!!! the captain put the coals to his pair of twin Rolls-Royce Trent 1000s. The engines responded with a combined 120,000 some odd pounds of thrust which sent us rocketing down the runway with ever increasing alacrity. Reaching V1, we rotated and verily leapt into the warm afternoon skies above London. As we climbed away from Heathrow, I took a couple photos of BA's Terminal 5 complex.
T5 as seen climbing away from Heathrow
T5 as seen climbing away from Heathrow
Climb out was nice and smooth though unfortunately haze and later cloud cover combined to obscure any view of the pretty green English countryside below.
Within twenty minutes we'd leveled off and were now ready for the service to begin in earnest. I love this part of the flight – especially when sat in First Class. Now that you're finally airborne, you've adjusted your seat to a comfortable position, gratefully accepted that first glass of your favorite libation and can now begin to truly relax and unwind. My glass of Johnnie Walker Blue was delivered on the rocks with a small dish of mixed almonds and peanuts.
A great way to start the flight
Ah… I do love that first delightful sip…
Raising my glass of JWB, I silently toasted my good fortune to once again be speeding along through the soft blue yonder – into the setting sun no less - whilst comfortably ensconced in a state of the art First Class suite with a fine six course meal yet to come. Here's to the good life!
While I certainly appreciate the space and comfort afforded me whilst sitting in the forward cabin, I especially look forward to the meal service, for this is where the best airlines shine and the pretenders fall behind. Many here on FlyerTalk have bemoaned the fact that BA's First Class dining has dropped off quite a bit over the years. Though I would have to agree compared to the inflight feasts BA used to offer back in the 80s and 90s, I think BA still serves up some fairly decent meals.
True, caviar is no longer on the menu nor is a wide range of appetizers or even five quality main courses but then really - how much can one reasonably eat on a flight? All of the main meals on BA's intercontinental flights include a couple of appetizers/starters, soup, a decent salad, a choice of three or four mains, a couple of desserts and a cheese course. To be sure, the big three from the Middle East offer quite a bit more variety, some of it ostensibly fancier given your individual tastes but overall I've been reasonably pleased with the meals I've been served while flying in First on BA. Indeed, more often than not my primary issue is with inconsistencies related to the crew and its ability to properly perform a First Class service, be it making you feel welcome and valued on the flight to serving a First Class meal in a style commensurate to the well-established First Class standards seen on most five-star airlines. From my admittedly limited experience (38 flights in BA's First totaling just over 200,000 miles), BA's First Class crews are either very good or shockingly poor. On a positive note, most of them have been very good. Today's crew, featuring the inimitable Carole, a middle aged man whose accent sounded Dutch and a nice looking young lass who worked the other side of the cabin all seemed very good indeed.
Despite our late afternoon departure, the main meal for this flight was billed as lunch. Carole indicated that she'd be round shortly to take luncheon orders, so I once again opened the menu to consider the dining options. Hmm…
LUNCHEON
London to Newark
PRE-APPETISER
Antipasti plate featuring Cumbrian air-dried ham, Cumberland salami, Berkswell cheese, olives and sun-dried tomato
STARTERS
Smoked sea trout mousse with Brixham crab and apple purée

Gorgonzola and walnut ravioli with goat's cheese crumble, candied pumpkin seeds and a pumpkin cream sauce

Spiced red lentil soup with crisp maple-cured bacon

Fresh seasonal salad with your choice of Caesar dressing or classic olive oil vinaigrette dressing
MAIN COURSES

Seared Fillet of Herefordshire Beef with Café de Paris Butter
Grilled Portobello mushroom, slow-roasted tomato and roasted charlotte potatoes
Roasted Rack of British Lamb
With braised neck tajine and freekeh
Tiger Prawn Linguine
With chilli, tomato, fennel and rocket
Cep and Wild Mushroom Ragù
With crispy pearl barley, yoghurt flatbread and gremolata
Main Course Salad
Guinea fowl with broccoli and cauliflower couscous, fig and pomegranate molasses
DESSERTS
Rhubarb and Ginger Timbale

Chocolate and Chilli Fondant with chocolate sauce and pistachio and almond mousse ball

Vanila Bean Ice Cream
CHEESE PLATE
Gillot Camembert
Barber's Red Leicester
Stilton
Blackstone Vintage Cheddar

Fresh Fruit
A selection of biscuits

Selection of chocolates
* * * _  _ * * *
Well now, I see quite a lot I can work with here. Let's start with the antipasti plate followed by all of the starters. Actually… on second thought scratch the salad. I'll have everything else though. Now then, for the main course, let's go with… the seared Fillet of Herefordshire Beef sounds nice. That should do for a start.
Carole dutifully noted all of my choices and then asked if I'd like a top off on my JWB. No thank you. I would however like to sample some of your fine wines with lunch. Let's start with a glass of the Austrian Pinot Blanc with the antipasti plate, please.
According to the Sky Map we were making good time - speeding along at 547 mph 38000 feet over central Ireland. We were just approaching Galway and about to head out over the vast expanse of the Atlantic Ocean when the Dutch gentleman whom I'll call Tony arrived with linens, silverware and glassware. Out my window heavy cloud cover obscured the beautiful Irish coastline and the glittering blue Atlantic, so I focused my attention on the service at hand.
BA sets a nice table – not as ornate as Emirates (but then who does?) but certainly more than functional with two forks, three knives, a spoon, a bread plate with knife, a butter dish and an attractive pair of salt and pepper shakers. A bread basket was presented and I selected a couple of pieces including a slice of my favorite – garlic bread. The Austrian Pinot Blanc arrived and a small sample was poured for my approval. Ja! Das ist sehr gut, danke!
The antipasti plate arrived on what used to be the hors d'oeuvres plate. The ham, salami, cheese, olives and sun-dried tomato were artfully arranged into an attractive and colorful little morsel which ticked all the boxes for flavor and presentation but not for size. Or variety.
BA's Antipasti Plate Appetizer
Featuring Cumbrian air-dried ham, Cumberland salami, Berkswell cheese, olives and sun-dried tomato
As I've mentioned before, I really miss the days of ornate hors d'oeuvre offerings. Not only do I love finger foods but I particularly appreciate the artistry that goes into the creation of these delicious little masterpieces. The best I've ever been served was back in July of 1981 while sat in a lambs' wool covered First Class seat aboard an Air New Zealand DC-10-30 flying nonstop between Los Angeles and Papeete. As the sun dipped below the western horizon out my starboard window, the flight attendants came round with silver trays loaded with all manner of delectable delights, from which we were encouraged to take generous portions. I am reminded of those old Jay Leno potato chip ads. "Eat all you want. We'll make more!"
Moving right along, the Smoked Sea Trout Mousse with Brixham crab and apple purée was brought out next. Very nice, very nice. My only complaint with this dish is that for me at least I would have preferred it be served with a good flavorful multigrain cracker. I made do with a slice of garlic bread, but still…
Smoked Sea Trout Mousse
Served with Brixham crab and apple purée
Right! Bring on the ravioli! For this dish I switched to a glass of the French Bordeaux. I wish I could say it tasted fantastic but it was a bit too earthy for me. The Chilean Pinot Noir worked much better for me.
Gorgonzola and Walnut Ravioli
Presented with goat's cheese crumble, candied pumpkin seeds and a pumpkin cream sauce
Soup or salad? Salad or soup? Hmm…
Spiced red lentil soup with crisp maple-cured bacon
just sounds too good to pass up. I'll have a salad when I get home.
Spiced red lentil soup with crisp maple-cured bacon
It was a good thing I elected to skip the salad course. Although I think BA present a nice salad with exceptional dressings, I was beginning to feel a bit full. As such, I was relieved to see that the portion of beef was not more than about 6 ounces. Funny how times change. Thirty years ago I would have been ready and capable of eating a 14 ounce sirloin at this stage. No complaints though. The presentation was quite nice with meat, potatoes, tomato and mushroom all constructed into an appealing and palatable pile in the center of the plate.
Seared Fillet of Herefordshire Beef with Café de Paris Butter
Grilled Portobello mushroom, slow-roasted tomato and roasted charlotte potatoes
Perhaps best of all, the meat was nicely cooked – pink in the middle and nicely accented with a flavorful sauce. Kudos to BA on this one.
Throughout the meal, Carole could not have provided a more gracious and entertaining service. To be honest, I would much prefer to have had her sit down and enjoy lunch across from me. To refer to her as a mere Flight Attendant simply would not do justice to the level of her joie de vivre, professionalism, product knowledge and overall service.
I was undecided on dessert but for the time being elected to put it on hold. In the meantime I took my traditional post-meal lap around the airplane and then paid a quick visit to the First Class loo. Surprisingly, there's only one lavatory provided for the First Class cabin. It's located on the port side of the cabin meaning that if you're sat on the starboard side (1/2 F/K) you'll have to cross over through the galley which serves as a sort of commons area for the crew during the flight. The lav itself was not much larger than what you'd find in Economy. Its only real concession to First Class was that it was stocked with Aromatherapy Associates hand wash and hand cream. A flower mounted in a small container near the mirror provided a nice accent. Still, this airplane really ought to have two First Class lavs.
Sorry, no bathroom pics in this report. It's not that I'm freaked out about bathroom pics but frankly outside of Emirates' A380 shower spa I don't find them all that interesting. I mean, it's a toilet and a sink. We all know what they look like so why waste the shot?
Returning to my suite, I took a moment to peruse that most important of inflight amenities – the Amenity Kit. To be honest these kits don't mean a lot to me because I travel with most all of the amenities therein regularly (except for most of the skin creams). British Airways' kit is put together by Liberty London and is attractively housed in a nice faux leather case. It contains all the usual components including eyeshades, socks, a hair brush, a pen, earplugs, a razor, a toothbrush and toothpaste, moisturizer, shaving gel, and deodorant. I can't say I was excited enough to take a picture right on the spot, but I did manage a couple pictures after the flight.
BA's First Class Amenity Kit from Liberty London
BA's First Class Amenity Kit from Liberty London
Normally I don't watch movies on airplanes, preferring to watch them on my big screen at home. However, the 23" screen aboard BA's 787s proved too alluring to ignore. I started out with another couple rounds of Who Wants To Be A Millionaire but didn't fare much better than the day before. How 'bout a movie, then?
I'm a pretty simple creature, so if an airline has one hundred different movies and television shows on offer, I'm fine with that. There are quite a few people who get all excited about say - Emirates' ICE or Cathay's StudioCX – because they offer two or three times as many options. Honestly, there comes a point where it's just overkill. I mean, let's say this were a twelve hour flight. I'm probably going to sleep through five or six hours of it. During the flight I may be engaged in other distractions such as reading a book or roaming the internet via Wi-Fi or chatting with the crew or even putting in some work on my laptop. My point is that most of us would only have time to watch a couple movies – maybe three at the most – so if there are "only" 100 movies available to view as opposed to, say, three hundred, I reckon I'll be fine regardless.
And now, after all that, I can't remember what I watched. Granted, it's nigh three months after the flight that I'm actually typing this, but even so I'm usually pretty good with remembering and/or noting flight details. Maybe I watched Bohemian Rhapsody? Or perhaps it was A Private War with Rosamund Pike. Yeah, yeah – I think that was it!
We were about an hour and a half out of Newark when Carole stopped by to inquire whether I'd be interested in a spot of afternoon tea. Oh… you betcha! I'm always interested in airline food. Let's have a look at that menu again…
AFTERNOON TEA

TEAS
We're pleased to offer you a selection of Twining's most popular teas

English Breakfast
Chamomile
Mint Earl Grey
Passion Fruit Ceylon
Simply Sencha
Redbush Caramel Velvet
COFFEES
Specialty coffee sourced direct from smallholder farms in Peru and roasted in small batches in East London

Espresso
Americano
Latte
SANDWICHES
An individual selection of sandwiches featuring:

Prawn and avocado with traditional cocktail sauce and mixed salad leaves

Chicken and Caesar Mayonnaise with regato cheese, slow roasted tomato and crispy apollo salad

Applewood Smoked Cheddar Cheese with caramelized onion chutney and crunchy Apollo salad
PATISSERIE
Blueberry and Vanilla slice
Passion-fruit and coconut slice
Orange macaron
SCONES
Buttermilk or fruit scones served warm with clotted cream and strawberry preserve
I'm not much of a tea person, so I requested a Café Americano along with a plate of all three sandwiches and a ration of those scones with clotted cream. I was first introduced to the pleasures of scones with preserves and clotted cream at a teahouse in Tasmania back in the 1980s. They have been a favorite of mine ever since. Thankfully clotted cream is pretty hard to come by here in the U.S. otherwise I might weigh about 250 pounds!
Afternoon Tea with British Airways
As you can see from the picture above, BA's tea sandwiches are pretty small – more like large hors d'oeuvres really. I could have easily downed another three of them. As for the scones, they were everything I had hoped they would be. Rich, flavorful… delicious! Why don't we serve scones with clotted cream on this side of the Atlantic? The things we call scones over here are tasty enough as breakfast pastries go but not designed for clotted cream and preserves.
It was dark outside as we made our approach into Newark. On occasion Newark approaches can provide spectacular views of the Manhattan skyline. Unfortunately, our approach this evening was from a different, less scenic angle.
Do pilots even land these new generation planes anymore or is most of it handled by computer? I only ask because of how consistently smooth most of my landings have been over the last few years. Tonight's return to earth was no exception as we once again settled softly onto the cold concrete, braked smoothly and then made our way to the terminal.
As I exited the suite and made my way across the cabin to the door, I took a moment to thank Carole for her part in making this such a pleasant flight. British Airways seem to get more "nays" than "yays" about its inflight service here at FlyerTalk, and while I totally commiserate with the occasional "nay" having experienced such shortcomings myself on a flight or two, it's nice to bear witness to and report on those occasions when everything goes well. From an enjoyment standpoint, at only seven hours in overall duration this flight was too short. Nicely done, BA!
---
Last edited by Seat 2A; Jun 6, 19 at

3:20 am
Jun 6, 19, 3:22 am
Join Date: Apr 2001
Location: East Ester, Alaska
Programs: Alaska Airlines Million Miler, United Airlines Million Miler, Wyndham Rewards Diamond Level
Posts: 8,721
February 28, 2019
Alaska Airlines First Class ~ 737-900 ~ Newark, NJ to San Francisco, CA ~ 720a – 1115a ~ Breakfast
I spent last night at the Ramada Plaza Newark, located just a ten minute shuttle ride from the airport. As an added bonus, the shuttle van was there and waiting when I arrived at the P4 hotel pick up point. My room was spacious and well appointed – every bit as nice per my standards as the EWR Hilton I stayed at a few years ago. Maybe the Hilton had slightly nicer furniture, but the room was no less comfortable and came at a considerably lower price tag – just $66.60 all in with my Wyndham Rewards discount. A large restaurant and sports bar was located just off the lobby and offered affordable food and beer. The next time I need to overnight at Newark, I will definitely stay at this hotel again.
I don't like to leave early in the morning, but my 7:20am departure was the only flight available between Newark and San Francisco using award points. Residual jet lag made getting up a bit easier as it was five hours later in London. I was thankful that Alaska's EWR flights operate out of the same concourse as American. That meant I could wait for my flight from the comfortable confines of American's Admirals Club.
A quick review of my flight log revealed that the last time I flew nonstop in First Class between Newark and San Francisco was way back in 1985 aboard a United DC-8-71. Its First Class seats were deep, wide and well-padded compared to today's lighter weight models. Out the huge window of my DC-8, those two huge CFM fanjets on each wing looked big enough to take me to the moon.
A typical view out my DC-8-71 window
Onboard my 737-900ER bottled waters and menus had been placed on the armrests between each pair of First Class seats. I exchanged greetings with my seatmate and together we took a moment to consider this morning's breakfast options…
BREAKFAST

TO START

Cranberry Ginger Tumeric Smoothie
Blended Smoothie with cranberries, pureed ginger, honey, orange juice, Greek yogurt and a touch of turmeric
Roasted Apple & Pomegranate Seeds
Washington apples roasted with cinnamon, cloves and brown sugar. Garnished with pomegranate seeds and served with a cinnamon Greek yogurt
MAIN DISH

Smoked Fontina Omelet
Omelet made with cage-free eggs and filled with sautéed mushrooms, Smoked Fontina cheese, and spinach. Served with crisp Applewood bacon and oregano roasted red potatoes
Pulled Pork Breakfast Bowl
Tender slow-cooked pork shoulder, shredded and served with scrambled cage-free eggs and seasoned black beans. Garnished with fresh pico de gallo, shredded Monterey Jack cheese, and cilantro lime crema.
PRIOR TO ARRIVAL

Snack Basket
A variety of savory and sweet snacks with fresh whole fruit
We followed a line of United 737s out to the runway, including a new 737-9MAX. I'd yet to fly aboard the MAX but had booked myself on a Southwest bird between Denver and Las Vegas later this spring. In the interim – as I type this some three months later – the entire 737MAX fleet has been grounded worldwide so I guess it'll be next autumn or later before I get to log that first flight. At least it should be safer.
Shortly after leveling off, drinks were delivered and breakfast orders taken. I started with coffee and a screwdriver and for breakfast ordered the Pulled Pork Breakfast Bowl. I usually order the omelet and today's offer sounded quite tempting indeed. However, Alaska's omelets have gotten so small of late – they look like they're made with no more than one and a half eggs these days – that their flavorful ingredients notwithstanding, they are ultimately unsatisfying. Seatmate did order the omelet and sure enough he was served one that looked more like a breakfast appetizer than a proper breakfast entrée.
As for my pork bowl, it was quite good – and filling. It was accompanied by three small dishes filled with pico de gallo, shredded Monterey Jack cheese, and cilantro lime cream. I added all of them to the main dish and stirred it all up like a breakfast version of a Korean bibimbap. Mmm Mmm! Delicious!
Pulled Pork Breakfast Bowl
Despite a flight time of six hours and twenty minutes, this flight passed surprisingly quickly. Seatmate was a retired engineer heading out to California to visit his son down in Monterey. He was also a fan of rail travel and pro football, both of which led to some enjoyable conversation between us. I took my usual laps around the airplane, updated my flight logs, and put in some time on this report though as I recall, back then I had written no farther than my Business Class flight on American between Philadelphia and Amsterdam. That was some 20000 words ago…
We were about an hour and a half out of San Francisco when a snack basket made the rounds. It was the usual collection of chips, cookies, nuts, jerky and trail mix. By 2019 standards, it was pretty good. My favorite second meal service though was back in the 1990s on United's morning transcons. The flight would start out with a normal breakfast service and then later a beautiful deli trolley would be rolled out with an impressive spread of meats, breads, cheeses and fruits. I especially liked the lox and bagels offered, complete with red onions, tomatoes and capers. We were so fortunate to have been able to fly First Class back then…
We landed at SFO on a beautiful winter day, making the usual approach banking just south of the Dumbarton bridge and then heading north up the bay on the final. When it comes to landing at SFO, is there any other way? Temperature wise, the weather was more like you'd expect in April, so it was with alacrity and excitement that I hustled through the terminal and on to the airport train over to the rental car facility. There I picked up a shiny burgundy Nissan Rogue and accelerated down 101 towards my destination for the night – Fresno.
* * * _  _ * * *
Fresno is not exactly a hotspot for California tourism. Situated in the San Joaquin Valley near the geographical center of California, it is California's fifth largest city with a population exceeding 500,000. It's basically a big farm town that's morphed into a city over the past 50 years. Nobody goes there for a vacation.
That said, back in 1992 I spent the summer hiking most all of the trails in and around Sequoia and Kings Canyon National Parks. Every couple of weeks or so I had to come down from the pristine Sierra granite and head into the hot dry environs of Fresno to restock on supplies. Over time I came to enjoy both places that much more – especially Fresno. I used to stay at a cheap motel called the Golden Penny where $18.95/night would get me an air-conditioned room and the lobby sold tasty frozen burritos for $1.50 each. More substantial meals could be had just by walking up the street to the Denny's on the corner of Olive and I-99. I'd always spend a couple days in Fresno, catching the FAX bus out to the big grocery and sporting goods stores out on Blackstone Blvd. I'd spend my afternoons and early evenings in Fresno's attractive Tower District – so named for the beautifully refurbished Tower Theater at its heart. Just one block up Olive Avenue from the tower was the Butterfield Brewing Company which operated an attractive brewpub offering fine food and my favorite (at that time) Bridal Veil Ale.
In the ensuing years, Butterfield's has been sold and reborn as Sequoia Brewing Company. The food is just as good and the beer even more varied and still excellent. As for the Golden Penny – it's been renamed the Welcome Inn. When I drove down there four years ago, it looked more disheveled than welcoming with small groups of singlet clad men smoking cigarettes and drinking beer while slouching around cars playing ghetto rap.
Thankfully I've since discovered the benefits of AARP pricing and Platinum tier membership in Wyndham Hotels WyndhamRewards® program which enabled me to enjoy a spacious King bed room for just $58.95 per night. Although the lobby does not offer tasty $1.50 frozen burritos, the property is located right next door to the Denny's and also includes an attractive swimming pool and an on-site laundry.
Day's Inn Fresno Pool - At Night
I wish I'd had time to drive up into the Sierras while I was in the area but given the amount of snow they've received this winter I wouldn't have gotten very far. Instead I headed over to the Tower District where I enjoyed a delicious pulled pork brisket sandwich and a couple of perfectly chilled ales at Sequoia Brewing Co. The next day I was back on the road again, headed back to SFO where a room awaited at the Best Western Grosvenor Hotel which was hosting this weekend's SFO Airline Memorabilia Show.
I did not bother to get a table for this show since I was booked on the mid-afternoon Alaska flight up to Seattle and beyond to Fairbanks. Instead, I wandered the aisles in the ballroom hosting the show and managed to find a handful of older First Class menus, of which I've a substantial collection.
That said, should any of you ever wish to send me a First Class menu off your flight, I'd be happy to pay the cost of packaging and postage via a Paypal remittance to your email address. Just let me know.
March 02, 2019
Alaska Airlines First Class ~ 737-800 ~ San Francisco, CA to Seattle, WA ~ 235p – 435p ~ Snack
Alaska Airlines First Class ~ 737-900 ~ Seattle, WA to Fairbanks, AK ~ 815p-1135p ~ Snack
I remember when a mid-afternoon departure on the 680 mile run between San Francisco and Seattle used to rate at least a sandwich and a side salad plus a desert. Alas, not so on today's flight which rated a pass with the snack basket. Even so, there was some debate between seatmate and our lovely flight attendant as to whether this flight had been properly catered. He seemed pretty sure it once included a hot sandwich and/or the dreaded protein plate. Perhaps on Virgin America it did. With Alaska it's quite possible that the bean counters have won over the altruism of enhanced First Class catering (which was introduced last spring of 2018) and we are now seeing a more financially equitable service which will reward Alaska Airlines with greater profits while the bean counters earn a pat on the back and perhaps even a beer and a baloney sandwich.
With a four hour layover in Seattle, I started by making my way upstairs to the C Concourse Alaska Lounge where my friend and lounge attendant Debbie C. was tending bar and all too happy to pour me a nicely chilled glass of Bodhizafa IPA. Normally I'm not a big fan of IPA's due to the enhanced alcohol content evidenced in many of them. That and the fact that many of them taste like a bag of really good bud. I'm happy to report however that per my tastes at least, Georgetown Brewing Co.'s Bodhizafa IPA is a cut above all those other skunky IPA's. It's really good, as is the Manny's Pale Ale which is served over at the North Satellite lounge. The only beer missing is Johnny Utah Pale Ale which I've only managed to find available at Perry's Restaurant on the Embarcadero in San Francisco. It too is uniformly excellent!
Alas, it was back to the reality of First Class service 2019 style when all we were offered on my 8:15p departure up to Fairbanks was a hot turkey sandwich with a bag of potato chips. Again, a decent meal by 2019 standards but then what do we know about service these days compared to the "Good Old Days" when this flight would have rated menus, appetizers, a salad and roast served from the trolley in addition to a couple of other tasty entrees followed by a choice of tasty desserts, not just a chocolate candy or a cookie. Ah… the memories…
Many of the generation X and Y'ers that populate Flyertalk these days have little patience with the ramblings of an old goat like myself who occasionally reference the "Good Old Days" of inflight service aboard most all American carriers as offered back in the 1970s and 80s. But the fact remains that those days did indeed exist and the service standards were heads and tails above what passes for "First Class" these days. Should someone ever manage to invent a time machine in our lifetimes, I sincerely hope that any one of you who has even a scintilla of appreciation for much less understanding of the finer aspects of a proper U.S. domestic First Class service might be able to journey back in time to experience the magnificence of those flights. They were indeed special.
Meanwhile, in lieu of my memories of meals served thirty plus years past, we were tonight offered a hot turkey sandwich accompanied by a bag of potato chips. There was no other option – even a vegetarian one. So – "you want it or not?" was the unspoken presentation. Of course our gracious flight attendant didn't phrase it in such stark terms but essentially – that was it. You want it or not? And how about a drink?
Ya, sure – you betcha! I'll take it and a double Woodford's on the rocks.
Hot Turkey Sandwich and Chips for Dinner
There's really not much more to add about this flight. The projected flight time of three hours and twenty-four minutes passed quickly and before long I was dealing with yet another exciting winter excursion come to an and. This one was shorter than some that I've reported on in years past but it was no less enjoyable. Heck – they're all enjoyable. Like many of you, the simple thrill of International Premium Class travel is in and of itself thrill enough.
That said, I hope that after almost 27000 words, you've found this report worthy of the time you've invested in reading it. I recognize that my written reports generally take a greater measure of commitment to get through than the average photo report and so to those of you who've actually read this report word for word and didn't yawn off, you have my undying gratitude. Here's hoping that after the 76 trip reports I've published so far I still have one or two more still left to write. Thanks for your readership so far.
Happy Contrails!
---
Last edited by Seat 2A; Jun 6, 19 at

9:24 am
Jun 6, 19, 3:48 am
Moderator, Hilton Honors
Join Date: Nov 2003
Location: hopefully travelling
Programs: up in the air
Posts: 70,775
Woohoo another
Seat 2A
trip report.
Originally Posted by
Seat 2A
I'm a pretty simple creature, so if an airline has one hundred different movies and television shows on offer, I'm fine with that. There are quite a few people who get all excited about say - Emirates' ICE or Cathay's StudioCX – because they offer two or three times as many options. Honestly, there comes a point where it's just overkill. I mean, let's say this were a twelve hour flight. I'm probably going to sleep through five or six hours of it. During the flight I may be engaged in other distractions such as reading a book or roaming the internet via Wi-Fi or chatting with the crew or even putting in some work on my laptop. My point is that most of us would only have time to watch a couple movies – maybe three at the most – so if there are "only" 100 movies available to view as opposed to, say, three hundred, I reckon I'll be fine regardless.
I'm glad some airlines have extensive selection of IFE. From here a simple return trip to Europe is typically around 48 hours flying + another few hours pre-departure. So can easily do 30 hours of movies in one trip. And sometimes have more trips before the IFE content changes.
Jun 6, 19, 7:19 am
Join Date: Sep 2005
Programs: AC MM E50 , Former SPG, now Marriott LT Plat
Posts: 5,301
February 25, 2019
Arkia Airlines Economy Class ~ A321LR Neo ~ Amsterdam, ND to Tel Aviv, IS ~ 230p – 800p ~ Lunch


Sorry for the minor quibbles, but the Netherlands is "NL", not "ND"; and Israel is " IL", not "IS", which is Iceland.