The Fabulous Faroes and Luxair to Luxembourg: AA Y, AF J/Y, SK Y, LG Y,
May 24, 19, 9:41 am
Join Date: Mar 2001
Location: Austin, TX -- AA PLT 2.8MM+ (life PLT); IHG PLT Ambassador; UA Gold
Posts: 5,443
The Fabulous Faroes and Luxair to Luxembourg: AA Y, AF J/Y, SK Y, LG Y,
---
I've slowly been working on visiting new Traveler's Century Club destinations after completing visits to all 193 countries 3 years ago. I still had 6 remaining in Europe, mostly in the Mediterranean but also the Faroe Islands and the Azores. I've also been wanting to revisit countries that I haven't been to in awhile.. my last visit to Luxembourg was in 1985 when my dad drove us through to Germany. There had been some good fare sales to Luxembourg on Lufthansa but I didn't pull the trigger in time.
In November, Air France had a sale, the newly introduced 'Light' fares with cabin baggage only. I started playing around with Lisbon, Copenhagen, Luxembourg and came up with an amazing fare, Dallas to Copenhagen, returning from Luxembourg for only $350! Unfortunately the arrival times into Copenhagen didn't match well with the SAS flight to Vagar. There was a later evening flight on Air Atlantic, but more expensive than the SAS flights. SAS ended up having a fare sale, Copenhagen roundtrip to Faroes for only $137.. which I booked using my Chase Sapphire points. I booked it for the next day, which meant an overnight in Copenhagen. I also booked Copenhagen to Luxembourg segment on SK codeshare (Luxair metal).
In January I found out mrs hauteboy needed to be in New York for a conference the day I was leaving for Copenhagen! Air France had cancelled the early morning Paris-Copenhagen flight but it wasn't enough to change my departure date from DFW. Luckily we were able to get our sitter to cover the overlap, but that's the first time mrs hauteboy and I have been out of town at the same time without miss hauteboy!
I had been to Copenhagen previously but it had been 11 years since my last visit. I originally had a 25-hour layover but was reduced to 21 hr with the flight cancellation. While exploring Google Maps I came across Bornholm Island, a Danish island in the Baltic. There was a bus/train/ferry route via Sweden, or flights from Copenhagen. I waited too long though and the flights got more expensive. And the bus/ferry combo was ~4hr each way. Roskilde was another option, closer to Denmark and would get to visit another new UNESCO World Heritage site.
While researching the Faroes, I came across an article about KOKS restaurant. They had just recently earned their 2nd Michelin star in February. They have a table booking link on their website and as it happened there was 1 seat available (at a communal table) my first night there! They offer a 17-course tasting menu for 1700 DKK ($260) with juice or wine pairings.
Rental cars in the Faroes are quite expensive, upwards of $120/day. No discount codes appeared to work with Hertz/Avis/etc. I did find a discount code for Sixt that knocked off about $25 but it was still going to be $340 for the 3 days there. Combined with the KOKS restaurant this was turning out to be an expensive trip!
I still hadn't booked a place in Copenhagen the night before my trip! Cutting it close but it wasn't busy season so wasn't too worried. At checkin Air France offered an upgrade, Premium Eco was $270 or Business was $580... no brainer on that one and I chose the upgrade to business.
Flights:

MAY05 ++ AUS-DFW AA Y
MAY05 ++ CDG-DFW AF J (upgrade at checkin)
MAY06 ++ DFW-CPH AF Y
MAY07 ++ CPH-FAE SK Y
MAY10 ++ FAE-CPH SK Y
MAY10 ++ CPH-LUX LG Y (SK codeshare)
MAY12 ++ LUX-CDG LG Y
MAY12 ++ CDG-DFW AF Y
MAY12 -- DFW-AUS AA Y

Hotels:

MAY06 Copenhagen, Denmark SteelHouse
MAY07 Torshavn, Faroe Islands Faroe City View B&B
MAY08 Torshavn, Faroe Islands Faroe City View B&B
MAY09 Torshavn, Faroe Islands Faroe City View B&B
MAY10 Luxembourg City, Luxembourg ibis Budget Luxembourg Aeroport
MAY11 Luxembourg City, Luxembourg ibis Budget Luxembourg Aeroport

Here's links to some of my other trip blogs
2005
Peru/Ecuador[#49]/Galapagos:
http://www.flyertalk.com/forum/trip-...agos-trip.html
Mongolia[#52]/Caucasus:
http://www.flyertalk.com/forum/trip-...-mtskheta.html
2007
Andaman Islands (India):
http://www.flyertalk.com/forum/trip-...a-ixz-maa.html
St Vincent [#68], Grenada, Guyana, Suriname, French Guiana:
http://www.flyertalk.com/forum/trip-...h-guianas.html
North Korea[#76]:
http://www.flyertalk.com/forum/trip-...oryo-trip.html
2008
Ethiopia[#78]:
http://www.flyertalk.com/forum/trip-...-airlines.html
Central America: Honduras[#88], El Salvador, Nicaragua
http://www.flyertalk.com/forum/trip-...a-managua.html
2009
St. Petersburg, Baltics and Belarus[#94]:
http://www.flyertalk.com/forum/trip-...d-st-pete.html
Canadian Rockies:
http://www.flyertalk.com/forum/trip-...n-rockies.html
2010
West Africa: Ghana, Benin [#102], Togo, Mali, Burkina Faso, Cote d'Ivoire
http://www.flyertalk.com/forum/trip-...ir-france.html
Guam, Palau [#111], Micronesia:
http://www.flyertalk.com/forum/trip-...n-pacific.html
2011
Lebanon [#115], Syria, Jordan, Kuwait, Bangladesh:
http://www.flyertalk.com/forum/trip-...atar-econ.html
Pakistan [#122], Afghanistan:
http://www.flyertalk.com/forum/trip-...ord-iah-y.html
2012
Nigeria [#126], Cameroon, Gabon, Equatorial Guinea:
http://www.flyertalk.com/forum/trip-...al-guinea.html
Central Asia -stans, Iraq[#136], southern Balkans:
http://www.flyertalk.com/forum/trip-...q-balkans.html
Iran [#141], Turkey:
http://www.flyertalk.com/forum/trip-...gallipoli.html
South Korea, Myanmar:
A journey of a thousand (and then some) steps: Jeju and Myanmar (RGN fare)
2013
Yemen [#142], Djibouti, Somaliland, Uganda, Rwanda, Burundi:
http://www.flyertalk.com/forum/trip-...land-more.html
Saudi Arabia [#147], Eritrea:
http://www.flyertalk.com/forum/trip-...a-eritrea.html
Sudan [#149], Congos, Angola, Cape Verde, Sao Tome:
http://www.flyertalk.com/forum/trip-...go-angola.html
2014
Algeria [#155], Tunisia:
http://www.flyertalk.com/forum/trip-...unisair-j.html
Fiji [#157], Vanuatu, Solomon Islands, Papua New Guinea, Kiribati:
http://www.flyertalk.com/forum/trip-...nuatu-png.html
Malta [#162]:
http://www.flyertalk.com/forum/trip-...lh-j-km-j.html
Lesotho [#163], South Africa, Swaziland:
http://www.flyertalk.com/forum/trip-...ther-coup.html
Romania [#165], Bulgaria, Serbia, Hungary, Slovakia, Okinawa:
http://www.flyertalk.com/forum/trip-...nh-y-oz-y.html
Madagascar [#171], Mauritius, Reunion, Mayotte, Comoros:
http://www.flyertalk.com/forum/trip-...mk-y-uu-y.html
2015
Maldives [#174]
South Sudan via Maldives: NH F Square, TG A380 F, AI 787 Y, ET 787 Y, LH A380 Y
Chad [#175], Morocco, Mauritania, Senegal, Niger:
http://www.flyertalk.com/forum/trip-...gal-niger.html
Poland [#181], Ukraine:
http://www.flyertalk.com/forum/trip-...auschwitz.html
Moldova [#182], Transdniester, Croatia, Slovenia, Bosnia:
http://www.flyertalk.com/forum/trip-...ng-europe.html
Central African Republic [#186]:
http://www.flyertalk.com/forum/trip-...-republic.html
Courthouses of Texas:
http://www.flyertalk.com/forum/trip-...urthouses.html
2016
Gambia [#188], Guinea-Bissau, Guinea, Sierra Leone, Liberia, South Sudan:
http://www.flyertalk.com/forum/trip-...st-africa.html
Fernando de Noronha, Brazil:
http://www.flyertalk.com/forum/trip-...blue-azul.html
Cuba:
http://www.flyertalk.com/forum/trip-...monterrey.html
Samoa [#195], Tuvalu, Nauru:
http://www.flyertalk.com/forum/trip-...countries.html
Channel Islands:
http://www.flyertalk.com/forum/trip-...-j-gr-y-y.html
2017
Haiti:
Long weekend in Haiti
Namibia, Kenya, Uganda:
Sand Dunes and Safari, A trip to Namibia, Kenya and Uganda
2018
Ecuador:
Long weekend in Ecuador. AA AUS-MIA-UIO/CUE-MIA-AUS
Tunisia, Sicily, Provence:
Spring Break in Tunisia, Lampedusa, Sicily and Provence. UA/LH/TU/M4/FR/EZ/BA
Tibet, China:
10 days in China. Tibet, Sanya and Guilin! All three alliances Y UA/CA/MU/HU/KA/AA
Prince Edward Island, St. Pierre et Miquelon, Nova Scotia:
Long weekend in the Maritimes. Prince Edward Island & St. Pierre et Miquelon
2019
New Zealand, Chatham Islands:
New Year's in Niue? No way!
Bonaire, Curacao, Saba, St. Barts, Aguilla:
Spring Break Caribbean Island Hopping: Bonaire, Curašao, Saba, St. Barts, Anguilla
---
Last edited by hauteboy; Jun 18, 19 at

10:15 am
May 24, 19, 11:44 am
Join Date: Mar 2001
Location: Austin, TX -- AA PLT 2.8MM+ (life PLT); IHG PLT Ambassador; UA Gold
Posts: 5,443
May 5-6, 2019
Flight: Austin, TX (AUS) to Dallas, TX (DFW); American Airlines; economy
Flight: Dallas, TX (DFW) to Paris, France (CDG); Air France; A330 business
Flight: Paris, France (CDG) to Copenhagen, Denmark (CPH); Air France; economy
Hotel: SteelHouse; Copenhagen, Denmark; $45
It had been a tough couple of weeks. Mrs hauteboy had been out of town two weekends previously but then came back home sick and barely could move out of bed and this week she still wasn't 100%. She had debated cancelling the New York trip but finally felt good enough to leave on the Friday.
The sitter arrived at 10:30 AM. I debated taking an Uber or driving to the airport, at 8 days it's right at the break even point price-wise. I ended up driving there. The parking lots weren't too busy and the Pre-Check line wasn't too busy so I was in the terminal by 11:15. I had booked an AA ticket to Dallas, for some reason today the flights had been very expensive and no awards available. At $190 for a 30-minute flight it was was over half the cost what I'd paid to Europe! That also meant no AA lounge access in Austin as it was a domestic segment. Luckily the weather was good today and no mechanical issues.
Taking a nap!
The flight arrived by luck in the D-terminal at DFW, so I didn't need to take the Skytrain. I grabbed a Starbucks before going to The Club (Priority Pass) lounge. They had a decent selection of food and snacks. The lounge is split between the bar/dining area and the relaxation area.
The Club at DFW
Finally came time to board the flight. The DFW-CDG route is operated by an Airbus A330. I got a nice surprise to see it was the new business class cabin with lie-flat seats and huge IFE screen! The amenity kit came in a soft-sided orange/white/blue pouch. The seats have an odd storage area under the screen (that says No Storage?!), and an electric outlet with separate USB charging port. The seat when reclined felt a bit narrow as I have broad shoulders, but one side of the seat pushes down giving a bit more room.
AF DFW-CDG A330 New Business Class
AF DFW-CDG A330 New Business Class
AF DFW-CDG Business Class amenity kit
In flight movie selection was fairly good, recent movies plus French and African movies which normally you don't see. I watched Les Vieux Forneaux (Tricky Old Dogs), My Very Ghanian Wedding and The Mule.
Meals also were overall fairly good. A salmon tartare amouse bouche was followed by foie gras du canard and quinoa medly. I chose the Chicken with Chorizo emulsion for my main course. Dessert was a small selection of cheesecake, apricot financier and a chocolate square. Before arrival they served an omlette with croissant. The fresh fruit was too fresh though as the mango wasn't yet ripe and almost inedible.
On arrival to Paris it was a gorgeous but chilly morning. Had to do the schlep from the M-gates via the train and walkway over to 2F. I had about 3 hrs before the next flight. There is an AF lounge there and I went by to check if I could have access since I arrived in J. Access granted, score! So that was much more enjoyable than having to sit in the main area for several hours.
I left the lounge to go walk around a bit before boarding, only to come back and find boarding had almost completed! I slept most of the flight to Copenhagen, arriving just in time for the rain to start. The ěresund bridge was just visible through the rain.
Oresund bridge to Malmo
Arrival to CPH
It was another long schlep from the arrival gate to the train station and I bought a ticket to Roskilde. There supposedly were direct trains or I could connect at central station. I just missed the first train but another one came by in 10 minutes. With the connection at Central it took about 50 minutes to get out to Roskilde. It was overcast and chilly today. I wandered from the train station up to the Roskilde Cathedral, where most of the Danish Kings and Queens have been buried. It is a UNESCO World Heritage site. It had also started raining again so was good to duck inside for a bit. The entrance fee was 60DKK ($9).
Roskilde
Roskilde Cathedral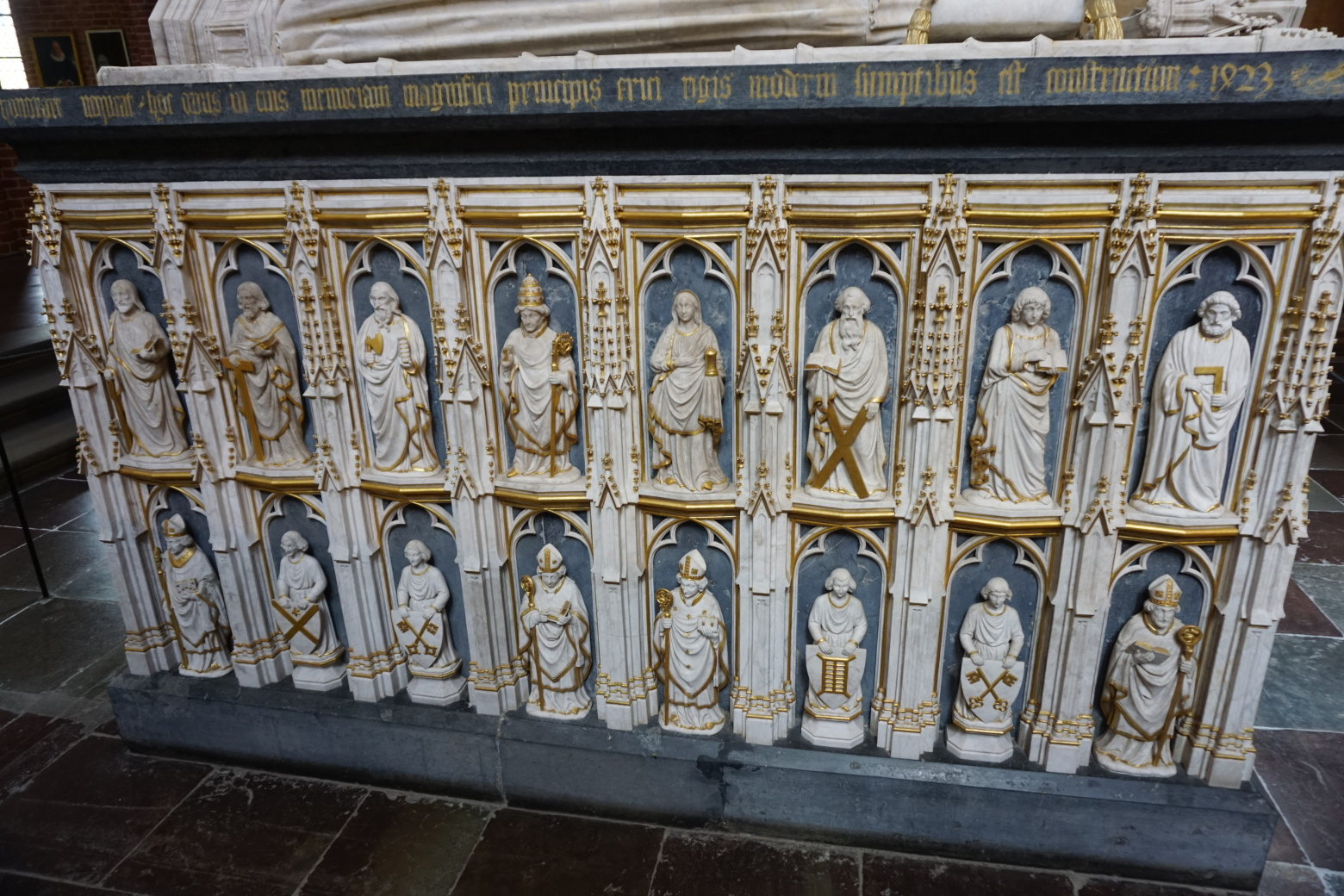 Spent 20 minutes or so wandering around the cathedral. Came outside to more rain so I ducked under a tree, hoping it would pass. I also wanted to visit the Viking Museum but it was past 4:40 and it closed at 5 pm so decided to give a miss. Finally the rain started clearing and I wandered up to the main square, grabbing a hot dog snack before continuing down the pedestrian mall. By the time I returned to the square the skies had cleared and was gorgeous blue.
I decided to walk down to the Viking museum anyway, at least to have a look at the bay. The route led through a park before reaching the museum. There were a few recreated Viking boats sitting in the harbor, smelling of pitch. Supposedly they offer cruises around the harbor during the summer.
Roskilde Train Station
I started walking back up to the train station via a different route along the main road, but not so scenic as the route down. My credit card wouldn't work for the train tickets here so had to get some change at the convenience store. It was about 7pm and the train back to Copenhagen was almost empty. I had booked the SteelHouse hostel for my overnight, just a few blocks away from the train station.
The weather was still nice on arrival into town. I started walking towards Nyhavn but only made it a few blocks past the City Hall before I realized how tired I was. I didn't recognize much around the train station other than than Tivoli Gardens. I wasn't too hungry yet so just went to the Steel House hostel to checkin. Kinda a cool hip place with an industrial loft feel. The rooms were pretty nice with capsule style bunk beds and a bathroom. I was the only one in the room (and ended up having it to myself!) I kept saying i'd go out in a bit for dinner but again was still knackered and just ended up spending the evening alone in the room.
SteelHouse hostel
SteelHouse Hostel
May 25, 19, 11:25 am
formerly corruptcanadian
Join Date: Jan 2010
Location: YTO - YTZ, YYZ
Programs: aeroplan, Flying Blue, Priority Club, avios
Posts: 541
---
Last edited by aeroman380; May 25, 19 at

11:31 am
May 25, 19, 4:53 pm
Join Date: Mar 2001
Location: Austin, TX -- AA PLT 2.8MM+ (life PLT); IHG PLT Ambassador; UA Gold
Posts: 5,443
May 25, 19, 5:11 pm
Join Date: Mar 2001
Location: Austin, TX -- AA PLT 2.8MM+ (life PLT); IHG PLT Ambassador; UA Gold
Posts: 5,443
May 7, 2019
Flight: Copenhagen, Denmark (CPH) to Vagar, Faroe Islands (FAE); SAS; economy
Hotel: Faroe City View B&B; Torshavn, Faroe Islands; $76
I'd hoped to get out a bit this morning but it just wasn't happening. I grabbed a breakfast box at the hostel (49 DKK) then went to the train station to catch a ride to the airport. Google Maps kept telling me to take the metro vs the train. There is a new metro line due to open this year.
I had already checked in for the flight online but wasn't able to print my boarding pass. The SAS Kiosks wouldn't accept my United MP number (my old Continental FF#). Going through security was quick and I walked over to the SAS Lounge. They were able to successfully re-add my United number. There are two sections to the lounge, the Gold area was upstairs.
The flight to the Faroes was 2h15m. I had been checking the weather and it didn't look too good, rain for the next few days and even snow was expected for today! I was on the right side of the plane and caught the first glimpse of Nolsoy island and Torshavn. The landscape looked green but barren, with some snow at the highest points. The Faroes are quite mountainous and have been carved into fjords and valleys by glacial action during the ice ages.
Nˇlsoy Island
FAE Airport
Disembark on right side!
We landed just in time for the rain to start. There are no jetbridges at FAE and we actually disembarked via stairs on the right hand side! No immigration or customs formalities as this was a domestic flight. Had to walk through the mile of duty free though.
I eventually found the car rental building outside the main terminal. I had rented via Sixt but the rental was provided by 62░N (they also are the provider for Hertz and Europcar). While going through the paperwork, it is a good thing I double checked the price listed... I knew they charged a hefty deposit fee but the number looked just a bit off... Over 55000k DKK, approx $8200! Somehow the LDW was off the charts.. it was supposed to be 2200 DKK plus the deposit. They also asked about the sub-sea tunnel fee, they have an unlimited option with a daily fee or you can pay per passage (100 DKK). Normally you pay the toll at a gas station.
Finally got the car sorted and agreed price. The car parking lot is accessed by a covered walkway from the terminal. I'd gotten an upgrade to a crossover SUV Opel Mokka TDI.
The Faroes have some amazing hikes. However as tourism is ramping up some of them have gotten too 'crowded' and the government has started charging to do the treks. One of the treks is to the viewpoint of TrŠlanÝpan, a famous view where it looks like Lake S°rvßgsvatn is suspended over the ocean. The lake is right by the airport so many people will do the trek on arrival. Since I only planned on using the tunnels once each way this meant I hoped to do the trek either my first or last day. The weather had cleared enough (by Faroes standards) that I figured I could do the trek first thing.
The trail starts in the town of Mi­vßgur, just 7kms from the airport. There were already 6 or 7 cars parked here. The shed at the start of the trail had a notice about the new trail fees. The guy there didn't have change for my 500 DKK note (they also had a credit card reader) and said I could pay on return. It was still quite windy and chilly so I bundled up layers, long undies, shirt, fleece, hat and gloves. I'd only worn my hiking boots for this trip since I planned to do other hikes.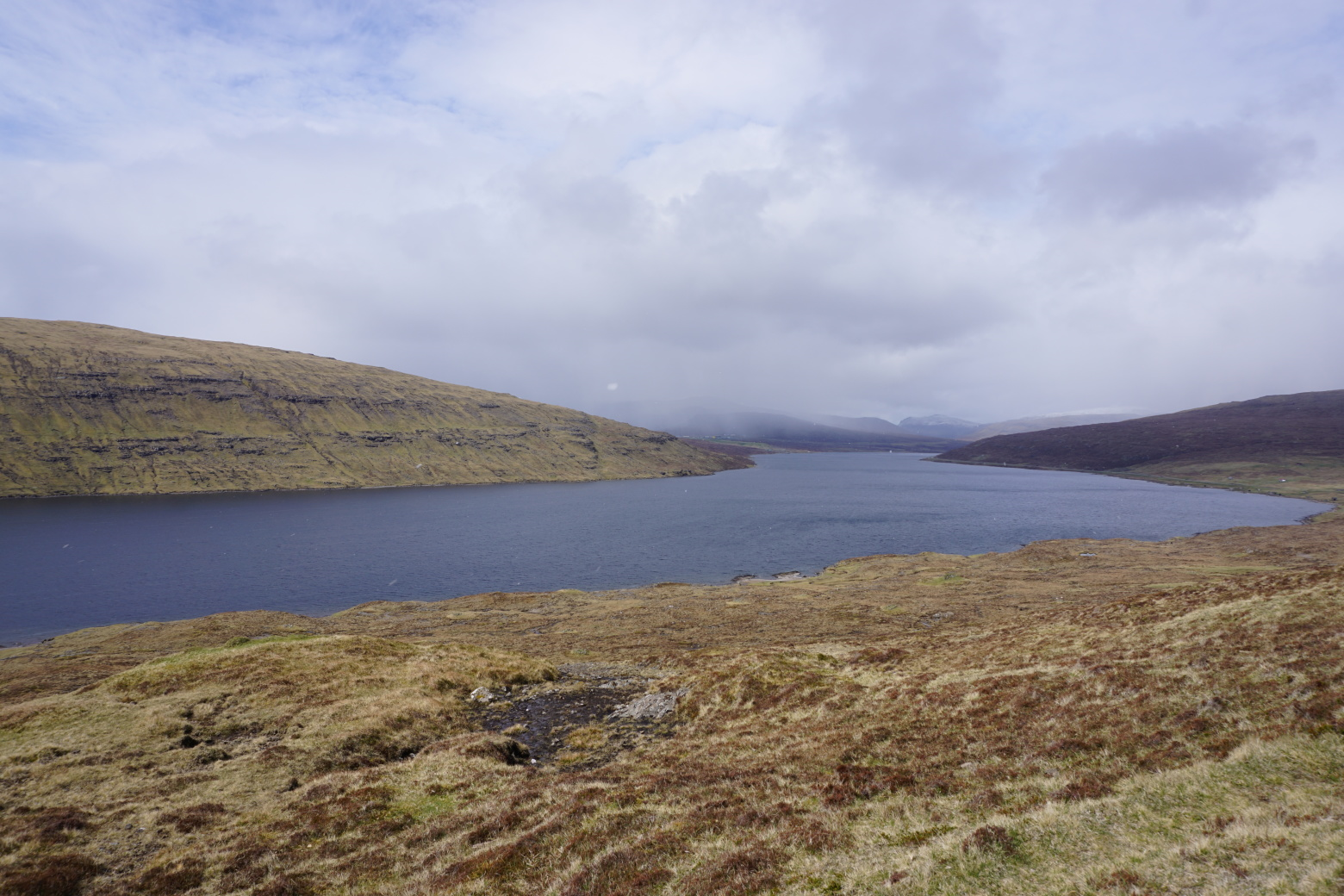 Whiteout on the lake
I set off on the trail about 1:15. The trail was well marked, mostly flat and level with a few rivulet crossings. It took about 40 minutes to walk the ~2 miles to the end of the trail. There were a couple of benches after any ascents. About halfway down the trail I could see a snow storm blow in across the lake from the airport, at one point obscuring half of the lake! Luckily the weather stayed clear and dry where I was, and the sun even came out at a few points. I passed maybe 6-8 people coming the other way down the trail, so it didn't feel crowded at all.
Finally came to the final ascent to the viewpoint. It was quite steep here but they were in the process of building stairs and a guardrail. The wind was also quite cold and strong here as it crested the saddle with a view down to the ocean 100 feet below, definitely glad I had my hat gloves. There had been a British WW2 observatory built up here but was now just ruins, and tourists had moved the blocks around.
New trail
Famous view from Traelanipan
It took another 45 minutes or so back to the parking lot, so just under 2 hrs roundtrip for the hike. The weather of course cleared even more by that time. The kiosk had change for my 500DKK note. I stopped in and had a coffee to warm up for a few minutes. It was about 3pm and I had a 6pm dinner reservation at KOKS. I decided to go to Torshavn first to check into my B&B. It was a gorgeous drive from the airport before crossing under the sound on one of the subsea tunnels to Streymoy Island. The Faroes have done an amazing job of connecting the remote communities and islands via a system of roads, bridges and (currently) 18 tunnels. The 4.9km subsea tunnel from Vagar to Streymoy opened in 2002 and dips over 100m below sea level. The toll is 100DKK roundtrip. The other subsea tunnel connects the islands of Eysturoy and Bordoy. Two other subsea tunnels are currently under construction and will open in the next few years, and there are even more ambitious plans to connect the southern island of Su­uroy with a 26km tunnel.
About to enter the subsea tunnel
The parking lot for KOKS was along the way so I stopped there to check out the situation. It was a gorgeous setting with a glacial valley and lake just after exiting the Leynartunnilin. I was loving the raw, glacial landscapes here. From there, Google maps wanted to route me over the mountain road, while my other GPS app routed me via Kollfjar­artunnilin towards Torshavn. Turns out there's a disconnect bug in Google Maps at one of the roundabouts! Google Maps ended up routing me wrong quite a few times in Torshavn.. especially with roads closed due to construction. I have T-mobile international service and the coverage in Faroes was excellent, although only at 2G data speeds.
Faroe City View
Faroe City View
Eventually I found my way to the B&B and parked the car down the street. They had mentioned they might not be in and to just walk in to my room! I had to remove my boots on entry and turns out the owner was there. She showed me to the room (up steep stairs). The room had a good view out over town below to the harbor. I had a rest and cleanup for a few minutes before heading out again back to the restaurant, about a 20 minute drive.
---
Last edited by hauteboy; May 25, 19 at

5:23 pm
May 25, 19, 9:17 pm
Join Date: Mar 2001
Location: Austin, TX -- AA PLT 2.8MM+ (life PLT); IHG PLT Ambassador; UA Gold
Posts: 5,443
An unforgettable dinner at KOKS
---
May 7, 2019 continued
I still arrived at the parking area about 25 minutes early. I parked the car and walked down the hill to the meeting place. Part of eating at KOKS is the whole experience. They have a hjallur (drying shed) located on the banks of the lake where they first serve an appetizer and drink. I had the RŠst Fisk beer and appetizer of chips with flakes of fermented cod. Very salty but good! The other guests started to arrive, a woman from the US and her Scottish friend, a couple from Denmark, an American/Brazilian couple and a woman from Germany. Then the next part of the adventure, we all clambered into the back of a Land Rover Defender and bounced along to the restaurant itself. The restaurant is in a renovated 1700s farmhouse and has a sod roof. Many older houses and buildings in the Faroes have sod roofs due to lack of building materials.
Not a bad view...
Flaked cod and chips, Raest Fisk beer
Guests are driven to the restaurant in an old Defender
I had booked the communal dining table, 8 of us together. All were foodies or travelers. The meal is 17-course tasting menu, then you can get a juice or wine pairing. No one chose the wine pairing surprisingly, but I picked the juice option.
KOKS specializes in dishes made from locally sourced ingredients. The first course was fresh scallops served in their shells... talk about sea-to-table, it was so fresh the barnacles on the shells were still moving! It was served with watercress and a glass of gooseberry juice.
Barnacles were still alive
Fresh scallop
Gooseberry juice
The second course was mahogany clam with crabmeat. The mahogany clam can live for several hundred years, so it is probably the oldest living thing I've ever eaten! Does make you feel a bit guilty though. Following the clam course was halibut with Ossetra caviar. Tiny portions of course but they put a lot of effort into presentation.
Mahogany Clam
Halibut w/ Ossetra caviar
The next juice pairing was black tea kombucha with elderflower. This was served with horse mussel mixed with pickled broccoli and elderflower powder.
Black Tea Kombucha with Horse Mussel
Horse Mussel with pickled broccoli
The conversation had been flowing well and the weather added to the conversation as a blizzard started blowing through. When we came in the landscape had been green and sunny, yet now the snow was blowing and you couldn't see across the valley.
It started snowing!
By the time we started the next course, an alcohol-free gin and tonic served with langoustine, the landscape was now almost complely white! The langoustine were served in two parts.. the first was the head with brains. I was one of the few daring enough to try this! Then the body was served with carrot, over which they poured a sugar kelp with wasabi sauce.
Non-alcoholic G&T
Snow!
Langoustine brains
Langoustine w/ carrot + wasabi
The next course was fried cod skin sandwich, fried cod swim bladder with liver, and whale blubber with pickled beets. The swim bladder was salty but tasted a bit like a puffed rice cake.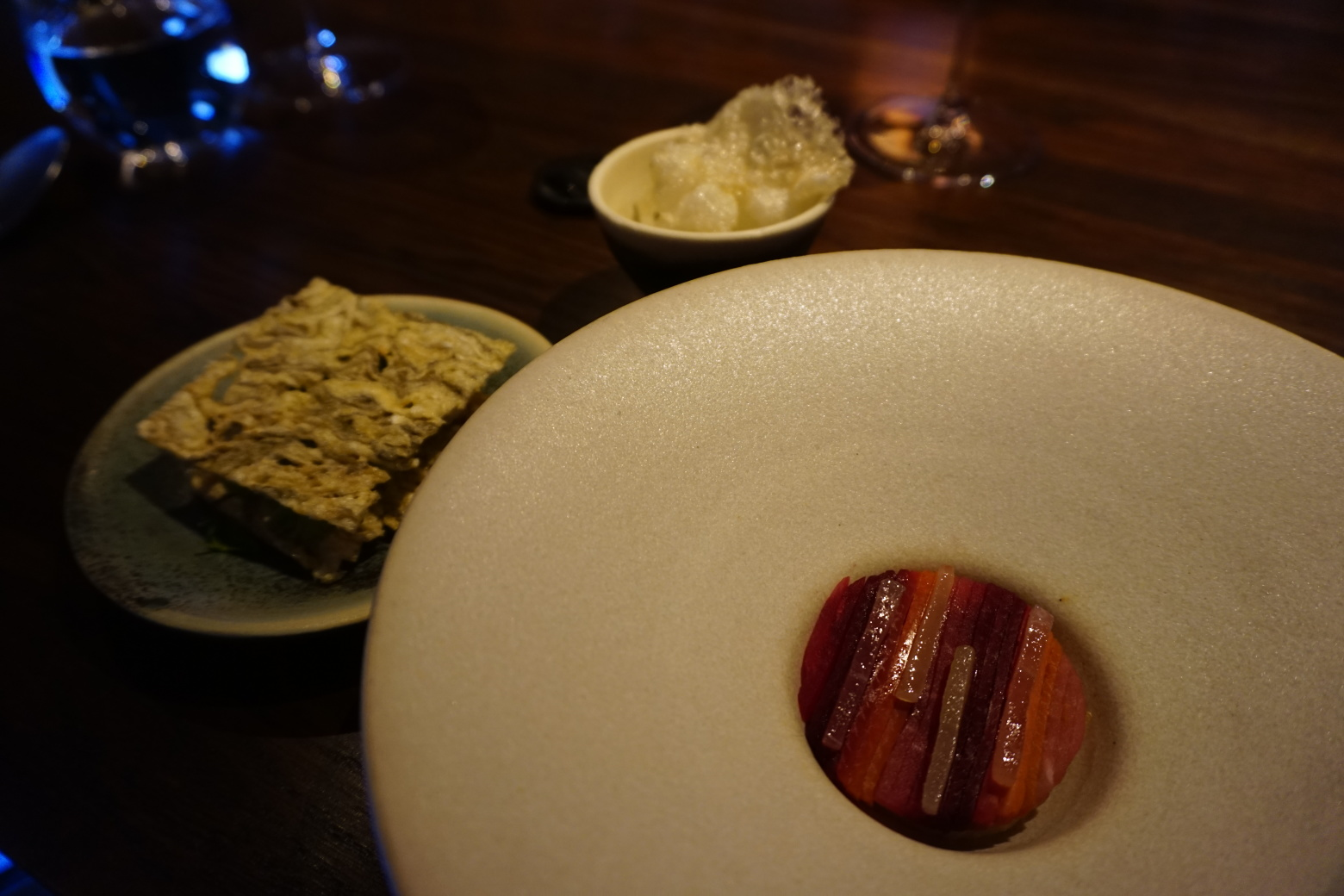 Pickled beetroot + whale blubber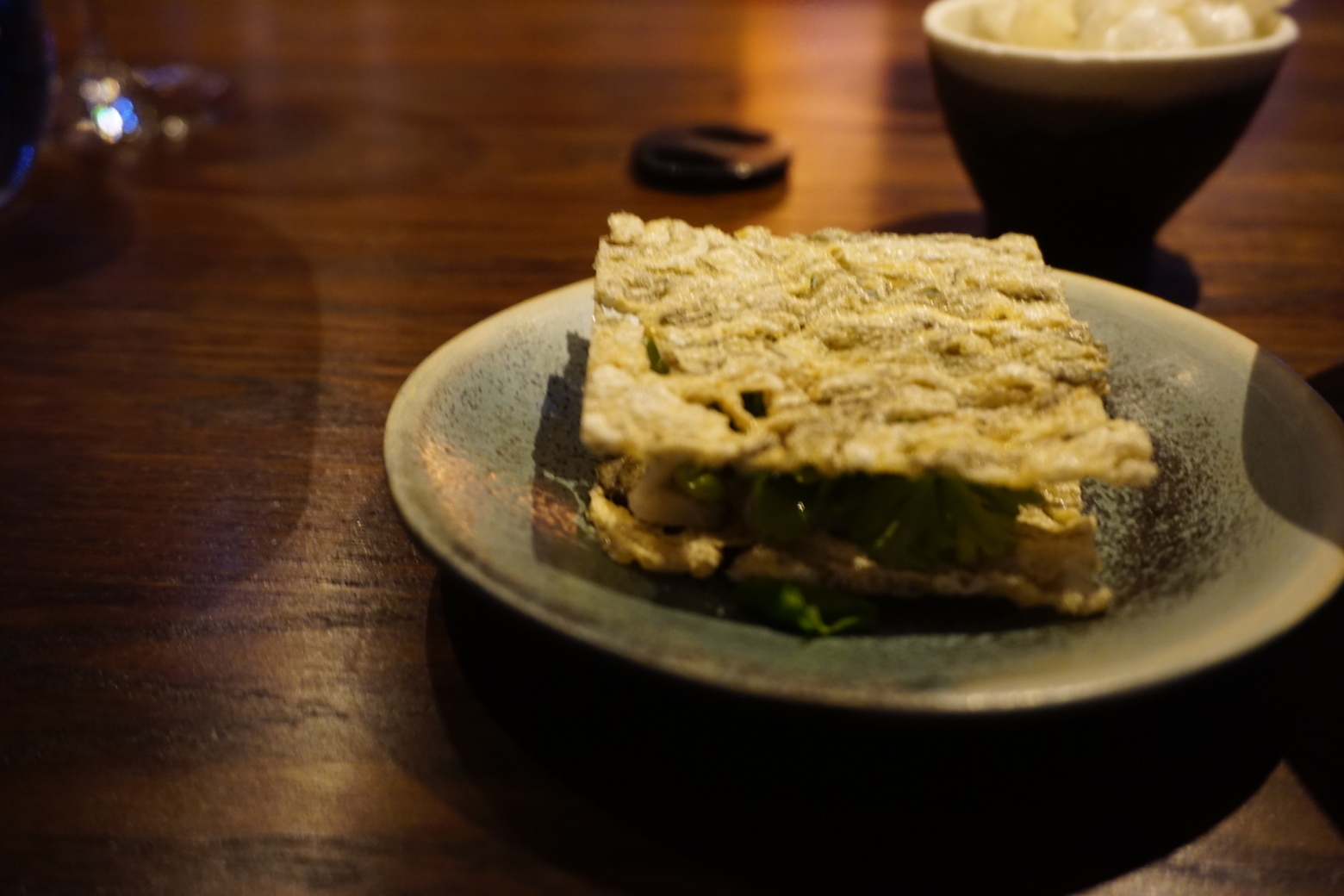 Cod skin sandwich
Fried cod swim bladder
The next juice offer was apple juice with lovage (celery flavor). This was served with blue mussels with pickled parsley stems and bacalao (salted cod).
Apple juice w/ lovage Blue mussel w/ bacalao
The skies had cleared and it was amazing to see the difference in the landscape now, as everything was now covered in a half inch of snow.
The courses then switched from seafood to land-based. The juice pairing was warm mushroom juice, though can say I wasn't much of a fan of this. The first lamb course was skerpikj°t, a leg of lamb fermented in drying sheds for 3-12 months. The waiters brought out the a leg to show what it looks like, somewhat similar to an Iberian ham. Locals will take the leg and piece of bread and a knife and that'll be a meal. The slices of lamb were served with a mushroom/lingonberry tartare and fried reindeer lichen. Wrap the lichen and mushrooms with a slice of lamb and pop it in your mouth! The lamb had a strong but not unpleasant taste.
Mushroom juice. Ehh...
Skerpikjot
After the skerpikj°t was a palette cleanser of gó­ara­, a savory flat cookie served with cream cheese mixed with lamb tallow and fish.
Gó­ara­
Next there was another fermented lamb dish, this one served with caramelized onions and some sort of naan-like bread. This was delicious and my favorite dish of the evening... tasted like a pot roast. I could have eaten that all night.
Yummy! My favorite dish. Lamb w/ caramelized onions and naan-like bread
The next juice pairing was beetroot with sugar kelp and blackcurrent. Looked just like a merlot but was juice, honest! This was served with smoked pilot whale heart on a heart-shaped lamb-blood sausage wafer (unfortunately pic didn't come out so well).
Beetroot & blackcurrant juice.
Smoked Pilot Whale heart w/ lamb-blood sausage
We had been talking about when we had made our reservations. I had made my reservations about a month in advance. The American/Brazilian couple had plans to go to Sri Lanka but changed them after the bombings to come to the Faroes instead and managed to get a booking only a few days ago. SAS had been on strike the week previously and I had been a bit worried about the flights going out, luckily the strike had been resolved the previous Friday just before they flew over.
The next course was served with a whale knife, a small piece of lamb back with celeriac and fried beetroot. I could have asked for seconds on that one as well!
Lamb back w/ celeriac
It was nearly 10PM before the first dessert course was served, a quenelle of wild thyme ice cream with smoked cream and crowberries. Very good! The juice serving was blueberry, licorice root and dulse (red seaweed).
Wild Thyme ice cream, smoked cream and crowberry
Blueberry, dulse and licorice root
Another dessert was blueberries with dulse gel, quite good as well!
Blueberries w/ dulse
The meal still wasn't over as the final course was waffles and thin cookies with chocolates and rhubarb jelly followed by a coffee. We all sat around talking for almost another 45 minutes, it was now past 11PM and all of the other diners had since left. The snow had started falling again, much thicker this time. The staff asked if anyone needed a taxi. Lucinda and her Scottish friend had come via taxi, and I offered them a lift back into town.
Waffles and chocolates
The waiters gave us gift bags with a copy of the menu and bottles of the Raest Fisk beer. We all climbed back into the Land Rover and they drove us back up the hill to the parking lot. We all had our hugs and goodbyes after an amazing evening I won't soon forget! Luckily the snow had stopped and the roads were clear. I got them to their hotel but got lost trying to get back to my B&B, finally arriving there well after midnight!
Still snowing! Stopped just as we left
Goodbye to KOKS
May 26, 19, 3:43 am
Join Date: Mar 2001
Location: SYD
Programs: OZ*G, VA gold, NZ*G, QF bronze, Former 'bottom-feeder' AC*G
Posts: 5,036
Lots of coverage of the Faroes at the moment! It does look gorgeous. Amazing to have that changeable weather and stunning view as the backdrop to an epic meal
May 26, 19, 3:52 pm
Join Date: Mar 2001
Location: Austin, TX -- AA PLT 2.8MM+ (life PLT); IHG PLT Ambassador; UA Gold
Posts: 5,443
Yes a few trip reports at the moment! I'm sure it is going to get popular like Iceland but they can't really handle a larger influx of tourists.. most of the towns don't have a hotel or even a cafe. Each town did usually have a tourist info board with the important buildings and history listed.
I styled my trip after
kazeta
's report:
Visiting the Faroe Islands
though I didn't have quite as good weather or amount of time as they did.
May 26, 19, 5:19 pm
Join Date: Mar 2001
Location: Austin, TX -- AA PLT 2.8MM+ (life PLT); IHG PLT Ambassador; UA Gold
Posts: 5,443
May 8, 2019
Hotel: Faroe City View B&B; Torshavn, Faroe Islands; $76
Despite the late night I was already up at 5:30 AM. Sunrise had already been an hour previously and it was a gorgeous clear day with blue skies. There was a thin layer of snow everywhere over the town. I made my own breakfast of yogurt and museli before heading into town. I had booked a Vestmanna cliffs boat tour for 10:15 but still had several hours to explore. The car was crusted with frozen snow so took a few minutes to clean off.. I couldn't find a scraper and had to use the credit card trick.
Had to scrape the car...
It was quick drive down to the center of town. It was only 6:15 AM so I was the only one out and about other than the garbage men. I parked near the harbor and spent awhile wandering around, going up the hill to the Cathedral (closed) and back up the road, passing Etika the sushi restaurant.
He looks cold...
Cathedral (closed)
I drove over to the Skansin fortress which overlooks the harbor. Couldn't find a nearby parking spot but it was still early so just parked at a business across the street. There is a lighthouse here and some old cannon. The fortress was also used by the British during WW2.
Skansin
I then drove to Tiganes, the cluster of government buildings built out in the harbor. Mostly dating from the 1700s they are painted red and white with sod roofs.
Tiganes
Tiganes
I still had quite some time to kill so decided to drive over to the southeast corner of the island at Kirkjub°ur. Getting out of town ended up being a bit of a challenge as Landavegur street was closed for construction and Google maps kept getting me turned around and trying to go back that way. Eventually I drove almost all the way back to my B&B so I could get on the ring road. It was rush hour now and quite a few cars were coming into town. Finally I managed to get on the right road out of town. The views were gorgeous with sun shining on the snow covered hills, with green patches peeking through as it was rapidly melting.
Kirkjub°ur church,. Unfortunately missed the old cathedral right behind it!
The road was in great condition all of the way but switched to a one-lane road for the last kms to Kirkjub°ur. I stopped here just as a red bus to Torshavn was pulling away. The church here was closed as well. Unfortunately I ended up missing the main attraction in Kirkjub°ur, the old ruins of the Magnus Cathedral that was built in the 1300s. It was behind the village church and I didn't see it.. only had Kirkjub°ur written on my notes unfortunately! A real pity as I still had plenty of time. There was a gorgeous view over to Sandoy island, which is the next island planned to be connected by a subsea tunnel.
I drove back over the hill to Torshavn, then up and over the mountain road. Absolutely gorgeous views here and I kept stopping every couple of minutes to get photos. The raw carved rock of the fjords was even more striking with the snowcover. Kollafj°r­ had gotten even more snow and was still completely white. I came down the hill to the KOKS parking lot again, getting a view of the lakes. I flew my drone up for a few minutes but it was still fairly windy.
I continued onto Vestmanna which used to be the old ferry port crossing to Vagar, stopping for photos at Leynar and a picnic area. There were huge tubes coming down the side of the mountain for hydro power, there are large rainwater reservoirs high on the mountain. Below in the harbor were several circular shaped enclosures used for farming salmon. I was still 45 minutes early before the boat tour, mostly hung around the visitor center until it started to rain.
Vestmanna
The boat this morning wasn't totally full, but there was a big French group that took the seats on the top deck. The rain continued falling as we left port but quickly disappeared and the sun came out again. We passed by the steep cliffs which amazing had sheep and lambs grazing. The water had been pretty smooth on leaving port but started getting quite a current (tidal bore) as the channel narrowed. There was a tiny village on the other shore, one of the few still unconnected by road.
The waves started getting really choppy once we rounded the headland and a bitingly cold wind was blowing. The cliffs were amazing, near vertical reaching several hundred feet above. The waves had carved out sea stacks, caves and the boat driver skillfully maneuvered us among and even through some of them. We had put on helmets to protect against potential rockfall. There weren't a huge number of birds around yet.
Salmon jumping
The lighting unfortunately wasn't the best (afternoon lighting would be better). The boat was pitching up and down quite violently and I ended up dropping my camera when sitting down and it fell out of my pocket! I'd damaged a similar lens on my Cuba trip a few years ago.. even a small drop and the camera no longer recognizes the lens!
We sailed back to the visitor center, where I had lunch of fish and chips. There aren't a lot of options for eating in the Faroes.. most towns don't have a cafe or restaurant, or they are only open certain hours. Grocery stores and gas stations are the best bet usually for food.
It was about 1PM when I set off. I planned to visit Eysturoy island and the town of Gjogv, then back to Streymoy and visit the towns of Tj°rnuvÝk and Saksun. I stopped at the town of Kollafj°r­ur to see the grass-roofed church (locked!), was lucky as the sun had just come out. I'd also figured out how to get my camera to recognize the lens if I pulled and pushed just at the right time.. I could hear the gears stripping as the motor turned. Ack.
Kollafjord church (closed of course..)
Streymenes church
I reached the town of Streymenes, the turnoff to Saksun just before 2PM. There was another village church here but it was undergoing renovation. The rain had also returned. I was getting pretty tired and laid back in the car for a quick 20 minute catnap to see if the weather would change. It still looked bad towards Saksun so decided to push on to Gjogv first.
Just after Strymenes was the bridge across to Oyrarbakki. The channel separating the islands is barely 150m wide at this point and there was a strong current in the channel below. There is a gas station here where I stopped to get a candy bar snack. There were two routes to Gjogv showing on my map, up the west coast to Ei­i or through the tunnel. I decided to go in a loop up the west coast to Ei­i.
Eidi
At the edge of town at the turnoff to Gjogv, there was a sign saying the road was seasonal only! Turned out it was a one-lane road only up and over the saddle. It was quite dramatic views. Unfortunately my main camera wouldn't open anymore and had to rely on my phone camera here. There was considerable snow cover but the road luckily was clear. The road was one-lane all the way to Gjogv, where I arrived just before 3:30.
Gjogv
Gjogv church
The town of Gjogv has a narrow rift in the rock which forms a natural harbor. It's one of the more popular tourist towns in the Faroes and there were a few others here. The weather though was still pretty crummy though clearing to the northeast. I stopped by the church and a statue of three boys that was some sort of memorial.
I drove from Gjogv via the eastern route, going back through a tunnel before rejoining the road just north of the bridge. The road to Tj°rnuvÝk turned north on the opposite side. Along the route I came across the impressive Fossa waterfalls, the tallest on the islands. The sun was out but lighting was bad as it was right behind the falls.
Fossa falls
Tjornuvik beach
It was about 5:20PM when I reached the town of Tj°rnuvÝk. This town has a black sand beach with a view of a couple of sea stacks and apparently is popular with surfers. There weren't any daring the waves today, but as I was walking through town I ran into Anna, the German woman from dinner. She said there was a cafe serving coffee and waffles in town. Sounded good to me! Unfortunately he had just run out of coffee! But the waffles were really good (was getting a bit hungry by this point!) and the cup of tea helped warm me up. It was less of a cafe than a guy just selling stuff out of his house! He spoke some English but didn't understand everything. Another group of tourists showed up while I was there.
Saksun
Saksun
Saksun
Saksun was the next planned stop, it is supposedly best to visit there for sunset. It was a gorgeous drive up the glacial valley, interesting as apparently the glaciers had nearly carved all the way through. The town of Saksun sat on the terminal moraine near the harbor which had silted up during a storm. Only a few people now live in Saksun but it is a popular spot with tourists, you could tell as there was a large parking lot here with bus slots. I was the only tourist here now though at 6:30PM. There was an old farmhouse setup as a museum but it had closed at 5PM. I got lucky to get the last bits of sunlight shining down the valley before the clouds moved in again.
It had already been a long day, although there was still a few hours of light left I was ready to head back to Torshavn for dinner. It took about 45 minute drive. I headed for the Etika sushi restaurant, arriving just at 7:30PM. Torshavn restaurants can get busy and you often need a reservation, but luckily they were able to get me a table. Unfortunately the sun was in my eyes nearly the whole time. The sushi looked very fresh, especially the salmon (which is farmed here). I ordered a mix of nigiri and lamb skewers.
Etika Sushi
After dinner I headed back to the B&B. There was a group of photographer guys staying here and they had out all their gear, medium format cameras, tripods, etc. I meant to come down and chat with them a bit but once I got to my room I just passed out..
May 26, 19, 9:04 pm
Join Date: Mar 2001
Location: Austin, TX -- AA PLT 2.8MM+ (life PLT); IHG PLT Ambassador; UA Gold
Posts: 5,443
May 9, 2019
Hotel: Faroe City View B&B; Torshavn, Faroe Islands; $76
Today I planned to visit the northeastern group of islands: Bordoy, Kunoy, Kalsoy and Vidoy. They were all connected via tunnels and bridges except for Kalsoy, which was only accessible via ferry. I knew there were a few ferries a day but hadn't checked the schedule, and found out that today (Thursday) they were not running the 10AM ferry. That left spending either 7 hrs or 3 hrs on the island. 3 was a bit short as I planned to do the Kallur lighthouse trek, which takes about 2 hrs, though not impossible. I had seen an itinerary for 'Six islands in one day' that I used as a template, they take the afternoon ferry and manage to fit in the hike.
The weather was not looking good this morning though, very overcast, dark and rainy. I left the B&B about 6:30 AM for the drive to Klaksvik. I was seeing if I could make the 8AM ferry, but you have to get there early as sometimes they can fill up 45 minutes before the sailing time! It was quite a long drive to Klaksvik, nearly 80kms and I wished I'd had found a place closer for at least one of my nights. I passed the road to Gjogv and through a tunnel to the town of Leirvik before crossing the other subsea tunnel, Nor­oyatunnilin is 6.3kms and descends 150m below the surface. At the bottom there are colored lights.
The tunnel exit is right at the southern edge of town. It took me a few more minutes to find the ferry terminal. It was about 7:35 and there were only two cars ahead of me in line. I had a few minutes so went and filled up the car at the gas station next door and rejoined the line. A few minutes later a few more cars arrived. The ferry was 160DKK roundtrip. The workers guided us onto the ferry. The weather started clearing up nicely so it seemed like going to Kalsoy first had been a good idea.i
Ferry to Kalsoy
Ferry ticket
The 20-minute ferry crosses over to Sy­radalur, the southernmost town on Kalsoy, a long skinny island. There are three other towns connected via 4 tunnels. I started driving up to the northern town of Tr°llanes and the Kallur Lighthouse trail. The sun came out in H˙sar just as I got my camera working again. There was a pretty red-roofed church here. The one-lane road continues on the eastern side of the island. The tunnels here were built in the late 70s and early 80s and are one-lane only with frequent passing bays. They're a bit creepy as they're unlit with very rough rock walls. I had heard of a fifth 'secret' tunnel to a cirque valley, it is off to the side about halfway down the Tr°llanestunnilin.
'secret' tunnel
Trollanes
I reached Tr°llanes at 9AM. The trail leads out north of town across a field and through a red gate. From there it was a steep and muddy climb up the side of the hill. Definitely not as good condition trail as the Traelanipan trek and hiking boots are recommended here. Once at the top, the trail still continued upwards though at a more gentle grade. There were a few rivulet cuttings to cross. The sun was out here but it was still cloudy over on Vidoy and Kunoy islands.
First view of lighthouse
Uh oh here comes the big weather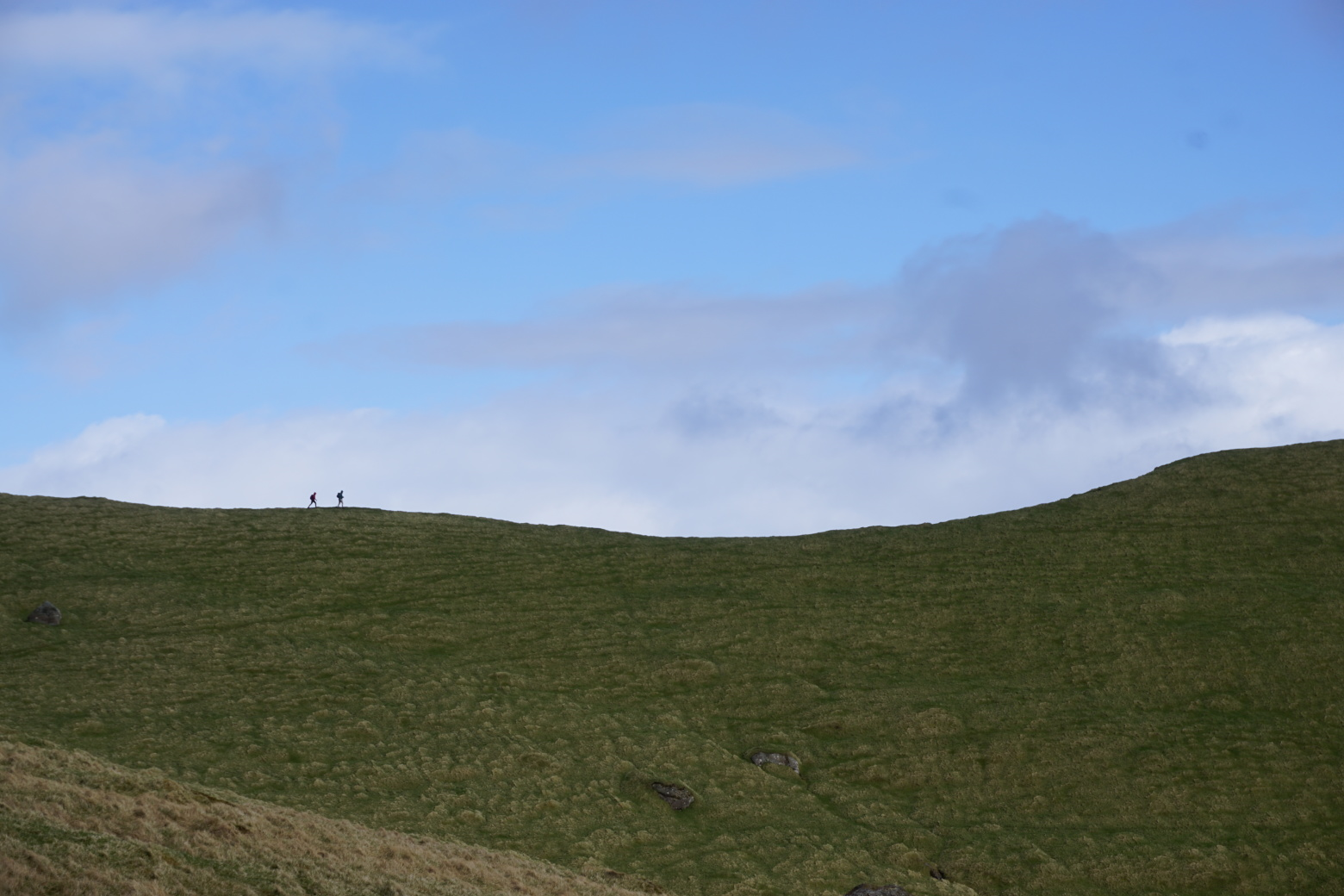 Hikers on ridge
I finally came over one ridge and caught my first glimpse of the lighthouse. There were already a few hikers on the ridges near the lighthouse. Crossing the final bit of cirque was a bit tougher, the trail was narrow and sloping so kept turning my ankles. The sun had disappeared and when I finally reached the lighthouse I could see a squall line blowing in across the water... obscuring Vidoy and most of Kunoy. The wind kicked in then, biting cold and sleet. I didn't want to risk going out on the other ridges and stood in the lee of the lighthouse, some other hikers came up to do the same.
Squall line
mucky trail
Luckily the sleet passed by quickly but the wind was still blowing and I just decided to go back down the trail. It was only 10 AM and still had 5 hrs to kill before the ferry! It took about 45 minutes going back down the hill. The hardest bit was right at the end going back down the muddy slope into town, I slipped several times but luckily was able to catch myself. As I was crossing the field, a farmer came up to catch a lamb and the mama was bleating sadly. I wandered around what there was of Trollanes. One of the locals setup a 'Kiosk at the end of the World' but was closed up tight. The name of the town comes from legends of trolls coming out to dance at night. They are still thought to inhabit some of the rocks in town.
Kiosk at the End of the World
Artistic shot
I left Trollanes about 11:15 and drove back through the tunnel to the next town of Mikladalur. There is a statue here, the Kˇpakonan or Seal-Woman. The legend is that seals would come ashore and shed their skins to become human. A farmer fell in love with one of the women and stole and locked away her skin and forced her to become his wife. After several years and kids she managed to get the skin and turned back into a seal. Then she came in a vision to the farmer saying you may kill seals in the seal hunt but spare my mate and children. Well the village killed all the seals, so she cursed the villagers. Lovely story...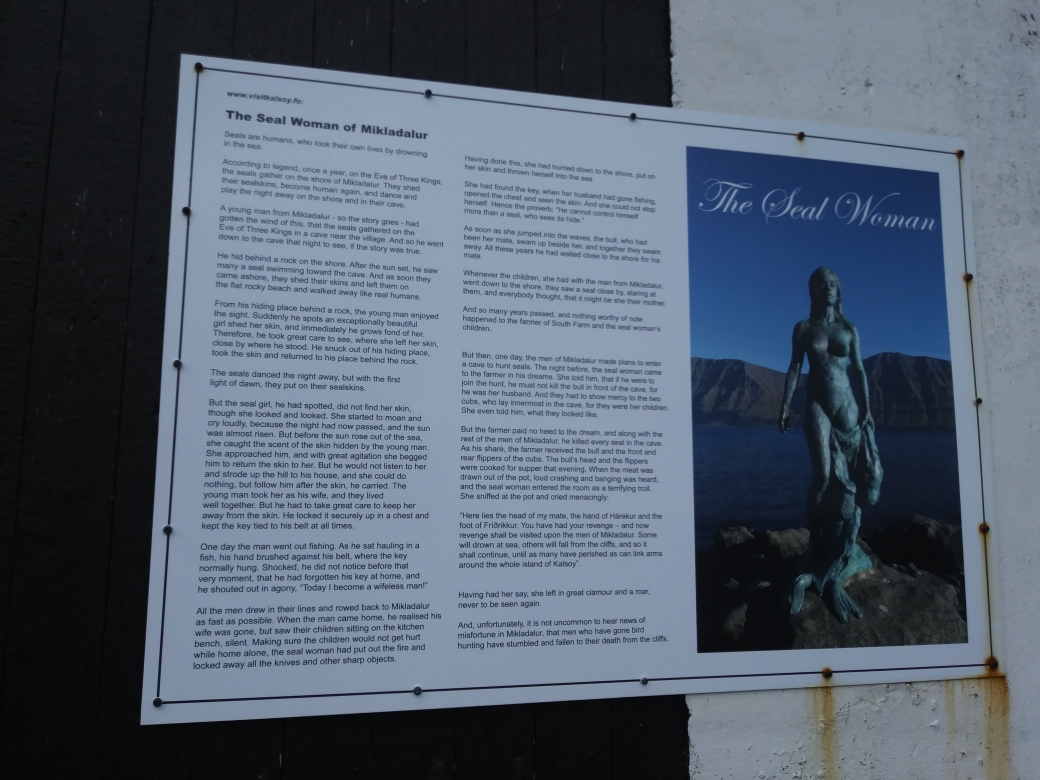 I drove back to Sy­radalur but still had several hours to wait! There wasn't much in town itself so I drove back down to the ferry where there were already a few people waiting. I got in line then walked down to the pier. There had been a sign up in town saying there was a ~20 minute walk to a lighthouse, that would kill some time. There was a young woman there who I'd seen up at the lighthouse and we hiked down the trail... quite muddy and mucky as well and I'd already cleaned my boots!
Ferry from Iceland
Got back to the car just in time as it started raining and sleeting for the next hour! The Smyril Line ferry from Iceland passed by at one point. I laid down for a nap in the car for a bit. The ferry time came and went and still couldn't even see the ferry coming so I got a bit worried. Finally though the ferry showed up 20 minutes late and we were back in Klaksvik by 4PM. I stopped by the gas station and got a hotdog with water for a snack. They have a hollowed out bun they fill with sauce (mayo?) then stuff in the hotdog. Not bad for cheap eats.
Vidoy
I drove from there to Vidoy island, passing through two tunnels. These were one-lane as well but had traffic coming the other way, at least on the outbound I had right of way. The island of Vidoy is reached by a causeway, then I continued up the road and through the newest tunnel in the Faroes, completed in 2016 and is welll lit with lanes in both directions. The town of Vidareidi is one of the northernmost towns in the Faroes and has a view across to Kunoy and Bordoy island. It was also quite a large town compared with most others. The rain had finally stopped here! I went and had a look at the church before heading back down the old road on the west coast. This road was often closed due to landslides, hence the new tunnel.
Vidareidi church
Causeway to Vidoy
Back to Bordoy island then across another causeway to Kunoy, my final new island of the day. The town of Kunoy is on the western side of the island, reached by yet another tunnel. I spent a few minutes walking through town. The rain had stopped here as well but it was still cold and grey.
Kunoy village
Kunoy
I was pretty tired by now and it was a long way (90km) back to Torshavn. It was about 6PM when I left and I was fighting sleep on the way back. I got back to the B&B and just wanted to crash, it had been a 13-hour day out and about. I finally made an attempt to go out to eat about 8:45 but got to the car and it started raining and I didn't want to bother. The owner of the B&B was there though and she offered me some cookies.
.
---
Last edited by hauteboy; May 26, 19 at

9:15 pm
May 26, 19, 9:24 pm
Join Date: Jul 2005
Location: MKE
Programs: DL DM, 1.907 MM; HH Diamond
Posts: 645
Thank you. Great pictures - and I can't tell which ones were from your camera or phone (maybe a FT thing?).
How did you get the upgrade to CDG? You just said 'at check in.' Unlike some other reports you do a lot of TATL/TPAC in coach - which I admire. But the missus likely wouldn't do
But you fly so much I don't get why you don't have more J flights on points/miles. Family trips?
May 26, 19, 9:42 pm
Join Date: Mar 2001
Location: Austin, TX -- AA PLT 2.8MM+ (life PLT); IHG PLT Ambassador; UA Gold
Posts: 5,443
Originally Posted by
TommyD2
Thank you. Great pictures - and I can't tell which ones were from your camera or phone (maybe a FT thing?).
How did you get the upgrade to CDG? You just said 'at check in.' Unlike some other reports you do a lot of TATL/TPAC in coach - which I admire. But the missus likely wouldn't do
But you fly so much I don't get why you don't have more J flights on points/miles. Family trips?
Thanks! The camera ones tend to be slightly sharper and colorful and less washed out but even with my camera a lot come out blurry. All the ones after and including the snow curve near Eidi up to the ferry ticket the next day were phone pics. From Mikaladur it alternates between. My phone does OK but iphone photos are typically much better quality side-by-side.
Air France website just offered the upgrade during checkin at the seat selection option.
I don't fly that much really, when I do it's typically lowest fare which doesn't earn squat anymore. I earn far more points from my ccards than flying but I've burned through most of my air miles. Only 17k AA and 58k UA so not enough to really go anywhere interesting, certainly not in J.
May 27, 19, 4:31 am
Moderator: Trip Reports
Join Date: Jul 2013
Location: Dubai
Posts: 3,123
Why, looks an amazing part of the world
.
Those seventeen courses at Koks looks like quite an experience, definitely one for the culinary bucket list!
Such beautiful landscape too, quite surreal with the massive cliffs, rough seas, sprinkles of snow and lack of trees.
You'll have to head to Greenland now and complete the Kingdom of Denmark trifecta
.