Spring Break Caribbean Island Hopping: Bonaire, Curaçao, Saba, St. Barts, Anguilla
May 21, 19, 9:42 am
Join Date: Mar 2001
Location: Austin, TX -- AA PLT 2.8MM+ (life PLT); IHG PLT Ambassador; UA Gold
Posts: 5,443
Spring Break Caribbean Island Hopping: Bonaire, Curaçao, Saba, St. Barts, Anguilla
---
We usually do a family trip in March during miss hauteboy's Spring Break as she gets two weeks off school. It's also SXSW in Austin which makes a mess of traffic so a good reason to bail town. We went to Ireland in 2017 and Provence in 2018. Mrs. hauteboy had been wanting a beach trip for awhile and I wanted to get in a dive trip. I saw that prices to Bonaire and Curacao were quite reasonable from Miami. Unfortunately they didn't meet up with cheap Austin-Miami fares or awards. I also wanted to get in some extra island hopping in the Caribbean, visiting several new TCC 'countries'. I kept waffling between Curacao and Bonaire when I saw that the weekly United Bonaire-Houston flight had opened saver award availability, which is often hard to come by. So I booked the return from Bonaire to Austin for miss and mrs hauteboy. I would spend another 4 days in the Caribbean visiting Curacao, Saba, St. Barts and Anguilla. I found award availability back from St. Maarten to Austin on Delta and booked the other connecting flights on Winair and Insel Air. For our stay in Bonaire, I booked the Courtyard Bonaire Dive Resort on points, a good deal at 12.5k/night. Unfortunately we would only be staying 4 nights so I couldn't take advantage of the 5th free night. I also booked the evening Austin-Miami flight using Avios. I kept holding out hope that the morning flight to Miami would open up award availability but no luck.
Looking at the other islands, I could either do a day trip to Anguilla, Saba or St. Barts out of St. Martin. There are frequent flights or a few companies run ferries. I couldn't find much availability in St. Barts at any reasonable price (Even AirBnb were $400+), so decided on a night in Saba and Anguilla with a daytrip to St. Barts. Coming back from St. Barts, I noticed there were also flights to Grand-Case airport on the French side. Despite it being slightly further to the Marigot-Anguilla ferry, I couldn't pass up getting another airport. Unfortunately I hesitated on booking and the price had jumped 10 EUR on St. Barth Commuter. Hotels in Anguilla are also quite expensive (mostly high end resorts like Four Seasons, Belmond, etc) but there are some reasonably priced AirBnbs.
A few weeks after booking the Bonaire-Curacao-St. Maarten flights, Insel Air went out of business! They lost their air certificate apparently. So called up Priceline and tried to get a refund but all I got was the script 'You want a refund? That's a nonrefundable fare'. So I said leave it. The next day I got a call from Priceline saying the airline had gone out of business and they would issue a refund. Gah. That left me in a bit of a bind to find new flights. The only airlines flying the route were Winair, Divi Divi Air and EZ Air. WinAir times weren't great and I couldn't get EZ Air to price a one-way. So settled on DiviDivi Air, though now the flight left at 9:15 instead of the same 7:25 departure time as the United flight.
flights:
Code:
MAR12 -- AUS-MIA AA
MAR13 ++ MIA-BON AA
MAR17    BON-CUR DI
MAR18    CUR-SXM 3S
MAR18    SXM-SAB WM
MAR19    SAB-SXM WM
MAR19    SXM-SBH WM
MAR19    SBH-SFG PV
MAR20 -- SXM-ATL DL
MAR20 -- ATL-AUS DL
hotels:
Code:
MAR12 -- Miami, FL Hyatt Place Miami East
MAR13 -- Bonaire Courtyard Bonaire Dive Resort
MAR14 -- Bonaire Courtyard Bonaire Dive Resort
MAR15 -- Bonaire Courtyard Bonaire Dive Resort
MAR16 -- Bonaire Courtyard Bonaire Dive Resort
MAR17    Curacao Curacao Airport Hotel
MAR18    Saba Scout's Place
MAR19    Anguilla Silver Ray's apartments
May 21, 19, 9:52 am
Join Date: Mar 2001
Location: Austin, TX -- AA PLT 2.8MM+ (life PLT); IHG PLT Ambassador; UA Gold
Posts: 5,443
Mar 12, 2019
Flight: Austin, TX (AUS) to Miami, FL (MIA); American Airlines; economy
Hotel: Hyatt Place Miami Airport East
Fairly easy segment today. We headed to the Austin airport to catch our late evening flight. SXSW wasn't in full swing yet and UT Spring Break hadn't started so it wasn't so busy yet at the airport. Unfortunately we didn't have any lounge access since AA flight was domestic only today. We grabbed some dinner. Flight to Miami was uneventful and we caught the shuttle to the nearby Hyatt House hotel. At 8000 points for an free night it was a good deal considering the price of Miami hotels.
Mar 13, 2019
Flight: Miami, FL (MIA) to Bonaire (BON); American Airlines; economy
Hotel: Courtyard Bonaire Dive Resort
Our flight to Bonaire didn't leave until noon so we had an easy morning and time for breakfast at the hotel before catching the shuttle back to the airport. Security was busy but not horrible with TSA Pre-check line. Afterwards we went to the Centurion Lounge. I had been to the Houston one a few times but this was the first time I had been to the Miami lounge. The lounge was quite busy but luckily we were able to find some seats. Miss hauteboy went off to the kids room to play on the ipad for a bit. The lounge had a good view out over the tarmac and I saw the American Airlines Astrojet.
Centurion Lounge MIA
Centurion Lounge MIA
Centurion Lounge MIA
Centurion Lounge MIA
It was a bit of a walk to our gate so we caught the Skytrain down to gate D32. The flight to Bonaire was about 3 hours and otherwise uneventful. On arrival we disembarked via stairs and walked to the terminal. Flamingo airport was unsurprisingly painted pink. Immigration was quick and easy and I grabbed some cash from the ATM (Bonaire is part of the Netherlands but uses the USD) and walked over to the rental car building. There were a few people ahead of us in line at Avis so took awhile to get sorted. They offered a slightly bigger car which worked out well. Then drove the quick drive to the Courtyard hotel, which is located just a few minutes from the airport. The setting isn't necessarily the nicest, being on a man made canal but the buildings are all painted bright pastel colors in colonial Dutch style.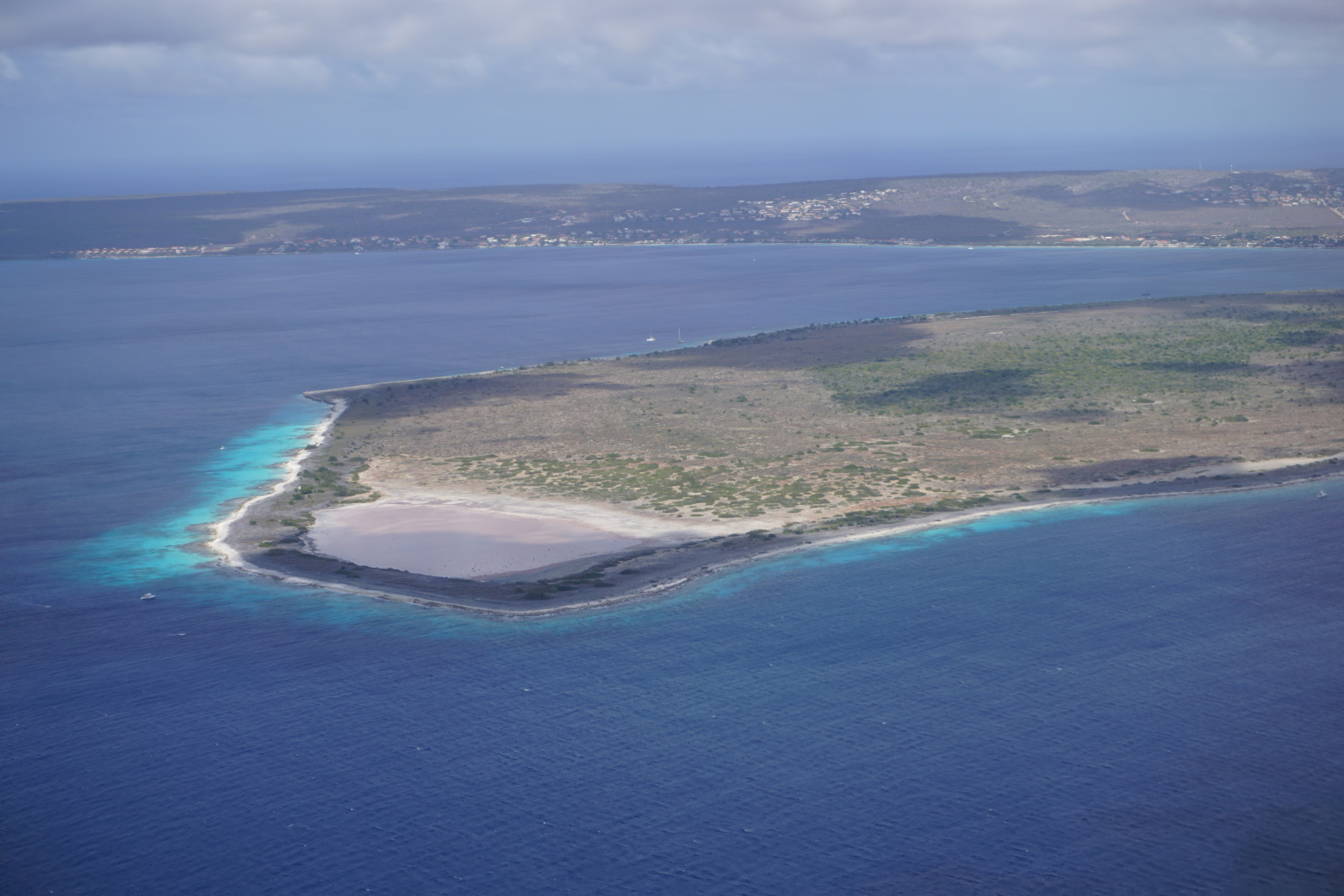 Klein Bonaire
Arriving into Bonaire
Courtyard Bonaire
Not the best view though..
We checked into our home away from home for the next four nights. We were pretty hungry now and had dinner at the hotel restaurant, though technically it was still their lunch menu. They had 'Keshi Yena', a local speciality of Edam cheese rind filled with meat, but unfortunately did not have any available. So just ended up having a burger but wasn't very impressed.
After dinner we drove out to explore a bit. I wanted to get diving trip sorted first though. The hotel has a dive shop attached, i had emailed the hotel previously but hadn't heard back. Luckily the dive shop had one slot open for Friday for a two-tank dive. It was hard to believe it had been over 3 years since my last ocean dive in Fernando do Noronha! I had done a refresher dive in Austin a few months previously before my planned trip to Niue.
Donkey Beach
We first drove back past the airport to the 'beach'. There is some sand here under the Divi trees, but mostly rocky coral. It was busy with locals enjoying the nice weather. We drove up into town then down along the shore road. The sun was setting and miss hauteboy passed out asleep. There was a huge Princess cruise ship in port.
May 21, 19, 10:43 am
Join Date: Mar 2001
Location: Austin, TX -- AA PLT 2.8MM+ (life PLT); IHG PLT Ambassador; UA Gold
Posts: 5,443
Mar 14, 2019
Hotel: Courtyard Bonaire Dive Resort
We had breakfast buffet at the hotel, but wasn't too impressed. Especially for the price. Afterwards we hung out at the pool for awhile. Miss hauteboy is a fish and could have spent hours there, and mrs hauteboy had some articles she was reading. Eventually I started to get a bit antsy and wanted to get out to explore! We hopped in the car and drove towards the southern part of the island. Bonaire has a quite arid climate and the southern half of the island is used for salt production. There are pink evaporation ponds and huge piles of gleaming white salt. Historically the salt production was done by slaves and there are still some slave huts along the shore, too small to stand up in.
Salt transport
Salt pans
White Slave Huts
Bonaire is very popular for scuba divers, the offshore was declared a marine preserve back in the 1970s. It is out of the normal hurricane belts so the coral reefs are in excellent condition. It is very easy to dive just right off the shore and we passed many pickup trucks and divers suiting up. The water was an amazing blue color.
We then drove across the island to Foodie's Restaurant for lunch. Across the way was Lac Bay, a shallow turquoise bay popular with windsurfers. After lunch we headed across to the point where we saw the windsurfers skidding by at crazy speeds. Then we headed south around the wild southeastern coast, this is the part facing the Caribbean and gets the brunt of the waves. No development here other than the lighthouse at the southern end. There is a flock of flamingoes nearby but they were some distance away on the salt pans and we couldn't get any closer.
We came back around the west coast and stopped at the yellow slave huts. The salt pans had obelisks painted in the colors of the Dutch flag to mark where ships should arrive.
Later that afternoon I had to go to the sister dive shop to get kitted out for my dive tomorrow and do a bouyancy check. I needed extra weight as I tend to turn into a cork when my tanks are near empty! Luckily the dive check was quick, just walk across the street from the shop and a shore dive by the pier.
For dinner that evening we weren't too keen on the hotel restaurant, so ended up going to Joe's Restaurant nearby. Ended up being a good choice. We didn't have a reservation but it was still early and they luckily had a table available. We ordered the seafood sampler and fish. The seafood platter alone would have been plenty! Marlin ceviche, tuna, fried cheese, oysters, etc. Huge portions and good food. After dinner they offered a taste of their homemade spiced liquor, delicious! Most of the waiters were from the Netherlands.
Seafood sampler
May 21, 19, 2:39 pm
Join Date: Mar 2001
Location: Austin, TX -- AA PLT 2.8MM+ (life PLT); IHG PLT Ambassador; UA Gold
Posts: 5,443
Mar 15, 2019
Hotel: Courtyard Bonaire Dive Resort
An early start for me this morning for my dive trip. I had brought my underwater camera but didn't have a good way to attach it so bought a lanyard at the shop. Divers also require a park pass, a bit expensive at $45 but it is good for a year. They used to have one good for a week but stopped this year.
Bonaire Diver/Nature tags
I got suited up at the dive shop then boarded the boat with the divemaster and a few others before setting off to pick up the rest of the group. An interesting group, a girl from the Netherlands there with her husband and kids but they had to alternate diving days, an grandma from Canada who had just started diving a few years ago and was staying in Bonaire for a month, another older couple, and a father/son.
Everyone was unanimous in wanting to dive Klein (Little) Bonaire.. since most of them had already been doing shore dives but you needed a boat to get to Klein. Our first dive site was Forest at the southwest corner. Good weather today and relatively smooth so no issues getting in the water. Spent 52 minutes at max depth of 62'. The quality of the soft sponges and coral was amazing, some of the best I've seen. Saw a lionfish and a sea snake (krait). I ended up near depleting my tank by the time I got back to the boat.
After an hour surface time we continued to Sharon's Serenity. I'd forgotten to charge my camera battery so it ran out fairly quickly unfortunately.
Normally after a dive I'm totally wiped but felt fine getting back to the boat. We dropped off the others before going back to the Courtyard. Then met up with miss and mrs hauteboy who had spent the morning at the beach. We went back to the beach to the King Kong Bonaire food truck which serves hot dogs and burgers.
Food Truck
After lunch we drove around looking for a laundry. There was a self-service place where we were able to start a load. On the way out, Google maps did me wrong and I almost got in an accident going the wrong way on a one-way street! The guy started yelling at me when I drove off. We stopped at town for some ice cream. Then drove back to the hotel and dropped them off while I headed out again to get some more pictures and pickup the laundry.
For dinner we went back to Joe's. This time I got the rack of pork ribs, super tender and way too much to eat at one sitting!
Joe's Pork Ribs
May 21, 19, 2:50 pm
Join Date: Mar 2001
Location: Austin, TX -- AA PLT 2.8MM+ (life PLT); IHG PLT Ambassador; UA Gold
Posts: 5,443
Mar 16, 2019
Hotel: Courtyard Bonaire Dive Resort
We headed into town for an early breakfast. The first place we checked was supposed to be open, but I assume 'island time' came into play. We came across a bakery/cafe and got a basic breakfast there. The owner said 'don't worry pay when you leave'. Which of course I forgot to do and didn't realize until we were halfway back to the hotel 'fuuuu... we forgot to pay!'
I had to drop my dive gear back at the shop so had to go pick it up at the hotel, went back to the cafe to pay (they said thank you!) and then dropped my dive gear. Then back to the hotel to lounge around the pool until lunchtime. Lots of running around! We went into town for lunch.
The entire northeast corner of Bonaire is the Washington Slaagbaai national park with hiking trails and bokas (ocean eroded slots). It took us nearly 40 minutes to drive out to the park, only to realize at the park gates we had forgotten the receipts for the snorkel/dive pass.. merely having the physical tag wasn't enough! Otherwise it was going to be $40 each to enter! So a bit disapponted we left for the drive back to town. Along the way we stopped at the Indian Inscriptions site. This part of Bonaire was wild and rugged, covered in limestone outcroppings and cactus. The inscriptions were in a cave and supposedly were made to depict astronomical events. The Onima Boka was nearby with a row of windmill turbines.
Guest iguana
We went back to the hotel to change. There are lizards everywhere in Bonaire and we had a guest iguana waiting on our patio! We then went to Te Amo beach for a bit. The beach is right next to the airport and we saw several flights landing including the United flight arriving in from Houston, it spends the night in Bonaire. I had been on the hunt for pastechis, the local form of empanada. But they are more a breakfast/lunch thing and a few places we checked were already sold out. For dinner we just went to KFC!
May 21, 19, 5:05 pm
Join Date: Mar 2001
Location: Austin, TX -- AA PLT 2.8MM+ (life PLT); IHG PLT Ambassador; UA Gold
Posts: 5,443
Mar 17, 2019
Flight: Bonaire (BON) to Curacao (CUR); Divi Divi Air; DHC Twin Otter economy
Hotel: Curacao Airport Hotel
Already our time in Bonaire had come to an end. A very early morning today as mrs and miss hauteboy were heading back to Austin on the 6:30AM United flight. I drove them to the airport about 430AM and said our goodbyes as they went through security. I then went back to the hotel as it was so close. Got a nice surprise at checkout as our original reservation had a $39 per night charge for an extra person in the room, but they didn't add it to the bill.
Courtyard Bonaire
I left for the airport about 7:30 but the Divi air desk wasn't yet open. I was finally able to find some pastechis at the airport cafe. The checkin finally opened and it was quick through security to the waiting area. The Divi Divi Air flight was on a DHC Twin Otter and a quick 30 minutes over to Curacao. Arrival was quick and easy.. on a Sunday morning the terminal was deserted.
Bonaire airport
Curacao Airport
I got some cash at the ATM (Curacao still uses Antilles Guilders) picked up my Hertz rental car and drove to Willemstad, about 20 minutes. The Renaissance casino at the Rif Fort has free parking. The mall area itself was dead and nothing yet open. The weather was mostly cloudy. I crossed the Queen Emma pedestrian bridge over to Punda. The bridge is a pontoon bridge that swings open several times a day to allow traffic from Curacao's harbor to pass through. There is a huge refinery and there is usually a cruise ship or two in port. However today there weren't any cruise ships and the town was quiet, quiet.
I spent an hour or so wandering around Punda on the self-guided architectural tour. The central part of Punda is old Dutch colonial architecture from the 1700s and 1800s painted in bright colors. I crossed back over to Otrabanda where I had a refreshing fruit smoothie. The sun then decided to come out so I went back to Punda to get better photos of the colorful buildings. The town finally started coming alive a bit more. I went back to the Rif fort and had a touristy lunch with a great view at Steak & Ribs, followed up with an ice cream for dessert.
I wanted to see a bit more of the island and decided to head up to the northeast coast and the Shete Boka National Park. The drive took about 50 minutes after hitting traffic on the main north road. The Park closes at 5pm but they said I only had until 4:30. Still that gave me about 90 minutes to explore the rugged coastline and do a few hikes to the bokas. The first one, Pistol Boka was in the process of forming, with a thin slot that would spray out water continuously with the wave action. Another boka had a huge fossilized sponge and corals.
It was pretty hot and humid and I grabbed a couple of bottles of water before heading off to the next destination, Grote Knip beach. Apparently this is where everyone was in Curacao today as it was packed.. I had to park some distance down the road and walk down. The beach was a gorgeous strip of white sand filled with locals and tourists, playing loud music and BBQing. Some daring folk were diving off the rocks into the blue water below. As inviting as the water looked I didn't want to bother getting changed (no towel, plus sand everywhere). I grabbed another fruit smoothie just in time as the kiosk was closing.
Grote Knip beach
I wanted to visit another beach, Cas Abao but it was too late and by the time I got there it was closed. I continued back towards the airport and stopped at the Flamingo viewing area. It took a bit of hunting around before I found them.
I had booked the Curacao Airport Hotel for the night as I had a fairly early flight tomorrow to St. Martin. Checkin took forever. There was some event going on at the hotel (Aruba Day celebrations) and they had a band and food setup. Luckily my room was on the opposite side so I couldn't hear the music. I went down to the patio to check it out but the music was way too loud. I did manage to grab a bit of food, a local speciality pan stoba which is bread filled with a meaty stew.
Curacao Airport Hotel
Pan Stoba
May 22, 19, 11:35 am
Join Date: Mar 2001
Location: Austin, TX -- AA PLT 2.8MM+ (life PLT); IHG PLT Ambassador; UA Gold
Posts: 5,443
Mar 18, 2019
Flight: Curacao (CUR) to St. Martin (SXM); Air Antilles; ATR72 economy
Flight: St. Martin (SXM) to Saba (SAB); Winair; DHC Twin Otter economy
Hotel: Scout's Place; Windwardside, Saba
My flight to St. Maarten was at 9:15 AM this morning so another early rise, too early for breakfast at the hotel. I went and found a gas station to refuel then dropped the car. The airport still wasn't very busy this morning. I bought some pastechis with my remaining guilders and checked in for the flight. They weren't able to print out my connecting flight to Saba though for some reason.
I grabbed an iced coffee in the cafe once past security. There is a Priority Pass lounge in Curcaco but it's currently closed as the airport was undergoing renovation. We finally boarded a bit late via bus and I found out it was actually an Air Antilles ATR-42 not a Winair plane. Most of the announcements and reading materials were in French. The flight to St. Maarten was about 2.5hr.
Air Antilles CUR-SXM
Mrs. hauteboy and I had been to St. Martin for our 1st anniversary many years ago but I hadn't been back since. It had been damaged extensively by Hurricane Irma so I was interested to see how the recovery was coming along. The airport still was undergoing restoration. Since I didn't have a boarding pass I had to clear immigration then go back through security. Unfortunately we came in right after a Delta flight and it took awhile to get through immigration. Getting the boarding pass took 20 seconds, then the security line took nearly 40 minutes getting back through! I was a bit worried about making the connection, I'd only had 1h20 minutes originally.
Maho Beach, St. Maarten
View of Saba
The flight to Saba was also on a Twin Otter plane. The runway in Saba is one of the shortest commercial runways in the world (400m) and only certain planes and trained pilots can land there. It was a gorgeous clear day and I could see Saba in the distance as we took off from St. Maarten. The flight is a quick 20 minutes. Landing was a bit scary as we had a crosswind landing and the runway looked super short!
Landing in Saba
On arrival got stamped in but had to wait awhile for the bags to come out. While I was waiting I walked outside to see what the taxi situation was. There was an old guy standing there and he asked if I needed a taxi. I asked about an island tour, for $50 seemed like an OK deal. Finally the bags came out and we set off.
Saba is a dormant volcano, at 2910' it is the highest point in the Netherlands. The steep sides pose a challenge to getting around, the small hardy population (~2k) of three towns had to haul everything over steep mountain trails until the 'Road that Couldn't Be Built' was blasted through the mountains in the 1950s. Garvis's family had been one of the first settlers Saba.
From the airport 'The Road' snaked up the mountain to Zion's Hill before continuing to Windwardside, the main town and where my hotel was located. Garvis dropped me at the hotel and said he would return in 20 minutes. The buildings in town were tiny and cute with gingerbread accents. My room had a great view off the balcony. I walked down the street to get some water and snacks at a store while waiting on the taxi to return.
Scout's Place hotel
We continued along The Road to The Bottom, the other town. There was a good view from above the town. The taxi driver mentioned there is a medical school here. We stopped at an old church with gorgeous painted interior, then continued down the road to the port. From the port we continued back up The Road and returning to Windwardside. It was about 3pm at this point and Garvis said it would be a good idea to climb the mountain today as the weather was so clear (normally the peak is obscured by cloud). He said he used to go up and down several times a day!
Windwardside
The Road
View of Statia, St. Kitts and Nevis
The Bottom
Courthouse
Road to Fort Bay
Windwardside
He drove me up to the top of the mountain road where it met the trail going up the mountain. I started off about 3:20. The trail up was well maintained and easy to follow. Very lush vegetation around which provided some shade. Eventually coming around some of the ridges the wind picked up too with a cooling breeze. I'm fairly out of shape so started needing to take more frequent rest breaks. As I was resting another guy came up the mountain, he'd been working in Saba and had been up a few times before. The trail eventually got steeper with handrails and the foliage opened out so I started overheating a bit and had to take even longer rest.
Finally I made it to the top right at 5PM! The view below to Windwardside was amazing, and was possible to see across to St. Eustatius, St. Kitts and even hazy Nevis in the distance. I didn't stay long though as sunset would be in an hour. Going down was easier but a bit longer as I had to descend an extra 150m to town below. I was racing the sunset to get back to down before it got dark. Finally got back to the hotel just before 6:30 where I sat for awhile relaxing, I knew I would be sore tomorrow!
For dinner I went out to the Brigadoon restaurant which was very good! I accidentally left my backpack there but they called after me as I was leaving!
May 22, 19, 4:14 pm
Join Date: Mar 2001
Location: Austin, TX -- AA PLT 2.8MM+ (life PLT); IHG PLT Ambassador; UA Gold
Posts: 5,443
Mar 19, 2019
Flight: Saba, Netherlands (SAB) to St. Maarten (SXM); Winair; DHC Twin Otter economy
Flight: St. Maarten (SXM) to St. Barthelemy (SBH); Winair; DHC Twin Otter economy
Flight: St. Barthelemy (SBH) to Grand Case, St. Martin (SFG); St Barth Commuter; economy
Hotel: Silver Ray Apartments, Airbnb, $100
Today was going to be a long day scoring a hat trick. Wake up in the Netherlands (Saba), lunch in France (St. Barts) and dinner in the UK (Anguilla). It was another gorgeous clear day today. I had arranged for Garvis to give me a ride to the airport this morning at 6:30. The hotel front desk wasn't even open, so called the number and they said just leave the key in the room. Arrived way too early at the airport as the checkin agents didn't arrive for awhile. They were able to give me boarding passes for my connection to St. Barts.
SAB-SXM
SAB-SXM
Flight to St. Maarten was quick and since I already had a boarding pass I was able to go through transit. Unlike yesterday there was no line at all for security. We boarded the flight. In the seat back pocket was a fan printed with Domino's ad. They said you could order pizza flown to Statia or Saba from the Domino's at SXM airport! The flight to St. Barts was a quick 20 minutes with a good view out over Philipsburg. Landing is a bit of a thrill as the plane descends over a saddle barely 20' above the cars below. Arrival was quick and I picked up my rental car and set off for Gustavia, the main town on St. Barts.
SXM-SBH
SXM-SBH
St. Barts airport
St. Barts was originally French but sold to Sweden from 1784-1878. Gustavia is named after King Gustav III. Some of the streets are dual-labeled with French and Swedish names. The town was crazy busy and I had to drive around awhile to find parking, eventually finding a place on the opposite side of the harbor. St. Barts has a reputation of being tres chic but tres cher. The harbor was full of megayachts and there are shops for Cartier, Hermes, Bvlgari, etc. Some cute colonial French architecture. I had an ice cream before wandering over to Shell Beach just over the hill from town.
Shell Beach
The car rental place had mentioned Gouverneur Beach was good to visit. The drive took about 10 minutes up and down the steep hills past villas that often rent for upwards of $1000/nt. Despite being an expensive place, the roads didn't appear to be up to normal French standard. Got lucky on arrival as someone was just pulling out of a parking space. I spent about 40 minutes here swimming and playing in the clear blue water.
Gouverneur Beach
Gouverneur Beach
I continued driving around the eastern side of the island, taking a wrong turn initially at Le Tamarin. The southeast coast is much more rugged, arid and undeveloped. The road curved around back to the north shore. I stopped in the town of Le Orient. There is a huge colorful cemetery here. I had lunch at JoJo burger, one of the cheaper places to eat in St. Barts. I had a fruit smoothie and the JoJo burger and it still came out over 30 EUR!
L'Orient cemetery
JoJo burger
After lunch I continued to the beach at St. Jean. This beach is at the end of the airport runway and most of the beach is roped off. The airport is fairly busy with planes arriving and departing every 15-20 minutes. A helicopter was taking off while I was there. I still had a few hours before my flight so drove up to the northwest corner of the island to Flamand Beach. La Langouste restaurant is here, one of the places I'd been debating to try.
I drove back to the airport, getting a buzz cut as a plane came in overhead! I stopped at the top of the hill to get a picture of the next landing plane. Then down to the gas station before returning the car. Still early, I walked across the street to the grocery store which was quite busy. All I wanted was something to drink but it took 15 minutes in line just to buy some orange juice, which I'd already drunk by the time I got to the register. It was quite warm out!
Riu Resort St. Martin
Grand Case airport
The airport was air conditioned so I settled in there to wait for my next flight. The St. Barths Commuter plane was a Cessna Grand Caravan. The flight goes to the Grand-Case on the French side of St. Martin. At only 19 miles I think it is my shortest 'domestic' flight ever! Got another good view on takeoff and the north part of St. Martin. We crossed over the old Le Meridien (now Riu Palace) where mrs hauteboy and I had stayed previously.
I was worried about finding a taxi at the airport, but luckily there were a few waiting. It's a further distance from Grand-Case airport to Marigot than from SXM airport. We passed through the town of Grand Case which had recovered from the hurricane and the rows of restaurants were now reopen. I recognized one of them where we had gotten quite tipsy before!
I'd hoped to catch the 4:30 ferry to Anguilla but had literally just missed it. The ferry runs every 15 minutes from Gare Maritime in Marigot to Blowing Point in Anguilla, takes 20 minutes and costs $20+ departure tax. There are some private companies that offer boats directly from SXM airport to Anguilla but are more expensive and don't run as often. The ferry departed a bit late so it was closer to 6PM by the time we arrived into Anguilla. Entry was quick and I started walking up the few blocks to my AirBnB. I had debated renting a car but they were out of vehicles apparently.
Marigot, St. Martin
Marigot, St. Martin
Pork Ribs
AirBnb
AirBnb
The owner wasn't at the apartment yet but his cousin got me sorted. I settled into the apartment then walked back across the street to Coconos, a hole in the wall restaurant where I ordered some pork ribs for dinner. Delicious! Back at the apartment, there was a Romanian woman staying downstairs. She wanted to go out for drinks, so since she had a car I joined along. Anguilla drives on the left but the car was also left hand drive so that was confusing. We first drove to Elvis Bar at Sandy Ground but it was pretty dead. Then we went to the center of 'The Valley' town. There was a strip of bars/shacks. Stopped at Sharpy's Shake Shack and I tried one of the local beers, AXA. I will say it was not very good! There were some locals sitting next to us and even they said Why are you drinking that? heh. After there we went back to Elvis Bar which was a bit more active. There was a UT basketball game on the big screen and a sandy beach bar. Went back to the apartment where I passed out.
---
Last edited by hauteboy; May 22, 19 at

4:21 pm
May 22, 19, 11:06 pm
Join Date: Nov 2011
Posts: 109
If you're ever back in St Barts you can definitely do better than JoJo Burger for food!

I figure with the Coconut Telegraph picture you may be a Jimmy Buffett fan. One of your pictures has a parked Pilatus with the blue stripe down the side. That's his airplane (or maybe more accurately, one of them).
May 24, 19, 8:57 am
Join Date: Mar 2001
Location: Austin, TX -- AA PLT 2.8MM+ (life PLT); IHG PLT Ambassador; UA Gold
Posts: 5,443
Mar 20, 2019
Flight: St. Maarten (SXM) to Atlanta, GA (ATL); Delta; economy
Flight: Atlanta, GA (ATL) to Austin, TX (AUS); Delta; economy
Today was my final day of the trip. I had the morning free in Anguilla before my afternoon flight to Atlanta. There was a nearby bakery which had egg+bread for breakfast. The weather this morning was kinda meh though, mostly cloudy and grey skies.
I had arranged a taxi tour of the island this morning at 8:45AM. There aren't really a huge number of sights in Anguila.. it's a relatively flat island and the main reason to come is the beaches at the exclusive resorts and villas. So that's basically what I got to see on the tour. The driver took me around to a few of the resorts, starting with the CuisinArt on the southwest coast (I thought that was a food processor!). The CuisinArt starts at $600/night and is one of the cheaper resorts on the island. The guard at the gate just waved us in. I wandered in and around the grounds for a few minutes. The rooms were in white and blue blocks with a Greek theme. There was a huge kids playground and open-air dining. The resort didn't seem so busy. The freshly raked beach had a view out across to St. Martin.
CuisinArt
The Belmond Cap Juluca resort was the next place we visited, also on the southern coast. Even more frou-frou than the Cuisinart and goes for $1k+/night in high season. The beach here was a gleaming white arc of raked sand. Probably a bit too fancy for my tastes! Each villa comes with a golf cart for moving around. The seafood buffet at Pimms was $95.
Belmond Cal Julaca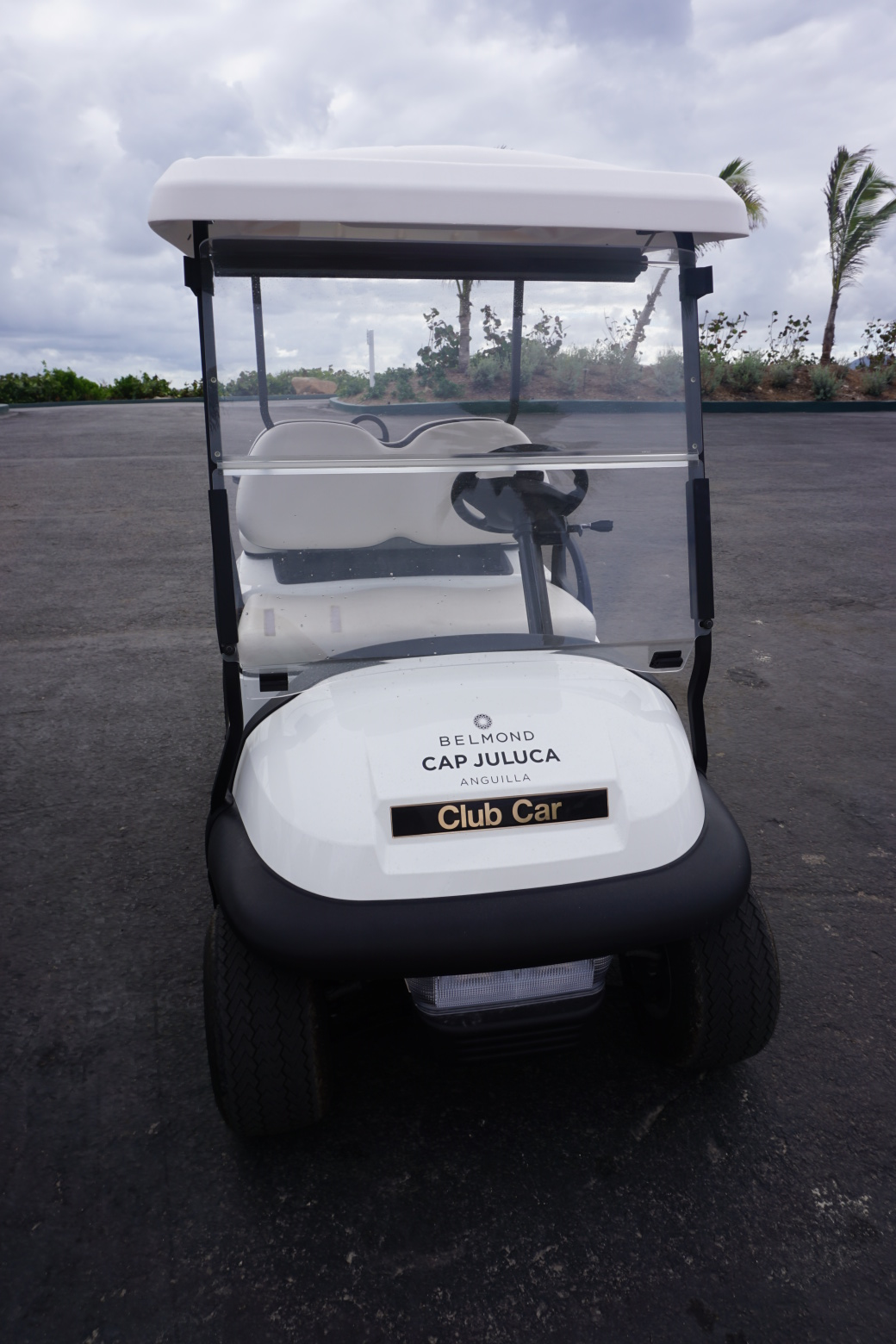 Pimms restaurant
From there we crossed to the north side of the island at the Four Seasons resort. Didn't get out to look around here though. Then continued onto another beach near Carimar Beach club. There was a shack/beach bar here.
Four Seasons
View of Sandy Ground
It started raining as we drove through The Valley to the northeast corner of the island. Shoal Bay Beach is here and one of the most popular public beaches. However today it was super quiet with just a few people sitting out on the chairs. Another gorgeous stretch of white sand and blue water. You can rent beach chairs and umbrellas for $5/each so not too expensive. There was an old woman (Aunt Bea) sitting there making bracelets and necklaces, I bought a couple for miss hauteboy.
Shoal Bay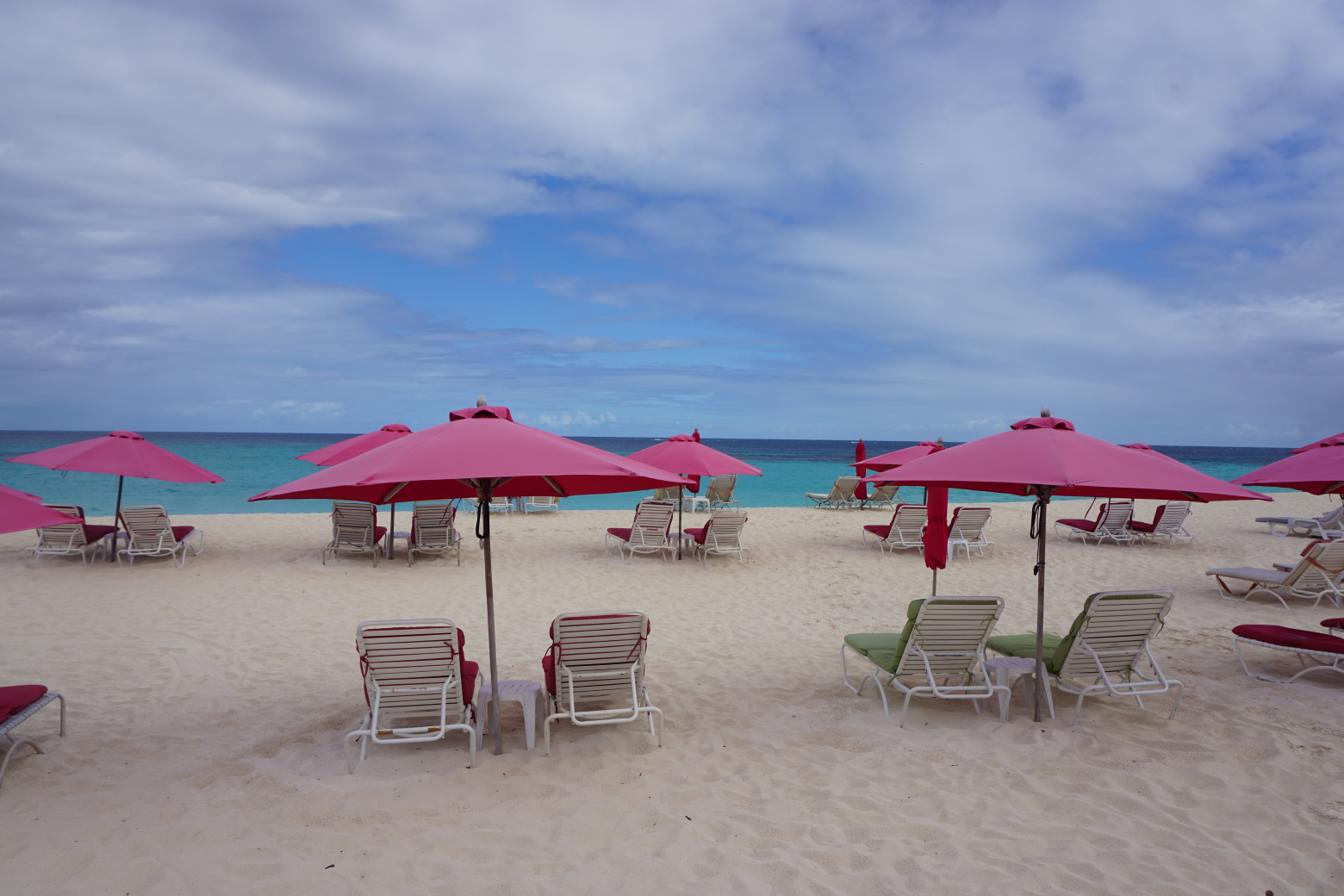 Shoal Bay
We drove back through town via a different route. The taxi thought I could catch the 10:30AM ferry. I had debated getting one of the direct ferries to the airport around 12:00 but hadn't booked in time and they were showing full. We made it to the ferry terminal just in time. I had to pay the $28 departure tax since I'd stayed overnight, you can pay with a credit card. Still had to go through security line but managed to make the ferry.
Delta SXM-ATL
Arriving in Marigot was much busier than the previous evening. There were several tour buses here with lots of tourists wandering around. I was able to catch a taxi to the SXM airport which took a quick 12 minutes. The public ferry+taxi combo still came out cheaper than the direct to airport ferry from Anguilla. I was still too early to checkin for the Atlanta flight on Delta so had to sit and wait a bit. The security line wasn't too bad today. The flight to Atlanta was uneventful.
Arriving into Atlanta though I was super glad for Global Entry as the immigration line stretched around the corners a few times... I can imagine it was a 2+hr wait easily! I had a longish layover so headed to the Priority Pass lounge in the F terminal, first stopping to get a hotdog at The Varsity.
Flight to Austin was easy and I caught an Uber back home. The new pickup zone is a fair walk from the terminal through two parking garages, so not nearly as convenient.
May 24, 19, 9:06 am
Join Date: Mar 2001
Location: Austin, TX -- AA PLT 2.8MM+ (life PLT); IHG PLT Ambassador; UA Gold
Posts: 5,443
Here's links to some of my other trip blogs
2005
Peru/Ecuador[#49]/Galapagos:
http://www.flyertalk.com/forum/trip-...agos-trip.html
Mongolia[#52]/Caucasus:
http://www.flyertalk.com/forum/trip-...-mtskheta.html
2007
Andaman Islands (India):
http://www.flyertalk.com/forum/trip-...a-ixz-maa.html
St Vincent [#68], Grenada, Guyana, Suriname, French Guiana:
http://www.flyertalk.com/forum/trip-...h-guianas.html
North Korea[#76]:
http://www.flyertalk.com/forum/trip-...oryo-trip.html
2008
Ethiopia[#78]:
http://www.flyertalk.com/forum/trip-...-airlines.html
Central America: Honduras[#88], El Salvador, Nicaragua
http://www.flyertalk.com/forum/trip-...a-managua.html
2009
St. Petersburg, Baltics and Belarus[#94]:
http://www.flyertalk.com/forum/trip-...d-st-pete.html
Canadian Rockies:
http://www.flyertalk.com/forum/trip-...n-rockies.html
2010
West Africa: Ghana, Benin [#102], Togo, Mali, Burkina Faso, Cote d'Ivoire
http://www.flyertalk.com/forum/trip-...ir-france.html
Guam, Palau [#111], Micronesia:
http://www.flyertalk.com/forum/trip-...n-pacific.html
2011
Lebanon [#115], Syria, Jordan, Kuwait, Bangladesh:
http://www.flyertalk.com/forum/trip-...atar-econ.html
Pakistan [#122], Afghanistan:
http://www.flyertalk.com/forum/trip-...ord-iah-y.html
2012
Nigeria [#126], Cameroon, Gabon, Equatorial Guinea:
http://www.flyertalk.com/forum/trip-...al-guinea.html
Central Asia -stans, Iraq[#136], southern Balkans:
http://www.flyertalk.com/forum/trip-...q-balkans.html
Iran [#141], Turkey:
http://www.flyertalk.com/forum/trip-...gallipoli.html
South Korea, Myanmar:
A journey of a thousand (and then some) steps: Jeju and Myanmar (RGN fare)
2013
Yemen [#142], Djibouti, Somaliland, Uganda, Rwanda, Burundi:
http://www.flyertalk.com/forum/trip-...land-more.html
Saudi Arabia [#147], Eritrea:
http://www.flyertalk.com/forum/trip-...a-eritrea.html
Sudan [#149], Congos, Angola, Cape Verde, Sao Tome:
http://www.flyertalk.com/forum/trip-...go-angola.html
2014
Algeria [#155], Tunisia:
http://www.flyertalk.com/forum/trip-...unisair-j.html
Fiji [#157], Vanuatu, Solomon Islands, Papua New Guinea, Kiribati:
http://www.flyertalk.com/forum/trip-...nuatu-png.html
Malta [#162]:
http://www.flyertalk.com/forum/trip-...lh-j-km-j.html
Lesotho [#163], South Africa, Swaziland:
http://www.flyertalk.com/forum/trip-...ther-coup.html
Romania [#165], Bulgaria, Serbia, Hungary, Slovakia, Okinawa:
http://www.flyertalk.com/forum/trip-...nh-y-oz-y.html
Madagascar [#171], Mauritius, Reunion, Mayotte, Comoros:
http://www.flyertalk.com/forum/trip-...mk-y-uu-y.html
2015
Maldives [#174]
South Sudan via Maldives: NH F Square, TG A380 F, AI 787 Y, ET 787 Y, LH A380 Y
Chad [#175], Morocco, Mauritania, Senegal, Niger:
http://www.flyertalk.com/forum/trip-...gal-niger.html
Poland [#181], Ukraine:
http://www.flyertalk.com/forum/trip-...auschwitz.html
Moldova [#182], Transdniester, Croatia, Slovenia, Bosnia:
http://www.flyertalk.com/forum/trip-...ng-europe.html
Central African Republic [#186]:
http://www.flyertalk.com/forum/trip-...-republic.html
Courthouses of Texas:
http://www.flyertalk.com/forum/trip-...urthouses.html
2016
Gambia [#188], Guinea-Bissau, Guinea, Sierra Leone, Liberia, South Sudan:
http://www.flyertalk.com/forum/trip-...st-africa.html
Fernando de Noronha, Brazil:
http://www.flyertalk.com/forum/trip-...blue-azul.html
Cuba:
http://www.flyertalk.com/forum/trip-...monterrey.html
Samoa [#195], Tuvalu, Nauru:
http://www.flyertalk.com/forum/trip-...countries.html
Channel Islands:
http://www.flyertalk.com/forum/trip-...-j-gr-y-y.html
2017
Haiti:
Long weekend in Haiti
Namibia, Kenya, Uganda:
Sand Dunes and Safari, A trip to Namibia, Kenya and Uganda
2018
Ecuador:
Long weekend in Ecuador. AA AUS-MIA-UIO/CUE-MIA-AUS
Tunisia, Sicily, Provence:
Spring Break in Tunisia, Lampedusa, Sicily and Provence. UA/LH/TU/M4/FR/EZ/BA
Tibet, China:
10 days in China. Tibet, Sanya and Guilin! All three alliances Y UA/CA/MU/HU/KA/AA
Prince Edward Island, St. Pierre et Miquelon, Nova Scotia:
Long weekend in the Maritimes. Prince Edward Island & St. Pierre et Miquelon
2019
New Zealand, Chatham Islands:
New Year's in Niue? No way!