A Piece of Panama With a Bit of Bogota and a Side of San Jose
Apr 27, 19, 1:49 pm
Join Date: Feb 2014
Location: OTP, CHQ, EIN and beyond
Programs: AF/KL platinum, Turkish gold, Aegean silver
Posts: 1,060
A Piece of Panama With a Bit of Bogota and a Side of San Jose
---
We all have different goals and objectives when it comes to travel. Some of us go for the best foodie destinations, others solely travel for the best beach resorts, while others travel mostly to see more of the world and to learn about other cultures and countries. For most, I fall in the last category. Besides that, I have set myself the goal to visit every country in the world just like some of the great travellers on this forum have already achieved (or are close to). At 70 countries visited (before this trip) my travel life has been good to me so far. Yet all those countries visited are mainly in Europe and Asia, with especially Middle and South America as well as Africa being terra incognito for most having visited only Brazil, Cabo Verde and Senegal there.
Even though I know it's not all about the numbers (I rather visit a few dozen of Greek islands or Italian or Spanish regions before going to something like San Marino or Liechtenstein which exist solely for the purpose for tourists ticking off another country) Ė I felt the need to make a bit more progress visiting new countries in different parts of the world which I didn't manage to visit in prior years. For long I had my eyes set on either Colombia or Panama as both countries somehow intrigued me for different reasons. But as I felt that Colombia required more than a week to do it justice, I figured that Panama would do well for this purpose. When searching for flight I saw a few highly appealing and extremely well-priced routings on AF/KL. Direct flights from both AMS/CDG to PTY were expensive (900 EUR for OTP-CDG/AMS-PTY), but any routings with an extra stop in BOG, SJO or CCS put down the price to just 450 EUR. I was tempted at Caracas Ė even if just for one day Ė as Air France is AFAIK the only European airline except Turkish (in a bizarre IST-HAV-CCS-IST triangle route) to still operate flights to Venezuela, a massive difference from several decades back when even the Concorde flew to Caracas before the Chavistas ruined the place. Given the ongoing crisis I however kept my desire for adventure in check and opted for something safer.
After playing a bit more on the ITA Matrix with routings I managed to get an ideal trip: OTP-CDG-BOG;BOG-PTY;PTY-SJO;SJO-AMS-OTP. As additional benefits I would now be able to check off three instead of one countries as I managed to book full day stopovers in Bogota, Colombia and San Jose, Costa Rica. The flights in the Americas would be short hops on COPA, which would earn me some extra Star Alliance miles and give me lounge access being a Turkish Miles&Smiles elite. The trans-Atlantic flights would be operated by an Air France Boeing 787 and KLM 787, while also giving me the opportunity to check out the new KLM Crown Lounge at AMS.
On a map, the flights would thus look like this: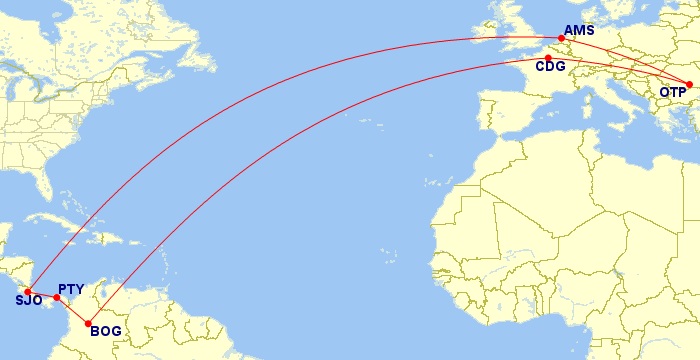 Highlights to look forward to in this trip report include:
- Exploring the bustling Colombian capital of Bogota
- Admiring the old and the new in Panama City
- A day on lovely Taboga island
- Joining a tour to the UNESCO world heritage sights of the Portobelo Forts & the tropical beach at Isla Mamay
- A head-to-head comparison between Air France and KLM on the Boeing 787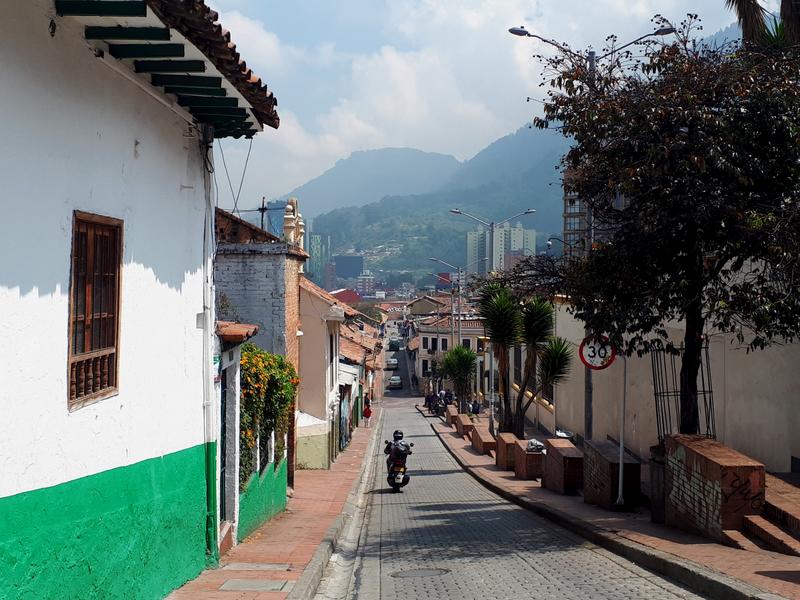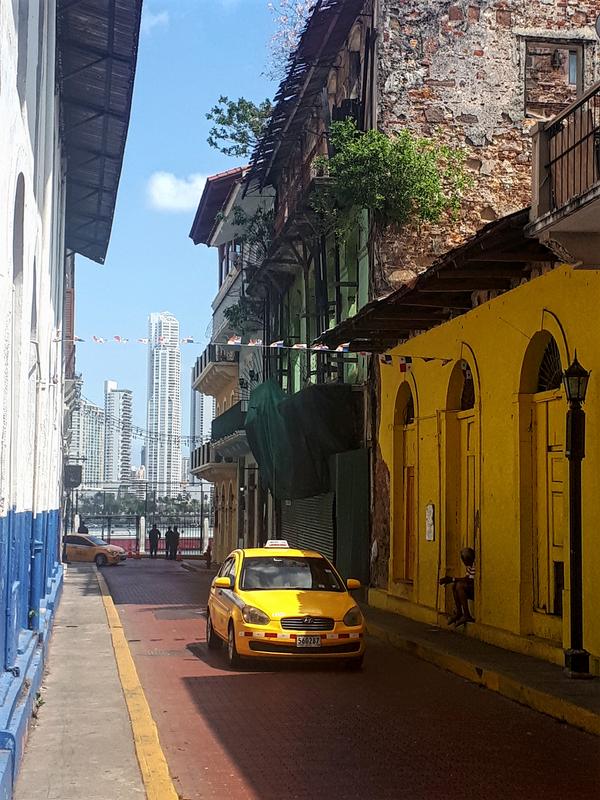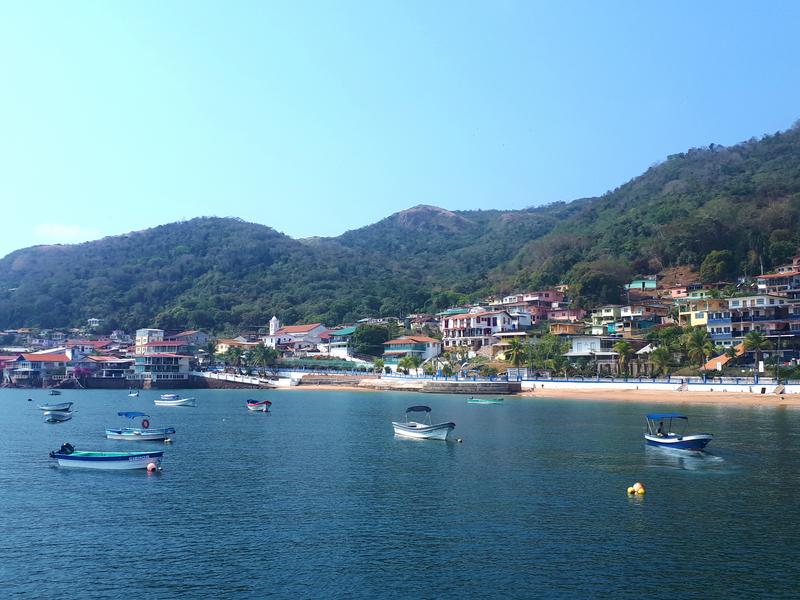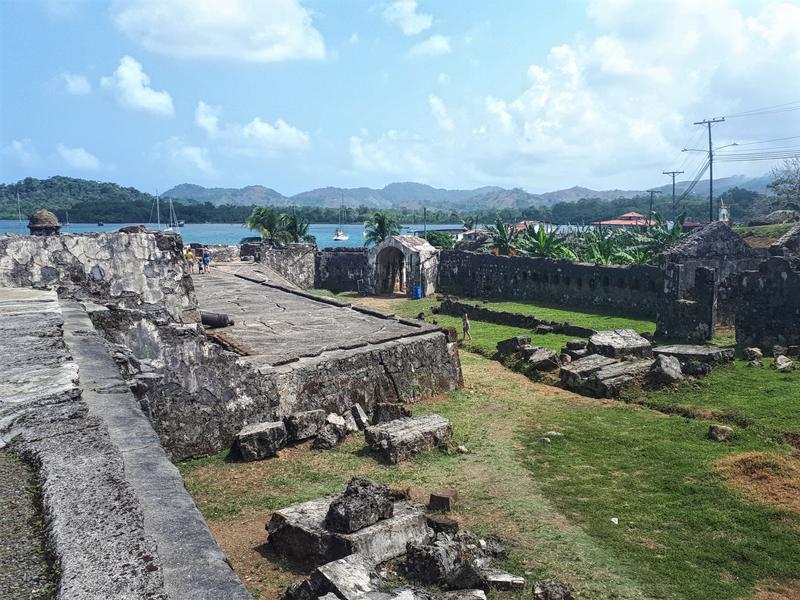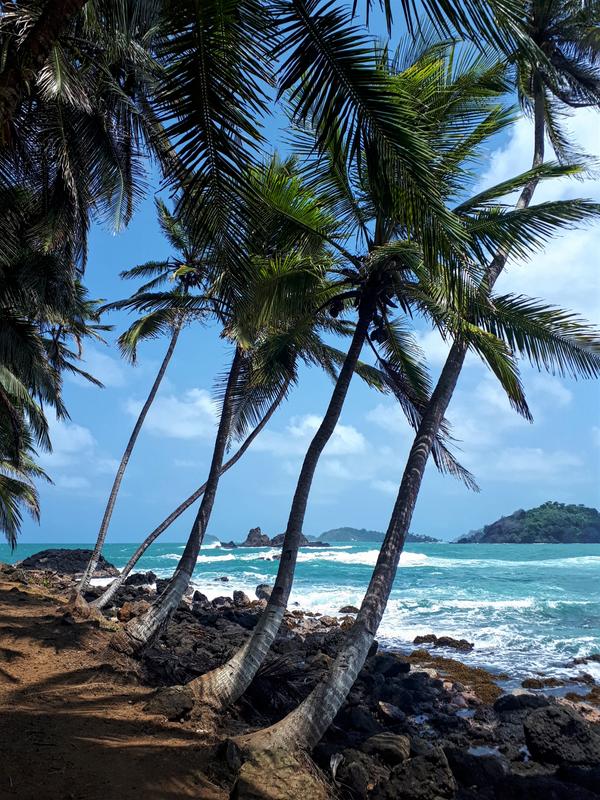 Apr 28, 19, 3:03 am
Join Date: Feb 2014
Location: OTP, CHQ, EIN and beyond
Programs: AF/KL platinum, Turkish gold, Aegean silver
Posts: 1,060
The_Bouncer
!
While I wasn't blown away by San Jose (although arguably the beauty of Costa Rica is not in its capital), I found Bogota and all places which I visited in Panama fantastic.
I was about to book the ticket through CCS but when reading about widespread corruption at the airport, chance of robberies on the airport access roads and even the kerosene delivered being sometimes of appalling quality I got some doubts.
Cool picture of the Panama skyline and the small Albrook airport (if I'm correct from the top of my head). Unfortunately I arrived in the evening, so even though I got some good views from my seat on the left hand side of the plane, I wasn't able to snap a picture. How did you enjoy your trip to Panama? If you have it somewhere detailed in one of your own trip reports I'd love to read! Your Colombia TR was a very good read too on my way to Bogota.
Apr 28, 19, 3:55 am
Join Date: Feb 2014
Location: OTP, CHQ, EIN and beyond
Programs: AF/KL platinum, Turkish gold, Aegean silver
Posts: 1,060
Part 1:Bucharest (OTP) to Paris (CDG) on Air France in economy class
Flight AF1089 – Airbus A320 - Seat 12A – 450 EUR as part of OTP-PTY r/t
STD 6.05am - STA 8.20am (flight time 3h15m)
Ugh, early morning flights at 6am. I will never get used to waking up this early. Yet somehow I was much more awake than I normally would be this early in the day. Half a decade ago I would still feel the excitement and anticipation a day before the start of a new trip. Many travel experiences later, those feelings have pretty much faded, unless the destination or the airline I'm flying really excites me. Fortunately today was one of such days. First of all, I was curious how economy class would compare to business class on Air France – as coincidentally
I flew exactly the same morning flight to CDG just weeks before up front.
. More importantly, I was hugely excited about visiting Latin America, as its a region I really never set foot in bar a four-day trip to Rio de Janeiro once and a day across the US border to Tijuana in Mexico, and both places are vastly different than the destinations I would visit on this trip.
I was therefore in a good mood while sitting in my Uber to the airport, listening to some evocative Panamese music on my phone to get even more in the mood.
After a quick coffee in the TAROM lounge (for a review, see previous link) I headed to the boarding gate. As usual, Sky Priority is neatly announced at OTP although you better make sure you are standing near the gate as there are no clear demarcation lines or queues.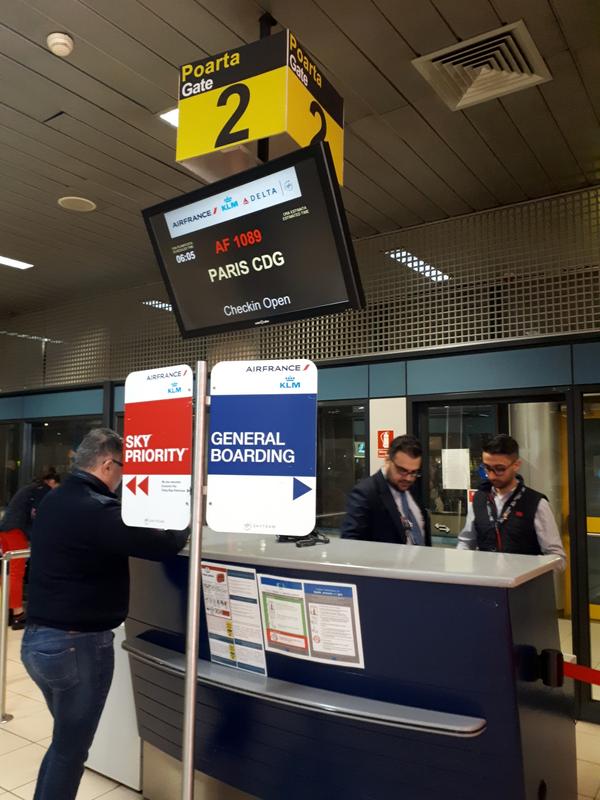 I was one of the first to board. As Flying Blue platinum I could pre-assign any seat on the plane for free (non elites have to pay if they want to snag a seat up front or in the emergency exit). As I had a long layover in CDG and didn't really need a directly behind the business class cabin, I assigned myself an exit row seat. For a short intra-European hop, the seats are decent enough.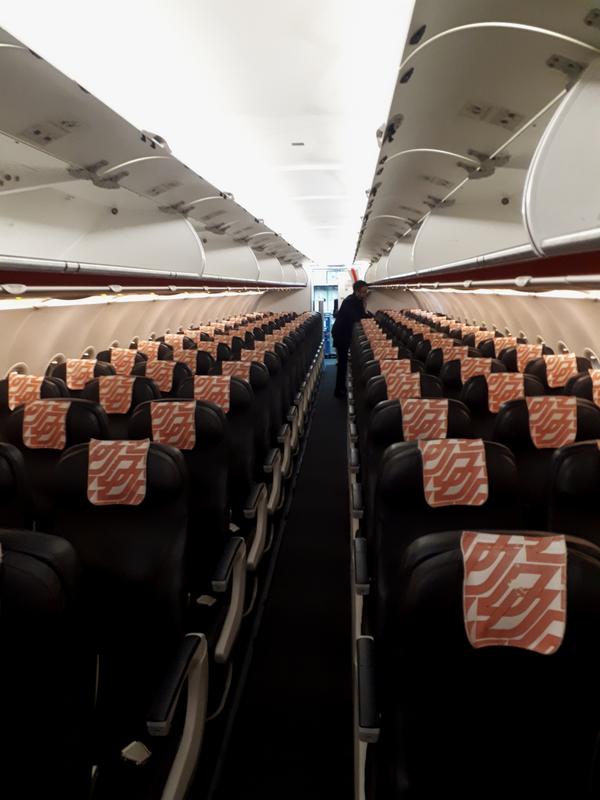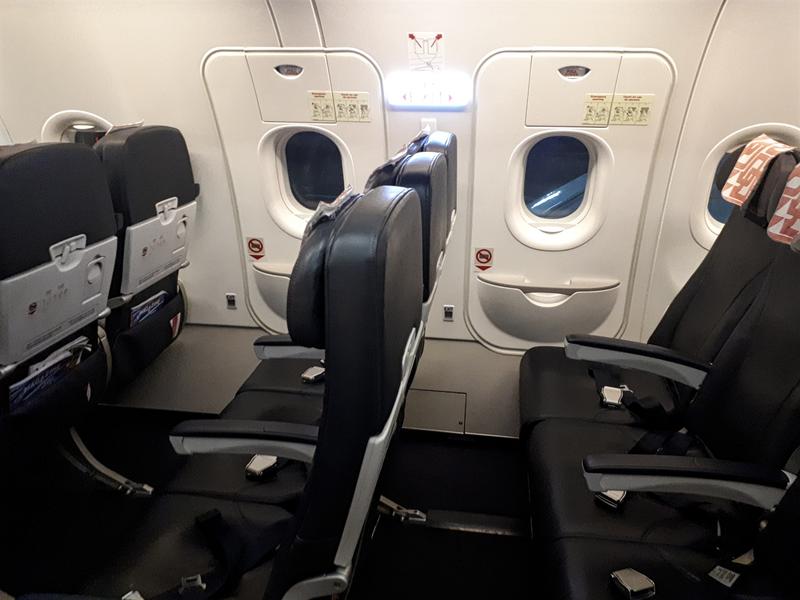 The crew was absolutely fabulous on this flight. I was first warmly greeted by two FAs in their mid 40s in the front galley, and later by a young male FA about my age in the middle of the plane, who despite the early hour was in a chatty mood. While the rest of the plane slowly boarded I had a fun chat about all kinds of aviation-related stuff, with him inquiring about Bucharest tips the next time he needs to fly out there, while I asked him all kinds of questions about Air France ROTAs and such stuff I always wondered about (his AF crew arrived in OTP the early afternoon the day before, stays for the night before flying back to CDG in the early morning, while the crew who operates the last flight out of CDG to OTP which arrives around midnight only flies the mid afternoon flight the next day back to CDG – with the aeroplane obviously overnighting as well at OTP).
Service was extremely friendly throughout the flight as well, with both the male FA as his two female FAs frequently inquiring if I might need something. I'm not sure whether this is due to status (they never mentioned it/thanked me for being a frequent flyer) or if it is just courtesy as I was about the only person to acknowledge them as human beings and having a chat and thanking them. It was however something quite remarkable as they did not ask such questions to any of the other passengers around me.
Air France does a proper meal service on OTP-CDG flights in economy. The eggs dish was certainly good for economy – and frankly actually was better in taste than the eggs in business class on the same flight a few weeks earlier. You can pick one or two pieces of bread as well from a basket, and the meal was further complimented with a package of orange juice, jam and butter, and a sweet.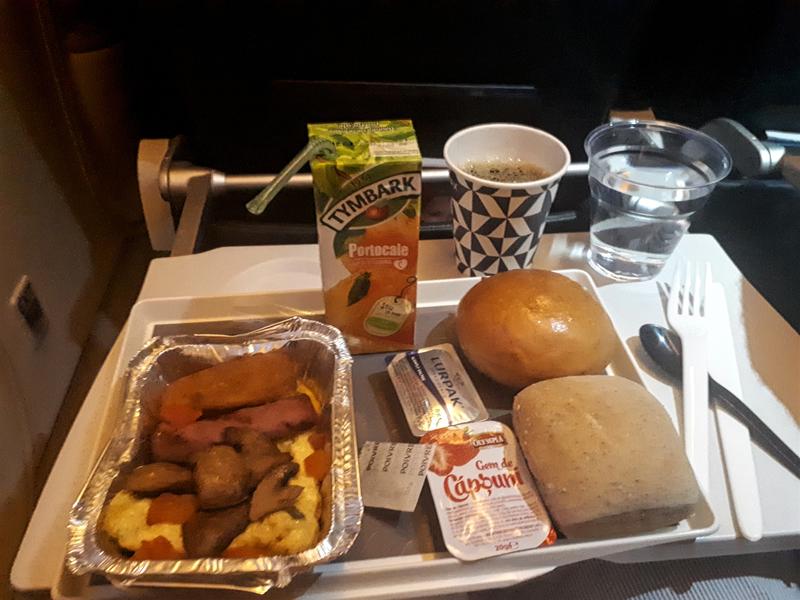 There were again some good sunrise views on arrival at CDG, although not as good as on my previous trip.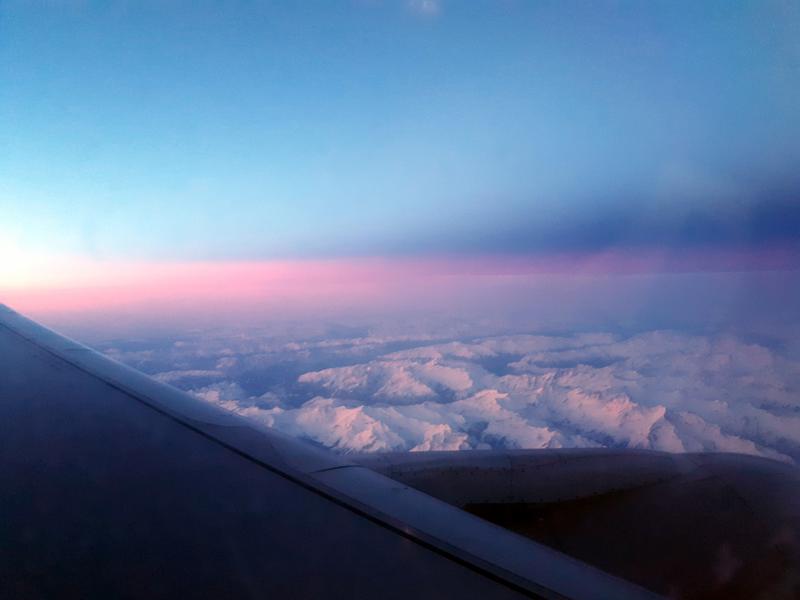 Arrival at Charles de Gaulle was again spot on time. The three hours flying time went by much faster than I expected.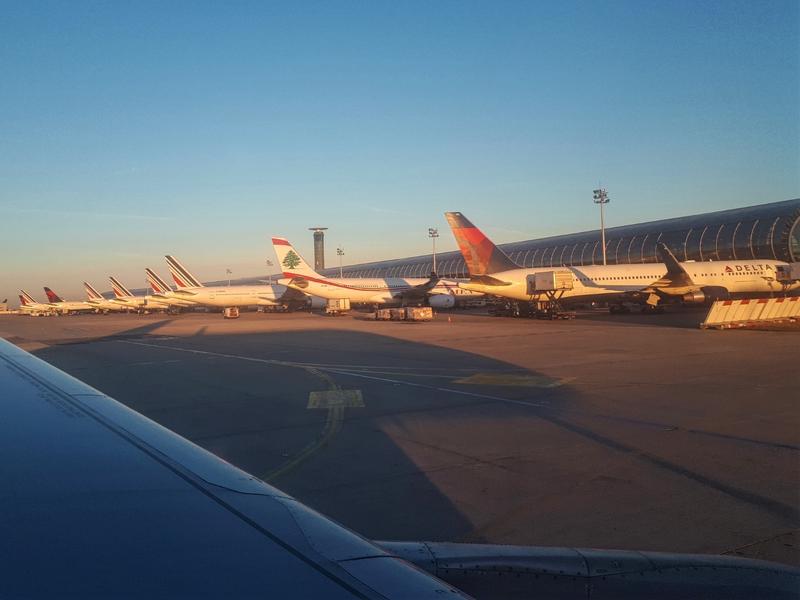 In short:
For an economy flight, you cannot ask for much more than this. When flying Air France on intra-European flights I don't see a reason why I would pay a 3 or 4x premium for business class as economy is perfectly acceptable and not as much as a downgrade in the overall product. Don't get me wrong – I do like Air France's intra-European business class product and I gladly fly it if it's decently priced on a
XP-run like I did on my previous trip
. But otherwise, I'm just as fine in economy and I rather pocket the savings!
Next up:
The Air France Lounge at Terminal 2E, K gates.
Apr 28, 19, 8:24 am
Join Date: Feb 2014
Location: OTP, CHQ, EIN and beyond
Programs: AF/KL platinum, Turkish gold, Aegean silver
Posts: 1,060
Part 2: Paris Charles de Gaulle (CDG) and the Air France business class lounge at Terminal 2E 'K' gates
During last trip I had an excellent time at the wonderful AF lounge at the 'L' Gates of Terminal 2E – which actually consists out of separate mini terminals connected by a train or walkway. It was quiet, had good food and booze, and most of all complimentary massages and sauna. My flight to Bogota would however depart from the K gates, which is in a separate building and thus has a separate lounge. How would it compare?
Transit at CDG is always a hit-or-miss situation, and this time it was clearly a miss. There were just two security booths open to connect to the rest of 2E, with one line for normal pax and one 'access no. 1' line for priority passengers. While the lines were equally long in the beginning, for some weird reason the non-priority line moved much, much faster, but standing midway in a separate line I could hardly get out and queue again at the non-priority lane. Only after a 45 minute wait it was finally my turn, which was of course the time when two other security agents arrived to open two more baggage scanners.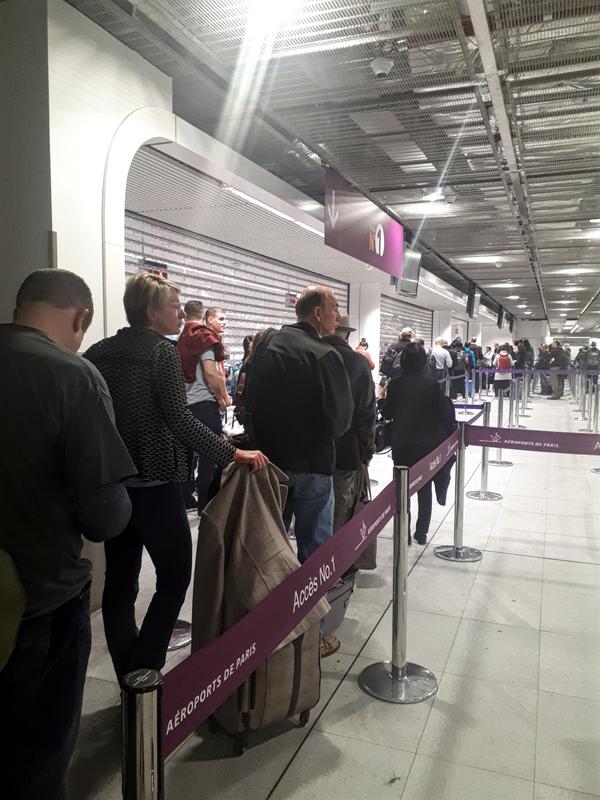 There was quite a line as well at the entrance of the K gates lounge – and inside it was equally crowded, mostly due to the many US-departures in the morning and early afternoon. The K gates lounge is divided in two parts as you can both go left and right from the reception area. Food and drink offers are equal on both side, although the left side is vastly preferred as it has some windows with (obstructed view) of the tarmac and thus has natural light, and has a second level too, while to the right the lounge is very dark and a bit gloomy.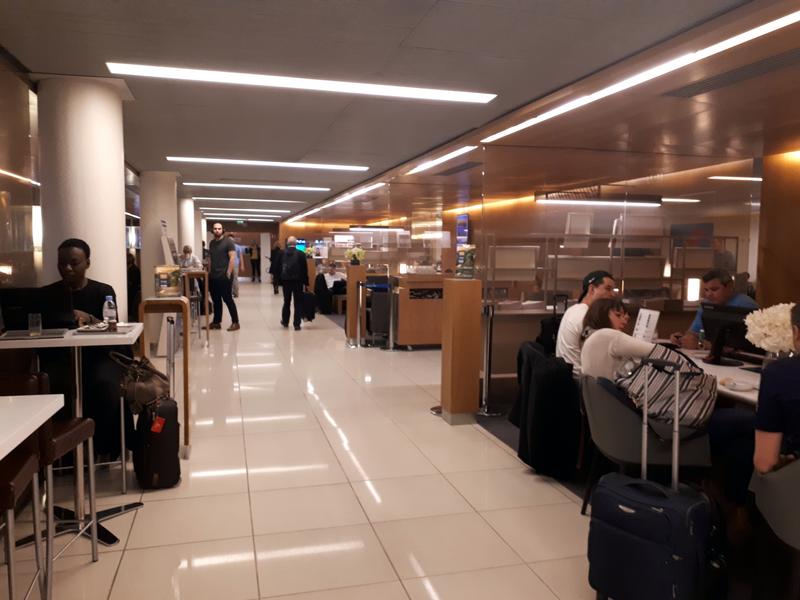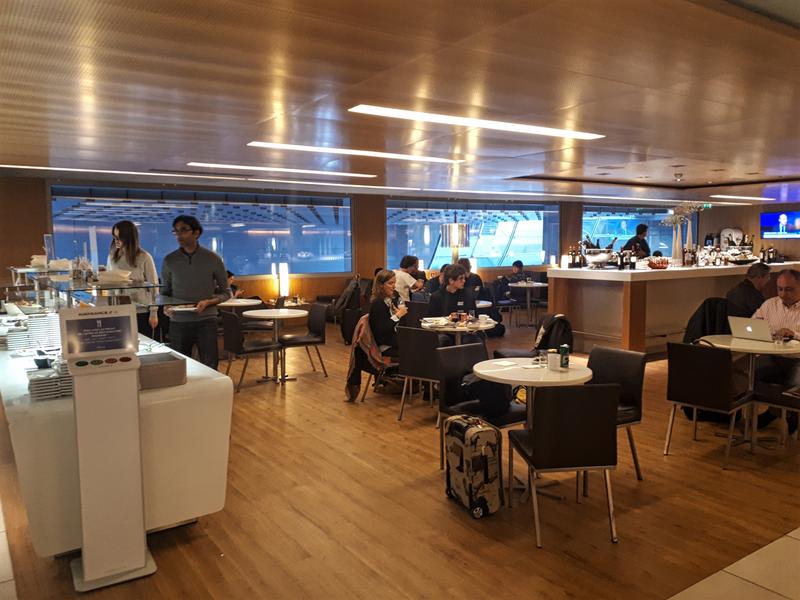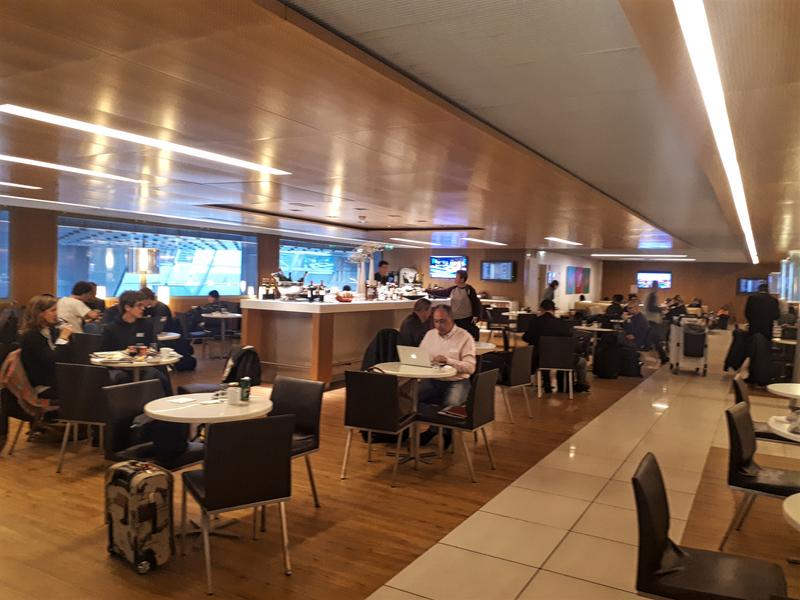 The right side of the lounge which is quite dark and lacks tarmac views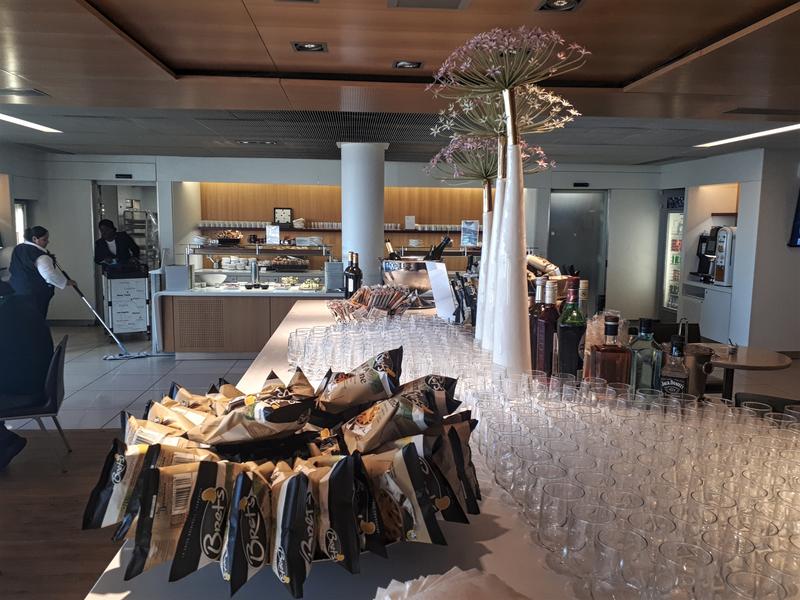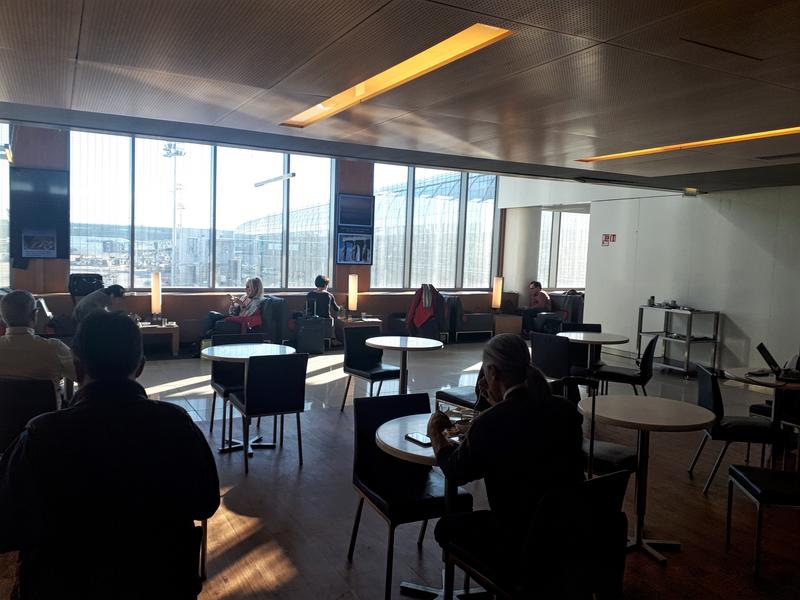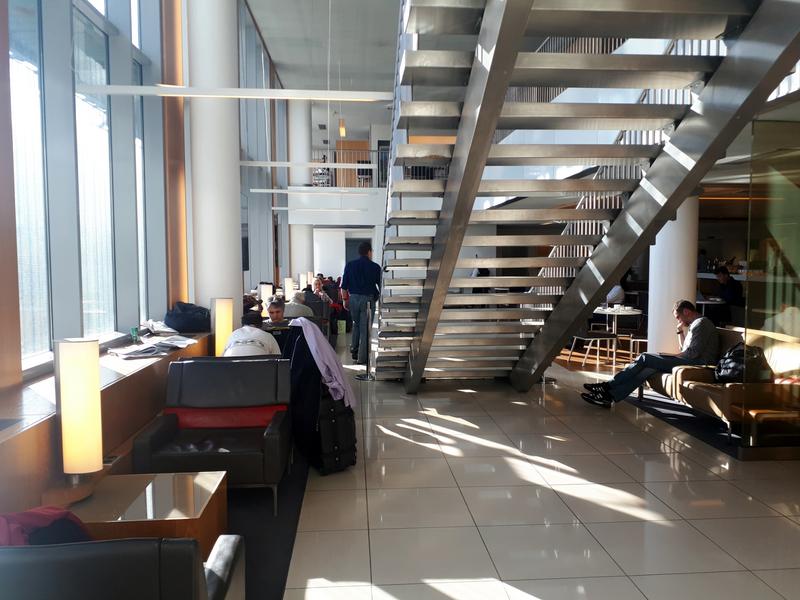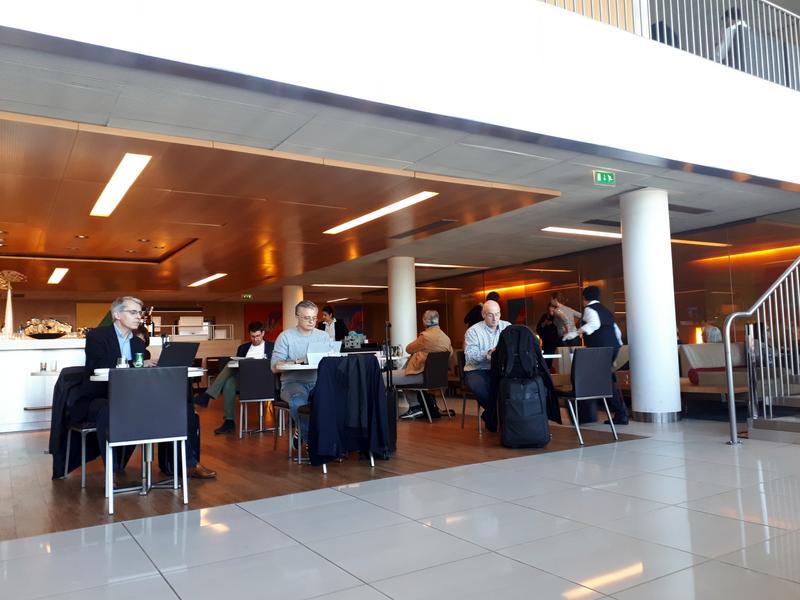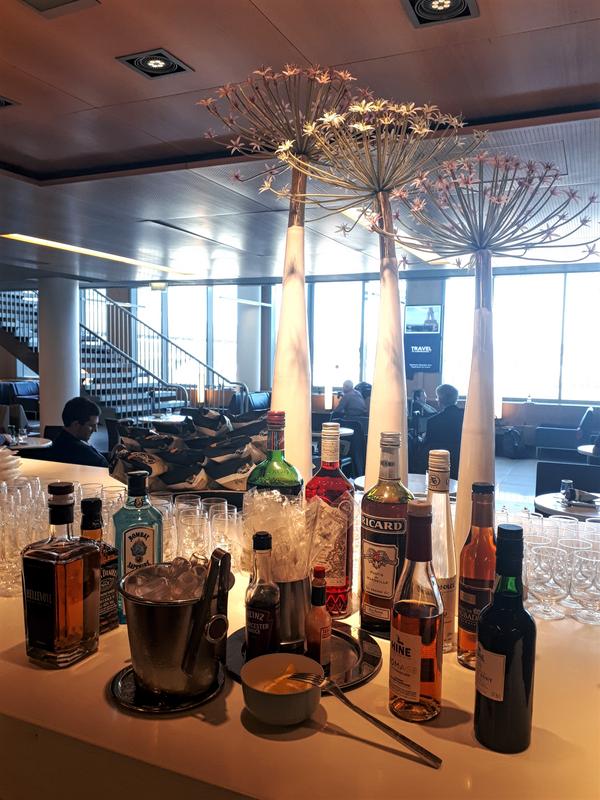 To the left the lounge is much brighter and even has some tarmac views
I managed to grab a seat near the window in the left part of the lounge to start the day with a wee bit of champagne.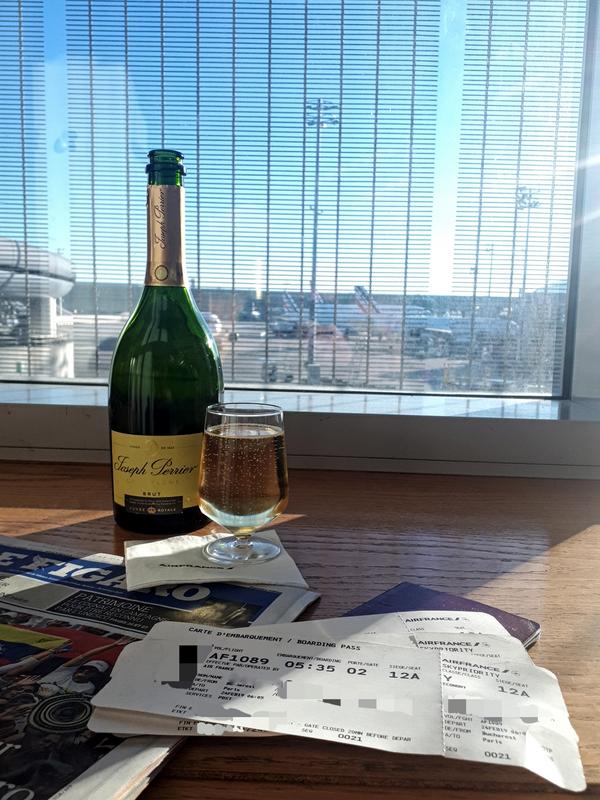 Food offers are similar as in the other lounges in 2E. I had some chicken and potatoes for lunch, washed away with a drinkable Pouilly-Fumť.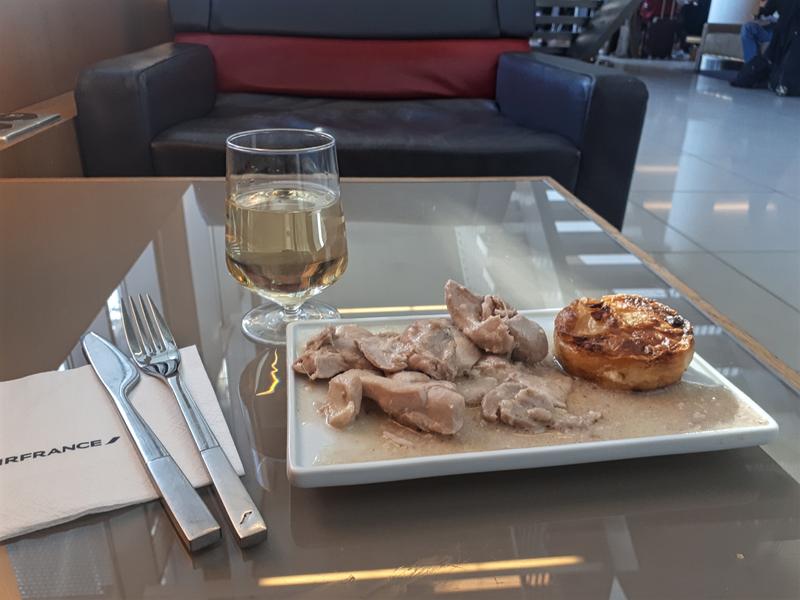 Cheese offers were unfortunately quite poor today so I decided not to overindulge.
After the lunch I crossed over to the dark side as that part of the lounge does have two major attractions. First of all, this part of the lounge has showers (you can find toilets in each part of the lounge).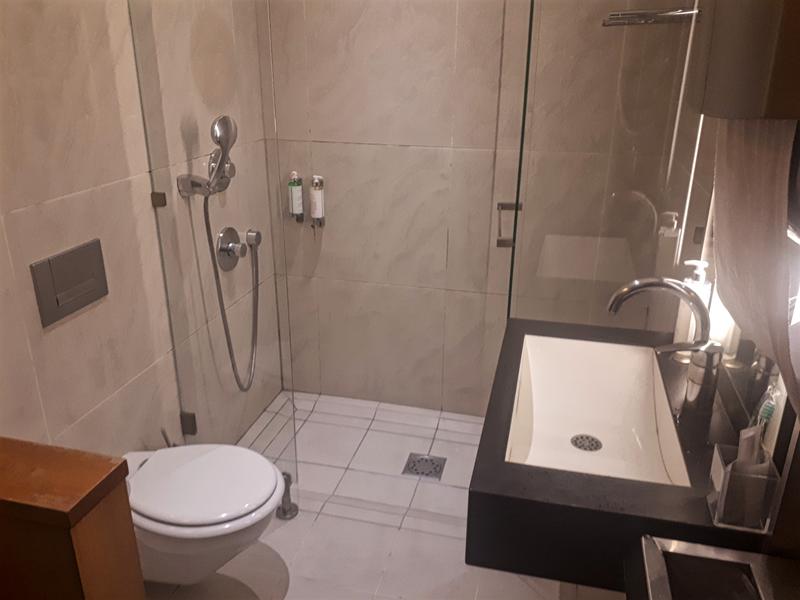 Largely overlooked is a computer on the wall in the dark side of the lounge where you can order a complimentary 20 minute facial massage. Despite the huge crowds in the lounge appointment availability was surprisingly enough wide open when checking the tablet. I'm not sure if this is always the case and I don't want to conclude anything, but if you wouldn't know about this lounge offering complimentary massages you most likely wouldn't find out about it when walking around, while you would find it out if walking around the much larger and better laid out lounge with a clearly demarcated wellness area.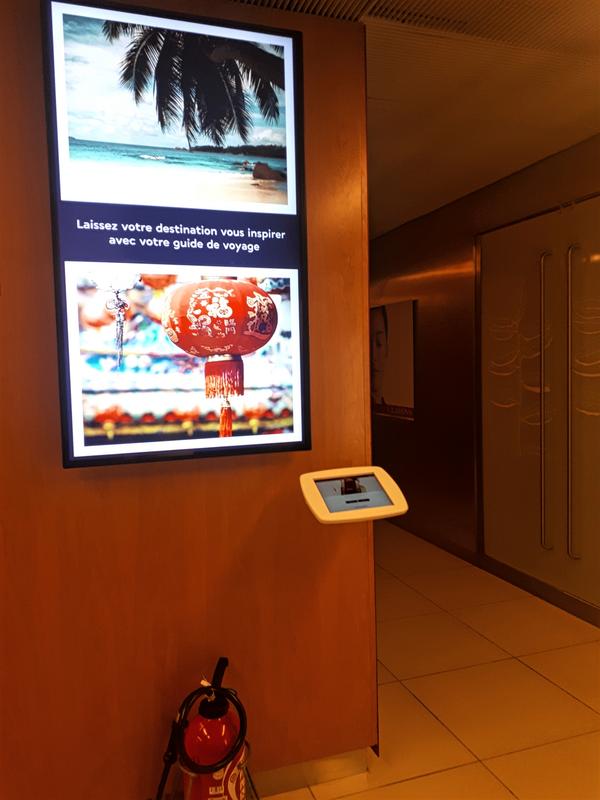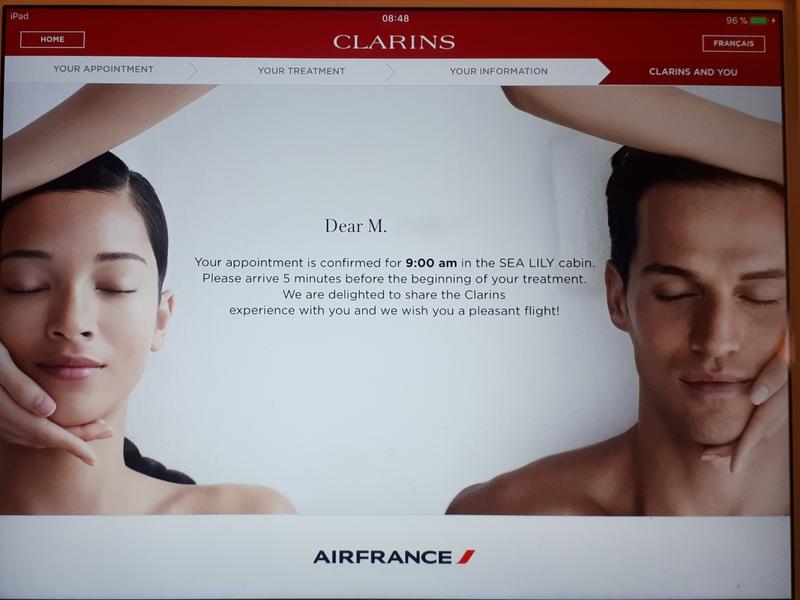 Needless to say the Clarins massage was perfect.
In short:
The Terminal 2E lounge at the K gates is perfectly acceptable – but decidedly average when compared to the great lounge at the L gates. While you can get a shower and massage in both lounges and the food is the same, the difference is in the lay out and design of the lounge which is superb at the L gates and downright poor at the K gates lounge. Don't count on a calm morning in this lounge as the crowds can be massive during the morning departures bank. It however gets quite a bit better during the afternoon when the crowds disperse.
Next up:
Flying to Bogota on the Air France Boeing 787 in economy
Apr 28, 19, 11:24 pm
Moderator: Trip Reports
Join Date: Jul 2013
Location: Dubai
Posts: 3,124
I was just in Panama City at the end of my Central America trip. Not a bad city to while a few days
. Just working on my TR now:
https://www.dsw-photo.com/Travel/Six...entral-America
Apr 28, 19, 11:41 pm
Join Date: Nov 2014
Posts: 286
Romanianflyer - another great trip report.

Have spent quite a bit a bit of time in Costa Rica (mainly coasts, mountains and jungles) and loved it - not a big city fan though so wasnít that impressed with San Jose. Looking forward to hearing you thoughts and views on it.
May 3, 19, 6:06 pm
Join Date: Sep 2009
Location: Vienna, Austria
Programs: LH M&M Silver, A6 M&B Gold, CX MP Silver, EK SW Silver
Posts: 45
Awesome report so far!
---
Thank you for the great report so far Romanianflyer! Iíve always been a fan, sitting down to read these on Saturday morning like a good novel
Iím also a massive fan of South America and am plotting a proper visit to Colombia soon.
Cheers!
May 18, 19, 7:56 am
Join Date: Feb 2014
Location: OTP, CHQ, EIN and beyond
Programs: AF/KL platinum, Turkish gold, Aegean silver
Posts: 1,060
Originally Posted by
DanielW
I was just in Panama City at the end of my Central America trip. Not a bad city to while a few days
. Just working on my TR now:
https://www.dsw-photo.com/Travel/Six...entral-America
I agree it is indeed a nice destination,
DanielW
. Thanks by the way for your trip report - I did not manage yet to read it in its entirety but I have it bookmarked so I won't forget. Good read so far and absolutely lovely pictures as always!
Loose Cannon
! I hope the rest will follow soon (had a very hectic last month with work and travels, with little time to write/sort out the pictures).
Originally Posted by
Hawes7701
Romanianflyer - another great trip report.

Have spent quite a bit a bit of time in Costa Rica (mainly coasts, mountains and jungles) and loved it - not a big city fan though so wasnít that impressed with San Jose. Looking forward to hearing you thoughts and views on it.
Thank you
Hawes7701
. Even though I like cities in general, I wasn't too impressed with San Jose either, although I enjoyed wandering through the market and stopping there for a good lunch. I hope to return one day to the country more justice as it is indeed the nature, and not the urban areas, for which Costa Rica is famous.
May 18, 19, 8:03 am
Join Date: Feb 2014
Location: OTP, CHQ, EIN and beyond
Programs: AF/KL platinum, Turkish gold, Aegean silver
Posts: 1,060
Thank you
Oliverckhaas
!
The (short) day I spent in Bogota was absolutely wonderful and I hope to see more of the country soon. It has always been very high on my to-visit list and the first introduction with the country was great.
Thanks
roadwarrier
- the rest will come in the following two weeks!
Thank you
Jaimito Cartero
- you will find it out very soon!