Bern, Berlin, and Bbbbrrrrr! Crossing the northernmost border in the world
Mar 9, 19, 10:49 am
Join Date: Mar 2003
Location: DCA, HNL, SYD
Programs: UA 1K 2MM, AA EXP, DL Diamond, AS MVP75, AmEx Cent, Misc Hotel Bling, Moms love me
Posts: 4,899
Bern, Berlin, and Bbbbrrrrr! Crossing the northernmost border in the world
---
First of all, it's time for some mea culpas. I've been a bit missing in action for the better part of the last year. Done a bit better keeping up on my blog, but 2018 was such a heavy travel year that I let a lot of things slip...like writing full-on trip reports. Right, I'll see if I can make up for that with this one. First few parts are already done, though I skipped the flight details, so I'll go back and complete those and then catch up. This was another one of those trips that turned out quite differently than planned, for a whole host of reasons. Work travel moved around, flights changed, but all in all, still accomplished a couple of things I really wanted to on this trip:
1) Spend some quality time in Berlin, and get a feeling if it really is somewhere I'd like to relocate for a few years
2) Cross the world's northernmost land border from Kirkenes, Norway to Murmansk, Russia
3) Spend some quality time in Moscow
Successful on all three counts, even more so than I had planned, so that was a bonus!
Before I get going, as always, if you'd like to check out any of my previous trip reports:
I. London to Iran and Afghanistan in a mix of C, F, and LCCs
II. Above the Arctic Circle with UA/CO/LH and SK in whY, C, and F
III. Around the World in 40 Days for 40 Years
IV. 8 Places People Who Are Right in the Head Do Not Spend New Years
V. 12 Countries, 10 Airlines, 4 Islands, 27,080 miles, 11 Days
VI. 6 Countries in 6 Days - Caribbean Island Hopping and first AA Experience
VII. Guyana, Suriname, and French Guyana with an unexpected sidetrip to Caracas!
VIII. To Haïti - for vacation and a milage run!
IX. Around Senegal and West Africa
X. 4th Annual New Years in Dangerous Places - Libya Edition
XI. Kosovo and FYR Macedonia - Milage Run in United Business + TK/LH
XII. Washington to Peru and Machu Picchu on COPA and TACA
XIII. To Johannesburg...for 36 hours!
XIV. Here a Stan, there a Stan, everwhere a Stan Stan....
XV. Air Burkina, Air Cote d'Ivoire and 7 countries in West Africa
XVI. Turkey for Thanksgiving....with a side of Tajikistan, Serbia, Montenegro, and Moscow
XVII. Into the Heart of Darkness... Congo, Angola, Gabon, OH MY!
XVIII. HI! Four Islands, Lots of Planes, Beaches, and Convertibles
XIX. Plenty of Salt, Not Enough Oxygen...a Trip to Boliva, Colombia, and Ecuador
XX. Learning to Relax - Long Weekend in St Christopher and Nevis
XXI. You're spending New Years WHERE? IRAQ? (2009-2010)
XXII. Pineapples, croissants, and neon OH MY! A trip to Hawaii, Paris, Andorra, and Vegas
XXIII. South Pacific, Israel, Lebanon - 6 weeks - 71,500 miles - 24 countries
XXIV. Sundae bloody Sundaes...a 2014 United Year in Review
XXV. Lakes, Lemurs, and Lithuania: Horton Hears a Houthi!
XXVI. First Americans tour to North Korea 2005 - Arirang Mass Games
XXVII. Doing the Needful - Lufthansa Business US to Chennai
XXVII. C-ing things: Canada, Curry, Cameroon, CAR, Chad, Camels, Chengis Khan and China!
XXVIII. Learning my ABCs: Algeria, Bahama, Cuba and the Cubana IL-96
XXIX. Exploring ZMapp of West Africa...or how I got detained by the CDC
XXX. Transatlantic to Bangkok with United, Austrian, Air Canada, and Thai
XXXI. Being Lazy in Belize
XXXII. Quick Trip to Cape Town with United, SWISS, South African, and Lufthansa
XXXII. FUNny thing happened going to and from Tuvalu...Cathay F, Etihad Apts, Fiji Biz
XXXIII. Achievement Unlocked: AFRICA! Visiting Mali, Mauritania, and Senegal
XXXIV. FIN. (and thanks for all the fish)
XXXV. What do you do after visiting every country? RTW in First with NH, TG, SQ, QR, EK, LH
XXXVI. Rock in the Abkhazia - Progress on the Unrecognized Countries List
XXXVII. Collecting Continents: Circle of the World, but not RTW
XXXVIII. Cocoa Puffs? Nah, I'm coup coup for Zimbabwe!
XXXIX. My Struggle is real: 10 days in Germany with roundtrip Lufthansa First Class
XXXX. I hate tacos...said no juan ever! Off to Mexico City for work!
XXXXI. Sanding my Love to Uncle Bob - Back to Southern Africa
XXXXII. Pisco on Pascua? Por Favor! Looking for Aliens on Easter Island
Right, enough of the past, let's get on with the future. I'll break this up (I think) in these sections:
A) United Fauxlaris to Geneva and four nights in Switzerland
B) SWISS A220 to Berlin, and first three nights in Berlin
C) Three more nights in Berlin
D) Berlin to Kirkenes with Subpar Airline Systems (SAS) overnight in Kirkenes
E) Kirkenes to Murmansk by minibus, first night in Murmansk
F) Another day in Murmansk - foodie paradise!
G) Murmansk to Moscow, Moscow Part 1
H) Moscow, Part 2
H) Last couple of days in Moscow
I) Moscow to Washington with SWISS and United Fauxlaris with an overnight in Geneva
Right....so off we go!
---
Last edited by ironmanjt; Mar 19, 19 at

7:36 pm
Mar 9, 19, 11:22 am
Join Date: Mar 2003
Location: DCA, HNL, SYD
Programs: UA 1K 2MM, AA EXP, DL Diamond, AS MVP75, AmEx Cent, Misc Hotel Bling, Moms love me
Posts: 4,899
United Fauxlaris to Geneva and four nights in Switzerland
---
So, this trip wasn't supposed to happen this way. I had a nice vacation planned with a friend to Norway and Russia. Then, as happens, a work trip to Switzerland fell into place...with an awkward six days until I had to be in Norway to start my vacation. Then, work in Germany conveniently popped up in the middle. Upside: saving a lot of jetlag. Downside: more than three weeks away from home! Focusing on the positive, I moved straight ahead! Let's start out this first post with Switzerland.
Raced from work to Dulles, and got there with just enough time to pop into the United Club for a quick glass of "wine" and mini cheesecake. Polaris Lounges are finally starting to pop up beyond Chicago in Houston, Newark, San Francisco...so we might get one at Dulles by 2028. United has a captive market in DC, and they know it. Quite consistently United's most awful airport experience. Right, on to the flight!
United flight 974
Washington, DC, Dulles (IAD) to Geneva, Switzerland (GVA)
Depart 17:30, Arrive: 7:25 next day, Flight Time: 7:55
Boeing 767-300, Registration N665UA, Manufactured 1998, Seat 4D
Miles Flown Year-to-Date: 9,014
Lifetime Miles Flown: 2,701,602
Not really anything to say about the trip there, but I do have to give a nod to United. This dish, known as the "spicy chicken" is absolutely delicious, and pretty unique for an inflight meal. ...despite the fact the crew tried to tell me there "probably wouldn't be enough for you" - um, since United prioritizes meals by status, I highly doubt this. A side note, a walk through the galley later and at least two different crew members were eating it. Plus ça change...
So, the rest of the meal service. One positive change is that pre-departure sparkling plonk now comes in real glassware:
The warm nuts were mixed, as always, with split cashews. Unfortunately, poorly cooked and "mushy" tasting. The chianti was quite tasty...for the one glass I got. Unfortunately, they only loaded one bottle apparently.
So, let's talk starter. Two prawns (aka cockroaches of the sea) as the ONLY starter option just doesn't cut it. For starters, lots of people don't eat shellfish (I don't on planes after getting food poisoning TWICE on American) and secondly seriously? That's like 50 cents worth of food. The cost-cutting of Polaris is extremely evident. The salad, on the other hand, was respectful. Much better greens than normal out of Washington (at least half the times I get a lot of brown pieces and an unreasonable amount of romaine) and the mozzarella was a nice touch. Why the bread was in the salad, instead of on its plate, shall forever remain a mystery!
You saw the main course up front, which was delicious, but once again United put together a cheese plate worthy of a prison cafeteria. I mean, I still ate it, because I've never met cheese that I don't like, but this is just sad. Maybe market research shows Americans like bland and boring cheese. If so, this fit the bill.
...and of course, the best part, the ice cream sundae, today with caramel. Has anyone seen the butterscotch in a while? That was always one of my fave parts!
Landed right on time, and had two hours to kill before my train (work, you're welcome that I saved you 50 francs by waiting and buying a supersaver fare) so I ended up where I always seem to end up: reacquainting myself with one of the most fabulous fast food items in Switzerland, the five cheese toastie:
Given it was a work trip, I spent most of it cooped up indoors doing work. Of course, during coffee breaks, I walked out the door and had this view. Miserable I tell you. Actually the worst part was the big windows in the conference room which pretty much had the same view. How were we supposed to focus on work! (Spoiler: tons of work actually did get done)
One of the trip's highlights was a traditional Swiss fondue at a colleague's house prepared by her partner. These are always my favourite moments of travel...spending time with the people that live there, and taking time to enjoy traditions as locals enjoy them as opposed to how a restaurant might serve it up to you in a quasi-realistic atmosphere. Very fortunate to have such amazing and hospitable clients!
After finishing up with work, I had about 24 hours in Zurich on a Friday night / Saturday morning to see the city. Most times when I come through Zurich, it's in transit to/from somewhere, so I was really looking forward to having a full 24 hours to actually see just a little bit. Despite the -10C temperatures, wind, and snow....anyways....
I loved this ad for Swiss milk and their strong cows....
After a fun and freezing night of grabbing several craft beers outdoors in the freezing temperatures, I got up and had about four hours to see the city. I decided a long walk was the best way to do it, so I headed out from my hotel, towards the old town of Zurich, which I'd never seen before. Beautiful view across the Limmat:
Murals by Giacometti on the side of a building in the old town:
Another gorgeous view across the Limmat. Even on a cloudy day the city looks magical:
I got a new phone right before the trip (iPhone XS) and love how even when zoomed in, I got super clear views:
The pictures above were taken from Lindenhof, a park on the top of a small hill in the old town. From there, down the winding alleys towards the river. One thing that struck me on a Saturday morning was the fact that Chinese tourists outnumbers locals by a factor of at least 10:1. I'm really happy more people are traveling these days, but also really concerned with the impact mass tourism is having. Especially on the major cities in Europe.
Looking across the river at the Grossmünster church. Trying to get all artsy with the seagull in the pic:
So many birds. Everywhere.
Again, trying to be artsy:
Group of Chinese tourists on the water, getting absolutely swarmed by a flock of seagulls. It was like a cross between a bad 80s band and a Hitchcock novel. I was getting a little nervous at this point, so I ran. I ran so far away...
With that, it was time to head to the airport and fly off to Berlin for the next stage of the trip. Stay tuned for my second flight on the A220, and first few days in Berlin.
Mar 9, 19, 11:32 am
Join Date: Feb 2014
Location: OTP, CHQ, EIN and beyond
Programs: AF/KL platinum, Turkish gold, Aegean silver
Posts: 1,060
Yay another ironmanjt trip report! Looking forward to it, especially as I always had an interest in remote places far north (currently myself on a short Oslo layover on my way to Spitsbergen). Very recognisable by the way, running behind with trip reports, so don't worry about that and just keep them coming whenever you have time.

Seems to be a good few days for the TR section in general with some of the golden oldies of the forum embarking/reporting on new trips!
Mar 9, 19, 4:15 pm
Join Date: Mar 2003
Location: DCA, HNL, SYD
Programs: UA 1K 2MM, AA EXP, DL Diamond, AS MVP75, AmEx Cent, Misc Hotel Bling, Moms love me
Posts: 4,899
SWISS A220 to Berlin, and first three nights in Berlin
---
Due to the way schedules worked out, and the fact it made no sense to go back to Washington for five nights and then turn around to head straight to Norway....combined with some client meetings in Germany I needed to take care of, I decided on spending six nights in Berlin. I can't remember the last time I've spent six nights in one place that wasn't for a work trip, so I was definitely looking forward to it!
Off to Zurich airport, which was nice and easy by train, and had about 30 minutes to enjoy the SWISS Senator Lounge. I wouldn't have gone out of my way to get there early, but it was a great place to spend the extra 30 minutes having a glass of wine and enjoying a little snack:
SWISS flight 980
Zurich, Switzerland (ZRH) to Berlin Tegel, Germany (TXL)
Depart 15:00, Arrive: 16:25, Flight Time: 1:25
Airbus A220-300, Registration HB-JCI, Manufactured 2018, Seat 1A
Miles Flown Year-to-Date: 9,424
Lifetime Miles Flown: 2,702,012
This was my second flight on the A220, and a small pro-tip if you fly them with SWISS: seating is 2 seats on the left (A-B) and three on the right (C-D-E). If you sit in business, it's just an economy seat with the seat next to you empty. On The left side, they alternate assigning 1A then 2B then 3A so that when you recline, it's not into someone. The right side...not so pleasant. They assign C and E in each row, leaving D open. Unless you're traveling with someone, opt for the left side! I love the little displays above the seats, and hey, pic of the safety card to "prove" I flew the A220:
I love how quiet this aircraft is, and it's definitely one of my favourite short to medium haul planes now. Flight time was barely an hour but that didn't stop SWISS from serving a nice little snack:
I'd been looking forward to my stay in Berlin, until I got to my hotel. Now, I'm not really a movie person, and I can probably count the number of movies I've seen in the last ten years on one hand, but I was about to very quickly get an introduction to the world of "movie people." It seems I had arrived right in the middle of
Berlinale
, one of the biggest film festivals in the world. To make matters worse, apparently my hotel was one of the host hotels, and a huge chunk of the rooms were taken over as makeshift offices by various film studios:
I will give the hotel high marks for how they managed the huge crowds. Other than the lobby being a teeming mass of people from sunrise until midnight, the floors themselves were actually reasonably quiet. Despite half the rooms on my floor having their doors open all day to entertain visitors, the hotel had security posted at the elevator so the only people who could come to the rooms were those who were authorized. Given how big the event was, I was impressed how little impact it had on my stay. Except all the silk scarves in the executive lounge, it was fascinating listening to the conversations.
Right, so most days were filled with nonstop work, partly from my room and partly going on to meet with clients. However, I still had a lot of work to take care of back in the US, which meant working long hours into the evening. That did mean, however, sneaking out for long lunches to see things was totally possible. I'll post the first couple here, then follow up with another post covering the next couple of days.
Having arrived on a weekend, I had a full day, and after several failures on previous trips I finally managed to book on the
Tempelhof Airport tour
. One pro tip: despite being sold out online for a couple of weeks, I witnessed several people arrive without tickets, and they were all accommodated. So even if it shows up not available online you might want to chance showing up well in advance and seeing about tickets. Standing at the meeting point outside the old general aviation terminal:
First stop was out on the apron, the first in the world where planes pulled up to the terminal under a covered roof so that passengers could board/deplane regardless of rain:
Main check-in and baggage hall. Supposedly the roof used to be twice as high, but after World War Two the victorious powered had it lowered. Why? Because, and I roughly quote our tour guide, "walking into such a grand hall with high ceilings would invoke visions of German might and power, and arms might inadvertently snap up into a Nazi salute." Thus, it was lowered, to make it less grand after the war...
You just knew I'd find the VIP waiting room...
Under the checkin hall, a couple stories down, were lots of bomb shelter rooms. This one, apparently, after the war was re-purposed by Lufthansa as a storage room.
Inside many of the bomb shelters, painted on the wall, were passages from common German fairy tales. According to our guide, this was because people would often be sheltered here with complete strangers, and this would give them something common to talk about until the all clear signal was given.
Top floor of the airport was...a basketball court?! After the war, the airport was in the American Sector of Berlin, and the airport was split 50-50 between civilian use and US military base. The two sides were strictly separated, but the American side had a basketball court and other rec facilities added.
From there, we climbed more stairs to the roof of the building, looking down on the apron. Great view, although I could have down without the howling wind and the stinging rain:
Outside the airport, the Berlin Airlift Memorial:
Apparently, not everyone is a big fan of capitalism. ...and, no thanks, too high in fat.
The next day, I made the trek way out to Lichtenberg deep in eastern Berlin to see the Stasi Museum, located in the former Stasi (secret police) headquarters building:
The main building in the complex is where the museum is housed. The whole complex was several dozen buildings, many of which have now been leased out to various companies and businesses.
In the entranceway of the museum was a statue of (I believe) Felix Dzerzhinsky, founder of the Checka, predecessor to the KGB and FSB in Russia.
Behind the office of Eric Mielke (head of the Statsi's) was a room where he could retire for small private meetings, or as you can see from the bed in the corner, a nap. Rumour was that he would often sleep here at night in the final days, fearing assassination attempts if he left the building.
Waiting room in the executive area of the Stasi headquarters building.
Boardroom where high ranking members of the Stasi held many of their meetings:
Interesting exhibit on "the use of scent differentiation to fight crime" - supposedly when they arrested people, they would place this cloth under the chair of the person being interrogated. Idea was that it would collect their "scent" and that when they had enough of these collected they might be able to predict future criminals. I kid you not...
The "red suitcase" where Mielke kept secret documents that reportedly could bring down Erich Honecker, the President of the GDR. The suitcase allegedly contained evidence of Honecker's cooperation with the Nazis, although to this day German authorities deny that. Even in East Germany, the head of the secret police keeping a blackmail file on the President would have been....sketchy at best.
The receptionist's telephone outside Mielke's office.
Panoramic view of Mielke's office, with his desk on the far side, a large table for meetings, and chairs around a table for what I assume were smaller meetings?
Transit bear in the U-Bahn station at Alexanderplatz. DC did donkeys and elephants several years back, and Berlin did bears. What other cities have done a collection of statues around the city?
World Clock outside at Alexanderplatz with the Berliner Fernsehturm in the background. I've never been up to the viewing gallery at the top, but it's supposed to have amazing views of Berlin.
Loved this shot of the station at Alexanderplatz.
With that, the first couple of days were over. Many more things to see, coming up in the next post....
---
Last edited by ironmanjt; Mar 9, 19 at

4:25 pm
Mar 10, 19, 2:37 pm
Join Date: Mar 2003
Location: DCA, HNL, SYD
Programs: UA 1K 2MM, AA EXP, DL Diamond, AS MVP75, AmEx Cent, Misc Hotel Bling, Moms love me
Posts: 4,899
Three more nights in Berlin
---
So, continuing with my week in Berlin, the next day when I had a long lunch I decided to venture even further out into the former East Berlin, and visit the main prison of the Stasi which is now a museum. The
Gedenkstätte Hohenschönhausen
is a museum on what was once the site of the Stati's most notorious prison. Tours are relatively infrequent - at least public ones - and when I called I couldn't get anyone who understood English...but based on my limited German there would be a tour today, so I made the long trek by tram out to Lichtenberg.
Fortunately, the tour happened right on schedule, but unfortunately, our guide would be a young Czech lady. While she was excellent, the majority of guides are former prisoners, and it would have been much more interesting to hear their perspective.
We started with a 25 minute movie which was a fantastic introduction to the complex, and then it was off to the original prison building, and its cells. At the time, like Robben Island or other former prisons, it was just another site, but looking back today it's much easier for me to see the terror in the site...even decades later.
After touring the old cellblock, it was out into the main yard to walk to the "newer" building which was built once it was clear the DDR was going to be a thing, and the Cold War was going to split Germany for quite some time.
Inside the new cellblock, the door to a cell. Note the wire running over the top of the door? See how to the right of the door there is what looks like connectors? This is because guards were unarmed, and if .... went down they could loosely yank on the wire, which would pull the connectors apart, and set off an alarm. The entire complex was wired this way.
Inside of an interrogation room. Prisoners were never interrogated right away - they waited several days or weeks until they were sufficiently disoriented first and ready to talk.
Metal grates on the stairwells between floors.
Barbed wire on the ends of the complex.
Another day, I took the U-Bahn out to Friedrichshain, a now trendy and gentrifying part of former East Berlin, and decided to go for a long walk back to my hotel to appreciate how the city was laid out. With a subway, it's often hard to appreciate how all the parts of a city fit together, so I figured this would be a great way to do it - plus - I love long urban walks. A very colourful street in Friedrichshain:
Funky mural - not entirely sure what it's supposed to depict:
Even the Germans aren't big fans of the Cheeto in Chief:
(PIC removed because I think it might violate FT TOS - same post is on my website if you wanna see)
A short way through the walk, I was hungry and cold, so stopped into Ostbahnhof which for some reason I really like, and had my favourite German snack....a Bretzelsnack and caramel macchiato - perfect on a cold winter day.
Crossing the river and looking west towards Alexanderplatz:
St. Michael's Church:
One of the best street names in the world - under water street! Wonder if Spongebob Squarepants is around...
...and after the long walk, nearly 12km, I rewarded myself with a currywürst and beer. I mean, when in Berlin...
One of the weirder parts of Berlinale, on top of all the fru fru people in my hotel in silk scarves, was the pop-up make-up booth in the middle of Potsdamer Platz. I very tempted to poke my head in and see if I could get my makeup did...
Another day, I went for a long walk through the Tiergarten. Seeing the Siegessäule brought back memories of U2, and I think I was humming
for the rest of the trip.
Just the bang...and the clatter...as an angel...hits the ground.
Another evening, walking back to my hotel, I stopped by the
Memorial to the Murdered Jews of Europe
. Very moving, lots of slabs of concrete, and catching it at sunset made it extra-reflective.
Walking through the memorial. Unfortunately, lots of young people acting disrespectfully - I really hope the future holds better than a lot of these kids were displaying, or history will be doomed to repeat itself.
From there, I wandered back to the Brandenburger Tor, which looked awesome with the sun setting behind it:
Apparently, there were multiple protests/demonstrations going on....including this colourful character...the "Kaiser"
A short video of his...interesting...spiel...
(can't get video to link on FT - again, over to the website if you wanna see his crazy rant...)
One final walk on my last night in Berlin, and the L'Oreal people were still out in Potsdamer Platz doing makeup...incredibly odd.
Last morning, before heading to the airport, decided to go for one final long walk through the Tiergarten. Pond partially frozen over:
Statue of Albert Lortzing, a German composer:
I love how this picture captured the reflection of the trees on the partially-frozen pond:
One final stop by the Siegessäule. I was going to climb to the top, but was running short on time to get to the airport, so decided to skip it so I'd have an "excuse" to come back again.
...and with that, my week in Berlin was over. Definitely confirmed my feeling that it's an amazing world-class city, and somewhere I'd love the opportunity to live. So if you know anyone there who's looking to hire...
Next up, off to Norway!
Mar 10, 19, 4:04 pm
Join Date: Mar 2003
Location: DCA, HNL, SYD
Programs: UA 1K 2MM, AA EXP, DL Diamond, AS MVP75, AmEx Cent, Misc Hotel Bling, Moms love me
Posts: 4,899
Berlin to Kirkenes with Subpar Airline Systems (SAS) overnight in Kirkenes
---
So, wait, you've never heard of Kirkenes? I mean, I've been to Norway before, so why am I going back?
Well, you see, Kirkenes is in the extreme northeast of Norway, just minutes from the Russian border. It's well above the Arctic Circle, and the border crossing with Russia is also the northernmost staffed regular border crossing in the world. How could I skip that.
Just to put it in perspective, Kirkenes is circled below, and you can see Murmansk, Russia just to the east:
Fun sign in the gate area at Tegel Airport...yes, Berlin, you were wonderful and I really enjoyed my week. Actually sad to be leaving!
SAS flight 1674
Berlin, Tegel (TXL) to Copenhagen, Denmark (CPH)
Depart 13:30, Arrive:14:30, flight time: 1:00
Airbus A319, Registration OY-KBP, Manufactured 2006, Seat 3A
Miles Flown Year-to-Date: 9,637
Lifetime Miles Flown: 2,702,225
So, in general, I do my best to avoid flying SAS. They have the same awful economy class seating as other airlines, but they don't even block the middle seat! In fairness, they do call it "Plus" and not business, but if you redeem miles for it from United, it's the same number of miles as business class. I was curious to see what the benefits were, other than sitting in the first row.
This flight was completely full with every seat taken, so thankfully the flight time would only be 40 minutes. Service consisted of a "snack" which was a wrap...either cheese or salmon were on offer. Only choice to go with it was water. Again, short flight so won't complain too much, but there was absolutely nothing "premium" about this flight at all.
Arrived into Copenhagen and had 1:10 between flights due to an early arrival, so I set out on a mission to find the airport Starbucks. One, because I needed caffeine, but more importantly, I wanted to check the prices. I'm still putting together a listing of the price of a grande filter coffee around the world, and expected Copenhagen to be up there. At 31 kroner ($4.67) it was the third most expensive in the world that I've seen behind Geneva and Zurich, which comes in at $5.21 lately. Feel free to send me datapoints!
Walking away from Starbucks, it's a good thing I didn't have any longer....a Mikkeller Tap Room right in the airport? This could be seriously dangerous. I did stop for one 2dl beer, which turned into two because they poured the wrong one the first time, and at over $9 for a small pour it's a good thing I didn't have to pay for two!
SAS flight 1460
Copenhagen, Denmark (CPH) to Oslo, Norway (OSL)
Depart 15:25, Arrive:16:40, flight time: 1:15
Airbus A321, Registration OY-KBB, Manufactured 2001, Seat 8E
Miles Flown Year-to-Date: 9,959
Lifetime Miles Flown: 2,702,547
In contrast to the flight from Berlin to Copenhagen, this flight was absolutely empty. Sure, the seven rows in front of me seemed to have all seats full except middles, but rows 9-21 behind me? Yes, 21 rows of "plus" class....and nobody at all in those 10 rows! Strange to see 10 completely empty rows! You'll note I was also in 8E...a middle seat! Mainly to avoid people in front of me reclining into me...and site the seats on both sides of me were empty it worked just swell!
Beautiful views on takeoff:
Even better, I discovered on this flight that their beer was a nice Mikkeller IPA, which marked a very rare occasion for me of having a beer in flight. Pretty sure the last time I did was when I flew Brussels Airlines and their fantastic beer menu!
Short flight, only an hour, and was time to find the lounge and wait for Ian, who was meeting me there to continue the trip in Norway and Russia. Since Norway is in the Schengen Zone like most of Europe, no passport control at all, however, Norwegian domestic flights were in another terminal since there IS customs between Europe and Norway since Norway is NOT a member of the EU. For anyone who's confused how this whole Schengen, EU, oh and don't forget the countries that use the Euro, work, I love this diagram:
Right, so, through customs (so weird to clear customs but NOT passport control or security, and into the lounge. SAS lounges are weird in that they have a "business" lounge which you get into if you're in "plus" or international business class, but then there's a gold lounge in the back...which is even nicer...that you can get into as a frequent flier.
I hadn't had a real meal al day, so decided on some Norwegian nibbles.....tuna, shredded cheese, olives, potatoes and pickles....odd, but did the trick and was tasty.
Ian showed up after a short bit, riding the struggle bus after flying Newark-Frankfurt-Stockholm-Oslo up until this point, so it was kind of nice to not be the one suffering jetlag for once! Off to our gate where boarding was just about to start for the two hour trek up to Kirkenes.
SAS flight 4478
Oslo, Norway (OSL) to Kirkenes, Norway (KKN)
Depart 17:55, Arrive:20:05, flight time: 2:10
Boeing 737-700, Registration LN-TUM, Manufactured 2002, Seat 3D
Miles Flown Year-to-Date: 10,812
Lifetime Miles Flown: 2,703,400
I was determined to put "Plus" service to the test on this flight, so asked the flight attendant when she came around with my THIRD cheese wrap of the day, what else as on offer. Seems Plus means you can have ANYTHING from the buy-on-board menu, and don't have to pay for it. So, I got some chips and another Mikkeller to go with the cheese wrap, and some high-quality iPad entertainment:
Unfortunately "anything" is a misnomer. When I asked for a second beer, I was told no. Apparently "by Norwegian law" they can only serve one complimentary alcoholic beverage on domestic flights. Seriously?! If I wanted to pay $8 for another I was welcome to it, but nope, only one complimentary. Way to go SAS, you are officially the cheapest non-budget airline in the world.
Disembarking in Kirkenes was at a remote stand. Doesn't it just LOOK cold:
The Kirkenes Airport...looks more like an ice rink from the outside to me!
Bears at baggage claim! Oh no!
We went to find the bus into town, which was supposed to be like $10 a person, but when we boarded the driver told us it was free! Apparently, we'd arrived during some major festival - the biggest festival of the year in Kirkenes - and this year China was sponsoring the festival. That included paying for the bus during the festival. Whoah - finally - saved by China in all my travels!
After checking into my hotel, the Scandic Kirkenes, I was still pretty alert so went for a bit of a cold nighttime stroll. Getting artsy with snow-covered trees:
Outdoor ice rink! Turns out as part of the festival there was a big tournament of the "Bering League" the next day, but unfortunately we'd leave too early to see it. Bummer!
Sooooo much snow everywhere!
I found the library. You can tell you're getting close to Russia when the signs are in Russian as well!
Oh look, a sign. Taking selfies to prove I was there!
World War II Memorial. Kirkenes was actually a major front in the war, where the Russians and Nazis faced off.
I found the local pub, which was absolutely packed due to the festival. So packed, that I ended up having to share my table with a local couple who spoke maybe 100 words of English (seriously, which Norwegians don't speak English?! Ones that have lived their entire lives in Kirkenes, apparently) and a Russian truck driver who spoke no Norwegian OR English. I got to attempt to play translator from Russian to English...and then try English words until we found ones they knew. "Tax" and "expensive" and "price" were popular topics, and we had a great chat about driving across the border for cheap gas and booze. Great cultural moment!
Right outside the pub? Yup, a Chinese gate. Definitely the theme of the festival. Kirkenes was shaping up to be just as unusual as I'd hoped, and I looked forward to the next morning!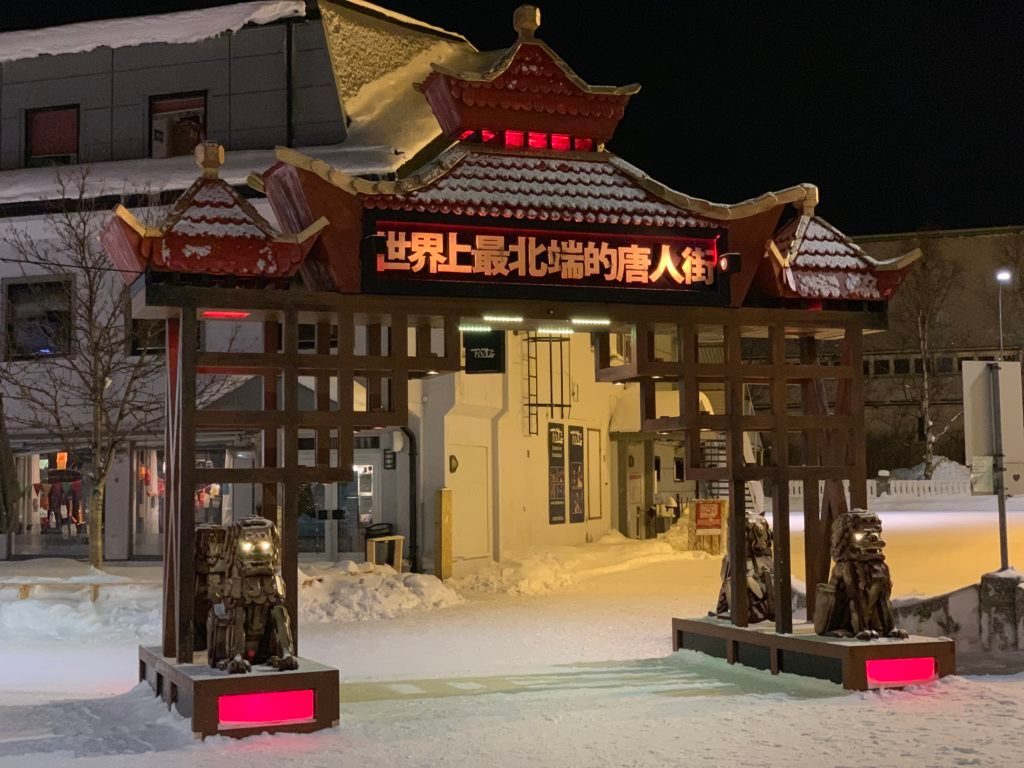 Back to the hotel, which was perfectly comfortable, and off for eight solid hours of sleep. Next up, day in Kirkenes and bus to Murmansk, Russia!
Mar 11, 19, 2:02 am
Moderator: Trip Reports
Join Date: Jul 2013
Location: Dubai
Posts: 3,127
The currywürst and fries looks so delicious
. The Cheeto pic is not too appealing though
.
The remote gate at Kirkenes must have been awfully cold, especially as people are just wearing jeans
. Got a trip to Tromsø and the tri-border coming up and all that snow is making me shiver!
Mar 11, 19, 2:48 am
Join Date: Feb 2008
Location: Stockholm
Programs: Various
Posts: 2,429
It's for sure colder than Dubai but for locals it isn't that bad. You wouldn't stay outside too long unless properly dressed.
Btw, if you're going to the tri-border with Russia wouldn't you also end up near Kirkenes? It's quite some distance from Tromsø
Mar 11, 19, 2:57 am
Moderator: Trip Reports
Join Date: Jul 2013
Location: Dubai
Posts: 3,127
I'll be staying strictly in the Schengen zone
.
https://en.wikipedia.org/wiki/Three-Country_Cairn
Mar 11, 19, 6:32 am
Join Date: Aug 2005
Location: BKK
Programs: SK EBG for Life (*G), BA Gold, HH DIA, IC Platinum Ambassador, Hertz President's Circle, Sixt Plat
Posts: 646
Looks like a great (and cold!) trip!
On the 1 free beer in Plus on the domestic leg, I am pretty sure that it is indeed Norwegian law. They have strange laws on alcohol, and until a few years ago also banned earning points/miles on domestic flights.
You would have noticed that all your international flights on SAS Plus would have free bar for all you would want, so not entirely fair to blame SAS for that (although there are other things which are fair to blame them for
)
Mar 11, 19, 6:42 am
Join Date: Mar 2003
Location: DCA, HNL, SYD
Programs: UA 1K 2MM, AA EXP, DL Diamond, AS MVP75, AmEx Cent, Misc Hotel Bling, Moms love me
Posts: 4,899
Originally Posted by
DanielW
I'll be staying strictly in the Schengen zone
.
https://en.wikipedia.org/wiki/Three-Country_Cairn
Be very, very careful where you point your large camera in that area. They are sensitive to the extreme around there.
Originally Posted by
SKT-DK
On the 1 free beer in Plus on the domestic leg, I am pretty sure that it is indeed Norwegian law. They have strange laws on alcohol, and until a few years ago also banned earning points/miles on domestic flights.
You would have noticed that all your international flights on SAS Plus would have free bar for all you would want, so not entirely fair to blame SAS for that (although there are other things which are fair to blame them for
)
It would have made total sense to me if the law was "you can only have one" but we can only give you one "free" seems odd. But as you say, strange laws abound in this world!
Mar 11, 19, 8:58 am
Join Date: Jul 2013
Location: JNB
Programs: Flying Blue, Miles and Smiles, Hhonors, ICHotels
Posts: 1,099
Great to get another read out of you!! Been following your blog and was wondering when you are going to share it here on FT.
I am off to Namibia next week, so if the heat gets to me, I will settle down with a cold beer and look at the snowy photos.