Mileage running to Sydney, Kuala Lumpur & Tokyo including Malaysia & Singapore First
Mar 7, 19, 3:22 pm
FlyerTalk Evangelist
Join Date: Nov 2007
Location: LAX-SNA
Programs: BA Gold, AF/KL Gold, UA 1K, AA 2mm LT PLT/f
Posts: 19,217
Mileage running to Sydney, Kuala Lumpur & Tokyo including Malaysia & Singapore First
---
With not a single award seat back from Australia after New Years, the cheapest Business Class way home was to buy a roundtrip… in our case Hamilton Island-LAX-Sydney. Not wanting to waste the return flight and lost free BA Tier Points, I'm completing the roundtrip by flying to Sydney and then coming home via Asia on Malaysia and Singapore First Class.
Older and wiser about Qantas' annoyingly stupid and cheap decision not to spend money and join PreCheck, I headed to the bowels of the Bradley to the "secret" TSA security checkpoint. I have never seen this checkpoint crowded but tonight was amazing as there was only one other passenger and he was long gone by the time I got to screening.
Obviously I was in and out in no time and headed upstairs to the T4/Bradley connector and the short walk to the Qantas First Class Lounge.
What are the odds that 3 of the 4 moving walkways are out of service??
Yeah, I'd say I made the right choice about the security checkpoint. No one at PreCheck but a lot of good that does me.
The Salt and Pepper squid was excellent as always.
The sea bass not as good as last time. Note to self: don't order fish on Sundays.
And then there was this loud mouth Brit that drank and yapped nonstop until his BA flight was called.
For dessert, the Chocolate bread and butter pudding with marscapone sauce and ice cream was fabulous.
At T-50, I headed out for the walk to Gate 154.
Mar 7, 19, 3:24 pm
FlyerTalk Evangelist
Join Date: Nov 2007
Location: LAX-SNA
Programs: BA Gold, AF/KL Gold, UA 1K, AA 2mm LT PLT/f
Posts: 19,217
Qantas QF 12
Los Angeles LAX to Sydney SYD
A380-800
10:55pm-8:45am +2
March 3, 2019
Business Class
Seat 11A and the Business Class Lounge Suite
Boarding had already started by the time I arrived at Gate 154. The Business Class lane was wide open and I was upstairs and on board a couple minutes later.
Qantas A380 Business Class is a far cry from First Class on the main deck of this plane. It is also a far cry from Business Class on the 789 or most good airlines. Ugly and dated 2-2-2 seating. And after a couple of hours, quite uncomfortable. Add in an indifferent crew and this was a long, long flight.
One of the advantages of a window seat is the storage compartments. Small price to pay for having to hop over your seatmate later on to go to the lav.
Good leg room and that handy window storage space and counter top.
Tonight's menu with the usual Great Barrier Reef cover.
The pre-order Breakfast menu.
The Qantas amenity kit. Pretty pathetic although rather fitting for a garbage Business Class product.
Let's check out the IFE...
Apparently Qantas is the internet word for "we've never heard of Wifi mate". It's 2019 and it's a 15 hour flight for effsake. But if I'm really desperate supposedly I can message someone on the ground for $1.90 a message. LOL.
Or even chat with another passenger. Wow, the guy that thought up this one is probably CEO now.
Speaking of IFE... so I was watching Red Sparrow for what seems like the 10th time while waiting for service to begin, when the Purser came by to inform me that, so sorry, but they were going to have to reboot because some people were having trouble with their screen. Not me mind you, but others. OK, well thank you for the 10 minute break.
We're now 45 minutes into the flight and there was no sign of drink service, at least for me. I looked over and saw drink service for the middle pair of seats in row 11 and the right pair of seats. I flagged down the same purser that told me about the IFE reboot and asked about the lack of drink service. He replied that the crew was preparing service for the cabin. When I noted that others had drinks and indeed table cloths, he said that they had ordered Express supper selections so they get served first. Say what?? They get served their meal before drinks for the entire cabin? He did offer to bring me a drink... and please close my shades as it will be morning in Sydney when we arrive.
And then pretzels/almond mix.
Meal service for non-Express started around 75 minutes after wheels up. Note to Qantas: Meal service without a tray works great for 1-2-1 seat but not for a window seat in this 2-2-2 seating since the FA can't reach the A tray table without an effort which this group had no interest in doing. So we get the flight attendant passing each item after item to A for me to place. I wasn't hungry but took one for the team and the photo op. Qantas doesn't print a wine list for Business so it's hard to tell what the optons were. I went with the Pinot Grigio which was the only white. It was served at room temperature. Well done again Qantas... and please close my shades as it will be morning in Sydney when we arrive.
Yeah, that looks about as appetizing as AA domestic salad.
I pre-ordered the Spicey pulled pork ciabatta.
Which was actually pretty good, at the least the few bites that I had.
After dinner, I waited patienty for someone to clear up the plates. My patience ran out 25 minutes later when I gave up and rang the call button which nearly blew out my ear drums as it reverberated thru my headset... and please close my shades as it will be morning in Sydney when we arrive.
I made my own bed and got six hours of on and off reasonably good airplane sleep. With a good 6 hours to go, I explored the cabin. Interesting crew seats.
And then the front part of the upper deck.
The Qantas Business Class snack offering. Pretty pathetic compared to what American offers.
Then there was a completely empty Business Class lounge area, which looked far more comfortable than my dopey 11A. With no one else there, I decided to relocate and squatted for a good 5 hours. Much better than sitting in that Business Class seat. And IFE controls and power outlets hidden away in the little cubbies.
I watched Bohemian Rhapsody and The Meg, both for the 2nd time.
After 3 or 4 hours, a flight attendant stopped by and asked if I'd like anything. I requested the taste smoky bacon, egg and herb tart, although initially she had no idea that it was on the menu.
It was quite tasty.
Then there was this dude doing his exercise routine.
Back in my 11A, on approach on a beautiful summer morning in Sydney.
Mercifully, this 15 hour ordeal on one of the worst airlines in the free world was finally over. Qantas A380 Business Class would be my last choice on this route when AA, VA and DL all offer 1-2-1 seating. Even United is better despite their 2-2-2 Dreamliner seating. At least it is a comfortable 2-2-2 and they have Wifi and far better IFE.
---
Last edited by SFO777; Mar 24, 19 at

8:10 am
Mar 7, 19, 8:17 pm
Join Date: Oct 2015
Location: St. Paul, MN
Programs: Delta GM, IHG Gold, HH Silver
Posts: 330
Great new report, SFO777. I am amazed at your experience with Qantas. It really seems like this airline has really gone down hill, and used to be so highly regarded as one of the best!

Looking forward to all the additional parts.
Mar 7, 19, 10:02 pm
Join Date: Oct 2010
Location: YVR - Vancouver, with most winter weekends in Whistler.
Programs: Aeroplan 35K, Marriott Titanium / Lifetime Gold, Hertz Five Star
Posts: 4,190
I got politely kicked out of the secret check point the last time I was through TBIT and tried to access it. Not sure if that was the new world order or whether I should have been more assertive with the security guard (laughing)
Mar 7, 19, 10:24 pm
FlyerTalk Evangelist
Join Date: Nov 2007
Location: LAX-SNA
Programs: BA Gold, AF/KL Gold, UA 1K, AA 2mm LT PLT/f
Posts: 19,217
sl00001.

adampenrith. Can I assume that you fly VA domestically?

757. I guess that years of short-sighted cost cutting will do that to an airline.

worldtraveller73. Interesting. On Sunday there was indeed a security guard blocking the entrance. I showed her the digital Qantas boarding pass on my iphone. Oddly, she wondered whether the scan would work at the TSA checkpoint, presumably because is was a "foreign airline". I guess that I convinced that it would since she let me pass. Very strange and certainly explains why there were few other passengers beyond that point.
Mar 8, 19, 6:31 am
Join Date: Nov 2011
Location: London
Programs: BA Gold, SQ Gold
Posts: 3,737
I spent 7 hours in that business class seat once - and at 6í 3 Iím too tall to stretch out on it when flat because of that stupid sticking out bit for your feet.

Once was enough.

The A330/789 seat I really like however
Mar 8, 19, 8:41 am
Join Date: Jul 2013
Location: JNB
Programs: Flying Blue, Miles and Smiles, Hhonors, ICHotels
Posts: 1,095
I went with the Pinot Grigio which was the only white. It was served at room temperature.
This is such a bad show especially considering that one would assume that the wine industry would use Qantas as a showcase for their wines.
As usual, an entertaining read - cannot wait for the next chapter, thank you for sharing.
Mar 8, 19, 3:06 pm
FlyerTalk Evangelist
Join Date: Nov 2007
Location: LAX-SNA
Programs: BA Gold, AF/KL Gold, UA 1K, AA 2mm LT PLT/f
Posts: 19,217
Thank you
darthlemsip
. That QF A380 seat is simply awful. I guess QF is planning on retrofitting with the 789 suite but it can't come soon enough.
enviroian
.
Thanks so much
roadwarrier
. Yeah, pretty weak but this crew didn't seem to care about much.
Mar 8, 19, 3:11 pm
FlyerTalk Evangelist
Join Date: Nov 2007
Location: LAX-SNA
Programs: BA Gold, AF/KL Gold, UA 1K, AA 2mm LT PLT/f
Posts: 19,217
Qantas First Class Lounge at SYD
At SYD, starting the long trek to the Transit/Transfer checkpoint.
Which was easy today as there were only a handful of transit passengers.
After a security check, it was upstairs to the International departures concourse.
And the always pleasant Qantas First Class Lounge.
With numerous morning departures, the lounge was pretty packed this morning at around 9:15am.
My first stop was for a much needed shower.
​
And then breakfast with one of the best views of any airport lounge.
And a much calmer lounge an hour later after most passengers had departed.
Mar 8, 19, 3:12 pm
FlyerTalk Evangelist
Join Date: Nov 2007
Location: LAX-SNA
Programs: BA Gold, AF/KL Gold, UA 1K, AA 2mm LT PLT/f
Posts: 19,217
Malaysia Airlines First Class - Sydney to Kuala Lumpur
While the LAX-SYD flight was free, I had to figure out how to get home. Rather than another boring SYD-LAX nonstop, I decided to take the scenic route home with using AA miles for Malaysia First Class from Sydney to Tokyo via Kuala Lumpur on their A359 and A380. My only other experience on MH was when
Mrs. SFO777
and I flew Malaysia's A380 First Class from KL to London a few years ago. Malaysia has had issues of late, between losing two planes a few years ago to an apparent revolving CEO door, and confusing and at times rather strange directions. Like despite have First Class cabins on many planes, MH announced in December that they were eliminating "First Class" and replacing it with "Business Suites". No idea what the rationale is but for all intents and purposes and based on my experience today, it is still First Class just with a different name. Malaysia's beautiful A359 at the gate in Sydney.
Sydney SYD to Kuala Lumpur KUL
Malaysia MH 122
A350-900 (A359)
1:10pm-6:30pm
March 5, 2019
Departed 1/4
Suite 1K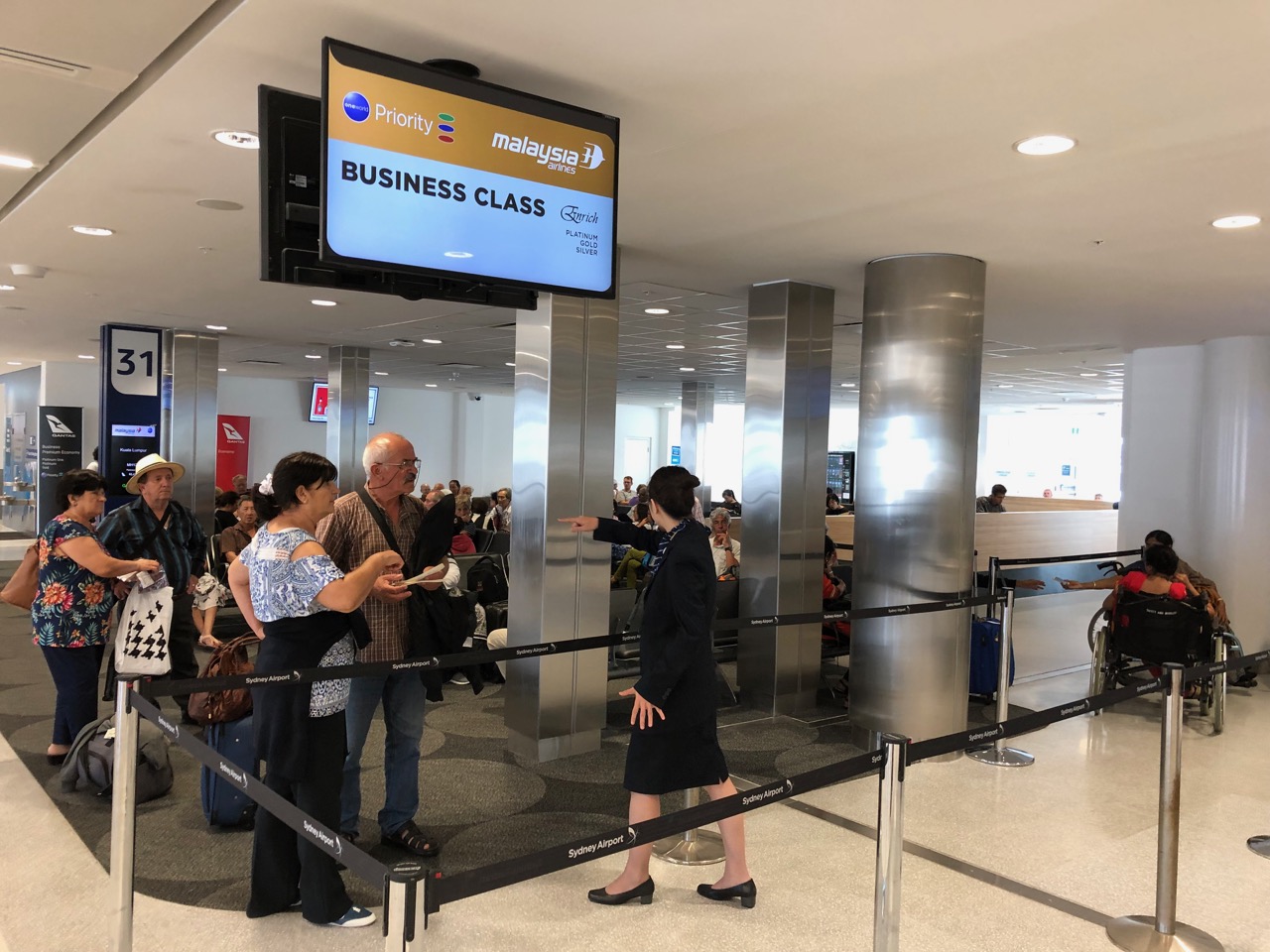 Yo Qantas, another airline with Wifi... unlike you.
Malaysia's First Class on the A359 is a single row 4 seat cabin. Not the most luxurious First Class cabin, with pretty bland and boring decor.
Since I was the only First Class passenger today, I had no problem taking pics.
And the Business Class cabin, starting at Row 2.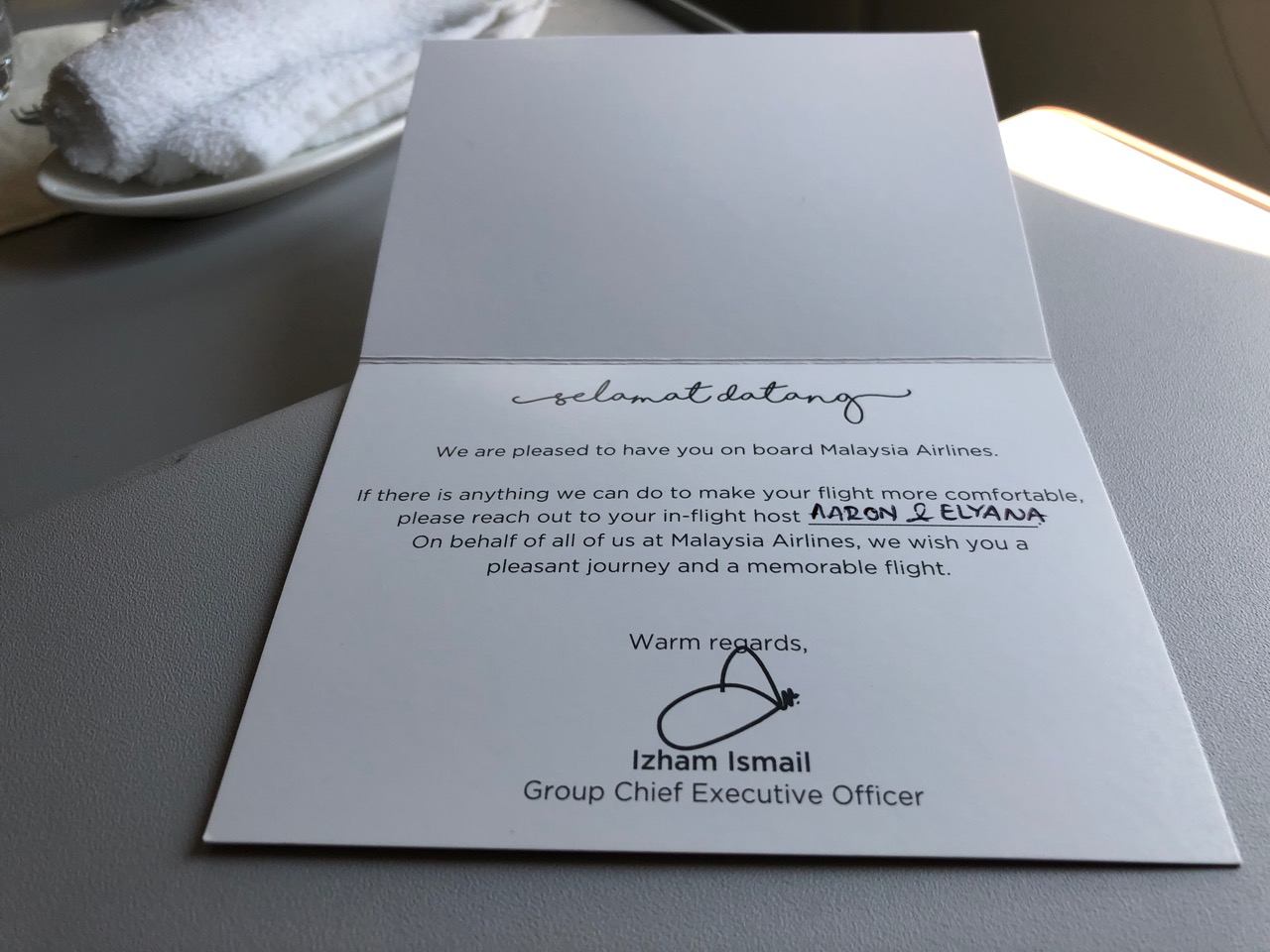 Since the A350 is not as wide as other long range twin engine planes, the suites are as spacious as other First Class suites. More like Business Class Plus.
My god, who picked the color scheme on this one?
Today's menu...
Considering Malaysia has great and unique cuisine, I was surprised to see a mostly Western menu.
On the other hand, the wine list was quite respectable.
The Malaysia First Class amenity kit...
... meh.
IFE was pretty good with a reasonable selection of movies, from Hollywood and Asia.
Good storage space throughout the suite.
We pushed back on time but then returned to the gate to resolve a minor technical issue and then headed back out 45 minutes later.
On our way to KL.
Right after take-off, my personal flight attendant, Elyana closed the curtains to wall off the cabin from the masses in Business and Economy. And as the only passenger in First, it was pretty much a private experience.
Elyana was well intentioned but her service lacked some of the typical refinements of more experienced cabin crew. My satay starter was excellent but she neglected to bring my champagne until after I was done.
And then she brought both the Champagne and Shiraz at the same time. LOL.
Both were excellent.
I had asked for the caviar first and then the seared tuna after. I'm guessing that it got lost in translation, as she and presumably Purser Aaron decided to serve both at once. It was an impressive display of food, so much so that Elyana decided to take a picture of it as well, after she saw me take one.
The tuna was
While the caviar was OK, the tuna was bland and pretty much tasteless.
For my main, I made the mistake of going with the Braised Brisket of Beef. Lots of fat although the sauce was good and made the brisket palatable. Overall pretty disappointing.
Next up was the cheese plate, which was quite good. With a couple more glasses of the wonderful St. Hallatt 2013 Old Block Shiraz.
And finally, delicious Hokey Pokey ice cream.
While Elyana made my bed, I headed to the lav to change.
Reasonable comfy bed and I was able to sleep for nearly 4 hours.
And a smooth touchdown at KUL after nearly 8 hours.
Overall quite a pleasant flight. Service was well intentioned but just a little unpolished compared to the flawless service on my connecting flight to Tokyo.
---
Last edited by SFO777; Mar 10, 19 at

11:25 am
Mar 8, 19, 4:23 pm
FlyerTalk Evangelist
Join Date: Nov 2007
Location: LAX-SNA
Programs: BA Gold, AF/KL Gold, UA 1K, AA 2mm LT PLT/f
Posts: 19,217