Flying the Friendly Skies; From the Plains to the Pacific
Feb 28, 19, 2:20 am
Join Date: Aug 2004
Location: Let me check my Logbook
Programs: Southwest Rapid Rewards; AAdvantage; Alaska Mileage Plan; Wyndham Rewards; Choice Hotels
Posts: 1,736
Flying the Friendly Skies; From the Plains to the Pacific
---
Tour of Duty 16th February 2019 to 22nd February 2019
I learned about a trip from Independence, Kansas to San Diego, California. I looked for air tickets that were economical. When I go to Independence, Kansas to get a truck I need to get a rental car for sure. When air travel is involved in going to Independence, Kansas there are basically four major airports I could fly in (and then hop in rental car for the remainder of the journey). Those airports are TUL, ICT, MCI and OKC. TUL is closest at 82 miles and OKC is farthest at 198 miles.
I found that a United Airlines itinerary from LAX to OKC with a connection in DEN was the most economical air ticket from southern California when I wanted to travel. Even though substantial checked bag fees were involved United was still considerably more economical than Southwest (with two free checked bags) in this instance. This was a "regular" economy ticket as opposed to a "basic" economy ticket which would have precluded me from bringing on a carry on that would go in the overhead bin. This was my first time flying the Friendly Skies (such as exist) of United since May 2015 when I did HOU-LRD and LRD-BHM itineraries. United is not my favourite airline to fly notwithstanding the fact I have an uncle who worked as a captain on United.
The time came to go to the airport Saturday morning. The card I used to book the air ticket was the card I tried to order my ride to LAX. It declined. Fortunately I had an alternate means of payment so I got transport to LAX and checked in and when I checked in and was going to pay the 70$ to check two bags which weighed 41.0 and 42.5lbs, the card that did not work for the ride to the airport also did not work to pay the baggage fees. I used the alternate and paid the bag fees and got in queue to drop the bags. I cleared security and the queue for security was quicker than the queue to drop the checked bags. I did not opt out due to time constraints but experienced a partial pat down then both my carry on items underwent additional screening. Total time from beginning of check in to clear of security was 40 minutes. When I arrived at the gate boarding was in progress.
United #314 LAX-DEN B-777-200 Group 3
Seat 48L Cruising altitude 37,000 feet Estimated flying time 1:40, actual 1:42
Depart: Gate 74 Scheduled 13h15, actual 13h18 Taxi/hold: 17 minutes
Arrive: Gate B36 Scheduled 16h30, actual 16h24 Taxi: 7 minutes
We boarded via jetway through door 1L. Those on the left side of the plane boarded via door 2L. The plane was a huge Boeing 777-200 jumbo jet with the "new" high density domestic configuration of 28F/336Y for a total capacity of 364 passengers plus a crew of 10. All or nearly all seats were filled. I flew on a United 777-200 once before and economy was 2-5-2 but this time economy was 3-4-3 except where I was seated it was 2-4-2 due to the narrower fuselage in the very back of the plane. Domestic First Class had configuration of 2-4-2 which likely would have been no better than Premium Economy on long haul intercontinental flights. It was announced our ETA was 10 minutes early into DEN and there was a slight chance of a snow shower and it was overcast with temperatures in the mid 30'sF at DEN.
Pushback was 3 minutes late and takeoff was to the west and we went overwater at 46 seconds. Then we turned left to head south and I saw Catalina Island at 0:04. We made landfall over Newport Beach at 0:08 and I saw the coastline down to at least mid San Diego County. We headed inland and I saw the Salton Sea at 0:18 and we turned in a more northerly direction. Seatbelt sign went off at 0:24. We crossed the Colorado River into Arizona airspace at 0:28 and I saw Lake Havasu and Lake Havasu City as well as Interstate 40. At 0:37 I saw Interstate 40 again and Seligman, AZ. I saw the San Francisco Peaks, Arizona's highest mountains at 0:41.
At 0:54 I got pretzels over northeast Arizona and I got can of soda at 1:03 over southwest Colorado. I saw snow below. I felt descent begin at 1:12 and descent was announced at the same time and the captain announced that it was snowing at DEN but the snow should be over by the time we land. Seatbelt sign went on at 1:15 and I saw the Sangre de Cristo mountains and the San Luis Valley in southern Colorado. I felt some bumps during descent and we went into clouds at 1:27 and we felt some real good bumps. I saw snow on the ground at 1:34 as we crossed Interstate 70 at 1:39 and w landed south to north on a snowy runway and it was still snowing as we pulled into the gate 6 minutes early. We deplaned via jetway
United Express #5734 DEN-OKC E-175 Group 3
Seat 23A Cruising altitude not announced Estimated flying time 1:06, actual 1:07
Depart: Gate B71 Scheduled 17h25, actual 17h40 Taxi/hold: 41 minutes
Arrive: Gate 5 Scheduled 20h08, actual 20h33 Taxi: 4 minutes
Reclaim checked bags 14 minutes after arrival
It quit snowing by the time we boarded and we had to go downstairs and outside to board the plane via a ramp. It was starting to clear off. Capacity of this large regional jet was 76 (12F/64Y) and it was not very full with the seat next to me empty. It was announced it was 29F, with haze and fog and low visibility and winds out of the south at OKC. It was announced that the plane needed to be de-iced. It was snowing when that plane landed. Pushback was 15 minutes late and we waited in queue and finally were de-iced. Takeoff was to the west followed by a left turn to head southeast toward OKC. I saw the lights of the Denver metro area immediately after takeoff but we went into the clouds at 0:03. At 0:28 I got pretzels and cup of sida. I got an extra snack from the premium snack basket at 0:33. I thought I felt descent begin at 0:44 and seatbelt sign remained on the entire flight. Descent was announced at 0:45 and it was 29F with low overcast and mist at OKC. We landed north to south and arrived at gate 25 minutes late. We deplaned via jetway.
After I reclaimed my checked bags I caught the bus to the rental car centre and after a short wait I got into rental car to head to Independence, Kansas. I looked up eating establishments and settled for
Cane's
and had evening rations before proceeding to Tulsa. I phoned up the card company regarding the card that did not work which was the fuel card the company I contracted with for this trip issued me. I learned to my horror that the card was compromised and there were fraudulent transactions that took place on the opposite side of the USA from where I live. Tulsa was just over halfway to my rental car destination of Independence, Kansas but I checked into hotel and spent Saturday night there.
Sunday morning I attended morning service at Grace Missionary Baptist Church in Tulsa, OK. The sermon was on First Timothy 3:14-16 "The Mystery of Godliness". Besides myself there were only 10 people present at that church. Afterward I proceeded and stopped at
Rib Crib
in Bartlesville, OK where I had midday rations which consisted of a Beef Brisket Sandwich and Seasoned Fries. I took a nap in Dewey, OK then took some pictures of that town before proceeding to Independence, Kansas where I went to the shipper for an after hours pickup. I located the truck and loaded my gear and did the inspection then I did an after hours drop of the rental car and walked back to the truck as the sun was setting.
Trip: Independence, KS to San Diego, CA 1,503 paid miles
Make: 2019 International
Model: Box Truck with Temperature Control Unit
Transmission: Automatic
Route: US75 to Interstate 244 to Oklahoma 66 (Old Route 66) to Interstate 44 to Interstate 40 to Interstate 27 to US60 to US70 to Interstate 10 to Interstate 8 to California 125 to California 94
Highest elevation: 7,591 feet Apache Summit US70 about 10 miles west of Ruidoso, NM
Lowest elevation 52 feet below sea level Interstate 8 near Seeley, CA
Highest diesel price USA: 3.259$ per gallon at Pilot Lordsburg, NM
Lowest diesel price USA: 2.499$ per gallon at QT Tulsa, OK
Permits required: NM and AZ Trip Permits
I got started and took on fuel in Independence then stopped in Tulsa, OK where I took on more fuel and I had evening rations which consisted of two grilled cheese sandwiches at
QT
. I looked at places to stay and ended up spending the night in Sapulpa, OK.
Monday I notified the company of the problems with the fuel card being compromised and ended up booking a hotel to spend the night in Amarillo, TX and I gave the name and address of that hotel to dispatch after being assured the front desk of that hotel would receive and hold a FedEx package for me. I got some kicks on Old Route 66. I did not immediately get on the Turner Turnpike due to construction but stayed on Oklahoma 66. I stopped in Bristow and took some pictures of that city. I'm glad that I had my winter coat along as it was cold outside. I got on the Turnpike and proceeded to Oklahoma City where I had midday rations and then took on fuel. Then I proceeded and stopped in Clinton, OK where I took a few more pictures of that town as well as the sunset. I continued west and took on fuel in Sayre, OK then stopped for evening rations at
McDonald's
in Shamrock, TX. Unfortunately that location did not have a Shamrock Shake yet though I think Shamrock Shakes should be available at that location year round. I continued west and spent the night in Amarillo, TX.
Tuesday morning it was snowing lightly and 20F when I woke up. It was supposed to get down to 15F that previous night. I got a call from the company saying not to expect the FedEx package as they depended on FedEx to come by and pick up the package and FedEx did not come by before the headquarters office closed for the evening. As a result I had to think about where I was going to spend Tuesday night and opted to go for Ruidoso, NM. I booked a room in Ruidoso and gave the address to dispatch after being assured that the front desk would receive and hold the package for me. I also asked dispatch for a Tracking Number for the FedEx package. I took on fuel before leaving Amarillo. I stopped to take pictures in Canyon, TX and I took more pictures of Farwell, TX before entering New Mexico. I stopped at the Port of Entry to get a New Mexico Trip Permit then stopped in Clovis to take on Diesel Exhaust Fluid. I continued to Roswell where I made a pit stop and it started snowing lightly in Roswell and there was off and on light snow as I headed west on US70 toward Ruidoso. Road conditions were clear until just a few miles out of Ruidoso where conditions deteriorated but I made it and spent a cold, snowy night in Ruidoso, NM.
Wednesday morning it was bright and clear. I tracked the FedEx package and learned it was to be delivered by 14h00. The package left Roswell at 09h17. I got ready and the package did not arrive by the time I checked out so I put my gear in the truck. I went to a nearby store for a little shopping then went to
K-Bob's
for midday rations. Afterward I went to the truck then learned the package was delivered so I went to the front desk and got the package and opened it and got my new fuel card. I contacted the company and the card was activated and I was back in business. I contacted dispatch to let them know I was good to go. I proceeded and road conditions were good. I stopped in Tularosa, NM to take on fuel and I took some pictures of Tularosa. The weather was good and I finally saw 50F for the first time since I left Los Angeles. I stopped in Alamogordo to take more pictures then headed to Las Cruces where I had evening rations. I got on the 10 and headed west and took on fuel in Lordsburg, NM before entering Arizona. I stopped at the Arizona Port of Entry and found out it was closed so I was unable to purchase an Arizona Trip Permit. I made an entry on my log that I was unable to purchase Arizona Trip Permit. I stopped and spent the night at the next viable location which was Willcox, AZ.
Thursday morning it was cloudy and windy as a weather system was moving into Arizona. I contacted safety regarding my inability to get Trip Permit as when I was home I got an e-mail from safety saying that drivers are required to get and have an Arizona Trip Permit even if the Port of Entry is closed. Safety instructed me to contact dispatch and have them order an Arizona Trip Permit for me and fax it to me. I was also told that if a truck driver is required to have an Arizona Trip Permit and is stopped and caught without one that driver could be charged with a felony. So I guess I was a
real bad criminal
for the 50 miles I drove once I entered Arizona. I proceeded over Texas Canyon and made a pit stop in Tucson. There was some light rain in the Tucson area and the rain started to pick up as I approached Eloy. I took on fuel for the last time in Eloy, AZ before starting my run west on Interstate 8. The rain continued to intensify into a torrential downpour and I reduced my speed to about to 35mph as darkness fell around Stanfield and Maricopa, AZ. I slowed down to avoid the risk of aquaplaning. I made a rest stop at a parking area before proceeding and the rain let up some though it was still raining when I stopped at
McDonald's
in Gila Bend, AZ for evening rations. I looked at places to stay and looked at weather conditions and booked a room in Wellton, AZ as rooms in Yuma were exorbitantly priced. The rain continued as I continued west but I finally got out of the rain before I shut down and spent the night in the
Microtel
in Wellton, AZ.
Friday morning housekeeping at
Microtel
in Wellton, AZ knocked on my door notwithstanding the fact that I put the "Do Not Disturb" sign up the night before and it was not check out time. Checkout time was 11h00 and it was no later than 09h30 when the knock took place. I put the "Do Not Disturb" sign on the door so I would not be bothered before checkout time so I felt disrespected by the housekeeping staff. I made a complaint with words to that effect when I did check out. There was a brief light rain shower as I fired up but it quit raining before I proceeded. I made a pit stop in El Centro and contacted the receiver to let them know I was coming. I was concerned because I was monitoring conditions on Interstate 8 over the mountains of San Diego County. Earlier that morning Interstate 8 was closed due to snow and ice in the mountains. There are three summits on Interstate that are over 4,000 feet in elevation: Laguna Summit at 4,055 feet; Crestwood Summit at 4,181 feet and Tecate Divide at 4,140 feet. When I started Interstate 8 was open but the CHP was escorting traffic. I saw that online when I was in El Centro. I made pit stop in Ocotillo to use the facilities and take some pictures then I proceeded up the In-Ko-Pah Gorge and the road was dry and clear with no sign or CHP escort. I made a brief stop at Desert View Tower in Jacumba to take some pictures. I made another brief stop in Live Oak Springs and there was snow on the ground but the roads were good and the snow was melting pretty quickly. I made final stop at rest area to use facilities and as I descended I got brief glimpse of the Pacific Ocean and Point Loma before going low enough to have the view blocked by hills. I pulled into the receiver and dropped off the truck and the receiver signed for the truck but said it would be inspected and checked in Monday morning and words to that effect were noted on the Bill of Lading which was signed by the reciever. That way I was free to go and I was not stuck in San Diego for the weekend.
I got transport to the Santa Fe Train Depot in downtown San Diego at sunset and I went inside and purchased a train ticket and checked my bags for the next northbound Amtrak train. The bags weighed 40.3 and 42.2lbs. I got in queue and boarded the train.
Amtrak #591 SAN-FUL Pacific Surfliner
Depart: Scheduled 18h43, actual 18h48
Arrive: Scheduled 20h59, actual 20h59
Reclaim checked bags 3 minutes after arrival
The train departed right on time. Intermediate stops were made in San Diego Old Town, Solana Beach, Oceanside, San Juan Capistrano, Irvine, Santa Ana and Anaheim before arriving at my stop of Fullerton. I went to the Cafe Car and purchased evening rations which consisted of a Cheeseburger, Chips and Soda. I got a discount for purchasing a combo, something not available on Amtrak in Texas. The train arrived in Fullerton right on time and I reclaimed my checked bags and I got transport home to end this tour of duty.
My ride from Independence, Kansas to San Diego, California
Feb 28, 19, 2:35 am
Join Date: Aug 2004
Location: Let me check my Logbook
Programs: Southwest Rapid Rewards; AAdvantage; Alaska Mileage Plan; Wyndham Rewards; Choice Hotels
Posts: 1,736
UA314 LAX-DEN 16th February 2019
---
Some pictures of United Airlines flight from Los Angeles to Denver.
Just after pushback from the gate
Inside the Boeing 777-200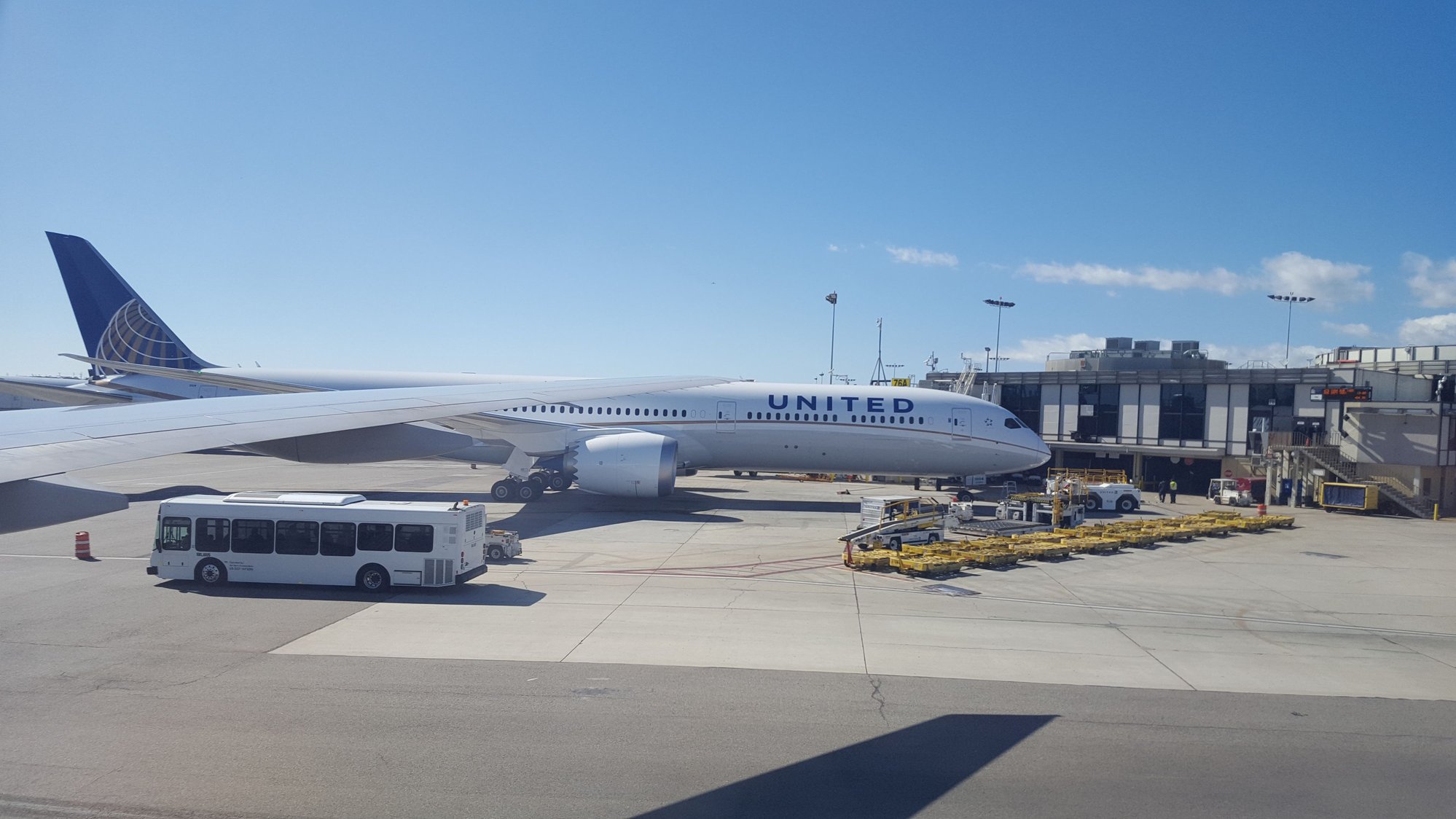 UA Boeing 787-10 Dreamliner at LAX
Los Angeles Times building visible during taxi
UA Boeing 777-200
Just after takeoff.
Overwater after takeoff
Catalina Island
Landfall over Newport Beach
Dana Point and Dana Point Harbour
View of the California Coast from Orange County to San Diego County
Salton Sea
Colorado River and Lake Havasu
Service
Snowy southwest Colorado
Sangre de Cristo and San Luis Valley
Descent over the Rockies
Clouds during descent
Snowy landing at DEN
Just after arrival at DEN, it was snowing
Feb 28, 19, 2:45 am
Join Date: Aug 2004
Location: Let me check my Logbook
Programs: Southwest Rapid Rewards; AAdvantage; Alaska Mileage Plan; Wyndham Rewards; Choice Hotels
Posts: 1,736
Clinton, Oklahoma
---
Pictures of Clinton, Oklahoma
sunset 18th February 2019 Clinton, Oklahoma
Mar 4, 19, 8:26 am
Join Date: Jul 2013
Location: JNB
Programs: Flying Blue, Miles and Smiles, Hhonors, ICHotels
Posts: 1,092
Many thanks for another great TR.

One question that I have though: when you move the truck, or you obliged to take compulsory rest breaks and if so, do you need to document those breaks? Or is everything on satellite tracking to ease the paperwork?
Mar 4, 19, 5:03 pm
Join Date: Aug 2004
Location: Let me check my Logbook
Programs: Southwest Rapid Rewards; AAdvantage; Alaska Mileage Plan; Wyndham Rewards; Choice Hotels
Posts: 1,736
Mar 7, 19, 12:17 am
Join Date: Aug 2004
Location: Let me check my Logbook
Programs: Southwest Rapid Rewards; AAdvantage; Alaska Mileage Plan; Wyndham Rewards; Choice Hotels
Posts: 1,736
New Mexico
---
Some pictures of New Mexico
Texico, New Mexico
Elida, New Mexico sunset 19th February 2019
Ruidoso, New Mexico
Ruidoso, New Mexico
Tularosa, New Mexico
Tularosa, New Mexico
Tularosa, New Mexico
Tularosa, New Mexico
Tularosa, New Mexico
Tularosa, New Mexico
Alamogordo, New Mexico
Alamogordo, New Mexico
Alamogordo, New Mexico
Alamogordo, New Mexico
Alamogordo, New Mexico
Alamogordo, New Mexico
White Sands near Alamogordo, New Mexico
White Sands near Alamogordo, New Mexico