From Uzbekistan With Plov(e) - To Central Asia On TK (Y/J) and SU (Y)
Feb 18, 19, 4:05 pm
Join Date: Feb 2014
Location: OTP, CHQ, EIN and beyond
Programs: AF/KL platinum, Turkish gold, Aegean silver
Posts: 1,183
From Uzbekistan With Plov(e) - To Central Asia On TK (Y/J) and SU (Y)
---
Welcome back to yet another trip report as I try to cope with a big backlog writing and editing the pictures of some recent trips – which is seemingly getting worse by the month as I somehow manage to travel more than I have spare time to work on these trip reports.
At the end of October last year I had a week-long holiday which I wanted to use for mileage run purposes. I managed to match by Flying Blue platinum status to gold status (or 'Elite' as they simply call it) at Turkish Airlines' Miles&Smiles programme. It was much-needed as I was longing back to having status again on Star Alliance. I previously held Aegean Gold – but I wasn't able to retain it when the stricter re-qualification requirements introduced a few years ago to the once infamously easy-to-get status coincided with a personal low-turn in travels when I moved from Greece to Romania and started a new job. As for two years I had no spare time and no money to travel due to the move it meant that I dropped back all the way from Aegean Miles+Bonus Gold to Blue. Ouch.
Having settled into my new job and home I could have easily regained my old status with Aegean Airlines but I opted to switch to Turkish for 3 reasons:
- Keeping status is as easy as with Aegean Airlines in general
- I could again get back to gold instantly instead of having to work up from the bottom
- My new route pattern sees lots of flights in lower booking classes on Turkish and the lowest booking classes don't even credit a single mile to Aegean
The Turkish Airlines status match offer was quite fair and all very simple to arrange. One email with a picture of my platinum Flying Blue card and print screen of the online statement was enough. The matched TK gold card trial period is 4 months, in which you need to take at least 1 international flight on Turkish Airlines metal irrespective of booking class. The trial period is then extended for 8 months and regarded valid for one year in total. If you earn 15,000 status miles in Turkish Airlines international flights in the first year of the Elite membership, it will be extended for one year, and thus will be valid for two years in total and will follow the normal re-qualification rules from that moment on.
For years I desperately wanted to explore Central Asia – there is just something intriguing about the place, being so far away from the oceans, the silk road history, the scenery ranging from desert to huge mountain ranges, the ancient empires from Alexander the Great to Tamerlane, the Great Game, Soviet occupation, the sheer obscurity nowadays of many of the places. It's a backwater globally – but what a fantastic backwater it is!
I had set my eyes on Uzbekistan as Turkmenistan was too difficult visa-wise and I didn't think it was the best time of the year for Kazakhstan, nor for the mountainous countries of Kyrgyzstan and Tajikistan (another time for sure!). An extra intriguing factor was that Uzbekistan liberalised its visa system last summer allowing visitors from many countries to apply for one online as part of a pilot project. It took me half a day to file it as the website was still in its infancy. First it didn't want to accept my uploaded passport picture for some reason due to extremely low maximum dpi/resolution it could handle, then after finally having managed to convert and Photoshop the picture into something which the automatic system did accept the payment page gave problems. Only at the ninth attempt to pay did my transaction proceed and I received a message I would get confirmation in three days. Within two days, I received an email with the visa in PDF. Even though it took half a day it's miles better than before when you required an LOI and needed to file in person at an embassy. I expect that the initial bugs in the system will soon be tackled making it a much smoother experience. I'm by no means a big computer expert but those without internet and computer skills at all might seriously struggle to get their picture uploaded and fitting to the idiotic requirements - you certainly need to have some savviness for it!
Then it was time to book my flights. Needless to say, they needed to be on TK metal – and Turkish operates multiple daily flights to both Tashkent and Samarkand. Yet I had immense difficulties pricing out a cheap return ticket, whether from my home airport of OTP or any of the major European airports I can reach cheaply and easily with a positioning flight on a low-cost carrier. However, I was able to find a cheap enough one-way ticket from nearby Chisinau in Moldova (KIV) – which at 300USD was half the price of a one-way from OTP. Positioning to Chisinau to take my first flight is super easy as its just an overnight train ride away – despite the extra effort worth the savings of 250 USD after paying the train ticket in a private compartment.
With the Turkish Airlines flight requirement fulfilled, I had more flexibility to shop around for the inbound flight back home. Flights the days I needed it were outrageously priced from Uzbekistan no matter which airline – but just across the border from Tashkent in the Kazakh city of Shymkent I found a good Aeroflot deal which would take me via Moscow Sheremetyevo back to Bucharest (220 euro). On a map, the flights look like this: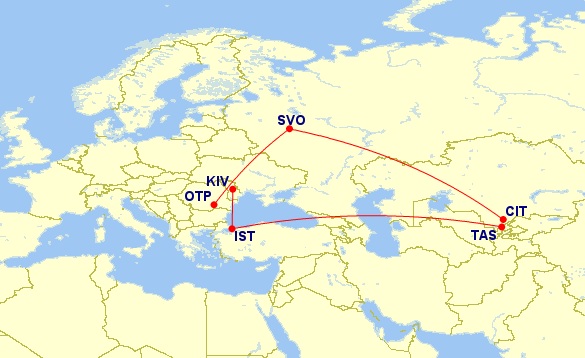 With the flights set I could now focus on my Uzbek itinerary. I would arrive on a Saturday morning in Tashkent after a brutal red-eye. Giving the Uzbek capital a full day, I would head to Samarkand for two full days, Bukhara for two full days, and one day in Khiva – the destination the deepest away in the country. From Khiva I would backtrack by overnight train back to Tashkent. After arrival back in Tashkent in the early morning exactly a week later on a Saturday, I would then somehow make my way to Shymkent in Kazakhstan where I would spend a full day before flying home. On a map, that looks like this: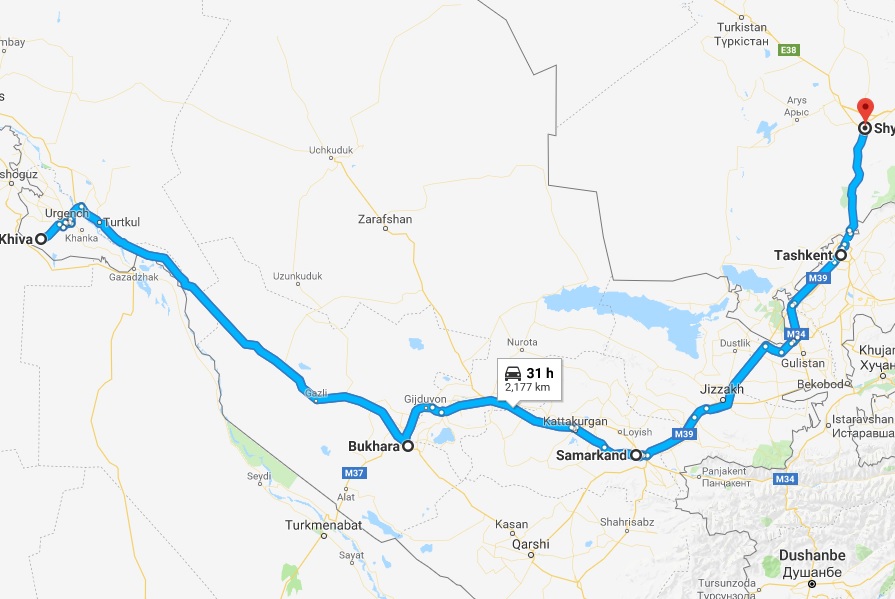 Highlights to look forward to in this trip report include:
- Exploring a bit of Moldova
- A much appreciated op-up from Y to J on Turkish
- Tashkent's colourful and bustling Chorsu Bazaar
- Awe-inspiring Samarkand with its fabulous Registan and beautiful mausoleums
- Bukhara with its intriguing history and ancient madrassas
- The remote and fully walled desert city of Khiva and its infamous slave-trading past
- Journeys on Uzbekistan Railways' brand new high speed trains as well as some ancient Soviet sleepers
- Excellent Uzbek food, from mouthwatering shashliks to copious amounts of plov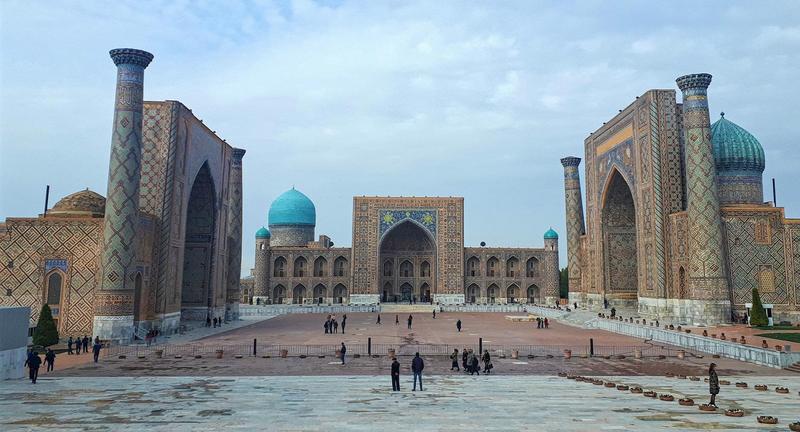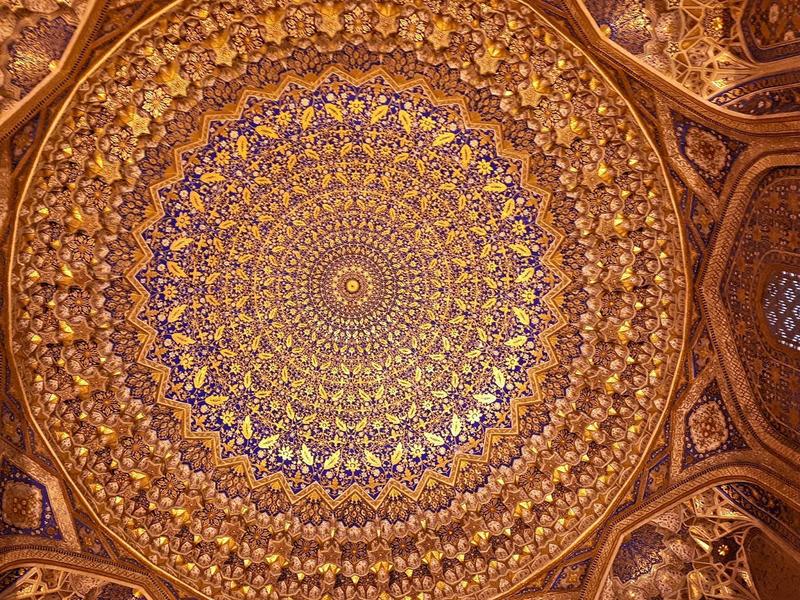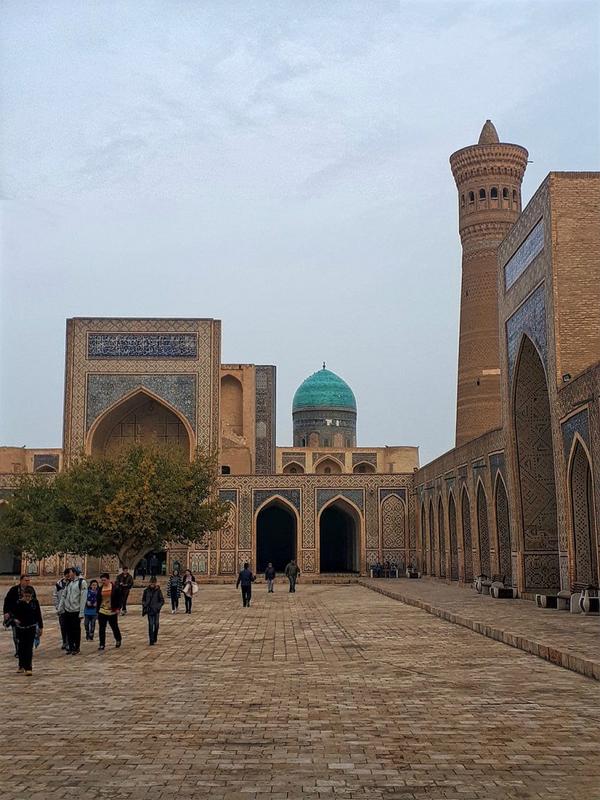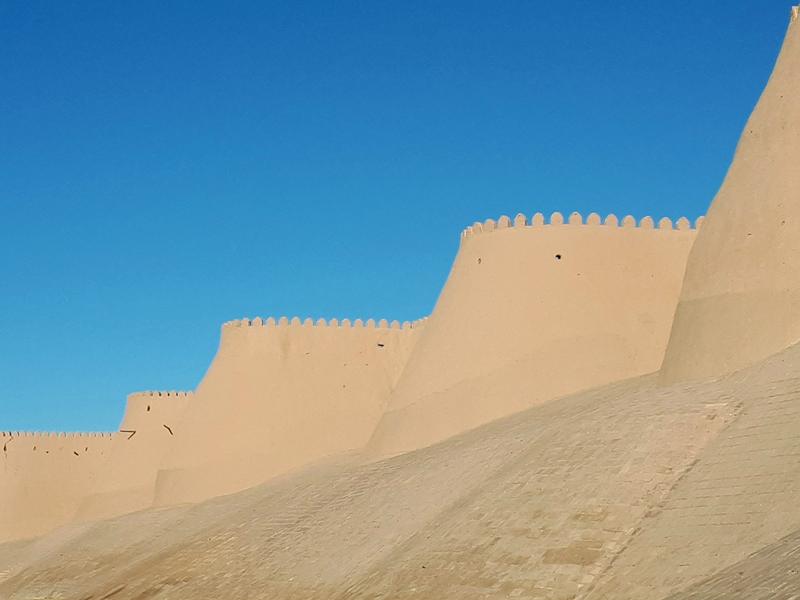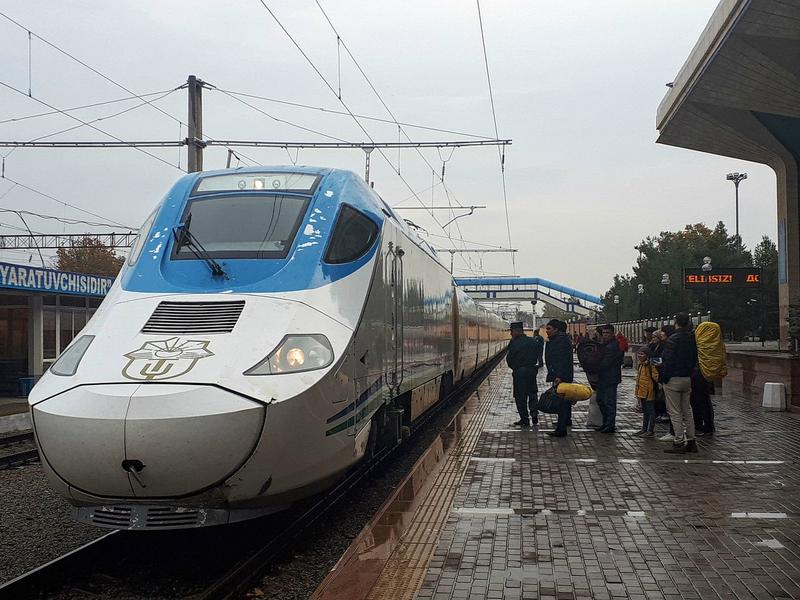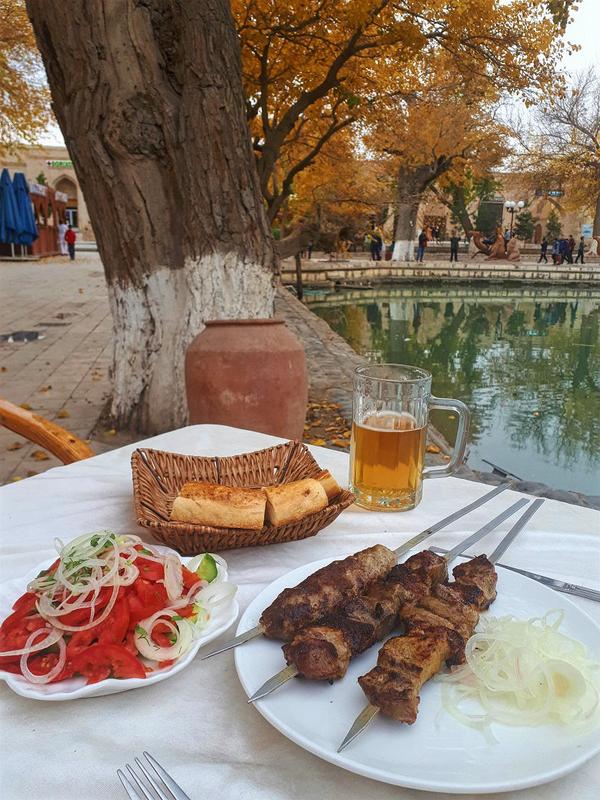 INDEX OF THIS TRIP REPORT:
1.
Bucharest Gara de Nord to Chisinau by overnight train
2.
Exploring the capital of Moldova: Chisinau
3.
Chisinau day trips to the Mileștii Mici winery and Transnistria
4. To follow..
5. To follow..
---
Last edited by Romanianflyer; Feb 21, 19 at

4:46 pm
Feb 19, 19, 4:31 am
Join Date: Feb 2008
Location: Stockholm
Programs: Various
Posts: 2,635
Subscribed. I have really liked your previous reports and expect this one to be no different. Am interested in your observations in Uzbekistan. I was there 10 years ago but things may have changed since.
Feb 19, 19, 10:12 am
Join Date: Feb 2014
Location: OTP, CHQ, EIN and beyond
Programs: AF/KL platinum, Turkish gold, Aegean silver
Posts: 1,183
Thanks! Working on parts one and two as we speak.
Feb 19, 19, 12:02 pm
Join Date: Feb 2014
Location: OTP, CHQ, EIN and beyond
Programs: AF/KL platinum, Turkish gold, Aegean silver
Posts: 1,183
Part 1: Bucharest Gara de Nord to Chisinau
Overnight train (number 402) – 33 EUR for a bed in a 1st class 2 bed compartment
STD 7.15pm - STA 9.03am (travel time 13h48m)
To start my adventure meant that I would need to make to Chisinau first. From Bucharest that is very easy – with lots of daily departures by plane, train and bus. On this route I however prefer the train, as flights are relatively expensive and I hate buses and avoid them unless there is no other realistic option. Sure, at almost 14 hours the train takes forever due to a roundabout route and the ancient tracks which does not allow speeds higher than 50kph. That said, as the journey is overnight it is ideal for me as I can leave straight after work and arrive at my destination having had a good night of sleep.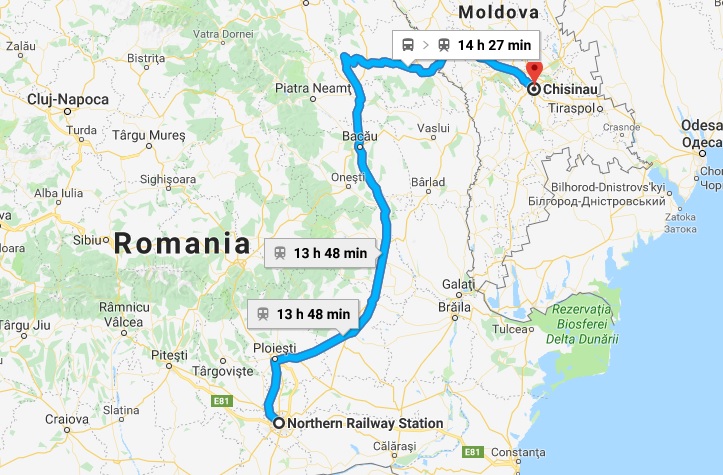 The route of the Bucharest to Chisinau overnight train
There are two classes available on this train: couchettes (2nd class) which sleeps four people in a cabin is a steal at just 90 RON (19 EUR). A shared 1st class compartment which sleeps two people costs 156 RON (33 EUR), while such a compartment for single occupancy costs 284 RON (60 EUR). Tickets can be nowadays easily be booked online both on the Moldovan and Romanian railway websites.
I have taken the train a lot in the past, for both work and leisure – and it rarely gets full. Chances are big that whatever ticket you book you end up having a compartment all alone, although if you want to guarantee this you obviously need to book the two-bed first class compartment for single occupancy. On this trip I decided to risk it again and book just a bed in a two-bed first class compartment, hoping the other bed would remain empty.
Some thirty minutes before departure I arrived at Bucharest's Gara de Nord station – which is the city's main railway terminus. Even though the facade is quite impressive (albeit a bit dark) the station is quite derelict from the inside, and the neighbourhood in which it stands is far from the nicest of town, which is often the case with (European) railway stations. There are however more than enough (fast food) restaurants, two supermarkets and some small kiosks to eat a quick bite or to stock up on supplies for your journey.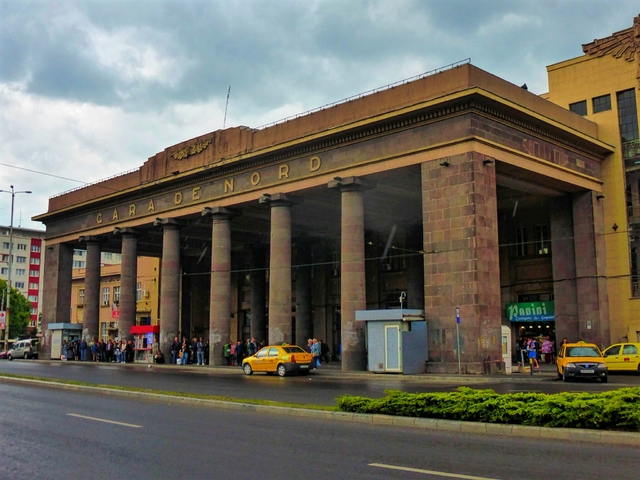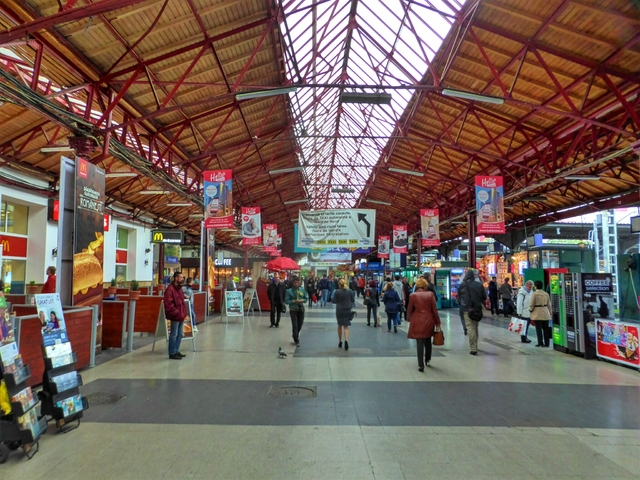 Bucharest Gara de Nord – picture taken during a previous trip
Twenty minutes before departure the Chisinau night train was reversed into the station from the nearby railway yards.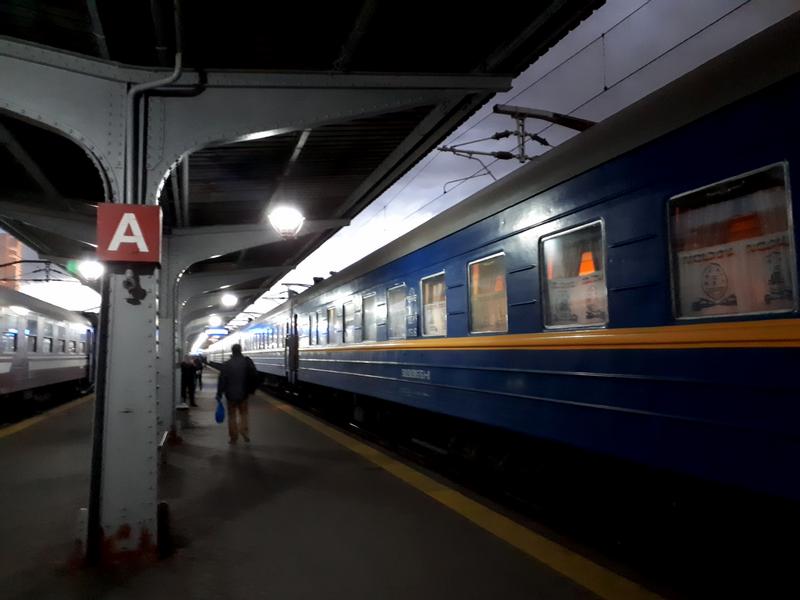 The blue-and-yellow-coloured train is your typical Soviet train – it is quite a bit higher than trains commonly used in the rest of Europe. It was built in the early 1980s in the GDR – that's communist Eastern Germany – by VEB Waggonbau in Ammendorf. On the typical Bucharest-Chisinau run there are normally some 10 cars – one first class car with 2-bed compartments, some seven cars with 4-bed couchettes, and one restaurant wagon which normally only has some snacks and cheap booze and no serious meals (best to stock up in advance).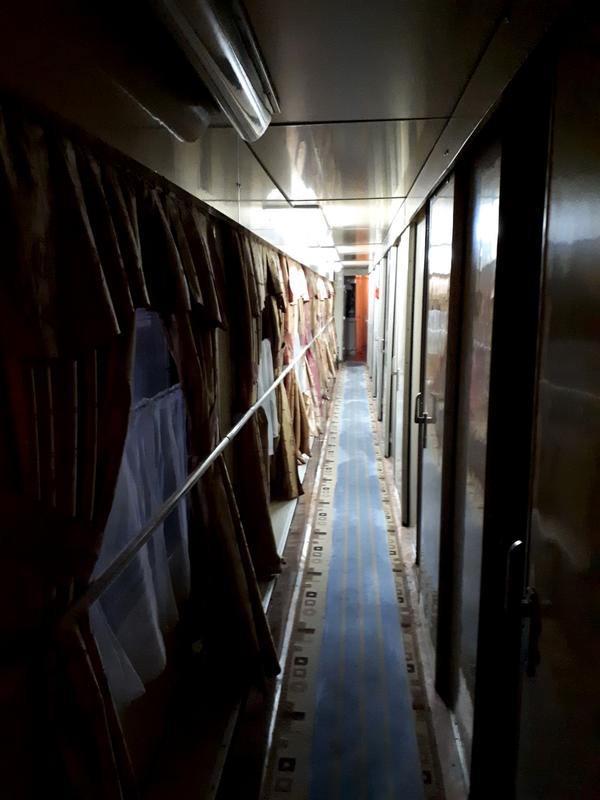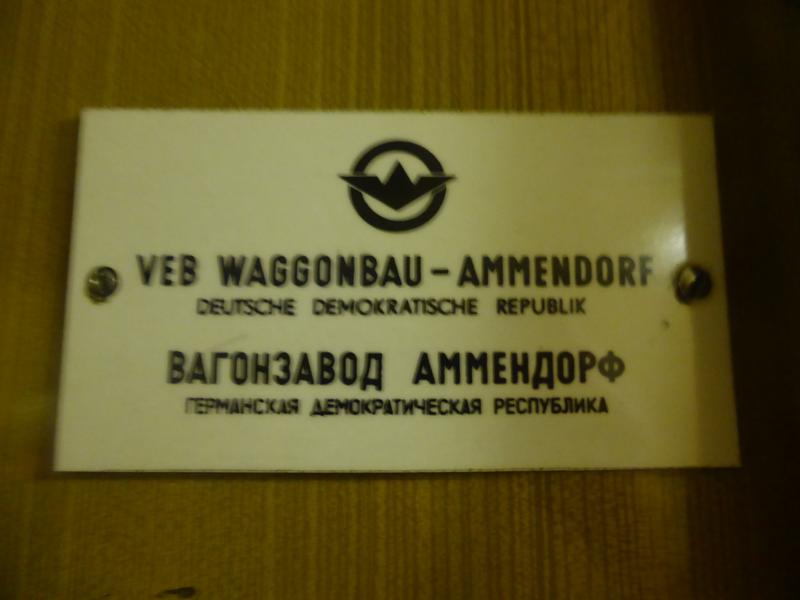 I was lucky again as even though I just paid for a bed in a shared 2-bed compartment (which you will always share with passengers of the same sex) and not for single occupancy, it turned out that the first class wagon was perhaps just 30 percent full and I would have the compartment to my own.
How to describe the compartment interior? Well, imagine if Donald Trump was a Soviet train designer in some alternate universe and how he would then have designed the interior. It has lots of ghastly gold, fake flowers and huge wall mirrors – the amount of kitsch just hurts your eye.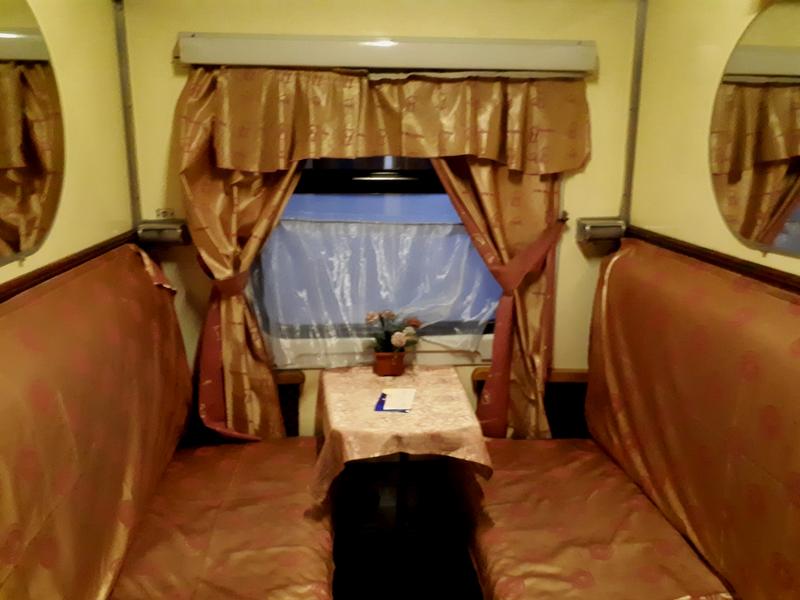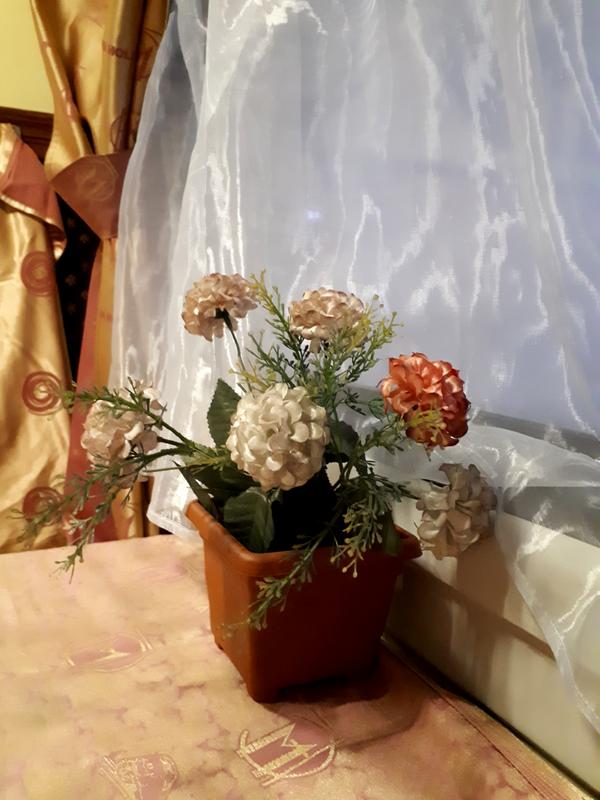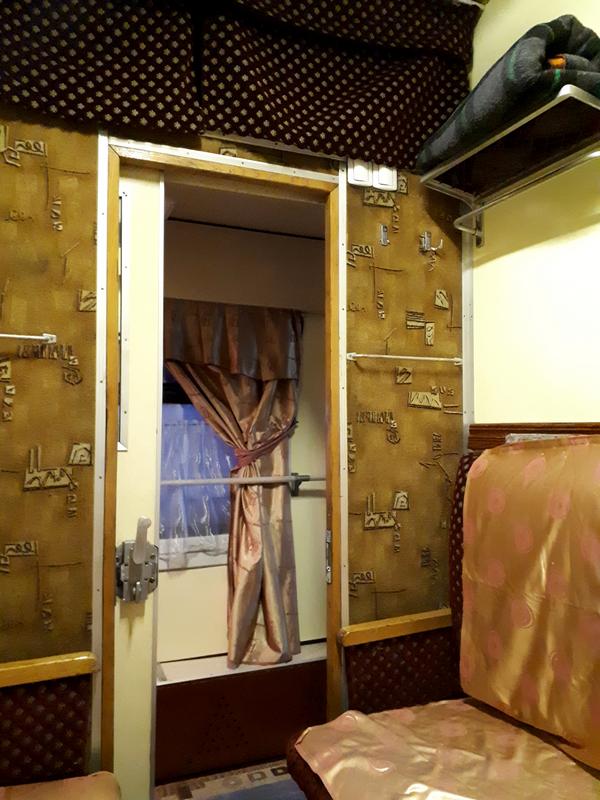 As you can see on the picture right above, there are actually rather nice classical seat cushions in Bordeaux red colours with a small golden motif hidden under the ghastly golden sheets which for some inexplicable reasons are used as seat covers. So basically the Moldovans remodelled the Orient Express into something horrifically looking.
In true Soviet-style you have to make up the bed yourself – this is typical for any night train journey in a former Soviet country, whether it is Ukraine, Russia or Uzbekistan. The pillow, bed and blanket cover are a complete mishmash of styles which whoever in charge seems to have picked up at the local dump store. That said, even if the sheets probably are in circulation for at least 2 decades, they were all clean and smelled fresh.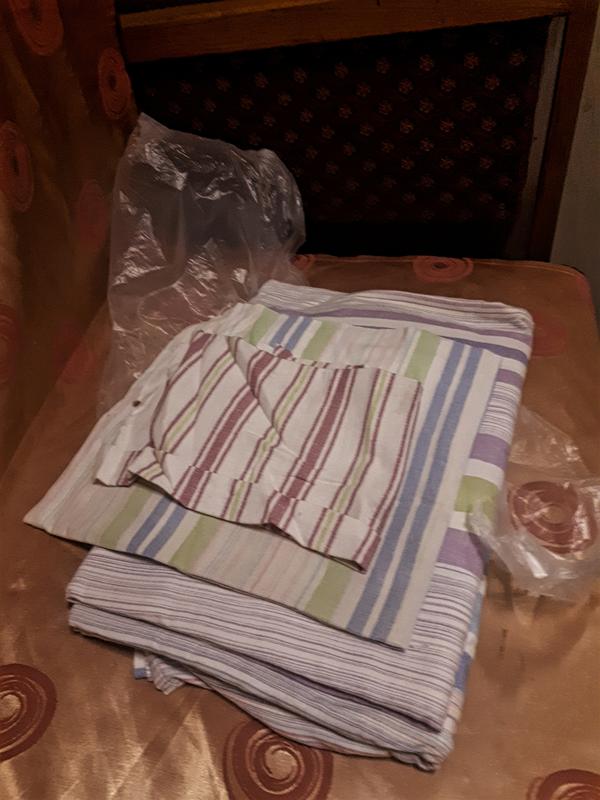 This is how the bed looks like after it is made up.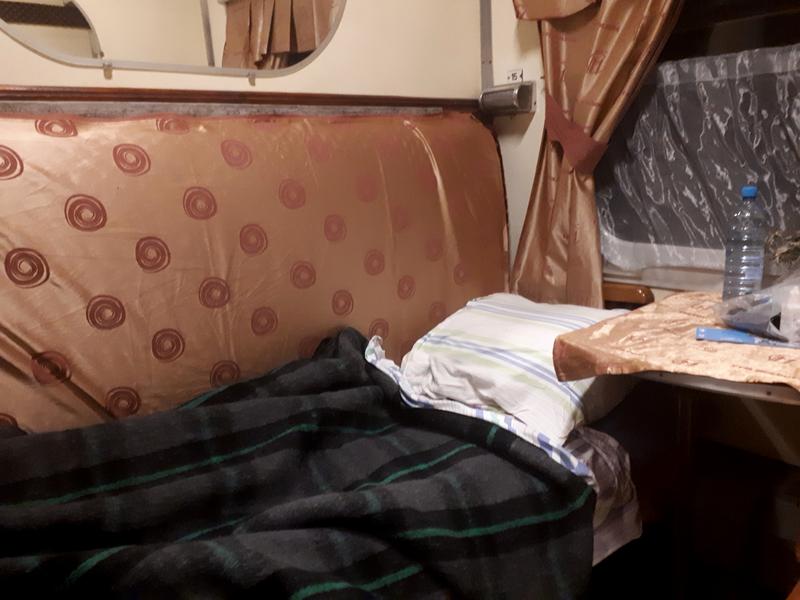 So while it might not be the most beautiful-looking train ever and everything is rather dated, it is quite comfortable and snug. The only drawbacks are that the bed is rather small in width and that there are no plugs (let alone WiFi – although some newer domestic Moldovan trains do have both). Another drawback is the lack of air-conditioning in summer. While this is not an issue in spring, autumn or winter (heating works well) the train can get unbearably hot in summer if the sun shines directly at your compartment window.
If you are not used to overnight train journeys and need perfect quietness to sleep then this is not something for you as the old train (coupled with dreadful track maintenance) makes for a lot of shaking and sounds. If you like being lulled to sleep by the sound of the tracks and the excitement of a journey and are used to such a way of travel (I do for sure) then you will sleep perfectly. Above all, just see it as an unique adventure!
For those who are wondering, this is by the way how the second class four-berth couchette compartments look like.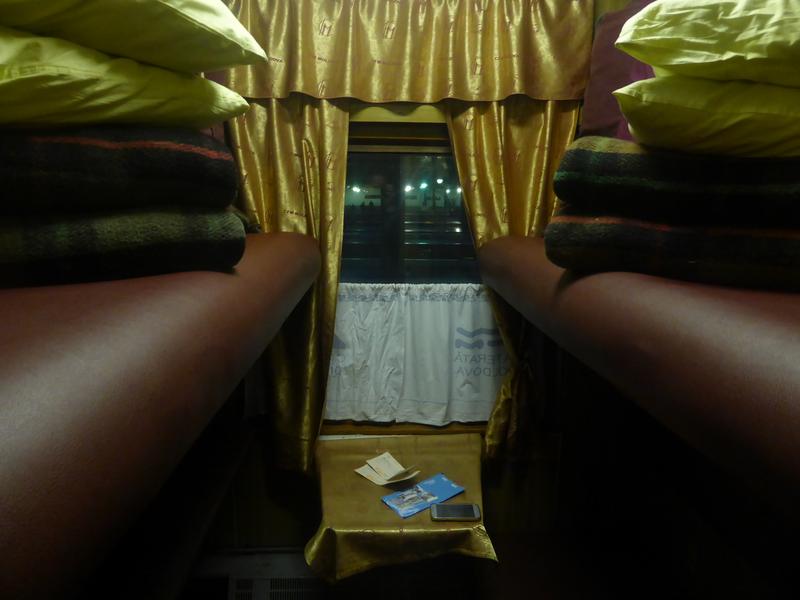 Second class four-berth couchette compartment with beds not yet made up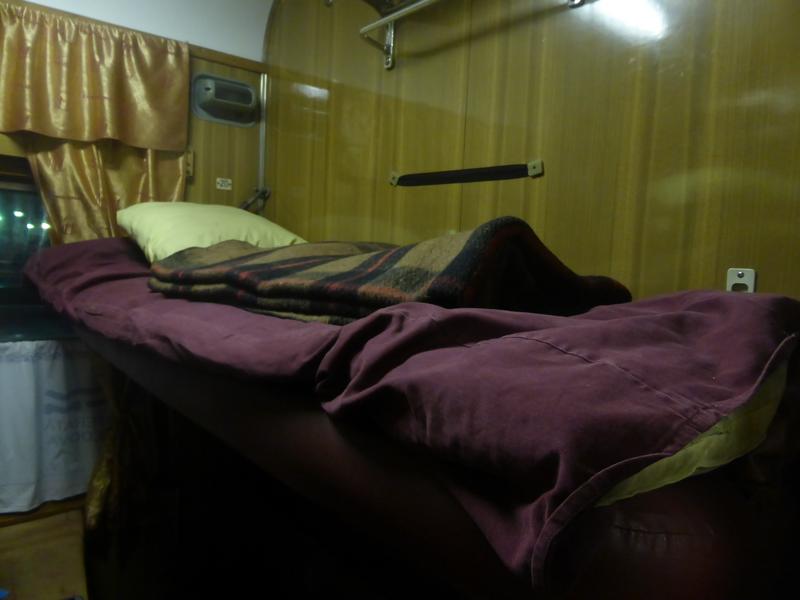 With the bed of the top bunk made up
The train arrived at the Romanian-Moldovan border on the River Prut at around 4.30am. Romanian border formalities are quite fast, it takes a bit longer in Moldova (vice versa if travelling the other way around, of course – especially as you are then entering the EU). Expect the border guards to briefly check if nothing is stashed away in the luggage storage areas of each compartment. They are however unlikely to search your belongings if you just have one backpack or trolley with you.
At the border railway workers also change the trains' bogies (wheelsets) as there is a difference in railway gauge between Romania and Moldova. Romania much like the rest of Europe has a standard gauge (4' 8.5") while the countries in the ex-Soviet union has tracks with Russian gauge at 5' (the only other exception is the gauge on the Iberian peninsula which is 5' 6"). The difference in gauge can be explained from a military perspective as it would require an invading army much longer to transport troops by train into the heart of Russia!
At the border, each wagon is jacked up one by one to have its bogies changed to accommodate the difference between standard and Russian gauge – a process that takes around a full hour until workers finished with every single wagon. While it makes quite a bit of sound you don't notice that much of it at all actually.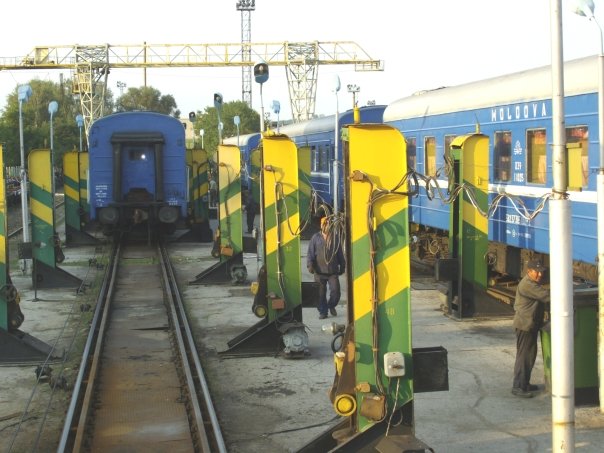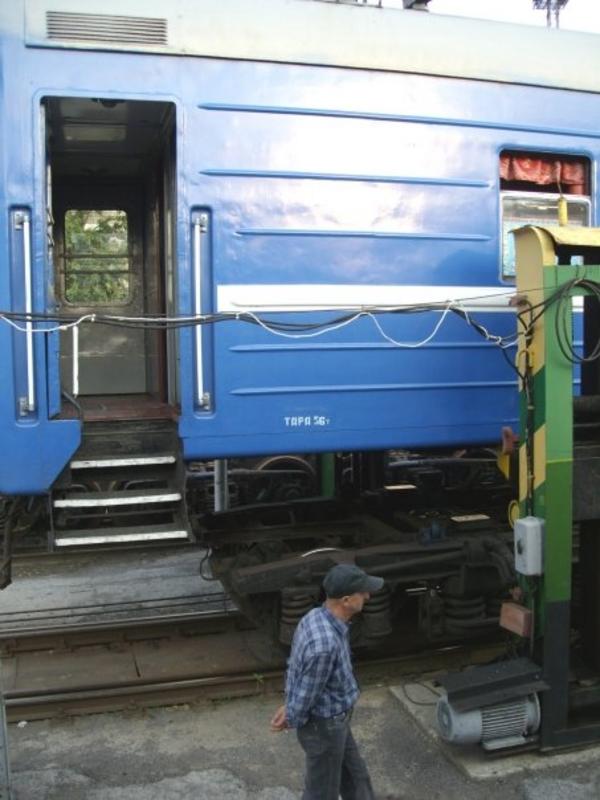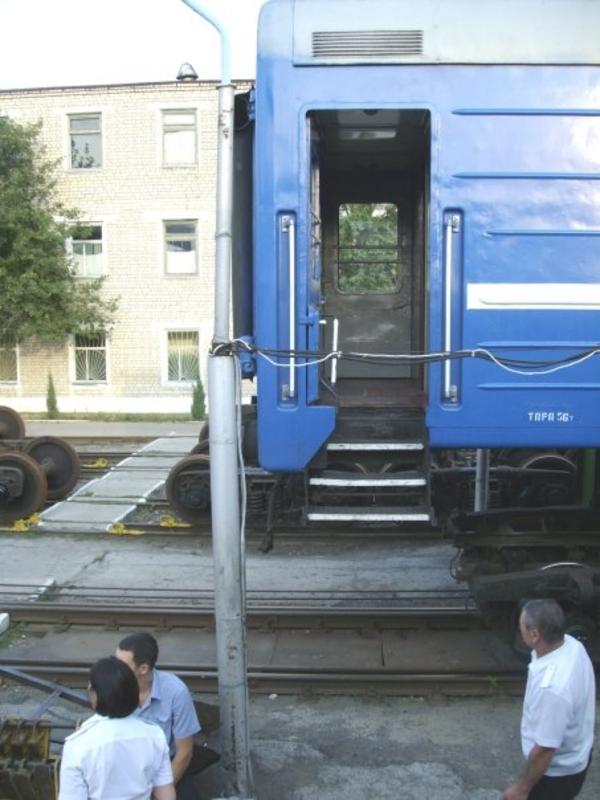 Pictures of the change of gauge/bogies change at the Ungheni railway border from a decade back when I did the reverse route Chisinau-Bucharest.
For this reason, it is actually be better to do the train in reverse route (Chisinau-Bucharest) as you can witness the change of bogies and the jacking up of your wagon a few feet in the air during daylight. As border formalities are also at a more humane hour, you have a much better sleep on Chisinau-Bucharest than you have on Bucharest-Chisinau.
After the entire border formalities and the change of gauge we finally departed the Ungheni railway border – from that moment there is just over two hours left to Chisinau. I managed to have a quick nap to wake up to some last bits of Moldovan countryside before we hit the Chisinau city limits.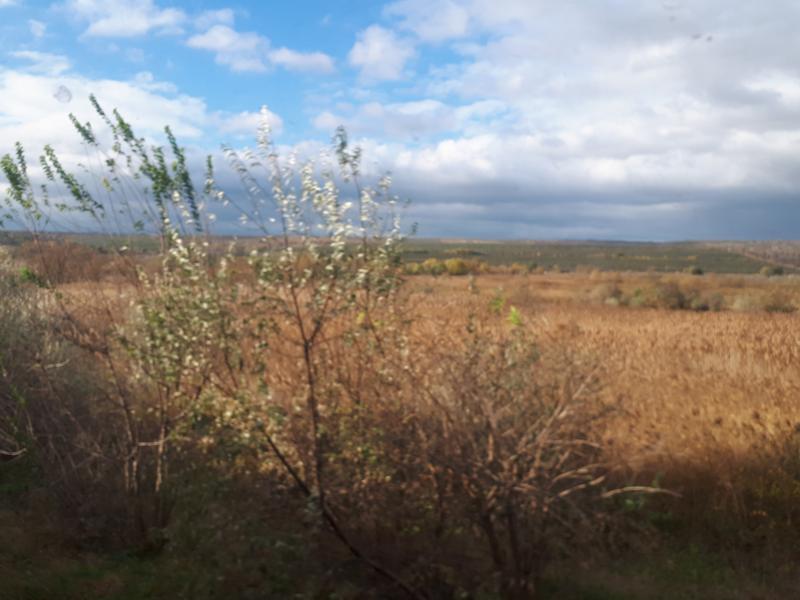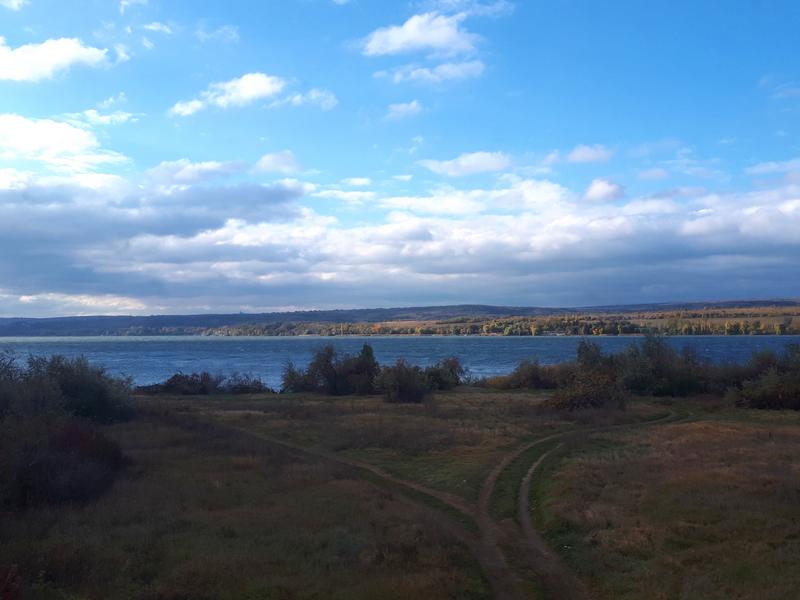 Arrival at Chisinau's tiny central station was about 40 minutes late.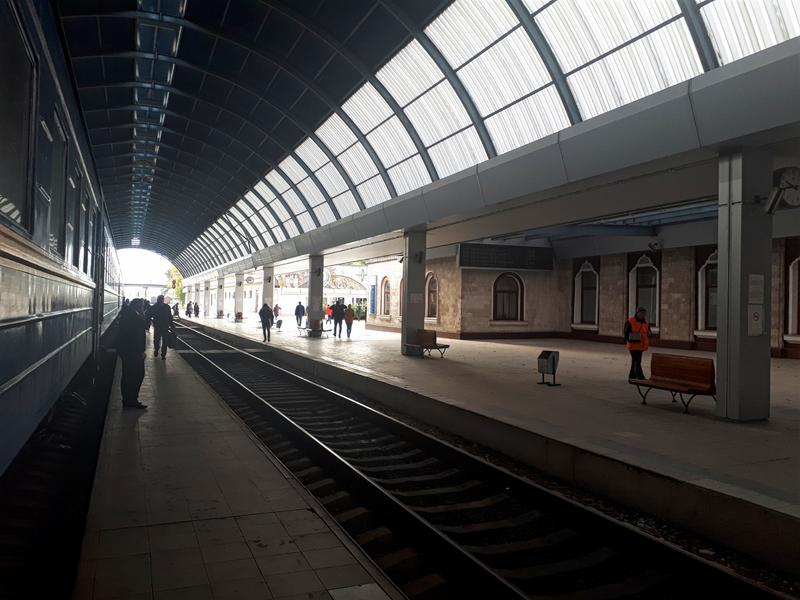 In short:
While it might not be everyone's cup of tea, the train gives an unique insight in times gone by and is a unique experience on its own. Sure, luxury it is not – if you want that fly with TAROM or Air Moldova (one ways are most often priced around 120 EUR). The train is however dirt cheap even for sole compartment occupancy – and especially if going from Chisinau to Bucharest might be a great ride which allows you to sleep at night and arrive fully rested at your destination.
Next up:
Exploring the Moldovan capital of Chisinau.
Feb 20, 19, 2:30 pm
Join Date: Feb 2014
Location: OTP, CHQ, EIN and beyond
Programs: AF/KL platinum, Turkish gold, Aegean silver
Posts: 1,183
Haha yeah I can imagine, it ain't one of the awesome hotels you stayed in at your latest TR! But yes, even though I do like the unique travel experience I would also normally prefer more modern amenities and comfort on board
it's miles behind a private compartment on a Turkish train, let alone one of the OeBB in Austria or those in Norway which I travelled on before.
Feb 20, 19, 3:35 pm
Join Date: Feb 2014
Location: OTP, CHQ, EIN and beyond
Programs: AF/KL platinum, Turkish gold, Aegean silver
Posts: 1,183
Part 2: Exploring the capital of Moldova: Chisinau
As I would stay with friends in Chisinau instead of a hotel and would only meet up with them after they were out of office, I had to entertain myself for the day. It was already the sixth or so time I was in Chisinau, which frankly isn't one of Europe's most appealing cities to put it mildly. That said, it is not the worst around either (that distinction must surely go to Kosovo's capital of Prishtina) and there are actually quite a few amazing day trips you can make from Chisinau – more on that later.
I decided I would put in some work for most of the day so I wandered from the train station – which is a good 40 minutes walk from the city centre – slowly towards the city's main boulevard to find a nice place to eat breakfast and work.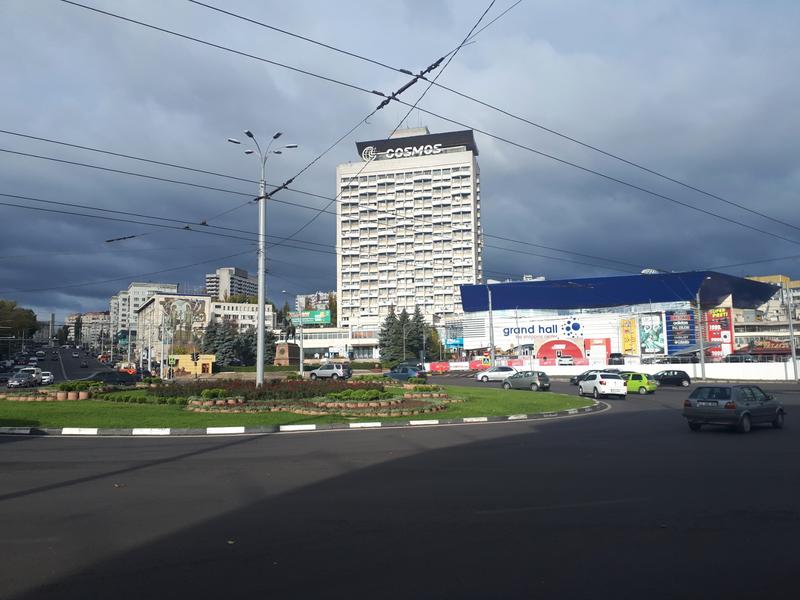 The Cosmos Hotel – one of the old Soviet hotels of the city. The street on the left is the start of the main boulevard of the city which starts here and runs slightly uphill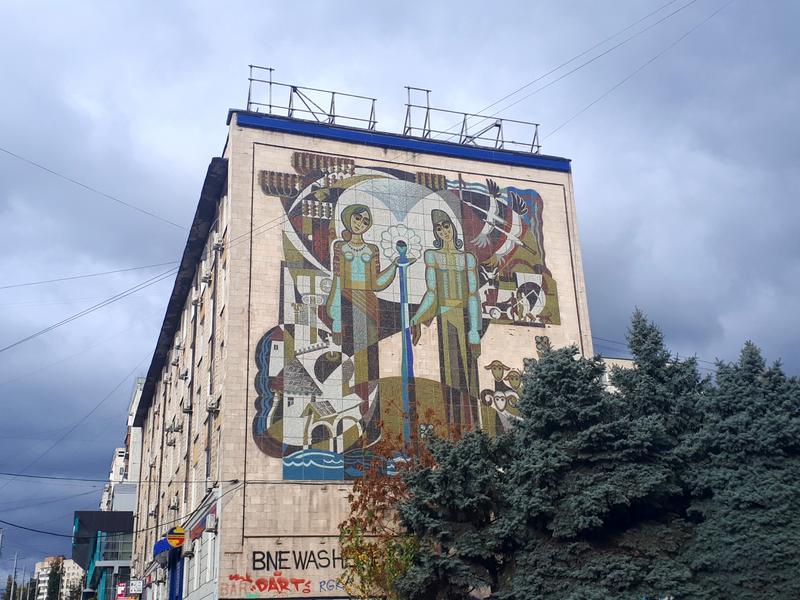 Communist mural
Before I however reached the city centre the rain started to pour down from the skies. I hurried to the first restaurant I could find, where I lingered over breakfast, coffee and work on my laptop for a few hours. At around 3 EUR it was extremely good value – Moldova in general is extremely affordable when it comes to eating out.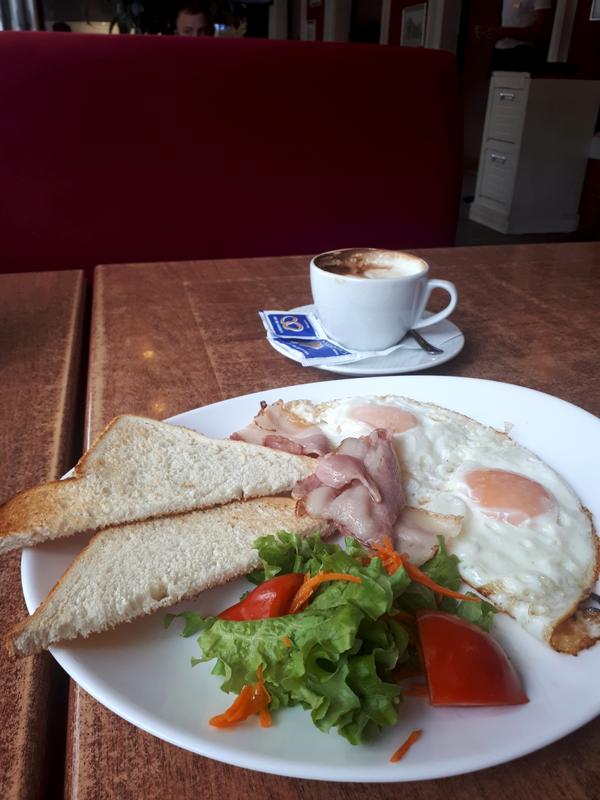 When I had done my share of work for the day it was time for a walk through the city. Most sights are located along the main boulevard called Boulevard Stefan cel Mare. Stefan cel Mare (Stephan the Great) was a 15th Century prince who ruled the Principality of Moldavia as it was called back then. The country was much bigger then as it includes also parts of nowadays Ukraine, as well as what is now the Romanian province of Moldavia. Stefan cel Mare built beautiful monasteries and churches and earned great victories over the Ottomans and Hungarians alike and was one of the most respected rulers of his time. It is then no surprise that you find his image on every Moldovan banknote and his name attached to every park or monument.
Chisinau was by the way always just a tiny regional outpost at most. Moldavia's capital has been first Suceava, and later Iasi – both in Romania. Even though Chisinau is nowadays bigger in the number of inhabitants, the city does still feel much more as a historical backwater compared to Iasi which oozes much more charm and history.
The construct of what is now the Republic of Moldova is anyway rather artificial – thanks mostly to Tsarist and Soviet expansion and rule. The majority of the people in the country is Romanian speaking – although a big minority has Russian as mother tongue (there is also a smaller Turkic-speaking Gaugaz community in the south). Between the two World Wars, Moldova was part of a Greater Romania – which basically saw the old Moldavian state of Stefan cel Mare as a whole united with the two other Romanian geographical regions of Wallachia and Transylvania.
After WW II, the Moldovan Soviet Republic was however created and the Romanian-Moldovan border was put along the River Prut – where it still is. The concept of nationhood is still is a hotly debated topic. Most Moldovans will just tell you that they are Moldovans and a whole unique cultural group, while a smaller part might feel more about reunification with Romania as they share both the language and culture, while others long back to communist times and Russian rule as they language and cultural ties with them. If you would ask Romanians about their perspective, they would in big majority say that they see Moldova as the little brother of sister who ran away and that both cultures are exactly the same. The truth is somewhere in between all this!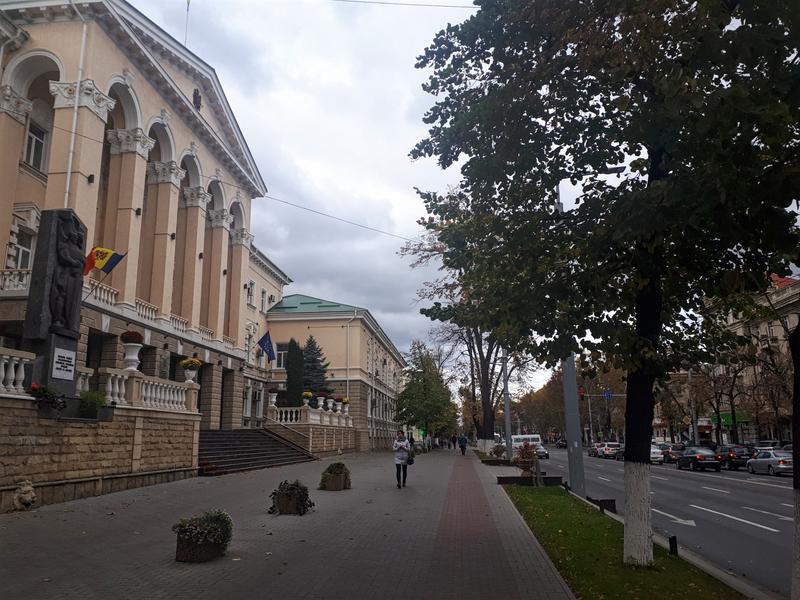 Sefan cel Mare boulevard
On the Stefan cel Mare boulevard many government offices, as well as the main theatre, banks etc. are housed. Some in quite ornate buildings!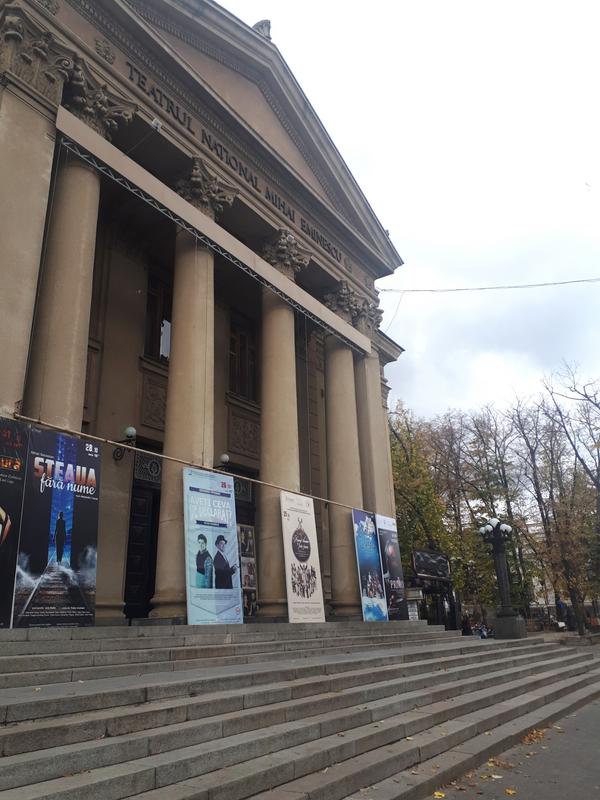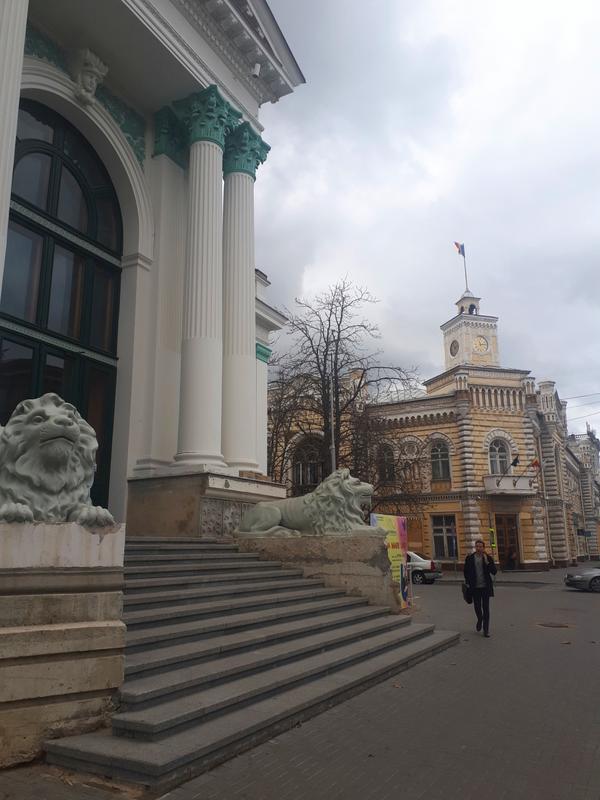 The main sights of Chisinau are all located on the same square. First you have Chisinau's own version of the Arc de Triomphe – which proportionally is about the right size if you compare how small Moldova is to France.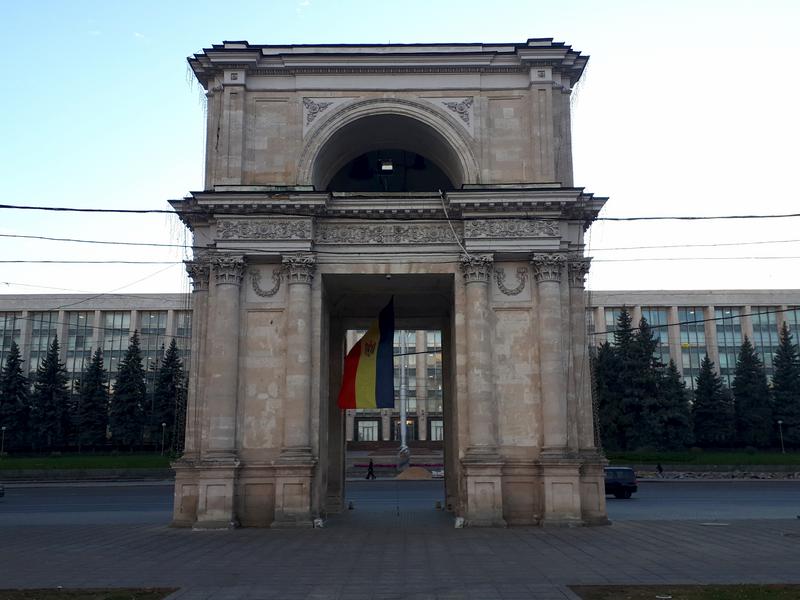 The Arc de Triomphe – with the main national government building seen in the back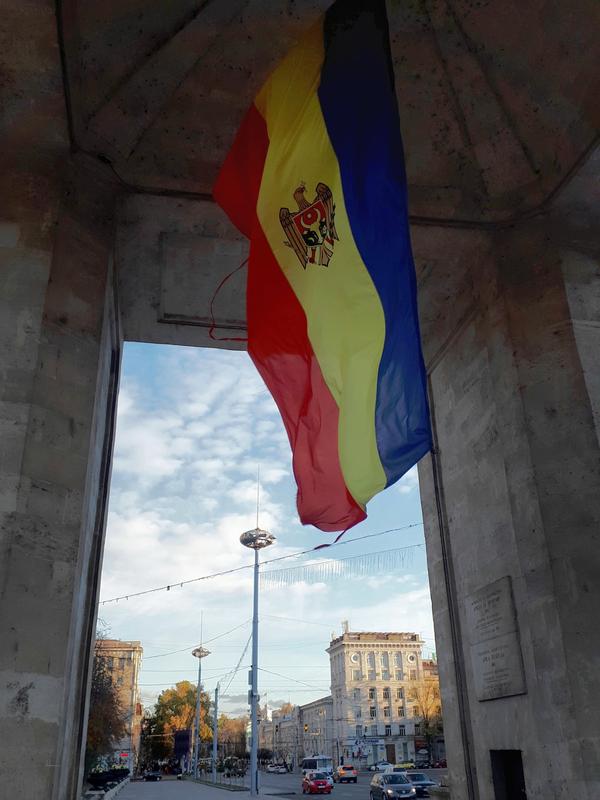 The national government offices from where the country is run is your typical bit of communist ugliness.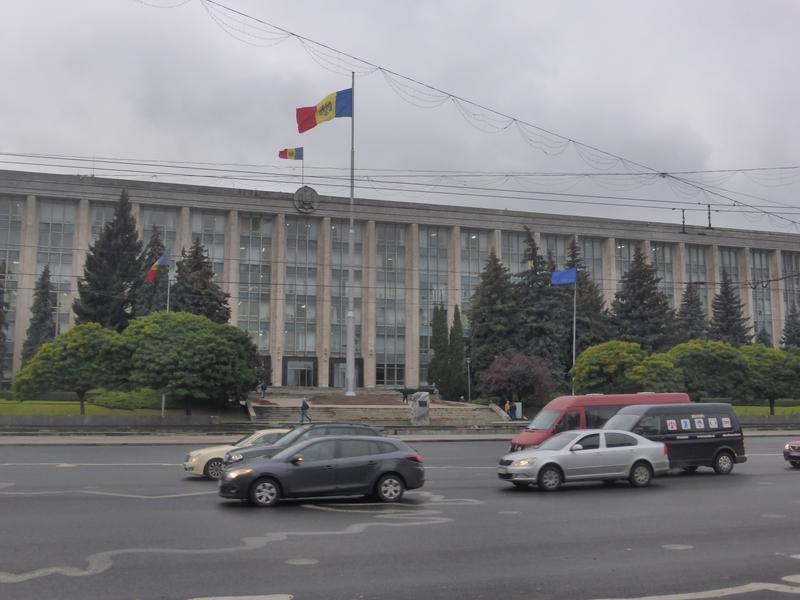 National government office – picture taken during an earlier trip
On the square behind the Arc de Triomphe is the Metropolitan Cathedral – the city's main church.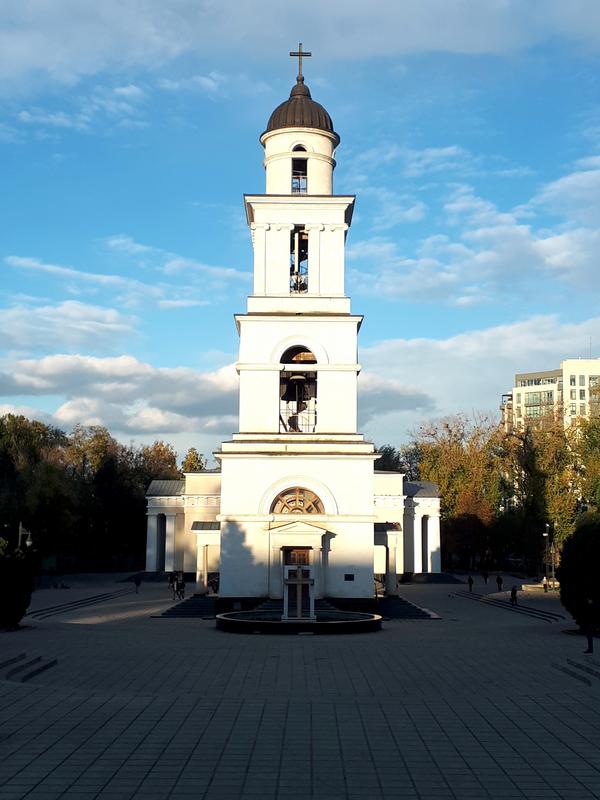 As I was getting hungry I stopped by La Placinte – a local chain restaurant which does great Moldovan food at cheap prices. You will see La Placinte – often together with its sister restaurant Andy's Pizza right next to it – all over the country. La Placinte is named after the national dish – a small round or square-shaped pastry filled with a savoury ingredient such as cheese or potatoes (although there are also sweet versions with apples inside). Although there is much, much more on the menu I fancied one with a salty sheep cheese – which I washed away with a decent Bere Chisinau from draught.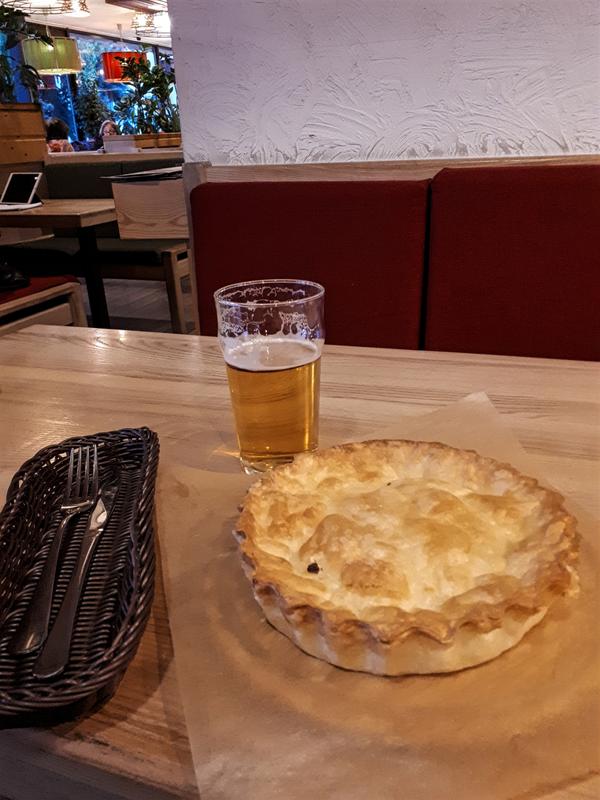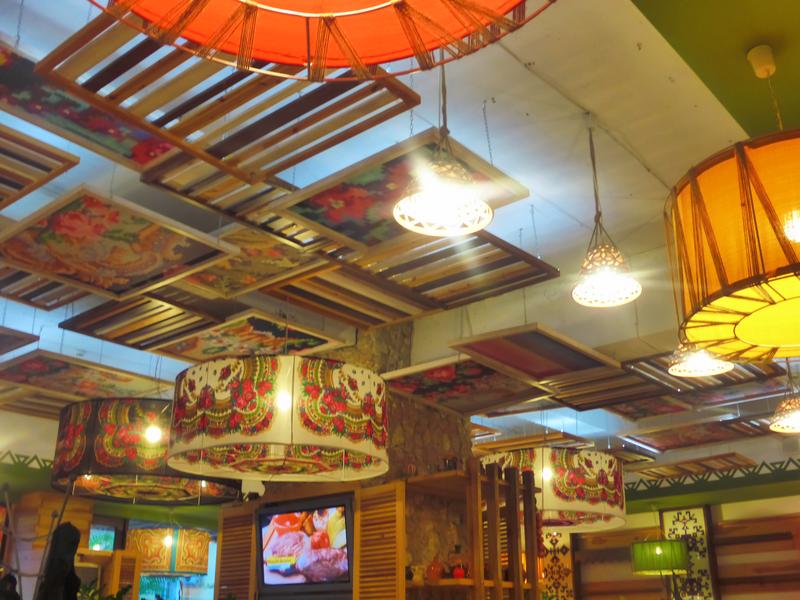 Eating a placinta at the 'La Placinte' restaurant
I might even had a chocolate cake and a glass of excellent Moldovan red (more on the Moldovan wine later). All combined, the whole meal was around 5 EUR.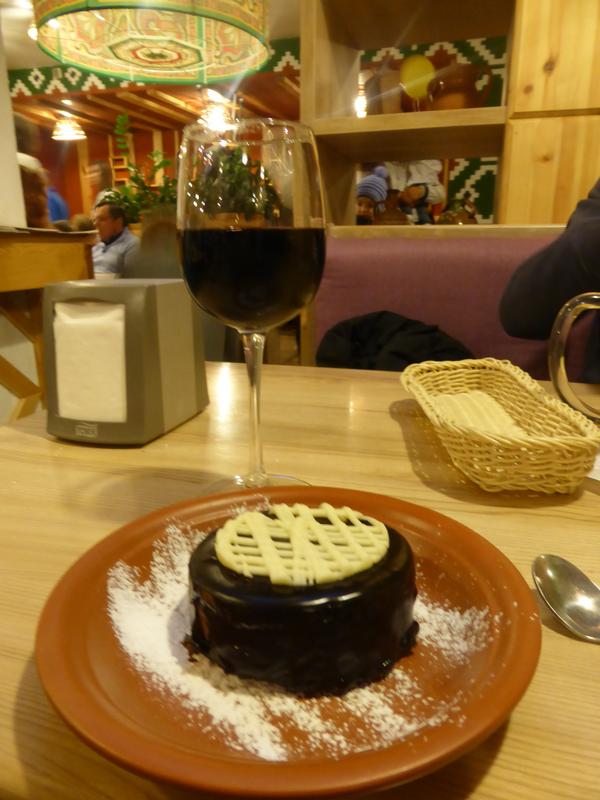 Diagonally opposite of the Cathedral and the Arc de Triomphe is Chisinau's central park – which is named after.. yeap, Stefan cel Mare. Even though it was fairly cold on this late autumn day – I can tell from experience that it is a nice spot in the summer for a walk or to drink a cold beer from one of the terraces.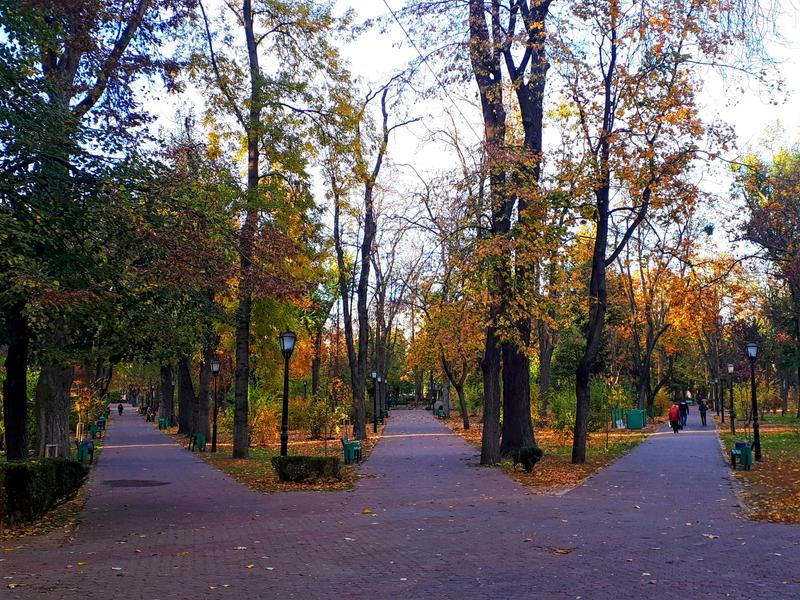 At the entrance of the park there is also a statue of a certain man – I guess by now I don't need to say of which Moldovan ruler exactly.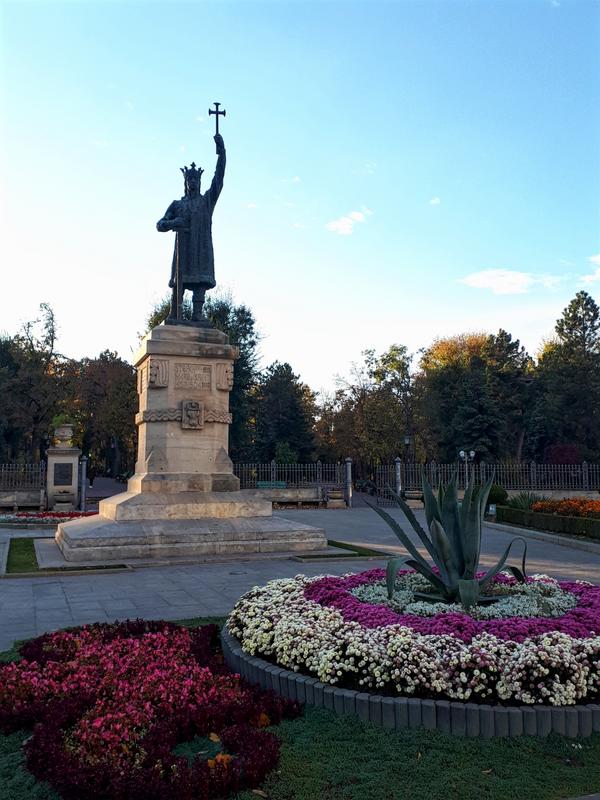 The nicest part of Chisinau is directly to the south-west of this stretch of the Boulevard Stefan cel Mare. Here you can get a glimpse of the old Chisinau before it was ruined by communism. You will find very leafy streets and mostly old-style Tsarist-era brick houses – making it resemble like a cute Russian provincial town. Some of the nicer cafes and restaurants can also be found here.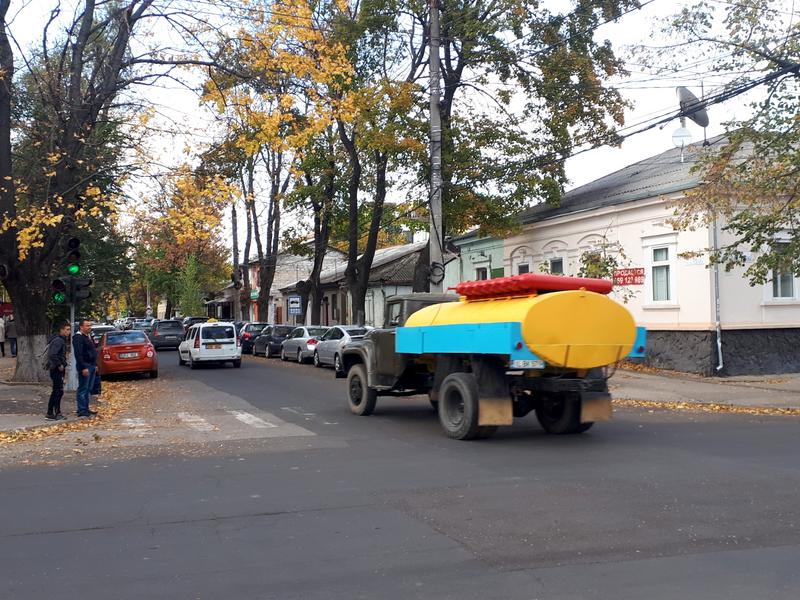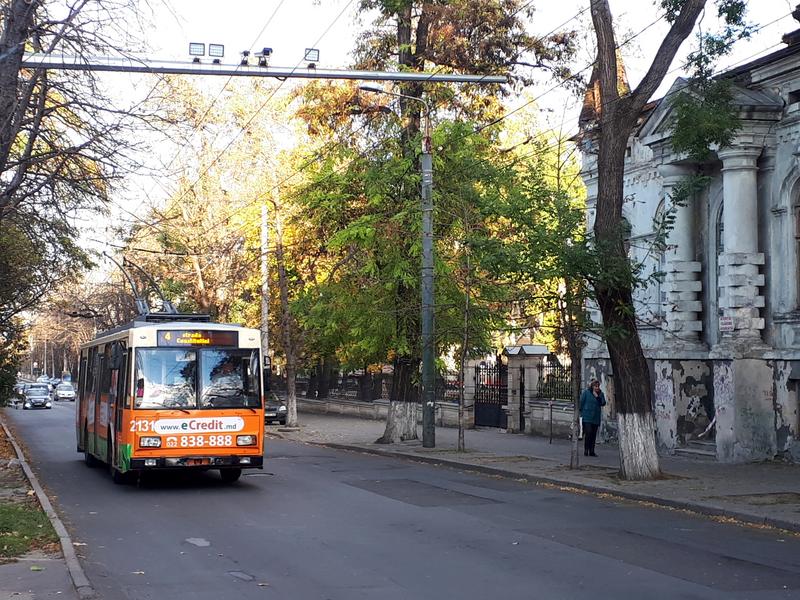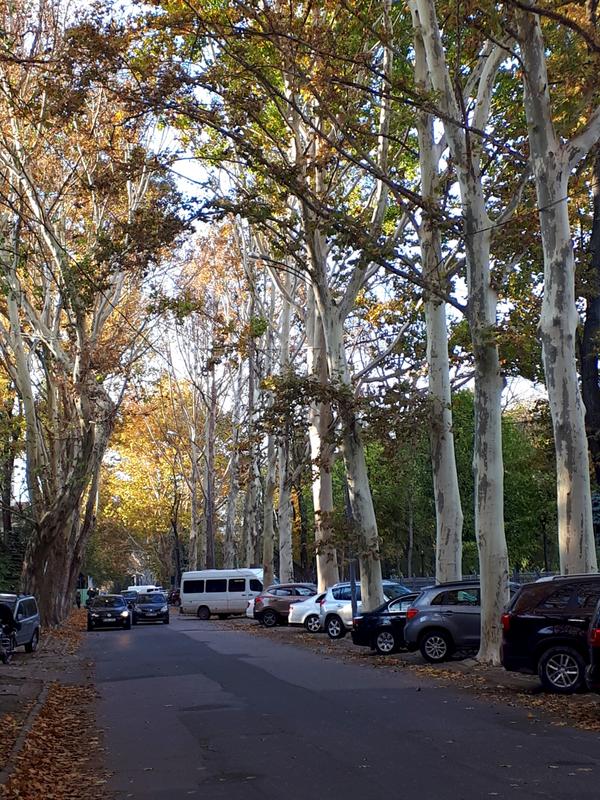 After my walk through town I met up with a few of my friends. We had a lovely dinner and a few glasses of wine at a restaurant called Eli Pili. I stayed with the local food options and ordered a tocanita (stew) which is traditionally served with mamaliga (polenta), grated cheese, an egg and sour cream.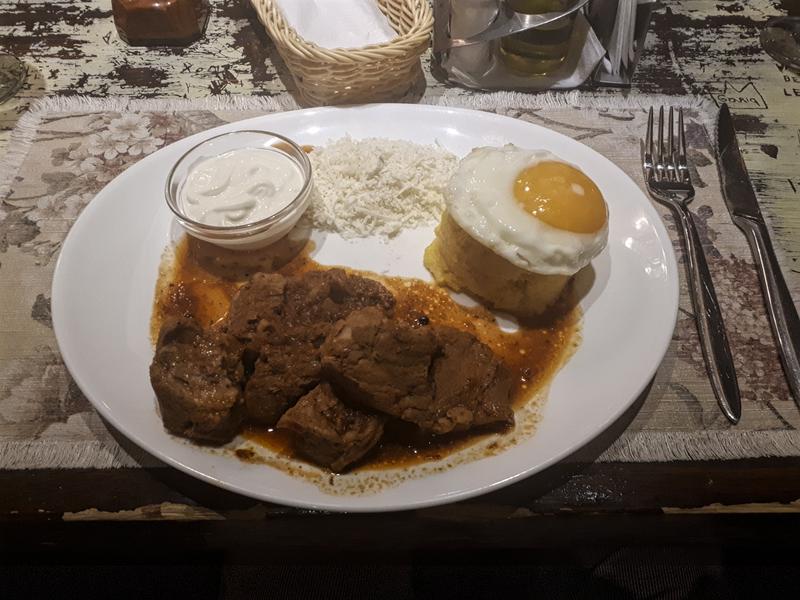 This is for me one of the nicer aspects of the city – as when you inform yourself well there are lots of nice little restaurants, cafes and pubs which are all extremely affordable. It's a good city to eat a drink a lot and to try out new foods without breaking your budget!
In short:
Chisinau will never be one of Europe's finest cities – it lacks the history for it. Much of the city is an disastrous mix of Soviet brutalism and post-communism ugliness when new office blocks and shopping malls were constructed. There are however a few sights to see, the parks of the city are nice in good weather, and the local food and drinking scene is lively and very affordable. For those wanting to see something different, Chisinau will not disappoint.
Next up:
Day trips to the underground wine cellars of Milestii Mici (the biggest in the world!) and to the breakaway republic of Transnistria where a weird communistic-kleptocratic regime still reigns
---
Last edited by Romanianflyer; Feb 20, 19 at

3:50 pm
Feb 21, 19, 4:38 pm
Join Date: Feb 2014
Location: OTP, CHQ, EIN and beyond
Programs: AF/KL platinum, Turkish gold, Aegean silver
Posts: 1,183
Part 3: Chisinau day trips to the Mileștii Mici winery and Transnistria
There are three great day trips which I can highly recommend to anyone visiting Chisinau – when you have your own wheels you will even be able to visit two of them on a full day. One of these sights is Orheiul Vechi (Old Orhei), a historical monastery and caves situated on a scenic spot above a river. Unfortunately I can't find back my pictures of the visit – so you will have to do with the other two here: the winery of Mileștii Mici and the communist breakaway republic of Transnistria. Just for the record, my visits there were already a few years back but I still wanted to include them in this trip report for the sake of giving a full picture of Moldova.
Let's start off with the Milestii Mici winery – which is located some 16 kilometres out of town. It was founded as the State Enterprise Quality Wines Industrial Complex Mileștii Mici – and in true communist style focussed mostly on quantity instead of quality. That manifests itself in the staggering huge wine cellar it has – which his the biggest in the world. The underground pathways and roads stretch an impressive 200 kilometres and around 2 million bottles of wine are stored. Talk about paradise!
At the entrance of the winery is a cool looking wine fountain.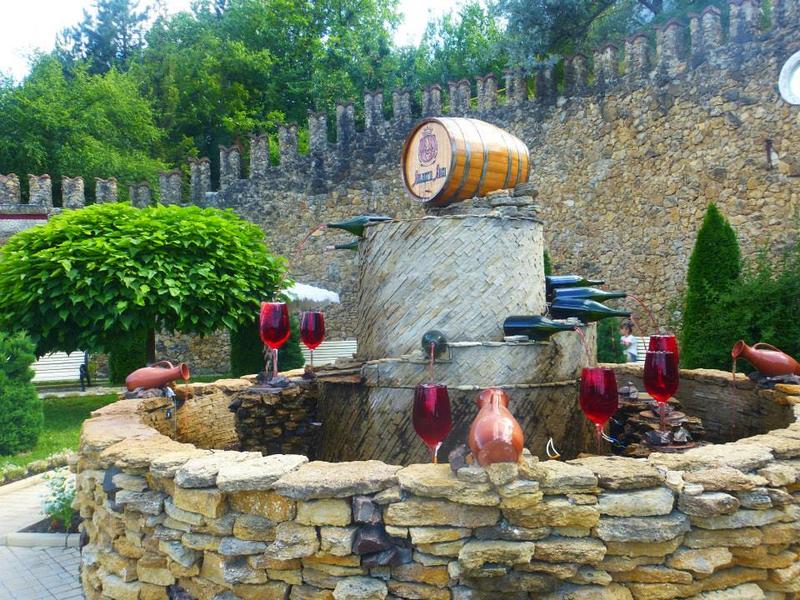 The cellars are built in limestone cliffs which create a perfect temperature and humidity throughout the years. Even though the underground galleries are actually already there since antiquity – they have been enhanced by the winery as some of the underground roads are big enough for buses to drive through.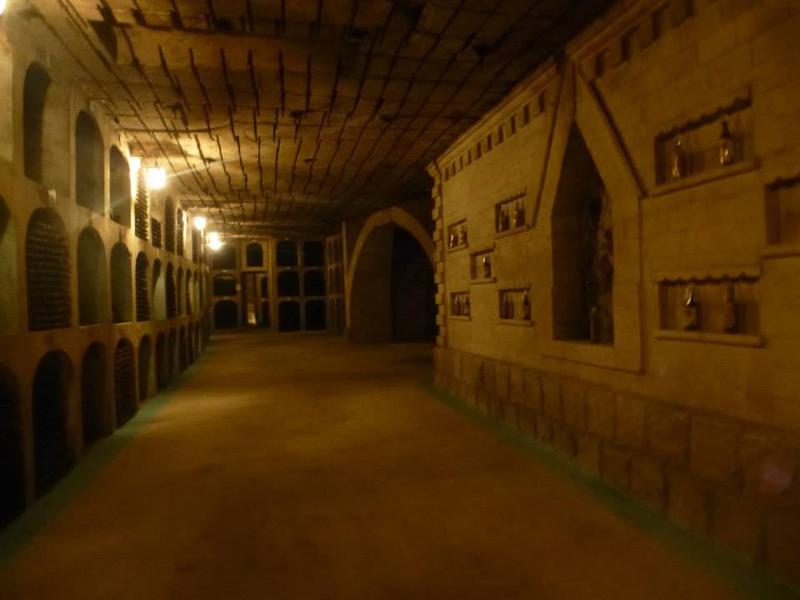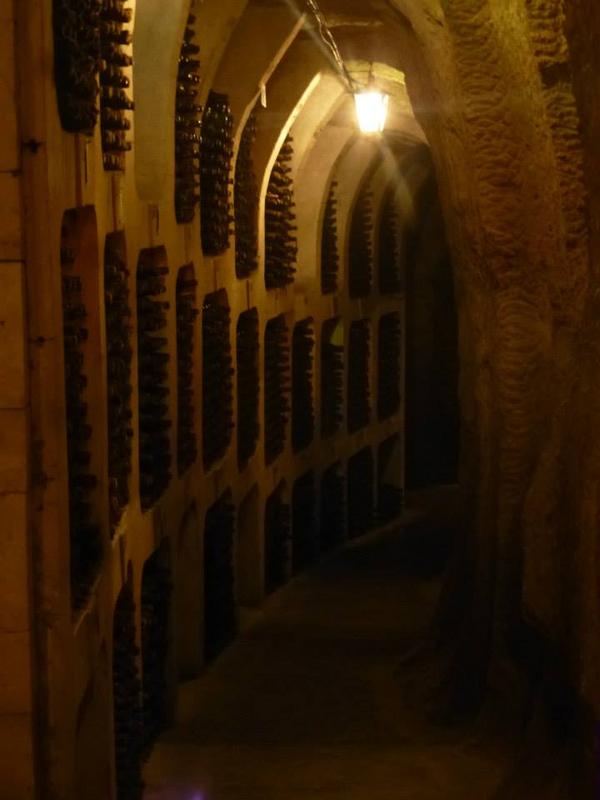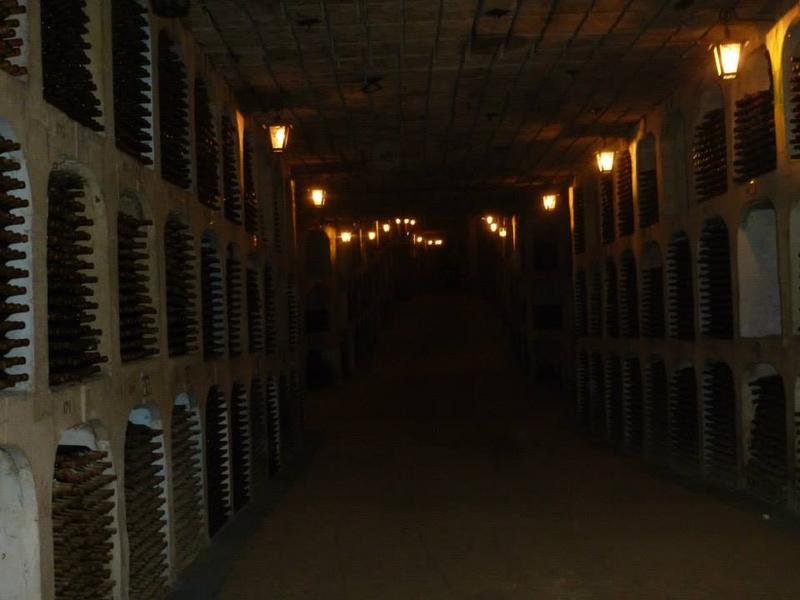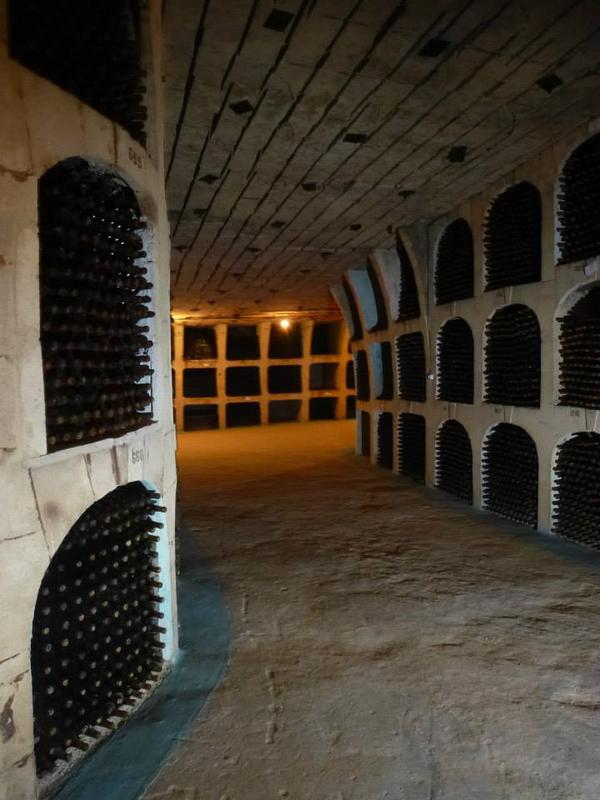 Most of the wines stored are owned by the winery, although some bottles or even entire streets are either owned by private citizens/investors or visiting dignitaries who got them gifted. One of them is Vladimir Putin who once celebrated his birthday on the grounds.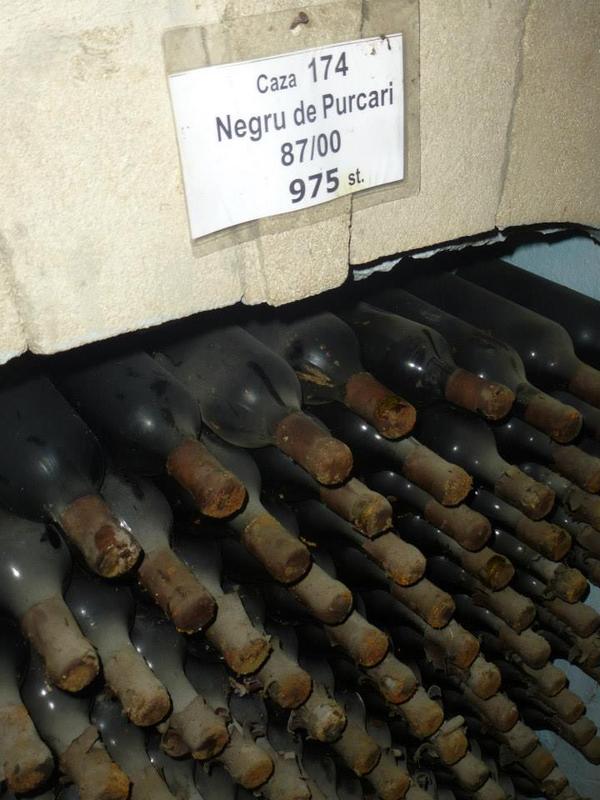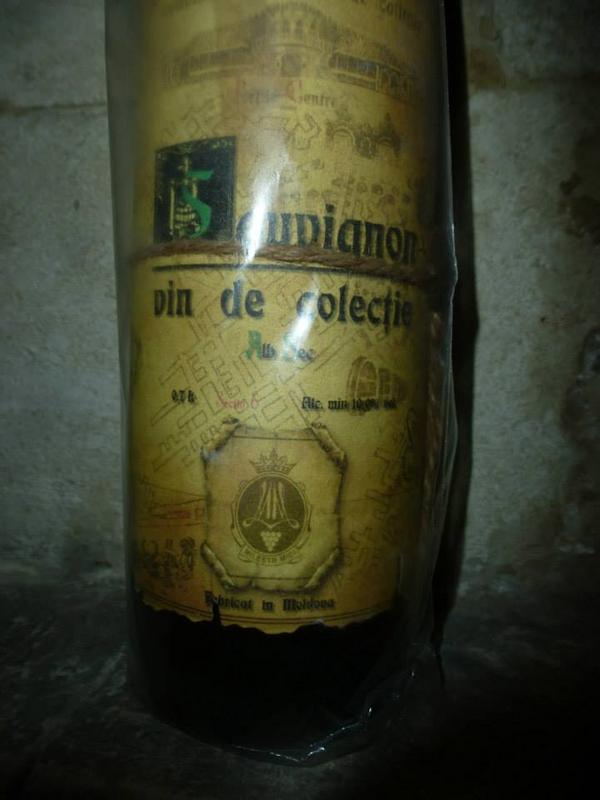 Wine prices range from just 2 EUR or so a bottle to almost 800 EUR or so for the most expensive one, so Chateau Margaux it ain't not when it comes to astronomical prices.
Of course some tasting is involved as well with any tour, there are dozens of tasting rooms underground. From the fabulous VIP rooms to rooms for the commoners which we had.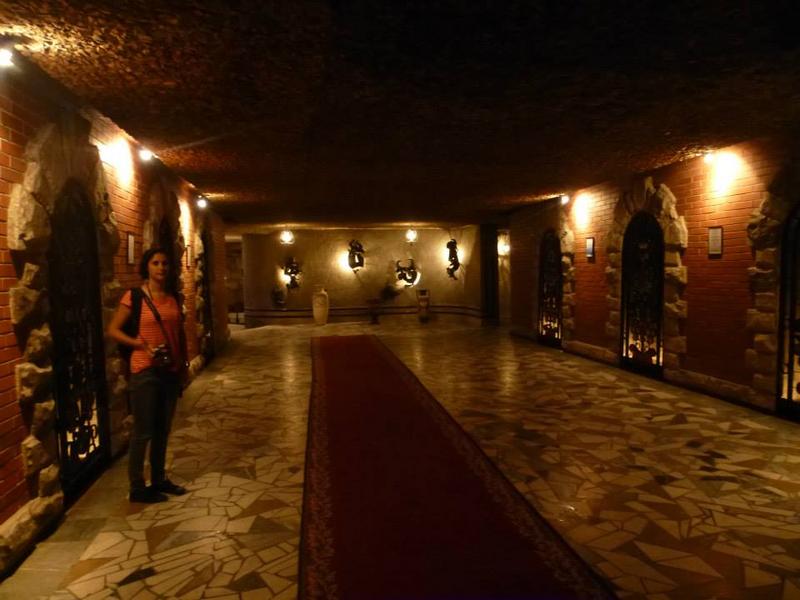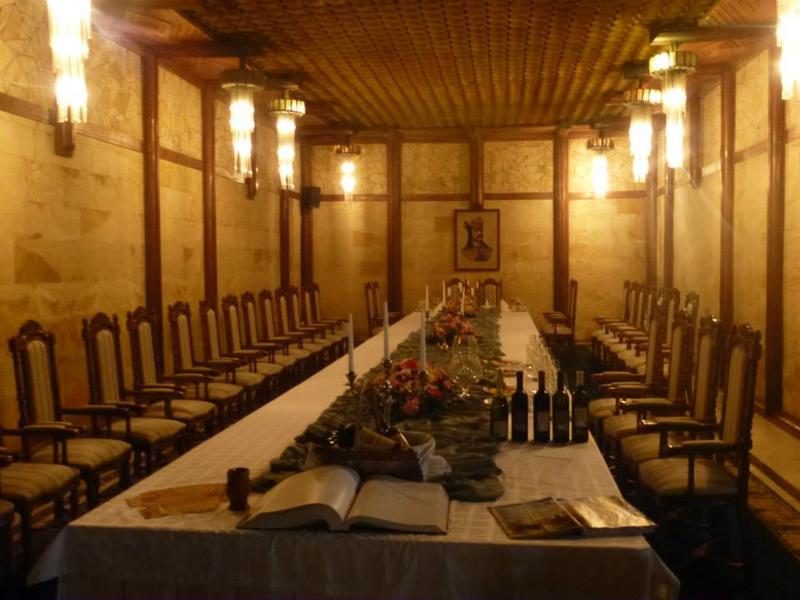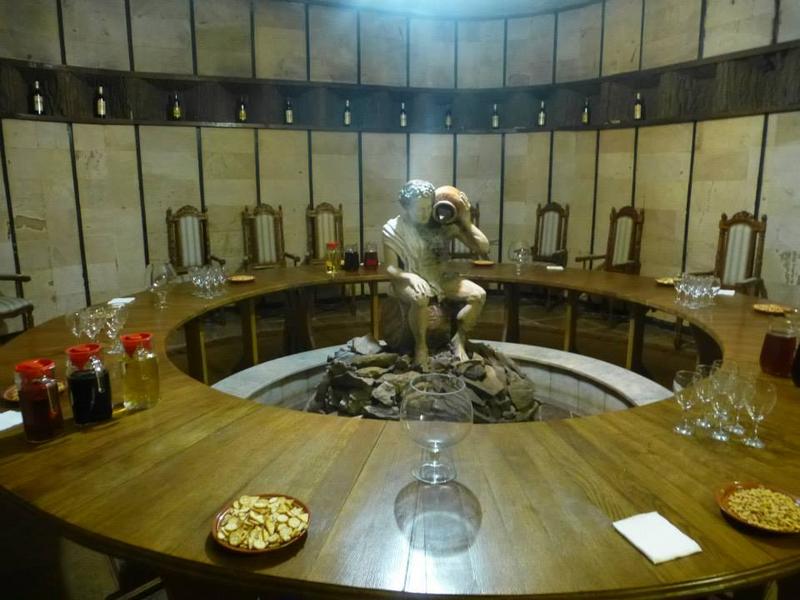 Although I'm not a big fan of the run-of-the-mill wines of Milestii Mici (there are much better ones in Moldova when looking for a supermarket wine of a fiver) the oaked ones which are aged for a couple of years (both white and red) are definitely much better. It being Moldova, it is not even that expensive – some 20-25 EUR can buy you a wine that's from 1988.
For those visiting Moldova you can also visit Cricova – which has some 100 kilometres or so of underground wine cellars as well and is a bit more high quality when it comes to the standard wines in my opinion. If looking for premium, award-winning wines made with the latest techniques – go for a visit at Purcari winery which is my personal favourite in the country (although it of course doesn't have the unique underground wine cellars of Milestii Mici). A huge number of grape varieties are planted in the country. There are of course the main international ones such as muscat, riesling, sauvignon blanc, pinot gris for whites, and pinot noir, merlot and cabernet sauvignon for reds, but also the lesser known international varieties such as Saperavi (originally Georgian). There are however also some unique Romanian (Moldovan) varieties which are a must try: feteasca alba and feteasca regala as whites, rara neagra and feteasca negra for reds.
Transnistria
The other must-make day trip while in Moldova (or stopover on the way to Odessa in Ukraine) is a visit to Transnistria. It is a bizarre breakaway republic recognised by no-one except for three other (ex-Soviet) breakaway republics. The region has support from Russia (there is also a Russian army base serving highly strategic purposes) but even Moscow doesn't formally acknowledges its independence.
So let's first start off with a bit of history. How did this state come into existence? As you can see most of Transnistria (which means 'beyond the River Dniestr') lies East of the river. These lands on the left bank of the river never belonged to either the Medieval principality of Moldavia, nor did it belong to Greater Romania between the two World Wars – the Dniestr was always the formal Eastern border even though Romanian/Moldovan people did live there. The majority of people always were Slavic – Ukrainians and Russians.
The incorporation of Transnistria into the Moldovan Soviet Socialistic Republic (SSR) by Stalin after World War II was thus quite unnatural and typical of the conquer and divide mentality in which the Soviets tried to prevent pure nation states from forming. Needless to say, this created tensions when after the fall of the Soviet Union Moldova declared its independence. According to the census in 1989, the population in Transnistria was 39.9% Moldavian, 28.3% Ukrainian, 25.4% Russian and 1.9% Bulgarian. The Slavic people were fearful not only of an independent Moldova in which they would be outnumbered by Romanian-speaking Moldavians (a Latin people, and not Slavic) – but were even more afraid of the possibility of Moldova one day joining a Greater Romania again in which their numbers would be even more meaningless. A small-scale civil war started which lasted for four months and in which a few hundreds of people died. With the support of Ukraine and Russia, the Transnistrian rebels in the end proved victorious over a newly independent Moldova which only had minor tacit Romanian support.
Since then you have the situation what it is now: a status quo in which the territory is formally part of Moldova and recognised by the entire world as such, but de-facto independent. Yet it's not the historical quirks which attracts tourists to Transnistria. It is the bizarre state of the country as a sort of communist-run country (although in reality, either a kleptocracy or oligarchy comes much, much closer given how closely intertwined business interests are with the ruling elite, who own almost all shops and industries into their own conglomerates). If there is one place where you feel like stepping back into the USSR – then this is it (much, much than for example Belarus which at times is also described like this in travel guides).
It's actually very straightforward to visit nowadays – you just take a minibus or a train into the territory to the 'capital' of Tiraspol, which takes one to two hours depending on the time waiting at the 'border'. Nowadays you only need to show your passport at the border, where they will note your name. No registration in Tiraspol is required unless you might plan to stay overnight. Also bribes, which were customary in the past to gain entrance as a foreigner, are now mostly a thing of the past (although it's best to keep some Moldovan Lei or USD/EUR just in case). In case of bureaucracy at the border when they write down your name it might help to "speed up" the process (ahum) – although again nowadays you can easily do without a bribe if you are just patient enough to wait out the bureaucracy.
When you think there is not much to see in Chisinau, well, wait until you have arrived in Tiraspol! A statue or two, a government building, and a park – that's about it. I'll let the pictures do the talking below.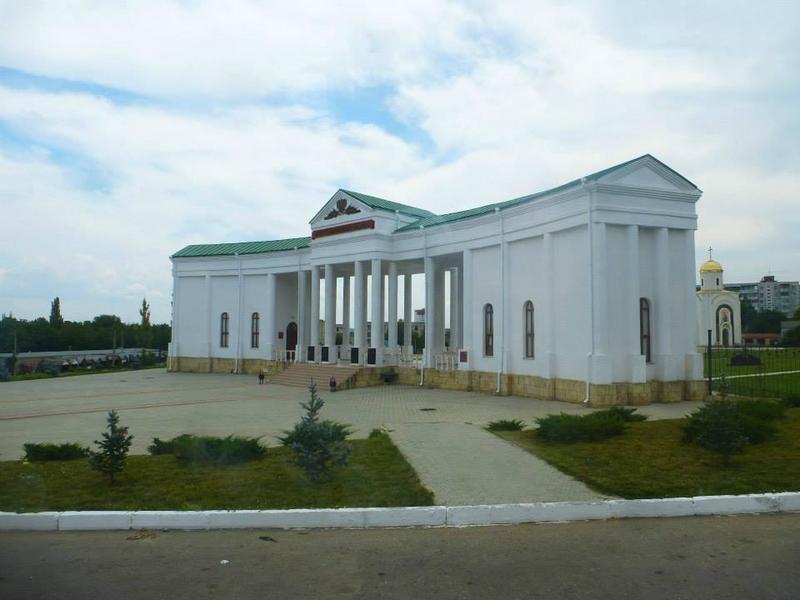 The war memorial in Bendery – which is one of the few places in Transnistria to be actually located on the Western (right) bank of the River Dniestr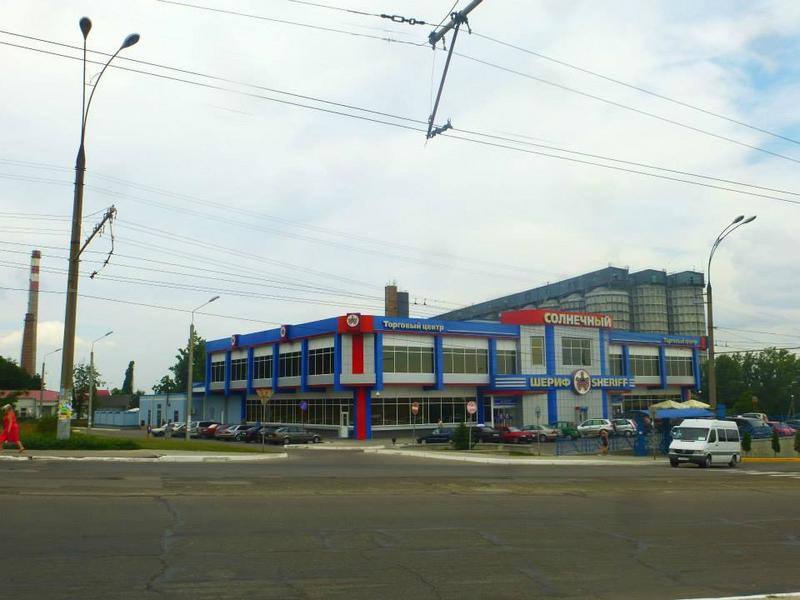 A Sheriff supermarket. Sheriff is a company which owns most of Transnistria, be it supermarkets, a football team, industries etc.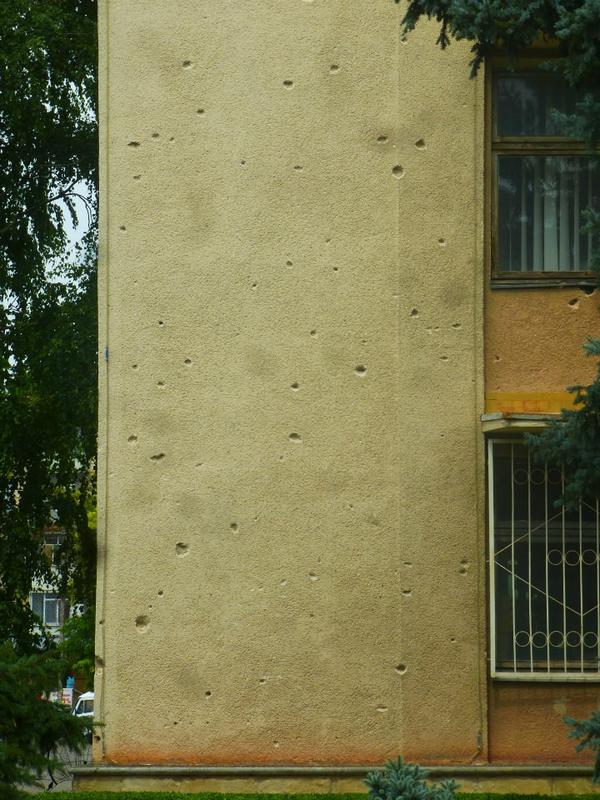 Bullet holes from the civil war in the early 1990s are still visible in some flats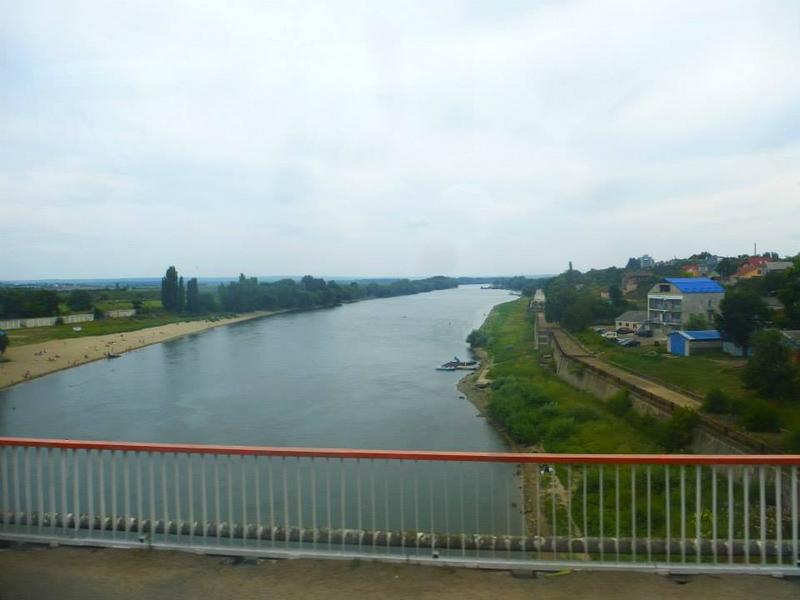 Crossing the River Dniestr into Transnistria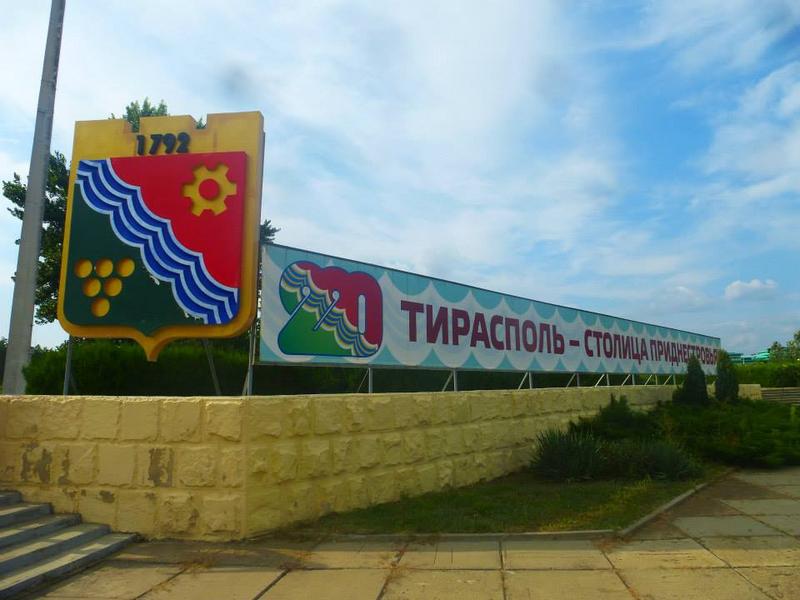 Sign welcoming you into Tiraspol city limits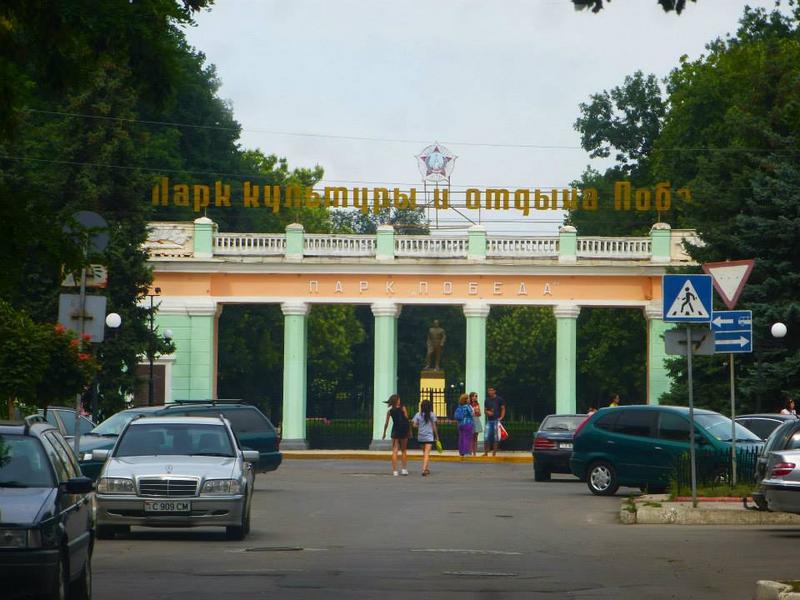 Public park with a classical style entrance gate so common in ex-Soviet countries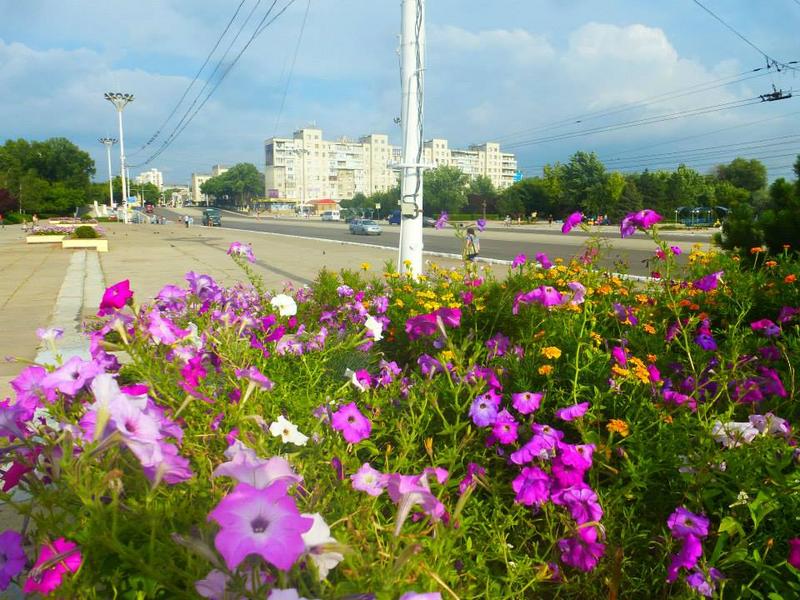 The streets of Tiraspol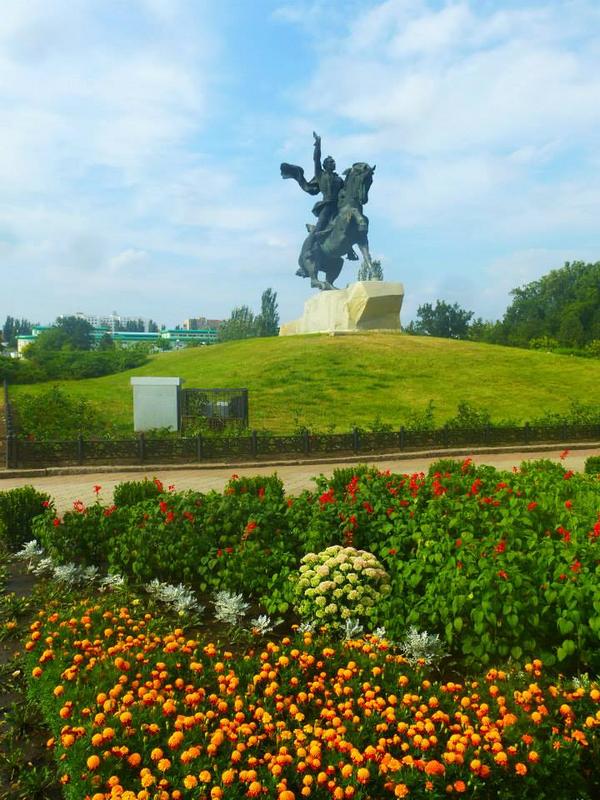 A statue of Russian field marshal Prince Mikhail Kutuzov who liberated the area in the Russo-Turkish War of 1787-1792 and brought Russian dominance to the region. Just like Stefan cel Mare is visible everywhere in Moldova, Kutuzov is everywhere in Transnistria, including on all banknotes. Talking about money: bring cash Moldovan lei/USD/EUR and exchange it here. Note that the currency is impossible to change outside of Transnistria. For 10 EUR you can have a full lunch with beer/wine and have more than half your money left for souvenirs – like a bottle or two of Transnistrian brandy or so.
You are not a real Soviet breakaway republic if you don't have a monument with a tank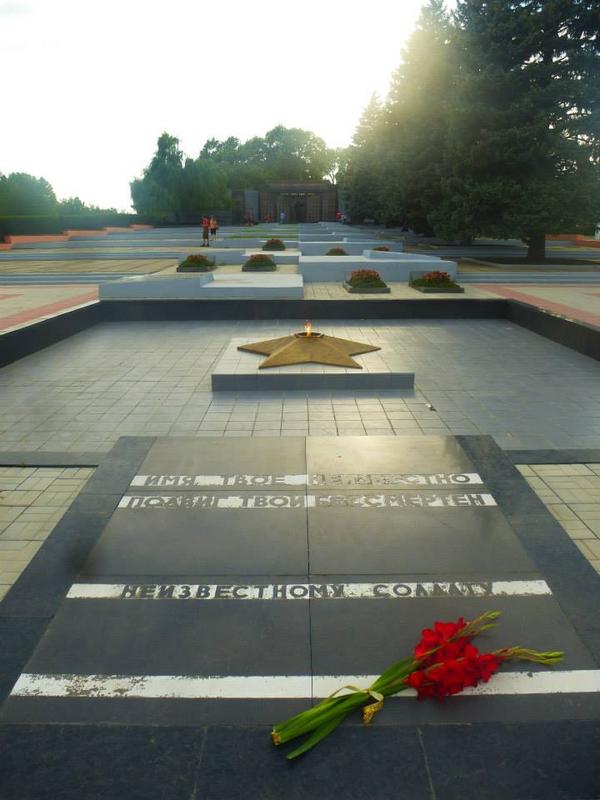 War monument with eternal flame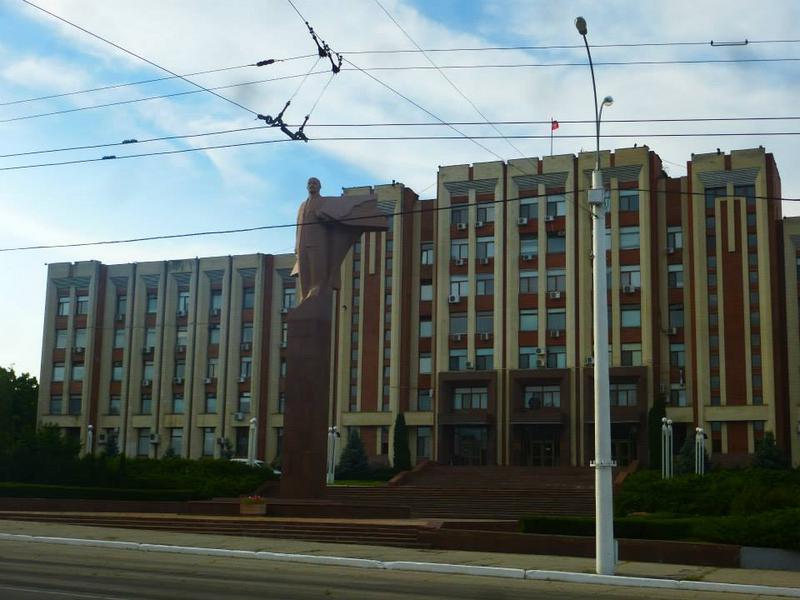 Lenin is still alive here as well, standing proudly in front of a government building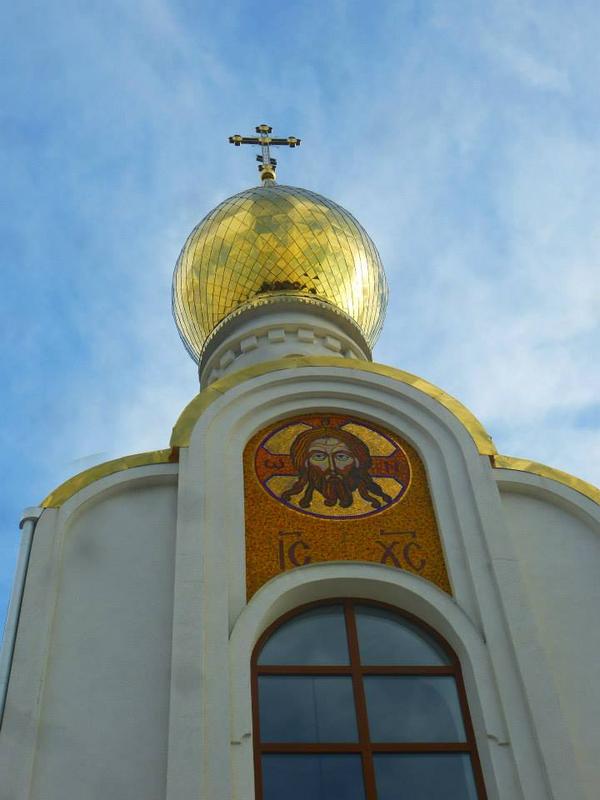 Transnistria really is an unique experience which is not to be missed.
In short:
When visiting Moldova, remember that the most interesting sights of the country are not found in the capital of Chisinau (although it can be a pleasant place with good food and booze). Sadly, many visitors limit their stay to the capital and miss out on the unique sights of Orheiul Veche, the wineries, and Transnistria. Give them a try!
Next up:
Flying KIV-IST on Turkish Airlines in economy class & the great Turkish Airlines lounge in Istanbul.
Feb 23, 19, 8:09 pm
Join Date: Feb 2014
Location: OTP, CHQ, EIN and beyond
Programs: AF/KL platinum, Turkish gold, Aegean silver
Posts: 1,183
[Part 4: Chisinau (KIV) to Istanbul Ataturk (IST)
Flight TK270 – Boeing 737-800 - Seat 14A – 300 USD as part of KIV-IST-TAS
STD 10.20am - STA 11.55am (flight time 1h35m)
Time to fly again! The taxi to Chisinau airport – which isn't too far out of town – is dirt cheap at just 3 EUR. I have flown a few times before from the airport in the past (on S7 and Carpatair when it was still in existence) and it's quite a modern airport compared to the rest of the country's infrastructure.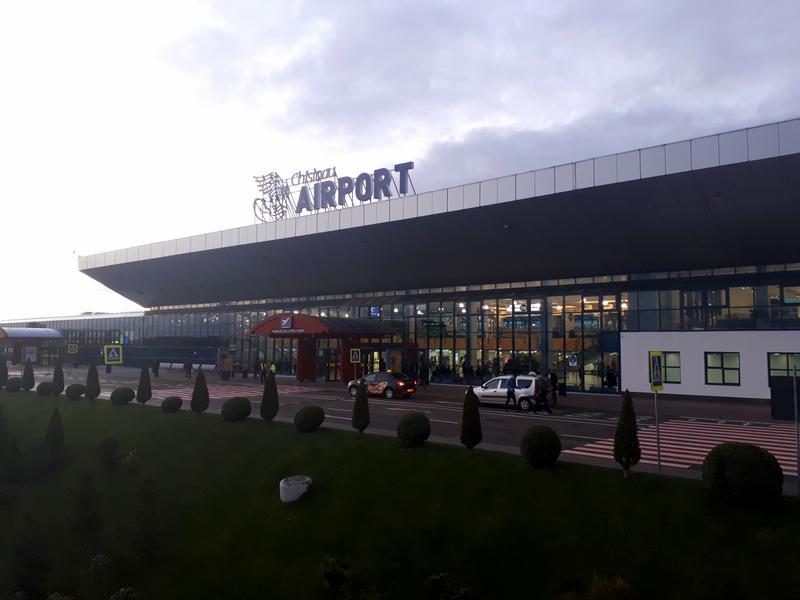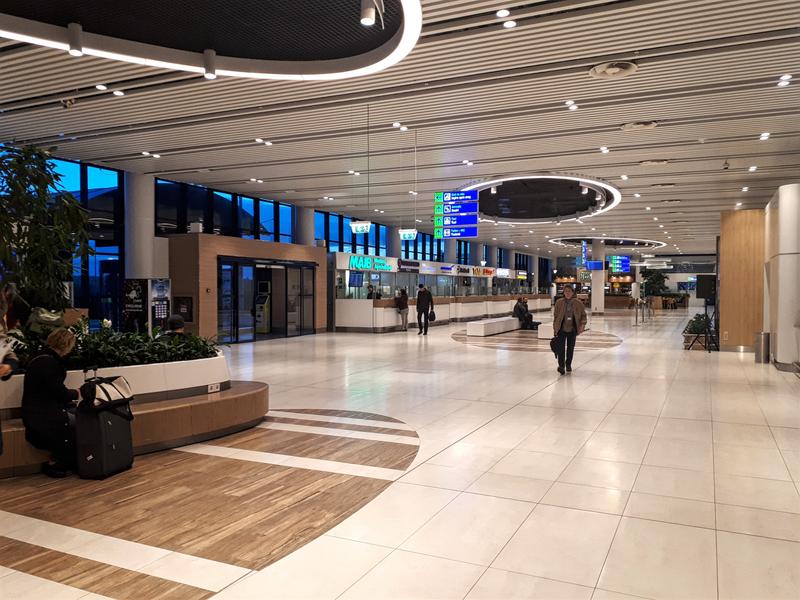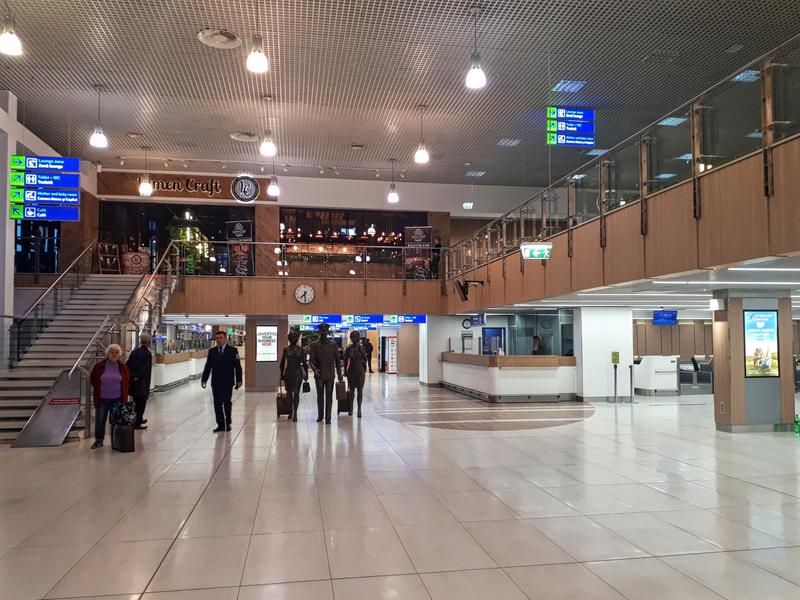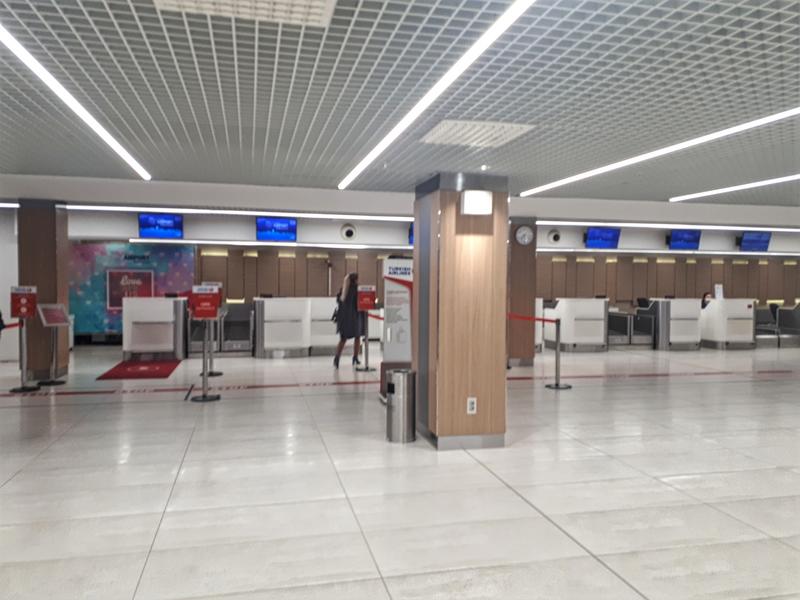 Check-in wasn't opened yet by the time I arrived so I figured I had a walk around the airport to snap some pictures for 15 minutes until it would open. It was a minor mistake as by the time I came back the area was absolutely packed. There was a priority check-in desk but it was clearly totally not enforced who was queueing there as people just randomly stood wherever they could. A clear miss when you have in theory a well-designed and very spacious check-in area which just requires some strict enforcement..
My motto is however always "when in Rome, do like the Romans" - so I decided to join the mob in the general scramble and not to wait for my turn at the priority line (I'm pretty good at scanning lines to judge which will move faster depending on the people in it). When it was my turn at one of the normal check-in counters I got another surprise when the friendly check-in agent told me that Turkish doesn't use a lounge in Chisinau! Count me surprised. The airline website clearly states one – but weirdly I could not locate it once landside. I guess perhaps it might be in true Russian style in a whole separate building with boarding by private van from there? I would appreciate to learn more from those with more experience flying from KIV!
Lines through security and passport control were almost non-existent and within minutes I was airside. Of course, it required you to take a forced walk to the duty free store as there is where they feed you right into. I hate airports which do this.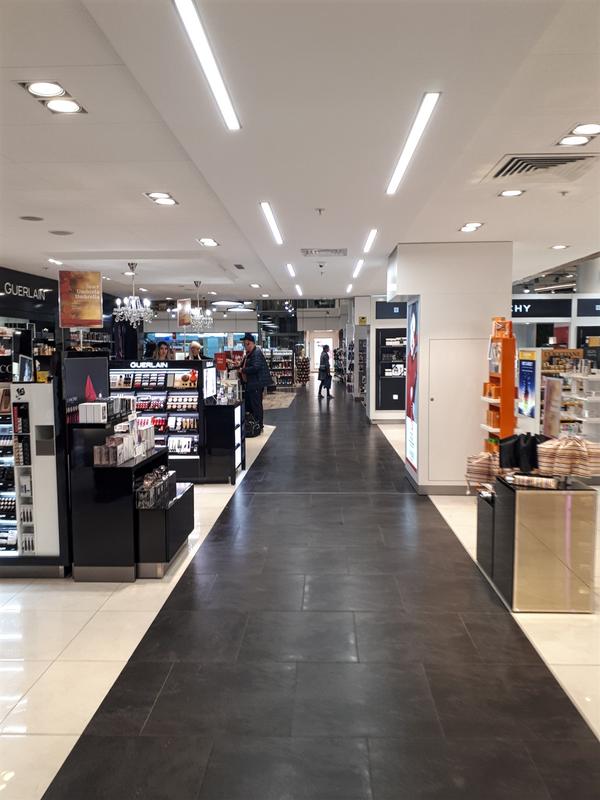 That said, KIV is not a bad place really to kill some time. Internet is fast and there are plenty of options to get a coffee or bite at very reasonable prices (although it being an airport of course not as low as in town). There is also plenty of space to sit down and plenty of plugs to charge your devices. It's just an infinitely better experience than my home airport of Bucharest (OTP).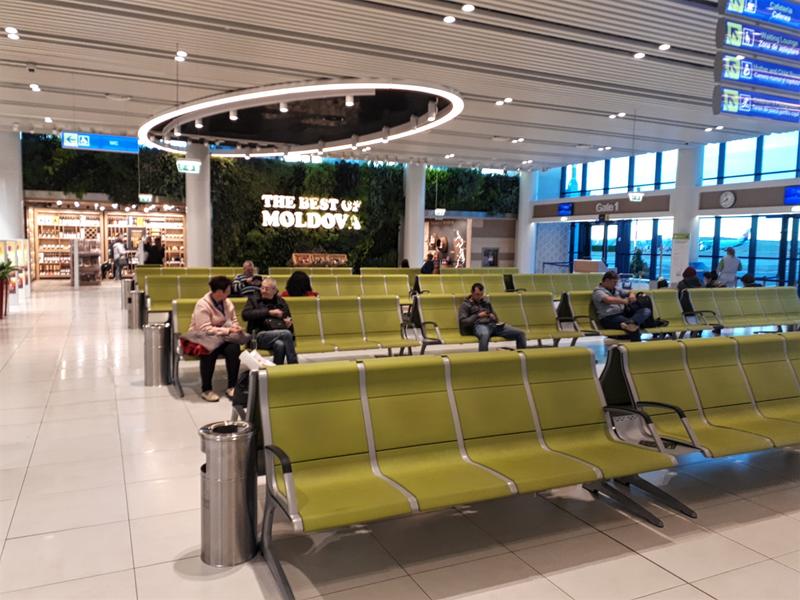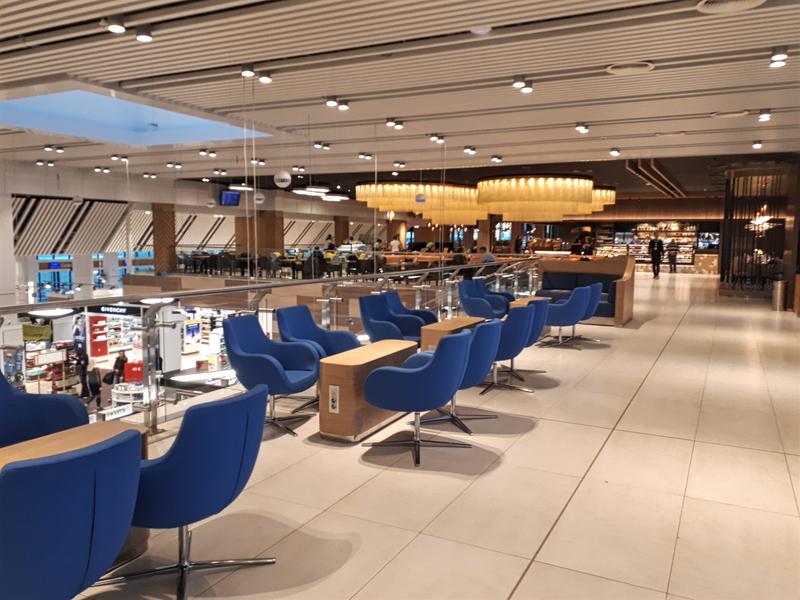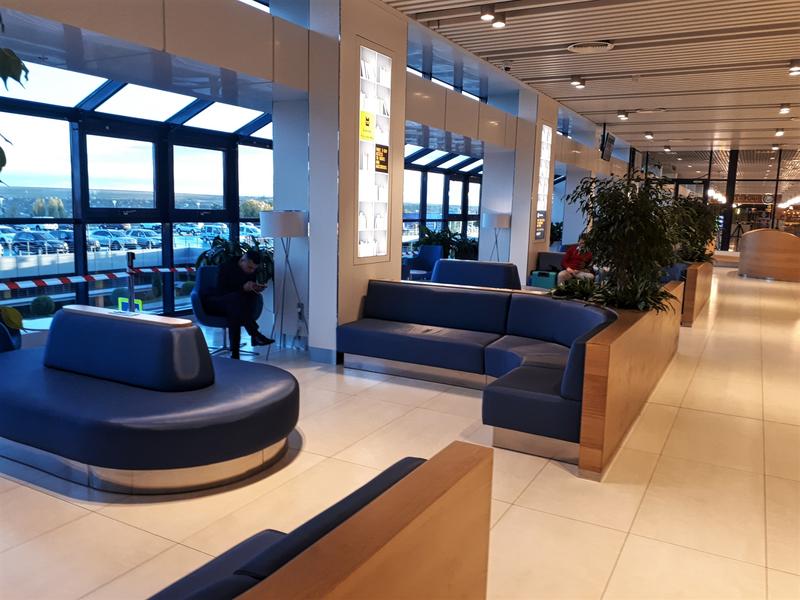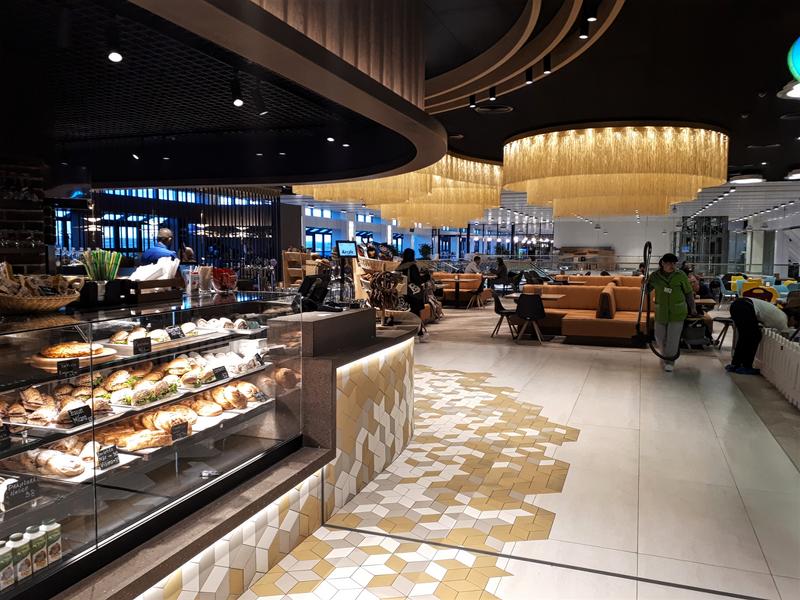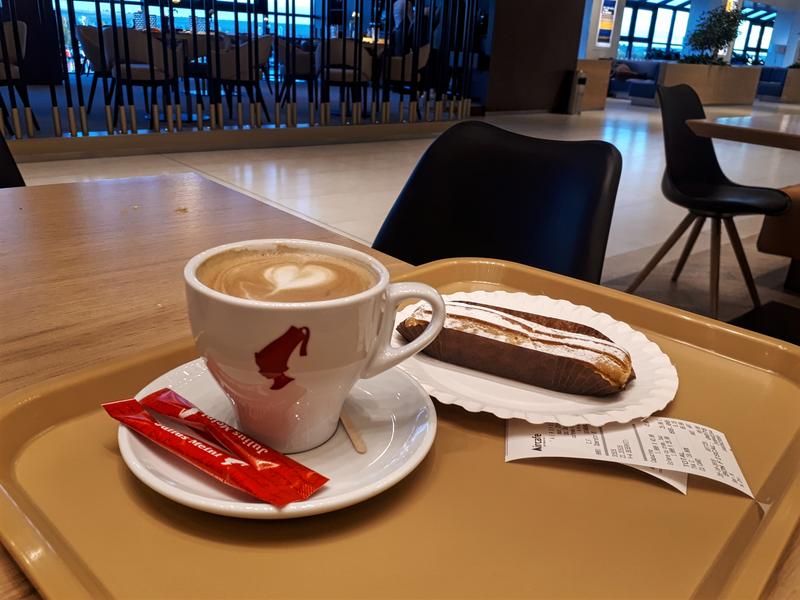 There are no jet bridges at this airport – just bus gates only. The entire waiting hall has a fantastic view over the tarmac which had some beauties on it such as this aeroplane from Mother Russia.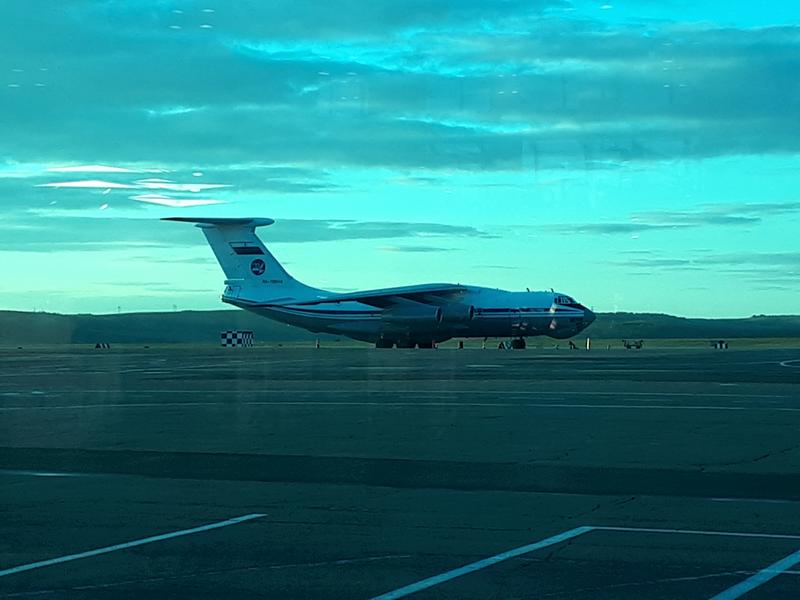 Boarding was on time. In true fashion, priority boarding was not enforced but what's the point anyway if you all have to go in the same bus. On the plus side, boarding the aeroplane by stairs always makes for an exciting moment and some cool snaps.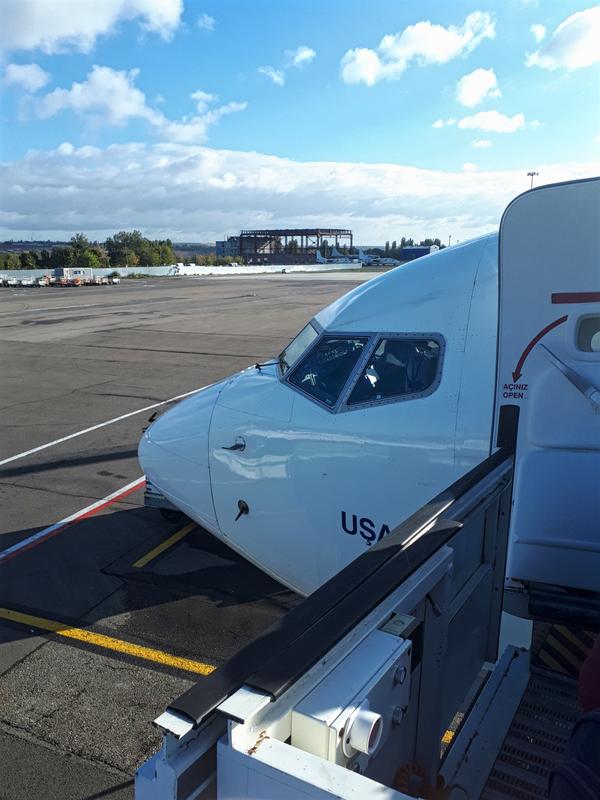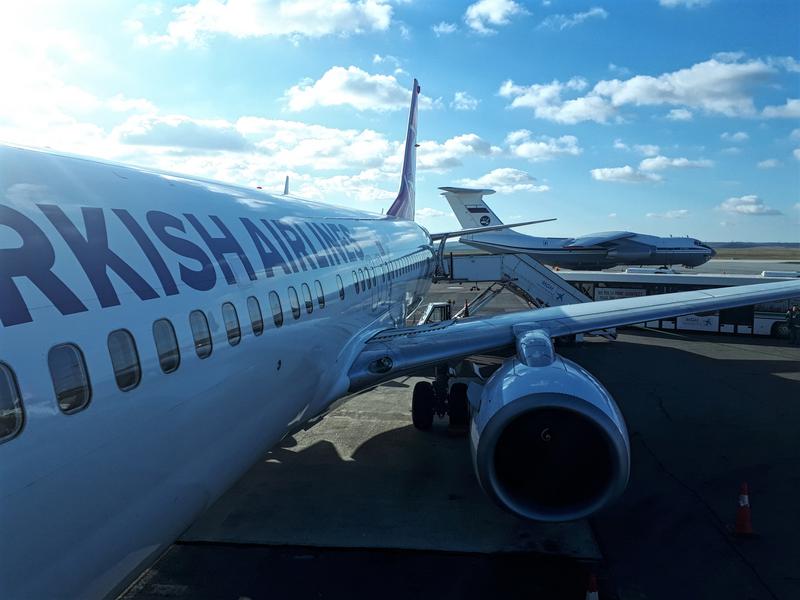 Today's flight would be operated by a Boeing 737-800 and I manged to snag an exit row window seat, which had a good amount of legroom.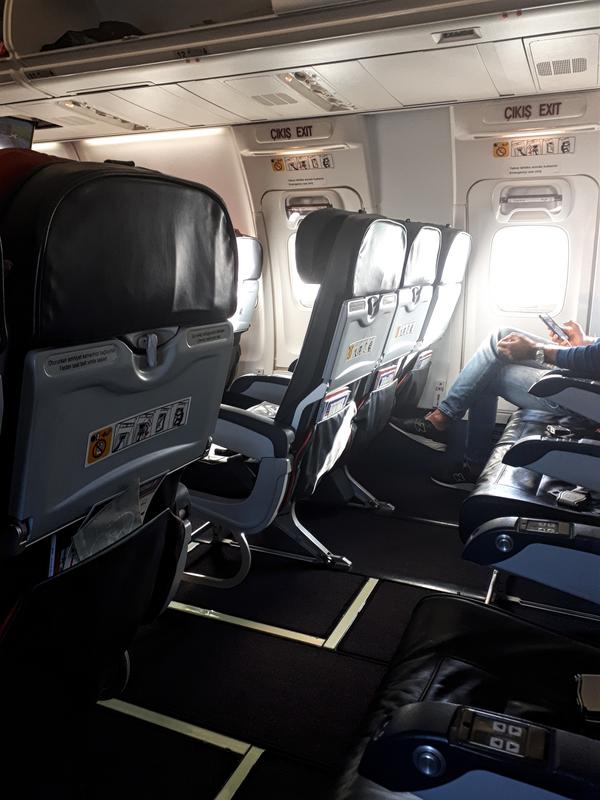 Of course the only disadvantage about being seated right above the wings is that the views are a bit obstructed on take-off.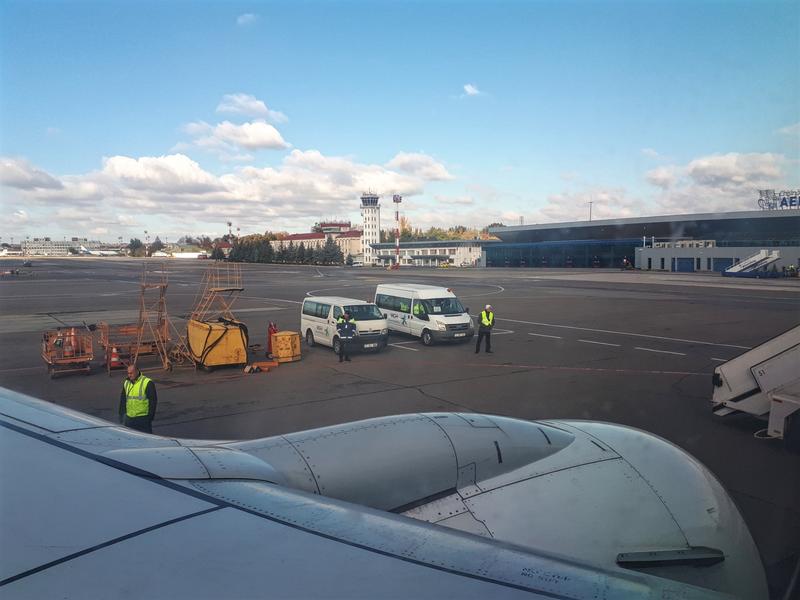 Despite it being a relatively short flight at 1 hours and 35 minutes, Turkish still does a full meal service and two drink rounds – one with the meal and one after for coffee or tea. As it's afternoon already somewhere in the world and I generally don't care anyway when I travel – I decided to opt for some booze. Upon hearing that I asked for wine my American seat mate in 14C jumped right in and asked for some wine as well not having realised Turkish serves it on all international flights, despite that he already had his original drink served.
The meal – a typical Turkish breakfast with some soft and hard cheese, a cold cut, tomatoes and cucumbers, olives and bread was actually tasty and very good for a meal in Y. The French white wine was very drinkable as well.
We got in a bit of a holding pattern over the Black Sea before we started the final descent into Istanbul Ataturk. I don't have to tell the frequent flyers here how overcrowded IST is – so I was not surprised that we circled for some 20 minutes around. At least it gave some good views of the Istanbul suburbs. What a massive city it really has become.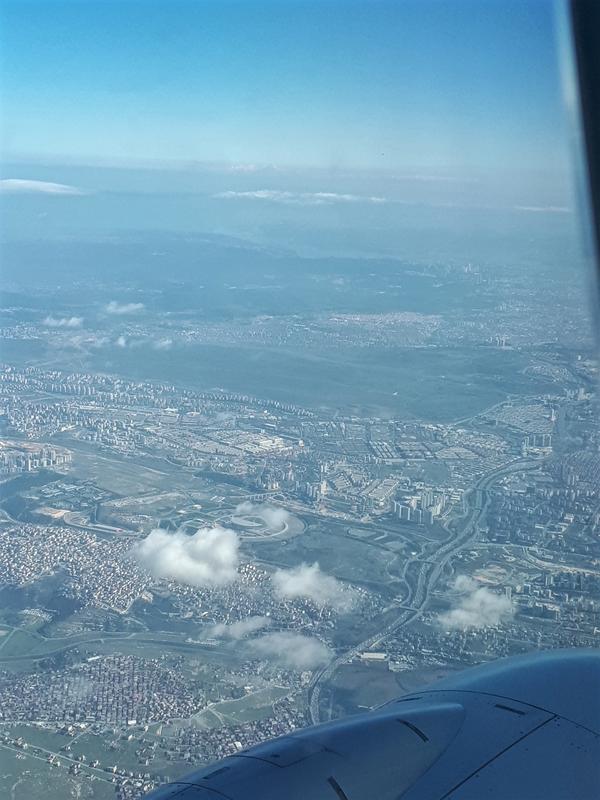 There were also some good views of the new Istanbul airport (ISL) which will be fully operational soon. I by the way hate the temporary IATA code as each time I read it my first thought is that people are talking about Islamabad Airport in Pakistan!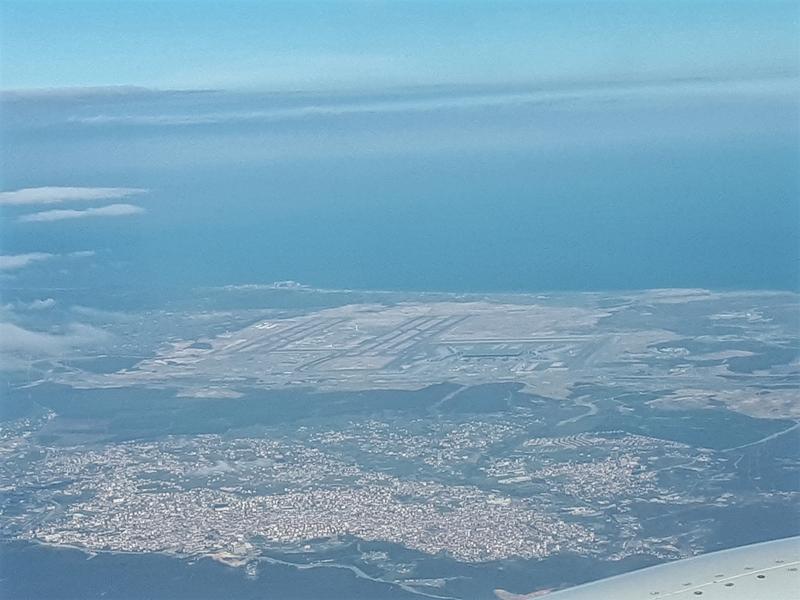 Final descent gave some great views – as always – of downtown Istanbul and the Bosporus with all the ships anchored waiting to get through the narrow strait.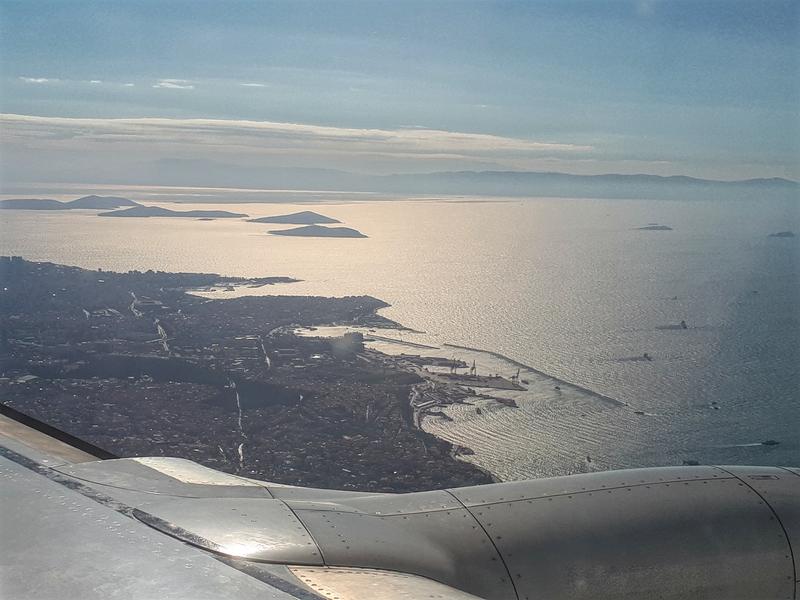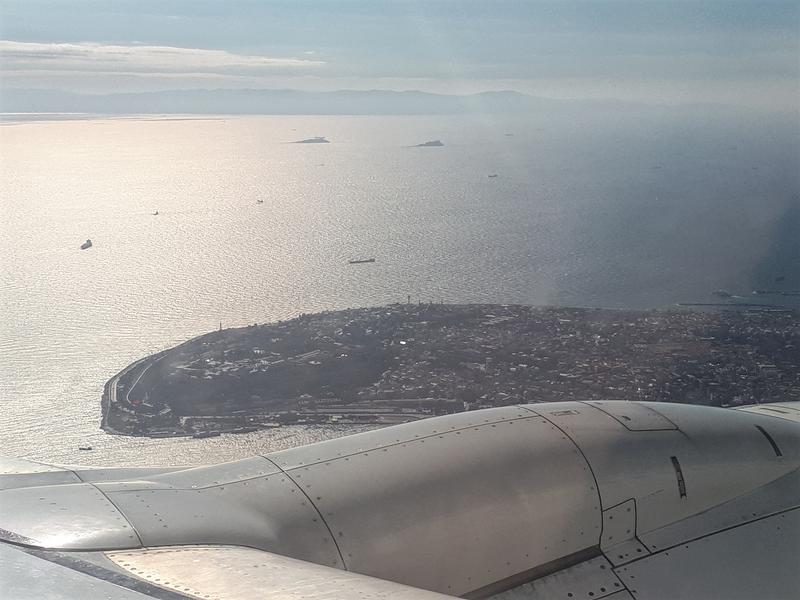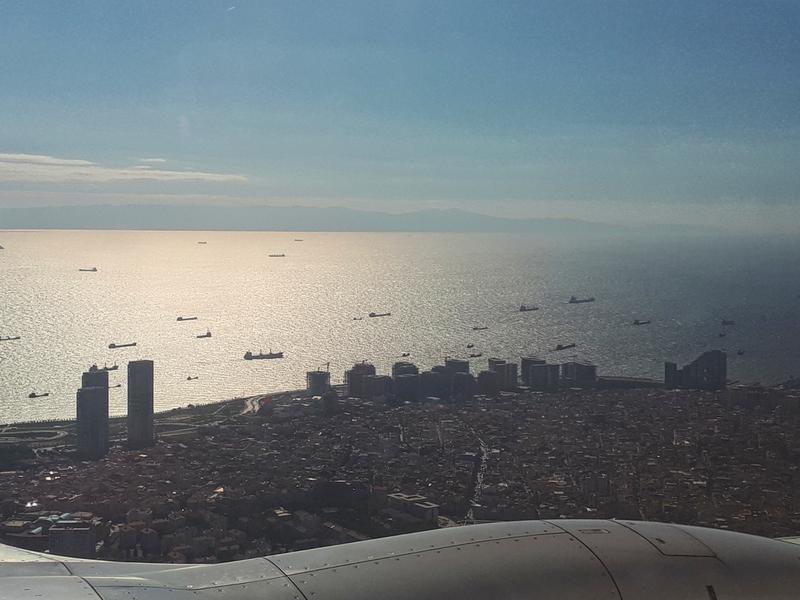 Final arrival at IST was a bit late but as I had plenty of time until my next flight I did not care.
In short:
Whether flying intra-European on Turkish in Y or in J, I can't help but think that's it one of the best – if not the best airline you can choose. Can't complain about anything of the in-flight service. If there is one thing to complain: enforce priority boarding at outstations (but I can say that about plenty of more airlines) and fix the lounge situation.
Next up:
The amazing Turkish Airlines lounge at Ataturk airport.
Feb 24, 19, 5:33 am
Join Date: Feb 2014
Location: OTP, CHQ, EIN and beyond
Programs: AF/KL platinum, Turkish gold, Aegean silver
Posts: 1,183
Part 5: The Turkish Airlines Lounge at Istanbul Ataturk airport (IST)
I don't think this chapter needs any special introduction. The Turkish Airlines (TK) lounge at Ataturk airport is known in frequent flyer circles as one of the best business class lounges out there – and that opinion is completely deserved in my opinion (of all business lounges I've visited I would only rate the Air France CDG 2E L gates lounge higher).
I planned to spend a full day in the lounge. Sure, I'd rather go out into Istanbul as it is in my opinion one of the most fantastic cities in the world. But as I still had work to finish today I had planned my flights exactly the right way to coincide with office hours back home so I could do meaningful work from early morning until mid-afternoon from the comfort of the lounge.
Entering the lounge is a chaotic affair as there is quite a crowd at the desk. There are self-scan gates which I recommend, but unfortunately I had no choice but to queue at the desk as I found out the check-in agent at KIV overrode my reserved seat I selected in advance and gave me a dreaded middle seat in the middle row of a wide-body for my onward flight to Tashkent. That is about a big as a no-no as you can give to me – so the first order of my stay at IST was to change it back to my old window seat. After 15 minutes queuing at the lounge entrance it was my turn, and in minutes my seat was reversed back to the exact seat I selected in advance.
As you enter the lounge the first thing you will notice are the lockers and the pool table – hands down my favourite part of the lounge as I love socialising and playing a game or two with strangers from all kinds of different countries.
For those who have never visited: the lounge is absolutely huge and can easily sit a thousand or so people. It spans two floors – and while the top floor where you enter can get absolutely packed to the brim, there is often plenty of seats downstairs. I love the lounge design – despite it being an indoor area with limited views from the first floor and none whatsoever from the basement – the designers did the best what they could to create different kinds of seating areas by placing all kinds of objects and decorations. I also love the circled vaults which remind me almost of a hobbit house. I wouldn't be surprised if the lounge designer has watched Lord of the Rings before taking his sketchbook and coming up with this!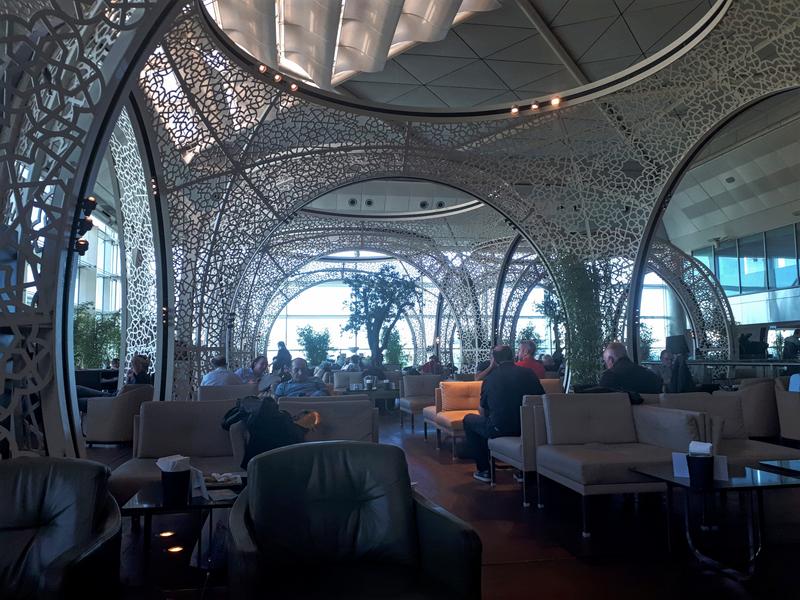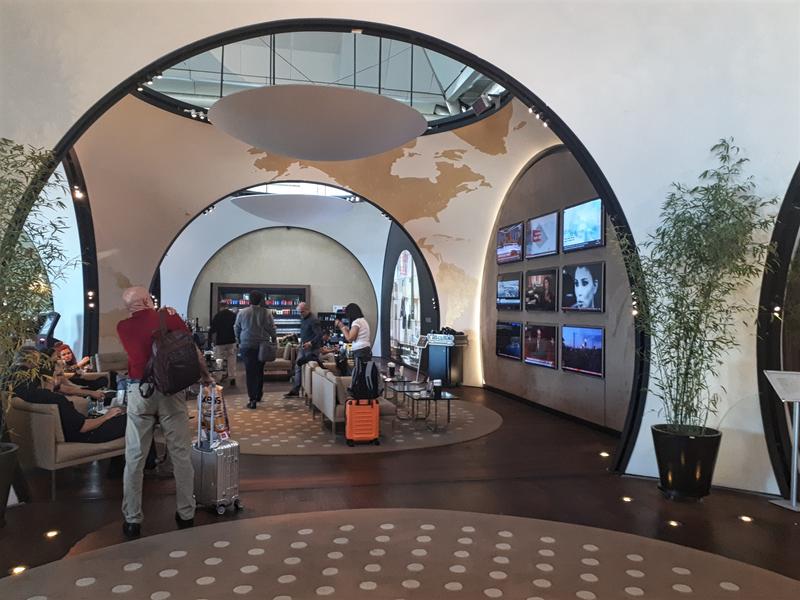 The top floor has a self-playing grand piano which is a cool feature as well.
For both younger and older kids there is also plenty to do, as there is a playground and a few consoles throughout the lounge.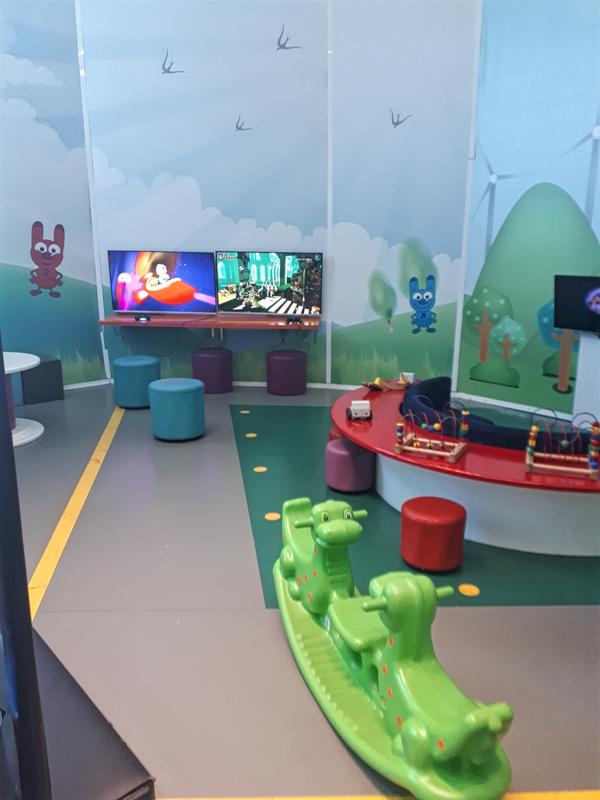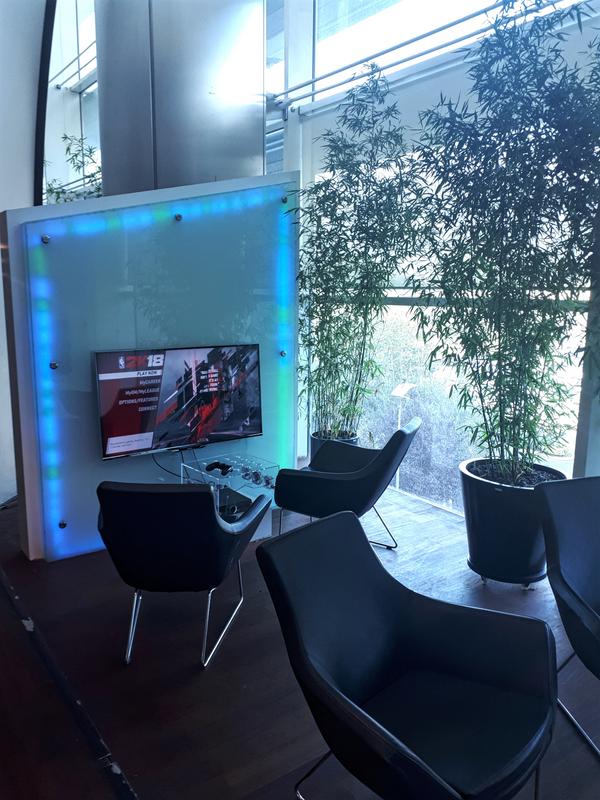 There are a few computers and printers in the lounge which came in handy as I forgot to print my vouchers and e-tickets for the Uzbek trains I pre-booked online. Not really the best place to get work done though given how exposed these computers are! One of the few minor design flaws I could detect.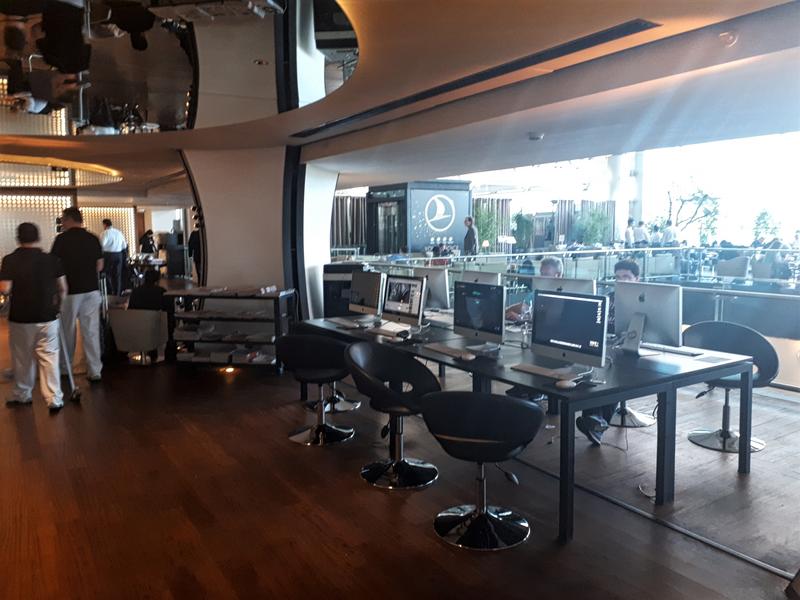 An impressive dual staircase leads to the lower level.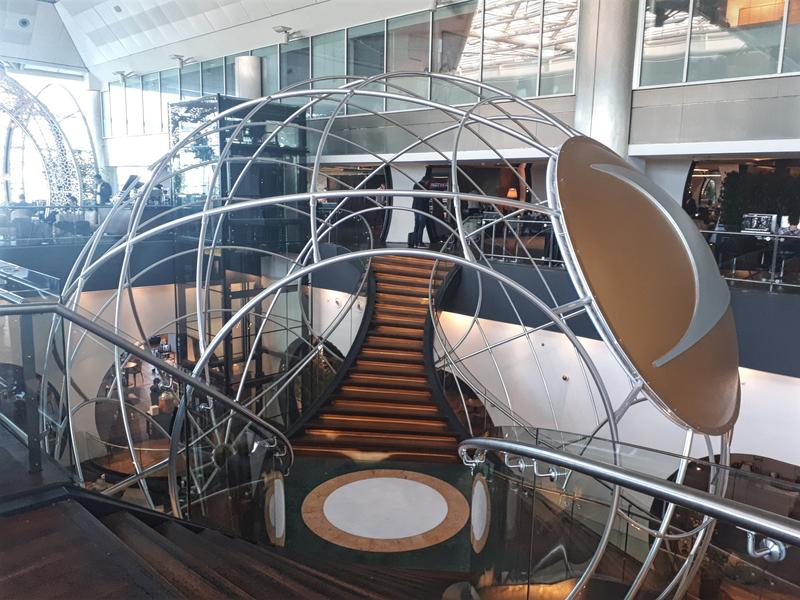 Where there is plenty more seating which is all generally way less crowded than the upstairs level.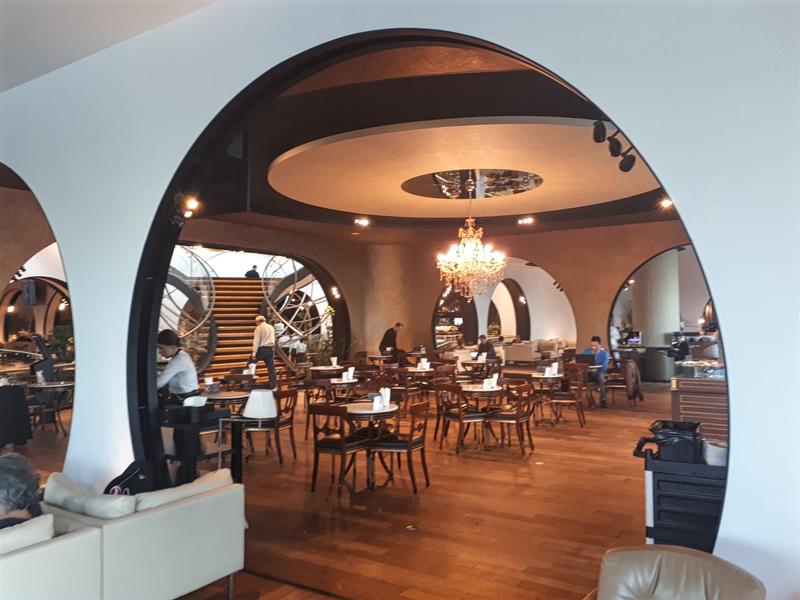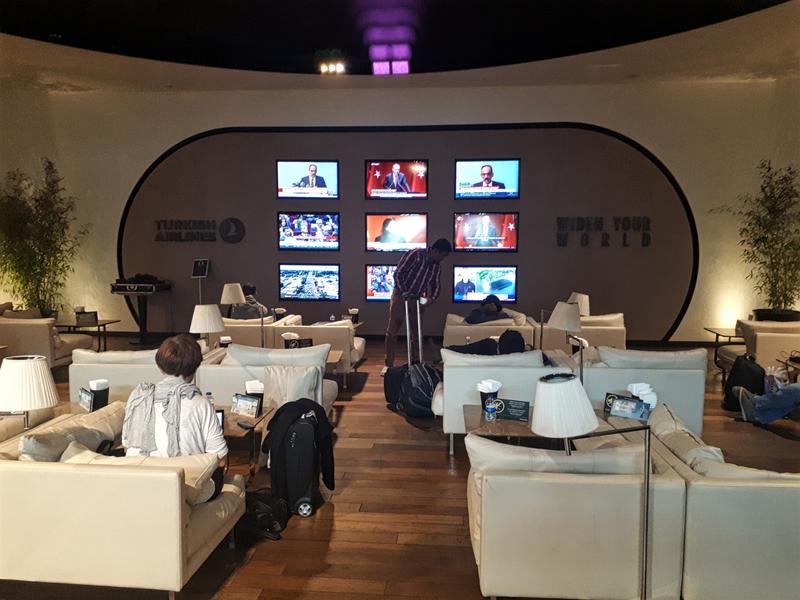 In the middle of the downstairs area there is a tea lounge with a huge selection of both Turkish and foreign teas.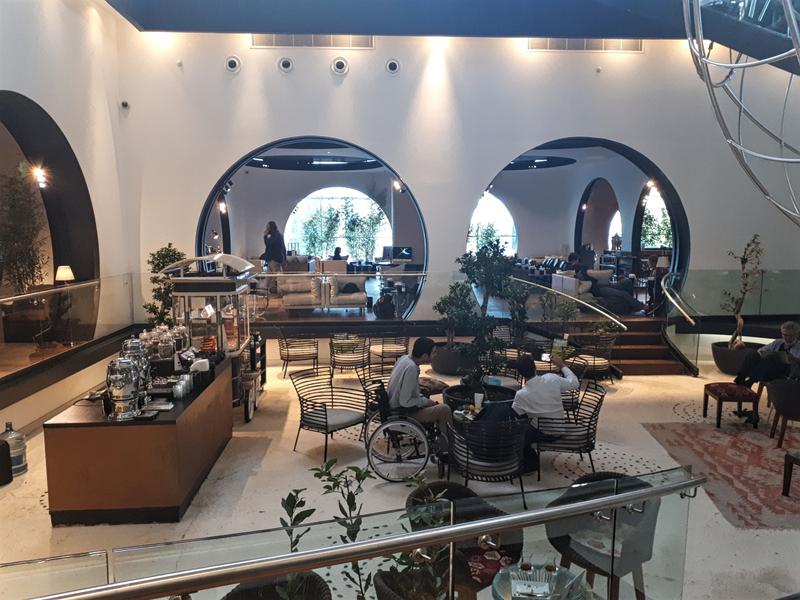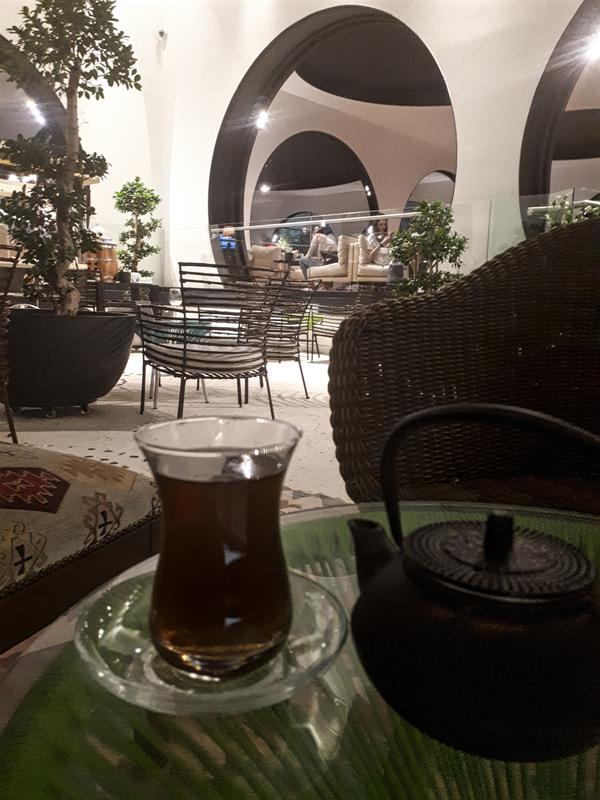 Also downstairs are some toy racing cars which is super cool (I loved those as a kid!)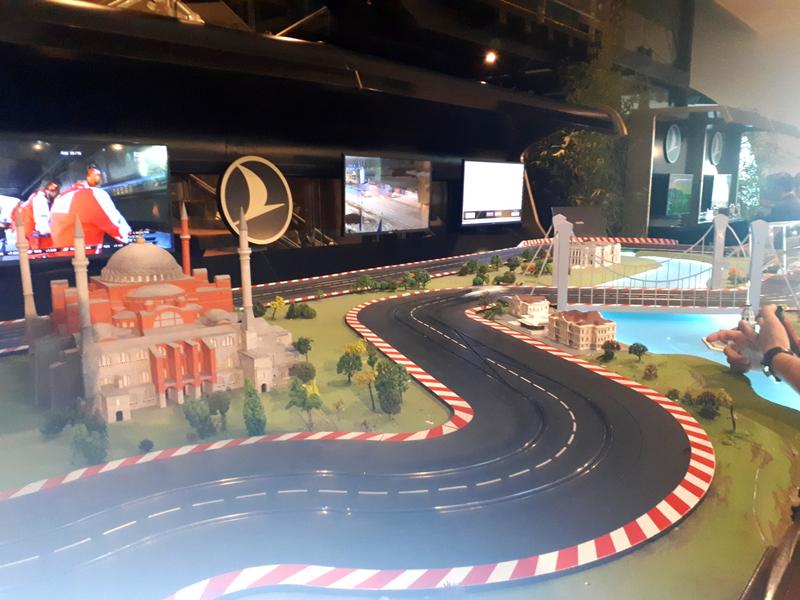 As well as a golf simulator – which I didn't try as I have zero talent for it.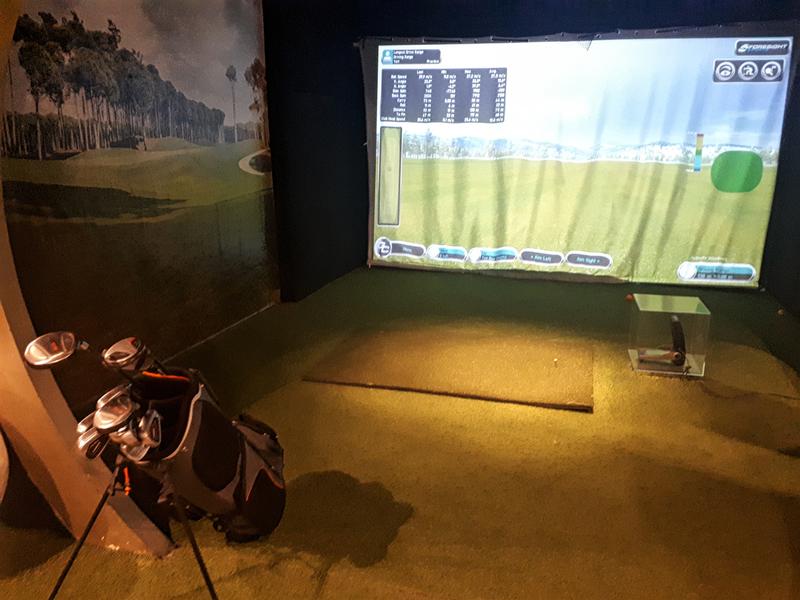 Back on the top floor there is also a cinema room which even has a popcorn machine. Not many people seemed to watch though as many were using the couches to sleep! The lounge does have proper day beds/rooms available – but unfortunately you can only get one if you match the strict requirements (J pax or TK Elite+ members with layovers between 4 to 7 hours – with no shorter layover available which they could theoretically have booked). Sorry for the crap picture here by the way.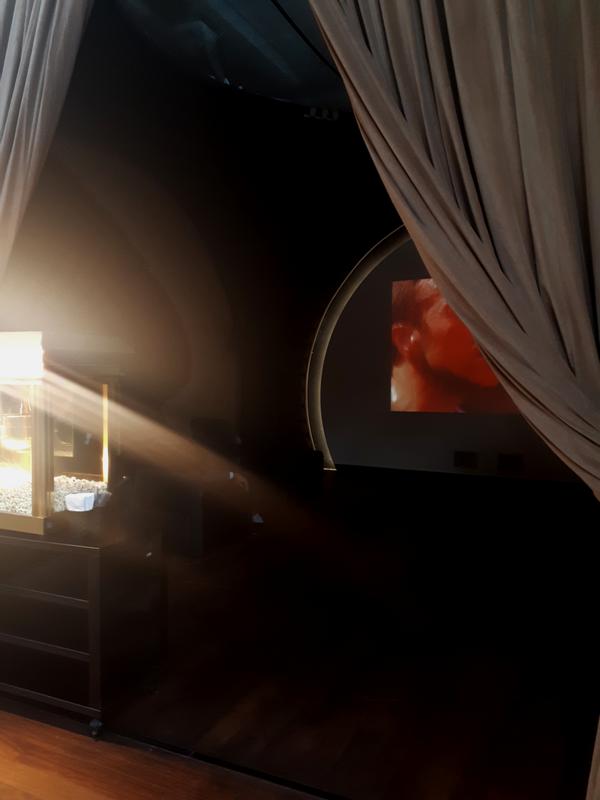 There are food stations all over the lounge, and while there is some overlap (some dishes such as the 'pide' and salads are available both up and downstairs) some are only available on one floor. When it was lunch time I began with the Turkish Airlines food special – the lounge has one stall which after a few days/weeks switches to serving a new dish. When I visited the lounge the theme was 'India' and thus had some freshly cooked chicken tikka masala (the time I visited before the stall highlighted Chinese cuisine). The tikka masala was not super authentic but was absolutely delicious nonetheless. I washed it away with a can of Efes beer.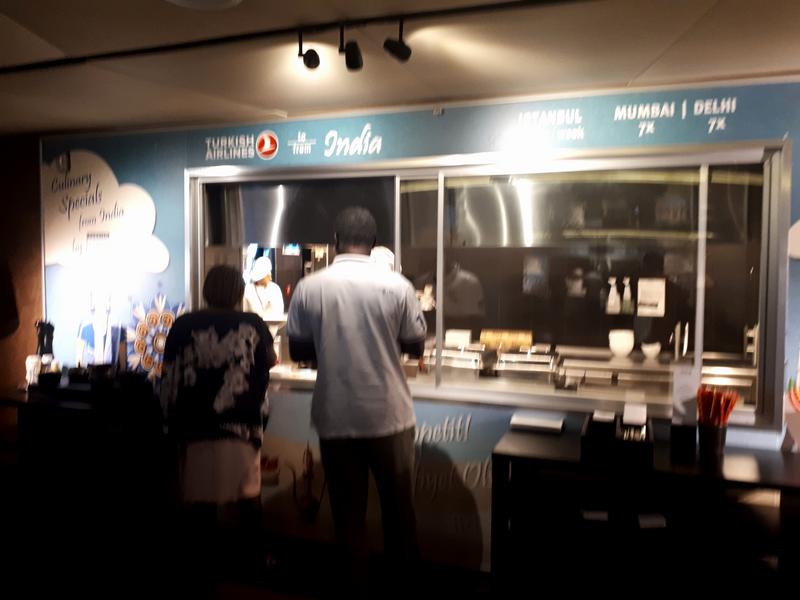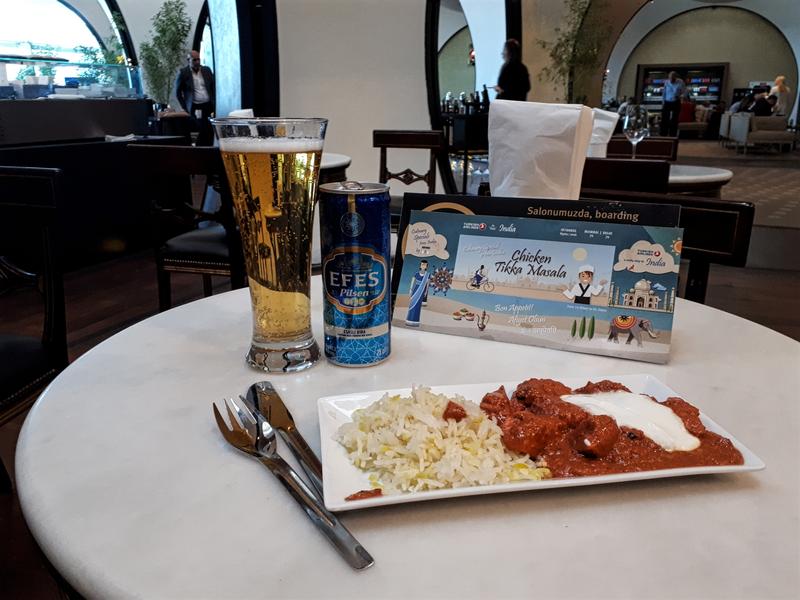 By far the most popular food station is the one where they make fresh pide – a sort of Turkish pizza (flatbread with toppings, most commonly ground meat, vegetables or cheese). The station makes a 3-4 different varieties and hack them in smaller pieces so you can take a few different ones to try. I especially love the cheese one.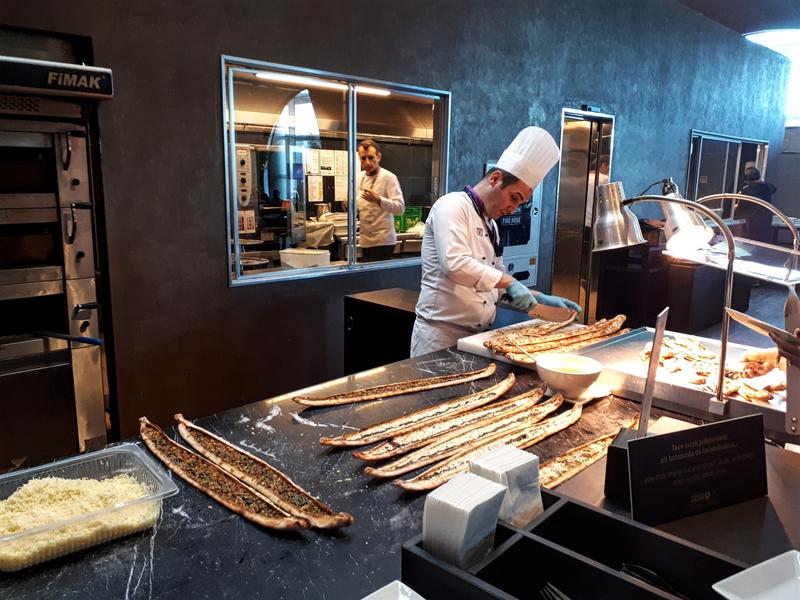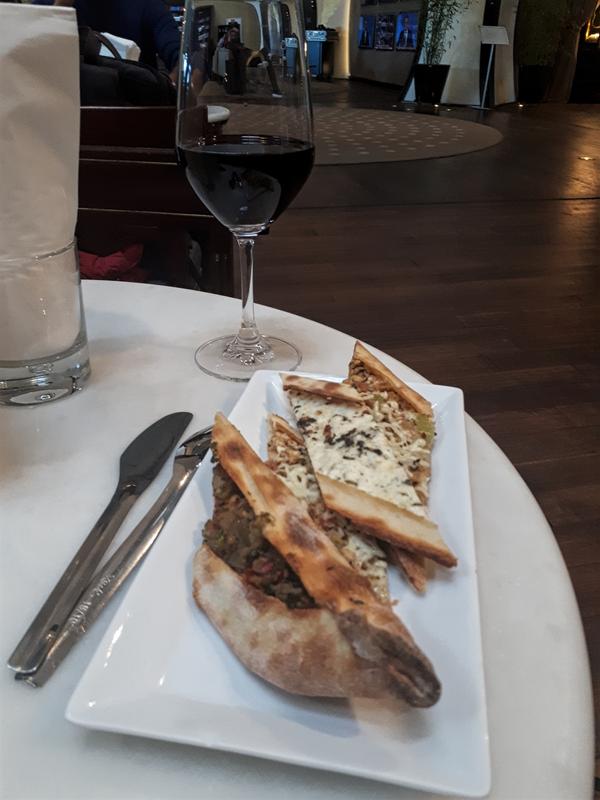 Preparing and eating some pide
There are plenty of salad and pasta options on the top floor..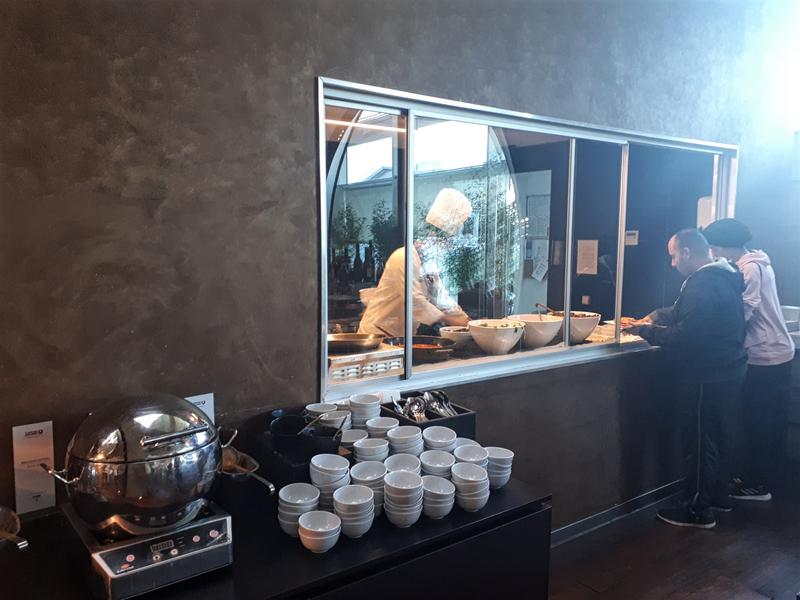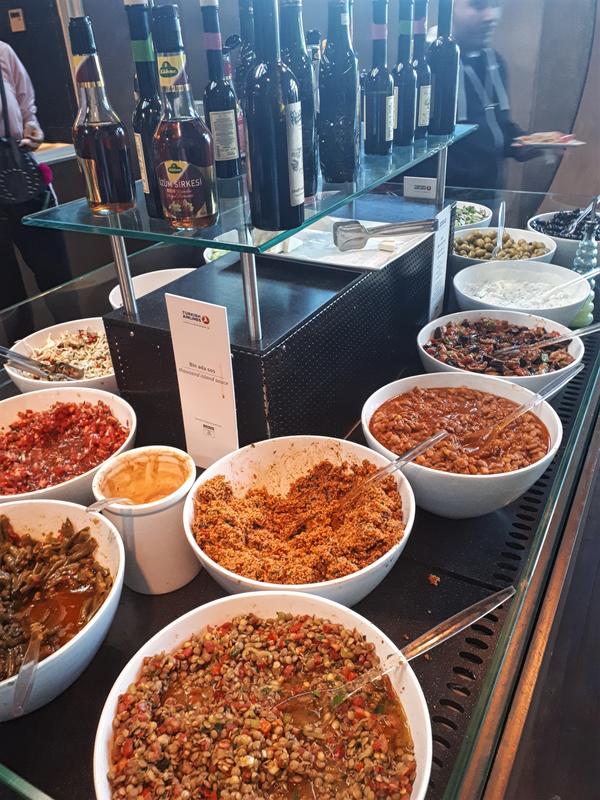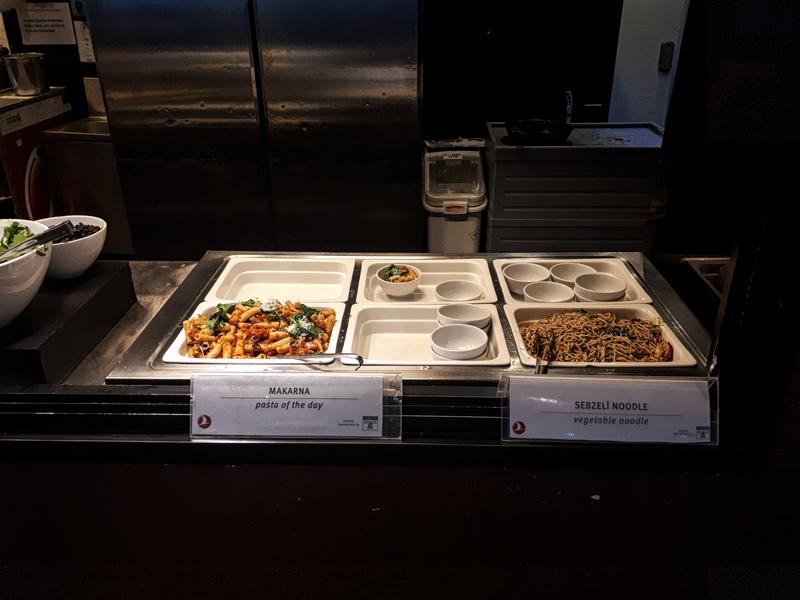 And in the basement there are some other unique food stalls. On my visit one stall was preparing grilled chicken and grilled kofte (ground beef patties Turkish style – delicious) and manti (Central Asian dumplings – one of the more unpopular stations but unfairly so as absolutely delicious too). There were also two soups available – of which the tomato soup I tried was again delicious.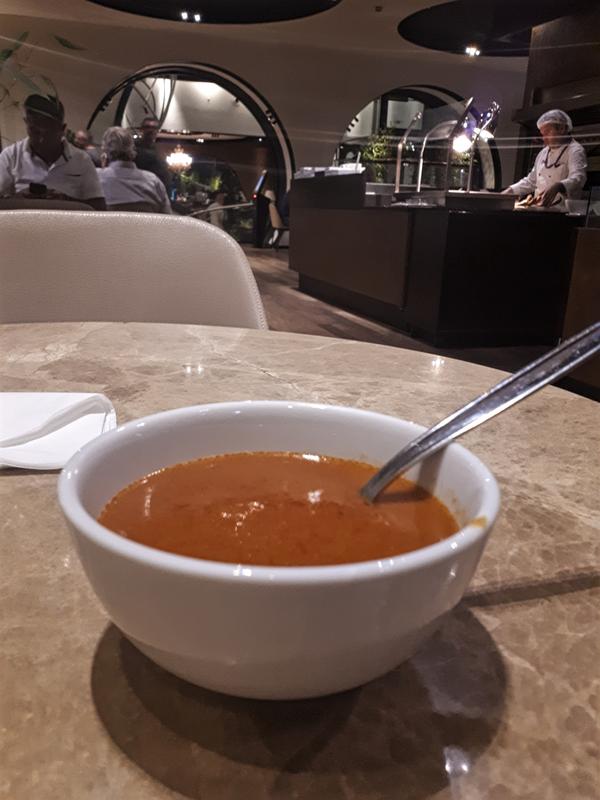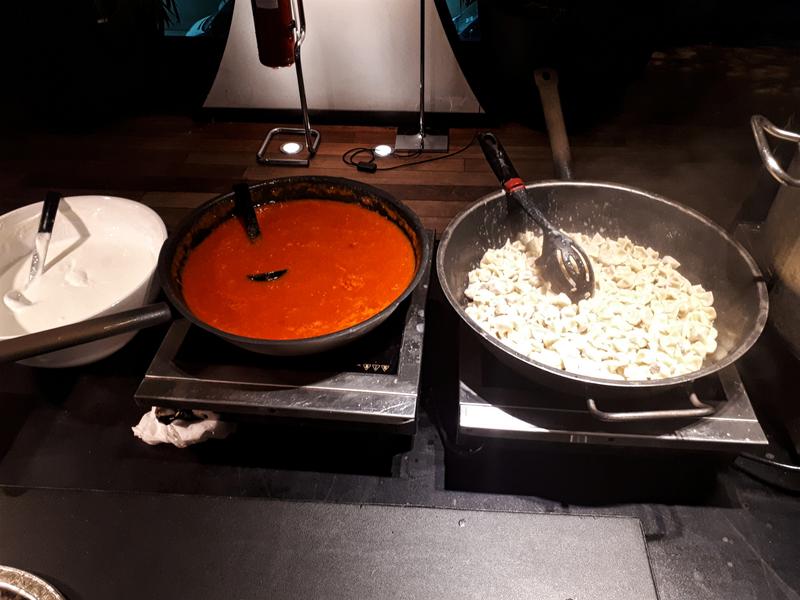 Delicious manti
Some kofte and a bowl of manti
Those who want something sweet have lots to choose from as well as there are literally a dozen of different cakes and other desserts – all delicious looking for sure.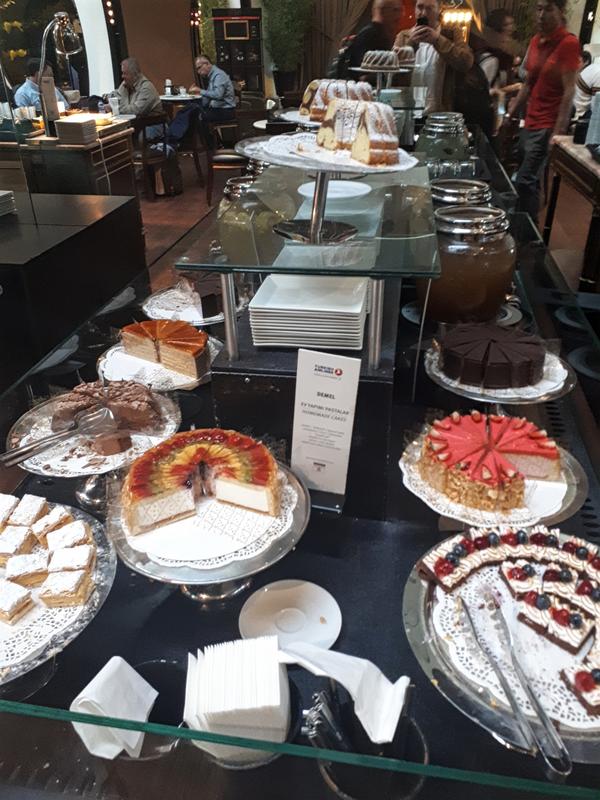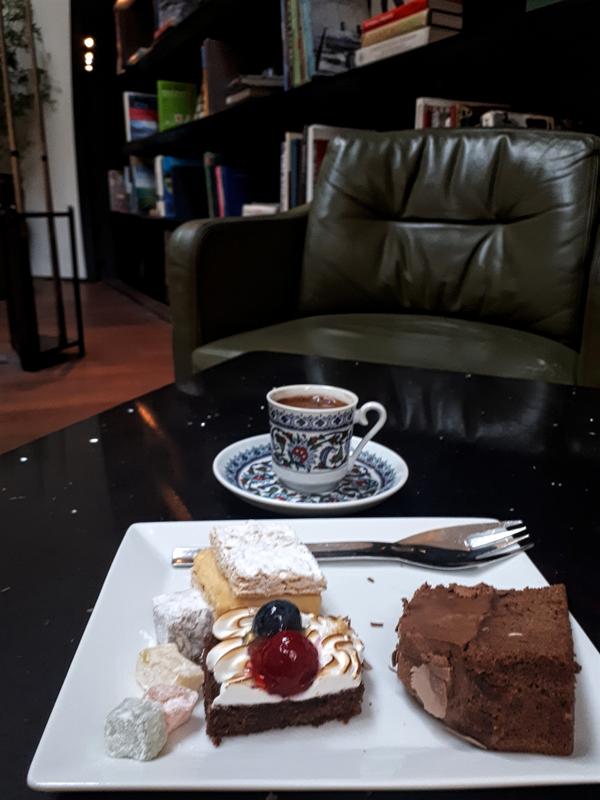 Of course there is plenty of baklava as well – as Turkish coffee (ask the lounge attendants to make one if you have no clue how the machine works).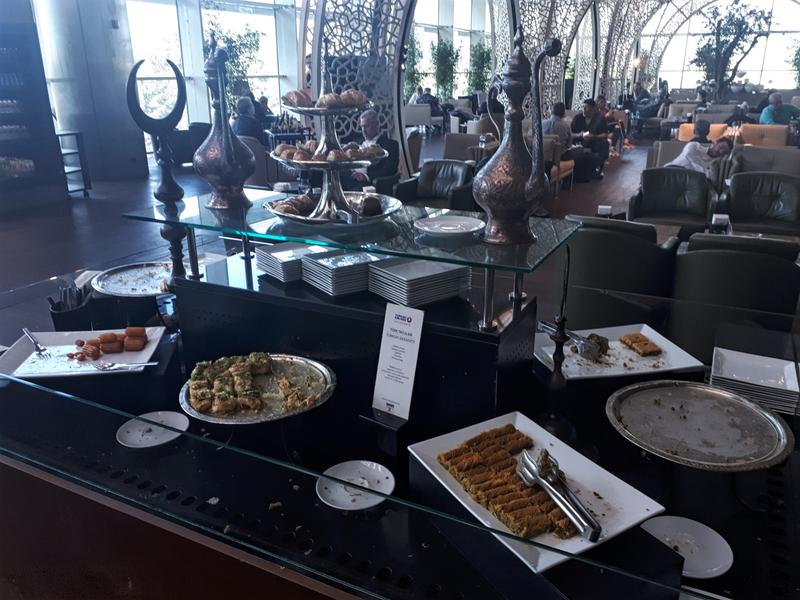 There are drinks stations throughout the lounge on both floors. Water/soft drinks/beers you can find in the fridge. There are trolleys were all the wine is placed on (lots of Turkish whites and reds – some good quality – but unfortunately no champagne/sparkling wine). Real booze is placed again on separate stations which can also be found on both levels of the lounge. All combined, I quite like the selection! It's not the biggest ever (heck, I've seen small LH and AF lounges stock more) but the main brands are all there and especially the wines make for some interesting wine tastings.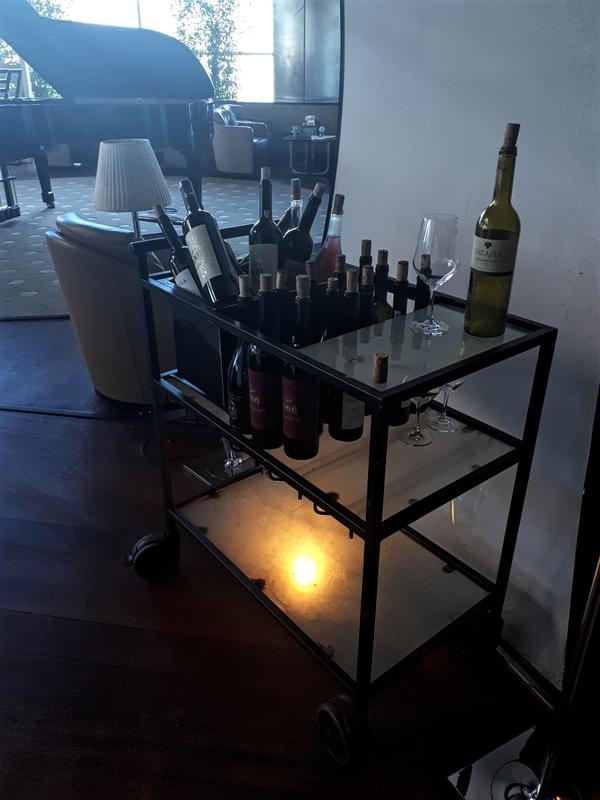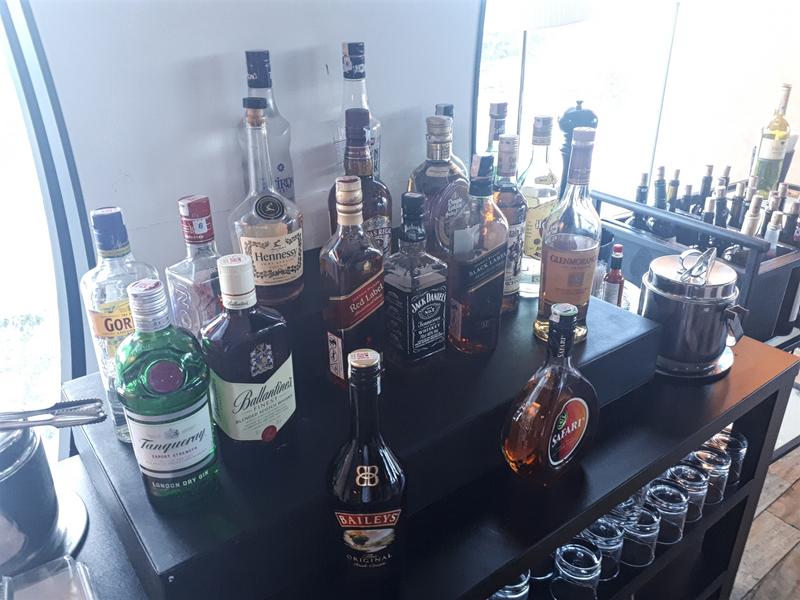 What more? There are plenty of showers and after the morning rush hour they were readily available. They are reasonably big, clean and fully stocked. It even had a bathrobe – no idea why one would need that for a lounge shower but for sure looks cool!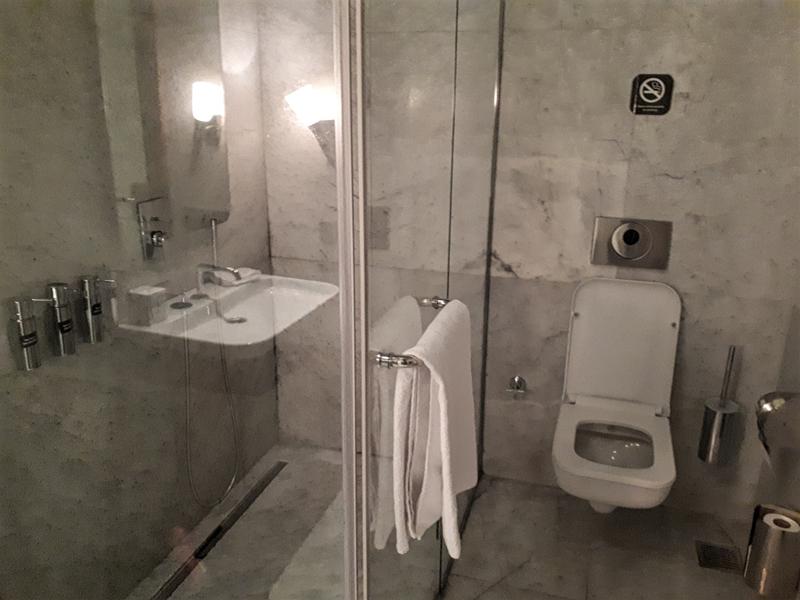 Both floors had toilets and they were kept immaculately clean as at the male loos there seemed to be two toilet attendants walking and cleaning the entire time!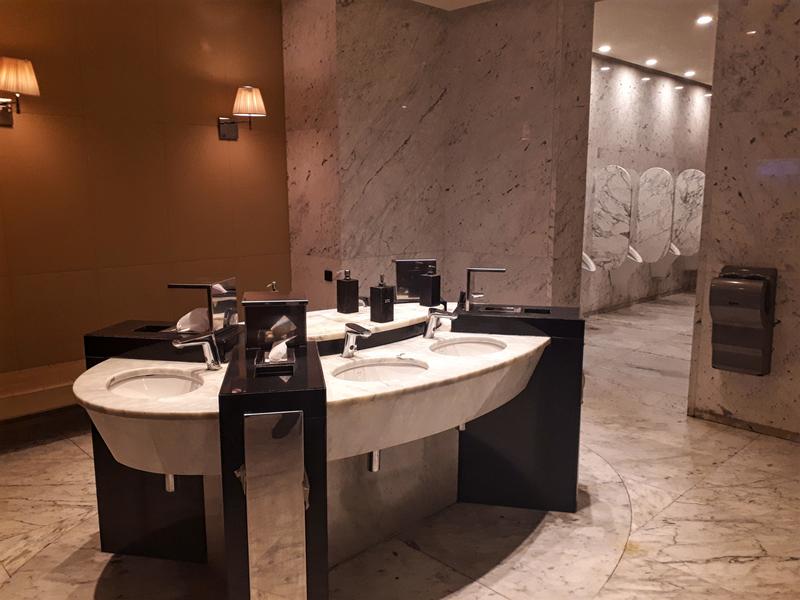 My only real complaint is that in the morning it was just too crowded in the lounge. There was no seat available upstairs, and while downstairs there was the internet did not function there which made it hard for me to get some work done. Only after 1pm did the crowds ease and did the internet speeds improve dramatically (and then also internet started to work again downstairs). In the morning crowds it can also be hard to secure a plug for your electronic equipment.
That said, it is still one of the greatest lounges. There is so much to do, the food is great, drinks are good, and it's just a jolly good fun. Even though I arrived in the morning and my flight left around midnight again I was not bored. I managed to work until 4pm, had lunch, had dinner, and then killed the time by playing a few games of pool against team Algeria (which of course I won
). It's the aspect I like most as you can socialise with people from lots of different countries!
I cannot wait to see how the new TK lounge at the new Istanbul airport will be like!
Next up:
Flying from Istanbul to Tashkent on Turkish Airlines in
economy class
business class (long live op ups at the gate!)
Feb 24, 19, 3:22 pm
Join Date: Oct 2008
Posts: 6,789
Your report is a good read so far!

To answer you on KIV, there is a lounge which is open to Priority Pass. Their directions are:

"Airside - after Passport Control and Duty Free, turn left. Take the escalator or stairs to the 2nd Floor and turn left. Pass the 'Golden Jet Restaurant' and then turn right to where the lounge is located."

Apparently LOT don't pay for KIV lounge either, but the *A finder shows OS and LH does.

You're right that there is also a dictator terminal. Looks very nice and you can even pay for a pretty Moldavian girl in national costume to give you the bread & salt service.

Sounds lovely!
---
Last edited by hugolover; Feb 24, 19 at

4:04 pm
Mar 1, 19, 4:50 am
Join Date: Feb 2014
Location: OTP, CHQ, EIN and beyond
Programs: AF/KL platinum, Turkish gold, Aegean silver
Posts: 1,183
Originally Posted by
hugolover
Your report is a good read so far!

To answer you on KIV, there is a lounge which is open to Priority Pass. Their directions are:

"Airside - after Passport Control and Duty Free, turn left. Take the escalator or stairs to the 2nd Floor and turn left. Pass the 'Golden Jet Restaurant' and then turn right to where the lounge is located."

Apparently LOT don't pay for KIV lounge either, but the *A finder shows OS and LH does.

You're right that there is also a dictator terminal. Looks very nice and you can even pay for a pretty Moldavian girl in national costume to give you the bread & salt service.

Sounds lovely!
Thanks for the answer! And yeah it's the traditional Moldovan greeting - have seen it myself in some traditional villages! I can imagine that eg. business executives might like it if they are welcoming some trading partners or so into the countries to formally welcome them this way. And 'dictator terminal' indeed sounds apt for such private terminal and lounge! Will need to keep my eyes open next time at KIV for the normal lounge then - there are some pretty decent fares to ex-Soviet countries that are half as cheap as those originating from Romania - so I can see myself positioning to Chisinau and flying from there in the future.