China and Japan on TG/JL/QF Y, CX J
Feb 3, 19, 9:02 am
FlyerTalk Evangelist
Join Date: Dec 2000
Location: Shanghai
Posts: 28,199
I like your report a lot.

A few random comments:
1. Outback departed Shanghai/Jiangsu/Zhejiang suddenly about 1.5 years ago, but during the final month, they upped their game (e.g. USDA Prime steaks)
2. The 772 you flew from CAN to TYO looks much nicer than the ANA 737s I've flown
3. Guangzhou is not one of my favorite cities, but it seems you missed out on some of the better areas
Feb 5, 19, 9:12 pm
Join Date: May 2018
Location: Tokyo
Programs: Bonvoy LT Titanium ANA Plat
Posts: 76
Originally Posted by
moondog
I like your report a lot.

A few random comments:
1. Outback departed Shanghai/Jiangsu/Zhejiang suddenly about 1.5 years ago, but during the final month, they upped their game (e.g. USDA Prime steaks)
2. The 772 you flew from CAN to TYO looks much nicer than the ANA 737s I've flown
3. Guangzhou is not one of my favorite cities, but it seems you missed out on some of the better areas
ANA 737s ???
Feb 5, 19, 9:50 pm
FlyerTalk Evangelist
Join Date: Dec 2000
Location: Shanghai
Posts: 28,199
Feb 7, 19, 5:39 pm
Suspended
Join Date: Feb 2019
Programs: BA, QR, LH
Posts: 24
Doesn't seem to me that you had a particularly good time, especially on the transportation elements of your trip.
Feb 9, 19, 5:46 am
Join Date: Nov 2018
Location: MEL/YMML
Programs: LA Black, QF Platinum, CX Silver, A3 Gold, Hyatt Explorist, Hilton Gold
Posts: 55
Day 2 (Kyoto)
---
Well, my trip doesn't have exactly the best start either. I booked airbnb. It said 4PM check in, which is way too LATE especially when you can't drop your bags at the place. To make the matters worse, lockers at Kyoto Station are 100% full. I messaged my colleagues (went to to HKG with me together) since they had a week-long ski holiday in Hokkaido, they said "oh well, it's okay, buy yourself a ticket from KIX or ITM to CTS, and get a car and go to Hilton Niseko"
When your trip clashes with second day of New Year's in Japan. Long lines for Fukubukuro.
Getting ready onboard Shinkansen to Kyoto. Not our train, but pretty sleek.
Ah, that's our train. My friend told me those one are the fastest, three stops to Kyoto (Shinagawa, Yokohama, Nagoya). As opposed to the train to Mishima (in order to board the bus to Mt Fuji), that was the slower ones (in terms of stops, not speed)
Very clear day today.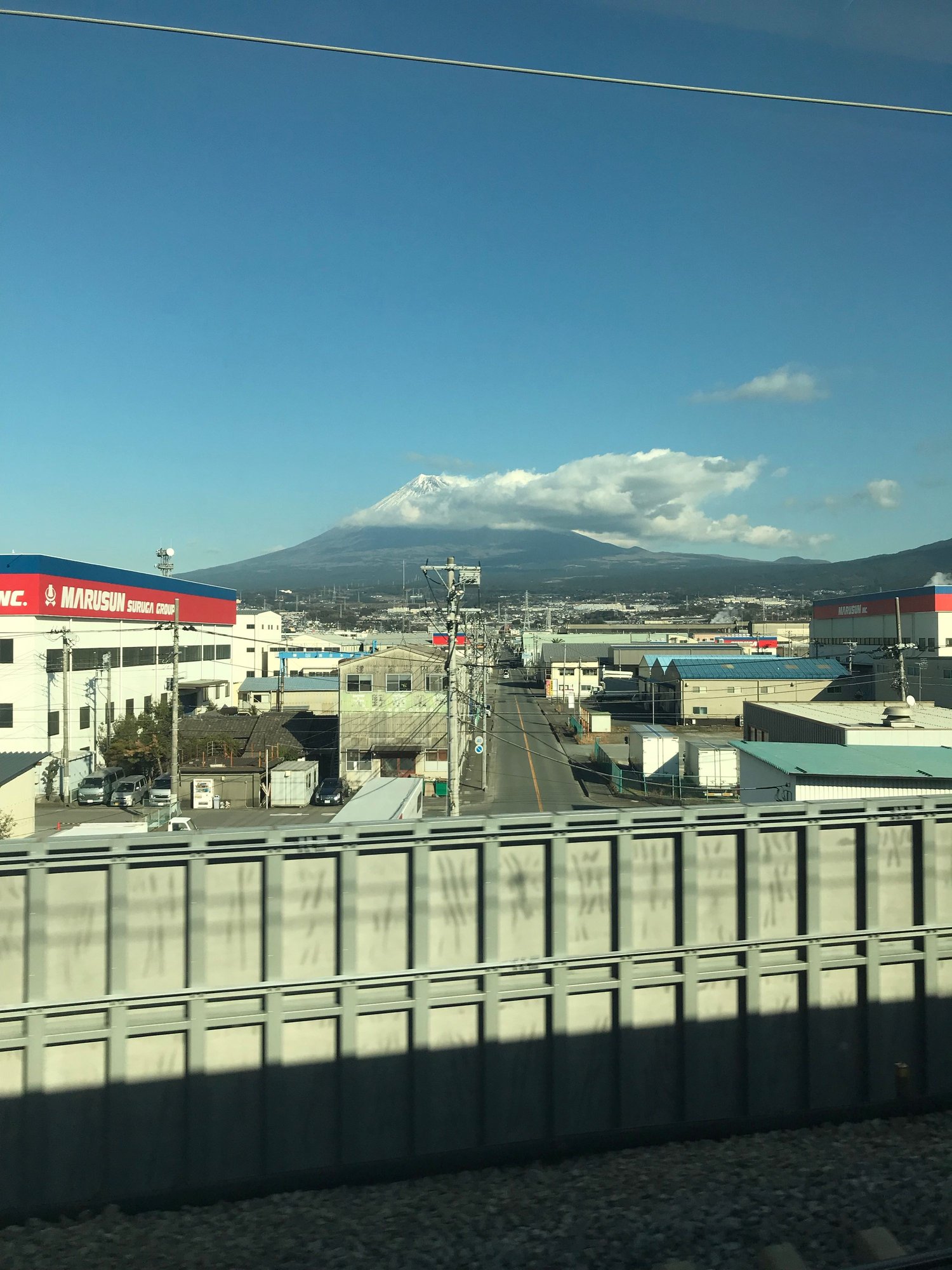 There we go. Kyoto. We tried to get food somewhere, but the queues are... crazy. Waited for a good hour before had our seat. Good way to kill time though.
We found some tonkatsu in the end, they were...delicious, fried to perfection. Even better, the staff gave me discount, voucher, and a box of cookie to take home too. What is going on ?
After that long wait, means now it's time for self check-in. Once we dropped our stuff, we headed to Nijo Castle, the imperial palace of centuries of Shogun rule in Japan, which unfortunately was closed due to New Year's eve:
My room, although my friend had the other room:
Stay tuned, day 3 is big. It was a but of mistake of booking airbnb, but at least there's kitchen and you could try and cook your own (i'm good at that, so that's a plus).
---
Last edited by antebellum; Feb 9, 19 at

5:52 am
Feb 16, 19, 2:52 am
Join Date: Nov 2018
Location: MEL/YMML
Programs: LA Black, QF Platinum, CX Silver, A3 Gold, Hyatt Explorist, Hilton Gold
Posts: 55
Day 3 (Kyoto)
---
I had a week off posting since I was super busy with work. Sorry about that.
Finally, the trip officially begin. My airbnb was fairly close to Kiyomizu (10 min walk), obviously the first stop. Lots of people today.
Beautiful day today. Plus, you can see the entire Kyoto city from here. Amazing.
Looks like it's a bell, seen a few of them in both China and Japan too, but this one was blocked off:
One word. Amazing.
What I'm supposed to do? Love stone?? Really?
Very bizarre here. Can anyone explain what is this?
Oh yeah. Wash your hand here.
Police is now strictly enforcing crowd control here. Even busier than the time we went.
I was fairly hungry after long walking tour. Decided on two fish sticks from a roadside stall. It was very nice.
Next stop: Inari, to be continued...
Feb 16, 19, 7:24 am
Join Date: Jun 2013
Location: Roswell, GA
Programs: AA EXP 2.8m,Lifetime PLT, Hilton Diamond, IHG PlLT, SPG Gold
Posts: 1,488
I fun going thru your trip... been to a few of the places you showed....
Feb 17, 19, 1:47 am
FlyerTalk Evangelist
Join Date: Jul 2004
Location: London
Posts: 13,398
Feb 17, 19, 5:07 am
Join Date: Nov 2018
Location: MEL/YMML
Programs: LA Black, QF Platinum, CX Silver, A3 Gold, Hyatt Explorist, Hilton Gold
Posts: 55
Originally Posted by
LapLap
Thank you very much.
Feb 21, 19, 6:01 am
Join Date: Nov 2018
Location: MEL/YMML
Programs: LA Black, QF Platinum, CX Silver, A3 Gold, Hyatt Explorist, Hilton Gold
Posts: 55
Day 3 Continued (Kyoto)
---
After lunch, we headed to Inari Taisha by train. More crowd control here. One thing to be aware of when travelling in Japan during New Years.
Yep. We are there. Lots of snack vendors on the side. Tried a few when we came down, spoiler: they were pretty tasty.
From here, it's good 30 minutes' of wait before reaching the actual shrine. This was already expected.
Endless amount of new year's supplies. Full of soy sauce, beers and barrels of sake.
The gate to the main shrine. Having never seen those before, it is like blow-your-mind kind of crazy.
As you go further towards the top, the crowds started to thin out. Definitely a lot of walking involved!
Yeah, definitely tiring.
Apparently you can buy a mimi Inari home, or donate and have you and your organisation's name marked here.
We reached somewhere near the top, but we decided to have a rest and call it quits. Isn't it a great idea to have an ice cream at 5C weather? Apparently people were lining up in long lines waiting for those stuff.
2 hours of walking, and 5km later, time for some street food. This was the beginning, a pork bun, quite delicious.
My friend was curious at this thing, sure, why not? This actually tastes like fried rice cake.
Garlic fried chicken bites. Freshly made.
Can't figure out what is this, looks like it's pancake filled with custard. Anyone had a clue here?
Very cool. Beef cube on a stick. Seems like they had the longest line in front of their stall.
We then took the train and went for some souvenir shopping (and whisky hunting). 2 days was simply never enough in Kyoto.
Japan's tax return system can be complicating. First, buy your item at participating store, total value over 5,000 yen, and then they'll seal your bags and return your tax yens as coins and notes.
Anyway, at the basement of Takashimaya, although there was abundant of Nikka 12 and Yoichi available, I settled on Yamazaki umeshu, that was around ~3,000 yen, but the minimum tax return value means, another bottle of Choya umeshu (aged 3 years!?, I gave it to one of my colleague anyway)
This wrap up my (short yet inspiring) 2 day in Kyoto. Next: Osaka and Kobe.
Feb 21, 19, 1:33 pm
FlyerTalk Evangelist
Join Date: Jul 2004
Location: London
Posts: 13,398
The pancake filled with custard looks like a dorayaki filled with custard instead of the classic red bean paste. Dorayaki is the favourite food of Doraemon the robot cat from the future.

The fried rice cake is exactly that. It may have slightly different names around Japan, but that one to me is what I would call "agemochi" which literally means fried rice cake.
揚げもち
Feb 26, 19, 1:46 am
Join Date: Nov 2018
Location: MEL/YMML
Programs: LA Black, QF Platinum, CX Silver, A3 Gold, Hyatt Explorist, Hilton Gold
Posts: 55
Day 4 (Kobe/Osaka)
---
After we (self) checked-out from airbnb, it's just short 5 minutes from train station. Good thing was our hotel in Osaka was very close to the terminal station. Just an ice cream from vending machine before boarding the train.
On the train. Only takes 45 minutes from Kyoto to Osaka (some all-stop trains takes 70 minutes!)
Off the train. Since our check-in time is 3PM, we walked to our hotel to drop our bags first. Very clear day
After drop off our bags, we then walked to Osaka station to catch train to Kobe. At Motomachi arcade.
Did some souvenir shopping at Daimaru. My friend got some dining plates while I bought lots of sweets and cakes.
Motomachi arcade. A lot of Kobe beef restaurant here. Don't know about whether they're tourist trap or not (luckily, we had one for dinner, and it was not)
Since we didn't have lunch, we then went to Chinatown for a few snacks, all of them were pretty good.
Happy to report that some FamilyMart still selling mini Hakushu despite the craze:
Then, We walked few minutes to Kobe Port, a very modern yet relaxing place (with a weird sail/wave-shaped hotels on the background)
Ships moored in the harbour. Seemed like there's quite bit of history for this one.
Sun slowly settling down. This is only 4:40PM.
For dinner, we went to a Kobe beef restaurant back in Motomachi. Very good atmosphere, only six tables in this store, with only two occupied.
Wow. We must been to a right place.
Showtime. Grilled Kobe beef fillet, served with rice. Not quite the most familiar way to eat it, but it was amazing.
Before we left, the owner came and showed us the award certificate for the beef we just had for dinner, even took a photo of us outside just before we go. The food amazing, and the service, as usual, just as amazing. Definitely will return next time.
We caught a train back to Osaka and our hotel. Osaka station basement is massive, took half an hour to figure out where our hotel was. Passing through Hankyu department store and saw this, Really?
After we returned to the hotel, we took our bags from front desk, checked-in, and bathed in the public bath for a good hour before crashed into the bed.
Feb 26, 19, 3:21 pm
Join Date: Jun 2010
Programs: United 1K, AA Exec P, SPG Plat Ambassador, Hyatt Diamond, Avis Pres. Club, Hertz Gold, Marriott Gold
Posts: 80
Seems like a lot of complaining about the travel. If you want business you should just book into business.
Feb 28, 19, 4:26 am
Join Date: Nov 2018
Location: MEL/YMML
Programs: LA Black, QF Platinum, CX Silver, A3 Gold, Hyatt Explorist, Hilton Gold
Posts: 55
Mar 6, 19, 4:38 am
Join Date: Nov 2018
Location: MEL/YMML
Programs: LA Black, QF Platinum, CX Silver, A3 Gold, Hyatt Explorist, Hilton Gold
Posts: 55
Day 5-6 (Osaka to Kawaguchiko)
---
We had a short day in Osaka, and still managed to squeeze in as much as possible. First stop, Dotonburi, where most of the store were not open yet:
We must been here at the wrong time. Definitely will return next time to see how'd that go.
I remembered my hotel had takoyaki in the breakfast buffet, it was okay, had a few. Now found the real one on the street, delicious! I don't like the sweet sauce though (that basically tastes like tomato-based Aussie BBQ sauce), and told the staff to forgo it.
We then headed back to hotel to pick up our bags, and catch Shinkansen to mishima in order to transfer to our bus. Just a simple lunch bought from the platform stalls, pork cutlet sandwich with can of latte. Quite good, better than some airline meal.
See the highlight here?
The views of Mt. Fuji was quite good, unfortunately, it wasn't the case the next day: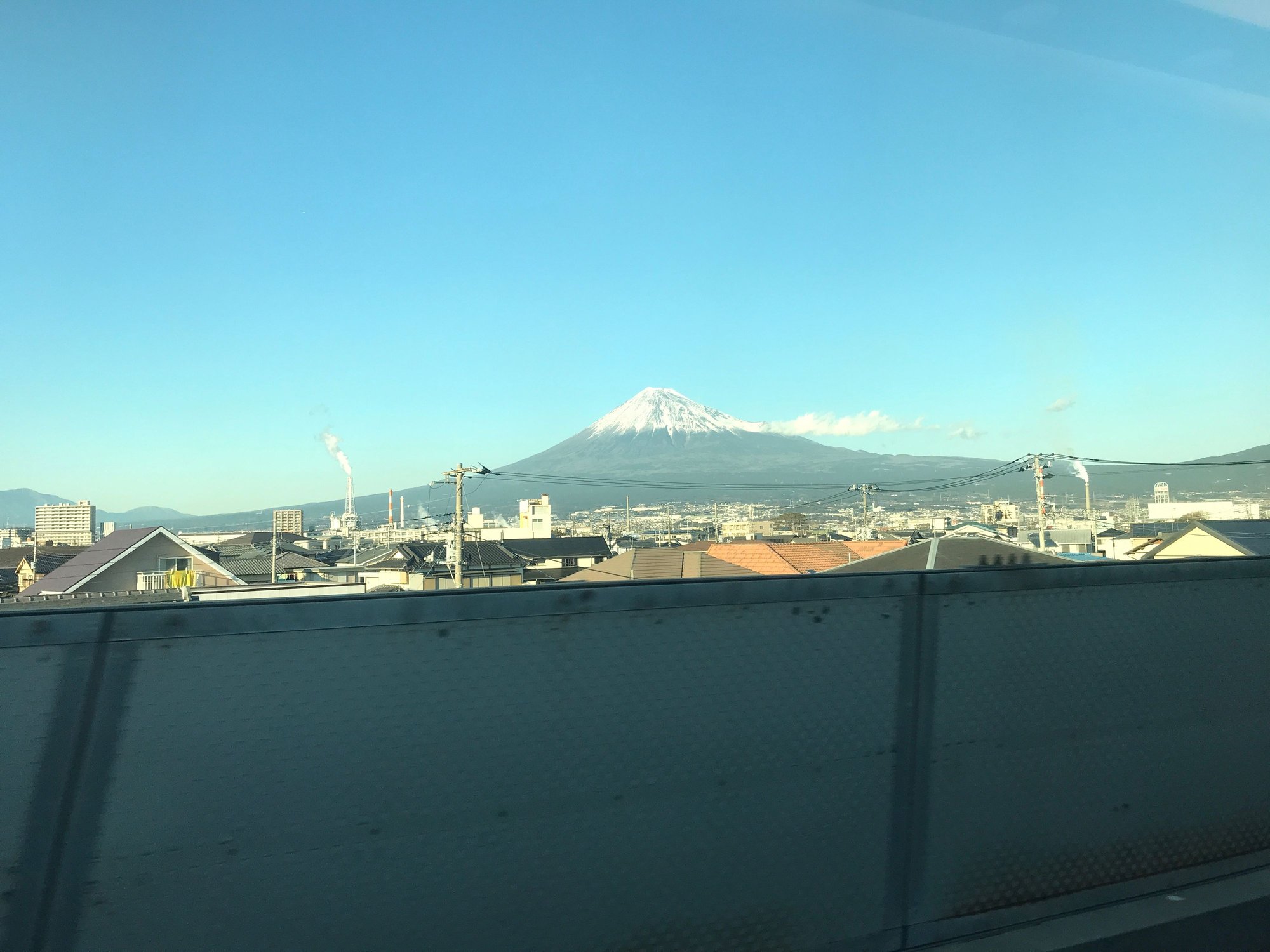 Our transfer stop, Mishima. It's only around 30 minutes transfer from Shinkansen to bus, but still sufficient enough. Bought a few snacks from Lawson opposite the station.
After two-hour bus ride, we arrived at Kawaguchiko which were dark already. Called hotel shuttle, checked in, and found something to eat. Hoto noodle with Tempura set. Not fancy at all, but this is comfortable to eat in this cold weather. Later found out that Hoto noodle is actually local to this region.
Unlike any other hotel we've stayed, they have three slots of breakfast time (7:30, 8 and 8:30), you'll have to choose from one of the slots, and the staff will have them ready in a set by the time you arrive. It's traditional Japanese style, although all things I've tried were pretty good.
Unfortunately, the weather were not good at all, with zero views of Mt. Fuji and periodic snow, we opted for a walk around the town, nice and relax.
This photo were taken later in the day. Still bad. Its nice and relaxing though, when the hotels have the hot public bath with lakeview.
The walk was around 5km or so. Time for lunch. Volcano (Mt. Fuji?!) shaped tempura prawn with flavoured rice. The prawns must the biggest I've seen before, and the rice portions were huge, can't finish them at all.
Because today was sort of half-off day, not much photos. Before we're off to Tokyo, amazing Mt. Fuji views, especially during sunrise.
After the breakfast similar to yesterday (also good), we hopped on the bus to Tokyo. The trip so far was good and inspiring, but the short time periods restricted a lot of activities. Next time, I'd say stay for two weeks in Japan would be much better. Still remembered the Mt. Fuji view from our hotel very much.