Discover Lumut-The Navy Town of Malaysia
Jan 3, 19, 1:01 am
Join Date: Dec 2017
Posts: 58
Discover Lumut-The Navy Town of Malaysia
---
This is the continuation of my previous trip report:
Discover Penang-The Pearl of the Orient
Just 2 days after we got back from a wonderful holiday in Penang, my parents and I made another leisure trip to the Northern part of Peninsular Malaysia. We went to Lumut, a coastal town located in the state of Perak.
"Lumut" which means Moss in Malay is a home base for the Royal Malaysian Navy. It is also the main gateway to Malaysian paradise island of Pangkor.
Flight Report From Penang To KL
It took around 20 minutes to reach the airport from the city center.
PEN's curbside.
Interior of the terminal with the check-in counters area.
QR's soon to be opened (at that time) sales office.
We had a light lunch at this cafe after we were done with the check-in process.
Butter Cake
.
Then, we walked to our boarding gate, Gate B7.
The boarding gates area was so crowded and packed with many people, but we managed to find some vacant seats for us. Luckily, we didnt have to wait for too long before our aircraft that will bring us back to KL arrived.
Soon, boarding was commenced in a not-so-orderly manner.
Airline: Air Asia
Flight: AK6125
Origin: Penang
Destination: Kuala Lumpur
Departure Time: 14:25 pm
Arrival Time: 15:30 pm
Seat: 6F
The seats for 3 of us (6D,E,F). My father sat in a different row.
The mandatory seat pitch photo.
Our plane's sharklet and a private jet parked not too far from us.
PEN's humble control tower.
The mandatory seat pocket contents photo.
After the boarding process and safety demo completed, our plane took off to the skies. Penang Bridge was clearly visible as soon as we were airborne.
Goodbye Penang!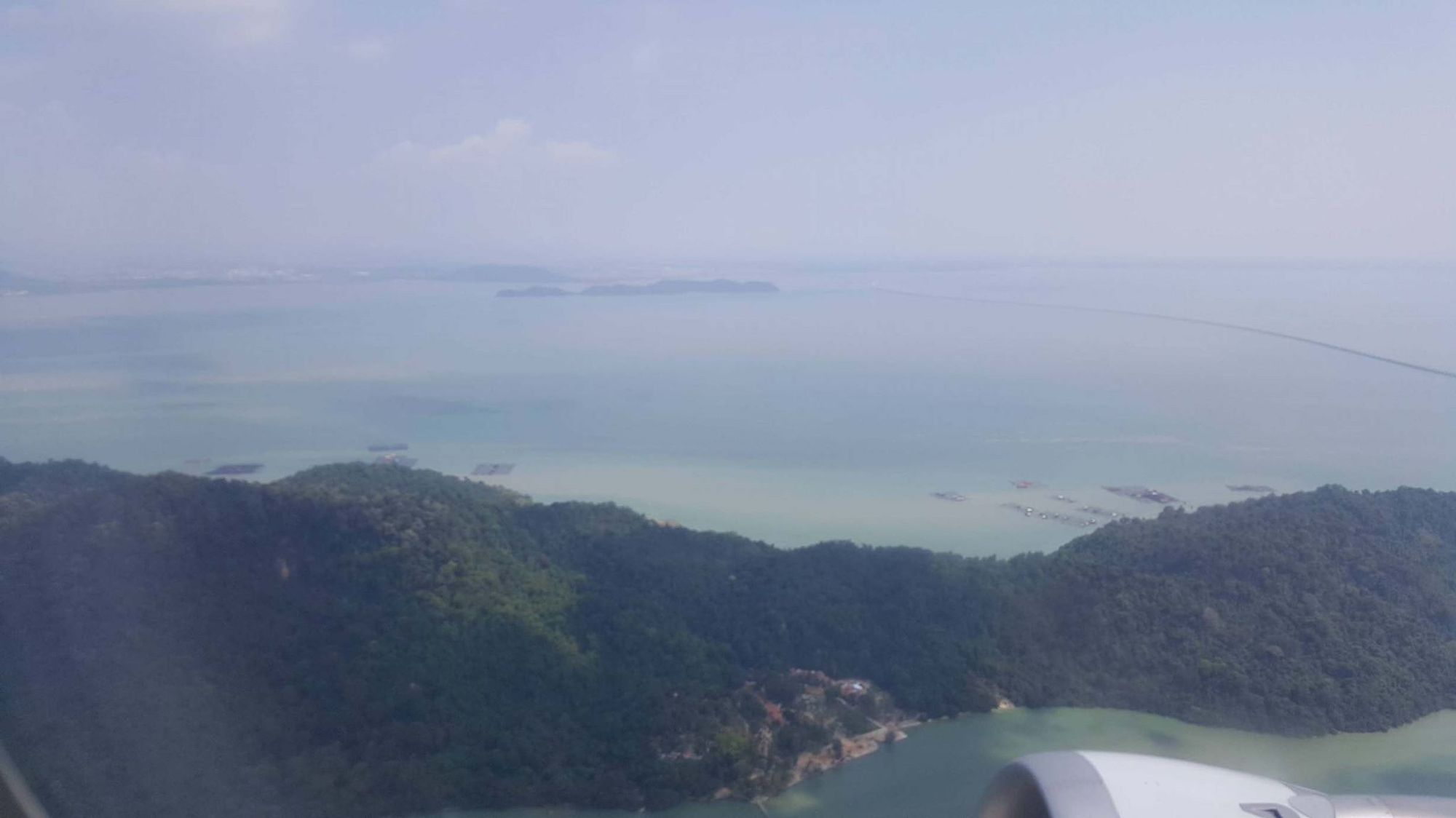 Climbing towards higher altitude.
Cabin crew distributed the pre-booked meals followed by the BOB service and inflight sales. We had the same bland Pasta just like in the outbound flight.
Around 40 minutes after we took-off, our aircraft started its descent and we landed safely in KLIA2 ahead of ETA.
Parked at our gate.
Trip from KL to Lumut
2 days later, my parents and I went to Lumut. We received 2-night complimentary stay in Swiss-Garden Beach Resort Damai Laut courtesy of my elder brother who is a long member of Swiss-Garden International. We also managed to make a quick trip to Pangkor Island on our 2nd day there.
DAY 1
It took about 3-hour drive to reach Lumut from KL using the North-South Expressway (NSE).
The NSE is frequently used by huge and heavy vehicles such as lorries, trucks and the express buses.
We did a quick pit stop at 1 of the R&R (rest & relaxation) places along the highway.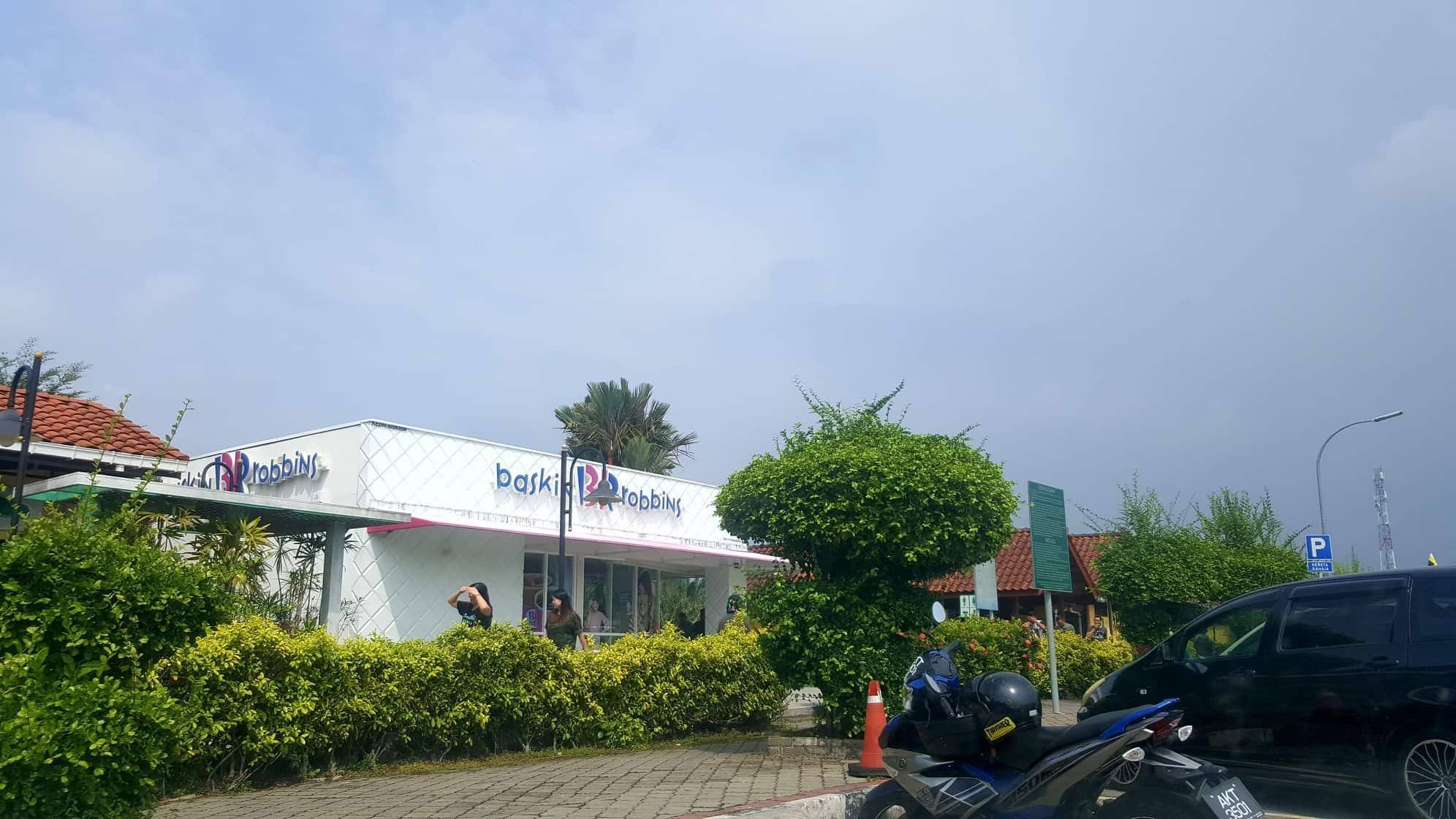 We continued our journey and reached Lumut in the late afternoon.
Seashell is 1 of the major landmarks of this coastal town.
Lumut Town is so small, peaceful and quiet.
Located opposite of Lumut Jetty Terminal was a busy area with several stalls selling beach attires, souvenirs and dried sea products.
Dried Anchovies.
We had our lunch in 1 of these foods stalls.
Wet version of
Char Koey Teow.
Prawn Mee
, which is famous in the state of Perak.
After lunch, we continued to discover the rest part of Lumut Town.
More souvenir stalls.
Colorful artwork.
Post office.
From the town center, we drove our car to Lumut Waterfront where the
KD Rahmat Maritime Museum
is located.
Lumut Seaport Restaurant.
When we were there, we found out that the wooden bridge connected to the ship museum was closed. 1 of the construction workers on duty informed us that
KD
Rahmat
experienced a leakage and serious damage few weeks prior of our visit with a high potential to be permanently closed to visitors.
We came to Lumut a little too late!
The
KD Rahmat
was a frigate used to be operated by the Royal Malaysian Navy that configured as an anti-submarine warfare frigate. It was converted into a museum in 2011 and became a top attraction in Lumut where visitors were able to enter into it and discover its interior.
So sad that we can just admiring its beauty from the outside.
We left that place heartily disappointed and continued our journey to the resort.
The Swiss-Garden Beach Resort Damai Laut is located in a secluded area located about 30 minutes drive from Lumut Town. It is advisable for you to reach the resort before night as the road leading that place can be very quiet and dark.
Crossing a bridge.
Jungles and Monkeys.
Palm Plantations surrounding the resort.
Arriving at the resort.
The resort features a tropical element into its design and ambience.
The resort's lobby.
Nice view from the resort's lobby. Pangkor Island (Pulau Pangkor) can also be seen.
We collected the key and proceeded to our room.
Our room.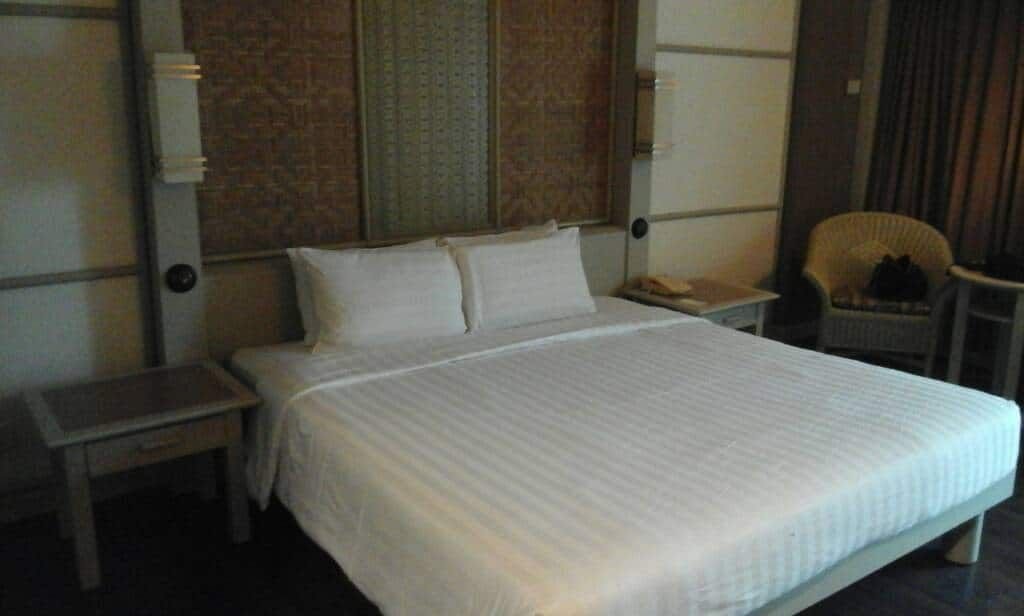 That evening, we had our dinner in the resort's sole Thai restaurant.
We ordered the Tom Yum Goong that came with huge Prawns.
Crab Meat Fried Rice.
And Mango Sticky Rice for dessert.
After dinner, we went back to our room to get some rest and sleep. Up next is the report for our day trip to Pangkor Island!
---
Last edited by airways91; Jan 3, 19 at

1:14 am
Jan 3, 19, 3:11 pm
Join Date: Jun 2016
Location: SNA; LAX
Posts: 189
Come to think of it, the only time i was on vacation and made a decision to eat dinner at the hotel was during a college trip with friends. We were drinking heavily the whole afternoon and when dinner came around, we could barely crawl to the restaurant to get some food before knocking out
Jan 24, 19, 8:30 pm
Join Date: Dec 2017
Posts: 58
DAY 2
Next morning, we drove to the nearest eating place outside of the resort to have our breakfast as our stay didnt come with a complimentary breakfast.
The closest eating place that we found took about 10-15 minutes drive from the resort.
We had
Roti Canai
in 1 Mamak (Indian Muslim) restaurant.
Then, we continued our journey to Lumut Town to ride the ferry to Pangkor Island from the town's jetty. We parked our car at this colorful elevated parking.
Walking towards the jetty.
Lumut Jetty Terminal.
Ticket for the ferry ride can be purchased here. The ferry ride from Lumut Jetty to Pangkor runs multiple times a day and the ticket fee for an adult costs RM14. The rental service for motorbike and car in Pangkor are also available at the Lumut Jetty's ticket counter. We rented a sedan car for a day.
After purchased the ticket, we had to wait for about 20 minutes for the ferry to arrive.
The ferry arriving at the jetty.
Boarding the ferry.
The interior of the ferry. So vintage! Thanks god it was fully air-conditioned.
It was a free seating concept, so we had to search any vacant seats on our own.
1 of 2 or might be 3 crew of the ferry.
The only form of entertainment available onboard of this ancient ferry. It remained off for the whole time of the ferry ride though.
The view from the ferry's dirty window.
The ferry ride from Lumut Jetty to Pangkor Jetty took about 30-40 minutes. Before arriving in Pangkor, the ferry will make a quick stop in another jetty named "Sungai Pinang Kecil". Those who are going to Pangkor should remain seated inside the ferry during this quick stopover.
Finally, we arrived in Pangkor Island Jetty.
Disembarking.
Pangkor Island Jetty.
Welcome to Pangkor!
Other ferries docked in the jetty.
The sea colors of Pangkor.
You can tell you are in Pangkor Island whenever you spot this Pink van taxi!
The Pink van taxi is actually the official taxi in Pangkor and 1 of the island's major icons. Tourists can rent this taxi to get to their resort or to any of the attractions available here.
The agent for our rental car was waiting for us in the middle of the crowds. He escorted us to our car and provided the key. We had to go to the nearest petrol station as the car's fuel tank was almost empty.
Our rental car, the
Proton Wira.
After that, we drove through the tiny Pangkor Town and headed to the 1st attraction, the Pasir Bogak Beach.
As Pangkor is such a small island, it didnt take us a long drive to arrive in this beach. In fact, you can fully explored the whole island only within few hours!
Pantai Pasir Bogak or "Pasir Bogak Beach" is 1 of the main beaches of Pangkor with a handful number of resorts, cafes and shops operating along this beach.
It is a long-stretch beach with a white sand and warm blue-green sea water.
The beach was almost deserted when we were there. Perhaps, it was due to the non-school holiday season.
This beach facing directly towards the luxurious Pangkor Laut Resort.
Pangkor Laut Resort.
From Pasir Bogak Beach, we made a short drive to another famous beach in the island, the Teluk Nipah Beach or Nipah Bay Beach. This beach is said to be more pristine with much clearer sea water than the Pasir Bogak Beach and I couldnt agree more. Just like Pasir Bogak Beach, there also a great number of resorts, chalets, food and souvenir stalls operating near this beach.
This beach also seems much "busier" than the Pasir Bogak Beach.
Powdery White sand.
Located next to Teluk Nipah Beach is the equally beautiful Coral Beach.
Facing the Teluk Nipah Beach are 2 small islands known as Giam Island and Mentagor Island.
The water was calm and crystal-clear!
Visitors can just walk to the nearby Giam Island during the low-tide.
Walking to the tiny and uninhabited Giam Island.
I only make it halfway as I didnt wear a suitable clothing.
Enough playing on the beach, now it's time for some historical lessons. Our next attraction was the "Batu Bersurat" or Sacred Written Rock. Also known as the Tiger Rock, this huge granite boulder was carved with a painting of Dutch East India Company's symbol and some other graffiti.
1 theory suggested that the carving was done by a group of Dutch Soldiers which based in the nearby Dutch Fort (Kota Belanda).
Unfortunately, the carving and the other graffiti were no longer clearly visible.
From Batu Bersurat, we visited the Kota Belanda.
The arch leading to Kota Belanda.
Welcome to Kota Belanda aka the Dutch Fort!
The Kota Belanda or Dutch Fort was built by the Dutch in year 1670 as a warehouse and stronghold from the pirates and local villagers who against the Dutch.
A replica of cannon.
Front view of Kota Belanda.
Some stalls selling gifts and souvenirs.
And some new stalls still under construction.
The large artificial garden at the front of the fort.
Only a small part of the ancient fort still remain today for visitors to see.
Interior of the ruins.
Not sure what is this.
A storage room or a prison cell?
The views from the fort.
From Kota Belanda, we made our way back to the Pangkor Town. While driving, we found this food stall and decided to have our lunch here. We ordered the
Laksa Pangkor
, the island's very own version of Laksa which highly regarded as "a must try".
There are 2 types of
Laksa Pangkor
; wet & dry. This is the wet version of
Laksa Pangkor
. It tasted much spicier than the regular
Laksa
that I have ever had before.
And the dry version. It was nice and equally spicy too.
Finished our meal with the
Rojak Buah
or "
Fruits Rojak
".
Rojak Buah
is a Fruits Salad topped with a generous amount of Sweet & Spicy gravy which made up of Black and sticky fermented Shrimp Paste.
We continued our way to the Pangkor Town after we finished with lunch.
We passed by the tiny Pangkor Airport (PKG) which no longer in operation.
We stopped our car to get a closer view of Pangkor Airport's terminal which features a traditional Malay architecture in its design.
The last air commercial service to Pangkor was through Berjaya Air (J8) from Kuala Lumpur-Subang Airport (SZB) in year 2014. Hopefully the runway in this tiny airport can be extended (if that is possible) and airlines such as Malindo Air or Firefly could serve Pangkor directly from SZB someday.
We returned back to Pangkor Jetty to catch the ferry ride back to mainland around 3PM. We were so shock to see the long queue formed at the jetty's entrance as we didnt see too many visitors on the beaches and other attraction sites of the island (with the exception of Kota Belanda). So, from where all these people were coming from? They couldnt be local residents either.
You still had to join the long queue even when you already purchased a return ticket earlier.
It took us more than 30 minutes before we managed to enter inside the terminal. We had to wait for about 10 more minutes for the ferry to arrive.
We reached the Lumut Jetty in the evening and drove back to our resort. On our way to the resort, we stopped at 1 small stall at the side of the road which served Thai foods for dinner. We had
Tom Yum Soup, Fried Egg, Kailan with Shrimp Paste
and the
3-Flavors Sea Bass (Ikan Kerapu 3 Rasa).
"Ikan Kerapu 3 Rasa"
or the
3 Flavors Sea Bass
. The 3 flavors are Sweet, Sour & Spicy.
After dinner, we went back to our resort and we called it a day.
---
Last edited by airways91; Jan 27, 19 at

8:11 pm
Feb 10, 19, 11:34 pm
Join Date: Dec 2017
Posts: 58
DAY 3
It was the 3rd and the very last day for us being here.
An awe-inspiring sunrise view welcomed us that morning.
The resort's surrounding is looking more beautiful under the daylight.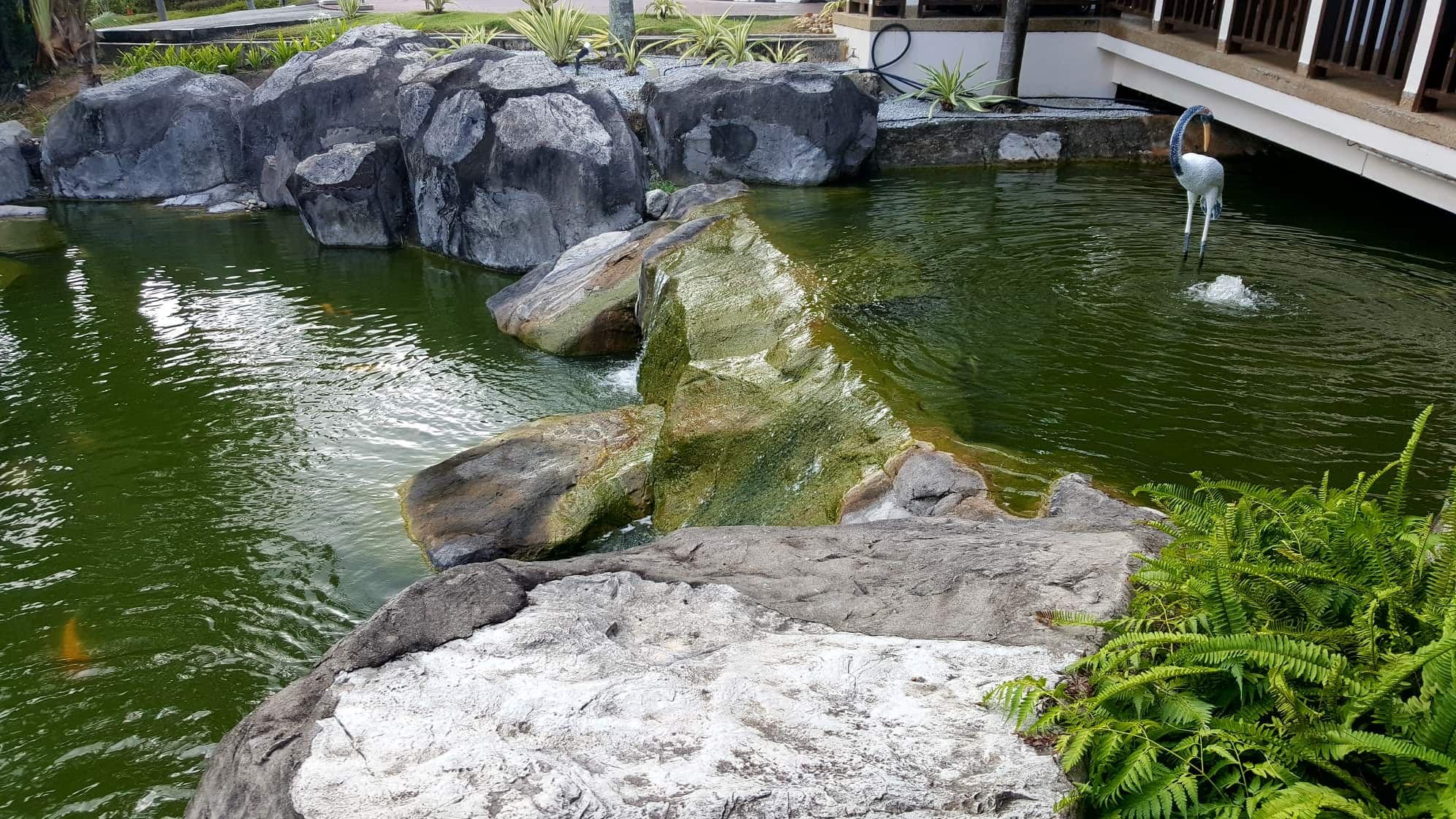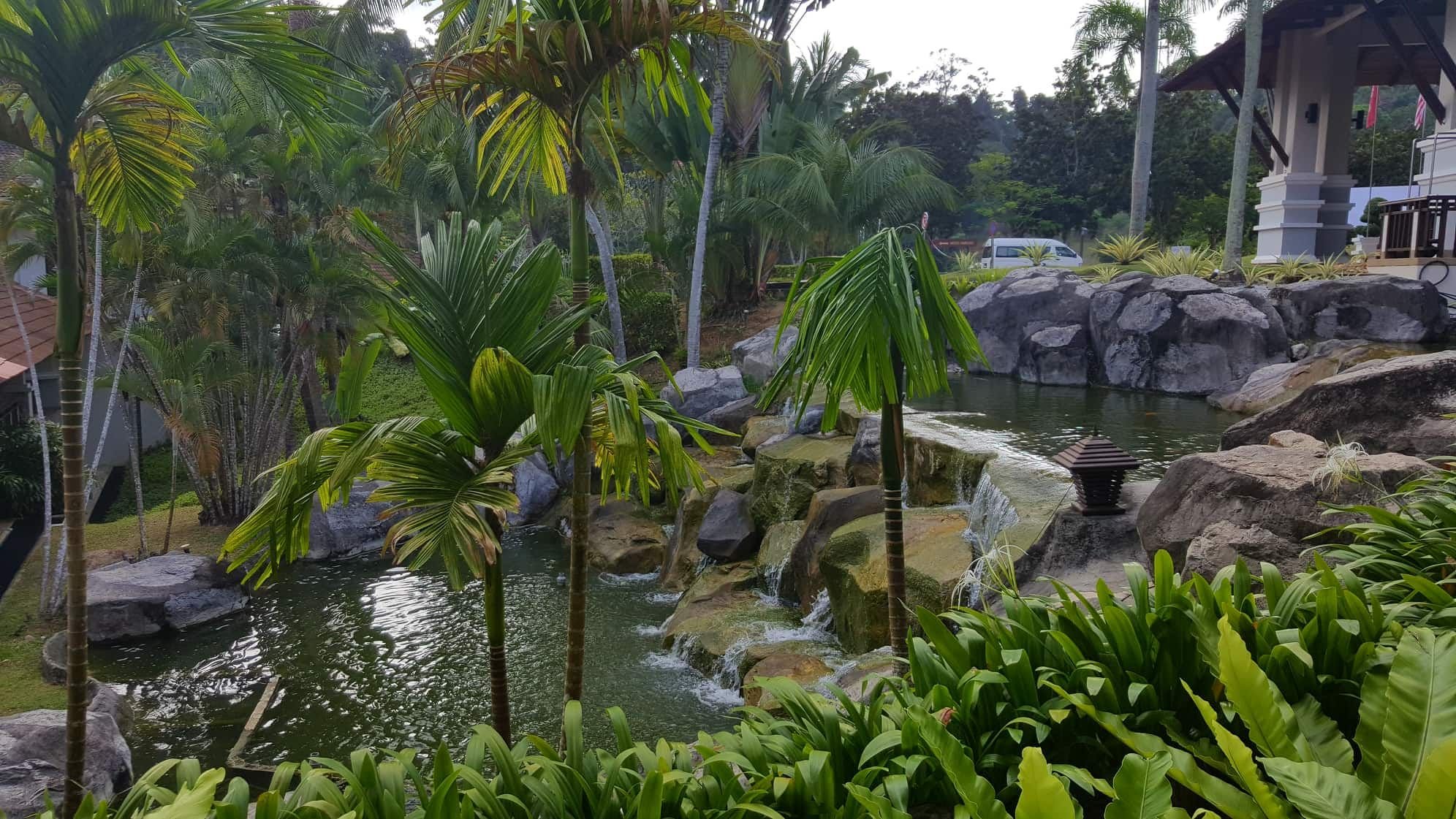 We decided to have our breakfast at the resort's coffee house where we had to pay RM30 per person at the reception. It was much cheaper to pay there than in the coffeehouse itself according to the receptionist.
The resort's owned coffeehouse,
The Garden Terrace
.
The buffet-spread consisted of both international and local cuisines.
Breads, Pastries & Fruits stations.
Salad bar.
We chose to dine outdoor so we can seeing the nice view while enjoying our breakfast.
Pangkor Island.
The resort's adult and kids pools are located next to the cafe's outdoor dining section.
Done with breakfast, I decided to check out the resort's private beach while my parents returned back to our room.
The path leading to the private beach.
The resort's private beach which exclusively can be used by its guests. There was a caution signage that warned all visitors about the presence of Jellyfish on the sea water at certain times of the day.
The resort also offers some other fun activities to its guests on the beach such as Horse Riding, ATV Riding, Kayaking, Jet Skiing and Banana Boat.
A flock of Ducks enjoying their great time in the sea water.
I left the beach and returned to the room to join my parents to pack our stuff and ready for check-out.
Returned our room key to the reception and we were off to go!
The views on our way back to KL. Goodbye Lumut!
Passing a small traditional village.
Green Paddy Field.
And that was the end of our trip in Lumut and Pangkor. Feel free to check out my previous Trip Reports:
To The Paradise With Malindo Air
Discover Port Dickson-The Army Town of Malaysia
Discover Penang-The Pearl of the Orient