Four Weeks of Adventure: Backpacking through Kashmir
Dec 29, 18, 11:51 pm
Four Weeks of Adventure: Backpacking through Kashmir
---
As a new graduate with 5 months before I started work, some savings, and a pent-up desire for adventure, I planned a solo trip to India and Kashmir after my graduation. I ended up choosing Kashmir for a few reasons. A few years back, I had read a trip report by another FT member about the Kashmir region and was hooked on the region. Coincidentally,
BA had published a nice fare to India and I jumped on it
. Finally, I had wanted to visit the Karakoram Highway,
a beautiful part of the Kashmir region which is controlled by Pakistan
. Understandably, my family was not excited about the idea of me visiting Pakistan, so I settled on the Indian controlled portion of Kashmir.
Overview
I took the long way to India, and spent a few days in Delhi before making my way to the Indian state of Jammu & Kashmir, where I spent most of my time. There are three parts of J&K state. The lowland region of Jammu, which is majority Hindu, the Kashmir valley which is majority Muslim, and Ladakh, which is majority Buddhist. Aside from religion, each area has a distinct geography. Jammu is in the lowlands, so it is still hot, dusty, and smoggy. The valley is a few thousand feet higher, and is lush, green, and unpolluted in comparison. Finally Ladakh is a high desert in the Himalayas. It's main city, Leh, is at an elevation of 11,500ft/3,500m.
Planning this trip was a bit more difficult than I expected since there aren't too many foreigners visiting J&K compared to neighboring states, but don't let that discourage you from visiting!
Highlights
Since this is going to be a longer trip report, here's a quick run-through of the trip. While the first few days aren't as exciting, I hope everyone will stick along with me!
A few days acclimating and exploring Delhi
The ordeal of getting to Kashmir
Trekking in the Kashmir Valley, eating with Gujjar shepherds
Beautiful and terrifying roads to Leh/Ladakh
Mountain biking down Khardung La (pass), 17,852ft/5,359m!
Walking through the streets of Old Delhi
Dal Lake's Floating Market in the Kashmir Valley
Exploring the Buddhist high deserts of Ladakh
A quick trek through the Himalayas
High altitude selfie! Crossing Stok La (Stok Pass) with some new friends! 16,000ft/4,900m
---
Last edited by ft543; Dec 29, 18 at

11:53 pm

Reason: Fixed gcmap
Dec 30, 18, 6:24 pm
Days 1-3: Travel Days
This was my first time traveling with just a backpack, so I ended up overpacking quite a bit. Somehow I ended up fitting 2 jackets, shoes, 2 water bottles (2L), clothes, a laptop, and a DSLR + 2 lenses. I have since then slimmed down my packing list.
The biggest apprehension I had was that my bag was slightly larger than AC/BA's (and now AS's) carry-on size, but thankfully I did not have any issues on my outbound legs.
Positioning to YVR
AC8094, CRJ-700(?), SEA-YVR (54 min)
Business Class, May 2018
First up was the segment to YVR on a CRJ700, and after stepping foot into one I can understand exactly why it gets so much grief on FT. Overall, the flight wasn't very remarkable, was served a "smoked salmon plate" and was impressed with how quickly the FA was able to get through the service with such little time. He even offered me a second plate. Overall though, I wouldn't pay for J on such a short flight, but it was an acceptable use of United miles that had been sitting in my account for a few years.
A nice view of Mt. Ranier on an otherwise cloudy day.
After landing at YVR, I had planned on clearing customs and immigration, but was pleasantly surprised that Canada allows airside transfers. The downside was that I didn't get to use the NEXUS machines (I had been looking for an excuse to use one since I had gotten my retinas scanned). There's always next time I guess.
I arrived a few hours early, so I explored the airport before returning to see the inbound flight arrive at the gate.
This was my first A380 flight, so I was struck by how massive the plane is.
This was my first time flying BA, and the whole idea of paying $65 per segment to select seats was absurd to me. Instead, I had logged in at T-24 (unaware of theoretical seating) and snagged what I thought was the last aisle seat. Then I had a very kind friend agree to wake up at 2am, and check me in for my LHR-DEL sector since I would be on the plane still. Thankfully, the GA at YVR checked me in and assigned me a nice seat during document inspection, although I neglected to tell my friend (oops...).
I didn't realize they were boring Y+/Y because there were so few people queueing. I expected more for an A380.
YVR-LHR
BA84, A380, G-XLEL, YVR-LHR (9hr 20min)
World Traveler Plus, May 2018
Overall, the flight was unremarkable. The seat was good and nicer than economy. I had hopeful expectations for the catering, but after having flown EVA's Elite Class TPAC several times, WTP+ was a major step down in comparison.
Chicken stir-fry with black bean sauce and fried rice
What I wasn't prepared for was the inedible "light snack" that was served before landing at LHR. I'm not sure if this is an improvement over the fun-sized candy bars...
After landing in LHR T3, I cleared immigration in a few seconds (later that summer I would spend 2+ hours waiting at LHR T5) and took the tube to my hotel.
Overnight Stay at Hilton Garden Inn Hatton Cross
After doing some research at YVR I booked a room at the Hilton Garden Inn. It was just a tube stop away from LHR and a relatively good value. The rooms were nice enough, but the walls were on the thinner side, as I was woken up by guests from the room next door who had checked in early in the morning.
At least the dinner included in the rate was decent.
LHR-DEL
BA143, B789, YVR-LHR (9hr 10min)
World Traveler Plus, May 2018
Dinner
Garlic and black pepper roasted breast of corn-fed chicken with butter roasted new potatoes and a fricasse of spring vegatables
The only thing of note was the real light meal that was served on this flight. Much better than the "bagel" served last time.
9 Hours later, we landed in Delhi, where it was 104f/40c... at midnight. This made me feel better about my plan to flee to the Himalayas instead of dealing with dealing with the heat (up to 122f/50c!). Proceeded to immigration, which was very well staffed. After answering a few personal questions to verify my identity (from my eVisa app), I got through to the… duty free section?? First time I had seen duty free between immigration and customs. Since I was HBO, I proceeded to get my money changed. I was told that there was no more forex past customs. Technically they were right, since there were only ATMs. However those ATMs wouldn't have taken the 10% commission (1:62 vs 1:68) that Thomas Cook took.
The next task was to get a SIM card. The two very apathetic Vodadphone employees charged Rs.1000 for an unknown plan of unknown duration. It turned out to be a 90 day, unlimited call/text/data (1.4g per day) plan. Its important to note that SIM cards take a while to activate (hours or even days) in India. Finally, I tried unsuccessfully to call an Uber (T-Mobile's 2G was failing me, couldn't get onto the airport wifi). A general rule of thumb I learned is to ignore anyone who comes up to you, acts friendly, and starts talking. Like the guy who followed me, attempting to offer me a "very cheap" $50 taxi ride into New Delhi. I ended up grabbing a Meru Cab, paying $7.
Madpackers Delhi Hostel
Private Room
After a relatively calm drive through Delhi, I arrived at the Madpackers Delhi, where I had booked a massive private room for $25/night. It's one of the nicer hostels in Delhi, and is located in the trendy Haus Kauz neighborhood.
Very large king bed
More wardrobe space than I know how to deal with
Private bathroom/shower. Water is only cold before 10am or after 8pm.
tl;dr:
I had 5 months before I started working so I took 3 days to get to India.
Next up:
Exploring Delhi, including a very spicy food tour
Jan 2, 19, 5:51 am
Join Date: Apr 2013
Location: India
Posts: 22
Thanks for sharing this report. Also welcome to my country. Hope you had a great time here. As a native we have reservations about visiting Kashmir as different geopolitical issues make the atmosphere uncomfortable. But in the deep beneath has a strong desire to visit the region for its sheer beauty. Hope your report will be a catalyst to that causes.
Jan 14, 19, 12:06 am
2 weeks late for the update, but it's here! I had a busy two weeks, including trying to get the CX flash sale to fit with an upcoming trip.
Days 4-6
I spent a few days in Delhi but didn't take too many pictures during that time, but one of the highlights of my time there was the food tour.
My notes on the food aren't the best so feel free to correct me in the comments.
Food Tour of Delhi
Madpackers Hostel runs a street food tour, affectionately known as "Delhi Belly." Since it had gotten rave reviews from other travelers, I figured I'd give it a shot. It started at 8am, while the heat was still moderately bearable. With 8 of my new friends, we headed off to Chawri Bazar.
It was still early so all the shops and stalls were closed, but there were some vendors starting their day.
I visited this street in the afternoon a few weeks later and I barely recognized where I was.
It wouldn't be an India trip report without a shot with tangled wires
Stop 1 – Chole Kulche at Lotan
Chole is a dish that has boiled chickpeas mixed with herbs and spices. It is served with Kulche (bread).
I ordered one with "medium" heat, which was a big mistake. Medium in India is much spicier than back in the states…
Lotan Chole Kulche is a family business and has been in existence since 1920. Today, Lotan is run by the grandson of the founder,
and
is
highly
regarded
.
After the Chole, we walked through Chawri Bazar some more until we reached another food stall.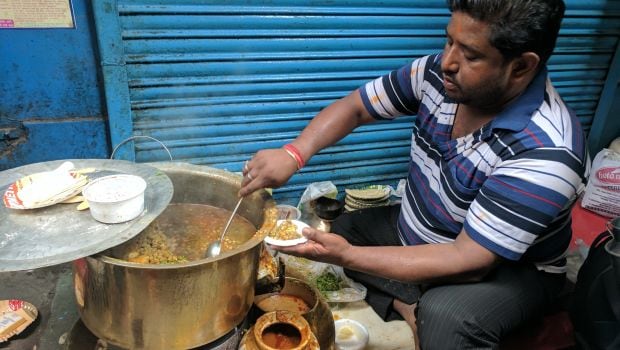 Photo Credit: NDTV
Stop 2 – Traditional North Indian Breakfast at Shyam Sweets
We shared two breakfast pairings. The first was bedmi puri (puffy wheat/lentil bread) and spicy aloo sabzi (potato curry). The puri was very fragrant and delicious by itself, which was helpful because the alo sabzi was quite spicy.
Frying up the bedmi prui
The second pairing was nagori (smaller bread made out of semolina and gee), halwa (sweet semolina dish). I enjoyed the naogri halwa, in part because it wasn't spicy, but also because the halwa had just the right amount of sweetness.
Shyam Sweets has an excellent lineup of treats, but we didn't have any this time.
After we grabbed rickshaws, we headed off to Fatehpuri and the nearby Town Hall.
Stop 3 – Chai at Gadolia Market and Mehar Chand and Sons spices
Since we had just finished eating, our guides took us to the roof of Gadodia Market, a mixed-use building housing many spice stores. It also had great views of the nearby area. However, the close proximity to the spice markets, caused all of us to cough and weeze as we walked up the stairs to the roof. Once we got to the top we spent over an hour drinking chai and talking our guides. It was very interesting learning about how all of them ended up working at the hostel.
Apparently the middle section used to be a courtyard, but now contains mouse houses/stalls.
There was also some great people watching from the roof. Including someone preparing a nice looking breakfast.
After a nice chat, we visited Mehar Chand and Sons, a spice store. It definitely was catered towards tourists because it was air conditioned, and sold expensive packaged spices. Among its various claims to fame is a framed picture of Christine Lagarde, the IMF chief, with the shop's owner. Unfortunately I didn't get a picture of it.
A display of spices.
Stop 4 – Samosa and Kaju Barfi at Meghraj Sweets
Our next stop was Megharj Sweets, across the street from the Fatephuri Masjid entrance.
Photo Credit: TripAdvisor
We sampled some Kaju Barfi (a treat made out of kashew, condensed milk, and surgar) as well as Samosa.
Kaju Bafri is traditionally served in this diamond shape with silver foil on top.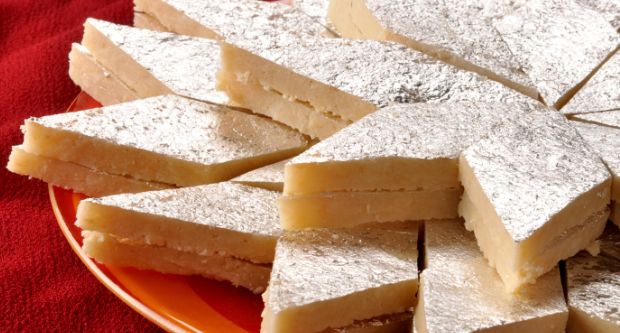 Photo Credit: NDTV
However, our guides were most excited to introduce us to
7up Masala Soda
! I was skeptical at first, but it's pretty good.
Stop 5 – Naughara
Because we had been eating since just after 8am, we took the long way to our next stop. We passed passed through the narrow crowded alleyways of the markets.
More watermelons
At one point we passed through the Muslim section of the market
Corner shop
The entire time we were walking through the alleyways, people, rickshaws, and the odd motorcycle would try to squeeze through.
How litter begins PSA
Eventually we arrived at Naughara, a series of 9 beautiful Jain havelis (mansions) in a quiet alleyway. These havelis have been around for several hundred years.
These colorful houses were a welcome break form the loud hustle and bustle of the market.
There was a temple at the end of the alleyway that is believed by the locals to be over 2,500 years old. We visited but no photos were allowed.
Stop 6 – Paratha at Pt Kanhaiyalal Durgaprasad Dixit (Paranthe Wali Gali)
A short walk later and we arrived at Paranthe Wali Gali, a crowded lane with many shops that sell Paratha (Indian flatbread that is often stuffed).
Our guides took us to Pt Kanhaiyalal Durgaprasad Dixit, a stall nestled in a corner that has been open since 1875.
While the menu lists dozens of Paratha types, we only had three types along with banana lassi. I don't remember this meal too well, but the part I do remember is that banana parathas were my favorite.
After a solid 5 hours of eating and exploring I was pretty tired, so I headed back to the hostel for a low key rest of the day.
tl;dr:
ate a lot of delicious foods
Next up:
beginning my journey to Kashmir
---
Last edited by ft543; Jan 14, 19 at

12:16 am
Jan 14, 19, 12:12 am
Originally Posted by
GuyCCU83
Thanks for sharing this report. Also welcome to my country. Hope you had a great time here. As a native we have reservations about visiting Kashmir as different geopolitical issues make the atmosphere uncomfortable. But in the deep beneath has a strong desire to visit the region for its sheer beauty. Hope your report will be a catalyst to that causes.
Maybe 1-2 more posts before I get to Srinagar, but the tensions were definitely visible. However, the interactions I had with individual Kashmiris were nothing but welcoming.