Cascadia 2018: Seattle, Portland, Eugene w/ BA Club World, Norwegian Premium & Amtrak
Dec 29, 18, 2:20 pm
Join Date: Dec 2011
Location: BRS
Posts: 390
Cascadia 2018: Seattle, Portland, Eugene w/ BA Club World, Norwegian Premium & Amtrak
---
The last time I took a longhaul flight without the luxury of a flat bed
was January 2013
; you have to go back fully another year to find me at the back of the bus (almost literally - row 51 on a 747). Yet through a mix of redemptions, staff standby and duty travel, I've never purchased a business class ticket on a commercial fare.
But I no longer work for an airline, and my miles budget now has to stretch to two people. So for our first trip across the pond together, one of these streaks had to end. As I still had six figures of Avios plus an upgrade voucher to play with, however, I could stave off the indignity of paying my way a little longer. This, then, is the tale of my first non-J longhaul in over five years, in the shape of Norwegian Premium - but before that, of cashing in all my chips for one last leg in Club World.
Our destination? Seattle: the first US city I visited, and now the first Alaina and I would experience together. I had technically been back a few years ago, but only to rest my head for a night as I made my way from Vancouver to Los Angeles by train. I regretted the lack of a longer stay then, so this trip was partly to correct that. Returning to the rails once more also enabled the addition of a couple of cities that featured only as a fresh air break (Portland) or glimpse through a carriage window (Eugene) before. A there-and-back-again itinerary split our time in Seattle into two distinct phases, for what felt like four holidays in one!
Here, then, is what I'll be covering:
As usual, there is also an alternative treatment of this material on my blog - there I tend to prefer stand-alone thematic posts rather than one long chronological account, and can include far more pictures at higher quality. If that sounds like more your style, you can find it here.
First, though, let's talk logistics...
---
Last edited by TheFlyingDoctor; Feb 9, 19 at

11:19 am

Reason: Fixed a bad link, and added one to the alternative version on my blog
Dec 29, 18, 2:32 pm
Join Date: Dec 2011
Location: BRS
Posts: 390
Thrilling thoughts on obsolete credit cards
---
In the UK, the shiniest prize for the miles and points fan is the companion voucher on the BA premium American Express card... unless, of course, you don't have a companion! Back in my Avios-chasing prime, I was single (very single), and thus ignored it. But it's also a rich-get-richer kind of deal - sure, a couple can save hundreds of thousands of Avios with it, but only if they
have
hundreds of thousands of Avios. Several years of non-rev and then status-less flying mean that now I do have a companion, I don't have the points...
Fortunately I had stuck with the BA card's less glamorous cousin, the Lloyds Avios Duo - now closed to new signups, although mine limps on despite even the closure of the standalone Avios scheme. The duo here refers not to a second traveller, but to a second card, with both an Amex and Mastercard contributing to a shared spend target. Better still, that target was £3K softer than on the BA-branded offering; the £24 annual fee was trivial; and, uniquely I believe, foreign spend was fee-free despite earning points. Thus I was able to unlock an upgrade voucher in short order, despite my relatively modest annual spend, a large part of which is either non-Amex in flavour and/or euro-denominated.
The obvious use of this voucher is to redeem for a return flight for one passenger in Club World, for which you'll be charged merely the World Traveller Plus rate. More concretely, for Seattle on peak travel dates, that's 100K instead of 150K avios. But that would constrain our travel plans to a handful of date combinations that offered both out- and inbound availability; and I'd still have to break the 'never paid for longhaul J' streak for Alaina's ticket. There is an alternative way to use the voucher, though - to upgrade two passengers on a one-way flight. That reduced the availability search to an outbound flight with two seats in U, travelling back whenever we wanted.
But how to book those London-bound legs? Across the pond, legacy carriers routinely price one-ways not at just more than half a return ticket, but more than a return ticket. Conveniently, the rise of 'low cost longhaul' has brought with it the point-to-point pricing model that is now standard on European shorthaul (where the LCCs have long reigned). In particular, Norwegian would happily fly the pair of us from Seattle to London - only - in the front row of the Premium cabin of a shiny new 787-9 for £1040 all-in. That was barely more than the £982 BA wanted for the fees, charges and seat selection on our outbound redemption, never mind the Avios and voucher.
Of course, 1A/C in Norwegian Premium, whilst arguably the best seats on the plane, are still seats. So this would indeed mark the end of my streak of beds in the sky. But it looked substantially better than World Traveller Plus, and I put in tens of thousands of miles in Economy back in the day. How bad could it be?
With my wife's birthday falling on a Saturday, that made a natural midpoint for two weeks stateside: fly out one weekend; spend almost a week in Seattle; move on to Portland, a birthday trip within a birthday trip; then reverse direction, returning first to Seattle for another almost-week, and then to the UK on the final weekend. Whilst pleasingly symmetric, this didn't coincide with redemption space, so instead we shifted to a Tuesday outbound: trading an initial weekend stateside for a final one, followed by a Monday afternoon flight (which, due to the cruelty of time zones, would not deliver us to Gatwick until Tuesday morning).
Generally, birthdays don't shift to suit U class availability - and nor would the Portland beer festival we had spotted would be happening that day. Thus our trip became rather lopsided; all the more so once we decided to extend our Oregonian detour to Eugene.
However, the resulting schedule arguably worked better. Arriving late Tuesday, we would have a relaxed introduction to Seattle with a couple of days to get our bearings and shake off the jet lag. Friday morning we could then join the
Coast Starlight
down to Portland, where we'd remain for the full weekend before another morning train - this time the
Amtrak Cascades
- on Monday would convey us to Eugene. Our reasons for heading there being somewhat spurious, a 24 hour visit seemed sufficient; thus the next afternoon we would rejoin the Coast Starlight for the remainder of its northbound run. That would then give us a full week to hit the Seattle tourist trail before flying home.
This new arrangement would also help with an issue I overlooked when choosing flights: the eye-watering price of downtown Seattle accommodation. This held generally for the summer, but particularly for that first week. By reducing our initial stay to three nights, we'd already improved things - and then it occurred to me that we could skip downtown until the longer visit on our return arc. On both my previous trips to Seattle, I'd booked an AirBnB - and whilst
I only got to stay in one of them
, I was willing to take the gamble when I realised that three nights in an entire suburban property would run us less than a single hotel night in the city proper. Once I found an apartment with not just its own garden but its own urban goat farm, animal fan Alaina needed no convincing.
For short visits to unfamiliar cities, however, I am a strong advocate of convenience over price, and thus favoured city centre hotels for our time in Portland and Eugene. I'd looked into Kimpton hotels for both Seattle and Portland, attracted by their recent incorporation into IHG rewards, where they could help with my accelerate targets. In the end I only booked with them for Portland, after discovering their additional amenity fees had distorted their place in the (pre-tax and charges) price rankings on IHG's listings for Seattle. Still, the Hotel Vintage looked ideally located for Union Station and central Portland, and I was keen to give this well-regarded brand a try before they made their way to Europe.
Accelerate needs met, I swapped to properties where I could make use of existing Hilton Honors status for the rest of our trip. In Eugene, that meant, unsurprisingly, the Hilton Eugene; whilst for our six nights in Seattle I couldn't resist the Beaux-Arts styling of the Arctic Club building, now a Doubletree.
OK, looks like a plan! Let's get started…
Dec 30, 18, 9:05 am
Join Date: Dec 2011
Location: BRS
Posts: 390
The end of an Era
---
I mentioned in the previous post that BA's notoriously chunky charges and fees on redemptions ran us nearly £1000. Now is the time to admit that's not quite true. Sure enough, fuel surcharge and carrier imposed charges were substantial - but back when I booked (in December 2017), they came to £782 in total. The rest? Well, our flight to Seattle was operated on a 747, and the going rate to secure a spot on the upper deck, one way, per person, is a nice round one hundred pounds.
Part of me knows that's an outrageous amount to pay for seat selection. That part held out until March 31st, when it was defeated by the other part of me - the one that says things like
"if this is it for flying in J for a while, might as well go out in style..."
, or
"it might be your last business class flight, but it's Alaina's first; surely she deserves a birthday present?"
, or
"hey, our annual bonus for last year was in this month's paycheque!"
I do not present these as justifications, merely acknowledgements. I want to believe that if the only pairs of adjacent seats were in the main cabin, I'd have resisted. But who knows. Anyway. Here's what we flew:
BA49
Dep
: LHR London Heathrow Terminal 5 15:30 24th July 2018 (local time)
Arr
: SEA Seattle-Tacoma International 17:10 24th July 2018 (local time)
Flight duration
: 9 hours 40 minutes
Seats
: 63A/B
Cabin
: Club World
Operated by
: British Airways (Boeing 747)
Some of you may recall we live in Bristol, not London. We got to Heathrow the simplest, rather than most cost-effective way; a GWR train to Paddington (about two hours, £45) then backtracking on the Heathrow Express (about 20 minutes, £33). This all went without a hitch, placing us at the terminal around 1pm thanks to a particularly smooth cross-platform transfer in Paddington.
Along the way I'd finally told Alaina we were flying in Club, to explain why our status-less selves could use the priority bag drop line. Unfortunately so long was this line that it took 25 minutes to dispatch our suitcases into the depths of T5. We also learnt that Alaina would be part of random additional screening, and that our flight would be from T5B. Priority security worked better than priority check-in, getting us airside in ten minutes.
Which is a long-winded way to say that we had plenty of time for lunch courtesy of Galleries South (which I'd steered us to on autopilot, having forgotten that the B satellite has a lounge which would probably have been quieter). I decided we should head to the gate before officially instructed by the departure screens; this looked foolish at first, with no sign of plane nor many passengers. However, on closer inspection this was because the flight was somehow in final boarding...
The additional screening process had caught an unfortunate woman whose testing of duty-free perfumes had flagged her hands as bearing traces of some unsuitable chemical. This was presumably resolved satisfactorily, as they eventually joined us on the last remaining bus, but not before causing considerable stress to her and her relatives.
G-CIVS (and the upper deck) awaits
Boarding a long haul plane by stairs conveys the scale of the aircraft - and of the journey it will soon undertake - far more effectively than the portal of a jet bridge. although it probably helped my sense of wonder that it was a warm day and we'd be continuing our climb another storey once inside; queuing in the rain to shuffle down to economy might have less appeal.
BA Club World seats 63A/B
The upper deck cabin
We took our seats mere minutes before the scheduled 15:30 departure, so I had no expectation of that being met; but I was in no rush, and once pre-departure champagne appeared, nor was Alaina. Probably for the best, as pushback wasn't until 16:05, and another 35 minutes elapsed before we were lining up on the runway!
That gave plenty of time to peruse the menus, which I shall summarise now (apologies, as a non-drinker I lack the motivation to recreate the extensive bar listing)
LUNCH
Starters
Severn and Wye Scottish smoked salmon
Crayfish cocktail, avocado, slow-roasted heirloom tomatoes
Char-grilled asparagus
Summer truffle, Burford egg
Rich tomato soup
Basil oil
Fresh seasonal salad
Baby gem lettuce, puffed kasha, olives, red onion, feta cheese, choice of Caesar dressing or mustard dressing
Please choose from our selection
[BA-speak for 'mains'?]
Corn-fed breast of chicken
Buttered Charlotte new potatoes, fricassée of summer vegetables
Seared fillet of British beef
Spring onion and cream mashed potato, smoked garlic tenderstem broccoli, Madeira rosemary jus
Wild rocket and courgette risotto
Summer vegetables, Amalfi lemon
Selection of desserts & cheese
Lemon, raspberry and almond slice
Chantilly cream, fresh raspberry
Vanilla bean cheesecake
Strawberry
Warm chocolate and walnut brownie
Vanilla crème anglaise
Strawberries
Cheese board
Coastal Cheddar
West Country brie
Shropshire blue
Walnuts, apricot chutney, biscuits
AFTERNOON TEA
Snacks
An individual selection of sandwiches featuring:
Succulent chicken breast, slow-roasted tomato, creamy Caesar dressing, wild rocket on bar-marked tortilla
Smoked salmon flakes, cucumber, lemon and dill crème fraîche dressing on wholemeal mini bridge roll
Brie, wild mountain cranberry sauce, rocket on brioche roll
Plain or fruit scones
Served warm, clotted cream, strawberry preserve
or
Tapas plate
Woodall's air-dried ham, Cumberland salami, harissa hummus, spinach and potato tortilla
Sweets
Chocolate glaze cake
The meal service began at six with a selection from a basket of warm bread. Service was using the new (to me) presentation trolley, which I really liked. Identically plated copies of each dish are important to creating a restaurant service feel (or so I believe from watching two seasons of
Master Chef: Australia
one summer), and also creates a general sense of plenty that could be lost with typically small airplane servings. It also seemed to work well from a practical standpoint: starter at 6:10, main at 6:25, and everything cleared away by 6:55. However, BA clearly found otherwise as between the flight and this report it was announced they'd be
dropping this feature
, so I'm glad I got to try it once.
What's that, you want pictures of the food, not analysis of aviation logistics? Coming right up!
Bread selection
Char-grilled asparagus
Corn-fed breast of chicken
Lemon, raspberry and almond slice
And whilst we're doing food shots, here's what turned up for the second meal, afternoon tea:
Sandwich selection, plain scone and chocolate glaze cake
I jump to this because otherwise there's not much to say - upper deck life is just effortlessly comfortable. With so few passengers it's quiet, there's no battling for storage space, the ratio of bathrooms to people is about as good as it gets, and I'm used to the Club World seat and how best to arrange it to my preference. All this I will miss.
Alaina had the window seat so I didn't get too many pictures, but the perpetual afternoon of our flight meant there was plenty to see, with Greenland (I assume ) an icy highlight. The approach was also enjoyable, and landing at 17:47 meant we'd clawed back some of the Heathrow delay.
Greenland?
We were first to the immigration desks, from which we were promptly dismissed as we hadn't been given a customs form on the plane. Despite that (and a small queue that formed as we tracked one down), we were at the baggage carousel less than half an hour after wheels down.
Or, at least,
a
baggage carousel. At first this was declared for us, despite the saga class bag tags of already circulating luggage suggesting it was from a recent Icelandair arrival. Sure enough, the belt was soon declared for them, and we dutifully shuffled over to an adjacent one. Then they announced a swap, and we all shuffled back. Then they announced that _both_ belts would be used for BA passengers. As a couple we could monitor a belt each, but still, questions were raised: if you found one bag, should you assume the other will also come to you? If we both found only one each, when would we realise? Text messages were sent, but it wasn't until 18:55 (nearly 3am by our body clock) that we had our ducks in a row. Solo travellers are presumably still flitting from one belt to the other.
With jet lag threatening to take its toll, let's move on.
Dec 30, 18, 2:23 pm
Join Date: Dec 2011
Location: BRS
Posts: 390
Small Town Seattle: Goats and Boats
---
The jet lag I had anticipated when designing this phase of the trip, but another drain on our energy had only become apparent closer to departure. A summer heatwave was burning on both sides of the Atlantic, but even less forgiving in Seattle than back home. Forecasts of temperatures like 34C were all but unfathomable for this genetic Scotsman.
Our AirBnB was therefore the perfect retreat from sunshine that seemed both wrongly-timed and far too intense. We were occupying the ground floor granny flat of
Goat Hill House
; as well as a lounge and fully equipped kitchen (already progress over a hotel room), this also gave us access to the garden. This turned out to be home to not just goats but chickens and, at times, the owner's dog. But on the second evening, sitting out on the porch, we found that it also attracted visitors: hummingbirds, which fearlessly darted around the tabled to investigate the remnants of our supper. I'd never seen one before, and whilst their steadicam antics were fascinating, I declared them impossible to photograph. Alaina did better:
Garden visitors
The goats of Goat Hill House
Evening at Goat Hill House
The general area - Mt Baker - was also pleasant, although enjoyed in small doses due to the poor interaction between its hills and the weather. As we would find in the city itself, this welcoming suburb seemed at pains to point out it was very much not Trump country. One property had set up a giant scoreboard-style countdown clock to his departure on their balcony; many had signs which declared allegiance to a whole assortment of causes from race and gender equality to the right to clean water.
Little Libraries
Local Politics
But kindness was demonstrated by deeds, not just slogans - most streets had a little library to take from as you see fit; and in Colman park someone known only as Jay sets up a tea urn and seats each day, all the better for passers-by to enough the view of Mt. Rainier.
Jay's tea stop: "The mountain does not ask for payment. Nor do I."
Mt. Rainier from the tea spot.
In our wanderings we found that the hills rewarded our efforts with a fresh view - not just the distant peak, but Lake Washington, Bellevue and the floating highway to the east; and Seattle's various skyscrapers to the west.
Downtown Seattle from Mt Baker Ridge viewpoint
I90 floating bridges
Speaking of which, there was reasonably convenient transport access to downtown, albeit by bus which proved a bit too crowded with our full complement of luggage on departure. For a day trip though it was fine, as we ventured out on Thursday to a destination I had fond memories of: Bainbridge Island. Better still, the ferry crossing rustled up enough of a breeze to briefly counter the weather.
Approaching Bainbridge Island
In what I would eventually recognise as a recurring theme of this trip, this was another example of local community that we really enjoyed (whilst appreciating the benefits of having a world-class city nearby). I'm genuinely sad that our schedule wasn't compatible with this, for instance:
Local entertainment
Two types of vehicle to touch! Eating contests! Not just any old hotdogs, Costco hotdogs! OK, maybe not those. Oscar Meyer for life.
Instead, I tried to retrace my steps from some eight years ago, and was pleased to find things much as I left them (and photographed them all again anyway). We got complemented on our travel cutlery at an excellent cafe. We checked out the work of local artists (only partly to take advantage of the gallery's a/c). And we wandered happily around the harbour and parkland, at least until we learnt of the terrible potential of tsunamis bearing killer clams:
Multiple Hazards
Wandering around Bainbridge
Modern art or navigation device?
Bainbridge shoreline
Although the ferry is just that, and not a sightseeing tour, it has views worthy of one: from the iconic Space Needle, through the rest of the skyline, to the harbour / docks and (inevitably hazy) Mt Rainier. Shooting into bright sun from a floating vessel isn't ideal, but I had a go anyway:
Come Friday morning we set off immediately for King Street Station (conveniently on the bus route, and our side of downtown) to continue our adventure. But this was without the sadness that normally comes at the end of a visit, because we knew we'd be back in a matter of days rather than years.
~
I'd encourage looking at AirBnB accommodation in the suburbs as a chance to experience a city differently, not just a way to save money. However, if we could have our time over again we'd have put ourselves in an airport hotel the first night. The challenge of navigating a bit further off the beaten track - then locating somewhere for dinner or to stock the kitchen - proved a little taxing for our jetlagged state.
Dec 31, 18, 4:34 am
Join Date: Jul 2013
Location: JNB
Programs: Flying Blue, Miles and Smiles, Hhonors, ICHotels
Posts: 1,100
I'd encourage looking at AirBnB accommodation in the suburbs as a chance to experience a city differently, not just a way to save money.
I did this earlier this year while on a Business trip. I was visiting a city that I had been to many times, and yet, having to shop for essentials and learning basics like how they recycle glass and all sorts made me appreciate the trip even more.
Dec 31, 18, 11:33 am
Join Date: Apr 2001
Location: East Ester, Alaska
Programs: Alaska Airlines Million Miler, United Airlines Million Miler, Wyndham Rewards Diamond Level
Posts: 8,721
It is
so
nice to see you back on the pages of the Trip Report forum, Doc
This report, like all your others, reads like a fine wine. I look forward to savoring it in the coming weeks.
In the meantime, I somehow missed your report on Holland to Sicily by train when it came out last spring, so I've that to look forward to on this snowy final day of 2018.
Jan 1, 19, 10:50 am
Join Date: Dec 2011
Location: BRS
Posts: 390
Jan 1, 19, 10:51 am
Join Date: Dec 2011
Location: BRS
Posts: 390
Originally Posted by
Seat 2A
It is
so
nice to see you back on the pages of the Trip Report forum, Doc
This report, like all your others, reads like a fine wine. I look forward to savoring it in the coming weeks.
In the meantime, I somehow missed your report on Holland to Sicily by train when it came out last spring, so I've that to look forward to on this snowy final day of 2018.
Thanks! I know you prefer complete reports so I'll ping you when this one has been assembled in its entirety. That European rail trip report was 9 months in the making, so I'm slowly getting better at turning these around...
Jan 1, 19, 11:11 am
Join Date: Dec 2011
Location: BRS
Posts: 390
The Riverbank Daylight
---
Train 11 - Coast Starlight
Dep
: SEA Seattle (King Street Station) 09:45 27th July 2018
Arr
: PDX Portland (Amtrak Union Station) 14:00 27th July 2018
Duration
: 4 hours 15 minutes
Seats
: 1 Superliner Roomette (Car 1130 - Room 005)
The last time I'd taken the
Coast Starlight
from Seattle, it was all the way to Los Angeles. We wouldn't be travelling so far this time - and nor, it turned out, would anyone else. Californian wildfires had reached such an intensity that it was not possible to operate between Redding and Sacramento; and so it was decided not to even venture into the state. Today's service would therefore be terminating at Klamath Falls - but anyone hoping for a destination beyond that was advised to cancel and fly from Seattle rather than make partial progress then have to find a way across the border from southern Oregon.
Since I have no self-control when it comes to booking adventures by rail, I'd secured us a first class 'roomette' even though we'd have just a few hours travel. I'm not sure how many passengers opt for sleeping accommodation usually, but I imagine most of them do it for trips that involve sleeping. As this was now the Coast Daylight rather than the Coast Starlight, very few compartments were occupied as we set off from King Street Station (some 25 minutes late).
This section of rail to Portland left little impression upon me last time -
my account
suggests that I found my book more rewarding than the views. At the time I attributed that to the weather and the unreasonable baseline set by the previous day's trip from Vancouver to Seattle at sunset. However, with the benefit of experience I now think I simply had the wrong view! Seated on the left-hand side, you are generally looking east / inland; this time, we were on the right, looking out onto first the Puget sound, and later the Columbia River.
Strangely, our car attendant invited us to switch to a compartment across the hall on the grounds that the view would be better; we did so, but fairly promptly switched back. Admittedly, there are a few moments - such as crossing the Columbia and Willamette - where this advice is accurate, but those come late in the journey, and as we unsurprisingly never gained any more sleeper passengers, we just switched between the pair of compartments as we pleased.
Such arrangements matter more than when I first / last travelled in first class: this used to grant exclusive access to the Pacific Parlour Car, but those were finally retired from service
earlier this year
.
Consigned to the history books - the Pacific Parlour Car
I consider this quite a loss - although with today's diminished passenger load it would be easy to find space in the lounge car, on my previous trip it was often only possible to get a seat in the Parlour car. Nor is it just a few more comfy spots from which to admire wrap-around views which have been lost: these cars also had their own catering, offering some variety to the standard dining car menu; and would host events such as wine tastings too!
Speaking of the dining car, first class still gets you first pick of a timed slot for lunch; with choices of 12, 1 or 2 (by which time we should be in Portland) we opted for the earliest possible seating. As usual, communal dining was in effect; sadly we didn't particularly click with our two companions (who did not know each other), so my notes summarised my meal as "tasty burger, limited conversation".
Delays accumulated both on the rails and in the dining car, with a few stern notifications over the public address system that would-be diners should await their seating to be called, rather than turning up at the notional time booked. Another reason to grab one of the earlier slots, though I suppose if the train is also making limited progress then it all balances out. By Kelso Longview we'd drifted some 35 minutes off schedule; outside Vancouver, we parked for another ten minutes to make way for a northbound freight train. But if we were in a rush, we'd fly - or even take the Cascades, which somehow covers the same ground more quickly. As it was, some of the time lost in Washington was found again in Oregon, with our arrival in Portland only twenty minutes or so later than planned.
Taking photographs from the coast starlight is not easy - the windows are prone to reflections, could do with a good wash, and seem to be tinted in a way that gives everything a 70s slide film feel. The motion blur doesn't help either. But here are a couple of my attempts throughout the journey:
On arrival at Portland, I was also able to grab a shot of the train itself, plus an
Amtrak Cascades
service on an adjacent track (although a different design to the one we would travel on the following week):
Coast Starlight power car
Amtrak Cascades
Jan 1, 19, 12:06 pm
Join Date: Dec 2011
Location: BRS
Posts: 390
Suite Success
---
I wanted to be annoyed at Kimpton, for a single reason: 'Guest Amenity Fees'. This practice seems to have spread from resorts to city hotels, and given the laughable benefits offered, just comes across as a cash-grab. Take for example Kimpton's Hotel Monaco Seattle. Click around enough in the booking flow, and you'll find a note that:
A guest amenity fee of $20 (tax included) per night includes unlimited local and long distance phone calls, upgraded WiFi for up to 5 devices ($14.99 value), access to Riot Athletics group training or indoor cycling classes, Car2Go registration and 24/7 access to their fleet of Mercedes vehicles ($35 value) including $10 drive credit.
I have made precisely one phone call from a hotel room in my life. IHG Rewards members - even those without status such as myself - get free wifi anyway. I don't know what Riot Athletics is, but it doesn't sound like part of a relaxing holiday. Car2Go is a car-share scheme, but neither my wife nor I drive.
You could argue that you should just ignore any intermediate pricing and treat this as an unavoidable part of the total cost, just the like the city and state taxes / fees that won't appear to start with. But, crucially, if you ask IHG's website to sort Seattle properties by price, you'll see the Monaco as cheaper than the Crowne Plaza - eventually you might discover that's not true, as the latter hasn't jumped on the amenity fee bandwagon, but only by proceeding to a final quote for each property in turn.
Thus I abandoned the Kimpton brand - and eventually the entire IHG family - for Seattle. In Portland, though, I opted for the Hotel Vintage despite the benefits - like the decor - being heavily wine themed.
Additional charges (Guest Amenity Fee) of $22 ($25.37 inclusive of tax) will be added per room each night of your stay. This fee includes a local wine welcome, Bacchus Bar beverage, evening social hour featuring 117 wine partners, morning coffee + tea service, daily newspapers, access to Game Lounge, and more*. *Alcohol Inclusions: Must be 21 years or older.
Given that I don't drink, this would be at best half-useful to us; note also that the wine welcome and bar beverage are on-offs, despite the fact that you're paying for them every day. However, my resentment did not last long once we actually reached the property...
~
I'd picked up on Kimpton's secret social password scheme, where use of a magic phrase at check-in will get you a surprise bonus. After awkwardly introducing myself and announcing that I was 'out of office', I was expecting a drinks voucher or a handful of points. Instead, the check-in staff dashed to the back office to receive a wheel-of-fortune contraption, with a variety of prizes to be won. Alaina's first spin landed on free parking - probably one of the most financially lucrative, except we didn't have a car (and I doubt you'd fit the Coast Starlight in their basement). Impressively, they allowed us a second spin rather than taking a 'you win some, you lose some' attitude. This netted us even more wine, with the choice of a full bottle of red or white. The welcome drinks turned out to be vouchers rather than on-the-spot pour, so in theory we could make use of both; we were also given a $10 credit for the minibar.
These turned out to be relatively minor check-in perks, however. On reaching our door, we discovered that we'd been upgraded. Multiple times. From the entry level King Deluxe room I'd booked, we'd skipped over the other room categories, past the King Studio Suites, and into a
King Reserve Spa Suite
.
Most of the suite
This was incredible. As in, it didn't seem credible. Having a reasonably common surname that has caused erroneous assignments to undeserved rooms
before
, I actually returned to the front desk. They confirmed that yes, it was for us - although what warranted the upgrade was not disclosed. I doubt it was the social password, but I'm also nothing-tier in IHG Rewards and not even a member of Kimpton Karma. That said, I used to stay a lot in IHG properties and have since focused elsewhere, so may have ended up on some sort of win-back strategy. Perhaps they were just overbooked and we were in the right place at the right time.
Regardless, with possession confirmed - and that bottle of red delivered - we happily settled in. As well as two to three times the floorspace, our enhanced living area featured a dining table that would seat eight; a small kitchen area with fridge and sink plus bar seating; a huge corner sofa; and a second television to make up for the one in the bedroom being so far away. The real star of the show, though, was in the bathroom - the 'spa' description corresponds to the addition of a huge deep-soak tub.
Sitting area
Dining area
Sitting area
Kitchen area
Deep-soak bath (also a shower out of frame to right)
With a forecast of 36C for my wife's birthday, we scrubbed the outdoor beer festival idea - more on our replacement in a moment - and limited our sightseeing activities to the edges of days. Even this wasn't ideal - an early start (aided by a continued slight body clock offset from local time) would still see us sweating through 30C by 10am and thus choosing ice cream for breakfast. Further excesses of heat attained by high noon also saw little decline by sundown, lingering well into the evening. Thus we spent a lot of time chilling out in the room instead, so the extra space - and the tub - were much appreciated!
Jan 1, 19, 12:39 pm
Join Date: Apr 2001
Location: East Ester, Alaska
Programs: Alaska Airlines Million Miler, United Airlines Million Miler, Wyndham Rewards Diamond Level
Posts: 8,721
Taking photographs from the coast starlight is not easy - the windows are prone to reflections, could do with a good wash, and seem to be tinted in a way that gives everything a 70s slide film feel. The motion blur doesn't help either. But here are a couple of my attempts throughout the journey:
I prefer rooms on the lower level of the Superliners and one of the things I've taken to doing is purchasing a bottle of Windex in advance of departure. Simple wet towels will do in a pinch. Prior to departure or at intermediate stops I then have the ability to step outside and clean my window. Can't do that with rooms on the upper level.
Jan 4, 19, 2:51 pm
Join Date: Dec 2011
Location: BRS
Posts: 390
Scenic Interlude - Mt Hood via the Columbia River Gorge
---
With the beer festival idea a non-starter, we spent some of Friday looking into alternative birthday activities. I had a vague notion that there was plenty of scenery within easy reach of Portland, but hadn't really done any research as I'd assumed we be city-based for this short visit. Sure enough, we found a variety of tours, mostly based around a variety of waterfalls to be found along the Columbia river. One in particular caught our eye- a full day tour which extended to Mt Hood. Although rather pricey, the idea of trading the city's sweltering conditions for a glacial mountainside sounded ideal. So without reading too much more we took the plunge and booked tickets for the next morning.
In this online age the fear of missing out can lead to over-research of a destination, and a sense that once you're actually there, you're just ticking off the waypoints. We really enjoyed going into this tour largely unprepared, as that meant plenty of unexpected surprises. Obviously a thorough run-through here would ruin that effect for potential future travellers, so I'll just try to sketch in the broad strokes and offer a photographic taster.
Most of the tour was along the Oregonian bank of the Columbia; a protected national scenic area in which new building is heavily regulated, and the - relatively unobtrusive - interstate and an older scenic highway are often the only signs of human activity. Or so it seemed to our untrained eye - in fact, last year vast swathes of forest had been consumed by a two month burn which underlined the risks of both
teenagers with fireworks
and the Californian wildfires we'd been hearing about the previous day. The resulting road closures and capacity limits at popular spots immediately demonstrated the value of having joined an experienced tour guide. In particular, he was able to smooth our way into the Multnomah Falls, the tallest in the state.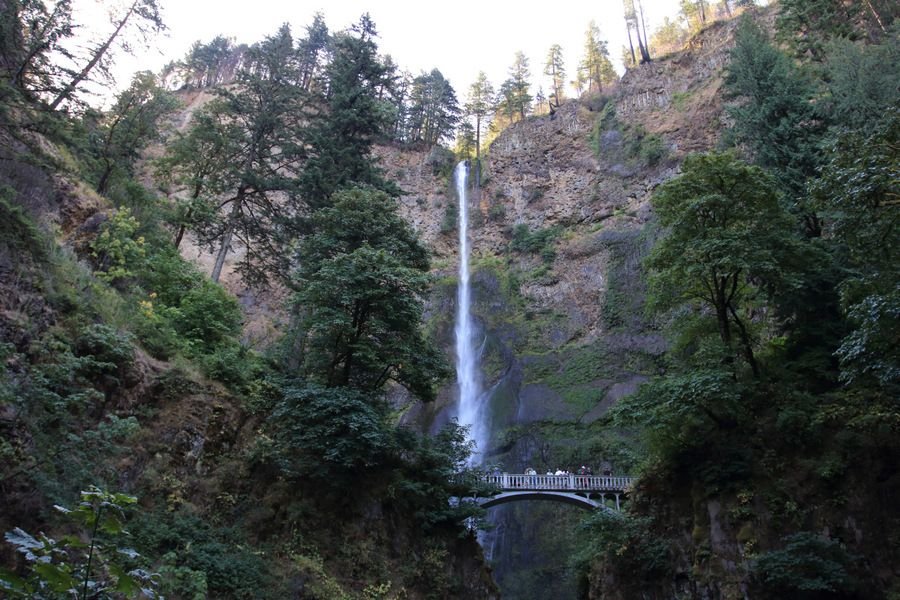 Upper section of Multnomah Falls
From there, we joined the historic highway - a beautiful tree-lined, sun-dappled winding road that is probably as much fun to drive as it is to take in from a passenger seat. Along the way to the Latourell falls, we learnt some of the history of this route and the individuals who willed it into being at the start of the 20th century. One monument to their ambition is Vista House - a 'comfort station' added to encourage travel by the newly emerging class of car owners. Although public funds were obtained for its construction, only the wealthy would have the means to actually visit at first. This - coupled with architectural flourishes such as opalescent glass, a bronze-lined dome and an abundance of marble - led to the nickname of 'the million dollar restroom'. You certainly get a million-dollar view!
Vista House
Vista House interior
View east up the Columbia
Such luxurious conditions did not feature in the experiences of those would-be settlers who made the trip west along the valley. The challenging nature of these first expeditions and migrations live on in the place names. Starvation Creek is now a charming - but apparently often overlooked - spot with another waterfall, but its history was clearly less forgiving. Further east, the modern-day Hood River was previously known as Dog River - a more subtle hint at dietary hardships.
Starvation Creek - one of the world's prettier parking lots, despite the name!
Fortunately - for it was our lunch stop - Hood River is better catered these days. It's not quite a one-street town (there's at least two decent sized roads) but it does have only a single stoplight, and definitely added to our small town America quota. What it lacks in traffic management it makes up for in breweries, however, and Alaina was therefore able to get a birthday beer after all.
Pressing onwards, we switched beverages at Draper Girls' Country Farm, with cider from their orchards for sale in a tumbledown barn-turned-giftshop. A more charming spot on a sunny day you'd struggle to find: with baby goats in a pen, sunflowers in the garden, and Mt Hood now looming large on the horizon. As pleasant as the various falls were, I'm glad we opted for the full-day tour which included this stop plus, of course, the mountain.
Draper Girls' Country Farm
Their view of Mt Hood.
To properly experience that, we drove up to Timberline Lodge, a Great Depression works project and film site for
The Shining
. More importantly, it sits at an altitude of almost 6,000ft and thus offered temperatures some 10-15C cooler than we'd been experiencing (although today's tour had been thoroughly air-conditioned). Skiing is apparently possible year-round, thanks to permanent glaciation; we encountered some snowboarders to prove it. With this the final stop of the tour and a 60 mile drive back to Portland ahead of us, we were fortunately given plenty of time to explore both the lodge and the walking paths above it, from which we could admire the views across the surrounding mountains.
Timberline Lodge
Mountain views
Jan 4, 19, 3:12 pm
Join Date: Dec 2011
Location: BRS
Posts: 390
Oregon Rail
---
Train 511 - Amtrak Cascades
Dep
: PDX Portland (Amtrak Union Station) 09:45 30th July 2018
Arr
: EUG Eugene 12:20 30th July 2018
Duration
: 2 hours 35 minutes
Seats
: 2 Business class seats (assigned at departure)
Go By Train - Portland Union Station
With only one
Coast Starlight
train per day in each direction, an itinerary based solely on this service would give us very little time in Eugene. Since we clearly wanted to use it for the northbound run back up to Seattle, that meant switching to the other option on this line, the
Amtrak Cascades
, for this shorter trip from Portland. The downside is that there are no first class / superliner carriages on these trains, so we had to settle for business class seats; obviously no great hardship for a sub-3 hour journey. There is also no dining car, although lighter fare is available from the bistro (where each business passenger receives $3 in credit).
Union Station waiting hall
The departure board
In principle this still entitled us to access the Metropolitan Lounge at Portland Union Station; however, it doesn't open until after the 9:45 service departs. Still, the main waiting area is already impressive: entirely fitting for a city of this size were it to be found in Europe, yet here a monument to faded relevance given a schedule of just nine departures a day. It was also surprisingly educational: A map of the Lewis and Clark Expedition added some historical context to our Columbia river tour from Saturday, whilst a disaster-readiness guide looping on a TV screen added earthquakes to the growing list of American natural hazards we hadn't prepared for (previously: tsunamis, toxic clams, wildfires).
Thus informed, we collected our seat reservations for boarding. However, it soon became clear that we needn't worry too much about these, or the lack of a private compartment - we had a private carriage! In fact, as the only business class passengers, we could have had one each if we'd wanted.
Amtrak Cascades Business Class Carriage
Amtrak Cascades Bistro
The carriage styling, with its preponderance of brown, is best described as dated, although in the bistro car it manages to nudge into retro instead. The age of the stock was also reflected in the overhead screens (inactive) and the public address system (inaudible). But the seats were incredibly comfortable, and clearly we had all the space we could ever need. As with the previous leg, we took advantage of the lack of fellow travellers to switch sides depending on which windows offered the most promising views.
Agricultural views
A jet-ski graveyard (no idea where the nearest body of water was, but it didn't feel like there would be anything close!)
We got talking with a member of the train crew about the impact the fires were having on services; he showed us a map with the now dozens of hot spots which had now sprung up. Fortunately none interfered with our journey, and so we arrived at Eugene - both our stop, and the Cascades terminus - just a quarter hour or so behind schedule.
Arrived at Eugene