Cascadia 2018: Seattle, Portland, Eugene w/ BA Club World, Norwegian Premium & Amtrak
Jan 6, 19, 8:35 am
Join Date: Dec 2011
Location: BRS
Posts: 380
What's in a name?
---
Our reason for visiting Eugene was tenuous - it happens to also be my wife's middle name. As such, we really didn't know what to expect, and I made only the briefest of research for what would be the briefest of visits: locating a hotel near the station, and clocking the river as likely a pleasant spot for a bike ride or stroll. We imagined we might tick off some stereotypically American activities - eat at a chain restaurant, shop at a Walmart - before backtracking to more notable pursuits in Seattle.
All of which is to say we completely underestimated this charming place, and visiting was easily one of the highlights of our entire holiday. It's actually Oregon's second largest city, but Portland had thoroughly eclipsed Eugen in our awareness. Still, much of the quirkiness and alt-cool we expected (but largely failed) to find in the more famous sibling was instead supplied by its little brother.
Eco-friendly cafes offered up vegetarian food, excellent coffee and staff who were happy to take the time to chat. The cinema on broadway featured a roster of indie movies, with our chosen film - Hearts Beat Loud - screened in a 17-seat auditorium after a roll of delightfully local adverts for nearby businesses. Early afternoon tickets were $6, you could take in a beer, and we appreciated the air conditioning almost as much as one of our three fellow patrons, who nodded off before the credits. A multi-story car park had been enriched with augmented-reality theatrical scripts; nobody minded that we were getting in the way by reading them. As in Seattle and Portland, even the churches were keen to portray themselves as welcoming spaces for all.
Better still, by dumb luck our visit coincided with the downtown visual arts festival. This turned out to have a large street-art component as part of the 20x21 project: in 2021 Eugene will be hosting the world athletics championships, and they wish to have decorated the city with 20 world-class murals by then. Our home town of Bristol can probably claim to be the street-art capital of the UK; not only do we already have dozens of world class pieces, but many of them are nonetheless painted over each year as part of 'Upfest' - 2018's event fell during this trip, so it was great to find a substitute so far from home. We were we able to check out creations from previous years, works in progress, and additions so new the paint had barely dried. In addition, the ensuing treasure hunt-like search for the walls was a fun way to explore the (very walkable) city, and our wanderings turned up lots of smaller additions to the fabric of the city too.
One of 2018's murals in progress
A completed mural
One piece in particular grabbed me, as much for its canvas as its style. On my Seattle to Los Angeles
Coast Starlight
journey I had snapped a picture of an unusual building, although I had since forgotten where. I rediscovered it now in the parking lot of a bouldering gym (another reason to wish we had a longer visit - not one but two climbing walls!), where it had apparently also caught the eye of a local artist who had since given it an excellent makeover.
Sawdust silo as glimpsed from the Coast Starlight in 2015...
...now much improved by Eugene artist Ila Rose.
If this is your kind of thing, I've put together a gallery of much of the street art we were able to track down - you can find that here.
The city is also satisfyingly nestled into nature, and although the weather and our limited time conspired against long-distance biking or trekking up one of the 'Buttes', we did spend some time wandering through residential areas and parkland along the bank of the Willamette.
The Shelton-McMurphy-Johnson House
~
A straight-shot down Willamette street from Eugene station will get you to the edge of downtown in five minutes of walking; four will get you to the Hilton Eugene, which was thus ideally located for our short stay. Staff were friendly, and had clearly enjoyed our special request (but I'll discuss that later!). The room wasn't particularly fancy, but an upgrade to an Executive level meant we could spend our time in the lounge instead. That occupied a loftier floor and thus afforded great views north to Skinner Butte and Day Island. These we enjoyed with an assortment of snacks in the evening, which I also raided for a breakfast on the go the next morning. Another argument for taking this detour is that room rates were barely half those in Seattle or Portland - probably covering the train fare from the latter.
Standard room, Hilton Eugene
View from the executive lounge
I have occasionally toyed with the idea of completing a lengthy train journey like the Coast Starlight not as an end-to-end sprint, but by exploring each stop in turn. Given how much we enjoyed Eugene, I'm even more tempted by the concept. Would I suggest someone come here
instead
of Portland? Realistically, no. But would I suggest spending some time here if you were otherwise planning a long-ish stay in Portland? Absolutely.
Jan 6, 19, 8:57 am
Join Date: Dec 2011
Location: BRS
Posts: 380
The Fire Rises
---
Train 14 - Coast Starlight
Dep
: EUG Eugene 12:36 31st July 2018
Arr
: SEA Seattle (King Street Station) 19:56 31st July 2018
Duration
: 7 hours 20 minutes
Seats
: 1 Superliner Roomette (Car 1432 - Room 003)
All too soon the time had come to unwind our progress south; but not, it seemed, the train to convey us back to Seattle. Impressively, Amtrak emailed around 11am to let us know both that the 12:36 Coast Starlight would now be making an appearance around 13:02, and that we could therefore also delay our arrival to the station. Thus we waited at a sunny table outside a nearby bar instead. A superliner train is not a subtle thing, and I reckon we'd have been close enough to make a dash had it managed to make up some time during travel.
It seems there were delays up and down the line, with the southbound Cascades arriving at 12:55 - hard to imagine that just over 24 hours ago, that had been us! As for the Coast Starlight, that seemed to have lost rather than gained time since my email, finally pulling up at 13:20.
This was the first time I'd boarded an Amtrak service at a station other than its origin, and although a five minute wait was originally scheduled I wasn't sure how long they'd linger given the delay. This was a problem because our assigned car, 1432, turned out to be the frontmost sleeper and thus ended up a long trek from the station building. Worse, having made it most of the way there we were called back to 1430, where they expressed surprise that they had any sleeper passengers joining in Eugene; hopping aboard, we were assigned a room in that car seemingly at random. As the service had apparently started from Sacramento, I assume that the lack of overnight passengers meant they didn't see the need to operate all three sleepers.
This relocation put us closer to the dining car, where we immediately headed for a lunch sitting - we were two of just four customers, as it turned out service would continue for over an hour to match the delays.
From there I headed to the lounge car instead of returning to our compartment. As mentioned, wildfires had been a common topic of discussion on these travels. Our train to Portland couldn't go to California on account of the Redding fire. Many sections of road that would have featured in our tour of the Columbia gorge were still closed from previous fire damage. On our train to Eugene the staff were showing us maps of dozens of wildfires now in Oregon. On this train out of Eugene just a day later, we didn't need maps:
Wildfires in Oregon
By August, visiting Seattle would have been a write-off, with
advice to stay indoors
amidst some of the worst air quality readings in the world and negligible visibility from the Space Needle. Even now as I write in November, fires continue to devastate California.
As I also mentioned, such hazards just aren't things we have to think about in the UK. Another unfamiliar peril came up on a second (post-dinner), visit to the lounge car - active volcanoes. High banks that I had assumed arose from cutting the train route through hillsides were actually ash and mud thrown up by Mount St. Helens' devastating eruption, still piled high some thirty years later.
We learnt more about this event from a pair of guides who were aboard as part of the National Park Service's 'Trails and Rails' programme. As well as their gentle narration, they passed around maps and photographs to aid our understanding of the sights we were enjoying via the floor-to-ceiling windows in this car. Apart from their train-wide announcements of particular highlights along the route, I had not paid attention to these guides before, but it's definitely worth sharing time with them if they are riding on your train. That said, the only tale I made note of for further investigation was that of the Nutty Narrows bridge, a road crossing in Longview -
for squirrels!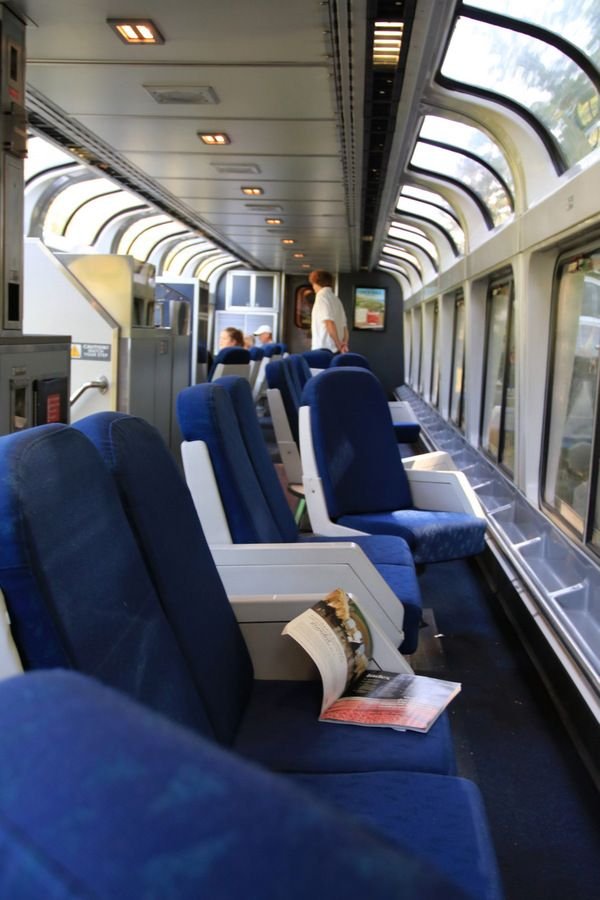 Sightseer lounge car, Coast Starlight
The timing of this northbound run is such that (in summer) the sun is setting as the train works its way through Washington along Puget Sound. The fading light flooding in sideways across the water gives a warm glow to already-idyllic shoreline scenes: glimpses of ferries moored at piers, or families enjoying beaches now leeched of the more repressive heat of the afternoon.
Sun setting on the shoreline
Travelling through sundown to arrive at our eventual destination in darkness gives a fitting sense of scale or pace to these long journeys; it's why I previously so enjoyed a Cascades trip from Vancouver to Seattle. But there was also a pleasing sense of unwinding to this final rail leg of our current itinerary: we'd left Seattle at 9 one morning, and now arrived at 9 at night. For every hour of the day in between, we could point to a day where it had been spent on a train.
Fortunately, we could now take proper stock of the city we once again found ourselves in, before completely unraveling the thread of our travels and returning to the UK. But first - to a rather special hotel stay!
Jan 6, 19, 9:36 am
Moderator, OneWorld
Join Date: Feb 2002
Location: SEA
Programs: RAA RIP; AA ExEXP
Posts: 9,950
It's so nice to see familiar country viewed through new eyes. I'm REALLY enjoying this report.
A couple of fill-in facts if interested.
Sam Hill: Around the American west (and farther afield) an old alternative saying to "What the hell?" is "What in the Sam Hill?" (It's obviously a holdover from parents telling children not to swear.) But who was Sam Hill? Well, he's the guy who brought the Columbia River Highway - the twisty one - into existence, along with other quirky landmarks around the Pacific Northwest. He was his father-in-law's (James Hill - no other relation) chief attorney for the Great Northern Railway, which brought him to Seattle and Portland in the early 1900s. He was a huge advocate for "good roads" at the dawn of the automobile area, and, as a Quaker, a devout pacifist and Utopian. In addition to being the father of the Columbia River Highway, he tried to establish a Utopian community at Maryhill (named for his mother) an hour east of Hood River. The community never caught on, and his big manor house became a museum after his death. The
Maryhill Museum
is a quirky and quite remarkable place, full of Rodin sculpture (Hill was a big part of the Parisian arts and dance scene) and other fabulous exhibits, set in grounds with strolling peacocks, on top of the cliff overlooking the big river. Just down the road is a replica of Stonehenge, built by Hill and dedicated to local soldiers killed in World War I. (Like many of his day, Hill believed that Stonehenge had been a sacrificial site, hence the connection to the war.) Hill also built and dedicated the Peace Arch, the memorial that straddles the US-Canada border south of Vancouver.
Peace Arch -
Stonehenge -
Vista House: It's too bad your tour didn't pull off the highway at Chanticleer Point (aka Portland Women's Forum Viewpoint) for the iconic view of the Gorge
including
Vista House:
Hood River Valley: I'm glad your tour included a stop in the Hood River Valley. For my money this is one of the premier visitor/holiday destinations in the west, as it includes so much scenic variety in such a compact area. Hood River and its neighboring White Salmon, WA is a world center for windsurfing and kiteboarding on the Columbia, where the Gorge provides reliable winds. There's white water rafting on the White Salmon and Klickitat Rivers, hikes into the Mount Adams wilderness, winery and microbrewery visits in Hood River and up the Valley, and more wine at Maryhill. You can visit tranquil lakes with views of Mount Hood, see the many waterfalls along the Gorge walls, visit Herman the Sturgeon at the Bonneville fish hatchery (and kids can feed the baby trout with a 25c bag of food) or take the
Hood River "fruit loop"
drive past fruit stands, orchards and vineyards, "U-pick" berry, apple and lavender farms. You can ride the "magic mile" ski lift from Timberline lodge up to the permanent ice field on the side of the volcano, or walk through fields of wildflowers in the brief (and late) alpine spring. And on and on... And it's all an hour or so from PDX.
Just sayin, it's something of a "sleeper" destination for overseas visitors. Glad you saw some of it.
---
Last edited by Gardyloo; Jan 6, 19 at

9:41 am
Jan 6, 19, 10:21 am
Join Date: Dec 2011
Location: BRS
Posts: 380
Thanks for the additions
Gardyloo
, great to get some local perspective! The 'What in the Sam Hill' expression we were familiar with even from across the pond (although presumably due to exposure to US media - I can only imagine it in an american accent). Our guide explained both that saying and Hill's central involvement with the original Columbia river highway, but we didn't hear much about his other architectural pursuits, and it seem there were many! We did learn a lot more on the tour than I've attempted to recount here - I'd definitely recommend it for out-of-towners, although some familiarity with US history would probably add to the experience.
We passed the sign for Portland Women's Forum Viewpoint - from your picture definitely a shame that a stop here wasn't included, and indeed more time at any of the locations would have been appreciated. But even with our limited selection of stops it was some eight hours round trip from Portland, of which at least half was probably spent on the road, so I guess the organisers have to be selective. Having now got an overview I'd love to return with a hire car (and someone to drive it, since I can't!)
Jan 6, 19, 1:30 pm
Join Date: Dec 2011
Location: BRS
Posts: 380
The Walrus, the Bear, and the Dinosaur
---
Several years ago, I was booking a hotel visit for Alaina and myself as one of our first trips to what would eventually become our hometown of Bristol. The property in question had a special requests section on their booking form, and when I asked the woman I would one day marry what she would like, she suggested a drawing of a dinosaur.
We didn't actually travel to Bristol that day - instead stopping some sixteen miles short at the previous station, Bath, and cycling the remainder. As a fitting introduction to the West Country, it rained pretty much the entire way, and on arrival at the Novotel I squelched across the lobby in a less than cheerful mood. This was remedied at check-in, though, when I was solemnly handed a large Manila envelope by a member of staff who kept an impressively straight face at its contents:
Novotelosaur
This might not have been enough to launch the
#hotelosaur
project, but the very next stay also netted similar success and so we begun to make a thing of it. These turned out to be unusual; of the occasions when I have asked (when both of us were staying, there was a box in the booking flow, and not on our honeymoon as I was fishing for upgrades), I estimate less than half have been successful. Despite this, we have built up quite the herd over the years, all of which can be found on Instagram.
Why do I tell you all this? Because I think The Arctic Club Seattle may have set the bar impossibly high for future establishments. We'd actually already had one drawing on this trip, with this offering from the friendly folks in Eugene:
Eugenosaur
But it was clear from the moment we arrived at the Doubletree that they had put together something special, the check-in staff visibly unable to contain their enthusiasm once they realised we were 'the dinosaur people'. Perhaps thanks to the late hour of our arrival, practically every department had been able to contribute. The result? Well, see for yourselves...
Welcomeosaur
Welcome note
Bedsideasaur
Bathroomasaur
Deskasaur
Doorasaur
Cupboardsaur
DIYasaur
In the UK, I've often found Doubletrees (especially new builds or those acquired from the Mint chain) to be preferable to Hilton-branded properties, which can be showing their age. In the US I'd had less success with this theory, and had been starting to think it was backwards. I will now revise it to the less helpful hypothesis that stateside Doubletrees are much more variable in standard. This is clearly a good one, even without the elaborate welcome surprise.
Certainly the building itself is far from your average identikit hotel in a box - in looking up architectural highlights for exploring downtown, it appeared on the first list I found! Thoughtful use of the Arctic theme (to which I was already vulnerable from my Svalbard adventures) turned quirks arising from the age of the building into features, although the lobby bar is probably an acquired taste...
Walrus-themed exterior of the Arctic Club, Seattle.
The Arctic Club and the Columbia tower
Over a hundred years of history (but barely a decade since a refurb).
Arctic Club Seattle lobby bar
Lobby bar reading table
A particular highlight is the Juneau restaurant. This operates a la carte instead of with a buffet, and our extensive research over five mornings confirmed that pretty much everything on the menu is huge and delicious. Better still, whilst the letter of the law on benefits for Hilton gold at Doubletree is free continental breakfast each day, here they were happy for us to use that as $12 credit each to trade up to whatever ridiculous bacon-based creation we really wanted.
Location was pretty good, with several bus services running past the front door, and a Link light rail station on the next block. The piers are easily walkable, and once the weather finally cooled down the Westlake Center (for the monorail) seemed reasonable too. However: there are more central options; there aren't loads of restaurants in the immediate vicinity; and there's a pretty large homeless community a couple of blocks down which occasionally needed police or medical attention late at night. But these are minor points- I thoroughly recommend a stay, and we were very happy with it both as a base for our sightseeing and to spend time on site.
Jan 6, 19, 1:35 pm
Jan 7, 19, 9:01 am
Moderator, OneWorld
Join Date: Feb 2002
Location: SEA
Programs: RAA RIP; AA ExEXP
Posts: 9,950
Did you sneak a peek of the Dome Room at the top of the Arctic Building?
Jan 7, 19, 7:10 pm
Join Date: Jun 2010
Location: RDU
Programs: AA EXP 2MM
Posts: 266
Jan 8, 19, 8:50 am
Join Date: Jul 2013
Location: JNB
Programs: Flying Blue, Miles and Smiles, Hhonors, ICHotels
Posts: 1,019
I just Love this!!!!
Jan 9, 19, 12:38 pm
Join Date: Dec 2011
Location: BRS
Posts: 380
Jan 9, 19, 1:07 pm
Join Date: Dec 2011
Location: BRS
Posts: 380
Touristic Interlude - Seattle CityPASS
---
I will abandon strict chronology in favour of theme for these next two posts. First up, the various sights we saw via the Seattle CityPASS; then a few aviation-related attractions.
Like many places, Seattle offers a ticket pack for its main tourist attractions, which works out cheaper if you hit enough of them (or at least encourages you to see one you might otherwise have skipped). The Seattle cityPASS gives you three fixed attractions, and then two pairs of choices. Three of the seven - including two of the mandatory sites - I'd visited back when I first came to Seattle, but that was sufficiently long ago that I was keen to repeat them. That said, the ones which were new to me were also the ones I enjoyed the most!
Argosy Cruises Harbor Tour
One of those was an activity rather than a specific attraction: a return to the water for a tour of the harbour courtesy of Argosy Cruises. The voucher included in the cityPASS is good for their standard one hour itinerary around Elliott Bay and the waterfront, but can also be used as part payment towards one of their lengthier experiences.
We stuck with the standard offering, which took a counterclockwise route around the bay, up past the piers and parks before looping back around for the docks. As it was another outrageously hot day we sheltered inside in the main cabin after a brief stint on the open air deck. Fortunately there are large windows through which to enjoy the view, some of which open for better photography; you can also find a bar here! The tour is narrated throughout, striking a good balance of informative without being excessively detailed (a trait I might one day pick up for these reports...)
Another lovely day on the water
Docks activity
Returning to the piers
Seattle Aquarium
Also at the harbour side is another of the 'compulsory' stops, and probably the weakest of the pack: the Aquarium. Whilst I generally enjoy these, Seattle's is only a small setup and feels very limited compared to, say, Vancouver's. It didn't help that the otters seemed to be in hiding! Still, we're not the target audience - it's probably one of the best sites for families - and there are some nice features like the jellyfish arch and the hands-on tide pool exhibit.
Museum of Pop Culture
This is one of the choices, but it seemed the obvious pick over Woodland Park Zoo. When I visited before this was two attractions, the Experience Music Project and the Science Fiction Museum. They've since merged them and broadened the remit to all of popular culture, but those original themes remain the strongest influences. For instance, the fantasy section feels like a hasty addition to catch up on the popularity of Game of Thrones or Harry Potter, whereas the science fiction collection holds some genuinely notable items.
Our visit coincided with an enormous exhibition,
Marvel: Universe of Super Heroes
, for which MoPOP was the premiere location (presumably it will go on tour once its extended stint here ends in March 2019). Although we've never got into the comics, we've enjoyed plenty of the films in the Marvel cinematic universe over the decade or so that it's been building up, and this exhibition recognised that this is where most people's familiarity would come from, being packed with props from the films. Standard entrance didn't cover this, but fortunately it was only an $8 upgrade from the cityPASS ticket, which I think was well worth the extra.
Marvel Comics #1.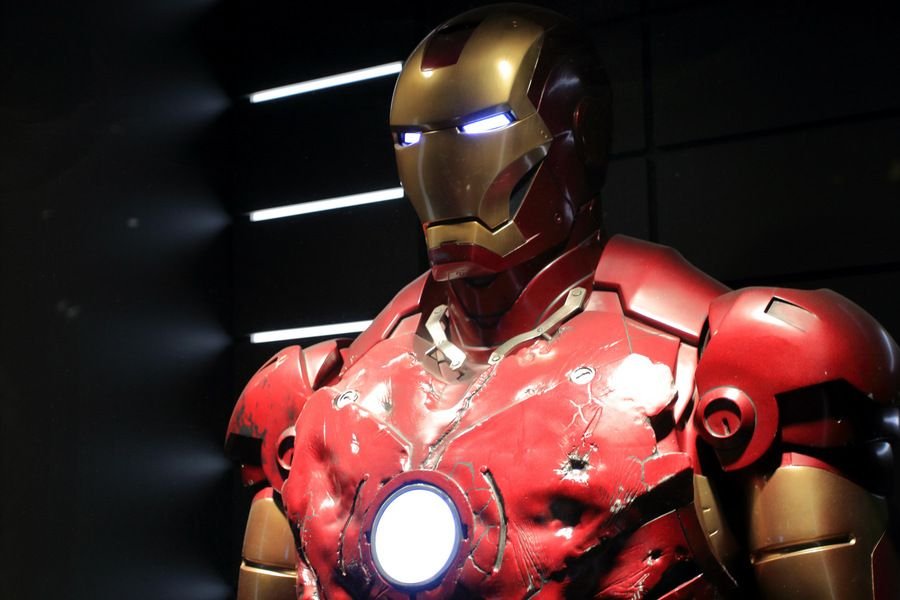 Iron Man
Local hero, Monorail Man
Space Needle
Seattle's retro-futuristic icon kicked off my interest in the
world exposition sites
, and remains one of my favourite pieces of architecture. Thus it was somewhere I was particularly looking forward to revisiting - and thus particularly disappointed by... 2018 has seen a major refurbishment project, but it simply wasn't finished when we were there, with sections inaccessible and others resembling a construction site with bare cables and chipboard walls. We nearly missed the glass floor level, since signage wasn't yet in place!
Writing nearly six months later, I hope the work is now complete. However, our visit was also marred by intolerable queues, and I have no way of knowing whether those were just a side effect of the works or par for the course in the summer. We'd sauntered over to the Seattle Center to head up around lunchtime, only to find that the first time slot we could book was 4pm. Rather than be constrained to the area, we chose instead to claim an evening visit, carefully timed for sunset. Alas, the ticket times are for when you can join the queue, and it took us a good 45 minutes simply to get to the elevators, watching sunset from the ground in the meantime. Whilst the nighttime views over the city are nice enough, overall we spent more time trying to get into the Needle than actually in it. Had I paid full price, I'd be very unimpressed with the experience - but I'd probably still try again on another day, and I doubt this account will (or should) dissuade anyone else from giving it a shot. Just manage your expectations...
Space Needle by day
Space Needle by evening
Space Needle glass floor, at night
Chihuly Garden and Glass
If the Space Needle underwhelmed, this one exceeded expectations. A friend had strongly recommended it to us, so we picked it over the alternative (Pacific Science Center, which is more obviously my cup of tea) despite some skepticism on my part - caused by some mediocre glassworks experiences as a kid.
My reluctance was ill-founded; Chihuly is clearly at the top of this game, and this exhibition presents his work in a series of fantastic galleries before opening out into a garden featuring even larger installations. For a photography geek, it's a delight - although navigating this much fragile glass whilst framing shots is occasionally nerve-wracking! (This anxiety was not alleviated in what must be one of the world's most expensive museum gift shops, either.) If you were pushed for time, I think this is the one attraction I'd now consider a must-see.
Glass Forest
Caustics from The Persian Ceiling.
Ikebana Boat.
Four-figures gift shop
Jan 9, 19, 2:05 pm
Join Date: Dec 2011
Location: BRS
Posts: 380
The Jet Blast Bash
---
Seattle's Museum of Flight
Seattle is prime aviation geek territory thanks to Boeing's historic connection to the city. I'd been considering a visit to their factory, but as a non-driver it looked impossible to access by public transport and expensive by escorted tour.
Fortunately I would have more luck with a project I'd been considering for a while: to visit every British Airways Concorde. Most of these are in the UK, which makes this relatively easy for me (especially as I got
up close to Alpha Bravo
whilst working for BA); of the internationally-located ones, I'd already ticked off G-BOAD in New York last year, and Seattle's Museum of Flight is home to G-BOAG. Whilst Alaina has no interest in joining me in the hangars for these pilgrimages, I think I can at least convince her of the merits of a trip to Barbados so I can add G-BOAE to the collection :-)
Concorde G-BOAG
The nose
Rolls Royce/Snecma Olympus 593
Concorde seating sealed away as a museum exhibit (although I used to have lunch breaks on a few that can be found at Waterside!)
As a bonus, the Museum of Flight was holding a series of events under the 'Jet Blast Bash' title as part of Seafair weekend, the annual air show which by happy accident overlapped with our return to the city. The museum's runway would be pressed into service for take-offs by performers, and thus a visit would allow for some prime plane spotting for those so inclined. However, I'm not especially interested in military aircraft, with one notable exception. Thus the highlight for me would be found inside rather than pressed against the runway fence: a talk by SR-71 pilot Brian Shul.
Special guest visitor - the Orbis Flying Eye Hospital
Runway-side viewing during the Jet Blast Bash
His account of
the fastest ground speed check
is a tale of crew bonding that has passed into legend. It was first told at this same venue, in response to a question from a child on whether flying this impossible aircraft was ever fun. It is, I suspect, almost a contractual obligation to re-tell it each year; and I suspect the tale gets taller with every telling, for the punchline in the version we heard was a hundred knots faster the one I linked above.
No matter; I suspect all in the room were familiar with the broad shape of the anecdote. What I didn't know was anything about Shul's life before the SR-71, and thus how improbable it was that he ever had the chance to pilot it. Nor did I appreciate that many of the iconic images of the Blackbird are thanks to him: a then-amateur photographer who managed to charm his way into being able to get shots of this top secret machine during its working life. (Shul has continued with photography since, although now his subjects are actual birds.) Admittedly, the talk did sometimes stray into motivational speaker territory, and at other times took a rather jingoistic line; but on the whole it was fascinating. Even with the offer of both a discount and a signature, though, I couldn't quite justify the $200 price of a copy of his Sled Driver book!
'Sled Driver' Brian Shul and the SR-71
As part of the festivities, the Blue Angels display team roared across downtown Seattle every afternoon for a few days. Somehow I was outside for each of the fly-bys yet never had appropriate camera gear to hand, until the final day (of both the air show and our trip). On that occasion we were out at Gasworks park, having spent some time exploring Fremont (joining Bainbridge and Mt Baker as another appealing neighbourhood). Thus I thought I would have to settle for some distant shots of the planes mingling with the skyscrapers across the lake, but to my delight their antics brought them directly overhead - with enough time for me to swap to a suitable lens before they reached the park.
Blue Angels over Gasworks park
Blue Angels in formation
Jan 9, 19, 2:08 pm
Join Date: Jan 2009
Location: SEA
Programs: Skymiles Plat/1MM, United Prem, Marriott Silver, HH Gold
Posts: 300
I've been a Pacific Northwest person for quite awhile and it's extra fun to read your impressions of all places I know. But the Arctic Club dinosaurs are so awesome and adorable - what a special addition to your trip!
Jan 11, 19, 2:16 pm
Join Date: Dec 2011
Location: BRS
Posts: 380
Sleepless from Seattle
---
DI7132
Dep
: SEA Seattle-Tacoma International 13:45 6th August 2018 (local time)
Arr
: LGW London- Gatwick 06:55 7th August 2018 (local time)
Flight duration
: 9 hours 10 minutes
Seats
: 1A/C
Cabin
: Premium
Operated by
: Norwegian (Boeing 787)
And so, two weeks (or ten thousand words) later, we find ourselves homeward bound. After one last leisurely breakfast at Juneau, we bid farewell to the Arctic Club and proceeded to SeaTac (a straightforward shot on the Link light rail from Pioneer Square Station, half a block from the Doubletree).
Norwegian premium offers a separate check-in desk; that still took ten minutes, but looked a lot better than the economy queue. It doesn't confer any advantages at security, for which the regular line had been extended multiple times via a maze of tensa-barriers. Navigating those took almost half an hour, but the security check itself was a breeze: good humoured staff, and no need to unpack liquids or electronics from baggage.
Another perk - not often given for premium economy -- was lounge access, although Priority Pass would have got us in anyway. Specifically, we could make use of the 'The Club', which we found about midway along the A gates. I later discovered there is also an American Express Centurion Lounge - that may have been a better venue, although as it was located out at the B gates could have been an issue…
But I'm getting ahead of myself. We were settled into The Club by 12:15; a decent enough lounge once I realised it was bigger than it first appears, although too crowded to take photos and the coffee machine was out of action. Still, we were able to find a pair of seats together, and rustle up some light refreshments: salad / hummus / pasta / veg for Alaina; cakes, bars and crisps for me :-)
Our boarding passes suggested a go-to-gate of 12:45; since that was fully an hour before scheduled departure and also coincided with the check-in deadline, I cheerfully ignored it. Whilst I'm used to - and appreciate! - lounges not having boarding calls over loudspeaker, I do assume that the screens will be reliable. I should have noticed that various flights came and went without ever being tagged as ready for boarding; fortunately by 13:15 I had decided it was worth finding our gate even though the screen was making no such suggestion. Naturally our gate was right at the end of the A group, and as in London seemed strangely deserted… unlike London the staff frantically begun waving us over and we had to make a last minute dash for what turned out to be the final bus to the plane.
SEA assortment
Not a great start to proceedings, but it did mean that from gate to pre-departure beverage (water or juice) was just ten minutes! Nor did we have to fight for overhead baggage space (which, as we were in front row bulk head seats would have to be used for all items during takeoff and landing). That also meant I stashed my camera kit immediately, so here are some cabin shots from the very end of the flight instead:
Norwegian Premium cabin, 787-9.
Norwegian Premium seating.
1A legroom.
Initial impressions were favourable: not only is the 787-9 an impressively modern aircraft, this particular frame had only entered service in January. Norwegian's Premium cabin is configured as 8 rows of 2-3-2 seating, for a generous 46" pitch - far more than you'd get in BA's World Traveller Plus, for example. Screens are stowed in the arm rest rather than attached to the seat ahead, presumably due to the substantial recline which is possible; as well as providing a library of films and TV shows, these can be used for at-seat ordering (including duty free, and blankets / headsets back in Economy). The bar service is complementary in Premium, but regardless of cabin, alcohol can only be consumed if purchased from the crew, who, we are informed, will serve in moderation! There are two dedicated toilets for the cabin, at the very front; seats have a power socket good for UK plugs as well as a USB port on the screen although either option will only trickle-charge a phone.
Fold-out IFE screen.
Hopefully due to congestion rather than our boarding antics, push-back wasn't until ten minutes after our allotted time, and it took another twenty minutes trundling around the airfield before lining up for launch. Our early afternoon departure - and the 787's excellent windows - allowed for some fantastic views as we climbed: re-tracing landmarks from our visit such as the docks, Puget sound, downtown and gasworks park. (Later, a break in the clouds offered a last glimpse of the Cascades, now at geological scale).
Seattle docks.
Downtown Seattle.
Lake Union, Gasworks park, and northern Seattle.
The Cascades.
The meal service is delivered in a long cardboard box (versus the proper crockery and cutlery you'd find in WTP), but both dinner - chicken puttanesca - and dessert - an assortment of macaroons - were decent. Wine was served with dinner, and as the trays were cleared away, there was the option of tea / coffee / cognac.
Main Course, Norwegian Premium.
Side salad, seasonings and dessert, Norwegian Premium.
With dining all wrapped up by 4pm, I made my first attempt at sleep. Although not helped by the timing - we had yet to fly into darkness, and not all of those big windows had yet been dimmed - the real problem was the seat. It reclines well enough, but the only sleeping arrangement possible is flat on your back. Foiling any other configuration is the headrest - an uncomfortable leather lozenge that won't support your head if you try to shape it. Also unhelpful is the footrest: this has a fixed 90 degree angle, so your experiences are either 'barber shop' or 'rollercoaster' depending on whether you deploy it or let your feet dangle.
In defense of the product, based on snoring from elsewhere some folks made it work; I also can't fault the cabin temperature (sensible throughout) or pressure (my ears never popped), and the blanket was excellent - I just wish it came with a pillow! But once the cabin lights came back up at 21:15 - or 5:15AM as I should now think of it - I felt as if I had been robbed of a night, having managed no sleep at all.
Five minutes later, another box arrived containing breakfast - a strange medley of proteins and… a pepper? Alaina's vegetarian choice looked better, with a much more substantial assortment of fruit than the few items which accompanied mine.
Norwegian Premium breakfast.
Norwegian Premium breakfast.
Just before 6am (as I was now grudgingly thinking of it) everything was cleared away; with a beautiful sunrise as we approached the coast of Ireland providing a welcome home to the British Isles. By 6:25 the start of descent was announced, although one last soft drinks run was fitted in before the cabin was prepped for landing. That turned out to be a minute later than advertised, with another ten minutes to find a gate (conveniently, one with a jetbridge). E-gates made immigration a breeze, and we were reunited with our luggage by 7:20.
Early morning English countryside.
Taxi to gate at LGW.
From there follows a sorry tale of a leaky Megabus to Bristol, so I think I'll wrap things up here instead. My final verdict on Norwegian Premium is, I imagine, predictable: a completely viable alternative to premium economy as offered by the non-LCCs; but no substitute for a flatbed business product if you want to sleep. Whether or not I'd fly it again or wait to return to Club is also obvious: it'll depend on price and/or how quickly I can replenish my avios stash. I'm not concerned by continued suggestions of Norwegian's supposedly imminent demise: some considered by winter '17 booking for a summer '18 flight risky, and yet here we are at the dawn of 2019 with services still operating. But if they don't make it long-term, I hope they at least demonstrate to the traditional airlines that more can be achieved in the ground between bargain economy and full-on business class.
As for the rest of the trip? Without the Pacific Parlour Car, I'd consider sleeper accommodation on the
Coast Starlight
a nice-to-have rather than a definitely-purchase, for daytime itineraries at least. For a tourist I'd definitely suggest the train - whether the Starlight or
Cascades
- over flying for distances such as Seattle - Portland. Both of those cities I'd happily recommend, but the real surprise of this trip was Eugene - next time I'm stateside I'm keen to try and pick up more such secondary destinations. Hopefully I've demonstrated that in big cities stepping away from the crowds and excitement of downtown can be rewarding too.
With brexit looming, I find it impossible to predict what 2019 will bring: but I still have a couple of un-documented trips from 2018 which will eventually reach my blog, as will a more thematic take on this adventure with associated image galleries (flyertalk's compression isn't kind). In the meantime, thanks to all (any?) of you who have put up with my delusions of being a travel writer and made it through this prose-heavy version!
Feb 8, 19, 12:48 pm
Join Date: Jan 2009
Location: WAS
Programs: AA 2MM, US CP, DL PM, UA 1k <=> HH DM, SPG/ClubC/Marr G, Hyatt/IHG Plat, FT RA ( Recovering Addict)
Posts: 3,738
Great report and nice ideas for a west coast trip
Thanks