Czeching In and Jetting Out - LH F/J, FR Y, and BA F
Dec 23, 18, 5:18 am
Join Date: Feb 2014
Location: Arcadia, CA
Programs: Marriott Lifetime Titanium
Posts: 810
Czeching In and Jetting Out - LH F/J, FR Y, and BA F
---
After my wife and I completed our adventure across the Pacific in the spring, things became relatively dormant in the trip planning department. A trip to New York in May to celebrate my mother's 60th birthday with a fantastic dinner at Eleven Madison Park was the last time we were on a plane. My wife was in no hurry to get back in the air, now that our little munchkin was able to crawl, and more recently, walk. The more mobile he's gotten, the more difficult it is keeping him confined and entertained. To this point, talk of going anywhere at the end of the year was shot down immediately, since Mrs. ChongL is consistently mentally and physically drained. I'd like to say that my charm changed her mind, but in reality it was more likely my persistence and pestering (read: annoyance) paying off. I can still hear the words, "Fine! We'll go somewhere for Christmas." And with that, I suddenly had the go-ahead for our 5th anniversary.
As usual, the destinations varied, but ultimately, the allure of the Christmas markets and memories of our trip to Vienna during the festive season led us to Prague. Not wanting to spend the entire week there, a short 2 days was allocated for one of our favorite cities: London. With the IB promo burning a hole in my pocket, I booked our return on the world's best business class. The outbound took a while longer since LH is so stingy with award seats, even for their own frequent flyer program members. I was able to book about a month out, and purposely decided to go through both MUC and FRA in the hopes of scoring 2 different ducks as opposed to continuing straight to PRG. We'll see if that ends up being a mistake or not...just expect lots of food pictures if you decide to follow along!
If you enjoy this report, here are some of my previous trips that I've posted:
Spring, Fall, and Hopefully Sakura in CX F, SQ NEW and Old Suites, CZ J, and OZ J/F
3 for the price of 2? RTW Babymoon to Japan, Maldives, UK (JL/EY/LH J/F/Apartment)
Slummin' it to Spain - BCN, PMI for some Park Hyatt, and MAD
The Journey is Half the Fun; RTW in SQ Suites/CX F/JL J/EK F/EY Apartment/AA F
Christmas in Vienna with a Splash of Porsche and FCT - LX/OS Y, OS J, LH F
Escaping to the Southern Hemisphere: A Bora Bora Getaway
Honeymoon In Europe (UK, France, Netherlands, Germany, Italy, etc.) - AA/LH/EK F
Itinerary
LAX-SFO on UA Y (737-800)
SFO-MUC on LH F (A380)
MUC-FRA on LH J (A321)
FRA-PRG on LH J (A321)
Intercontinental Prague for 5 nights
PRG-STN on FR Y (737-800)
London Marriott County Hall for 2 nights
LHR-IAH on BA F (777)
In the morning, we took our positioning flight to SFO out of LAX's terminal 7. I'm going to skip this boring leg since it was uneventful other than a 1+ hour delay where we were sitting in banishment at LAX. Luckily, I gave us plenty of time to connect in SFO since the LH legs were on a separate ticket. After grabbing our luggage from baggage claim, we proceeded to the international check-in counters. Aisle 4 was the place to be today, as we sauntered up to the desk with glee
Looking at the non-existent line behind us
Boarding passes in hand, we cleared security and head towards the relatively new Polaris lounge
Entrance located next to the Gucci store
The lounge was quite large with lots of empty space on the opposite side of where most people chose to congregate. I was fairly impressed since this was meant to be a business class level hideout
A Christmas tree separating the 2 sides
The more "popular" side of the lounge
The bar
A very generous pour of Balvenie 12 Doublewood
We opted to dine in the restaurant area with some supplements from the buffet area
White rice and some bulgogi that was tough as hell
Lemon chicken scallopini
Pot roast was pretty decent
Noodle bar
Salad bar and other cold offerings
Cold sandwiches
Sweets
The a la carte menu
Clam chowder as soup of the day
Fried shrimp cake had a little kick to it
I opted for the cioppino
Mrs. ChongL had the hand cut pappardelle
And then a tiramisu that nobody ordered showed up, but we said "we'll take it anyway!"
Up next: the whalejet to MUC
---
Last edited by chongl; Dec 23, 18 at

5:53 am
Dec 24, 18, 2:08 pm
Join Date: Feb 2014
Location: Arcadia, CA
Programs: Marriott Lifetime Titanium
Posts: 810
Thank you for reading,
HLT1904
! Yes, it can certainly present challenges at times, but sharing the experience is well worth the effort IMO
gaobest
I agree,
lloydje33
. Just finished up Christmas Eve here and the markets were still quite crowded with people just enjoying good food and drink
Dec 25, 18, 1:04 am
Join Date: Jan 2012
Location: NYC,SFO
Programs: AY+ Plat, AA Plat, SPG/Marriott Plat Premier, Hyatt Explorist
Posts: 2,799
Really enjoying the TR so far and looking forward to the rest!

I've spent the last couple of Christmases in Asia, but I'm hoping I will make it back to Europe during the holiday season some time soon.
Dec 25, 18, 4:58 am
Join Date: Jul 2013
Location: JNB
Programs: Flying Blue, Miles and Smiles, Hhonors, ICHotels
Posts: 1,121
Enjoy Prague - my favourite City, especially now that my one Client is based there. I usually stay at the Hilton close to the IC, but find the Hilton is close enough to the underground so that makes it convenient for getting around town.

Have fun, and am looking forward to the rest of your TR!!
Dec 25, 18, 5:07 am
Join Date: Jun 2009
Location: Geneva, Dubai, Paris
Programs: Disillusioned Cent
Posts: 1,843
That's the spirit
chongl
!
Looking forward to this...
(I've snatched my Christmas duck at MUC yesterday and I'm hoping for another one on Dec 30 in FRA)
Dec 26, 18, 10:44 am
Join Date: Feb 2014
Location: Arcadia, CA
Programs: Marriott Lifetime Titanium
Posts: 810
One boarding was called, we were whisked away from the gate at the upstairs level of G101. Although the front cabin was empty, the FAs were busy making preparations so I declined to take any pictures of the entire cabin and stayed confined to my seat. I had flown F on the A380 with Lufthansa before, but it had been a few years back. My most recent LH F stint was in an A330, which was by no means nearly as comfortable as the newer and wider whalejet. It was the perfect match since there are lockers for each passenger, snugly fitting in a travel stroller and 2 backpacks (I put Mrs. ChongL's gear with me so she wouldn't have to get in and out of her seat).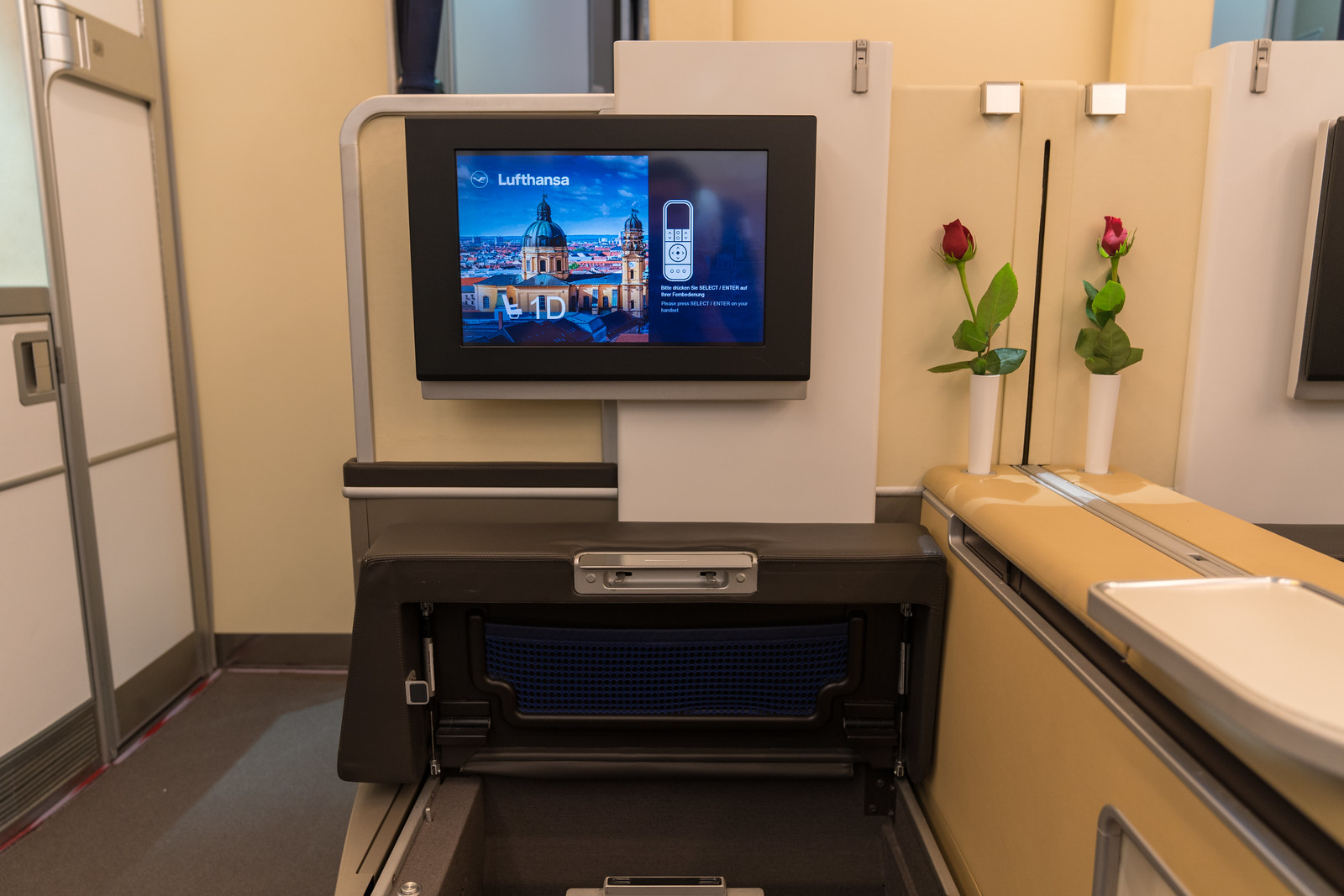 The menu for tonight
And drinks
Amenity kits and PJs were handed out as well. Unfortunately, the Rimowas have not returned, even though it is deep into December. On the plus side, the normally uncomfortable PJs seem to have been revised with a softer material (less like scrubs) and some nice padded slippers accompany them
A reminder of our class of travel is firmly in your face, just in case you forget
Some champagne and macadamia nuts to snack on while those less fortunate complete boarding
Watching the tail cam on taxi with the cabin lights dimmed
A seemingly shorter than usual rollout followed and we were easily airborne. Once the seatbelt sign turned off, I opted to change and came back to a warm towel greeting me
Amuse bouche stuffed with ricotta chesse
Free wifi voucher handed out. Turns out the code can be used multiple times across different devices, so worry not!
After transferring and editing a few photos to try and get ahead of the curve, dinner was ready to go. With table set and the baby asleep since before takeoff, even the wife had some time to grab a bite to eat
Caviar and appetizers to start with a pour of Aultmore 21 year old Scotch. The whisky was sweeter than I was used to with strong spice and a long finish
Wife went for the braised short rib
I had another cioppino that was rather delicious
And bread pudding with vanilla ice cream for dessert. This was also surprisingly good
I asked for my bed to be made at this point with the hopes of getting in a good amount of sleep on this redeye. No pictures of the made bed either, but I will say I got some good rest in. I woke up with about 2-3 hours to go on the flight, with breakfast being served not too long after. Rarely do scrambled eggs get executed so well in the air, especially when topped off with some crispy bacon. For what it's worth, baby ChongL took advantage of the redeye and slept most of the way. With just over 2 hours left to go he woke up and we played with him quietly at our seats, ducking into the generously sized bathrooms to minimize any disturbance if he stopped being cooperative.
With 15 minutes to touchdown, I checked the time and noted we would land on time, despite departing SFO about 30 minutes later than scheduled. This was significant since our connection times in both MUC and FRA were 70 minutes, so not much margin for error. This reassured me that we would at least have time to enjoy one lounge, if not more.
Off the whale, but surprisingly had to disembark from the lower level of the plane. With my son already strapped into the stroller, I just picked the entire thing up and walked down the stairs where the other passengers were stopped while the F cabin cleared out
Cleared border control in no time and over to the G gates and nearby F lounge
A ride up the elevator presented us the check-in area of the lounge where some lovely ladies welcomed us
Very similar decor to the FCT. At this time of day, the lounge was almost empty, save for a few passengers
Holiday setup with sweets
I suppose this is a daily menu of sorts?
But first order of business was to get a special duck
The bar isn't as stocked as the FCT though
Buffet offerings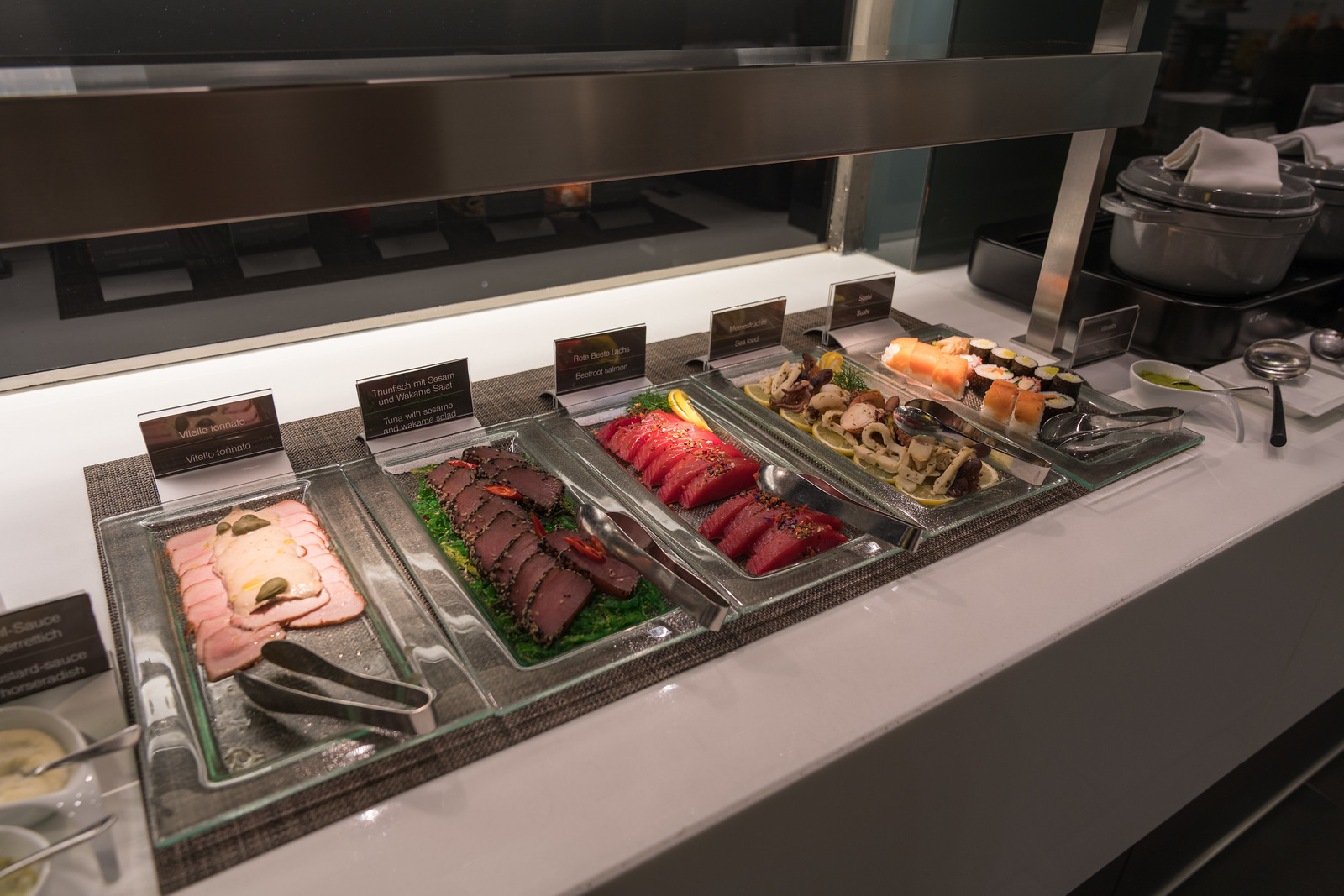 The wife opted for the trusty wienerschnitzel
Joined by the sides and a "regular" MUC bronze duck
I wasn't in the mood to eat anything, so the wife wolfed down the food so we could get going, only to find out as we were leaving that the flight was delayed 45 minutes. This put a damper on our ability to get to the First Class Terminal in FRA, but I half expected issues connecting based on patterns from previous days. I was just hoping not to get stuck overnight. This is where the LH ground service really did an outstanding job by calling FRA and letting them know we would be on the flight, reassuring us that it would not depart without us. We spent another 45 minutes in the lounge talking with the staff, all eyes on my son as he waddled around the lounge and "flirted" with the gals at the front desks. They came to get us as soon as boarding began and bid us goodbye.On the onward flight, flight time was about 35 minutes, but even then they were able to serve a decent meal. The shrimp was accompanied by a nice creamy bacon sauce that was delicious
Landing in FRA, I checked the time and was more worried than before since taxiing took longer than expected, and a short paperwork issue cut into more of the connecting time we had. To our relief, the FA came on the PA and announced for us to check with them at the front of the cabin, where they notified us ground staff would be waiting for us. And wait for us they did as we hung a quick right, down a flight of stairs, and boarded a brand new Porsche Cayenne for the gate transfer. Out of respect for the staff's time in helping make our flight, I didn't pause for a quick second to snap a picture. It was as close to the FCT experience, minus the duck and whisky tasting, that I could have asked for. From FRA to PRG, another quick meal was available for the short flight time. Not as satisfying as the first regional J leg, but enough to not have to find a meal upon landing.
What we did find out was that our luggage didn't make it on the flight, and that it would be delivered the following day by 10AM. Skipping a little bit ahead, this turned out not to be the case, and after some reading, people had success getting reimbursed for reasonable expenses. Since our warmer jackets were in the checked bags, we went and bought some winter gear the next day for Mrs. ChongL and Baby ChongL. I felt reasonably warm and didn't feel the need to buy anything. For what it's worth, the luggage didn't show up until about 8PM...so much for that estimated delivery time!
The standard room at the Intercontinental, where we turned down an "upgrade" to the river view. There was an issue where they reserved 2 queens rather than a king, and with the hotel being at capacity, this was the best option
Small bathroom
Next up: Exploring Prague and the Christmas markets
---
Last edited by chongl; Dec 30, 18 at

10:37 am
Dec 26, 18, 10:55 am
Join Date: Feb 2014
Location: Arcadia, CA
Programs: Marriott Lifetime Titanium
Posts: 810
Thank you,
flyingeph12
. I've never done any Christmases in Asia, so I'd be curious to experience the contrast in celebration styles.
Originally Posted by
roadwarrier
Enjoy Prague - my favourite City, especially now that my one Client is based there. I usually stay at the Hilton close to the IC, but find the Hilton is close enough to the underground so that makes it convenient for getting around town.

Have fun, and am looking forward to the rest of your TR!!
roadwarrier
, the Hilton in Old Town was on my short list of places to stay, but the IC seemed to be slightly better suited for us for walking distances. Not that the Hilton is in a bad spot by any means, but sometimes the threshold of whether or not we walk somewhere with child in tow is that small extra distance/time shown on Google maps
Great to still see you around,
JohnRain
! I snagged the MUC duck but had no time to make it to the FCT per post above. At least I still got a Porsche ride and made it to my destination, although I guess possible EU261 compensation wouldn't be bad if I was on the first flight out in the morning
. I reached out to the FCT Twitter account to see if they'll send me one of the Santa ducks. I mean, they hold contests every few weeks with trivia for duck giveaways, so asking couldn't hurt.
Dec 30, 18, 10:38 am
Join Date: Feb 2014
Location: Arcadia, CA
Programs: Marriott Lifetime Titanium
Posts: 810
The next morning, after some very marginal amount of sleep, we went to the hotel breakfast buffet, which was thrown in since we opted against the "upgraded room". Decent selection and variety of foods were available, far surpassing what is typically offered in any state-side hotel.
Potatoes, sausages, bacon
Scrambled and hard boiled eggs, beans, tomatoes. An omelette station for made to order options was also available
Cheese and bread/pastries
Smoked salmon, porridge, dumplings, miso soup
Juice
After breakfast, we got dressed and layered up with what clothing we did have with us and headed towards Old Town Square. The outside of the Intercontinental could definitely use a facelift
Walking along to the Christmas market...such lovely architecture here!
Fairly empty and not so festive during the daytime
Metal working
The trdelnik, or chimney cake
Over an open flame
More food stalls
Hashtag anyone?
Christmas ornaments everywhere
And the famed, but extremely underwhelming astonomical clock is just a few steps away
A better view of the entire square can be had from this angle
At this point, Mrs. ChongL complained of the cold and wind chill, so we opted to head back to the room in the hopes our luggage had arrived by 10AM as promised. With nothing in site, we checked with the hotel concierge who again followed up with LH. I figured out the information they had could be found on a website, so I started checking on my own. But hunger struck, and the desire to not waste who knows how many hours waiting for baggage seemed just a bit contrary to why we flew across the pond. And so, we opted to get some food, and buy whatever winter coat necessary to keep us going
Deciding to stop by at Mincovna
Pilsner on the cheap
Goulash
Beef tartare
And a potato soup
All were delicious, with the tartare being the standout for me. With some hot soup warming up our bodies, we ventured back out and bought jackets and beanies (still need to contact LH about getting reimbursed. If anyone knows where to start, please let me know!). Not too much further from where we were was Wenceslas Square, the other main market in town
Vibrant colors on display
Just more market stands selling similar types of items
National museum on the opposite end
Henry's Tower
For dinner, we stopped by Kantyna, which is a pub/butcher shop concept. As you walk in, there are cuts of meat and sausages that you can order, and the chefs will cook to your liking. The meat is paid for by the pound, and beers are tallied by marking off beer mug icons on the back of the check
More beef tartare (2nd of 6 for the trip)
A cut of sirloin with signature coffee and truffle sauce. I don't normally opt for sauce on my steaks, but I must say it paired very well. Some mashed potatoes as a side
And a pork kielbasa to finish things off
Calling it a day, we stroll through the much more festive Old Town Square at night before retiring to the hotel
But the wife had other ideas first
And that's a wrap for the first full day
Next up, Christmas Eve, where the national holiday means many places are closed. We see a few sights before crossing St. Charles Bridge over to Mala Strana for the afternoon
Dec 30, 18, 11:12 am
Join Date: Apr 2009
Programs: BA Gold, AF Gold, IHG Spire Ambassador, Hilton Honors Diamond, Mucci de buveur de gin
Posts: 2,894
Great report so far. I went to the Christmas markets in Prague last year and loved my time there. Also managed a lot of the ham (and mulled wine!) while walking around!

Looking forward to the rest!
Dec 31, 18, 1:28 pm
Join Date: Nov 2008
Location: New York, NY
Posts: 280
Enjoying this report chongl
I like to think the traveling get's a bit easier as they get older. We recently completed an Asia trip and some domestic travel with our 2 year old and as long as you can keep them well fed and entertained, it's relatively easy and painless. Happy Holidays!
Jan 1, 19, 7:31 pm
Join Date: Feb 2014
Location: Arcadia, CA
Programs: Marriott Lifetime Titanium
Posts: 810
Thanks,
stu1985
. We never tried the ham, and I wasn't a fan of the mulled wine I had previously, so no experience with either this time around
Originally Posted by
benjahman
Enjoying this report chongl
I like to think the traveling get's a bit easier as they get older. We recently completed an Asia trip and some domestic travel with our 2 year old and as long as you can keep them well fed and entertained, it's relatively easy and painless. Happy Holidays!
Agreed! This trip was a lot easier than the last and hopefully that's a trend that continues. Happy holidays!
NeedstoFly
, I try to pig out as much as I can since I never know how long it will be before I have a chance to return