Czeching In and Jetting Out - LH F/J, FR Y, and BA F
Jan 5, 19, 9:11 am
Join Date: Feb 2014
Location: Arcadia, CA
Programs: Marriott Lifetime Titanium
Posts: 783
After a short time at the breakfast buffet, we got dressed and ventured out. Being Christmas Eve, many places were closed, so we shuffled around some of the things we wanted to do. First order of business was to see St Cyril and St Methodius Cathedral. For those wondering, I watched the movie Anthropoid on a plane a year or 2 ago that detailed the Czech resistance during WWII. To put it briefly, these heroes parachuted into the country, then planned and assassinated Heydrich before hiding in this cathedral, where they had their last stand. There is a memorial which was closed, but I had no intention of going down into the crypt where it all ended anyway.
Walking along the river and heading south
Along our walk, we passed by a concert hall and art gallery
Our first closeup view of St. Charles Bridge
Stopping by for some ice cream filled chimney cake...it was rather bleh despite its looks
Kranner Fountain
Building inspired by the figure of a dancer. The building was partially destroyed in a WWII bombing in 1945
Apparently this is an art gallery, just steps away from the cathedral
Entrance to the memorial
And a small area of remembrance just outside a window where a fire hose was once used to try and force the heroes out. You can see the bullet holes in the wall as well. We saw some disgusting behavior as we showed up, with a young woman posing and all smiles trying to get that "perfect" picture. I'm hoping they just didn't understand the enormity of the events that transpired there, but it seemed very disrespectful. Later on, a man came by and re-lit all the candles. May these men rest in peace
Once the somber mood escaped, we backtracked and decided to head to the Mandarin Oriental. I had found suggestions that the kulajda, or potato soup there was one of the best in the city
Prague Castle from a distance
Crossing the bridge for the first time
Lovely architecture everywhere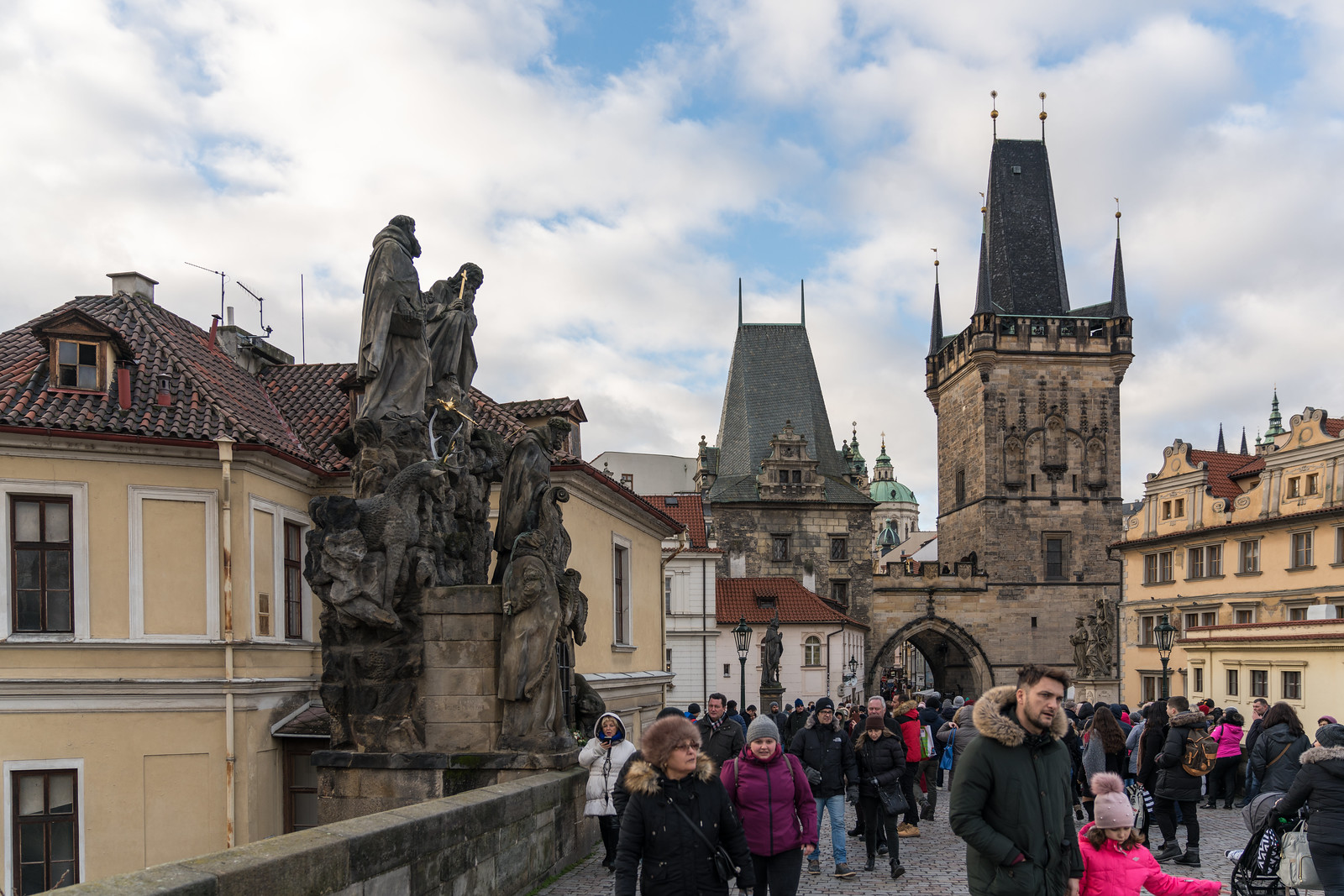 An attention getter
After another 5 minute or so walk through Mala Strana, we were at the entrance of the MO. A quick inquiry with the staff and we were directed towards the restaurant in question, Spices
Cauliflower with beetroot amuse bouche
Potato soup, unfortunately on the salty side
Chicken tikka masala
Shrimp fried rice
Sadly, other than the tikka masala, the meal disappointed. With activities planned for this side of town on Christmas day, we decided not to wander anymore and head back towards Old Town
Sun setting very early
The powder gate, where gunpowder was stored in the 17th century
Heading back towards the hotel
Back in Old Town Square with gigantic Christmas tree all lit up
Mrs. ChongL wanted some crepes, and as usual, got way more than we needed
Then it was back to the hotel for some rest. However, hunger struck, and we opted for room service. Not good, not bad, but it did the job
Next up: Christmas and the day after: trying to get to Prague Castle, a great meal at Cafe Savoy, and meat overload at Nase Maso
---
Last edited by chongl; Jan 5, 19 at

1:47 pm
Jan 5, 19, 12:48 pm
Moderator, Trip Reports
Join Date: Nov 2009
Location: 6km East of EPAYE
Programs: UA Silver, AS & AA GM, Marriott Platinum, Hilton Gold
Posts: 9,291
Awesome trip report, thank you for sharing
Looking forward to the rest
Jan 8, 19, 9:11 pm
Join Date: Feb 2014
Location: Arcadia, CA
Programs: Marriott Lifetime Titanium
Posts: 783
Jan 9, 19, 10:51 am
Join Date: Feb 2014
Location: Arcadia, CA
Programs: Marriott Lifetime Titanium
Posts: 783
On Christmas day, we once again head across the river, this time with the intent of seeing Prague Castle. After checking with the concierge for opening hours, we were ready to go
We took a path with a steep incline that provided some killer views of the city. Pushing the stroller turned out to be a mini-workout on its own
Then it turned out we had to loop back around and down a smaller hill. Some colorful graffiti to entertain us on the path
Once at the bottom, we had to cross a street and up a short ways to get to the castle. Annoyingly enough, there was about 20-30 feet of smooth, inclined path before a set of steps. This pattern reoccurred 10+ times on the way up to the castle. Getting fed up of having to lift the front end of the stroller for a few steps every 30 seconds, I resorted to carrying the entire stroller with baby strapped in. I'm sure I made for good entertainment as people started cheering me on. I didn't even notice the encouragement came from a long snaking line....until I got to the top
Turns out those cheerleaders were waiting for the security check to get INTO the castle grounds. Running entirely out of patience at this point, we said forget it and found a route that was more stroller friendly, but not before snapping a few pictures
It was about lunch time, and although we had a mid-afternoon reservation at Cafe Savoy, we found ourselves headed towards Lokal for a quick bite to eat
Interesting name
Another Pilsner at Lokal
More beef tartare
We also ordered a forgettable beetroot salad, but I didn't bother with a picture. After our meal, we continued on through a park
We did some people watching, and chased some pigeons for our son's delight to burn some time. Just a short walk from the park was Cafe Savoy. I had read that the head butcher of Nase Maso claimed this establishment had the best schnitzel in town, so I had to see for myself
Just across the street was an old building that didn't appear well kept, but definitely had character
Inside the restaurant
The beverage menu, and only the beverage menu so I could remember to point out the hot chocolate Savoy, which was out of this world delicious
Dark, thick, and rich beyond my imagination
Beef tartare
#4
was much better than the one at Lokal (Lokal's version tasted like a Big Mac)
And a perfectly fried and juicy chicken schnitzel
For dessert, I opted for a traditional Czech pastry, vetrnik, which has vanilla cream, caramel-flavored whipped cream, and a caramel glaze. As my mind was blown eating it, I did a quick search and it turned out the taste of Prague tours had some self-proclaimed connoisseurs rate 14 different version in Prague, and the Cafe Savoy version came out on the top spot. Trust me, it is way more enticing than it looks
The sacher torte style cake was meh, at least compared to Vienna's offerings
By the time we were done, the sun was setting. It was the perfect time to grab some shots, but I didn't have my tripod with me
Some creative use of public surfaces and a lens cap to wedge everything in place did wonders. Slightly different angles of the bridge and Prague Castle below
Now that my hands were freezing, we again head to the Christmas markets to grab some food so we could avoid the room service call late at night. Some more sausage served us well
That closes out Christmas day and brings us to our last full day in Prague. Once we got up and dressed, first order of business was Nase Maso, a well known butcher shop that also serves up meat for consumption. It was about a 10 minute walk with some new sights
Menu
Standing area to eat outside since the shop is relatively small. For our morning meat overload, I went with beef tartare (duh), a selection of sausages, and the house meatloaf. The meatloaf sold is the victor of a friendly competition between the butchers at the shop, which surprisingly, the head butcher did not win
An alleyway
Where we once again find ourselves passing through Old Town Square
City Hall building was closed (we weren't able to ride the special rotating elevator inside)
Another market nearby
Some apple cider to warm up
It was then back to the hotel to start packing. My wife's cousin and husband were traveling with their family friends and we ended up meeting for dinner at an Italian restaurant. The pasta was freshly made, and I had my last beef tartare (#6) of the trip
The tiramisu was to die for!
And that concludes our chapter in Prague
Next up: a low cost carrier, and a a short stay in London
Jan 10, 19, 10:29 am
I remember Cafe Savoy from a visit a few years ago - nice place.
Jan 11, 19, 3:35 pm
Join Date: Feb 2014
Location: Arcadia, CA
Programs: Marriott Lifetime Titanium
Posts: 783
Jan 11, 19, 3:36 pm
Join Date: Feb 2014
Location: Arcadia, CA
Programs: Marriott Lifetime Titanium
Posts: 783
We booked a private car transfer, and to our surprise, a nice Mercedes C-class showed up. With little traffic at 5 in the morning, we were at the airport in 15 to 20 minutes
Arriving early in the morning at PRG
Checking in at the Ryan Air counter
Afterwards, we cleared immigration, with the security checkpoint nowhere in sight. Just to confirm what we were getting into, I walked to the gate to verify the screening area, and noted to give ourselves extra time. We then head over to the dining area which had decent meals for cheap. This was a tip we gleamed from the honest guide on Youtube, and he was right. The food is very reasonably priced and quite good
With boarding approaching, we went to the gate and cleared security to wait in a holding area. Once it was time to go, we were herded out onto 2 buses that drove us to the remote stand. With no jetbridge, I wasn't sure where to leave the gate check stroller, so I had to walk up the stairway to door 1L, only to be told to just leave it at the base of the stairs. I asked the gate agent prior to boarding the bus and they told me to leave it by the door. There's the low cost carrier service for you. So I have to fight down the stairs against the stream of people who are trying to get onto the plane and leave the stroller, trying to have faith that it would get loaded
Onboard, nothing special
Out the window
Upon landing at STN, we disembarked after I verified with the FA that the stroller would be brought out to the tarmac. After the entire plane had gone and nobody seeming to care, the pilot popped his head out and came down the stairs. We asked where our stroller was, and he was able to talk to one of the baggage handlers who said it would come out at baggage claim. After clearing immigration and standing around the carousel a bit, our bags finally came, but no sign of stroller. I just hoped it wasn't still sitting in Prague somewhere, waiting to get sucked up by an engine. We noticed a family had grabbed their baby car seat, and after a quick chat, they directed me to a special conveyor for baby items...there sat our stroller!
We took the National Express bus into London and got off at Waterloo, just a few minutes walk from our hotel. After checking-in, we found our room wasn't ready so it was off for some fish and chips
Next to Waterloo station
A stop along the way
A reminder that we once again missed seeing the Globe Theater
Arriving at Seashell of Lisson Grove
Where I had some of the most bland and tasteless fish and chips in my life
After such a monumental failure, we head towards Golden Union, which is our trusty spot, and favorite to date
Starting with a vanilla milkshake
Redemption!
We hopped back on the Tube to get back to the hotel
Exiting at Westminster, scaffolding surrounded the iconic Big Ben
At the hotel, our room was ready, where we were upgraded to a balcony suite, thanks to my suite night award clearing. Such a shame the view was tainted with Big Ben's restoration, but it was still a lovely stay
Looking back towards the entrance
Living area
Bed
Bathroom
Direct view of the London Eye and it's riders
For dinner, we decided to head out to Dishoom, but after seeing the line at 2 different locations and a 90 minute wait, we decided to just grab something on the go...Leon
Moroccan meatballs were pretty tasty and better than I expected
A few shots from our balcony ended the night
Next up, our 5 year anniversary, some Balik salmon, and afternoon tea at The Wolseley
Jan 11, 19, 5:54 pm
Join Date: Feb 2014
Location: Arcadia, CA
Programs: Marriott Lifetime Titanium
Posts: 783
The following morning, we skipped the lounge breakfast again and just slept in a little bit. I did, however, impose a wake up time since I was determined to try Dishoom...it was our 5th anniversary after all. Undeterred by my failure, we decided to make the 20 minute or so walk to the Covent Garden location. But first, we had to brave the large tourist crowds who were swarming to get on the London Eye
Leaving the crowd behind
Across the Thames
Some street art
I love the random historical plaques located around London that give you an insight on an area's past
Familiar territory
We were done when I snapped this picture, but we only had to wait about 30 to 40 minutes. This was by far my favorite meal of the entire trip. I still have cravings today from the food we were lucky enough to experience
Murgh Malai. described as chicken thigh meat steeped overnight in garlic, ginger, coriander stems and a little cream
Gunpowder potatoes, potatoes with brown skins, smoky-grilled, broken apart, tossed with butter, crushed aromatic seeds and green herbs. By far my favorite of them all
Black daal, one of their signature dishes cooked with lentils over 24 hours. I don't even like lentils, but the execution of this dish was perfection
Grilled broccoli, snow peas and spinach tumbled with chili and lime
Heading towards Leicester Square
Where we spotted another Christmas market still open
Words of wisdom
Some arts and crafts
I thought we left Prague?
Heading towards Picadilly Circus
We had an afternoon tea reservation, but first, some Balik salmon
4 pieces
As we went to grab the check, my wife asked to get a pretzel or two for our son. The man behind the counter poured us a small bowl, then saw that we had asked for the check, and notified us he would have to re-ring it. This rubbed me the wrong way for many reasons. I have no problems paying if we were told upfront there would be a charge. I figure this is like bread in many restaurants where it's complimentary. But to my amazement, a few pretzels rung up as "side nibbles" at the cost of 3.50 GBP. I don't think I'll be coming back again
I got it off my mind pretty quickly as we set next door to The Wolseley for afternoon tea
Started off with some oysters
Nothing like some English breakfast
Coupled with a lovely selection of scones, cakes, and sandwiches
It was already dark out by the time we finished, so back to the hotel we went
And making some more use of the balcony
Hunger struck again, and we ordered room service again. These fish and chips were still better than the Seashell at Lisson Grove
And that does it for London! Next post will finish things off: British Airways first class, the world's best business class
Jan 15, 19, 11:16 am
Join Date: Mar 2007
Location: PVG, China
Programs: Platinum Ambassador, SPG Gold, Krisflyer, Accor A-Card Platinum, Hilton Honours Gold, QF Bronze
Posts: 2,349
Great TR so far. Thanks for posting.
Jan 15, 19, 12:01 pm
Join Date: Apr 2016
Location: PBI
Programs: AS MVP 75K, DL PM
Posts: 211
Another good one Chongl thanks for posting!
Jan 15, 19, 2:14 pm
Join Date: Jul 2013
Location: JNB
Programs: Flying Blue, Miles and Smiles, Hhonors, ICHotels
Posts: 1,072
This is just such a picture postcard photo. Absolutely amazing - and your ones from London are equally impressive.
Jan 16, 19, 2:56 pm
Join Date: Feb 2014
Location: Arcadia, CA
Programs: Marriott Lifetime Titanium
Posts: 783
camsea
tennislover9
Thank you
roadwarrier
. My hands were freezing and I wasn't even sure how it would turn out without my tripod. Funny that you mention a postcard...I remember walking by a shop with some and told my wife "my picture looks better than what they are selling"
Hope to have the leg home by the weekend
Jan 16, 19, 5:11 pm
Join Date: Jun 2008
Posts: 674
Thanks for taking the time to post this report. I applaud you and the Mrs. for traveling with a little one. I know so many people that have little ones that won't even consider traveling just a couple of hours from home. Hopefully the little one will catch your travel bug in good time!
Jan 17, 19, 8:13 pm
Join Date: Dec 2012
Posts: 1,424
Jan 18, 19, 3:37 pm
Join Date: Feb 2014
Location: Arcadia, CA
Programs: Marriott Lifetime Titanium
Posts: 783
Originally Posted by
lamphs
Thanks for taking the time to post this report. I applaud you and the Mrs. for traveling with a little one. I know so many people that have little ones that won't even consider traveling just a couple of hours from home. Hopefully the little one will catch your travel bug in good time!
lamphs
, I sure hope he does catch the travel bug and experiences what the world has to offer
SQTraveller
, you're probably right, but I'm just repeating what I've read many times