The honeymoon TP run trip report
Dec 18, 18, 5:20 am
Join Date: Jun 2017
Location: Newcastle, UK
Programs: BAEC Silver
Posts: 38
The honeymoon TP run trip report
---
Well, it's nearly a year and a half since I last wrote a trip report and since then I've been enjoying the benefits gained by attaining silver BAEC status. An all-pervasive sense of smugness at airports being chief among these. In July this year I got married and this meant that while my soon-to-be wife was organising the wedding, I was preoccupied with the equally important task of organising the honeymoon. It was decided that a trip to SE Asia was on the cards, especially since we would appear to be just about the only millenials who hadn't yet been to Thailand and, as luck would have it, a rather nice ex-EU (ex-AMS more specifically) fare to BKK cropped up. In spite of my somewhat cunning use of our honeymoon to maintain status, my fiancee still agreed to marry me.
Fast-forward a year and my wife and I are sitting in Newcastle airport waiting to catch our positioning flight to AMS with KLM (in economy - the horror!) and will soon be embarking on a not-entirely-conventional route from NCL to BKK - via AMS, LHR and KUL with a spot of HKG on the way back.
We're planning to update this thread more or less as we go so feel free to join us (virtually only, please)!
The route
Tuesday the 18th
Flight 1: KL960 NCL-AMS
Aircraft: PH-EXA (Embraer ERJ-190STD)
Seats: 11F/11D
Wednesday the 19th
Flight 2: BA439 AMS-LHR
Aircraft: G-EUYI (Airbus A320)
Seats: 3F/3D
Flight 3: BA33 LHR-KUL
Aircraft: G-ZBKG (Boeing 787-9)
Seats: 7A/7B
Thursday the 20th
Flight 4: MH780 KUL-BKK
Aircraft: 9M-MLG (Boeing 737-8H6)
Seats: 2A/2C
Sunday the 23rd
Flight 5: FD3223 (AirAsia) DMK-KBV
Aircraft: HS-ABN (Airbus A320-216)
Seats: 22A/22B (economy!)
Friday the 28th
Flight 6: FD3211 (AirAsia) KBV-DMK
Aircraft: HS-ABO (Airbus A320-216)
Seats: 21F/21E (economy!)
Flight 7: FD644 (AirAsia) DMK-HAN
Aircraft: ?? (Airbus A320-216)
Seats: 22A/22B (economy!)
Wednesday the 2nd
Flight 8: FD871 (AirAsia) HAN-CNX
Aircraft: ?? (Airbus A320-216)
Monday the 7th
Flight 9: CX712 BKK-HKG
Aircraft: B-LAR (Airbus A330-300)
Seats: 19A/20A
Monday the 7th
Flight 10: BA32 HKG-LHR
Aircraft: ?? (Boeing 777-300ER)
Seats: 16A&B / 16E&F
---
Last edited by lancasteruk; Mar 28, 19 at

2:42 am
Dec 19, 18, 10:56 am
Join Date: Jun 2017
Location: Newcastle, UK
Programs: BAEC Silver
Posts: 38
Leg 1: Newcastle to Amsterdam
It began with packing, considerable packing. Somehow, as evidenced by the photo below, we managed to pack enough stuff for 3 weeks into two, admittedly fairly substantial, rucksacks. Or at least we think it's enough stuff; time will tell!
We ubered to the airport, enjoying a typically miserable December morning in Newcastle knowing that the weather would be improving considerably for us soon. That said, I am a little concerned about the temperatures and humidity to be expected in Bangkok as, being Scottish, my melting point is somewhere around the 30-degree mark. Newcastle's always such an easy airport to fly out of and today was no exception. We checked in our rucksacks at the KLM desk, hoping very much to see them again at the other end in Amsterdam. Quite what we would have done had they not arrived with us, I'm not sure!
Flight 1:
KL960 NCL-AMS
Aircraft:
PH-EXA (Embraer ERJ-190STD)
Seats:
11F/11D (not business, but at least we had extra legroom)
Avios/tier points:
N/A, although we did pick up about 8 fairly useless flying blue points.
The luxury started at the airport with some sandwiches from Boots for me and something ever-so-slightly more healthy for her. The flight was pretty good all-in-all. I won't go into too much detail as it was a bog-standard economy hop over the sea to the continent we're currently busy (and moronically) trying to extricate ourselves from. Sorry - I promise not to bring politics into this. Anyway, the random-seat-allocation Gods were smiling on us as we were allocated emergency exit seats and, as we were on a little Embraer with 2-abreast seating, we didn't have to share our little group of seats with anyone else. KLM are going against the grain in Europe economy shorthaul by still providing a little snack box and a small selection of drinks. As part of the ticket price. Did you read that, Mr Cruz? This was very much appreciated as was the fact that we landed in AMS pretty much on time and that our bags also arrived with us, and first off the belt none the less!
Dec 19, 18, 8:33 pm
Join Date: Jan 2012
Location: NYC,SFO
Programs: AY+ Plat, AA Plat, SPG/Marriott Plat Premier, Hyatt Explorist
Posts: 2,747
Congrats on getting married!
This millennial wasn't too impressed with Bangkok, but it might just be me.
Looking forward to seeing what you think.
And don't worry, at least you don't have a president who's "proud" to shut down the government over a wall (for which Mexico is supposedly paying).
Dec 20, 18, 11:45 pm
Join Date: Aug 2005
Location: BKK
Programs: SK EBG for Life (*G), BA Gold, HH DIA, IC Platinum Ambassador, Hertz President's Circle, Sixt Plat
Posts: 635
Congratulations on getting married, mr. and mrs.
lancasteruk
!
I hope you will enjoy my adopted hometown of Bangkok - feel free to PM me if you need any recommendations for things to do and places to go
Dec 21, 18, 8:30 pm
Join Date: Jun 2017
Location: Newcastle, UK
Programs: BAEC Silver
Posts: 38
Thankfully on arriving in Amsterdam we discovered that our luggage had indeed arrived with us and we were soon on our way into Amsterdam city centre. Or we would have been had I not hastily assumed that that the Dutch, like the Germans, spell central with a 'z' and led us on a train to "Amsterdam Z.", which turned out to be Amsterdam Zuid (South). Oops. We eventually managed to get on the right train and took the tram from Centraal (look, no z!) to our hotel, where it turned out that there was a slight problem - they didn't have any double rooms left and had put us in a twin room. My wife put on a sad face and meekly replied that we were on our honeymoon. Five minutes later with a double room secured we dropped our stuff and headed out into the city to get some food.
After some decent Italian food and a little walk around the canals we headed back for a good night's sleep before the big travel day to come. I don't think either of us slept all that brilliantly due, mostly, to excitement but with a good breakfast and probably too much coffee we were on our way to explore Amsterdam a bit before heading off to the airport. We'd both been before but not in Wintertime, which I think suits the city rather well.
We managed to get to an unusually quiet Schiphol with a couple of hours to spare and, after getting royally (well it is a monarchy) ripped off for some dollars to pay for Ana's visa on arrival to Vietnam, we headed to BA's AMS lounge. This was, truth be told, a little disappointing food-wise but, as it as a BA lounge, had a perhaps over-abundance of fermented grains and fruits but I decided to leave my liver in peace until the longhaul flight later. The lounge does also feature some excellent apron views, so I whiled away a good hours watching the planes while Ana read and contemplated her first business class flight, even if it was only to London.
Dec 22, 18, 5:36 pm
Join Date: Jun 2017
Location: Newcastle, UK
Programs: BAEC Silver
Posts: 38
Flight 2:
BA439 AMS-LHR
Aircraft:
G-EUYI (Airbus A320)
Seats:
3F/3D
Avios/tier points:
1500 (incl. Silver BAEC bonus) / 40
Boarding was a little bit on the chaotic side, not helped in the slightest by a DYKWIA, who clearly thought it impossible that my wife and I were group 1 as he stormed past us in the queue, neatly squashing my left foot with this trolley in the process. That said, it must've been fairly orderly as boarding was complete by 16:10 and Ana got to experience her first taste of the Club Europe experience - the slightly moist, luke-warm towelette - the faint ridiculousness of which was certainly not lost on her! The captain informed us that things were going well in that way of BA pilots: "Those tyrants at ATC have agreed to let us go, which is very much a victory in the first battle of any flight, so we should be on our way soon....ish." We were indeed - airborne by 16:22 and winging our way back across to merry old England.
Afternoon tea was served promptly and was either sandwiches or a ploughman's with an overly-sweet lemon-iced cake and warm scones with proper clotted cream and jam. Steeling myself for the longer flight to come and the boozy delight it promised, I just had some water to wash it all down with. By the time tea was finished we were passing over the south-eastern shores of the UK and preparing for the usual LHR landing scrum to take place. We were clearly in God's favour today as there was only the single spin around the holding pattern to the north-east of London before we were descending our way down the south bank of the Thames. We landed at LHR at 16:27 and were on stand at terminal 5C by 16:35.
---
Last edited by lancasteruk; Dec 22, 18 at

5:45 pm
Dec 22, 18, 7:06 pm
Join Date: Jun 2017
Location: Newcastle, UK
Programs: BAEC Silver
Posts: 38
Having arrived at the C gates of terminal 5, and due to connect to an international flight, we only had a short stroll to the security check to enter B gates. This is clearly the time to transit terminal 5 as the security check was remarkably quiet and (dare I say?) even pleasant! We proceeded to the 5B BA lounge to enquire about a little complimentary treatment for Ana at the Elemis travel spa before the next flight. The lady posted at the spa (who was presumably there only to police access to the showers) was kind but not especially helpful, informing us that we needed to wait until the therapist had finished with her current client in around 10 minutes and that she was unable to check the bookings schedule. Odd.
We set up camp near the windows, where I identified the rather stunning 787-9 that would be taking us to KUL. In the end Ana managed to get her spa massage, which she said was very good indeed. I know next to nothing about such things, so will take her word for it!
Flight 3:
BA33 LHR-KUL
Aircraft:
G-ZBKG (Boeing 787-9)
Seats:
7A/7B
Avios/tier points:
13,096 (incl. Silver BAEC bonus) / 160
Boarding was again a little chaotic with lots of people with the wrong boarding group being turned back. We eventually boarded at 18:20 and, having explained to Ana in detail (she really is very patient) about the significance of "turning left," we were initially misdirected right by the cabin crew member at the door! Once we'd found our correct seats we put all the White Company bedding in the storage lockers for later and were immediately offered some champagne. Well, it would be rude not to, wouldn't it? 2 minutes later the same CC member, Tim, who was great the whole flight, returned to give us bottles of water and amenity kits. The menus and breakfast choice cards arrived soon afterwards.
A slight delay was caused by "two passengers who, it seems, will not be joining us on this particular occasion" and whose baggage had to be located in the hold and removed. In a way, I'm always amazed that this takes as little time as it does - very much a needle in a haystack, I would have thought. We finally pushed back somewhat late at 19:32 and, having joined the usual Heathrow airplane queue, took off at 20:02.
The obligatory hot towels were handed out at 20:25 and the first drinks service commenced at 20:42. I had the chardonnay, which was poured for my at my seat and I was asked if I wanted to try before the full pour. This was served with a ramekin of mixed nuts. I have to say BA's new glassware and crockery really are very classy and substantial in their heft. Not sure if this is the new service standard or not but absolutely everything seemed to be delivered individually by hand from the gallery, which, while it cannot surely be wildly efficient, certainly gives the impression of personal service.
Starters were served over Regensburg, Germany at 21:10 - both of us had the smoked salmon and I somehow also managed to sneak in a little artichoke heart soup. Ana : "ooh, I've never had artichoke soup before, can I try some..?" 10 seconds later "I suppose as artichoke soups go, it's not bad." I quite enjoyed it and the salmon was beautifully presented and very tasty.
The main course - cod in our case, pre-ordered on ba.com - was excellent and paired well with a little redejo. Dinner was rounded off with a tiny but very tasty lemon and raspberry slice for me and some fresh blueberries and raspberries for my more health-conscious wife. In my opinion if you don't put on at least some weight when flying business class then you've missed a trick!
Teeth were brushed, we changed into some sleepwear and made our beds using the super-plush new White Company-branded mattress cover, duvet and pillow. I had a little cognac as a nightcap and we both drifted off as our 787 passed into northern Turkey. We managed around 5 or 6 hours of sleep and woke up as we began our crossing of the bay of Bengal without 3 hours of flight time remaining.
Breakfast was served at 6:20. The fruits were very fresh and the apple, cinnamon and walnut compote with yogurt was excellent, as was the surprisingly crispy and warm croissant. This was followed by the main course of thick and fluffy blueberry pancakes and more coffee. We had obviously managed to make up some of the time lost at Heathrow as we landed at Kuala Lumpur at 16:01 local time - just 16 minutes late. Overall an excellent flight and great first impression of long-haul business class flying for Ana - thanks BA!
Dec 22, 18, 9:27 pm
Join Date: Jan 2010
Posts: 7,208
Dec 25, 18, 2:05 am
Join Date: Jun 2017
Location: Newcastle, UK
Programs: BAEC Silver
Posts: 38
Before we could leave the aircraft and explore Kuala Lumpur airport, the captain made a somewhat unexpected and notably irritated-sounding announcement that "despite parking the plane in the right spot, ground control tell me I'll have to move us a few feet yet, so please sit down while I budge the plane forwards a little." This obviously took some time but we managed to deplane by 16:24 local time.
Before visiting the Malaysia lounge we just had to have a quick look around the airport's "jungle walk" which is situated right in the middle of the terminal and allows you to go outside to walk around a tiny tropical paradise. This was our first real experience of the kind of climatic conditions we were going to experience during our trip and, after coming from a wintry Europe, was a bit of a shock to the system - 30-odd degrees and very humid. We then proceed to the Malaysia Golden Lounge, where we received a very warm welcome. The lounge was very spacious indeed, in fact almost too spacious, had some very interesting interior decorations and we helped ourselves to a few snacks and had some very nice flat whites made for us. The lounge also featured a restaurant-style area where you could order freshly-made food from a small menu, however, as our flight to BKK departed from another terminal, we didn't have much time.
To get to the domestic and short-haul international terminal we had to take an "aerotrain" and, as seems to be quite typical in Asia, there was a security check at the gates, after which everyone was corralled into a small waiting area before actually boarding.
Flight 4:
MH780
Aircraft:
9M-MLG (Boeing 737-8H6)
Seats:
2A/2C
Avios/tier points:
935 (incl. Silver BAEC bonus) / 40
Priority boarding was called but was impossible to enforce as everyone just rushed to the gate and it became something of a scrum with young children and smaller elderly people flying out of the melee (pk, that was perhaps a light exaggeration, but you get the idea)! We eventually made our way onboard a slightly elderly member of Malaysia's 737 fleet to a very warm welcome from the cabin crew and the sight of the purser struggling to load garlic bread into the heater - a common feature of flights on Asian carriers, I'm lead to believe.
Although the aircraft itself was quite old, the seats were very spacious and comfortable - certainly more than ample for the 2-hour journey and a massive step up from what our friendly European carriers offer on their inter-Europe flights. Note for those who are excited about such things: there were individual air vents!
We were offered a welcome juice drink (we chose guava) and then some nicely-chilled towels before pushing back. We took off at 18:30 with the sun beginning to set out to sea in the west and us heading north towards Thailand. The food cart made its appearance at 18:42 and we were served some very nice meals - Ana, not ready to quite leave Europe behind just yet, had the pesto chicken and I had a fish curry. Both were served with a salad, some cheesecake and a choice from the breadbasket. Do you need to ask? Of course I went for some garlic bread!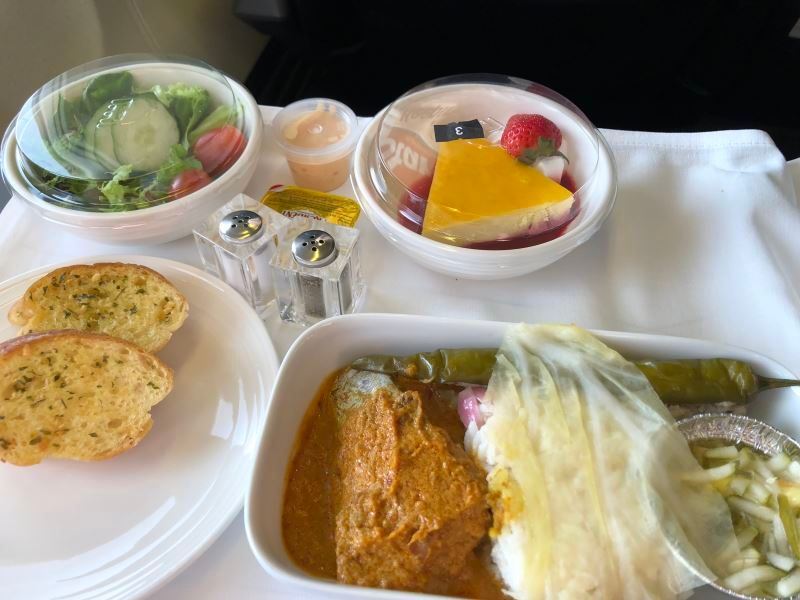 The sun had set by the time we were homing in on Bangkok airport and we landed with a bit of a thud at 19:15 local time and had made it to the stand by 19:28 ready to begin the next phase of our adventure!