Iceland, Spain & Morocco via IcelandAir Business Class & British Airways First Class
Jan 5, 19, 2:51 pm
Join Date: Oct 2010
Location: YVR - Vancouver, with most winter weekends in Whistler.
Programs: Aeroplan, Alaska MVP, Marriott Platinum / Lifetime Gold
Posts: 4,098
AC Carlton Hotel by Marriott,
Madrid, Spain
Junior Suite
We arrived to Madrid Peuta Atocha at about 7 PM. We walked the one block from the train station down to the AC Hotel Madrid Carelton. We only had one night in Madrid and we were planning on leaving town early the next day.
We had last stayed at the AC Carleton Madrid on our first around the world trip in 2012. Given that it was walking distance from the train station, and we knew the way, it was the right choice for our brief stay. Our stay was a reasonable 118 € for the night.
I had checked in online via the Marriott App from the Renfe train and received a push notification that we had been proactively upgraded to a suite as an Starwood Preferred Guest Platinum at about 2 hours prior to arrival.
The lobby is small and compact. There isn't much charm to it but it's completely functional. There was also a small dining area in the lobby that was pretty institutional. As in my last trip, there always seem to be senior citizens staying here on tours. The lobby was packed with chatting senior groups when we arrived.
We checked in at the front desk where copies of the passport were taken. Surprisingly, the computer remembered our last stay here six years ago. Instead of the 10 euro for food and beverage within the hotel platinum amenity, I just opted for the bonus 500 Marriott Rewards welcome points. We were assigned room #712, a Junior Suite. The rooms here aren't exactly large and spacious but it was more than enough for our brief stay.
There was a jacuzzi tub in the bathroom for those that are into that sort of thing. I think it's a bit 1990's.
There was also a complimentary mini bar that contained coca colas, sparking and still water.
In summary, the AC Carelton was a reasonable, clean but slightly dated place to stay near the train station. While it wouldn't be a first choice for us in Madrid, it was a welcome choice for a quick overnight near the train station. It was also conveniently located for sightseeing around Madrid. As a result, it was the right choice for us on this brief stopover.
Madrid, Spain
Stopover.
We dropped our stuff at the hotel and headed on a walk out for dinner. The AC Carelton is located within 10 minutes walk of the Plaza Santa Ana; an area that contains a lot of great outdoor restaurants. It was a beautiful evening as we strolled up the hill towards the Plaza.
We found ourselves a comfortable table immediately opposite the Theatro Espanol in the Plaza Santa Ana for our last night out in Spain. MrsWT73 was getting a bit cynical about the trip reporting by this point.
We had a nice evening out and a slow walk back to the hotel. There was no rowdy train tonight since we had an early departure the next day.
A pleasant evening all around thanks to the warm temperatures concluded with a pleasant walk downhill back to the room. The next day, new adventures awaited!
Jan 5, 19, 4:41 pm
Join Date: Jul 2003
Location: EARTH
Posts: 271
Went to RAK's Oasis Festival last Sep, and twice to Madrid and Iceland - yet, your report wants me to go there again in a jiffy. Thank you, looking forward to the next stops.
Jan 6, 19, 2:32 am
Join Date: Jul 2013
Location: JNB
Programs: Flying Blue, Miles and Smiles, Hhonors, ICHotels
Posts: 1,020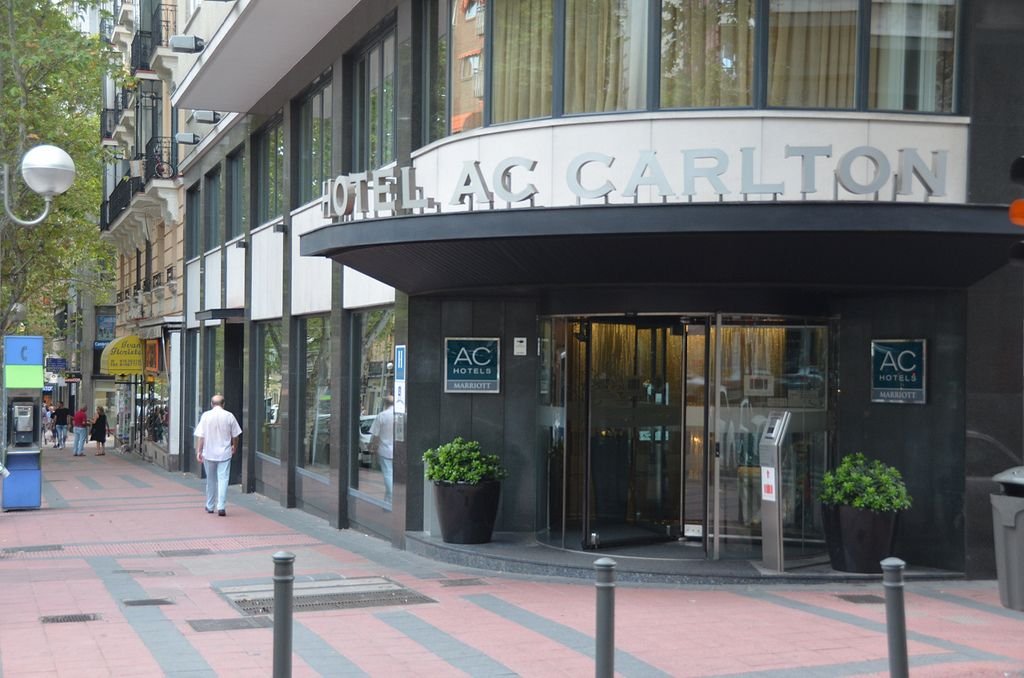 This brought back a memory or two - several years ago, I needed to spend about three nights here - standard room was tiny to say the least. My large Samsonite seemed to take up most of the floor space in the room.
Jan 6, 19, 4:54 am
Join Date: Apr 2014
Location: Aberdeen, Scotland
Programs: BA Bronze, Emirates Silver, Virgin Silver, Marriott Titanium
Posts: 783
Great pics of your Seville trip. That Cathedral is so beautiful. Did you take a horse drawn carriage trip?
Jan 8, 19, 10:15 pm
Join Date: Oct 2010
Location: YVR - Vancouver, with most winter weekends in Whistler.
Programs: Aeroplan, Alaska MVP, Marriott Platinum / Lifetime Gold
Posts: 4,098
Iberia Velazquez Business Class Lounge
Madrid Barajas Terminal 4S
Madrid, Spain
Despite the sound logic of staying the night almost immediately next to a train station and a direct rail link from Madrid Puerta Atocha to Madrid Barjas Terminal 4, it seemed an obvious choice to take the train to the airport (2.80€ each) instead of a taxi (30€ total). It was probably the worst decision of the day and ultimately the trip. The journey ended up being filled with lots of complications and interruptions.
Even with an area scout reconnaissance the day before, despite being a Monday morning, we arrived to the Madrid Atocha Cerenacis station to discover that the airport trains weren't running with any posted frequency. The airport trains were not showing on the departure boards as they did yesterday on Sunday. Despite the marked platform, the train displays did not post any airport trips and the ground staff weren't all that helpful either; "the frequencies will be posted"… Not really convincing!!
We ended up hopping a C10 train to Cerencais; the northern Madrid train station hub. From there, were dumped off on Track 10. We waited for about 20 minutes with some uncertainty along with about 10 others that were looking for an airport train. We had received conflicting information from train staff on where to wait; stay on track ten or head up to the main lobby where all the other departures would be leaving from after tracks were assigned. When the time came to post the assigned train track, there was only 3 minutes warning. This resulted in a mad stampede of 20 of my new best friends over to track 14 via two sets of escalators through throngs of slow moving senior citizens. By the time we arrived to the correct platform, the train was already in the station with groups of crowds around it. It was an all-out sprint for the door where we crowded with standing room only on a split level commuter train. We seriously almost missed it and ended up being all sweaty for no solid reason. If you're going to take the train, make sure you leave yourself 75 to 90 minutes extra. This is in contrast to our taxi ride in that took us only 30 minutes.
We eventually arrived to Madrid Barjas Terminal 4. It was my first time through one of the great One World alliance airports. Although visiting on a Monday, it seemed to be teeming with passengers. The first options off getting off the Renfe Cerenas train was a bank of 3 elevators or 3 series of travellators up several floors to the departure level. Either way the number of passengers exceeded the available demand of the elevators and queues and crowding were everywhere. For some reason today, traveling felt like lots of effort. It may have been because the decision to take the train took us about 1 hr and 15 minutes to get from door to door.
We located the Iberia Business Class check in desks, again receiving conflicting information about where they were (row 780, versus our usual flight check in assignment of 850-899). Once we arrived, there was an army of staff available to assist. Our bags were tagged with priority tags and we headed off for the fast track security screening.
For whatever reason, it seemed that there were a ton of gate crashers at the airport. Whether it was a lack of sign posting, genuine attempts at gaming the system or just being in Spain, it seemed there were many passengers attempting to get access to areas that they weren't supposed to be. The first instance of this was the argument holding up the fast track line because someone didn't have the right credit card. I chalk this up to Spanish dis-organization because the mild chaos appeared to be everywhere today.
We eventually cleared security and made it to the secure side. We took the tram to Terminal 4S where the sign advertised that it was just "23 minutes" away. Most of the international "non Shengen" flights depart from another terminal on the secure side called Terminal 4S. We headed down to another set of escalators down 3 flights of stairs to a stuffed train. We pushed our way to the front, otherwise we would have likely been left behind as we had picked a short lane and were almost the last ones on the train.
On arriving to the Terminal 4S, we wandered through the duty free to find the Iberia Business Lounge Velazquez. There was a bit of a line to get admitted; at least 7 people deep. We encountered the next argument here by my grandmother who was arguing with the lounge dragon about her inability to access the lounge. It's not normally a big deal, but it tied up an agent for some time making all us others wait twice as long to get in.
Yeah - this is a pleasant and relaxing way to arrive to a lounge. LOL.
Once we finally got inside, the Iberia Lounge is an impressive space. It's rectangular in formation and has the benefit of having full length windows at each end. At the time of our visit, there were a lot of long haul flights departing for the Americas. As a result, there weren't many places to sit. Like most of our Madrid Barajas experience, the place was crowded and packed.
One of the nicer features of the lounge is the wine bar. Per the website, it was supposed to offer 22 types of Spanish wine. However when we visited, there was only about 5 whites and 6 reds on self pour, along with 5 different beers available. It's tucked away in the back corner and you'd probably miss it if you didn't know it was there. Still, it's a nice feature to have for a lounge and one that I haven't seen since the Qantas Lounges in Australia, let alone some American Express Centurion Lounges throughout the Americas.
Unfortunately, the food in the lounge was pretty basic. It seems like Iberia is trying to save on costs since I've never seen so little food for such a large place. Making this a little more worse, was that the food that was out didn't look all too exciting or appealing. It seemed to be more reminiscent of a hospital cafeteria than an upscale business lounge. I was able to snack on a small plain omelette, some bacon, a large piece of white toast and some salmon with lemon. They were odd combinations never the less but it was the items that were available.
There were also a selection of newspapers available in all languages. I was able to get a copy of the New York Times. At least the lounge had great airside views thanks to its large windows.
At about T-35, we headed for the gate. Our in lounge seating area was taken immediately after we stood up as the crush of people didn't dissipate over the time that we spent in the lounge. We were a little more relaxed but not completely.
In summary, it was a rough departure day made more challenging by odd trains, check in and over capacity airport flow experiences. The lounges were quite crowded and it was just one of those days where it wasn't an easy travel day. The One World Lounges seem to be quite a bit larger, especially those in the flagship hub areas. The Madrid Iberia Lounge itself was interesting to see, although it was just average to spend time in.
Jan 8, 19, 10:24 pm
Join Date: Oct 2010
Location: YVR - Vancouver, with most winter weekends in Whistler.
Programs: Aeroplan, Alaska MVP, Marriott Platinum / Lifetime Gold
Posts: 4,098
Iberia
IB - 3440 – Business Class (U)
MAD – RAK (Madrid Barajas - Marrakesh)
Sept 10, 2018
11:30 AM – 12:30 PM
Booked: Airbus 320
Flown: Airbus 320
Getting to Africa is always difficult on points and miles. This is because there is usually a substantial point premium for entering the African zone versus the European Zone, making flights to South Africa a much better deal than shorter flights to nearby Morocco. I figured that the best way to do it was to get ourselves as close as possible to the African continent and redeem a short haul flight through British Airways Executive Club Avios. I booked this one way Iberia flight in Business Class for 15,000 Avios and $39.98 CAD ($30.32 USD) per person. There was ample Iberia Business Class availability across most days for two persons when we booked at the 5 month mark before travel.
After leaving the lounge, we headed through the airport to locate Gate 23. The Madrid Airport is picturesque and interesting.
Unfortunately, on arrival to Gate 23, it was a full on scrum for the gate. There were three lines that had formed and strangely, no priority signage or other postings for them. We opted for the shorter line and boarding for all priority passengers was announced. On Iberia, this seems to mean every credit card holder, status member and business class all at once.
We were about the 30th person to board the aircraft. The Iberia Business Class configuration on this Airbus 320 is 2 – 2. By the time we got to row 2, all the business class bin space was gone. One of the flight attendants was being pro-active by doing bag valet service by firing the carry on bags backwards to bin space in rearward rows so my carry onTumi ended up two rows back in row 4.
I hopped into the surprisingly compact Iberia Business Class seat. There are essentially economy seats where they don't sell the middle seat. There isn't even a cup holder in the middle seat and there doesn't appear to be much more leg room distance offered for business class versus economy. These were definitely the tightest business class seats I'd ever flown. I ended sitting partially sideways like I usually do in economy. Next time on this route, I think I'd probably just do economy class and settle on Priority Pass with a credit card membership for the lounge.
There was no pre-departure beverage offered, so there is nothing to report about here.
We had a very quick departure from the gate to the runway. We were airport within about 10 minutes of pushback with no waits for other aircraft. There were a few views of Iberia aircraft, which I don't get all that much opportunity to see.
As we reached cruising altitude, immigration cards for Morocco were passed out. These were followed by distribution of printed menus.
The service of the cabin started from the rear to front. Continuing the theme of the day, the purser seemed exceptionally grumpy and I got the impression that the other staff crew members seemed to be intentionally staying away from her.
Today's lunch was presented on a tray all at once. Lunch consisted of Toledo style salad with pepper, raisins and pine nuts. The main was grilled chicken breast, apricot and olive rolled up served with a creamy sherry sauce and stir fried thin beans, followed by cheese from Zamoura (most excellent) and raspberry yoghurt.
The service was just enough time to finish the meal and enjoy a glass of wine. It was just an okay glass of Verdejo. There was no offer of seconds.
The best part of the flight was the flyover of the Strait of Gibraltar. I was surprised to see how narrow it was compared to other bodies of water that I had seen. You know the flight isn't all too exciting when the best part of the flight is staring out the window. There were no TV monitors or other movies playing.
We had a quick approach into Marrakech and over flew some sand dunes outside of town on our approach. We also passed by the rural areas on the way in. Even the views on the approach showed that we were living the civilized world of order into the world of disorder.
There are no gates at the Marrakech Airport so we pulled up on the apron and the doors were opened after the stairs were put up. The guidebooks said that taking photos of airports was "verboten" in Morocco but I snapped a few photos when people weren't looking. There also seemed to be a lot of tourists taking pictures of the plane while it was on the ramp itself. The Iberia flight was the only one on the apron at this time of day.
Our priority bags were the last to be put out on the claim belt. This wasn't a bit deal but it seemed to be another underscoring of the apathetic nature of our experiences on Iberia. We went and changed some money to have Moroccan Dirhams available to us.
Ultimately, I had great hopes for Iberia as a possible alternative to British Airways for trips around Europe. Unfortunately, it was a pretty bare bones experience traveling with them in business class. Although the food catering was reasonable, as was the Iberia Velazquez Lounge, the whole involvement was a crowded and pushy affair. The staff seemed to be pretty disinterested and disconnected from their jobs. The business class experience was exceptionally compact and not very comfortable. I can't say that I'd be in any rush to fly with them again.
Jan 8, 19, 10:28 pm
Join Date: Oct 2010
Location: YVR - Vancouver, with most winter weekends in Whistler.
Programs: Aeroplan, Alaska MVP, Marriott Platinum / Lifetime Gold
Posts: 4,098
Pearl Lounge – Arrivals Hall
Marrakech International Airport
We entered the building and walked towards immigration. There is a strange arrivals lounge available to Priority Pass members called the Pearl Lounge so I thought we could go check it out for interest's sake.
It's located immediately before immigration. We located the reception. The receptionist couldn't get the Priority Pass electronic card reader to work so she just waved us in. As soon as we walked in the door, the place was pretty much sewn up tight.
The lights were off, there wasn't any food to be had and the fridge wasn't even stocked with more than one bottle of water.
I pretty much used the washroom and took the last bottle of water. It was pretty funny. I believe the facility is primarily used with their VIP Arrival Service that offers a meet and greet.
Jan 8, 19, 10:33 pm
Join Date: Oct 2010
Location: YVR - Vancouver, with most winter weekends in Whistler.
Programs: Aeroplan, Alaska MVP, Marriott Platinum / Lifetime Gold
Posts: 4,098
Anayela, Marrakesh
A Member of Design Hotels
Suite
I ended up picking this place as we wanted to stay in an authentic riad while we were in Morocco. A Moroccan Riad is a traditional house with an interior pool or garden. I'd often seen on travel websites that a riad stay is an experience not to be missed so we were keen to give it a try, over some anonymous resort property. The Anayela is a 5 room property and includes return car transfers in the rate.
We met our driver immediately outside the arrivals area. We transferred our bags to the hotel car which was a Toyota Prado Land Cruiser. After the welcomes, we started off on a 20 minute drive to the Anayela.
The Anayela is located within the walled city of Marrakech. The walled city is about 19 km around. It's located on the north side of the square. As a result, we had to drive around the walled city for the 20 minutes in order to get there. The drive was civilized African, as we skirted transportation hubs, markets and bus stations on well paved roads amongst reasonably well mannered drivers. We happened to see a lot of colored abbeya's on our drive in. Our driver commented that Moroccans often had been influenced by Africa, Europe and the Middle East and the values and clothing were quite contemporary.
As we entered the walled city, the streets got quite narrow and single laned. We ended up parking the truck where, in a first for me, our bags were loaded on to a waiting donkey kart and transported the rest of the way for us. We ended up walking the last 400 meters in towards the hotel on foot.
We arrived to a completely unmarked and unsigned property. We were given an organic milk and some welcome dates in a small tagine while they processed the check in in a seated area around the pool. As with other Design Hotel Properties, there isn't any official elite recognition. We were also fitted up for some slippers that were worn throughout the property.
Our host, gave us a personal tour of the riad, including the roof top deck.
We were then shown to our suite on the second floor, which was very nicely appointed. The suite concept is a bit of a mirage here, it was more of a larger room instead of a room with a detached sitting area. There is no television in the room, which was actually a welcomed feature.
The sleeping area was on an elevated platform. Although it was compact, it was comfortable. The walls contained decorative Arabic scripture.
The couch area was small, but contained some snacks available to us.
The bathroom bathing area was large, although the sink area was disproportionately tiny.
There was a nice view of the riad courtyard from the terrace just outside our room.
Whereas the areas around the courtyard pool were comforting.
The doors to our suite were intricately decorated and refurbished.
Throughout our stay, the hotel provided breakfast. This a feature of being included with the rate and a city that had mostly European travelers that expect breakfast. It was not included as a result of our hotel tier status. Breakfast each day was by the courtyard pool, and contained some pretty tasty granola, croissants, dates, and other local delicacies.
Overall, we enjoyed the stay. One of the more unique experiences was returning to the riad at night. The Anayela was decorated in a beautiful lighting that lit the walls and the courtyard pool.
In general, it was a very nice and welcoming stay. It's always unique to stay at a property with only 5 rooms. If you're interested in getting in here, make sure you book well in advance.
Jan 8, 19, 10:41 pm
Join Date: Oct 2010
Location: YVR - Vancouver, with most winter weekends in Whistler.
Programs: Aeroplan, Alaska MVP, Marriott Platinum / Lifetime Gold
Posts: 4,098
Marrakech, Morocco
After we had refreshed, and MrsWT73 had taken a small nap thanks to the early wake up and late nights of Spanish entertainment, we headed out for a walk around the old area of Marrakech. The Anayela riad was kind enough to supply us with a map and a Moroccan cell phone with the riad's and driver's number pre-programmed into it. Although we never ended up using it, it was a comforting feature to have this available to us in case we needed it.
The streets of Marrakech are similar to Venice, Italy. They are a complete maze of alleys, twists and turns without any logical sense or purpose of direction. As you approached the tourist part of town, lots of kids seemed to take great joy in sending tourists (including us) off in the wrong direction via their uncle's shop or business, or "you can't go that direction, the mosque is down there…". The riad provided map was helpful, although it was a basic version at that. As we set off, we made it about 10 blocks before we got lost. The streets are not easily sign posted and its very easy to get turned around. Thanks to Google (offline) Maps, we were easily able to get to where we needed to be when we used it in conjunction with GPS.
We eventually found our porter on our walk, who apparently ran the local courier company with his collection of donkey mules.
We wandered through the various souqs towards the Djemma el Fnaa square. It was about a 30 minute walk. The area immediately around the riad was quite industrial and blue collar. However, we didn't have any safety problems; even when walking back after dark. MrsWT73 did wrap her shoulders and wore a very long skirt in consideration of the Islamic Culture. Despite this, the people were also quite tolerant as there were quite a view skimpy dresses by other European travelers which didn't seem to attract too much outward attention.
Eventually, the streets started getting a little more touristy and market oriented. We had arrived to the Djenmna el Fnaa square at about 4 PM, just as the heat of the day was passing. Temperatures were around the low to mid thirties celcius when we passed through on our visit.
The Djenmna el Fnaa square is the main square and market place in Marrakech. The square has been operating since approximately 1020 and had previously been the location of public executions. The square has a UNESCO Hertitage designation. During the day, there are many commercial juice and souvenir sellers, along with snake charmers. As the day progresses, the vendors change more to food vendors that set up every night for the evening.
We passed through the square. MrsWT73 didn't care much for the snake charmers and gave them a wide berth.
We ended up having dinner at Zeit Um Café; a touristy restaurant. I had a chicken tagine with lemon and olives for dinner, along with a Sprite. Most of the restaurants on the square appeared to be alcohol free; no beers or wine were offered for sale. What the place lacked for in food, it made up for in Djenmna el Fnaa square views. We ended up watching the square come to life for the evening activites.
We took in the sunset from here as the square sprung to life. It was pretty special to watch this place get set up for the evening during a tradition that's lasted for almost a thousand years.
After dinner, we took another walk around the square. The snake charmers seemed to head home for the evening as most of them were gone. Instead, there were several entertainers, and over 100 food stalls that had set up shop. They all had the same sales pitch as you wandered through, similar to the Zanzibar food market where all sorts of street meat was available (including goat's head here – charming!). Our Moroccan guide later in the trip cautioned us to eat well into the evening if we were dining here at the square; the vendors were known to recycle yesterday's food as the first sales of the evening.
We made it back to the riad safely, despite the distance and darkness. Although I was a little creeped out by the neighbourhood on our first day, I got less worried about it over time. It didn't feel dangerous, just a bit dark and seedy.
Jan 9, 19, 3:48 am
I was never greated by a donkey on arrival
Jan 9, 19, 10:41 am
Join Date: Apr 2014
Location: Aberdeen, Scotland
Programs: BA Bronze, Emirates Silver, Virgin Silver, Marriott Titanium
Posts: 783
I remember how manic it was boarding my flights in MAD, there didn't seem to be any queue control at all just like you experienced!

Interesting hotel in Morocco. Could you swim in that pool or was it just for decoration?
Jan 9, 19, 8:11 pm
Join Date: Oct 2015
Location: St. Paul, MN
Programs: Delta GM, IHG Gold, HH Silver
Posts: 284
Marrakesh looks awesome. Great photos and really enjoying all the photos from your travels on this trip so far.
Jan 12, 19, 8:38 pm
Join Date: Dec 2001
Posts: 3,109
Iberia economy long haul is quite good. Would have liked to visit Morocco. There was a bomb at that restaurant overlooking the square with the terrace. And what happened last month was pretty creepy. Nice pics as usual. Thanks.
Jan 13, 19, 10:34 am
Join Date: Oct 2010
Location: YVR - Vancouver, with most winter weekends in Whistler.
Programs: Aeroplan, Alaska MVP, Marriott Platinum / Lifetime Gold
Posts: 4,098


RoadWarrier. It's hard to beat this hotel for a quick stay thanks to how close it is to everything.

offerendum!



We didn't to the horse drawn carriage in Seville, although there were heaps of operators available if you were so inclined.

757.

Bretteee that the tourist terrorism situation across all of Africa is pretty creepy. I would love to go back to Dahab in Egypt but I have no confidence that the Egyptian authorities have the security situation in the country under control.
Jan 13, 19, 10:42 am
Join Date: Oct 2010
Location: YVR - Vancouver, with most winter weekends in Whistler.
Programs: Aeroplan, Alaska MVP, Marriott Platinum / Lifetime Gold
Posts: 4,098
Marrakech, Morocco
Day 2
We had a leisurely wake up this morning and took in breakfast. Since this was an actual holiday, we ended up relaxing on the roof top of the riad for the start of the second day and enjoying all the heat that North Africa had to offer.
In the early afternoon, after the heat of the day had passed, we freshened up and headed back into the souq area for some shopping. Walking through the streets again in the daylight, I felt as though I was in an exotic far away land somewhere like Peshawar or Kandahar (laughing). Needless to say, it was a stark contrast from the Selfoss waterfalls of Iceland.
We eventually got towards the market area of the square, where MrsWT73 set out to do some serious souvenir shopping.
After a few hours of shopping, we ended up having a refreshing beverage at Le Grand Balcon du Glacier. By refreshing beverage, I mean a soft drink since there were no alcoholic drinks available. The café was featured in the fifth season of the Amazing Race as the final pit stop. The balcony has a terrific view over the square. We ended up here for about 90 minutes as MrsWT73 had a work issue she had to deal with immediately, which left her on the phone for quite some time. While she was doing that, I was able to watch the square get set up for the evening. The whole spectacle of set up has occurred nightly for hundreds of years.
One of the more entertaining parts of square watching were the snake charmers that were visible from the balcony. MrsWT73 was super happy that she didn't have to interact on the same level as them, and could watch from a comfortable and safe distance. I sure appreciated the fact that I didn't have to give them dirams every time I looked their way.
We ended up leaving the Le Grand Balcon du Glacier and we headed over to Le Jardin Secret. We passed by the Argana Café where the 2011 backpack bombing had occurred. There were metal detectors in the lobby and a small army of security guards outside.
Le Jardin Secret or the Secret Garden was previously a residential home that was linked to royalty. The property changed hands over the year and eventually fell into dis-repair when new entrepreneurial money came in and restored it to a garden in 2008. It was among the "newer school" attractions in Marrakech. We ended up stopping by just based on the local area marketing and the fact that we had purchased all the souvenir tangines we would ever need.
There also happened to be some baby turtles on the property that made their homes in the fountains.
It was a nice and peaceful place from the chaos immediately outside the gates.
Through some stroke of luck, we happened across Café Arabe immediately across the street from Le Jardin Secret. It happened to be the only place we'd found inside the walled city that actually served alcohol that was not on a resort or hotel. We wandered over from the Jardin for a pre-dinner cocktail of Moroccan wine for 40 Moroccan Dirhams ($4.20 USD) and some silly photographs.
The place filled up quite considerably during our stay there to the point where all tables were full. Apparently, this is the spot to be! We eventually wandered back to the riad for dinner.
The riad was able to put on a special private dinner for us. We booked the day of in advance and a freshly prepared meal for just us two. Dinner tonight was in the riad courtyard as it was a bit windy on the roof top deck.
We had a reasonably nice tasting Moroccan wine to enjoy along with dinner, along with an actual fresh green salad. A green salad after all the African dust and noise was to die for. I really enjoyed it.
The main was chicken tagine with local vegetables, chickpeas, carrots and local spices.
Along with a flan styled dessert. We were stuffed at the end of this one!! Super tasty.