Iceland, Spain & Morocco via IcelandAir Business Class & British Airways First Class
Dec 28, 18, 2:56 am
Join Date: Apr 2009
Programs: BA Gold, AF Gold, IHG Spire Ambassador, Hilton Honors Diamond, Mucci de buveur de gin
Posts: 2,831
Wow! The scenery in that last post is absolutely stunning. Those waterfalls look gorgeous! Thanks for posting the pics!
Dec 29, 18, 12:32 pm
Join Date: Apr 2014
Location: Aberdeen, Scotland
Programs: BA Bronze, Emirates Silver, Virgin Silver, Marriott Platinum Premier
Posts: 779
Fantastic photos you got there but wow at the waterfall ones on the overcast day - I think when its weather like that, it makes them appear more beautiful.
Jan 1, 19, 3:07 pm
Join Date: Oct 2010
Location: YVR - Vancouver, with most winter weekends in Whistler.
Programs: Aeroplan, Alaska MVP, Marriott Platinum / Lifetime Gold
Posts: 4,089
flyingeph. More coming up shortly...

Tocsin; likely much better than our fall September photos.

londonfog and stu1985. It's hard to take a bad photograph in this country!

nequine (laughing)... Thanks.
Jan 1, 19, 3:19 pm
Join Date: Oct 2010
Location: YVR - Vancouver, with most winter weekends in Whistler.
Programs: Aeroplan, Alaska MVP, Marriott Platinum / Lifetime Gold
Posts: 4,089
Nesjavellir, Iceland
Today was get away day and unfortunately, time to leave Iceland. We had really enjoyed our visit and the opportunity to explore the various parts of the country side. For once, I actually believed that I would be returning to a country sooner rather than later.
Before we left the Ion Adventure Hotel, I took a short clamber on the hiking trail behind the hotel. It seems there are hiking trails all over the country. Everything seems to be very well marked here.
We checked out of the Ion Adventure Hotel and took a new route self driving back towards Reykjavik. We took the 435 Route immediately behind the hotel which led over a mountain pass. There were some stellar views as we crested the various hills over each small range.
The road eventually led down to Reykjavik across some large plains. The route was adjacent to the Nesjavellir pipeline facility.
We filled our Nissan Qashqai up with diesel near the airport. Our 717 km (444 miles) driven cost us 9,300 ISK ($84 USD) at a about $2 USD a Litre ($6.86 USD per Gallon). I dropped MrsWT73 off at the airport with the bags and I returned the car at the nearby Hertz lot without any issues.
IcelandAir Saga Business Lounge
Keflavik, Iceland
The Reykjavik airport at Keflavik was an older building with dated Scandinavian design. This odd design had narrow walkways with quite a few people sacked out on the ground repacking their bags.
We hit up the Tax Free cashier to claim the exemption on MrsWT73's hoodie. We then headed over to the IcelandAir Saga Class check in. In a dark corner, we were promptly checked in with our bags tagged to Madrid. There was no canvass or request to show onward proof of travel despite us being on a one way ticket into the EU. We were given friendly directions on how to reach the IcelandAir Saga Lounge. It is the only dedicated IcelandAir lounge in the entire network.
Thanks likely in part due to odd flight times, cooking is apapperentlyparently prohibited in the airport. . . it must happen so often that they actually need a sign up for it. LOL.
We headed to security screening where there was a Fast Track lane that was surprisingly empty on arrival. We were though security quickly with a minimum of fuss and through another massive duty free space on the secure side.
After MrsWT73 purchased a stuffed puffin as a souvenir from duty free, we headed down the concourse to the IcelandAir Saga Class lounge. The concourse initially seemed to be for regular flights to Europe, but the airport appears to have grown substantially where the concourse and the amount of flights has exceeded the available capacity. This translated into zig and zagging around other travellers at every opportunity. For some reason, there were no seats or holding areas near the gates so lines piled up along the sides of the walls quite considerably.
The Saga Lounge is immediately up one floor towards the end of the concourse. We gained access to the lounge thanks to the business class level of our IcelandAir ticket.
The lounge is quite large and mostly square in shape. There are loungers throughout most of the lounge. Most chairs were completely empty on our daytime visit, leaving a great selection of places to sit. One of the first things that you notice when you enter the lounge are the terrific daylight views all over the concourse from all angles..
There was some retro art on the walls similar to an American Express Centurion lounge near you. The centre of the lounge has an art feature of Icelandic rock, similar to a large cairn.
The best feature of the lounge was the comfortable fireplace, which made for a popular gathering point. I can't think of the last lounge I was in that had a fireplace designed as a living feature and not a decorative feature off hidden in a corner.
The lounge also featured an eating area along with a snack area. The snacks were tasty but chicken wings alone weren't large enough to replace a meal.
Another impressive area of the lounge was the ample liquor selection. On our visit, these included Reykjavik Distillery specialty liquors, Reyka Small Batch Vodka, and Tanqueray No Ten Gin among others. There were also Icelandic Gull Beers and other bottled waters.
All in all, a really nice lounge that happened to be completely empty on our visit. The lounge was well stocked with great drinks. It even had MrsWT73's seal of approval; which is saying something. . .
Jan 1, 19, 3:27 pm
Join Date: Oct 2010
Location: YVR - Vancouver, with most winter weekends in Whistler.
Programs: Aeroplan, Alaska MVP, Marriott Platinum / Lifetime Gold
Posts: 4,089
Icelandair Airlines
FI 682 – Saga Business Class (O)
KEF – MAD (Keflavik Airport – Madrid Barajas)
Sept 6, 2018
3:00 PM – 9:05 PM
Booked: Boeing 757-200
Flown: Boeing 757-200
While we were in the lounge, efficient Icelandair posted a 15 minute flight delay that came to us via SMS and email. At about T-35, we headed down to the gate A14. When we arrived, it seemed that our plane "Hekla Aurora" was still fueling. The airport doesn't allow for great photographs from the gate where we were at. As a result, I got the partial photograph blocked by the jet bridge.
Priority boarding was called and we boarded via Door 2L. We turned left into the now familiar and usual IcelandAir Saga Class Boeing 757-200 business class configuration of 2-2. The seats offer recliner styled seating, which is not so exciting but miles and leagues better than the usual European Business Class economy seating with a blocked middle.
IcelandAir doesn't seem to sell much business class. Similar to our overseas flight over, the load in business was light. On today's flight, only 9 out of 22 seats were occupied.
Onboard waiting at the seat, there was a bottle of Icelandic Water on the console and a pillow available on the seat.
There was no pre-departure beverage today. I got the impression that it was not offered for the shorter / medium haul flights. We pushed back fairly quickly and we headed out to runway 10.
We had a take off over Keflavik where I took some photos of the town as we passed over. The terrain around the airport is stark barren compared to the majestic mountains we saw in other parts of the country.
As we got airborne and to cruising altitude, menus were dropped off in addition to a wine list. The food choices are remarkably simple and a bit narrow in selection since only two options were offered. IcelandAir offered its' similar Gin Library on the flights, including 7 kinds of Gin available. I was a happy camper.
They also featured the international Gin standby's for those that don't like the local craft.
We were offered a pre-meal beverage service along with some low rent pretzels that were upbranded in a Vikur cardboard box that looked like an Ikea food product. I started with my usual Gin and Tonic, along with Bertha's Revenge Milk Gin from Ireland and a Franklin and Sons light low calorie tonic.
The main course was served all at once. Today's offer was Artic Char with creamed wild mushrooms, salt baked root vegetables and Icelandic pearl barley, along with cheesecake with berry sauce. I don't usually like fish on a plane but it was all fairly tasty.
The wifi internet was working on today's flight unlike the last one. A quick sign in with our seat number and confirmation booking code and we were on line for most of the flight. The download speeds were okay. Sadly, the upload speeds weren't very good. I wasn't able to upload 6 pictures to facebook; "taking a while to post". I gave up after about 20 minutes. Still I was able to enjoy some pleasant sunsets.
Throughout the flight, I had some rather socially loud Icelandic male chatterboxes behind me in Seats 3A / 3C. It was only noticeable as they had moved there from across aisle from Seats 2D/F. I can only describe the situation similar to being in a pot of boiling water. The longer it went on, the louder and worse it got. I eventually self re-located over to 2F across the aisle to get away from the "Yaaa!"s and the excited conversation noise that went with it.
As the flight drew to an end, we had a slow and circular approach into Madrid. We pulled up to another remote stand near Terminal 1. Two buses were available to meet us, and the stairs were rolled up promptly. The bags were out without issue.
IcelandAir was a comfortable way to get to and from Iceland. The large comfortable seats were much better than the euro-business class offered with other European carriers. The lounge chairs were a much more pleasant way to get towards Europe, and much better than the comparable euro-business class seats we would have had flying One World or Star Alliance. Aside from my Icelandic drinking flight mates seated behind me, it was a near perfect flight.
Jan 1, 19, 3:37 pm
Join Date: Oct 2010
Location: YVR - Vancouver, with most winter weekends in Whistler.
Programs: Aeroplan, Alaska MVP, Marriott Platinum / Lifetime Gold
Posts: 4,089
The Westin Palace Madrid
Executive Suite – Fountain View
We rolled outside the airport with our baggage and hopped a 30€ flat rate taxi to the city center. Madrid has now fixed the rate from the airport to the city as a flat rate. Despite this, there were lots of advertisements for Uber inside the airport.
It sounds silly but after watching years of SPG TV and seeing the promotion for the Westin Palace Madrid and it's breakfast, and reported excellent treatment of Platinum members at this property, the repeated messaging made this hotel onto the list as a place to visit and stay. Unfortunately, we were here for only a short stay thanks to train schedules so most of the pictures are nighttime photographs.
After about 15 minutes in the taxi, we arrived out front of the Westin Palace Madrid. It is truly a striking building that was tastefully lit up at night.
The bell assistance was prompt and immediately assisted with unloading of the bags from the taxi. As I was getting out of the taxi, the bell man happened to notice that my wallet had slipped from my pocket into the seat of the taxi as I was trying to pay the driver. The bellman pointed it out to me to make sure that I didn't forget it. I thanked him for this and he replied simply "it's my job". It was thoroughly professional and a great first impression for the arrival.
We headed inside and checked in at the front desk. I had applied a Suite Night Award to this reservation and it had cleared into a Deluxe Suite at the 5 day mark. On check in, we were able to get a further upgrade to an Executive Suite with a fountain view. At the counter, there was also an iPad showcasing up sell opportunities to suites. As with all the public spaces at the hotel, the lobby area was a grand place.
We were assigned room 624 and led ourselves up to the room, leaving our larger bags with the bell staff. The bell staff were able to bring the larger bags were up promptly. The hallways and elevator areas were nicely appointed as you'd expect for a world class historic hotel.
The room itself was very nicely decorated. Usually in historic hotel rooms, the rooms tend to show a lot of wear and tear thanks in part to their smaller size. Our suite was in impeccable condition, without scratches, wear or any scuff marks on the wall. There was a burnt out bedstand light but who's complaining; only the guy taking review photos!! (Laughing).
The suite had a separate sitting area with television, bedroom and separate bathroom.
The room had daylight windows and a direct view of the fountain.
The bathroom was large and spacious for a European bathroom. It featured a separate shower and bathtub. Toiletries were the usual Westin White Tea Aloe.
I snapped a quick photo of the floor map for those that are interested to see the layout of the hotel.
We were a little peckish and hungry after the flight, so we immediately dropped the bags and headed out for some tapas. We walked one block from the hotel to La Dolores where we had previously been on our 2012 trip to Madrid. It's a light and bright tapas' bar with large outdoor windows and drinking glasses from Germany on display behind the bar. We were able to easily get a seat at the counter at 11:00 PM for several tasty glasses of Rioja & along with several scrumptious tapas of smoked salmon, Roquefort cheese over baguette, beautiful olives and pickles.
We crawled back to the hotel after a quick walk around the fountain out front at 12:30 AM. We jumped into the massive Westin bed for a great but short sleep.
We woke up at 8 AM and headed downstairs for an optionally included SPG Platinum Breakfast benefit. The breakfast was one of the reasons for coming here, as it is offered under the large "historic glass cupola". The brunch was normally chargeable at 38€ per person. It is set in a beautiful space with lots of natural light. MrsWT73 commented that it was gorgeous for a breakfast, but that "I wouldn't want to have dinner here". She prefers contemporary spaces. It is indeed a beautiful old world breakfast room that was a great place to start the day.
The breakfast itself was tasty, offering a full egg station, prosecco and other delicies. It was indeed as good as reported and was among one of my better all time Platinum Breakfast offerings; perhaps second to the Westin Europa Venice where breakfast can be taken on the deck outside listening to gondoliers.
The Westin Palace Madrid is an absolutely beautiful property that has been wonderfully maintained and resorted. It would be really spectacular to experience a long stay here in an exceptional suite. Our stay was all to short. I would even come back for the Platinum Treatment which was excellent. In summary, a highly recommended property worthy of a visit.
Jan 1, 19, 3:42 pm
Join Date: Oct 2010
Location: YVR - Vancouver, with most winter weekends in Whistler.
Programs: Aeroplan, Alaska MVP, Marriott Platinum / Lifetime Gold
Posts: 4,089
Renve AVE
AVE 02120 (Madrid Puerta Atocha – Sevilla Santa Justa)
Sept 6, 2018
12:00 PM – 2:32 PM
We walked the ten minutes per Google Maps downhill from the Westin Madrid to the Madrid Atocha station. It was more like 20 minutes by the time we navigated slow pedestrians and some various sidewalk construction around the area.
We arrived at the train station at about T-30. We entered into a secure area which involved a baggage X-ray. The train platform was not announced until about T-20 which prompted a small stampede to track 5.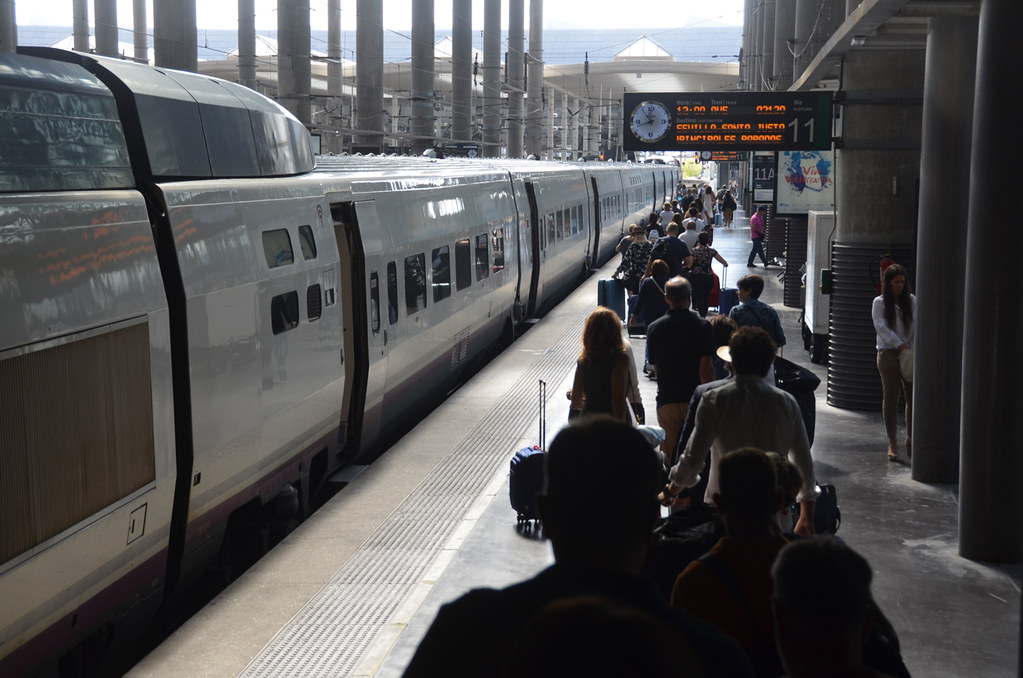 We had booked in Prefrente (business) today and we were in the first car closest to the escalators. The Renfe trains have a small baggage area near the entrance. There are small places for personal items above the seat. We were fortunate to be among the first as the baggage space for normal sized suitcases went quite quickly.
We found our assigned seats. Renfe did not allow selection of the seats from the website based on the fare class we had taken. As a result, as we located our pre-assigned seats, it turned out we were facing backwards. It was not my first choice but there wasn't anything that I could do about it.
The train left on time. As we got underway, the service staff offered crackers and a complimentary beverage service. Plastic sippy cups. LOL.
A lunch service consisting of a snack box and a glass of wine was offered a bit later. This came with a menu car featuring an advertising promotion for a celebrity chef. The sandwiches were just plain old sandwiches however. The catering has slimmed down to a more industrial and cafeteria style of service since the last time that we had travelled on Renfe AVE about 6 years ago. We then had a normal airline sized tray of food versus a small cardboard box.
After a 10 minute stop in Cordoba, we were underway again. The train emptied our with about 60% of our car getting off in Cordoba.
We arrived in Sevilla Santa Justa on time. We found ourselves a taxi to the hotel which was inexpensive, about 10€ including 3 € extras for our bags.
The Renfe AVE service is still reasonable and an enjoyable way to get around city centre to city centre. It was much more enjoyable than my German DB Bahn experiences later in the year. As a result. it's a worthwhile alternative to flying.
Jan 1, 19, 3:54 pm
Join Date: Oct 2010
Location: YVR - Vancouver, with most winter weekends in Whistler.
Programs: Aeroplan, Alaska MVP, Marriott Platinum / Lifetime Gold
Posts: 4,089
The Hotel Alfonso XIII, A Luxury Collection Hotel.
Seville, Spain
Deluxe Suite
According to
wikipedia
, the hotel was designed by the architect
José Espiau y Muñoz
, it was built between 1916 and 1928 especially for the
Ibero-American Exposition of 1929
. It officially opened on April 28, 1929, with a sumptuous banquet attended by King
Alfonso XIII
and Queen
Victoria Eugenie of Battenberg.
Our taxi arrived to the front of the hotel. The hotel is actually a past mansion and makes a great first impression on arrival. We were immediately greeted and are bags were tagged for delivery to the room. This is a good thing as many European hotels seem to have stairs at the front of the building unlike our Asian or North American counterparts.
There was a lot of activity in the lobby but we were attended to at check in promptly. I had initially booked a regular Deluxe Room. I had applied Suite Night Awards to this reservation and they had cleared into a Deluxe Suite. I had considered a booking under the Starwood Luxury Privileges program but wasn't able to find a competitive rate that would make the inclusions of the Luxury Privileges Program worthwhile. The fantastic impressions continued as the property was beautifully decorated and well maintained.
We were turned over to Raphael, a hotel ambassador, who was kind enough to give us a brief tour of the property, including the restaurants and pool area. He then led us to our room and gave us a run down of the features. He pointed out the elevators, which were actually behind those doors.
He also took us on a walk through the square lobby. The lobby contained a lounge, a courtyard that offered fine dining, and the breakfast area. It was sheer unique opulence that had been loveingly restored.
We eventually headed up to our Deluxe Suite #203 by elevator. The attention to detail continued in the guest hallways.
Our deluxe suite was situated in one of the corners of the hotel. It had a nicely appointed sitting area and a small dining space.
There was a small mini bar refrigerator in the living area.
The bedroom was nicely appointed.
The suite had automated blinds, which was convenient for going dark at night. The room had quite high ceilings, which allowed a lot of natural light.
The bathroom was slightly compact. It was decorated in a strange but fitting zebra like tiling. Best of all, it featured Acqua Panna toiletries in reasonably large sizes.
The living room had open street views. Although there was a street car running immediately outside the hotel, it was pretty quiet and wasn't super intrusive.
The layout of the hotel from room #203.
We later wandered down to the hotel pool area. We found it through an inconspicuous service galley styled entrance. It was a nice small space outside that was full of people lounging about taking in the great weather today. It can be a challenge to dress up a small pool area but the hotel did a great job here given the likely lack of real estate for a castle in the middle of the city.
The Hotel Alphonso XIII was one of my better hotel stays. I've had a wide variety of experiences with the Luxury Collection. Some have been better than others, but this was easily the top experience for this brand. The staff were attentive, the room was impeccable and the property was beautiful. Add up a great location and an interesting environment and it made for an excellent stay.
Jan 1, 19, 8:35 pm
Join Date: Oct 2015
Location: St. Paul, MN
Programs: Delta GM, IHG Gold, HH Silver
Posts: 283
Looks like a continued great trip. Glad that you had such a good time in Iceland - I remember visiting that waterfall back in 1996 when I visited the country with my parents. Iceland is definitely a great place to visit, and has become quite the "it" destination of late. Looking forward to the next part!

Matthew
Jan 2, 19, 3:11 am
Thanks! Stayed recently at Alfonso, also at a Deluxe Suite. While mine had a much nicer bathroom the suite itself was smaller. Will most propably visit Madrid this year, Palace is one option but I hope FS or MO gets ready soon enough.

At Island I wonder if they ever had problems with cars crashing in the pipeline. Can imagine it´s not the nicest thing.
Jan 2, 19, 6:18 am
Join Date: Apr 2014
Location: Aberdeen, Scotland
Programs: BA Bronze, Emirates Silver, Virgin Silver, Marriott Platinum Premier
Posts: 779
Jan 5, 19, 12:39 pm
Join Date: Oct 2010
Location: YVR - Vancouver, with most winter weekends in Whistler.
Programs: Aeroplan, Alaska MVP, Marriott Platinum / Lifetime Gold
Posts: 4,089
Originally Posted by
757
Looks like a continued great trip. Glad that you had such a good time in Iceland - I remember visiting that waterfall back in 1996 when I visited the country with my parents. Iceland is definitely a great place to visit, and has become quite the "it" destination of late. Looking forward to the next part!

Matthew
Thanks
757
- I'd like to get back there with my son one day. I'd have to bring a small bank account of money though; it's expensive for a family holiday.
I really enjoyed the Alphonso XIII
offerendum
. I'd easily return. Getting a larger room in a historic building is a challenge at the best of times and at least the Alphoso at the Westin Madrid have these options.
Thanks
nequine
; as always.
Jan 5, 19, 12:58 pm
Join Date: Oct 2010
Location: YVR - Vancouver, with most winter weekends in Whistler.
Programs: Aeroplan, Alaska MVP, Marriott Platinum / Lifetime Gold
Posts: 4,089
Seville, Spain.
After our check in and a quick freshen up, we headed out to explore the town. The Hotel Alphonso XIII is well located in the middle of town and about 150 meters walk from all the main attractions. It was a warm and close walk up to the Seville Catherdral which was only about 7 minutes walk from the hotel. It was a beautiful sunny and warm day as we set out in the low thirties Celsius.
We headed up to the Seville Cathedral church, and the Alcázar. We wandered over through the Barrio Santa Lucia, taking in the small alleyways of this quaint neighborhood.
A great day for strolling and taking in cafes.
There were lots of interesting alleys throughout Santa Lucia, with buildings that appeared to be mostly residential on the upper portions.
We later wandered back towards to church. It was a bright day and we were felling peckish so we opted for a patio at Cervecia Catherdral and some tapas with a bottle of Verjedo. I had some quail egg on salmon which was to die for. MrsWT73 had some olives and fried goat cheese over balsamic that was also equally as tasty.
We then wandered up town to Plaza Neuva and Plaza de San Franciso and the main shopping district down Calle Tetuán and Velázquez. After MrsWT73 entered and visited several shoe stores, I ended up with a Lemon Gelato to pass the time. It was also an opportunity to take a look at the Seville Catherdral and its more intricate features in the setting light of the day.
The in town area was quite interesting and continued the theme of interesting architecture.
We ended up at El Corte Ingles and then back on the opposing street back towards the Cathedral. We returned to the hotel room for a brief rest and apperativo prior to heading out to dinner.
We wandered over to Bar Cathedral which was over in a residential area of Barrio de Santa Cruz. It was identified by Lonely Planet as a top choice for local tapas. It was slightly out of the touristed area and seemed to be frequented by locals. We were the only tourists there at the time of our visit. After a tapas sampler platter, we were stuffed and rolled back home to bed.
Jan 5, 19, 1:20 pm
Join Date: Oct 2010
Location: YVR - Vancouver, with most winter weekends in Whistler.
Programs: Aeroplan, Alaska MVP, Marriott Platinum / Lifetime Gold
Posts: 4,089
Seville, Spain
continued - day 2
We had a bit of a sleep in and enjoyed another SPG Platinum Breakfast in the great room. The Alphonso XIII breakfast room was interestingly designed and breakfast had all the goodies one could ask for. This included free flow Cava, which made MrsWT73 very happy. The breakfast hall of the Hotel Alphonso XIII is more like a ball room, with an intricate ceiling.
Despite all the guidebooks' advice of not visiting both the Seville Cathedral and the Alcázar attractions on the same day, our visit times curing our stay didn't allow for this flexibility and we ended up having to complete both attractions in one day. However, I do agree with their advice, if you have the opportunity and flexibility in your schedule, it's best to split these up.
Our first stop today was at the Seville Catherdal. The opening hours were more limiting here being only open for the day between 1100 AM and 5:00 PM so we opted to tackle this attraction first. After about 15 minutes in line to purchase tickets, we were admitted to the massive hall. The Seville Cathedral is among the largest Gothic Cathedrals in the world. It is reported to be 23,500 square meters.
We took in the large spaces. We stopped by the reported tomb of Christopher Columbus. There is a conspiracy theory that he may actually be buried in the Dominican Republic, despite this opulent stay.
There were also several works of art on display as we made our way throughout the complex.
We climbed Giralda Tower within the Seville Cathedral. The Giralda Tower was initially a miniaret for the mosque that used to occupy this site from 1200 AD. It was a ramp initially designed so that the guards could climb up on horseback the 31 floors to the top. There were some interesting views from the top and the various portholes along the way.
We passed through the Orange Grove of 60 trees on our way towards the exit. There was some traces of the cathedral's previous history as a mosque based on the arch like architecture on the way out.
We were feeling a little snackish so we headed up just next to the Cathedral towards Plaza Salvador for lunch. We ended up in a random tapas and wine bar called Robles Placentines. We had a brief tapas' snack with some tasty Verdejo to wash it down with.
After our fill up, our second visit this afternoon was to the Alcázar. The Alcázar was a historic castle that was the residence of many generations of kings.
The property is large and sprawling. Although it is decorated without furniture, you can get an idea of the configuration through the layout of its rooms and the story boards.
There were many examples of historic architecture and tiling in this part of the world. The detail was one of the most interesting parts of the Alcázar.
The grounds also had beautiful gardens fit for a king.
[
After all that, we wandered back to the hotel for a rest. We eventually headed out to dinner at La Moderna, a small and somewhat touristy place just off la Giralta from the Seville Cathedral. They had tasty but somewhat uninspiring tapas' .
Since it was Saturday night, we then headed over to La Bodega de Santa Cruz, a popular and busting neighbourhood bar that spilled out into the street. We jostled at the counter for wine, then took up a table outside. We struck up several conversations with a younger British couple in property law that were visiting for an extended weekend from Birmingham, United Kingdom. We also enjoyed another chat with a couple from Toulouse, France who were also here away from their kids for the weekend. We had a great time and eventually closed down the place when they hit last call at 12:30 AM; surprisingly early for a Saturday night.
All in all, we really enjoyed the weekend in Seville. I was happy to have finally gotten the opportunity to visit, after our past trip to Madrid and Barcelona. There were lots of attractions to see, a vibrant casual restaurant culture, along with warm temperatures and heat. I would have enjoyed to explore more of the surrounding area, but given our schedule, it would have to be saved for another trip.
Jan 5, 19, 1:26 pm
Join Date: Oct 2010
Location: YVR - Vancouver, with most winter weekends in Whistler.
Programs: Aeroplan, Alaska MVP, Marriott Platinum / Lifetime Gold
Posts: 4,089
Seville, Spain
Continued - Day 3.
We started off the morning with breakfast and relaxing by the hotel pool. What a great way to start a travelling day. The sun was out and the time to leave came all to quickly.
The check out was handled flawlessly and easily. The staff had the bags moved down the stairs to the front area had a taxi ordered with a minimum of hassle. I happened to note that we had 108 € of complimentary Platinum breakfasts (27 € per person per day) waived from our bill.
It was a very exceptional stay and probably one of my all time favorite starwood stays ever. Terrific staff, interesting an unique building, not so many guests that you felt like just a number. Professional service at each contact.
Renve AVE
AVE 02361 (Sevilla Santa Justa – Madrid Puerta Atocha
Sept 9, 2018
4:15 PM – 6:54 PM
We checked out and we took a 10 € taxi up from the hotel to Seville Santa Justa train station. I was a little hungry so I stopped for a McDonalds cheeseburger where there must have literally been one hundred people in line ahead of me.
The track was announced and we went down to track 3 to load the train. We passed through the security check on the platform.
We were on a bit of an older train today, although still as comfortable as the last one. We departed on time. The train had wifi on board which supported the entertainment movies through the dedicated Renfe App.
We had an initial drink offering. Today's choice was Spanish Verdejo wine.
After our initial stop in Cordoba, the meal service was offered. Again, it was a small sandwich offering.
We were on the milk run today with several stops in Corodona, Posadas, and Palma del Rio. We didn't realize this when we bought the ticket but probably could have inferred it from the scheduled time for the return trip which was about 17 minutes longer than the departure.
We eventually arrived at Madrid Puerta Atocha and offloaded our bags. I went and did a little reconnaissance mission to locate the Renfe Cerenas train to the airport for the next morning.
The Renfe AVE Preferente service was still a comfortable way to travel. As we'd learn later, it was much more comfortable than our German DB Bahn experiences later in the year. Although they've had some cuts in the food and beverage, it was still nice that they actually served something over nothing at all.