Annual Trip to the Sun - AC Rouge in Premium Rouge
Dec 10, 18, 7:09 am
Join Date: Jul 2009
Location: YUL
Posts: 682
Annual Trip to the Sun - AC Rouge in Premium Rouge
---
Every year around this time we take a trip down to Mexico to our favourite resort. It has become a tradition and really one of the weeks we look forward to the most. In the past we have mostly flown down on United but after experiencing troubles over the last few years (smoke alarm in toilet, snow in Cleveland and utter chaos in Newark) we decided this year to fly on Air Canada.
Now being that Air Canada has changed just about all of their Cancun flights to Rouge, there is not much of a choice but to fly this airline. Air Transat and Sunwing also offer flights to Cancun from Montreal but we prefer to fly a mainline (or in this case mainline ish) carrier. Thus we went online and to our surprise the price of Air Fare this year has skyrocketed. In past years we have gotten flights to Cancun in the 400ish Canadian per person price range but every airline this year was coming up at 700+ including all the US carriers. When we crunched the numbers we realized it would only cost a few hundred dollars more to book in Air Canada Premium Rouge over the economy price. Once you factored in the 20% discount coupon I had we were nearly the same price.
Thus our route will be very simple this year. My wife was shocked when I gave her the trip plan and there were no connections. If anyone has any questions about Rouge or Cancun that they would like me to investigate on the trip let me know and I will do my best to find you an answer. If not, I will update as we go along this weekend! Safe travels everyone.
Jan 4, 19, 6:44 pm
Join Date: Jul 2009
Location: YUL
Posts: 682
First of all, apologies for this taking so long to do up. Once we got back the silly season started up quickly and we were quick in with family, parties and lots of fun.
But now on to the trip.
We woke up at 0400 to head out to the airport. As usual, Mandy did not want to get out of bed but knowing she would be in the heat of Mexico got her moving. A quick stop at Tim Hortons and we were on our way to Montreal Airport. We booked parking in the parking garage right beside the terminal for two reasons. First of all it is covered and for those that have been to Montreal in December you know we can get a lot of snow. Second reason was we just got sick of waiting for the shuttle to the budget parking lot. Add in a few really negative reviews on the park n fly company and it was worth the extra money to park a quick 2 minute walk from the terminal.
Walking past the long check in lines for economy I was immediately happy to have booked in business class. Mandy mentioned the same thing and said it was worth every penny. Two minutes with the agent and our two suit cases were on their way and we had our boarding passes. Premier access security lane meant that we were in the lounge within 15 minutes of getting our boarding passes.
The lounge was a standard air canada lounge (though we ended up in the international lounge due to the flight to Cancun). That meant it was time for our first breakfast of the day. The lounge had a good assortment of cold options plus omelettes, sausages and hash browns.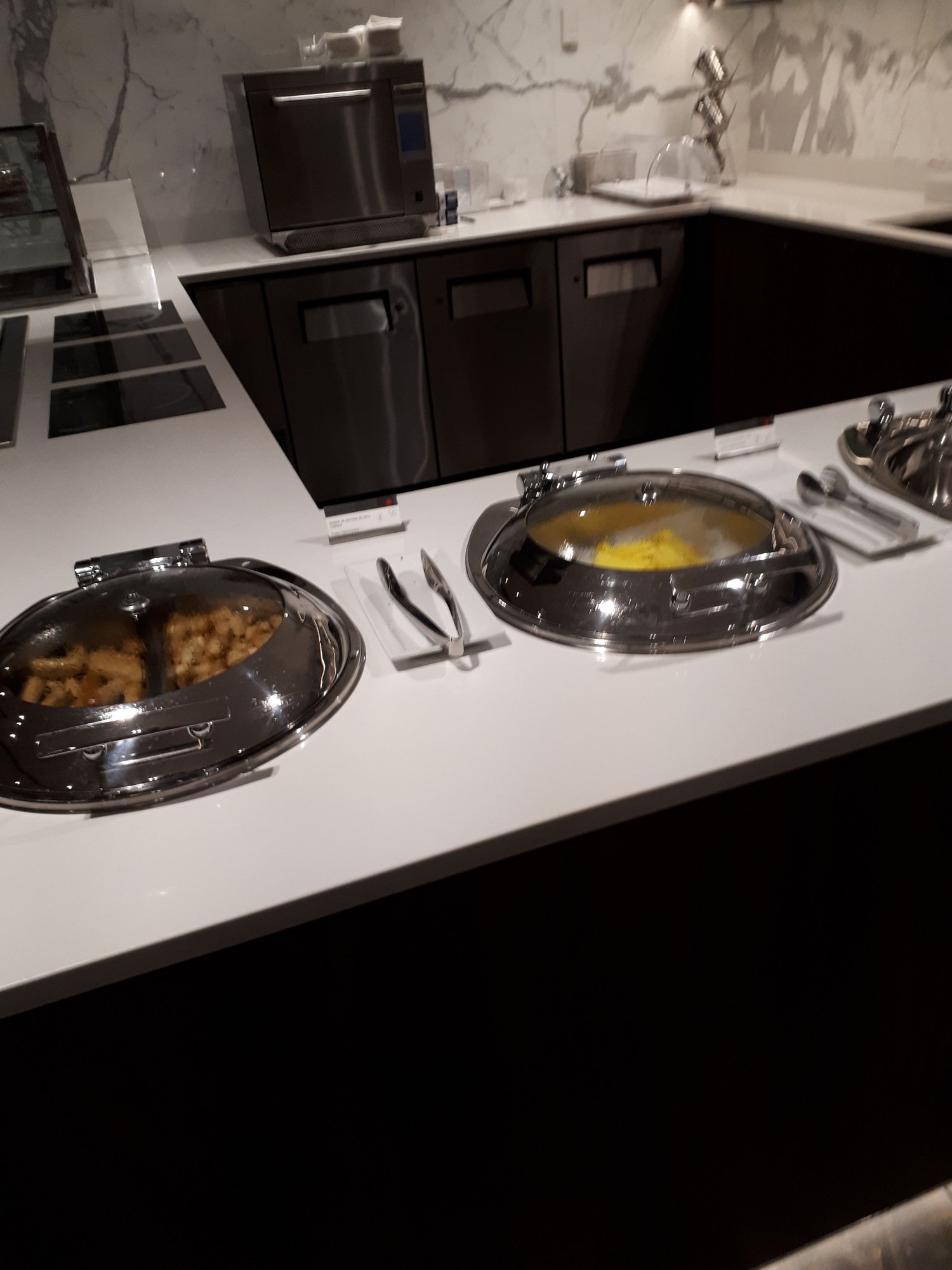 An hour in the lounge and it was time to head down to the plane. In the previous 24 hours the flight had gone from 50 open seats to a plane completely full. We arrived about two minutes prior to the boarding being called and we were the second and third person on the place once they started.
Flight 1
AC 1882
YUL - CUN
Scheduled departure: 0830 Scheduled Arrival: 1315
Actual departure: 0915 Actual Arrival: 1415
Aircraft: Boeing 767-300ER
We were on the plane in our seats at 0755 and were expecting an ontime departure. However at 0825 just five minutes prior to scheduled take off the Captain came on to tell us that catering had yet to be at the aircraft and we would have to wait for the trucks to get there and stock the plane. This was accomplished at 0910 and at 0915 we were on our way with a quick taxi and take off towards Cancun. I took a video on the take off. Well in reality I took two as I had to stop the first one when we were rotating as the glass of water of the people in Row 1 rolled back and landed on my legs. However the second video worked well.
Jan 4, 19, 6:54 pm
Join Date: Jul 2009
Location: YUL
Posts: 682
The flight down was actually really great overall. The seats and legroom on the flight were actually very good up in Premium Rouge and the service was better than I usually get on United. Everyone was very friendly and quick on the service whenever you wanted anything.
We started with water prior to take off and we quickly rolled into the meal service.
Other than the longest flight right past Cancun out over the ocean on our way to land, it was as standard flight. Service was great, drinks were refilled very very quickly and the staff was super friendly. I will let the pictures speak for themselves.
Forgive the messed up order of the pictures.
Feb 9, 19, 3:47 pm
Join Date: Feb 2007
Location: YHZ. Previously YYC
Programs: *Gold
Posts: 1,875
Thanks for the review. I flew YYZ-MCO in premium rouge on the 767.
I was nervous that the service, seat and food would be sub-par to the mainlaine J experience but I was surprised that it was basically identical. The only thing missing was the inflight entertainment screens.
Feb 9, 19, 5:14 pm
Moderator, Trip Reports
Join Date: Nov 2009
Location: 6km East of EPAYE
Programs: UA Silver, AS & AA GM, Marriott Platinum, Hilton Gold
Posts: 9,260
This flight goes right over my house in North Carolina. Most afternoons when my son and I are on a walk we wave to the 767!
I hope you have a great trip, thanks for sharing.
Posting Rules
You may not post new threads
You may not post replies
You may not post attachments
You may not edit your posts
---
HTML code is Off
---