Khachapuri and Kebabs: A Summer Adventure in Georgia and Turkey
Dec 5, 18, 1:22 pm
Join Date: Feb 2014
Location: OTP, CHQ, EIN and beyond
Programs: AF/KL platinum, Turkish gold, Aegean silver
Posts: 1,199
Khachapuri and Kebabs: A Summer Adventure in Georgia and Turkey
---
Last July my agenda showed ten days off from work and no firm holiday plans made for the month. Given that I had
already booked a solo mileage run trip to Indonesia for August
, I wanted to do something closer to home. Georgia (the country, not the US state) and Turkey are two nations I know very well having visited them many times. I am lucky to have some great friends as well in both countries. My original plan was to visit some friends in the Tbilisi area, make a 3-4 day road trip via the high mountain villages of Upper Svaneti to the coastal resort of Batumi, both which I have never visited before – and from there to fly to Izmir, Turkey to see some other friends.
Unfortunately plans change due to unforeseen circumstances. The unavailability of some Tbilisi friends and problems with extending my lapsed driving licence put however a big dent in my plans to visit Tbilisi and make a mountain road trip (I'm a foreign citizen living in Romania and exchanging my driving licence to a Romanian one was much more cumbersome than I thought, despite both my native country and Romania being in the EU and the process on paper being streamlined - in the end it took me two full months to finally receive a new driving licence!)
Plan B was however quickly made when Wizzair announced dirt cheap flights from Bucharest to Kutaisi. For 20 EUR I booked a one-way ticket to Kutaisi, with a plan to take the short bus ride to Batumi on day 2. After relaxing a few nights in the Black Sea resort of Batumi, I would then cross the border with Turkey on foot and make my way with public transport to the far-eastern Anatolian plateau – a region of Turkey I have never visited. There I would visit the historic city of Kars and the ruins of the ancient Armenian capital of Ani. Kars is also the starting place (or actually, rather the end of the line) of Turkey's most amazing train journey: The Dogu Express (Eastern Express) which links the capital of Ankara to Kars. Taking this train, which runs through spectacular mountain gorges, has always been on my shortlist.
From Ankara it is only a 40 EUR domestic flight on Turkish Airlines to Izmir, where I would visit my friends and explore some of the great sights the region has to offer. A combined Atlasglobal/TAROM ticket back to Bucharest through Istanbul Ataturk for 120 EUR would then seal the trip. On the map, the flights look like this: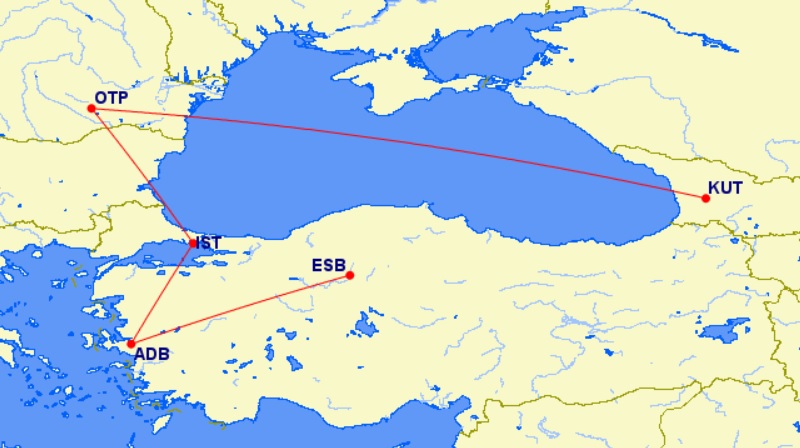 Highlights to look forward to in this trip report include:
- The bustling subtropical Black Sea coastal resort of Batumi
- Some very wild and forgotten but absolutely spectacular corners of Turkey
- The UNESCO World Heritage Site of Ani, the ruined Medieval capital of ancient Armenia
- 24 hours through amazing Turkish scenery on the Dogu Express train
- Izmir and all the must-see sights in the region such as the ancient Greek city of Ephesus
- Kebabs, khachapuris and many other authentic Turkish and Georgian dishes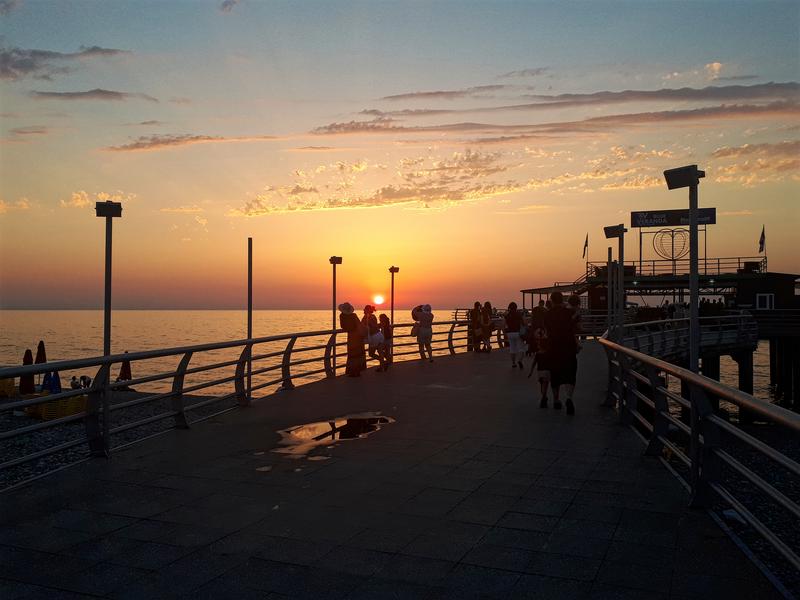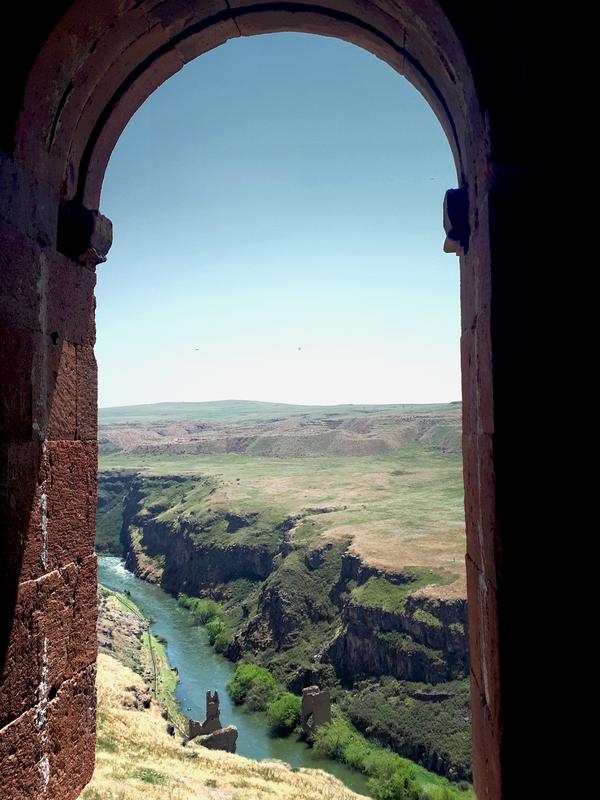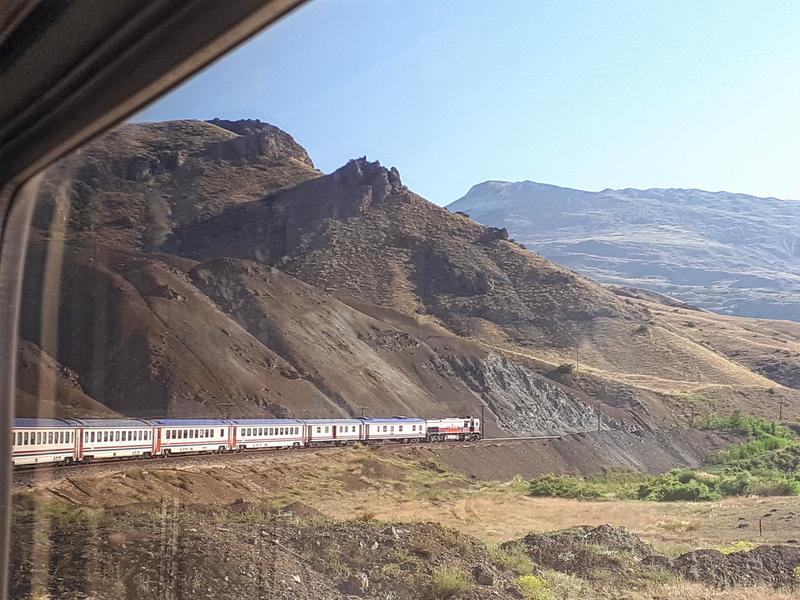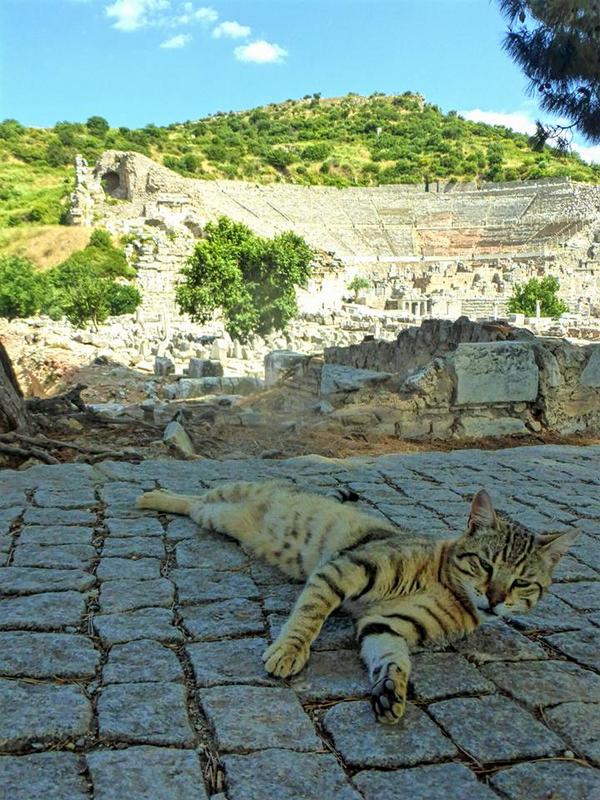 ---
Last edited by Romanianflyer; Dec 5, 18 at

1:28 pm
Dec 6, 18, 10:28 am
Join Date: Feb 2014
Location: OTP, CHQ, EIN and beyond
Programs: AF/KL platinum, Turkish gold, Aegean silver
Posts: 1,199
Part 1: Bucharest (OTP) to Kutaisi (KUT) on Wizzair in economy
Flight W6 3277 - Airbus A320 - Seat 5A – 20 EUR
STD 1.20pm - STA 4.30pm (flight time 2h10m)
My home airport is overcrowded, overpriced and at times even rather dirty and chaotic. While the extended morning rush hour (4-9am) is especially hell on earth with huge queues and crowds everywhere, it is all a bit more pleasant in the afternoon. I grabbed an Uber from my home for the 25 minute ride to the airport and arrived about an hour an fifteen minutes before departure, easily managing to clear both security and passport control in just over ten minutes.
From the many dozens or so of Wizzair flights I've taken from Bucharest, I had only one which ever departed from an airbridge. Today's flight was no exception either, departing from a bus gate in some obscure and slightly hidden part of the basement. Except from a small cafe there is barely anything in this area, with maybe only a seat or ten shared by two or three departure gates.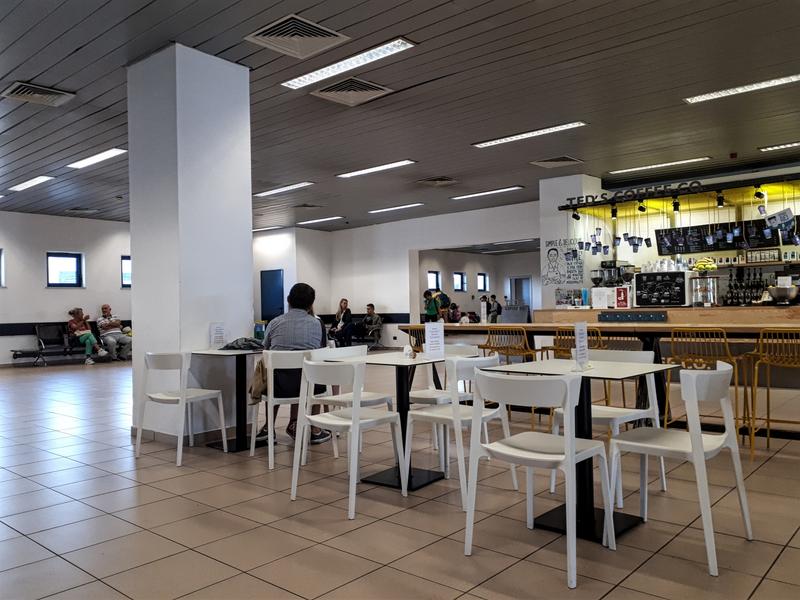 Luckily boarding was called soon and we were bussed to the bright pink-and-white Airbus A320 which would operate today's flight to Kutaisi – Georgia's third biggest city and the location of the country's low-cost airport, basically halfway between the Black Sea coastal resorts and the capital of Tbilisi.
Those who have read my previous reports know that Wizzair is my favourite low-cost airline in Europe. I never had a flight delayed longer than just a few minutes, staff is always courteous and fares are often dirt-cheap. This 20 EUR flight was no different. Luckily it was operated by the relatively comfortable Airbus A320 and not by the only other aircraft type in the Wizz fleet (the A321), which is much more cramped and has rock-hard seats.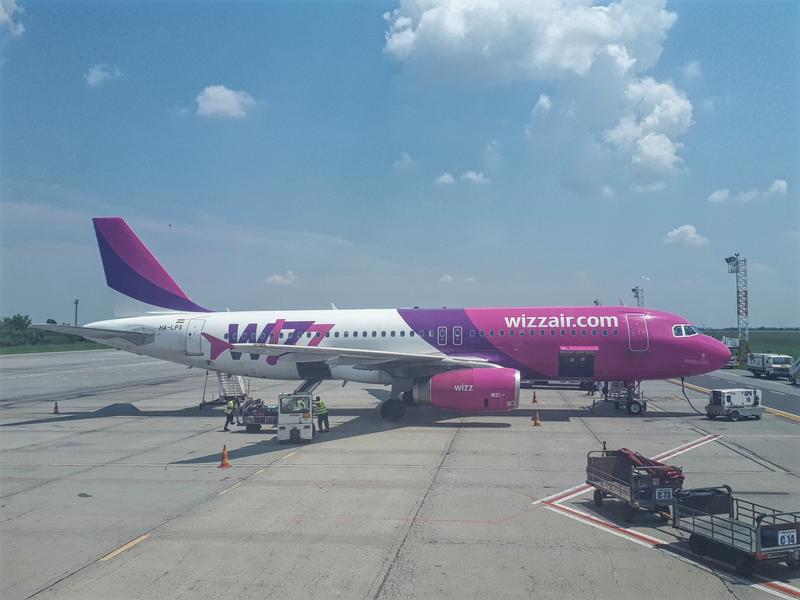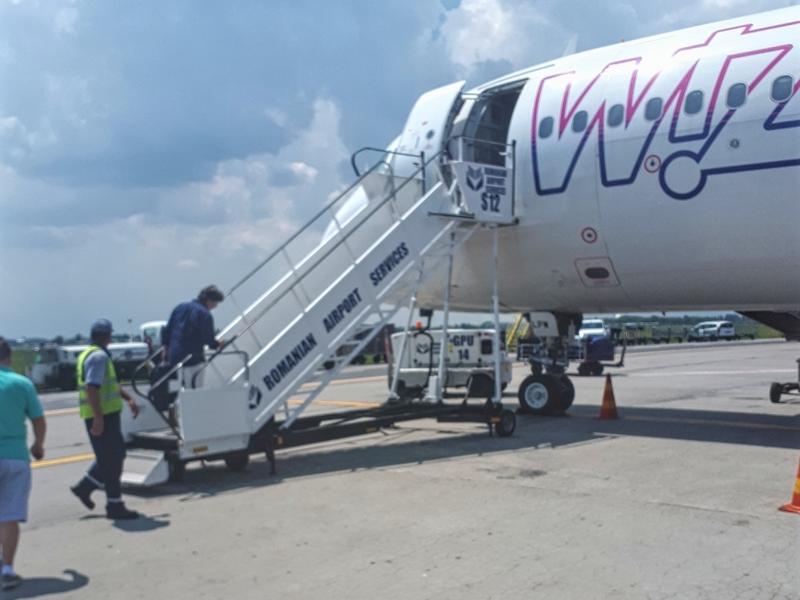 The load of today's flight was light, with perhaps only 60 percent of all seats filled. The middle seat next to me remained empty which was a blessing. Flying Wizzair is by no means a treat or super comfortable, but I find the well-padded seats in the A320 actually better than many aircraft of European full-service airlines and the pitch decent.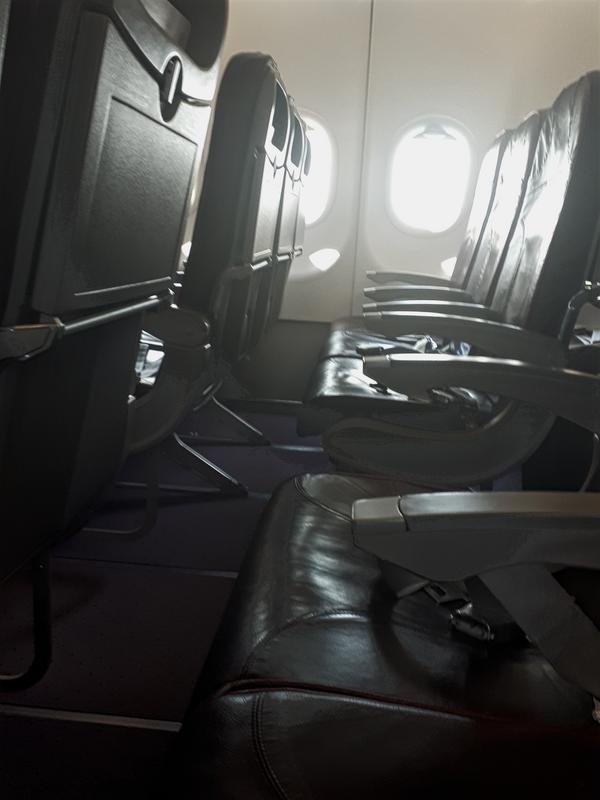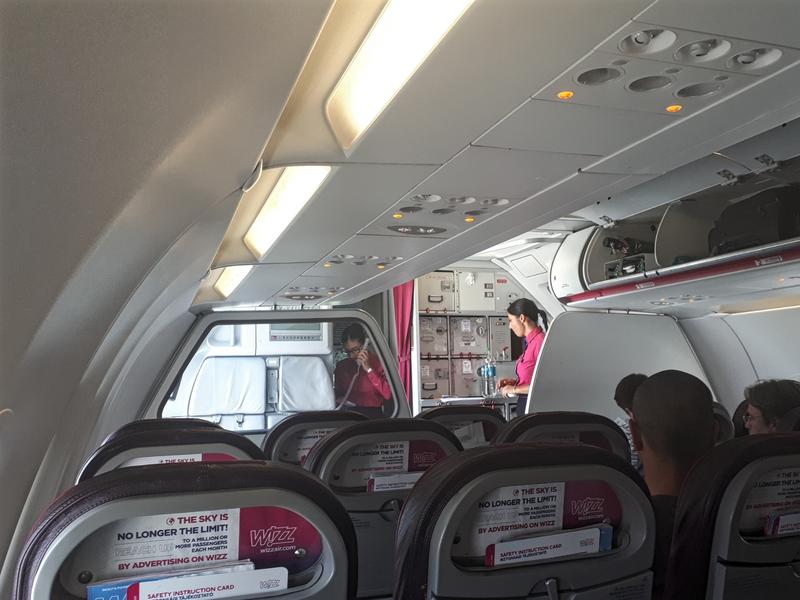 Departure was on time on this stifling hot July afternoon and there were some nice views over the Wallachian plains of Romania.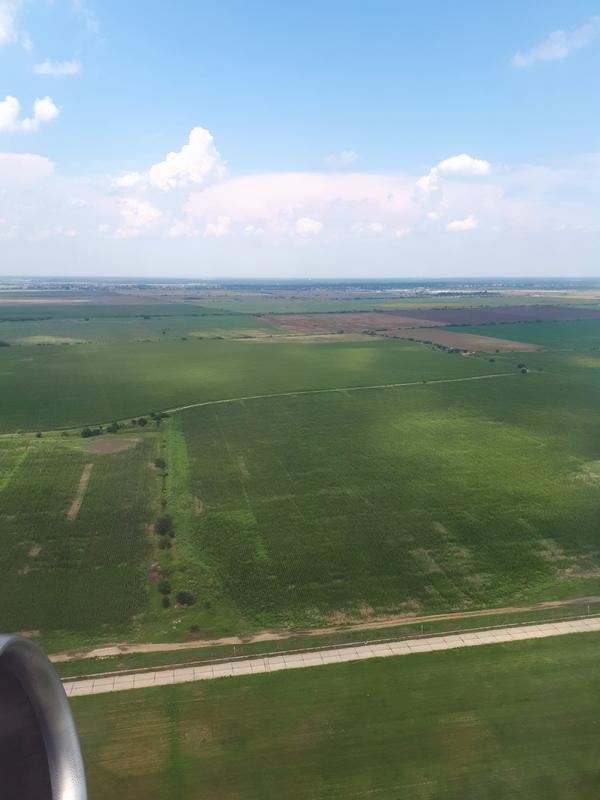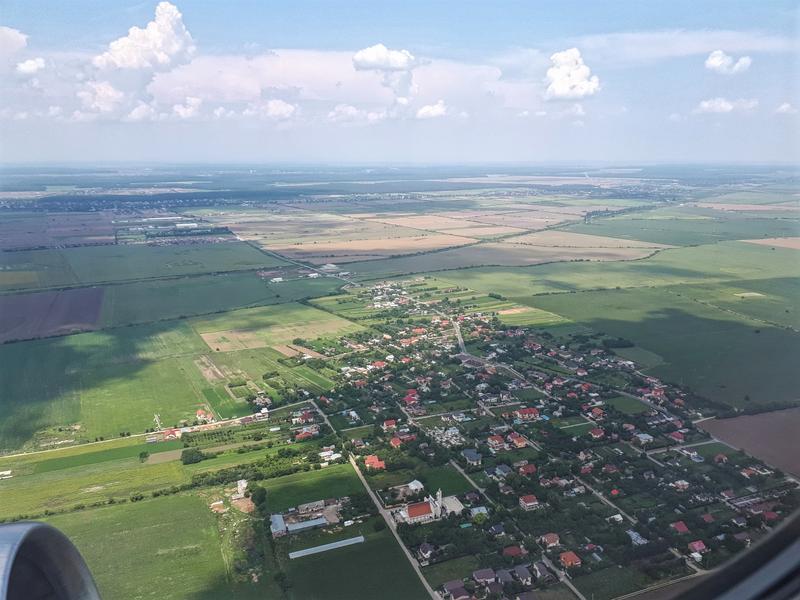 The flight would basically take us from one of the countries on the Western shore of the Black Sea to one of the countries on the Eastern shore, so most of the time we would be flying above water. About 20 minutes after departure we left Romania behind us as we flew over the port and coastal resort of Mangalia...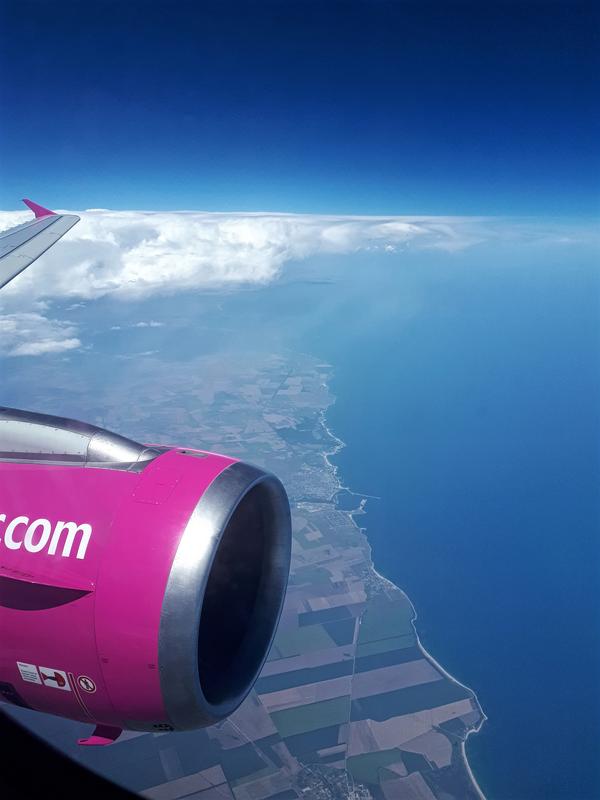 …to appear some one-and-a-half hour later at the other side of the Black Sea, where we immediately started our descent.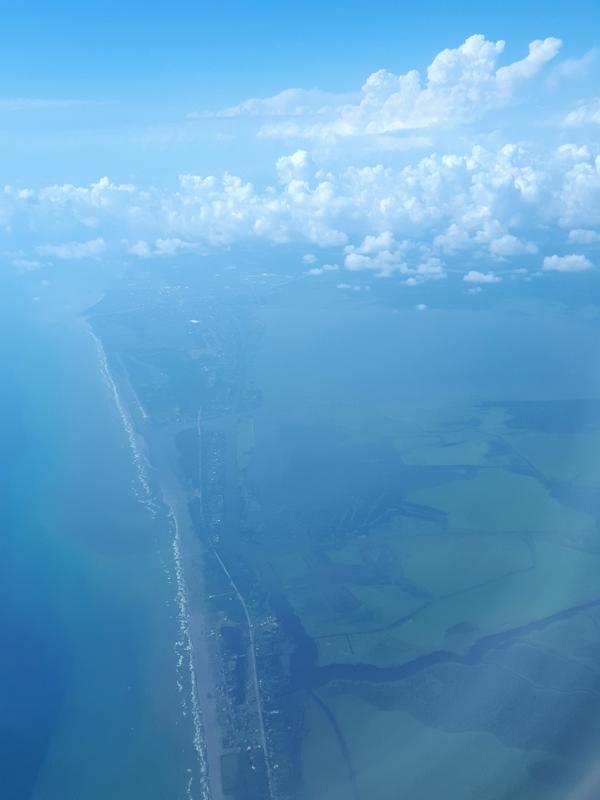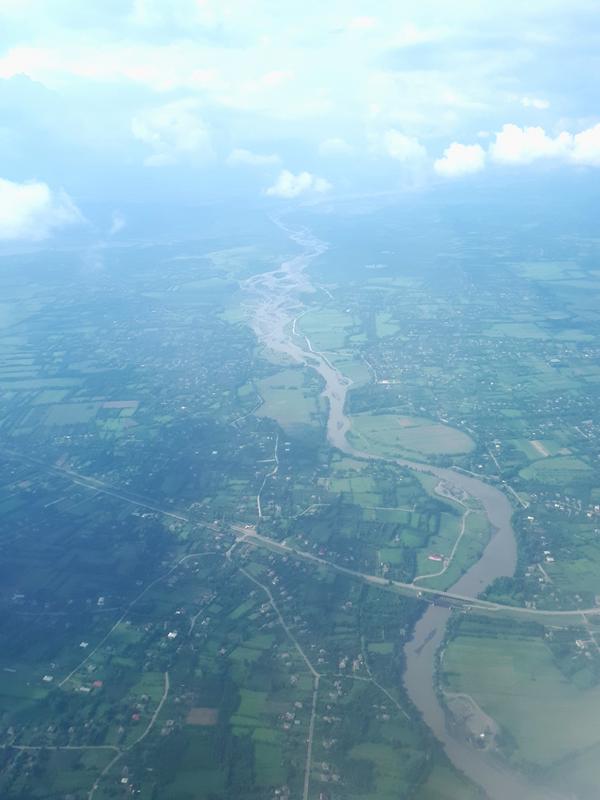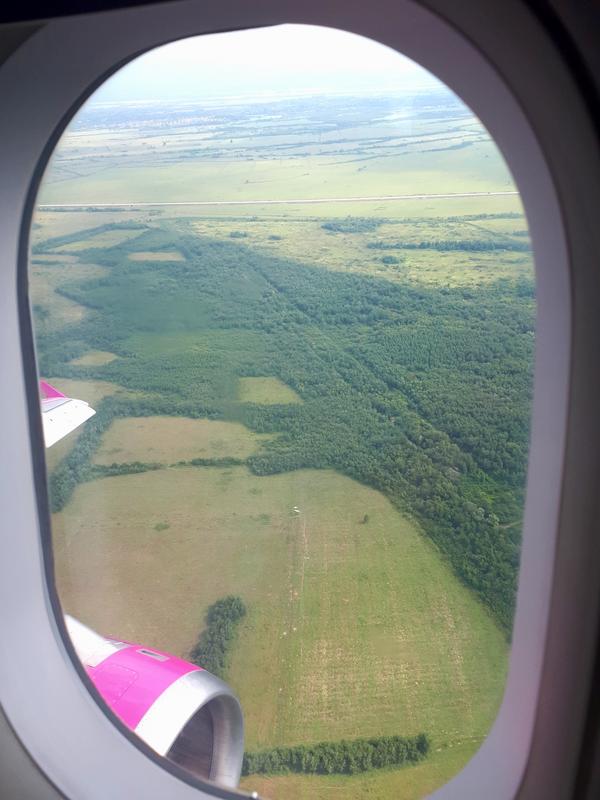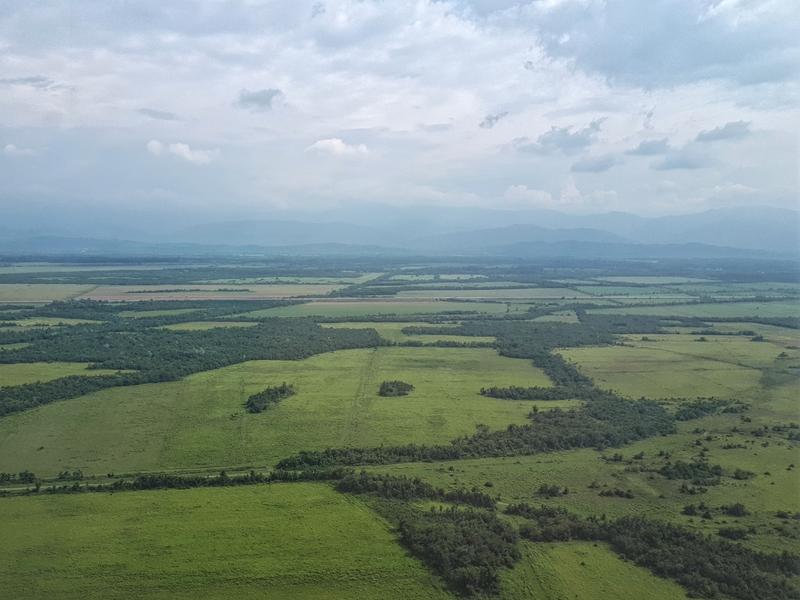 We landed on time at Kutaisi's modern but very small airport. I was one of the first to disembark, and we could walk straight from the plane to the building. Passport control took a bit longer than expected for an unexpected reason: the female immigration officer somewhere in her 40s was in a chatty mood. "Welcome to Georgia, is this your first time here?", she said. When I explained it was my fourth or fifth or so time in the country, she started to shuffle through my passport pages. "Ah Russia, where did you visit?" - "Oh Siberia in winter, that should be cold!". When she asked for some reason if I spoke German things got even funnier as she was visibly absolutely delighted by my answer confirming I speak the language fluently. Turns out she once studied German in university and doesn't have many opportunities to speak it in her daily environs – making her even more talkative. After ten minutes I had to politely close the talk as my pre-arranged ride into town was waiting and because I could feel the eyes of people behind me in the queue staring at me and becoming increasingly inpatient :-)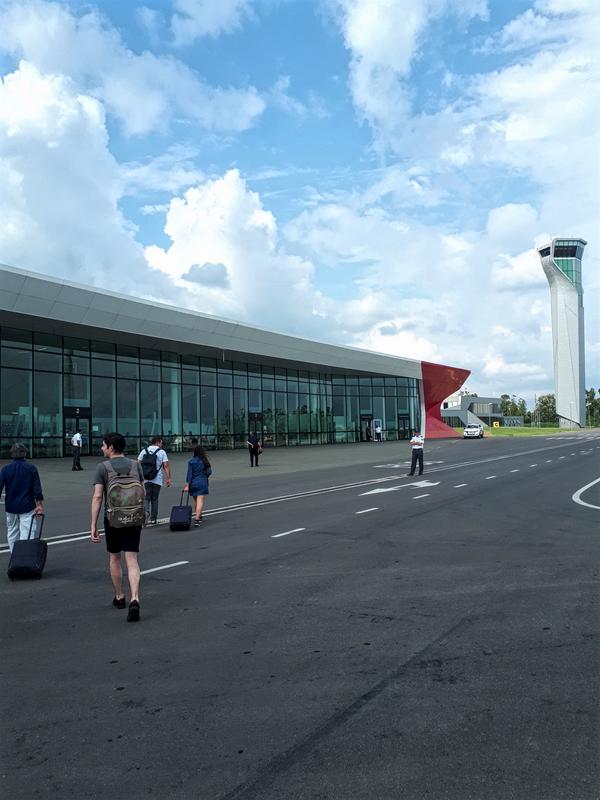 In short:
A bog-standard Wizzair flight. No-frills – but it got me there safely, on-time and in comfort for a dirt-cheap price. As far as low-cost airlines go, Wizzair is certainly one of those to pick rather to avoid. Big thumbs up.
Next up:
A day in Kutaisi and the first bites of khachapuri washed away with some bottles of wine.
---
Last edited by Romanianflyer; Dec 7, 18 at

11:29 am
Dec 7, 18, 12:26 pm
Join Date: Feb 2014
Location: OTP, CHQ, EIN and beyond
Programs: AF/KL platinum, Turkish gold, Aegean silver
Posts: 1,199
Part 2: A day in Kutaisi, Georgia
Hotel: Sanapiro Hotel, 35 EUR/night including breakfast
I was picked up from the airport by the friendly owner of the Sanapiro hotel in a pre-arranged transport. It was a fun 40-minute drive into town talking with the owner and one of his friends seated next to him in the passenger seat, with both of them being very talkative and speaking fluent English. The Sanapiro Hotel did not disappoint as a budget choice, the room was clean and the hotel is centrally located in the city. It also boasts a fantastic covered patio overlooking the Rioni River.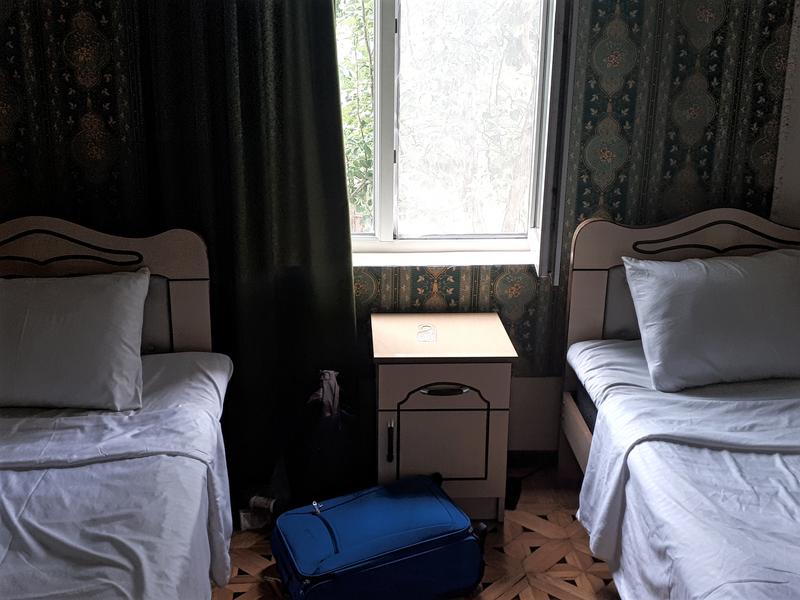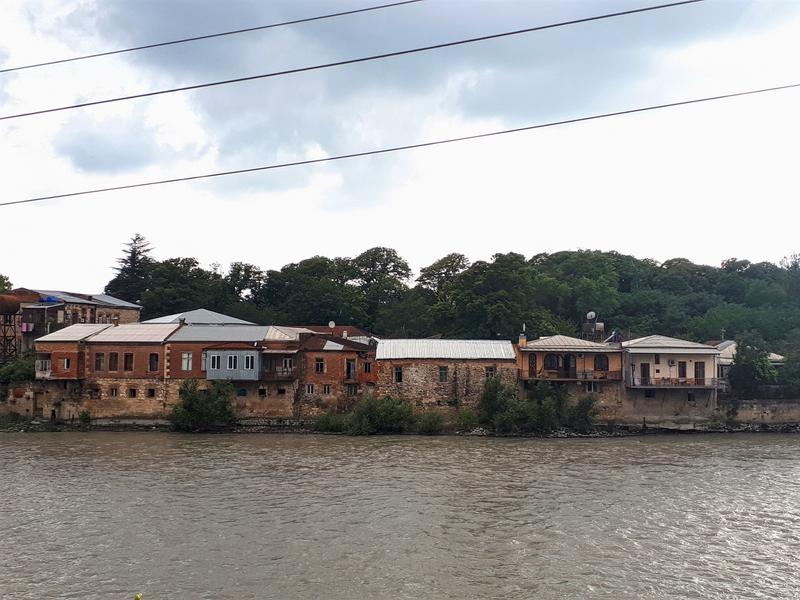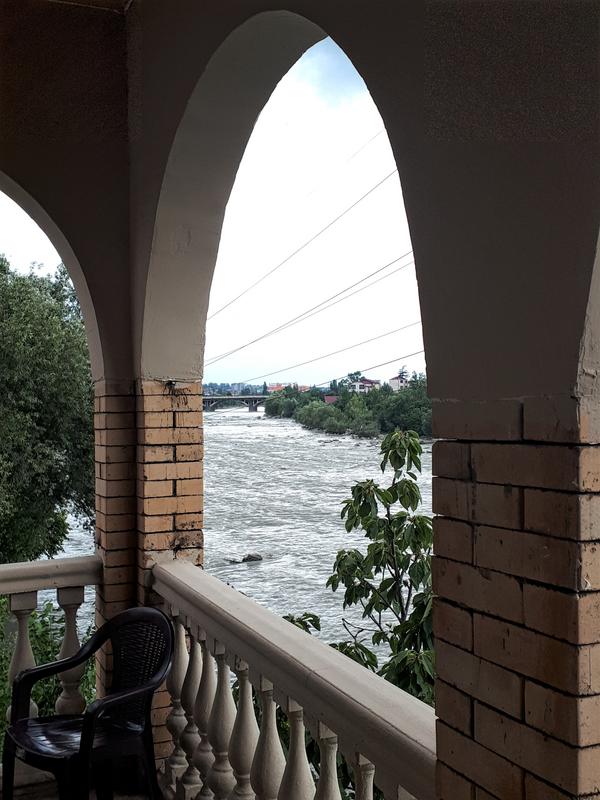 Kutaisi is Georgia's third biggest city, ranking just after Batumi. It is the legislative capital of the country since the parliament moved from the national capital of Tbilisi to a modern building on the outskirts of Kutaisi in 2012 in a bid to decentralise the government. Despite its increased importance, the city still has a decidedly small-town feel with a population of only 147,635. I've visited before some 7 years ago and enjoyed the city back then, so I did not mind to visit again. There is enough to see for a leisurely day in town, and on the outskirts there are famous UNESCO-listed monasteries (Motsameta and Gelati) and some caves (Sapatlia and Promotheus), which I didn't visit this time around.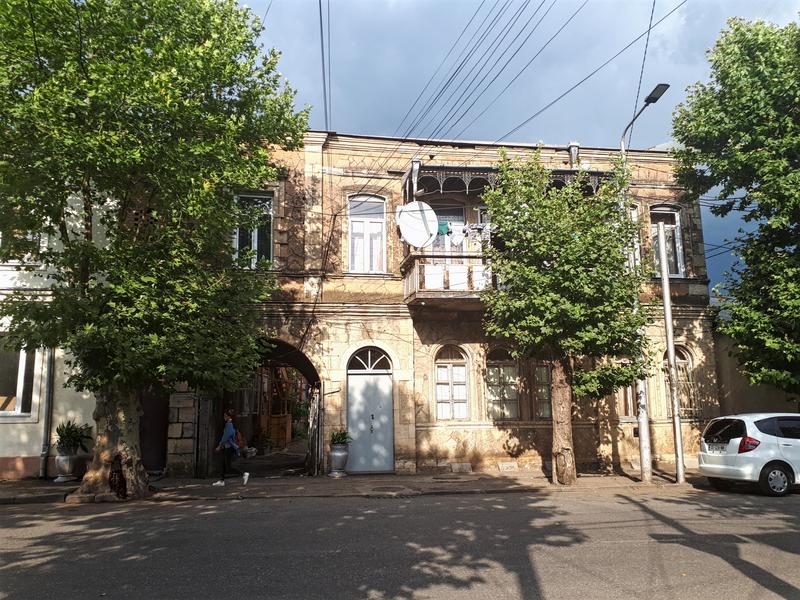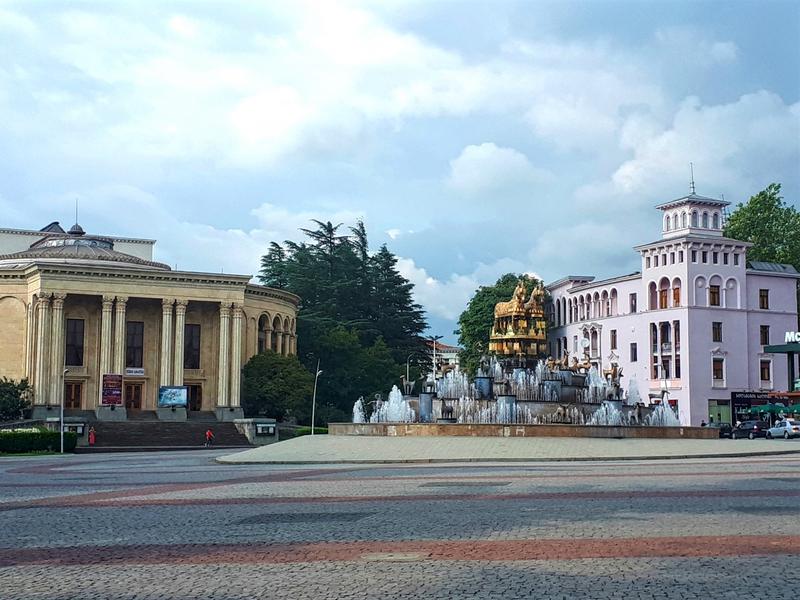 Despite having an ancient history (the city was the capital of the ancient Kingdom of Colchis around the 5th Century BC – it is believed that Jason and the Argonauts considered Kutaisi their final destination in their quest to find the Golden Fleece) there aren't actually that many historical sights to see in the city. One exception is the hilltop Bagrati Cathedral which dates from the 11th Century and is a prime example of Medieval Georgian architecture. It's an easy climb from the city centre to the Cathedral and there are some lovely views over the city on the way.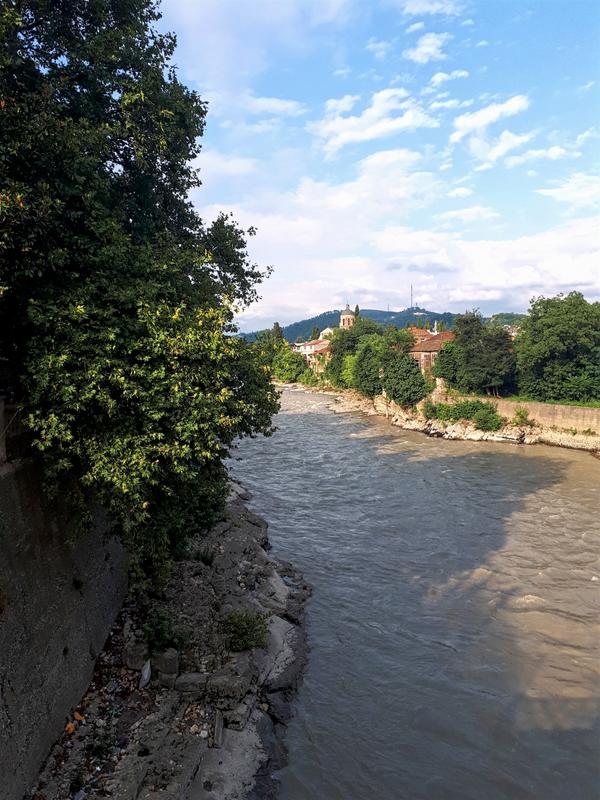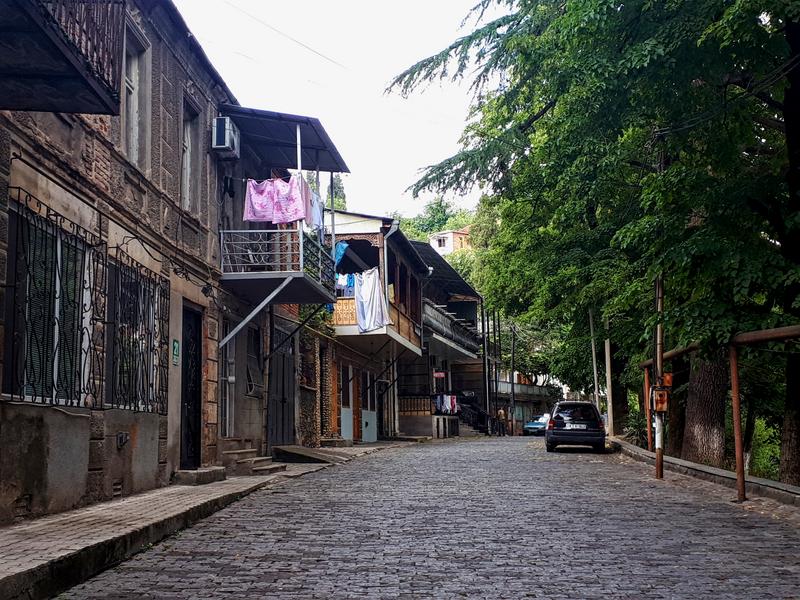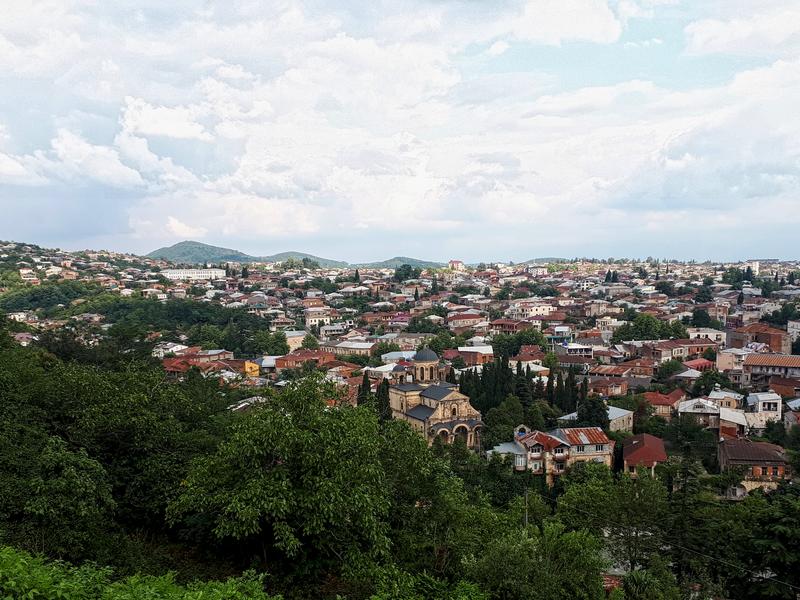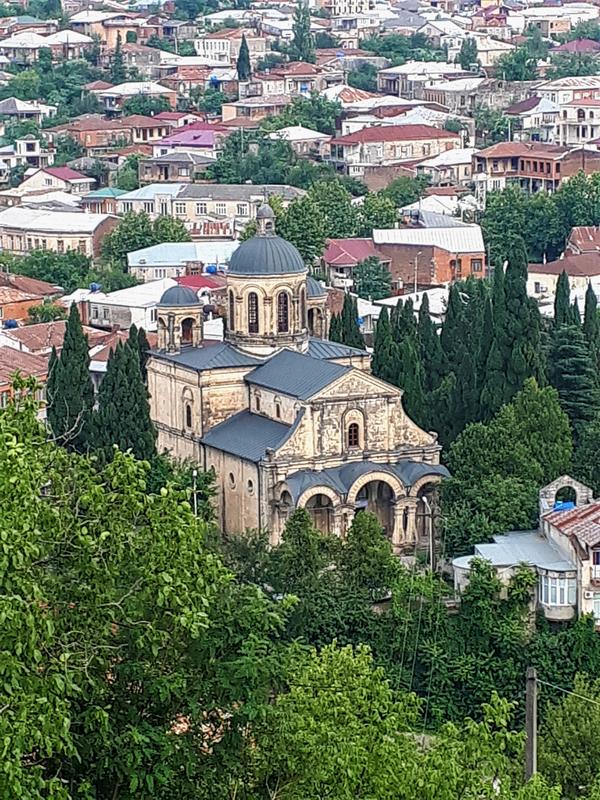 When I last visited Kutaisi, the Cathedral was still in ruins and UNESCO World Heritage listed. Since then, it has been controversially renovated. As a result, UNESCO removed the cathedral from the world heritage list as they found the renovations affected the structural integrity and authenticity of the building.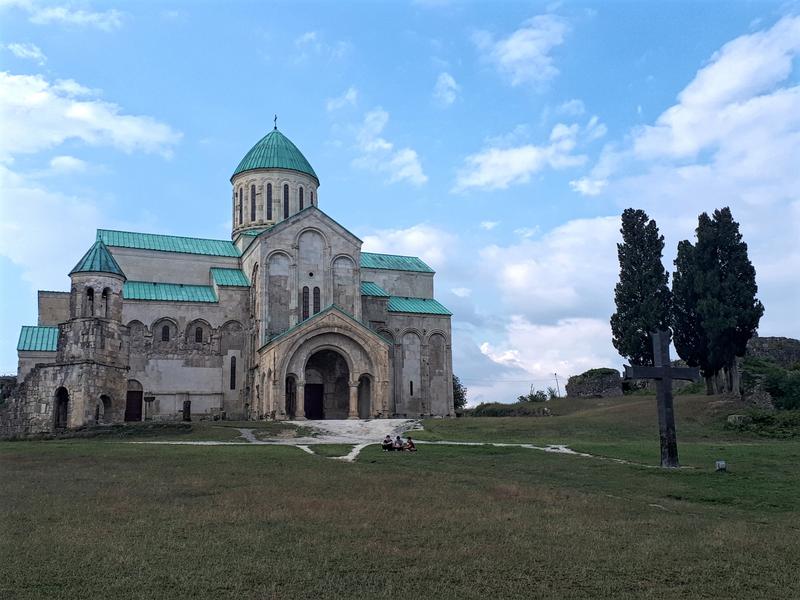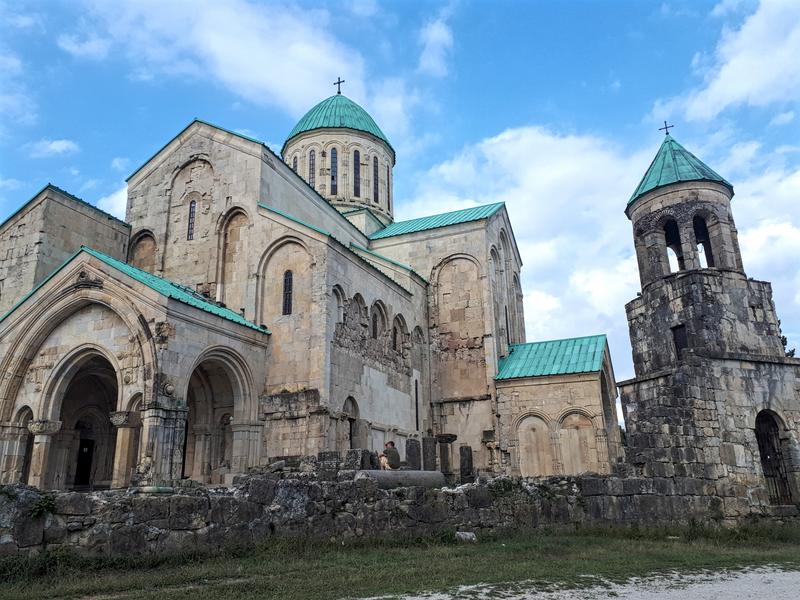 From the cathedral I headed back downhill again for a leisurely walk in the downtown area. There isn't really a lot to see in the city but the town has a decidedly relaxed vibe which makes walking around a pleasure.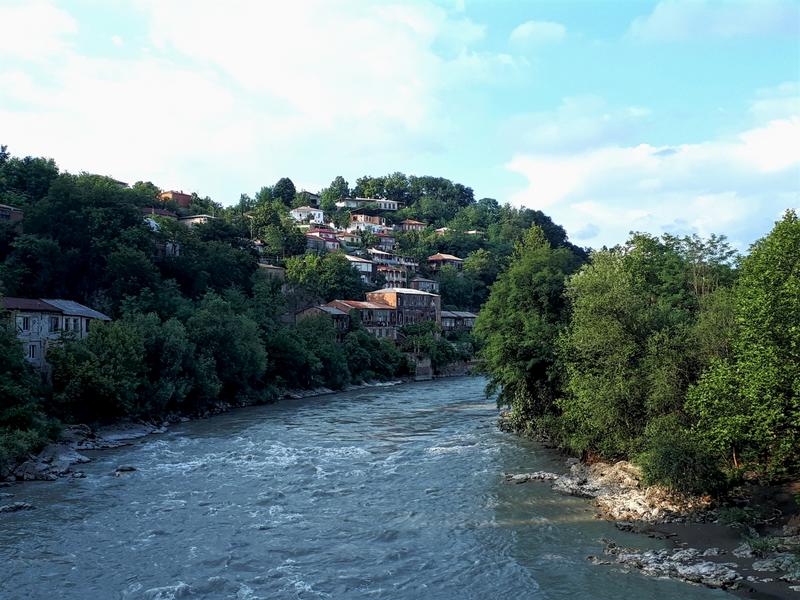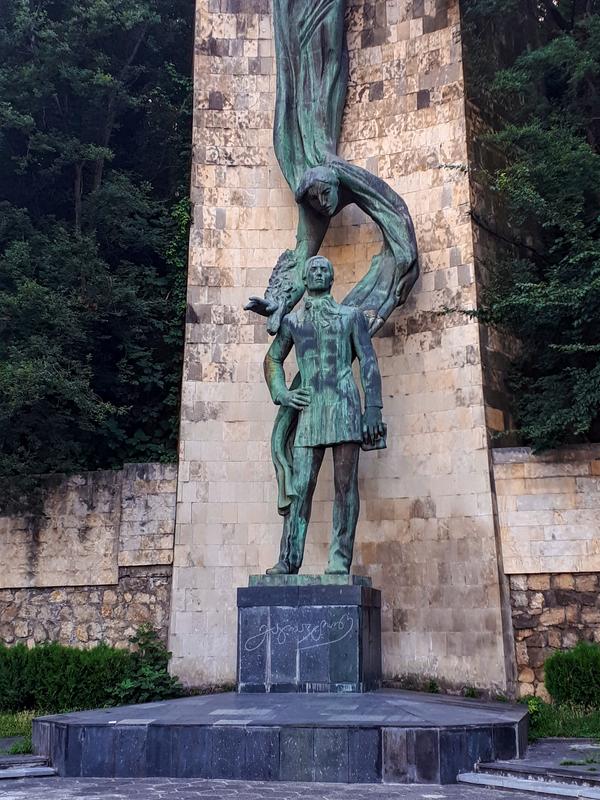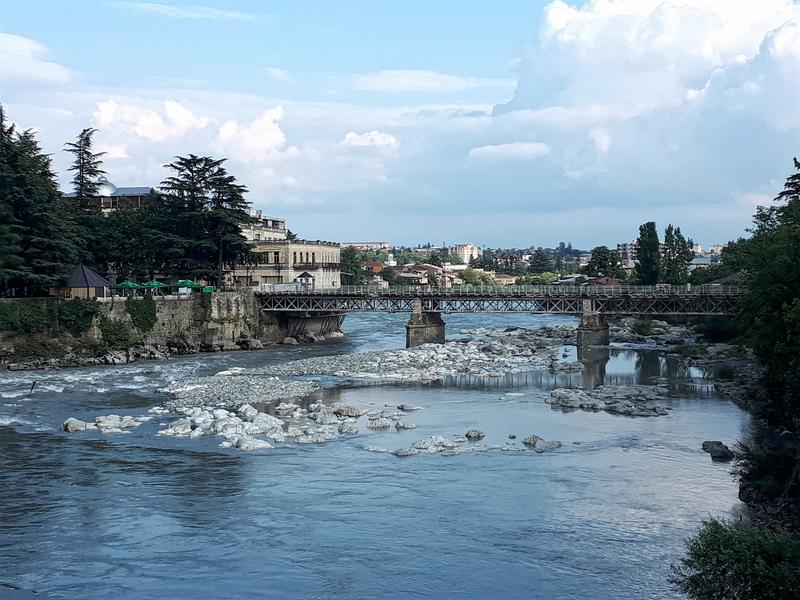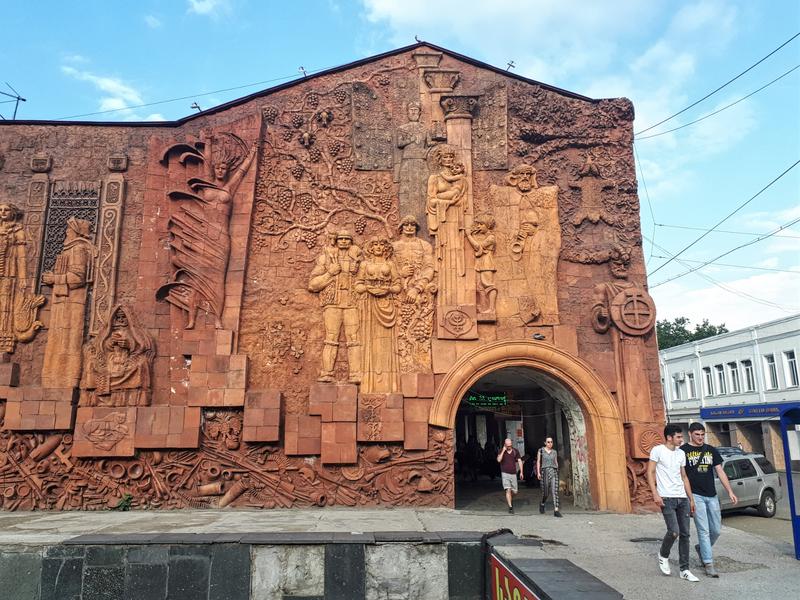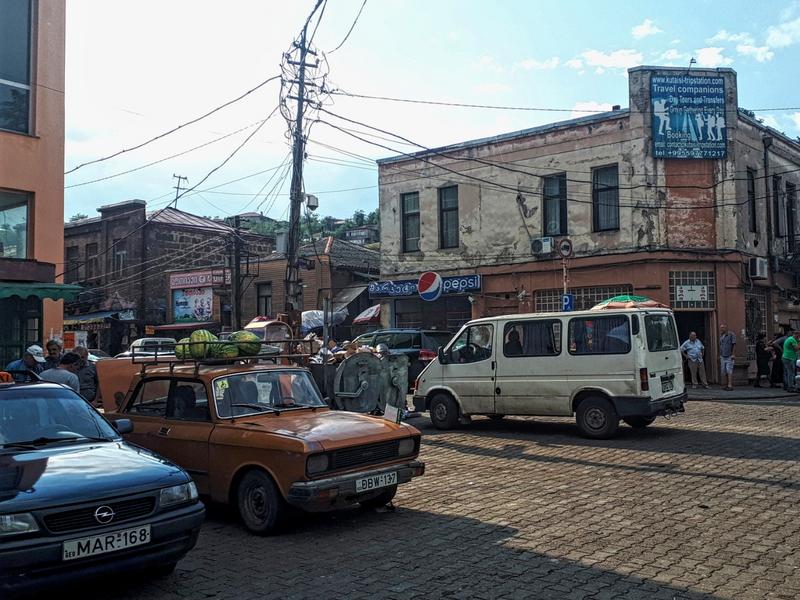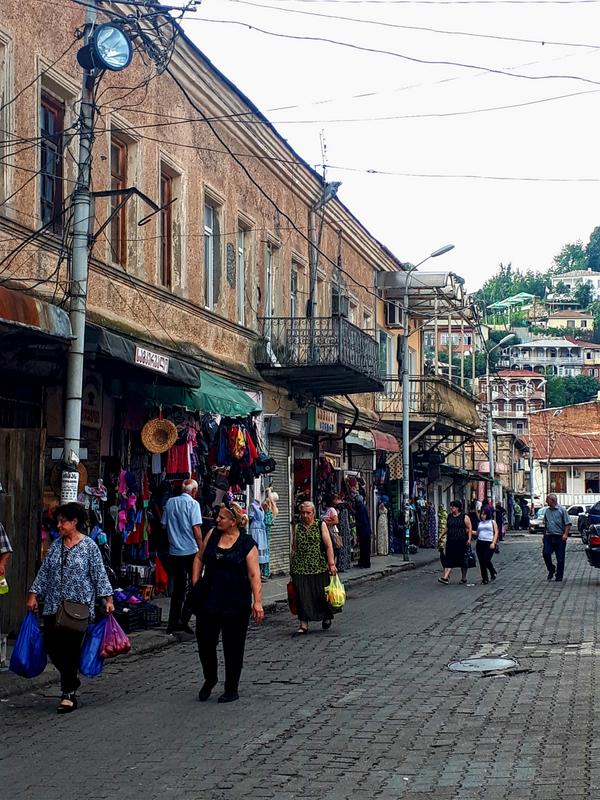 As I had skipped lunch altogether I was getting very hungry. When I saw a cool-looking place with some ice outdoor seating (Wine Bar Sapere) I decided to sit down for a bite and some wine.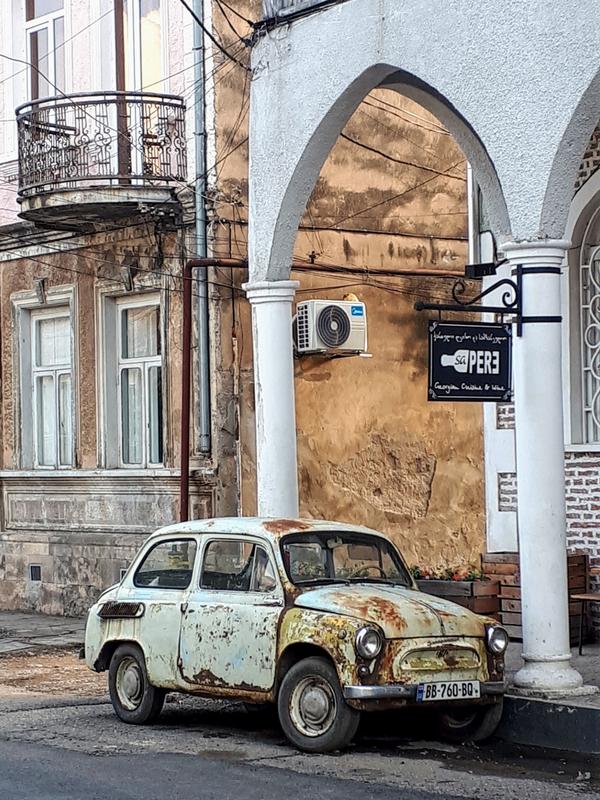 As an appetiser, I had some Imerertian khachapuri, washed away with some excellent red wine. Georgia is the cradle of wine with archaeologists generally in agreement that mankind's first ever wines were made here. There are some intriguing local grape varieties and excellent wines to be found around the country. Also homemade wines are a big treat if you have the chance to savour them at a Georgian family home (most families, even the ones in the big cities, will have a relative in the countryside who makes their own wine as well as [i]chacha[i] – the highly alcoholic local firewater). Traditionally, such wines are made in clay pots and are buried inside the garden to mature!
Khachapuri is perhaps the best-known Georgian food staple. Simply said, it is a warm cheese-filled bread – and each region has it in their own style. The most ubiquitous around the country is the Imeretian khachapuri (Imeretia is the central Georgian region in which Kutaisi is located). The cheese most commonly used for it is sulguni cheese, which is slightly sour and salty. Personally I find khachapuri's addictively tasty – I'm always happy when I see a Georgian restaurant on my travels around the world – and of course a visit to Georgia itself is a big culinary treat.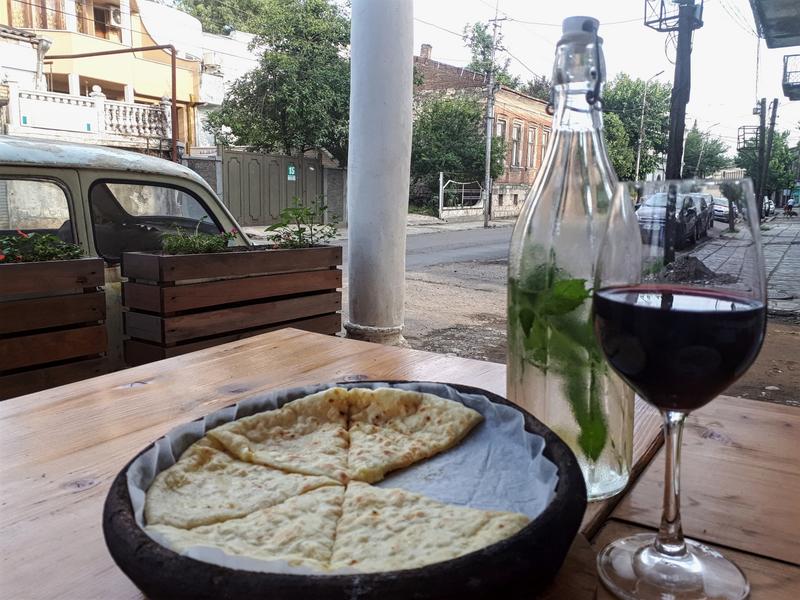 The khachapuri and wine was served with complimentary water, which was flavoured with mint leaves and tasted absolutely great and refreshing in itself on this summer day! Also the khachapuri was excellent.
As a main, I had some grilled meat from the barbecue – it was nicely presented with onions and pomegranates but unfortunately a bit too blackened and overcooked.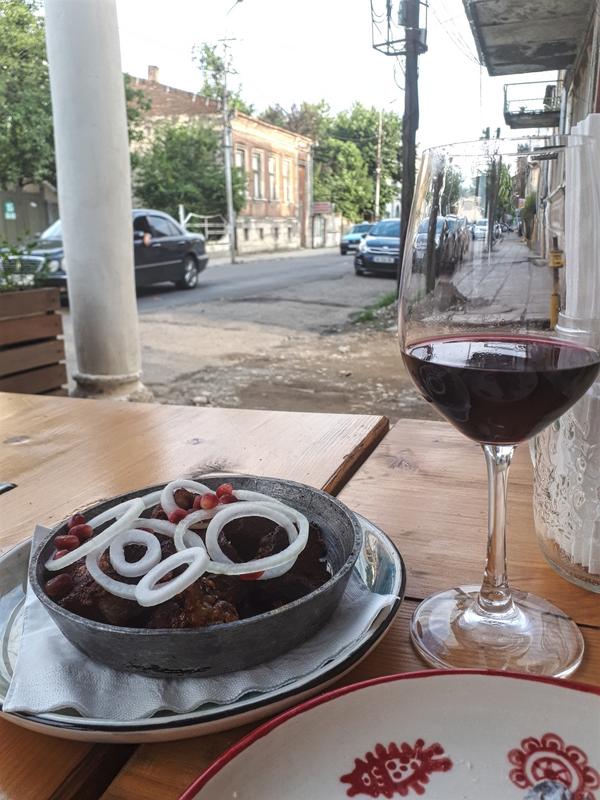 The desert was however much better again and a yummy end to the meal.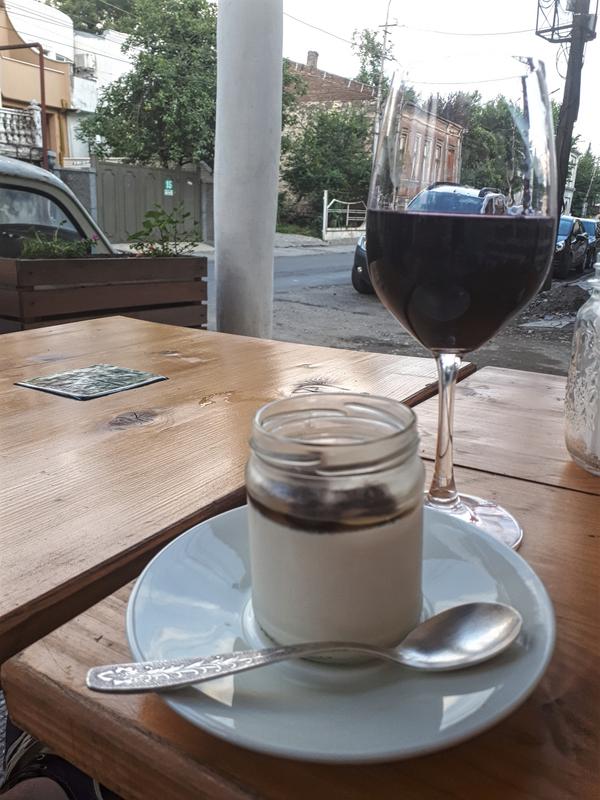 Afterwards, I wandered a bit more around the city centre with its cobblestoned street and stopped for an after dinner coffee. Another Georgian culinary treat is Borjomi mineral water, which I ordered with my coffee. Borjomi was the favourite drink of Stalin (a Georgian born under the name of Ioseb Besarionis Jughashvili) so I'm in good company there. Borjomi is however an acquired taste as it is highly carbonated and full of volcanic minerals.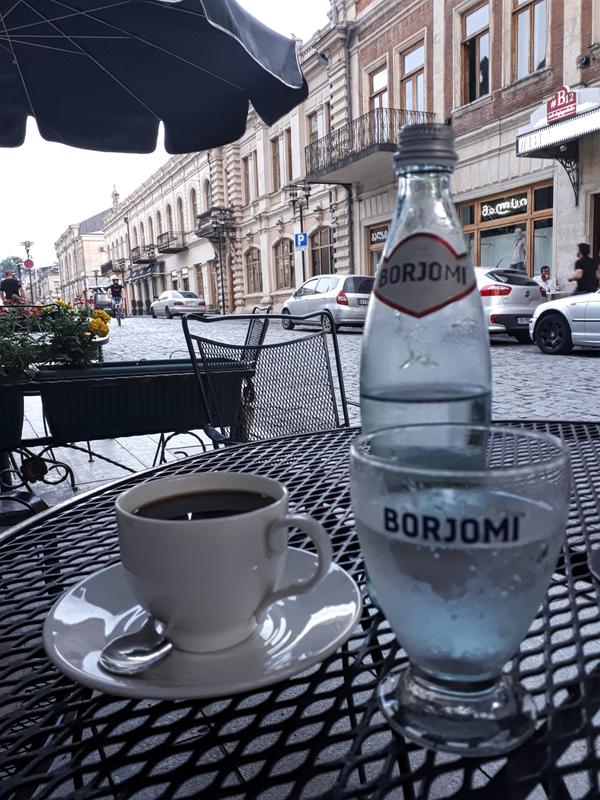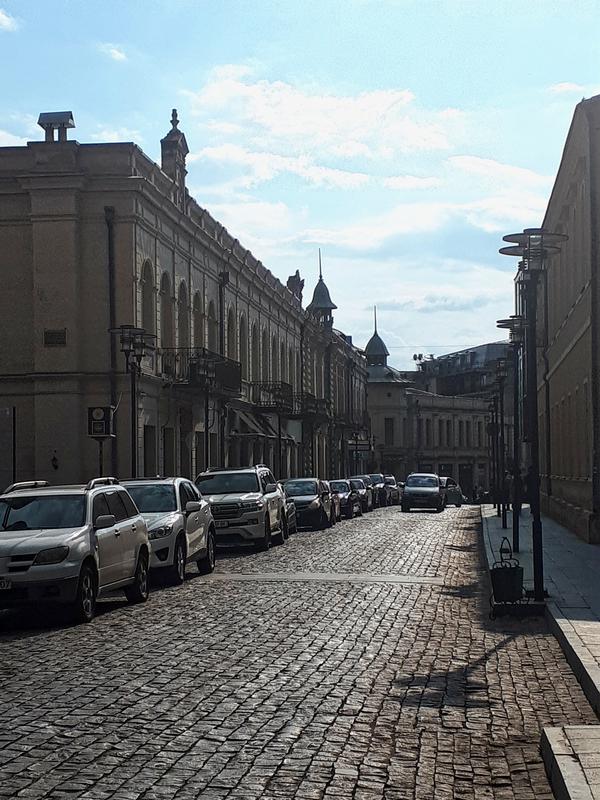 As I was planning an early ride the following morning I headed back to the hotel in the early evening – but not before buying a bottle of red to drink while watching the Russia vs. Croatia world cup football match from my laptop on the lovely hotel balcony.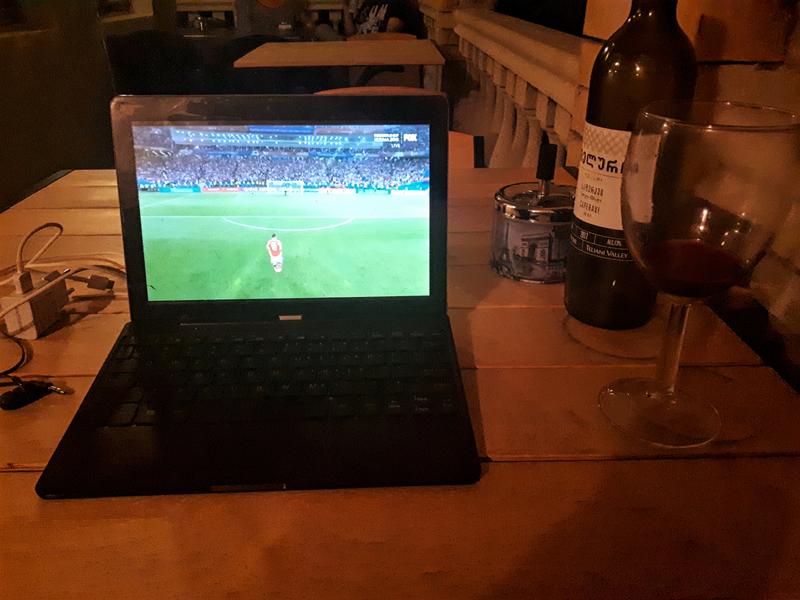 In short:
Kutaisi is a nice place to stop over for the day and makes for a relaxing introduction to the country for those arriving at the airport on a LCC. For those visiting Georgia for the first time it is often a must-stop transit point anyway, as it is at an important crossroads if coming from Tbilisi and heading towards the coast or the Svaneti mountains. I didn't visit this time as I already went there some years back, but the monasteries and caves in the immediate surroundings of Kutaisi are highly recommended and can be easily visited by chartering a taxi for half a day if you don't have your own wheels.
Next up:
Batumi – the pearl of the subtropical Georgian Black Sea riviera.
Dec 8, 18, 10:28 am
Join Date: Nov 2014
Location: Workington, Cumbria
Programs: BA EC Blue, M&M, Flying Blue
Posts: 21
Hi RomanianFlyer, The past few days I've stumbled across a few of your trip reports, now I'm hooked!, they are certainly up there among the best I've ever read - Keep up the good work - Georgia looks stunning, you certainly know how to capture the heart of the destination :-)
Dec 11, 18, 4:32 pm
Join Date: Nov 2014
Location: Workington, Cumbria
Programs: BA EC Blue, M&M, Flying Blue
Posts: 21
I'm actually amazed you actually survived the Stuttgart Oktoberfest :-) I like my beer too but I think I may be unconscious for a few weeks after that Haha! I Had Frankfurt Planned for 21/22/23 December to watch Eintracht Frankfurt v FC Bayern but had to knock it on the head due to the cost of the ticket! Maybe catch them next year in my beloved OlympiaStadion Away to Hertha Berlin (FC Bayern that is not Frankfurt) :-)

Definitely Interested in the Batumi Part - Hope you enjoyed it as much as we love reading about it :-)
Dec 12, 18, 8:45 am
Join Date: Jul 2013
Location: JNB
Programs: Flying Blue, Miles and Smiles, Hhonors, ICHotels
Posts: 1,175
Dec 12, 18, 11:06 am
Join Date: Mar 2013
Location: TBS/ZRH/GVA/BSL
Posts: 45
Originally Posted by
roadwarrier
On one trip, I went from Tashkent to Moscow, spent the night then onto Tbilisi -(no direct flights then), got food poisoning on Uzbek Air, so the next morning was hell on Aeroflot. Many, many cognacs later, I felt almost human. At the hotel in Tbilisi, I mentioned I wasn't feeling too well, and they sent up about 4 bottles of Borjomi to my room. Either it was the cognac, or the water, but my evening I felt great. Love the taste, but as you say, it is a very acquired taste.
Borjomi helps indeed when you're sick! It is well known that for. The Georgians say it and my experience says it as well
It's just a pity that Borjomi doesn't belong to a Georgian company (I guess it's Russian now....)
Dec 13, 18, 12:39 pm
Join Date: Feb 2014
Location: OTP, CHQ, EIN and beyond
Programs: AF/KL platinum, Turkish gold, Aegean silver
Posts: 1,199
Originally Posted by
BAflyerNCL
I'm actually amazed you actually survived the Stuttgart Oktoberfest :-) I like my beer too but I think I may be unconscious for a few weeks after that Haha! I Had Frankfurt Planned for 21/22/23 December to watch Eintracht Frankfurt v FC Bayern but had to knock it on the head due to the cost of the ticket! Maybe catch them next year in my beloved OlympiaStadion Away to Hertha Berlin (FC Bayern that is not Frankfurt) :-)

Definitely Interested in the Batumi Part - Hope you enjoyed it as much as we love reading about it :-)
Drinking is actually much easier on such trips than at home. A good night of boozing at home and I need days to recover nowadays! But if I go on a trip somewhere abroad and get into the flow I can keep going and going... last one to sleep, first one up! I guess having a trace amount of alcohol in your blood on such trips, continuing drinking almost immediately the next day, combined with the adrenaline of a cool trip somewhere abroad - is what makes the difference.
The Bayern match plans sound great! I've only visited one match ever in the Bundesliga, one of the last games Moenchengladbach played at their old Bökelberg stadium (must have been 2004) before moving to their boring new arena. Loved the experience!
Originally Posted by
roadwarrier
On one trip, I went from Tashkent to Moscow, spent the night then onto Tbilisi -(no direct flights then), got food poisoning on Uzbek Air, so the next morning was hell on Aeroflot. Many, many cognacs later, I felt almost human. At the hotel in Tbilisi, I mentioned I wasn't feeling too well, and they sent up about 4 bottles of Borjomi to my room. Either it was the cognac, or the water, but my evening I felt great. Love the taste, but as you say, it is a very acquired taste.
Both cognac and Borjomi are indeed known for their miraculous healing power
the brandies are also absolutely amazing in the area as you say, unfortunately I'm down to the last bits of my 12yo Ararat bottle I have at home
(guess that means it's time to plan another Caucasus trip to stock up on essentials!)
Indeed, it was also suggested by my friends to drink (with some miraculous Soviet-era disgusting-tasting pill) when I had quite a bad hangover after a long countryside
supra
. Got me back on the feet in just a few hours!
Dec 13, 18, 1:40 pm
Join Date: Feb 2014
Location: OTP, CHQ, EIN and beyond
Programs: AF/KL platinum, Turkish gold, Aegean silver
Posts: 1,199
Part 3: Kutaisi to Batumi
Hotel in Batumi: My Warm Guest House, 93 EUR/night
Morning began with a nice breakfast at the hotel's lovely outdoor terrace with river view. No choice of meal or buffet – but everyone got a freshly cooked breakfast when they seated for breakfast. The breakfast (eggs, fresh veggies, bread, jams and cheeses) were perfectly adequate to start the day.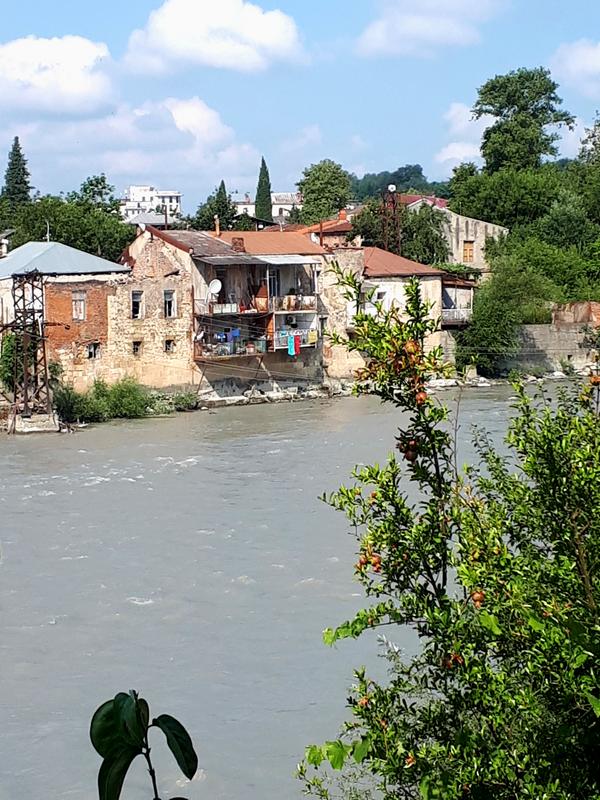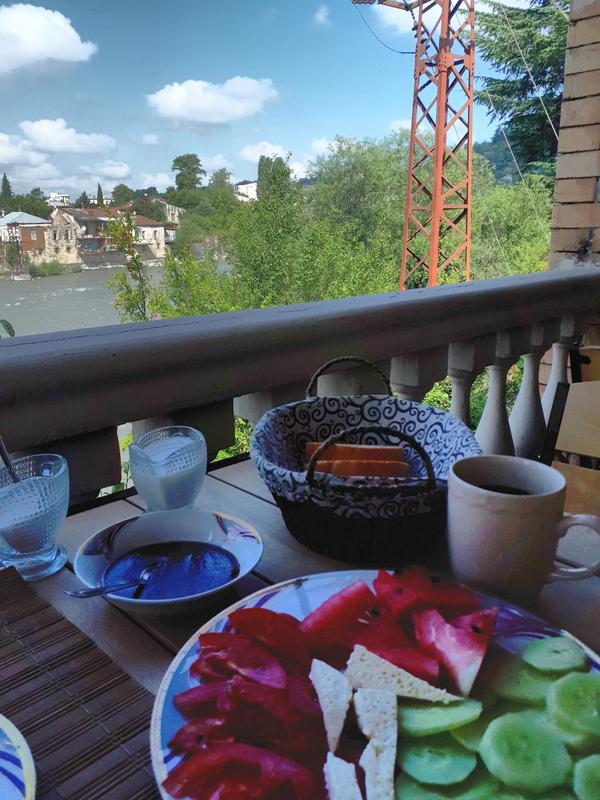 As I couldn't figure out the train network (the few trains on Georgia's limited railway network going to the coast were seemingly all booked out completely) I had no choice than to take a marshrutka – the ubiquitous minibus services found all over the former Soviet Union. They are cheap, relatively fast and flexible as they depart when they are full. This means that on popular routes they fill up quickly and you never have to wait long. After taking a taxi (for the grand price of 1 EUR) to the marshrutka stand in front of the train station, there was luckily already a marshrutka waiting to depart to Batumi being almost full. Unfortunately, that also meant that the best seats in the minibus were taken and I had to sit on squeezed in between three other persons on the back row. Ugh.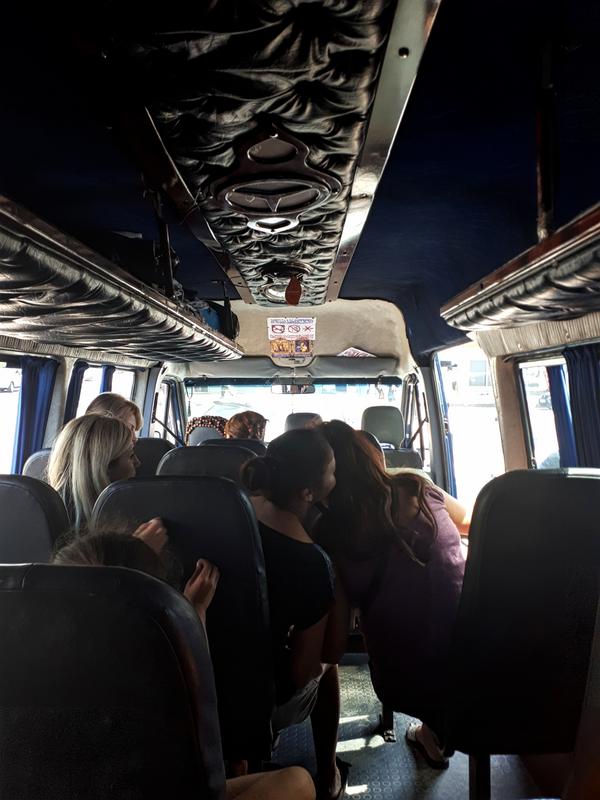 Without having a window seat to stare at the countryside, the ride on the bumpy Georgian roads to Batumi seemed to take forever. Even though Google Maps said the ride would only be 2 hours and 38 minutes, in reality it was more like almost four hours due to bad traffic, awful road conditions and lots of stops once we hit the coastal road to drop off passengers and pick up new ones waiting on the side of the road. Having travelled to the country before (and living in Romania where Google Maps is often not realistic as well) I expected this to happen, but even with that in mind it seemed to take forever this time..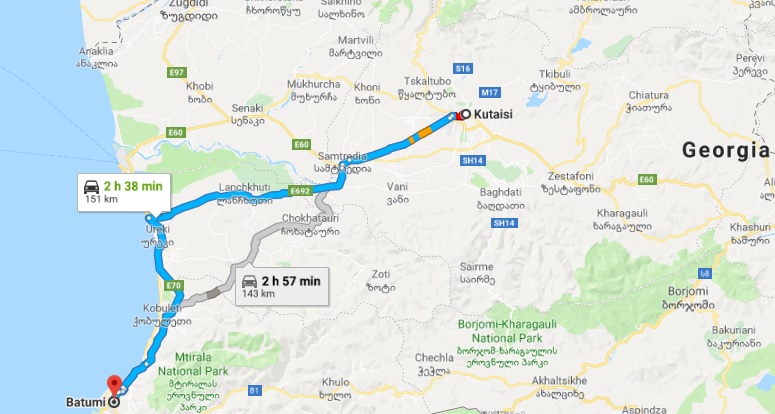 Just shortly before Batumi most of the minibus emptied out and I was lucky to have a spot at the window on the right to grab a quick picture of the Black Sea and the Batumi skyline popping up on the horizon.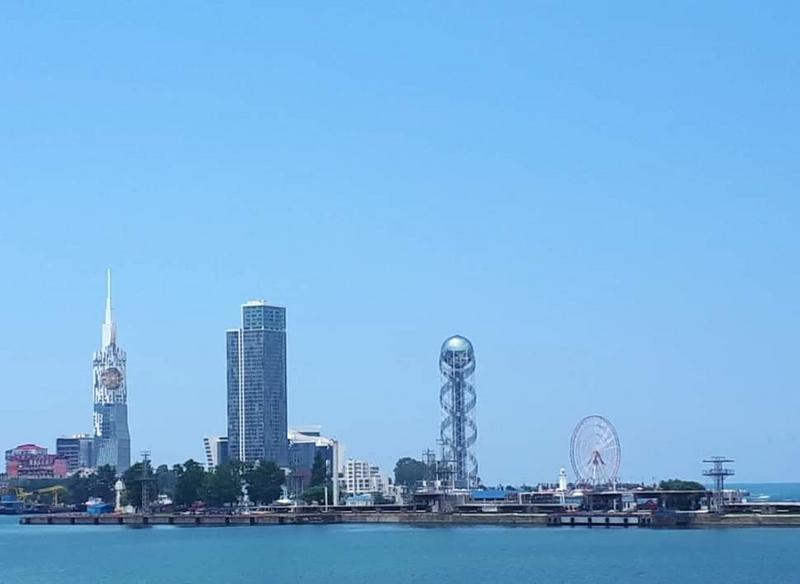 Accommodation in Batumi is fairly expensive in summer time despite Georgia still being a very affordable destination. The Black Sea resort has always been a popular summer holiday destination, even back in the days of the USSR you had flights from all over continental Russia to Batumi. It still is a destination that is mostly popular with Russians, Armenians and of course also Georgians on holiday in their own country. This reflects in accommodation prices, with especially the new modern chain hotels (and their no-name copycats) asking prices of 150 EUR a night or even double that. Ouch!
I was luckily able to secure a nice deal with My Warm Guest House, which offers nice apartments smack in the middle of the old town of Batumi. Even though 93 EUR is cheap for a Batumi summer, it is however still remarkably pricey for the country as anywhere else in Georgia it would perhaps not cost you more than 40 or 50 EUR for the same apartment. That said, I was absolutely happy with the choice. The apartments had everything in them which you might want, they looked rather nice, and I even had a nice balcony overlooking a cosy old town street and a side-way view towards the boulevard and sea. As the reception desk in the building were delightfully welcoming and helpful as well, I would definitely come back here if I'd visit Batumi again in the future.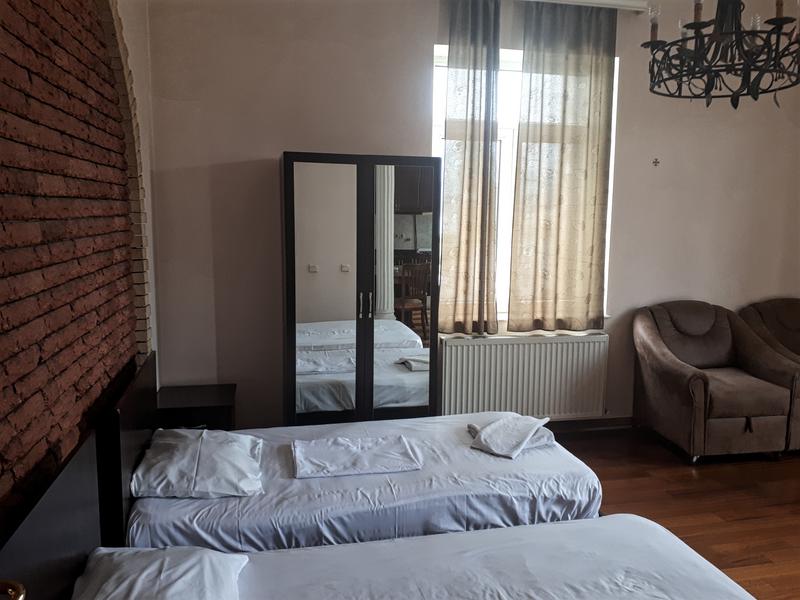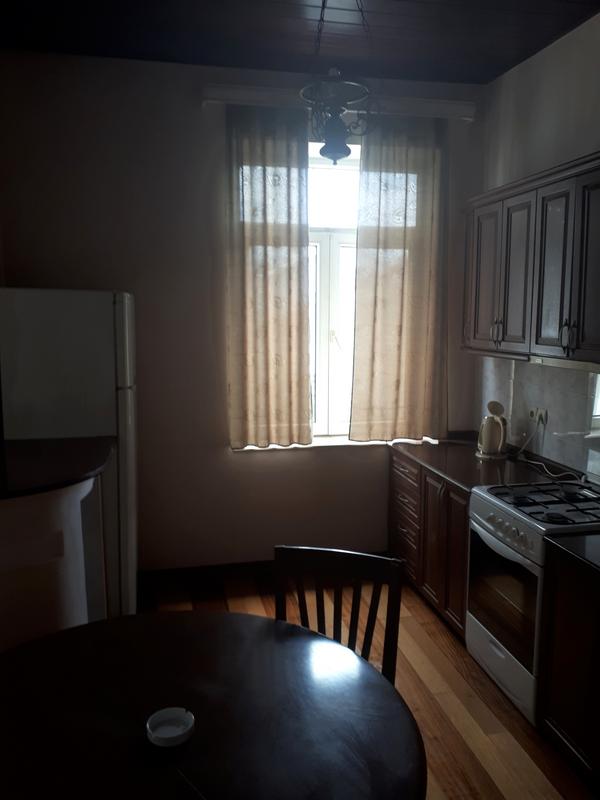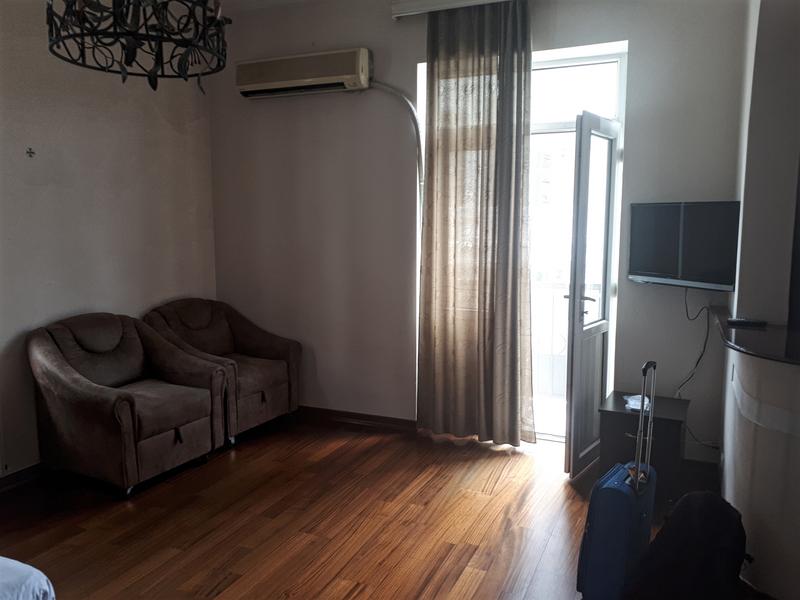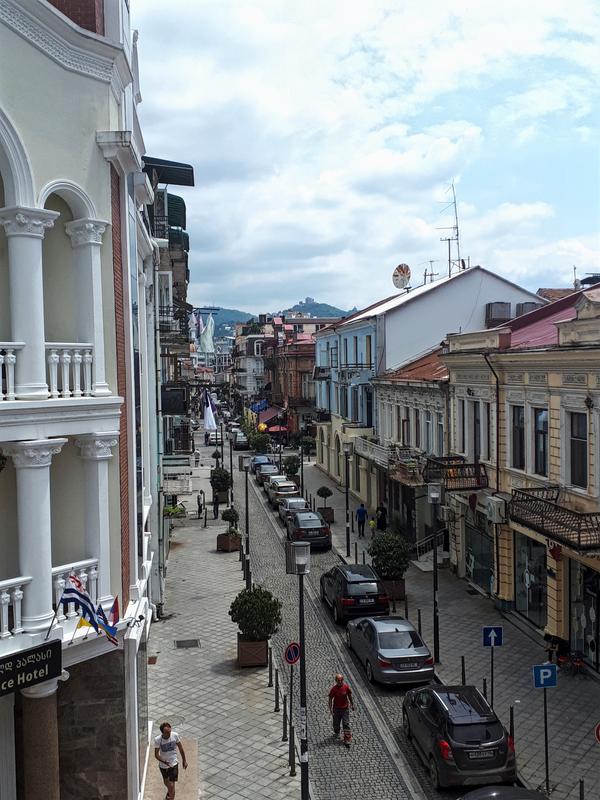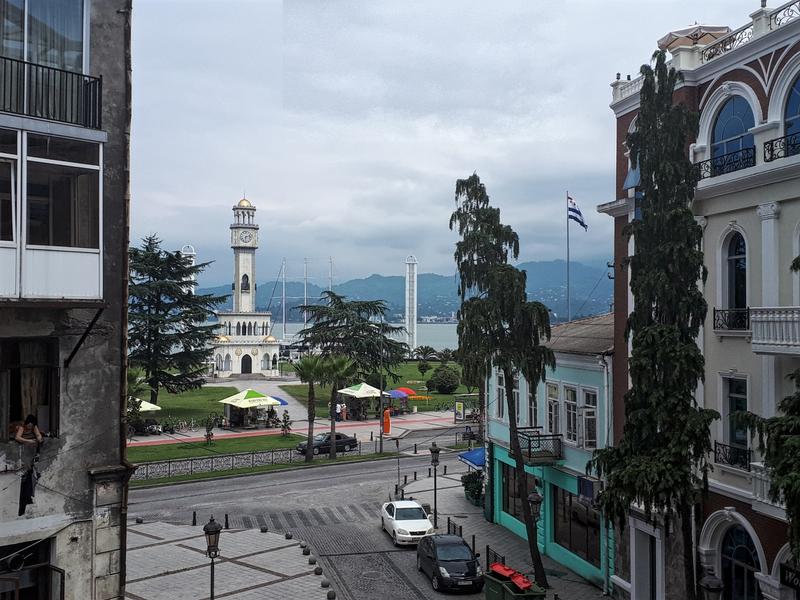 My Warm Guest House apartment & balcony view
Best of all, there were welcome drinks in the room! One classy glass bottle had absolutely delicious homemade red wine in it, while the other one had some super-strong homemade
chacha
(Georgian grape brandy which is about 65 percent strong). The wine was so delicious that I even inquired if I could take home a few bottles, which the reception was happy to give me for a very good price (the wine being homemade, think empty coca cola bottles filled with wine – which is the customary way all over Eastern Europe/the former USSR to store your own alcohol).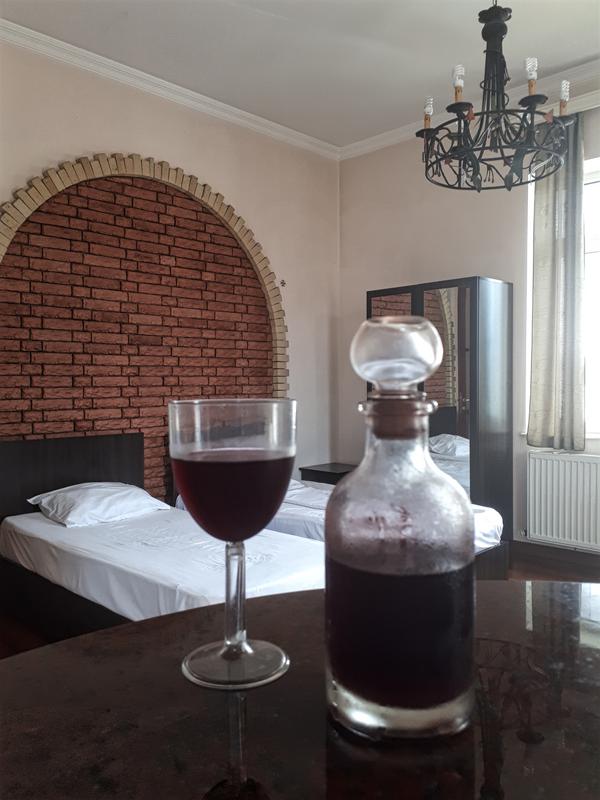 As the ride to Batumi was quite gruelling I was in dire need of some lunch. On advice of the receptionist, I headed towards a nearby restaurant (Shemoikhede Genatsvale) just a block away. To start, I had some khinkali (Georgian dumplings) and some basturma (highly seasoned, air-dried cured beef). Both were great! To properly eat khinkali takes however a bit of an effort. To eat it the proper Georgian way, you take it with your hands, take a bite and then immediately suck the juice inside the dumpling (this is essential as otherwise it will either leak on your plate or worse – all over your clothes). When the juice is out of the dumpling you can eat the rest. It is considered impolite to use cutlery or to eat the tops of each dumpling where the pleats meet (you discard this on your plate).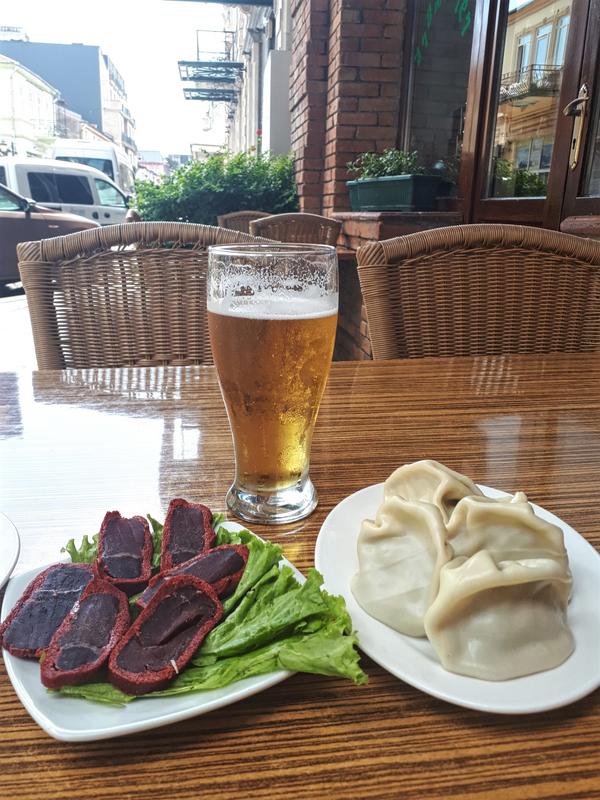 Next up was of course some khachapuri, this time the Adjaran Khachapuri (Adjara being the region in which Batumi is located). With the Adjaran Khachapuri, the dough is formed into an open boat shape and the hot pie is topped with a raw egg and a pat of butter. Also this takes a special way to eat. You first use a knife to cut open the bread a bit from the inside, then you mix the butter, egg and cheese with a bit of the soft inside of the bread – and then you start eating. It is a calorie bomb – but it is oh so delicious.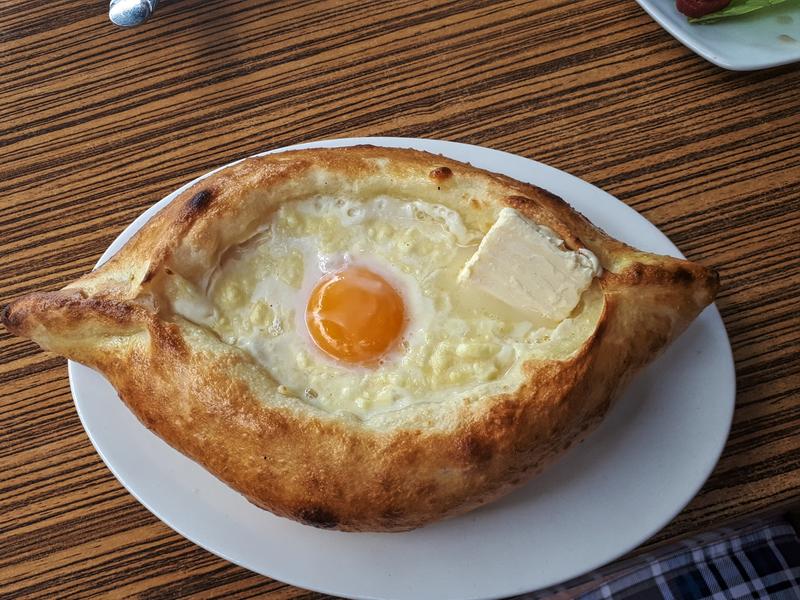 Next up:
Exploring the city of Batumi, an enticing mix between old and new.
Dec 14, 18, 2:26 pm
Join Date: Feb 2014
Location: OTP, CHQ, EIN and beyond
Programs: AF/KL platinum, Turkish gold, Aegean silver
Posts: 1,199
Part 4: A walk around Batumi
Fully energised by the khachapuri and the beer I started my walking tour around Batumi. I just love it to wander aimlessly in cities, especially if they are the size of Batumi which makes this perfectly feasible. Of course, you pick a few points you want to see beforehand, but nothing better than just randomly wander in between those points just following your eyes (or interpretation of a map) what you think looks like a nice and photogenic corner of a city.
I started off in the Russian-built old town of Batumi, which had some magnificent buildings of more than a century old in grand old styles from belle epoque to art deco. It also featured Tsarist-era brick buildings and houses with those oh so lovely big Georgian balconies you see all over the country.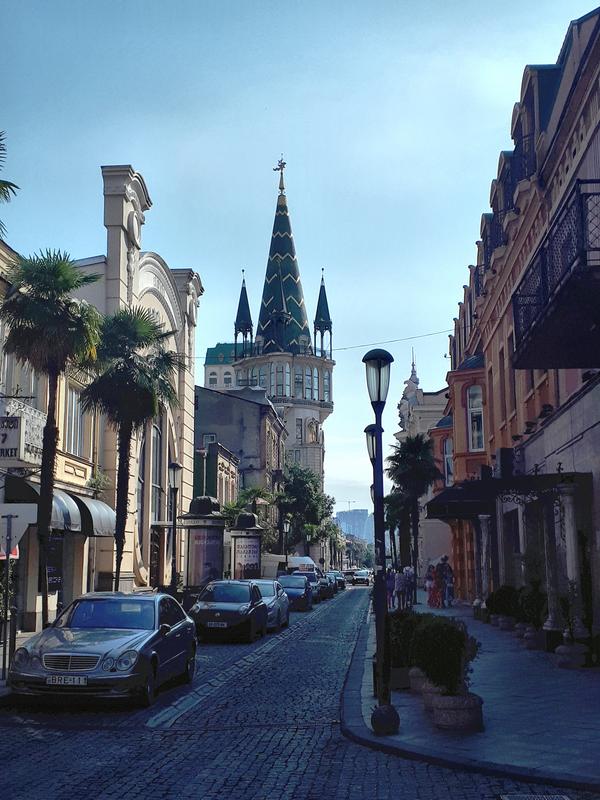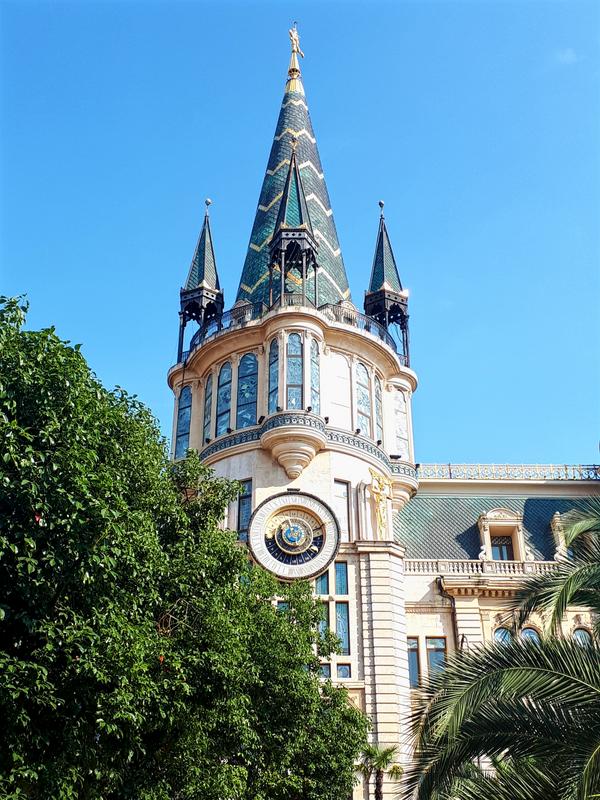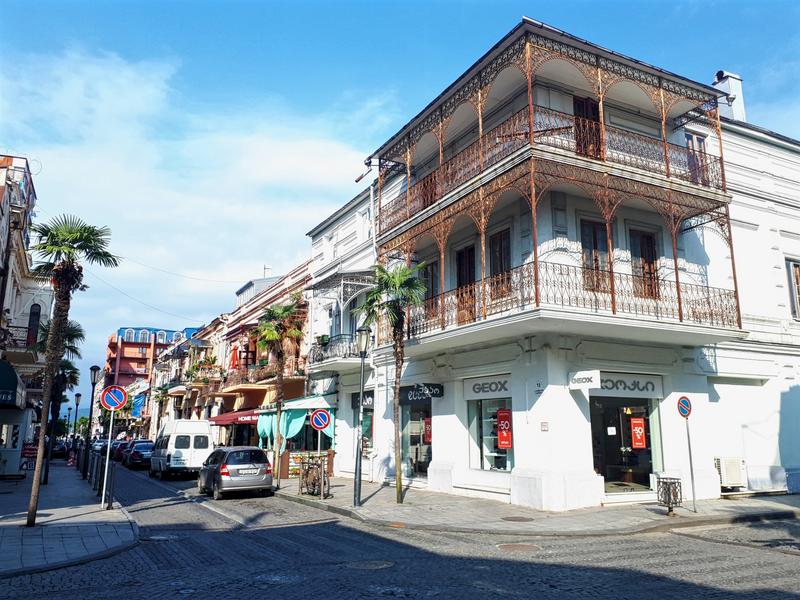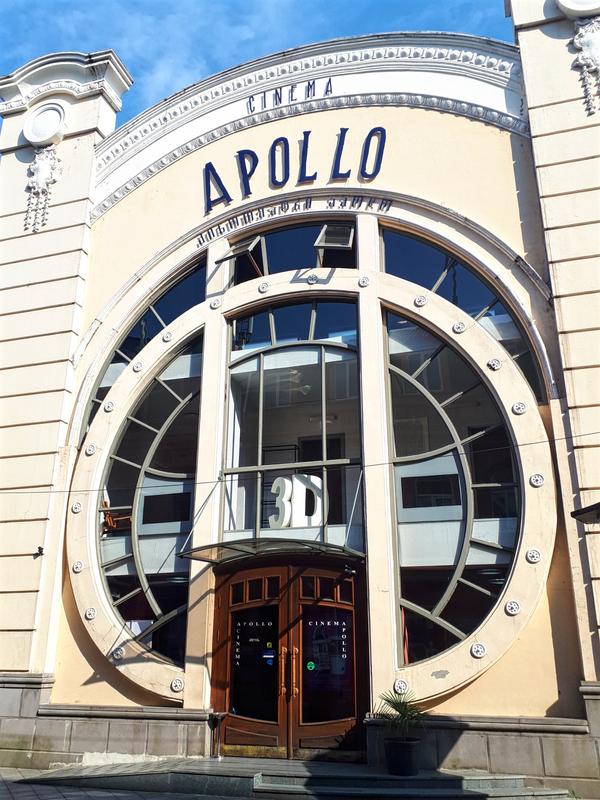 Inside the old town is also a faux-Italian piazza with some appealing looking patio cafes.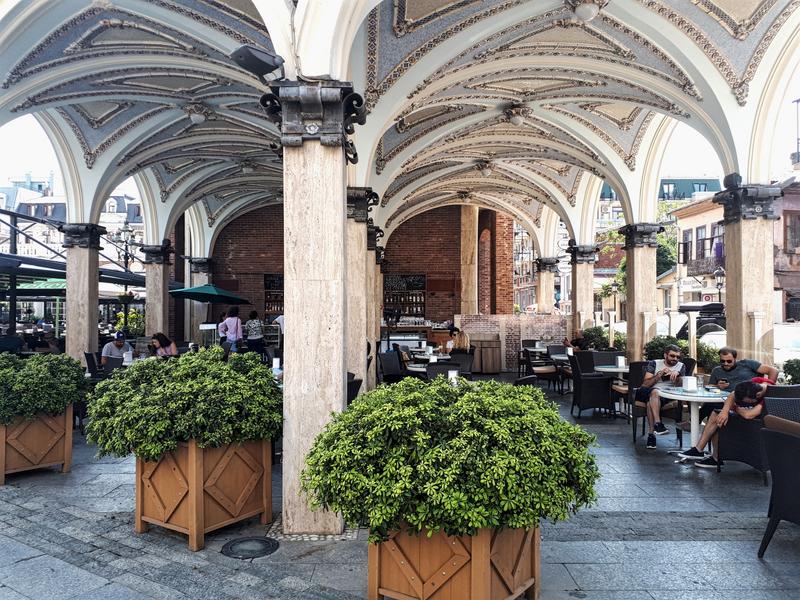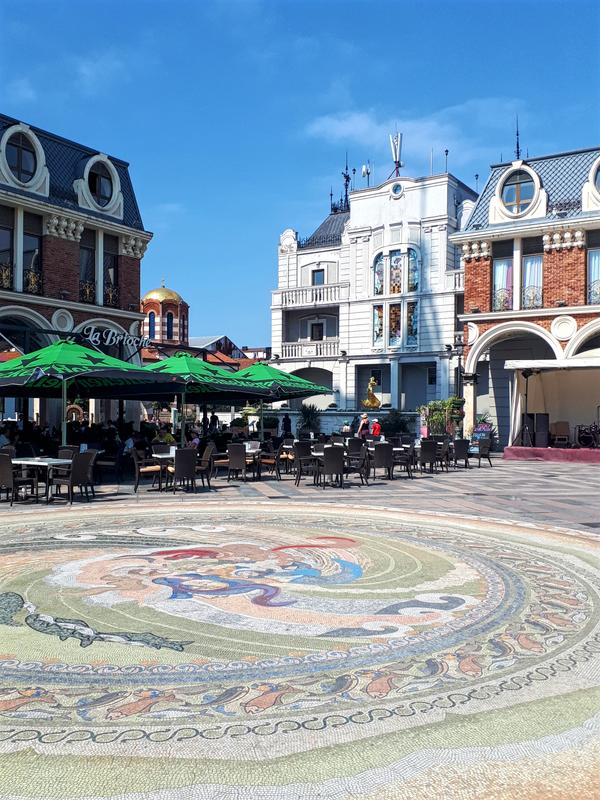 There are also a couple of interesting churches. The state religion in Georgia is Orthodox Christianity, but there are also some Armenian churches as well as a former Catholic cathedral (which after communism was transferred to the Georgian Orthodox Church).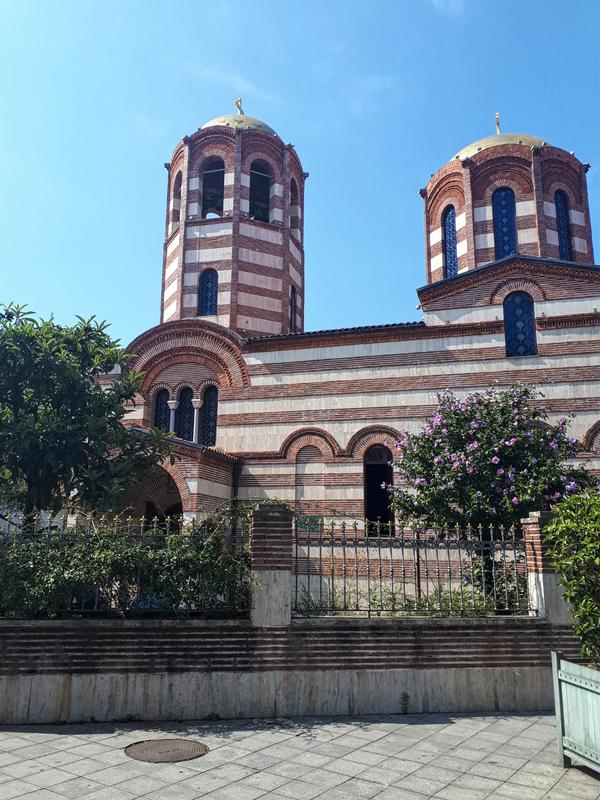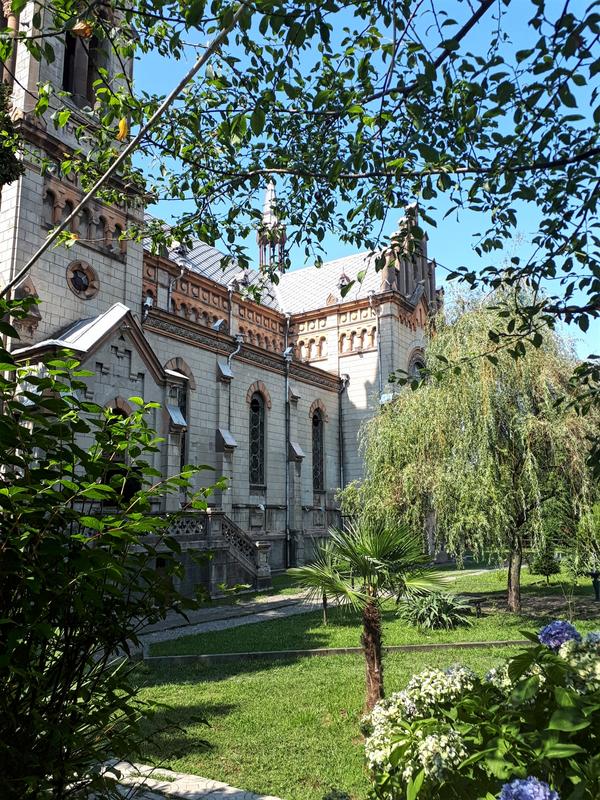 Nowadays, the city architecture is much more diverse than it was one-and-a-half centuries ago in the old boom days. It does not take much effort to see what is new when walking in the old town: views of huge apartment and glitzy hotel towers and casinos are never far away. The contrast between the old and the new is quite striking!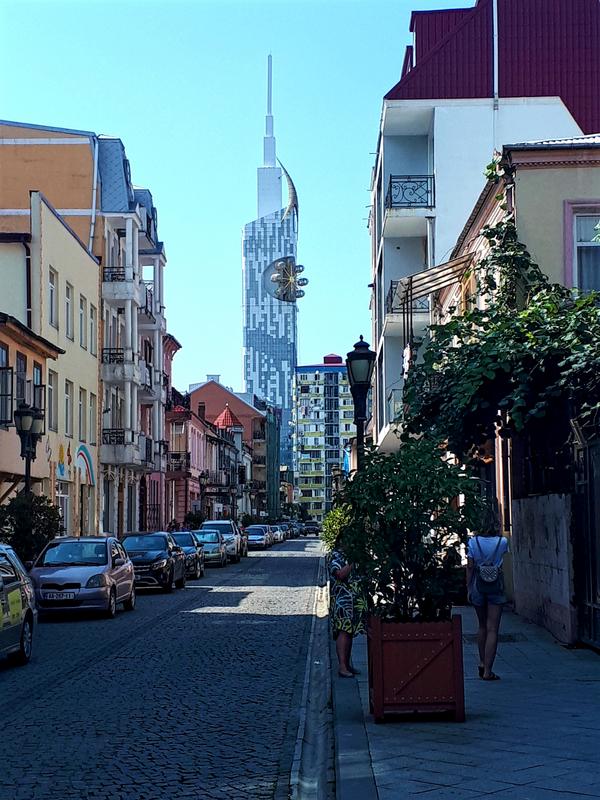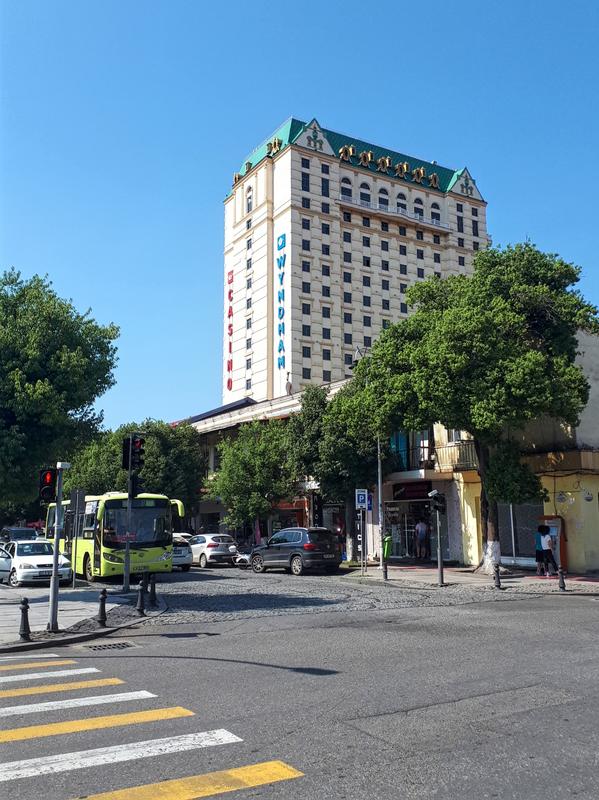 I walked a bit more around the curious architectural mix which is the old town. There are just so many interesting buildings, cute cafes and restaurants and parks here to keep you entertained for a while.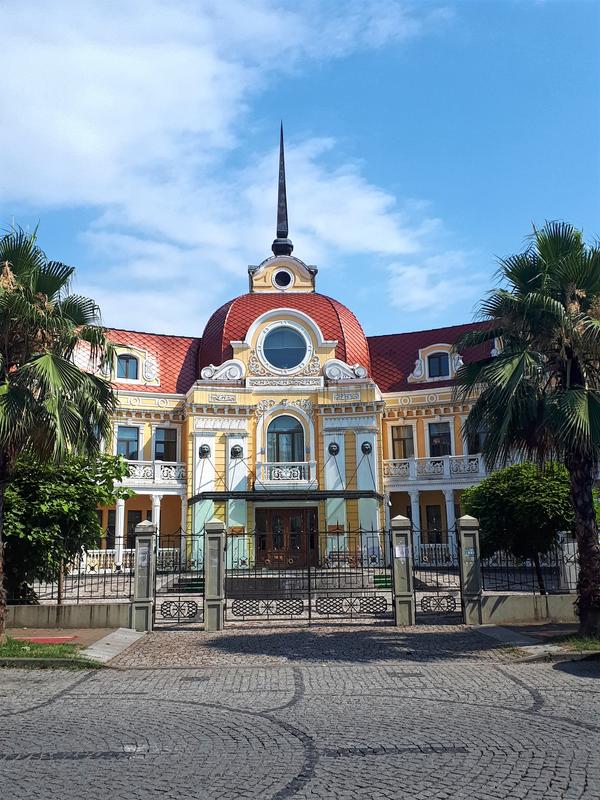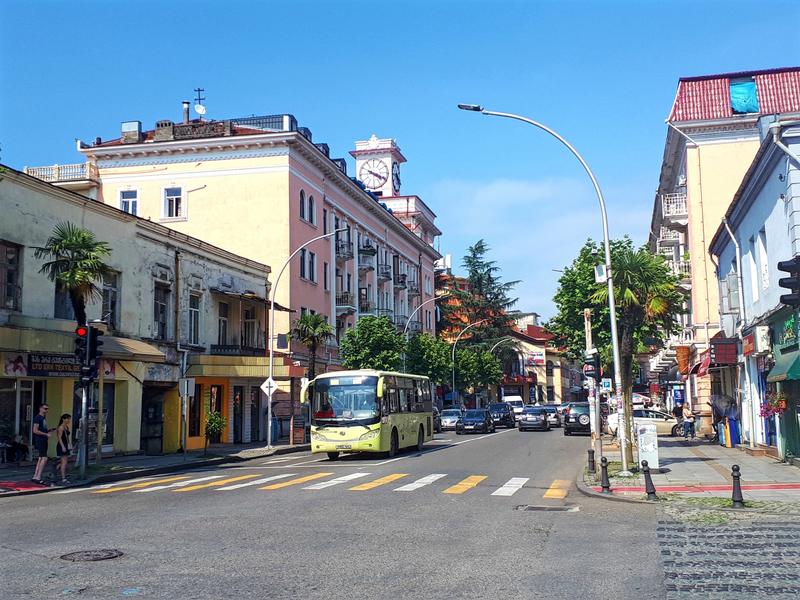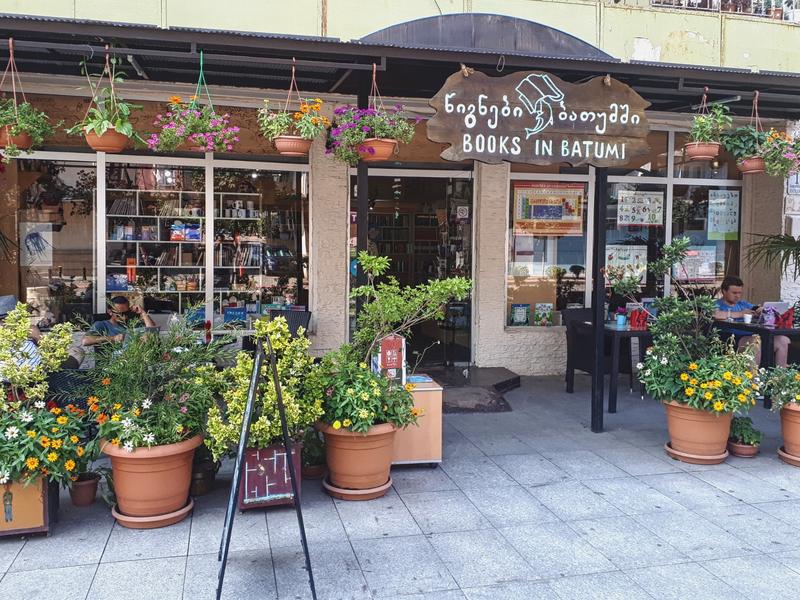 The city's central park features a neoclassical entrance, which is quite typical in many ex-Soviet countries (although this looked like it was constructed after independence).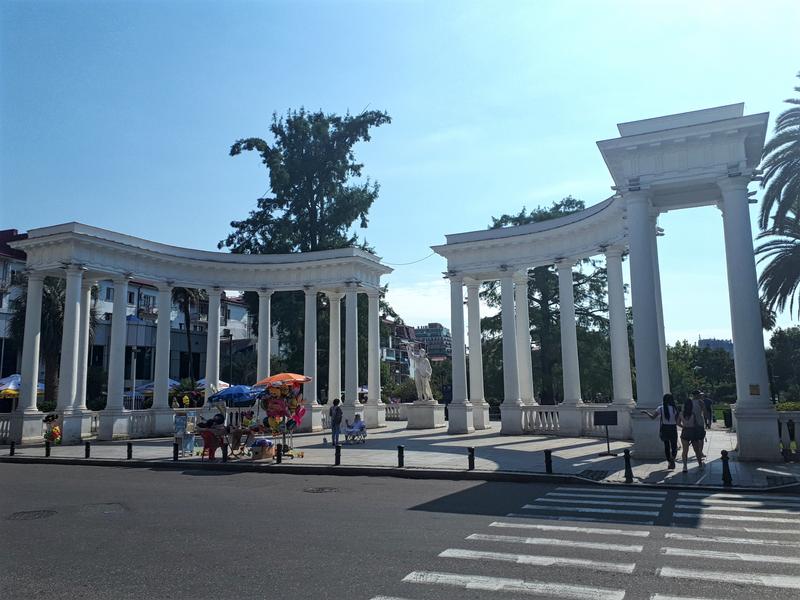 The park is the edge between the old town to the north and a few miles of modern apartment buildings and hotels along the beaches to the south and west.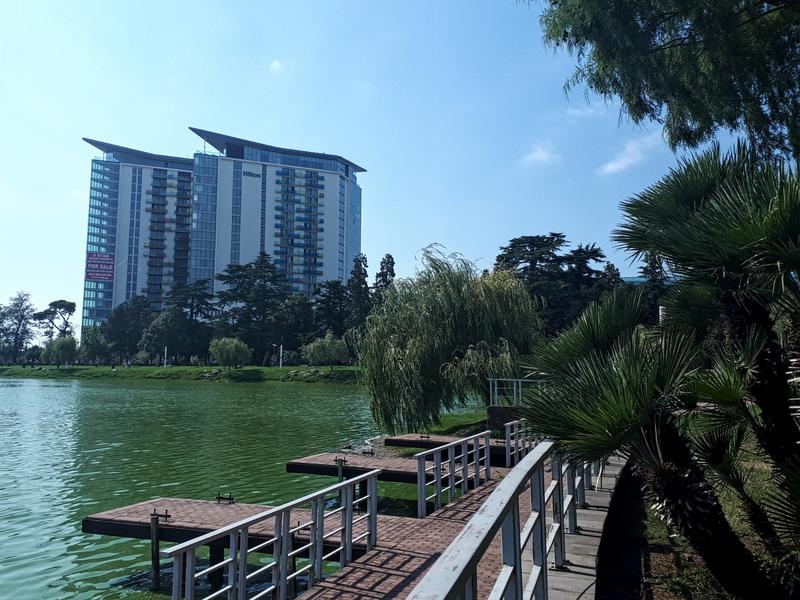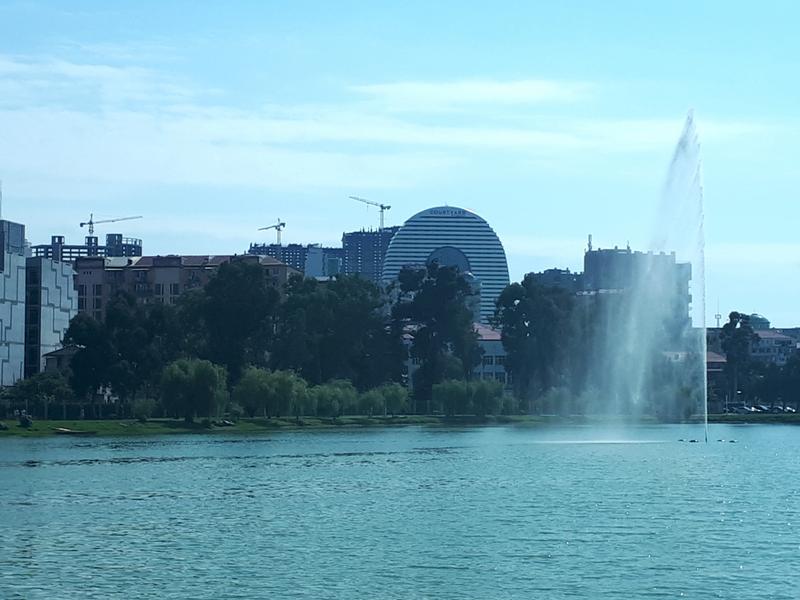 I headed towards the west – the shortest way to the sea from here. Also in this part you see the old next to the new, such as this old Russian-era brick building and the modern hotel tower of the Sheraton.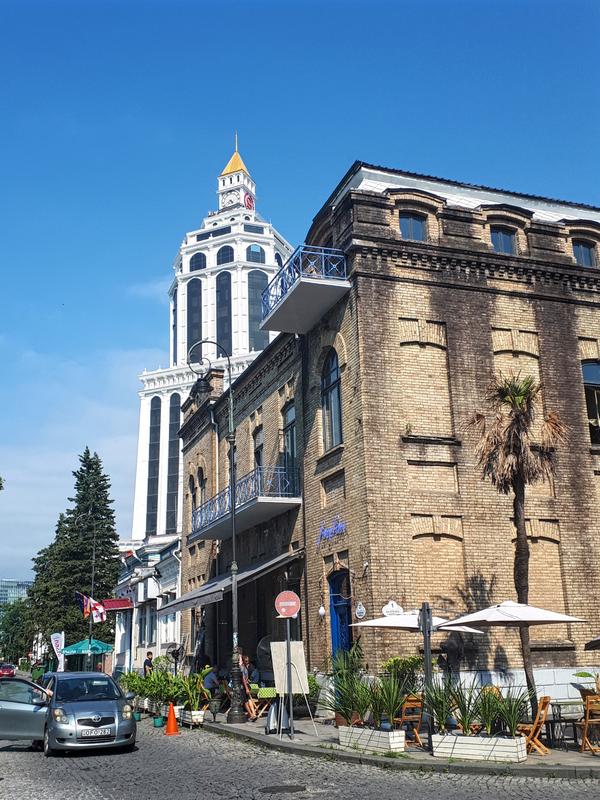 The beach itself is nothing special – in fact, it was mildly disappointing. While there are much nicer beaches to the North of Batumi and the sea temperatures are nice, I would not recommend city if you are literally looking for a beach holiday and the actual beach is what counts. You are much better off going somewhere in Greece or Turkey. That said, at this point the city did start to grow on me immensely for its looks and special vibe. The atmosphere was definitely nice throughout the city and it really felt like a nice summer resort. There are tourists everywhere (mainly from ex-USSR countries, Turkey and nowadays some from Europe and the Middle East as well), open air bars and clubs are all full, there are food and drink stalls all over, live performances on the pedestrian boulevard, funfair rides for the kids. Except for a nice beach the city has everything you might want for a seaside escape.
Even though the city has a dark side (you need to look for it though: organised crime, gambling, a large prostitution scene with many customers coming from neighbouring Turkey) it also definitely felt very safe as the main beach area, boulevard, old town, the main sights etc were all frequented by holidaying families having a great time.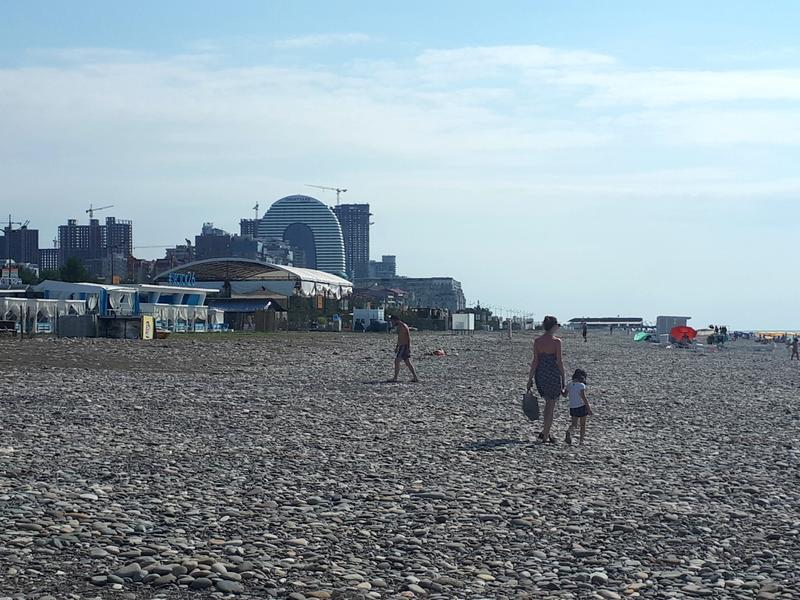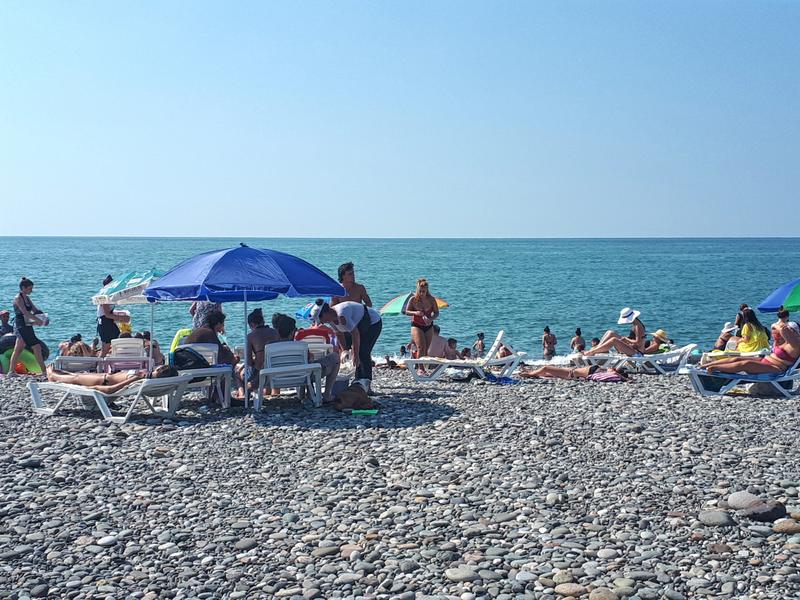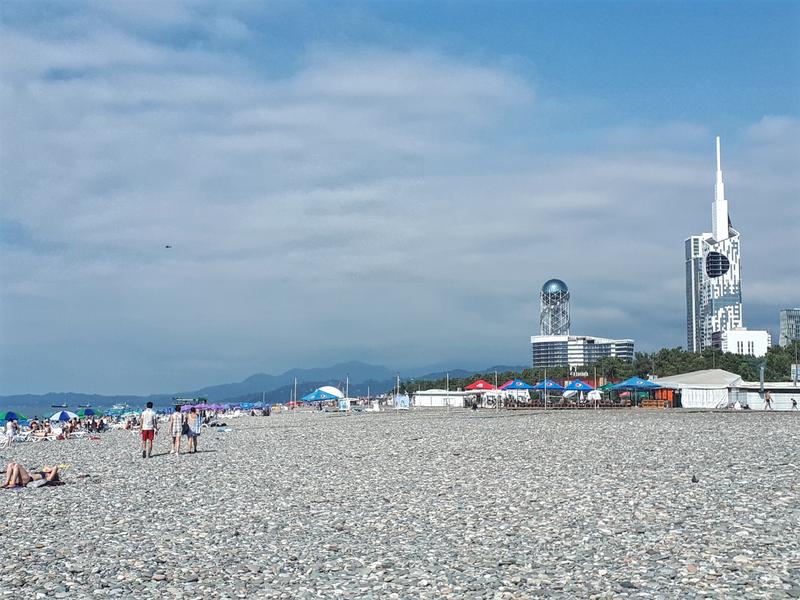 Parallel to the beach is a park stretching along the seaside. The shade from the trees, some quirky sights (a bamboo forest) and some food and drink stalls make it a nice place to walk.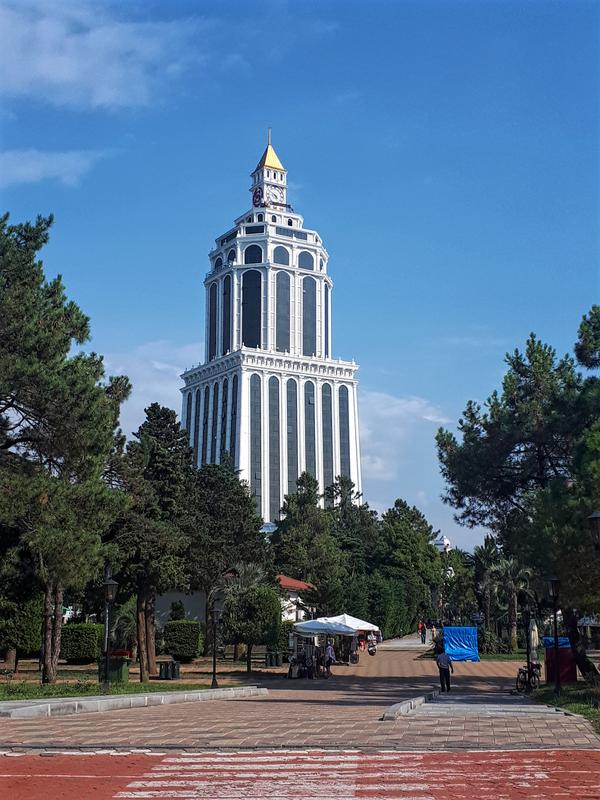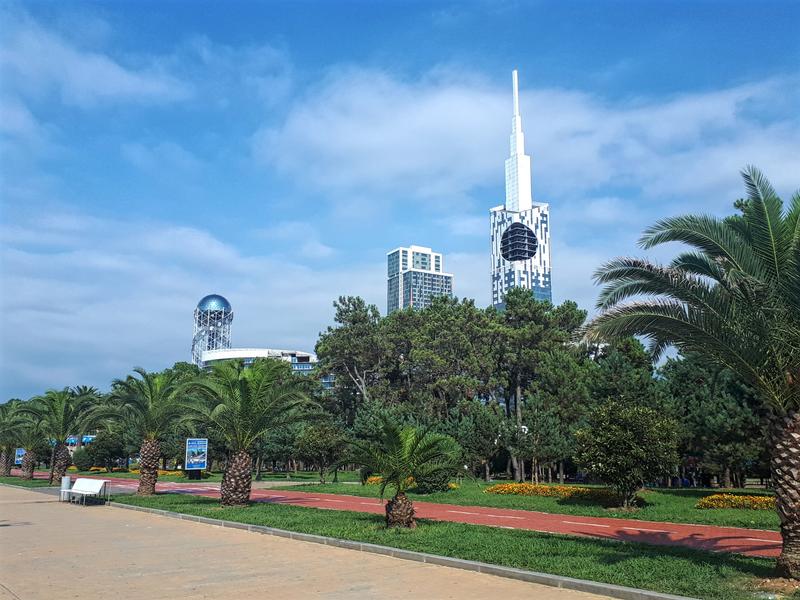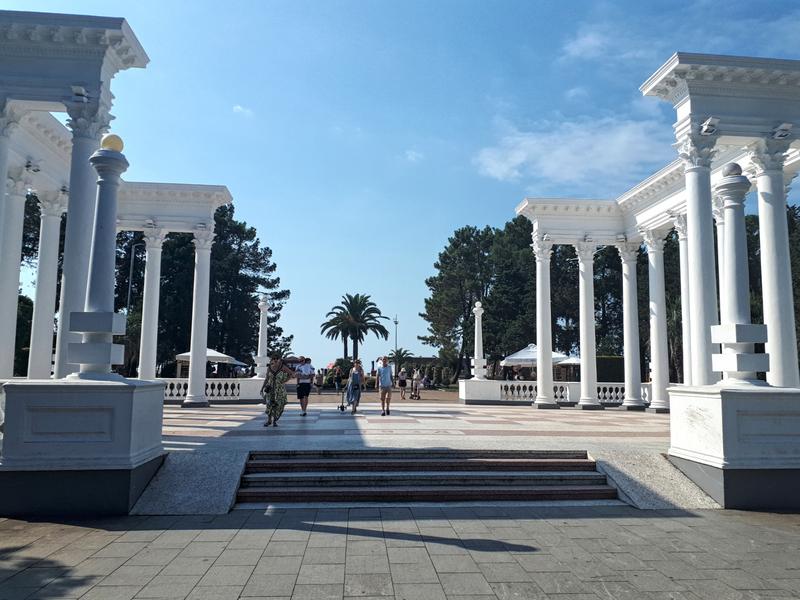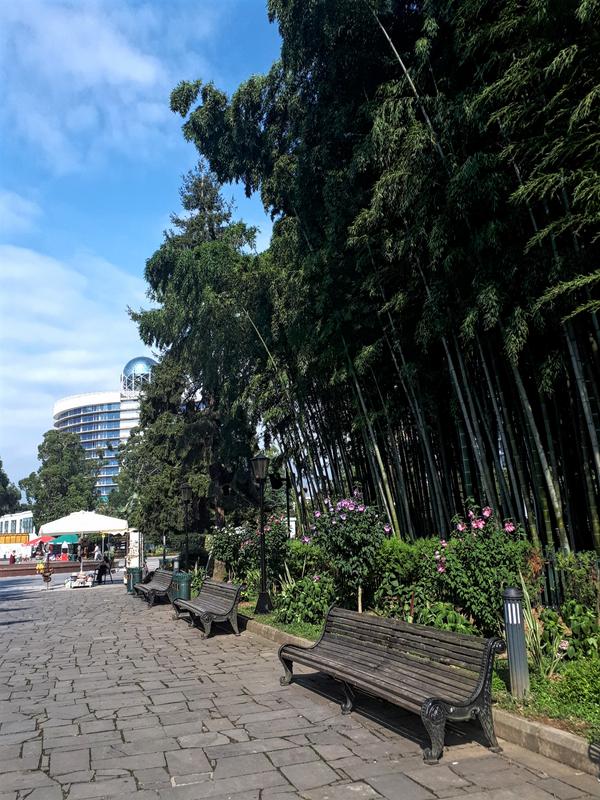 Along this part are also some of the brand new hotels and apartment complexes located. I never visited Batumi before, although I once did transit through it on my way from Trabzon in Turkey to the Georgian capital of Tbilisi some eight years back. I actually planned back then to spend two days in the city, but as the weather was so bad and the forecasts even worse (Batumi has a notoriously fickle subtropical climate, and even summers can have lots of rain) I changed my plans and instead hopped straight on another bus to Tbilisi. Back then, all these modern buildings were yet to be constructed. The city has really made a remarkable metamorphosis in the last few years into some kind of mini Dubai on the Black Sea.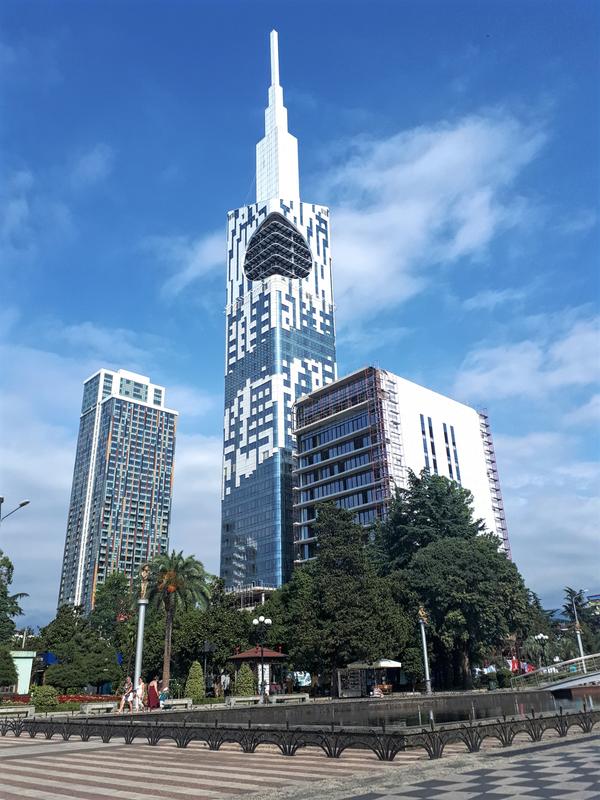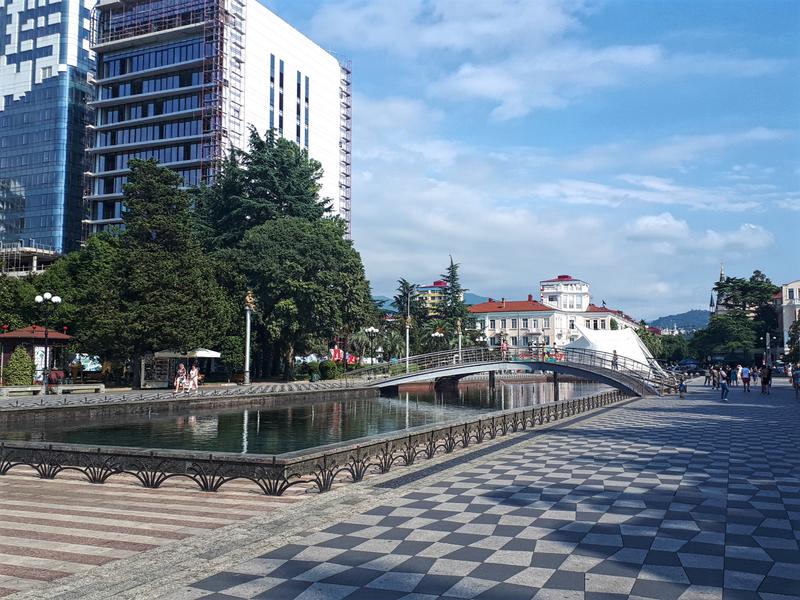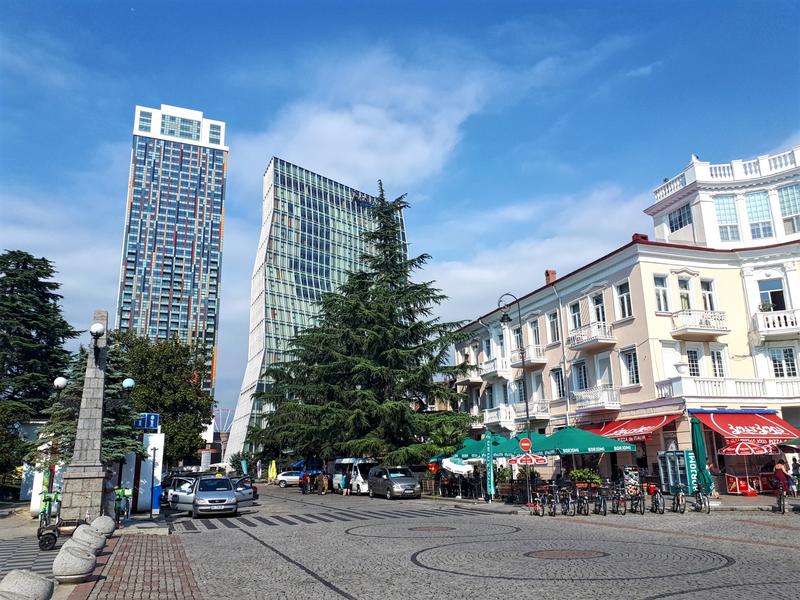 I was a bit dehydrated at this point so I sat down in a simple plastic-chair open air cafe for a tasty pint of beer (0.5L for less than 1 EUR) to quench my thirst. My seat had a good view of the Georgian cops with their flashy patrol cars and bikes. The story of the Georgian police is actually a funny one: they were known in the years after independence from the Soviet Union for their massive corruption and unreliability. When former President Mikheil Saakashvili took the office in 2008, he launched sweeping reforms in the country.
While some of his policies and reforms are still hotly debated and controversial among Georgians, one such reform which won universal acclaim is his reform of the police. He literally fired the entire police squad, only the rehire them from scratch (mostly only young recruits who had not been corrupted by communism). Police stations were literally torn down and replaced by glass-buildings so people could look inside how the cops were doing their work (transparency!). Old Soviet-era cop cars were replaced by shiny vehicles mimicking those of American cops (Saakashvili is US educated and I believe currently lives in New York). It succeeded and the Georgian cops are now highly trusted inside the country instead of ignored and feared by the people because of their corruption.
After the beer, I continued my walk towards the port of Batumi – together with the port of Poti one of the main freight gateways into the country.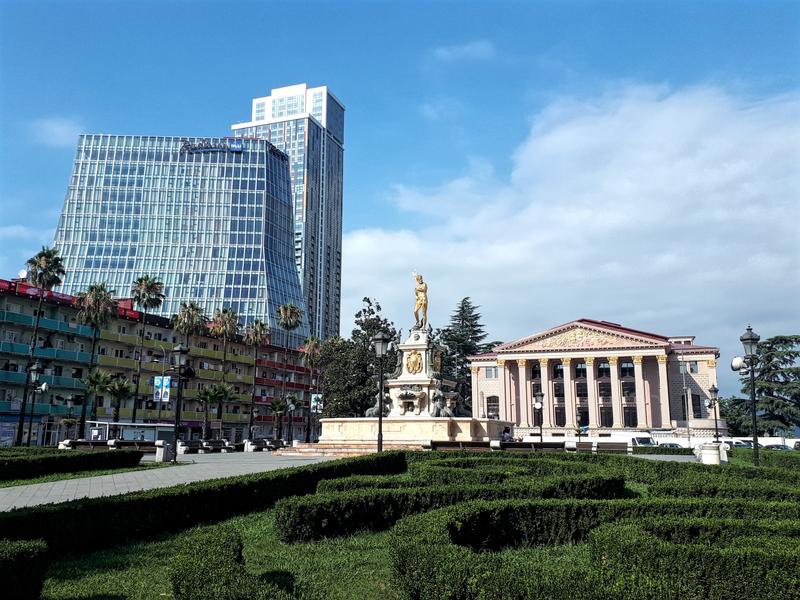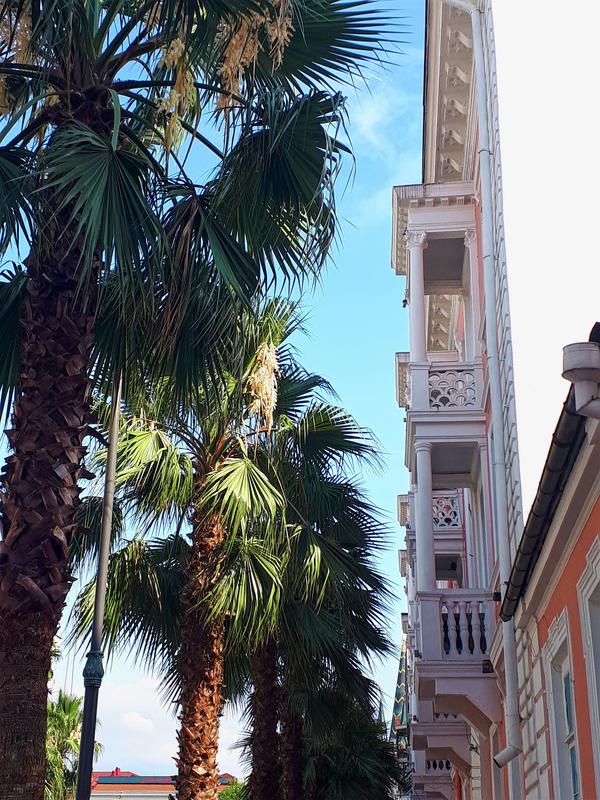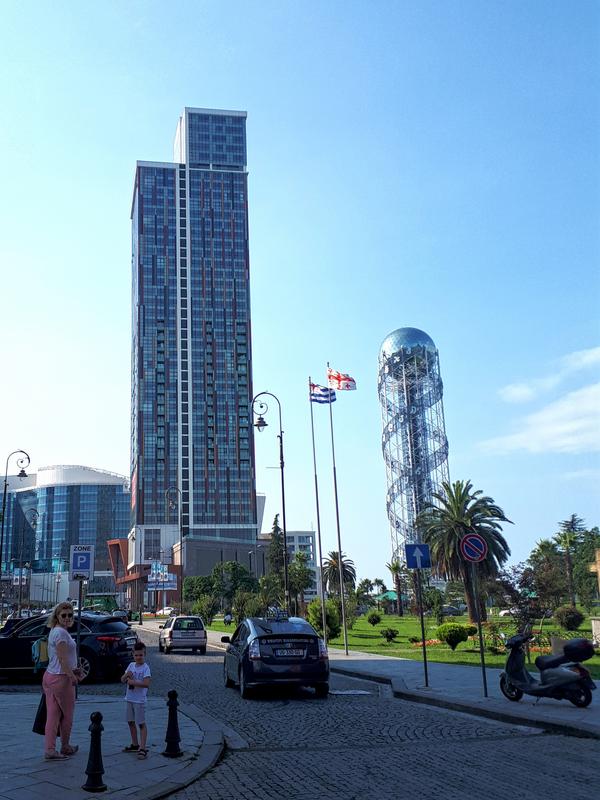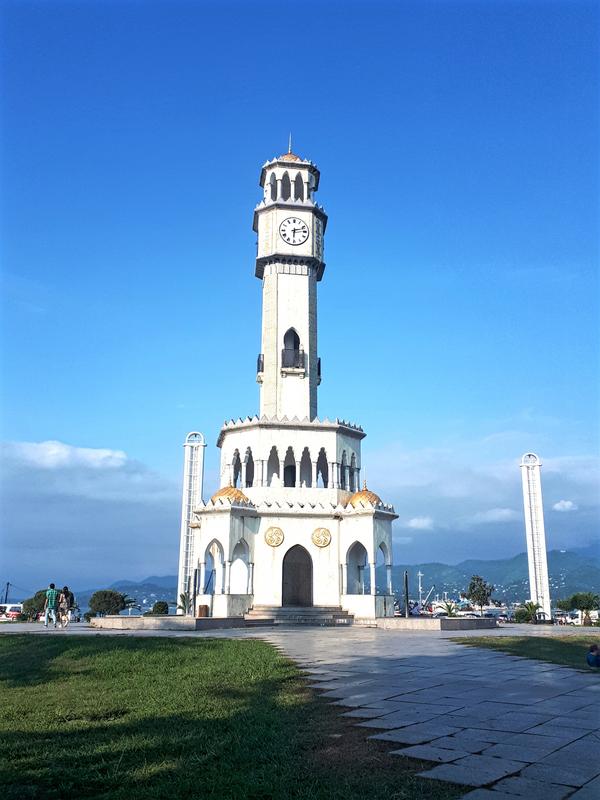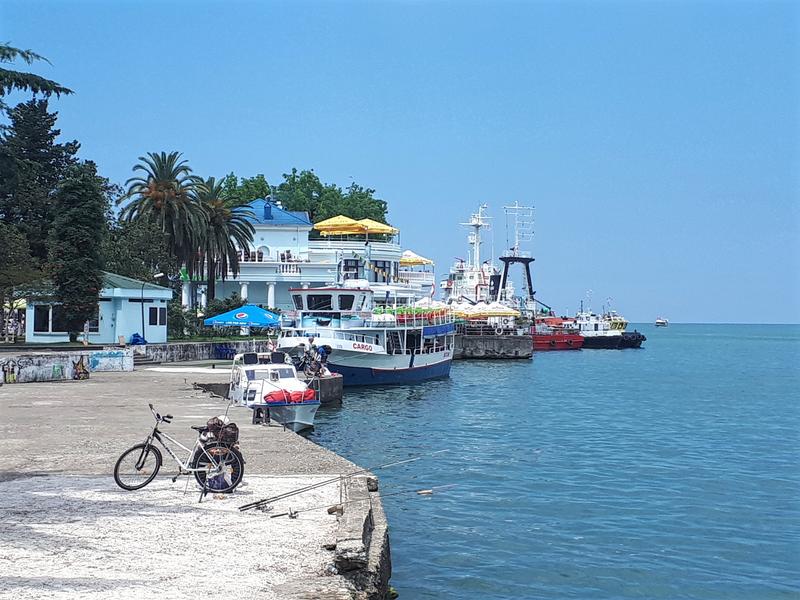 Of course, I had to stop as well at this stall for a good glass of chilled Georgian red, also perfect in the hot summer weather.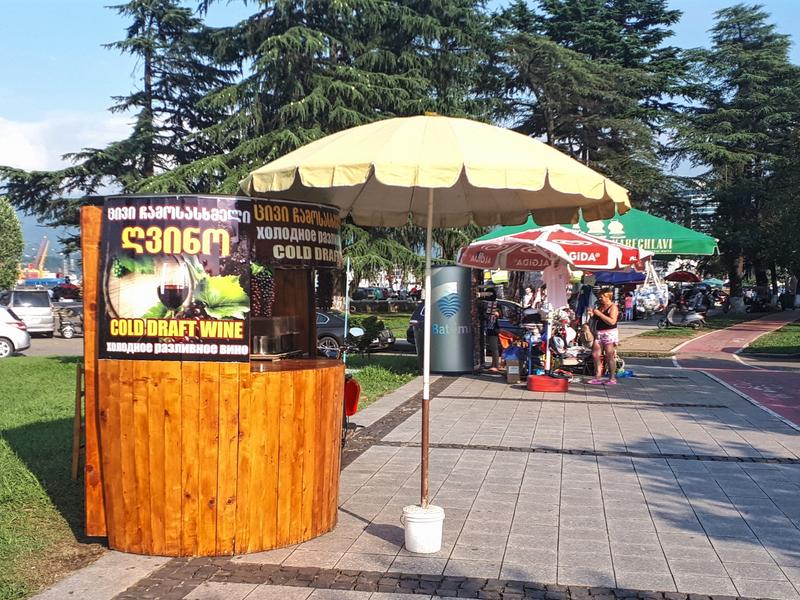 Once in the port with its communist-style main harbour building, you realise more the magnificent natural surroundings. This part of the Black Sea (from Trabzon in Turkey all the way towards Russian-occupied Abkhazia) is subtropical in climate with lush green hills due to the high amount of year-round precipitation. The dark rain clouds in the background also proof how fickle the climate can be here (I was absolutely lucky to have only sunny days).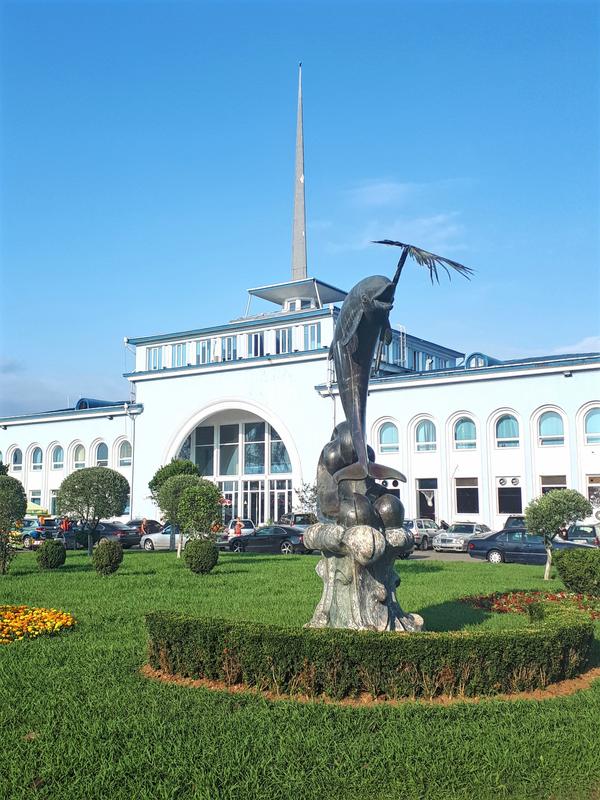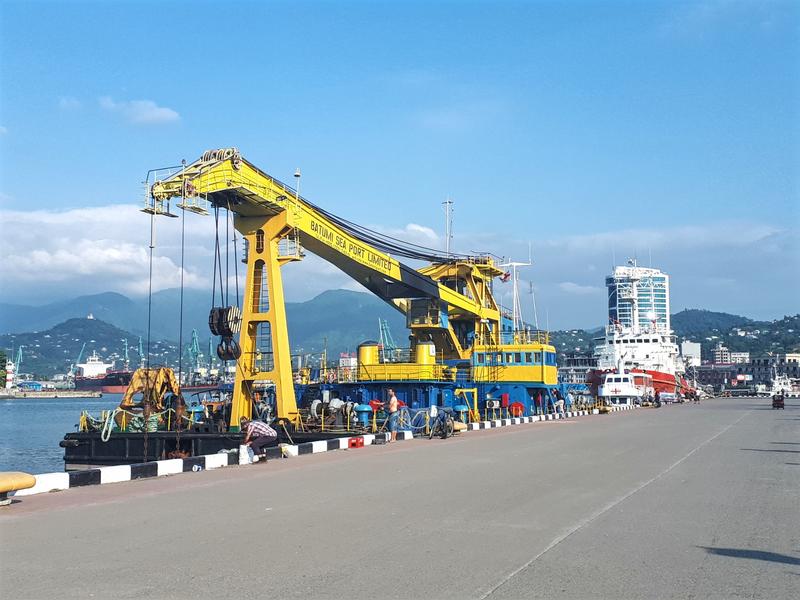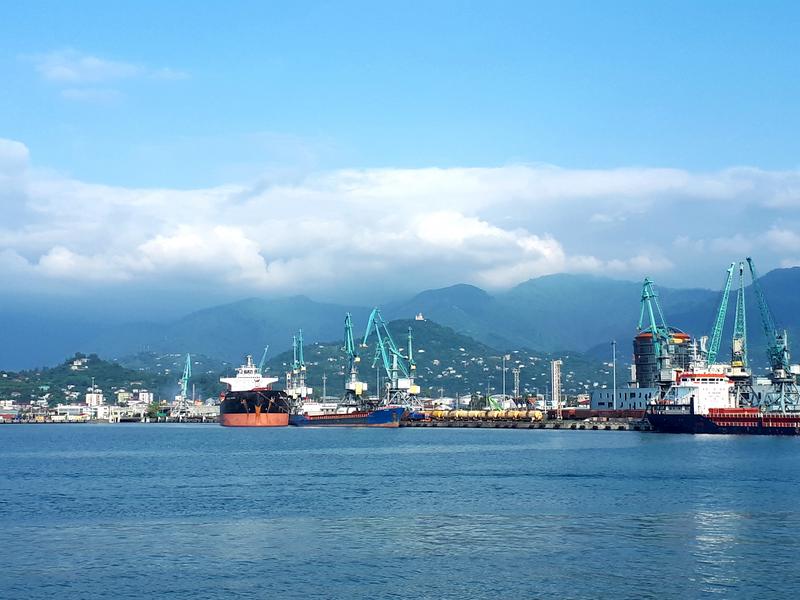 Next up:
More wine, khachapuri and sun-filled moments in Batumi.
---
Last edited by Romanianflyer; Dec 14, 18 at

4:08 pm