Khachapuri and Kebabs: A Summer Adventure in Georgia and Turkey
Dec 18, 18, 3:14 pm
Join Date: Feb 2014
Location: OTP, CHQ, EIN and beyond
Programs: AF/KL platinum, Turkish gold, Aegean silver, Umbi Umbi classic
Posts: 821
Part 5: Some more Batumi seaside fun
At the end of the pedestrian boulevard and at the start of the harbour is the bottom station of a cable car which takes visitors up a hill for sweeping views over Batumi and the lush subtropical countryside.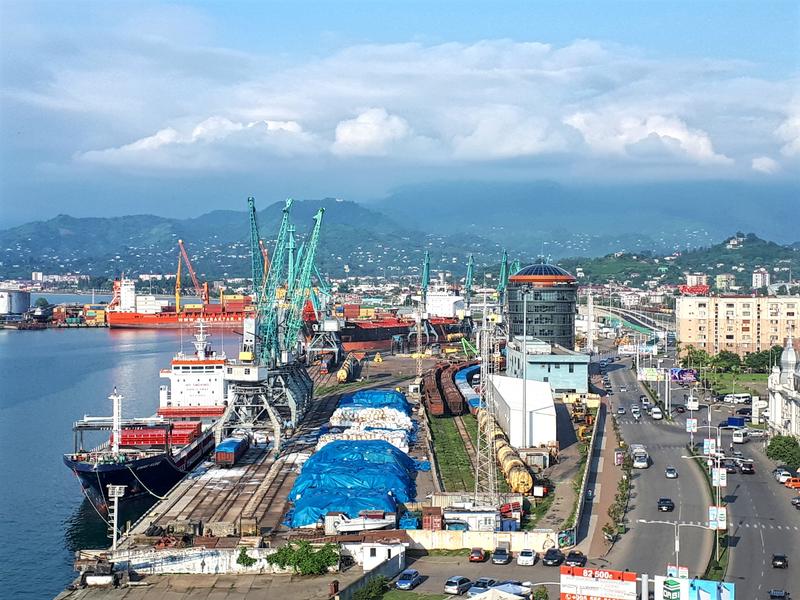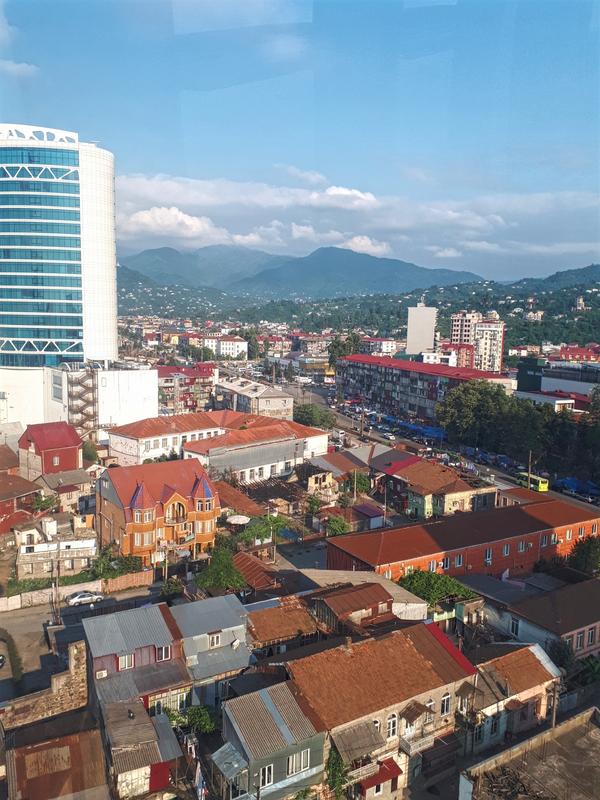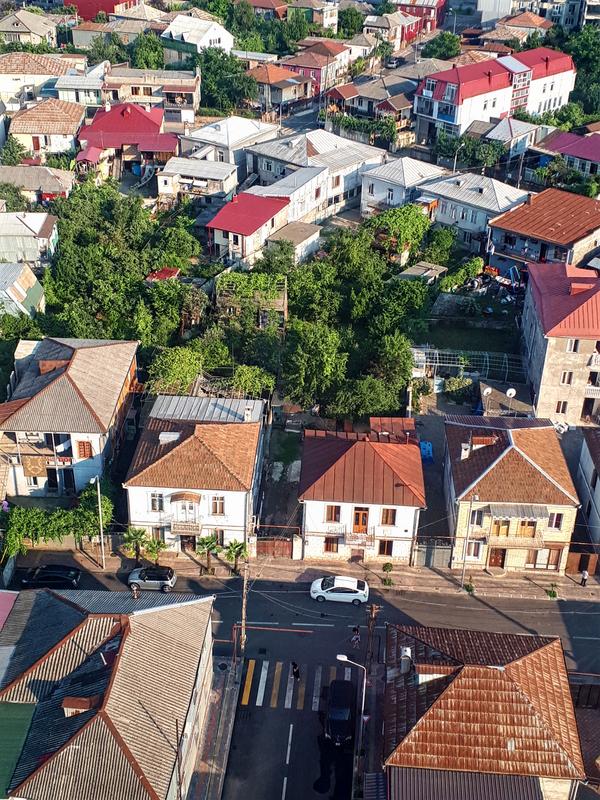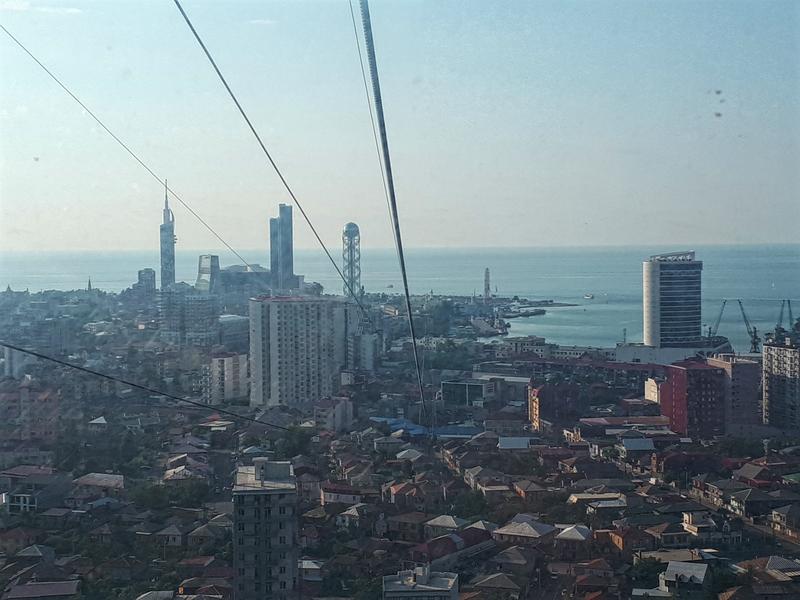 There isn't that much to do at the top. There is a restaurant and a terrace with some good views over a small church, the nearby forested hills and the Batumi skyline.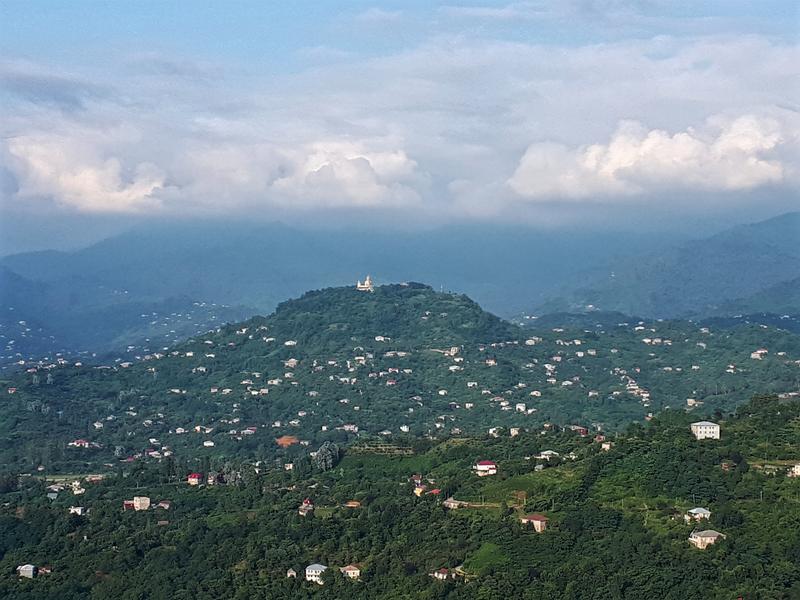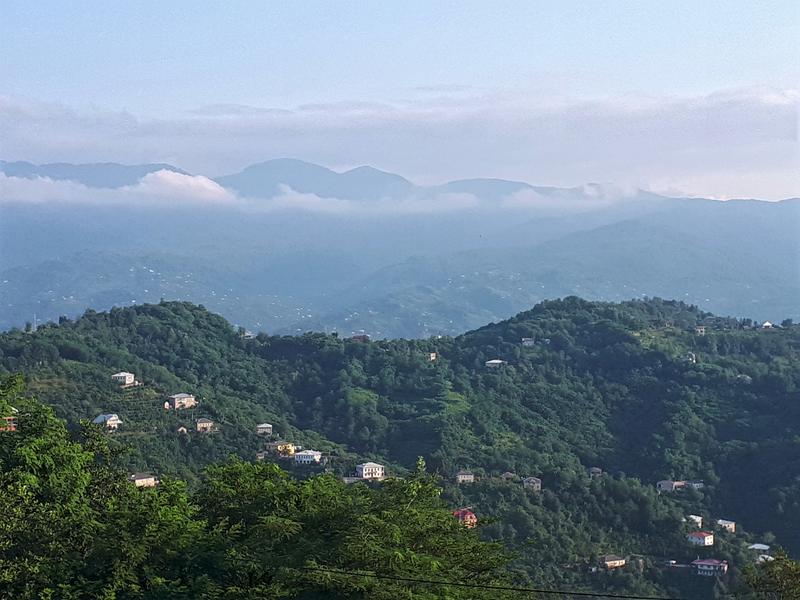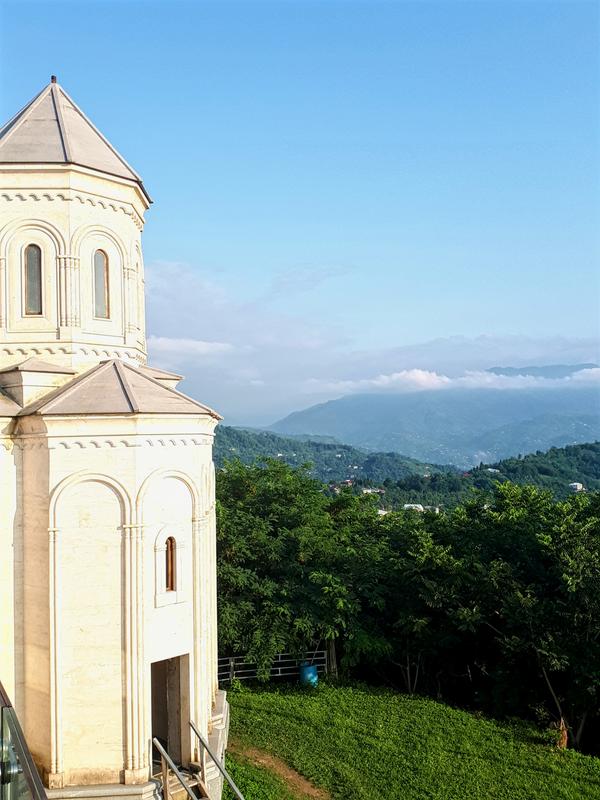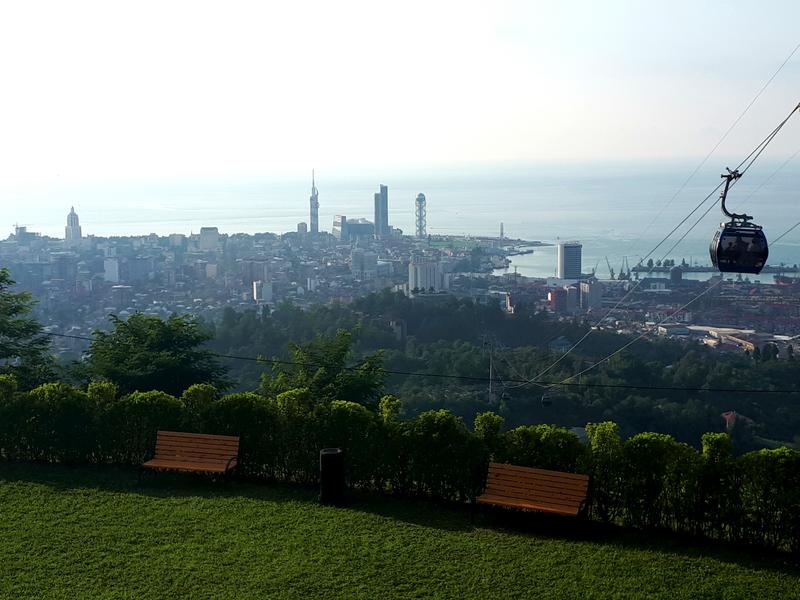 Unfortunately, the queue going back down was much, much longer than the five minute wait at the seafront station. I ended up waiting for about 30 minutes, although in the end it wasn't that bad as I got into a fun talk with a Russian family despite my very limited Russian knowledge and their very limited English knowledge.
Back in the city I wandered a bit around the harbour waterfront until I spotted a nice restaurant overlooking the sea and figured it was about dinner time. As the sun was slowly going under the skies gave way to gorgeous purple colours (my pictures don't do it justice as it was much better in real).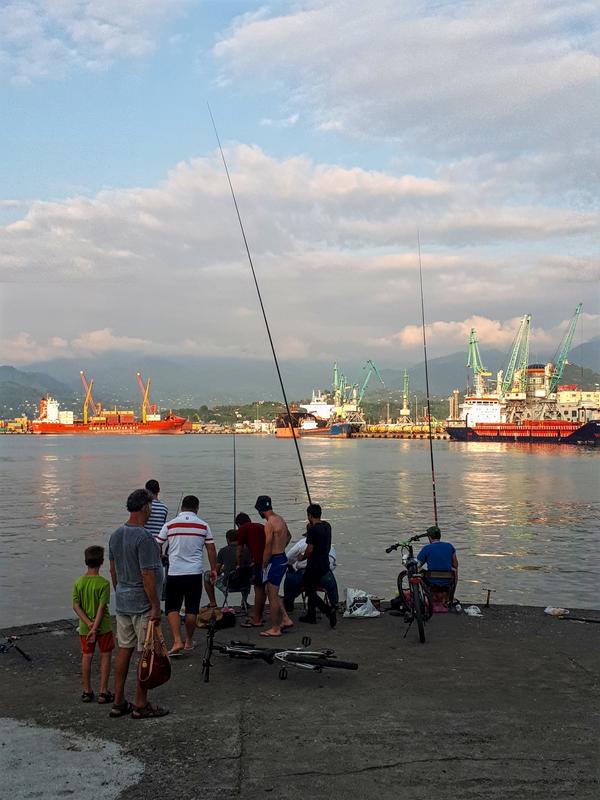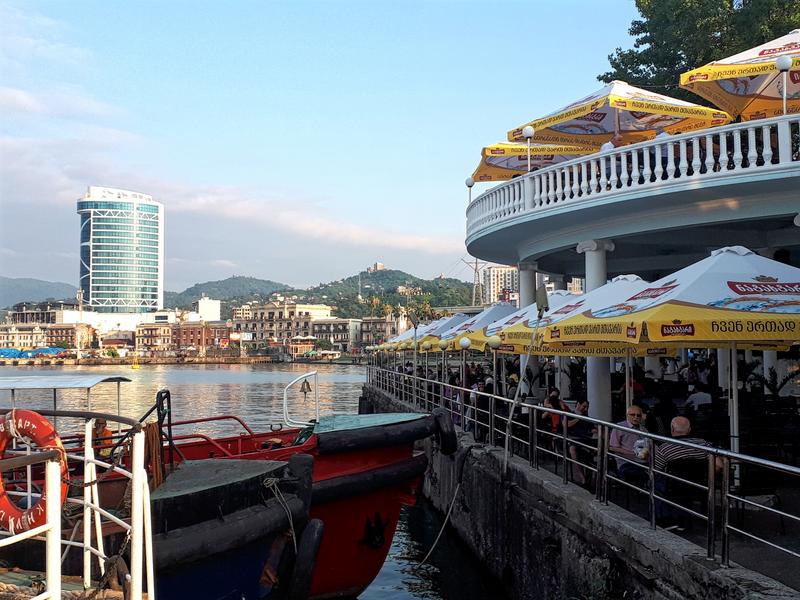 I opted for some grilled trout in orange sauce and half a litre of Georgian white, which was only about 5 to 6 EUR combined.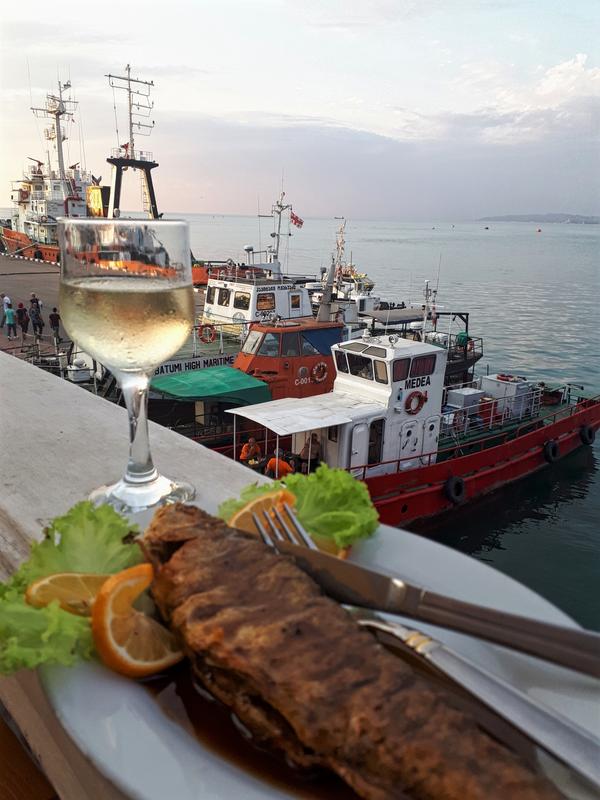 The (obscured) sunset views came for free.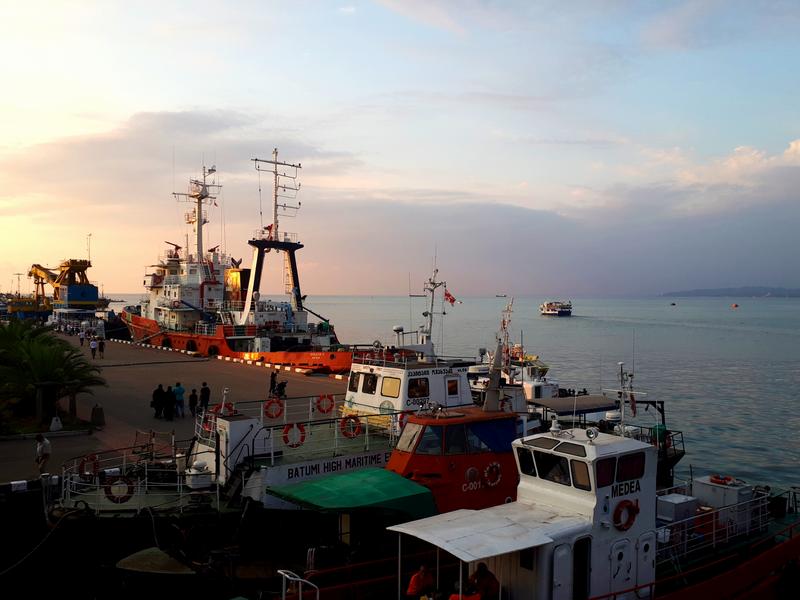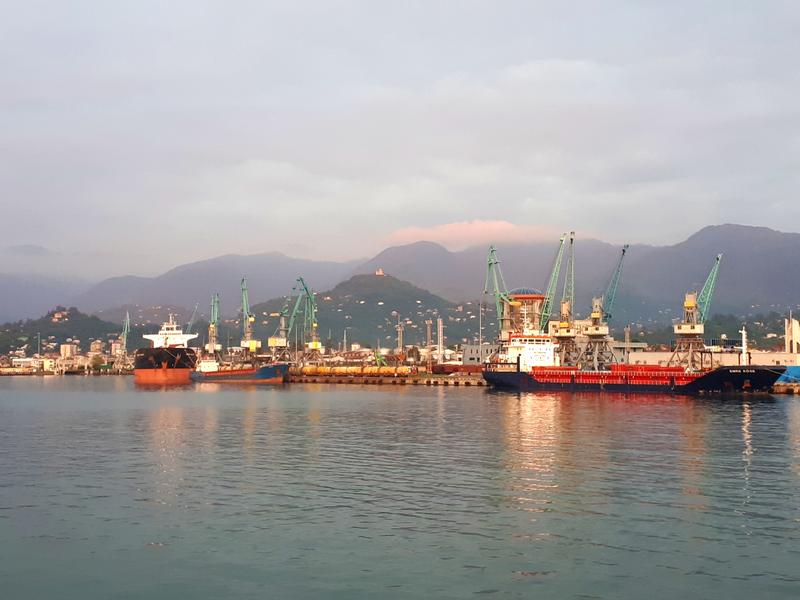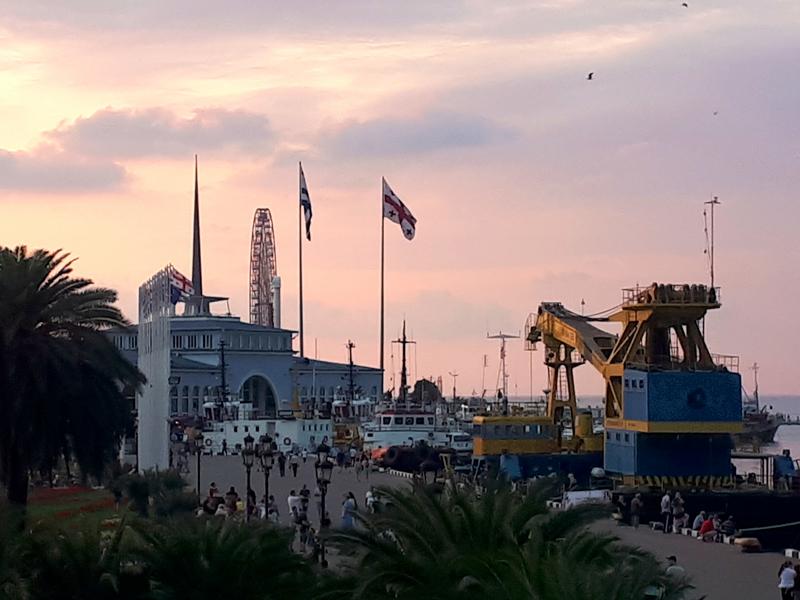 After the meal I wandered back to the main seaside boulevard, which by this time became even more crowded than it was during the day. It seemed that all holidaymakers, including families with children, just loved their 10pm stroll before going to bed or hitting the pubs. Given the gorgeous views and all the fun on offer such as a Ferris Wheel, sunset cruises, live music and other performing artists, you really can't disagree with their choice. A fun and photogenic city Batumi is for sure!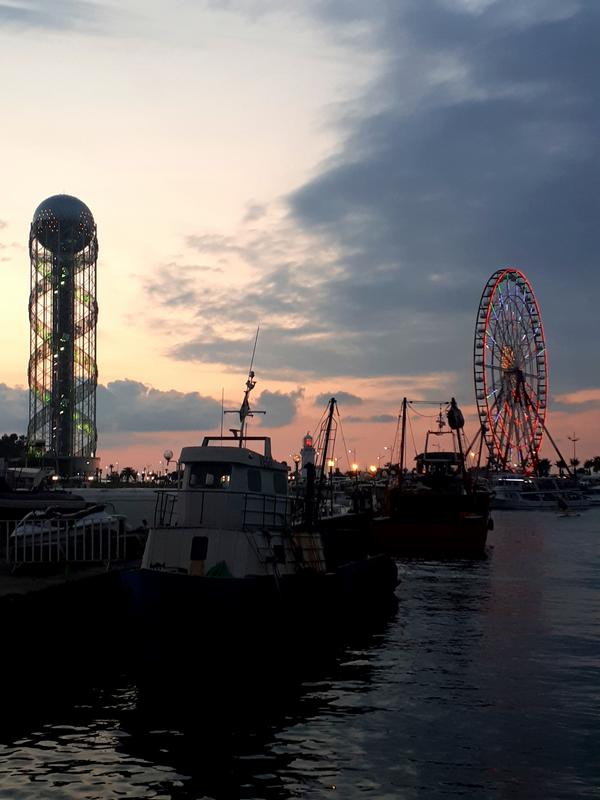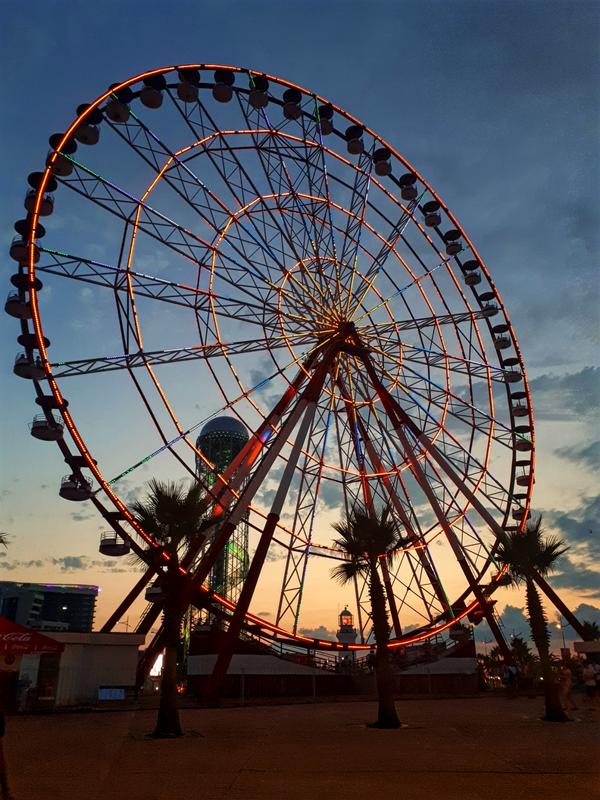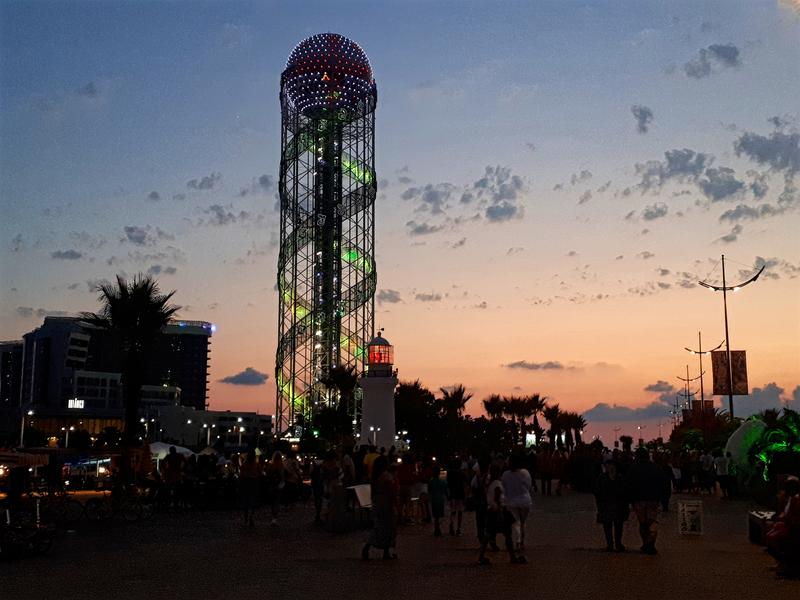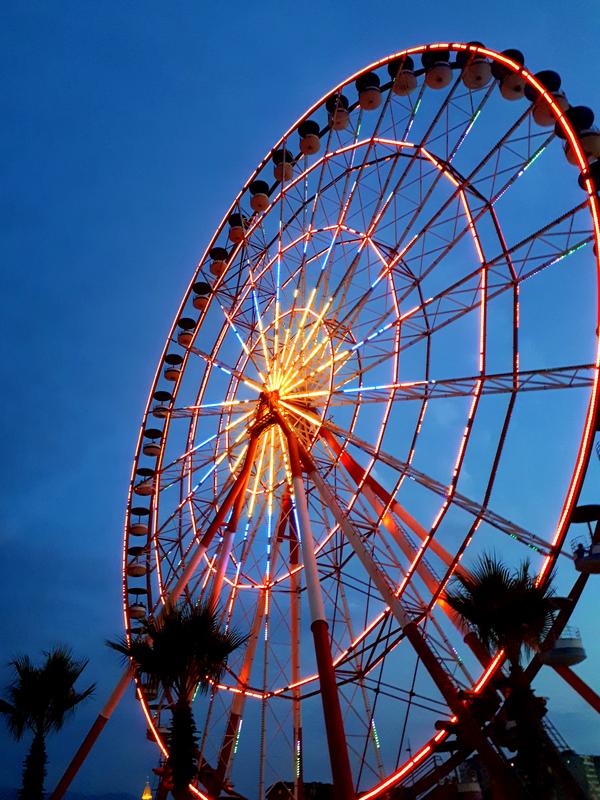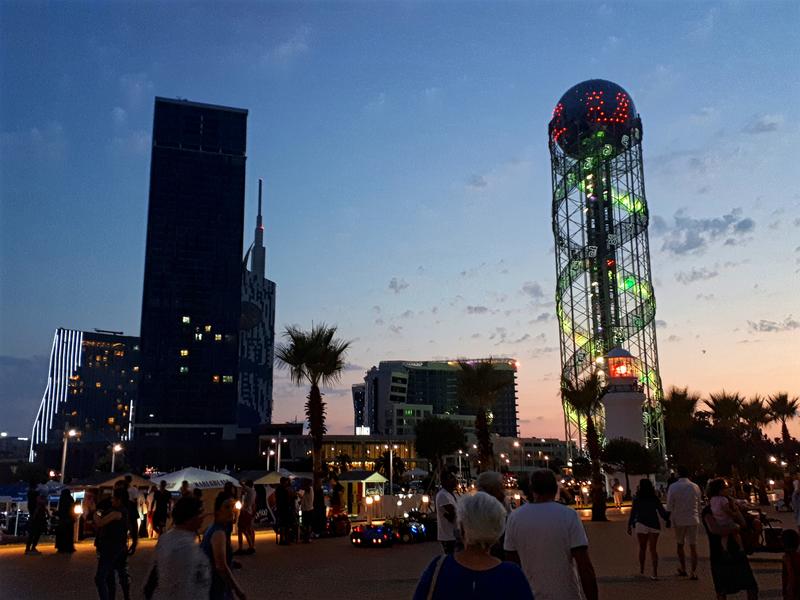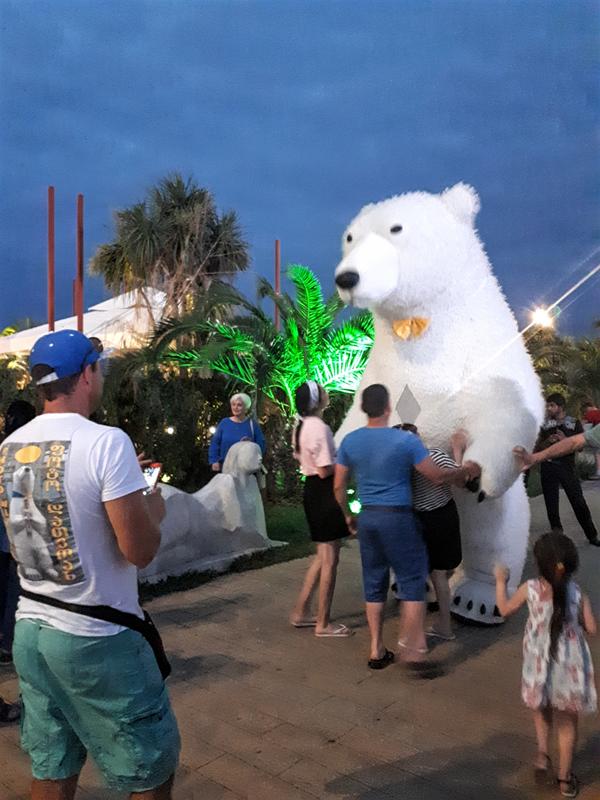 One of the fun sights on the boulevard is the revolving statue of Ali and Nino, which depictures a classic Caucasus novel about a love story between a Muslim Azerbaijani boy and a Christian Georgian girl. The statue is made in such way that the figures at first stand far apart, but eventually merge into each other after about 20-30 minutes.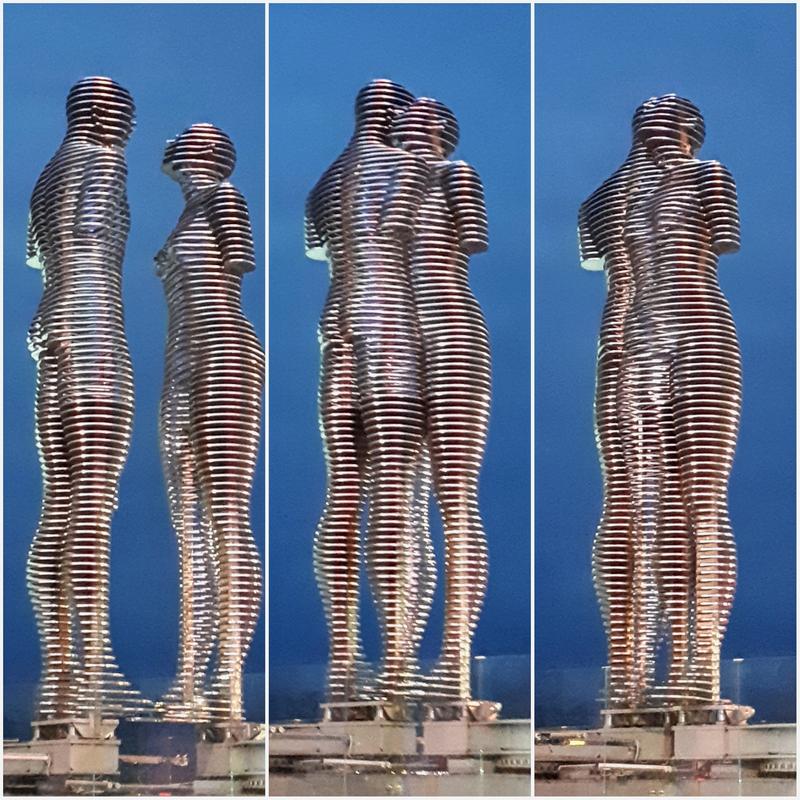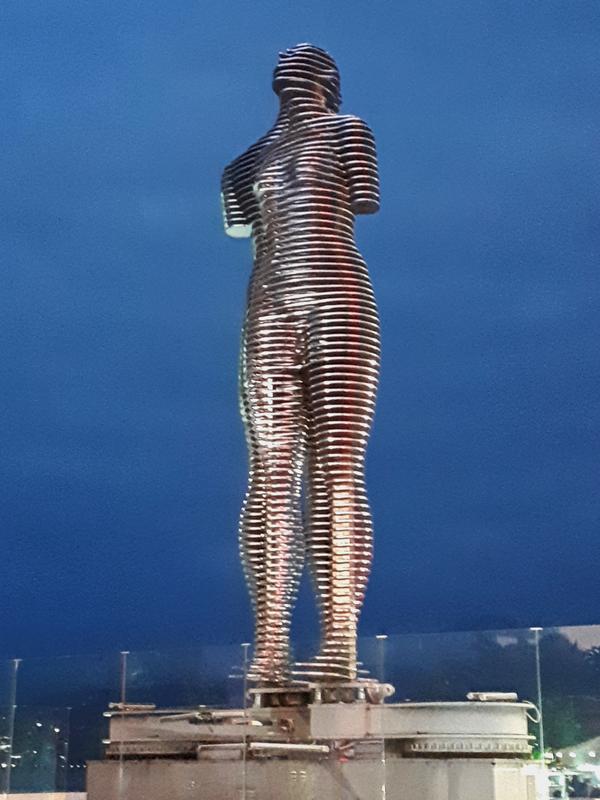 By this time, I was pretty much exhausted after the long day so I just went back to my apartment, drank a wee bit of the complimentary homemade red wine until I passed out from tiredness on my bed.
Next up:
Day two in Batumi, with a visit to the beautiful botanical gardens[/b]
Dec 19, 18, 11:15 am
Join Date: Dec 2008
Location: Dubai
Programs: SPG Plat, IHG Spire, HHonors Diamond, EK Gold
Posts: 213
I do an annual trip with a couple of old friends from University to somewhere our better halves don't fancy going. Unfortunately, my suggestion of Georgia lost out for this year's trip. I'm planning on using this excellent report as a marketing tool to promote it as a future destination. Although based on your last report, perhaps Stuttgart might be another option!

Latest in a series of really interesting reports from you. Really appreciate you taking the time.
Dec 20, 18, 12:11 pm
Join Date: Feb 2014
Location: OTP, CHQ, EIN and beyond
Programs: AF/KL platinum, Turkish gold, Aegean silver, Umbi Umbi classic
Posts: 821
Originally Posted by
FinalCallDXB
I do an annual trip with a couple of old friends from University to somewhere our better halves don't fancy going. Unfortunately, my suggestion of Georgia lost out for this year's trip. I'm planning on using this excellent report as a marketing tool to promote it as a future destination. Although based on your last report, perhaps Stuttgart might be another option!

Latest in a series of really interesting reports from you. Really appreciate you taking the time.
I think both are great destination for a trip with old friends! The beer fest in Stuttgart fits the bill perfectly - when I did it the first time with my old mates we liked it so much that we since returned almost every year after.
Georgia also has so much to offer, even more than this trip report will cover. I absolutely loved Batumi and it would be a great destination in summer whether on a family holiday or going there with some mates for some sun, beer, partying, sightseeing. Tbilisi as well is a great, lively city with enough sights and fun to keep one occupied - and it has the additional benefit of having more day trip options, eg. when preferring history there is the Stalin museum at Gori (which can be combined easily with the nearby Uplistsikhe cave dwellings and Mtskheta), mountains and hiking (Stepantsminda/Kazbegi), skiing if going in winter (Gudauri is great) or wine boozing (which can ofc be done in Tbilisi, but also on an excursion to the main wine region around Sighnaghi). I think the country has at for sure something for everyone no matter what kind of traveller they are and what they prefer to do on a trip abroad!
Dec 21, 18, 12:38 pm
Join Date: Feb 2014
Location: OTP, CHQ, EIN and beyond
Programs: AF/KL platinum, Turkish gold, Aegean silver, Umbi Umbi classic
Posts: 821
Part 6: The Batumi botanical gardens
My top priority was a visit to the botanical gardens of Batumi. As my apartment was self-catering the first priority was however to score some coffee and a good breakfast pastry of two in a coffee shop. Even though I am definitely not a morning person, I don't mind it to get out of bed and walk around if the sun is shining and there is a great vibe throughout town.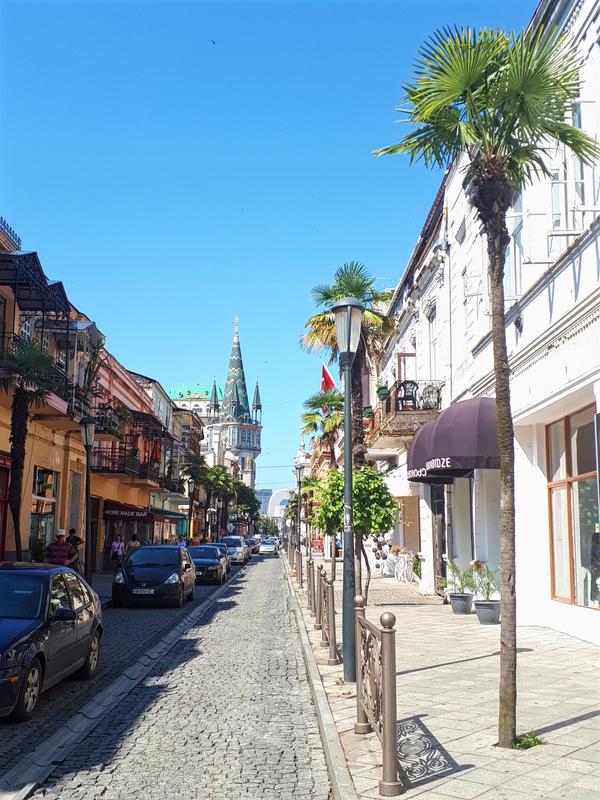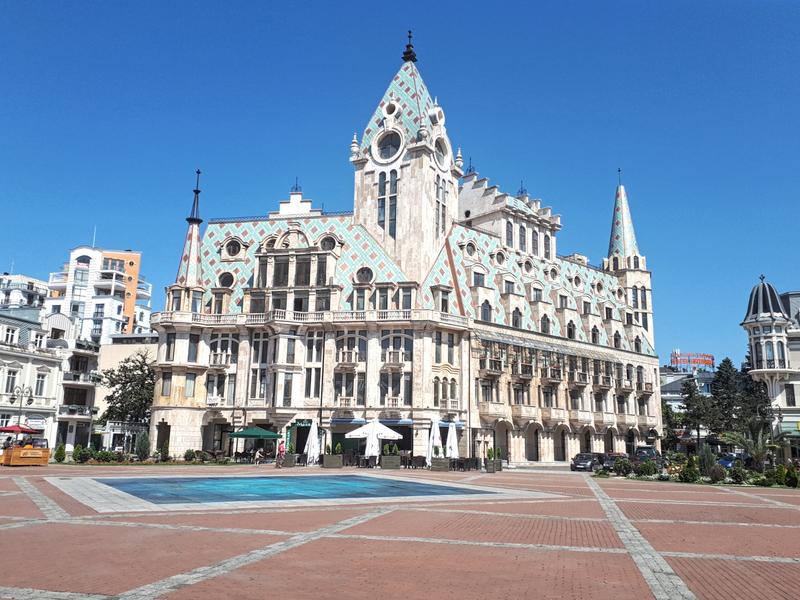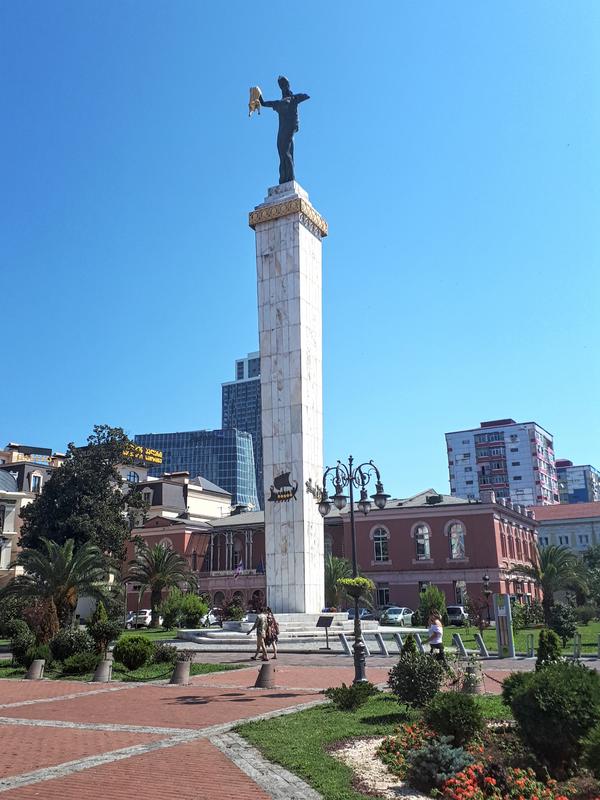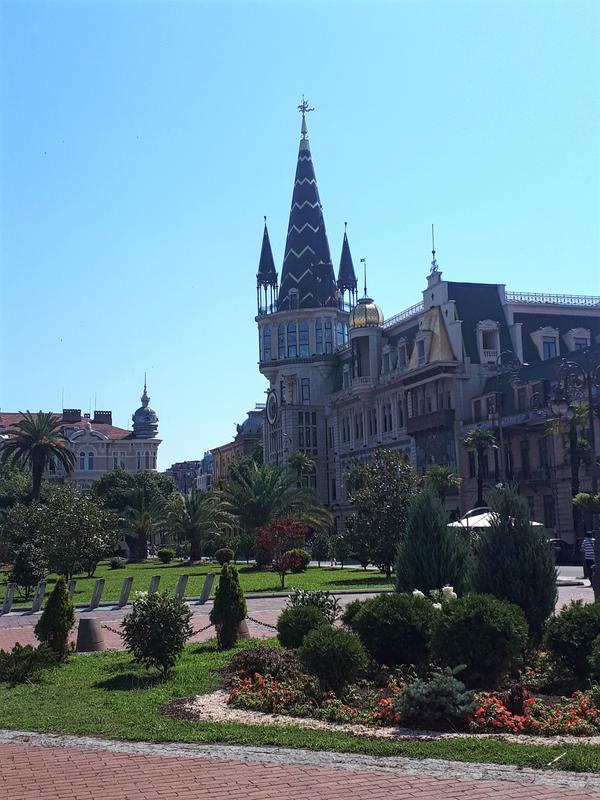 I boarded an overcrowded marshrutka (the term for a minibus in ex-Soviet countries) to the botanical gardens, which are located on a cape on the northern outskirts of the city. At the parking lot drop off point you have to cross a railway line to the ticket booth. I was surprised by the huge number of Arab visitors – women fully dressed in black niqab – walking around the botanical gardens. As a local would tell me later the entire country has also managed to attract quite some tourism from Arab countries in recent years – something which I can definitely understand when comparing the hot Gulf summers with the more humid subtropical climate of Batumi.
Close to the entrance of the botanical gardens is also a small pier and a quite decent beach – which surely looked more appealing than the beach in Batumi proper. I did not have my swimming shorts with me but it would make otherwise for a nice combination with the gardens to linger a bit longer, also given the fact there were a couple of open-air bars and restaurants.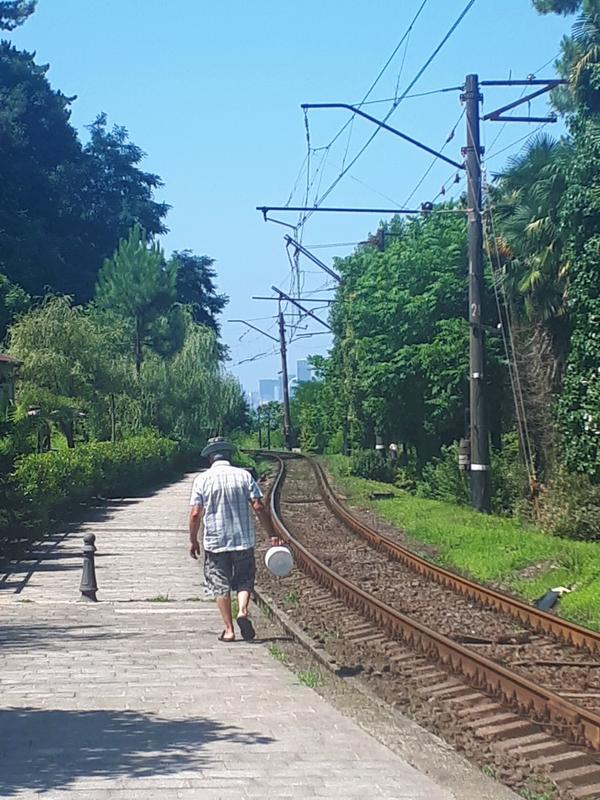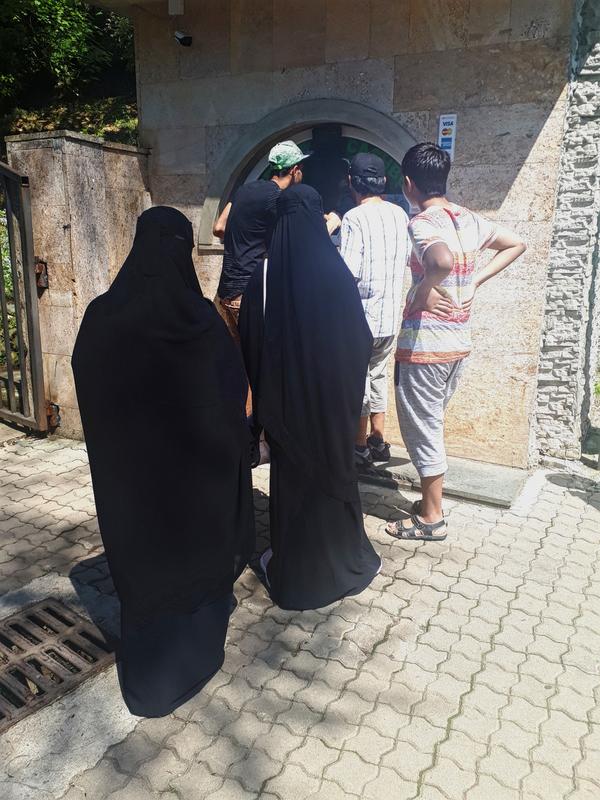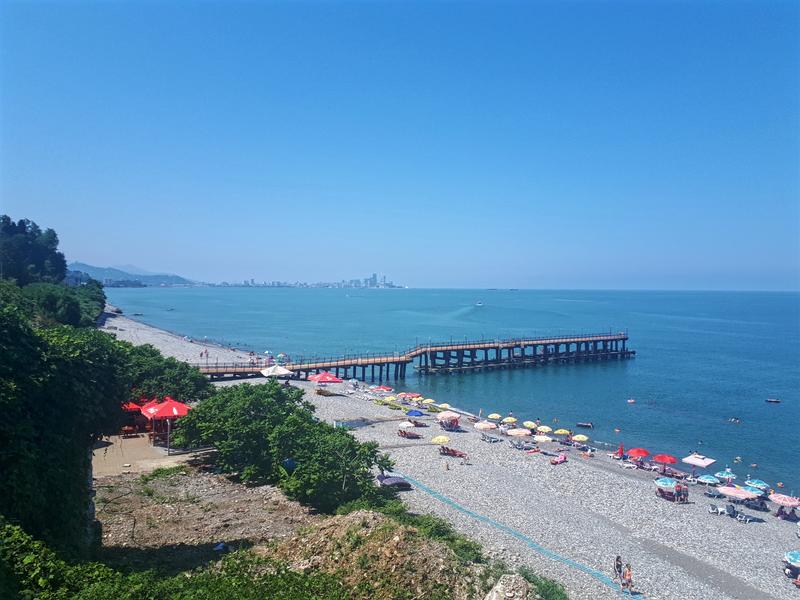 The Batumi botanical gardens are quite huge and it can easily take a few hours if you want to walk everything. As I wrote before, what makes it special is the unique subtropical microclimate and lots of precipitation that falls in this part of the Black Sea coast. There are lots of exotic looking flowers and palm trees which easily grow here.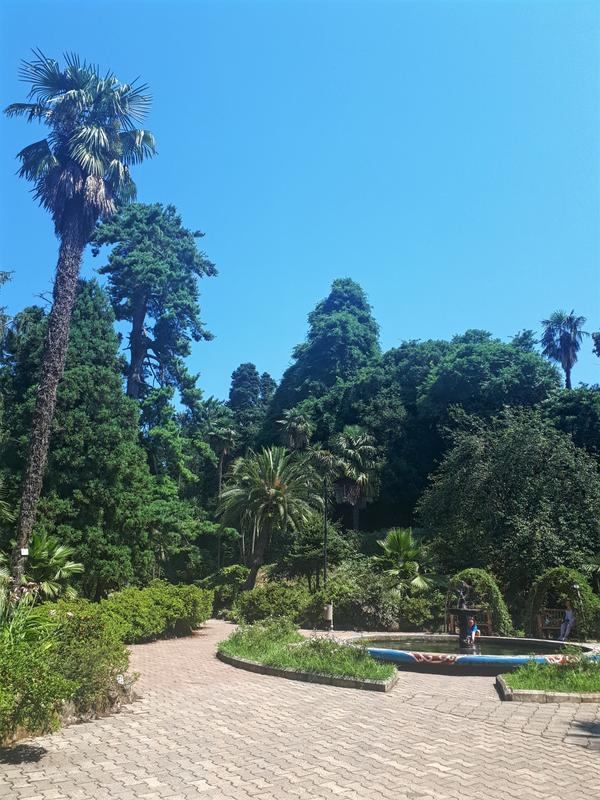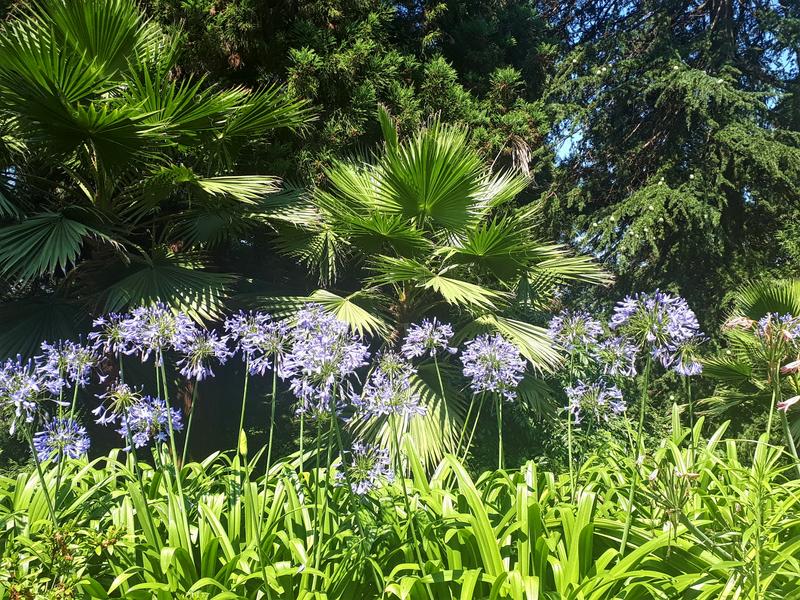 Highlight of the park is in my opinion the small cape which has a lovely view of the nearby coastline.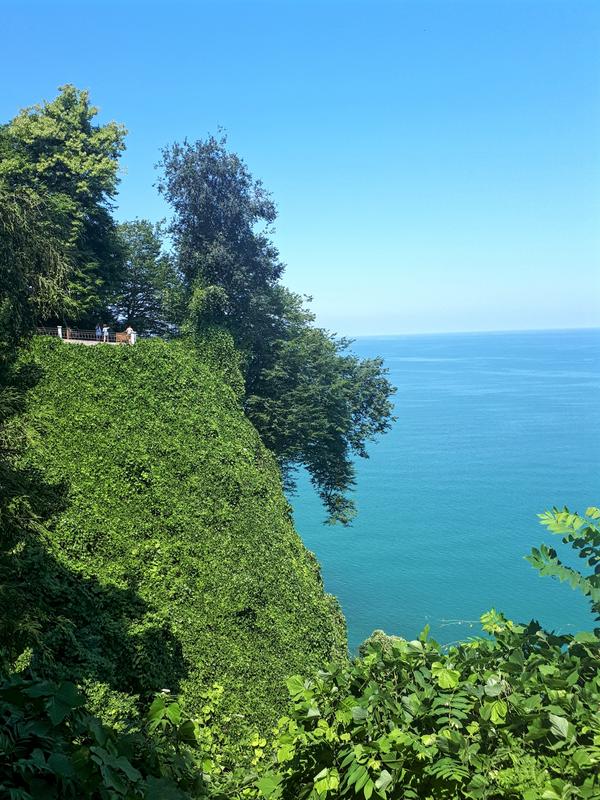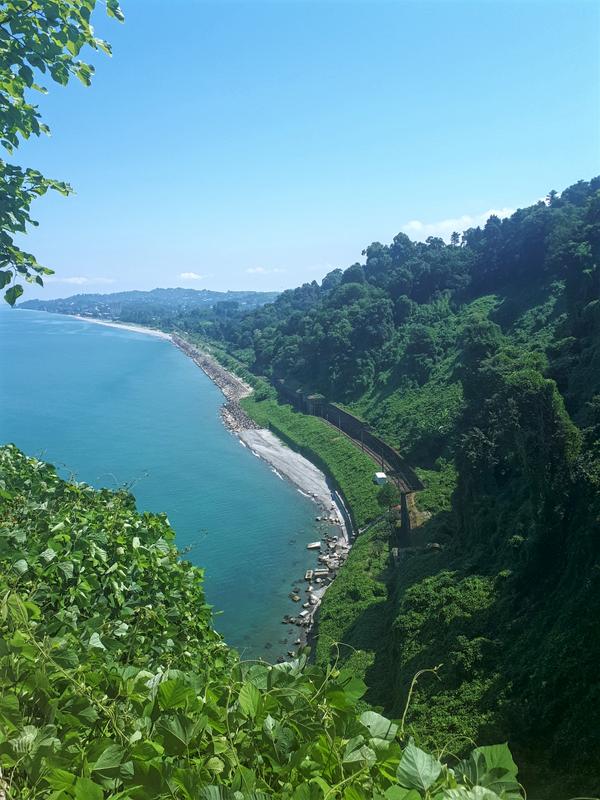 Somehow I found these signs absolutely hilarious to point to "WI-FI" in between the more legit signboards to geographical points of the park.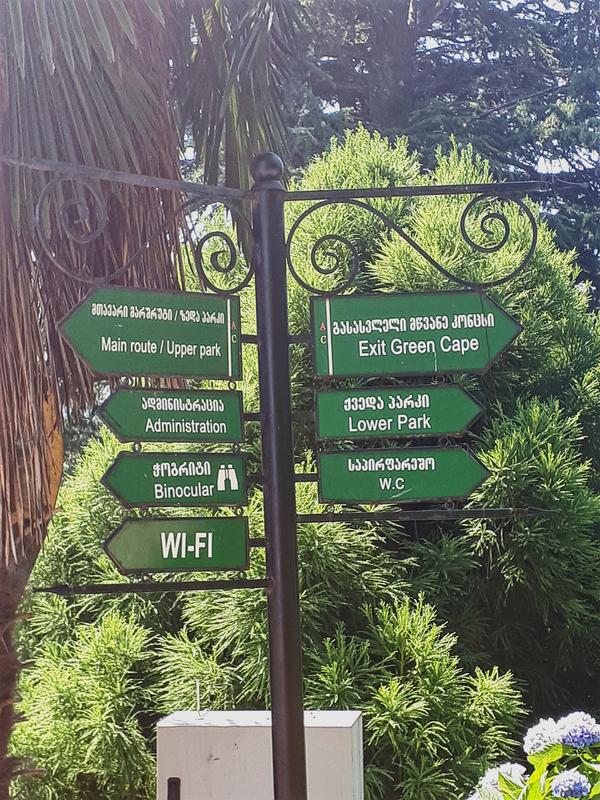 And leaving the Wi-Fi free zone... that means I have to pay now?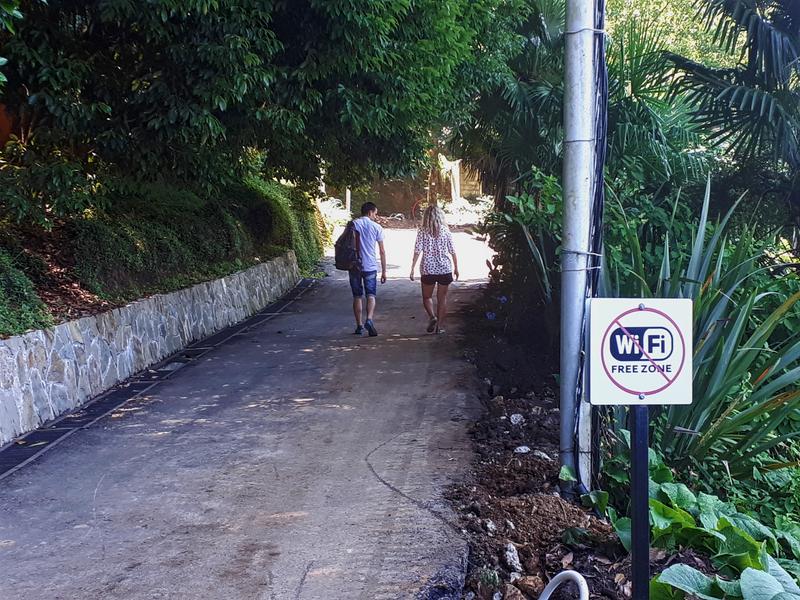 On a more serious note, the botanical gardens are lovely and make for a nice excursion out of the city. It was absolutely refreshing to walk around and rest a bit on benches to lovely views of the coastline, Batumi skyline or the many flowers and trees.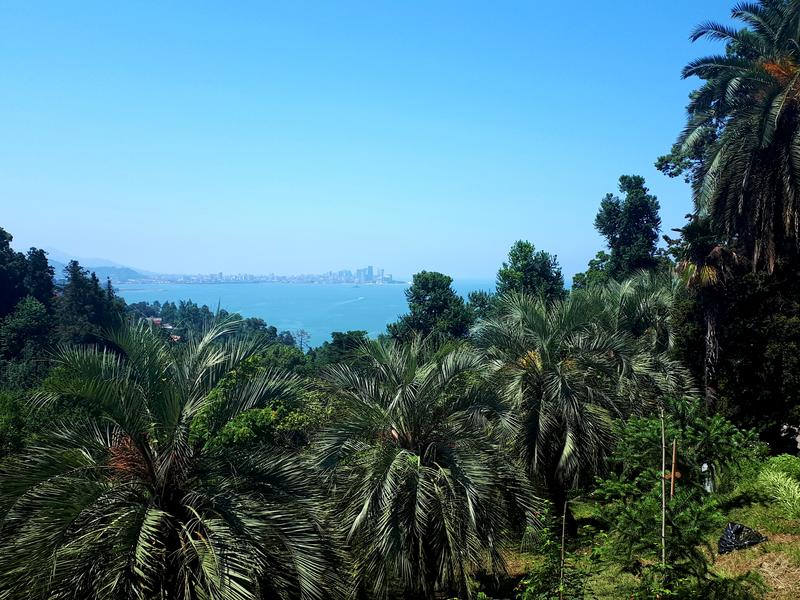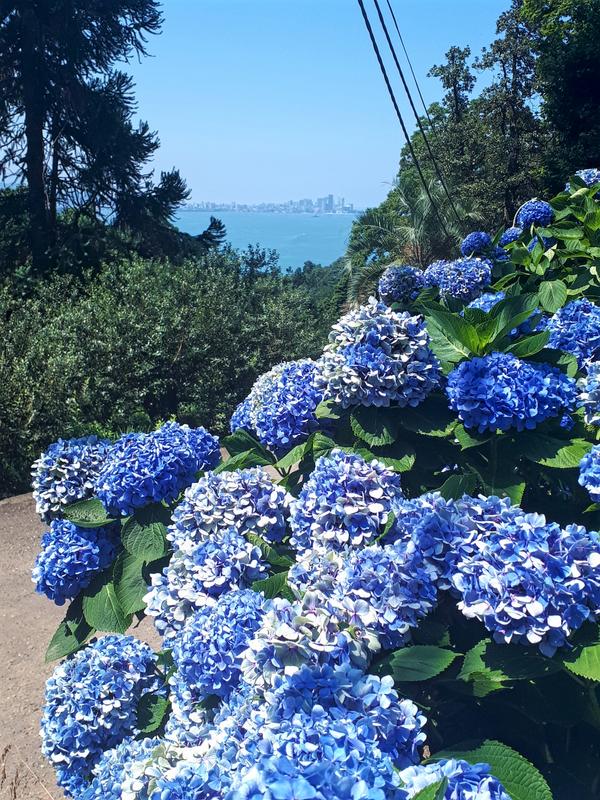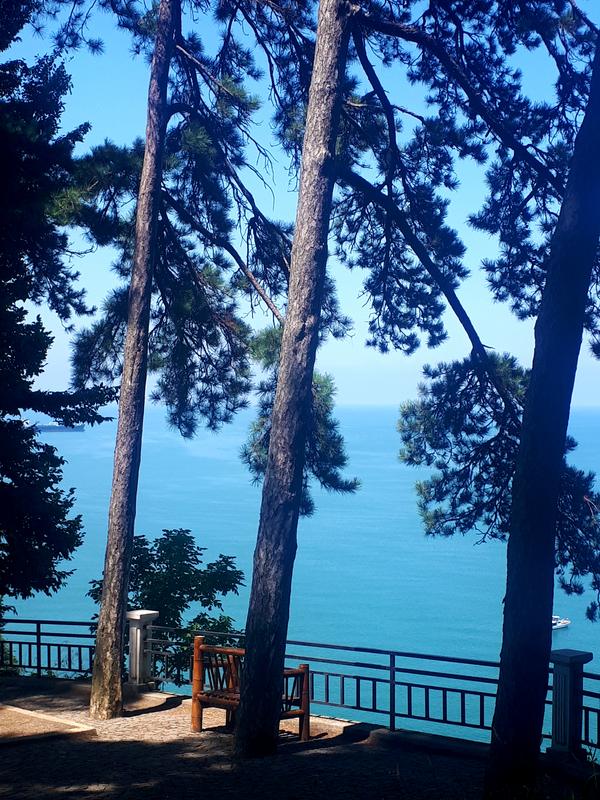 After arriving back in Batumi it was about time for lunch. As I was dropped off near yesterday's dinner place and did not feel like walking too much, I opted to dine again there to the lovely harbour views.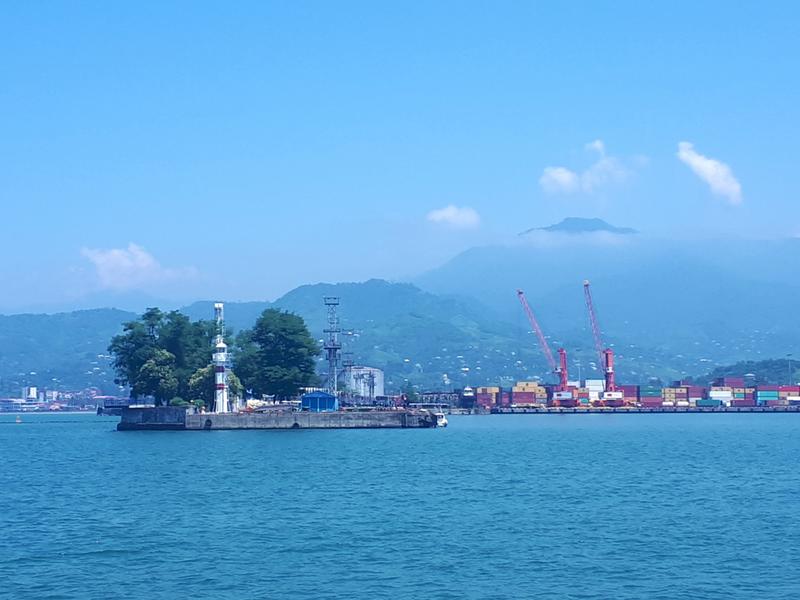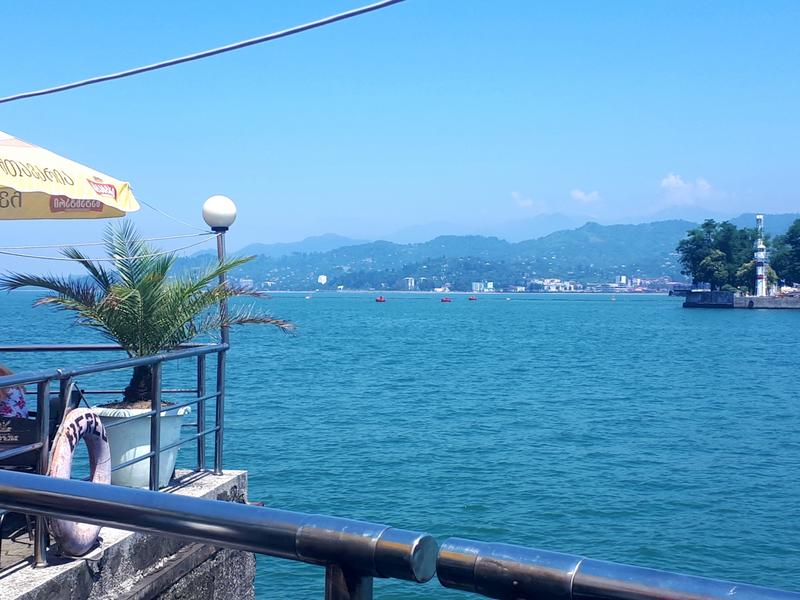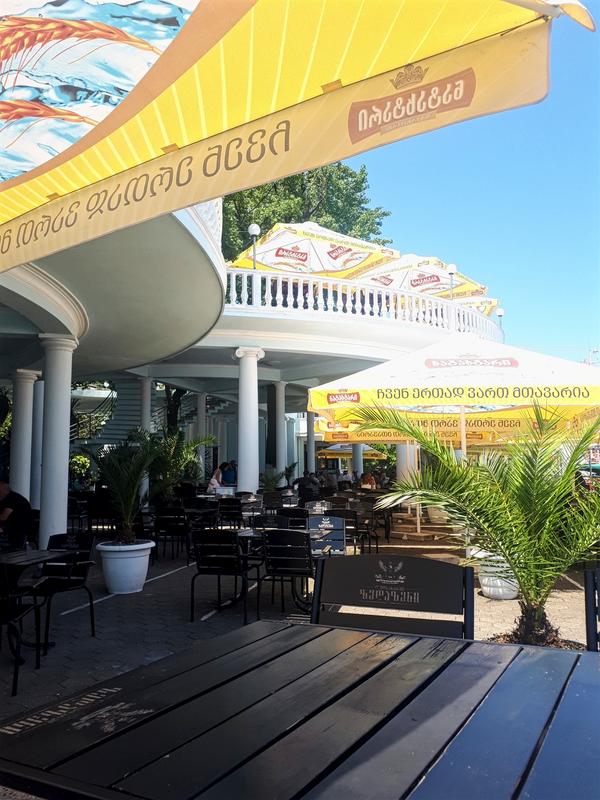 As I was quite hungry I opted for a khachapuri and a potato-pork hotpot – which was very good. I washed it away with a surprisingly decent 4 EUR bottle of sparkling rose. Gotta love Georgia.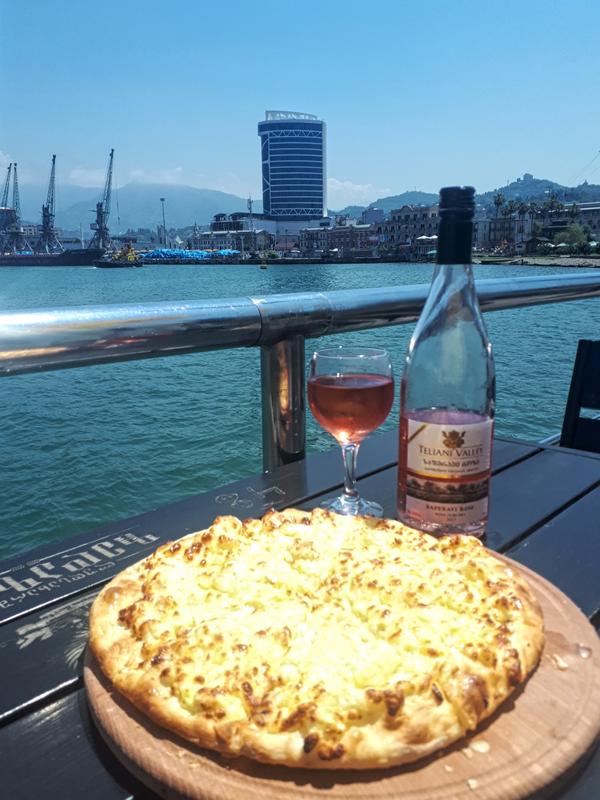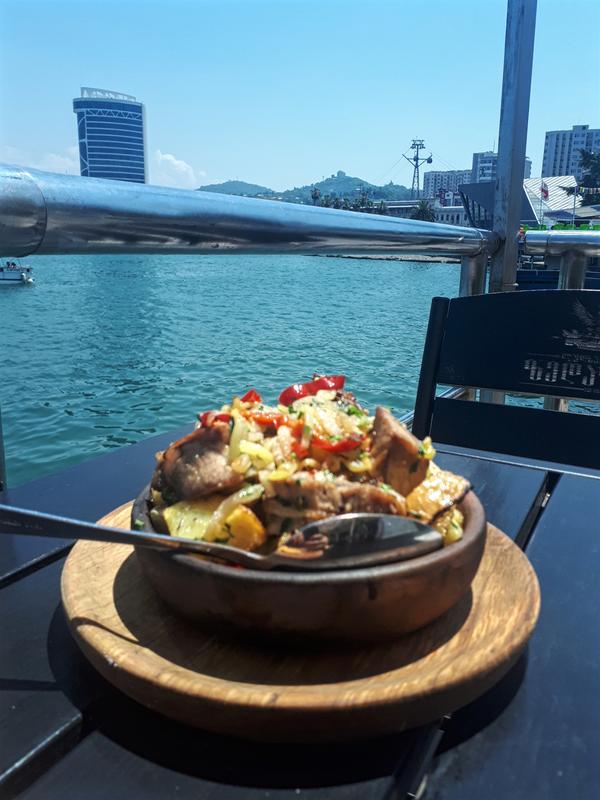 Dec 22, 18, 9:27 am
Join Date: Feb 2014
Location: OTP, CHQ, EIN and beyond
Programs: AF/KL platinum, Turkish gold, Aegean silver, Umbi Umbi classic
Posts: 821
Part 7: Some lovely last moments in Batumi
After the lunch (OK, to be honest, the bottle of sparkling wine) I felt a bit tired and went back to my apartment for a siesta. Fortunately I had set an alarm clock on my phone to get up with enough time to spare to get out of the house to watch the sunset. Given how beautiful the colours of the sky already were the previous day during the sunset, I figured it would be even better today if I made sure to be on a better location with completely unobstructed views towards the west.
Walking towards the Batumi pier – which I figured would be the best location for sunset views based on the map and my previous walks around town – the sunset views were already gorgeous.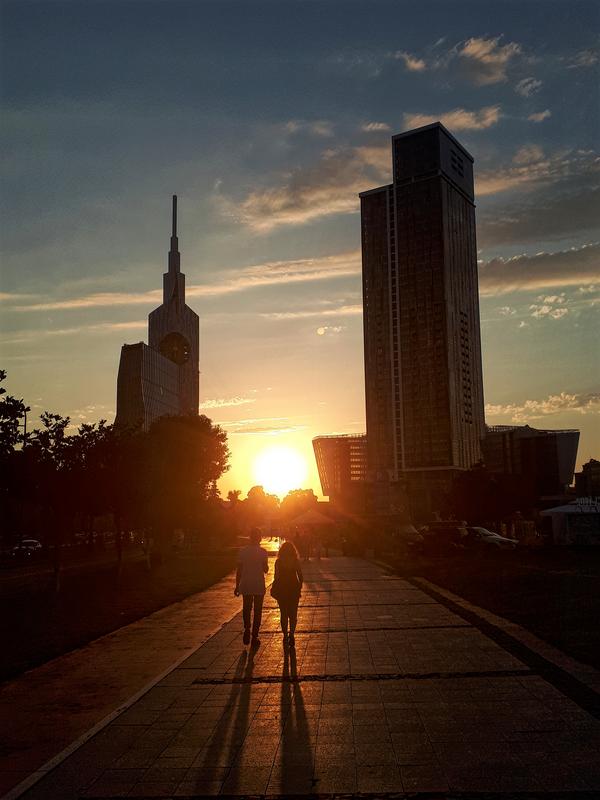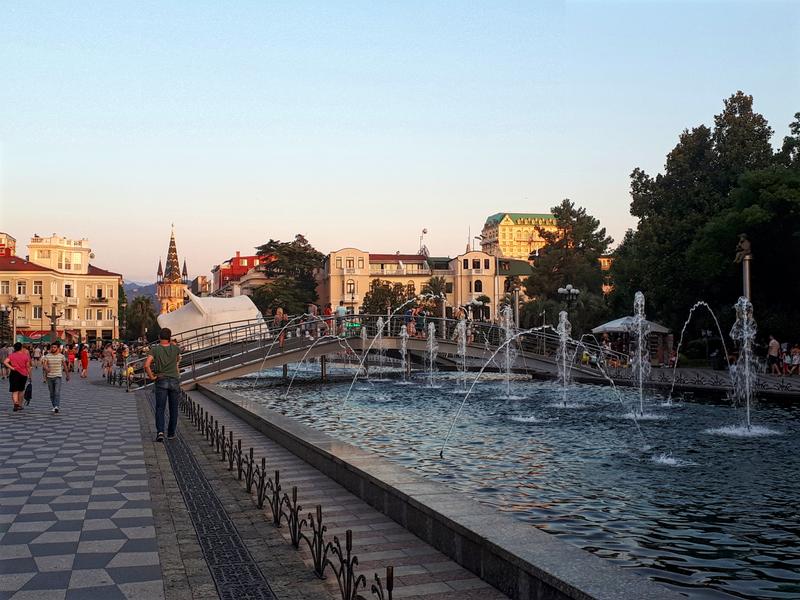 As the sun was still up high enough I figured I had some time for a small snack. What's not to like about ice cream with saperavi wine taste?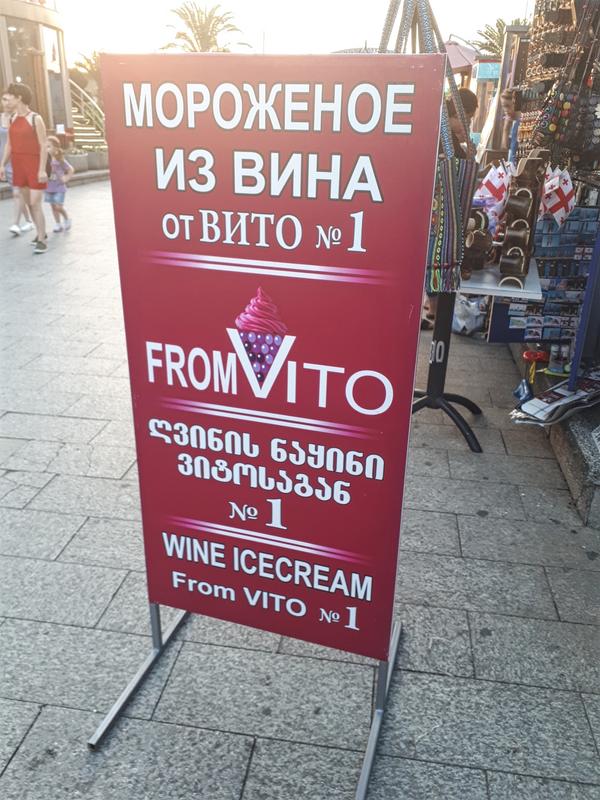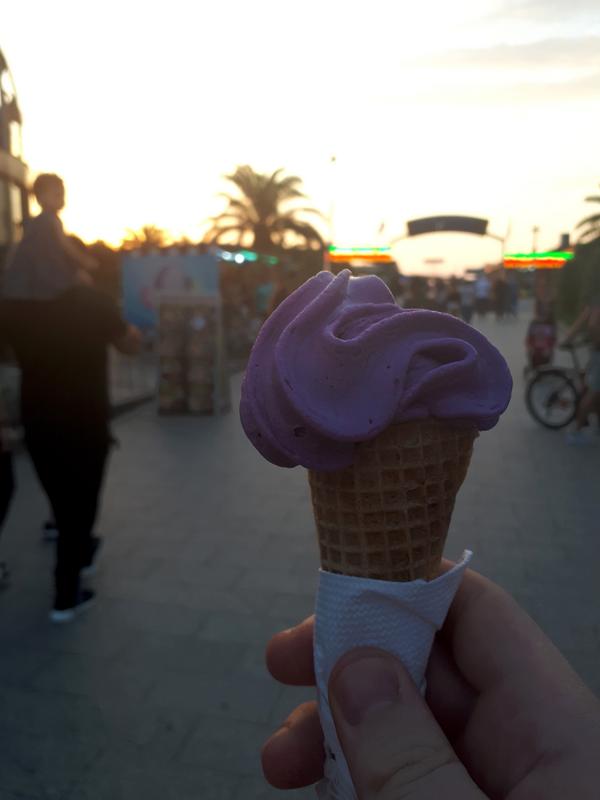 Once I hit the main Batumi beach the colours in the sky started to explode again in lovely shades of blue, purple, red and orange.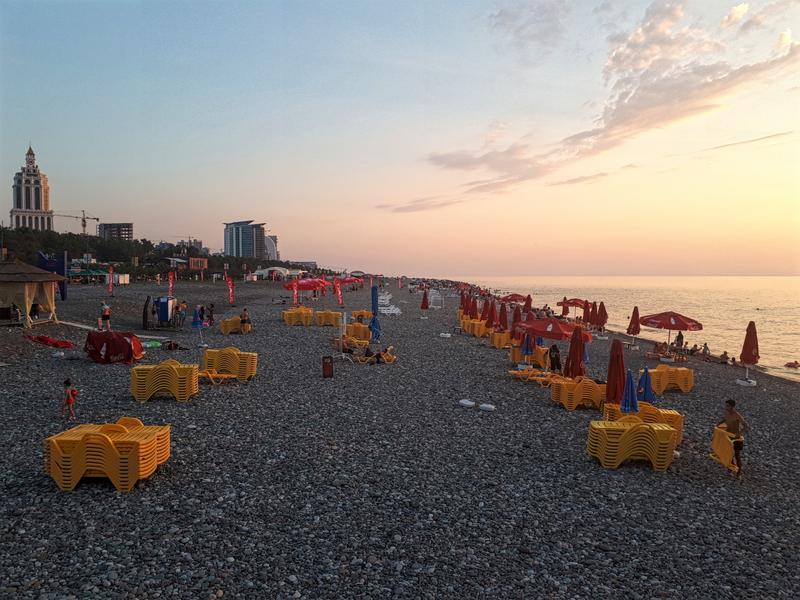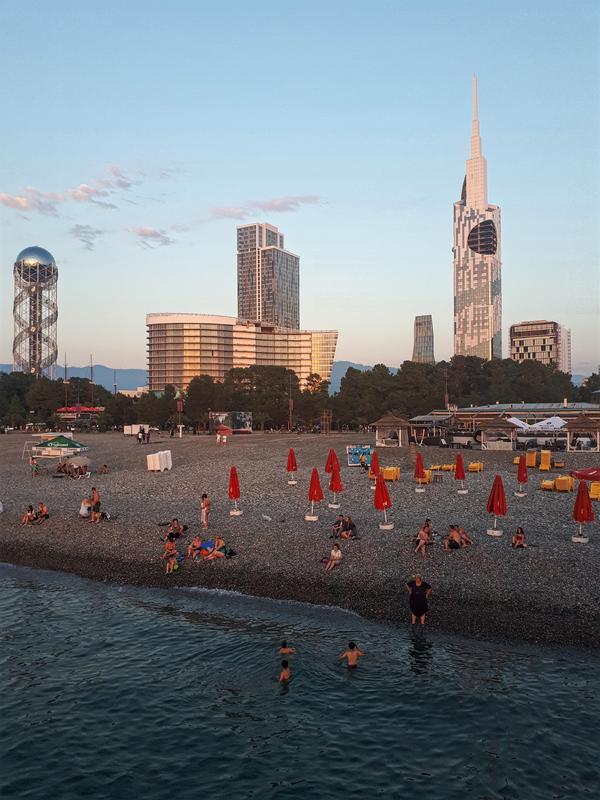 I headed slowly towards the pier – where the sunset indeed turned out to be quite an amazing sight.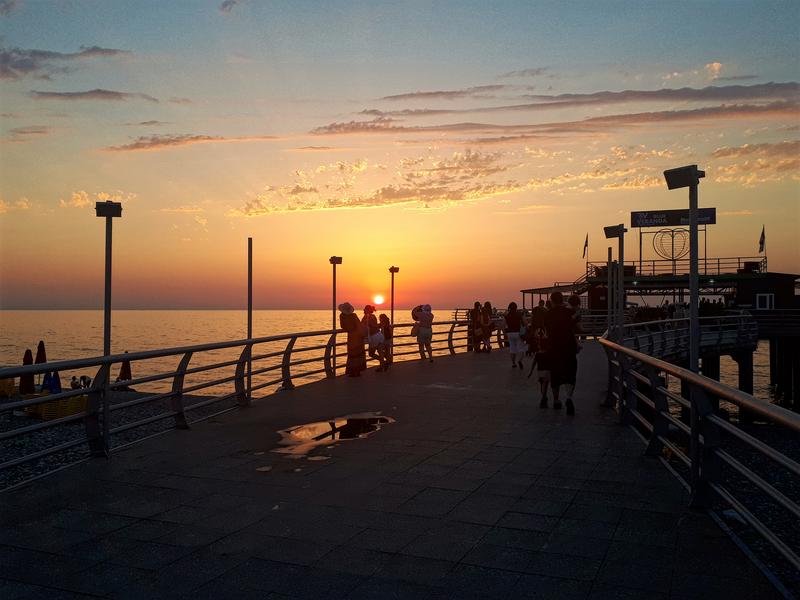 What a gorgeous end of my stay in Batumi! Although the evening was not quite over yet – as I headed back towards the old town for some nightcaps.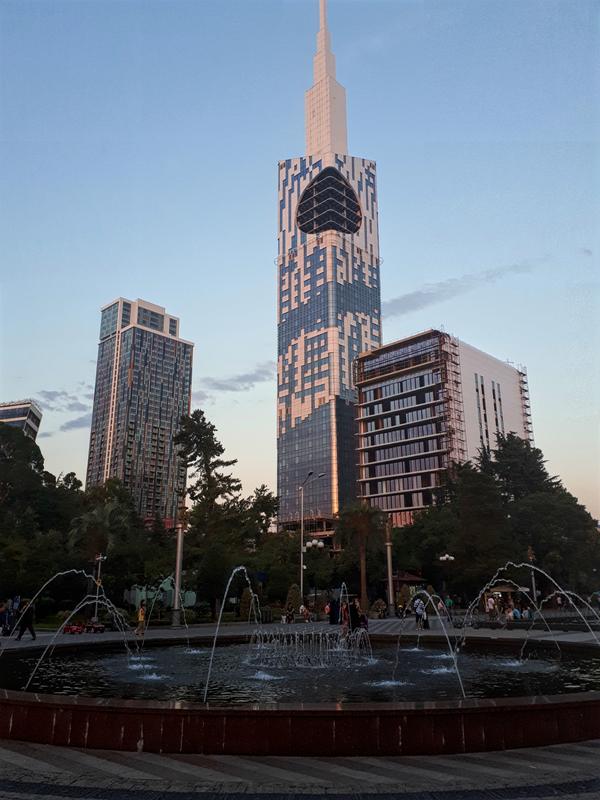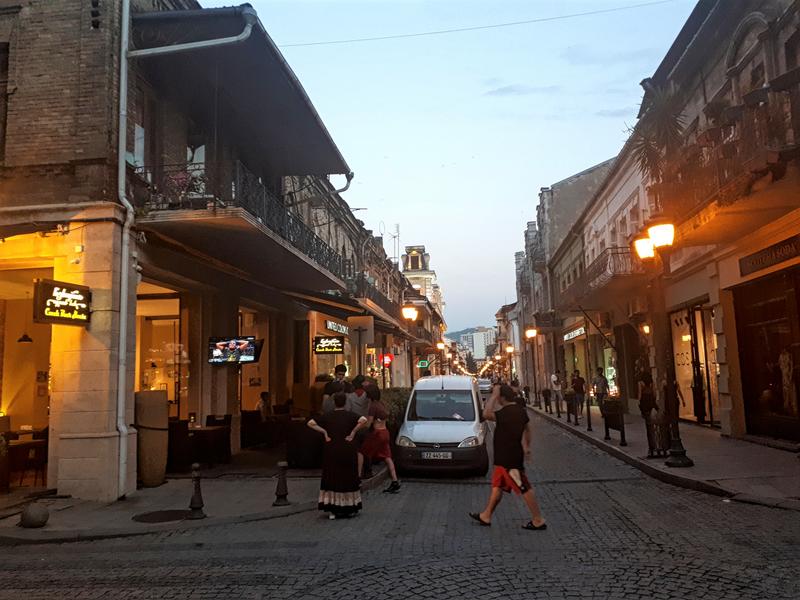 I ended up drinking some shots of chacha (Georgian homemade vodka of at least 60 percent alcohol) and smoking a bit of nargileh before heading back to bed as the next day would see an early rise as I would leave for Turkey.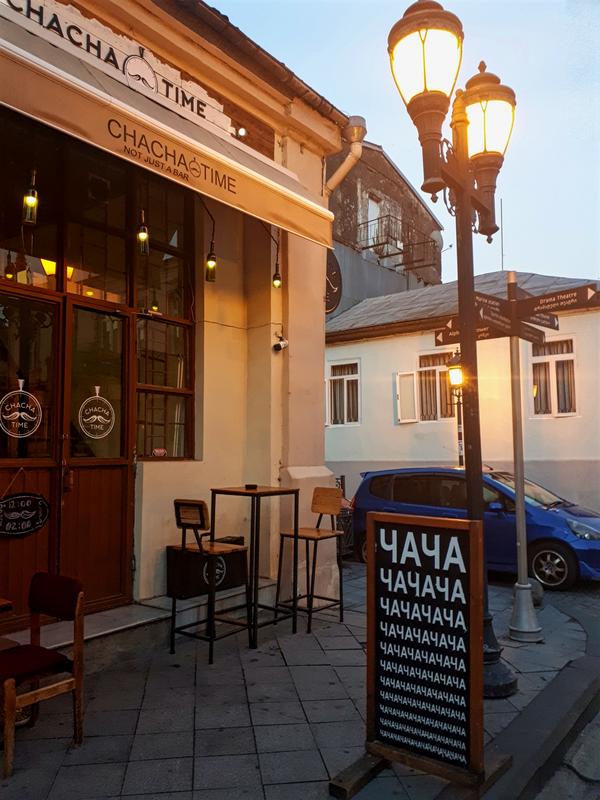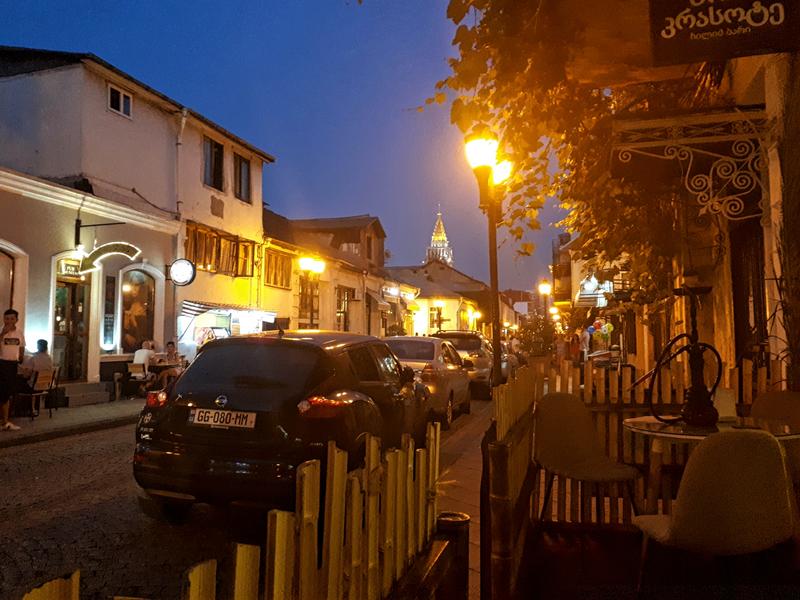 In short:
What an unexpectedly fantastic destination Batumi is! Not only is the city very well-kept, it also is gorgeous with an intriguing mix between magnificent old architecture, modern skyscrapers and gaudy Mar-a-Lago-like structures. Whether you come for a family summer holiday, for the history, the great food scene, or for nightlife fun – this city surely has it all covered in summer. If I will have time in 2019, I might easily return for a summer weekend!
Next up:
Crossing into Turkey for an entirely different world and adventures.
Dec 23, 18, 2:16 pm
Join Date: Jan 2003
Location: London, UK.
Programs: SQ LPPS, A3 *G, BA S
Posts: 980
Wow! We have our 2019 travel planned already but this is definitely on the list for 2020 - thank you so much for this great post.
Dec 23, 18, 9:39 pm
Join Date: Oct 2013
Programs: DL Diamond; Marriott Platinum
Posts: 189
Awesome TR on a very unique location, definite a great trip run for me and some buddies.
Dec 27, 18, 2:20 pm
Join Date: Feb 2014
Location: OTP, CHQ, EIN and beyond
Programs: AF/KL platinum, Turkish gold, Aegean silver, Umbi Umbi classic
Posts: 821
Dec 27, 18, 2:22 pm
Join Date: Feb 2014
Location: OTP, CHQ, EIN and beyond
Programs: AF/KL platinum, Turkish gold, Aegean silver, Umbi Umbi classic
Posts: 821
Part 8: Batumi, Georgia to Kars, Turkey
360 kilometres by taxi, minibus and bus
I woke up before the break of dawn as today was a sort of crucial transport day in which I could not afford to miss a connection as dealing with IRROPS would not be fun in a sparsely populated part of Turkey. I read on the internet about people saying not to worry if missing a direct bus to Kars as you can do the entire journey by making 5-6 minibus changes – but spending the entire day in a cramped
dolmus
(how the Turks call a minibus) seemed more like my version of hell.
Simply put, I had to be at the junction town of Hopa on the Turkish Black Sea coast – some 37 kilometres away from Batumi – at 10.30am. I managed to buy a ticket online for a bus leaving that hour to Kars, and it was the only direct bus I could find online. Now to go to Hopa is on paper quite straightforward as like Batumi it is on the Black Sea coast, just some 37 kilometres away. There are plenty of direct buses, but most of them leave at godawful hours in the middle of the night as they originate from Tbilisi, or are timed for passengers travelling all the way to cities like Istanbul. So I had to do this trip in a few stages: first a taxi to the Georgian side of the border at Sarpi, cross on foot, take a minibus to the first town of the Turkish side (called Sarp) and then change onto another minibus to Hopa. I was warned before by Turkish and Georgian friends that the border can be hectic and massively overcrowded in summer with hundreds of Turkish holidaymakers and others buying up half of Georgia – so I didn't want to risk arriving in Hopa too late.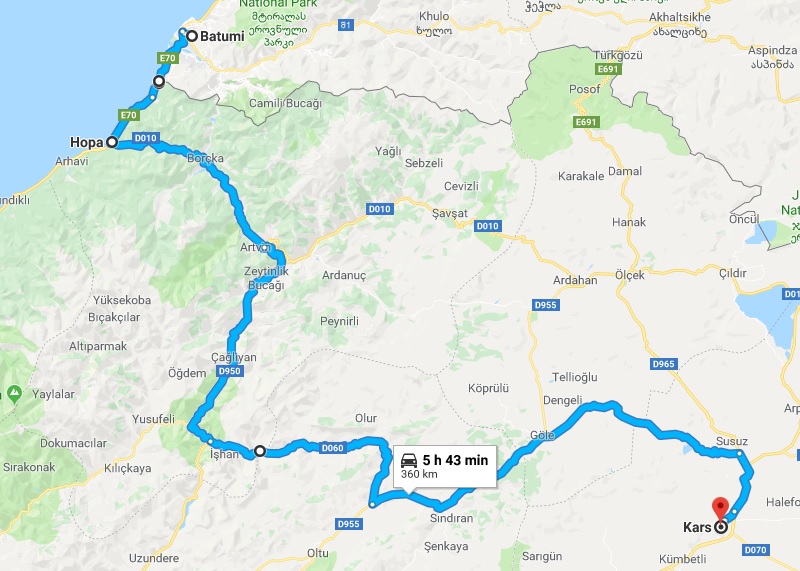 The route I would be travelling from Batumi to Kars via the Sarpi border and Hopa
Despite it being 5am I managed to hail down a taxi quite easily from the main seaside road near my apartment, and even managed to arrange a fair price for the ride to the border at less than 10 euro (probably still too much – but why bother haggling more at this hour when you are tired, the price is very decent compared to the most of Europe, and the taxi in question is a comfy Mercedes. The road hugging the coastline was gorgeous, especially as dawn broke and first light illuminated the lush, subtropical forests on the mountains.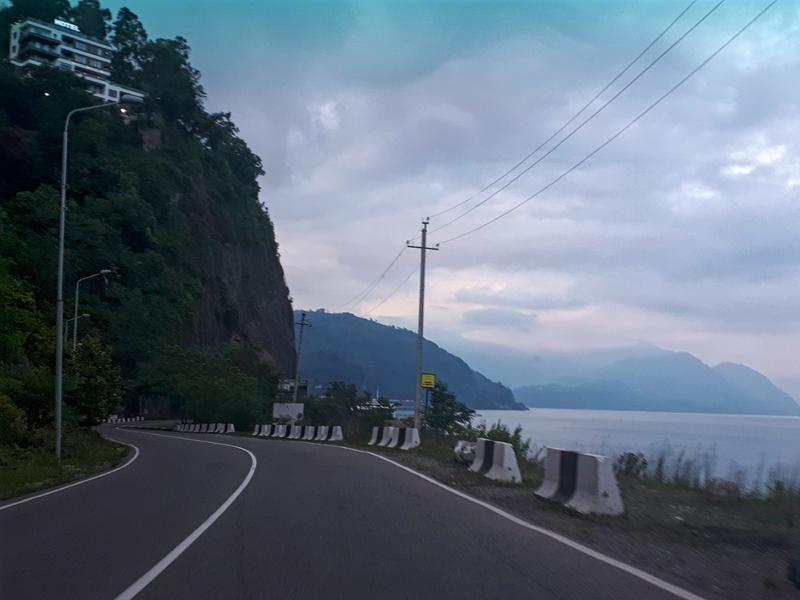 The taxi dropped me off right at the entrance building of the Georgian border for foot passengers. And boy, it was crowded even at this early hour. It seemed like half of Turkey was on holiday in Georgia and now wanted to go home. The gate towards the first room of the building (Georgian passport control) was firmly closed as the border guards only let in about 100 people inside at each time for the crowds not to become too great and uncontrolled inside the building. Needless to say, this resulted in a huge rugby-like scrum of people trying to position themselves the best as they could in front of the gate, hoping to be let in during the next batch of people to be processed. I have seen my share of disorganised border posts, but this was surely the one the furthest away from orderly British queuing etiquette as I could remember. I could perfectly understand now why the last Georgian sign over the road read (no kidding!) "good luck".
Having played some rugby in my university days I was however able to get through the scrum fairly easily (while of course not jumping the queue like others did!) and it took me perhaps 20 to 30 minutes to get into Turkey. I had bought my Turkish e-visa beforehand and was swiftly stamped into the country. Though I needed to put my bags through an X-ray machine, the girl manning the monitor did luckily not seem to be interested in the copious amounts of Georgian wine, chacha and brandy I took with me.
Taxi drivers quoted too high amounts of money for the drive to the first Turkish town of Sarp, so I decided to opt for the minibus. I was however able to exchange my remaining Georgian lari for Turkish lira with one of the drivers for an OK enough rate (haggle hard as the beginning offers were way too low and there did not seem to be any official exchange point).
In all fairness, from that point on everything went super smooth. The first minibus dropped me off at its final stop of the small Sarp bus station, where almost immediately another minibus departed straight for Hopa. It went fast and was dirt cheap (less than 2 EUR combined) – and I arrived at the Hopa
otogar
(Turkish for bus station) with lots of time to spare. While I was happy to have arrived on time – and would even in hindsight not have departed later just to have peace of mind and not be stressed during the journey – I was hating the fact at this moment that I had to wake up super early and that there was absolutely nothing to do around the Hopa otogar. There are two small cafes – but that is really it. I decided to sit down, drink a tea, and eat a
simit
(Turkish-style bagel).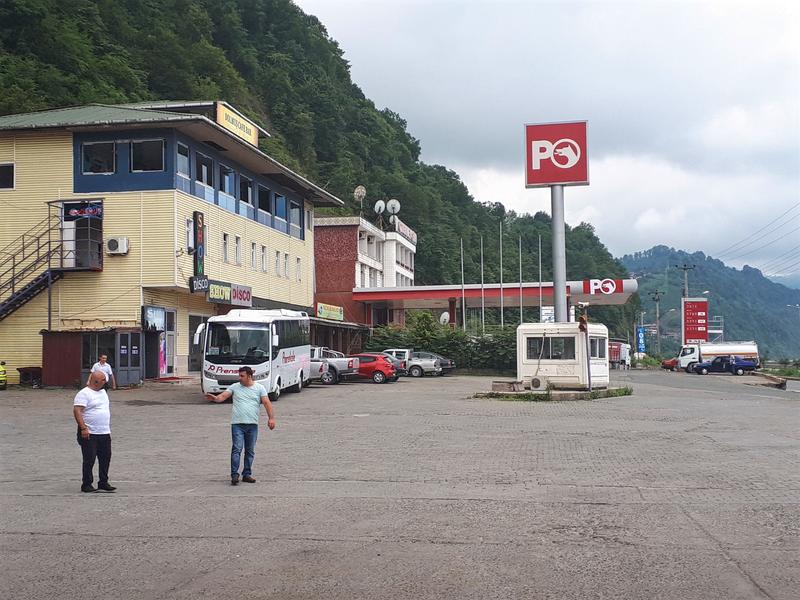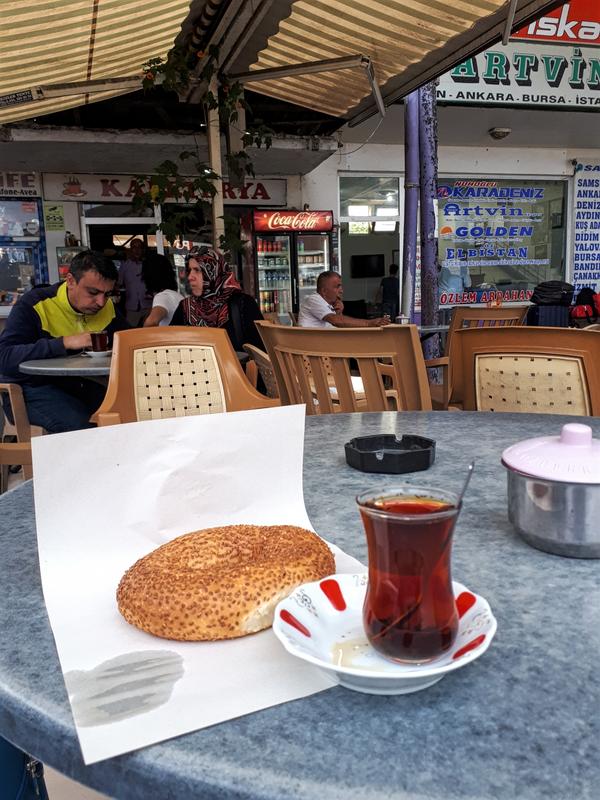 Luckily the friendly office manager of my bus company for the onward journey to Hopa (Yesil Artvin, ticket from Hopa to Kars was about 10 EUR) was friendly enough to share the wifi password of the office so at least I could kill some time on the internet.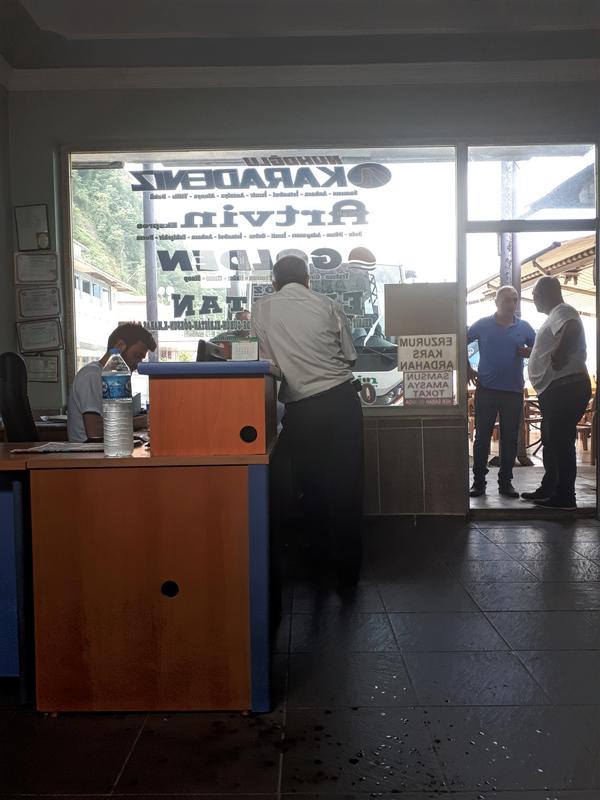 Luckily the bus arrived spot on time at the Hopa bus station (it originates from Rize a bit further down the Turkish Black Sea coast). Thanks to internet booking I could pre-select my seat and managed to snag 1D, allowing a clear view out of both the front window and to the right. It was a decision I did not regret as the scenery turned out to be absolutely spectacular. I quite expected it to be nice, but that some parts of the route would look almost like an US national park or faraway Central Asian highland I did not expect.
It was quite a nice contrast when shortly after the departure out of Hopa we entered a long tunnel across the coastal mountain range. While the weather in Hopa was cloudy, the other side of the coastal range was absolutely sunny with clear blue skies. While the first miles of the journey follow a small but pretty river, it turns out that a big more upstream the Turks have dammed about the entire stream, creating huge artificial lakes. According to Wiki there are now 15 large hydroelectric dams along the Çoruh River. While I do love the striking blue colours of these artificial lakes one can only wonder how it should have looked like without the dams.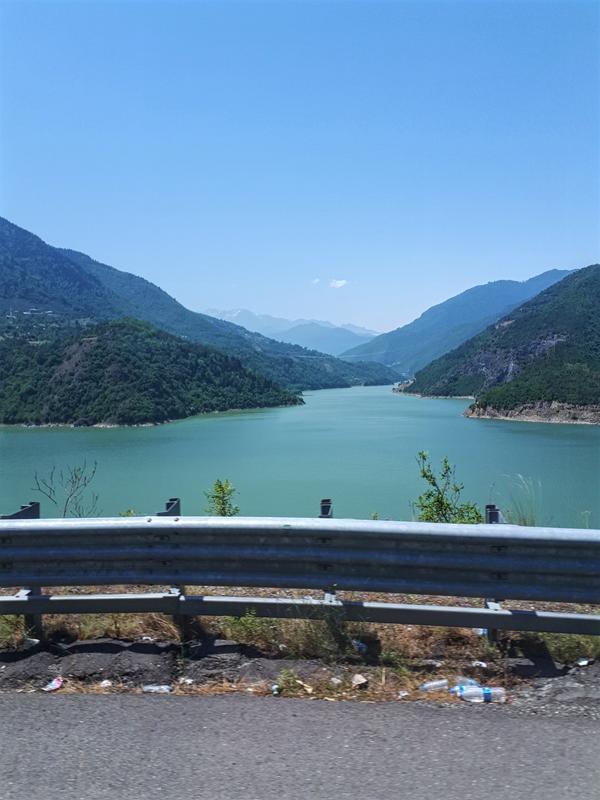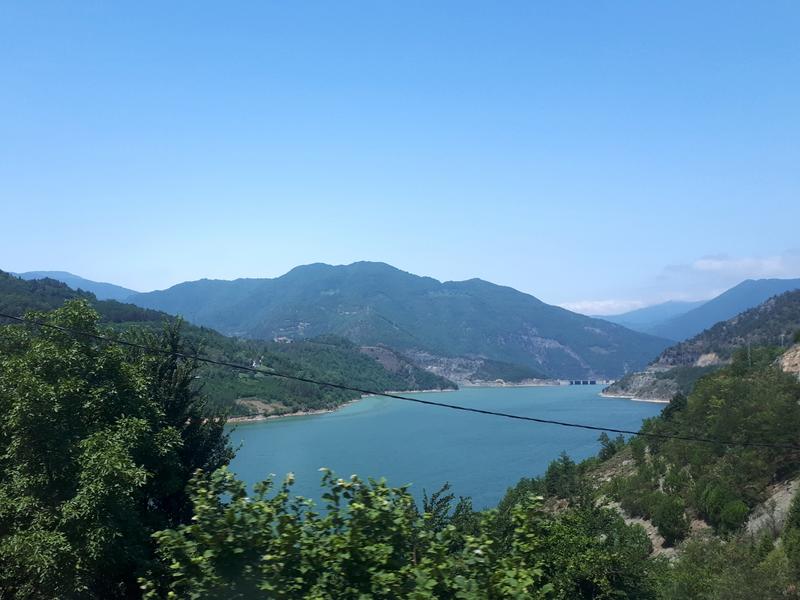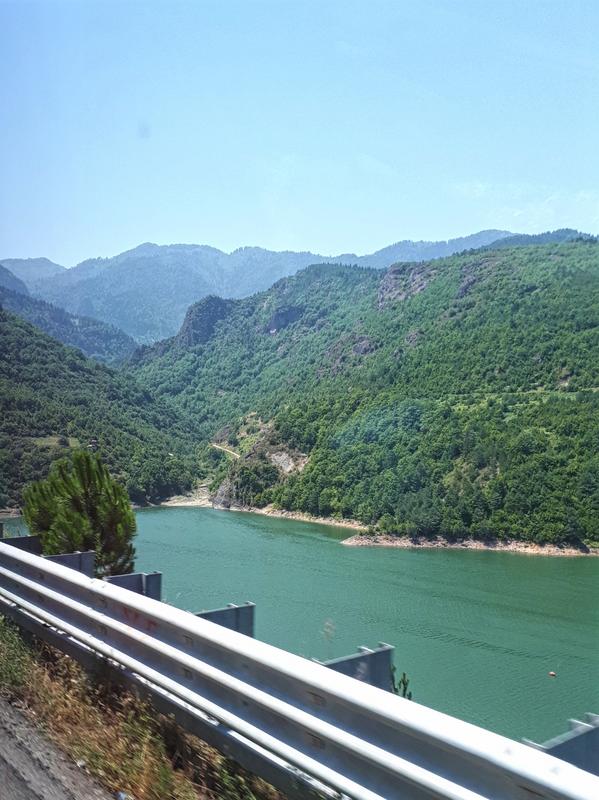 Historically, the region was settled by such peoples as the Pontic Greeks and the Armenians, although it is almost completely Turkish now besides some pockets of Georgian-speaking Laz. Besides some historic sights the region is apparently also a prime ecotourism destination (but not well known outside of Turkey at all) and I could easily see myself returning here with my own wheels.
We stopped shortly just outside the region's main city of Artvin, located on a hill just above the river and next to a major dam.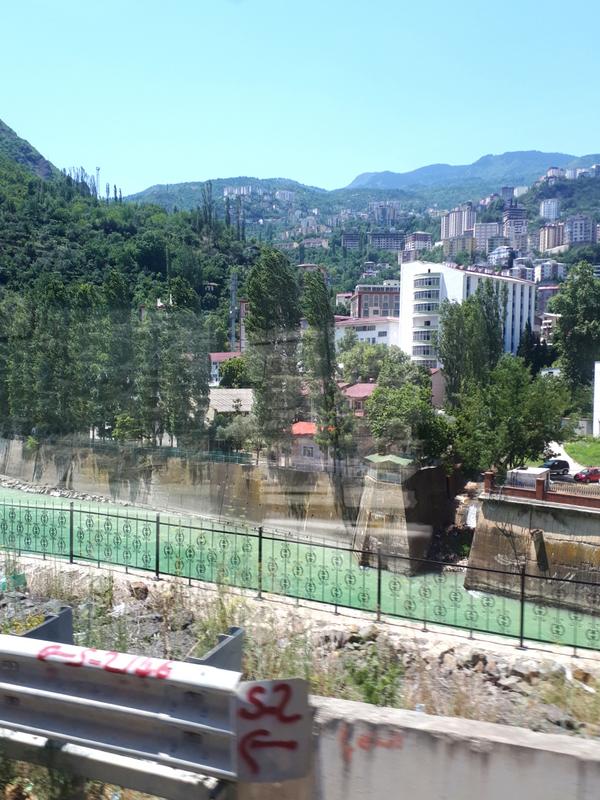 And afterwards there were miles and miles of more artificial lake views, with the green trees giving way to bare rocks more inland.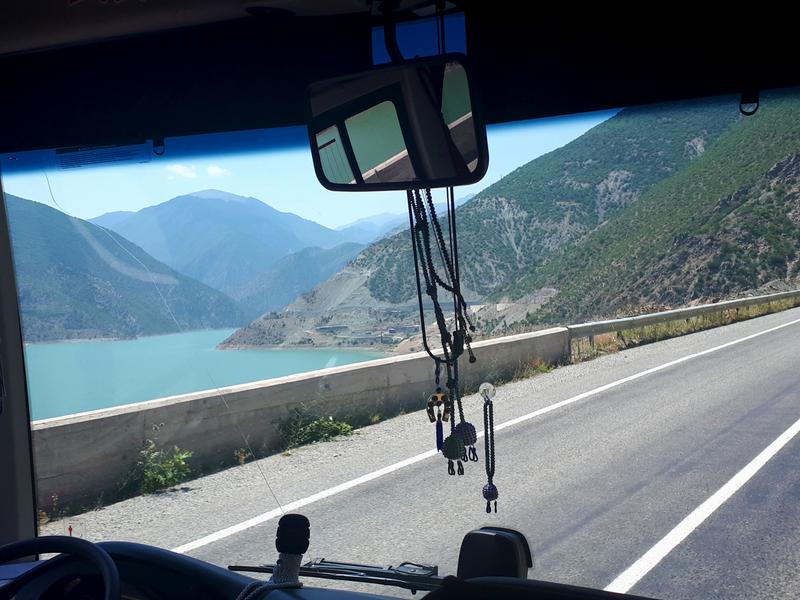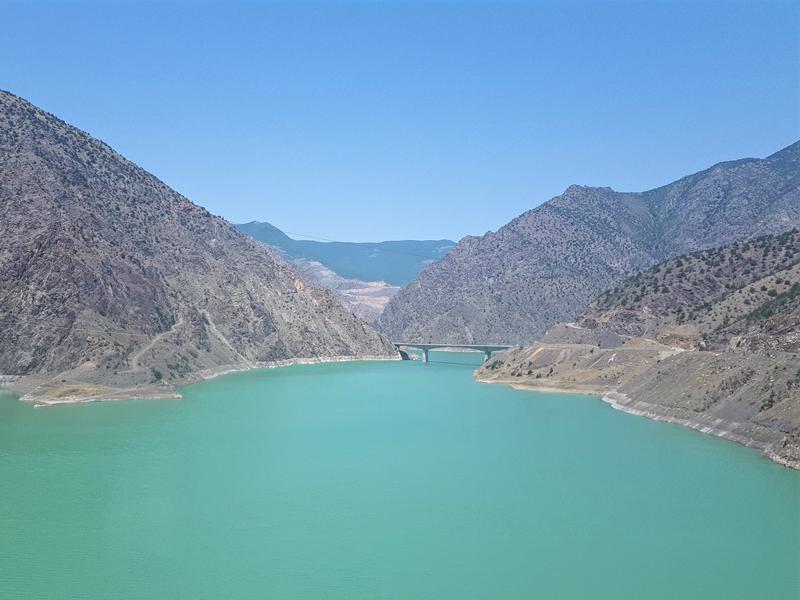 About halfway through the journey after some 3 hours we made an half-hour stop near a petrol station and two restaurants. I wasn't hungry so I just bought an iced tea and walked across the road to the fast-flowing river to snap some pictures of the truly stunning scenery here. If you'd have told me the picture was taken somewhere in Arizona I would have believed it.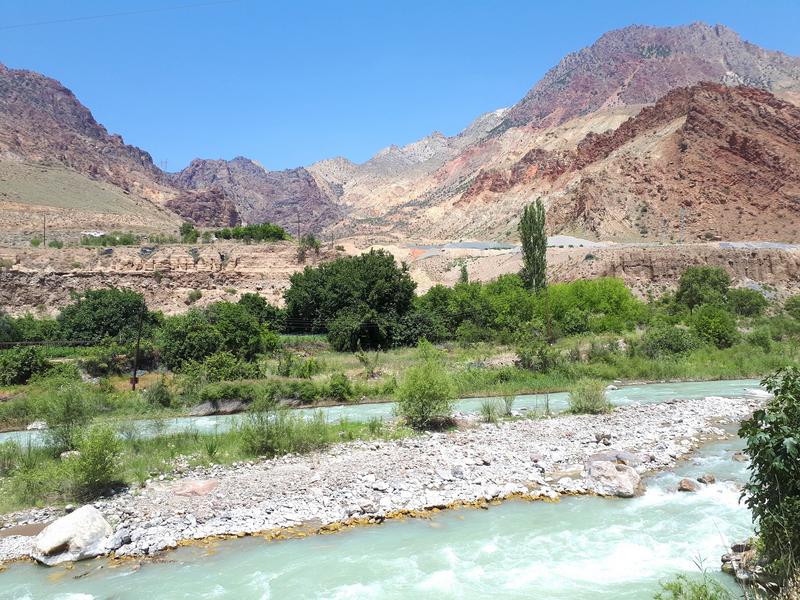 When we continued the second part of the bus journey I started to feel the pain from the cramped seat and remembered why I hate bus journeys so much. Yet the amazing scenery kept me glued to the window and appreciating the journey.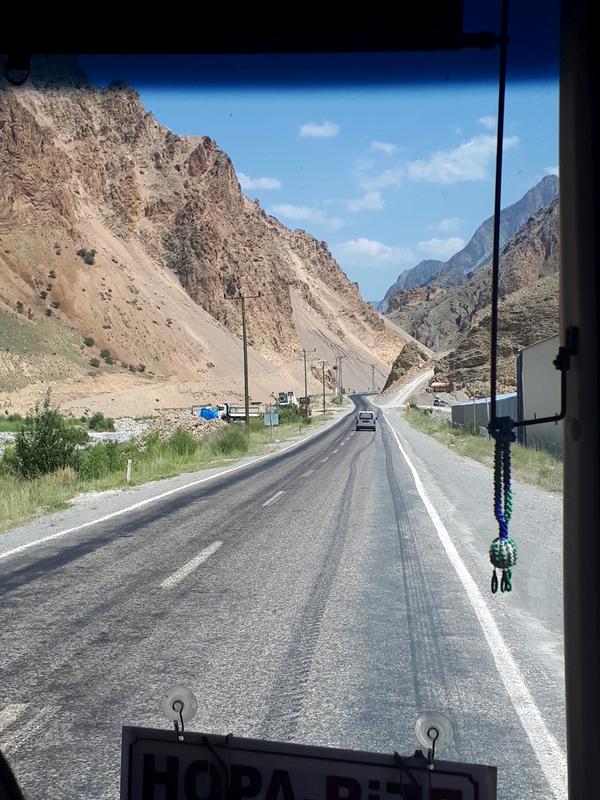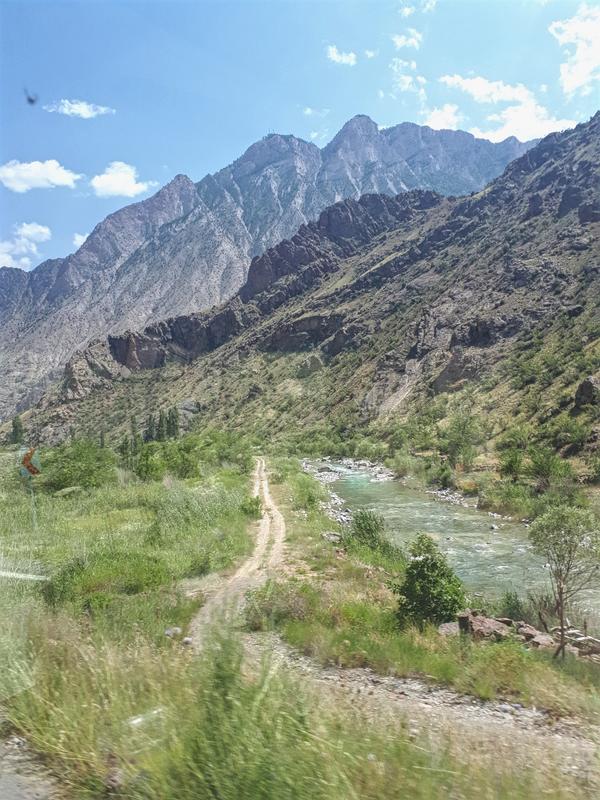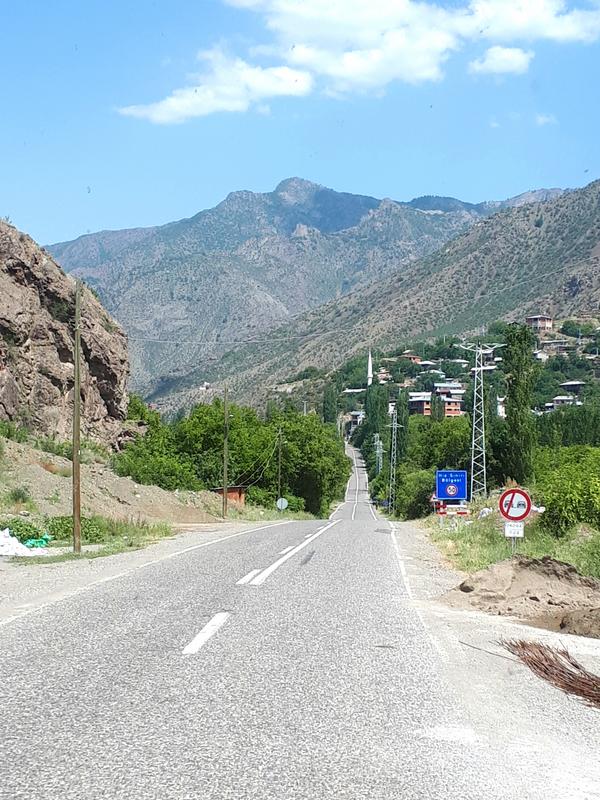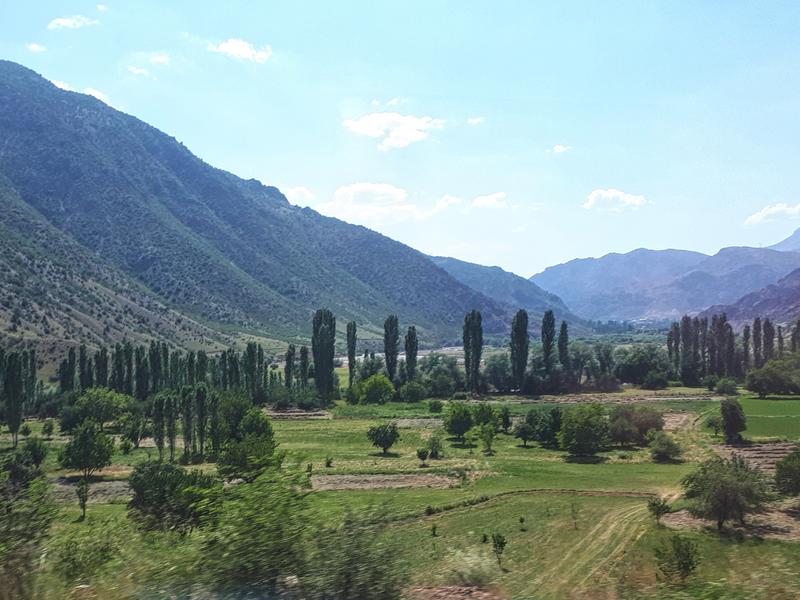 After some narrow canyons we finally hit a dual carriageway and were able to pick up some speed.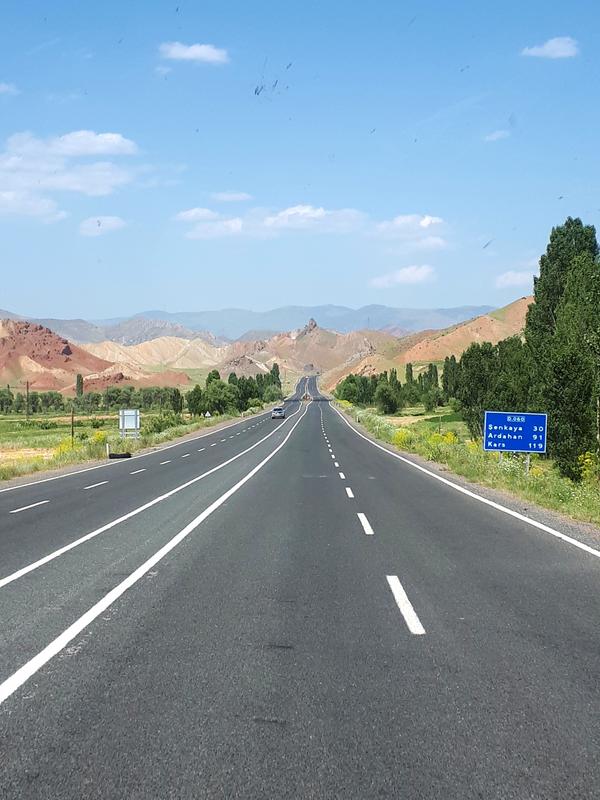 But of course, this is Turkey – and distances are endless and what seemed to be a short trip on Google Maps easily ended up taking twice as long. We hit a mountain pass, where judging from the signs even features quite some snowfall in the winter months.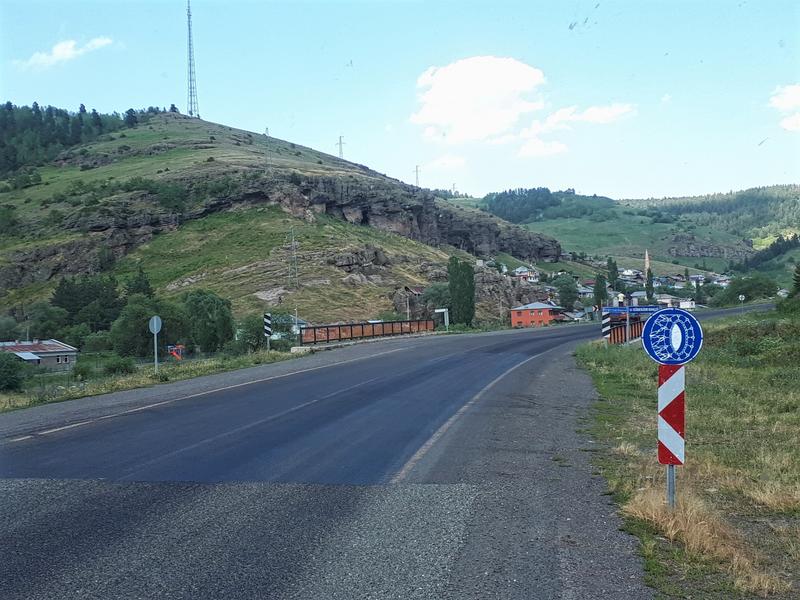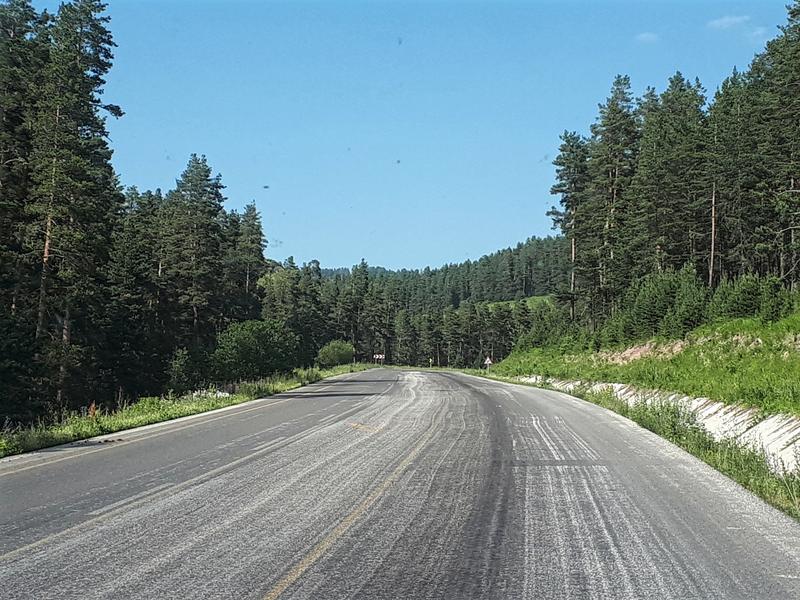 Road conditions got worse once up on the highlands. This part of Turkey saw ferocious fighting in World War I between the Turks and Russians on a front forgotten by much of the Western world. Yet it featured some bloody battles (especially the Erzerum offensive and the Turkish rout at the Battle of Sarikamish) where perhaps more people died from the severe winter conditions and inadequate equipment than to enemy fire. I had a good book (On Secret Service East of Constantinople by Peter Hopkirk) with me about these and other intriguing bits of WW I history such as secret German missions to Persia and Afghanistan in order to convince the Emir to join forces and invade India. I can highly recommend it to anyone with the slightest interest in history, the Great War, and epic adventures of hardy explorers and larger-than-life figures embarking on secret missions.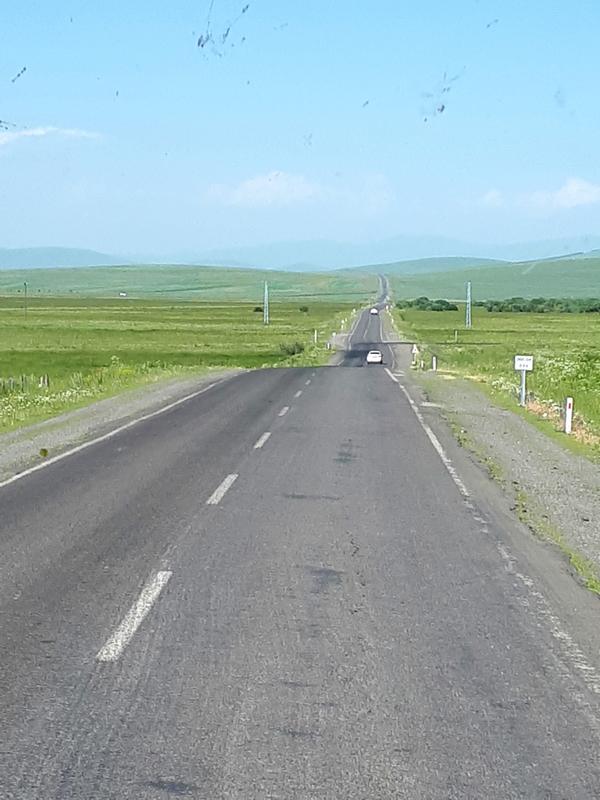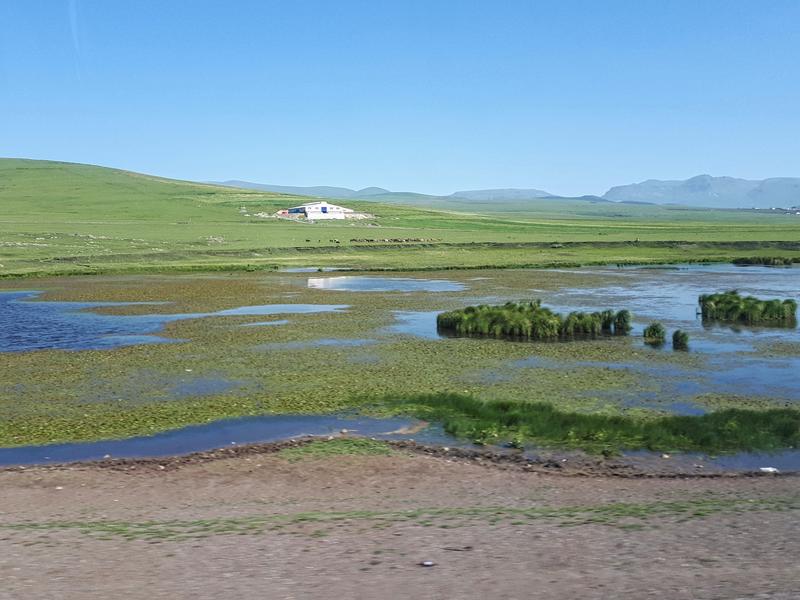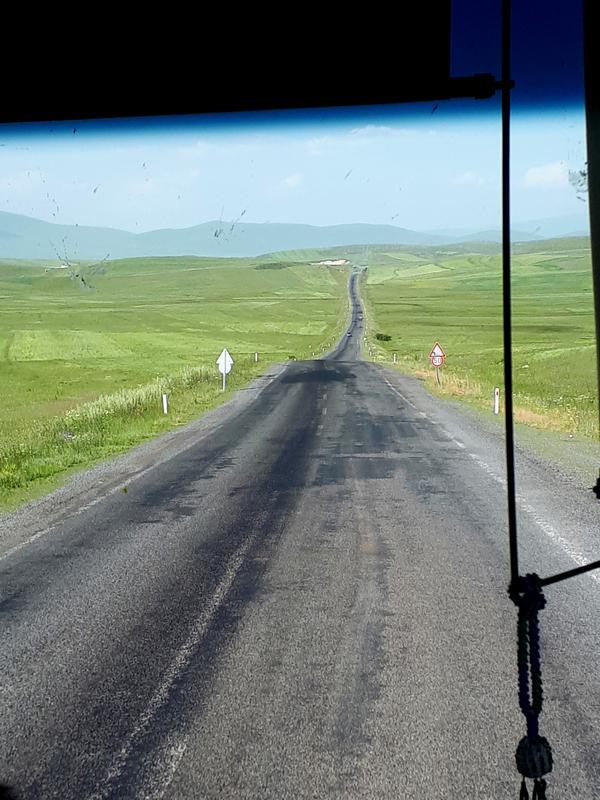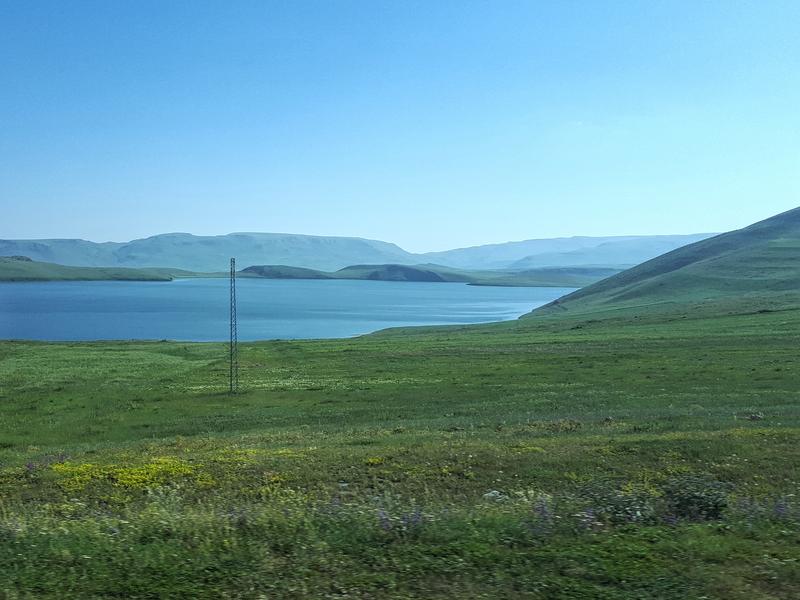 After some seven to eight hours we finally arrived in Kars. I was completely broken from the bus journey – but boy, what a fantastic journey it was! Next time I'll somehow do it by rental car though!
Next up:
Chasing an elusive goose in the city of Kars, Turkey.
Dec 28, 18, 11:49 am
Join Date: Feb 2014
Location: OTP, CHQ, EIN and beyond
Programs: AF/KL platinum, Turkish gold, Aegean silver, Umbi Umbi classic
Posts: 821
Part 9: Kars, Turkey
Hotel: Kars Konak Hotel, 26 EUR/night incl. breakfast
It was already close to 6pm by the time I arrived at my hotel, located on one of the main city centre streets. There weren't too many accommodation options available in Kars and the Konak seemed to be one of the best of the bunch of mid-range hotels. There were one or two slightly more luxurious options but as these were out of the city centre I didn't opt for them. For just 26 EUR per night the Konak surely did deliver. The single room which I got was a bit cramped, but nonetheless was clean and comfortable – and for me that was all that mattered. The hotel staff was friendly and helpful too.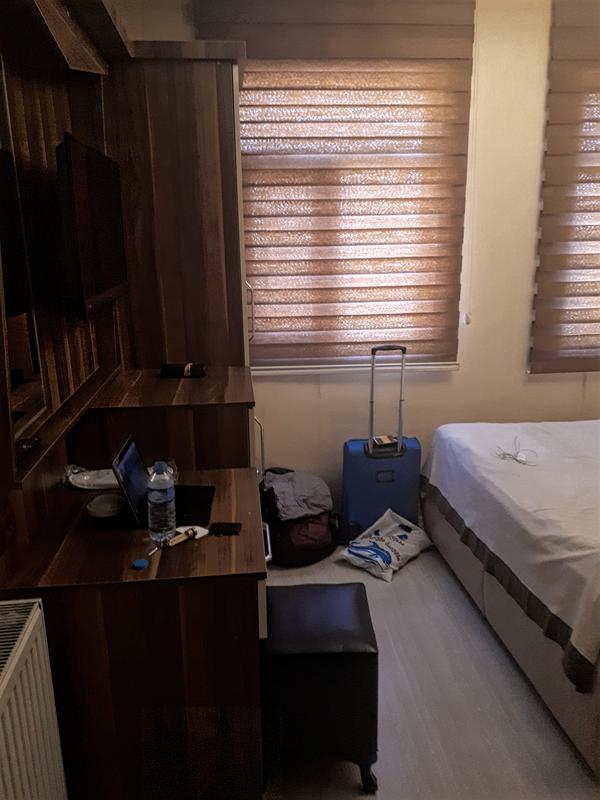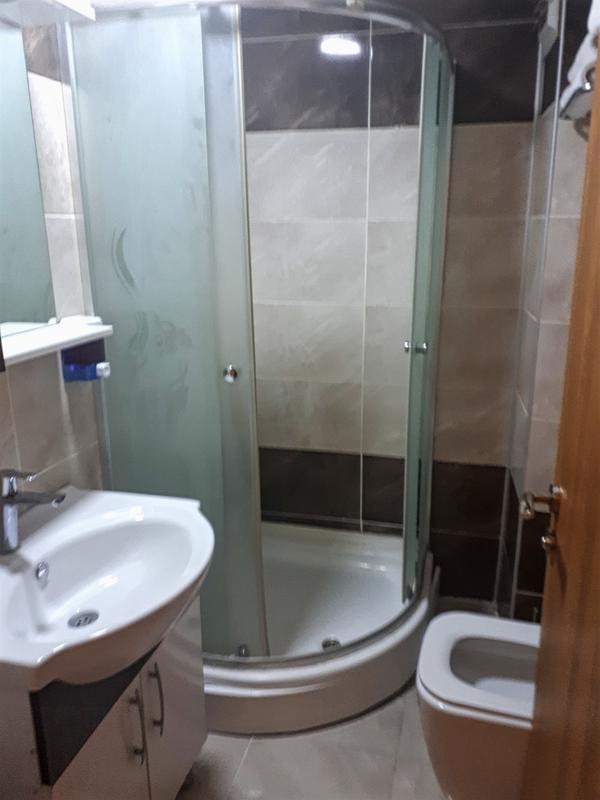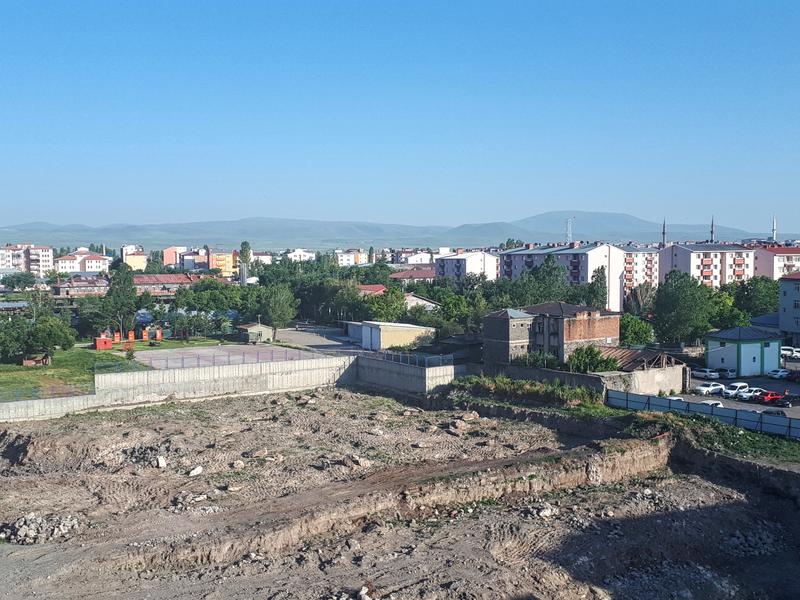 Single room at the Kars Konak hotel and view from the window
As I was super hungry I decided to leave all sightseeing for the following day and find myself a good restaurant straight away. Upon hearing I would visit Kars my Turkish friends told me that the city is famous in the country for its cheese and goose, so I embarked on a little quest to find both. With the help of my friend Google I found two potential restaurants which were well-rated and were said to have goose on the menu. Unfortunately, restaurant number one was closed – but restaurant number two (Kamer Cafe & Restaurant) looked promising by the look of the props on the outside wall.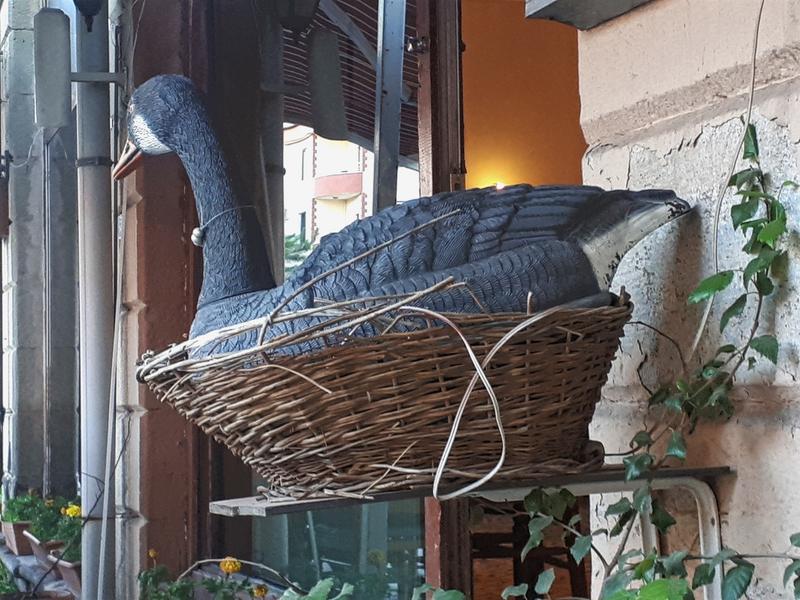 Unfortunately, they did not have any geese today – but I was assured by the friendly waiter that other dishes were good too. As I had another day to try to find a goose tomorrow and I was real hungry by now I decided to stay – which turned out to be a great decision. On recommendation of the waiter I first took the aubergine cream soup, which was delicious.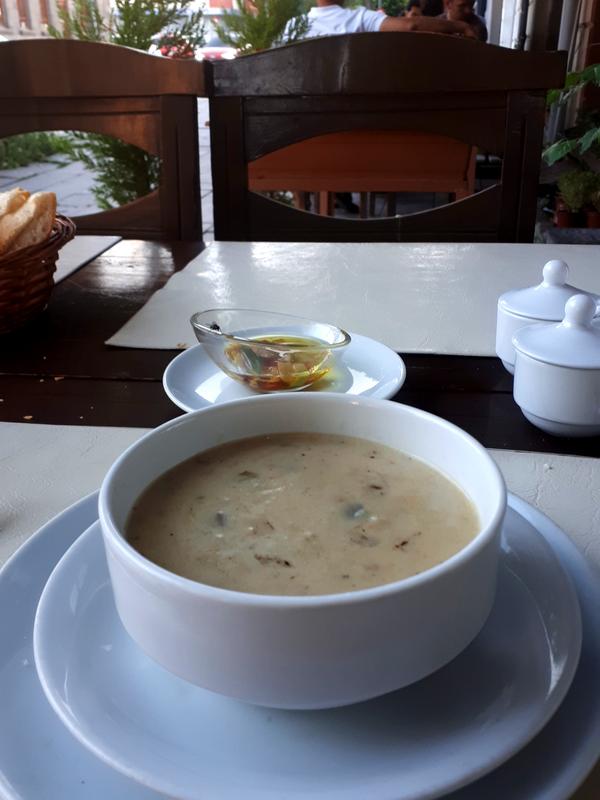 For the main, you can't go wrong really with a plate of Iskender kebab – which the restaurant did very well too.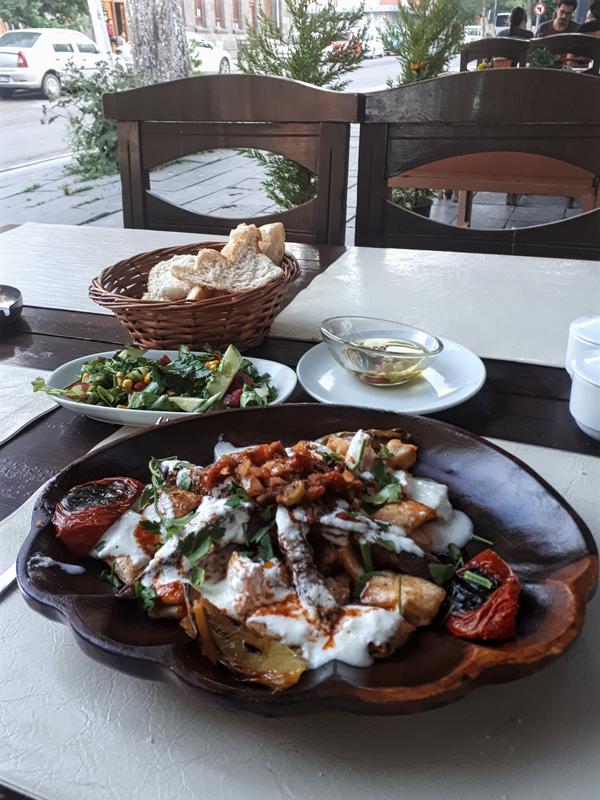 After the meal I was served some tea on the house. Both dishes, a coke and some water set me back less than 5 EUR.
Next up was finding some cheese shop to taste some of the famous Kars cheese (and to buy some for friends I would visit later during the trip). The city centre surely did look interesting as it basically mixed Ottoman-era buildings with clear Russian influences (Tsarist-era brick houses which would not look out of places in the Baltics or so). The city and adjoining region where Russian-administered as the Kars Oblast in between 1878 and 1918 – when the Ottoman army succesfully took the city back from the Russians at the end of World War I.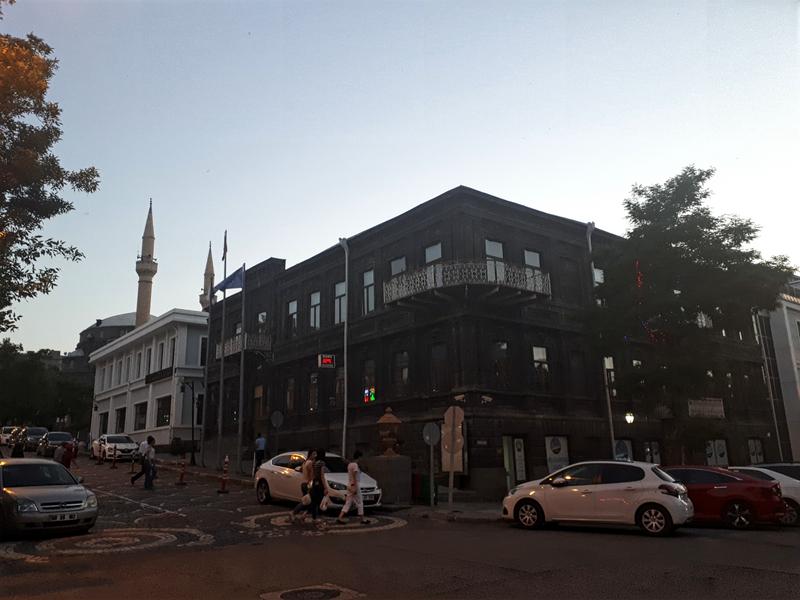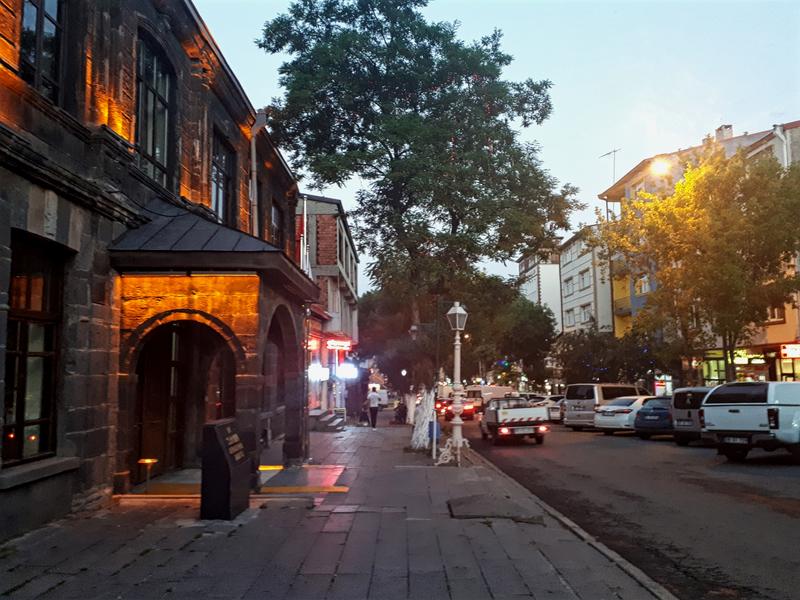 The central streets of Kars have quite a few cheese shops where they allow you to taste for free. The cheese was good, so I decided to buy some for my friends as a souvenir.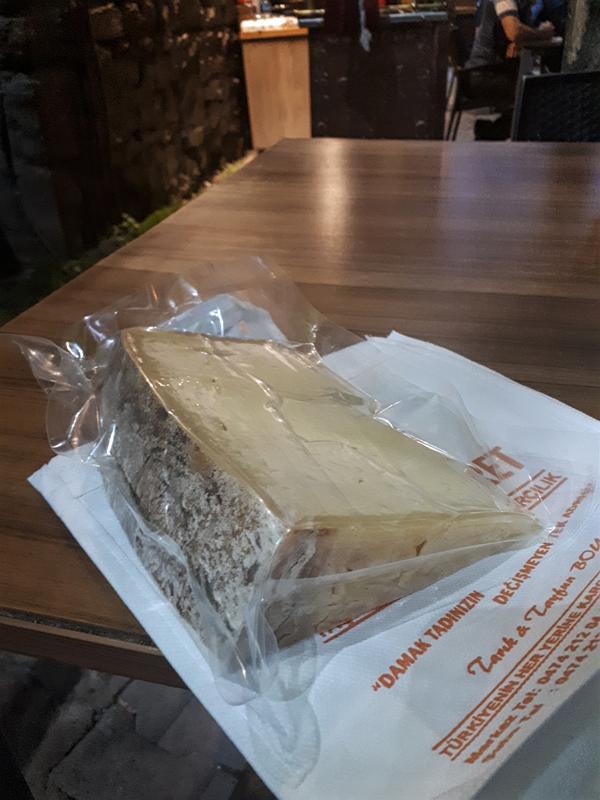 I then opted for some more after-dinner tea and nargilah in an appealing looking garden cafe I came across. Unfortunately, the nargilah was bad quality.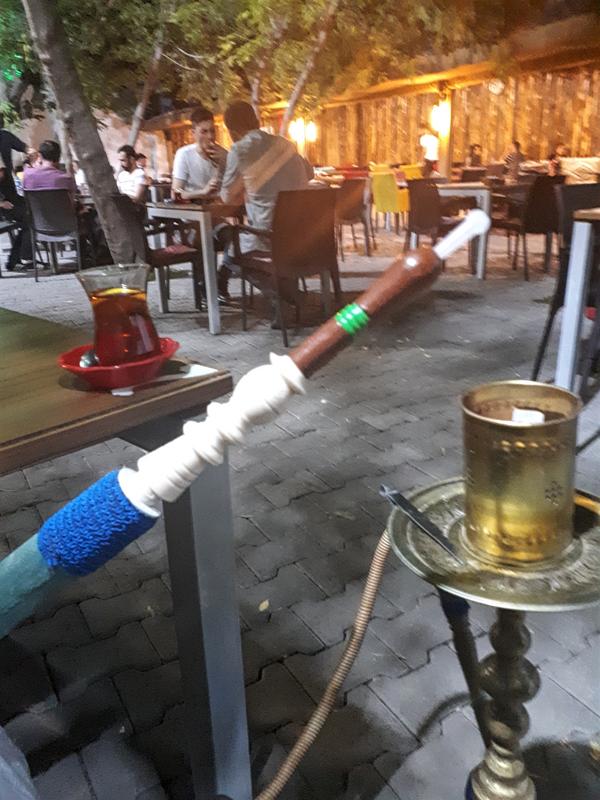 Afterwards I bought a beer or two and retired back to my hotel room to watch the Belgium vs. France World Cup semi final. Unfortunately, the French did not play true to their national character and did not run away and surrendered when attacked by the superior Belgian team, and ended up winning the match (and later on the World Cup).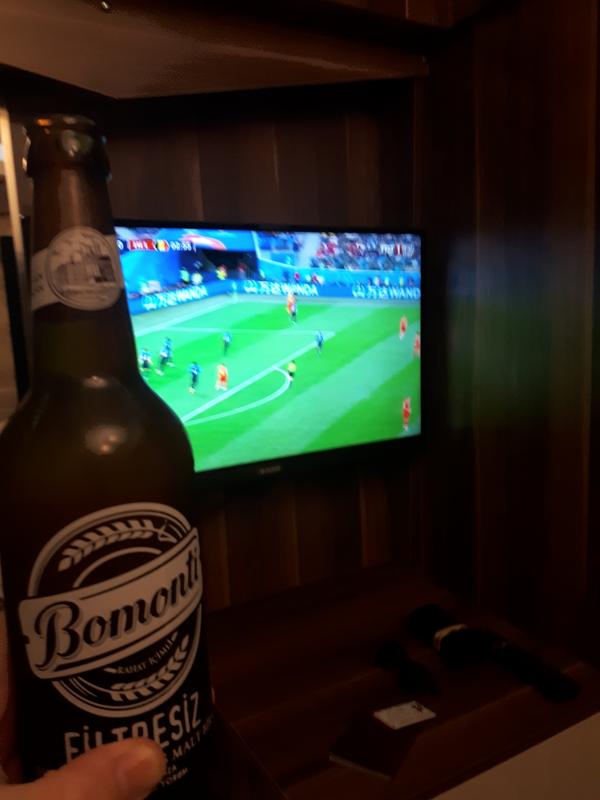 Next up:
A visit to the ruins of the old Medieval Armenian capital of Ani.
Dec 29, 18, 12:56 pm
Join Date: Feb 2014
Location: OTP, CHQ, EIN and beyond
Programs: AF/KL platinum, Turkish gold, Aegean silver, Umbi Umbi classic
Posts: 821
Part 10: A trip to the UNESCO World Heritage site of Ani
The biggest reason for coming to Kars was a major sight some 50 kilometres out of the city: the medieval ruins of Ani, one of the old capitals of ancient Armenia. I'm very much interested in the ancient civilisations of Asia Minor in general, and the first time I saw pictures of this UNESCO World Heritage site and its spectacular location I was sold – I had to see this myself one day.
Through my hotel I arranged a taxi for a half-day trip to Ani, which was perfectly reasonable in costs at around 25 EUR if I recall correctly. Just like the drive of the prior day into Kars, the road to Ani was on a highland plateau with grasslands as far as the eye can see.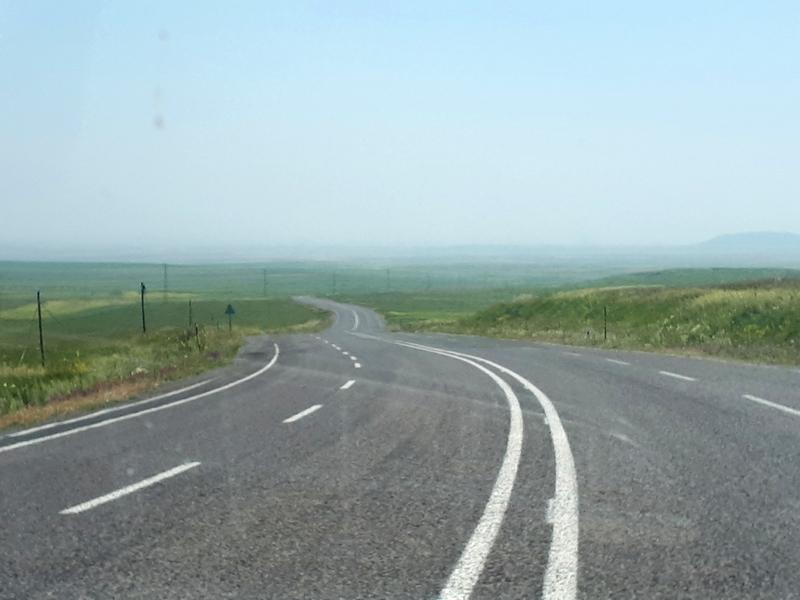 At the end of the road, next to a dusty little village, are the great city walls of ancient Ani. Cars need to be parked on the parking lot, where there is also a small snack bar, two souvenir stalls and the ticket kiosk. There was hardly anyone around when I arrived – I guess I might have only encountered five or six other people when walking around the grounds.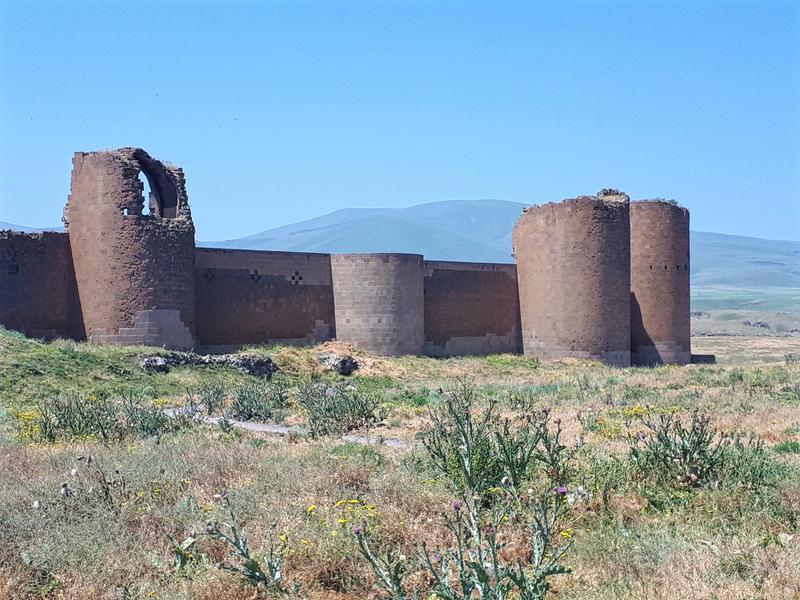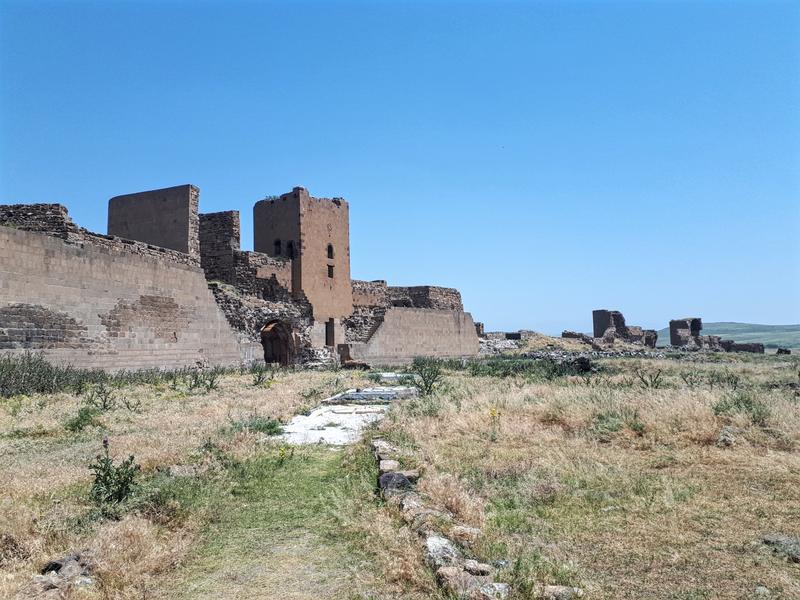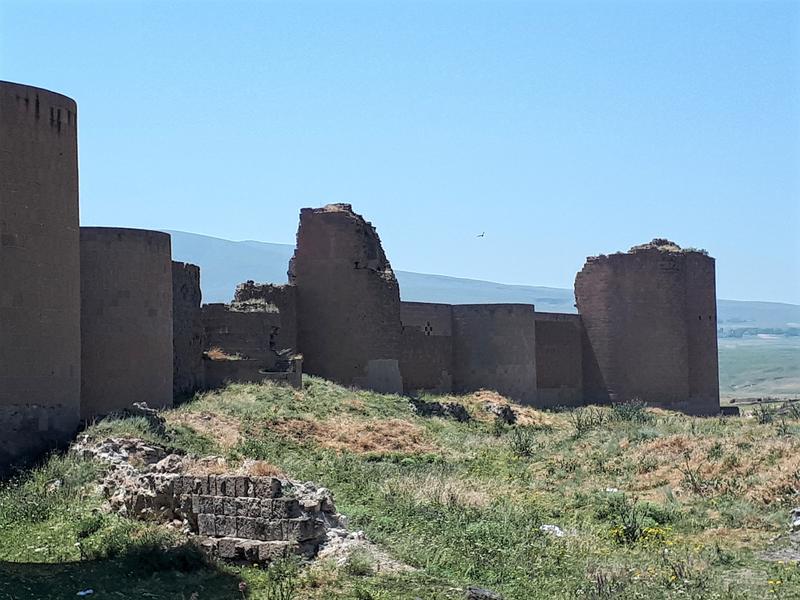 Ani was basically built in a triangular shape, and only one side has the huge walls. This is because of the unique geography of the site: there are big canyons on the other two sides which makes a great natural barrier. The Akhurian River inside the canyon is the current border between Turkey and Armenia, which due to politics (the Armenian genocide) is currently completely closed everywhere. You can easily see that the area is a highly sensitive area. At the edges of the canyon is quite some barbed wire and it is easy to spot the watchtowers and soldiers at both the Turkish side and across the border in nowadays Armenian territory.
Needless to say, Armenians are quite proud about their country's history, but also melancholic given how so much of their ancient might and greatness has been taken away from them in more recent history. Just like Mt. Ararat, which is an important Armenian symbol, visible everywhere from the current capital of Yerevan, but nowadays located right across the border into Turkish territory, also their ancient capital of Ani lies beyond reach across a sealed border.
There are a couple of old churches, mosques, walls etc. to see at the site – with the buildings all in varying states of ruin (and some being renovated/rebuilt). Between 961 and 1045, Ani was the capital of the Bagratid Armenian kingdom that covered much of present-day Armenia and eastern Turkey. It was an important city on ancient trading routes and a city of huge cultural significance, called the "City of 1001 Churches" (ancient Armenia was the first country to adopt Christianity as its state religion). In its heydays Ani might have easily had some 100,000 citizens – making it one of the biggest cities of the world at the time. Unfortunately for the Armenians, Ani was sacked in 1236 by the Mongols and devastated almost completely about a century later. It never recovered and was slowly abandoned and all but forgotten by the 17th Century.
My first destination was an old mosque, spectacularly located above a gorge where the remnants of an old stone bridge were still visible.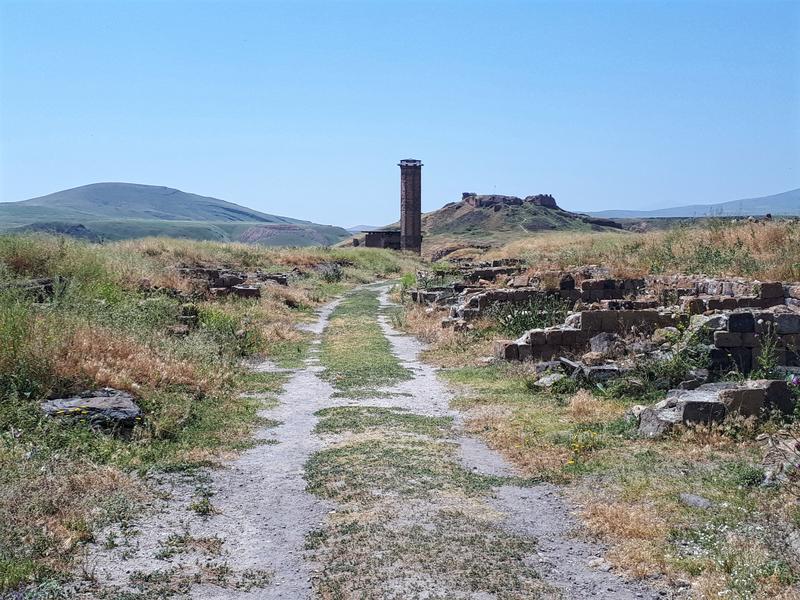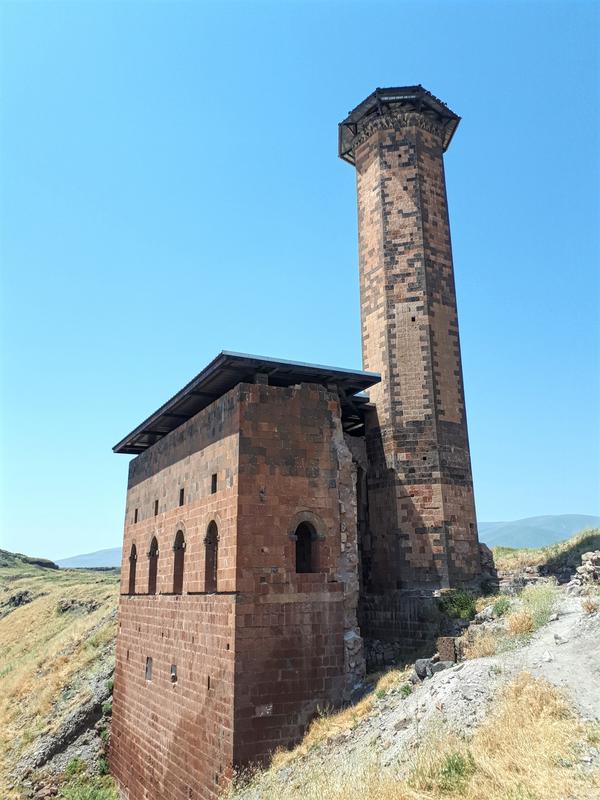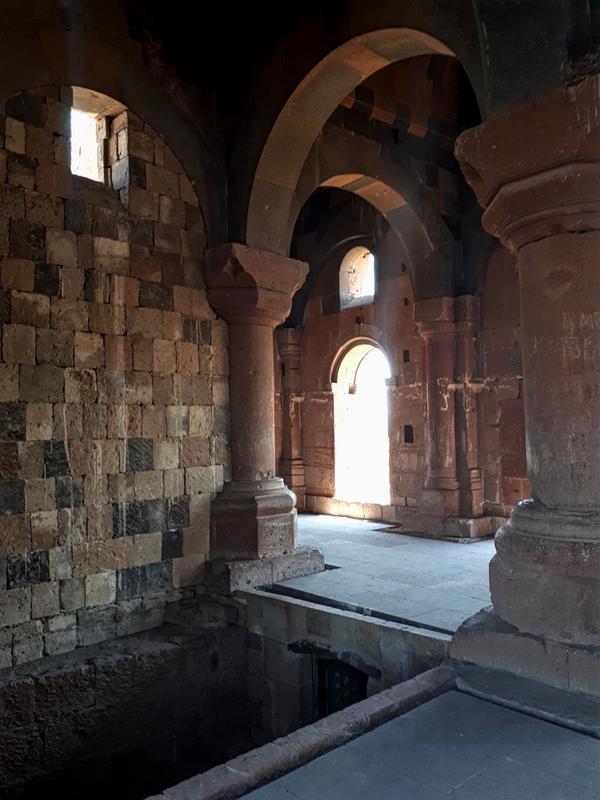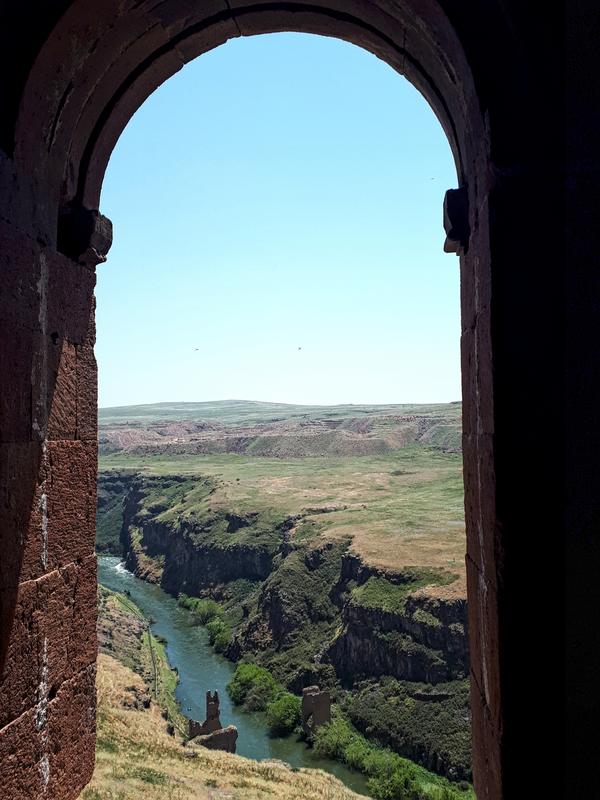 View from the mosque, if you look carefully you can still see the remnants of a bridge at water level.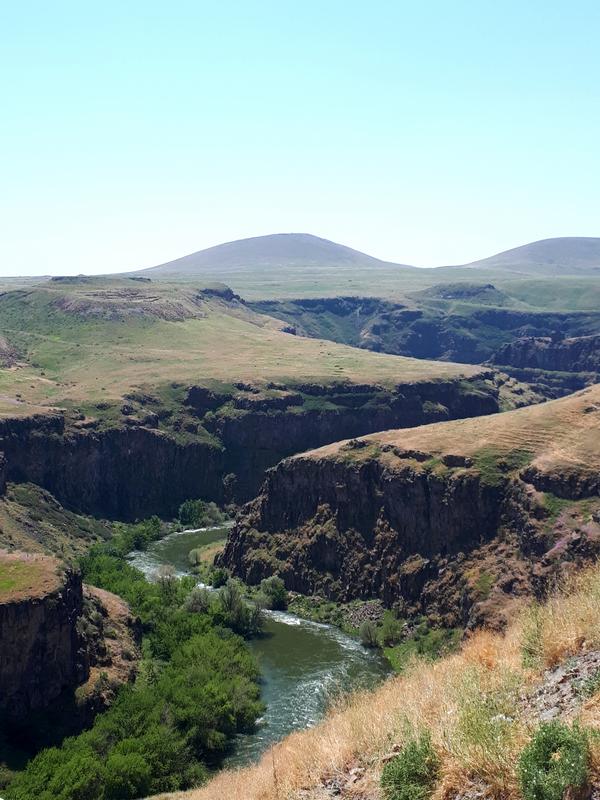 From the mosque, I slowly wandered to the other side of Ani where the gorge was a bit less steep but still impressive enough (and beautiful!).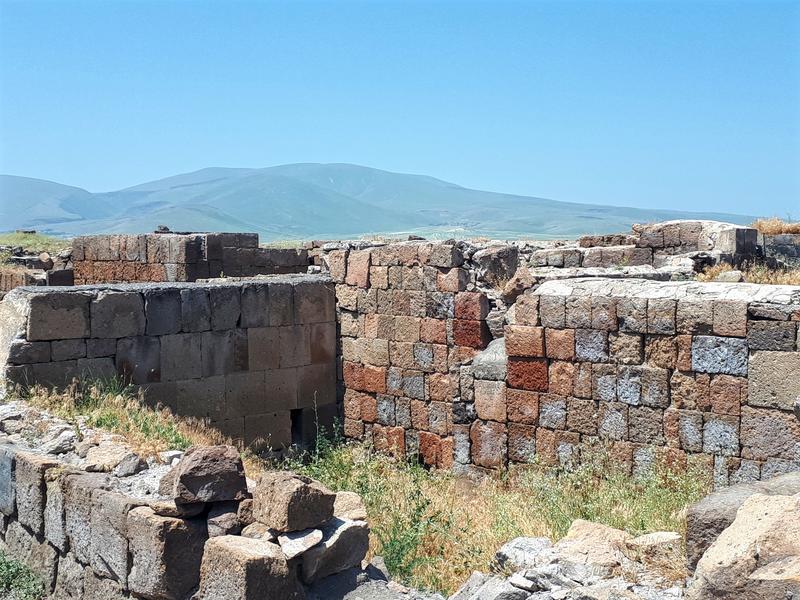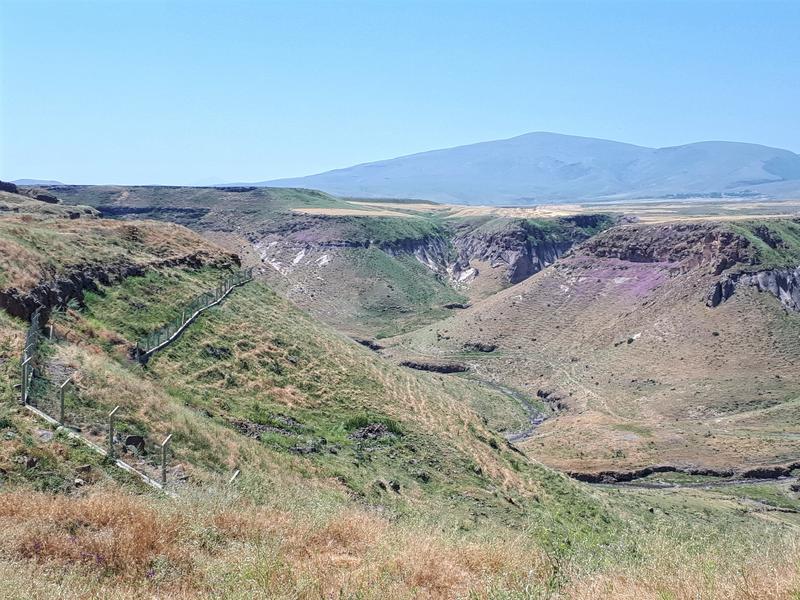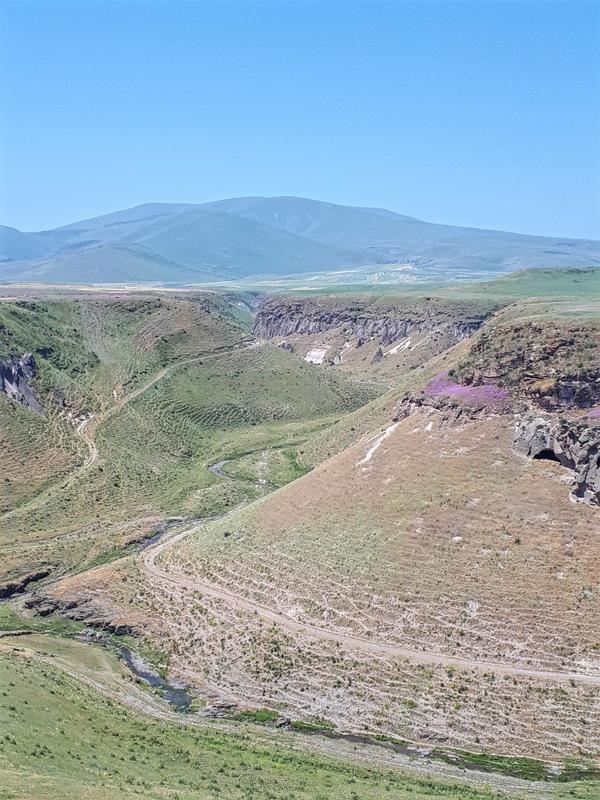 Down in the rock you can see some cave dwellings here, which were actually used by people to live in when the city of Ani grew out of its city walls.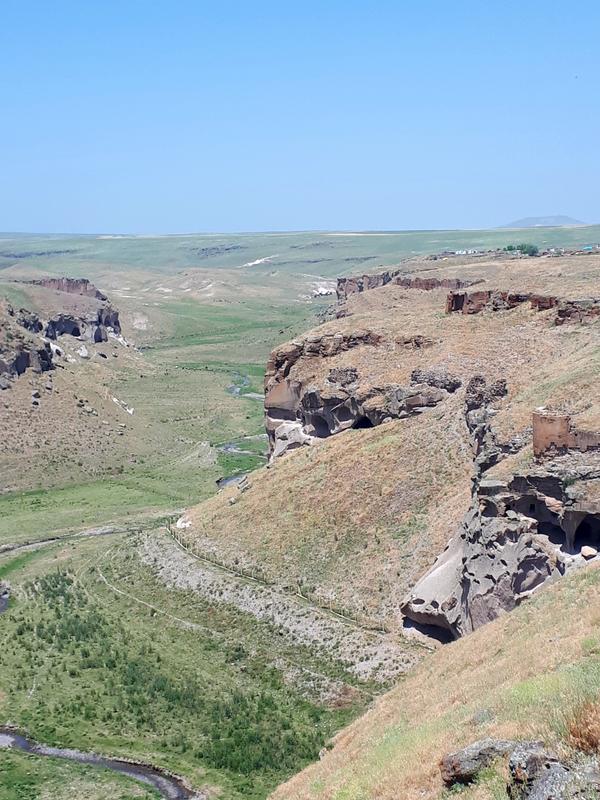 On the highest point of Ani – and the furthest away from the main wall, overlooking both sides of the gorge – are the remnants of the citadel of the city. Unfortunately they were off-limits according to the signs, so I didn't walk all the way up there.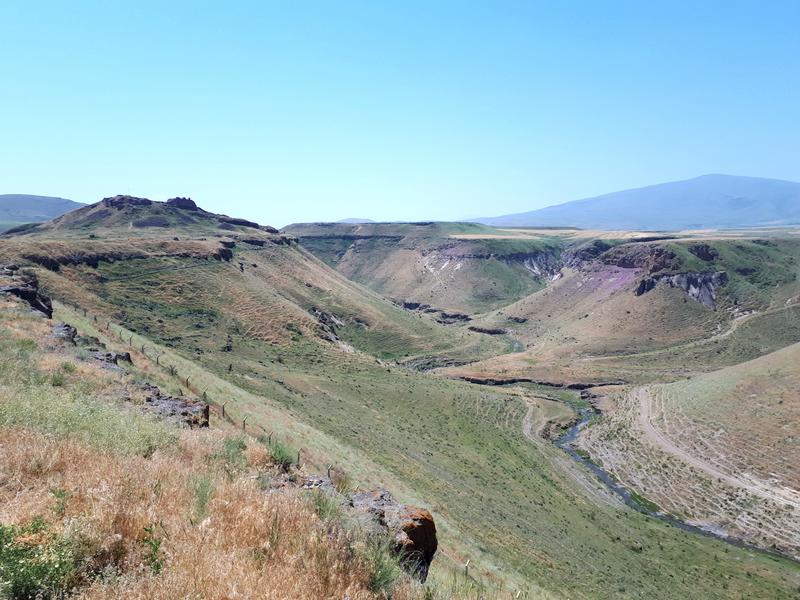 The Ani citadel in the top-left corner of the picture
Instead, I headed towards an amazingly beautiful church stunningly located above the gorge. Pictures just don't do justice how amazing the feeling is to walk all alone at such a tangible historical sight set in such a gorgeous terrain.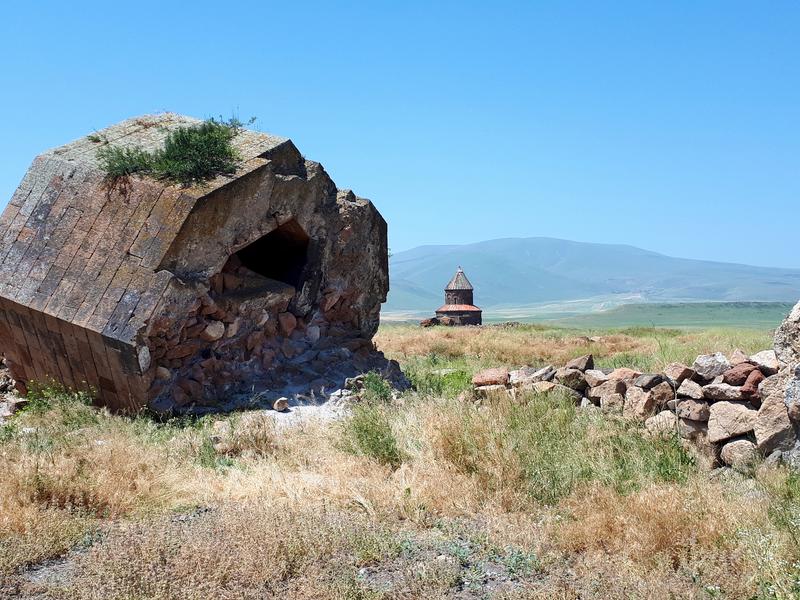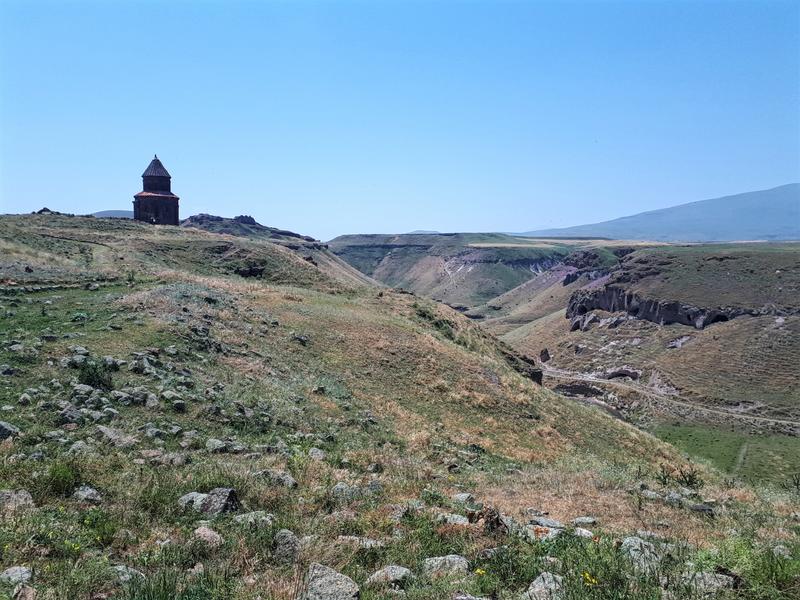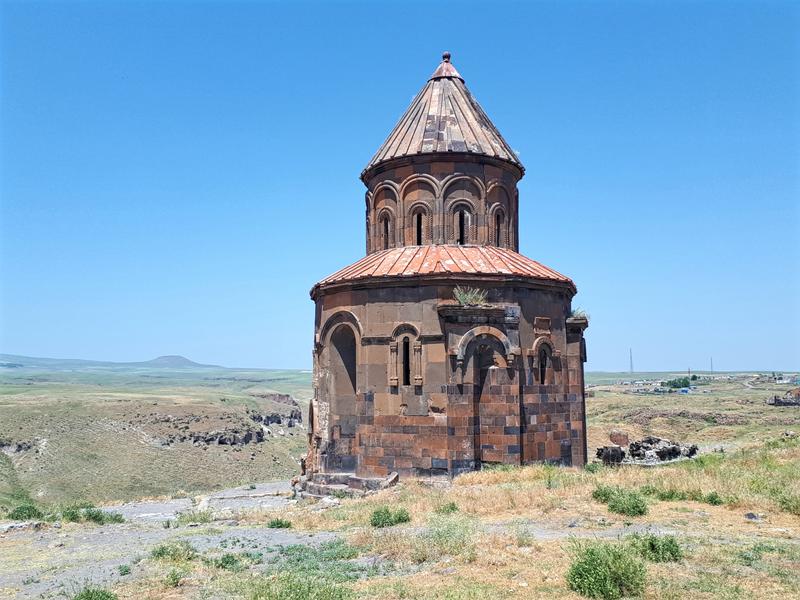 The Armenian alphabet above the entrance is very recognisable.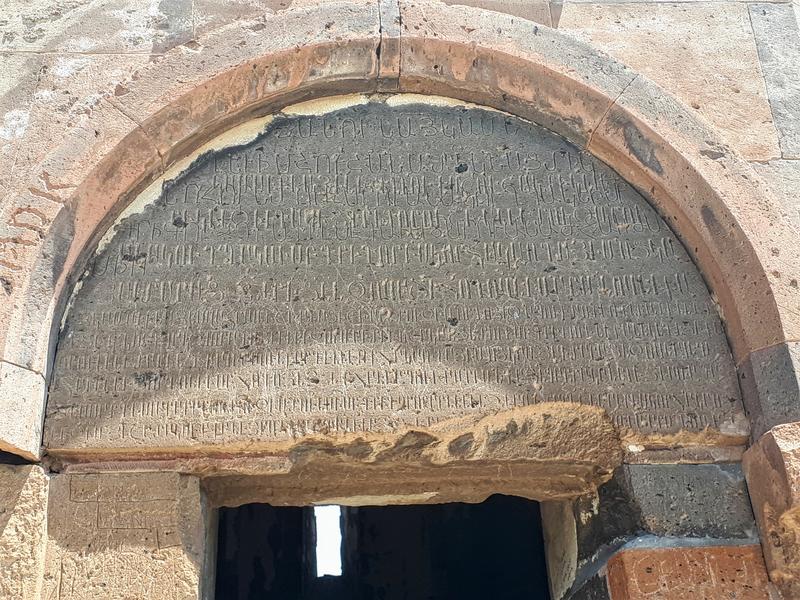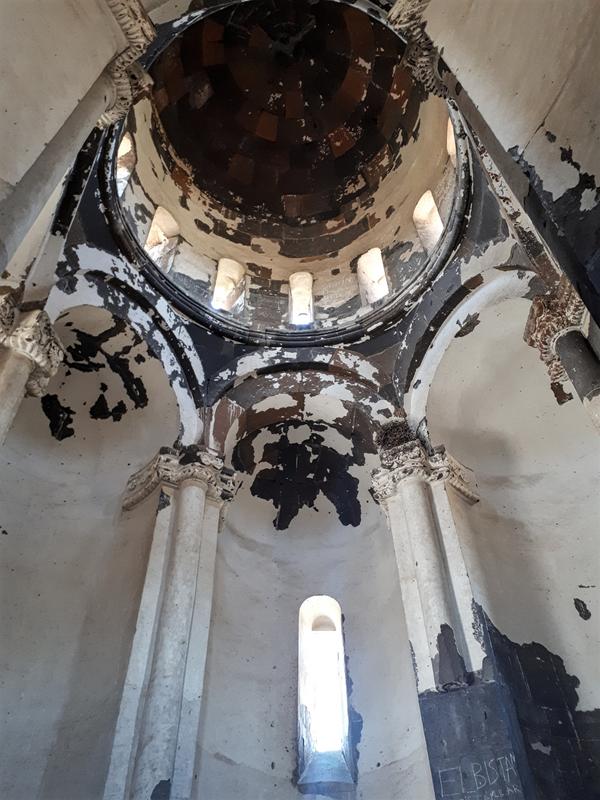 Other structures however are in a much more ruined state (I forgot the details which church was exactly which, so unfortunately cannot tell more in depth stories with every remnant of ancient Ani).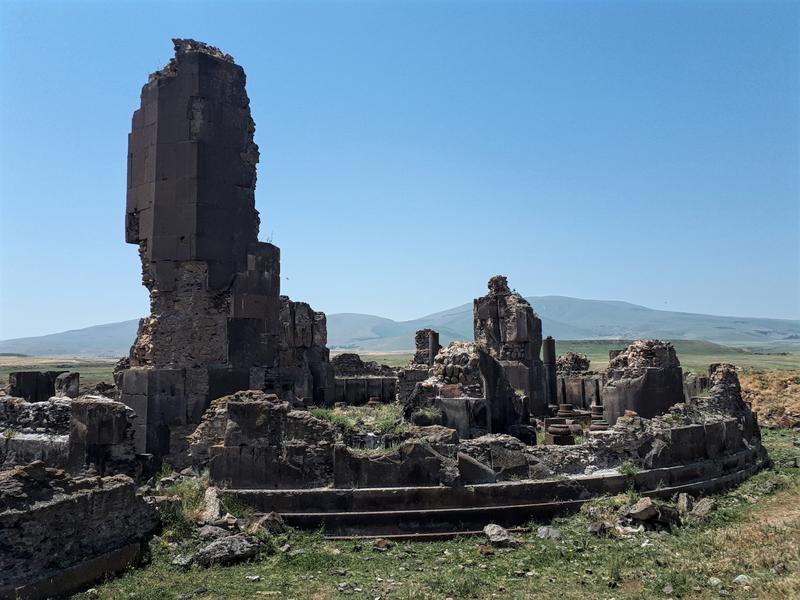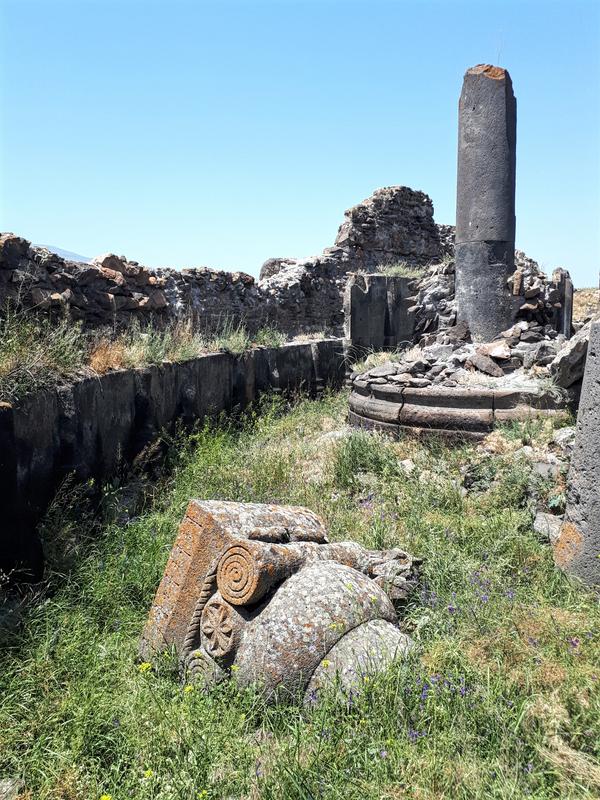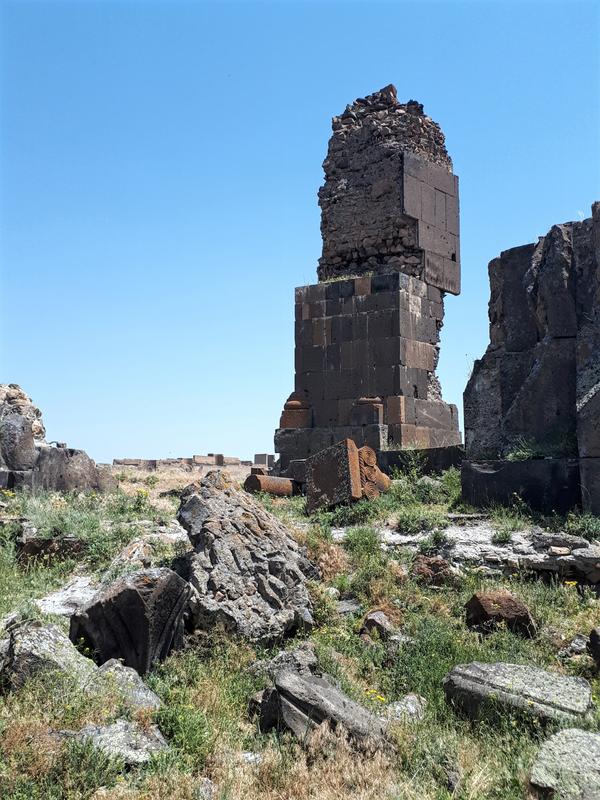 The same counts for the walls, defensive towers and other such structures.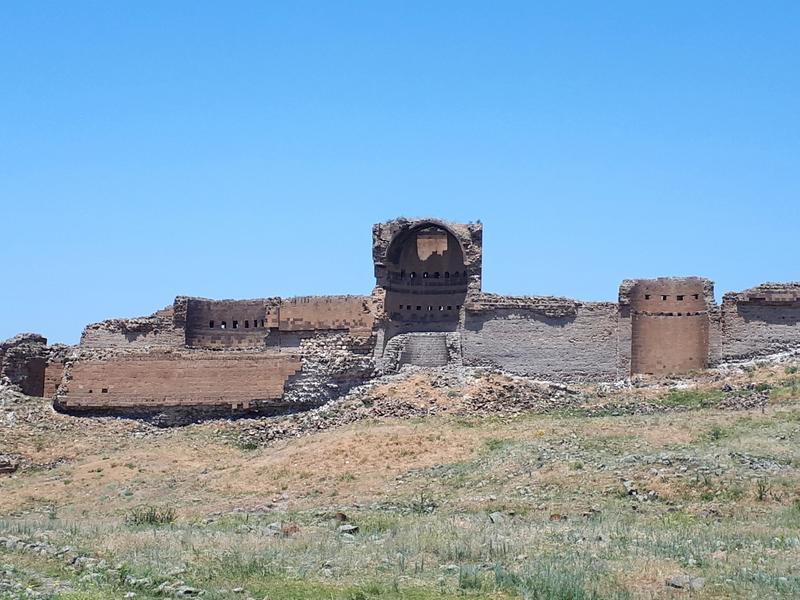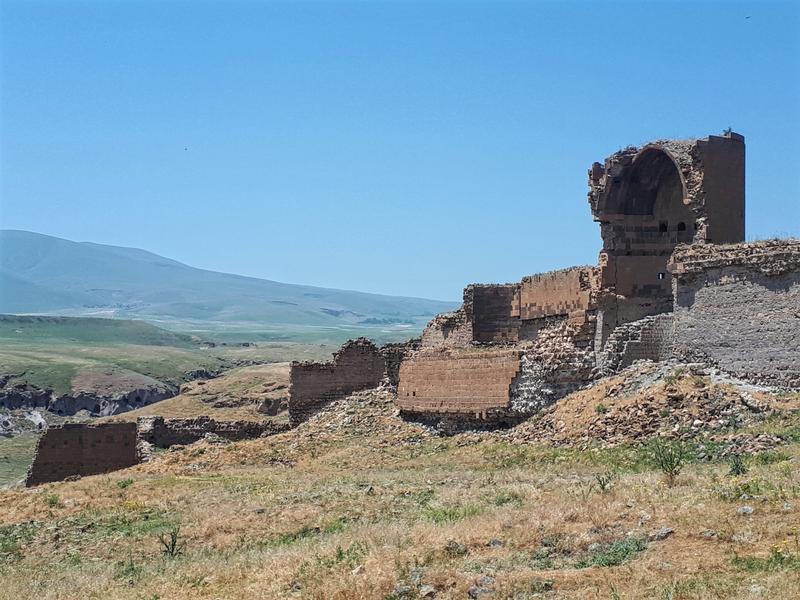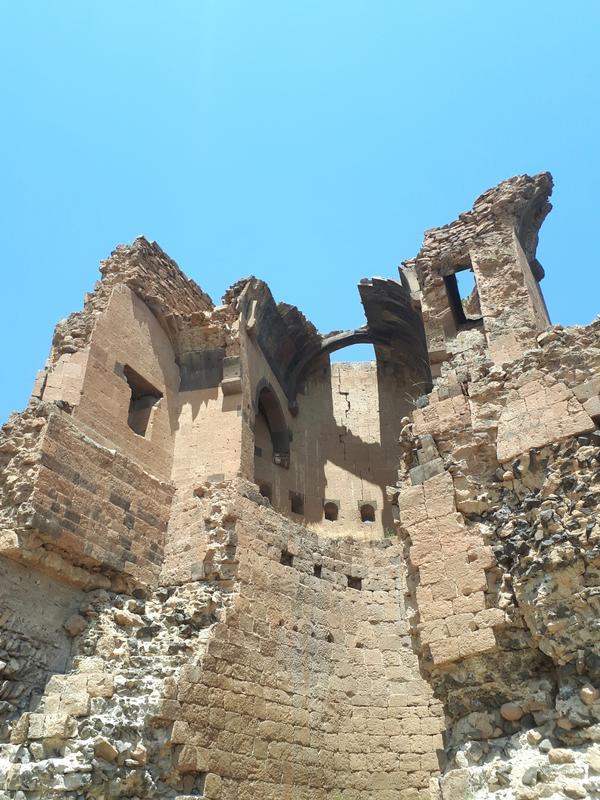 One of the more famous churches at Ani is the Church of the Redeemer (Surb Prkich). The church was largely intact until 1955 when one entire half collapsed during a severe storm. It is now being renovated so I could not get up close as it was fenced off.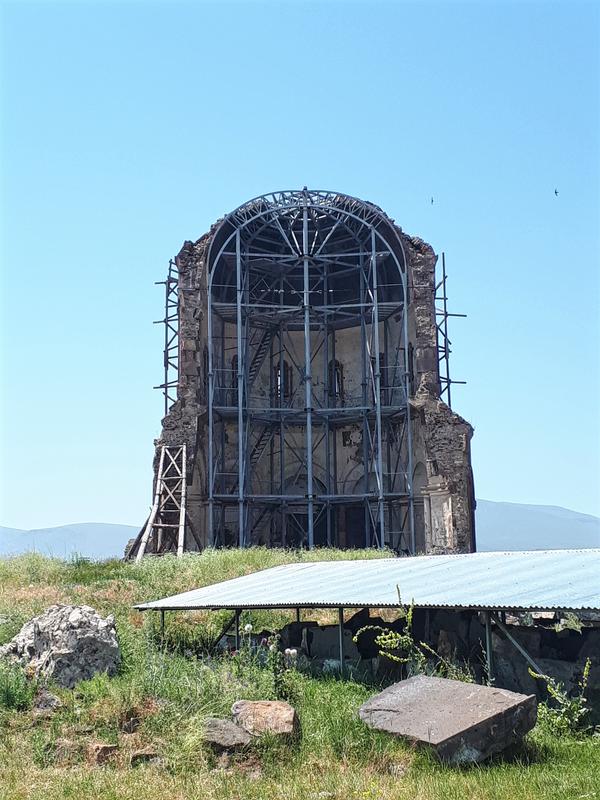 Also the cathedral was being renovated. Although you can approach it and walk around it, you cannot enter it due to the scaffolding both outside and inside.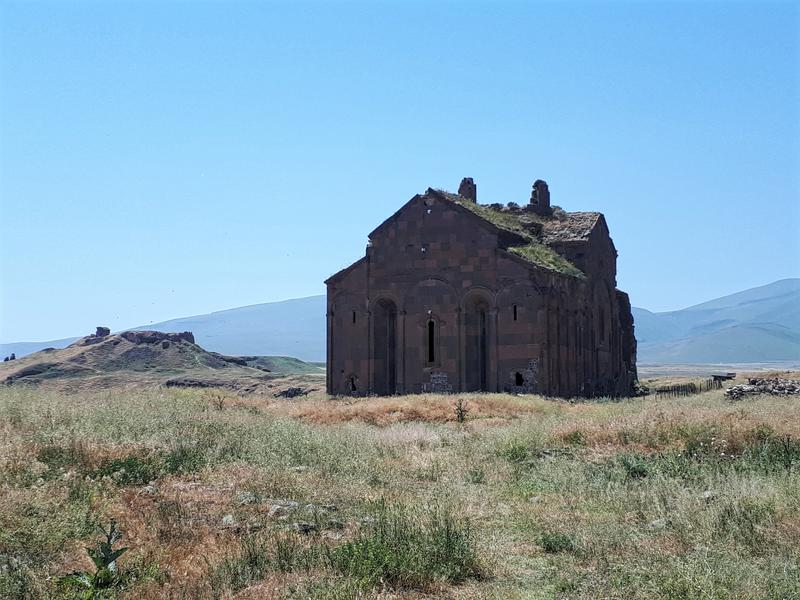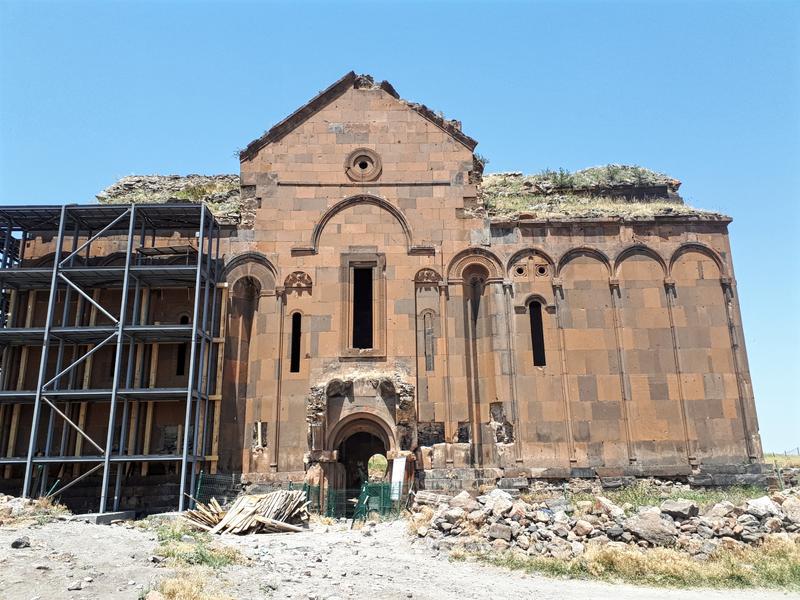 Instead, I just wandered a bit more along the canyon to admire the beautiful views.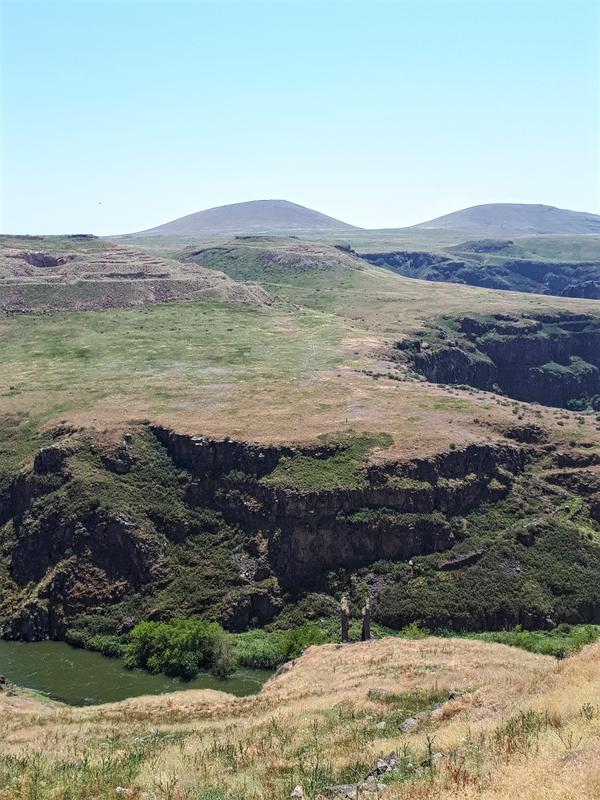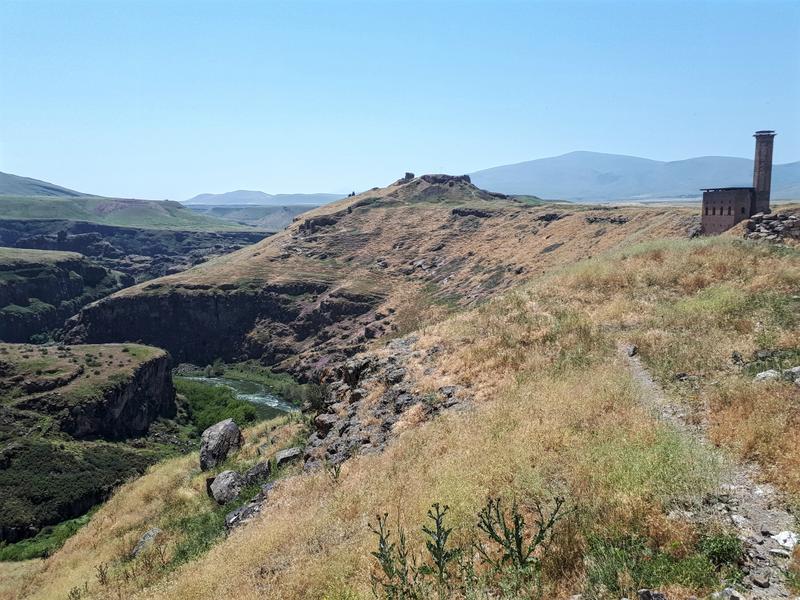 As the clock ticking towards 1pm I decided to call it a day. I wanted to stay longer but I knew my taxi driver would be waiting as I negotiated only half a day at Ani and more importantly – it was getting scorching hot on the highland plateau. When visiting Ani in summer, do remember to go early, take enough sunscreen, and take a hat! (which I forgot to do..) as there is absolutely no shade around the terrain and the ruins are quite spread out.
But wow, what a fantastic sight ancient Ani is. To me, it can easily compare in its own way to other famous ruined cities such as Angkor Wat – with the benefit that you have this entire site entirely to yourself.
Next up:
An afternoon seeing the sights in Kars
Dec 29, 18, 9:12 pm
Join Date: Nov 2010
Location: BOS
Posts: 185
Originally Posted by
Romanianflyer
I had a good book (On Secret Service East of Constantinople by Peter Hopkirk) with me about these and other intriguing bits of WW I history such as secret German missions to Persia and Afghanistan in order to convince the Emir to join forces and invade India. I can highly recommend it to anyone with the slightest interest in history, the Great War, and epic adventures of hardy explorers and larger-than-life figures embarking on secret missions.
Great report so far! For those intrigued by the sound of this book, it turns out that
On Secret Service
is the name of the UK edition. It was published in the US as
Like Hidden Fire: The Plot to Bring Down the British Empire,
which is why it's so hard to find a copy of the book under its original name in local libraries
Dec 30, 18, 7:12 am
Join Date: Feb 2014
Location: OTP, CHQ, EIN and beyond
Programs: AF/KL platinum, Turkish gold, Aegean silver, Umbi Umbi classic
Posts: 821
Originally Posted by
redct
Great report so far! For those intrigued by the sound of this book, it turns out that
On Secret Service
is the name of the UK edition. It was published in the US as
Like Hidden Fire: The Plot to Bring Down the British Empire,
which is why it's so hard to find a copy of the book under its original name in local libraries
Interesting! But makes sense indeed - also vice versa many American books are launched on the British/European market under alternative titles.
Hopkirk's book on the Great Game is also reportedly a great read - but I have yet to order it.
For those interested in WW 1 history I can also highly recommend the YouTube series called 'The Great War' - which is a week by week recap of how the War unfolded and what was playing out behind the scenes. The channel has also some really interesting specials - and all episodes in general are very professionally made and well-researched.
---
Last edited by Romanianflyer; Dec 30, 18 at

7:21 am
Dec 30, 18, 8:46 am
Join Date: Feb 2014
Location: OTP, CHQ, EIN and beyond
Programs: AF/KL platinum, Turkish gold, Aegean silver, Umbi Umbi classic
Posts: 821
Part 11: Exploring the city of Kars
I was dropped off by my taxi in front of my hotel after the drive from Ani. As it was such a hot day I first retreated to my hotel room to take a cold shower to freshen up a bit. It being around lunch time, I also couldn't resist a quick durum kebab from a fast food place next to my hotel – which was not bad at all for around 1 EUR including a drink.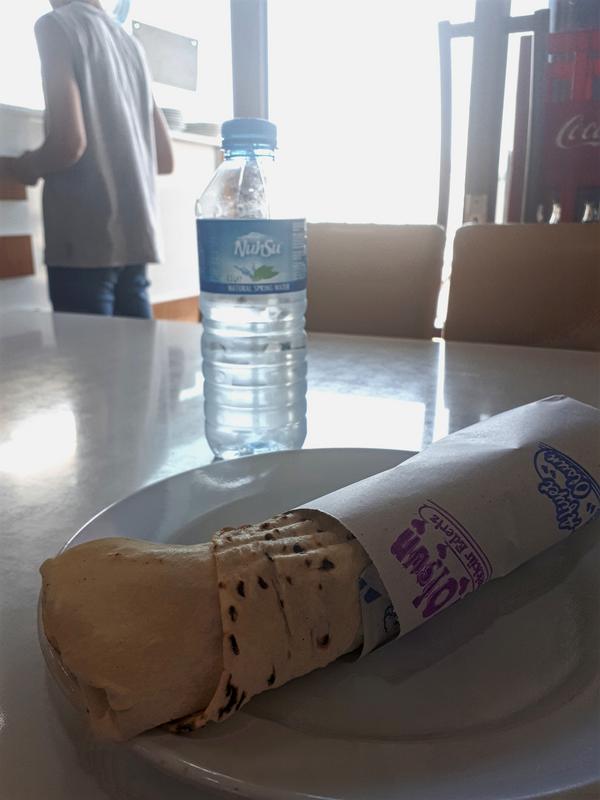 Despite being a wee bit tired from my visit to Ani, I still had enough energy (and daylight hours) left to explore Kars. The city of Kars is fairly small and can be explored in half a day. It is actually a fairly pleasant city with tree-lined streets and low-key buildings – many of them stone mansions in typically 19th Century Tsarist-era architecture when the city was still under Russian imperial control.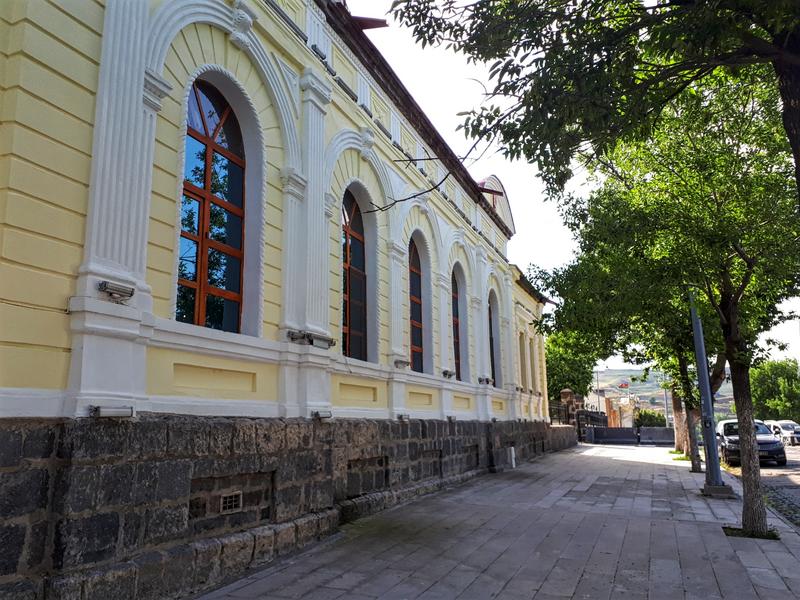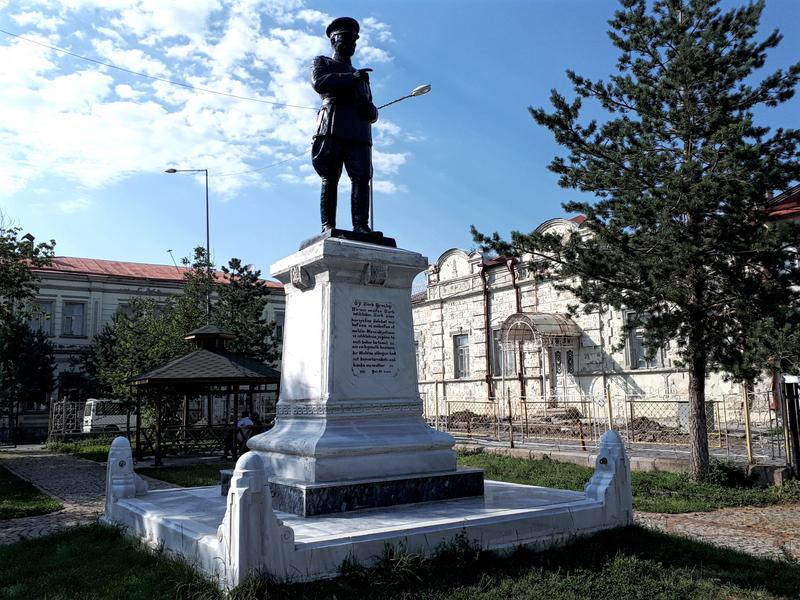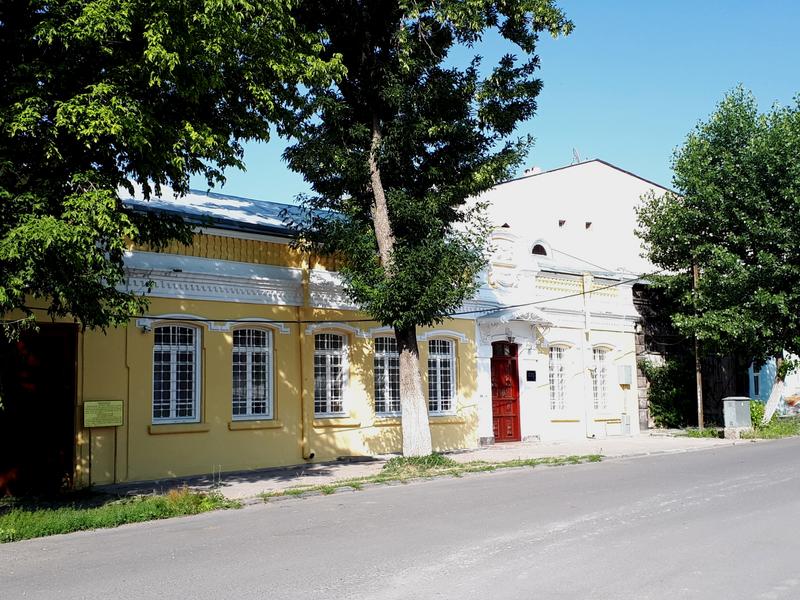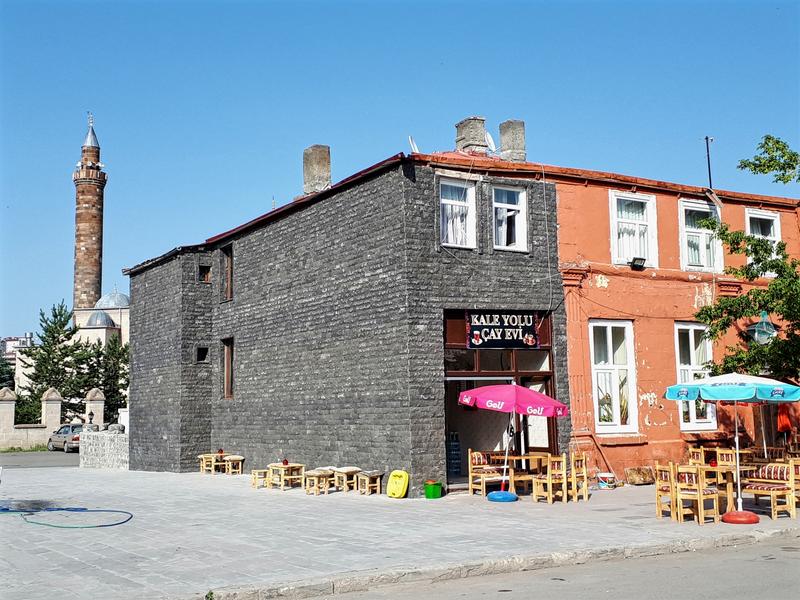 One of the stone mansions in the city housed an appealing-looking patisserie and cafe (Kılıçoğlu Cafe Patisserie). Upon entering it also turned out to have a huge covered terrace in the backyard – so I opted to linger a bit around for some Turkish coffee and baklava.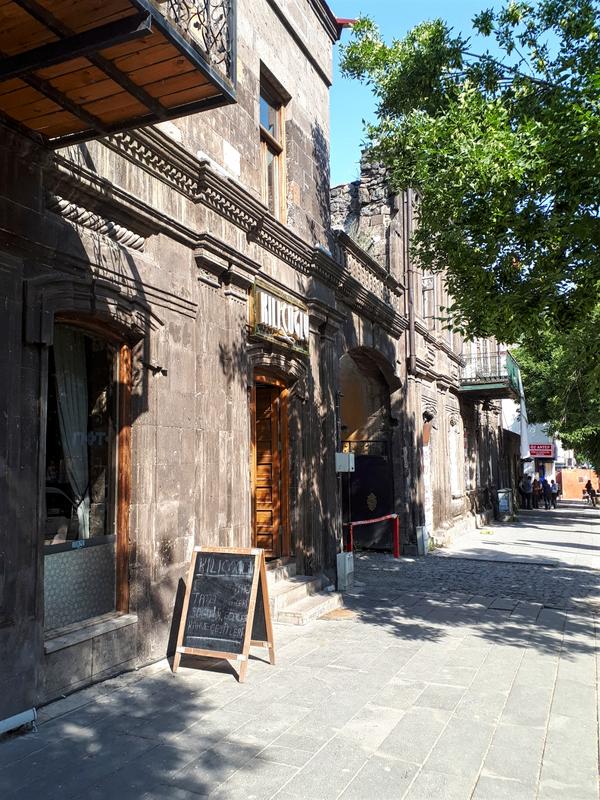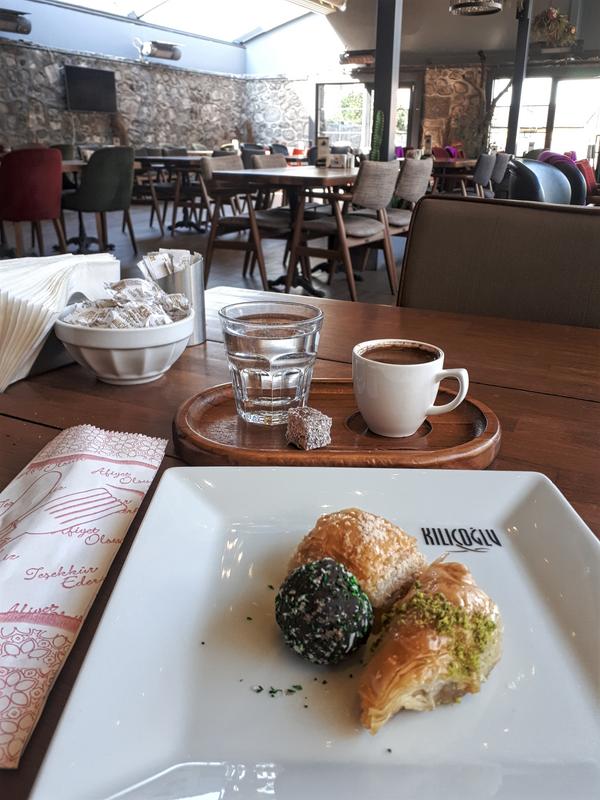 If Kars has one touristic sight it must be the hilltop citadel overlooking the city and visible from many city centre streets.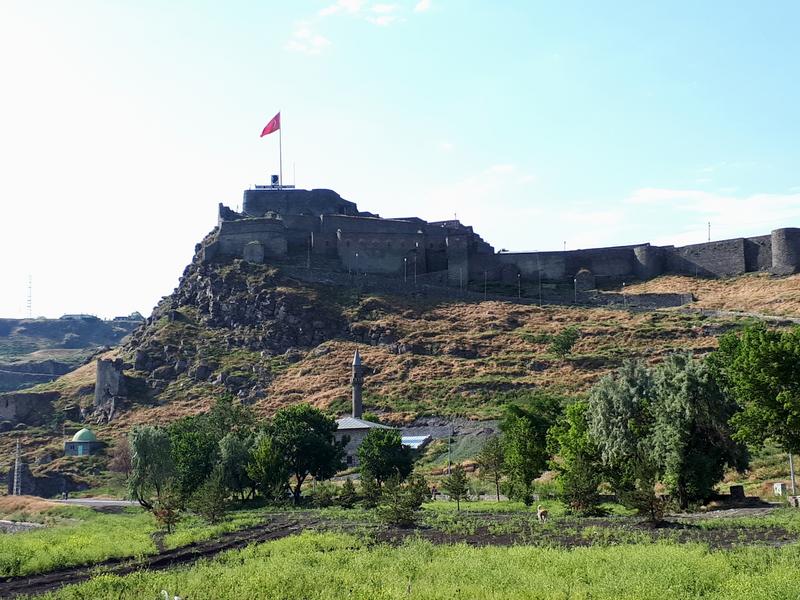 Just below the hilltop citadel are some other major buildings such as one of the city's main mosques and even an Armenian cathedral.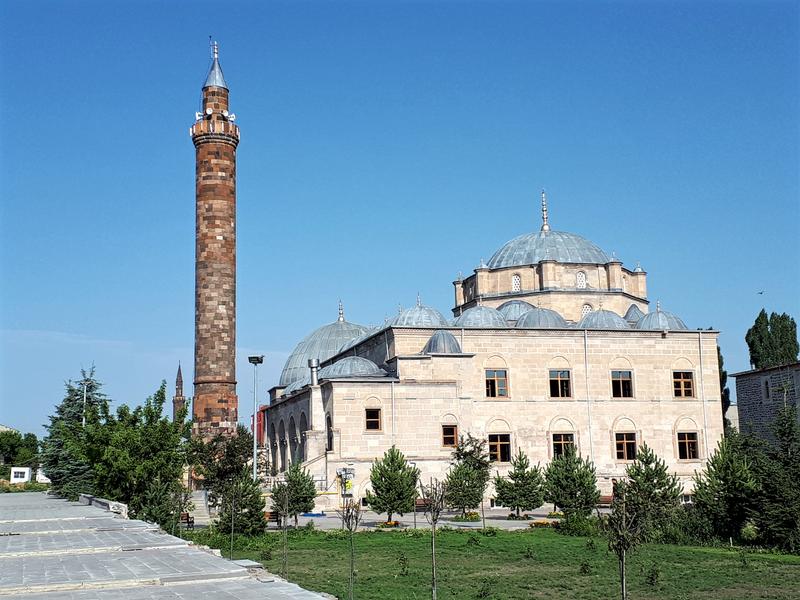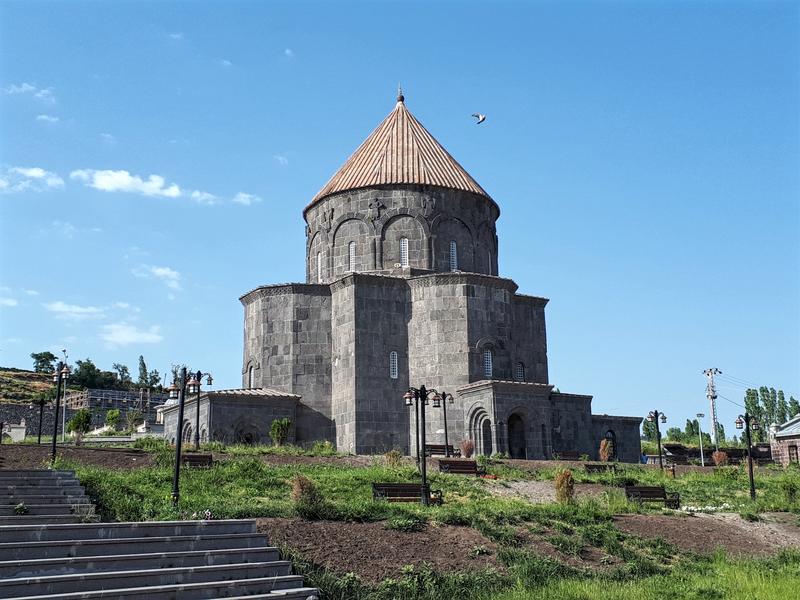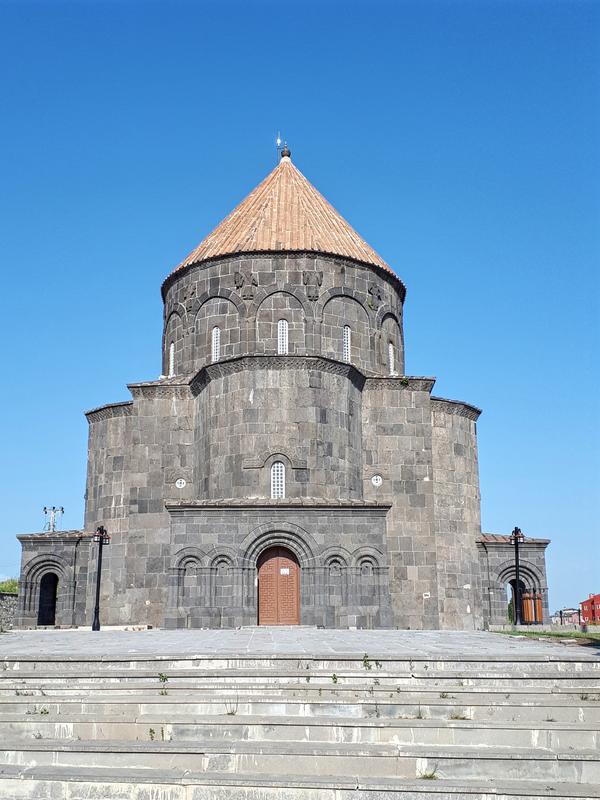 It's quite a steep climb to get up to the citadel and although I am in good shape and like to walk a lot I could definitely feel it in my legs when I was about halfway up after all the hiking today. The views were however well worth the trip up!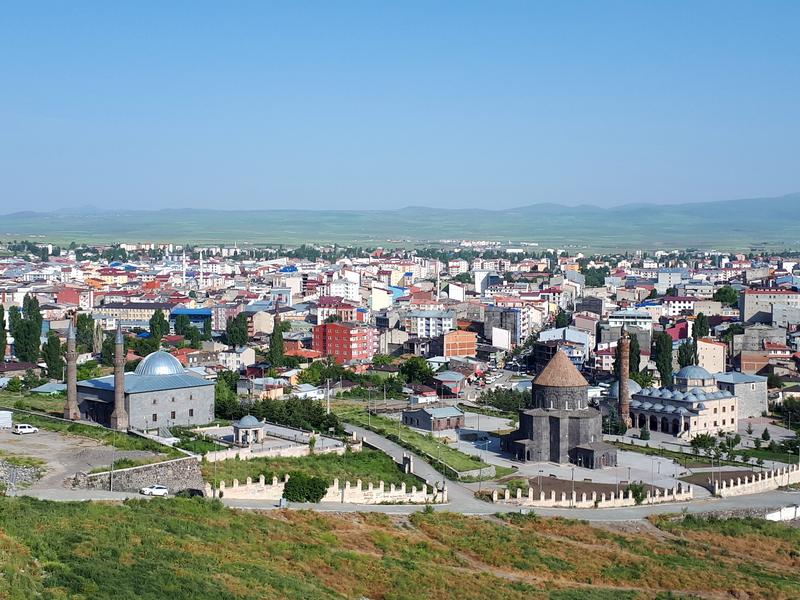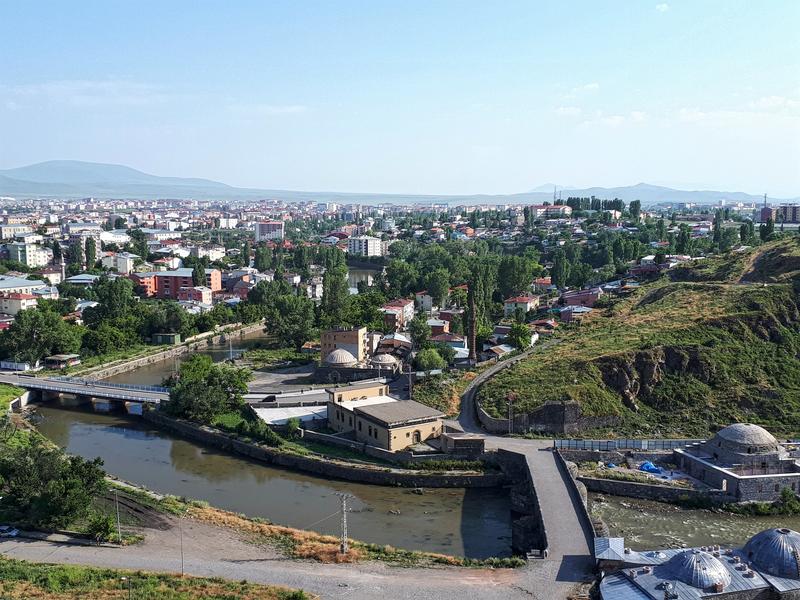 The citadel itself was however a bit disappointing – unless you like to stare at walls. Arguably even the views were much better from the street and stairs up than those from inside the citadel as they were less obstructed.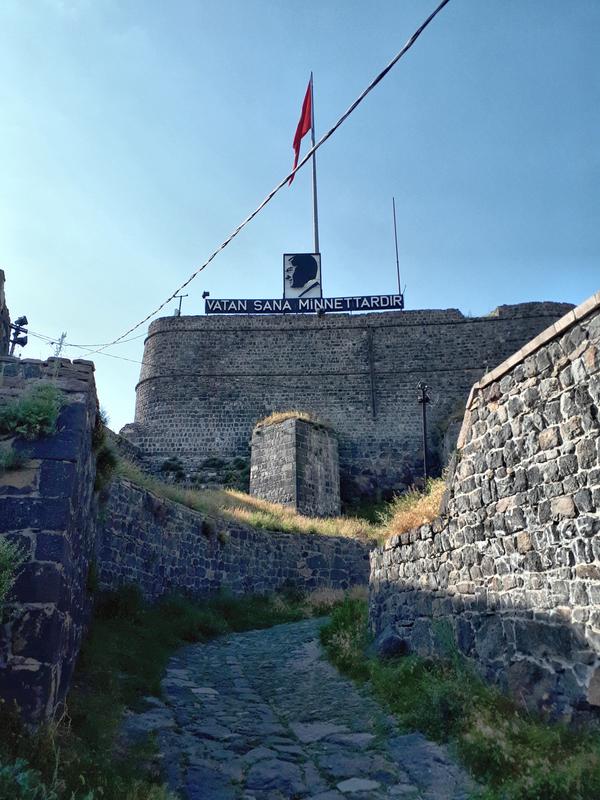 On the way back I got lucky as I finally found a restaurant (Kars Kazevi Restaurant) which had some goose – a Kars delicacy – on stock. As a starter I had a cold yoghurt soup, which was very refreshing on a hot day like this.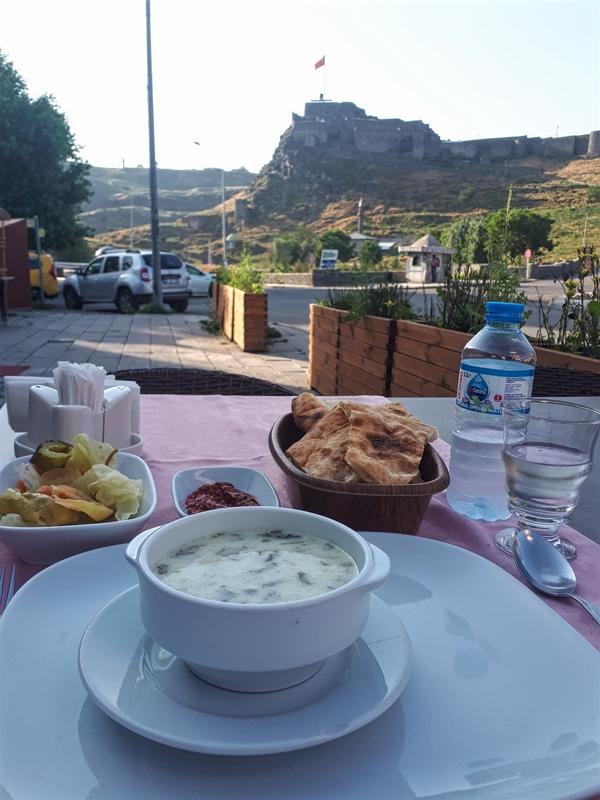 And as a main the goose itself did not disappoint either. And food definitely gets better when you eat with a stunning backdrop such as the Kars citadel.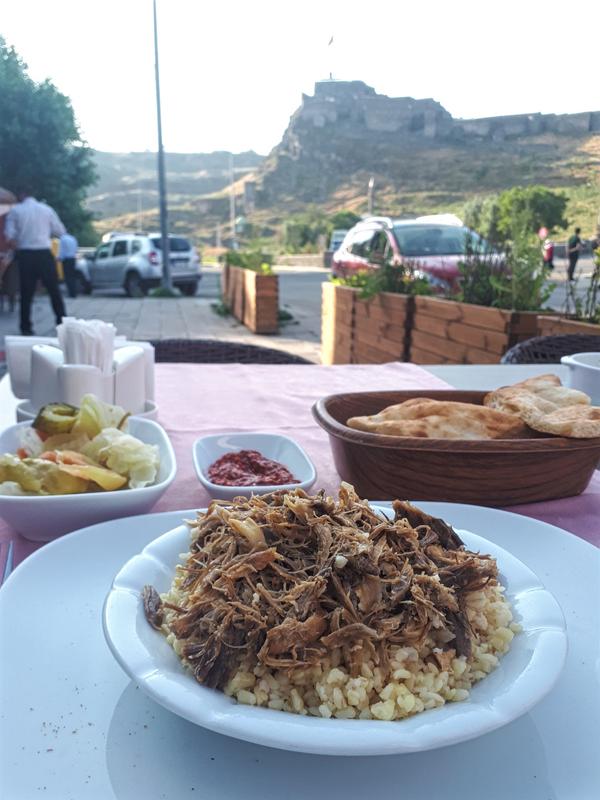 Again, some complimentary tea was offered after the meal, which would be impolite to decline (rule number 1 travelling in countries such as Turkey is never to decline tea).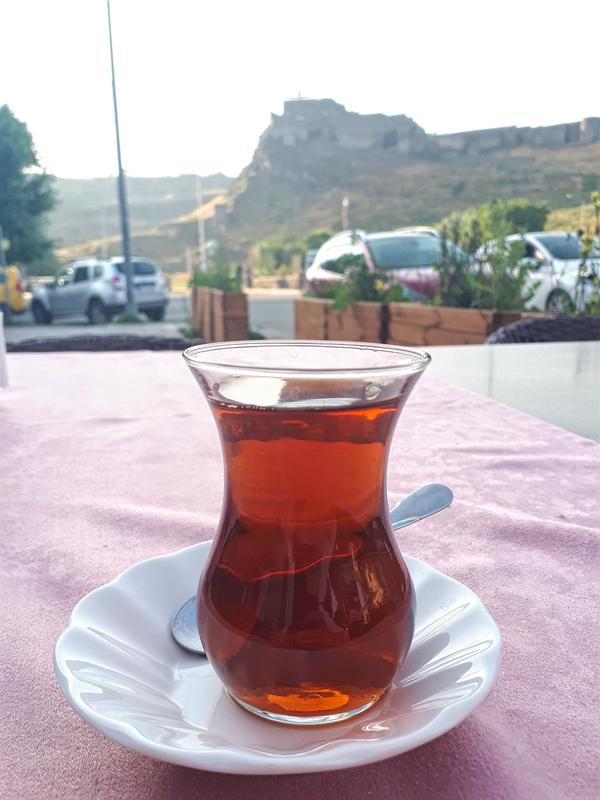 After the meal I wandered a bit more around and encountered a nice cafe – which actually had some good quality nargilah on offer as opposed to the one I visited the day before. Only ordering took quite some bit of effort as the super friendly servers did not speak a word of English and I was struggling to find some Turkish words as I couldn't get my internet on my phone to work. I wanted to order apple-mint tobacco as flavour for the nargilah, and while I remembered that 'elma' is Turkish for apple, it took 15 minutes until we all figured out that I wanted 'nane' (which is Turkish for mint).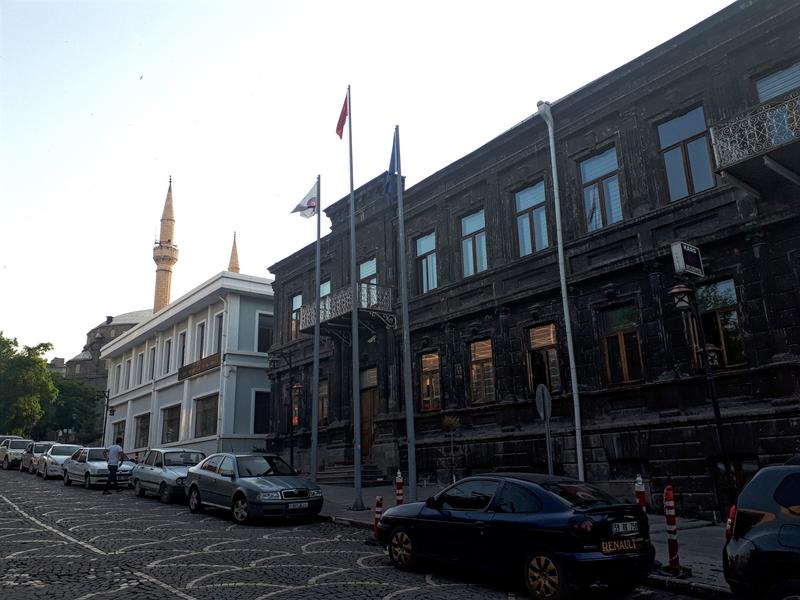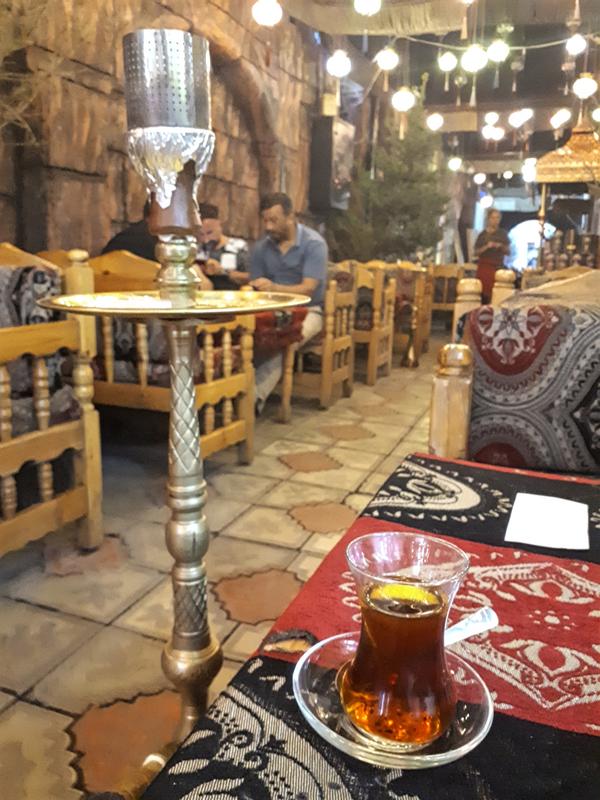 In short:
I can highly recommend Kars to anyone visiting Turkey or around in the wider region. If planned well, you can see the sights in one full day with an early start to Ani, and the remainder of the day to explore the sights in Kars itself. Don't forget to try the goose and the cheese though!
Next up:
A journey on the Doğu Express (Eastern Express) from Kars to Ankara – Turkey's low-key but stunning version of the Orient Express.
Dec 31, 18, 9:55 am
Join Date: Feb 2014
Location: OTP, CHQ, EIN and beyond
Programs: AF/KL platinum, Turkish gold, Aegean silver, Umbi Umbi classic
Posts: 821
Part 12: Kars to Ankara by overnight train
Doğu Express (Eastern Express) – private sleeper, 25 EUR
STD 8am - STA 7.30am (+1), travel time: 23h30m
Trains in Turkey are a hidden gem. Sure, flying is faster and Turkish Airlines is excellent. But in my opinion you can only really get a feel of the country when travelling by train or road. Only by seeing the scenery slowly change you get a real sense of proportion and location and at times even history and culture.
Many Turks will still say buses are better than trains to travel inside the country. Sure, the railway network is very limited and apart from the high speed trains in the west and centre of the country (Istanbul-Eskisehir-Ankara, Ankara-Konya) trains are much slower than buses. For the past centuries, Turkish trains had an (unjustified) reputation inside the country of being unreliable, slow and uncomfortable, but I highly tend to disagree. Much of the rolling stock has been renovated, new high-speed lines are being built, and ticket prices are dirt cheap. And unlike many bus journeys on the main motorways, the scenery is often much more spectacular, you can stretch your feet, interact with other passengers, and actually get a good night of sleep if travelling in a sleeper.
I easily managed to book my ticket online at the website of the Turkish Railways, see the excellent
website of the Man in Seat 61
for details on how to do this. Note that on some routes it is highly advisable to book your tickets as much in advance as you can, as some routes have surged in popularity in recent times. The Ankara to Kars route for sure is one of them, as I heard from Turkish friends many tickets even get bought up in advance by travel agents for the domestic tourism market (many Turks prefer to travel the train and visit Kars in winter when there is snow). For just 25 EUR I got a private sleeper entirely for myself for the entire journey – talk about a steal!
I arrived at 7.30am at the railway station of Kars, stocked up with supplies for the journey as no restaurant car is currently available.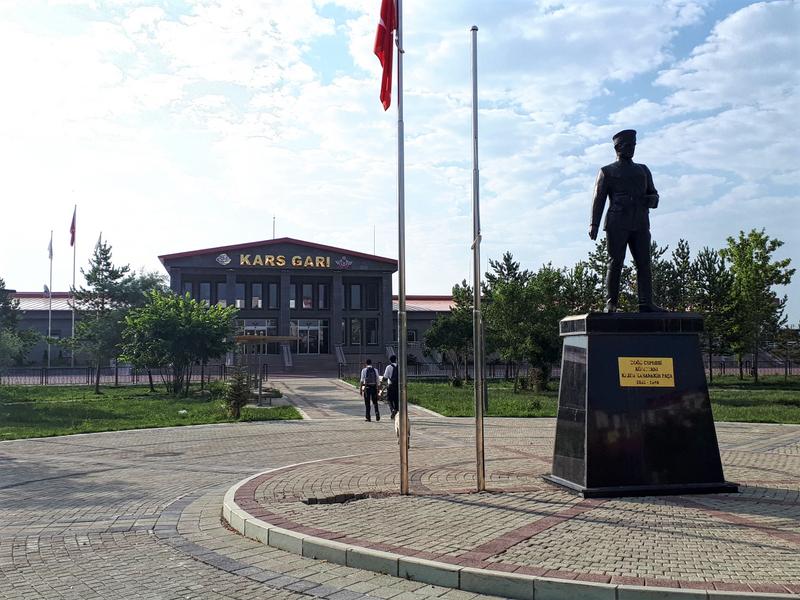 It did not take long for the Doğu Express (Turkish for Eastern Express) to roll into the station.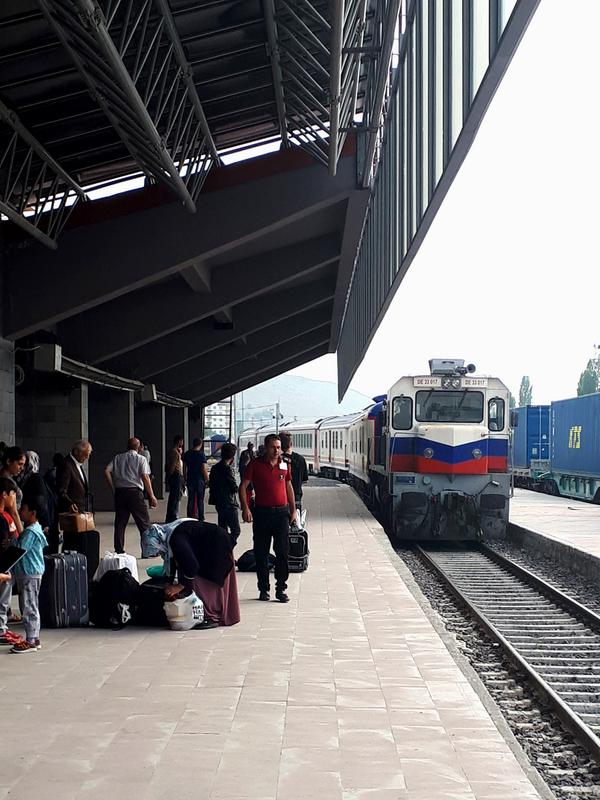 The train exists out of modern air-conditioned TVS2000 sleeping-cars. If you book a 2-berth compartment as a single traveller, you automatically get the entire compartment for private use as the other berth gets blocked out by the system. Besides the 2-berth sleepers, there are also 4-berth couchettes and a car with reclining Pullman seats (in a 2+1 layout) – which I would not recommend for an overnight journey!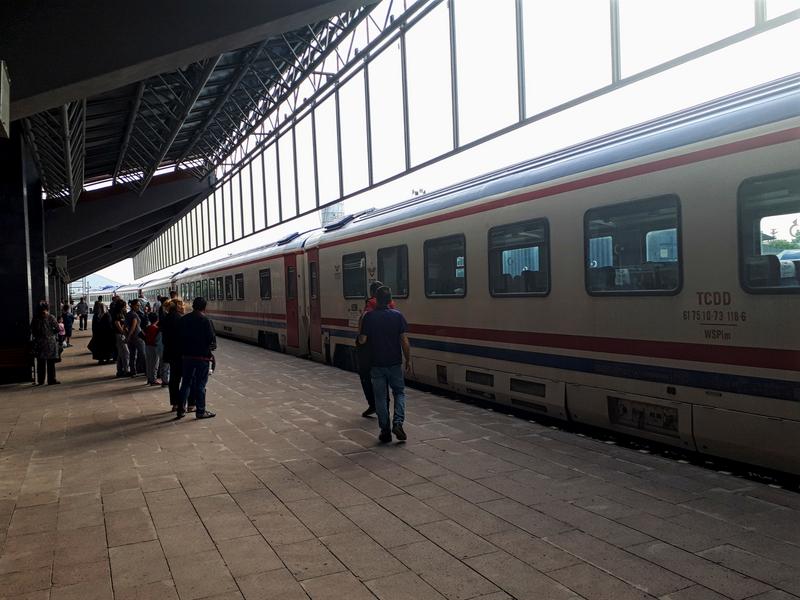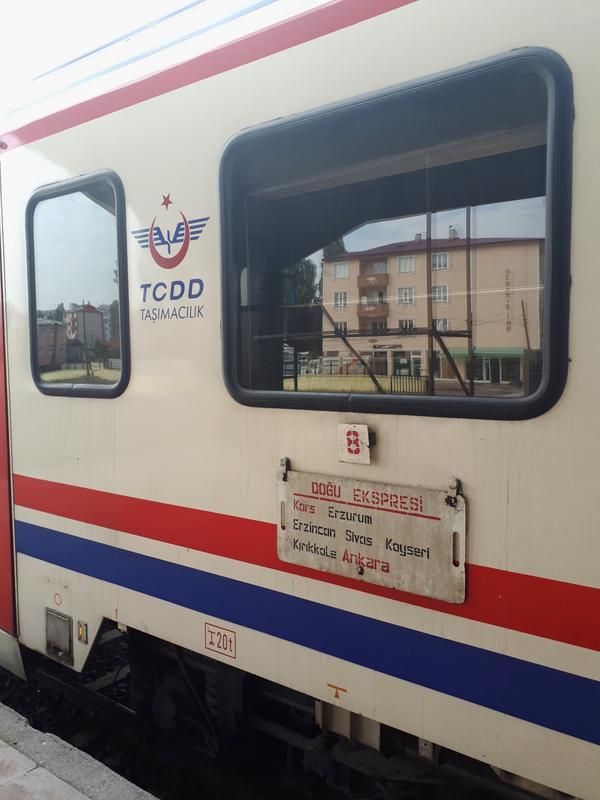 The compartment was in day-time mode when I entered it. There are two seats at one side, and a small fridge and washbasin on the other side. Plugs are available, although the train does not have wifi. The only disadvantage to the sleeper and couchette cars in comparison with the Pullman seating car is that in daytime mode I find the seats a bit hard after sitting down for some time. It could have gone with some better padding!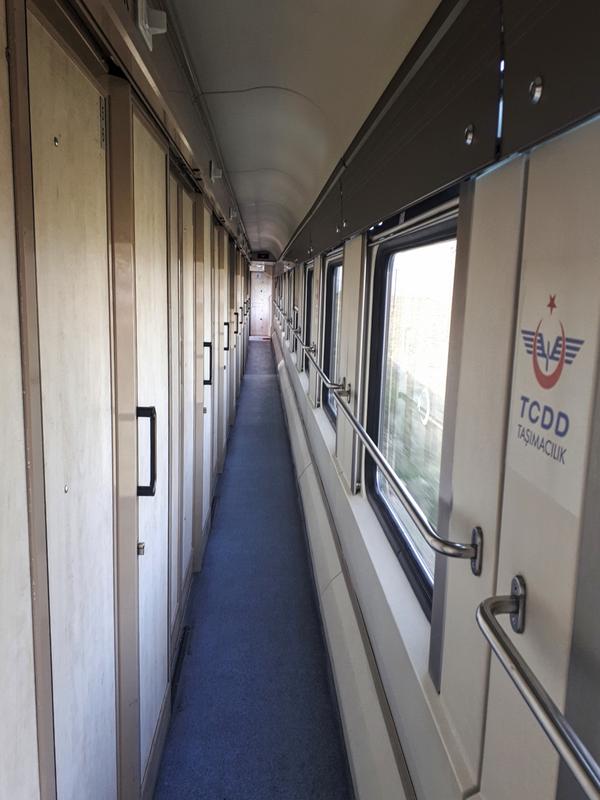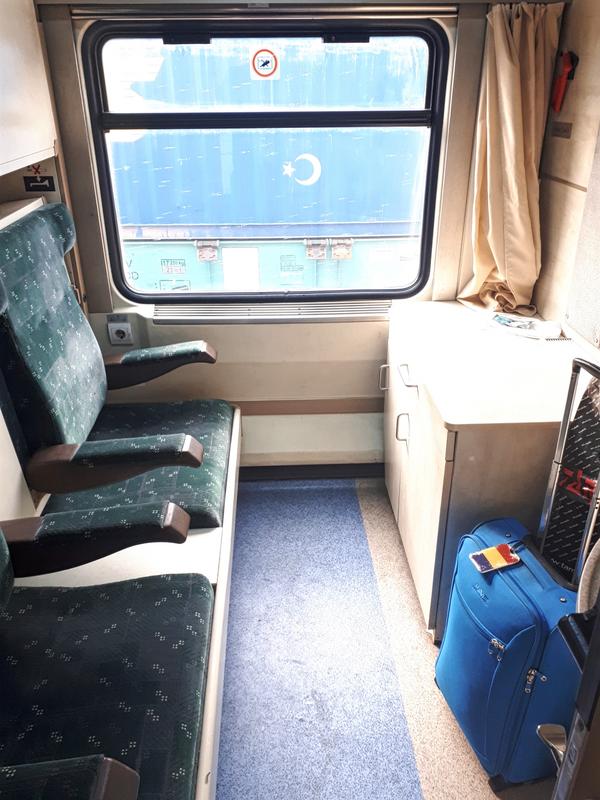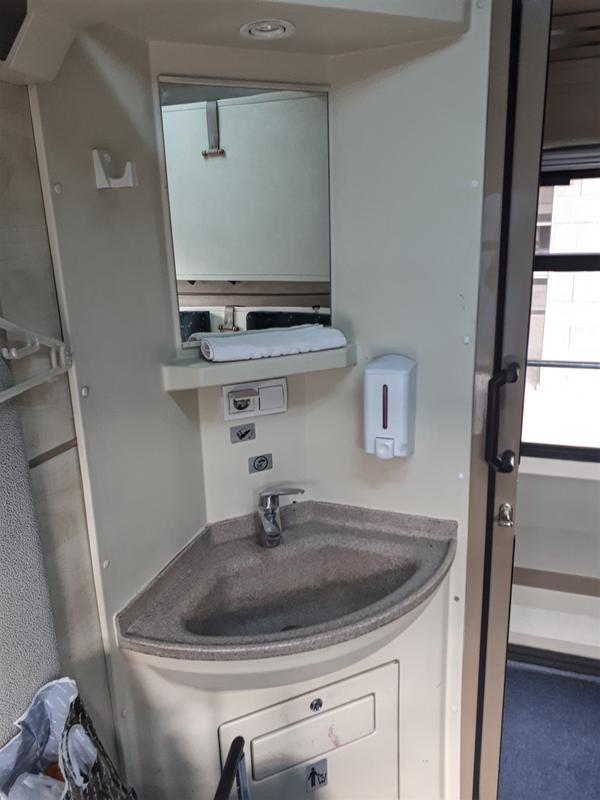 That said, the quality of the bed is much, much better. You can simply turn the seats into a bed by flipping over the bench – mattress and bedding is already applied at the other side of it, it's an ingenious system. If travelling with two, the other person sleeps in the bunk above – which remained of course fully folded now as I was travelling alone. I find the mattress especially extremely comfortable and it makes for some good sleep.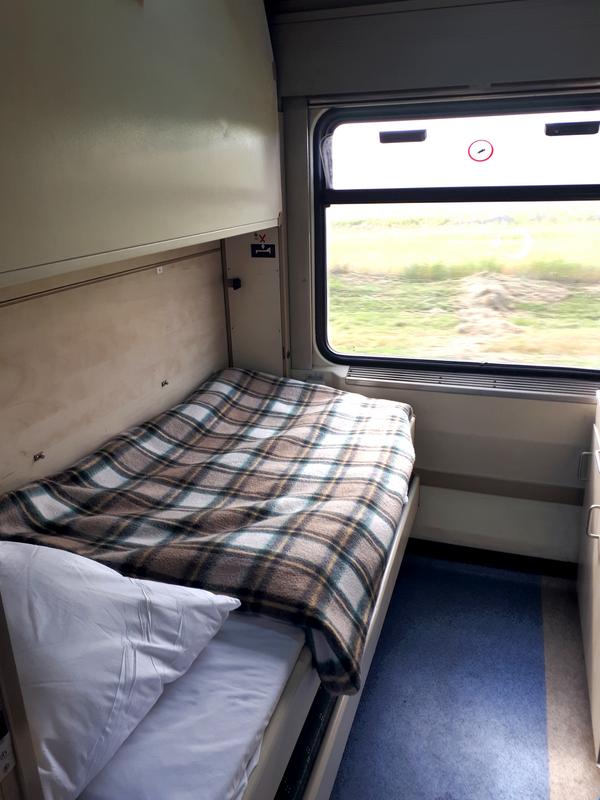 Each sleeper compartment also has a small fridge, which comes in handy on such a long journey to keep my beers chilled which I bought in advance. The fridge also features a complimentary candy bar, crackers, a bottle of water and a small package of juice.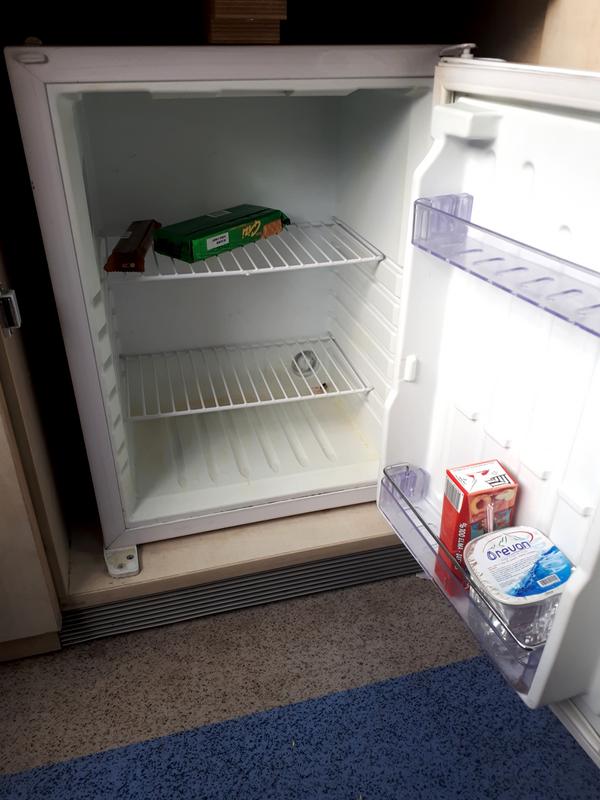 Also provided are some slippers and a refreshment towel. It's almost like flying business class ;-)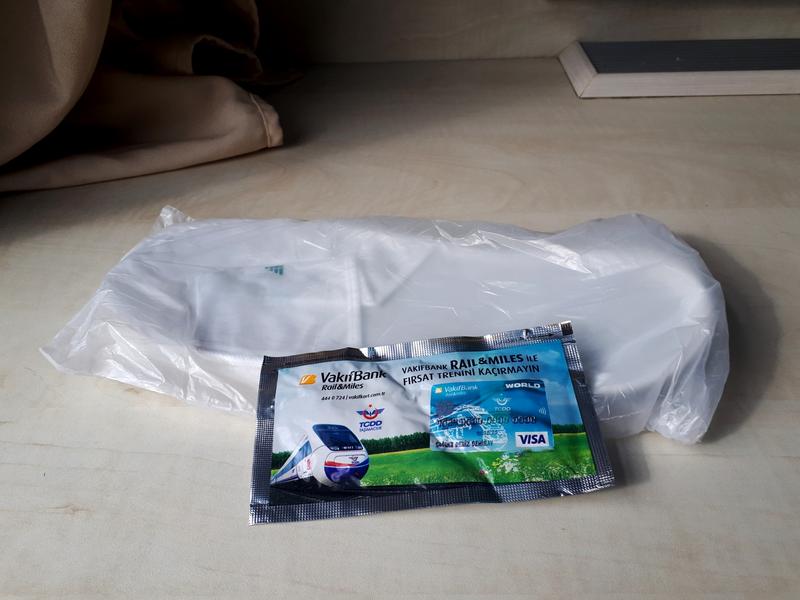 The train is air-conditioned and you can adjust the temperature of your compartment.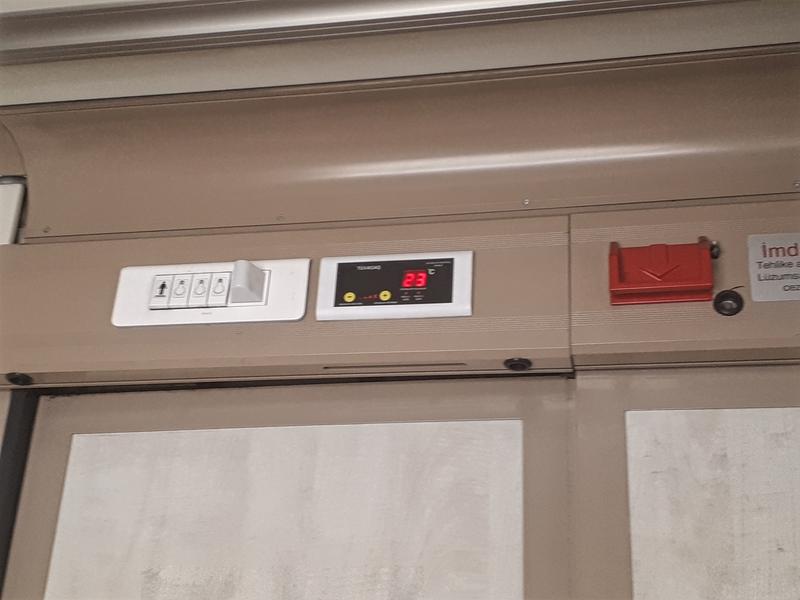 We departed on time. I rolled the seats over into bed mode to get two or so hours of more sleep as I was still feeling tired and knew that the best scenery was only to come at a later point during the journey. I fell asleep almost immediately thanks to the comfy mattress, warm blanket and the slight rocking movements of the train moving along on the railway track.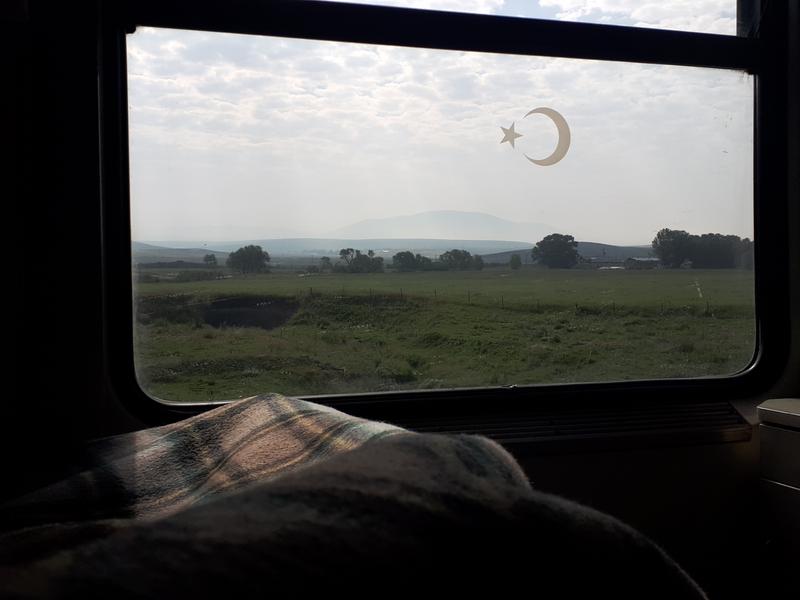 It's just awesome waking up and seeing the world pass by from your train window!
I flipped the bed over back into seat mode and had some breakfast (börek, a filled pastry – I opted for the one with cheese when I bought if fresh at a bakery in the morning) while watching the highland steppes go by from the window.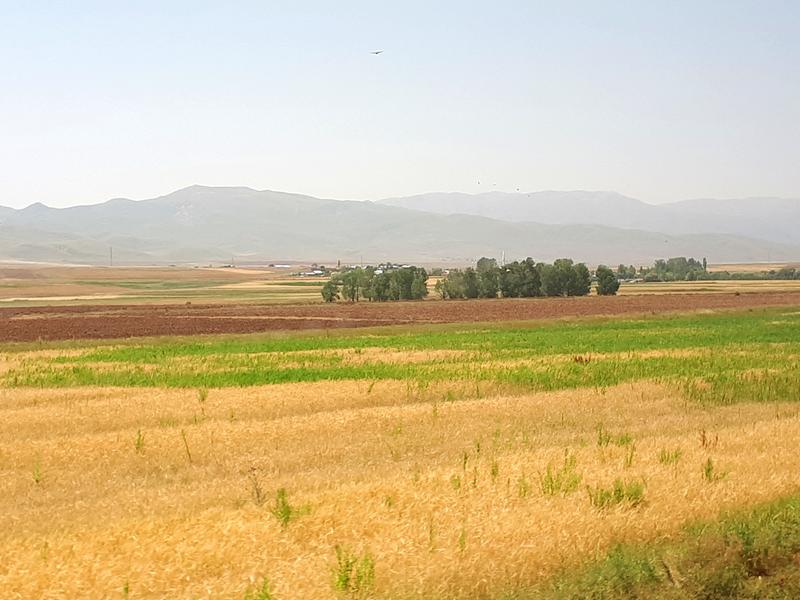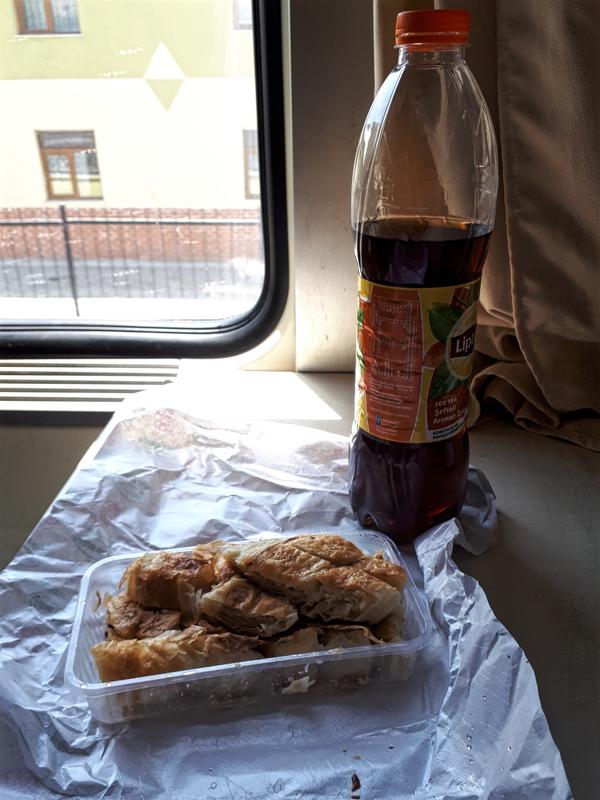 The first two to three hours of the journey until the first major stop are not too spectacular, with the exception of a cool-looking ancient stone bridge I saw next to the motorway along which the train was travelling.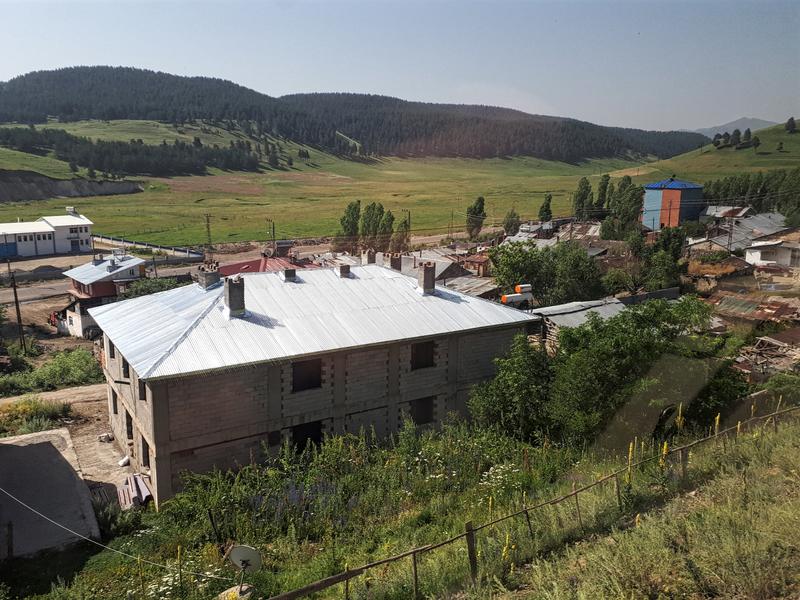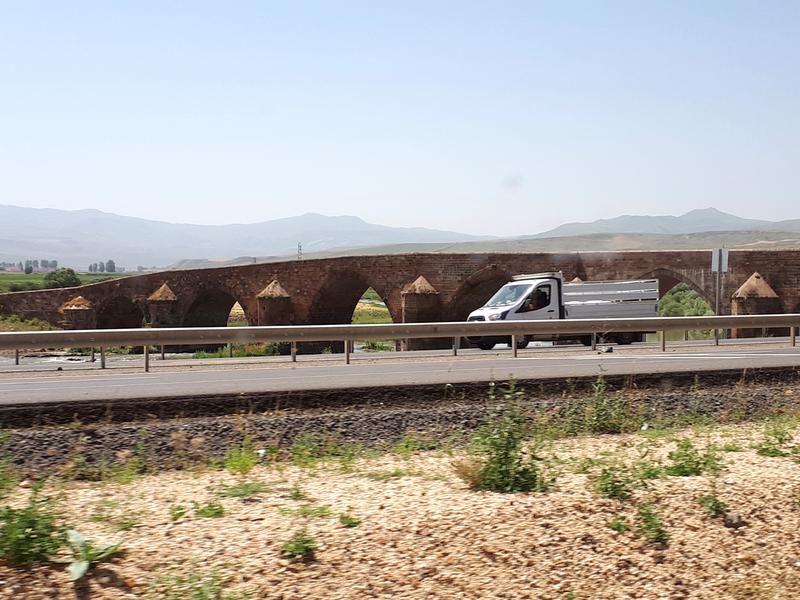 The first major stop of the train after about four hours is the city of Erzerum. As there is no dining car available I got myself some kebabs at the station using a special trick. After doing some online research (and confirming it with Turkish friends) I found out that many kebab shops in Erzerum do delivery to the Doğu Express! I had a Turkish friend order four kebabs by phone with instructions to meet me at the platform in front of the sleeper cars (the Erzerum stop is about 15 minutes). And indeed – there was a kebab guy with a big plastic bag, and it turned out I was far the only one ordering from them as four more passengers collected their order and paid him on the platform.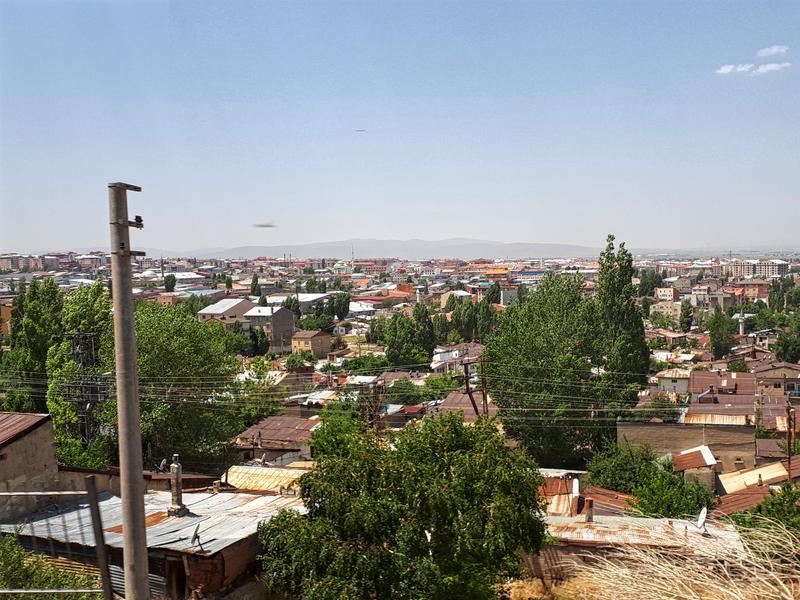 Approaching Erzerum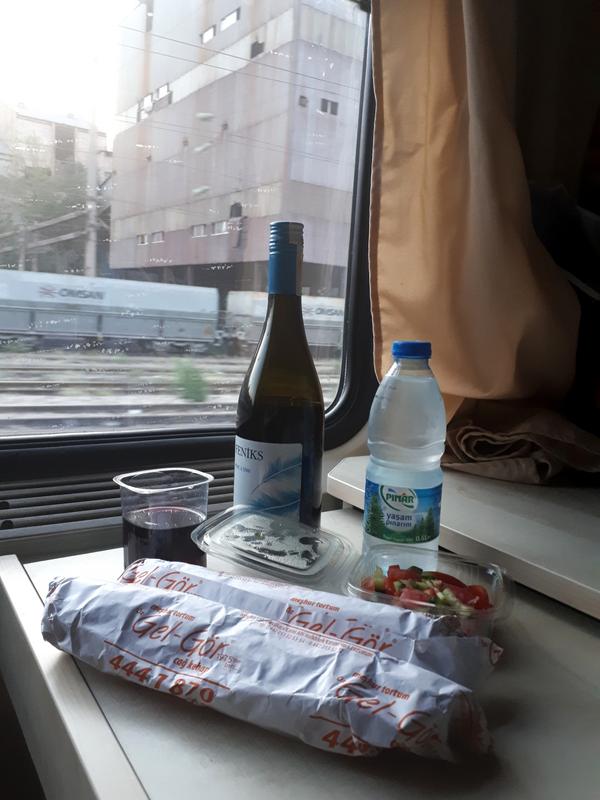 Kebabs, a salad and some decent Turkish red I bought before in a shop for lunch
After departure from Erzerum and having eaten my lunch, I flipped the seats back to bed mode. As I wrote before, I find the seats rather uncomfortable after a while, but the mattress on the other hand is great. Given the compartment is completely private, I can as easily just get snug under the blankets, put some pillows against the wall so I can sit a bit upright from bed and watch the scenery.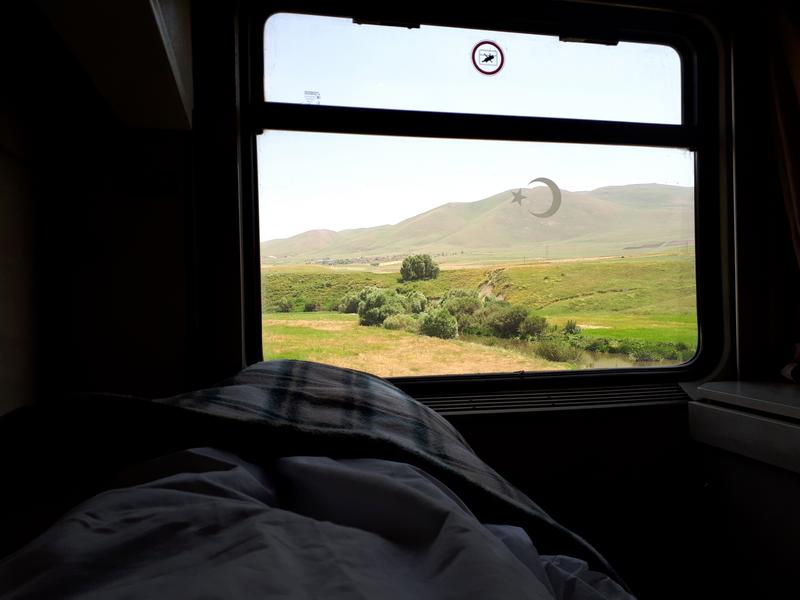 After Erzerum the scenery starts to get more spectacular as some hilly terrain approaches and ventures far away from any paved roads. More interestingly, it also runs here besides the Western Euphrates River.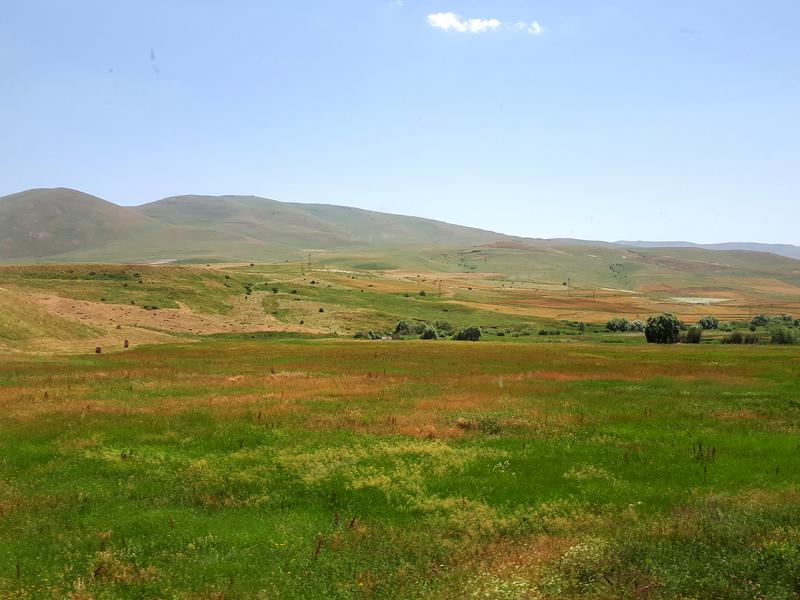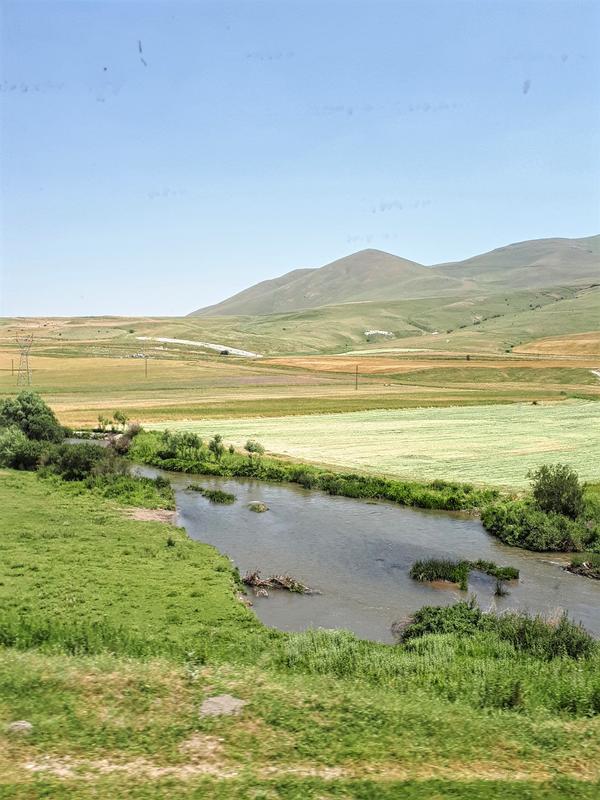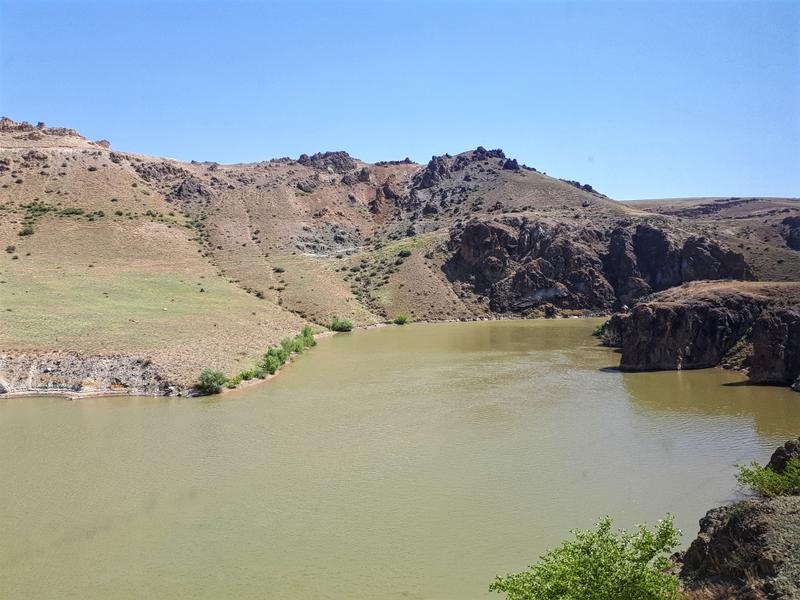 A few hours later the train halts at Erzincan – another major stop. There were great views of the local airport too, where a Turkish Airlines flight was about to take off!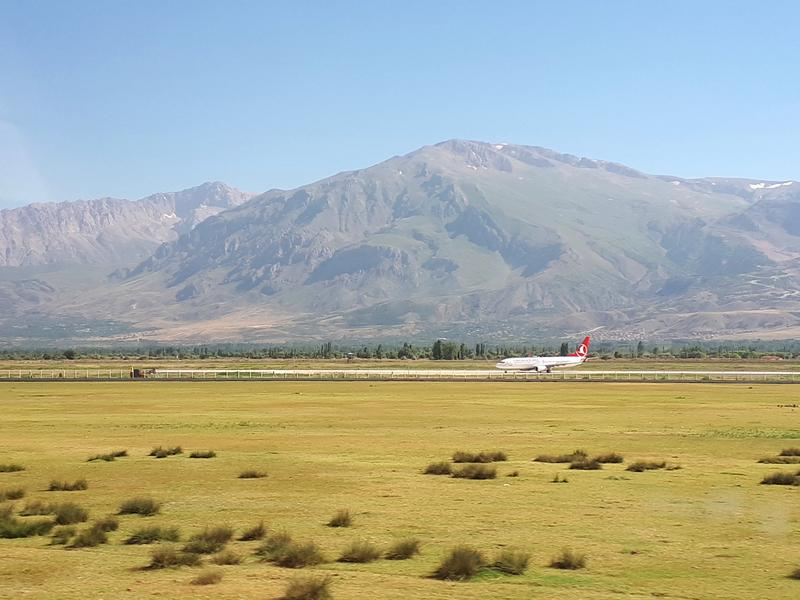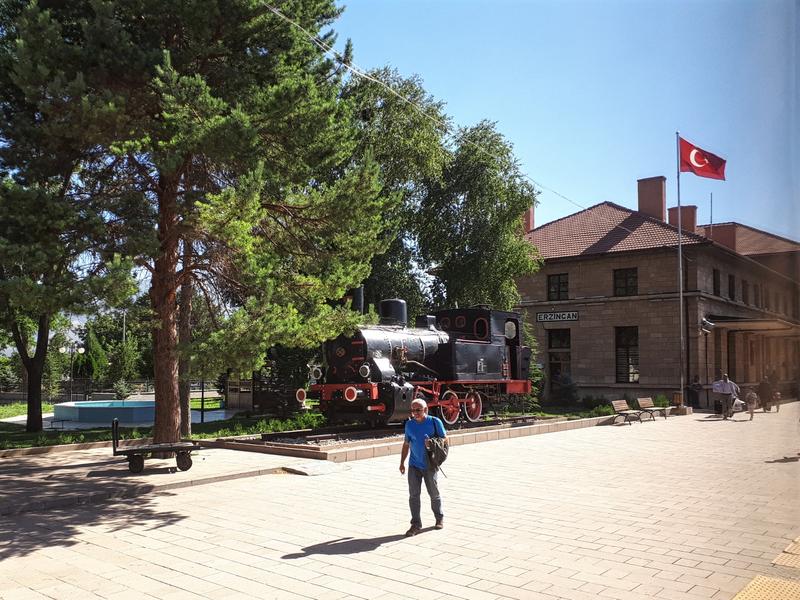 Leaving Erzincan begins what I believe is the most spectacular part of the journey. If my map-reading skills are correct, we were now following the course of the Kızılırmak River (known as the Halys river by the ancient Greeks).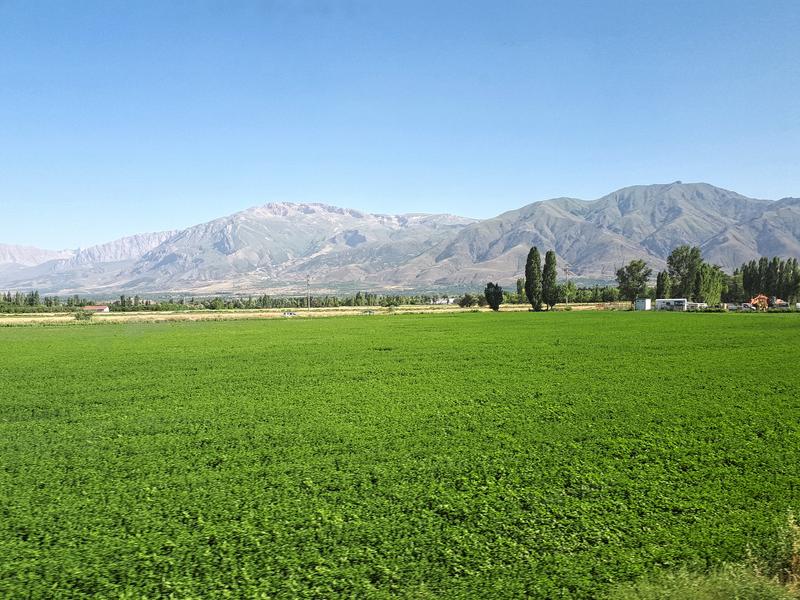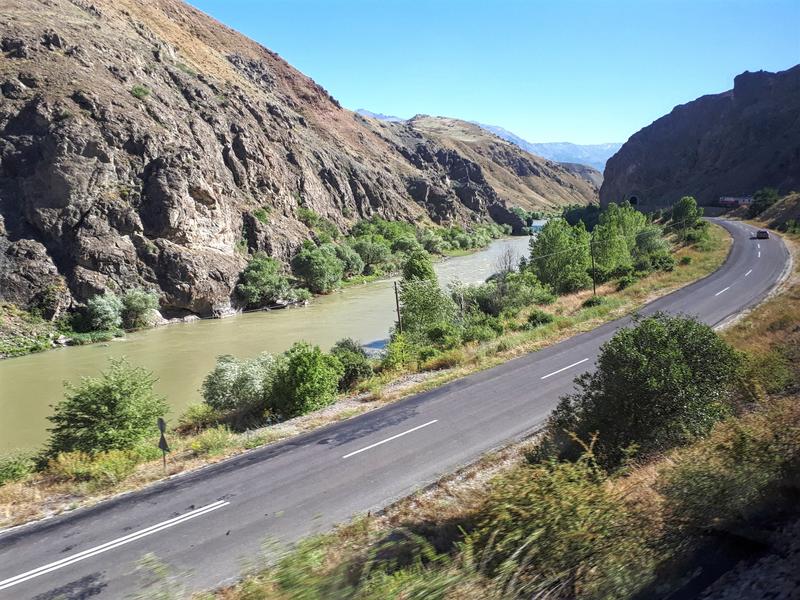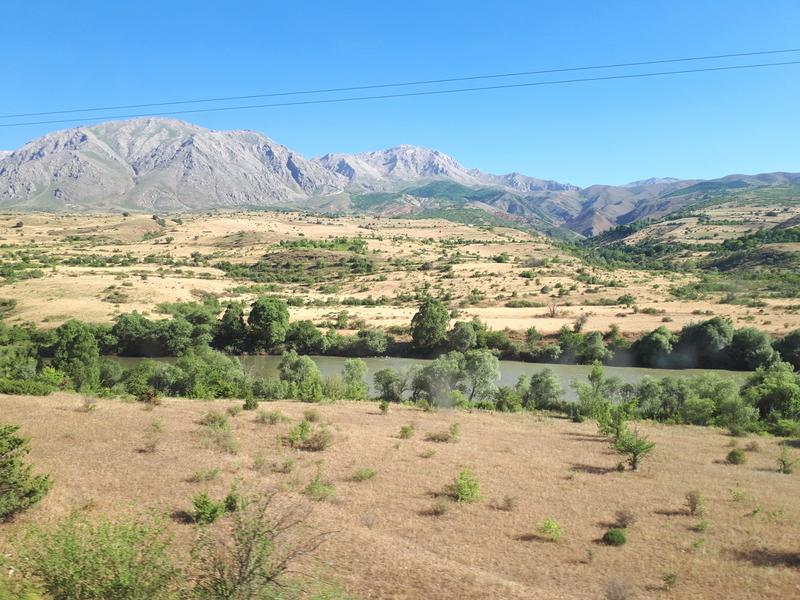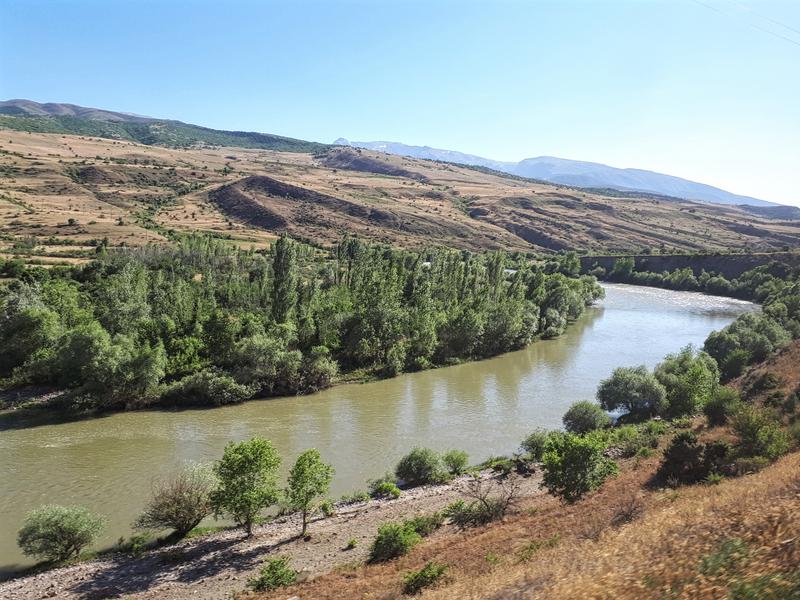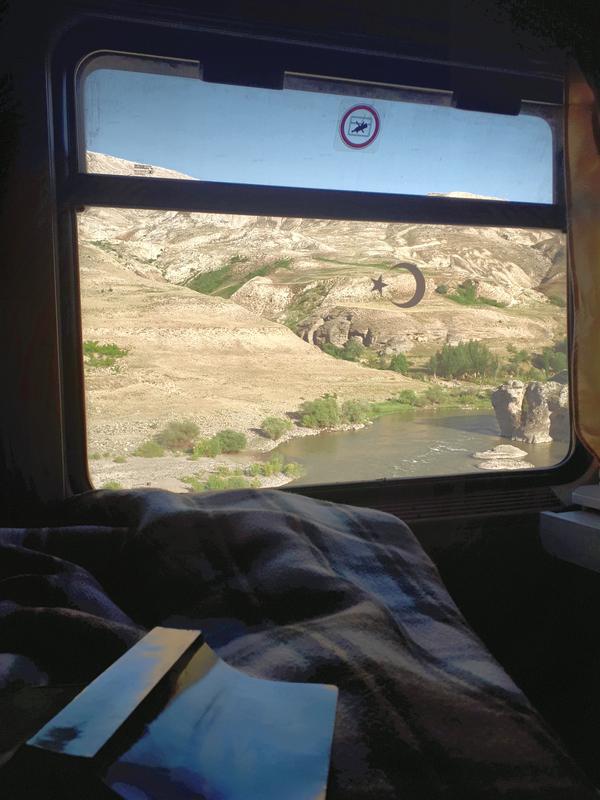 I was absolutely glued with my face to the window at this part of the journey as I found the contrast between the river, the surrounding trees, and the bleak mountains behind it so striking and beautiful.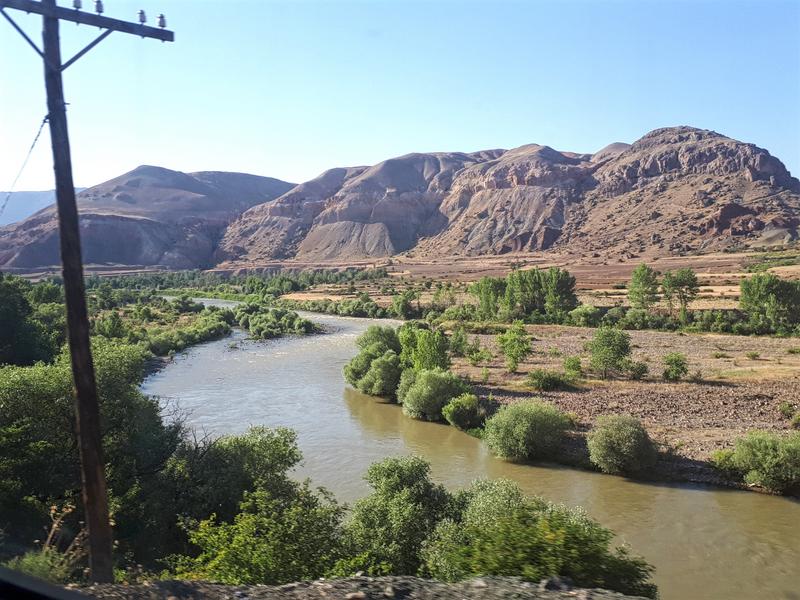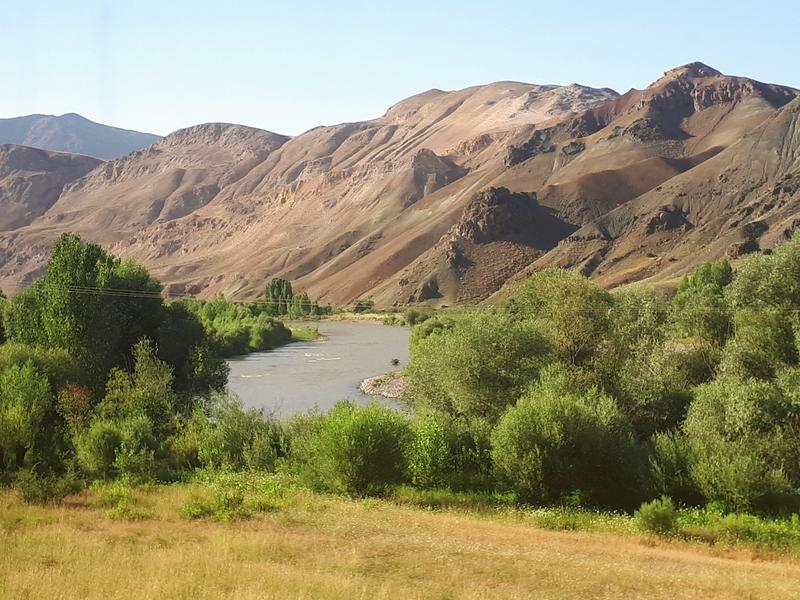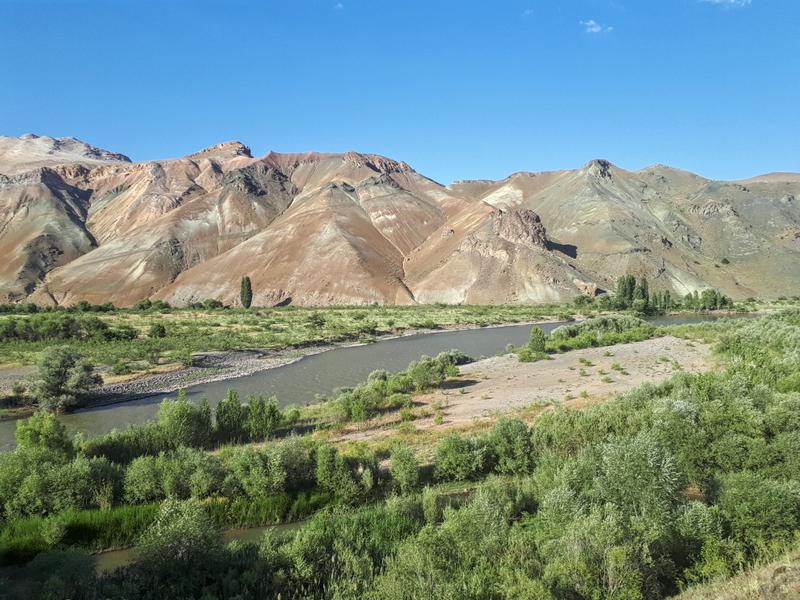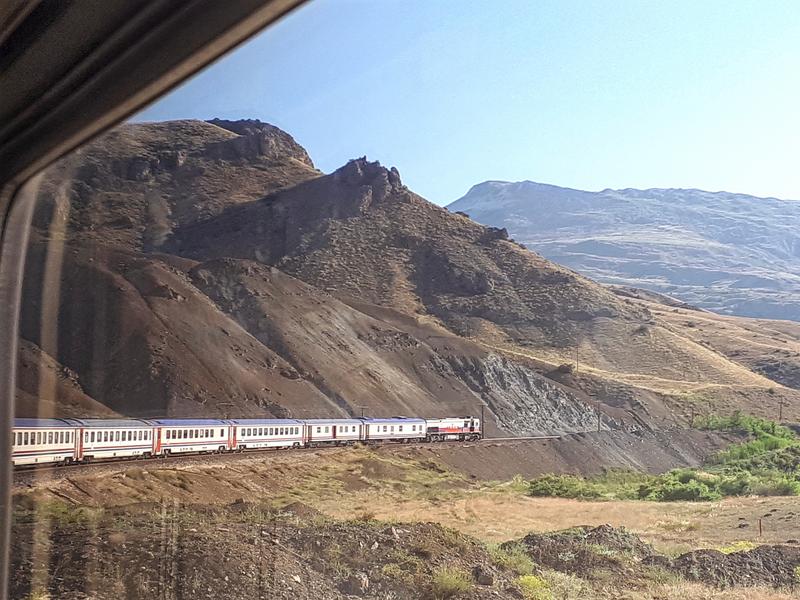 After a while, the valley narrows down and the train runs along the river into a gorge.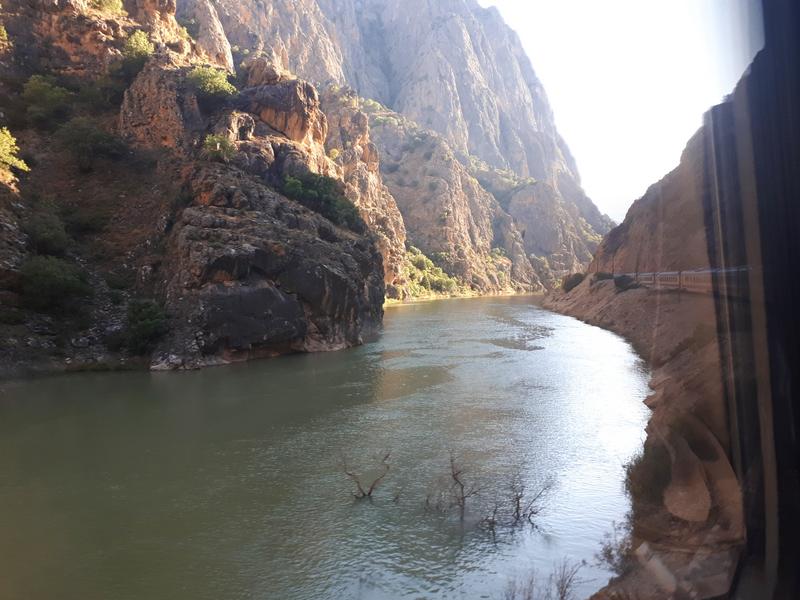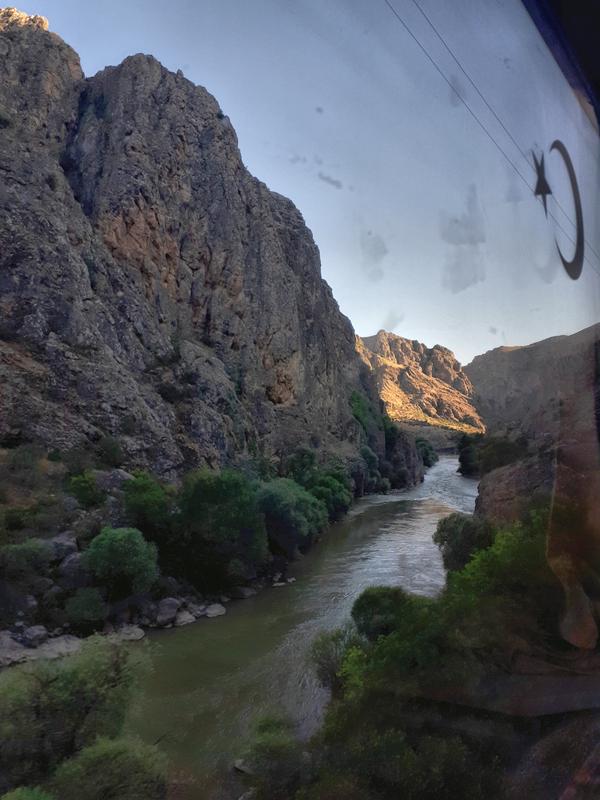 At the other end of the gorge the terrain levels out again – it looked like the river was dammed here creating some artificial lakes in the bleak landscape.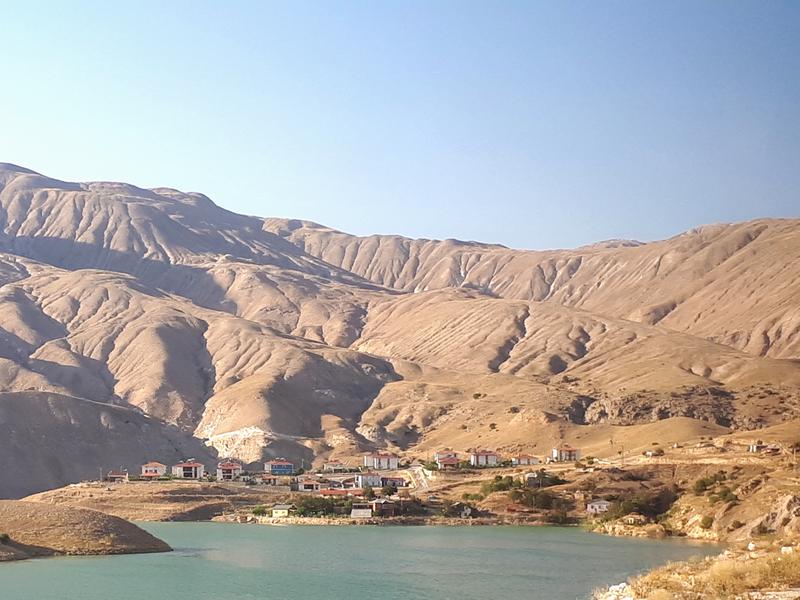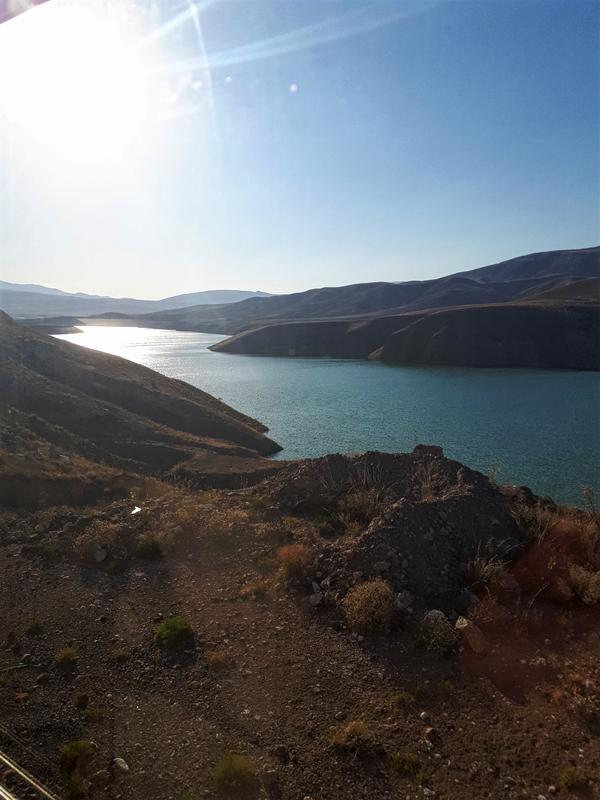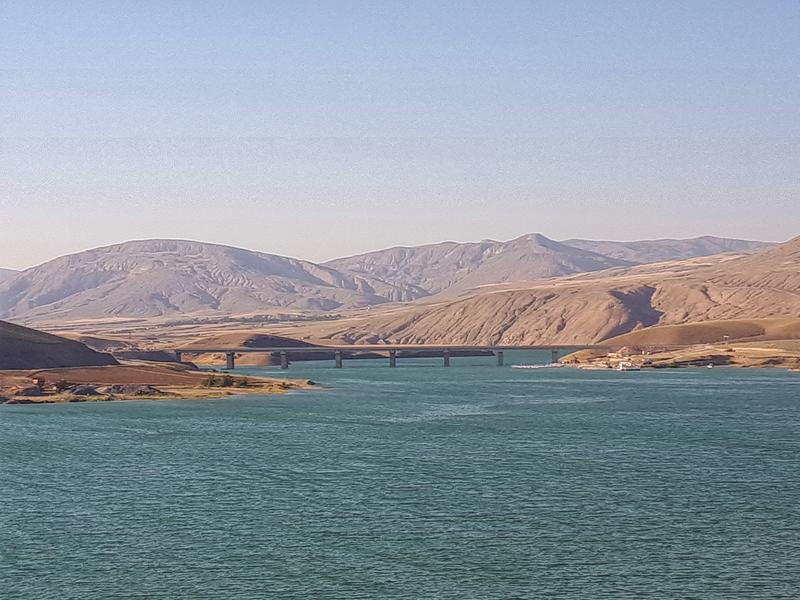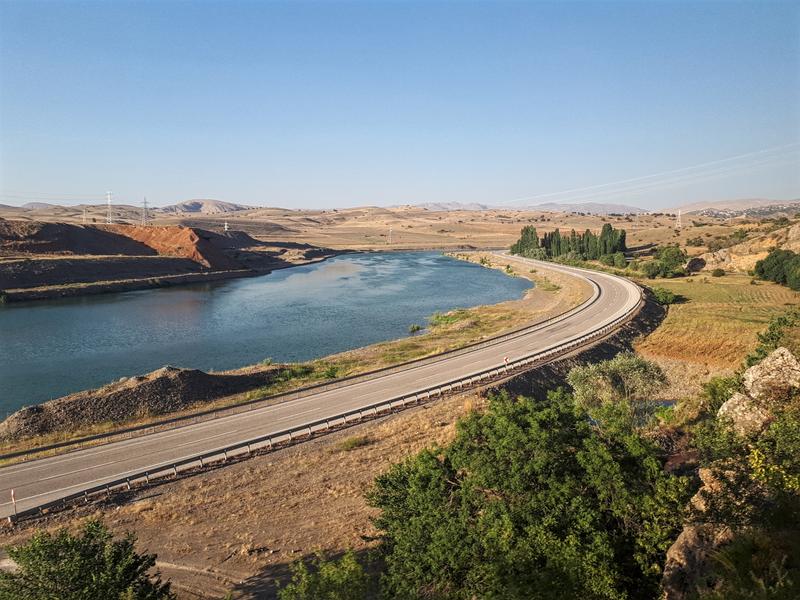 As it was getting dark soon after, I drank my last beers, ate my last two kebabs – and went to sleep. I had a great night of sleep when my alarm clock went off about an hour out of Ankara, leaving myself with plenty of time to freshen up a bit and get dressed again.
Arrival at Ankara's station was an hour late – which we racked up in the last two hours or so of the journey when the train stopped for several minutes each time in the middle of nowhere and was rolling at excruciatingly low speeds (seemed like we were stuck behind another train or so).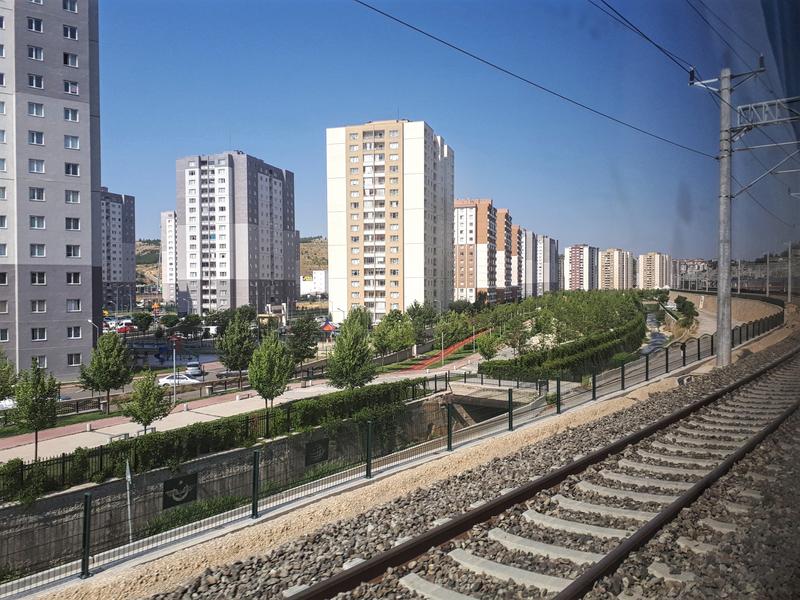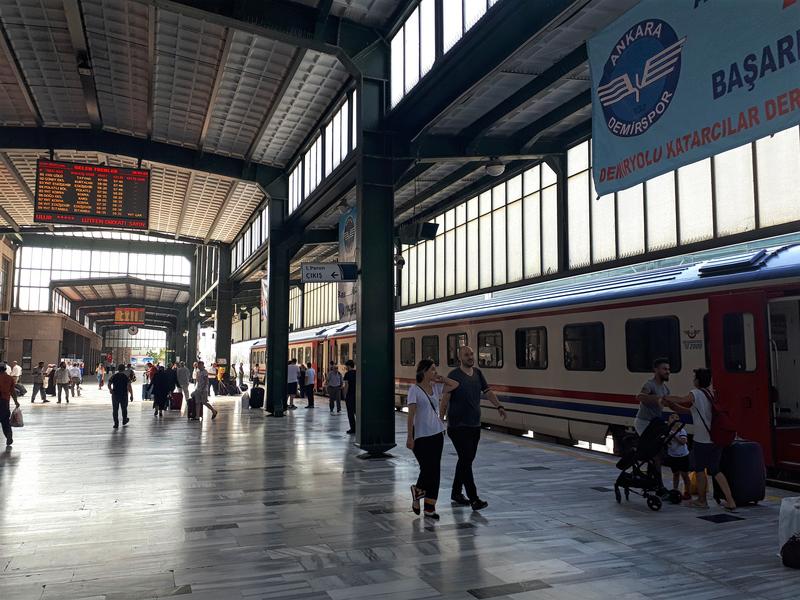 The Doğu Express at Ankara station
In short:
What a spectacular journey this train ride is. For those who love slow travel and watching out of the window looking at beautiful scenery, I can highly recommend it. For just 25 EUR in a private sleeper it is about the best value deal you can get in travel! Count me a fan.
Next up:
Flying from Ankara to Izmir on Anadolujet (Turkish Airlines).