Our big trip to Australia with a few fun stopovers
Nov 25, 18, 7:45 am
Join Date: Oct 2017
Posts: 101
Our big trip to Australia with a few fun stopovers
---
As my moniker suggests, I first set up this account on FlyerTalk to help me plan my honeymoon. The hints and tips that I have learnt on here (and, being UK based, on Head for Points) allowed us to put together a trip that we would not otherwise have been able to do so I thought it only right and fair to share it with you, fellow travelers! Please skip to the photo trip reports if you're not interested in the booking process, but if you are... read on...
My wife (it still feels weird saying that) grew up in Australia so a big trip down-under had always been on the to do list and what better occasion to tick it off than our long-awaited honeymoon. Having always fantasised about flying in premium cabins but balking at the price tag, I started collecting Avios a few years ago in the hope that it would one day get me somewhere in British Airways in Club World or even First. And now it has. Redemption seat availability from London to Sydney is infamously tricky to find, and we wanted to go to Perth anyway, so we (well, I) started to think creatively. We love all things Asia, so if we could get BA to take us as close to Australia as possible and pick us back up from somewhere else for the return leg then we were free to connect the dots up ourselves. Easy, right?
At T-355 days I logged on my BA account at midnight exactly to book our outbound flights. We ideally wanted to go to Singapore but knew that Kuala Lumpur would work equally well logistically, so I planned to book whichever route showed First availability. It so happened that 2x First seats for KL were released, so I snapped them up very happily. First to Kuala Lumpur or Club to Singapore, what would you have done? Three and a half weeks later it was time to book our inbound and we'd settled on Tokyo as our first choice. I loaded £5 credit on to Skype and called BA's Japan office, again at midnight on the dot to secure our return as it got released. Not too much hassle later and we were booked into Club World (for non-BA followers this is business class) for our return. We had the bones of the trip in place for the sum of 209,000 Avios, about £1100 in taxes and surcharges, and a companion voucher. I checked the BA app daily for any openings in First to upgrade our return and - lo and behold - one day they came up. A quick call to BA to amend, an extra 30,000 Avios and £35 per person change fee and we were now booked in First both ways. Great!
I proceeded to connect up the dots by booking one-ways in the most premium way I could engineer and ended up with 8 flights encompassing four countries, 26000 miles, 8 hotels, 2 self catering apartments and 2 hire cars. The route looked like this:
London Heathrow - Kuala Lumpur on British Airways, First
Kuala Lumpur - Bali on Air Asia X, Premium Flatbed
Bali - Perth on Batik Air, Business
Perth - Sydney on Qantas, Economy
Sydney - Hamilton Island on Jetstar, Economy
Hamilton Island - Cairns on QantasLink, Economy
Cairns - Tokyo Narita on Jetstar, Business
Tokyo Haneda - London Heathrow on British Aiways, First
Flight 1: BA 33 London Heathrow - Kuala Lumpur on British Airways, First
Boeing 787-9
We made sure to arrive at T5 a full 3hrs early to make use of the Concorde Room and our pre-booked Elemis Spa appointments. We enjoyed the First Wing experience - I thought it sets the scene nicely for a premium experience. Please forgive the poor photography - we're not massively gifted in this area and in any case we try to be discrete when taking photos so as not to disturb other customers.
Our lounge visit got off to a good start when the first staff member we saw was pouring a choice of rose (Jeeper Grand Rose) or brut (Laurent Perrier Grand Siecle) champagne for us to take upon entry with no fuss. For those unfamiliar with the Concorde Room, it's BA's flagship lounge offering reserved for First travelers and the most elite frequent flyers (Gold Guest List and above, I think). It gets a bit of a hard time on the BA board having fallen victim to BA's widely seen war on costs, but we found it very nice and certainly found little expense spared on the drinks.
The Concorde Room offers a la carte dining in your choice of compact and quite private booths or more open high tables closer the bar. The menu wasn't massive but had a few tasty options:
Food was decent if not incredible. We wanted to enjoy dinner on our flight so tried not to fill up too much. We shared the tortellini and the jackfruit noodles followed by the chocolate dome.
All was pleasant enough but for us was really a snack to have with the very good drinks menu:
Again, we wanted to enjoy food and drinks on the flight so tried not to drink too much in the lounge. Around 90 mins prior to departure we went for our pre-booked spa appointments where we both had a 15 minute back and shoulder massage. Whilst a 15 minute massage is not massively market leading for a First class ground experience it was a bit of fun that was a nice feature to make use of. Incidentally it was a very good massage and set us up nicely for a final quick drink before heading over to the B gates to board.
Boarding had nearly completed by the time we got there so we didn't see the priority boarding in action, though we did use the Group 1 lane to bypass what was left of the presumably economy pax still boarding. Upon boarding at door 2L we were greeted by the lead cabin crew member (for BA followers, was he the CSD or CSM as this was a Mixed Fleet route?) and his colleague working in First personally directed us to our seats. I mean, we were perfectly capable of finding seats 1E & 1F all by ourselves, but this was a nice touch that added to the personal feeling.
First Class in BA's 787-9 consists of 8 seats in a 1-2-1 configuration. At first glance this looks like a reverse herringbone layout used in many market leading business class seats but really they are an awful lot more generous than those. There is no cubby hole for your feet, leg room is virtually unlimited, you have a personal wardrobe at seat and two further storage bins. Middle seats are best for couples with the divider lowered to allow you to see your seat partner, but if this is raised then it is just fine for solo travelers too. At-seat privacy is excellent and I found everything very comfortable and well designed with premium materials and good lighting. Despite it being one of the newest planes in BA's fleet there was already a fair bit of scuffing and good use and whilst it was at least clean it did not feel new. I was expecting this so it did not dampen our mood which improved further still when we were warmly greeted by the cabin crew and quickly served a glass of champagne (more LPGS). We are also provided with our pyjamas, slippers and amenity kits. We both changed into the PJs straight away to maximise comfort and preserve our clothes for the other end.
We pushed back on time and once airborne were offered a drink from the bar (more champagne please) which was served with warm nuts.
Service was on-point from the outset and we were enjoying it. We decided to have dinner relatively promptly so as to maximise our sleeping time. I particularly appreciated how the crew gave a most encouraging response when I inquired if I had time for 'a quick G&T' before the starter was served. We started with the amuse bouche of prawn and something (sorry I didn't write it down) with some nice focaccia.
Starters of scallops and corn bread for me and baked camembert for Mrs HoneymoonFlyer were pretty good.
We had pre-ordered the main course so as to avoid the widely reported shortage of first choices due to BA's apparent under-catering. I chose the beef and requested for it not to be too well done as is almost always the way on planes. The crew member completely understood and did his very best to take it out of the oven as early as possible. Despite best efforts it still ended up well done but the taste was good and it wasn't too dry, so disaster averted. If this is the least they can cook it then what does a normal BA steak end up like?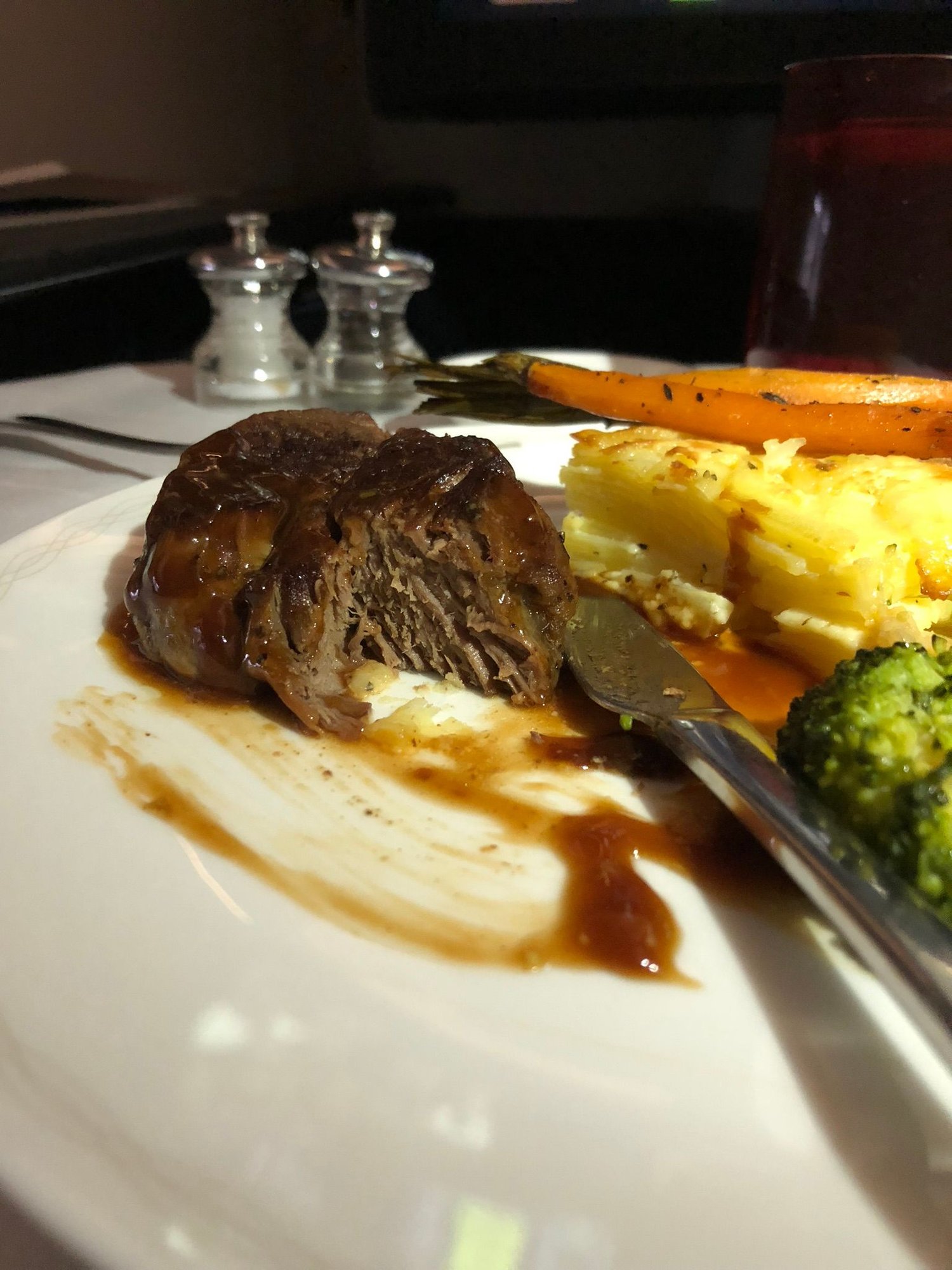 Mrs HF had the stone bass, which was apparently not that great.
I was completely stuffed so settled for a liquid desert of another glass of bordeaux, though Mrs HF took one for the team and attempted what I think was a sticky toffee pudding:
It's worth noting that despite the food being relatively average (not bad, but not amazing) the service was impeccable to the point that the two crew teamed up to serve us each course synchronised to the very second. This was impressively done with the perfect balance of professionalism and low-key friendliness and we have sent feedback to BA to this effect.
Unsurprisingly after gorging like this we didn't stay awake much longer. The crew pro-actively offered to make our beds for us at appropriate moments. We found the bedding immensely comfortable with thick mattress/duvets and pillows. So much so that we slept for 8 hours and awoke in time for breakfast.
The fruit and pastries were fresh and tasty.
The same cannot be said for the hot smoked salmon muffin with 'poached eggs', asparagus and hollandaise. This was a bit grim.
Mrs HF's traditional English breakfast was reported to be better:
This concluded our 12 hours of eating, drinking and sleeping. To cap it all off the crew presented us with a very nice card to congratulate us on our marriage and even offered a couple of small gifts (I won't say what they are so as not to set a precedent of expectations!). This was really a lovely way to end the flight and encapsulated what we enjoyed most about it. The crew really made it. The product is often knocked and disparagingly labelled 'the best business class in the sky', which I think is a bit unfair because no business class has a 4:1 crew/passenger ratio, champagne costing £100+ per bottle (Eva Air excepted) and this much at-seat space and storage in such an exclusive and quiet cabin. There's no denying however that this is not a market leading First product which on our occasion was bailed out by an outstanding crew - BA would do well to be grateful for this! We were certainly grateful for it and loved every minute.
We de-planed in Kuala Lumpur absolutely satisfied (having managed our expectations about the hard product) and ready to start our honeymoon. More posts to follow when I can, but please let me know what you think so far!
Nov 27, 18, 4:10 pm
Join Date: Oct 2017
Posts: 101
Thanks guys!
Unfortunately I may have showed my best hand first as my photography takes a significantly downward step in subsequent flights. Let's see how these turn out.
We arrived in KL around 4pm and enjoyed some advantage in disembarking first. Priority tags on our checked luggage worked well and we were off to our hotel, the Grand Hyatt in KL. I understand that Grand is not quite the pinnacle of the Hyatt portfolio but I struggled to see how this hotel could be much better. Views from the room and around the hotel were great, breakfast among the best I've had and it had a nice pool to cool off in.
We enjoyed two nights in KL to eat as much satay and other pan-Asian delights as we could.
Views from a rooftop bar called Helibar were unbeatable:
And before we knew it it was time to head to Bali. AirAsia has a hub at KLIA 2, which is more of a separate terminal than a completely independent airport. This makes KL a great stopover destination as you can arrange you own onward travel using cheap one-way fares.
Flight 2: D7798 KLIA2 - Denpasar, Bali on Air Asia X, Premium Flatbed
Airbus A330-300
Whilst AirAsia exclusively operates Airbus A320 short haul aircraft, its subsidiary AirAsia X flies A330 widebodies even in some cases on competing routes. The group offers several flights a day to Bali, one of which is on the A330 with AirAsia X. Unusually AirAsia X has configured its A330 economy cabin in a 3-3-3 layout which can't be much fun, but it has a small cabin at the front with 'flat bed' seats in a 2-2-2 configuration. Flat they may be, though horizontal they are not. Still - flying nearly flat beds for not much more than £100 per person per way is not to be dismissed. The 'premium flatbed' bundle includes a checked suitcase, separate check in, lounge access (in KL only), priority boarding, an onboard meal and... well... the premium flatbed. Dedicated check in was a welcome way to avoid some of the queues, though we still seemed to have to print and attach our own luggage tags (not very rock and roll). The lounge was more of a room with a coffee machine and some cereal, but we didn't expect anything too premium from an unashamedly focused low cost carrier.
I'm sorry to say that I didn't take any photos so I attach one from another blog - this image is not my own:
On board service was more economy-plus than anything else but was perfectly adequate. The flight was comfortably uneventful (which is exactly what I'd paid for) and we made it to Bali well rested and ready to go.
In the planning process we'd spent many hours trying to identify the very best hotel and room for us to stay in. After much deliberation we settled on the Sayan Villa at Four Seasons Sayan and we certainly feel like we made the right choice. In fact while we were there a 'proper' travel blogger - the Luxury Travel Expert - uploaded an extensive review of the room we were at the time in. This felt a bit weird! The room had an amazing private pool and a high vantage point for complete seclusion.
Three very happy days of not doing much were over all too quickly and we made our way back to Ngurah Rai International Airport, Denpasar, Bali for our flight to Perth.
Flight 3: BTK6005 Bali - Perth on Batik Air, Business
Boeing 737-900
I had never heard of Batik Air before planning this trip. It turns out that the're part of the Lion Air group, which is not blessed with the best safety record. Still, unfazed, I proceeded to book 2x one-ways Bali-Perth as the lure of a proper short haul business class was too tempting to resist.
The ground experience was amusingly mixed. The Business class check in lane again helped us avoid some of the queues but no fast-track security/immigration was offered or even seemed to exist. Nor did the Business ticket come with lounge access! Luckily I had 2x free entries to the T/G Loungewith my Lounge Club membership courtesy of the Amex Preferred Rewards Gold Card. The lounge was reasonable with several seating areas including a quiet room, separate toilets, half-decent food offerings including a live station (transitioned from breakfast eggs to lunch noodles as we were there) and drinks including alcohol with finite vouchers issued by the front desk. From memory this offered 3 drinks per person, though for once I didn't sample any.
The time came and we made our way to the gate. No priority boarding was called and despite it all being quite orderly we were dismayed to see buses for the transfer to the plane. Upon having our boarding passes checked by the gate agent she excitedly yelled "business class?!" to which we nodded politely, somewhat pleased to be acknowledged but embarrassed to be singled out. We were not-so-subtly ushered to one side and escorted to a private mini-bus for the two of us. How cool is this?
After that fun we were the first to board so got a good look at the business class cabin, which occupies the front three rows in a 2-2 configuration for a total of 12 seats.
Business class on short haul routes doesn't really exist in Europe, so I thought this was great. Service started with hot towels and a (non alcoholic) welcome drink.
And once airborne we were quickly offered our meals. We were offered a choice of 'meatballs or noodles' and for some reason I said meatballs. Yes, it tastes how it looks.
Still, the fact that it was only passable as opposed to downright poor left me feeling relatively satisfied and I amused myself for the next couple of hours until landing. I couldn't find much on the IFE of interest, but again I offer some kudos for even having proper IFE on such a route.
We landed without much eventfulness and after the apparently customary Pom-searching at Australian border control we were ready to start our Australia holiday. Stay tuned...
Dec 1, 18, 5:35 am
Join Date: Oct 2017
Posts: 101
We loved our time in Perth and the surrounding area. We spent a couple of days in each of Cottesloe (posh seaside suburb), Margaret River (wine country) and Sorento (other posh seaside suburb).
Nice beaches with local wildlife
Nice picnics with local delicacies
More local delicacies at Amelia Park, Margaret River
And before we knew it we'd spent our six nights in Perth and Western Australia and it was time to head to Sydney.
Flight 3: QF568 Perth - Sydney on Qantas, Economy
Airbus A330-200
This is the one that got away. No matter how I tried - cash, points, upgrades at any point - I couldn't find any remotely reasonably priced Business fares. Which is a shame as the A330s feature the new Qantas Business suites which look close to market leading. But it wasn't to be so we slummed it in economy. The fact that this was a widebody in a 2-4-2 configuration offered some comfort, but 4hrs in economy on the overnight flight (midnight departure) wasn't much fun. I didn't take any photos because there was nothing noteworthy to report - we even declined the complimentary light snack and drinks in an attempt to sleep. Sorry.
Things took a turn for the better in Sydney when we checked in to the Intercontinental right near Circular Quay. The hotel was just OK but massively saved by the excellent Club Lounge on the top floor. This had a couple of things to like:
Complimentary coffees and snacks through the day
Complimentary drinks in the evening
After two days of Sydney it was time for the bit that we were
really
excited about: Hamilton Island.
Flight 5: JQ 846 Sydney - Hamilton Island on Jetstar, Economy
Airbus A320
Nothing noteworthy about the flight other than the 1hr delay as Sydney Airport was shut with an electrical storm. Still, it could be worse, and we made it to a very curious little airport on Hamilton Island - more on that later.
It's an interesting concept - the island itself is owned by the Oatley family with the various hotels, accommodations, restaurants and other businesses all owned and managed by the family too. Cars and vans are limited to official/professional use only, so everyone uses electric buggies (Qualia guests have one included in their room rate). So the 'town' looks like this:
Marina promenade, Hamilton Island
We checked in to Qualia, which is without doubt the most premium place I have ever stayed. The resort's situation at the end of the island offers is 270* views of the stunning Whitsunday Islands.
The welcome glass of Charles Heidsick champagne, Qualia
View from the Long Pavilion terrace, Qualia
It's a very special place that delivered on offering a consistently premium experience from start to finish. We opted for a four night package that included a helicopter tour to Whitehaven beach - this was quite something.
The Qualia helipad.
On the sand at Whitehaven
After the immensely fun flight we were left on the beach to amuse ourselves with a little picnic for 90 mins or so. Plenty enough time to enjoy the powder sand that felt like moon dust (which I think broke my iPhone) and the luckily shark-free sea. The return flight offered yet more great views.
That was an experience!
We occupied the rest of our time at Qualia by chilling out, driving around the island in our buggy and making use of the complimentary watersports (including sailing lessons). It was over all too soon and we departed back to the airport with lighter wallets but very satisfied. Next stop, Cairns.
Dec 1, 18, 12:05 pm
Join Date: Oct 2017
Posts: 101
Flight 6: QF2504 Hamilton Island - Cairns on QantasLink, Economy
Bombardier Dash 8 Q-400
We got to the airport 50 mins before departure. Virtually no one was there, bar one Qantas check in agent (who later doubled as the gate agent) and two other passengers. This was a fun little place. Over the next 20 mins or so a handful of other passengers arrived, but it can't have been more than about 20 in total for our flight to Cairns. This is the smallest airport that I've visited and I quite enjoyed it!
Golf buggies parked outside the terminal
The check-in hall
Departure lounge and gates
Our ride today, the QantasLink Bombardier Dash 8 Q-400
Terminal view from the stand
Hamilton Island Airport (HTI), aerial view
The quirky airport, light load factor and amazing views combined to make this a fun little flight. A little over an hour later and we were in Cairns!