LJU-MCT via IST with TK (J Class)
Nov 12, 18, 1:34 pm
Join Date: Aug 2014
Programs: Qatar Silver, Marriot Silver Elite
Posts: 113
LJU-MCT via IST with TK (J Class)
---
Hello, I recently traveled with Turkish Airlines from Ljubljana to Muscat via Istanbul. This is part 1 of the trip report. Part 2 will be published shortly.
Check-In
I arrived to airport about 1:30 hour before departure. Turkish Airlines have 4 check-in desks (3 for Economy Class and 1 for Business Class and Elite members. Check-In took less than 5 minutes and the agent was friendly. Airport was very empty, security check-point had also no waiting line.
Check-In Desk and Departure Board
Lounge
There is only 1 Lounge at the Ljubljana Airport which is used by the all airlines, Priority Pass and credits card with lounge access. Lounge is located next to waiting area for gates 9-13.
Lounge is divided into 2 parts. First part is more like a "Quiet Room" with 9 semi-private suites. Suites are offering personal reading light and power outlet. Second part have lounge chairs, few tables with chairs and food / drink buffet.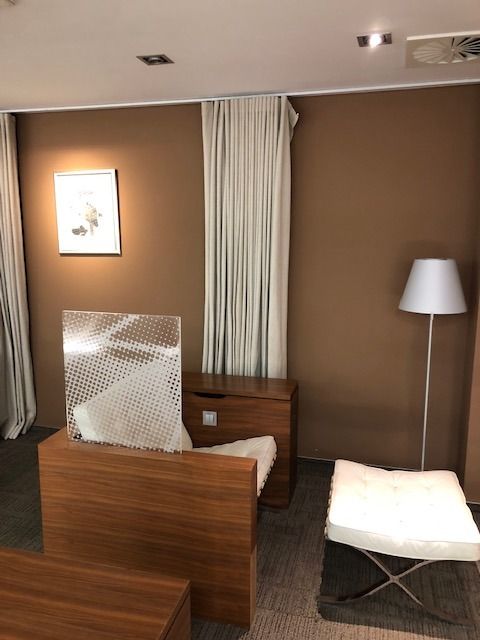 Semi-Private Suites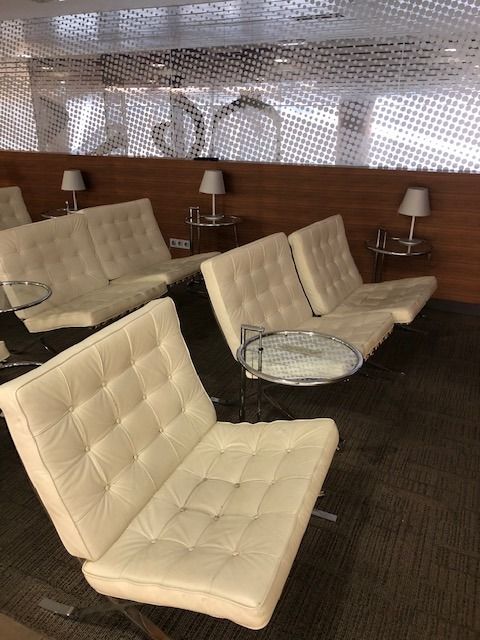 Lounge Chairs
Food is limited to snacks and some limited breakfast items (croissants, yogurt and fresh fruit). Drinks are soft drinks, wine, beer and choice of coffee and tea.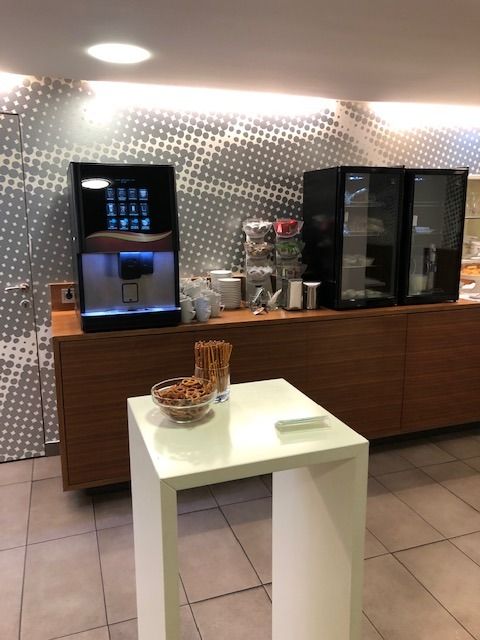 Coffee Machine
In the lounge there was few people. Lounge is nothing special but during busy periods is nice to stay away in the quiet space while waiting for the flight.
Lounge Rating 9/20 (Food and Drinks 2/5, Ambiance 2/5, Facilities 2/5, Service 3/5)
Boarding
At about 09:40 boarding started, there was a dedicated Priority Boarding line for Business Class, M&S Elite/Elite+ and Star Alliance Gold but gate agents didn't really care who was using Priority Boarding line.
Empty Ljubljana Airport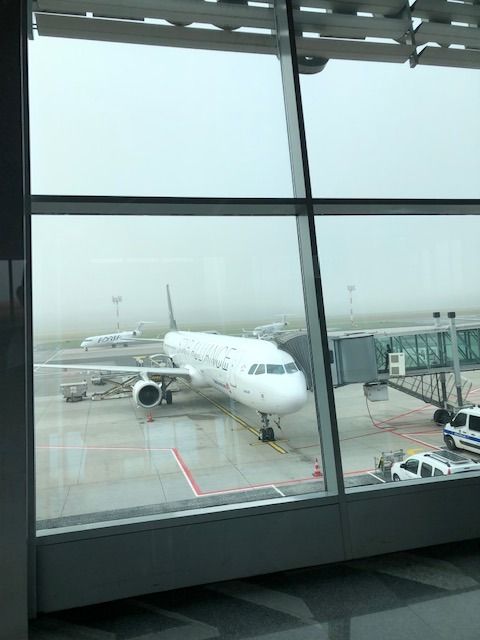 Turkish Airlines Airbus A321
Flight Info
Route: Ljubljana – Istanbul
Flight Number: TK 1062
Airline: Turkish Airlines
Aircraft: Airbus A321
Departure Time: 09:35 (actual 10:05)
Arrival Time: 13:40 (actual 13:55)
Flight Duration: 2 hours 5 minutes
Class and seat: Business Class, seat 1D
Flight
This Airbus A321 had separate Business Class cabin with 16 reclining seats. Seats offered quite generous legroom in bulkhead. Seat was equipped with personal inflight entertainment screen and USB power outlet. Seat had manual controls for leg rest, back rest and lumbar support. To the side of the seat there was also the table which could be open fully or in half. Recline of the seat was not that generous but for 2-hour flight is better than what most airlines offer in euro Business. During the flight there was a moving map displayed on overhead TV screens. Unfortunately, I had some work to do, so I could not check the collection of movies, music and games.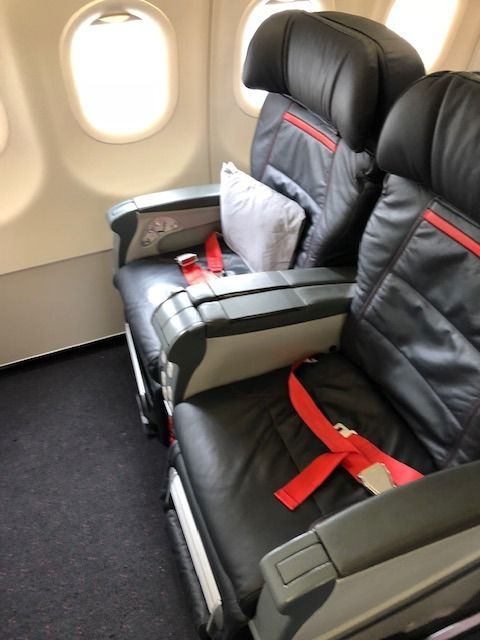 Business Class Seat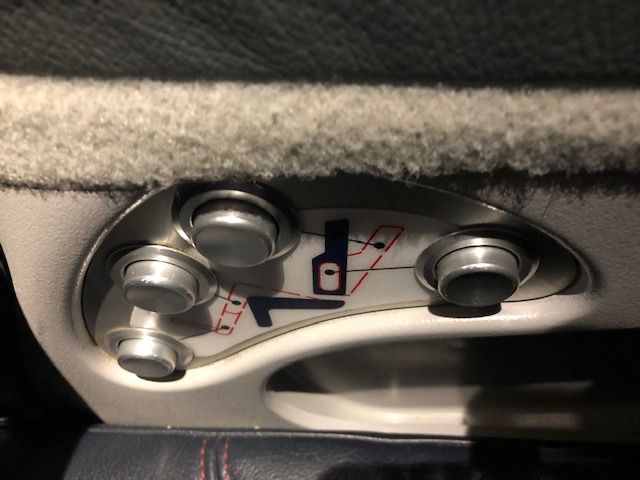 Business Class Seat Controls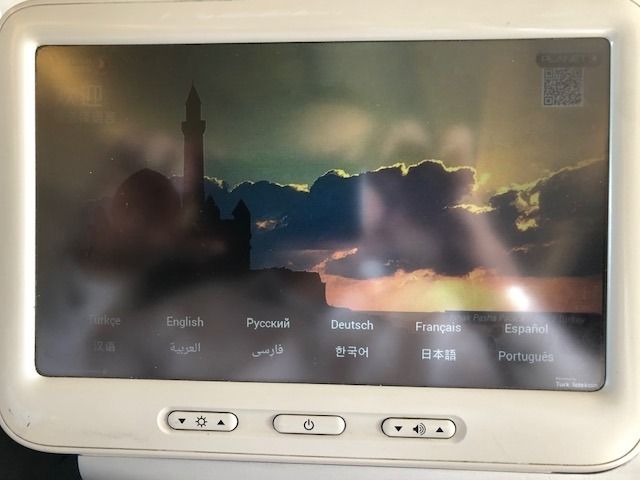 In-Flight Entertainment Screen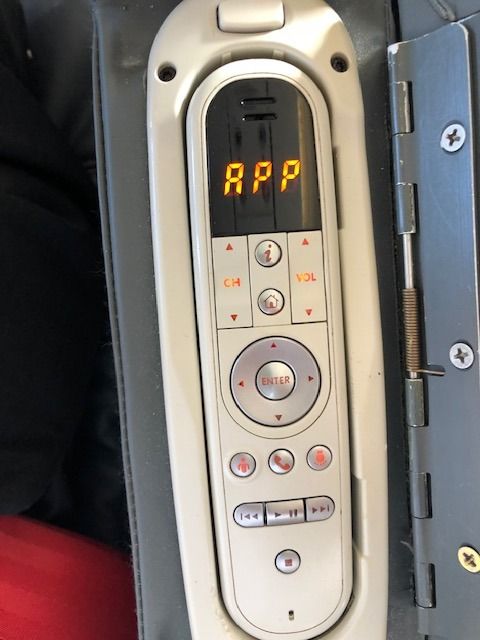 In-Flight Entertainment Remote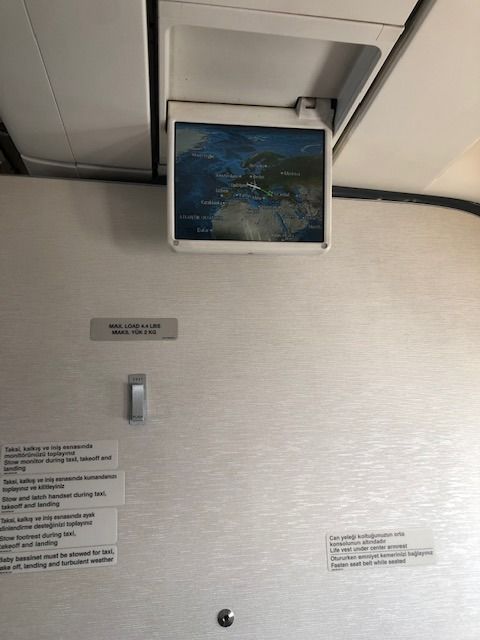 Overhead moving map display
Boarding was completed few minutes before 10:00. I was offered a choice of welcome drink (water, orange juice, watermelon juice and lemonade). I choose orange juice and I was also offered some nuts. There was also a menu for today's flight. They served hot breakfast on flight to Istanbul with choice of main course.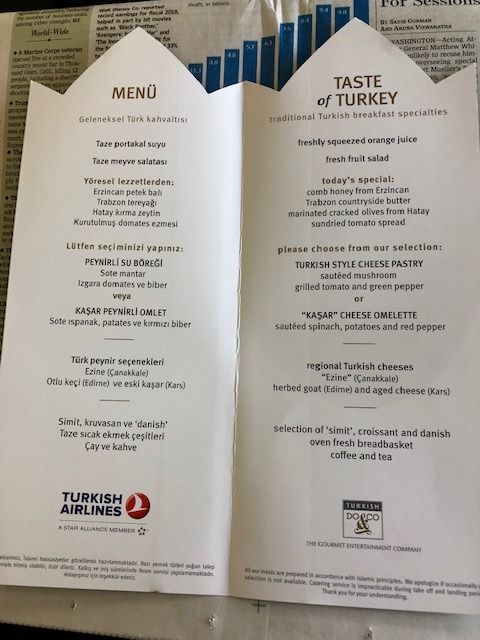 Menu for today's flight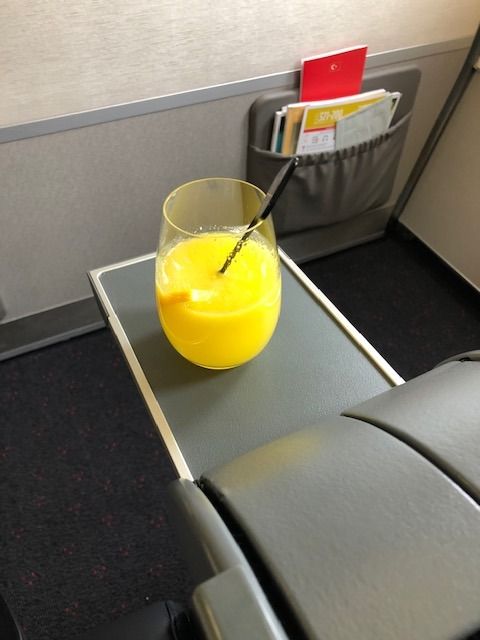 Welcome Drink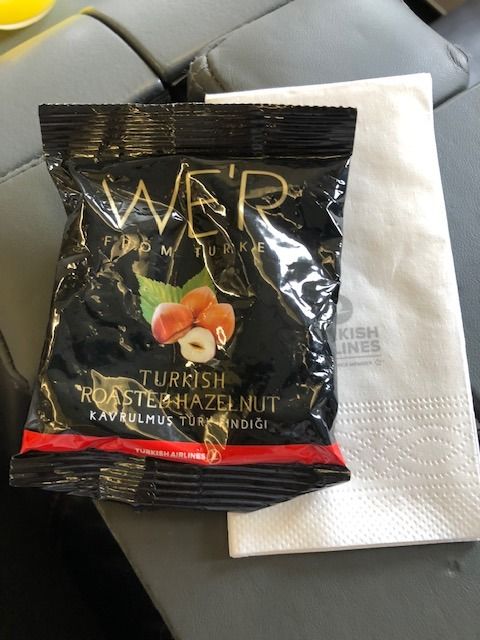 Nuts
Shortly after takeoff fasten seat belt sign was turned off and crew began serving breakfast.
Breakfast
First they brought tray with cold starter (cheese, sliced tomatoes and cucumbers), small plate of olives, small bowl of spicy tomato dip, small bowl of fruit cuts and jam with butter. They also offered few times a choice of bread and sweet pastries.
Cold starter was good, maybe I would add to it some cold cuts (meat or fish) and more choice of jams would be nice. Otherwise food was delicious and not too cold. For drinks I had orange juice which was good and Turkish coffee. Turkish coffee was also very good and not to sweet.
Appetizer
After they asked me about my main course. I choose Cheese Omelet. Cheese Omelet was also good, specially the side dish with peppers and spinach.
Main Course
After I finished with breakfast was time to work. I worked for until fasten seatbelt sign was switched back ON and we where ready for descent to the Istanbul Ataturk international airport. Just before landing I asked for another glass of water and it was served again with the napkin.
Conclusion
This short flight to Istanbul was very good. Food was good and crew was very friendly and professional. Luckily, I had long layover in the Istanbul so delay was not affecting me and I was not worried about catching connecting flight.
Rating for this flight
Seat Comfort 3/5
Food & Drinks 4/5
Service 4/5
Cabin Comfort 5/5
Check-In 5/5
Lounge 2/5
Total 23/30
Nov 14, 18, 3:44 pm
Join Date: Oct 2016
Location: LAX
Programs: TK M&S, LH MM, Global Entry, Hertz Gold, Sixt Platinum
Posts: 1,010
Your pictures make that sad lounge look much better than real life and your comment on the priority-boarding free-for-all mirrors my experience at LJU with TK, but I also agree with TPJ on calling BS on your 3/5 on seat comfort.

What does it take to please you?!
Nov 14, 18, 3:52 pm
Join Date: Oct 2016
Location: LAX
Programs: TK M&S, LH MM, Global Entry, Hertz Gold, Sixt Platinum
Posts: 1,010
50ish flights with TK, all featured variations of lovely Turkish dishes, featuring exactly 0% Turkey meat.
Was wondering about this a while back too:
https://www.dictionary.com/e/turkey/
Nov 19, 18, 6:18 am
Join Date: Aug 2014
Programs: Qatar Silver, Marriot Silver Elite
Posts: 113