10 days in China. Tibet, Sanya and Guilin! All three alliances Y UA/CA/MU/HU/KA/AA
Jul 16, 18, 8:05 pm
Join Date: Mar 2001
Location: Austin, TX -- AA PLT 2.8MM+ (life PLT); IHG PLT Ambassador; UA Gold
Posts: 5,391
10 days in China. Tibet, Sanya and Guilin! All three alliances Y UA/CA/MU/HU/KA/AA
---
Last December I noticed that there were some good one-way fares to China, specifically Hainan island. I'd been wanting to visit there as it is a separate 'country' on the Traveler's Century club list. I had also wanted to visit the Harbin Ice and Snow Festival for a few years. I booked flights for the first week in February. I sent off my passport for visa to a service in Houston. Meanwhile I had booked a long weekend trip to Ecuador in late January. I figured I would have my visa back in time.
I had expected to see my passport mailed back by Jan 13th so contacted the visa service. They said the application had been returned as the Chinese consulate wanted a copy of my marriage certificate (?!?) and letter verifying my employment. Probably the Libya visa in my passport... The marriage cert was in a safety deposit box and Monday was MLK day so I wouldn't be able to get anything until Tuesday, and my flight to Ecuador was on the Friday. I had the visa service send the passport back, hoping to resubmit when I got back from Ecuador. The backup plan was to go to Sanya on my UK passport as supposedly they can issue a visa-on-arrival which is then good for mainland China.
The Ecuador trip went well (
Long weekend in Ecuador. AA AUS-MIA-UIO/CUE-MIA-AUS
). On return I was tempted to go to Houston to drop the passport at the consulate directly but then decided to go with option B and try to get voa for my UK passport, cheaper anyway! After checking the rules though there was an 'hotel reservation AND invitation' in the rules I was concerned about, it didn't appear for Haikou.
The day came to leave for China but mrs. hauteboy had just come down with the flu and miss hauteboy had an ear infection. My trip was only a few days anyway so I wasn't as keen on going as it would be tough for them. I went to airport anyway and AA wouldn't let me board due to the aforementioned 'AND' rule. Despite contacting Sanya immigration and they said it was OK. So I just went home. I cancelled my return award reservation and hotel bookings and contacted visa service, they said I wouldn't need to pay again for the visa so I sent passport off that evening. I figured I could reschedule the trip for a few weeks later, but by the time I got the visa back the good Sanya fares were gone. The worst thing was I had applied for a 10-year visa and even with the additional documentation they only gave me six months!
Flash forward a few months. My visa expired in August. I usually do a trip around Memorial Day. Harbin Ice Festival was long over but I was still interested in visiting Sanya. Tibet was also a separate TCC destination so I looked into visiting there. Foreigners have to be on a tour so I contacted a few companies. Options for getting to/from Tibet include flying, via train from Xi'an or overland from Kathmandu. The Nepal border had been closed for awhile but had recently reopened and tour companies were again offering a 7-day tour that included visiting the Tibetan Everest Base Camp. However I couldn't get the train or Nepal itinerary to work with the days I had available. I picked a 5-night tour that spent 4 nights in Lhasa with a side trip to Shigatse.
I had been checking United award availability into Lhasa and found a AUS-IAH-SFO-CTU-LXA routing and booked it (figures that AUS-SFO nonstop opened up a few days after booking). I then used FlyingBlue miles for a LXA-XIY-SYX. I had also wanted to visit Guilin for some time and found a good price KWL-HKG-LAX-AUS on DragonAir/American. Finally booked SYX-KWL on Hainan airlines. So using all three alliances this trip! The price dropped on the KWL-AUS flight too a few weeks later, could have saved another $100! I had a 6+ hr layover in Chengdu as I had to pickup my physical Tibet permit (copies wouldn't do!) I saw that there was the Panda Breeding Center in Chengdu and wondered if I would be able to visit. The Tibet guide said no not possible (due to traffic), but I noticed that a new section of the Chengdu metro had opened up a few months previously.
A few days before my trip, the tour company said they couldn't get anyone to share a room, so my tour would be more expensive for a solo room supplement. I decided to book a boutique hotel for my last night in Lhasa.
---
Last edited by hauteboy; Jul 17, 18 at

7:20 am
Jul 16, 18, 8:13 pm
Join Date: Mar 2001
Location: Austin, TX -- AA PLT 2.8MM+ (life PLT); IHG PLT Ambassador; UA Gold
Posts: 5,391
May 23-24, 2018
Flight:Austin, TX (AUS) to San Francisco, CA (SFO); United economy
Flight: San Francisco, CA (SFO) to Chengdu, China (CTU); United 787 economy
My flight didn't depart until 6PM so I had nearly a full day at work. About 3PM just as I was about to head to the airport I got a text notification that my flight was delayed. I had enough time in Houston but my SFO connection was tighter than I'd like. I saw there was an earlier flight to Houston (or the nonstop to SFO) and hoped to make it so rushed to the airport. It was gorgeous weather all the way until I got to the airport when it started raining. Then I get to the parking ticket gate and it wouldn't dispense a ticket. Someone had pulled in behind me and wouldn't get the hint to back up despite my frantic waving. So lost some precious minutes there.
When I get to the parking spot it starts pouring.... so I get to the terminal already hot and sweaty and soaked. Luckily TSA Precheck was quick and I made it to the lounge to check on options... unfortunately nearly all flights were showing delayed or full. Though as the agent is typing they see a spot open upon the nonstop SFO flight (supposedly) leaving in 20 minutes! They said they couldn't do anything so go to the gate, which was way at the end of the terminal. I start at a run and get there even more sweaty, only to find noone manning the gate. There were some people waiting in front of me. Finally the agent shows and they ask about standby and she shakes her head. I went up to ask about the lounge agents seeing availability but she shook her head.
I wasn't sure what to do now. If the Houston flight went out at the new time I probably would still be OK, so I held out hope. But as I was walking away from the gate decided to call United to see what was available. They said oh you are on such and such a flight which happend to be the SFO flight! I asked if it had been ticketed and they said yes it had... but still couldn't pull up the boarding pass on the app (probably visa check). So ran back to the gate and sure enough the agent was able to print my BP (thank you lounge angels!!) and boarded the flight! Of course when the flight departed the skies were clear blue and the rain had moved on..
Taking off from AUS - Clear skies!
The SFO flight was fine and had a great view as we crossed the Grand Canyon. On landing in SFO I now had over 5 hr wait so had a sandwich in the food court and went to the UA lounge in the G-gates. I'd hoped one of the lounges here had a shower, but only the Polaris lounge does and I didn't have access. The lounge was pretty busy when I arrived but started clearing out. The Chengdu flight leaves at nearly 1AM.
Grand Canyon
Landing into SFO
Thanks to Silver status I'd gotten an Economy Plus aisle seat and had an empty seat next to me. The flight wasn't very full but there were 3-4 'emotional support' dogs onboard, two of which got into a fight right next to my seat
I stayed up for awhile to mitigate jetlag. Watched 'I Tonya' and 'The Shape of Water' but finally passed out. I awoke as we were crossing over Siberian airspace. I saw that we would be arriving nearly 45 minutes early and was able to send a text message to the permit courier to let him know I was arriving early. We entered Chinese airspace and coincidentally flew right over Harbin! Even from there it was still nearly 4-hrs flight down to Chengdu.
United Y SFO-CTU
Jul 16, 18, 8:28 pm
Join Date: Mar 2001
Location: Austin, TX -- AA PLT 2.8MM+ (life PLT); IHG PLT Ambassador; UA Gold
Posts: 5,391
May 25, 2018
Flight: Chengdu, China (CTU) to Lhasa, China (LXA); Air China economy
Hotel: Gangjian; Lhasa, China
We arrived about 5:15AM and had a longish walk to immigration. Entry was easy and as I exited to the waiting area the courier was already there waiting. He took a photo of me and the permit (I guess to prove he delivered it!) and took me over to the other terminal where I checked in for my Lhasa flight. It was barely 6AM and I still had 6.5 hrs wait before the Lhasa flight. I had researched some other places to see in Chengdu if the panda visit didn't work out. The metro station was right there in the terminal and by 6:20 I was already on the way (7¥). I had to change to Line 3 at Taipingyuan which was super quick as there was already one waiting. It took about 50 minutes or so from the airport to Panda Avenue (Xiongmao). The metro wasn't too busy and it was interesting to see all the locals. The Chinese are on their phones more than Americans! My last trip to China was in 2007 before smartphones really took off.
From the metro there is a shuttle that runs to the Panda Breeding Center, but it didn't start running for another hour. I didn't see any taxis but there was a rickshaw waiting but a group of other westerners got in it. I started walking towards the center (which was further than I expected, about 4.2kms). Luckily another rickshaw pulled up and gave me a ride the rest of the way for 15¥. Arrived at the entrance right at opening time at 7:30 and there was already a long line of locals and foreigners waiting to buy tickets (58¥). The morning is the best time to visit as that is when the pandas eat and are more active.
The park has several kms of trails leading to the enclosures. You can pay extra for shuttle buses that run around the park. I started walking behind one of the groups and got to the Red Panda enclosure just in time to see one slink off into the foliage. The enclosures are a decent size and lush with greenery. I continued up the hill to another one of the enclosures and caught sight of my first panda lazing in a tree. The main groups hadn't caught up yet so had a few minutes of quiet. There were some younger pandas (Jing Jing & Ni Ni) playing in the next enclosure.
Finally reached the top of the hill all sweaty. It was warm and humid and hadn't had a shower since Austin. Here there were 5-6 adult pandas all having breakfast of bamboo sticks. Was amazing to see so many of them all in one location. You can actually pay to hold a baby panda but it's crazy expensive ($300) for barely two minutes.
The tour group hordes finally started arriving. It was about 9AM so I figured I'd start the walk back down the hill and head back to the airport. At the gate there was a line of taxis waiting but no one spoke English and they didn't understand my trying to say metro station in Chinese. A few people pulled out their phones with voice translation app but even then they didn't understand. Eventually I just got out the GPS and pointed where I wanted to go. Fare was 15 ¥ so the same as I'd paid for the rickshaw! Even with walking down the hill and communication delay I was back at the metro station by 9:30. The metro was busier now and I had to stand most of the way back to the airport. At security they wanted to check my Tibet permit. The airport was busy but they had probably 15 security lines open so it was quick and I was in the Air China lounge by 10:40AM, with still 2 hrs before the Lhasa flight.
The Air China lounge was huge and they started serving lunch at 11AM. About 11:45 I headed over to Starbucks to get my last caffiene fix for the next week. The flight boarded about 20 minutes late. The flight was about 2.5hrs and got a good view of the snowcapped peaks as we were approaching Lhasa. No issues on arrival and I walked outside to meet the transfer driver. He was there waiting with an older American woman. We started chatting about travel and places we'd been. She'd been in China for several weeks already and was heading on the overland trip to Nepal. We were staying at the same hotel. The drive from the airport to Lhasa took about 40 minutes on a brand new expressway. Weather was nice and warmer than expected for the altitude (12000').
Air China Lounge, CTU
AirChina Y CTU-LXA
We passed the impressive Potala Palace on the way through town. Arrived at the hotel and had a look around, there is a cafe/balcony on the top floor. I started feeling the altitude now though, combined with the travel I ended up just going to my room and passing out.
---
Last edited by hauteboy; Jul 18, 18 at

9:37 am
Jul 16, 18, 11:01 pm
Join Date: Mar 2001
Location: Austin, TX -- AA PLT 2.8MM+ (life PLT); IHG PLT Ambassador; UA Gold
Posts: 5,391
May 26, 2018
Hotel: Gangjian; Lhasa, China
I kept waking up through the night, even with melatonin for jetlag. Probably a side effect of the altitude as well. I took some ibuprofen for the headaches. The guide wasn't supposed to pick us up until after 9AM. In the lobby I heard some other tourists complaining about the hotel! It was just your basic Chinese-style hotel, nothing swish but not bad either. I went to breakfast about 8:30 or so, the room was full of other tourists. I met an American couple who were living in Okinawa and the woman from the bus last night, all three were in the same group going to Kathmandu. Breakfast wasn't much to speak of so all I had was a few boiled eggs and fruit juice.
My guide finally shows up and we go around to other hotels picking up the others in my group. A couple of Brits, a Spanish guy and a Chinese/Finnish couple, so only 6 of us today. The tour plan changed and we would visit Drepung and Sera monasteries today. The Drepung monastery is on the western outskirts of Lhasa and is the largest in Tibet. We walked up some steps (pant pant) past the incence burners. Visited several of the temples there which are still very much in use by local worshippers. Unfortunately they don't allow photos inside the inner chambers, but they were amazingly decorated with Buddha and Lama statues, lit dimly with butter lamps. Locals made offerings of 5 jiao notes (roughly $0.75) and butter for the lamps. I had been to Bhutan previously so some decoration was similar but the temples here were much busier. We climbed up the hill to see the platform where they unroll the thanka (tapestry) during religious festivals. I was ahead of everyone till my energy ran out!
Potala Palace
Drepung Monastery
Drepung monastery
After leaving the monastery we went to lunch near Sera monastery. We arrived after the other groups had already eaten up the food so we had to wait while they prepped more. And wasn't too impressed with the food, barely tepid hot dogs and greens.
Sera Monastery was our next stop. They had some preserved mandalas (sand paintings) in one of the buildings but you had to pay an extra 10Y to take photos. The mandalas take several weeks to make and are destroyed immediately on completion.. showing the impermanence of things. Another room at the monastery had old books. The highlight of the visit though was seeing the debating monks. It's quite an active scene with monks yelling and slapping their hands and feet to debate points of scripture. It's like a final exam to graduate to the next level. The courtyard was surrounded with Western tourists, you can't use cameras but oddly you can use your phone.
Mandala
Debating monks, Sera Monastery
After getting dropped back off at the hotel and paying the balance of my tour I still really wasn't feeling hungry so just went to sleep instead.
Jul 16, 18, 11:20 pm
Join Date: Mar 2001
Location: Austin, TX -- AA PLT 2.8MM+ (life PLT); IHG PLT Ambassador; UA Gold
Posts: 5,391
May 27, 2018
Hotel: Gangjian; Lhasa, China
Met the Americans again at breakfast. I had seen them at Sera monastery yesterday so it seems pretty much all the tours do a similar itinerary. Today we were going to visit Jokhang Temple and Potala Palace. Our driver was late so the guide showed up and had us walk over to the Yak hotel, then another hotel to pick up the others. We had a different guide today for some reason but his English was a bit harder to understand. Turns out he had been living in India for over 20 years and knew Hindi and Tibetian but not Chinese!
The Jokhang Temple is the heart of Old Lhasa and considered the most sacred in Tibet. Though there is now a Burger King located across the square so I guess that detracts a bit. You have to go through a metal detector/xray when entering the pedestrian area. Worshippers walk clockwise around the temple, prostrating themselves on the street, getting back up and doing it all over again. They do this for hours at a time. Some were wearing kneepads and hand protectors. There was also a fairly heavy police presence here. We did the circuit around the temple and our guide pointed out a building where a former Dalai Lama had spent a lot of time, supposedly it was a bar and the waitress looked like his mother. Or that's what our guide said anyway.
The temple itself was crazy crowded inside but again had amazing artwork and butter lamps, etc. So many Buddhas, past, present and future. We walked to the Tibetian Family Restaurant for lunch but they were closed. Then another restaurant was closed as well, so ended up back at the Yak Hotel for lunch. A nice restaurant though and I just had to try a yak burger.
Yak burger
Our entry time for the Potala Palace was for 2PM, and you only have 1hr to go through. We still got there early so had a bit of a walk in the park across from the Palace. We started the climb up about 1:30, moof so many steps. The palace is about 200' higher than the valley and at 12000' you feel every one of those steps! We made it in time though and went through several rooms in the palace including former Dalai Lamas waiting rooms and audience halls.
It was just starting to rain as we came out the other side for the (easier) walk down the hill. The driver was stuck in traffic somewhere and when he eventually showed up the minibus wouldn't hold all of us! They had to send the Brit couple back to a hotel in the taxi, supposedly they were leaving tomorrow so I didn't get to say goodbye. The guide had mentioned a cultural show that evening and the Chinese girl was able to book discount tickets for three of us using an app on her phone!
Back to the hotel where I had a few hours free before meeting the others for dinner. Tomorrow we would be going to Shigatse and I wanted to find my boutique hotel, it was a few blocks away in the streets of Old Lhasa. I'd marked it on my GPS but when I got there it was an empty block full of rubble!! I had passed their sister hotel so went back there and they were able to lead me to the right place, whew!
From there I wandered back to Barkhor Square circuit. It's just an amazing place to people watch with locals spinning prayer wheels and sitting on benches, tourists all mingling together. The streets are surrounded with shops selling souvenirs. I walked around the circuit a few times until it was time to head to Tibetian Family Kitchen for dinner. The food was excellent and we ordered way too much. Our guide was tired (he had just come in from EBC the day before) and bowed out of going to the culture show but arranged a taxi that would take us to the theater and wait for us.
The show was actually in a huge open-air theater on the southern side of town. Very busy and it was mostly Chinese tourists. Our guide had said something about wearing coats and we saw lots of people wearing these thick jackets. Our seats were in the VIP section with a good view. The performance really was amazing, telling the story of a Chinese princess traveling to marry a Tibetian king. Hundreds of performers, elaborate set changes, and even live yaks and galloping horses. Then came the part about crossing the Tibetian plateau in winter and they actuall made snow fall in the audience! Not much fell where we were but the seats in front of us got very cold! Quite an elaborate production.
Jul 19, 18, 12:15 am
I guess everyone knows which partof the report I enyojed most
Sep 14, 18, 3:56 pm
Join Date: Mar 2001
Location: Austin, TX -- AA PLT 2.8MM+ (life PLT); IHG PLT Ambassador; UA Gold
Posts: 5,391
Time to get back to this...
May 28, 2018
Hotel: Tashi Choeta; Shigatse, China
Today the tour was going out of Lhasa via Yamdrok lake to Shigatse, about 360kms. It was just going to be myself and another couple from Singapore on the trip today which meant lots of room in the minibus. We drove over to the Shangrila hotel to pick them up before going out of town towards the airport. Eventually we start climbing up towards the pass via switchbacks. Alongside the road were locals poised with huge Tibetian mastiffs, or maybe they were bear lions. We stopped for a few minutes at one of the overlooks and I got a picture with one of them.
Tibetian mastiff
Guide having a tea
Finally we reach the top of the pass and stop for photos of Yamdrok Lake below us. The pass was 5000m or over 16000' and there were people riding bicycles! I could barely walk without huffing and puffing so I don't know how the bikers made it. It had started snowing while at the pass so the view of the lake wasn't the best. We continued down to the lakeshore and stopped again. Here there were locals with decorated yaks also posing for photos. We continued along the shore of the lake to the town of Nagarze where we had lunch. That must be the place to stop as there were other groups there including the couple from my hotel in Lhasa. I had the yak fried rice.
Yamdrok Lake
Kitchen in Nagarze
Nagarze
We continued to the Kharo-la Glacier which was mostly shrouded in mist. Our guide said that it had retreated nearly a quarter mile in just a few years. It was also snowing here. From the glacier the road continued down until we came out of the mountains.
Kharo-la Glacier
Kharo-la Glacier
The sun finally came out for awhile until we reached Gyangze when it started raining. It made a great photo with the dramatic fort (dzong) on the hill above. Gyangze was the site of a battle between Tibetians and the British in the early 1900s. At first I thought that was where we were going to visit, but turns out the Palcho Monastery was at the north end of town. We had to do a bit of detour as they were repaving the main street with cement blocks. The houses all had very low doors and piles of cow dung for heating. The Palcho Monastery was set in a bowl of a valley with a red wall surrounding the ridges above. The monastery was the first one we had visited where they allowed you to take photos inside if you paid 50Y. There were some amazing sand mandalas that the guide said the monks had been working on the last time he visited.
Gyangze dzong
Palcho Monastery
From Gyangze it was still another two hrs drive to Shigatse. We dropped the Singaporean couple off at their fancy hotel before going to the Tashi Choeta hotel. I was pretty exhaused after the full day so just had dinner at the hotel restaurant. No one spoke much English so there was some fumbling around with the translator on the phone to even order anything. I ended up with beef noodles and some sort of saurkraut like dish.
---
Last edited by hauteboy; Sep 15, 18 at

2:33 am
Sep 14, 18, 4:20 pm
Join Date: Mar 2001
Location: Austin, TX -- AA PLT 2.8MM+ (life PLT); IHG PLT Ambassador; UA Gold
Posts: 5,391
May 29, 2018
Hotel: Shambhala Palace; Lhasa, China
Today we were driving back to Lhasa, but along a much shorter route. We got a relatively late start at 8:40AM. It was raining this morning unfortunately. After picking up the couple at their hotel we went to the Tashilhumpa monastery. Despite the rain it was quite busy here with local worshipers. There were queue minders dressed in orange jumpsuits that were keeping everyone in line.
We left the monastery by 10:30, driving quite a ways south of town to connect with the new expressway which runs out to the airport. The train has now been extended from Lhasa to Shigatse. I think it would have been neat to catch the train back instead of the drive. The train route was quite impressive with long bridges and tunnels. We continued continued along the Yarlung river. At one point the mountains closed in and the river was rushing through a narrow gorge. We stopped for lunch at a roadside house, more yak with potatoes. Pretty good actually, especially for $3!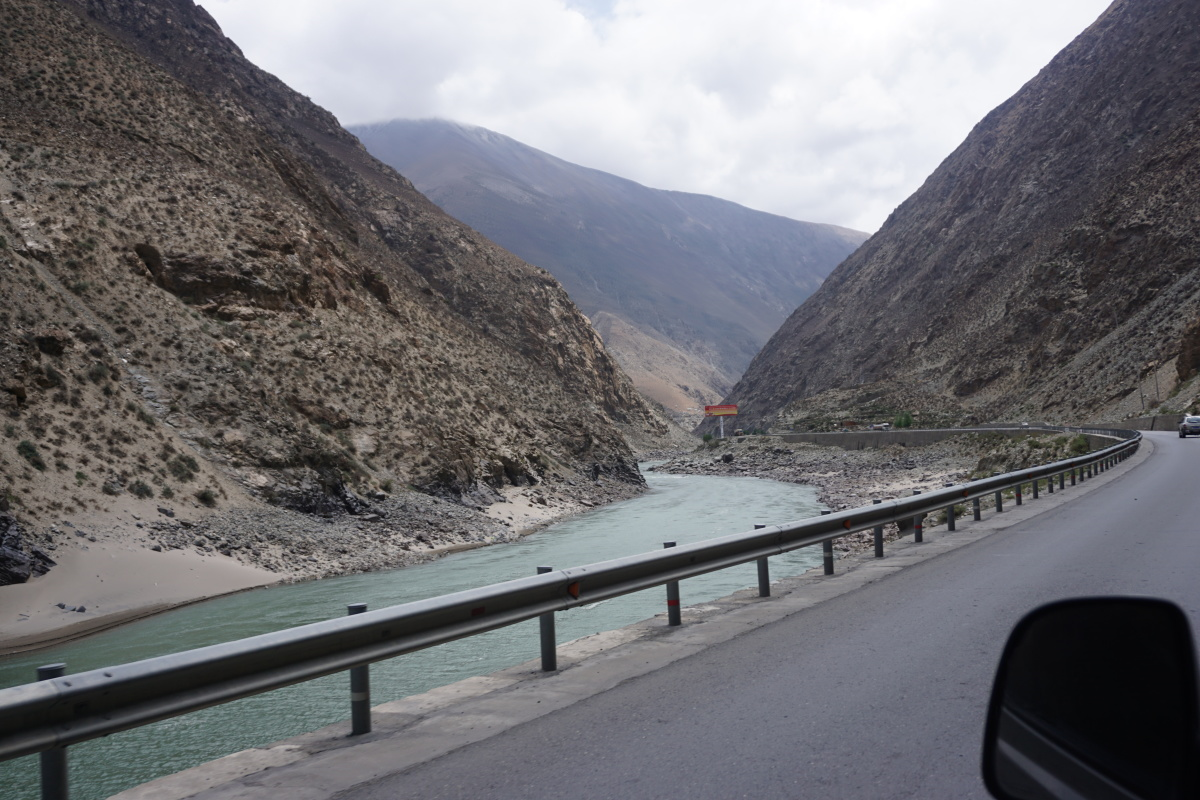 We finally got back to Lhasa about 4PM. I walked from the Ganggyan to the Shambhala Palace, good thing I had scouted out where it was a few days ago! The room was gorgeous with a cavelike bathroom made of flagstones. There was a great view out from the rooftop terrace. There was some event going on at the school nearby.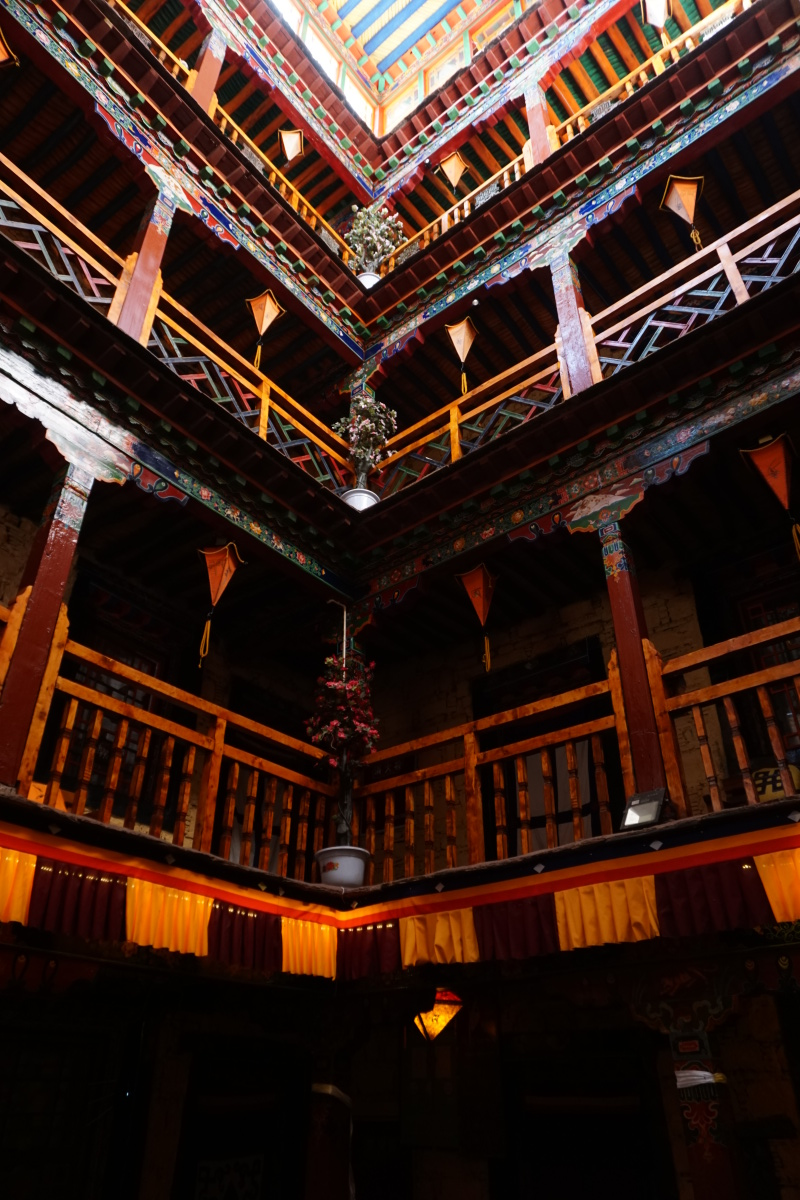 The weather was quite nice so I wandered out through Old Lhasa and did a few circuits around Bakhor street. All the other poeple on my tour had left already so it was nice to get some exploring time on my own. For dinner I went to the Tibetian Family Kitchen again.
Sep 14, 18, 4:58 pm
Join Date: Mar 2001
Location: Austin, TX -- AA PLT 2.8MM+ (life PLT); IHG PLT Ambassador; UA Gold
Posts: 5,391
May 30, 2018
Flight: Lhasa, China (LXA) to Xi'an, China (XIY); China Southern economy
Flight: Xi'an, China (XIY) to Sanya, China (SYX); Hainan economy
Hotel:Royal Begonia; Sanya, China
Today was my last morning in Tibet. I had an early morning flight to Xian, conneecting to Sanya. I still hadn't booked a hotel for this evening and made a last minute booking at the Luxury Collection Royal Begonia. Sanya is China's version of Hawaii and there are now many resort hotels, all quite reasonable priced.
My hotel included breakfast but unfortunately had to leave before they started serving, but they were able to put together a boxed meal. I walked back to the Ganggyan to catch the shuttle to the airport. There were a few groups around and I didn't see my guide anywhere so I wasn't sure if I was getting on the right bus or not! It had snowed in the mountains last night so leaving town I got my final glimpse of the Potala palace surrounded by snowcapped peaks.
I hadn't checked flight status and when I got to the airport I noticed my flight was showing a significant delay. I hoped I still had time to make the connection in Xi'an. But the clock kept ticking and my flight kept getting delayed more and more... they claimed an air traffic delay and there were several military jets taking off. There were other flights to Xi'an but they wouldn't let me switch to another flight. I guess Lhasa airport has probably changed since there is now a Burger King there.
Finally we take off over three hours late. We land 30 minutes after my flight to Sanya was supposed to depart. We taxi to a remote bus gate. As I am deplaning there is someone there asking if I was on the Sanya flight, they say 'oh you will most likely make it'. But then the bus makes a huge detour all around the airport, taking another 20 minutes. Then I find out the Sanya flight actually left 30 minutes early, so it was long gone.
So now not sure what to do. I had originally booked the ticket with FlyingBlue miles, but it was different airlines (China Eastern -> China Southern). So first go to China Eastern service desk, eventually they write up a delayed flight order and tell me to take it to China Southern. They only have one flight a day to Sanya so I'm looking at a 24-hr delay. They offer an overnight hotel but I have to pay extra if I don't want to share a dorm room...
Meanwhile I'm checking flight schedules and see there's a Hainan airlines flight that evening to Sanya. I tried booking online but then just went over to the other terminal and ask at the ticketing desk. They offer a last-minute flight for $55. Sold! So plans aren't totally ruined but I will arrive into Sanya nearly 5 hours late.
I now had a few hours to wait until the Hainan flight. There was a small Priority Pass lounge available. The flight on Hainan was good but it was nearly 1AM when we finally landed in Sanya. Despite it being so late the airport was busy and had to wait in a huge taxi line. Finally I get a taxi. I had GPS to the Begonia hotel but was concerned when the driver started going in the wrong direction. But turned out he just needed to fill up the CNG tanks! The Begonia was about a 45 minute drive from the airport even on the expressway.
Finally get to the hotel and checkin, I get to my room and am blown away to find it has its own private pool! At first I thought it was an upgrade, but I guess in my rush to book this morning I never realized I'd booked a pool room! It didn't matter that it was 1:30 AM, after the long transit day, I went for a swim!
Private pool! Oh yeah..
---
Last edited by hauteboy; Sep 14, 18 at

5:06 pm
Sep 14, 18, 7:32 pm
Join Date: Mar 2001
Location: Austin, TX -- AA PLT 2.8MM+ (life PLT); IHG PLT Ambassador; UA Gold
Posts: 5,391
May 31, 2018
Hotel: Sheraton Four Points; Sanya, China
This morning was gorgeous clear blue skies. I had a walk around the grounds of the hotel which was stunning. Huge pool with 'romantic' island table for two. I continued walking down to the beach which had a huge 'no swimming' sign. But it looked amazing with sand and clear blue water that was smooth as a mirror this morning.
I continued my walk around the grounds before heading to the restaurant for breakfast. One of the best buffets I had seen in awhile with a great selection of dim sum, croissants, western breakfast and 4 kinds of congee. All the other guests are Chinese families and I'm the only westerner. As I'm eating breakfast the Swiss manager comes by and chats with me to make sure everything is going OK. Yeah I like this place...
After breakfast I went for another swim in my room then went down to the beach and splashed around in the water awhile, no swimming sign be damned. Water was the perfect temperature and the beach wasn't busy at all. I splashed around for about 45 minutes. Yeah, I like this place...
I'd only booked the one night here as I planned to head into Sanya city this evening and had a booking at the Four Points. I was regetting that decision! I'd asked for a late checkout at 2pm at least. The hotel had a mango high tea with pastries and sandwiches which was delicious. Yeah, I like this place.
All too soon though it was time to leave. The hotel has a shuttle to the airport that stops at several other hotels. After seeing the Sheraton and Westin I was doubly glad I had booked the Royal Begonia. Once I arrived at the airport, I booked a ticket on the airport bus to shuttle to the Four Points. I didn't realize it ran every hour though and had just missed the last one, so had a 40 minute wait before we left. The bus ran right past the Four Points though so that was convenient.
At checkin, they gave me an upgrade to the 27th floor and two drink passes for the lounge! Great view out over the beach below and I could even see the southernmost point in China. I went up to the lounge for a bit until I went out for dinner.
I had read of the live seafood markets in Sanya, you go and pick your own seafood and they cook it right for you. I caught a taxi down to the night market area but it took a few minutes to find the right street. I was wandering along looking at the different things available (clams, abalone, lobster, etc) and a tout came up and took my order. I chose a lobster, scallops and abalone.
I sat down in the restaurant to eat. While I'm waiting the power goes out! It stayed off for awhile and eventually see people coming out of the kitchen with food and going across the street, where there the lights were still on. They finally come back with my cooked order while I sit there eating lobster in the dark!
Taxi back to the hotel and went back up to the lounge for a great view out over the city skyline. There were some buildings with animated LED lights that were displaying shifting images.
Sep 16, 18, 8:27 am
Join Date: Feb 2018
Location: NYC/WAS
Posts: 112
Very nice TR. Did you experience any elevation sickness while in Lhasa?
Sep 16, 18, 10:38 am
Join Date: Oct 2015
Location: St. Paul, MN
Programs: Delta GM, IHG Gold, HH Silver
Posts: 283
Amazing report and photos so far. So great to follow along on your trip!
Sep 16, 18, 1:25 pm
Join Date: Dec 2010
Location: LHR
Programs: Accor PLT,Thai Silver, HH Dia, SPG PLT (LT Gold), TK Gold, M&M S, BA Silver, Hyatt Dia
Posts: 4,268
Nice report. How expensive was food and drink in Sanya?
Sep 16, 18, 7:52 pm
Join Date: Mar 2001
Location: Austin, TX -- AA PLT 2.8MM+ (life PLT); IHG PLT Ambassador; UA Gold
Posts: 5,391
Not as much as I expected considering usually I don't do well at altitude. Mainly I will get splitting headaches but I'd brought along some 600mg Ibuprofen pills which seemed to do the trick. I still was huffing and puffing when climbing stairs. The first afternoon there I felt pretty worn out but that could be just because of the long travel time getting there.
Sep 16, 18, 8:39 pm
Join Date: Mar 2001
Location: Austin, TX -- AA PLT 2.8MM+ (life PLT); IHG PLT Ambassador; UA Gold
Posts: 5,391
Jun 1, 2018
Flight: Sanya, China (SYX) to Guilin, China (KWL); Hainan economy
Hotel: Secret Courtyard Resort Hotel; Guilin
An early morning wakeup and taxi ride to the airport for my 8:30 flight to Guilin. Unfortunately that was too early for breakfast at the Four Points. I was able to checkin then joined one of the 13 security lines. There is a Priority Pass lounge in Sanya but there wasn't much choice for food. Boarding was supposed to be at 8AM but the agent came running in at 7:45 and said my flight was already boarding! It turned out we had a bus gate instead of a jetbridge so that must be why they started early.
HU SYX-KWL
Priority Pass Lounge Sanya
The flight to Guilin was quick and the airport here was quiet by comparison to Sanya. I had contacted my hotel for airport pickup and the driver was already waiting for me. I had checked the weather for Guilin for the next few days and it didn't look good. Sanya had been clear but this is start of rainy season for Guilin. It was overcast and had rained recently but luckily now it had stopped. It took about 45 minutes to drive to the hotel, passing by building built among the towering karst hills. The hotel was a gorgeous little boutique hotel in a village on the west side of Guilin.
The weather still wasn't looking the best so had a bit of a sleep before a noodle soup lunch at the hotel. One of the attractions I wanted to see was the Reed Flute cave which was nearby. I asked about it at the hotel and they said they could buy my ticket (110Y) and show me the way there. There was a trail going along the edge of the river that ended near the caves. The caves were illuminated inside with colored lights which made for some amazing views. There were a few other tours in the cave including some Germans and a Chinese group.
Fried yarn!
Beer Duck
I walked back to the hotel and fell asleep again! So much for getting much done in Guilin. Tomorrow I had a booked full-day river cruise to Yangshuo. I had the hotel call the tour company to see what time for pickup (I assumed about 8AM). For dinner I ate at the hotel again, having the local speciality beer duck. I still hadn't heard back about pickup time.
---
Last edited by hauteboy; Sep 16, 18 at

8:52 pm