Solo Trip - Patagonia
Jul 14, 18, 8:02 pm
Join Date: Sep 2016
Posts: 143
Solo Trip - Patagonia
---
First Trip Report!
Background:
Girlfriend and I originally planned a two week trip to New Zealand and French Polynesia on a great deal with Air Tahiti Nui in late November 2017 ($700 with a free stopover in New Zealand RT from LAX). I typically like to travel during Thanksgiving since A) usually everywhere but the US is less crowded since everyone is at home celebrating, B) its almost always cold in NY and C) I'm American so I get practically no vacation time and I usually get an extra 2.5 days off due to the holiday. In Summer of 2017, we find out were having a baby. Ahhh... panic, anxiety, excitement and lots of other emotions really. I was really looking forward to this trip but my girlfriend worries about everything and her doc considered it high risk to be so far from home that late into her pregnancy. So besides a baby, Mrs. atojbk
suggested (*cough demanded)
we get married before the baby came, it so happened to be in November as well. Countdown to end of my single days, I needed one last hoorah before the end of days. It was tough last minute to gather up any friends (adult life sucks) so I decided to do it solo. I've always wanted to go to Patagonia and I figured with a baby coming, it would be quite awhile before she (its a girl!) would ever come with.
Routing:
JFK -> PTY ( Copa Airlines)
PTY -> SCL (Copa Airlines)
SCL -> PUQ (SKY Airlines)
Punta Arenas -> Puerto Natales (Bus Sur)
Puerto Natales -> La Torres National Park
Puerto Natales -> El Calafate
El Calafate -> El Chalten (Las Lengas)
El Chalten -> El Calafate Airport
FTE -> AEP (Aerolinas Argentina)
EZE -> EWR (United)
I'm still gathering up and organizing pictures since I have almost no time as a new Dad. Big changes, here are some preview pics!
Jul 15, 18, 12:19 am
Join Date: Mar 2016
Location: SBA and LAX
Programs: AA, UA
Posts: 328
I am so looking forward to this. I am doing LAX-LIM-SCL-PUQ- Puerto Natales - TDNP (The W) - FTE/Perito Moreno - USH - AEP/EZE - LAX around Thanksgiving 2018. So far all I have hiking permits, campsite permits and flights in and out.

From your pictures, it seems like you went up hiking on the glacier. Fun!
Jul 15, 18, 7:23 pm
Join Date: Sep 2016
Posts: 143
JFK -> PTY ( Copa Airlines)
Check-in at JFK required me to show me leaving Chile at some point. Wasn't expecting that so luckily I had internet to show my bus ticket towards Argentina. I packed extremely light so no check-in for me. Here is my packing list:
1 sweater
1 fleece
1 waterproof jacket
5 pairs of underwear
2 pairs of pants
3 pairs of socks
1 pair of Hiking Boots
1 pair of casual shoes
Toothbrush/paste
A few tiny soaps
Phone Charger
GoPro
Daypack
and a dream!
Ended up going to the SWISS lounge to kill time which was completely dead.
Slept pretty well considering they are pretty much domestic J seats and arrived in Panama City in the early morning. I juggled with the idea of doing a 5 hour tour but hearing how bad the traffic was, I decided to just hang out at the lounge. Lounge was terrible, couldn't even find forks or spoons? Sorry for the lack of airplane pictures, not missing much. There will be plenty of pictures coming up.
PTY -> SCL (Copa Airlines)
The crew was much better and it really felt like I was flying a completely different airline. See Copa showtime and my seat below.
Santiago - Holiday Inn Airport
Arrived late at night and was indifferent about visiting downtown during the late night. The Holiday Inn is directly across the street from the airport, super convenient. They had a big giant clear divider by the entrance of the hotel that was only accessible by keycard. Never seen that before. Ended up ordering room service which wasn't bad. A shower after a full day of traveling is simply divine. No pictures of the hotel or room, sorry!
SCL -> PUQ (SKY Airlines)
Punta Arenas - Hotel Rey Don Felipe
I had a nice 6am flight and slept pretty well the night before. Muffin from Starbucks at the airport, bleh. Plane was half full and was only a 4 hour flight down to Punta Arenas. I slept almost the whole way which is rare for me.
View from the sky
Ending up taking a cab from the the airport to town, approximately 15 minutes. Punta Arenas is a tiny town in Southern Chile by the water. I wouldn't say the town is kind of crummy but I got really bored here. Most people come here for the penguin tours or go straight to Puerto Natales but the weather was not on my side. My penguin tour ended up getting canceled due to the high winds and rough seas. Not a great start to the trip considering I've been traveling for two-three days and I've seen nothing! Ended up walking around and found some empanadas for breakfast. Pretty tasty stuff for $1 USD.
breakfast
sushi anyone?
deserted...
Went to check out the bus depot just to see where my bus was leaving from. Picked up some chilean chocolate for the hike which was a lifesaver on 10 hour hikes. I kind of regretted staying here for so long to be honest, I was literally bored out of my mind. At around 7pm, almost every restaurant I wanted to try and went to was closed or too far away. Started to pour as well so I ended up eating at the hotel.
hot tub at the hotel, which I didn't get to use.
light ceviche dinner
Went back to the room after and knocked out early. Pretty disappointing trip so far at this point.
Punta Arenas -> Puerto Natales (Bus Sur)
Since I knew penguin tour was going to get canceled this morning, I decided to head to Puerto Natales earlier. Went to the bus depot early to exchange my ticket which was fairly easy, I had pre-booked my ticket online prior. It was a 3 hour bus ride on a pretty nice coach bus. Ride was pretty comfortable, the buses were pretty modern actually. It was quite nice to see the countryside for a bit. I also forgot to take pictures, doh!
Puerto Natales - Singular Patagonia
I decided to splurge a bit here instead of staying near the bus depot where I had a early bus to Torres National Park in the morning since I wasn't sure when I'd be able to travel again post baby. A rep from the hotel was waiting outside the bus with a sign and it was about a 10-15 min drive to the hotel. (I called in to let them know I changed my bus) Puerto Natales had some great views and I was really getting excited. The hotel is very secluded and out of town. It used to an old storage facility and they did a really good job embodying that. One of the coolest hotels Ive ever stayed at.
nifty elevator to transport you to the front desk
Check-in was very easy, since I got in early, I decided to do an excursion with the hotel to maximize my day.
check-in area
old machinery
walk towards the rooms
hotel used these buildings as catering parties
Ending up staying on the 1st floor, room 105:
I can look at this view all day long..
Amazing room views and heated floors was a great touch. I was beyond hungry at this point. The dining area was very nice along with the lounge/bar area.
The food was featuring really all local products. Pretty shocked how great the food was and I'm the biggest food snob you'll ever meet.
cauliflower soup
seafood pasta
Another great touch by the hotel was that you can meet your personal guide (the night before) or day of in my case to discuss what you want to do and what excursions were available. There is a minimum # of people required so I couldn't pick and choose. I thought that was a nice personal touch. Ended up doing a Condor bird viewing which didn't sound so great to me at first to be honest. Nothing against birds or birdwatchers but i didn't come to Patagonia to bird watch.
After lunch, went back to get changed and met up with the guide and one other solo traveler. He was an American from Chicago in the Finance industry who just came from Annapurna on an expedition and made a stop here before heading to Antartica. (So jealous) It really puts things into perspective how much I want to do in the world. Our guide was extremely friendly, knowledgeable and from the area actually. Since we were both experienced hikers, we decided to bushwhack all the way up to the condors nest on top of the mountain. I figured it would be a nice warmup hike before tomorrow. I didn't train for this trip because it was so late minute and it really showed.
Some views going up:
Uphill is typically harder for me and I barely made it up. 3 hour hike turned into an hour with our pace. This is a little concerning lol
Finally reaching the top, I finally got a taste of true Patagonian weather. Zero visibility, pouring rain and winds that could blow me off the mountain. Literally sunshine 10 minutes prior. We did see some condors which was cool but it wasn't very life changing for me. I get that the usual clientele at this hotel are typically older and not as mobile, but it was really nice to see some scenery that I was looking forward to after so much traveling.
Once we ran down the giant hill, our driver had wine, beer, cheese and snacks waiting for us. Much appreciated!
Back to the hotel, after a nice hot shower, I decided it was time to check out this beautiful hotel and hit up the pool.
room hallway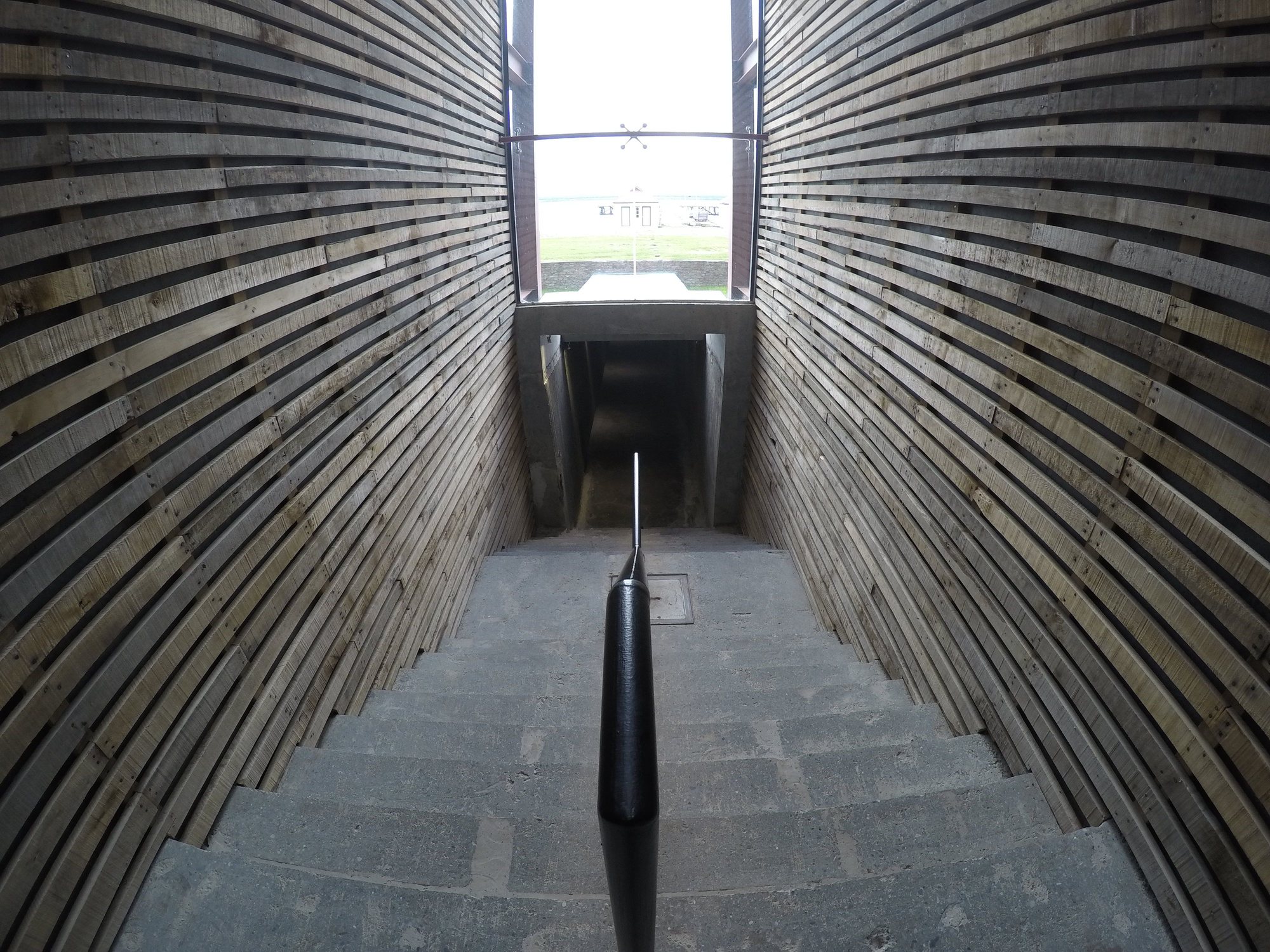 entrance to the spa
Love how unique it is! I think I may have a thing for concept hotels now. The pool was tiny and you have to be a brave soul to go out there with those Patagonian winds. They really do whip. Hung out at the pool for a bit then time for dinner of course.
scallops au gratin
lamb chops! I also had dessert, but didn't want you guys to judge me.
I had an early morning and a long day planned so wanted to crash early. I don't really mind dining alone, after living in NYC my whole life. Its kind of relieving not to be around anyone. Off to Torres National Park tomorrow!
Jul 15, 18, 8:07 pm
Join Date: Oct 2017
Posts: 62
Getting down there is a pain, but I'm sure you found it worth it in the end. I was able to get to TdP a little more directly. I flew on to Punta Arenas the same day my flight landed in SCL, then caught a bus that same evening on up to Puerto Natales (direct from the PUQ airport). From your description, I'm glad I didn't spend a night in Punta Arenas. Cool that you splurged on Singular!
Jul 16, 18, 5:36 pm
Join Date: Sep 2016
Posts: 143
Puerto Natales -> Torres National Park
Torres National Park - La Torres Hotel
Torres National Park - Frances Camping Ground
Since I was gonna come back to the same hotel after two days in the park, I ended up leaving some items there so I wouldn't have to bring so much. I packed extremely light this trip, it was still heavy as f*ck. There are only a few companies that do buses to TdP. I ended up booking the bus the day before when I arrived in Puerto Natales from Punta Arenas. Adrenaline was kicking in as we got closer to the park. I've never seen so many backpacks in my life.
The beauty of Patagonia really kicked in as we got closer. Once at the park entrance, everyone had to get out and get the park permit. This took forever, ended up taking over an hour.
fyi, leave your backpack in the bus. They don't go anywhere for quite awhile
From there, you had a choice to take the same bus to the other side of the park (depending on your ticket) or take another bus to the La Torres Hotel where I ended up staying for a night. It was very expensive but loved the convenience. Supposedly the bus is free for hotel guests but I didn't coordinate and ended up paying for a public one. Driver spoke only Spanish and I didn't speak a lick of it.
Even worse news, the public one took me to the visitors center instead of the hotel...which was a 20 min trek. Fack. La Torres Hotel is right by the entrance to the trail to the towers hike which would of helped immensely.
walk of shame..
Finally getting to the hotel, I was already behind schedule. Ordered lunch to go and brought out my daypack. Right away, the views were excellent and the weather was great. 10 minutes later, I was definitely huffing and puffing. The glacier water in the mountains are very clean and fresh and encouraged to drink off of. I always carried two bottles of water at all times but it was very nice not to have to carry so much water with me.
Up up up
everything needed to be transported by foot or horseback to the campsites.
Finally came to a nice valley viewpoint, was hard to enjoy because I was afraid of time and the weather.
I had to walk all the way over there..sigh
Still had long way to go... Its by far the most popular route but never that packed in one area. There are always times during these long hikes where you question why you even do this. You promise yourself you'll never do another one but that never holds up. That's pretty much how I felt at that point. Another hour later, I finally reached one of the campsites or the 'halfway point' as I called it to the towers. Most people spend the night here and hike early in the morning to see the sunrise of the towers. You also get the option to drop off your bags and hike to the towers in the afternoon you get two opportunities to see clear views of the towers.
snack time
The second half of the hike was way prettier. You can see the terrain really change and see into the towers almost. I was pretty exhausted by this point but I knew I had to at least get there. The last kilometer was all up hill and it was definitely straining.
An hour later, i made it!
Pretty amazing and the pictures really don't do justice. Felt really relieving and happy to do this hike and trip. Lots of self reflection until i remembered i had to hike back.
all to myself
Times like this when i wish i could hang glide back to the hotel. Some reverse pictures on the way home. Me and a Korean grandma kept passing each other on the way down, she made me look really out of shape.
waterfalls!
brutal...
Felt good to see solid ground. Back to the hotel, definitely ready for a shower and food.
so glad to see you horsey!
Another big reason, I ended up paying over $300 USD for this 'luxurious hotel' was having real hot shower and real food afterwards. Definitely did not want to carry food on this hike or eat camp food. Some pics of the hotel:
room hallway
11pm sunset
guest area
My meal along with some Chilean vino. The views outside were amazing.
Sun still up at 10pm
Wish I had more time to relax but had a nice 15 mile hike tomorrow morning. Joy!. Slept like a baby and packed up again. Had to bring the full bag this time, I really wish I brought walking sticks. Probably the one thing I forgot at home which would of saved my knees.
Morning breakfast:
The hike started off very easy and was incredibly beautiful. Mountains and wild hares running around in Patagonia. Life couldn't get any better than this.
Towards Lake Nordenskjöld. Amazing..
Views
Definitely my favorite trail of the whole trip. Saw lots of ppl really speed hiking. Quite amazing to watch. Time for lunch (bought from hotel)..let me just say, every hotel that sold lunch (Chile or Argentina, was god awful.
About three hours from camp, I get every hikers worst nightmare. My boot literally broke. Really silly rookie mistake from me. Had these boots for 10 years and forgot i bought new ones before this trip. Had no duct tape and nobody had any either. (Even the camp sites and rangers) It was quite difficult to hike after that. I had some mesh shoes with me but i would literally feel every rock. Really fortunate for long daylight hours as i moved like a snail and basically hiked with one foot. Really tried to stay positive and enjoy the views.
Lots of waterfalls!
I was really thinking to myself, I'm literally stuck in the middle of Patagonia and the only way out was 30 miles of hiking. Finally made it to the first campsite, Refugio Cuernos. There's no feeling when you're so frustrated and nervous to feel a sense of safety. Drank some water and calmed myself down. The campsite was really nice, was expecting a dump from reviews online. Except I wasn't staying here. They didn't have any duct tape here either. After an hour of cursing, finally hiked the last 30 minutes to my campsite, Refugio Frances. Made a stop here at the beach. Needed to tell myself to relax and enjoy these moments, even if I lose feeling in one foot.
Fortunately with my luck, the campsite house was way down by the water and the tents were way uphill. Which does make sense, but I thought I had to check in down there but nope...had to hike back up to check in. Ugh. And the 'premium tent' I booked were of course at the very very top. Here's my lodging for the night, roughly $150 USD.
The showers/bathroom were of course downhill and quite nice actually. Forgot to take a pic due to fatigue. Felt miserable climbing back and forth just for the bathroom. My premium tent came with dinner and breakfast. Turns out lots of staff from the park were on strike and they barely had any supplies. They bring supplies by foot or horseback only. We were promised a three course meal but all we got were frozen string beans (appetizer) and soup with bread with pudding in the end. Gourmet for sure. Spent the rest of the night chewing on my tongue. Took awhile to fall asleep and it started to pour. Got pretty chilly and wore everything I owned that night. Woke up for breakfast and got bread and jam. The perfect breakfast for another 20 mile journey! Due to me not having one shoe, I decided not to hike the French Valley, very sad. I made my way to the last camp instead and decided to take it easy before the ferry back to civilization.
Route I eventually did. Sad to not finish everything.
Really hurts not being able to accomplish everything, especially because of a damn shoe! Hiking back out had some awesome views and it was quite sad leaving all this behind. Midway through my hike, my shoe finally deteriorated. I tried my best to keep hiking with it to avoid my mesh shoes. My foot and leg were definitely in a lot of pain by that point.
Towards the French Valley
My favorite picture, love the contrast of greenery and snow capped mountains behind it.
Felt like Frodo ha.
The last two hours ending up pouring and was miserable to hike in. Finally saw the lodge (Paine Grande) and felt so relieved to make it with no boots. The cafeteria was closed so I ended up searching their grocery store. This was a huge campsite with actual rooms so they had all the luxury items, even WiFi. Felt weird seeing all these luxury items. Decided to buy my glorious meal and a coke! I ended up having two of each and felt like a human again.
rain coming in..
went back and bought 2 more.
I had about 5-6 hours to kill so I decided to buy their wifi. Yes, I repeat WiFi in Patagonia. It was actually quite fast too surprisingly. It was raining non stop so I really did not want to sit outside in the rain to enjoy the views. The place got filled up very quickly. A little worried not everyone would make it on the last ferry. By 8pm, the ferry arrived an hour late thus making me worried I'd miss my bus back to Puerto Natales and my pickup back to Singular Patagonia. Once the ferry came, everyone ran to line up in the rain and waited in artic temperatures. I literally put everything on and still froze. Finally everyone did make it on but we were definitely breathing on each other in NY rush hour fashion. Literally kissing the dude next to me and everyone had a huge backpack of course. Luckily, the buses were there waiting still. I ended up being the last one on the bus and knocked out the whole way. You get assigned seating so nobody can steal your seat. The ferry ride on the lake was very pretty from what I read, but the weather and space literally forbid me from seeing a thing.
Got back to the bus station by 10:30 and nobody from the hotel is waiting for me. I had no signal the whole time in the park and I did try to email the hotel. I called the hotel said they said I was two hours late. Well duh. I honestly figured the hotel would be aware of things like this. I ended up taking a cab instead because I was exhausted and tired. Dining room closed at 11 but luckily they made an exception for me. Bags down, skipped the shower til after dinner. Make me whatever you can, I'll eat it. Lamb shank and cauliflower soup. Literally devoured in two minutes. Best sleep on my life.
I wish I ordered 2 more...
Tomorrow: 25 miles of kayaking or do nothing? Hmm...
Jul 18, 18, 4:53 am
FlyerTalk Evangelist
Join Date: Oct 2011
Location: ATL
Programs: DL Scattered Smothered Covered Medallion, Some hotel & car stuff, Kroger Plus Card
Posts: 10,572
Great TR. Losing a boot sounds miserable!

I was also surprised by how crowded it was. I barely saw another soul outside our group when I went, but that was 15 yrs ago. Funny to see some things completely different (or that we just skipped) and others seem so familiar.
Jul 18, 18, 5:32 am
Moderator: Trip Reports
Join Date: Jul 2013
Location: Dubai
Posts: 3,301
Made the same mistake about wearing old boots when I climbed Mt. Kinabalu, except the soles of both of them came off
! Must have been something to do with the glue failing with age. Luckily my partner had duct tape though. The guesthouse at ~3,200 metres also surprisingly sold rubber boots so I bought a pair. Not perfect but were super grippy on the wet climb up.
Wearing my $10 rubber boots below
Jul 18, 18, 9:15 am
Join Date: Sep 2016
Posts: 143