Another Shakedown Cruise
Jun 1, 18, 12:45 pm
Join Date: Sep 2008
Location: BWI
Posts: 1,781
Another Shakedown Cruise
---
First I want to apologize for the poor formatting and the extra large pics. I haven't done a trip report with the new FT and I had difficulty reducing the size of the pics etc. Anyway....
So this is the third year in a row that my travel agent friend has taken me on a shakedown cruise. In 2016 we traveled on the Regent Explorer and last year we sailed on the Silversea Muse and just a few weeks ago, we sailed from Genoa to Venice on the brand new Seabourn Ovation. "What is a shakedown cruise" you ask? It is similar to a soft opening of a restaurant. You are the first people to sail on the ship. It is for the top travel agents, heads of travel consortiums like Virtuoso, media, etc. to preview the ship and it gives the cruise line a chance to work out some of the bumps.
Now you might ask, "How does Farbster get to be so lucky?" Well, let me tell you. Way back in 2011, my wife and I were looking for a cruise during the summer when our two daughters would be at sleepover camp ("refresh, refresh"). After looking at the itineraries for the luxury cruise lines that fit our schedule, we selected a Silversea cruise and through the powers of Google, we found our new travel Agent Kenny down in St. Pete, Fl. After booking several cruises and other vacations and having recommended several people, Kenny and I became friends. We both keep Google Chat open and chat regularly.
As I work with my wife and I have plenty of frequent flyer points, Kenny knows that I am pretty flexible for traveling and I don't have to worry about getting to Europe to meet up with the ship. Furthermore, his wife has to stay home and care for their young child. All of the grandparents live in Asia, so there is no chance for that good ol' fashioned free babysitting.
This cruise was to leave from Genoa and end in Venice. I fired up the pc and found some award flights from BWI-YYZ-MUC-GOA and returning from VCE-MUC-YYZ-BWI. Business class was available all the way (except for the flights to/from BWI and my itinerary was set.
As these cruises are for one week, I only take a carry-on. During the first shakedown cruise, I met a woman who had her luggage delayed by four days. She had nothing to wear and had to buy a few items. That will definitely not be me! I squish everything I need into a carry-on and away I go.
You would think that this car would include the cable that lifts the parcel shelf. Elon must have forgotten it. I had to buy it from a third party on the internet.
I usually park at an off-site lot that provides free charging for electric cars. Since each spot shares a plug, you can ask the driver to make sure that you get plugged in before your return. The car next to me was using the charger, and since I was going for a week, they should have given me a little juice. Of course, it didn't happen this time (it worked President's weekend), so I called after my return and they gave me enough of their parking points for 3 free days. I knew that my battery was fine, so I didn't feel the need to email from Europe to alert them to the need to plug in.
The bus dropped me to BWI in fine time and I made it through security easily. Sometimes the precheck line is longer than the regular security line, but at least you don't have to take my shoes off or any of that nonsense.
I first checked the board to see about my flight. Luckily, the lounge was near my gate and I proceeded there to eat some breakfast. Nothing special, but it was a better time for me to eat. I had some cereal and OJ and even an english muffin. I might or might not have swiped some granola bars, but I can't remember. I'm going to guess that I did. Habits are hard to break.
Flight is on time
Not quite fresh squeezed, but it will do.
Not much of a lounge. Not really worth taking pictures.
Flight from Baltimore - Toronto
Somehow I didn't get a seat assignment until checking in. I didn't realize that they assigned me the seat in the very last row. I did as the Flight Attendant if I could switch and he asked if I could take the emergency exit row as they needed some people there. Things are looking up! I sat across the aisle from an AC pilot who was deadheading to Toronto for his flight to South America. It was nice to chat with him about the planes etc. The legroom in the emergency exit row was perfect for the short hop up the East Coast. I will admit to paying more attention to the safety announcement, as this was not long after the Southwest Emergency. It was hard to get a picture of the plane, the angles just weren't good. I did like the artwork on the outside of the BWI terminal.
The view from pretty far back. Has SFO777 ever sat back here?
Legroom is just fine for a short flight
My itinerary left me with approximately 9 hours in Toronto. What to do, what to do?
There is a nice train that runs from the Toronto Airport to the downtown area and it ends very near the Roger's Center. There was a Toronto Blue Jays game at 4:05 and I might have time to see a couple of innings. Unfortunately, there was construction on the line that day and the schedule was altered. Sadly, there wasn't really enough time to catch part of the game. I think that I would have seen about 10 pitches (if I was lucky) and that would have been a tremendous waste of money. So now I'm on to Plan B.
I had looked at Google Maps and discovered that the Hockey Hall of Fame was perfectly located! I asked some Toronto People on Twitter for a restaurant recommendation and a plan was hatched.
The flight landed with no problems and after collecting my luggage on the cart (they gate checked it because the overhead space is very limited), I walked what seemed to be a million miles to clear customs and what not. This was a very long walk and if you're old and not able to walk far distances, I would recommend getting assistance from either a wheelchair or golf card.
Googling had told me that there was a Samsonite Store in the airport where I could leave my luggage for a nominal charge. I could never find working telephone number for them, but this was because they were no longer Samsonite! I did find the store by asking at the Info desk at the airport.
My claim ticket. I even took a pic of the ticket, just in case
This is the left luggage store. It isn't Samsonite anymore. I saw some women check a chef's knife. She kept saying "how dumb was I to bring this knife to the airport"
The store was conveniently located to the train and I was able to purchase my ticket from the nice lady behind the desk. I do not think you can buy the "long layover" ticket from a machine.
Do Not buy your long layover ticket from this machine. In fact, I'm not sure you can. You have to go to the ticket window that is very nearby.
Easy signage
The nice train
The train was easy to find and was a perfect way to get downtown with minimal hassle. The train let us out at Union Station and I managed to find my way out. The station was very nice, as was the surrounding area.
I think somehow I got turned around a bit looking for my restaurant. It was a little frustrating as my phone needs to have the GPS re-calibrated or something. The arrow doesn't point in the proper direction. Of course, it was drizzling and cool out, so that made it a bit unpleasant.
Once I found the correct street, I was able to rest easy and walked down a few minutes until I hit The Corned Beef House. It wasn't too crowded and I was able to order a nice soup and great Montreal Smoked Sandwich. The soup hit the spot and warmed me up and the Montreal Smoked was my food highlight of the day!
Really delicious.
What a funny sign in the mirror of the bathroom.
After a quick lunch, I was able to make my way back to the Hockey Hall of Fame. It was a bit tricky to find the actual entrance, as it was inside a mall. The part of the building that you can see from the outside is pretty neat.
Please just know this about my visit to the Hockey Hall of Fame. I'm not a big hockey guy. I know the big names from hockey's past and can name a couple of the Caps and there is some guy named Crosby up in Pittsburgh. Sometimes I'll watch Olympic hockey and otherwise maybe five minutes a year.
Here is the actual door to the HOF, along with a statue of Mr. Hockey.
Mr. Hockey, Gordy Howe is standing guard
With all of that out of the way, I thought the HOF was pretty interesting. They had a mockup of the Canadien's locker room that people liked taking pictures of. Some people got to put on the goalie leg pads for their pictures. There were some videos to watch and even a 3D movie of kids dreaming about the Stanley Cup.
Groups of people were taking pics here with the goalie padding on
They had the Stanley Cup available for photos. I did not take my photo with the Cup, but other people were lined up for that.
The building used to be a bank
Kids seemed to be enjoying the interactive stuff. You could either shoot on goal or be a goalie. Pretty neat stuff I think. I didn't have the time to try it and it wouldn't be something I was interested in doing on a solo visit. Maybe if my kids were there or if I was visiting with a bunch of friends.
This activity lets someone be the goalie and another place you could shoot the puck.
Here are some other photos from my visit. If you're a hockey fan, you should definitely check the HOF out. Casual fans should enjoy it as well.
It was a short walk back to the train station and I found the queue to board the train back to the airport. All of the walking and what not left me thirsty. I tried to get a soda or something, but there was nothing nearby that was reasonably priced. I decided to tough it out and be thirsty until I could get to the lounge at the airport.
I thought there was pretty good art visible during my walk. Here are some shots. And the CN Tower is able to make a lot of appearances between buildings.
Getting my bags back from left luggage was very easy and I made my way back through security and whatnot.
A few interesting sites along the way in the airport. The last time I passed through Toronto's airport my daughter and I enjoyed some Tim Hortons. Anticipating lots of food on the cruise made me a bit sensible and I passed on the donuts this time. The Michael Kors photo was originally taken for my daughter, an avid MK fan.
I found the Maple Leaf lounge easily and plopped down in a chair. I had a bit of time and found some food and drink and watched some of Season 2 of Sneaky Pete on my Kindle (great show btw and it will get better now that my cousin is joining the writing staff).
I wanted to eat something, as my flight wasn't until 8pm or so and I didn't know how good the food would end up being on Lufthansa. The food was ok. Nothing special. I wouldn't aspire to eat this food, certainly, it was no FCT experience either. I've not been to the FCT, but I can follow along the trip reports like everyone else
I didn't take any pictures of the food in this lounge. I'm not sure you really want to see a bowl of soup from an airline lounge. Or a chocolate chip cookie. And I didn't need to be the guy taking pics of a row of drinks or whatever. But, I had a decent seat next to a window and found a humongous power strip.
Finally, I made my way to the gate and after a brief wait, I was forced to push my way through a crowd of people that didn't have priority boarding. There were no pictures taken of the people blocking the gate. However, I did find it interesting that people were sitting at these nice table and chairs in the gate area. It appeared that the ipad were set up to play games or something, presumably for some kind of fee.
Flight from Toronto - Munich
I was able to take my seat and introduce myself to the guy to my left. He flew a lot from Germany to the USA and I joked that because he had such high status, that the pilot would come out and say hello. Sure enough, at some point, someone came back to chat for a moment.
Lots of you have been on this plane or read the reports, so I'll just say that it was a perfect flight for me. The food was fine and I was able to put my keppe on the pillow and get some sleep.
We woke up to the noise of breakfast and a few people had the windows open. The landing was uneventful and after gathering all of my stuff, I made my way to the lounge. The lounge was ok. I was able to take a shower and feel like a person again. There was no wait for the shower and the room was just perfect for my needs. After the shower, I found a chair and plopped down. I would have liked a little breakfast, but I got there just as they were switching over from breakfast to lunch. I didn't feel like eating ham or turkey or whatever, so I just had some juice and maybe a cookie. I really like pictures with a wall of clocks.
Flight from Munich - Genoa
After a little bit of time, I made my way to the gate for the next flight (Munich to Genoa). The gate area was very different than the gate area for the prior flight. There were far fewer people and it was more pleasant. Did anyone here know that camels smoked? I think camels are pretty stinky animals to begin with, but can you imagine what they smell like after they've been smoking?
The flight was in European business, so it was really one seat with the seat next to me blocked off. The flight was brief and the lunch was fine. The couple sitting in front of me was also going on the cruise. They were Belgian, but I think they said they lived in Cannes and also visited Texas a lot and also South Africa.
The decent provided an interesting view and while taxiing, we got to see a very nice yacht. The location of the runway to the water was nice.
The plan was that anyone that arrived in Genoa before 2pm would have the transportation to the hotel (they had a lounge set up with some food) and those that were after 2pm would go directly to the ship. Even though our flight landed a little after 1pm, I didn't want to drive to the hotel to sit and then get on another bus to go to the ship. That seemed like a waste of time with extra bus rides. Here is the area in the airport where we waited for about 10 minutes. There were a bunch of car rental locations etc.
In the end, I took the bus to the hotel as they wouldn't budge. It turned out to be pretty close to the airport, so the riding around wasn't as bad as I expected. Once we made it to the hotel, I saw my friend Kenny and we went inside to sit for a few minutes. Kenny had lunch down the street from the hotel, as the food in the "lounge" was more finger food and not anything to make a lunch out of.
We made sure we were on the first bus and the ride to the shipyard was brief. We had to clear security in the parking lot, as the shipyard was not really set up for passengers embarking there.
When we proceeded inside, there was some confusion with the people checking us in. It was almost as the lady checking me in had never seen a credit card machine before. But, I'm here to have fun, so I'm not letting a little difficulty get in the way of that!
The next section will include the ship and the food that we ate. I hope you enjoyed this. Again, apologies for the poor formatting.
Farbster
Jun 2, 18, 9:21 am
Join Date: Jul 2009
Location: YWG
Programs: Free Agent
Posts: 1,343
Jun 2, 18, 10:13 am
Join Date: Jul 2009
Programs: Delta Gold (2020)
Posts: 2,047
Awesome - just read another review of the shakedown so looking forward to your review! We're going on our first Seabourn cruise at the end of the summer (not Ovation ;-) and every review I've read of the line has me making sure my exercise clothing gets packed this time! (normally I don't like to exercise on vacation aside from exploring wherever we go on foot)
Jun 2, 18, 10:56 am
FlyerTalk Evangelist
Join Date: Nov 2007
Location: The OC • LAX-SNA
Programs: BA Gold, AF/KL Gold, AA LT PLT 2mm, TP Gold *G
Posts: 19,982
Great report so far
farbster
. The Hockey Hall of Fame looks pretty cool.
And nice move from the last row to the exit row on your BWI-YYZ flight.
And yes, I have sat in the last row of the plane... years ago.
Jun 3, 18, 9:31 am
Join Date: Jul 2009
Programs: Delta Gold (2020)
Posts: 2,047
11 day Alaska, Vancouver to Seward on Sojourn. Will be my 3rd Alaska cruise, 2nd with husband - we can't wait! We knew for our first cruise on a luxury line we couldn't do Europe - too many ports! We wanted to be able to enjoy the ship! We have lots of scenic cruising days on our itinerary, as well as the fact we've been to many of the ports before and don't feel the need to pack the days with zipline excursions ;-) Wine & binoculars on the balcony sounds idyllic to us. Maybe some of the famous Seabourn caviar too ;-)
HAL Westerdam was the biggest ship we've been on and it was a little too big for us. We've done a few cruises on Pacific Princess and one on Azamara Journey - we love the R ships! Had been looking at an Oceania itinerary for Alaska but found the Seabourn option for not much more $...
Jun 6, 18, 4:25 am
FlyerTalk Evangelist
Join Date: May 2012
Location: Sydney Australia
Programs: No programs & No Points!!!
Posts: 13,657
Jun 6, 18, 9:01 am
Join Date: Jun 2014
Location: NCL
Programs: BAEC and Hilton mostly
Posts: 415
Jun 6, 18, 9:43 am
Join Date: Jul 2013
Location: JNB
Programs: Flying Blue, Miles and Smiles, Hhonors, ICHotels
Posts: 1,241
Had that many years ago when a new hotel opened and due to some membership (maybe AMEX rewards in South Africa, or IHG), I was offered "pre opening" specials that were waaaaay below the normal rate. So of course I availed myself of the opportunity. Had a great few days, but had to point out various glitches when we encountered them. But, I did not know what the term for that was.
So, I can now say that I enjoyed a shakedown hotel stay.
Jun 7, 18, 4:01 pm
Join Date: Sep 2008
Location: BWI
Posts: 1,781
Seabourn Ovation Shakedown Cruise part 2
---
The Seabourn Ovation, launched just weeks ago, is a luxury cruise ship that sails with just 600 passengers. Carnival Cruise Lines owns Seabourn, along with other lines such as Cunard, Princess, Holland America, and several others. The Ovation is virtually identical to the Encore, another ship launched in 2017.
Fincantieri is the name of the shipyard
Seabourn, along with lines such as Silversea, Regent, and Crystal is pretty much the best of the best. What differentiates these lines from others like Oceania, Norwegian, Holland America, Princess, Royal Caribbean? With a luxury line, you can expect better food, tipping, and alcohol included, better standard suites (no cabins in lux cruise lines!), more attentive service, more interesting itineraries, etc.
The Ovation, like other Seabourn ships, has terrific suites. There are no inside cabins and everything is a suite or higher. All of the suites have walk-in closets, fancy bathrooms, etc. The decor of the Seabourn ships is what I would call "Understated Elegance". It's all quite lovely, but nothing that would be considered "over the top". The first shakedown cruise I did was on the Regent Explorer. Now that ship was "over the top". The artwork alone on the Explorer was fabulous. We took a tour of the best suite on the Explorer and they hadn't finished hanging the pictures and what not. Let's just say that there were a Picasso or two leaning against the wall. The suite that we had would be an upgrade on other lines, but on Seabourn (and Silversea and other luxury lines) this is the entry level suite.
They put the plastic tarp-like thing over the bed so the suitcases don't mess up the linens. One difference between Seabourn and Silversea is that you can have your SS butler unpack and pack for you. That is the best! The bed was made up as a queen, but they switched it to two twin beds upon request. I've had my FT luggage tag for several years and I've never had anyone mention it to me
There are curtains between the bed area and the sitting area that can be drawn.
This is the table they use for room service.
The tv can be viewed easily from either the bed or the sofa. There was a nice selection of "on-demand" movies and also live tv.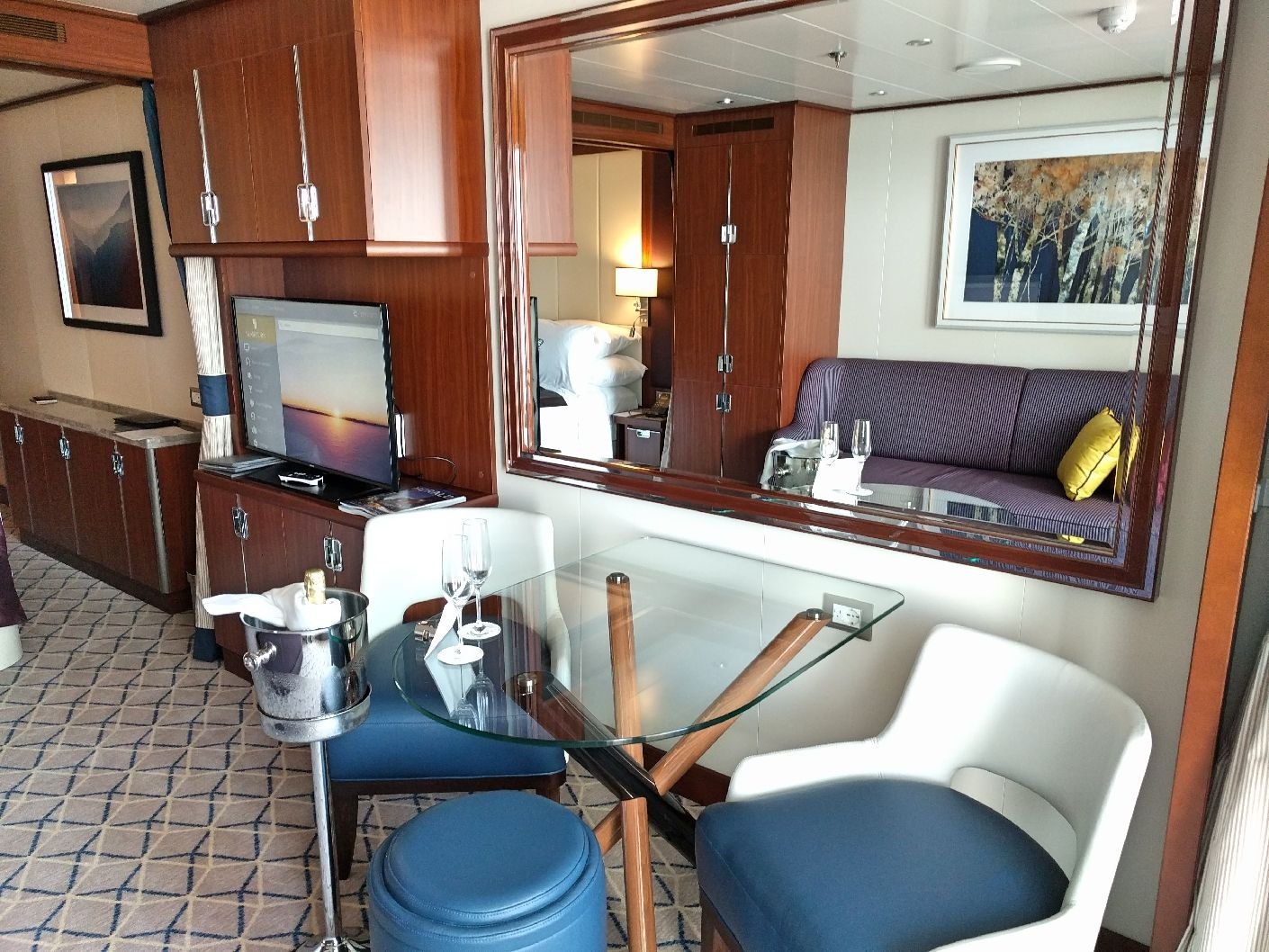 Another view.
Nice storage above and below the tv. Later the tv would show or names and not just say "Good Afternoon"
View from the veranda to the front of the room. The cabinet on the left, between the bed and the sofa houses the minifridge. There is no charge for your drinks (unless you order a very expensive bottle of wine or some expensive liquor - everything I want is included) and you can request drinks ahead of time. You can ask for a particular soda or juice or champagne and even fruit or whatever. You can get an entire bottle of Jack Daniels if you want. For something like that, you just have to sign something saying you received it. I think it is so that they don't think the workers are stealing it.
The sofa ended up being used mostly as a place to throw our clothes. Well, mostly Kenny
I believe it did open up as a sofa bed.
The provided nice robes and of course an in-room safe. Lots of drawers also.
Plenty of hanging space.
Oh look! Champagne!!
Just waiting for us
A nice note.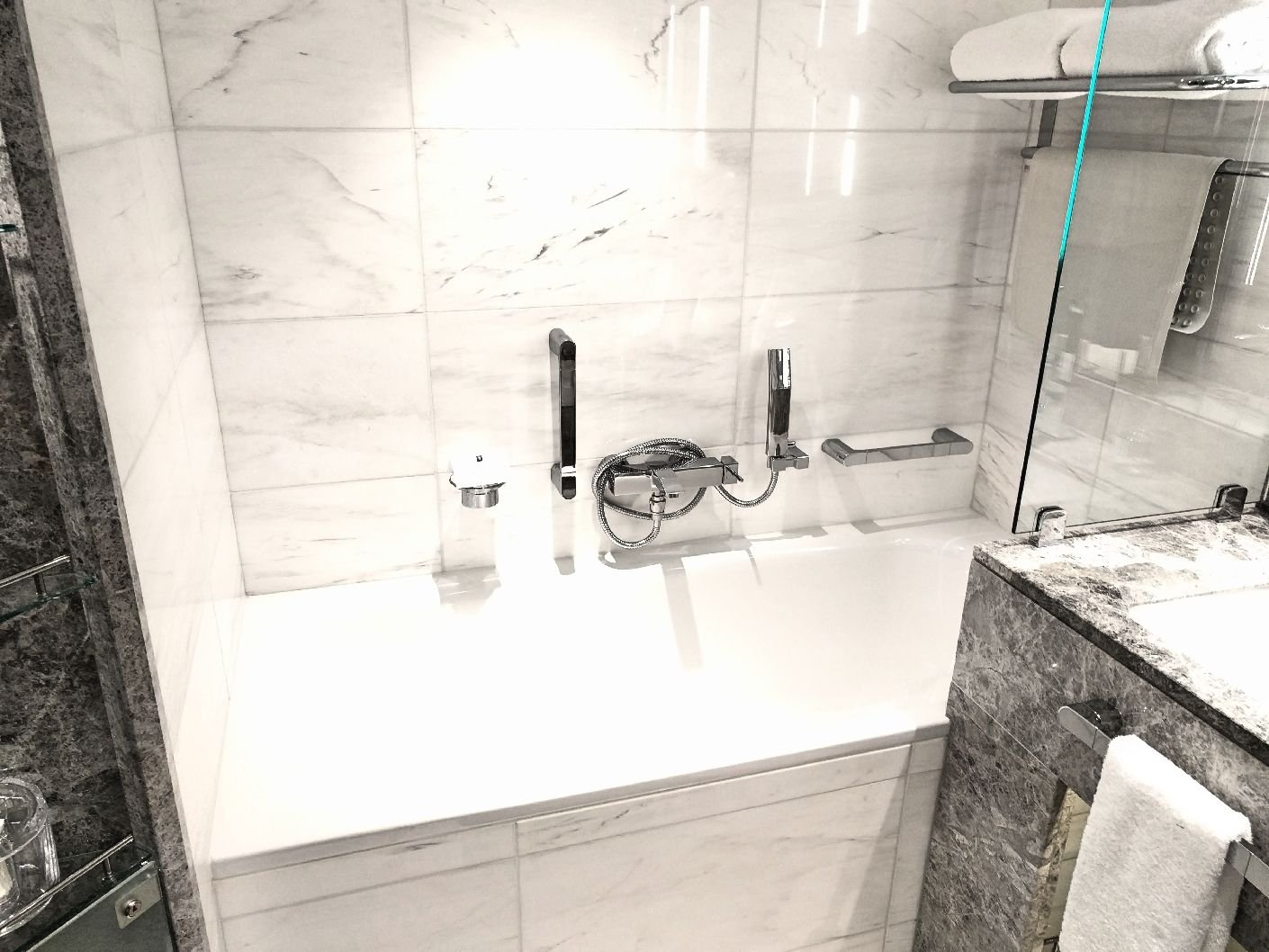 Splish splash!! There was a retractable clothesline for drying stuff. I used it for my underwear.
This shower was a little tight for me. I can't imagine if you were a larger person.
Nice to have two sinks. The only things to improve in the bathroom would be to put the toilet in its own room and to make the shower larger. Those are achieved in the better suites.
Fancy stuff
I guess this is fancy? I'm really the guy that buys soap and shampoo from Sam's Club in bulk.
One of the unique public spaces on the Ovation is what they call the "Seabourn Square". It's an awesome area that includes the Customer Service Representatives (front desk), cruise consultants (sales for future cruises), coffee shop, hangout area, etc. You would think that the Seabourn Square was a square, but of course, it is round!
Lots of seating. This is but a small part.
Tablets to use for newspaper reading. I can't remember what else is loaded on here or accessible via wifi.
They have coffee or even frozen drinks. Not sure if they have any booze. You can also get some light food. I did teach them last year how to make a Coke Float. Sometimes the best things in life are the simple things.
I love that they have tour books.
A better view of the tour books.
The customer service desks are where you can make dinner reservations, book excursions, check your bill, etc.
The ship features two pools, one much smaller than the main pool, multiple hot tubs, and plenty of places to sit or lounge. Of course, there is a spa and a gym. You can also spend time in their small casino, several bars or nightclubs. There are many restaurants for both lunch and dinner and of course, there is room service
View of the pool. Plenty of places to sit. No need to get up and 6am to save a chair. Also, no noise that Hakn a tshaynik.
An extra hot tub at the bow.
Behind the shutters is their poolside buffet and grille.
For some reason they drained the pool. It was pretty brisk that day.
The crew was rehearsing for something. I think they were being introduced to the guests at a future party.
We boarded the ship on a Sunday and we were scheduled to sail on Monday. Seabourn asked nicely that we be on deck for the sail away. I thought that there would be lots of people from the shipyard waving goodbye (I hope not good luck) as we departed. So, on Monday morning, we ordered room service and then went outside. There were some people to see us away, but not the large crowd I would have thought.
Immediately, we had two days in a row at sea. There are two different types of cruisers. The first group likes to get off the ship every single day and explore a new port. The second and smartest group recognizes that sea days are the best days. For the record, I love going into different ports. A cruise is a great way to travel because you can see lots of places without having to pack and unpack every day or every few days. Another benefit is that you know what you're getting in terms of food. Many people are very happy to eat the excellent food onboard and not have to hunt for a place on land. That being said, the ability to sleep in and make your way to the pool and just lounge around while enjoying a beverage and snacks/lunch (maybe champagne and caviar) is fantastic. You have nowhere to be. Except when you want to go and workout or enjoy some of the programming reserved for sea days, visit the spa, etc. If you really love sea days, the best would probably be a crossing. This is a sailing across the ocean, either Pacific or Atlantic. Usually, it is to reposition their ships. In the fall, ships will sail from Europe to the Caribean and then back again in the Spring. Ships also transit the Pacific.
But I digress. I think because we were having two sea days in a row, we were able to go to bed later. This meant more time to enjoy dinner, the show, the bar, and the casino. After all, we won't see land for several days.
One interesting thing to point out. Initially, the cruise was from Genoa to Venice with one stop in Sicily. They later changed the stop to Montenegro. One of the casino workers pointed out that they must have changed the itinerary so that they could open the casino. Apparently, if the itinerary was entirely in one country, they can't open the casino. I suppose they wanted to have the casino open to please the guests, but they also wanted to have it open to make sure all of the casino systems and what not were ready for the real sailings. In any event, it was nice to be able to play or watch.
Following are a lot of pictures of just the ship. I've omitted pictures of the food. That'll be another day. To make life easier, I'll comment under most of the photos instead of in paragraphs here.
This is one of the few areas where you can smoke.
The main dining room. Open seating and no need to slip the MD money to get a nice table.
Art
More art
Even more art! There is Kenny peeking out from behind.
There was no way to take this picture and also hide.
Below are some other photos of the ship. The gym was ok, nothing memorable. They had some different weight machines, but I wanted to show that at least you could see outside while on the treadmill.
Ok gym. The gym on the Regent Explorer was much nicer.
I didn't take pics of the casino. It would probably have been ok, but I'm never sure about security in casinos. They have one blackjack table and one roulette wheel and I believe one table for some kind of poker. There were a bunch of slots and I'm guessing also some video poker. The location was very near the bar/nightclub, so the wait staff came by frequently with drinks. My biggest objection to the blackjack was that they didn't pay 3:2. Instead, they paid 6:5. So instead of paying you $7.50 on a $5 bet (for blackjack), they paid you $6. But, they said that while they worsened the odds on blackjack, they lowered the minimum to $10 instead of $15 or $20. In the end, it worked out for me because I didn't get blackjack once! I'm very happy with my $5 bets and $10 is ok in today's world. I think talking about $5 bets is like when my dad talks about going to the movies for a nickel.
One of my favorite activities is afternoon tea. They serve tea in one of the lounges. Normally, they ask what kind of beverage you want and come by with a three-tiered tray of goodies. Offerings include scones with jam and clotted cream, little sandwiches, and some little cakes and cookies. All very yum. I'll show the food later, but I wanted to point out the really interesting decorating above the center bar. Unfortunately, they didn't come by with the food. Instead, it was set up on a buffet for self-service. Big thumbs down on this. They did ask what tea I wanted and brought the pot with a timer. After all, how else am I to know when the tea is ready?
Look at the fish on the wall. Just beautiful.
I usually enjoy the shows on cruises. Typically, Seabourn and Silversea have a group of singers and dancers that put on themed shows. I remember some of the older cruises on Silversea and the singers would do a show on Broadway hits, or Opera, or the Beatles. Frequently, they will have a guest performer. They get comedians, pianists, magicians and all sorts of performers. Often they are really great and once in a blue moon, they're just awful. The theatre has nice seats, more like lounge chairs and not typical seats where you have to push the seat down to sit. Everyone has little tables to put their drinks and there are waiters to take your drink order. Typically the Cruise Director will introduce the performance and then afterwards they will talk for a minute about the next day. After the show, the performers exit the stage and pretty much line up to greet the guests as they exit the theatre. It is a nice way to say hi to them, especially if you really enjoyed their show. If you didn't like it, you can just breeze on by.
The first night was a show by someone from one of the British Reality shows. Ben Mills was the third-place finisher on Britain's X-Factor. He did a nice job and we did get to chat with him sometime during the cruise. He sounded a little like Joe Cocker.
Ben Mills on piano!
Seabourn has partnered with Sir Timothy Rice, famous for his partnership with Andrew Lloyd Webber and also other small hits like "The Lion King". They did a neat holograph of him talking to the audience and introducing each number and then the live performers came out and did there performance.
Sir Timothy Rice on the left
Ok, that's all for now. I'll have another post up in about a week. Gotta take the kids to Disney to celebrate the end of the school year. I will have web access in case anyone has any questions and I'll resume posting on the return.
Thanks for reading. I hope I improved on the pics a little. These trip reports are really difficult and I tip my hat to anyone that completes one.