Four Days in Beautiful Santorini via American and Emirates First Class
May 16, 18, 2:30 am
FlyerTalk Evangelist
Join Date: Nov 2007
Location: LAX-SNA
Programs: BA Gold, AF/KL Gold, AA LT PLT 2mm
Posts: 19,298
Four Days in Beautiful Santorini via American and Emirates First Class
---
OMG. Is there any place more gorgeous than this??
Anyway, I'm getting ahead of myself.
Today,
Mrs. SFO777
and I are off to Santorini, to celebrate our 20th anniversary. Our first stop is London as we're using the return portion of our January Athens-LAX outbound. Although it's a single connection, LAX-LHR flights misconnect to the one daily morning London-Santorini BA nonstop. Surprising light traffic on the 405, 105 and Sepulveda on a gloomy Friday in SoCal.
I dropped Mrs. SFO777 off at the Flagship First entrance and then went to park. Not sure what the deal was today but there was no porter outside and no one inside seemed to care.
#GoingForGreat
indeed.
Door was closed, had no sensor or handle.
Ten minutes later, I was back to pick up Mrs. SFO777 and head to Pre-Check and the Flagship Lounge.
We headed for the Admirals Club/Flagship Lounge...
... and directly to Flagship First Dining which is reserved only for international First, transcon First and Concierge Key.
The coolest thing about the new lounge is the vintage celebrities flying AA years ago.
This is second visit to the LAX Flagship Lounge and it continues to be an attractive oasis with excellent staff.
My breakfast was inedible on my previous visit so I was interested to see if All Day Dining would be any better. Hint: It wasn't.
We both had a glass or two of the lovely Bollinger, and then the Lobster Pad Thai which our server Jocelyn said was one of their most popular dishes.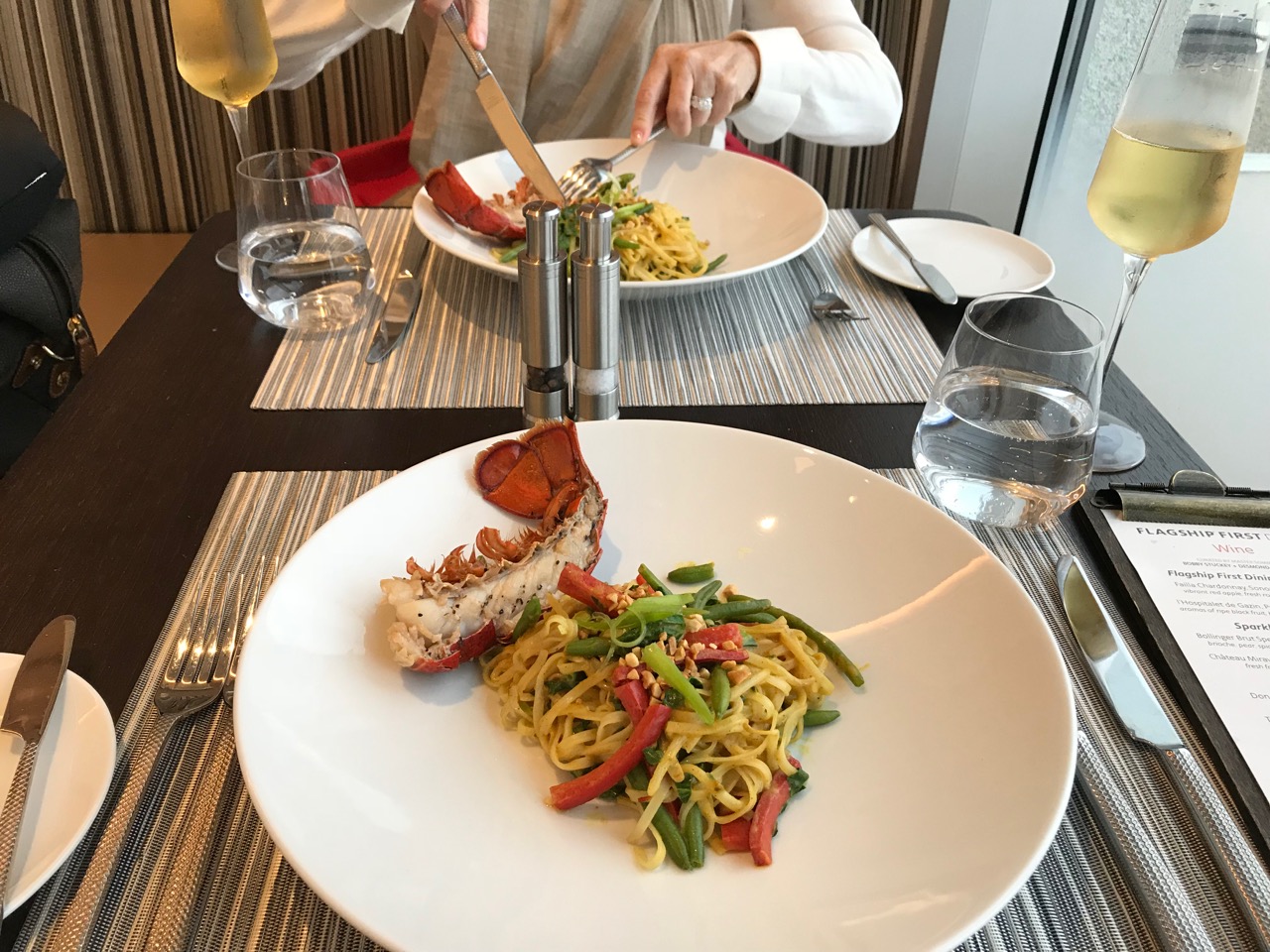 Ugh. More inedible food. The pasta was bone dry while the lobster was just plain gross and disgusting. We had a couple of bites and another glass of Bollinger, while we lingered a while at our table until we headed down to our gate.
Yuck.
---
Last edited by SFO777; May 17, 18 at

12:02 am
May 16, 18, 2:31 am
FlyerTalk Evangelist
Join Date: Nov 2007
Location: LAX-SNA
Programs: BA Gold, AF/KL Gold, AA LT PLT 2mm
Posts: 19,298
Los Angeles LAX to London LHR
American AA 136
777-300ER (77W)
7:40pm-2:20pm +1 (sked)
8:15pm-2:20pm +1 (actual)
May 11, 2018
Seats 1J and 2J
I remember the early boarding last time I was on this flight but tonight was crazy. We arrived at nearby Gate 41 a full 50 minutes before departure and they were already on Group 6.
On board, AA's 8 seat First Class cabin. And classy as ever with bedding piled on each seat. Maybe you could offer them later than pax wondering what to do with all of this crap until bedtime.
The AA amenity kit. Nice enough bag on the outside...
... but the same old garbage in the inside...
Tonight's menu...
... and wine list. A great champagne but after that, AA is clearly cutting back on wine quality and wine budget.
Not a good sign when AA techs congregate at the front of the plane. Tonight's issue is no IFE. After an hour with no luck, the captain annouced that we are leaving without a fix.
#GoingForGreat
once again.
After take-off, my usual G&T.
Showtime, AA style.
Mrs. SFO777 passed on all the starters and went right to the chicken, which looked (and apparently tasted) pretty good.
I always love a good movie while eating an inflight meal... but not tonight. Think silent black and white movies from the early years.
My Lobster Salad Deviled eggs were tasty although a little bland.
The Tomato and Lentil Soup with grilled cheese "Crouton" was meh.
Horrible presentation but the Boston BIb Lettuce was quite good...
... after I worked on it for a while.
For my main, the Slow-Braised Lamb Osso Buco was good although not as good as I remembered last year's version.
For dessert, I had lusted after the Warm Lousiana Praline Bread Pudding which I enjoyed on a previous flight. Even mentioned to our FA. Unfortunately, said FA either forgot or didn't care, and claimed that only 2 were loaded and they were already gone. And no, the Bread Pudding was not on the Business Class menu. So I was stuck with the Passion Fruit Mousse. Ugh.
#GoingForGreat
.
With no IFE, I went to sleep... for nearly 7 hours.
On final to Heathrow, our classy First Class cabin with duvets and pillows just tossed on the counter at the front of each seat. Seriously?
Not the best flight but heck, It's AA and the price was right. But I was able to burn two SWUs to upgrade a cheap Business Class fare.
The usual long, long T3 walk to Passport Control.
Another lovely London weather day. LOL.
---
Last edited by SFO777; May 17, 18 at

12:10 am
May 16, 18, 7:55 am
Join Date: Jun 2003
Location: Sydney, NSW, Australia
Programs: QF Platinum, Velocity Platinum
Posts: 85
So good to see your report, I missed them!
Firstly, Happy 20th Anniversary - very special.
I cannot believe AA's lackluster First Class product - scary!
Enjoy your holiday!
May 16, 18, 8:44 am
FlyerTalk Evangelist
Join Date: Nov 2007
Location: LAX-SNA
Programs: BA Gold, AF/KL Gold, AA LT PLT 2mm
Posts: 19,298
Thank you so much
windscar
. I really appreciate it.
Thanks
Mats
. Same seat as well I see from your report.
Thank you
flyingmad
for your kind comments and best wishes. Santorini is amazing, except for the tour buses from the cruise ships.
Yeah, AA is a pretty depressing First Class product. No way would I pay retail for this one, but free upgrades on a cheap Business fare makes it tolerable.
Looking forward to our return flight on Emirates, a real airline.
May 16, 18, 12:20 pm
Join Date: Jan 2011
Location: North of Carlisle
Programs: BAEC Hilton,
Posts: 1,461
I take it you saw the thread that someone started recently in the TR section. He / she was wondering where you were as you hadn't posted a TR for sometime. Seriously thread closed by the Mod.

Back on point, Santorini what a lovely place. We've visited 4 times via a cruise ship and it's simply stunning but keep your wife well away from the "Santorini step" donkeys - they stink. They are not well treated either
May 16, 18, 8:38 pm
Join Date: Oct 2015
Location: St. Paul, MN
Programs: Delta GM, IHG Gold, HH Silver
Posts: 372
Excited to see your latest report, SFO777. Congratulations on your 20th wedding anniversary! Fantastic report as always - looking forward to seeing the rest and on your website!

Matthew (757).
May 16, 18, 10:06 pm
Join Date: Dec 2009
Location: Shreveport (SHV)
Programs: AA EXP, IHG PLT, Hilton Gold, Amtrak, WN
Posts: 2,435
No more Silver Oak
Why is it so hard for AA to keep a consistent Flagship F product? It's like an endless cycle where they make a strong effort to improve quality and then cut back.
May 17, 18, 12:09 am
FlyerTalk Evangelist
Join Date: Nov 2007
Location: LAX-SNA
Programs: BA Gold, AF/KL Gold, AA LT PLT 2mm
Posts: 19,298
One Night in London
Our one night London strategy is to pick a show and Amex FHR hotel within walking distance of each other, so as to not waste time with taxis and traffic. The Savoy entertainment complex was ideal. Hotel, show and resto in the same complex.
Talk about a conveniently located theatre.
Despite the hotel being fully booked or "fully committed", we were upgraded to a lovely Executive King in the Art Deco wing.
While Mrs. SFO777 took a nap, I explored the hotel.
Cool vintage pics along the hallway to the American Bar.
Meanwhile back upstairs, we split a burger to take the edge off before our post theatre dinner.
Just after 7pm, we headed downstairs and next door to the Savoy Theatre and Dreamgirls.
From dreamgirlswestend.com
While theatre was crowded...
... our Ambassador Club Gold membership got us complimentary access to the limited seating Ambassador Lounge. Upon showing our credientials, we were immediately escorted from the front door to the private Ambassador Lounge.
Pleasant, comfy lounge with 14-16 seats that one must reserve when you book your tickets. The package (with our membership) include a complimentary cocktail and nibbles, prior to the show and at intermission.
Our two lovely servers, Emma and Laura, escorted each couple/group to their seats. We were the last to leave so I was able to snap a few pics of an empty lounge.
Beautiful theatre and great front row 1st balcony seats.
At the interval, Laura was waiting for us at the end of the row to escort us back to the lounge.
Excellent show and experience, especially with the Ambassador Lounge package. After the show, we walked back to the hotel lobby and Savoy Grill, a Gordon Ramsay restaurant. We'd eaten here one time before and chose it tonight mostly for the convenience. Nice decor.
Pic from gordonramsayrestaurants.com
Pic from gordonramsayrestaurants.com
Food and service was excellent tonight. My pork chop.
And Mrs. SFO777's filet.
After a good night's sleep, room service breakfast which was complimentary with our FHR package.
---
Last edited by SFO777; May 17, 18 at

6:45 am
May 17, 18, 12:19 am
FlyerTalk Evangelist
Join Date: Nov 2007
Location: LAX-SNA
Programs: BA Gold, AF/KL Gold, AA LT PLT 2mm
Posts: 19,298
nolan222
.
mike&co
. I did see that "Where is SFO777?" thread but after it had been closed. Happy to be traveling again and back reporting. Santorini is a special place. No worries about the donkeys. I didn't see any in Oia or anywhere for that matter.
brewdog11
.