BOG & CTG via AA & Latam Colombia
Feb 6, 18, 3:42 pm
Join Date: Jun 2004
Location: San Francisco, CA
Programs: AA Exp, One World Emerald
Posts: 108
BOG & CTG via AA & Latam Colombia
---
It's been about a month since my last trip and the doldrums of winter are getting to me. So it is time to head out of town. Heading south to warmer weather and a new country to explore. My Itinerary is as follows:
OUTBOUND:
2/7 AA 340 MCI to DFW @ 12:48PM
2/7 AA1123 DFW to BOG @ 5:50PM
TO/FROM CARTAGENA:
2/11 ARE4094 BOG to CTG @ 9:25AM
2/13 ARE4093 CTG to BOG @ 9:53AM
RETURN:
2/13 AA 916 BOG to MIA @ 3:30PM
2/13 AA4585 MIA to MCI @ 9:25PM
I will make updates while the trip is in progress (internet speed willing).
Feb 8, 18, 4:25 pm
Join Date: Jun 2004
Location: San Francisco, CA
Programs: AA Exp, One World Emerald
Posts: 108
Day 1 - Travel Day
I headed to KC International via Uber about 1.5 hours in advance of my flight, security was a breeze (thank you TSA precheck). Once at the gate there was some confusion on if the flight had even left DFW or not but after about fifteen minutes they figured out it just touched down in KC. The flight ended up being about 15 minutes late for boarding. I was in seat 4B on a S80. The FAs were fairly attentive with pre departure drink requests, etc.
Landed in DFW about 15 minutes later due to our departure, made my way over to Terminal D and the Admirals Club. Had a few snacks and killed my 3 hour layover by reading for the most part.
Once it was time for boarding, headed to gate D31 for my flight to BOG. The A319 for a five hour flight, it's not very comfortable. I was in seat 2F and those seats are a a$$ killer (for me at least). The flight attendants were very nice and helpful. Had dinner which was a filet which was ok. Spent most of the flight watching a couple of movies.
Landed in Bogota on time. Made my way to immigration which was quite packed but moved along steadily. Took me about 45 minutes to clear immigration then customs.
Headed outside to the taxi stand and took one to my AirBNB in La Candeleria which is about 20 minutes from the airport. The taxi was 30K COP which is about $10USD.
The AirBNB is in a modern building (one of few in this historic district) an pretty reasonable, about $45 USD per night. The owner met me at 1:30am to let me in and make sure I was settled. The place is nice and quite central. Crashed about ten minutes after I arrived and had a good nights sleep.
Day 2 - Sightseeing in La Candelaria & Amazing Lunch
The next morning I slept in a bit, the elevation of the city is making me a bit cloudy headed. Once I pried myself out of bed and cleaned up, time to explore the neighborhood. First stop to grab some coffee at Union Cafe which was right around the corner from the AirBNB.
After coffee, headed towards the Gold Museum and caught a few sights of La Candelaria.
The Gold museum is really interesting. Great collection of south american gold (and other artifacts) prior to Spanish conquest. The cost was 8K COP or less than $3 USD.
After the God Museum, I checked out the Emerald Market. Lots to see but didn't buy anything.
The I headed to Chorro de Quevedo which is the center of La Candeleria and also have some of the best street art and murals i have ever seen.
After checking out the street art, the Botero museum was up next which is connected to a couple of other museums. They are are all free of charge.
Close by the Botero museum is Plaza Bolivar
Catedral Primada
The presidential palace
By now, I was famished and decided to grab lunch. One of the restaurants I wanted to try while in Bogota is Leo which is helmed by chef Leonor Espinosa. She basically pioneered modernist Colombian cuisine utilizing indigenous foods and pairing with lots of fermented beverages.
The restaurant is downtown and I grabbed an uber which was quite reasonable.
I opted for tasting menu which was pretty amazing. I had quite a few foods that I have never tried before, it was a really great experience. It is pricey for Bogota but for people traveling from the USA and Europe it was modest ~$75USD.
There are a couple of Restaurants Leos which are close by and not affiliated. The website is
Leo Espinosa - RestauranteLeo
A few of the courses I had in the tasting menu.
---
Last edited by tjcnkc; Feb 11, 18 at

6:39 pm
Feb 9, 18, 6:56 am
Join Date: Jun 2004
Location: San Francisco, CA
Programs: AA Exp, One World Emerald
Posts: 108
Feb 10, 18, 9:22 am
Join Date: Jun 2004
Location: San Francisco, CA
Programs: AA Exp, One World Emerald
Posts: 108
Day 3 - Coffee Tour, Poloquemao Market & Monserrate
I had booked a coffee tour in advance with Trevesia Coffee (
https://www.cafetravesia.com
). They do a couple of tours in Bogota of specialty coffee shops, one in La Candelaria and one in Chapinero. I opted for the La Candelaria one. The tours are quite reasonable, $25USD for a two and half hour tour.
I met up with Alejandro at 9:30am to start the tour. Fortunately I was the only one who booked the tour that morning so I would have a private tour.
Alejandro was super knowledgeable on the history of coffee, what makes good coffee and different methods for brewing.
Interesting thing about Colombian coffee is that they grow some of the best coffee in the world but most of it is exported. The specialty coffee scene in Colombia and Bogota is fairly small.
We started off our tour at Union Cafe where we tried a couple of different coffee beans brewed in a french press. We also tried coffee with locally grown chocolate.
Next stop was Casa Galeria where we tried natural coffee Chemex brewed.
Then our final stop was Contraste Coffee Lab where we tried another coffee brewed via Kalita coffee cone.
The tour was great, learned a lot about specialty coffees.
Now that I was super caffeinated, I headed to the Paloquemao Farmers Market. The market is on the edge of downtown. I walked there from La Candelaria. The neighborhood you walk through is not very good so would recommend taxi/uber to go there.
The market is huge and carries an amazing assortment of fruits and vegetables of the likes I have never seen. They also have a large flower market but I could not find it.
There are loads of cooked food vendors around the periphery of the market. I stopped by one and grabbed lunch.
A chicken soup and chicken ranchero.
I ubered back to La Candelaria after the market and then headed to Monserrate.
Monserrate is the mountain that pretty much dominates Bogota.
View of Monserrate as I made my way to the funicular.
Entrance to the funicular. The charge is roughly $7USD for roundtrip.
The trip to Monserrate is a must do when visiting Bogota.
After the trek, I headed back to the AirBNB. Passed some more great street art.
---
Last edited by tjcnkc; Feb 11, 18 at

6:42 pm
Feb 10, 18, 4:57 pm
Join Date: Oct 2010
Location: GRU
Programs: AA EXP/CK; LH SEN
Posts: 87
Please, please, please ... there is no such thing as ColUmbia, or ColUmbian.
The country is named ColOmbia. And their people are Colombian.
It it is amazing how many people make the same mistake and it drives me crazy.
And I am not Colombian... just happen to know the proper name of the country.

I don't mean to be rude, but it really bothers me ...

Best
B
Feb 10, 18, 7:28 pm
Join Date: Jun 2004
Location: San Francisco, CA
Programs: AA Exp, One World Emerald
Posts: 108
Originally Posted by
burg_rtw
Please, please, please ... there is no such thing as ColUmbia, or ColUmbian.
The country is named ColOmbia. And their people are Colombian.
It it is amazing how many people make the same mistake and it drives me crazy.
And I am not Colombian... just happen to know the proper name of the country.

I don't mean to be rude, but it really bothers me ...

Best
B
Yes my mistake.
Feb 12, 18, 9:22 am
Join Date: Jun 2004
Location: San Francisco, CA
Programs: AA Exp, One World Emerald
Posts: 108
Day 4 - Last day in Bogota, more sightseeing
After another late night, I slept in the next day. I finally left the AirBNB around mid day. My first stop was MAMBO which is the modern art museum of Bogota which is in the Santa Fe neighborhood.
The museum is interesting, not very large. Mostly filled with installations. While visiting there was a indigenous Colombian performance.
After the museum, it was time for a late lunch. I headed to Misia which was nearby. The food is a mix of Colombian/ Caribbean fare.
Fresh passion fruit/orange juice & papaya
Sausages with grilled Yucca bread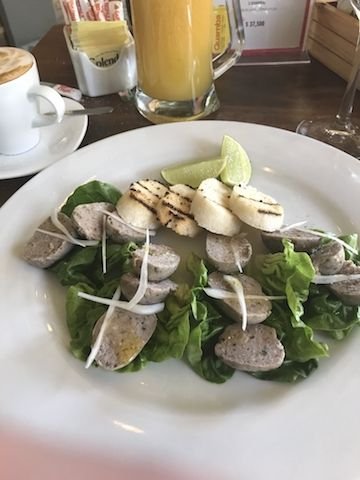 Fried eggs inside a corn crust
After lunch, headed back to La Candelaria. I wanted to check out DIBS by Culture shock. The shop is a small shop dedicated to work of local street artists. It was interesting and had some nice souvenirs.
Then walked down Calle 11 to check out the souvenir vendors in from of the Gabriel Garcia Marquez center.
Was time to head back to the AirBNB and get ready for my trip to Cartagena in the morning.
Day 5 - Trip to Cartagena
Grabbed an uber to head to the airport for my flight. The El Dorado airport is quite modern. I believe the new terminals were finished around 2014/2015.
Headed to the LATAM domestic counters to check in. The ladies helping with the automated checkin machines were super friendly.
Going through security was a breeze and the individuals were there were friendly and helpful.
Lots of new airlines I have never heard of.....Wingo?
I snagged a exit window seat, the flight on LATAM was comfortable only about an hour. We landed in Cartagena on time and exited out to the sunny humid wether.
Welcome to Cartagena.
Feb 12, 18, 9:22 pm
Join Date: Jun 2004
Location: San Francisco, CA
Programs: AA Exp, One World Emerald
Posts: 108
Day 5 cont'd - sightseeing in Cartagena
I took a taxi from the airport to the center of old town to my AirBnB.The ride took about 20 minutes. The AirBnB I booked was in a great location. Nice looking historic building that had been recently renovated. Very comfortable place for a stay.
After getting settled into my AirBnB, i strolled around old town for a bit. The architecture is really beautiful and the buildings are fairly well maintained.
Plaza Bolivar
Cartagena Cathedral, love the limestone
View from the city walls
More of the city walls
Plaza Bovedas, there are shops under the arcade with local craft souvenirs
After walking around a bit, it was time for lunch. I had read about La Cevicheria and figured i hd to stop at this semi famous place.
Coco Lemonade, i could drink these all day
Ceviche with fish of the day and coconut, was really great.
After lunch, did a bit more walking around.
I headed back to my AirBNB for a bit of rest.
Later, took a walk to head to the historic Getsemani neighborhood which is outside the old town walls.
Clock tower gate
Monument in Centenario Park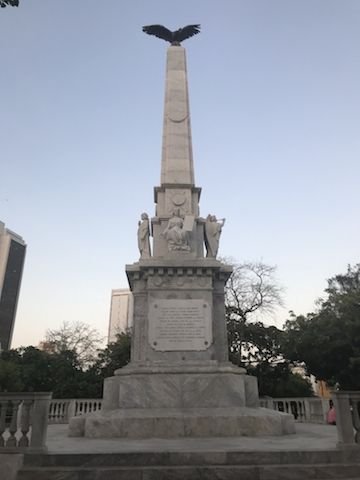 Getsemani all decorated up
Great street art in the neighborhood.
Plaza de la Trinidad
Along the waterfront, there was a set up of several food trucks. Great place to have a drink and watch the sunset.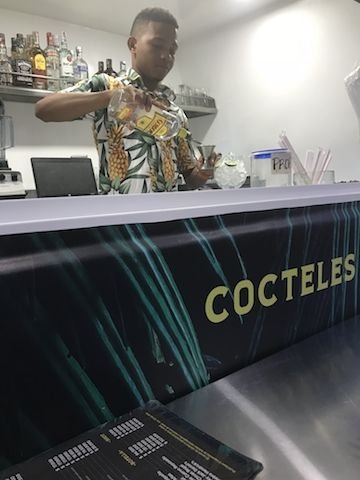 After finishing up my drink, I headed back into the old town for dinner. I headed to ElKilo for drinks and more seafood.
Mixed grill seafood skewer...was really tasty.
Feb 13, 18, 6:18 am
Join Date: Jun 2004
Location: San Francisco, CA
Programs: AA Exp, One World Emerald
Posts: 108
i definitely reccomemd Colombia, Have Met many European and American travelers that have been in Colombia for two weeks to a month. They really rave about it. Varied climate, mountains, beach, big cities and relatively cheap.
Feb 13, 18, 11:06 am
Join Date: Jun 2004
Location: San Francisco, CA
Programs: AA Exp, One World Emerald
Posts: 108
Day 6 - San Felipe Castle and other sights
Got an early start of it on my last day in Cartagena. First stop breakfast at Beiyu Cafe in the Getsemani neighborhood. They do a really nice breakfast with lots of natural juices and good Colombian coffee. I opted for the Omlette Verde.
Green eggs, no ham....
After breakfast, I trekked out to see San Felipe Castle. Its is about a 20 minute walk from old town. As I passed through Getsemani, saw some more great street art.
Entrance to San Felipe. The fee to enter is 25K COP or about $9 USD.
San Felipe castle was built starting in 1536. It guarded the city from a bay attack. It has protected the city from the British and French. Later played a big role in the Independence of Colombia from Spain. There are great views form the Castle though little shade. Recommend bringing water and a hat.
After the castle, headed back to old town.
A few street vendors.
Once back in old town, I went to check out the museum of the Inquisition and history of Cartagena. The museum is the actual inquisition palace that administered it for this part of the Spanish empire. The museum is right next to Plaza Bolivar. he building is really beautiful. The entrance fee is 30k COP or abut $10USD.
The museum is interesting but pretty small. There are a few exhibits translated into english but mostly in spanish.
By now it was lunch time. I had such a great lunch at La Cevicheria, that I decided to return. I was seated at a large communal table and had a great conversation with two American couples who are traveling all over Colombia as well as a French resident of Guadelupe.
This time I opted for the Ceviche Douglas consisting of all shrimp which hit the spot.
After lunch, I grabbed a taxi and headed outside of town to the Convent of Santa Cruz de la Popa which is on a mountain overlooking Cartagena. The convent is about 1.5 miles outside of old town. The convent has spectacular views of Cartagena.
Lots of Bling
Then I headed via taxi to Bazurto Market which was about half a mile away. I usually like big bustling markets but this one is a but overwhelming in not a good way. It is interesting to see most Cartagenians live versus being in an isolated place like old town. Not sure i would recommend this to travelers.
After the market, I grabbed an uber to head back to the AirBNB for a bit.
Near sunset, I ventured to the old town walls to Cafe Del Mar. The sunset was beautiful. Cafe Del Mar was filled with hundreds of people with blaring music. Wasn't the most peaceful sunset in the world.
As I headed back towards my AirBNB, I decided to check out this bar that was near by. It looked Interesting. Alquimico makes some really interesting cocktails. Quite hit the spot for a long day of sightseeing. After a couple of drinks, I ordered a sandwich which was really good. They brought me another drink gratis. After that last drink, I tottered to the AirBNB and passed out.
Feb 14, 18, 1:05 pm
Join Date: Jun 2004
Location: San Francisco, CA
Programs: AA Exp, One World Emerald
Posts: 108
Day 7 - trip back to USA
Woke early for my flight back to Bogota from Cartagena. I had booked an uber in advance. I was a little nervous of the uber showing up since I didn't have great results with them in Cartagena. The uber did show up and we headed to the airport on time. Hardly any traffic on the road at 7:30am, made it to the airport in about 15 minutes.
The Cartagena airport is fairly compact. Once through security, there is one room to wait for your flight with six gates and fast food places surrounding the walls. They do have free wifi in the airport and it was fairly good.
Once the flight was called, you head outside to a walkway along the terminal then out to the airplane.
I was assigned seat 1L in the A319. The seat was comfortable and was able to get a few good shots of Cartagena while climbing to cruising altitude.
A few shots of Bogota while making our descent.
I headed through the domestic arrivals area at BOG to Terminal 2 where the International flight leave from. Security was really quick, friendly and helpful.
I had about 3.5 hours until my AA flight to Miami so headed through the terminal to the LATAM lounge.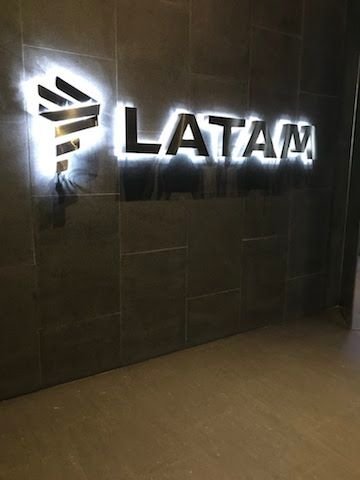 The lounge is on the 2nd floor across the Avianca lounge. Its really comfortable and nicely designed. Had a good selection of drinks and food. The wifi wasn't great and kept disconnecting as I used it. An alternative is the airport free wifi which is free for 30 minutes.
At about 45 minutes prior to the flight, I made my way to gate 34. The flight was on a A319, I was in seat 1A and did not have a seat mate so had a bit more room to stretch out. Seat 1A felt a lot less claustrophobic than the seats in the second row. The service from the FAs was good, they were friendly. The food was ok.
Miami as we made our descent.
Once landed in Miami, was able to get through immigration/customs quickly with my Global entry then a short time in security.
Once through security, I headed to the new Flagship Lounge near gate D33. The FL is really nicely done.
Good selection of food.
Made to order Arepas station.
I headed to the gate about 45 minutes before take off for my flight to MCI. We boarded about 30 minutes out. The FAs were fairly friendly on the E175. I was in seat 1A which I like on these planes and allows me to stretch out. Grabbed a bit of sleep on the way to Kansas City. We landed in KC about 30 minutes ahead of time and made my way home via uber.
On a whole, Colombia was a great trip. Would love to go back and explore more of the country.
FIN