Our week in Israel via Lufthansa and American First Class
Jan 11, 18, 8:55 am
FlyerTalk Evangelist
Join Date: Nov 2007
Location: LAX-SNA
Programs: BA Gold, AF/KL Gold, AA LT PLT 2mm, TP Gold *G
Posts: 19,603
Our week in Israel via Lufthansa and American First Class
---
Mrs. SFO777
and I are off today on our first visit to Israel. We'll meet our SoCal travel buddies in Tel Aviv for 8 days of touring. Unfortunately, our first stop on this trip is Montreal to attend a family funeral. I've always hated Air Canada and still do today. But it has the only nonstops from LAX, so today it won over jetBlue and a connection on Boston. Naturally, we are departing the day after New Years, one of the busiest travel days of the year. Although the 405 was clear, major traffic at LAX.
We almost never check bags. But the forecast of below zero temps in Montreal necessitated a winter wardrobe bag... and the need to stop at the Air Canada counter to drop off and check a bag. Unfortunately, there was no outside bag drop that I could find, so we're forced to stand in line. The pax in front of us either had complicated issues and/or the agents were simply clueless, but this line wound up going nowhere fast. Fortunately, a competent staffer was manning the kiosks and she printed my baggage tag and directed me to the regular Economy line which had fewer people waiting.
Air Canada recently moved from Terminal 2 to Terminal 6. Unfortunately, that meant giving up a spacious lounge in T2 for someone's old dump of a lounge in T6.
​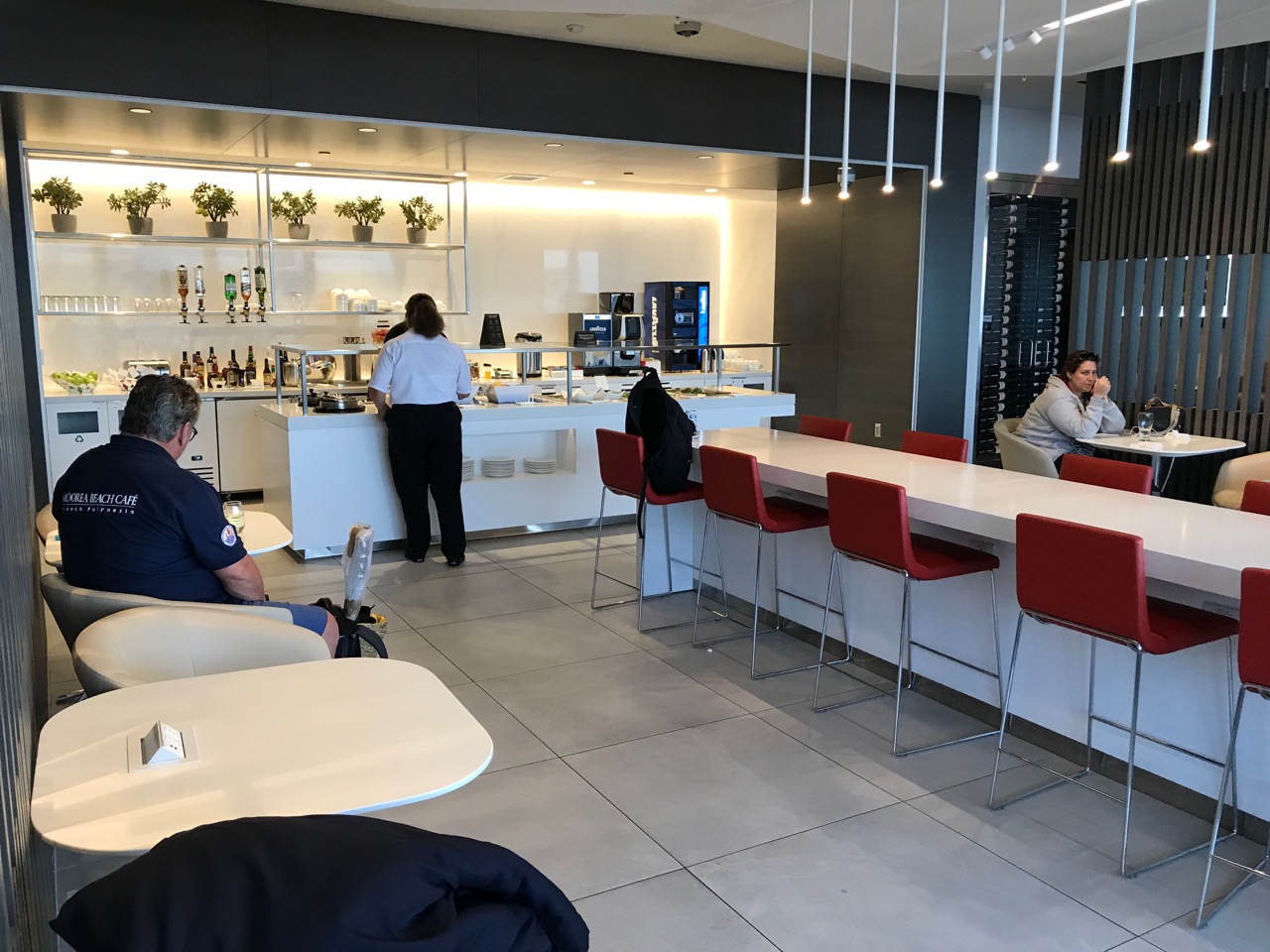 Food offerings were garbage so we decided to eat on the plane. What a bad choice that turned out to be.
Mrs. SFO777 sent me on a mission to find her a Diet Coke. For the life of me, there was nothing obvious.
Oh there it is. Could they make it any more difficult to find?
Interesting warning sign. I guess that some Air Canada pax are so hard up for crappy food, that apparently there's a theft problem at LAX.
At T-40, we headed for the gate.
Los Angeles LAX to Montréal YUL
Air Canada AC 784
A319
1:00pm-9:05pm
January 2, 2018
Seats 3AC
As bad as the lounge was, the flight was even worse.
The tired old A319 Business Class cabin, with thin and uncomfortable seats.
Not only are the seats painfully uncomfortable, the cabin wound up being nearly full as the cabin filled up with non-revs. What started this morning as 3/14 left as the AC Employee Express at 10/14, Other than
Mrs. SFO777
and me, there was only 1 other paying Business Class pax. EF showed J8 right until the end even after 10/14 seats were occupied. Well done AC.
And now the fun part. A five hour 1pm lunch time flight and AC forgot to cater meals. Seriously? We had to raid Economy Bistro before they ran out. FA was apologetic and gave us a USD$15 food voucher. Not sure what good that does us at 30,000 feet. Funny thing was that we got a 2nd $15 in another name, persumably one of the non-revs. Here is what lunch on a Skytrax 4 star airline looks like. Think about this the next time you read airline rankings from Skytrax.
Mrs. SFO777 had a few bites of the complimentary BOB chicken wrap and then went for the snack basket.
Yeah, that's a really healthy meal.
While the chicken wrap wasn't bad, the beef wrap was downright disgusting and inedible.
Our FA gave us compensation claim forms to fill out. Like AC is going to give us anything.
Mrs. SFO777 trying to watch a movie while the non-rev's hair kept flopping on the screen.
Mercifully the flight only lasted 4:25 and we landing in Montreal just a little after 9pm... to sub zero temps.
---
Last edited by SFO777; Jan 16, 18 at

10:15 pm
Jan 11, 18, 8:58 am
FlyerTalk Evangelist
Join Date: Nov 2007
Location: LAX-SNA
Programs: BA Gold, AF/KL Gold, AA LT PLT 2mm, TP Gold *G
Posts: 19,603
One of the nice things about YUL is that many of the jetbridges are heated so we no sense of how cold it was when we deplaned and headed for customs. Another great thing is that the airport has one of the most convenient in terminal hotels in North America. And it's above the US departures wing.
Our corner suite 842.
And the view. OMG, does that look cold.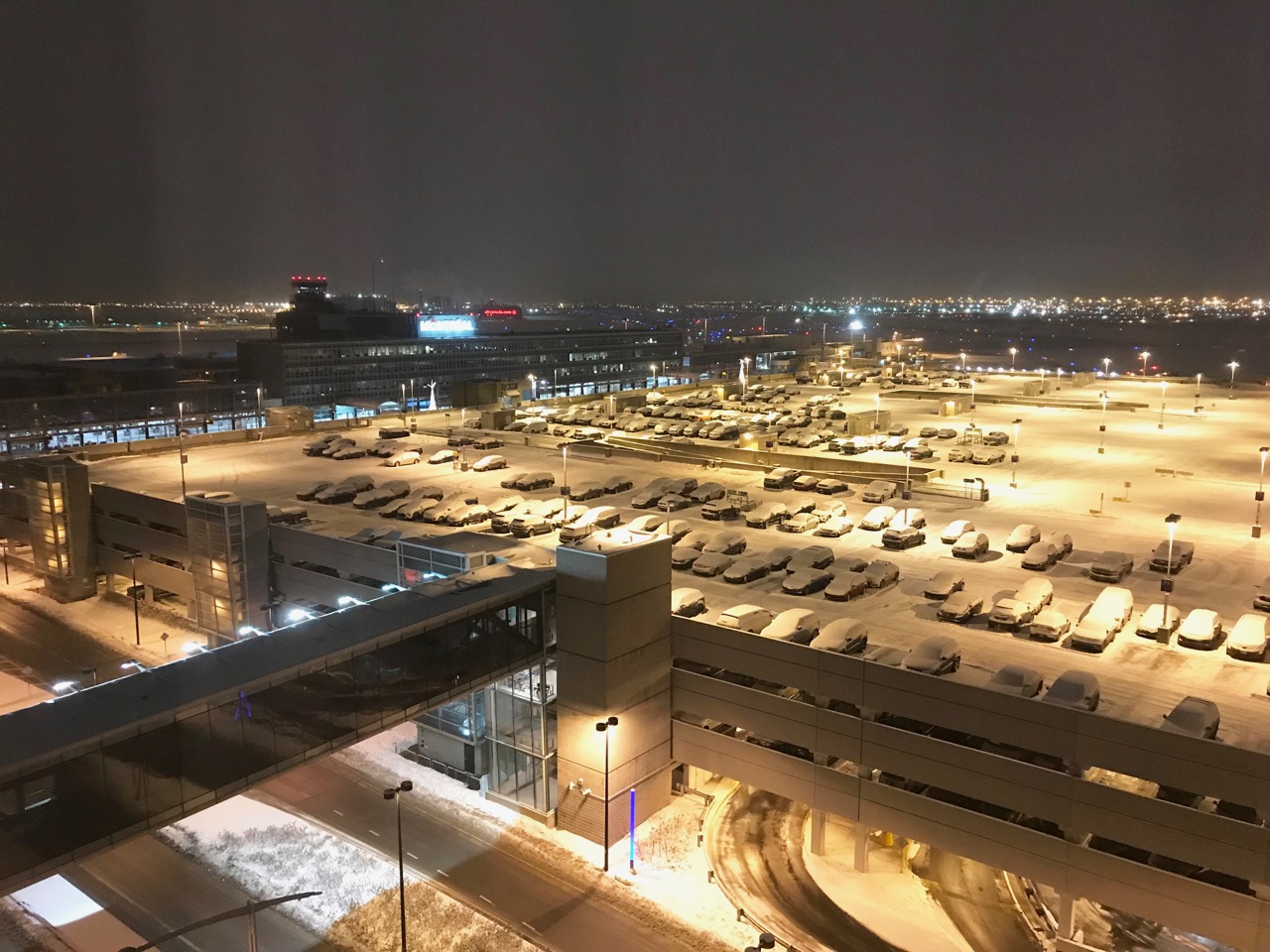 We tossed our bags in the room and headed downstairs for a proper dinner in the lobby restaurant.
A burger for Mrs. SFO777...
... and Lobster Mac and Cheese for me.
... which we both shared.
The hotel accept the US$60 in vouchers so the net cost was less than $40. In the morning, more great views from the elevator lobby as I headed up the Executive Lounge for breakfast.
Nice enough lounge but the food was pretty weak.
Meh...
One of our sons arrived from SFO and ORD just after 10am. He showered and changed and I headed across to pick up our rental car. OK, that looks cold.
OMG. It was even worse than it looked as I made the long walk to the Avis Preferred booth.
Jan 11, 18, 9:01 am
FlyerTalk Evangelist
Join Date: Nov 2007
Location: LAX-SNA
Programs: BA Gold, AF/KL Gold, AA LT PLT 2mm, TP Gold *G
Posts: 19,603
With the detour to Montreal, we had to cancel tomorrow's LAX-FRA Lufthansa First Class flight and find an alternative. Fortunately, there were two First Class awards seats on both the JFK-FRA and IAD-FRA flights. I had opted for JFK since Lufthansa has a JFK First Class Lounge, and there are a lot more YUL-NYC flights than YUL-WAS. Plus the flights are cheaper. I opted for an 8pm Air Canada flight to LGA with an overnight before getting rid of our winter clothes at FedEx and heading to JFK. WIth the rapidly detriorating weather, we decided to switch to the IAD-FRA flight and drive from LGA to IAD since the snow wasn't scheduled to hit until well after we would be in DC. WIth a late check-out, we headed to the funeral planning to be back at the hotel by 5pm and then head downstairs for our flght.
We were at the reception after the funeral when I got this message from Air Canada, advising that despite no snow scheduled until well after the return flight would have departed and landed back in Montreal, they cancelled our flight.
Unfortunately, part of your itinerary has been CANCELLED.
We have REBOOKED you on the flight(s) as indicated in your REVISED ITINERARY below.
CANCELLED FLIGHT:
-----------------
AC7642
Montreal Trudeau to New York La Guardia
Departing: Wed Jan-3, 2018 at 20:00
Arriving: Wed Jan-3, 2018 at 21:27
-----------------
REVISED ITINERARY:
-----------------
AC7632
Montreal Trudeau to New York La Guardia
Departing: Fri Jan-5, 2018 at 8:35
Arriving: Fri Jan-5, 2018 at 10:02
Seats: 2F
-----------------
Loved that I'm rebooked on a flight 36 hours later. LOL.
Back at the Marriott and with access to my computer is was clear that we couldn't make it to DC that night or even tomorrow for that matter as everything was sold out. The only European option that night was Swiss and it was departing in 5 minutes. I guess that's not an option. Air Canada, ugh not them again, had Business Class award seats on tomorrow night's YUL-BRU 788 with an SN connection to TLV. With that settled, we headed down to the lobby restaurant with our SFO son, whose YUL-LAS flight was delayed until 8pm.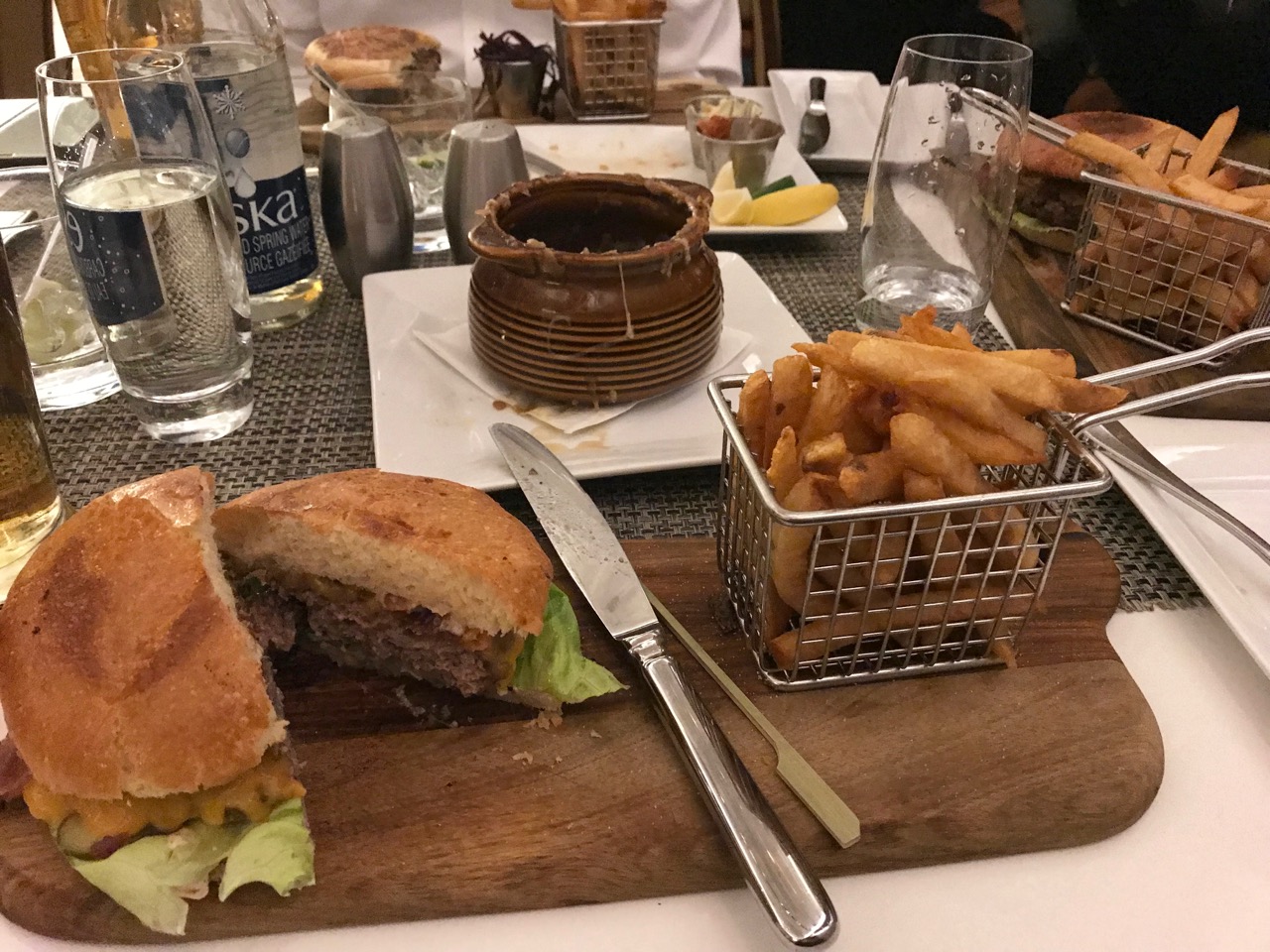 Next morning after planning to sleep in for our 7:55pm YUL-BRU, I saw that UA released 2 seats on their 9:50am YUL-IAD flight. and the exit row was available. So I changed YUL-BRU-TLV back to IAD-FRA-TLV and we headed downstairs to check our "winter gear" bag, clear security and PreClearance. At YUL, the only way from Preclearance to your gate.
Natiurally, someone eyes something she likes.
With a 60 minute flight delay, we passed on the AC lounge and headed for breakfast.
Oh yeah, that would be a no if you are heading to BOS, NYC or PHL.
Our inbound UAX flight finally arrived.
Montréal YUL to Washington IAD
United Express UA 4698
ER4
9:50a-11:30a (est.)
11:15a-1:10p (actual)
Seats 18CD
Yikes. A little salt with your flight?
Meanwhile on the ground at IAD, no more snow but frigid temps and gusty winds made it feel even colder than Montreal. No jetbridge certainly didn't help.
With our gate check carryon bags in tow, we walked all the way from A4 to B50 which is a pleasant walk in the only IAD terminal that is worth visiting.
And finally to the Luftansa Lounge where I dropped off Mrs. SFO777, while I headed for baggage claim and Avis.
OMG, it's cold here. Naturally, every RAC bus but Avis passed by. Then to nearby FedEx to ship our winter clothes back to CA. And then back thru security to get the vacation underway,
Jan 11, 18, 9:03 am
FlyerTalk Evangelist
Join Date: Nov 2007
Location: LAX-SNA
Programs: BA Gold, AF/KL Gold, AA LT PLT 2mm, TP Gold *G
Posts: 19,603
The Lufthansa Lounge at IAD is an uninspiring Business Class lounge with a pathetic roped off area for First and HON.
The Lounge Dragon escorted us to the First Class area which had a few two top dining tables...
... and a meager 2, count 'em 2, lounge chairs. And some counter seating all behind a rope. Classy. LOL.
The best feature of the lounge is the First Class Boarding door, which supposedly leads directly to the jetbridge... if your plane is at Gate 51. Not so much for today's Gate 45/47.
No special a la carte menu for First pax. Just the basic Business Class grub.
No idea how well this First Class/HON section was policed but only the mother and daughter on the left were in First.
Washington IAD to Frankfurt FRA
Lufthansa LH 419
747-8
6:05p-7:50a +1 (sked)
6:45p-8:00a +1 (actual)
January 4, 2018
Seats 1A and 1K
After a 30 minute delay "due to the late arrival of the inbound aircraft" the First boarding door was opened and we were invited to board.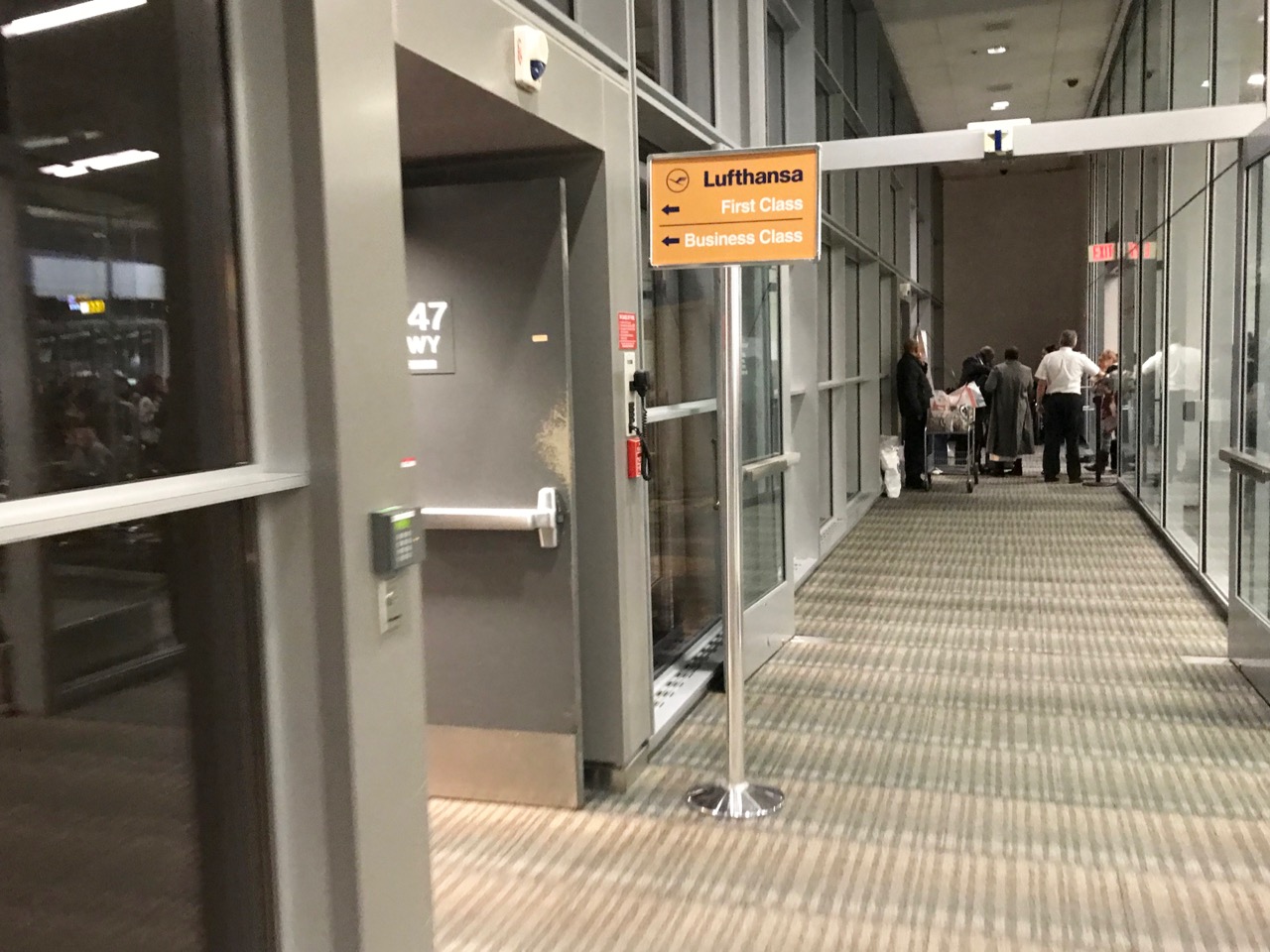 Once on board, all is forgiven as we had 1AK on one of the best planes in the sky, and a wonderful cabin crew.
Someone is happy.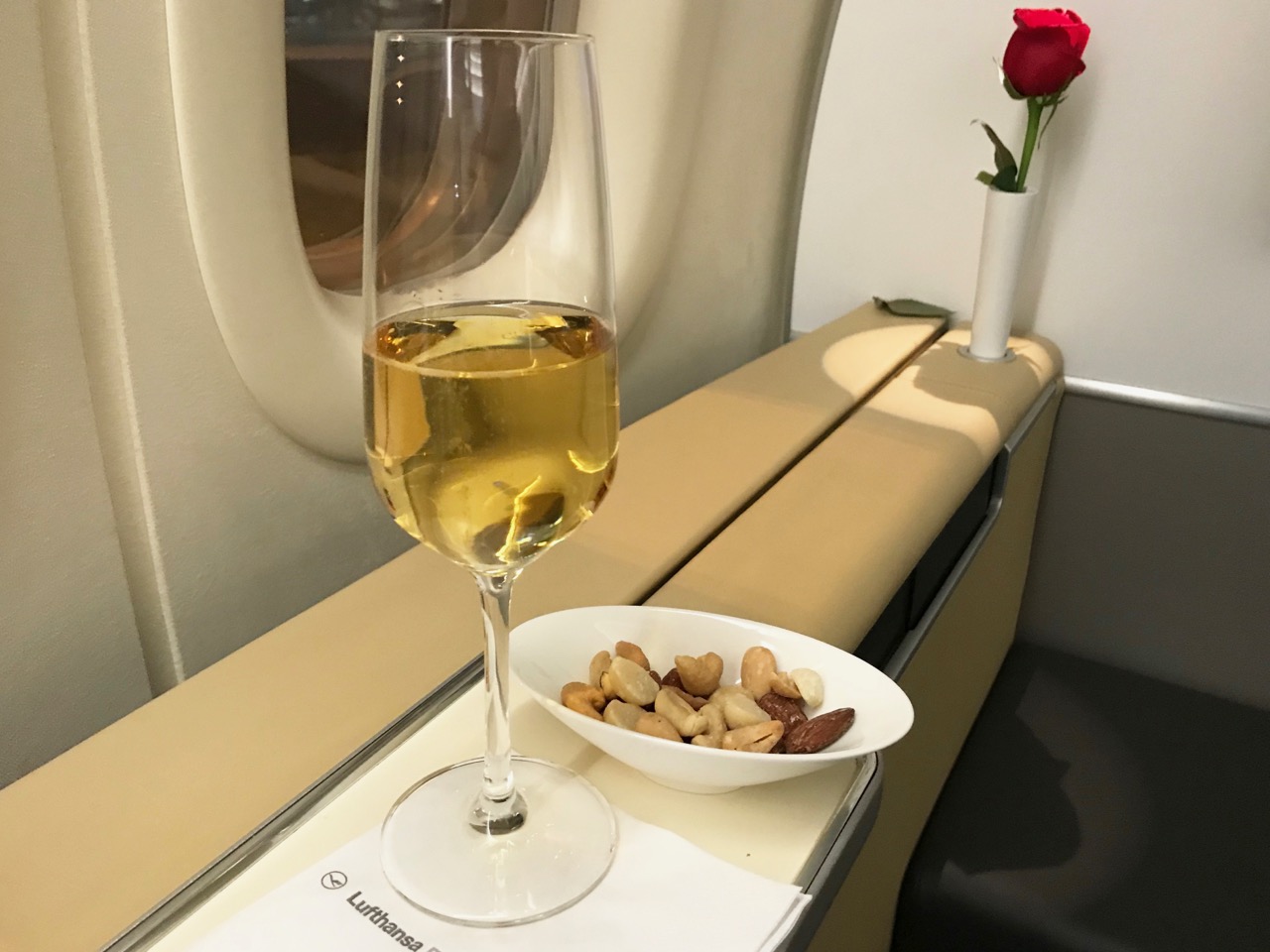 Today's Rimowa amenity kit.
Great la prairie products but just the mini-size version.
Today's menu...
And wine list...
We pushed about 45 minutes late on a frigid yet clear night in DC.
After take off, a quick trip to one of two First Class lavs.
Complete with full size version of la prairie. I'm guessing that there's been an epidemic of pax walking off with the full size versions as they were gone from the lav on my last visit around 30 minutes prior to landing.
On the way back to my seat, Mrs. SFO777's drink of choice tonight.
While Mrs. SFO777 enjoyed Johnny Blue, I opted for the Henriot Champagne to start.
Showtime, LH style... starting with caviar.
And fresh garden salad.
Making the rounds of the Henriot, the Santenay Premier Cru and the delicious 2012 Le Mortelle Poggio Allenane from Tuscany.
While Mrs. SFO777 ordered the salmon, I went with the Beef Fillet and Lobster Mac 'n Cheese.
Despite being well done, the beef was delicious and still quite moist.
My friend for tonight. I loved this Cab Franc, Cab blend from the estate which the Antinori family purchased less than 10 years ago.
Line 'em up. And a little cheese.
Followed by desert.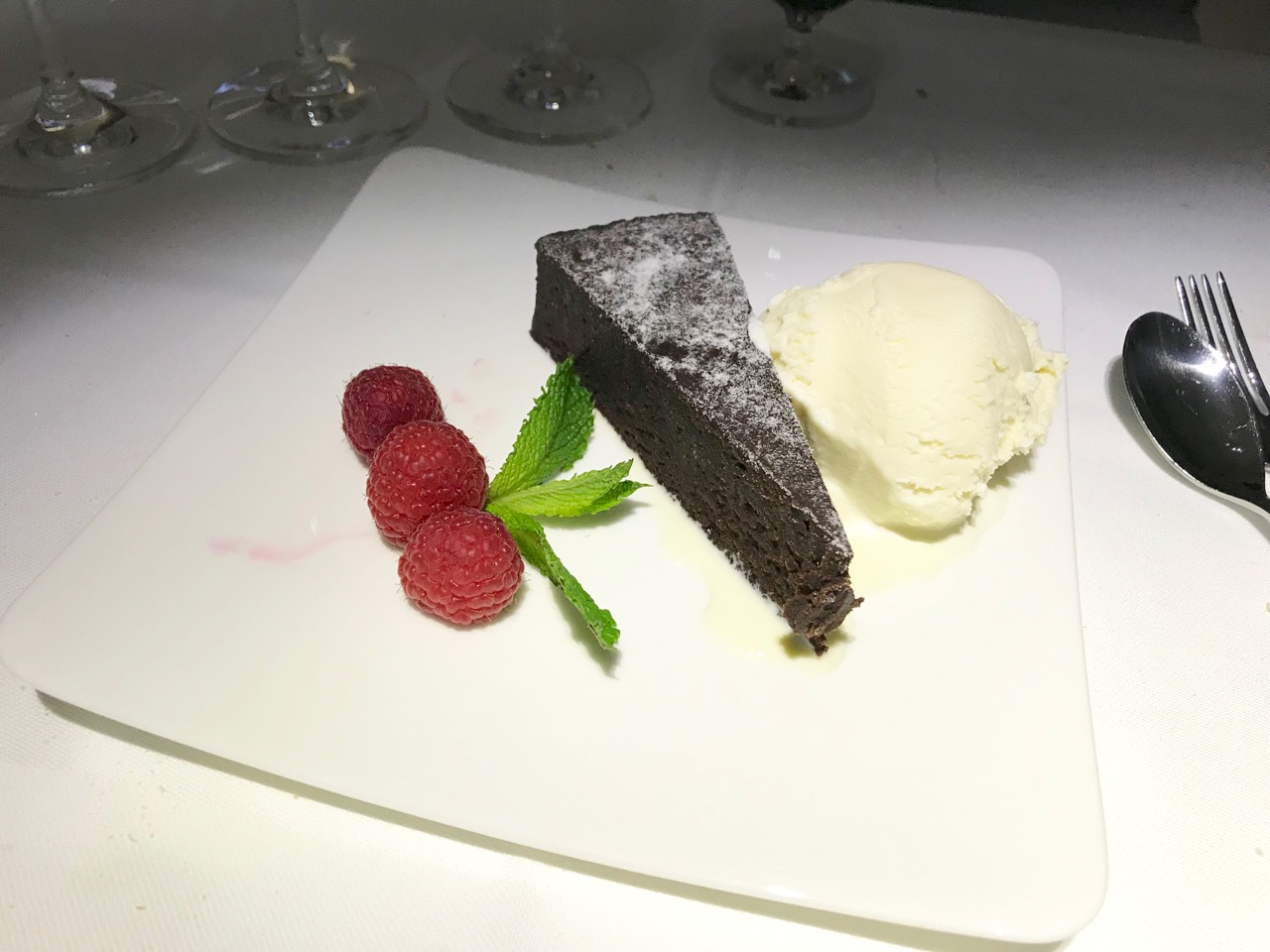 By the time I was done with dinner the were only 4 hours left on today's 6:45 flight. I dozed off for more than 3 hours and woke around 45 minutes prior to landing.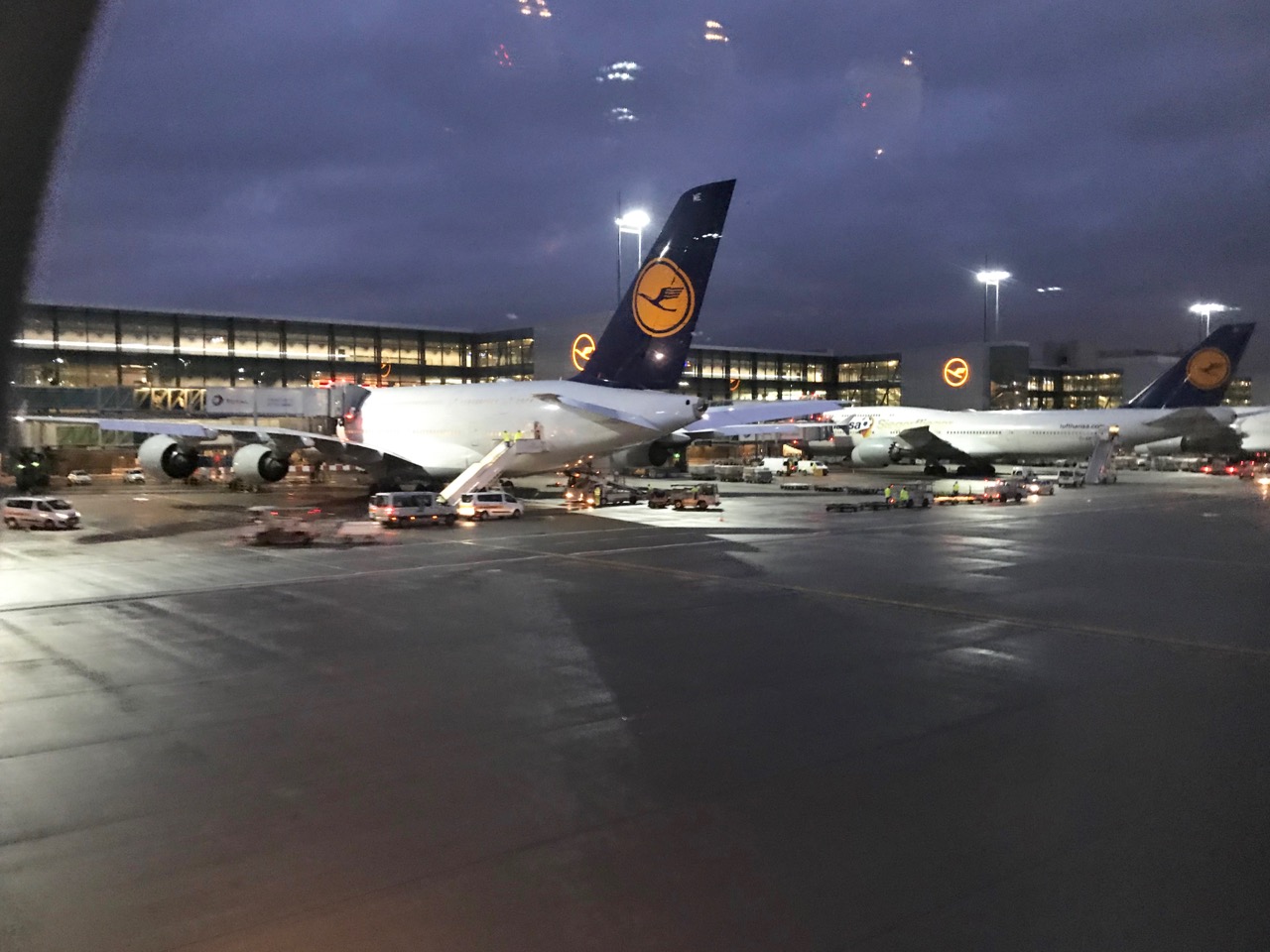 Yet another wonderful Lufthansa First flight with amazing and flawless service from a marvelous infight crew.
For many more pics of
Lufthansa First Class to Frankfurt
and an HD version of this report, please visit
SFO777.com
and
Lufthansa First Class to Frankfurt
Additional HD installments posted on
SFO777.com
...
•
Is there a worse airline than Air Canada?
•
Marriott Montreal Airport Hotel
•
Trying to outrun the Nor'easter
•
Lufthansa First Class to Frankfurt
•
Lufthansa First Class Terminal in Frankfurt
•
Lufthansa Euro-fraud Business Class to Tel Aviv
•
VIP Club Arrival Services at TLV
•
The Norman Hotel Tel Aviv
•
Jaffa and Tel Aviv
Jan 11, 18, 10:36 am
FlyerTalk Evangelist
Join Date: Jul 1999
Location: Over the Bay Bridge, CA
Programs: Jumbo mas
Posts: 32,006
The humility you show during your extreme hardship on the LAX/YUL flight is impressive, not to mention how you could have possibly survived the "new" LAX lounge. That said, the füd you were served on the segment was likely better than what AA served me last Sunday on EZE/MIA up front. It is nice to see that the LH front cabin has kept up an excellent product, even on the segments with seats that you hate (even though the majority of the plane, behind the curtain, was jealous of the opulent splendor you were experiencing in those quasi-Y seats).
Jan 11, 18, 11:26 am
Join Date: Jan 2014
Location: Orange County California
Programs: IHG Spire, Hilton Honors Gold, Marriott Titanium, Mileage Plus Gold
Posts: 1,343
Oh WOW, I was at the LAX Maple Leaf Lounge on Christmas Day. It didn't even dawn on me to look for the soda fridge. I just assumed they didn't have any. We actually packed it up and walked over to the United Club instead of sticking it out at the MLL. We only had to deal with a gate agent who was a total "bleep" on our flight to YVR. How do they forget to cater a flight out of LAX!!!
Jan 11, 18, 12:13 pm
FlyerTalk Evangelist
Join Date: Dec 2003
Location: Oakland, California, USA
Programs: AA PLT,AS,UA PP,J6,FB,EY,LH,SQ,HH Dmd,Hyatt Expl,Marriott Plat,IHG Plat,Accor Gold
Posts: 10,525
As usual, I'm finding an SFO777 TR great partly for the more luxurious segments - particularly since my wife and I will fly LH F and spend some time in the FRA F terminal later this year. But in addition, what's setting apart this TR and making it even more interesting is your scrambling to deal with the hassles that Mother Nature and AC threw your way. Kudos on all that.

Speaking of which, did you make your last-minute adjustments in your connecting and TATL flights via award availability alerts you received, or were you simply regularly checking a relevant site(s) to see what was opening up? And in either event, which site(s) did you use...EF? Awardnexus? Others?

Happy trails for the rest of the trip!
Jan 11, 18, 6:03 pm
Join Date: Dec 2009
Location: Toronto
Programs: SPG Gold, HH Silver
Posts: 855
When reading your report on the AC business class segment, all I could think of was, thank god he isn't on AC Rouge!
That being said, as a Canadian who was raised to avoid Air Canada and who learned to loathe it, their new business class seat is actually world class IMHO.
I always enjoy your reports. Thanks very much!
I see that Mrs. SFO permitted you to picture her on this trip. Congrats
Jan 11, 18, 8:22 pm
Join Date: Sep 2001
Location: Arizona, USA
Posts: 2,298
Fantastic!

I think I got shivers just reading about Dorval, then the photos proved how unthinkably cold it must have been!

Indeed, Lufthansa on the 747-8 is fantastic. I had such a good flight a few weeks ago.

I eagerly await photos and descriptions of Israel. Happy landings, as always.
Jan 11, 18, 8:25 pm
FlyerTalk Evangelist
Join Date: Nov 2007
Location: LAX-SNA
Programs: BA Gold, AF/KL Gold, AA LT PLT 2mm, TP Gold *G
Posts: 19,603
Eastbay1K.

seat38a. The soda fridge thing was strange. I walked around a couple of times before taking a closer look at those undercounter storage units. Really bizarre. Good idea about the United Club. The new T7 club is outstanding.

fotographer. I've been taking pics on trips for so long that I guess it's just a normal part of the routine.

Thunderroad. When it all hit the fan, I took a look at EF and then searched via the usual suspects where I have mileage or can transfer instantly. Since we were on UA MP awards, I started there. Then AA and FB just to make sure I saw all the options.

Taoyuan.

nequine. We just didn't want to schlepp a useless bag around or be constrained in the event of IRROPS anywhere along the way.

blueline7. LOL on the Rouge thing, although our SFO son got to experience that joy on his YUL-LAS flight.
Yeah, that YUL-BRU option we had booked for a while was a 788 and the new J seat.

Mats. It was crazy cold but they don't know how to handle cold and snow. Pretty cool airport experience with heated jet bridges and the in terminal Marriott.
Jan 11, 18, 10:03 pm
Join Date: Jul 2008
Location: IAH
Programs: DL PM, AS 75K, Hilton Diamond, Starriott Platinum, Hyatt FreeBottleofWaterist
Posts: 9,016
And to think this is an AC lounge?! It should say "Pop" and "Beer"
But that AC flight had me laughing to myself. What a garbage service.
Jan 11, 18, 10:25 pm
Join Date: Dec 2001
Posts: 3,144
Air Canada lost my suitcase and never found it ever again. Though I had $4,000 worth of things in it, they offered me $1,100 even though legally the maximum they can pay is about $1,600. Only after taking them to Small claims Court did we settle for the additional $500. I missed a connection to Europe changing in Montreal. The problem is that Air Canada don't have very many flights to Europe from Montreal. I visited the airport hotel. I really liked it. Must be great to spend the night there. However Air Canada long haul Business seem to have a good reputation. In economy they at least still offer 32" legroom; at least on the old 767s. .