Our week in Israel via Lufthansa and American First Class
Jan 11, 18, 10:26 pm
Join Date: Oct 2015
Location: St. Paul, MN
Programs: Delta GM, IHG Gold, HH Silver
Posts: 268
Another amazing report as always. The photos from your trip are great; wow the food at your first dinner in Tel Aviv looks incredible. I'm getting hungry!

I can't believe that Air Canada could have made a mistake like that about catering the flight on a flight of such a long length - how crazy! I definitely am not impressed from what I have seen with other reports about them.

Looking forward to the rest of your report. Thank you for sharing.
Jan 11, 18, 11:29 pm
Join Date: Oct 2010
Location: YVR - Vancouver, with most winter weekends in Whistler.
Programs: Aeroplan, Alaska MVP, AAdvantage, Etihad Guest, SPG Plat 75
Posts: 4,063
Oh my. I have received so many of those automated flight cancellation messages from Air Canada over the years. The things we do for first class.

Air Canada wants to grow their international traffic next year by 5% feeding US traffic to Europe. It will be interesting to see how they accomplish that with these tired seats and the hum drum catering (if it exists at all).
Jan 12, 18, 6:21 am
Join Date: May 2008
Location: Up in the Air
Programs: DL MM; CO PM / UA1K
Posts: 565
Euro "Business" as part of a first class ticket - Ouch
LH and AF do not consider TLV a market worthy of a premium product. UA, DL, TK and LX provide a better overall premium experience US-TLV. Both TK and LX accept UA award miles.

Enjoy the land of milk and honey

DLP
Jan 12, 18, 9:44 am
Join Date: Feb 2017
Location: Dallas
Programs: HHonors Diamond, Marriott Platinum Premier Elite, AAdvantage Platinum Pro
Posts: 61
Another great start to what appears to be a fantastic trip! I've been following along on your site and can't wait to see the rest of it!
Jan 12, 18, 11:28 am
Moderator: Trip Reports
Join Date: Jul 2013
Location: Dubai
Posts: 2,928
My comiserations on the non-catered AC flight and the Euro-fraud LH leg
.
Just flew J on IA and I reckon they could give both a run for their money
.
Looks like a great start in Israel, looking forward to the rest
.
Jan 12, 18, 12:48 pm
Join Date: Jun 2012
Location: Toronto, Canada
Programs: Aeroplan Airmiles AMEX-MR Alaska Airlines
Posts: 465
the best part about this entire TR is how amazing AC was. honestly, LH was boring in comparison.
Jan 12, 18, 1:11 pm
Join Date: Apr 2012
Location: BOS
Programs: AA EXP (AC), DL/UA G (SC/UC), B6 M, Marriott LTG, Omni PLT, Hyatt Exp, Fairmont Prem, Hilton G
Posts: 1,729
Welcome to winter travel in the Northeast,
SFO777
We go to Israel usually one time per year, and LH has always been the carrier of choice ex-Boston due the wide body service on the TLV leg. Second choice was LX. But, as you note with the utilization of A321s for FRA and ZRH, which is not a negligible distance especially for the price, we've gone back to the drawing board with UA looking the most promising with their 773 ex-EWR. We've also done BA, who have 777s as well, but the connection timing isn't great and you have to connect in LHR.
Thanks for a great report! Enjoy Israel.
Jan 12, 18, 1:53 pm
FlyerTalk Evangelist
Join Date: Nov 2007
Location: LAX-SNA
Programs: BA Gold, AF Silver, UA 1K, USdbaAA EXP
Posts: 18,666
The Lufthansa First Class Terminal
With just under two hours until our Tel Aviv flight, we headed for the long walk to the First Class Terminal.
Once outside the terminal, we turned left for the short walk past the taxis to the First Class Terminal.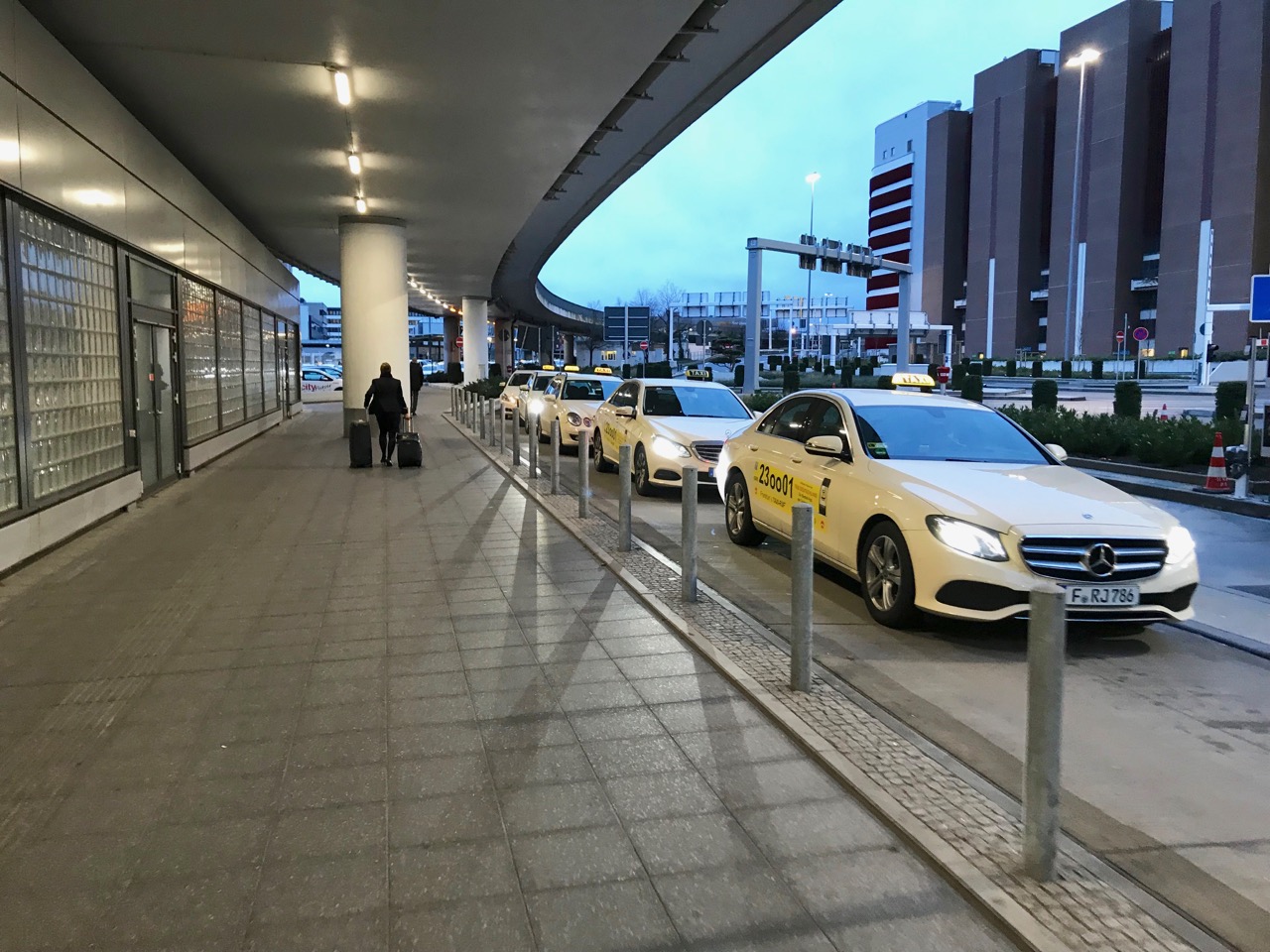 Upstairs we were greeted by a Personal Assistant, and went thru civilized private security for our 75 minute visit.
The current crop of First Class duckies.
The deparure monitor showing just the flights with First Class passengers departing from the First Class Terminal.
Jan 12, 18, 1:54 pm
FlyerTalk Evangelist
Join Date: Nov 2007
Location: LAX-SNA
Programs: BA Gold, AF Silver, UA 1K, USdbaAA EXP
Posts: 18,666
Frankfurt FRA to Tel Aviv TLV
Lufthansa LH 686
A321-100
10:05a-3:15p
January 5, 2018
Seats 4AC
At around T-25, a new grouchy, people-challenged PA came by to pick us up, and take us for a bizarre TLV-only second security check. Broom Hilda then escorted downstairs to pick up our passports and then to our van.
To the tarmac of Gate C13...
... and the elevator up to the jetbridge...
Where we were the first to board. Seriously, you rushed us here just to wait for 150 other people?? And spend more time in the joke that is Euro Business Class? I can deal with this crap hard product for an hour, hour and a half, but sitting on a plane and in this seat for 4 hours is just painful.
A peek into Economy which looks exactly the same... because it is! At least LH also used 2L to board so thru traffic thru the forward cabin was minimal.
Hey, you might have to sit in a crap seat but at least we give you an amenity kit...
... filled with crap.
And there were the 2 annoying pax (2C and 5C) who couldn't bear to be apart and were apparently hard of hearing since they had to shout at each other during boarding and our ATC delay.
Today's menu.
LOL on the "lean back and relax". Sure, with all of 2" of recline. "We have only one goal, your complete satisfaction?" No doubt that's why you force us into spending more than 4 hours in these horrid seats.
The good news is inflight Wifi and at a reasonable price. The bad news was that it wasn't working today.
Mrs. SFO777 wasn't hungry and just had a roll for lunch.
On the other hand, I was hungry.
My veal in peppecorn sauce was delicious.
Excellent meal and crew on this flight despite the terrible hard product for a 4 hour flight.
Wet and windy conditions led to more ATC delays and we arrived about 30 minutes late.
---
Last edited by SFO777; Jan 14, 18 at

1:48 pm
Jan 12, 18, 2:20 pm
FlyerTalk Evangelist
Join Date: Nov 2007
Location: LAX-SNA
Programs: BA Gold, AF Silver, UA 1K, USdbaAA EXP
Posts: 18,666
krazykanuck.

Bretteee.

757.

worldtraveller73. Totally agree wondering how on earth AC expect to poach US traffic with that kind of a product.

DLPhoenix. TLV is a real tough place to get to and from in comfort and/or on miles. I'd thought of UA and/or AC with lie flats all the way but timing or the price just didn't work and no saver seats were ever released. And I'm glad I didn't book the late EWR-TLV as it was cancelled when the storm hit. I originally had booked TK saver award tickets but I didn't want to arrive TLV at 11pm and start touring the next day. From the west coast, LX is simply not an option as the earliest ZRH-TLV connection didn't arrive TLV until a ridiculous 3am. Plus, LX is operating the same crappy A321 Euro-fraud Business product most days as their A330 didn't operate on the days we wanted. I even tried KE with First Class all the way, but they only released 1 F seat on ICN-LAX.

wakesetter93.

DanielW.

injian.

CHOPCHOP767. Yeah, we looked at BA as well but timing from the west coast just didn't work. And by the time I had to scramble from YUL, it wasn't an option. We are doing the BA Euro-fraud Club World (to AA First) on our return but from Athens, where we got an amazing RT fare which will get us Santorini in May.
Jan 12, 18, 2:32 pm
Join Date: Feb 2008
Location: CLE
Posts: 1,726
Lovely trip so far. It's been since 1981 that I visited Israel. I have family there that keep on inviting me to visit. One day...
Jan 12, 18, 6:05 pm
Join Date: Dec 2009
Location: Toronto
Programs: SPG Gold, HH Silver
Posts: 850
Jan 12, 18, 10:40 pm
FlyerTalk Evangelist
Join Date: May 2012
Location: Sydney Australia
Programs: No programs & No Points!!!
Posts: 11,224
I did giggle at the stunning Mrs SFO being unimpressed at the PE people clogging up the queue. It's like the time when QF transit staff tried to herd me in to the economy line. Oh the horror.

Thanks for posting. Great report.
---
Last edited by Annalisa12; Jan 12, 18 at

10:47 pm
Jan 13, 18, 2:10 am
Join Date: Apr 2011
Location: Treasure Coast, FL
Programs: DL Diamond, Marriott LT Plat, HH Diamond, Avis Preferred Plus, National Executive
Posts: 3,951
Hope the trip is going well and condolonces on your loss.
I have to be in Prague in March for work and looking at possibly going to Isreal afterwards. Being raised Jewish it seems like I sould at least try to get there once.
Also what the heck happened to MrsSFO777's legs! LOL
---
Last edited by apodo77; Jan 13, 18 at

2:16 am
Jan 13, 18, 9:09 am
Join Date: Jan 2014
Location: Orange County California
Programs: IHG Platinum Ambassador, Hilton Honors Gold, Marriott Platinum Premier, Mileage Plus Silver
Posts: 833
I see that LH still has the tray table on the middle seat for Euro Business. I've read couple of trip reports where the husband or wife decides that they want to sit together and just plop themselves down in the middle seat on airlines without the center tray table in their Euro Business Cabin.