Air France La Premiere 77W "Mistake Fare" Trip Report
Jan 7, 18, 11:23 am
Join Date: Aug 2008
Location: LAX
Programs: UA 1K MM, AA EXP, AS MVP, SPG Plat, Carlson Gold
Posts: 953
Air France La Premiere 77W "Mistake Fare" Trip Report
---
I got to experience Air France's La Premiere because somehow my ticket managed to escape Air France/Delta's cancellation. I had booked a quick four-day trip, with my plans to go visit the Christmas Markets in Europe that were still around; however due to me catching the flu the day of departure, I decided it was best to just stay in London to rest and recover. After all, the main reason of the trip really was the flight and experience!
Apologize in advance for the lack of photos but I always find it a bit awkward to snap every little thing (from bottles of water to used towels to in-flight seat controls), especially when there are bloggers that have documented those.
The ground and in-flight service were simply amazing. At first when I read from the Bloggers that it was "the world's best First Class", I was a bit skeptical; however, after this trip, I definitely can say that they did not disappoint and I could definitely make that argument based on the First Class products I've personally flown (BA, UA, JL, LH, CX, EY).
I took an Uber from my place to LAX, and my driver dropped me off at LAX's Tom Bradley International Terminal. I walked myself and my luggage into the terminal and went directly to the check-in counter. I had checked-in via the Mobile App the night before and was issued a boarding pass, so I felt pretty confident my ticket was in good order. As soon as I arrived to the Air France check-in area, I was greeted by several agents who opened up the stanchions to the red carpeted La Premiere lane. The check-in agents were busy helping other Sky Priority and Economy guests since there weren't any other La Premiere guests at the time, so there was a short wait but I was promptly helped once one of the agents freed up. Other than the usual questions asked (e.g., my destination, number of bags), they made no mention about my fare paid. My passport and documents were processed, and the check-in agent handed me off to his colleague, who then escorted me thru Security (the downstairs "connecting passengers" security, which had a very minimal queue) and to the First Class Lounge.
LAX Ground Experience
She informed me that Air France no longer used the Korean Air Lounge for premium passengers and that all First Class passengers use the Qantas First Lounge and that all Business Class passengers use the oneworld Business Lounge. Both are definitely a step-up from the KAL lounge. Once we arrived at the lounge, my escort asked if I wanted to board first or last (I told her first) and then she told me what time she would be back to pick me up. I've been to the Qantas First lounge many times as a oneworld Emerald flyer, so I really didn't even think about taking any photos other than what I posted on my
Instagram
Story:
Los Angeles LAX - Paris CDG
Air France 069
777-300ER
18:05 - 13:50+1
27 December 2017
Seat: 1L
Although the flight was scheduled to board around 17:20, my escort came back around 17:15 to tell me that there was a delay in boarding until 17:45, but that we should still depart and arrive on time. After a bit of walk to the Gate and Aircraft, she introduced me to the cabin crew who promptly guided me to my seat and offered a pre-departure (non-alcoholic) beverage. I grabbed an Orange Juice and was also brought a bottle of water with a small bowl of mixed nuts and dried fruit. In addition to the crew introducing themselves to me, the Pilot also came by to personally welcome the four of us on-board.
In-Flight Amenities
Prior to departure, I was also brought an amenity kit (in the plastic wrapper) and a pair of pajamas. There was a red throw blanket and also slippers/shoe bag/socks inside the footrest drawer. The amenity kit was pretty basic with Carita moisturizer, eye/lip cream, hand cream, and a masque. The bag wasn't too practical either and probably won't see much reuse from me. The pajamas came in a nice reusable pouch that could probably fit a laptop, and overall were pretty comfy and of a decent quality. I asked for a medium and found that the pants fit perfectly but the top was a bit snug (I'm about 5'10", 165#). Inside the bathroom were Carita (Facial Cleanser, Toning Spray, Facial Oil) and Clarins ("Essence") products, which the crew took out from a closet after takeoff and put away prior to landing.
Cabin & Seat
The cabin was absolutely stunning and I loved the overall color palette. The four seats in the entire cabin also made it feel extremely private. The cabin was originally booked to two passengers, but because the earlier A380 flight, AF65, had a mechanical issue and was ultimately cancelled (ouch!), the entire aircraft ended up going out full. In addition to the full privacy curtains, there was a privacy divider that went up on the aisle side of the seat. The privacy curtains were semi-transparent in the light, but when it was dark you couldn't really see thru to anyone or anything else. All seat, window shade, and lighting controls (except for the table lamp, which was controlled by turning the stick control under the shade) were tucked away near or directly inside the armrest. The armrest space was quite large and held the Bose noise-cancelling headphone and featured power/USB ports. The TV was also a large size and featured a decent selection of films and TV shows. I watched Atomic Blonde.
After dinner (more on that later), I asked the FA to make my bed while I wen to the bathroom to get ready. There was one large lavatory in the front of seat 1A with stocked amenities (e.g., lotions, cleansers, toothbrushes); however, there was also a smaller lavatory that was right behind the cockpit and behind a curtain, which interestingly had a sign that said something like do not cross/use the entire flight. I'm not sure if it was because it was broken, the crew was using it, didn't feel like cleaning it, etc. I doubt it was because it was broken because I accidentally used it in-flight twice before realizing the sign on the curtain. The mattress pad was terrific and very padded/thick, and the sheets felt high in quality. Unfortunately I found the pillow on this segment to be fairly thin (the pillow on my return was much fluffier and full), but adding the lumbar pillow under it gave the right amount of height for my head when sleeping. Although the cabin did not feature air nozzles, I found the temperature overall to be fairly comfortable. I was a bit annoyed that the crew left the side lights on in the cabin for much of the flight, so I had to use my eye mask to make it pitch black. Despite my slight fever and coughing fits, I slept for a good 5-6 hours and woke up just in time for breakfast. I was a bit disappointed when I woke to see that everyone else in the cabin had chocolates by their bedside, which I assume were placed prior to their sleep.
Dining
Since I snacked at the lounge prior to departure and I wasn't feeling too well, I had little appetite and also chose not to drink. I did order a soup, appetizer, and a main though primarily to try the food. The menu (pictured below) featured dishes by Daniel Boulud, who is probably best known for
Daniel
, his Michelin 2-star restaurant in New York City. I was a bit disappointed that no caviar was offered to start on this flight to Paris; however there was an amuse bouche offering that I unfortunately didn't try since it contained scallops (I have a shellfish allergy). I ordered the chilled pea soup, the parma ham with melon appetizer, and the steak with truffle butter main. The table was set, though I felt it wasn't quite as deliberate as some other carriers. There were some classy salt/pepper shakers and loved the charger plate, although thought the rolled up silverware in the napkin was a bit weird (versus setting it out). I also thought it was interesting that the crew served and offered the salad
after
the main was finished, prior to the cheese and dessert offering. At that point I was full and passed on the salad, cheeses, and dessert. Overall I wasn't too impressed with the food options, perhaps because the best options I couldn't eat (shellfish) or didn't like (cooked fish, primarily due to the flaky texture), or because catering ex-US typically sucks. The pea soup was a bit thick and bland (but so are peas). The parma ham with melons was decent (but kinda hard to mess that up). The steak and truffle butter were a bit tough for my liking, though the truffle butter definitely made it better.
Upon waking, we were offered a choice of breakfast. The choices were scrambled eggs with crayfish (once again more shellfish) or a berry/apple bread pudding. I obviously opted for the bread pudding, which was offered in a classy serving dish (lid removed at the table) alongside fruit, croissant, and yogurt. The bread pudding was probably the most flavorful dish I had on board; however it was also a bit sweet for my tastes. The crew informed everyone that they were unable to serve tea or coffee because of a strong chemical smell coming from the hot water. They apologized but informed us that the ground staff would be happy to get us coffee or tea upon landing or in the lounge. A few days later, I received an unsolicited email from Air France Customer Service offering a goodwill gesture of 20K miles to my AF/KL FlyingBlue or DL SkyMiles account for this inconvenience, which I thought was a nice touch.
Compared to the A380 crew and service on my return, I felt that this 77W crew may have forgotten certain things or done things rather half-heartedly (e.g., the bed didn't look "neat" when it was made, they left the lumbar pillow under the mattress pad when setting up the bed, no chocolates upon sleeping, etc). There was a much greater attention to detail on my return flight. Even so, the overall service was attentive but not overly obnoxious; though I was a bit annoyed that the crew kept trying to serve and offer me alcohol/wine when I told them numerous times I didn't drink.
Arrival in Paris
Upon arrival in Paris, the crew and pilot came by again to thank us and we disembarked at door 1L. I was greeted by my own escort and driven to the lounge in a private Jaguar. I thought the personal escort and vehicle was a nice touch, especially since Lufthansa often requires you to share a vehicle upon arrival/departure with others on your flight. The Jaguar was stocked with bottle of Evian still and Badoit sparking waters. After a five or so minute drive thru CDG, we arrived at the Lounge where my passport and boarding passes were checked prior to entry. Coming from the US, I wasn't required to re-clear security and was escorted through the door instead of the bag scanner and metal detector.
Since this was my first time at the lounge, my escort walked me around and showed me the amenities and offerings. As we walked past the book and magazine shelf, she pointed out that if I saw any books or magazines that I liked, I would be free to take it with me. Yes, that included the Alain Ducasse cookbooks and coffee table books! (I didn't indulge nor did I want to carry around a 5 pound book in my bag). There was a quiet napping area, large individual toilets, several showers, a bar, spa area, TV room, self-service food and water bar, and dining area. I loved the water area, as it had different types of water from around the world (e.g., Fiji Water, Antipods, Voss, Evian, etc).
Although I had about a 2.5 hour layover, all the spa (facial, massage) appointments were booked during my layover time. The lounge agents informed me that if I wanted to book one in the future, I should call after booking the flight to secure an appointment. Unfortunately my layover on the return was even shorter so I didn't get to try out an appointment then either.
I quickly took a shower and sat down for a quick lunch and some tea. The menu was designed by Alain Ducasse and the food was delicious, especially the elbow pasta with truffles. After lunch, my escort walked me over to the gate. She offered to drive us to the plane; however because the gate was so close it was actually faster to walk, so I opted for that. Boarding had already begun and there was a massive queue of people waiting to get onto the plane; however she asked everyone to move aside while we boarded. Felt super VIP, but also a bit of a douche probably to everyone waiting patiently to get on board. Once we got to the flight, she radioed to make sure my baggage made it on board and handed me off to the next flight crew. I fell asleep the entire flight so it was rather uneventful.
Upon arrival in London, I was surprised to learn that Air France didn't participate in Heathrow's Fast Track and there was no arrival escort. Took about 45 minutes to go thru immigration.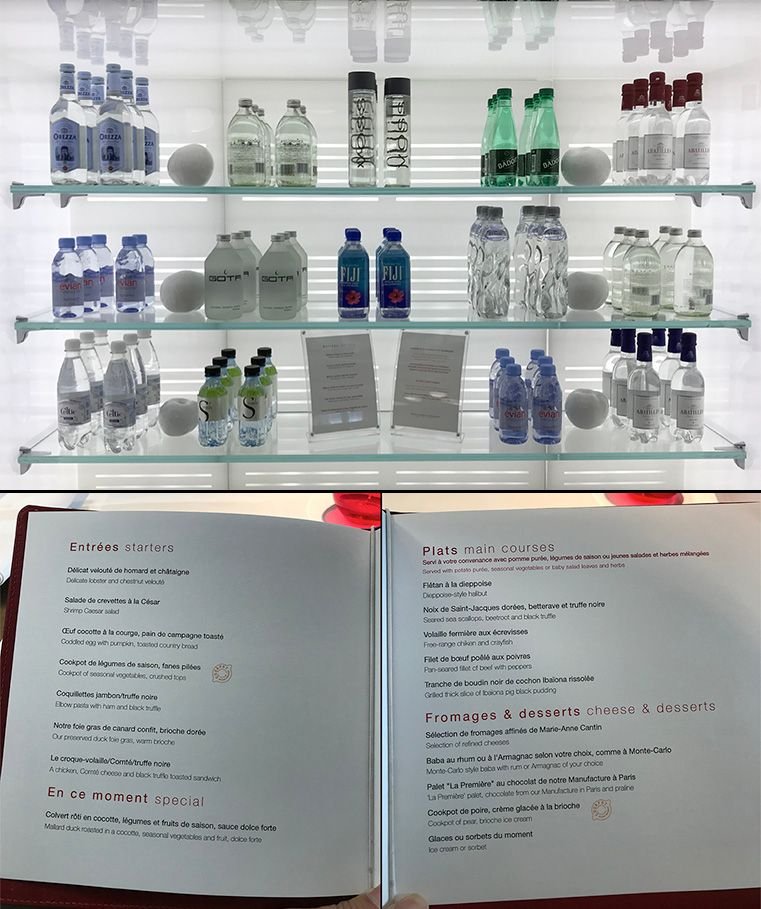 ---
Last edited by AndrewT84; Jan 7, 18 at

1:01 pm
Jan 7, 18, 11:40 am
Join Date: May 2005
Programs: AAdvantage GLD; AGR
Posts: 2,479
Thanks for writing such a detailed trip report.
I also thought it was interesting that the crew served and offered the salad after the main was finished, prior to the cheese and dessert offering.

Only Americans eat salad as a first course. Continental Europeans and Brits eat it after the main course.
Jan 7, 18, 1:00 pm
Join Date: Aug 2008
Location: LAX
Programs: UA 1K MM, AA EXP, AS MVP, SPG Plat, Carlson Gold
Posts: 953
I didn't actually know that...and I even lived in England for a bit. Must have been oblivious or something but glad to learn something new! Thanks for that tidbit!
Jan 7, 18, 8:52 pm
Join Date: Jan 2012
Location: NYC, SFO
Programs: AY+ Plat, AA Plat, Marriott Titanium, Hyatt Discoverist
Posts: 2,840
Awesome TR! Hope you're feeling better (the flu seems to bad this year).

I also lived in England for a bit but never knew the salad was eaten after the main course...lol.
Jan 8, 18, 2:04 am
FlyerTalk Evangelist, Ambassador, British Airways Executive Club
Join Date: Jun 2008
Location: Somewhere between 0 and 13,000 metres high
Programs: AF/KL Life Plat, BA GfL+CCR, Aclub Plat, Hilton Diam, Marriott Gold, blablablah, etc
Posts: 25,098
Great TR! Salad indeed always between main and cheese in France, but actually in the UK salad courses are not all that common unless people have it instead of starter, instead of main, or often instead of veg, in which case they come at the time of what they are replacing!

The coquillettes in the lounge are a firm favourite of many of us: you chose wisely! And the Colvert looks lovely too and is very seasonal (it's hunting season in France). Glad you had a great trip!
Jan 9, 18, 3:51 am
Join Date: Apr 2009
Posts: 19
Jan 9, 18, 10:37 am
Join Date: Aug 2008
Location: LAX
Programs: UA 1K MM, AA EXP, AS MVP, SPG Plat, Carlson Gold
Posts: 953
Thanks for the TR feedback and definitely glad I was able to go despite being sick. Happy I've finally kicked that and most of the awful lingering cough and back to a normal routine! The flu was definitely awful this year -- I caught it twice! Once before the Christmas break and then literally a week later...my friend and his boss also caught it twice too.

I'm glad I'm not the only one that didn't know about the salad issue. I was feeling a bit uncultured for not knowing but it definitely sounds like it's a debatable practice of when to serve it.